Scarpa Rush
Price: $159
Weight: 1 lb. 7.3 oz. (size 40.5)
Waterproof: No (GTX available)
What we like: The agility and comfort of a trail runner with the support and protection of a hiking shoe.
What we don't: Low collar lacks support; too heavy for long stretches of running.
See the Women's Scarpa Rush  See the Men's Scarpa Rush 
In 2022, the line between trail runners and hiking shoes is growing increasingly blurry, and for good reason. As more and more hikers push their mileage and speed, the need for nimble yet protective footwear is paramount. Scarpa's new Rush collection is purpose-built to achieve this fine balance, and the low-top here is the most streamlined model. We put the Rush to the test in southern Patagonia, where it proved to be a capable shoe on everything from easy trails to more technical terrain, and below we outline our experiences. To see how it stacks up to the competition, see our articles on the best hiking shoes, best women's hiking shoes, and best trail running shoes.
 
---
Table of Contents
---

Performance
Comfort
With an airy feel, plush cushioning in the sole, and generous padding around the tongue, collar, and toe box, the Scarpa Rush is one of the most comfortable hiking shoes I've had the pleasure of wearing. Right out of the box, the synthetic leather and fabric upper hugged my feet in all the right ways, and I've experienced zero issues with rubbing or pressure points since. The hybrid feels very akin to a trail running shoe in terms of cushioning and comfort—the only real distinction I could draw is a slight bit more rigidity and weight underfoot. All told, the Rush's comfort was excellent for both hiking and running, even on difficult and technical terrain.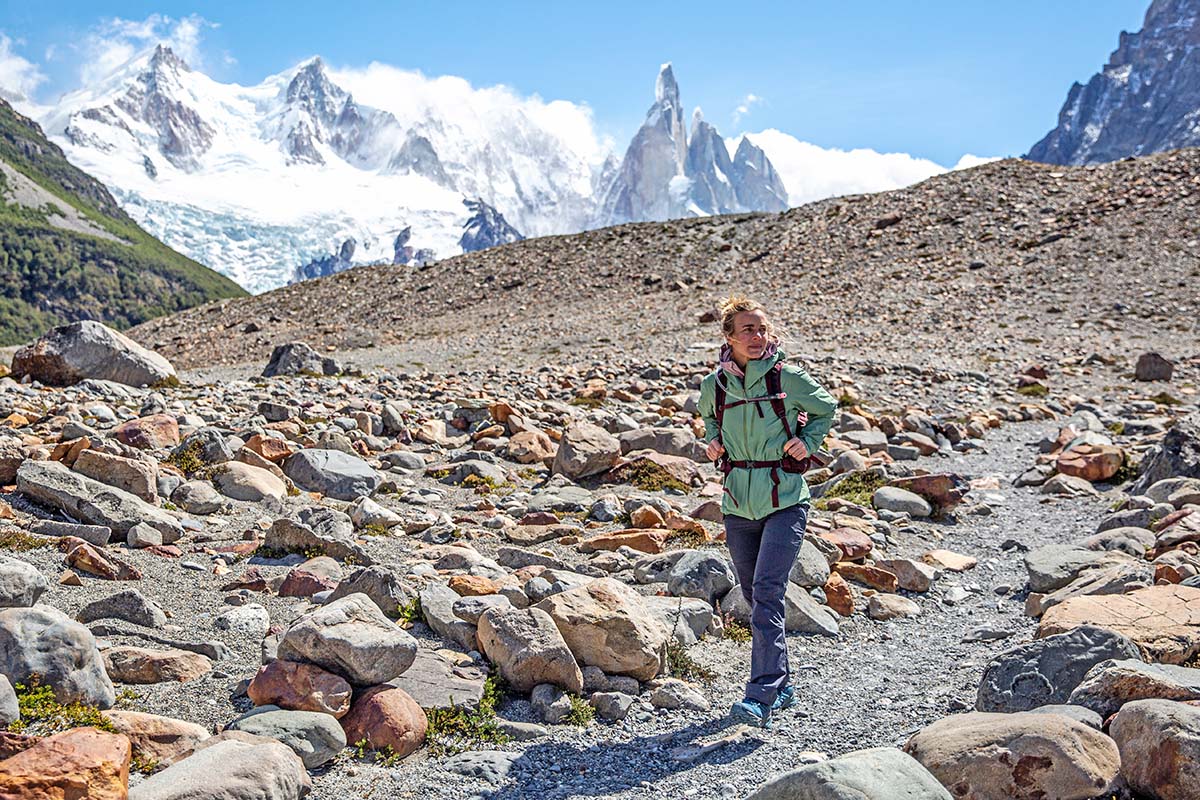 I tested the Rush back to back with the Salomon X Ultra 4 GTX, a wildly popular lightweight hiking shoe (to be clear, the X Ultra is not a hybrid like the Rush, but it is a modern design that appeals to speed-focused hikers). In my opinion, the Scarpa is a much more approachable shoe than the Salomon, with a more comfortable heel (the X Ultra 4's heel is noticeably stiffer), more cushioning at the forefoot, and a much plusher feel at the ankle. But comfort is largely subjective, and your personal opinion will largely be informed by what you're accustomed to. Those familiar with the cushioning of a trail runner will likely find the Rush to be a great match; if you're used to hiking shoes, you might be put off by the plush feel.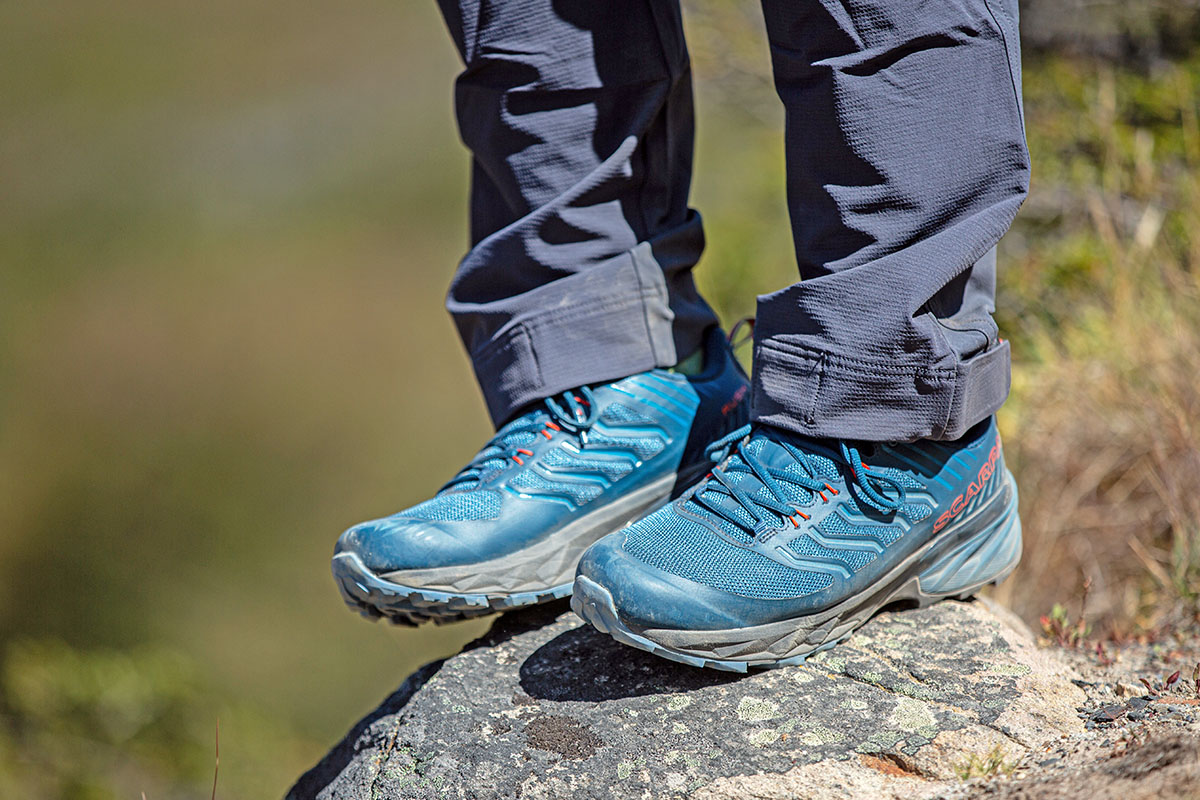 Weight
At 1 pound 5.2 ounces (my size 40.5 checked in at 1 lb. 7.3 oz.), the Rush is decently lightweight for a hiking shoe, coming in lighter than traditional models like the Merrell Moab Vent (1 lb. 11 oz.) and KEEN Targhee Vent (1 lb. 8.7 oz.). When compared to trail runners, it's on the heavy end of the spectrum, outweighing shoes like the Hoka One One Speedgoat 4 (1 lb. 2.4 oz.) and Altra Lone Peak (1 lb. 1.4 oz.) by a sizable margin. But due to its plush cushioning and well-distributed weight, the Rush ends up feeling more nimble than its weight would suggest—with the Salomon X Ultra 4 (11.8 oz.) on one foot and the Scarpa (11.7 oz.) on the other, the latter felt noticeably lighter. For speed-focused hiking and fastpacking adventures, it's an ideal balance. However, if my route includes long stretches of running, I prefer a lighter design.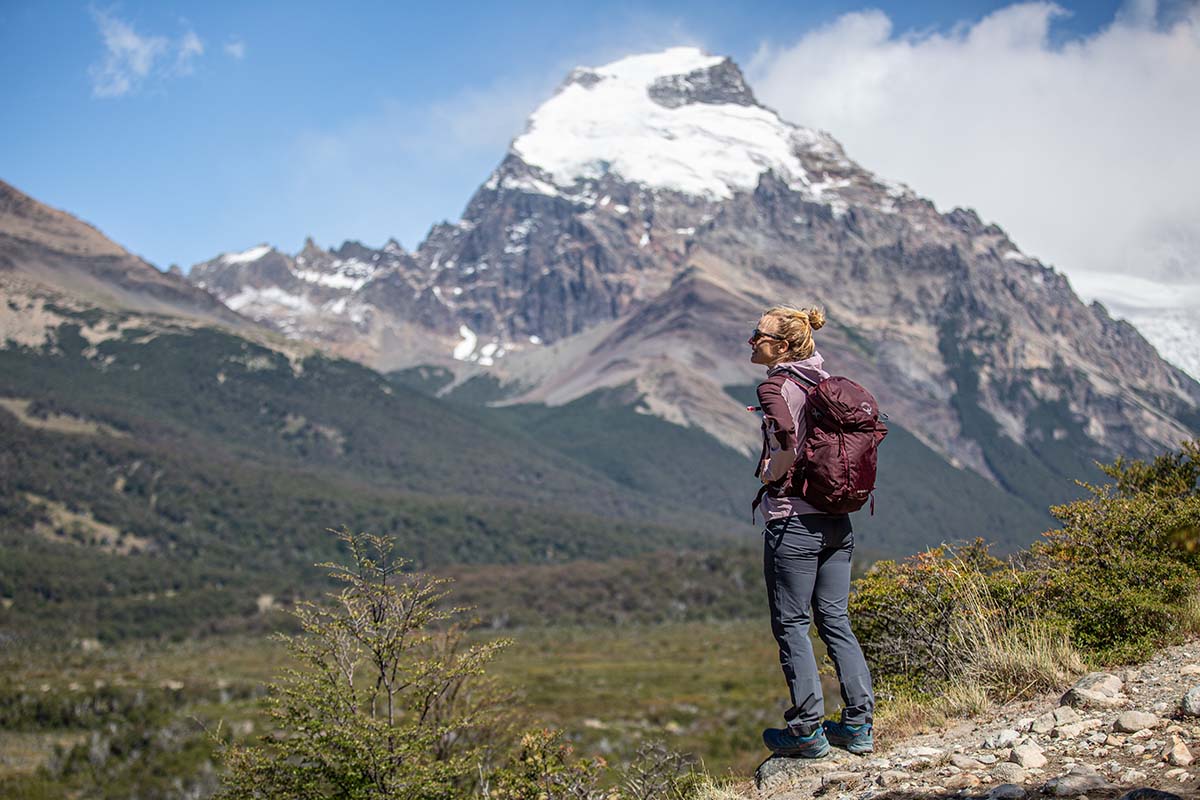 Traction
I gave the Scarpa Rush a full run-around in Patagonia, testing it on everything from hardpacked trail and scree to smooth boulders, dry glacier, and mud. Its traction proved to be excellent on all types of terrain, inspiring confidence for me to move quickly. What's more, I found it to be particularly stable on rock thanks to its sticky SuperGum rubber (the same compound used on some of Scarpa's approach shoes) and relatively stiff forefoot, which forms a nice platform when perching on small edges or smearing on boulders. If I had to nitpick, I'd say the Rush falls a bit short on soft terrain like wet leaves and mud given its relatively short (4mm) lugs. But overall, I ran into no issues with the Scarpa's grip despite wet conditions and the full gamut of terrain.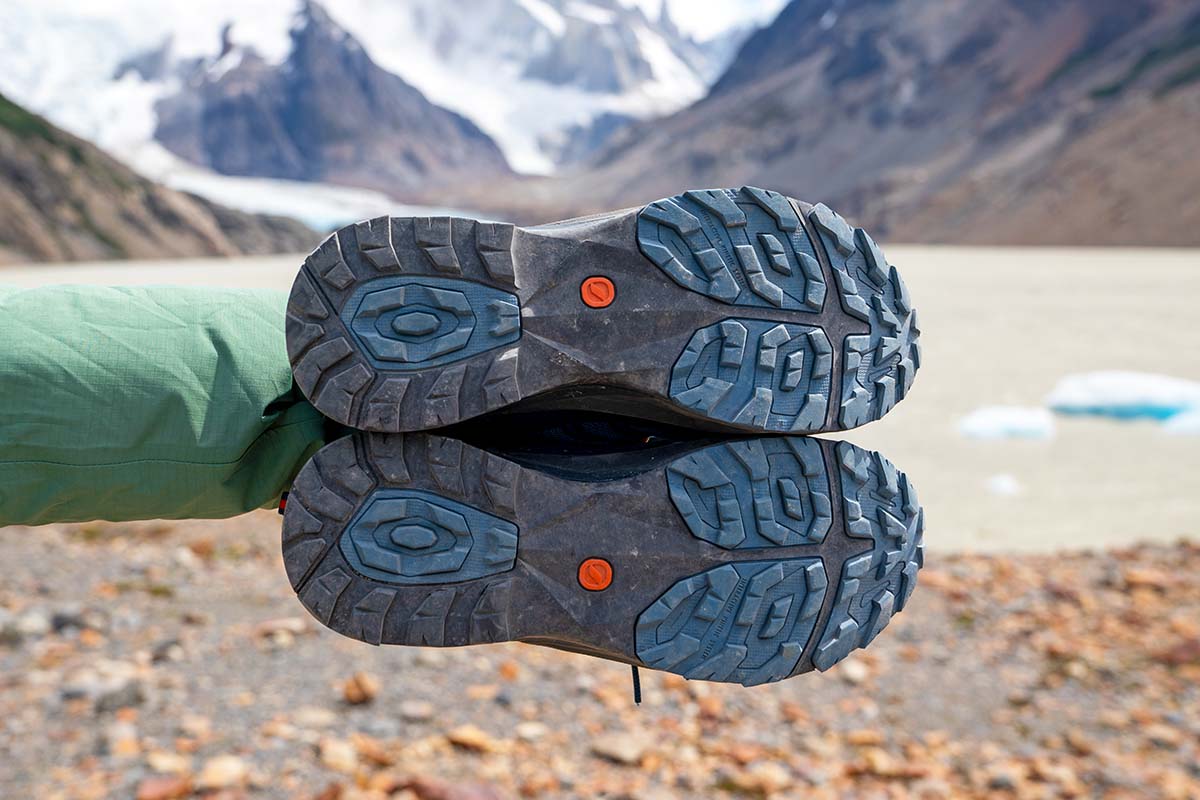 Stability and Support
The Scarpa Rush again shows its hybrid nature in terms of stability and support, with noticeably more structure than a trail runner but still less than most hiking shoes. You get a rigid TPU heel frame—rarely seen in a running shoe—along with an EVA midsole for structure and cushioning underfoot. And unlike a lot of lightweight trail footwear, the Rush's firm sole extends from the heel through the midfoot, creating a solid platform that I appreciated while boulder-hopping and scrambling. On the other hand, the Rush's plusher cushioning is still noticeably less rigid than a hiking shoe, meaning your foot will have to work a bit harder to stabilize itself. But those who enjoy feeling more of the terrain underfoot will certainly want a less-cushioned design. Finally, I found the Scarpa's collar to be rather low around the ankle, giving me the sensation that my foot was vulnerable to popping out.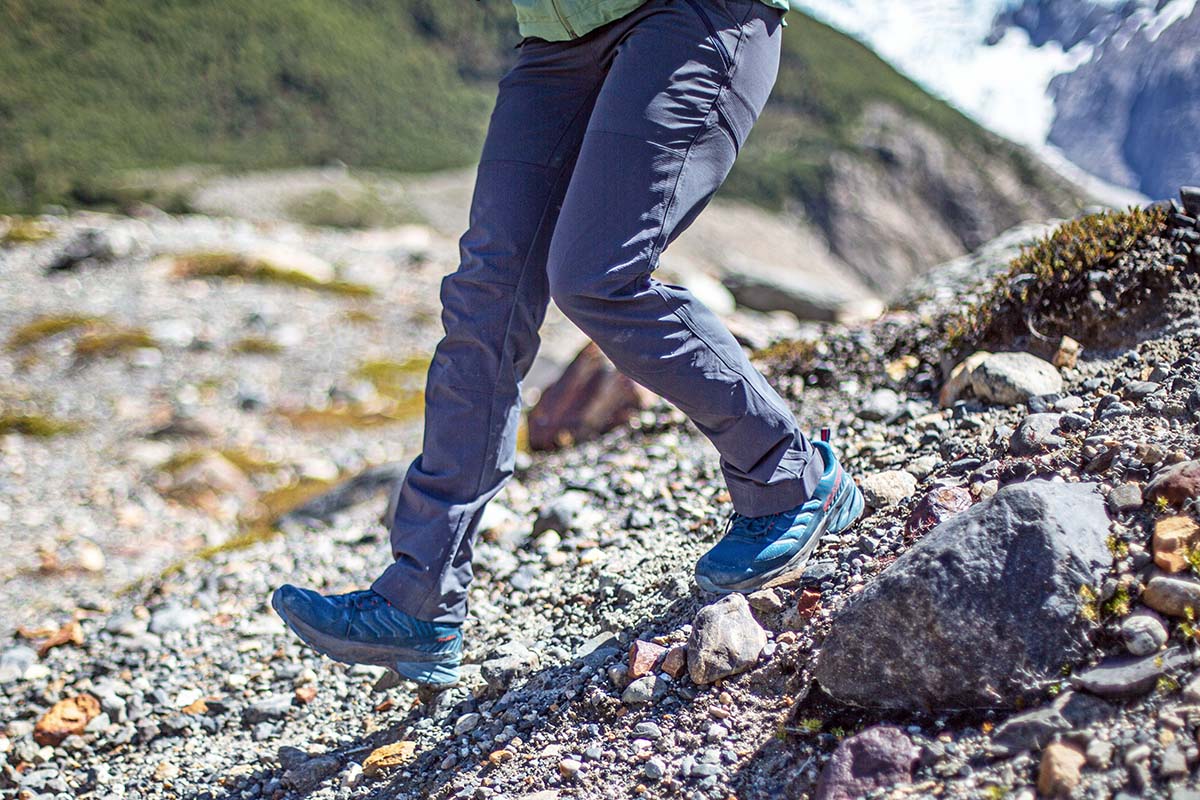 All told, the Scarpa might not provide ideal levels of stability for dedicated trail runners or most traditionally minded hikers, but it may still be a goldilocks recipe for many. Compared to a shoe like the Hoka One One Speedgoat 4—incredibly popular in the thru-hiking community—it offers significantly more underfoot support with comparable comfort and agility. The Rush even has a lot to offer over the popular Salomon X Ultra 4 hiking shoe, which has a much more flexible midfoot and less cushioning in the forefoot (on the other hand, the Salomon has a more stable heel). Shoes like the La Sportiva TX4 and KEEN Targhee Vent will give you more support underfoot, but they'll feel a lot clunkier for quick-moving or high-mileage days. In the end, the Scarpa Rush offers a great balance of stability for speed-minded hikers, but those carrying a heavy load over particularly technical terrain might want to opt for a more stable hiking shoe or hiking boot design.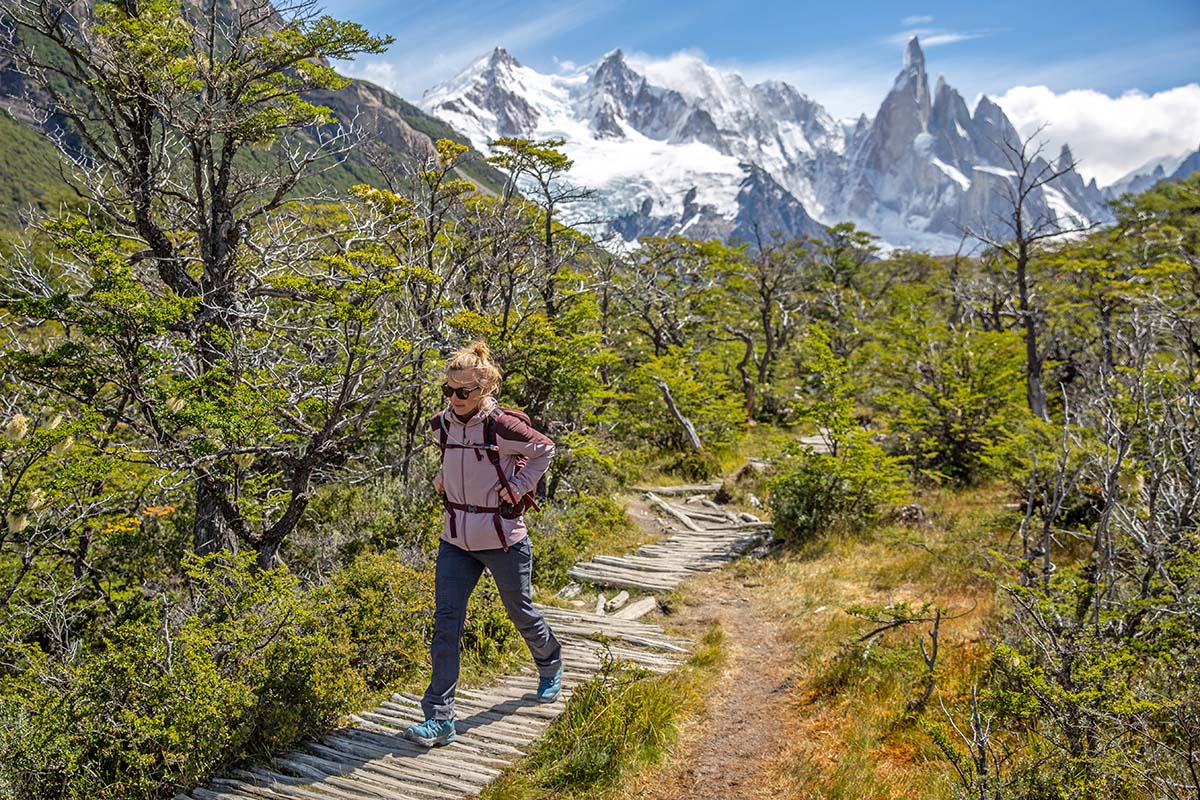 Protection
Despite its streamlined design, I found myself very impressed with the protectiveness of the Rush. Scarpa took the entire foot into account, with a generous bumper at the toe, sturdy rand around the foot, and solid heel cup. In the end, this is far more protection than you'd get from a trail runner, and it was noticeable on the trail. Even when putting my feet into tight places or closely grazing sharp rocks or twigs, it felt well-encased and safe from the elements. It's true that the top of the foot remains a bit vulnerable with a padded mesh upper (bumping up to a leather design will give you more protection), but we'll gladly compromise here for increased breathability and flexibility. All told, unless you're spending a lot of time on scree or other loose terrain, the Rush's protection is perfectly serviceable.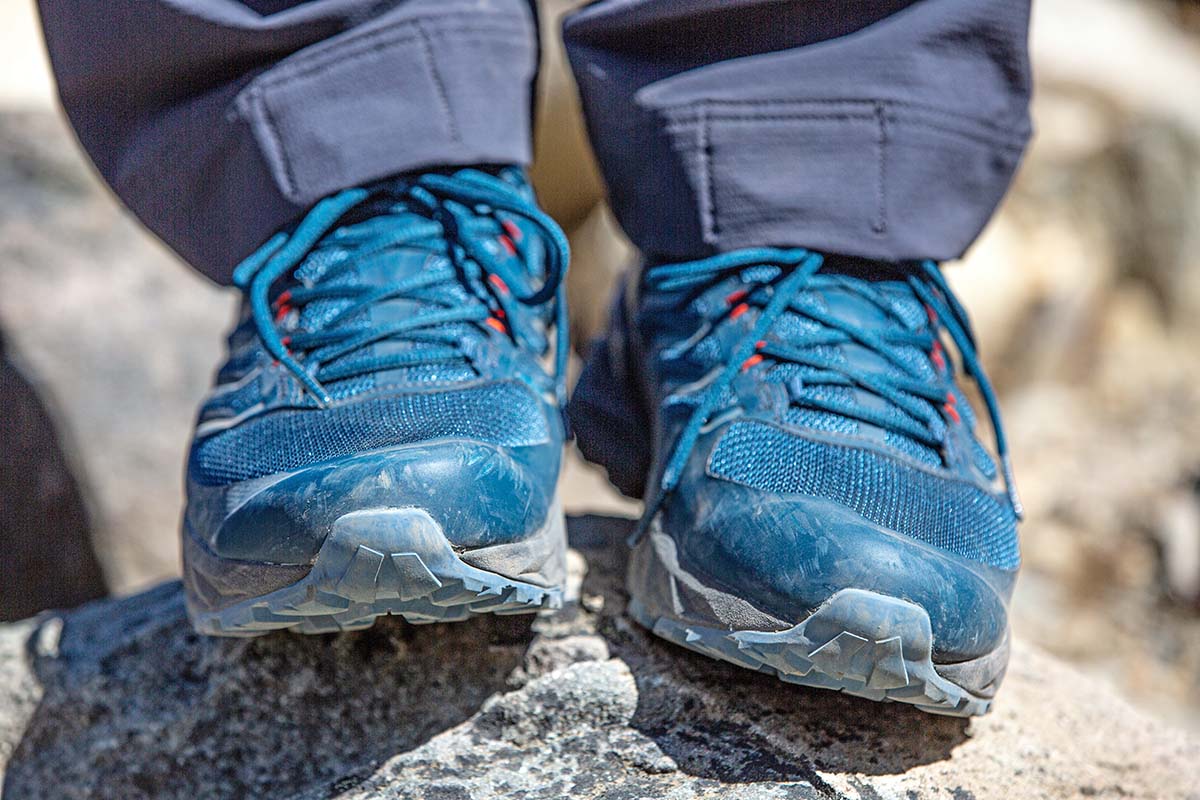 Breathability
I tested the non-waterproof version of the Scarpa Rush, which proved to be decently breathable for hot days on the trail. It's certainly not the most ventilated hiking shoe available—the thick mesh and padding and generous synthetic overlays trap more warmth than airier designs and don't dry out quite as quickly. But given that my feet aren't particularly prone to sweating, I appreciated the increased protection and durability. That, hot-weather hikers or those prone to running warm might want to opt for a thinner and more breathable design like the Hoka One One Speedgoat 4 or Altra Lone Peak 6.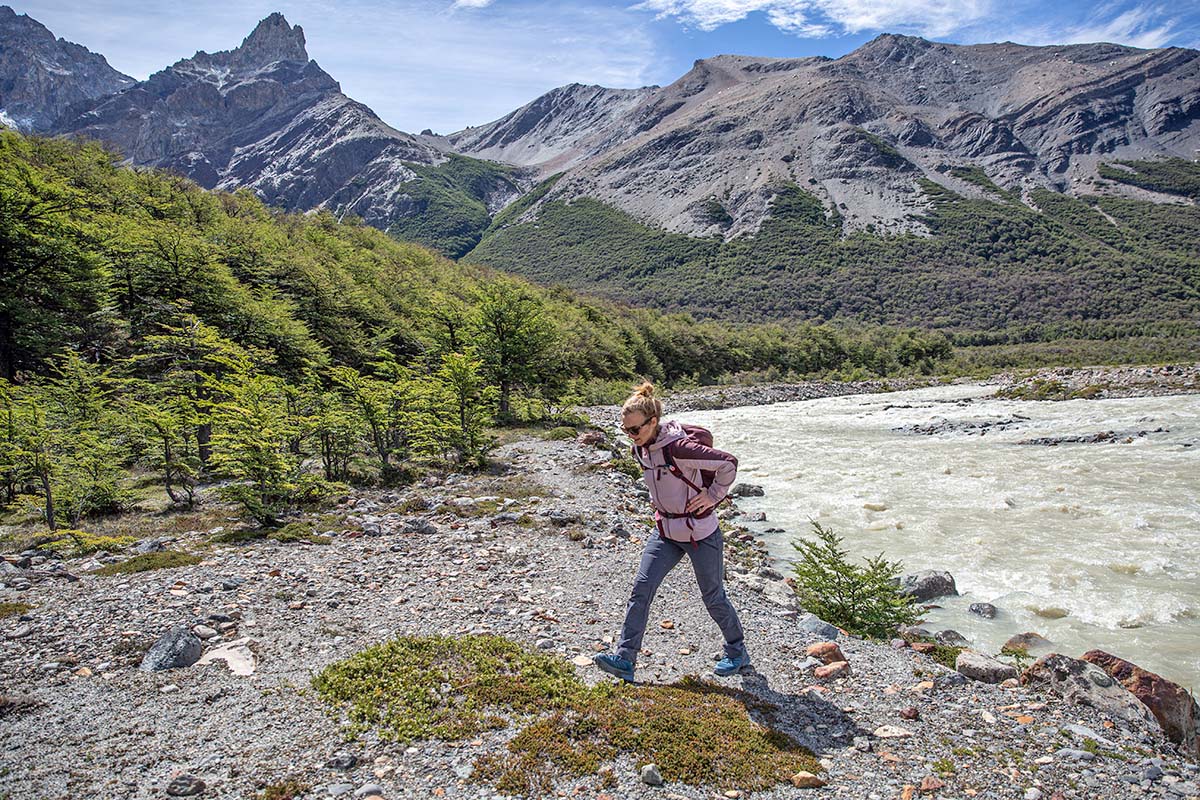 Build Quality and Durability
Scarpa has a longstanding history of premium Italian craftsmanship, and we've learned to count on the brand for class-leading materials and build quality. The Rush delivers in spades, with excellent construction from heel to toe. I haven't put too much mileage on my shoes (I will update this review when I do), but wear and tear is minimal after a number of trail outings. Notably, a couple of friends in Patagonia were using the Rush Mid GTX as their approach shoe for climbing, and both pairs were holding up incredibly well after multiple trips to the hills (the terrain in Patagonia is known to destroy shoes after just one outing). Of course, you'll get even more durability with a leather design, but the Scarpa's generous rands and burly synthetic overlays give me a lot of confidence in the Rush's resilience.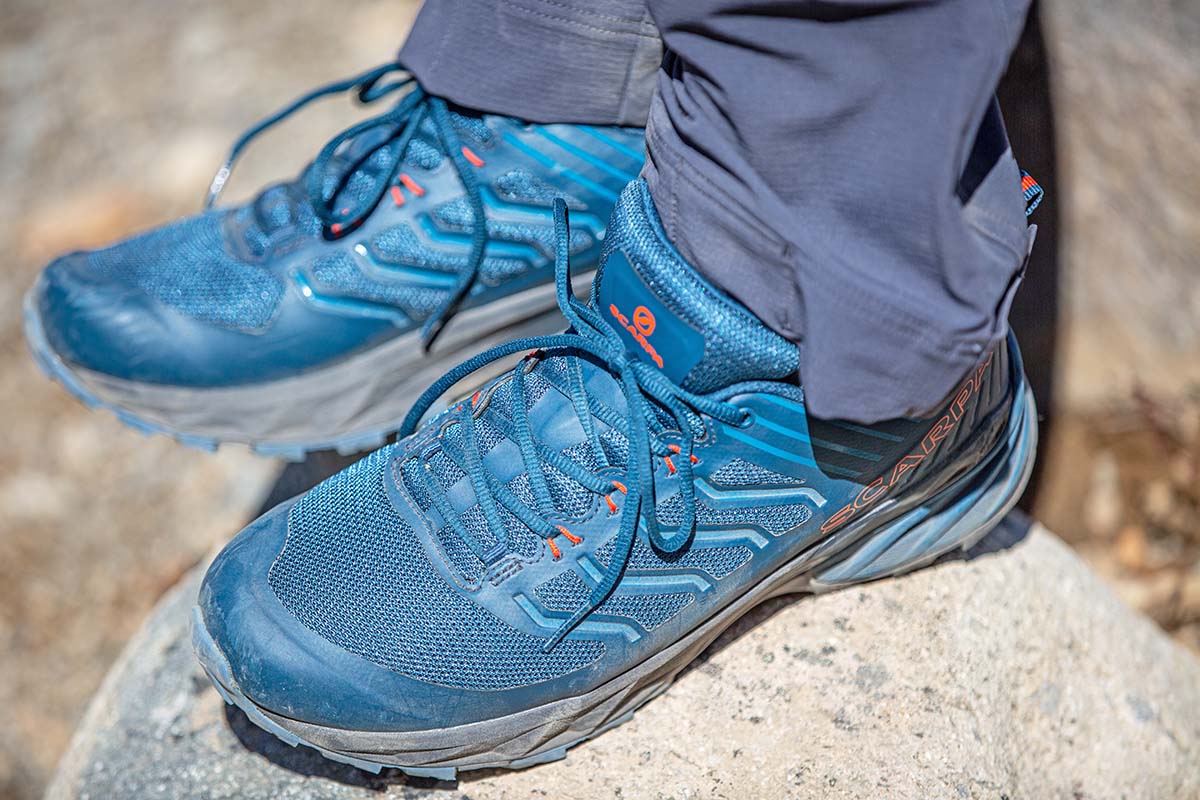 Fit and Sizing
I normally wear a women's size 8.5 in trail runners and hiking shoes, and the 40.5 Rush (women's 8 ⅔) fit true to size (note: The shoe I tested was the men's colorway, but is identical to the women's version in all other ways, including fit). The Scarpa's toe box is on the narrow side, but it nevertheless accommodated my wider-than-average feet (for reference, I find most shoes from Arc'teryx to be prohibitively narrow). The Rush's midfoot provided a nice lock while being very comfortable—I credit some of this to the shoe's "Sock-Fit" construction, which features a gusseted tongue for a snug, wraparound feel. For comparison, the Salomon X Ultra 4 GTX was roomier in the toe box and narrower at the midfoot—to each their own, but I thought the Scarpa's design resulted in a much better fit. My only gripe is that the ankle rides low and is difficult to lock in, resulting in less stability and minor heel slippage.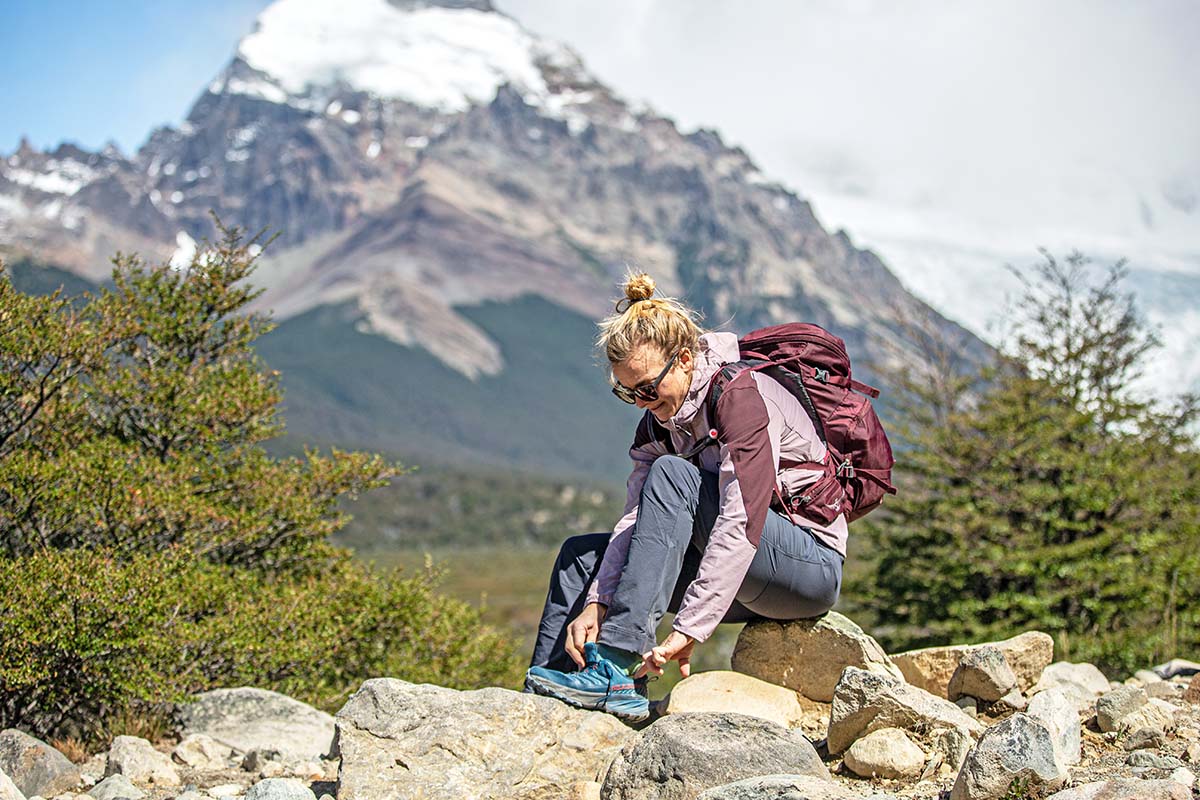 Other Versions of the Scarpa Rush
I tested the non-waterproof, low-top version of the Rush for this review, but Scarpa's newest hiking lineup features a number of different designs. The Rush shoe also comes in a Gore-Tex model for 2 ounces (per pair) and $10 more, along with the Mid GTX ($179, 1 lb. 10.2 oz), which gives you significantly more support around the ankle. Notably, these all come in "men's" and "women's" models, although the only differences are colorways and sizing—both are made on the same last. If you're looking to jump all the way to a true hiking boot, it's worth checking out the Rush TRK GTX ($219, 2 lbs. 0.8 oz.), which boosts protection with a suede upper and rubber rand yet maintains some of the agility of a trail runner (the TRK design also comes in a low-top called the Rush Trail GTX, but this shoe is very difficult to track down). Finally, new this year is the Rush Polar, which adds Primaloft Gold Eco insulation for winter-ready warmth.

What We Like
The agility and comfort of a trail runner alongside the support and protection of a hiking shoe. 
Sticky rubber and firm midsole result in great traction in technical, rocky terrain.
Plush cushioning offers ideal comfort for quick-moving or high-mileage days.
Despite clocking in at 1 pound 7.3 ounces on our scale, the Rush felt very light and nimble underfoot.
Great fit and comfort right out of the box.

What We Don't
Too heavy and rigid for most trail runners; not protective or stiff enough for many hikers.
Low ankle collar results in a vulnerable feel and some minor heel slippage.
Generous padding and synthetic overlays on the upper translate to less breathability than thinner designs.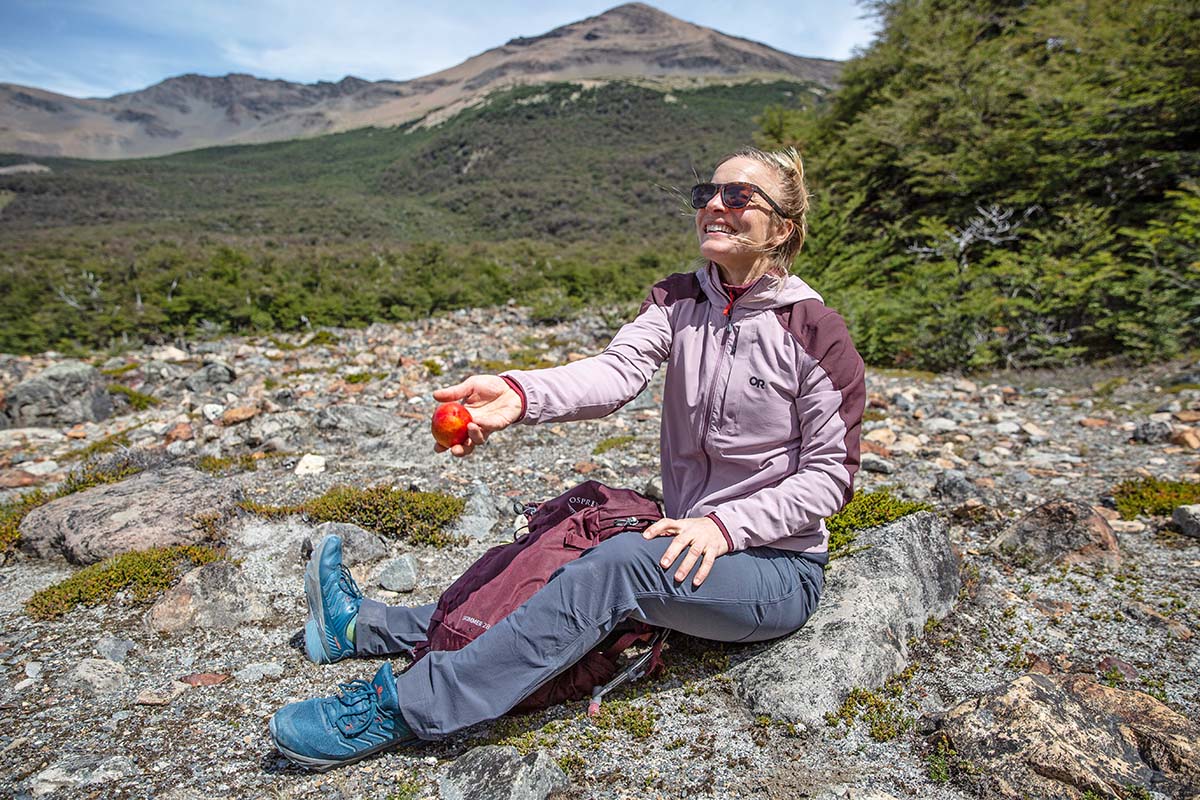 Comparison Table

The Competition
The Scarpa Rush is an excellent new design purpose-built for the demands of fastpackers and speed-focused hikers, but a number of time-tested shoes fit a similar bill. The closest competition comes from La Sportiva's iconic Ultra Raptor, a burly mountain running shoe that provides a similar mix of agility and stability. Checking in at just 1 pound 4.9 ounces, the Ultra Raptor boosts protection with a full-length rock guard and burly toe bumper, and its higher collar offers noticeably more support around the top of the foot. These features make the La Sportiva a better design for technical terrain (especially considering it will save you $29), but the added protection will be overkill for those sticking to easy trail. Finally, keep an eye out for the Ultra Raptor II this spring, which features updated materials, a closer fit, and will be available in two different width options.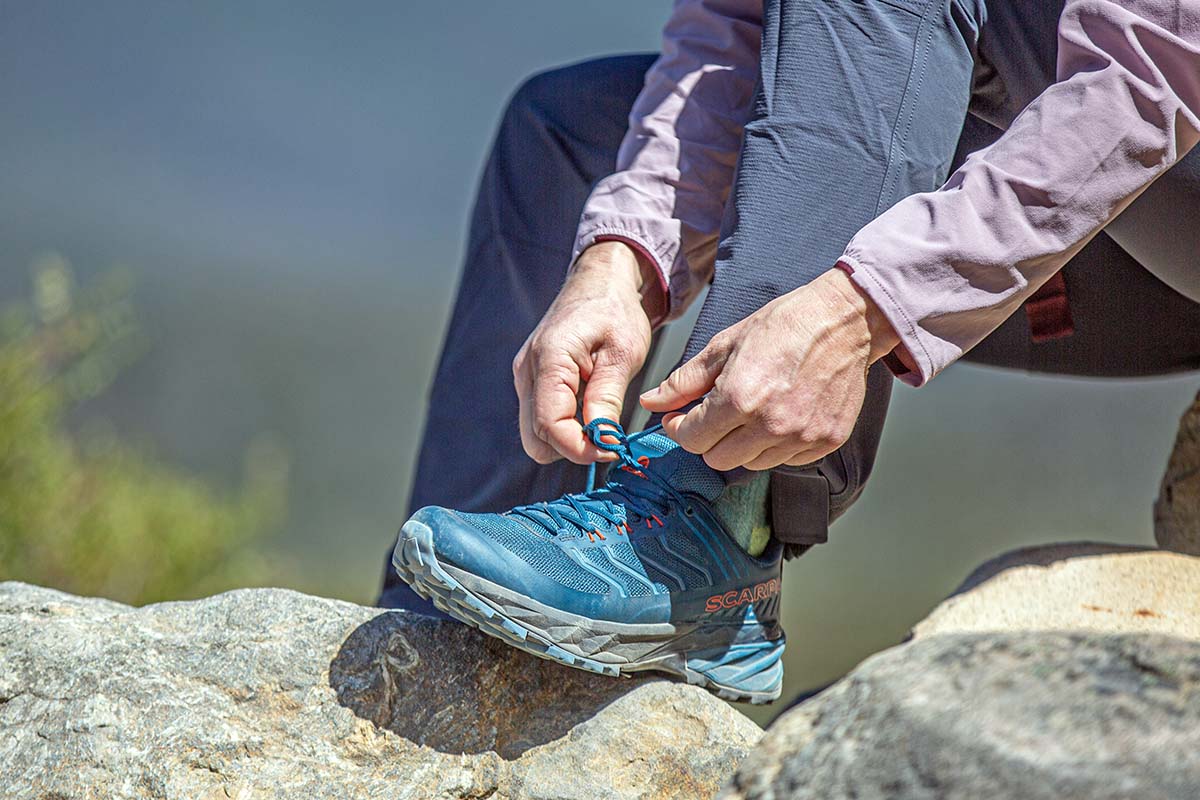 The Ultra Raptor is a brilliant shoe for technical mountain terrain, but hikers who stick to trails will want to take a look at the Hoka One One Speedgoat 4. This trail running shoe has become wildly popular amongst thru-hikers for its mix of durability, traction, and comfort in a crazy-light build. Compared to the Rush, it shaves off a few ounces and offers a bit more cushion and bounce, great for those who want to mix more running into their day. On the other hand, the Hoka lacks the underfoot stability, protection, and confidence-inspiring grip of the Scarpa, especially on rock. Added up, the Rush is a more well-rounded shoe for routes that include a mix of mellow and technical terrain, but the Speedgoat ($145) is the faster and nimbler choice for standard trails.
If you're considering the Speedgoat, it's also worth looking at the Altra Lone Peak 6, another trail running shoe that has achieved legendary status among hikers. For those who stick to trail, the Lone Peak toes the line between categories better than most, with features like an integrated stone guard, built-in drainage ports, and a gaiter trap. Its shorter stack height also puts you lower to the trail than the Speedgoat's max-cushioned design, which increases stability for many hikers. On the other hand, the Lone Peak is much less protective and durable than the Rush, and not everyone will love the fit and feel of an ultra-roomy, zero-drop shoe. Again, we'll stick with the Scarpa for technical routes, but the Lone Peak is a lighter-weight (1 lb. 1.4 oz.) and lower-slung alternative for trail-going fastpackers and hikers.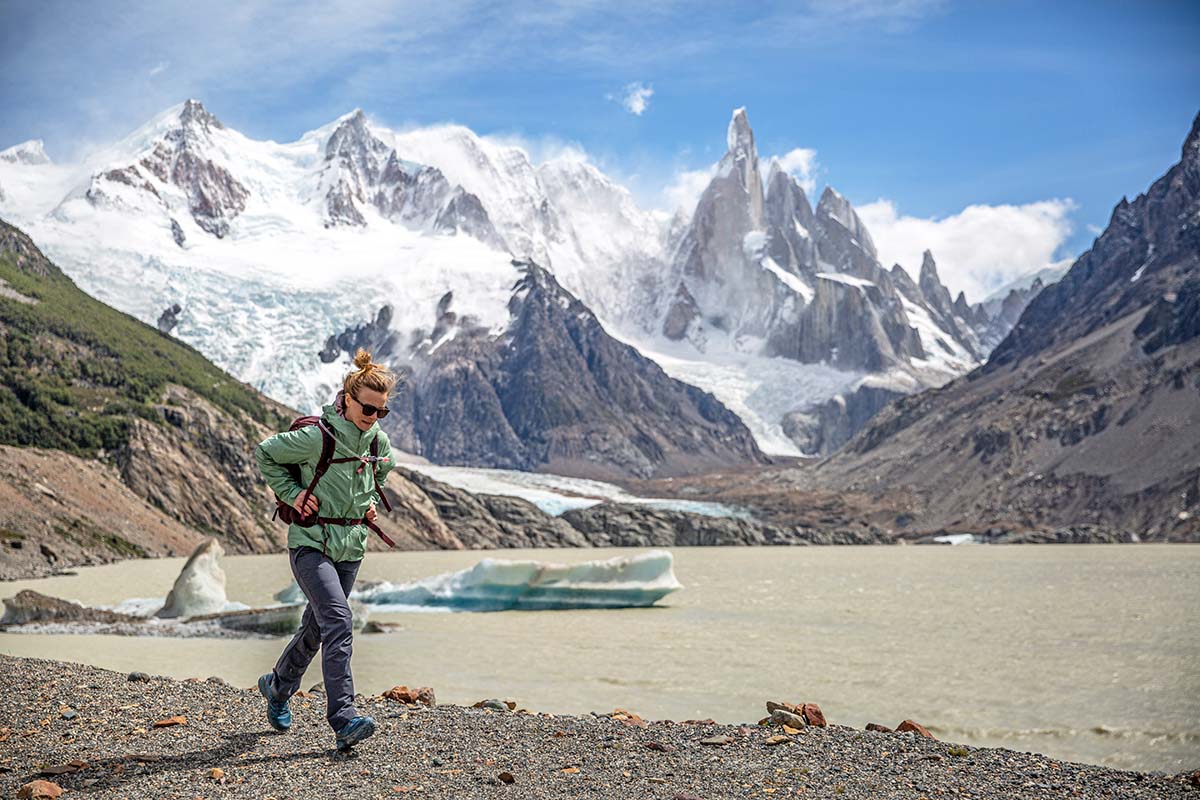 Moving back to a more mountain-ready shoe, the Arc'teryx Aerios FL is designed for fast-and-light hiking on technical trails. Like the Rush, it merges the agility of a trail runner with the stability and traction of a hiking shoe, with features like a TPU shank and Vibram Megagrip outsole. It's slightly lighter than the Scarpa at just 1 pound 4.4 ounces, but we found the Aerios FL significantly more difficult to break in, with a rigid heel and narrow toe box. We're partial to the Scarpa for its more comfortable fit and cushioned heel, but the Aerios FL is a similarly intentioned shoe with a lower price point ($135) and a great choice for those with low-volume feet.
Finally, we'd be remiss not to mention the Salomon X Ultra 4. One of the most popular hiking shoes for years running, the Salomon (like the Scarpa) offers a nice blend of nimbleness alongside protection and support. However, the two are very different shoes: Whereas the Rush features a relatively stiff midsole along with a healthy dose of cushioning, the X Ultra 4 is rigid in the heel and flexible through the mid- and forefoot. This does result in better ground feel with the Salomon, but the stiffer heel feels clunky and, in our opinion, eliminates any of the benefits of the flexible sole (for example, we'd never want to run in the X Ultra 4). Fit is also different: The Salomon is noticeably narrower at the midfoot and roomier in the toe box, whereas the Scarpa has a more balanced fit throughout. Tested back to back, the Rush was the clear winner for us, but the X Ultra 4 is nevertheless a great deal ($120) and a worthy option for hikers looking for a less cushioned ride.
If you're thinking about buying gear that we've reviewed on Switchback Travel, you can help support us in the process. Just click on any of the seller links above, and if you make a purchase, we receive a small percentage of the transaction. The cost of the product is the same to you but this helps us continue to test and write about outdoor gear. Thanks and we appreciate your support!
Depending on the seller, most products ship free in the United States on orders of $50 or more. International shipping availability and rates vary by seller. The pricing information on this page is updated hourly but we are not responsible for inaccuracies.
Learn More About Footwear