Altra's Lone Peak collection has long kept feet happy on the trail, thanks to signature features like a roomy toe box, zero-drop footbed, and lightweight construction. The recently updated Lone Peak Hiker 2 puts a stylish yet functional spin on the design, with a mid-height collar and suede upper that can play double duty both in town and on the trail. We took the women's version backpacking in southern Patagonia and came away with mixed reviews: The boot is undeniably comfortable, but performance on tricky terrain suffers as a result. Below we break down our experiences with the Lone Peak Hiker 2. To see how it stacks up to the competition, see our articles on the best hiking boots and the best women's hiking boots.
 
---
Table of Contents
---

Performance
Comfort
The Altra Lone Peak Hiker 2's comfort is by far its largest strong suit, which makes the boot an excellent pick for hikers with hard-to-please feet. As mentioned in the introduction, a few factors contribute to this: The boot features Altra's roomiest last (nicknamed the "Original FootShape") for a wider-than-normal fit throughout the length of the foot. Second, like all of Altra's footwear, the Lone Peak Hiker 2 has a zero-drop design that offers a natural, barefoot-style walking experience, along with 25 millimeters of cushioning for a plush landing zone with each step. Finally, the Hiker 2 is incredibly lightweight, which goes a long way toward minimizing energy expenditure on long days. The result is a hiking boot that—in my opinion—feels like a slipper and offers unparalleled comfort on easy trails.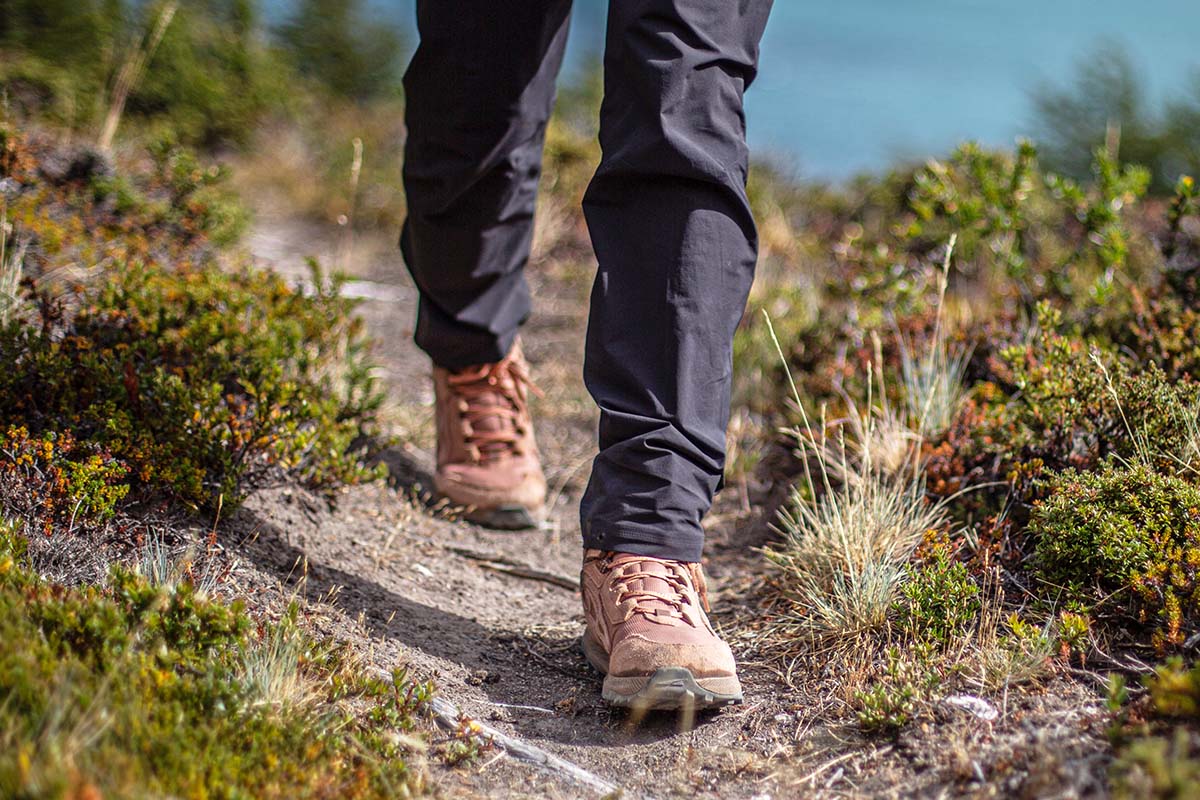 I wore the Lone Peak Hiker 2 boots on a gear testing trip in Patagonia, and the first time I donned them, I had fresh blisters from the previous days' footwear. I was so grateful to have the Altras slated for our upcoming three-day trek, as I knew they would be the most comfortable solution for my tired and battered feet. And the boots truly delivered—straight out of the box, I suffered no hot spots or pressure points, my swollen toes had room to spread, and my feet were cozy from morning till night. I did notice that the Lone Peak Hiker 2 offered fairly minimal arch support and a lot of ground feel compared to stiffer, more cushioned footwear, but for me, these shortcomings were minor. The roomy, zero-drop experience will certainly not appeal to everyone (especially given its performance tradeoffs, which we'll detail below), but it's a strong option for those who prioritize comfort above all else.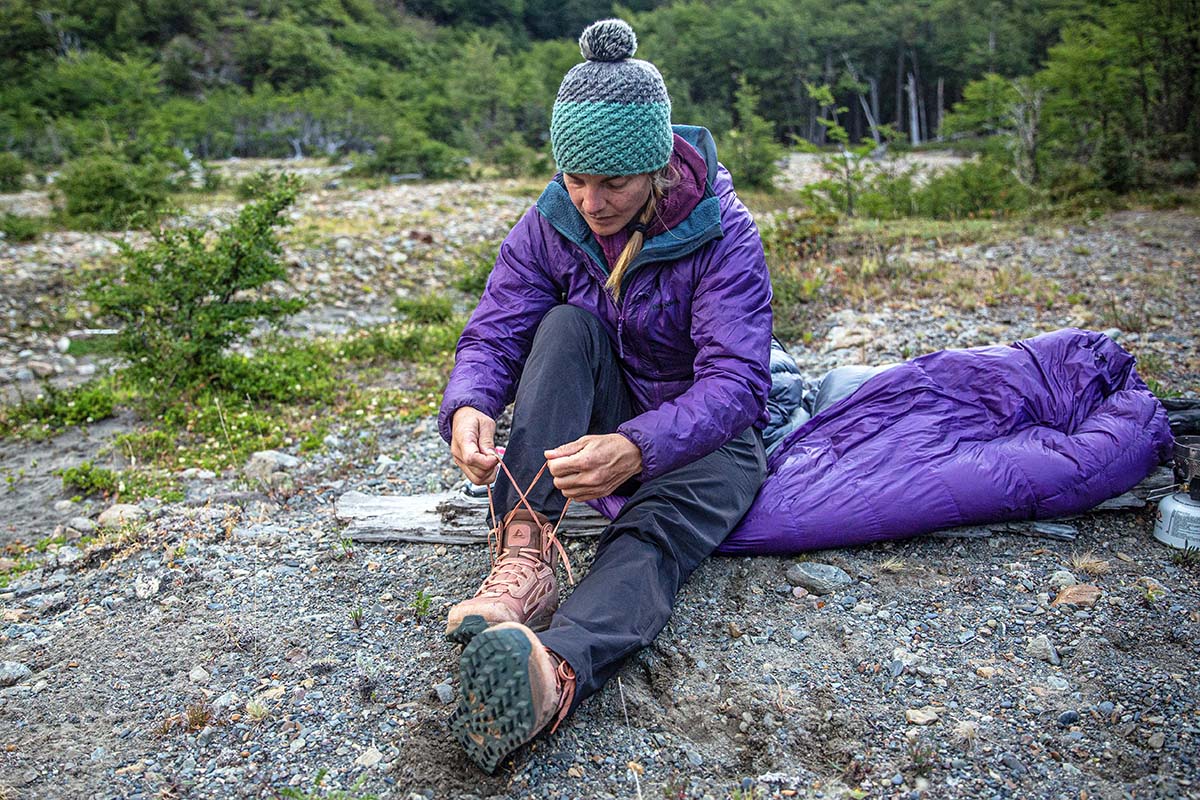 Weight
The women's Lone Peak Hiker 2 checks in at 1 pound 5.2 ounces, which is lighter than just about every hiking boot on the market. A few models in the lightweight category are competitive, including the Topo Athletic Trailventure 2 (1 lb. 7.4 oz.) and HOKA Speedgoat 5 Mid GTX (1 lb. 4.6 oz.), but neither design matches the durability of the Altra's suede upper. The Lone Peak achieves such a low weight thanks to its relatively low shaft height (many boots extend higher past the ankle), relatively thin upper, and very lightweight outsole, which feels more akin to that of a running shoe than a hiking boot. Of course these weight-saving features do come at the cost of some performance, but a feathery-light boot has many advantages on easy trails.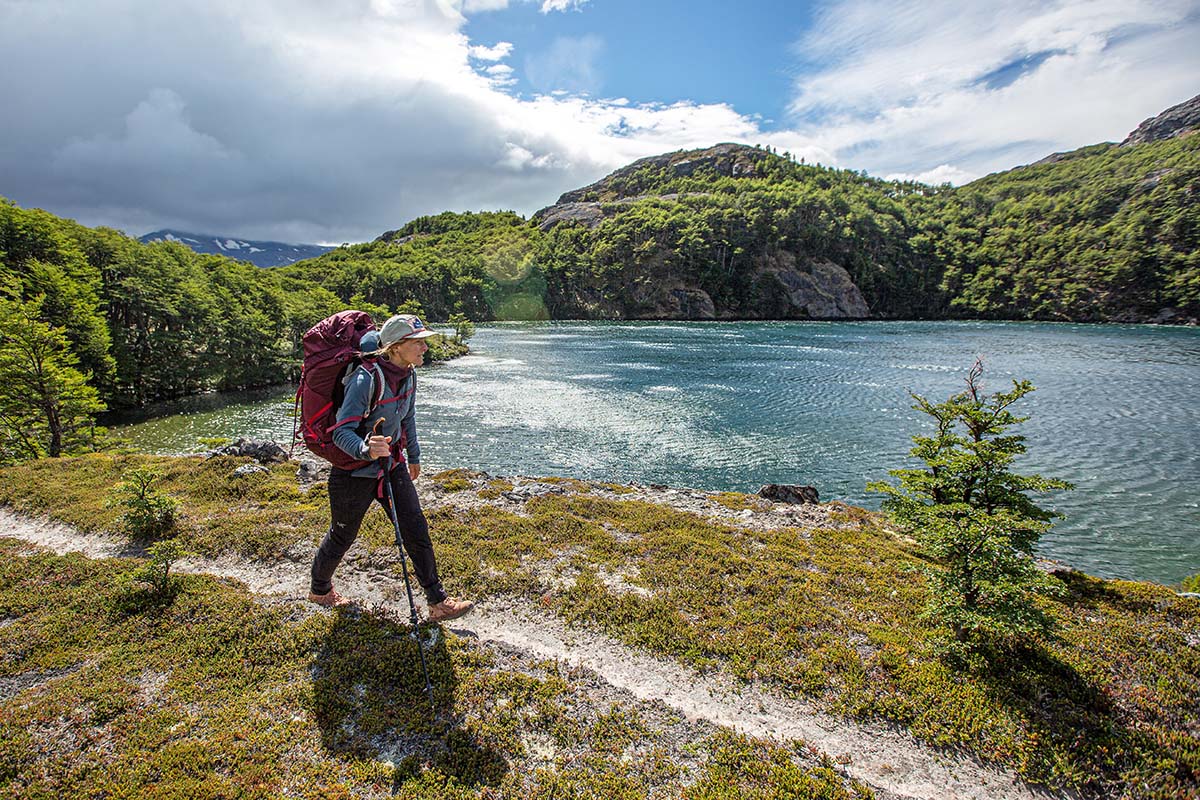 Traction
For the Lone Peak Hiker's outsole, Altra employs their MaxTrac rubber, which I've had a number of opportunities to test throughout the years. My reviews of MaxTrac are mixed: On one hand, the rubber compound is lightweight and easy-moving, most similar to what you'd typically find on a trail runner. On the other hand, its traction is disappointing, particularly on rocky terrain. For comparison's sake, I tested the Lone Peak Hiker right after wearing The North Face Vectiv Fastpack Futurelight hiking shoe, and the difference in grip was palpable: With the TNF, I had a confidence-inspiring hold on everything from talus and boulders to mud, whereas I slipped many times in the Altra throughout our three-day trek. In the end, the Lone Peak Hiker 2 is not a great choice for difficult terrain or cross-country travel, but it's fully serviceable for well-maintained trails.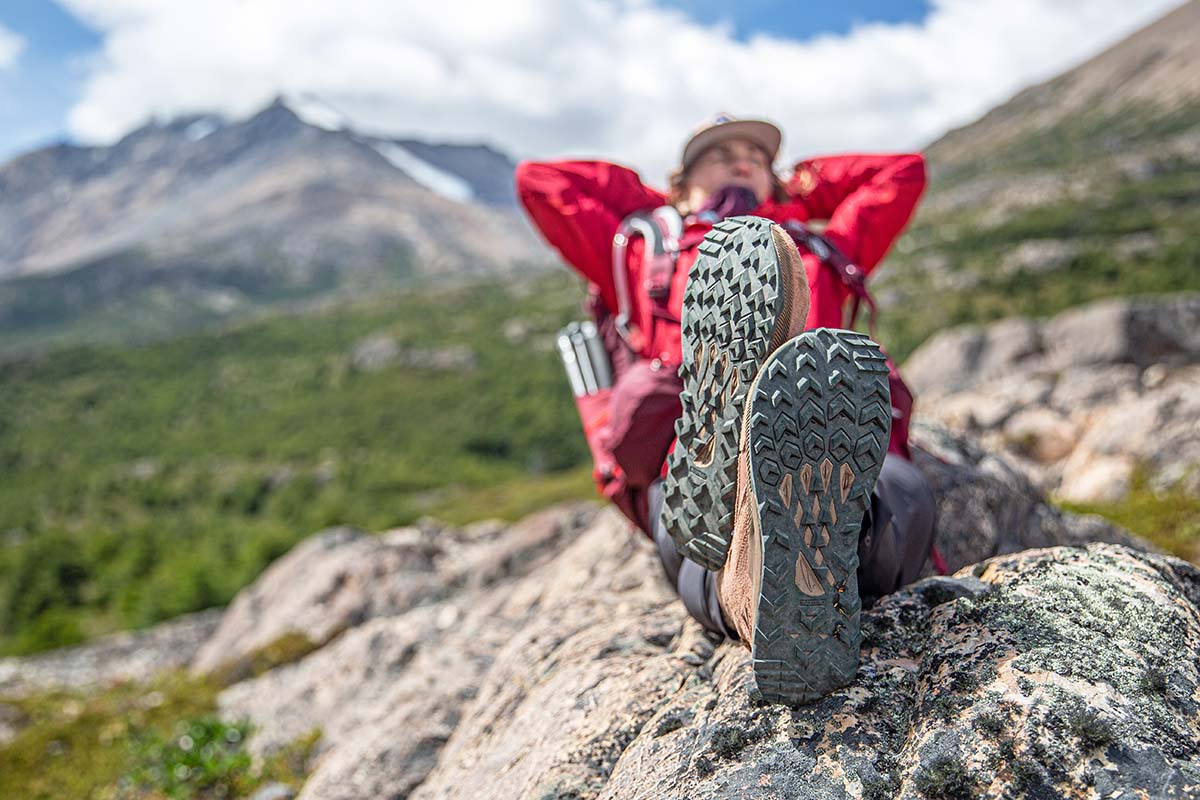 Stability and Support
Like all of the models in the Lone Peak collection, the Hiker 2 leaves a lot to be desired in terms of stability. In my opinion, this is the Achilles' heel of the comfort-first design: The roomy fit and lightweight build have few downsides on easy trails, but they become a liability the moment the terrain gets difficult. On rooty and rocky ground, my feet had to work much harder to stabilize themselves than they would in a snugger, stiffer hiking boot. What's more, where a burlier midsole and outsole would provide a stable platform for the feet, the Lone Peak Hiker's soft and flexible components bend and contort with the terrain and also result in a lot of ground feel.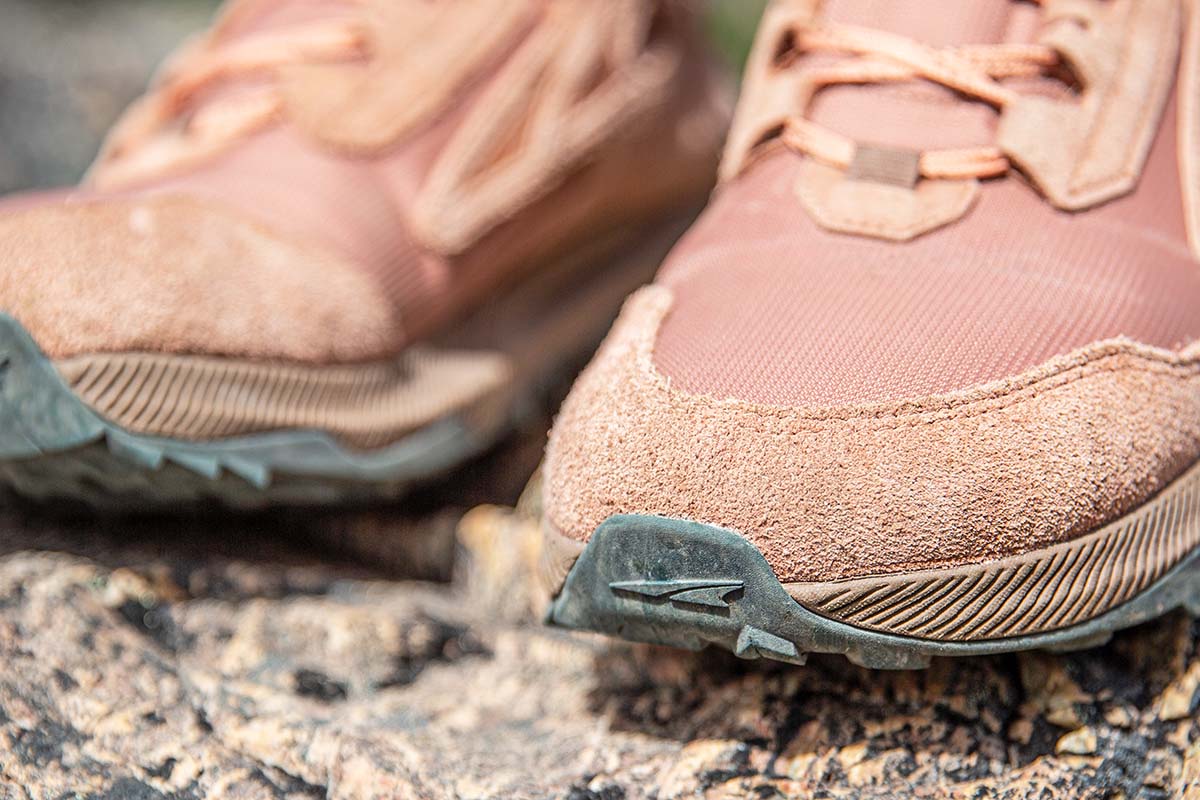 But unlike the other mid-height Lone Peaks I've tested (including the first-gen Lone Peak ALL-WTHR Mid), the Hiker 2's collar adds a nice boost in ankle support. The collar is decently snug—illustrated by how difficult it is to get in and out of the boot—and kept my ankle from rolling throughout our entire hike. One interesting design feature here is the collar's high sidewalls and low back, which I found did a great job promoting an easy stride while still offering lateral support. Added up—and it's becoming a theme of the review—the Altra offers ample stability and support for easy trails but will start to feel very sloppy and slipper-like when pushing into more technical terrain.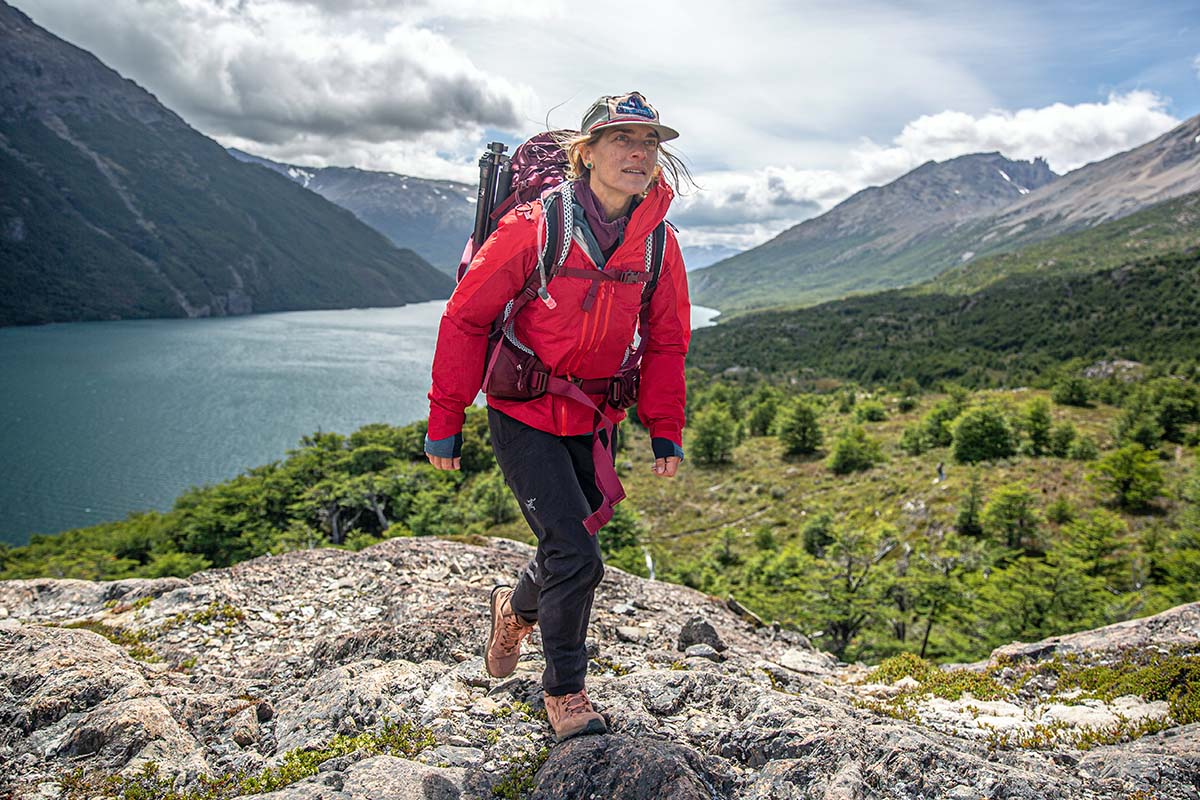 Waterproofing and Breathability
The Lone Peak Hiker 2 is a non-waterproof boot, which contributes to both its relatively low price and weight. That said, in my experience, it does a decent job keeping light moisture at bay thanks to a combination of suede (which is naturally water-resistant) and decently robust synthetic in the upper. After hiking for three days in the Altra—including crossing a marsh and a few small rivers—I actually had to immerse my foot in a stream to prove to myself that the boot wasn't waterproof (good news: It drained and dried very quickly afterwards). If you're looking for a boot that will keep your feet relatively dry in a dewy forest but still drains well when fully doused, the Altra Lone Peak Hiker 2 certainly delivers.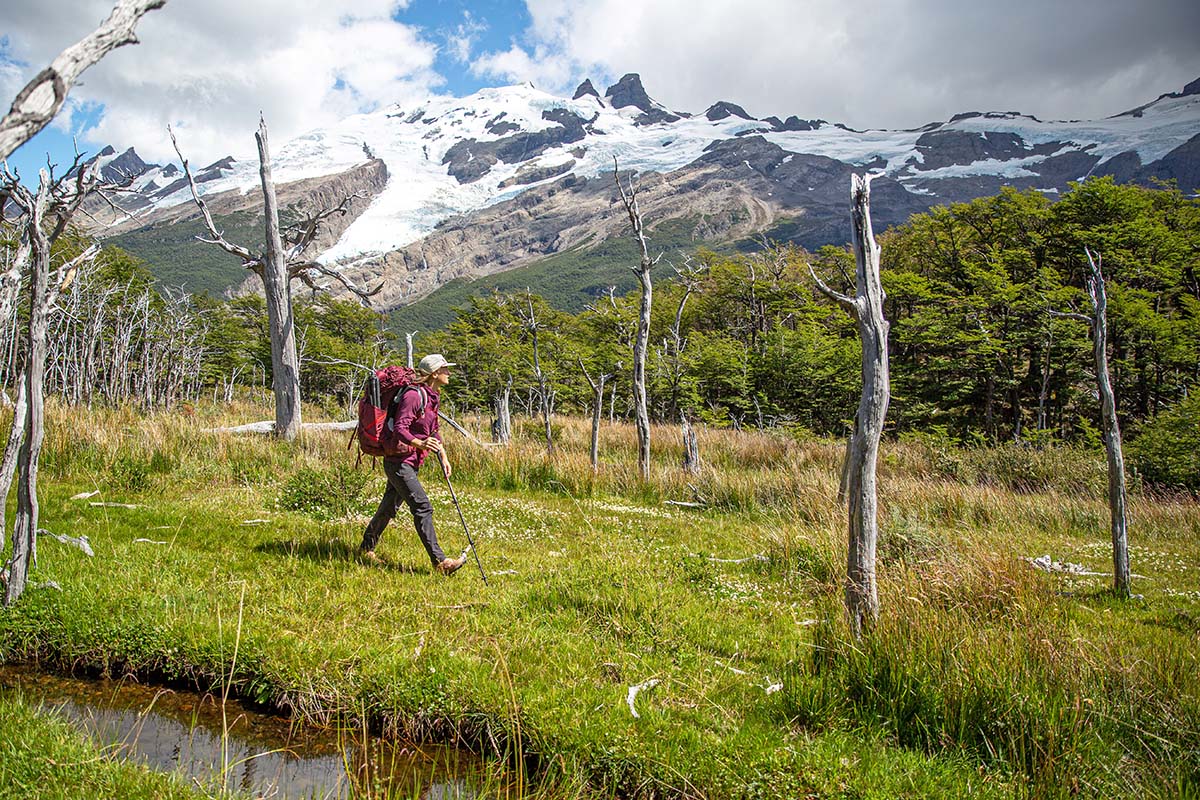 One of the largest benefits of non-waterproof footwear is that it's also much more breathable than the alternative. What's more—as was my experience with the Lone Peak Hiker 2—a non-waterproof boot will drain water after getting wet, whereas a waterproof boot will hold it in (which can lead to painful issues like trench foot). As a result, non-waterproof footwear is by far my preferred option for warm-weather jaunts when wet feet won't pose any risks. But if you're hiking in colder weather or anticipate a lot of shallow river crossings, a waterproof boot can be a nice companion. Altra doesn't offer the Hiker 2 in a waterproof version, but their Lone Peak ALL-WTHR Mid 2 features a waterproof eVent upper and higher, wraparound coverage at the ankle.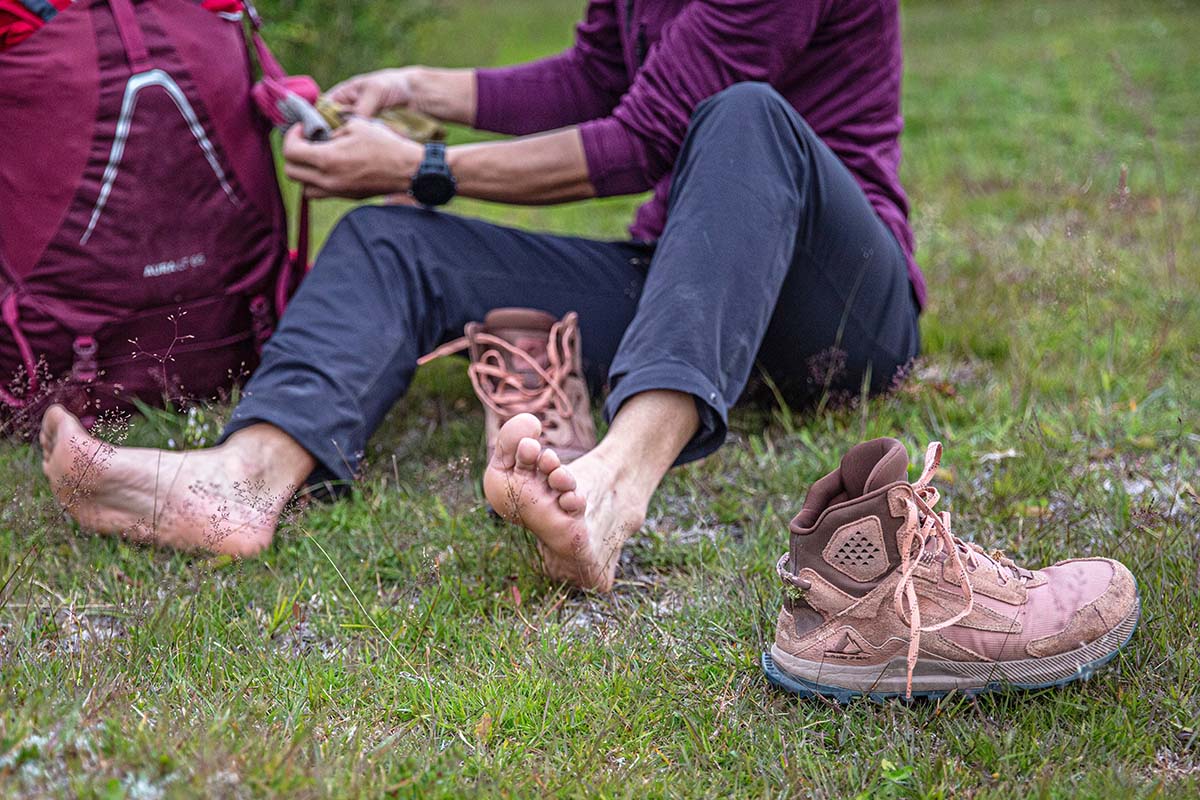 Build Quality and Durability
Most designs that aim to keep weight low make some noteworthy compromises in durability, but the Lone Peak Hiker 2 is surprisingly hardwearing and well built. I was overall very impressed with the boot's construction, which features a durable suede upper and high-quality touches throughout. The tongue provides ideal coverage without too much bulk, the suede patches are thoughtfully placed, and the eyelet sleeves offer a premium look and protect the laces better than simple holes. I wasn't a fan of the Lone Peak Hiker 2's appearance—I took to calling my pink boots "blush velvet"—but the bones are good, and the boot should have a longer lifespan than the synthetic offerings in the Lone Peak lineup.

Fit and Sizing
With Altra's Original FootShape Fit, the Lone Peak Hiker 2 is a decidedly roomy boot, great for hikers with wide feet or bunions or feet that have a tendency to swell with activity. But despite the accommodating width, its length is fairly standard if not a bit on the short side, even compared to other Altra shoes (my women's size 8.5 was shorter than the size 8.5 Altra Olympus 5 Hike Low I recently tested). On top of that, the ankle doesn't provide a great lock front-to-back; for me, the combination of these two factors resulted in a good deal of toe bang on downhill stretches of trail. After reading a number of reviews, this experience seems almost unanimous, and I think most feet will benefit from sizing up a half to full size.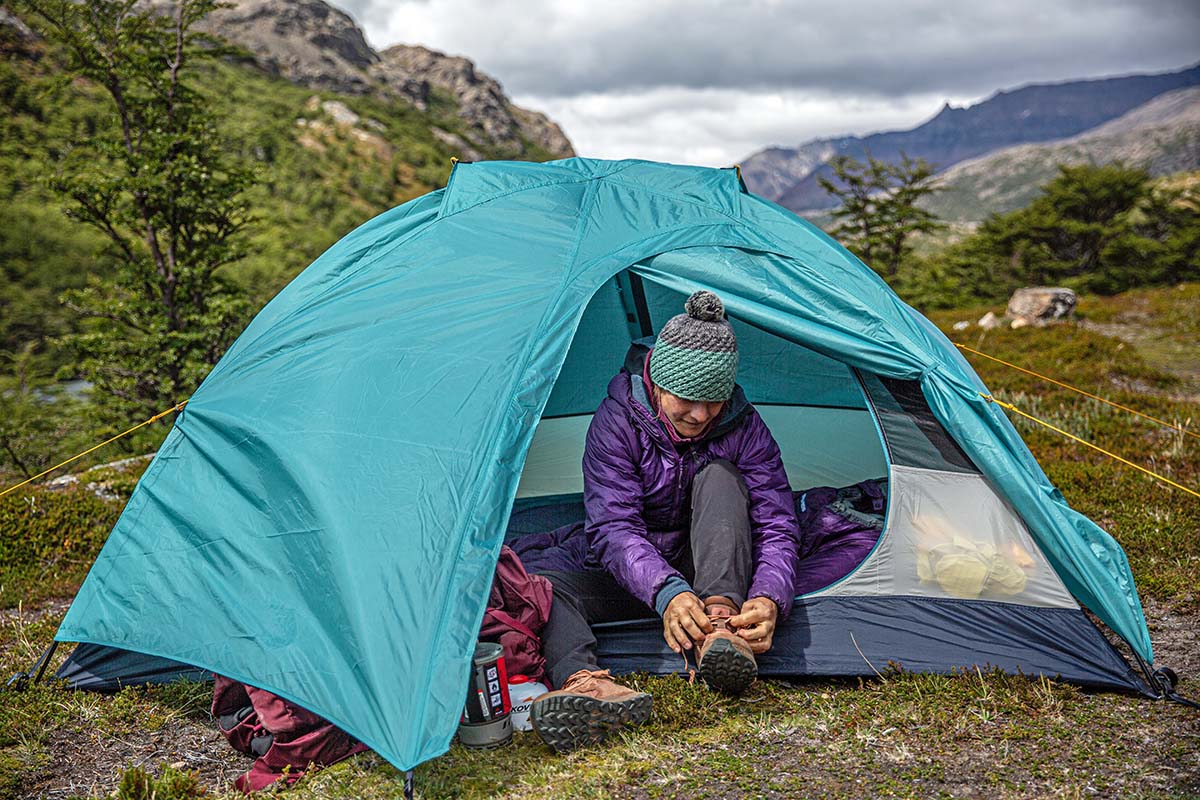 It's also worth noting that the Lone Peak Hiker 2 was ridiculously difficult to get on and off, and the finger pull on the back of the boot does little to help. Each time I wanted to put the boot on, I had to unlace it almost to the toe. This was a bit of an inconvenience (especially when I needed to leave my tent for a quick minute), but I'd rather a boot that takes some time to don rather than a boot that slips at the ankle each time I take a step. All in all, the Hiker 2 has a fairly secure ankle collar design that—unlike many lightweight hiking boots (such as the TNF Vectiv Exploris 2 Mid Futurelight, for example)—feels much more like a boot than a souped-up shoe.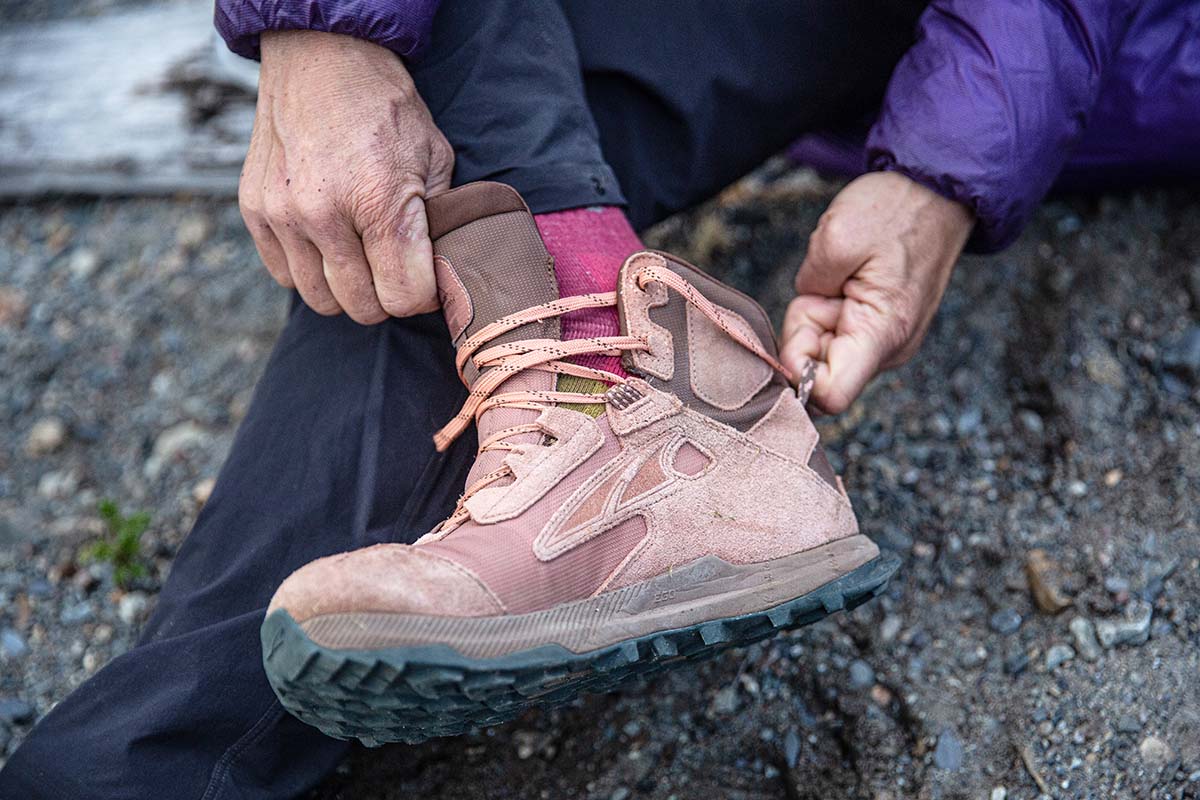 Sustainability
In 2023, one of the main ways that brands are innovating is with sustainable design practices that seek to mitigate our impact on the planet. Altra isn't exactly leading the charge on any front—unlike other brands, they don't yet tout recycled materials in their footwear—but even their smaller efforts are helpful. All of their products are screened by a governing body (CHEM IQ) to ensure that they're free of harmful chemicals, and the company is committed to using 100% renewable, recycled, or sustainably sourced materials by 2030. We're eager to see Altra continue to grow their sustainable processes and will be sure to report on their ongoing progress.

Other Versions of the Altra Lone Peak
The Hiker 2 reviewed here is the non-waterproof, mid-height offering in Altra's Lone Peak collection. At the time of publishing, Altra also has a waterproof boot—the Lone Peak ALL-WTHR Mid 2 ($190)—which features a synthetic upper, eVent membrane, and higher collar at the rear. The Lone Peak also comes in a few low-top models, including the Lone Peak 7 (a trail runner that's become wildly popular among hikers) and the waterproof Lone Peak ALL-WTHR Low 2, which are $150 and $180 respectively. The Hiker 2 is the only one of these designs that features suede in the upper, but all of the models share the same Original FootShape Fit, zero-drop last, MaxTrac outsole, Altra EGO Midsole, and 25-millimeter stack height. 

What We Like
Unparalleled comfort for wide or finicky feet thanks to the roomy fit, zero-drop last, generous underfoot cushioning, and lightweight build.
Impressive build quality and durability, premium materials, and high attention to detail.
The snug collar provides an extra boost in ankle support compared to the first-generation Lone Peak ALL-WTHR Mid, while the heel cutout keeps mobility almost on par with that of a low-top shoe.
Very lightweight for a hiking boot at just 1 pound 5.2 ounces for the women's model.

What We Don't
Comfort-first design results in compromised stability on technical sections of trail.
Traction suffers compared to many hiking boots, especially on rocky terrain.
Very difficult to get on and off, making it a hard boot to don for quick jaunts outside the tent.
Most will want to go up a half size to account for the boots' shorter-than-average length.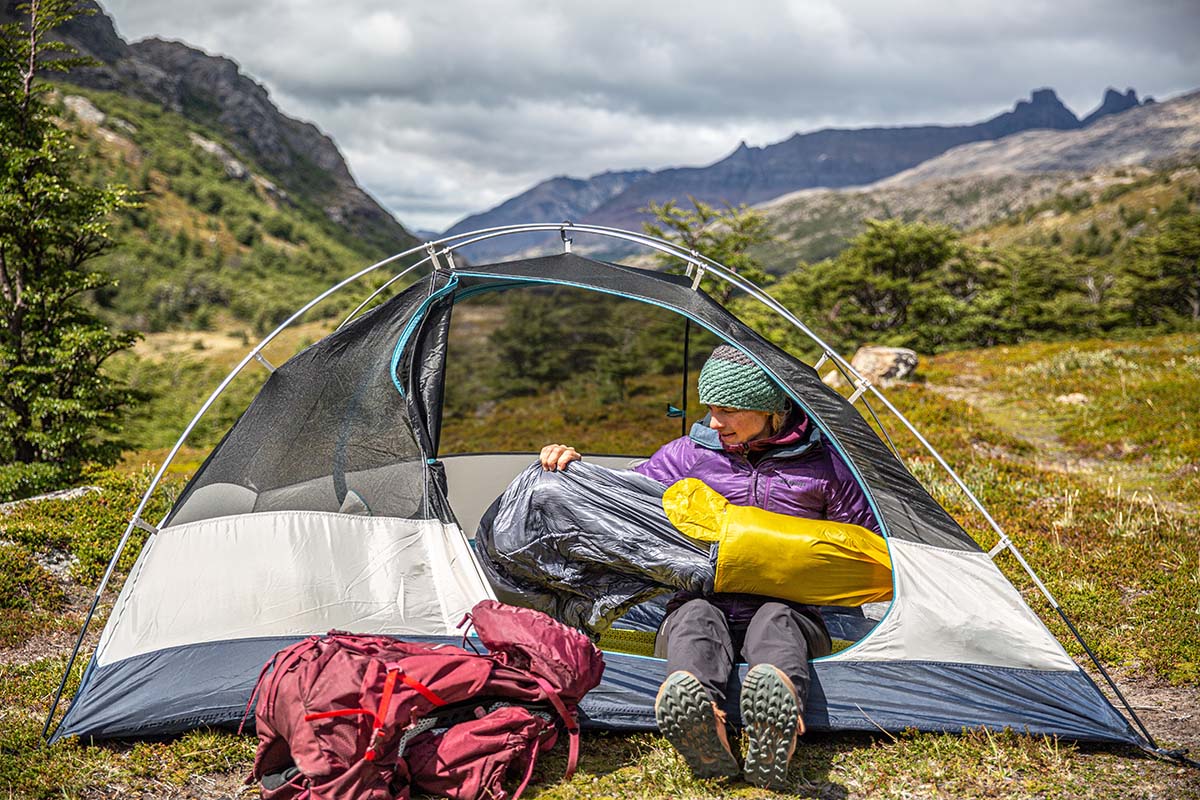 Comparison Table

The Competition
Altra's footwear collection is known for being easy on the feet, but comfort-focused hikers will also want to check out Topo Athletic's lineup. With an accommodating toe box, similarly low weight (1 lb. 7.4 oz.), and identical price point, Topo Athletic Trailventure 2 goes head to head with the Lone Peak Hiker 2. In lieu of suede, the Topo Athletic features a durable synthetic upper, but the two boots differ most in their underfoot construction. With a 5-millimeter drop, the Trailventure 2 offers a more balanced feel that's noticeably more precise and stable on difficult terrain. What's more, it features more cushioning throughout (33 x 28mm vs. the Altra's 25mm) and a stiffer and grippier Vibram XS Trek EVO outsole, which combine to offer more isolation from the ground, improved stability, and better overall traction. The Lone Peak Hiker 2 is undeniably comfortable and well deserving of its cult following, but the less-compromised Trailventure 2 is the better performance pick for a wider audience of hikers.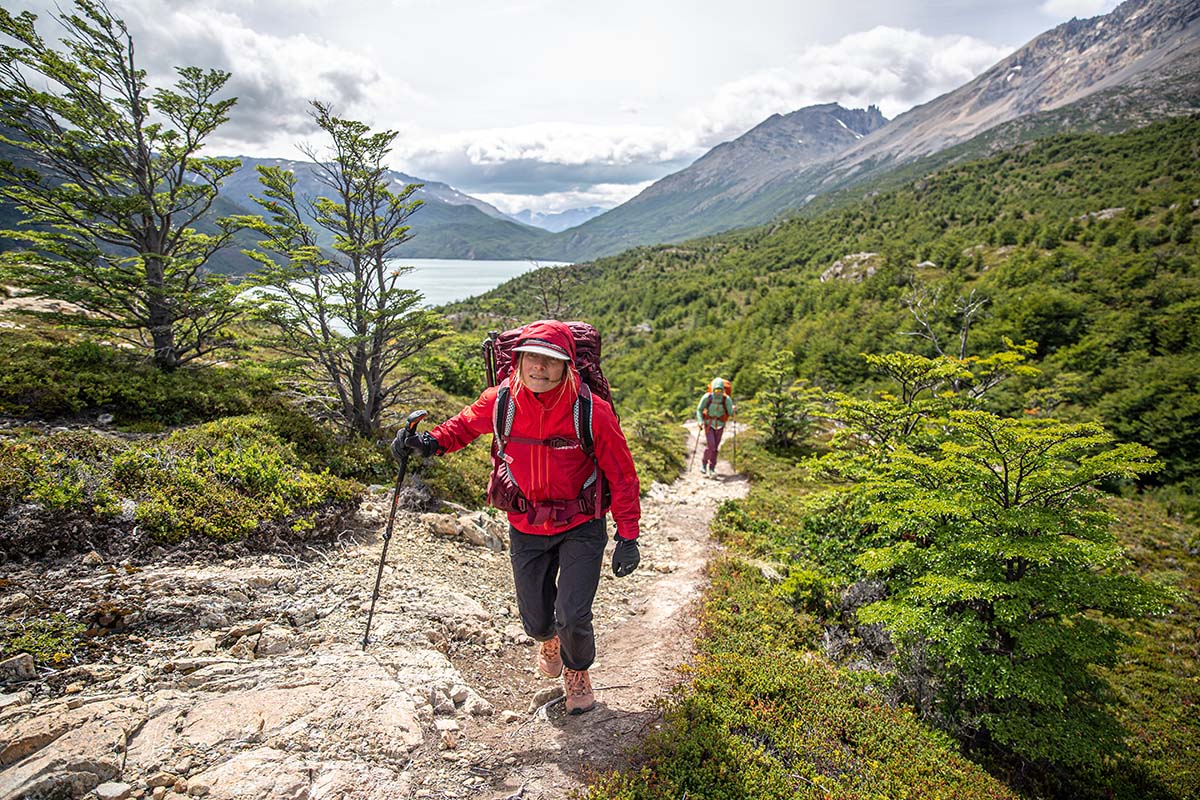 Another trail running shoe that's gained legendary status amongst hikers is the HOKA Speedgoat, which also comes in a mid-height, waterproof version. Like the Altra, the HOKA Speedgoat 5 Mid GTX retains many of the trail-runner characteristics of its low-top counterpart, with plush underfoot cushion, a relatively soft midsole and outsole, and an incredibly low, 1-pound-4.6-ounce weight. As a result, its protection and stability can't match that of a standard hiking boot (similar to the Lone Peak), but—thanks to its snug-fitting engineered mesh upper and narrower footbed—it is noticeably more agile and offers a bit more precision on off-camber terrain. And for $180, the Speedgoat 5 Mid GTX also features a premium waterproof membrane. Most fast-and-light hikers will prefer the airy and agile HOKA, but those who want a burlier design (for a minimal weight penalty) will appreciate the suede Altra.
Within the lightweight hiking boot category, another popular option to consider is Salomon's OUTpulse Mid GTX. Whereas the Altra is flat-lasted and roomy, the Salomon is sleek and snug, with a 10-millimeter drop and narrower shape. Thus, despite its slightly heavier weight (1 lb. 7.1 oz. for the pair), the OUTpulse has a much nimbler personality that's more capable on technical terrain. What's more, its Contagrip sole also grips particularly well on rock, especially in comparison to the slippery Lone Peak. And for the same price, you get the addition of a Gore-Tex waterproof membrane. But there's a catch: The OUTpulse's mid-height design offers very little ankle support, and its knit-like upper can't compete with the durability of the Altra's suede. The OUTpulse certainly has its strengths—and its modern and streamlined look has much better crossover appeal—but the Lone Peak is the more well-balanced design, in our opinion.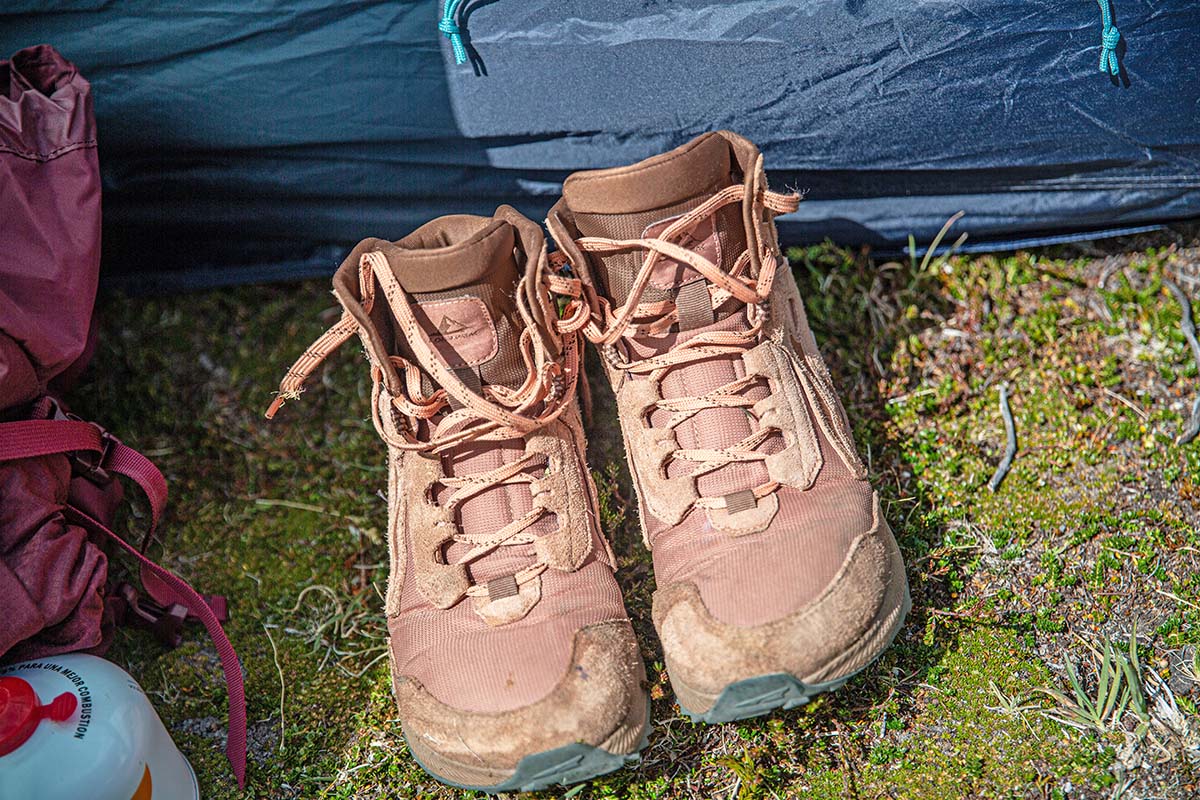 During our gear testing trip in Patagonia, I wore the Lone Peak Hiker 2 back to back with The North Face's Vectiv Exploris 2 Mid Futurelight (see our in-depth review here). Although the boots both fall into the lightweight category (the TNF is 1 lb. 11.1 oz., but in my experience felt much lighter), they're incredibly different in practice. The Exploris 2 Mid features a narrow shape that hugs the foot—not ideal for those with bunions or wide feet—and a rockered, max-cushioned sole that, in contrast to the Altra's flat footbed, has a tendency to feel tippy on off-camber terrain. That said, once I got used to the Exploris 2 Mid, it seemed to operate like an extension of my foot, while the Lone Peak persisted in feeling like a cozy mountain slipper. We don't recommend the TNF to typical Altra fans, but it's a durable alternative to the HOKA above for about the same price ($179).
Last but not least is the Lone Peak ALL-WTHR Mid 2 ($190), the mid-height, waterproof alternative to the Hiker here. The ALL-WTHR has many of the same design features as the Hiker 2—including the zero-drop last, roomy Original FootShape Fit, MaxTrac outsole, and 25-millimeter stack height—but tacks on a waterproof eVent membrane and taller, wraparound coverage at the ankle. It also forgoes the Hiker's suede upper, which does result in less overall durability and crossover appeal. But at just 1 pound 8 ounces, the ALL-WTHR Mid 2 is nevertheless an incredibly lightweight offering for those looking for the extra assurance of a waterproof boot. 
If you're thinking about buying gear that we've reviewed on Switchback Travel, you can help support us in the process. Just click on any of the seller links above, and if you make a purchase, we receive a small percentage of the transaction. The cost of the product is the same to you but this helps us continue to test and write about outdoor gear. Thanks and we appreciate your support!
Depending on the seller, most products ship free in the United States on orders of $50 or more. International shipping availability and rates vary by seller. The pricing information on this page is updated hourly but we are not responsible for inaccuracies.
Read More From Switchback Travel