Building off the success of the first-generation Vectiv Exploris, The North Face's Vectiv Exploris 2 Mid is a thoroughly modern design that effectively bridges the gap between a hiking shoe and boot. You get great out-of-the-box comfort and a generous amount of rockered cushion underfoot for logging fast trail miles, while the mid-height collar and hardwearing materials make it a suitable choice for committing overnight trips, too. And a highlight of the design is the grippy SurfaceCTRL outsole, which performed well on the varied and wet terrain we encountered while backpacking in southern Patagonia. Below we break down our experiences with the Vectiv Exploris 2 Mid. To see how it stacks up to the competition, see our article on the best hiking boots and the best women's hiking boots.
 
---
Table of Contents
---
 
Performance
Comfort
To be completely honest, I didn't expect to like the The North Face's Vectiv Exploris 2 Mid Futurelight. The boots are fairly polarizing with their futuristic styling and max-cushioned, rockered design, and the all-black colorway felt a little too urban for my more natural tastes. But what won me over more than anything was the Exploris 2 Mid's comfort, which was simply hard to debate. I took the TNF straight out of the box and onto an overnight backpacking trip into Patagonia's Torre Valley and experienced nothing in the way of hot spots or pressure points. The burly yet soft upper conformed quickly to my foot, and the plush collar provided support without too much rigidity or constriction. And notably, the Exploris 2 tacks on an extra 2 millimeters of underfoot cushioning compared to the outgoing design, which results in more isolation from the ground and added support for high-mileage days.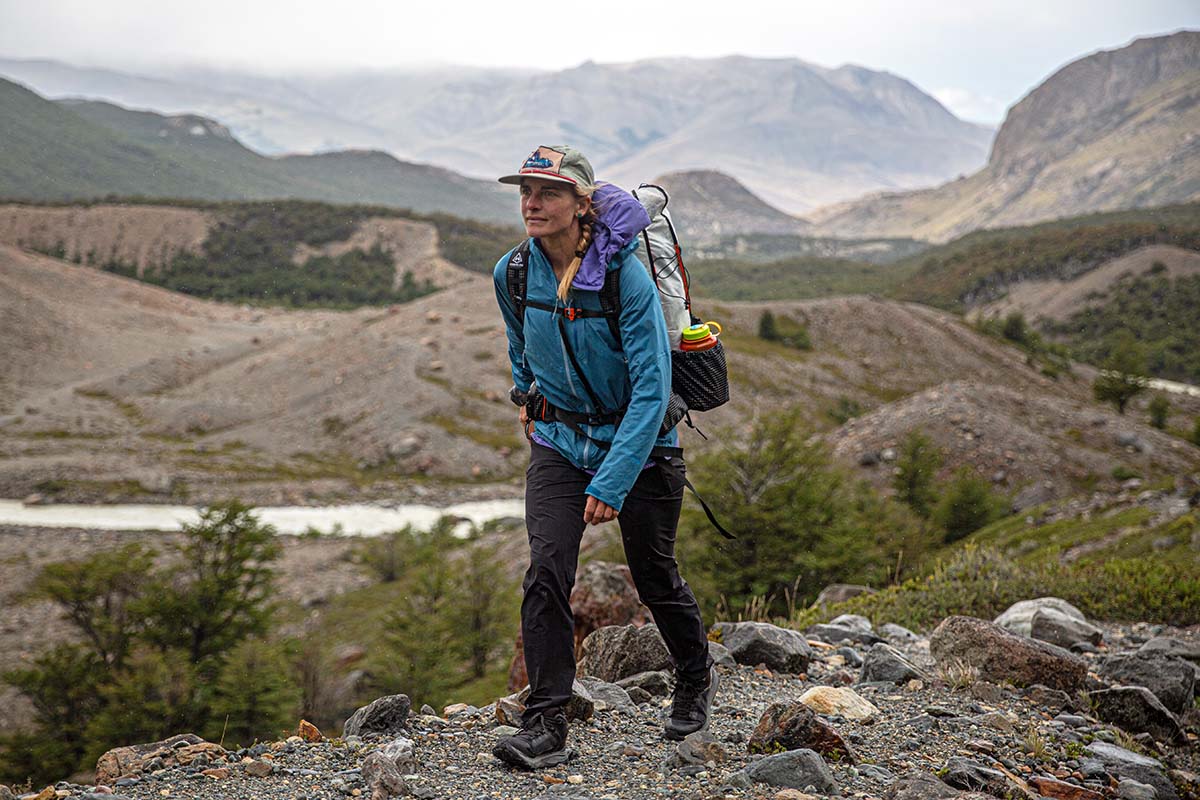 That said, I do have a couple of small comfort gripes with the Exploris 2 Mid. For one, the heel cup is rather stiff, which I didn't notice until I took the boots off at the end of the day; once free from their snug confines, my heels were sore. What's more, despite TNF's claims that the Exploris is built on a wide, D-width last, the toe box isn't particularly roomy and felt constrictive as my feet began to swell (even with thin hiking socks). But as I noted, these are fairly small nitpicks and did little to impact my overall experience with the boot. It's likely that those with lower-volume feet won't have any issues with the Exploris 2 Mid, and my discomforts could likely have been solved by sizing up a half size.

Weight
At 1 pound 11.1 ounces for the pair, the Vectiv Exploris 2 Mid is on the lighter end of the hiking boot spectrum, similar to other synthetic waterproof models like the Topo Athletic Trailventure 2 WP and Salomon Cross Hike 2 GTX (1 lb. 10.2 oz. and 1 lb. 9.5 oz., respectively). By contrast, burlier designs like the leather Lowa Renegade tip the scales at over 2 pounds. In my testing, the TNF certainly felt very lightweight underfoot—I wore it side-by-side with the trail runner-esque Vectiv Fastpack Futurelight (1 lb. 3.2 oz.), and the weight discrepancy was almost unnoticeable. What's more, I hiked several 15-minute miles in the Exploris 2 Mid. All told, the boot is even nimbler than its weight would suggest, striking an impressive balance for such a durable, capable design.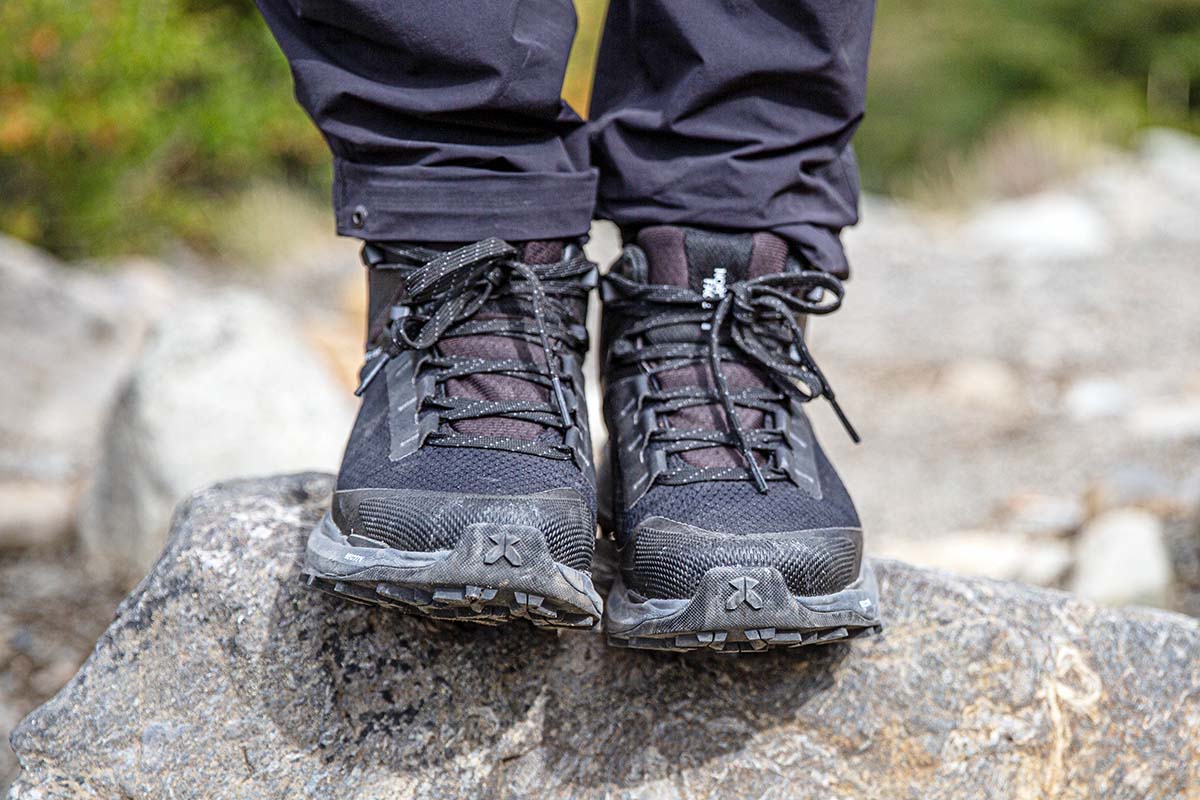 Traction
In addition to the boots' comfort and agility, traction was one of the main highlights of the Vectiv Exploris 2 Mid's design. I tested them in characteristically challenging Patagonian conditions, which included slippery and steep trails, boulder hopping, and treacherously wet log crossings. The SurfaceCTRL rubber put on a true master class, providing confidence-inspiring grip no matter the terrain, and the 4-millimeter lugs offer a decent compromise between traction on rock and soft ground. As expected, the cushioned midsole detracts a little from traction and stability—there's simply more material between your foot and the ground—but the Exploris was surprisingly secure for such a plush design.  I would even consider using the boots for the more involved climbing approaches in southern Patagonia thanks to their solid control on all manner of terrain.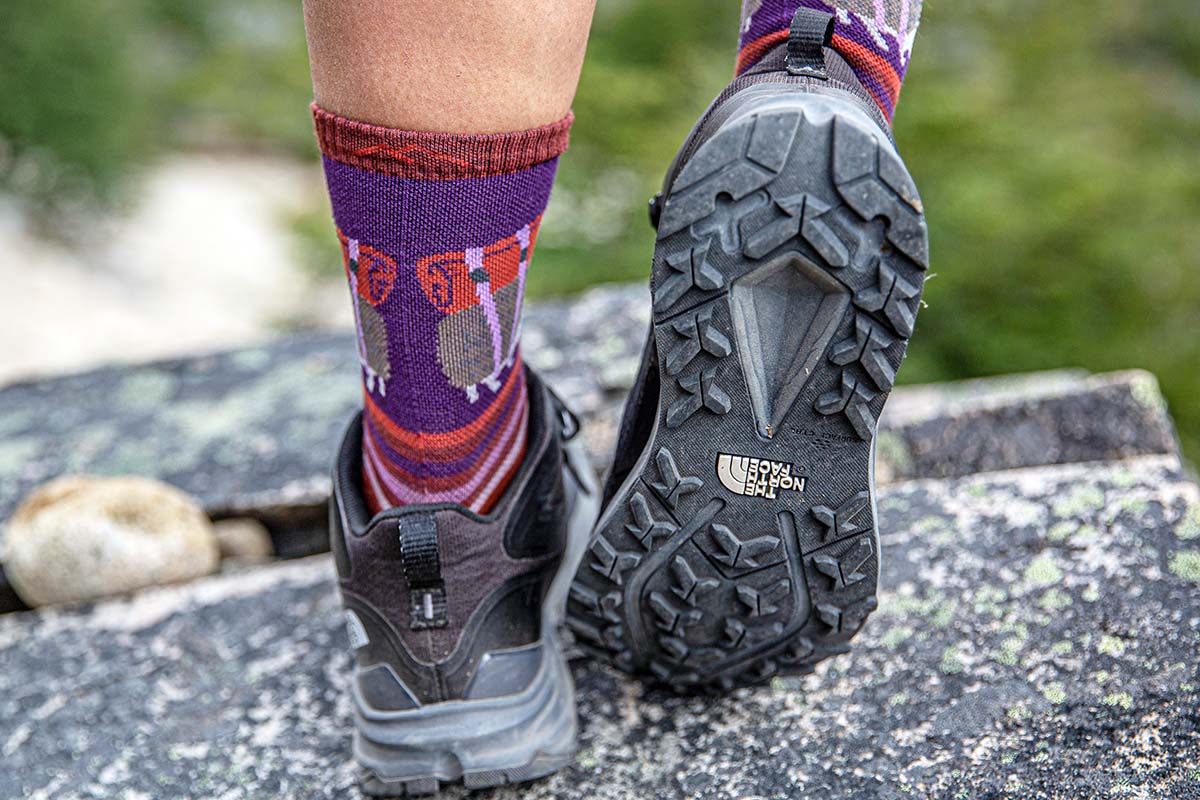 Stability and Support
The Vectiv Exploris 2 Mid excels at moving quickly on well-established trails, but this does result in some compromises in terms of stability and support. While most hiking boots extend decently high above the ankle (generally with enough space for two eyelets), the Exploris has a streamlined collar with just one eyelet. This design offered more ankle support than a low-top hiking shoe (I experienced no ankle rolls, and my ankles were well protected against sharp rocks and roots), but it was noticeably less stable than a traditional leather boot, especially on off-camber terrain. What's more, the boot's rockered sole and generous midsole cushioning result in a feel that's more springy than planted. The "give" in the midsole detracts from the firm platform many might want on uneven terrain, and the rocker keeps the whole sole from touching the ground at once, so you don't get much in the way of ground feel. In the end, the Exploris 2 Mid is not my first choice for covering challenging terrain with a heavy load. 
All that said, your perfect footwear will come down to a matter of personal preference, experience level, and hiking objectives—some might want the uncompromised stability of a burly hiking boot, while others will be comfortable with the  Exploris 2 Mid's plusher and more streamlined design. On our overnight trek into Patagonia's Torre Valley, I found the boot to be fully sufficient for carrying a 20-pound load across boulder fields, over talus slopes, and on rocky and rooty climbers' trails. Compared to a trail running shoe, the Exploris' Vectiv 3D TPU plate and decently rigid heel offer a significant boost in stability. In my opinion, the boot hits a really nice middle mark between a trail runner and a traditional hiking boot, especially for those who like to move quickly and are accustomed to lightweight footwear.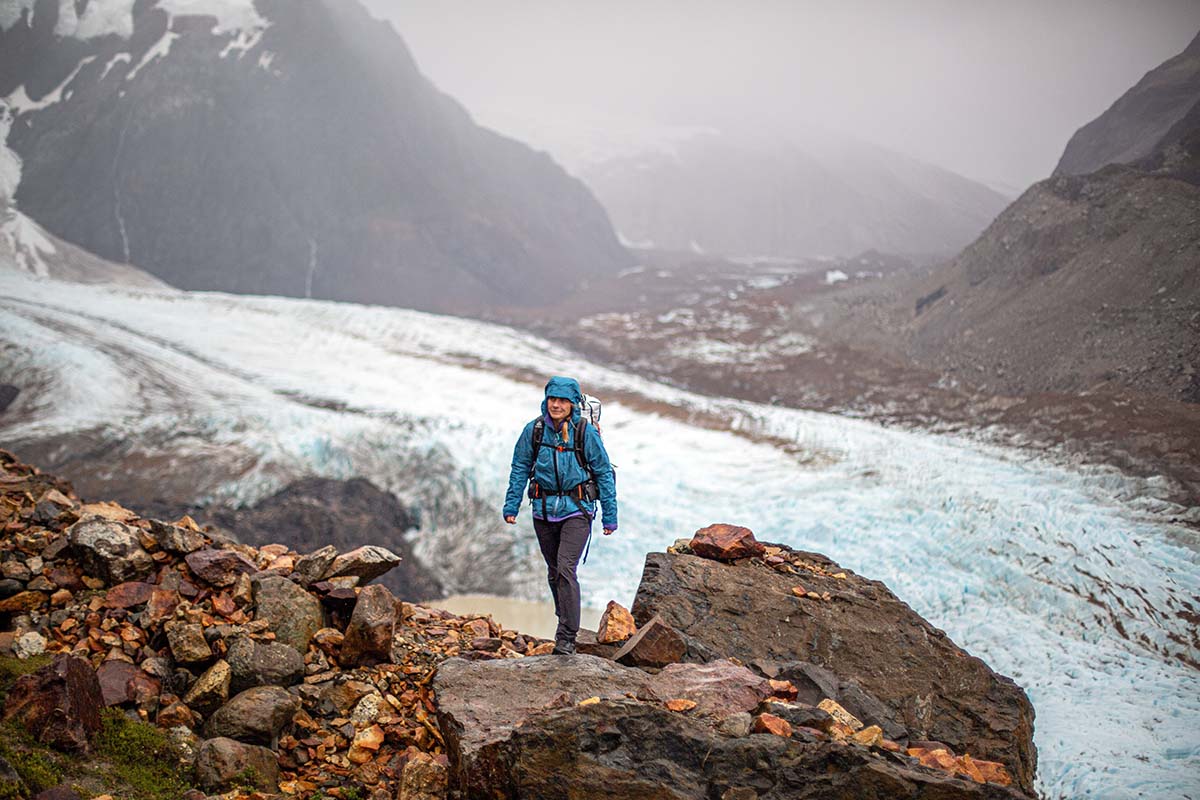 Waterproofing
The Vectiv Exploris 2 Mid is built with TNF's in-house Futurelight waterproof/breathable membrane, which has received mixed reviews since its release a few years back. That said, after a thorough test in wet and rainy Patagonian conditions, I found the shoes to be impressively waterproof out of the box. What's more, the mid-height collar offered protection higher up the foot than a standard hiking shoe (without too much of a weight or mobility penalty), giving me confidence while crossing streams and stepping in puddles. Whether or not you want a waterproof boot is up to personal preference and conditions—we really like them for areas with wet weather and frequent river crossings (like Patagonia)—and it's worth noting that the Exploris 2 does not come in a non-waterproof version.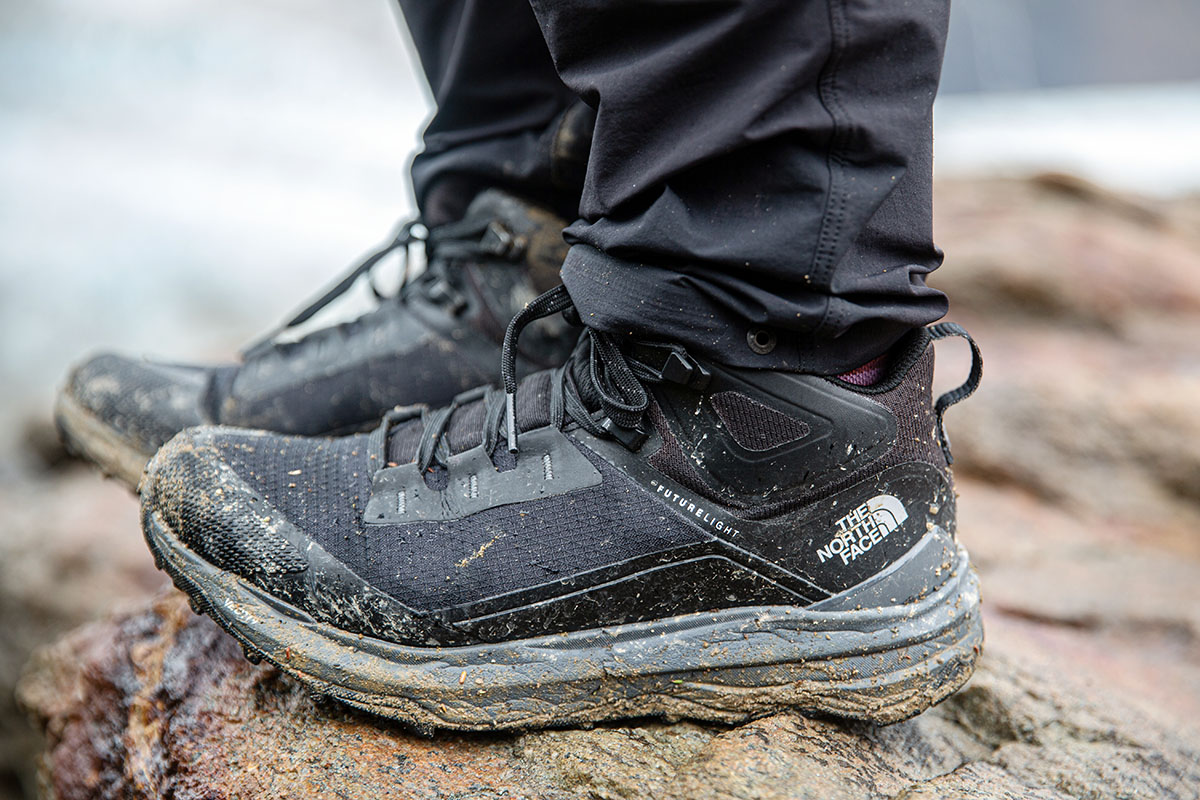 Breathability
Breathability is always a tradeoff with waterproof footwear, but it's generally a compromise we're willing to make for hiking in wet and cool conditions like those found in Patagonia. With its relatively low collar and partially synthetic build, the Exploris 2 Mid is more breathable than most burly leather hiking boots, but it falls short of mesh-heavy boots and shoes. That said, in the changing Patagonian conditions we encountered—cold and raining one moment, hot and sunny the next—my feet stayed noticeably comfortable with very little sweat buildup over time. I did notice that my hiking socks were much more pungent than usual (I generally wear non-waterproof footwear), but smelly feet are a part of the package with waterproof boots.
 
Build Quality and Durability
The North Face Vectiv Exploris 2 Mid might look like a souped-up trail runner, but don't be fooled: It's a surprisingly durable boot. The upper features burly synthetic materials, thick overlays, and generous rubber rands. What's more, the thick lacing eyelets provide an extra degree of toughness when jamming your feet in cracks and squeezing them through rocky spaces. All in all, for the weight, the Exploris 2 is an impressively hardwearing boot that can take a beating and will hold up better than a mesh-heavy design (like TNF's Vectiv Fastpack Mid), making it a suitable pick for challenging mountain terrain. I do have a bit of concern about the exposed midsole foam possibly chipping away over time, but this is an expected tradeoff when opting for such a lightweight boot.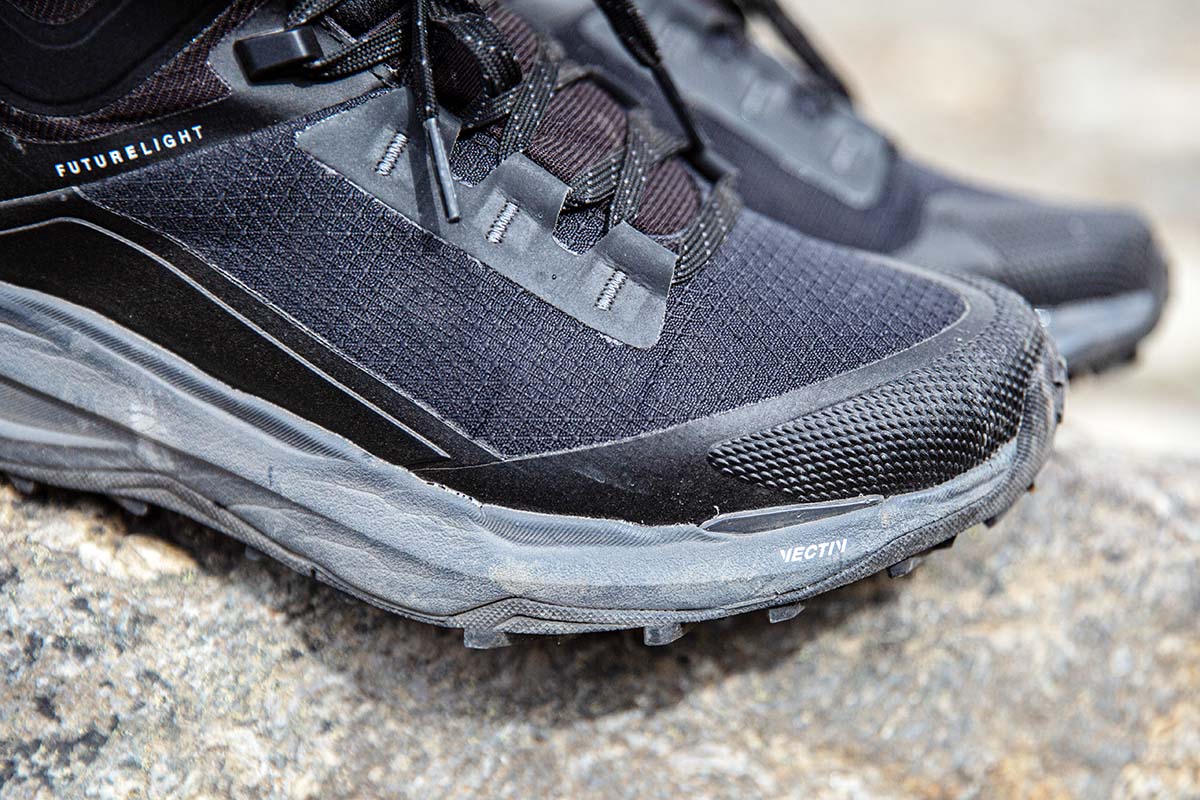 Fit and Sizing
The Vectiv Exploris 2 Mid comes in 11 women's sizes from 6 to 11 and 14 sizes for men (7 to 14). The North Face advertises that the updated model is built on a D-width last to accommodate a wide range of foot sizes, but in my experience, the boot felt fairly narrow in the toe box. I opted for a women's size 8.5 (my standard shoe size), but wish I had sized up to a 9. If you have a wide forefoot, like to wear thick hiking socks, or appreciate more room for swollen toes, it's likely a good idea to go up a half to full size.
 
Other Versions of the TNF Vectiv Exploris 2
For this review, we tested the women's Vectiv Exploris 2 Mid Futurelight, and the boot also comes in a men's model. The men's Vectiv Exploris 2 Mid Futurelight features the same design and price ($179) but is slightly heavier at 1 pound 13.6 ounces and comes in four unique colorways and 14 sizes from 7 to 14. The North Face also offers the design in a low-top shoe for both men and women, which is $10 cheaper at $169. Finally, both the shoes and boots are also available in leather versions ($179 and 189 respectively), which boost durability and protection at the cost of weight and breathability.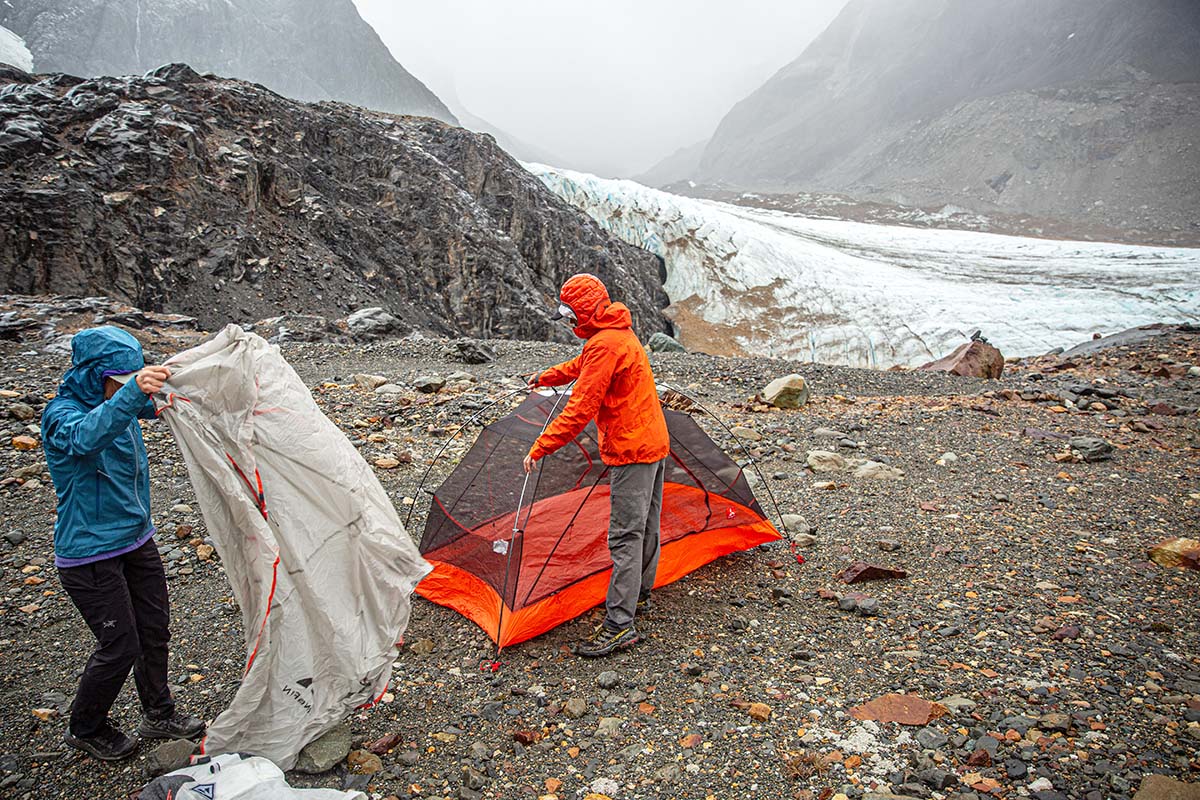 What We Like
Extremely comfortable out of the box; generous cushion and rockered midsole absorb impact and encourage an easy stride.
A lightweight and nimble boot that's ideal for logging fast miles and long days on well-established trails.
Hardwearing materials and construction result in a durable, protective boot that should last longer than similarly lightweight designs.
SurfaceCTRL rubber is impressively grippy on a variety of terrain, from boulders and talus to wet roots and muddy trails.
 
What We Don't
Despite TNF's claims that the Exploris 2 is built on an accommodating D-width last, we found the boot to be quite narrow in the forefoot.
Streamlined collar, generous midsole cushioning, and rockered design means the Exploris is a lot less stable than a traditional hiking boot, especially on off-camber terrain or with a heavy load.
Not as durable and protective as a leather boot.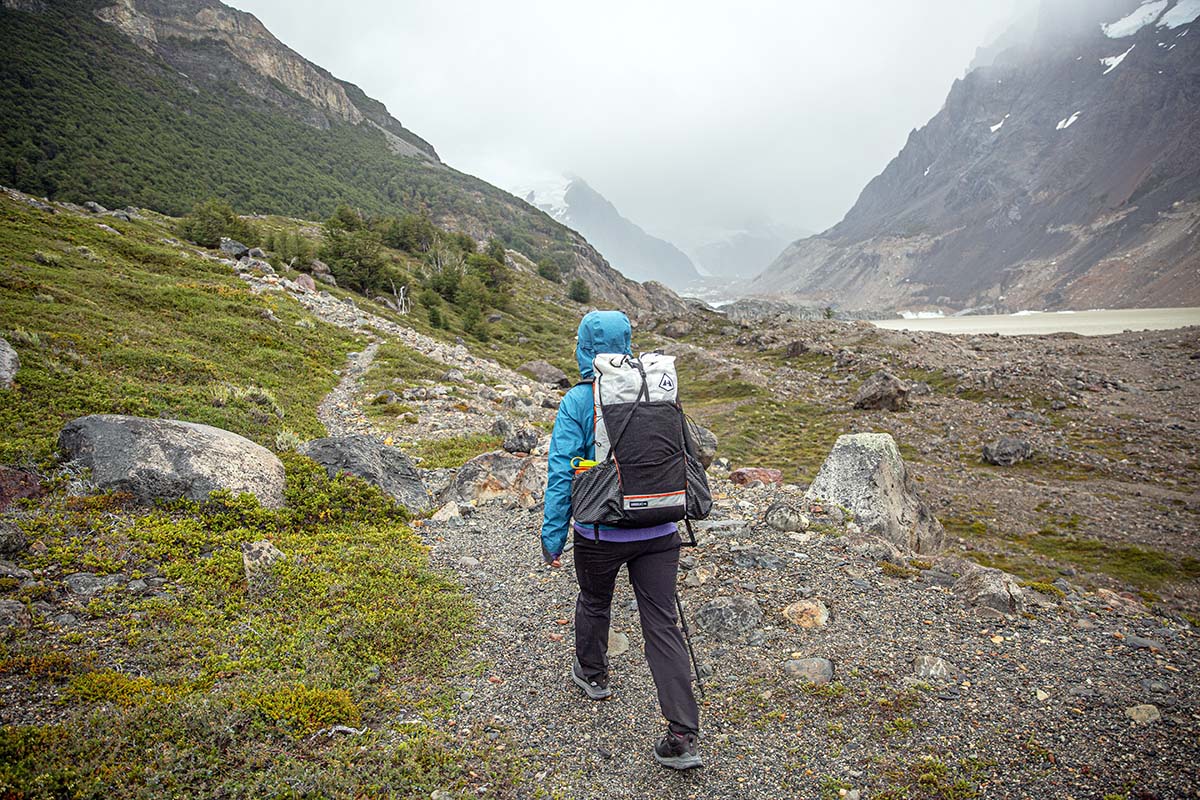 Comparison Table

The Competition
Modern footwear like the Vectiv Exploris 2 Mid offer a great compromise between the comfort and agility of a hiking shoe and the stability and protection of a full-blown hiking boot. There are a lot of options in this category, and one of our favorites is the Topo Athletic Trailventure 2 WP. The Trailventure 2 checks in around the same price and weight as the Exploris 2 but offers a boost in stability and support by way of a stiffer midsole (which includes a full-length rock plate), taller collar, and less rockered design. Topo Athletic shoes are also known for being roomy and accommodating for wide and swollen feet, and the Trailventure 2 is no exception. In the end, we think the Trailventure 2 is the more well-rounded boot for most hikers, but the Exploris 2 is undeniably faster and arguably more comfortable toward the end of high-mileage days.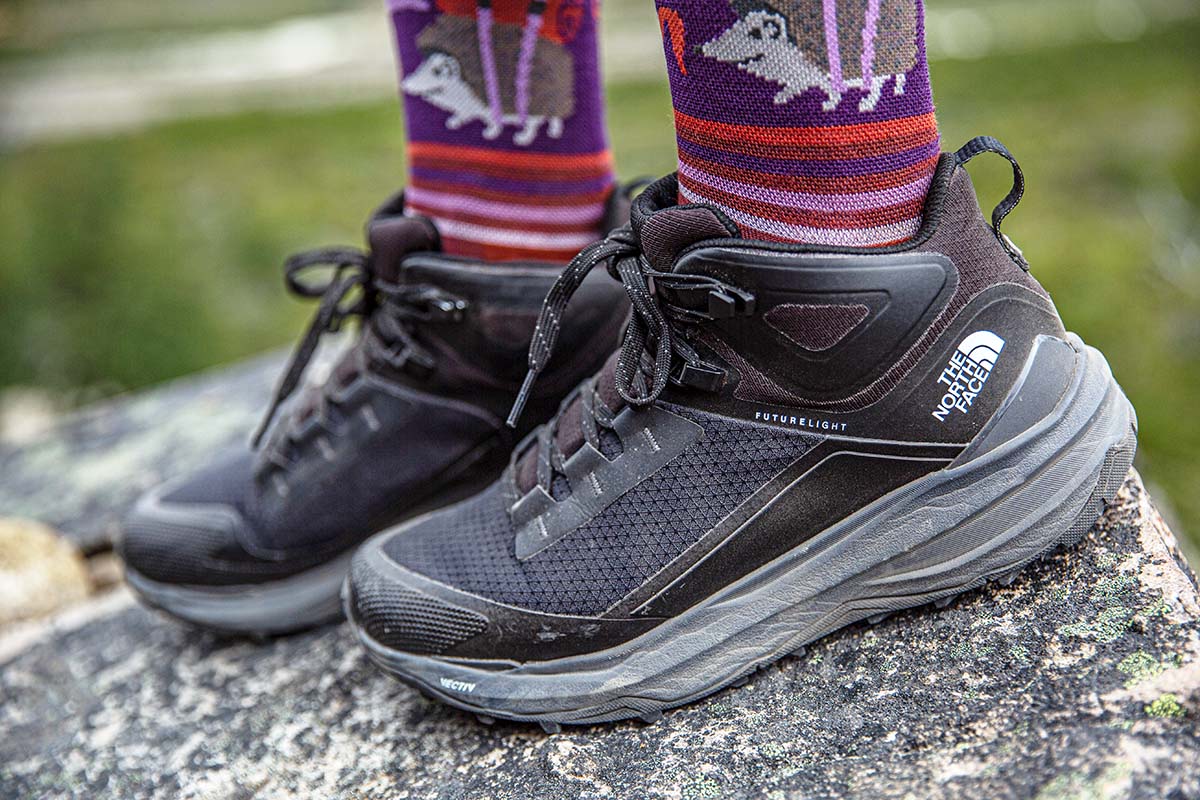 If the added stability of the Trailventure appeals to you, it's also worth considering the Arc'teryx Aerios FL 2 Mid GTX ($190). This boot is premium from top to bottom, with a very durable synthetic upper, lightweight design (the women's model tips the scales at 1 lb. 6 oz.), and high-end Gore-Tex waterproofing. The Arc'teryx doesn't offer the same amount of plush cushioning as the TNF, but the tradeoff is a more solid platform that feels more stable on off-camber terrain. That said, like the Exploris' design, the Aerios FL 2 Mid's collar is fairly low, which translates to less ankle support than a traditional boot (it doesn't help that the lacing system has a tendency to loosen over time). All told, the Arc'teryx is a nice compromise for fast-and-light hikers who like the streamlined nature of the Exploris but don't need the maximum cushion.
For comfort seekers or those with finicky feet, our favorite recommendation is the Altra Lone Peak ALL-WTHR Mid 2. The Lone Peak's standout feature is its wide, zero-drop footbed, which accommodates feet of many sizes and offers a close-to-the-ground feel that you'll either love or hate (we've taken to calling them our "mountain slippers"). Compared to the Exploris, the ALL-WTHR has a fairly tall collar for added ankle support, a rock plate underfoot, and a very planted feel, but we've found that these features only translate to stability on easy trails. On technical mountain terrain, protection suffers with the soft, thin upper, and the roomy fit feels noticeably sloppy. For those who like to move fast, the sluggish Lone Peak doesn't measure up to the Exploris 2, but it's a great option for hikers with particularly hard-to-please feet.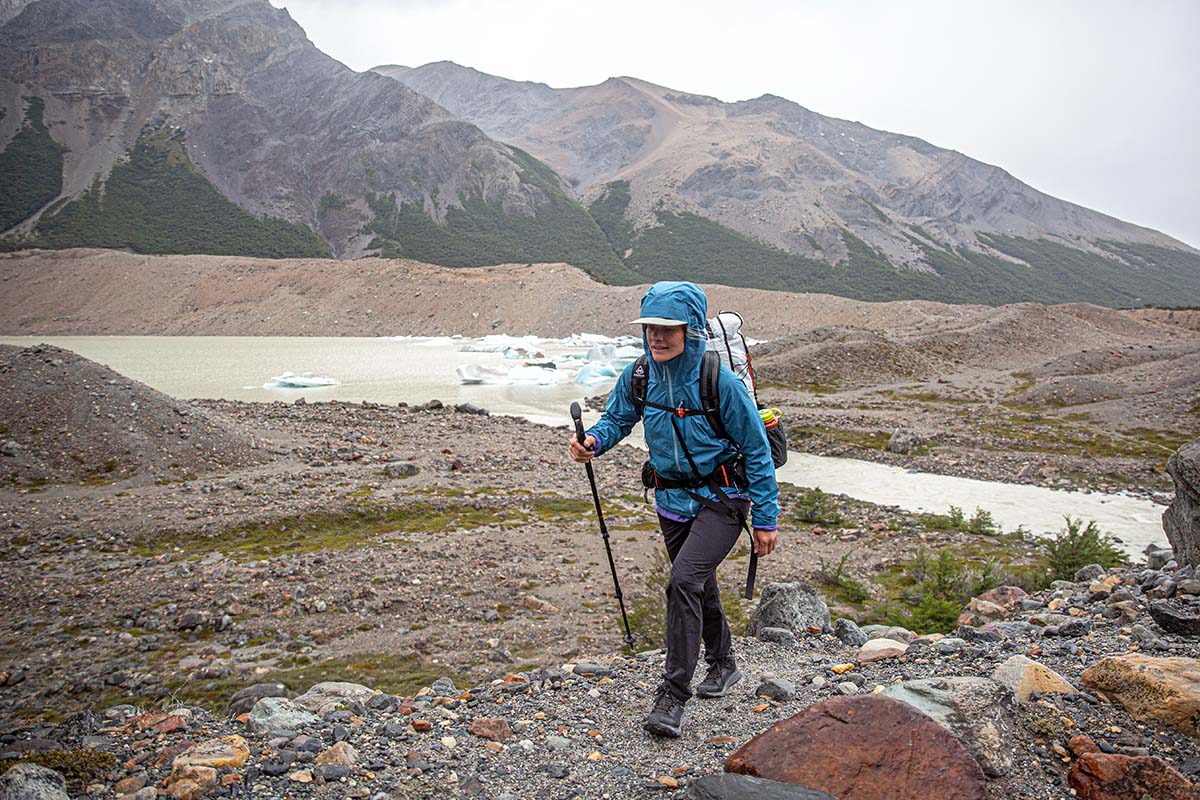 Salomon is a big player in hiking footwear, and their closest competitor to the Exploris 2 is the Cross Hike 2 Mid GTX. Both boots are very lightweight (the Cross Hike is even lighter than the Exploris at 1 lb. 9.4 oz.) and feature durable uppers, streamlined collars, and protective rands and caps at the toe and heel. But their designs part ways when it comes to the midsole and outsole: Whereas the TNF is heavily cushioned and rockered, the Salomon is more streamlined underfoot, resulting in a more nimble and planted feel. It also features an aggressive 10-millimeter drop and deep lugs for improved traction on soft and wet ground. These differences make the Cross Hike the more capable shoe on technical and wet terrain, but the Exploris isn't far behind and is arguably more comfortable on high-mileage days.
Last but not least is The North Face's Vectiv Fastpack Mid Futurelight ($165), the Exploris 2's lightweight and airy cousin. We had the opportunity to test the two shoes side-by-side (the mid-height Exploris 2 and the low-top Fastpack), and the differences are numerous. The Fastpack Mid checks in a few ounces lighter than the Exploris 2 Mid with a mostly mesh upper and a bit less cushion underfoot, which makes it a great pick for quick-paced trail missions and summer hiking (breathability is better than the Exploris). We even prefer it on technical mountain terrain, where you get a slightly more planted feel (we noticed more ground feel with the Fastpack). But the lighter boot is considerably less durable—our pair sustained considerable abrasions after just one day hike—while the Exploris is built to last. It's a bit of a tossup between the two, but in the end, we give the nod to the Exploris 2 for its longer-lasting, hardwearing design.
If you're thinking about buying gear that we've reviewed on Switchback Travel, you can help support us in the process. Just click on any of the seller links above, and if you make a purchase, we receive a small percentage of the transaction. The cost of the product is the same to you but this helps us continue to test and write about outdoor gear. Thanks and we appreciate your support!
Depending on the seller, most products ship free in the United States on orders of $50 or more. International shipping availability and rates vary by seller. The pricing information on this page is updated hourly but we are not responsible for inaccuracies.
Read More From Switchback Travel