Arc'teryx Aerios FL 2 Mid GTX
Price: $190
Weight: 1 lb. 10.5 oz. (men's size 9)
Waterproof: Yes (Gore-Tex)
What we like: Lightweight, nimble, and reliable on technical terrain.
What we don't: Tweener height is tall for a shoe but less protective than a boot; overly simplistic lacing system.
See the Men's Aerios FL 2 Mid GTX  See the Women's Aerios FL 2 Mid GTX
Still a relative newcomer in hiking footwear, Arc'teryx has stuck to what they know best: technical performance. We tested the second iteration of their fast-and-light Aerios shoe on a demanding fall backpacking trip in the North Cascades and came away impressed by its overall performance. The tweener height—taller than most hiking shoes and shorter than standard boots—and simplified lacing system come with some downsides, but the Aerios Mid is lightweight, surprisingly supportive, and has a just-right amount of cushioning for demanding trails. For logging serious mileage in challenging terrain, it's a solid option. Below we break down our experiences with the Aerios FL 2 Mid GTX. To see how it stacks up to the competition, check out our articles on the best hiking shoes and best hiking boots.
 
---
Table of Contents
---
 
Performance
Comfort
For a shoe that clocked in a little over 1.5 pounds for the pair, I was pleasantly surprised by the Arc'teryx Aerios FL 2 Mid GTX's overall comfort. Not only does the light construction give the boot a very nimble and quick feel on the trail, but Arc'teryx hit a really great balance of cushioning and minimalism. Underfoot, the foam midsole is soft enough to absorb impacts and protect you from rocky trails, and there's sufficient padding around the ankle to cinch the shoe tight without compromising on comfort. For reference, our backpacking loop involved very full days, lots of elevation gain and loss, and a wide variety of surfaces, from rocks and dust to steep sections of snow and ice. Despite hauling a full pack that maxed out at just over 30 pounds after water fill-ups, I had zero issues with sore feet, pressure points, or rubbing.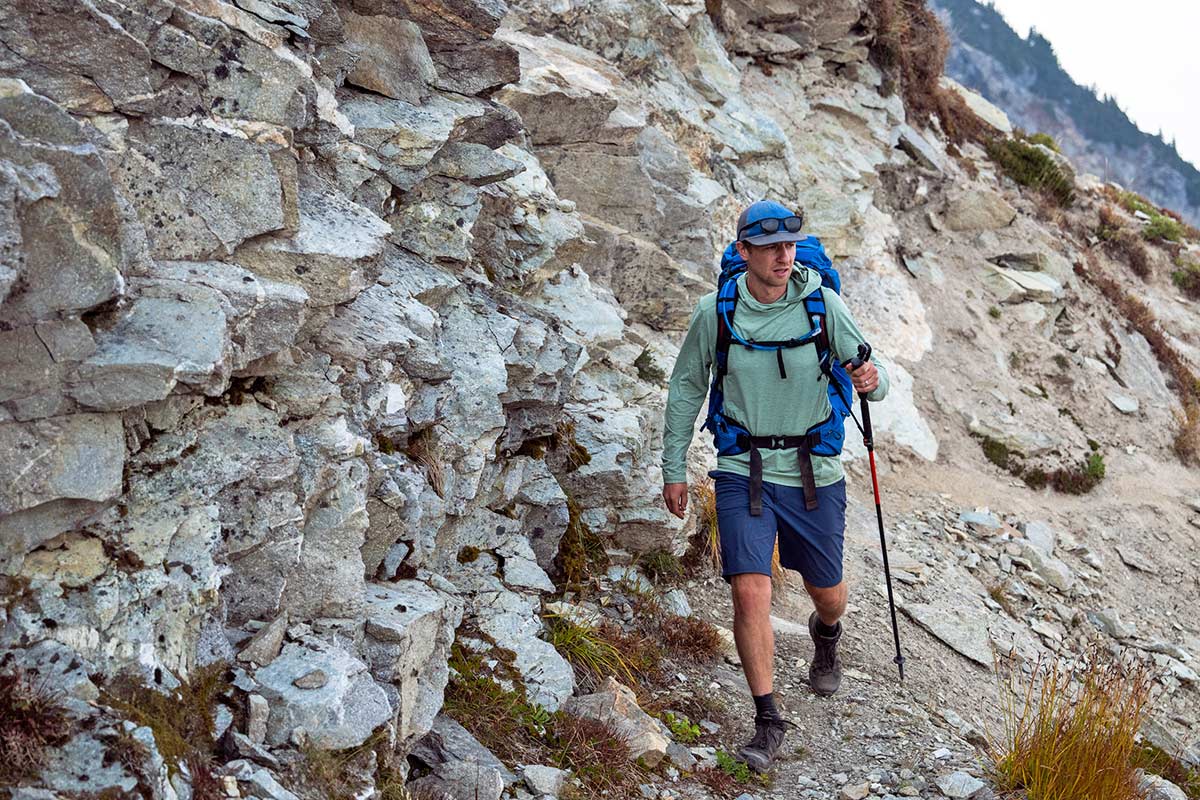 There were a lot of positive takeaways in regard to comfort, but one consistent complaint I had with the Aerios FL 2 was its lacing system. In short, it's too simple and made it difficult to achieve a consistent and secure fit. Rather than eyelets and locking hooks, Arc'teryx opted for simple webbing loops for threading the laces back and forth. The problem with this concept is that you're unable to effectively dial in precision (for example, it's hard to loosen only the top of the foot). A further annoyance with the non-locking setup is that the laces inevitably end up loosening over time. I wound up having to readjust multiple times each morning to get my desired fit, which is something I rarely (if ever) have to do with upgraded systems from competitors like Salomon's X Ultra 4 Mid, Topo's Trailventure WP, and HOKA's Anacapa Mid.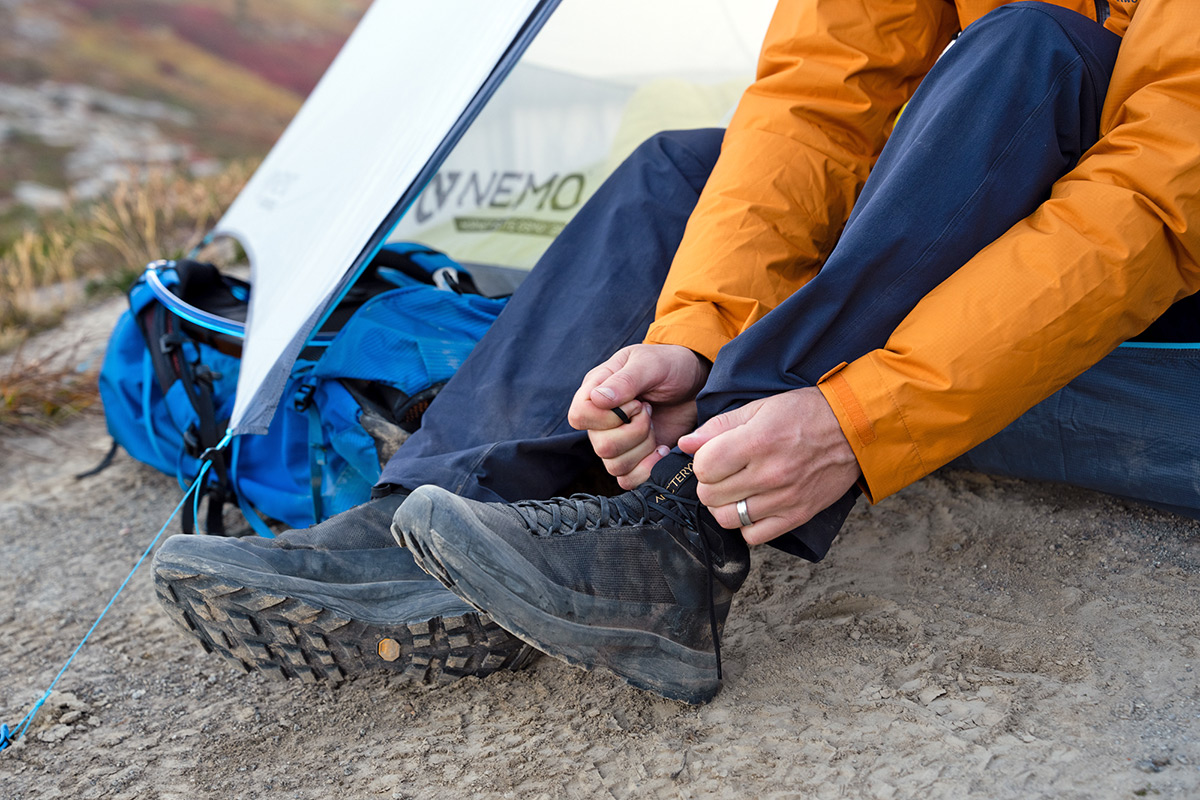 Weight
As I touched on above, weight is a clear highlight of the Aerios FL 2 Mid GTX's design: At 1 pound 10.5 ounces in my men's size 9 (listed weight is 1 lb. 10 oz.), the Aerios is comparable to many lower-height, standard hiking shoes. For reference, the popular Salomon X Ultra 4 GTX shoe (1 lb. 11.5 oz.) and boot (1 lb. 14 oz.) are both slightly heavier, while trail running-inspired shoes like Merrell's MQM 3 GTX (1 lb. 7 oz.) and Topo Athletic's Ultraventure Pro (1 lb. 4.8 oz.) weigh a bit less (although the Topo isn't waterproof). On the move, the Aerios shoe feels as light and agile as its listed weight suggests, but what sets it apart is that it's far more supportive and capable on technical terrain than many alternatives (including the Merrell mentioned above). In other words, if moving fast on full-day adventures or multi-day backpacking trips is a priority, the Aerios' light-but-stable build gives it a ton of appeal.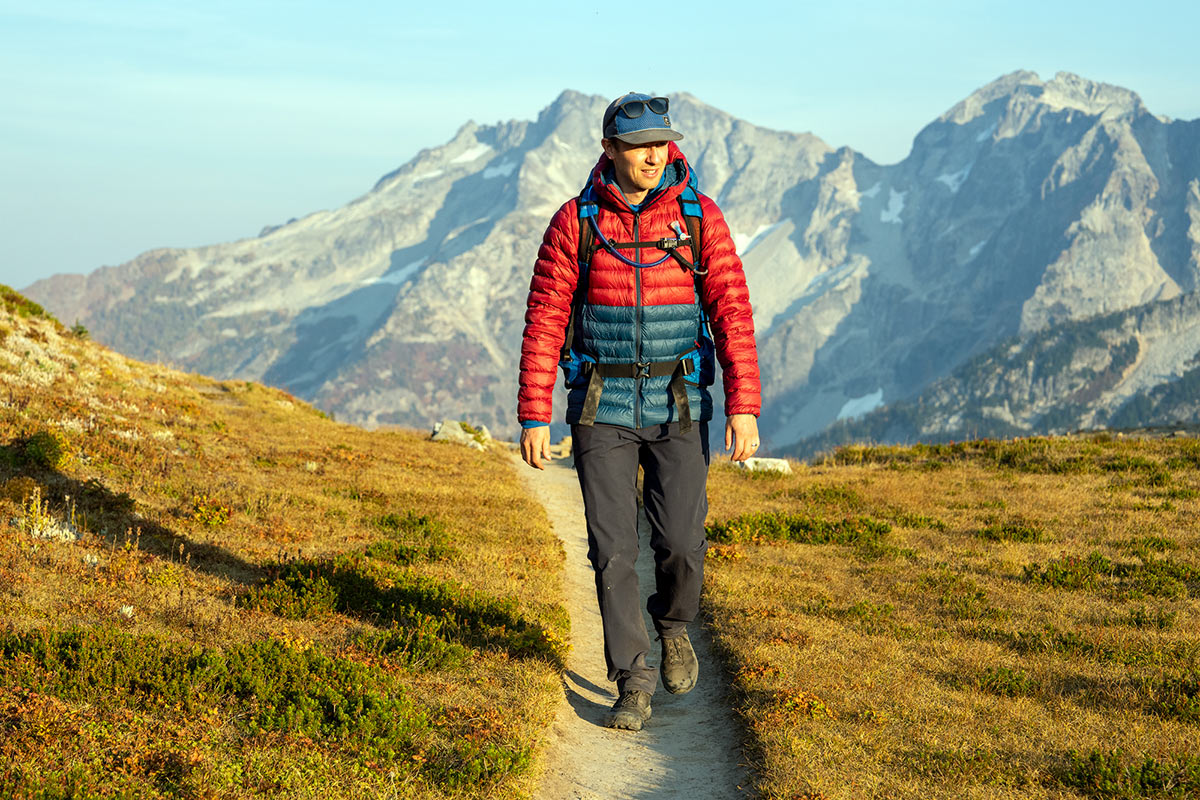 Traction
We've found that Arc'teryx's hiking shoe and trail runner outsoles are often standouts on rock and middle-of-the-pack through softer, mushier surfaces, and it's a similar story with the Aerios FL 2 Mid GTX. The lugs are relatively low-profile for a hiking design, so they don't dig in exceptionally well in snow or mud. That said, combined with Vibram's tacky Megagrip compound, the tradeoff is excellent traction on rock and firm surfaces. All in all, I felt comfortable with the shoes in nearly all situations—including slippery creek crossings—but wouldn't recommend them as a true foul-weather pick if you want maximum grip on mucky terrain or in snow.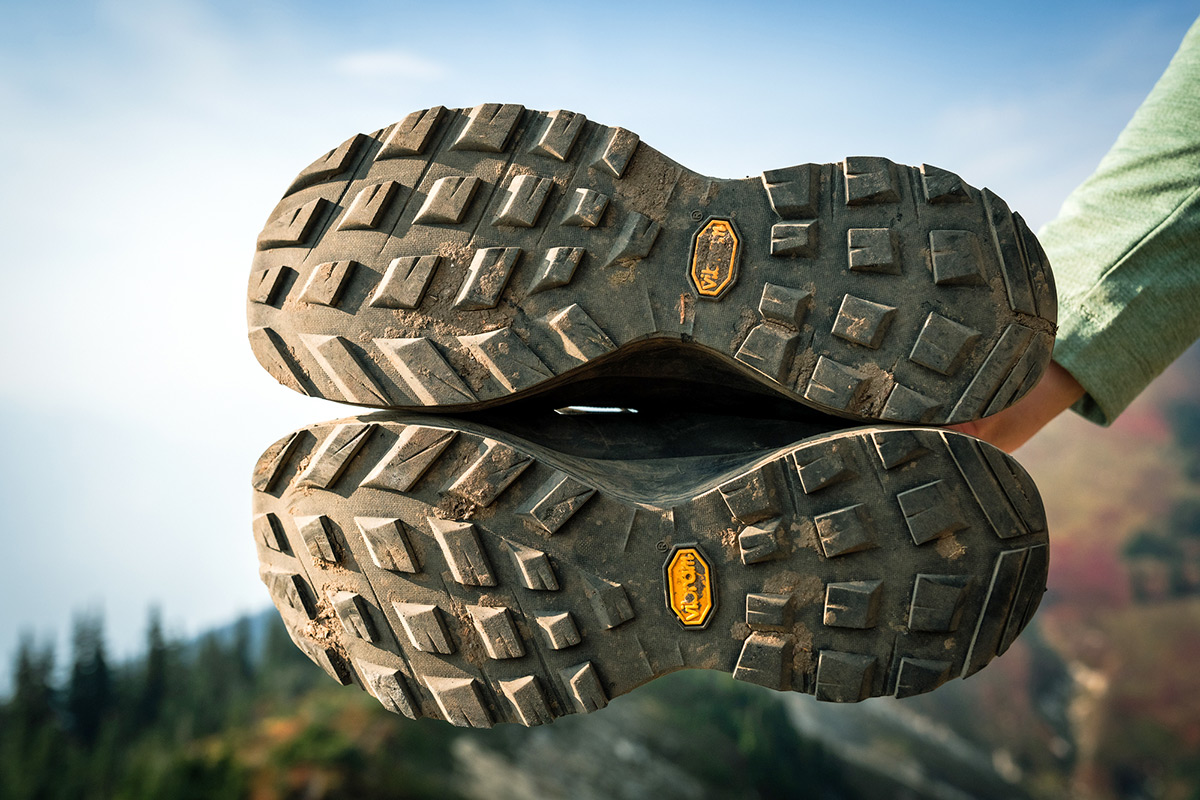 Stability and Support
With a trimmed-down build and ankle-height collar, the Arc'teryx Aerios FL 2 Mid GTX doesn't have the traditional ingredients of a stable hiking boot. But cinched snug (which wasn't always easy to achieve with the finicky lacing system), the shoe proved to be very impressive on challenging terrain. Underfoot, there's sufficient stability to limit ankle rolls when traversing a slope, and the same is true for the moderately stiff heel counter. For everything from boulder hopping to descending steep and dusty hills with a full backpacking pack, I found the Aerios to be more than capable. All that said, this is still a relatively low-cut, lightweight, and flexible shoe. In other words, those who have serious hauling needs of 40 pounds or more—and particularly if you'll be heading off trail or have ankle issues—will likely want to step up to a heavier and more serious boot like Salomon's Quest 4 or Scarpa's Zodiac Plus.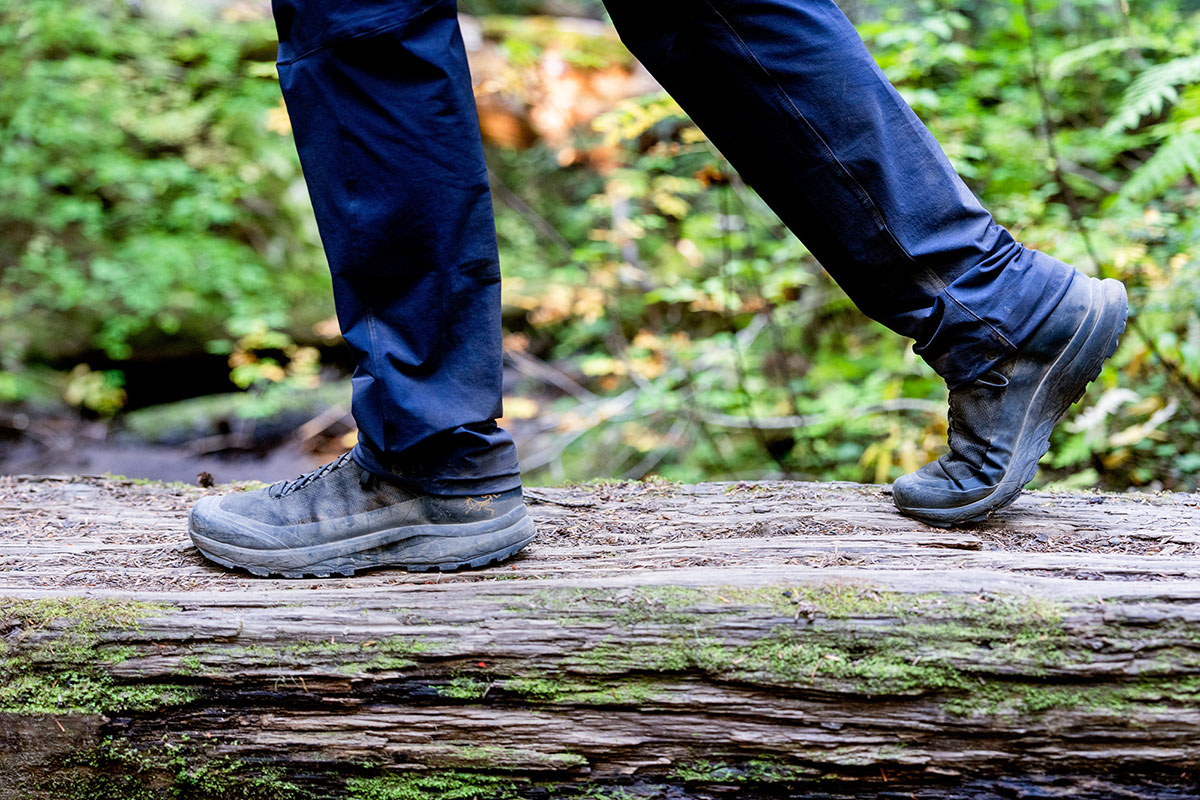 Waterproofing and Breathability
Featuring a TPU overlay on the mesh upper to shed light moisture and Gore-Tex's proven waterproof membrane, the Aerios FL 2 Mid GTX offers reliable protection in the wet. I've had no issues thus far in testing, even after submerging the shoes to the bottom of my ankle during several creek crossings, and it's been a similar story while hiking in snow and through wet grass. That said, the waterproof protection ends toward the bottom of the ankle (where the gusseted tongue opens), so you'll need to be mindful before stepping into water. Moisture will also eventually make its way in during heavy and sustained rainfall, but this is true of all waterproof hiking designs. All in all, the Aerios has met my expectations, and the extra layer was a welcome addition for keeping my feet comfortable on cold mornings and evenings at elevation.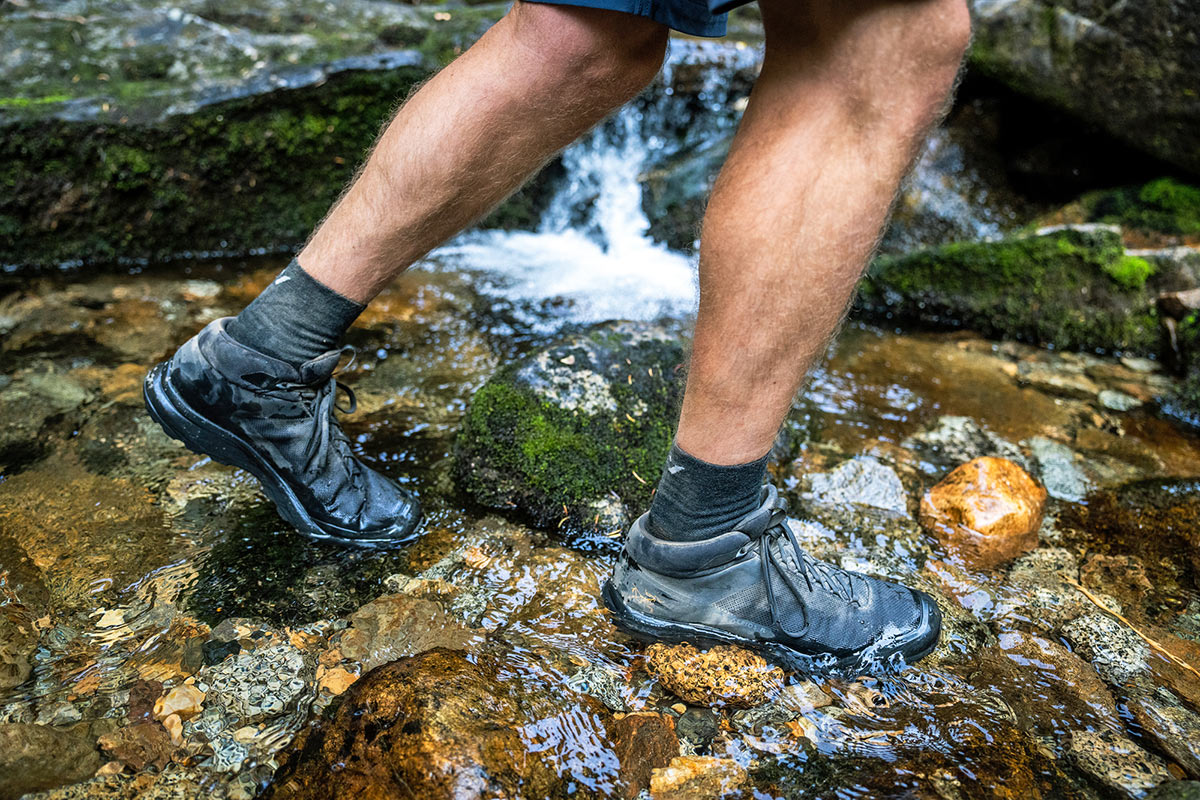 One tradeoff to adding a waterproof membrane is that breathability is often compromised, and the Aerios is not immune here. Despite the fairly thin upper, I wound up with sweaty feet in anything above cool, fall-like temperatures. For reference, the final day of our backpacking trip was mostly sunny and mild (highs were in the low to mid 60s Fahrenheit), and I was relieved to peel my shoes and hiking socks off during a short riverside lunch break. This is a fairly common complaint for me, but I do wish that Arc'teryx offered the boot in a non-GTX version (they recently did away with the non-waterproof low-top variation, too).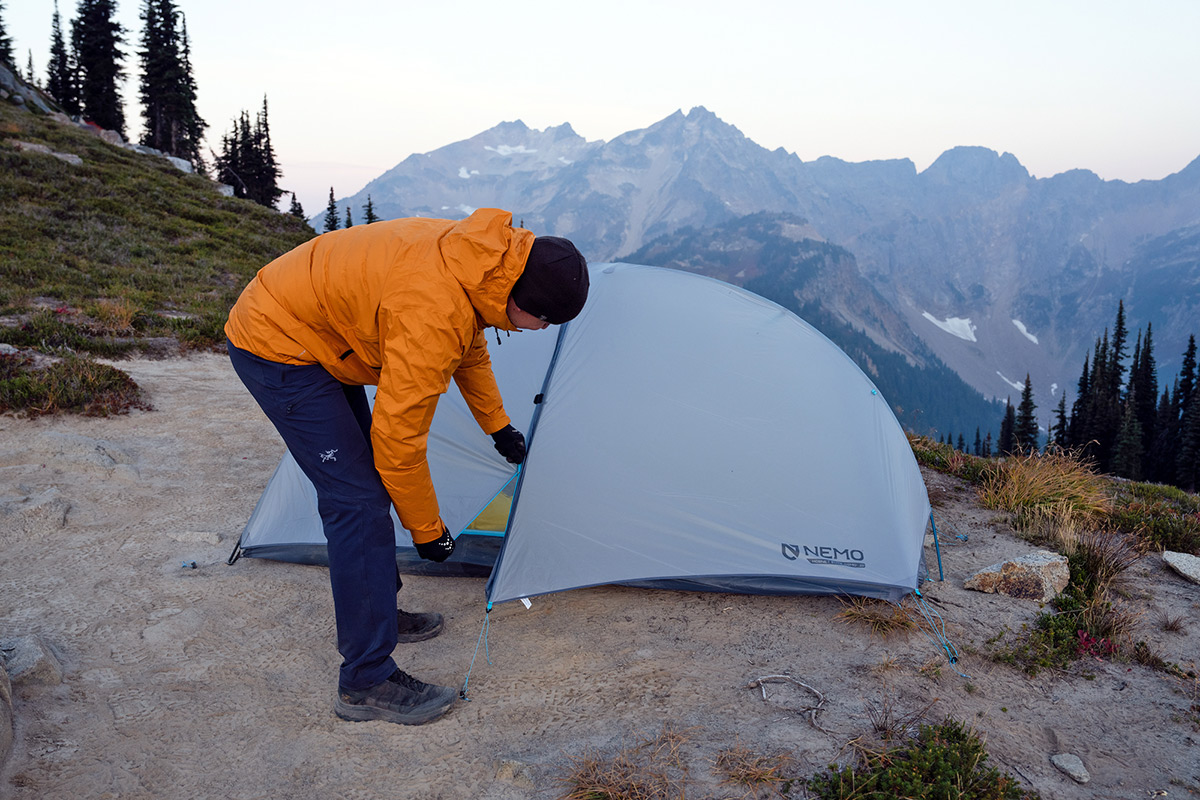 Toe and Ankle Protection
The Aerios is intended for rough and rocky terrain, so it's no surprise that Arc'teryx strategically beefed up the protection. At the front is a very solid toe cap that effectively sheds pretty direct hits to rocks and extends around the sides to cover the toes (a feature some lightweight designs omit). And while the upper is fairly thin (squeezing between rocks, you might feel a bit vulnerable along the sides of your foot), the stiff, reinforced heel and padding at the collar and tongue do plenty to isolate you from the trail. It's important to keep in mind the height of the shoe—which ends right at the top of my ankle—means there are clear limitations to the level of protection. But overall, it's been plenty for my needs both on and off trail.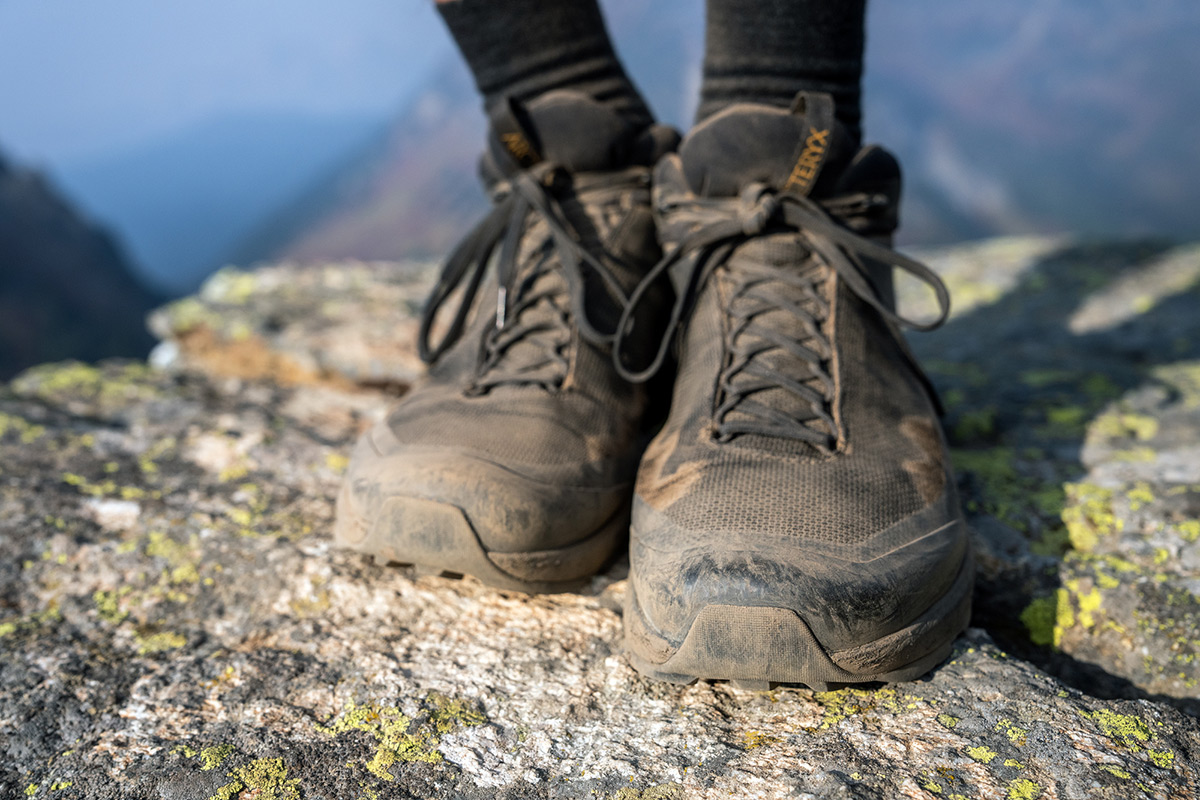 Build Quality and Durability
It's obvious that Arc'teryx put some real effort into making a well-constructed and durable shoe, which isn't always the case with lightweight designs. There are substantial sections of TPU over the tightly woven mesh upper, and everything has a high-quality look and feel to it. As I touched on above, I would prefer a locking-style lacing system to provide a more secure and reliable fit, but I haven't had any durability issues to date with the setup. The same goes for the outsole on the Aerios FL 2 Mid GTX—it has a firm compound that's wearing evenly so far. Other than some cosmetic nicks and scrapes to the exposed midsole and permanently lodged dirt and dust in the upper, my boots are in fantastic shape. I'd count that as a win for Arc'teryx.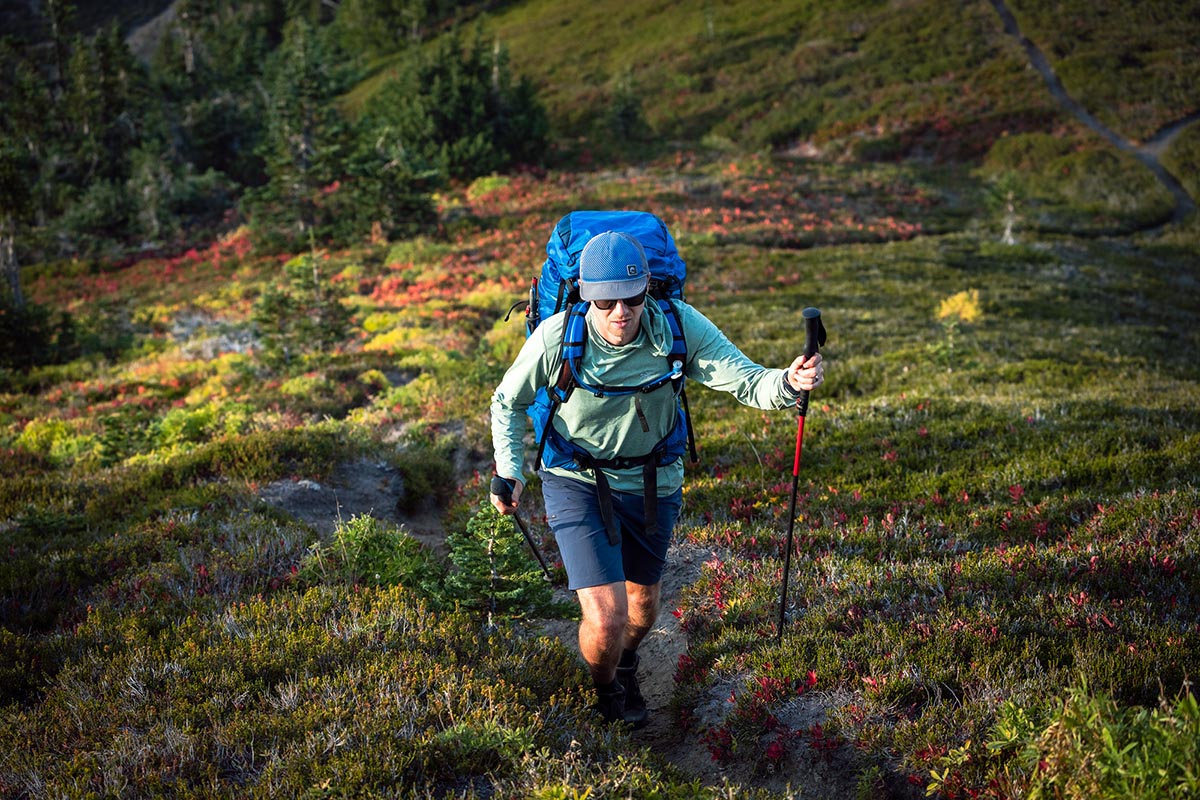 Fit and Sizing
We've had complaints about Arc'teryx shoes fitting too snugly in the past, but I think they landed on a good answer with the Aerios FL 2. For reference, I have an average-width foot that's a little narrow in the heel and found the shoe offered a good all-around fit when paired with light to moderately cushioned hiking socks (Arc'teryx lists the fit as "standard"). Cinched tightly, I was happy with the result: I had no issues with heel rubbing on climbs, and the length was spot-on in my typical men's size 9 to avoid mashing my toes on extended downhills. It's worth noting that you don't get the super-wide toe box that's been popularized by trail runners like the Altra Lone Peak, and Arc'teryx doesn't offer the shoe in dedicated wide sizes. But I think the fit hits a pretty good sweet spot that will appeal to many hikers and backpackers.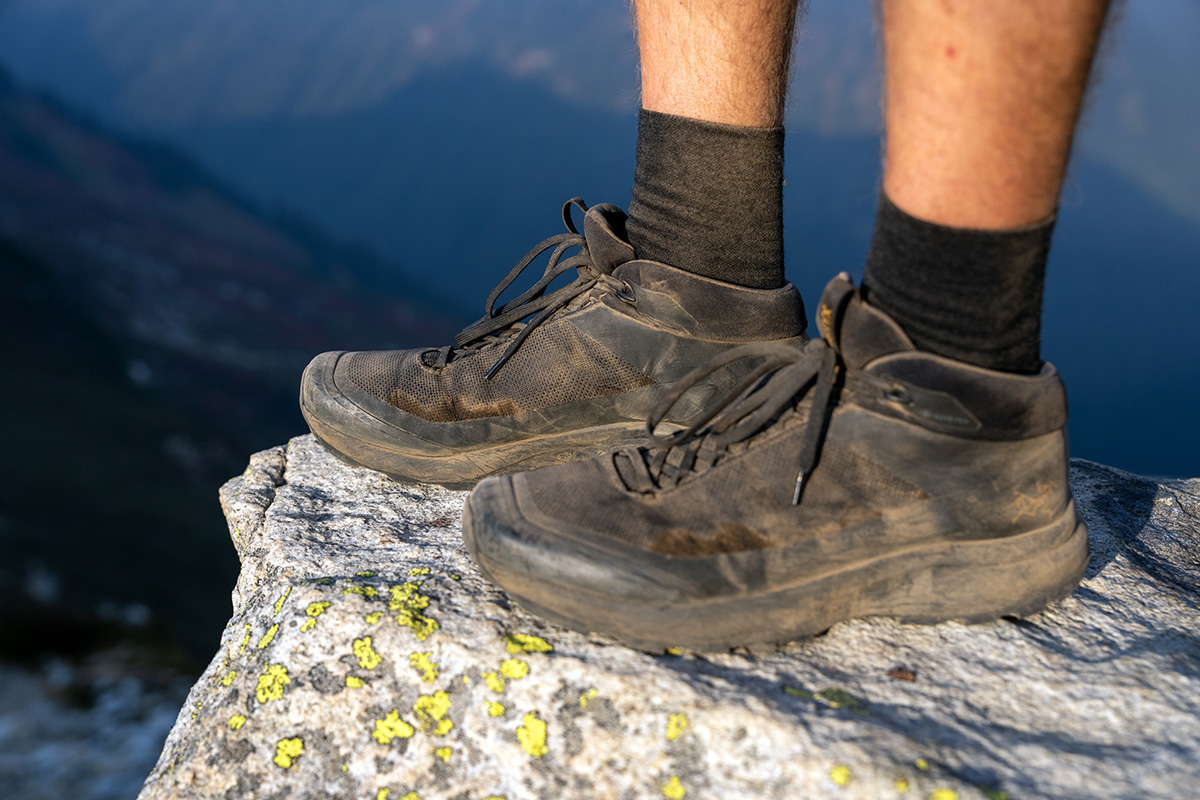 Sustainability
Like many outdoor brands, Arc'teryx has upped their sustainability focus in recent years. With the Aerios FL 2 Mid GTX, they opted for a 100% recycled mesh upper and EVA liner. There's certainly room for improvement—some competitors have turned to bio-based materials in the midsole and/or outsole, while others tack on a bluesign certification that indicates the chemicals and materials have been deemed safe for workers, consumers, and the environment. That said, while relatively small, Arc'teryx's updates to the Aerios are a welcome addition and a clear reflection of their ongoing progress in the sustainability realm.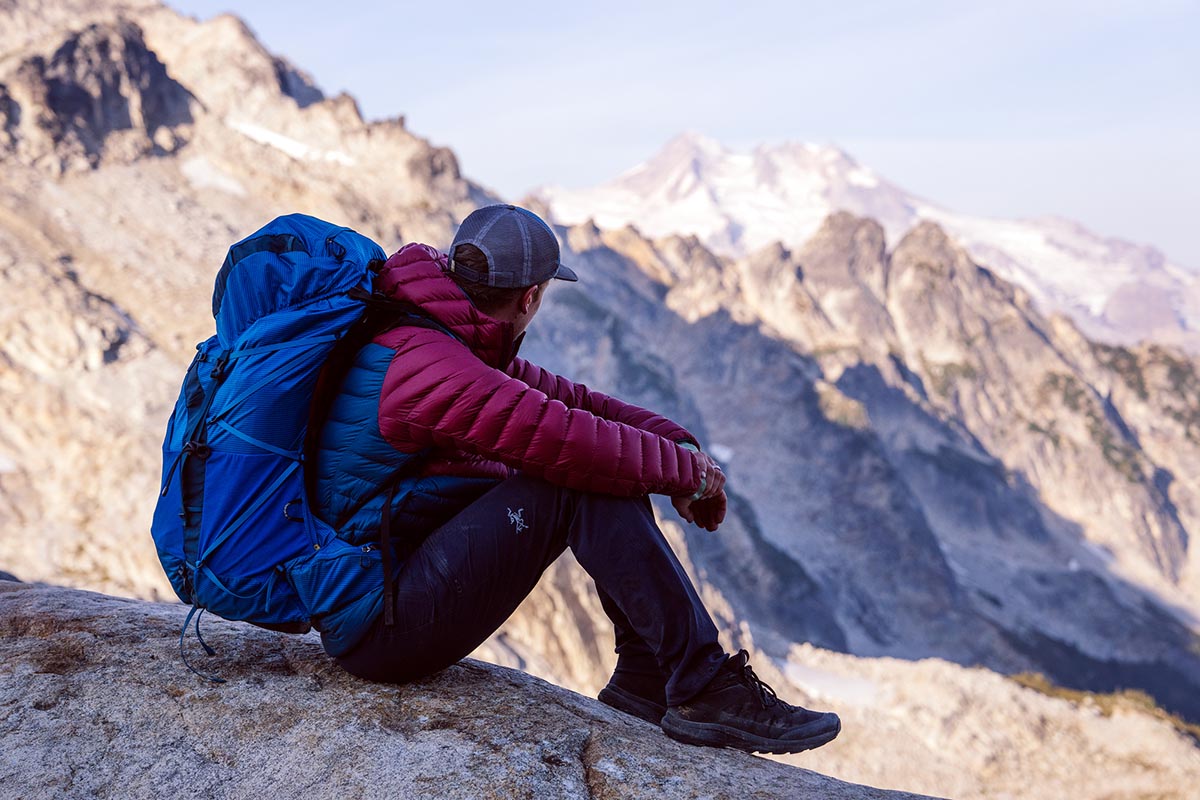 Other Versions of the Arc'teryx Aerios FL 2
I tested the men's Aerios FL 2 Mid GTX for this review, and it's also sold in a nearly identical women's version for the same price. Apart from standard sizing and colorway differences, the women's boot weighs a little less at 1 pound 6 ounces per pair but retains the same overall construction and feature set. For a wider assortment of colorways, Arc'teryx also has a unisex listing for the Aerios Mid GTX that includes both men's and women's sizing. Rounding out the collection is the Aerios FL 2 GTX Shoe, which is a lower-height version of the boot tested here that costs $10 less and checks in at 1 pound 8 ounces for the men's model.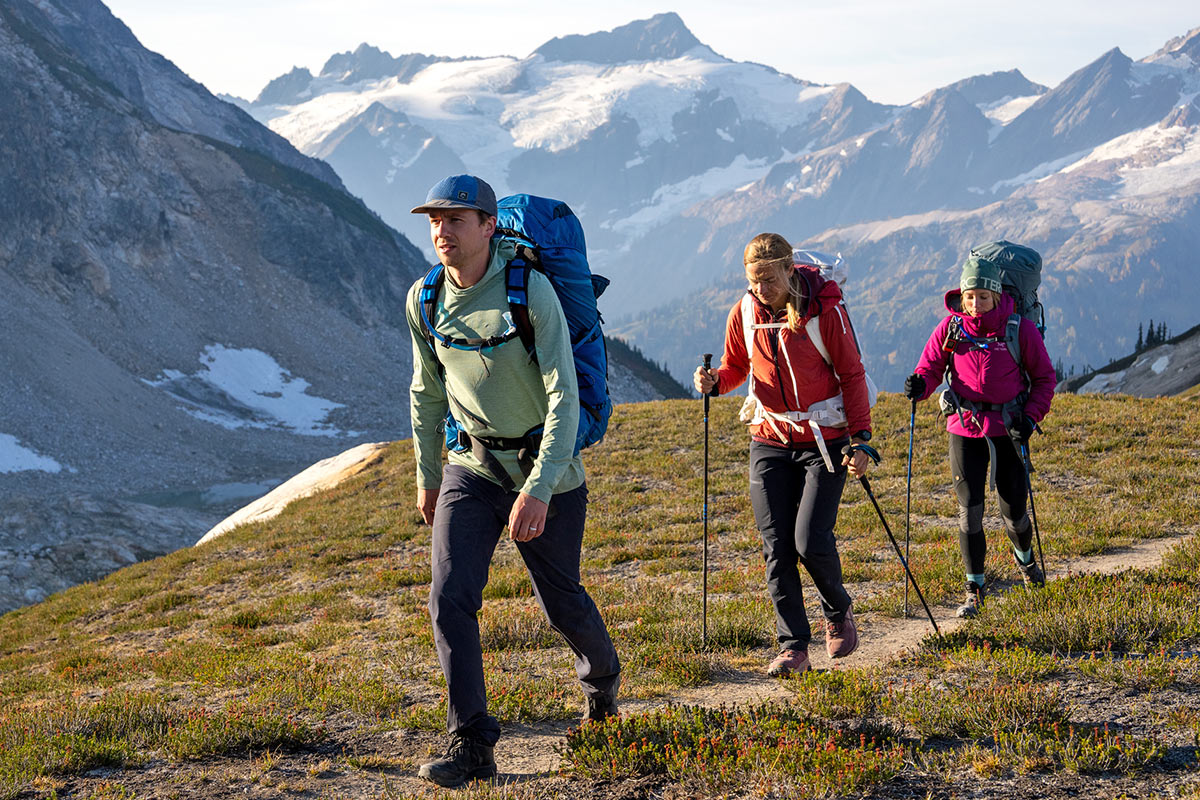 What We Like
Excellent balance of cushioning and minimalism: The Aerios has a very quick and nimble feel but with ample padding for all-day comfort.
Lighter than many low-top hiking shoes at 1 pound 10 ounces per pair.
Impressively durable and protective for the weight.
Fit is less snug than other Arc'teryx footwear we've tested and should work for most hikers with average-width feet.

What We Don't
Shorter than many traditional hiking boots and not the best match for those with serious hauling needs or ankle issues.
Webbing-based lacing system is decidedly basic and makes it difficult to achieve a consistent and secure fit.
Low-profile lugs don't dig particularly well into softer surfaces like mud and snow.
Despite its fairly thin upper, the Aerios isn't the most breathable design and led to overheating in relatively mild temperatures (there's no non-waterproof version available).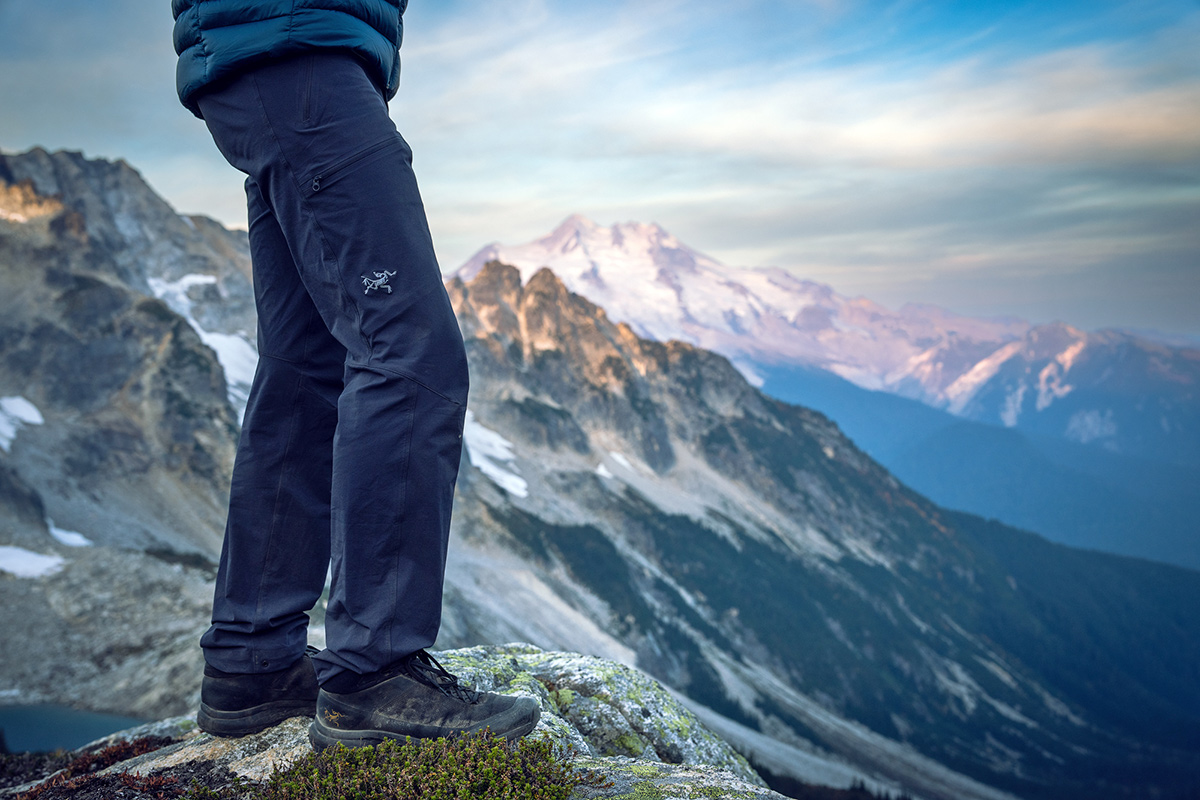 Comparison Table

The Competition
Arc'teryx's Aerios FL 2 Mid GTX offers impressive comfort and protection for the weight, but there are plenty of other quality hiking boots to consider in 2023. Our current favorite is Salomon's X Ultra 4 Mid GTX, which is slightly heavier at 1 pound 14 ounces but offers a nice boost in coverage and support with a taller cut that's more in line with traditional hiking boots (the Aerios toes the line between a shoe and boot). We also prefer the Salomon's lacing system, which secures nicely around the foot and requires minimal readjusting, even during full days of backpacking. On the flip side, we found that the Arc'teryx has a little more protection and cushioning underfoot, which is a plus when carrying a heavy pack or navigating rough terrain. But for $15 less, the X Ultra 4 is the superior all-rounder for most hiking and on-trail backpacking missions.
 
Next up is Topo Athletic's Trailventure 2 WP, which shares a lot in common with the Aerios FL 2 Mid GTX. Like the Arc'teryx, the Trailventure is lightweight (1 lb. 15.8 oz.) but surprisingly stable and tough with ankle-height coverage and solid protection underfoot. You also get a more secure and easy-to-adjust lacing system, as well as a more versatile outsole design with widely spaced lugs that do a better job of digging into softer surfaces (both boots use Vibram's proven Megagrip compound). These advantages make the Topo boots better for standard hiking and backpacking missions, although the Arc'teryx is the more technical choice with better stability and a more performance-focused fit (the Trailventure's toe box is quite wide by comparison). 
For those looking for the fit and feel of a trail runner but with added protection, we also like Altra's Lone Peak ALL-WTHR Mid 2. Taking cues from their flagship Lone Peak shoe, the Altra boots are competitively light at 1 pound 14 ounces per pair and feature the brand's trademark wide toe box, generous cushioning, and zero-drop design that translate to great all-day comfort. That said, despite sitting higher on the ankle, the Lone Peak offers less support than the Aerios, and the softer cushioning and wide toe box result in a sloppier feel (especially on rocky and more technical terrain). We also found the thin synthetic upper prone to tears and premature wear, and the flexible collar made it difficult to achieve a locked-in feel. For the same price, the Aerios offers a considerable upgrade in all-around performance, although comfort-focused hikers who stick to the trail may prefer the softer and roomier Altra.
 
Last but not least is La Sportiva's Ultra Raptor II Mid GTX, which slots in as a more mountain-ready alternative to the Aerios FL 2 Mid. Right away, we'll note that the Ultra Raptor is the heaviest competitor here, at 2 pounds 1 ounce, but also the most protective and stable of the bunch. Highlights include a taller collar that covers the entire ankle, generous toe and heel protection, and a rigid shank for excellent stability over technical and uneven terrain. Overall build quality and durability also line up well with the Aerios, although the Ultra Raptor's narrow toe box did cause some comfort-related issues on steep descents. La Sportiva does offer the boot in dedicated wide sizes, but the Aerios is around $20 cheaper, has a slightly less technical look, and offers similar all-around performance for less weight, which is enough for us to recommend it over the Ultra Raptor.
If you're thinking about buying gear that we've reviewed on Switchback Travel, you can help support us in the process. Just click on any of the seller links above, and if you make a purchase, we receive a small percentage of the transaction. The cost of the product is the same to you but this helps us continue to test and write about outdoor gear. Thanks and we appreciate your support!
Depending on the seller, most products ship free in the United States on orders of $50 or more. International shipping availability and rates vary by seller. The pricing information on this page is updated hourly but we are not responsible for inaccuracies.
Read More From Switchback Travel