La Sportiva makes some of our favorite climbing shoes, and that technical expertise has translated nicely to their hiking boot lineup. The Ultra Raptor II Mid GTX is case in point: It's impressively light at just over 2 pounds and has a very nimble, trail runner-like feel to match, but stability and support are still excellent for longer objectives over tricky terrain. The boots do run noticeably narrow at the forefoot and were prone to slippage in softer surfaces like mud, but we think they're well-suited for everything from short day hikes to all-day summit pushes and backpacking with a light pack. Below I outline my experiences with the Ultra Raptor II Mid GTX. To see how it stacks up to the competition, check out our article on the best hiking boots.
 
---
Table of Contents
---

Performance
Comfort
In trying on the La Sportiva Ultra Raptor II Mid GTX for the first time, they felt much more like a mid-height trail runner than a true hiking boot. The lightweight personality is immediately noticeable, but the boot boasts ample cushioning both underfoot and around the ankle and collar, providing a very soft, well-padded feel. The sock-like upper and one-piece tongue also help immensely with locking things down and providing a snug all-around fit, and there are minimal seams along the interior to reduce hot spots and rubbing. Like most lightweight designs, the Ultra Raptor II doesn't have any locking eyelets, which I prefer for keeping the forefoot loose while cinching the ankle. But this hasn't been too big of an issue for me—getting creative with the laces allowed me to get pretty close to the fit that I wanted.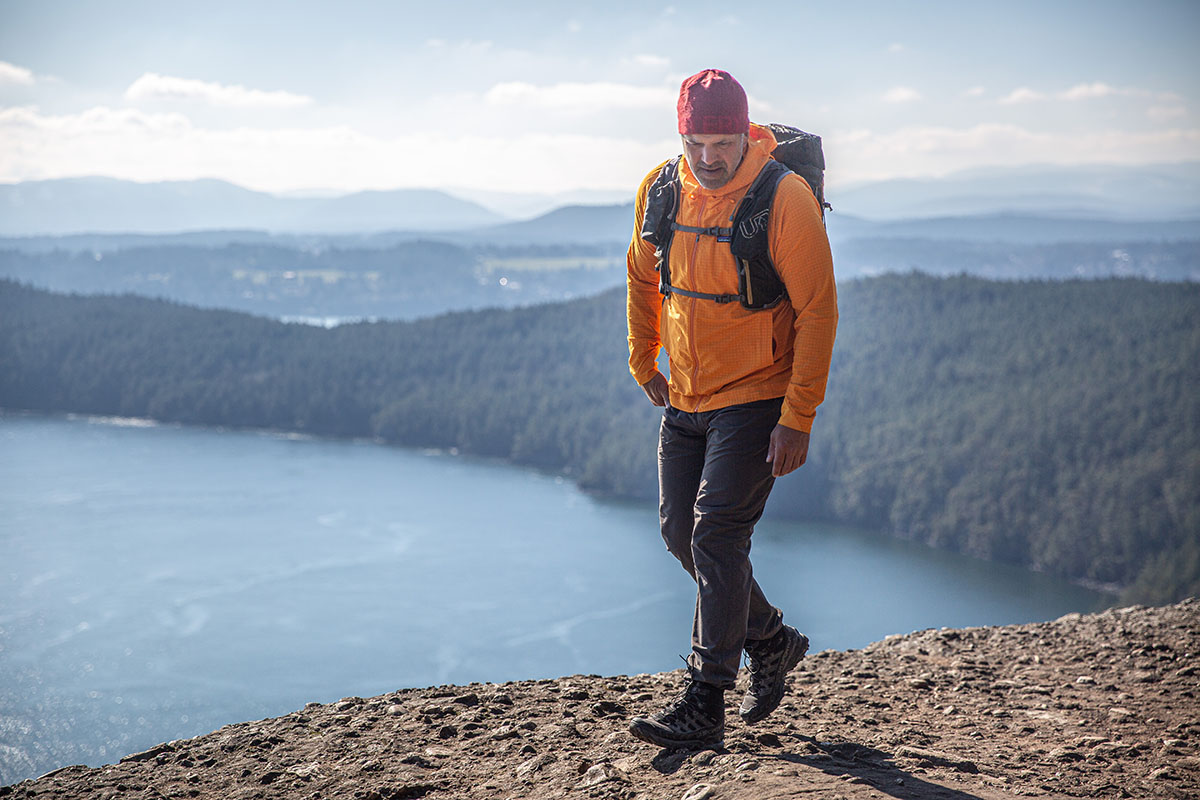 My only comfort-related gripe is that the Ultra Raptor II runs noticeably narrow in the toe box. I wasn't overly concerned about this at first and was able to break in the boots on local trails on Vancouver Island before bringing them to Patagonia for testing. But even after they stretched a bit, the boots still felt a little tight and prohibitive at the front. I subsequently brought them to Patagonia and wore them for a 12+ mile hike to Laguna de los Tres on our first day, which included mostly level trail with a steep and rocky ascent to the lake. When we began descending on our way back, I started to feel some significant hot spots on the outside of my left shoe, eventually resulting in a blister on my baby toe. I also noticed some slight rubbing above my big toe, which was likely due to the combination of the lower-volume shape and eyelet above the forefoot. To be fair, La Sportiva does offer the boot in dedicated wide sizes, and that likely would have been the better option for me.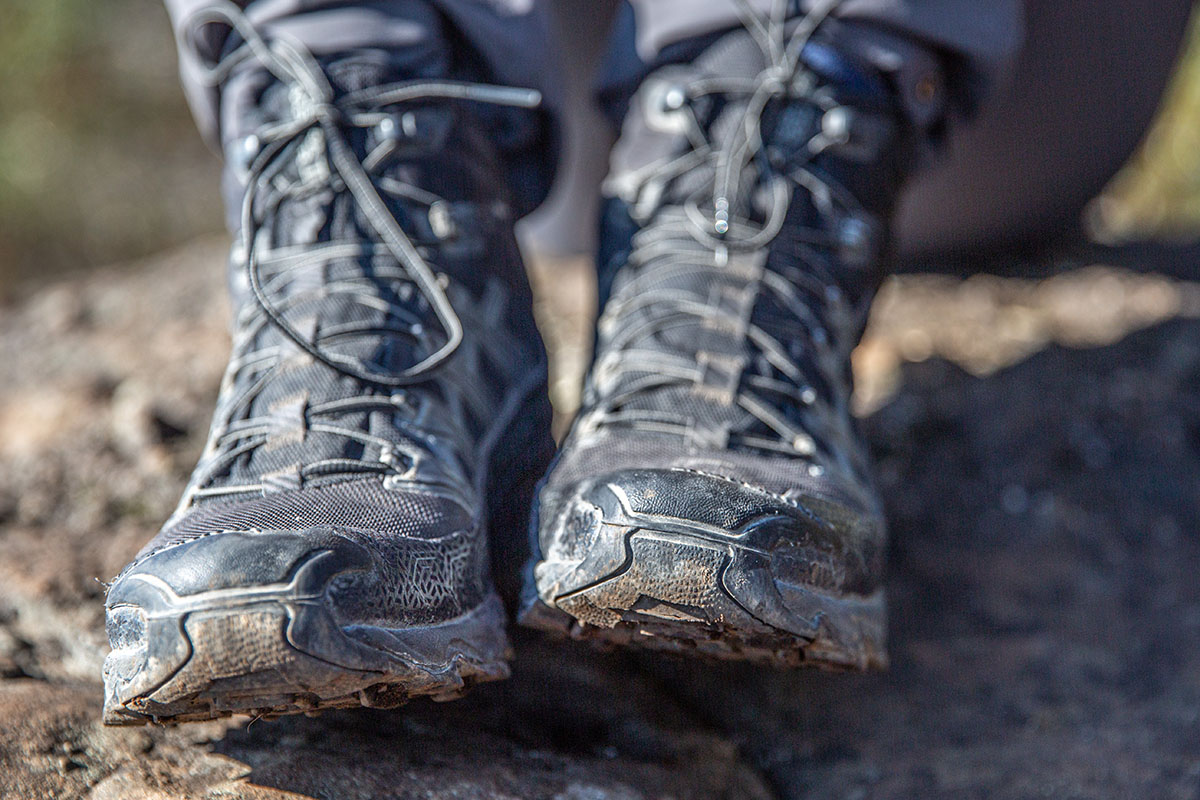 Weight
At 2 pounds 1.3 ounces for my pair of men's size 44.5s (nearly identical with La Sportiva's listed weight of 2 lbs. 1.2 oz.), the Ultra Raptor II Mid stacks up very favorably with other mid-height Gore-Tex boots. For comparison, Salomon's X Ultra 4 GTX checks in a little lighter at 1 pound 14 ounces, while La Sportiva's own Nucleo High II GTX is similar at 2 pounds 1.5 ounces per pair. All told, the boots have a pretty nimble and agile feel underfoot, and if comfort weren't an issue for me, the Ultra Raptor would be my first choice for both short and long days with a lighter pack.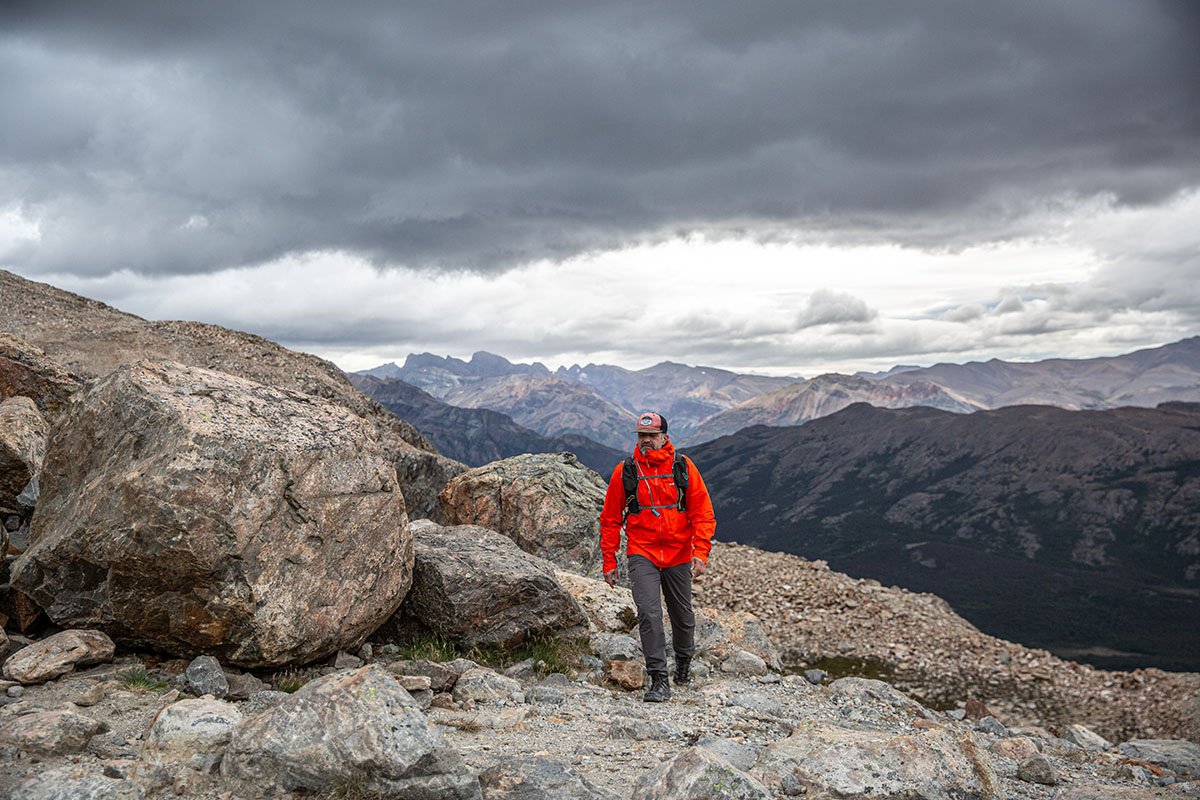 Traction
With a lot of technology focused at the bottom of the boot, it's no surprise that the Ultra Raptor II fared well on most surfaces. The FriXion XF 2.0 outsole has gripped reliably on everything from dry singletrack to rocky alpine terrain, and the Impact Brake System and Trail Bite heel provided a noticeable confidence boost on steep descents, even when navigating slippery, marble-like gravel. The only time traction faltered was in mud, where I found myself sliding frequently. I imagine this is a result of lug design: The spacing seems to be adequate to avoid clogging, but the shallow lugs just don't seem to bite well into thicker and sloppier surfaces. If you anticipate hiking over this type of terrain frequently, I'd recommend opting for a boot with a more aggressive tread pattern like Salomon's Quest 4 GTX or La Sportiva's own Nucleo High II GTX.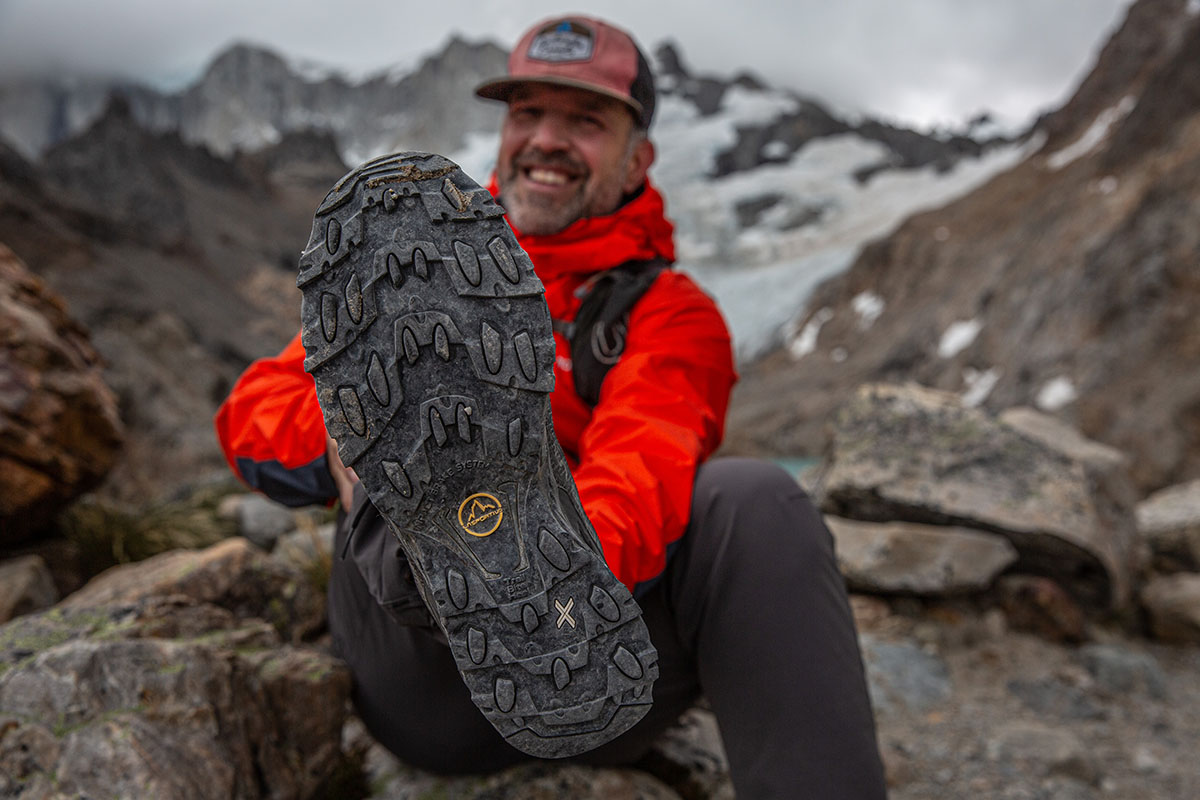 Stability and Support
I typically prefer a burlier and more stable boot when backpacking with a heavy pack, but the Ultra Raptor II Mid GTX has been a great match when I'm trying to move quickly with minimal weight. The high collar has been particularly helpful for maximizing ankle support, and I've had no issues with ankle rolls or feeling off-balance. Other notable features include a nylon shank that provides great torsional stability for off-camber terrain and TPU overlays along the mesh upper, which create a nice, snug fit around the heel and cinch down when laced tightly, locking my foot in place and minimizing any play in the boots.
For reference, I often wear traditional trail running shoes on fast-and-light pursuits, but I really like the added stability from the Ultra Raptor's higher cut, added collar support, and to-the-ankle lacing. And importantly, this support doesn't impact the boot's nimbleness. If it weren't for the narrow toe box outline above, I would have no hesitation grabbing the Ultra Raptor for involved fastpacking objectives.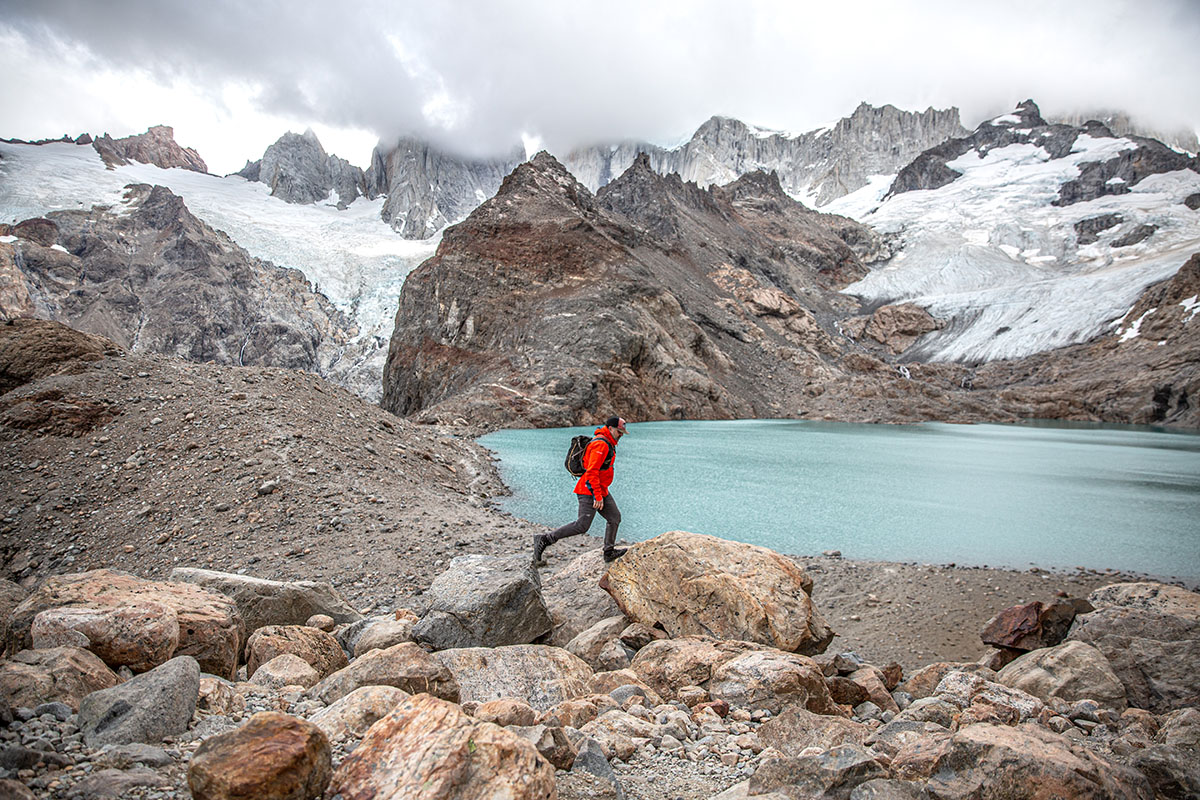 Waterproofing and Breathability
I put the Ultra Raptor II through its paces on wet Vancouver Island trails rife with puddles, constant rain, and river crossings, and the Gore-Tex lining has been up to the task. In this case, La Sportiva opted for Gore's Extended Comfort membrane, which is designed for use in warmer conditions or during higher-output activities. All in all, it's done a remarkable job at keeping my feet dry while allowing a decent amount of airflow, even when temperatures reached into the mid 70s Fahrenheit during our trip to Patagonia. As with all waterproof hiking boots, the membrane won't help much if you happen to dunk them above the collar (and will take a while to dry), but the taller cuff and laces extending all way up the ankle provide a good amount of coverage when stepping in puddles and streams. A final highlight is the elastic gaiter-like design at the top, which is highly effective at sealing out debris and falling rain or snow.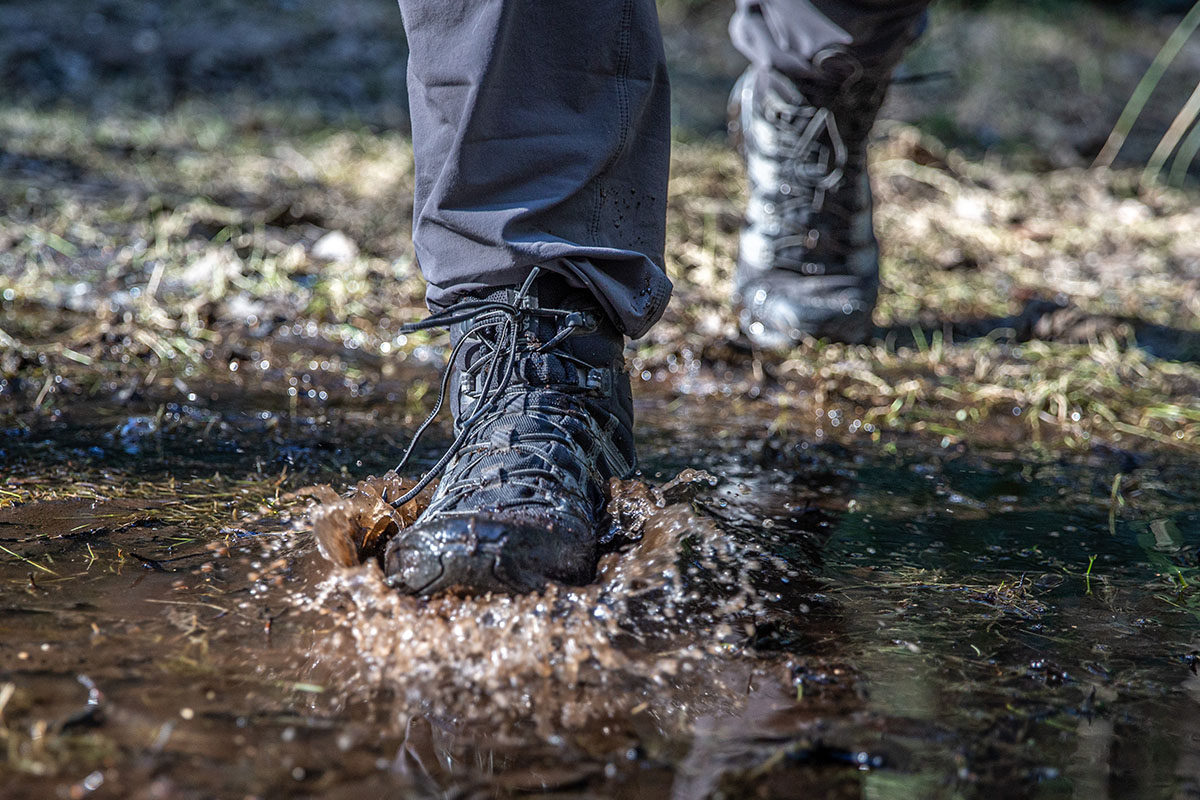 Build Quality and Durability
I've worn many pairs of La Sportiva boots and trail runners over the years and found overall build quality to be excellent, and the same has held true for the Ultra Raptor II Mid GTX. After putting the boots through a fairly demanding testing itinerary in Patagonia, they're almost no worse for wear: The microfiber mudguard and rubber toe cap are robust and deftly fended off direct hits from rocks and protruding roots, the mesh lining on the sides and rear are protected by thick TPU reinforcements, and the FriXion outsole is still going strong with no signs of deterioration thus far (a nice surprise due to the softer rubber compound). And all of the smaller details are in good shape too, including the laces, webbed eyelets, and seams. Added up, the Ultra Raptor II strikes me as a very hardwearing design and should hold up well to long-term use.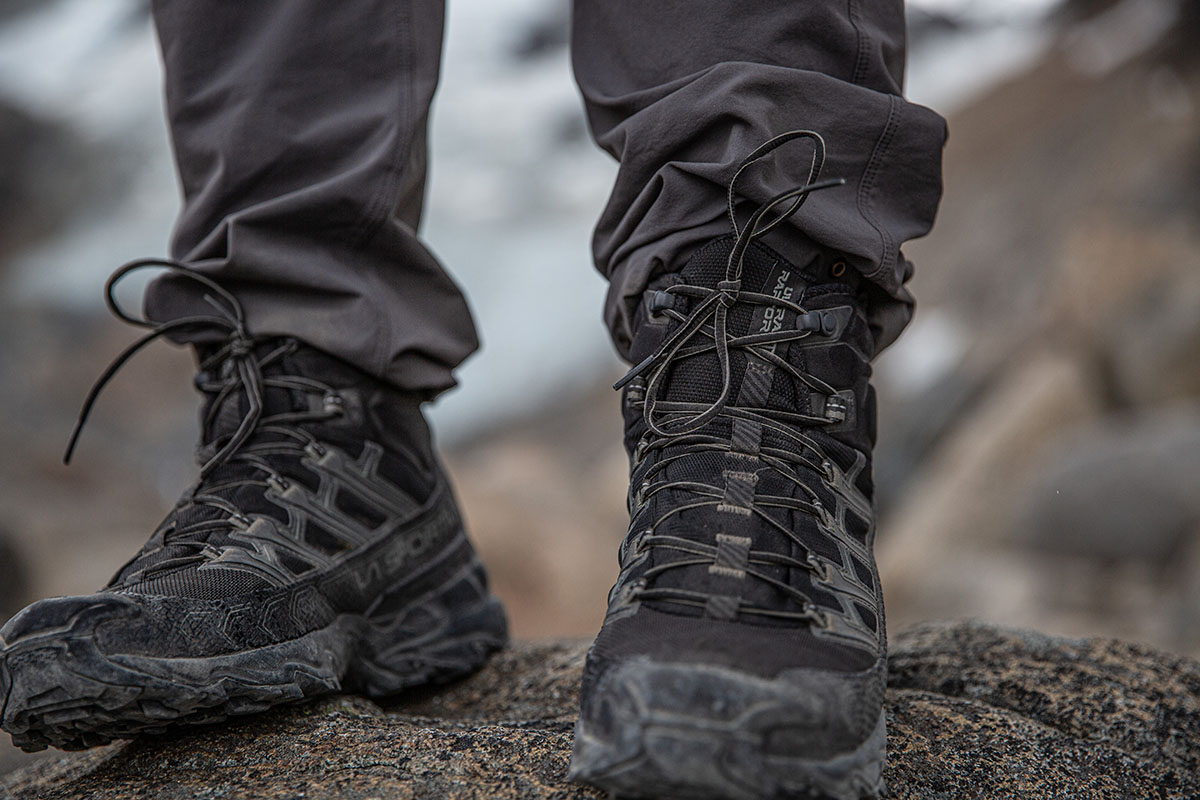 Fit and Sizing
I ordered my standard size 44.5 in the Ultra Raptor II Mid GTX (the same as my La Sportiva TXS GTX), but the toe box ended up being prohibitively narrow for my feet. As I mentioned above, my toes pressed against the front of the shoes on steep descents, which caused a good amount of discomfort. I likely would have fared better with the wide version of the boot, which offers an additional 10 millimeters in width and 5 millimeters in the toe box. But outside of that issue, the rest of the boot was quite comfortable: The sock-like interior is great at maximizing overall fit and security, and my heel felt well-supported and locked in without being overly snug. But again, the boot's narrow shape might not work for some feet, so I highly recommend trying it on before purchasing.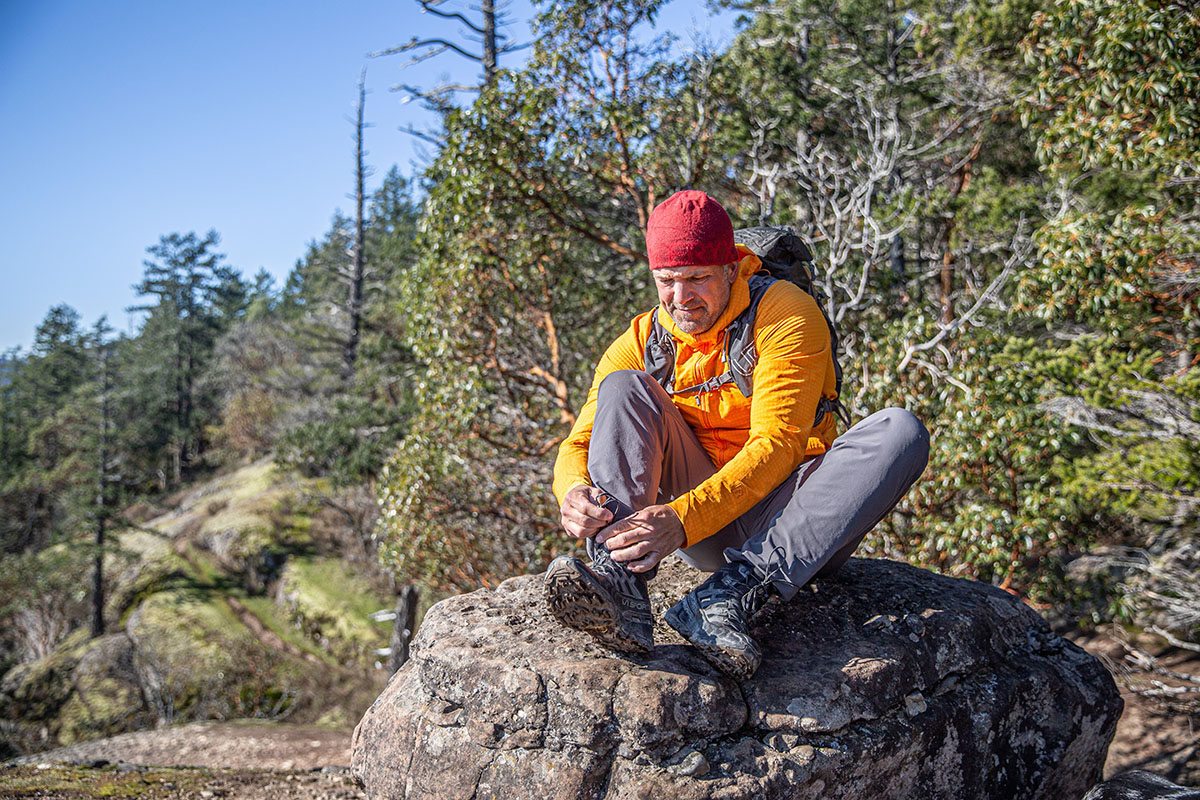 Other Versions of the La Sportiva Ultra Raptor II
I brought the men's Ultra Raptor II Mid GTX to Patagonia for testing, and the boot is also sold in a women's version for the same price. Compared to the men's model, the women's is a little lighter at 1 pound 11.9 ounces and sold in different colorways, but the overall construction and feature set are identical. As I touched on above, both boots are also offered in dedicated wide versions for those with higher-volume feet, and La Sportiva recently released them in a leather option for added durability and a closer fit. Zooming out, the larger Ultra Raptor collection includes several low-top variations, from non-waterproof models to Gore-Tex-equipped leather and synthetic styles (see our in-depth review of the non-waterproof women's shoe here).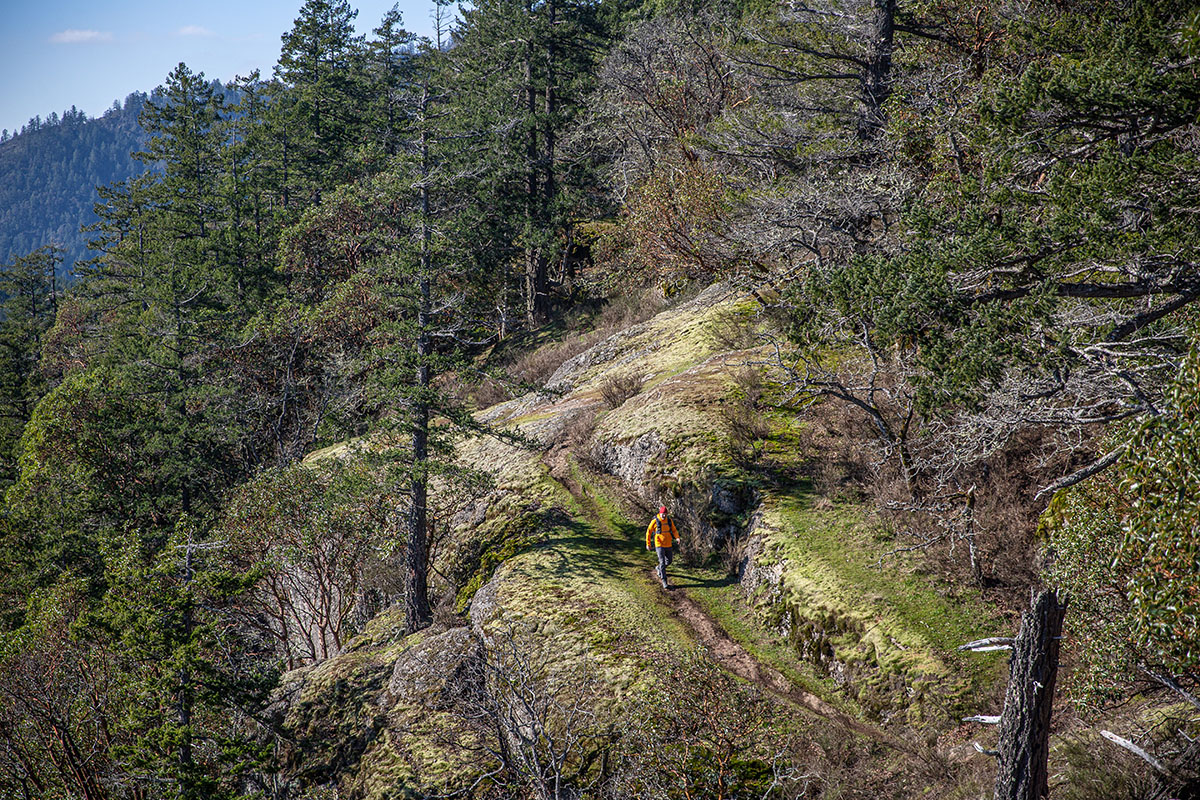 What We Like
Competitively light at just over 2 pounds with an agile, trail runner-like feel to match.
Excellent stability and durability for such a lightweight design.
Gore-Tex Extended Comfort liner nicely balances waterproofing and breathability, and the tall collar and elastic-like gaiter at the top are very adept at sealing out moisture and debris.
Build quality is top-notch, from the quality Gore-Tex lining to the soft but hardwearing FriXion outsole. 

What We Don't
Narrow toe box caused some issues on steep descents, and I likely would have been better off with the wide version.
Lugs are generously spaced but shallow, resulting in frequent slippage in thick mud.
Slightly technical look and limited colorway options.


Comparison Table

The Competition
La Sportiva's Ultra Raptor II Mid GTX stands out in the hiking boot market for its impressive stability and protection in a lightweight, trail runner-like design. From within La Sportiva's lineup, another option with similar intentions is their Nucleo High II GTX. The Nucleo is pricier than the Ultra Raptor at $209, but it's another lightweight (2 lbs. 1.5 oz.) and nimble offering with enough support for day hiking and lightweight backpacking. Other distinctions include a more hardwearing leather upper and Gore-Tex Surround liner with Nano-Cell technology, which provide ventilation not only through the top of the foot but also along the bottom of the footbed. Both boots run on the narrow end, but both are also sold in wide sizes. All told, we consider the leather Nucleo the more traditional option for hiking and backpacking (for more, see our Nucleo High II review), while the Ultra Raptor gets the edge for fast-moving, mountain pursuits.
Another La Sportiva design I've tested is the TXS GTX, which boasts the impressive grip we love from their TX approach shoe collection in a mid-height hiking design. It's a couple ounces heavier than the Ultra Raptor at 2 pounds 3.6 ounces, but the deeper lugs and aggressive tread pattern give it the clear edge in softer surfaces like mud and snow. In testing the TXS, I was also very impressed by its great all-around protection and highly customizable lacing system. Like the Ultra Raptor, the TXS also includes a Gore-Tex Extended Comfort waterproof lining, and the boot has held up well to regular use and abuse. The only downside is the relatively stiff and unforgiving feel, which is a result of the thinner padding underfoot. This may be a plus side for those covering more technical ground with a pack, but for most day hikers and lightweight backpackers, the Ultra Raptor II is the clear winner in terms of all-day comfort.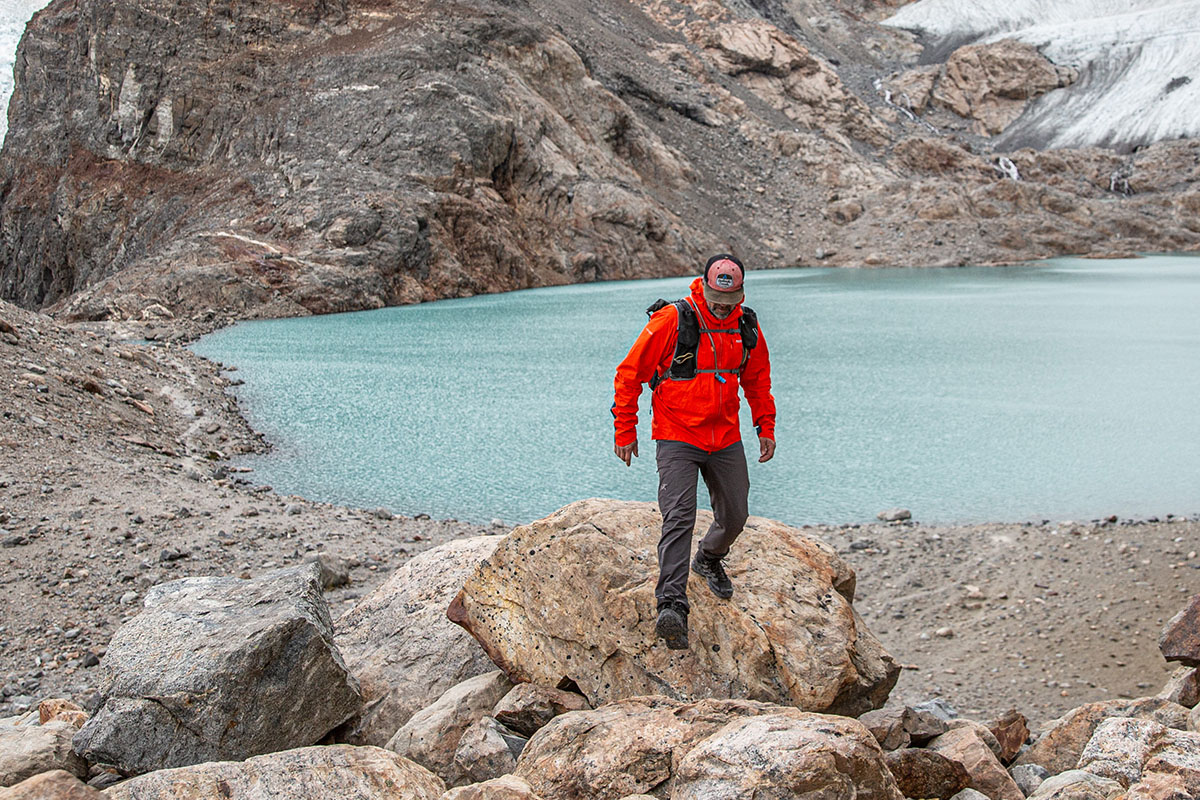 Outside of La Sportiva's offerings, Salomon is one of the biggest names in hiking footwear, and their X Ultra 4 Mid GTX has a winning recipe for many hikers and backpackers. It's light at just 1 pound 14 ounces but doesn't compromise in on-trail performance with good overall stability, protection, and ankle support for hiking long distances with a pack. Like the Ultra Raptor, the Salomon is also highly durable with leather reinforcements and a generous toe cap, although the flexible build and thinner sole translate to less protection underfoot. The La Sportiva is also a little more performance-focused overall, including a more technical look and gaiter-like cuff. That said, unless you're covering serious ground, we consider the X Ultra 4 the more well-rounded and approachable design for most.
A final alternative to have on your radar is Asolo's Falcon GV, which falls into the same category as the Ultra Raptor as a lightweight (2 lbs. 2.6 oz.) but seriously capable boot. All in all, it's well-built, highly comfortable out of the box, and has deftly withstood extended on- and off-trail travel with ease. We did experience some stability issues in the Falcon, but tightening up the laces resulted in adequate support when backpacking with a heavy load over tricky terrain (also in Patagonia). And at $240, the Asolo undercuts the Ultra Raptor II in price by $35 without any major sacrifices in performance. Unless you need the added stability, it's a competitive design that otherwise stacks up very favorably to the Ultra Raptor.
If you're thinking about buying gear that we've reviewed on Switchback Travel, you can help support us in the process. Just click on any of the seller links above, and if you make a purchase, we receive a small percentage of the transaction. The cost of the product is the same to you but this helps us continue to test and write about outdoor gear. Thanks and we appreciate your support!
Depending on the seller, most products ship free in the United States on orders of $50 or more. International shipping availability and rates vary by seller. The pricing information on this page is updated hourly but we are not responsible for inaccuracies.
Read More From Switchback Travel