La Sportiva Nucleo High II GTX
Price: $239
Weight: 2 lb. 1.6 oz. (men's)
Waterproof: Yes (Gore-Tex)
What we like: Premium materials, good all-day comfort, and well-rounded performance for the weight.
What we don't: Expensive, narrow fit, and a little lacking in stability and protection for covering technical terrain with a full load.
See the Men's Nucleo High II GTX  See the Women's Nucleo High II GTX
La Sportiva is a climbing company first, but that expertise has transferred over nicely to the hiking footwear market. Among their growing line, the Nucleo High II GTX is one of the more capable and well-rounded lightweight boots we've tested. It's undeniably pricey at around $240, has a decidedly narrow fit, and is a little lacking in stability and protection for covering technical terrain with a full pack, but overall performance is very competitive for the weight. It's also built with the keen attention to detail we've come to expect from the Italian brand. Below we outline our experiences with the Nucleo High II GTX. To see how it stacks up to the competition, see our article on the best hiking boots.
 
---
Table of Contents
---

Performance
Comfort
Despite running narrow, which is a common theme among La Sportiva footwear, the Nucleo High II GTX is a very comfortable and modern-feeling boot. The leather upper is soft but still able to snug down tight via the lacing system with grommets running high up the boot, and the padded mesh that wraps around the ankle is both nicely cushioned and close fitting. It's a similar story with the EVA midsole and Ortholite insole: Both are well padded and offered ample support on long days clambering over fallen trees and balancing on wet rocks along Vancouver Island's Juan de Fuca Trail. The collar and tongue are also connected, providing a sock-like fit that eliminates pressure points and helps keep debris from entering over the top. Finally, the 3D Flex ankle hinge allows for a natural gait and restriction-free stride when climbing and descending steep slopes. Combined with its low weight (more on this below), this makes the Nucleo more sprightly and less obtrusive than most other hiking boots I've tested, while still providing ample cushioning.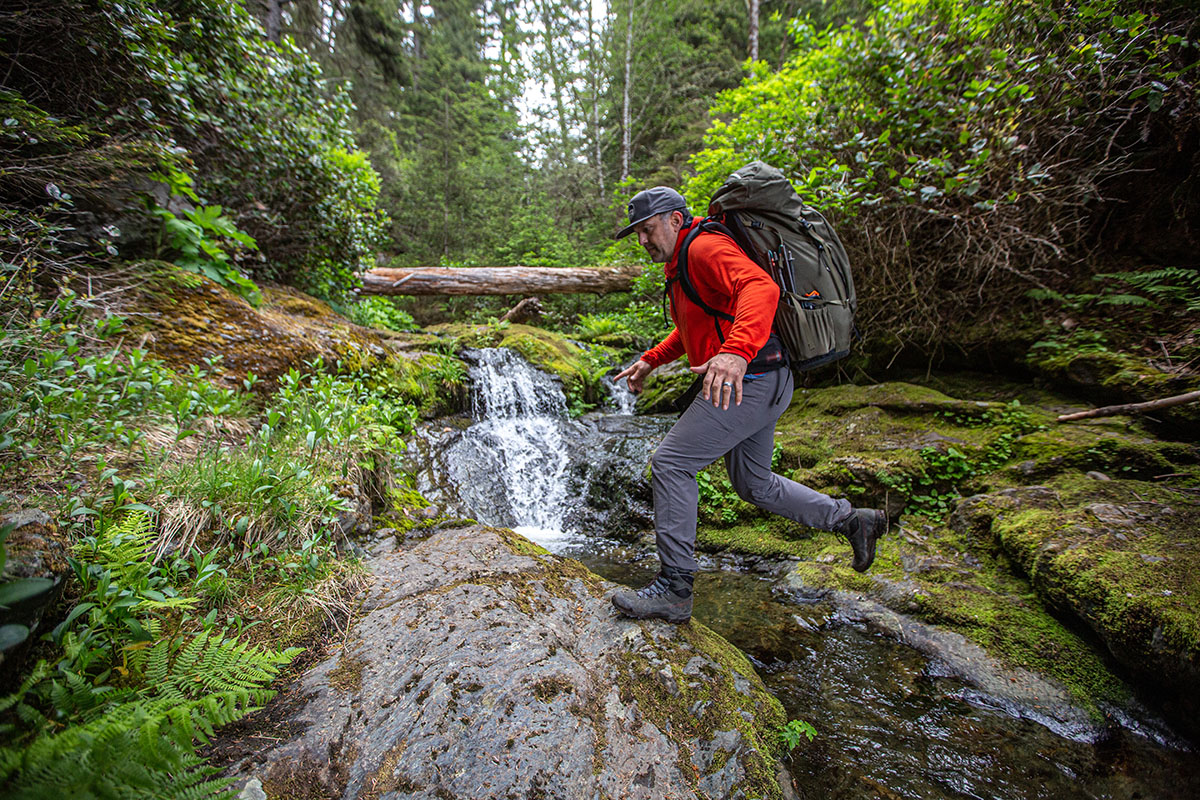 Weight
With a listed weight of 2 pounds 1.6 ounces per pair for the men's version, the Nucleo High II GTX is one of the lighter boots on the market, especially when stacked up against other high-cut models. Of note: My pair in a men's size 11 clocked in considerably heavier at 2 pounds 7.8 ounces, but that may have been an anomaly. For reference, the ultra-popular Salomon X Ultra Mid 4 GTX weighs less at 1 pound 14 ounces, but that design has more of a hiking shoe build along with a lower cut. Most comparable boots are heavier, including the Asolo Falcon GV (2 lb. 2.6 oz.) and Salewa Mtn Trainer Lite Mid GTX (2 lb. 7.9 oz.). The next step down in weight consists of trail running-inspired designs from brands like Hoka and Altra, but those shoes compromise big time in terms of stability and durability to shave weight. All told, I think the Nucleo hits a great middle ground: It feels light and nimble underfoot—even after full days of hiking with a pack—and can hold its own on everything from easy day hikes to lightweight backpacking trips.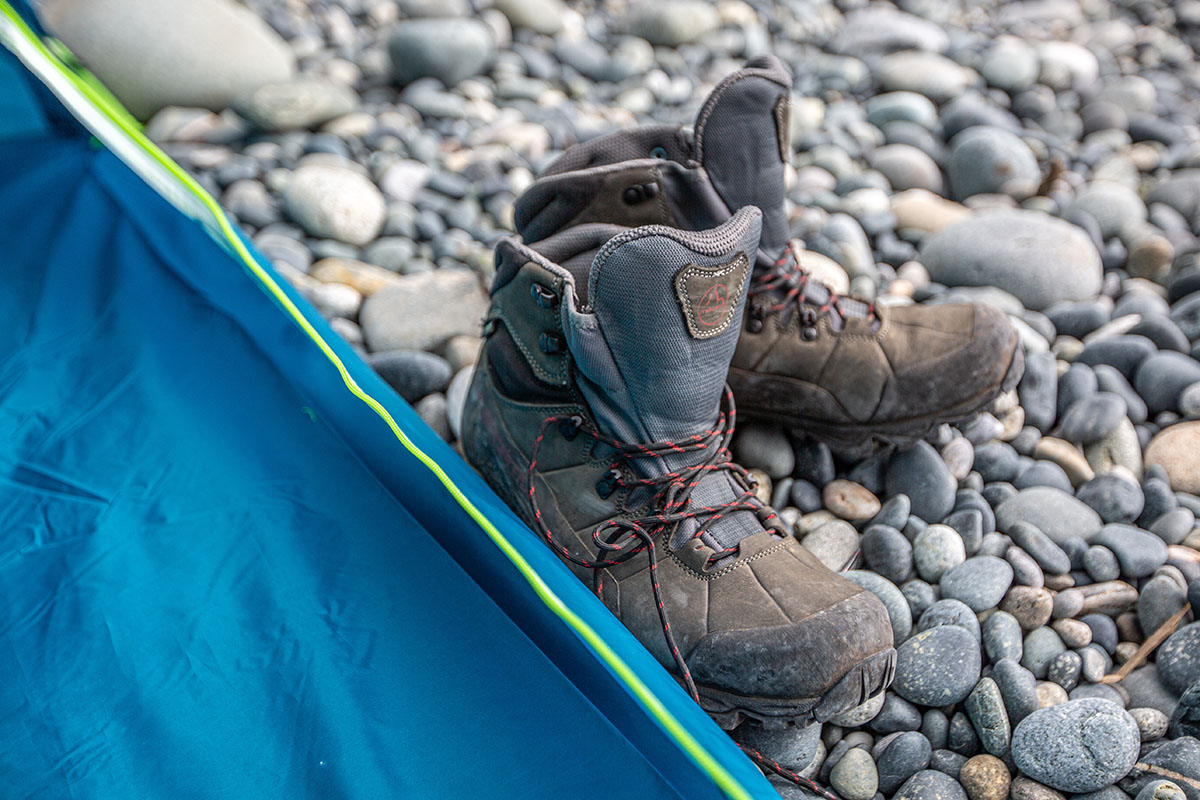 Traction
Given La Sportiva's climbing roots, it comes as little surprise that the Nucleo High II GTX scores high marks in the traction department. You get a Vibram Nano XS-Trek outsole—marketed for its flexibility and wet traction—with a fairly aggressive lug pattern, which I found to be grippy over a variety of terrain including established trails, sand, mud, slick roots, and even a late-season dusting of snow. I also didn't slide around on climbs or descents thanks to La Sportiva's Impact Brake System, which is built into the sole and designed to maximize contact with the ground on steep slopes. I did experience some unexpected slippage on wet rocks—by comparison, my wife confidently danced across tide pools in her Oboz Katabatic Mid Waterproof boots (which feature the brand's in-house rubber compound)—but overall, the Nucleo High's outsole design is very trustworthy and versatile.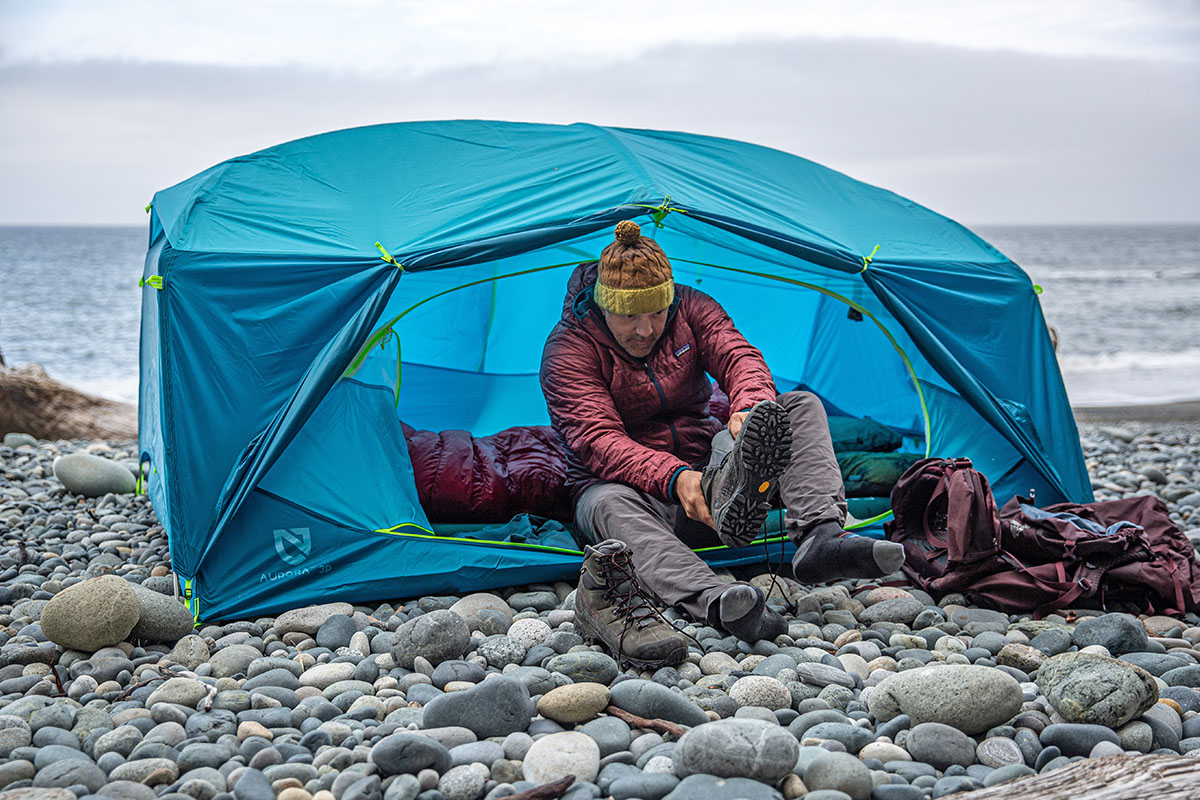 Stability and Support
Lightweight hiking boots are often a little lacking in stability and support compared to burlier designs, and the Nucleo High II GTX is no exception. To be fair, the boot has a notably high cut that provides more ankle coverage than standard mid-height models. However, because the collar is soft and flexible, it offers minimal support and structure. With no wraparound rand or shank, the Nucleo also flexes and twists more than I'd prefer, which was especially noticeable under the weight of a full backpacking pack. While I haven't suffered any ankle rolls to date, I don't feel entirely stable in the boots and need to be more mindful of my foot placement than I'm used to. I also found the sidewalls vulnerable to rock strikes and jagged roots, particularly at the inside edge by the big toe (more on this below). All told, the Nucleo was a great match for day hikes and moving quickly with a light pack, but it's underbuilt for covering technical ground (like what you might find in the alpine) with a heavy load.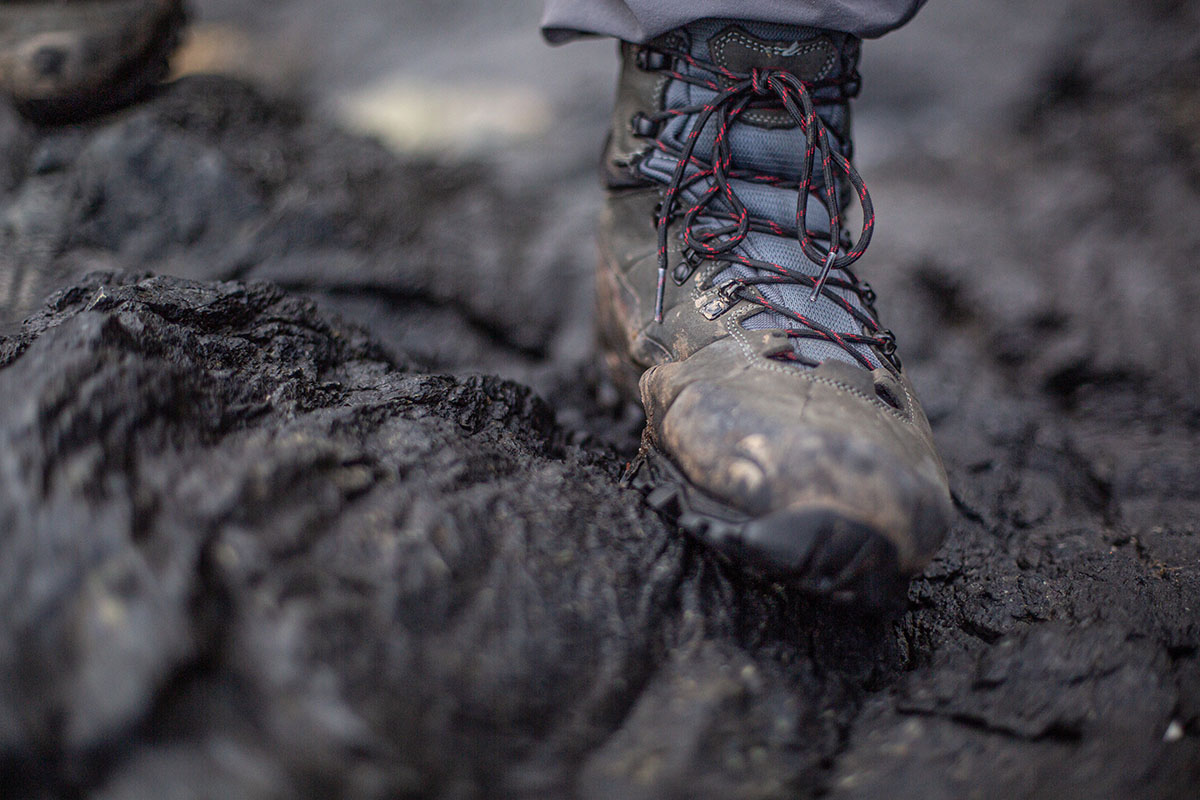 Protection
Along with support and stability, protection is a little lacking with the lightweight Nucleo High II GTX. On the bright side, the rubber toe cap is relatively robust, and the stiff, reinforced heel does a good job of taking the sting out of harsh impacts. As I touched on above, the upper portion of the boot around the ankle also uses thick padding, and the web-like Nano-Cell siding—designed to increase breathability—means you get added rubber along the lower side of the boot for extra buffering. That said, La Sportiva left the sides of the toe box exposed, which often resulted in feeling jagged rocks and roots poking into my forefoot whenever I misjudged my foot placement. In the end, the Nucleo provides better coverage than many lightweight competitors, but I would hesitate to recommend it for off-trail use or even light scrambling. For these uses, it's worth upgrading to a burlier option like the Salomon Quest 4 GTX or Salewa Mtn Trainer 2 Mid GTX.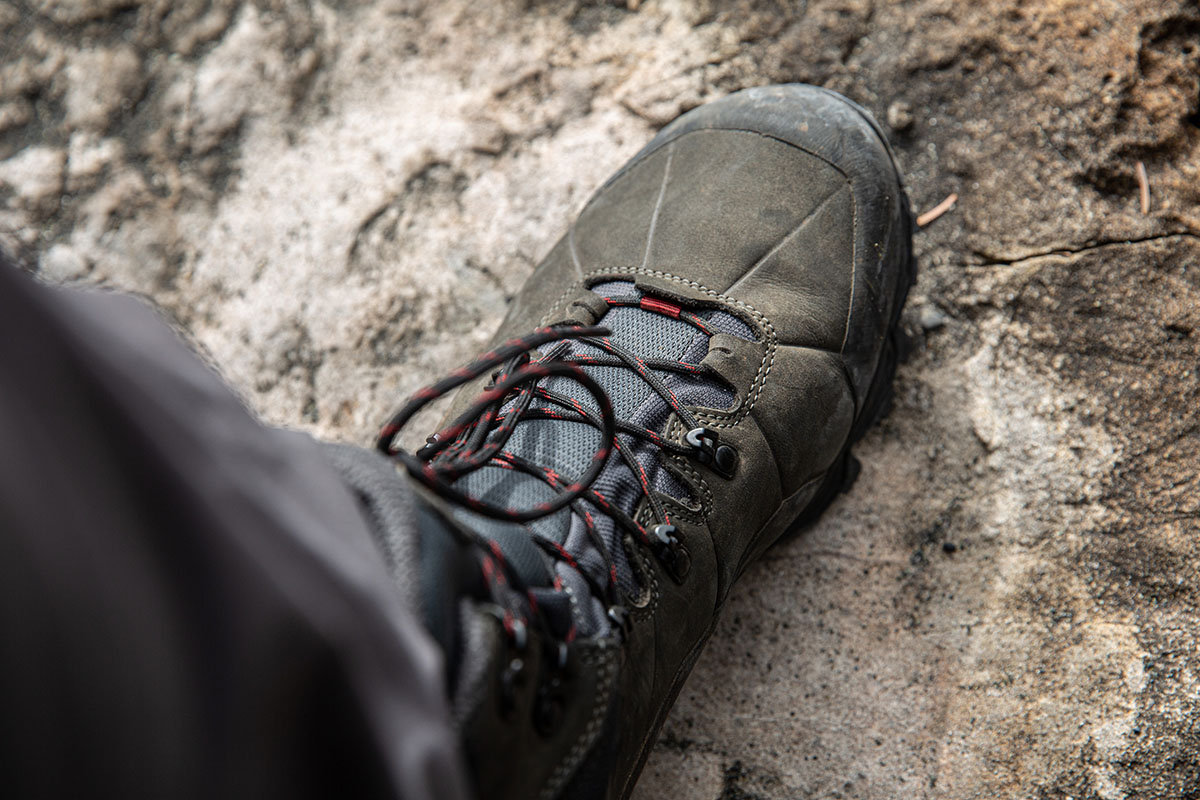 Waterproofing and Breathability
For the Nucleo High II GTX's waterproofing, La Sportiva opted for Gore-Tex Surround, which is designed to boost breathability without sacrificing wet-weather protection. The intent is to allow sweat to escape below the foot and through the sides, working in conjunction with the web-like Nano-Cell mesh mentioned above to dump heat. On the waterproofing front, the boots held their own throughout multiple water crossings and shoreline hikes that traced lakes and the Pacific Ocean. They also performed flawlessly during extended bouts of rain, keeping my feet perfectly dry and warm. Combined with the tall collar that's connected to the tongue, the Nucleo is a highly reliable companion and a great match for particularly wet hikes and climates (like the Pacific Northwest).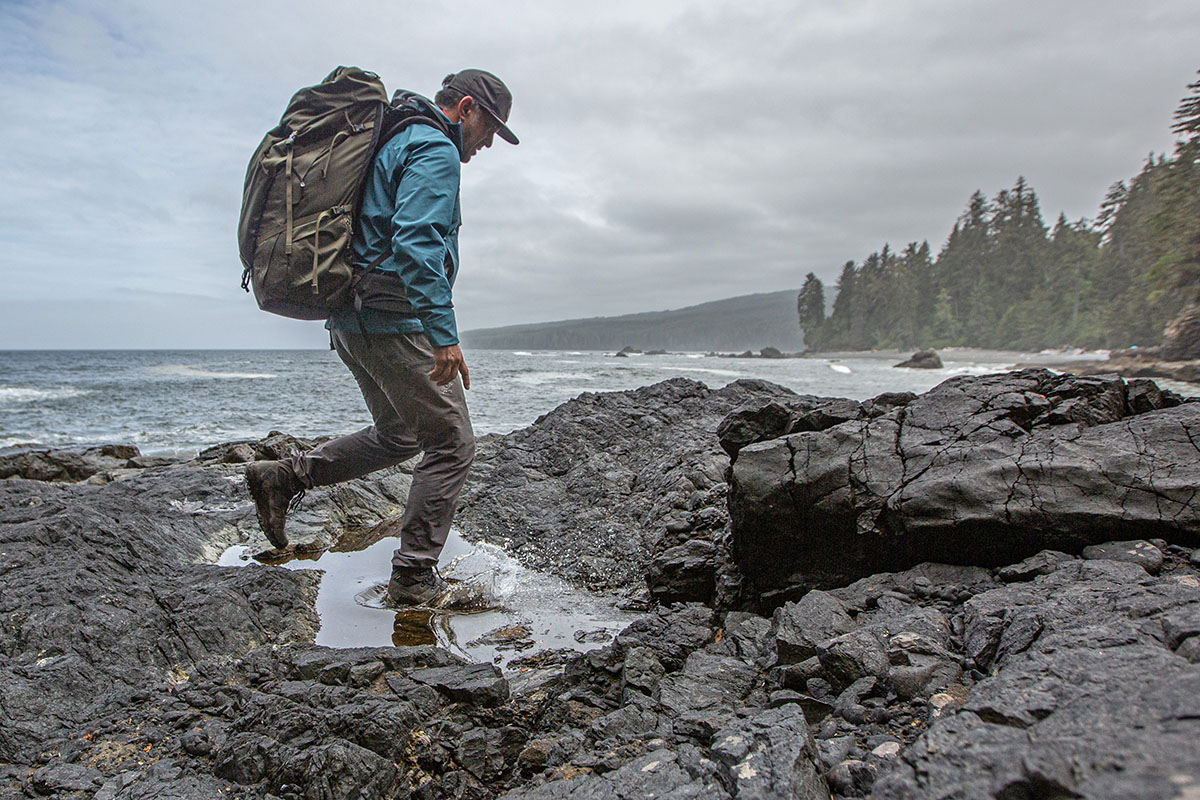 As I mentioned above, the Gore-Tex Surround membrane is intended to be both waterproof and breathable, and I'd say that the Nucleo is a step up from most competitors in terms of airflow. For reference, I haven't overheated or experienced any clamminess in the boots, even during the unseasonably warm summer we've had so far. That said, like all waterproof designs (and especially those with little to no mesh), the Nucleo takes a while to dry out once submerged, which happened a few times when rogue waves lapped up over the collar. If this is a major concern for you, we'd recommend opting for a non-waterproof boot or shoe (for more on the topic, see our article: Do You Need Waterproof Hiking Shoes?).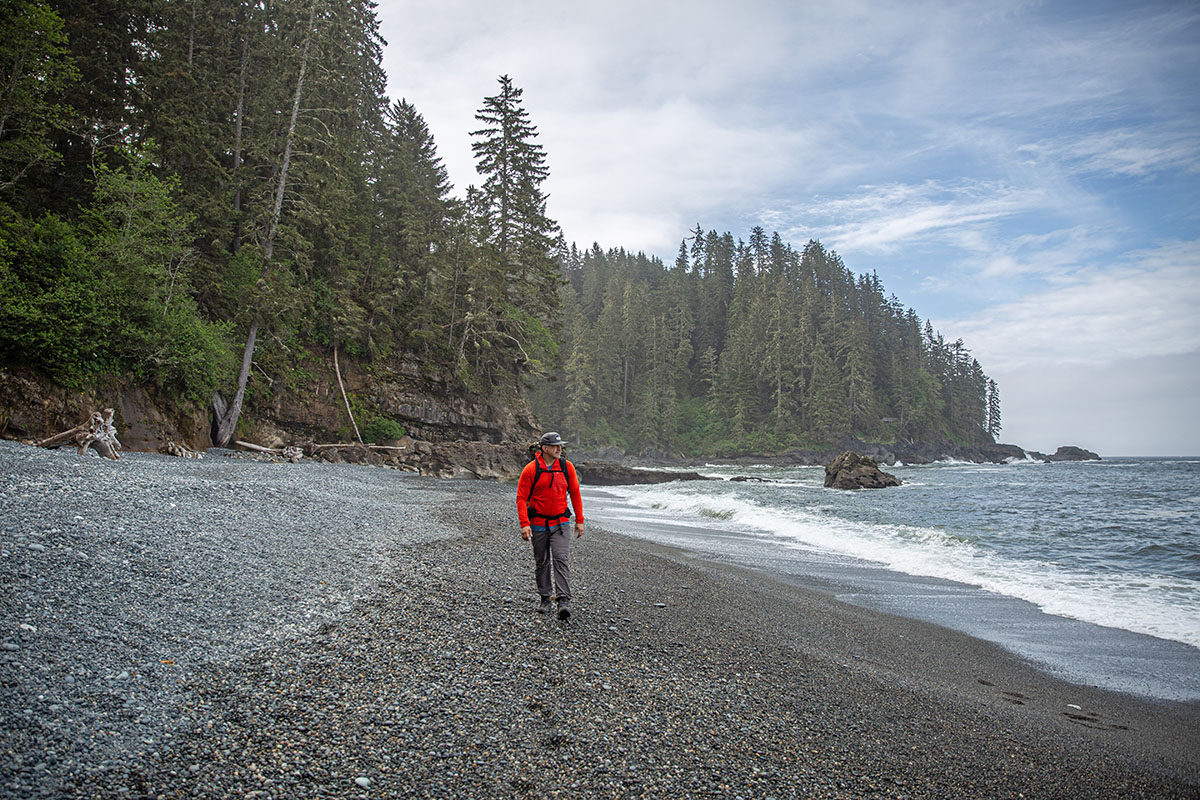 Build Quality and Durability
From our experience, La Sportiva footwear has always been well made, and the Nucleo High II GTX is no exception. In short, everything about the boots exudes quality, from the hardwearing nubuck leather upper to the premium Gore-Tex membrane, tough rubber toe cap, and capable Vibram outsole. I should also note that I haven't gone easy on the boots: They've thrashed through tidepools, been engulfed by thick mud, and pounded out miles of rough terrain under the weight of a full pack. Despite the abuse, the boots are holding up incredibly well. The rubber toe cap and Nano-Cell siding are intact with no abrasion or signs of peeling, the outsole is wearing evenly with no cracks or missing lugs, and the laces and eyelets continue to operate flawlessly. The exterior of the midsole is showing some minor cosmetic wear, but this is to be expected given the boots' history. All told, I have no serious durability concerns and expect them to hold up well over the long term, which isn't always the case with lightweight designs.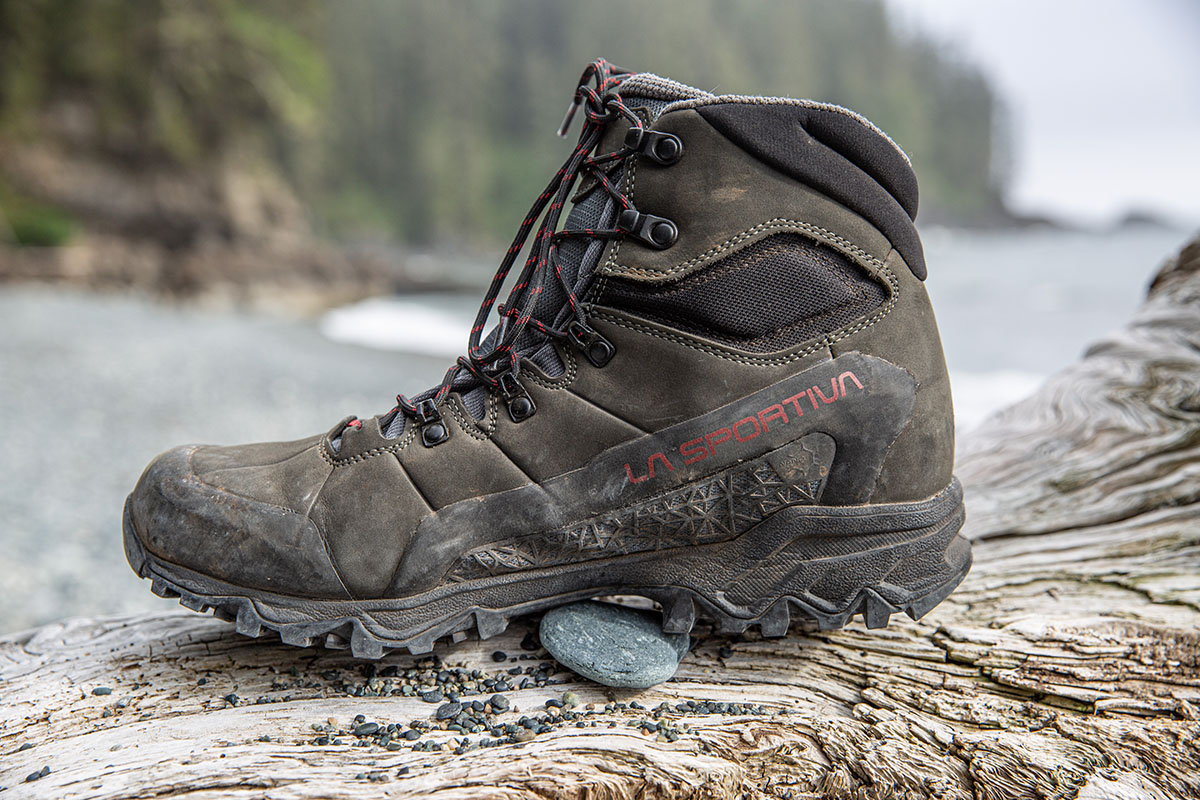 Fit and Sizing
Like many La Sportiva shoes, the Nucleo High II GTX runs narrow, particularly at the forefoot. For reference, in my usual men's size 11, my feet had just enough wiggle room to avoid toe bang on steep descents. I did consider ordering the wide version instead, but the boots didn't take long to stretch out and mold to my feet—a known benefit to leather designs. Once worn in, overall fit has been great: The heel pocket is snug but not restrictive, there's good arch support, and the lacing system is effective at locking the foot in place. It's worth noting that there are no locking eyelets, which required me to get a little creative with my lacing strategy to achieve my desired fit, but security hasn't been an issue.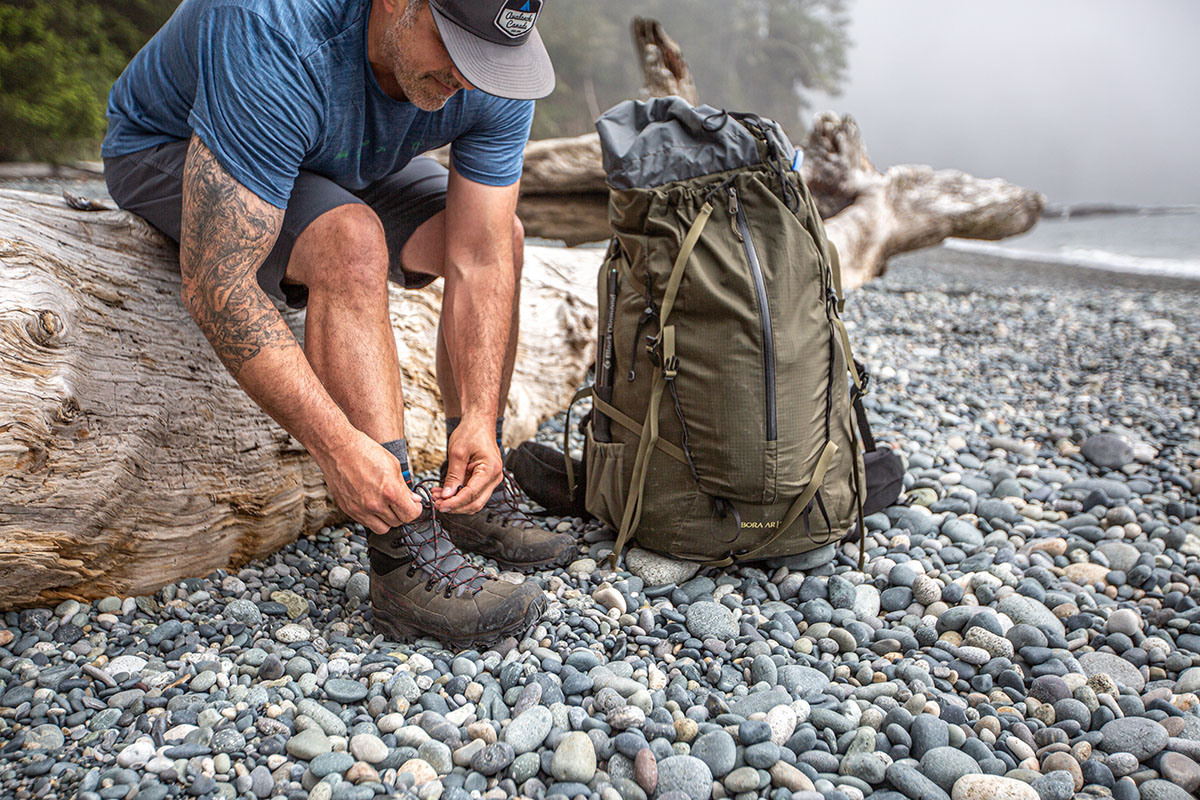 Sustainability
Sustainability is at the forefront of outdoor gear innovation in 2023, and many brands have started incorporating eco-friendly measures into production to stay competitive. In this case, the La Sportiva Nucleo High II GTX features laces made from 100% recycled polyester, and the Ortholite insole uses 5% recycled rubber and 15% foam taken from production waste. Added up, it's a nice upgrade from the original version and a good reflection of where the industry is headed.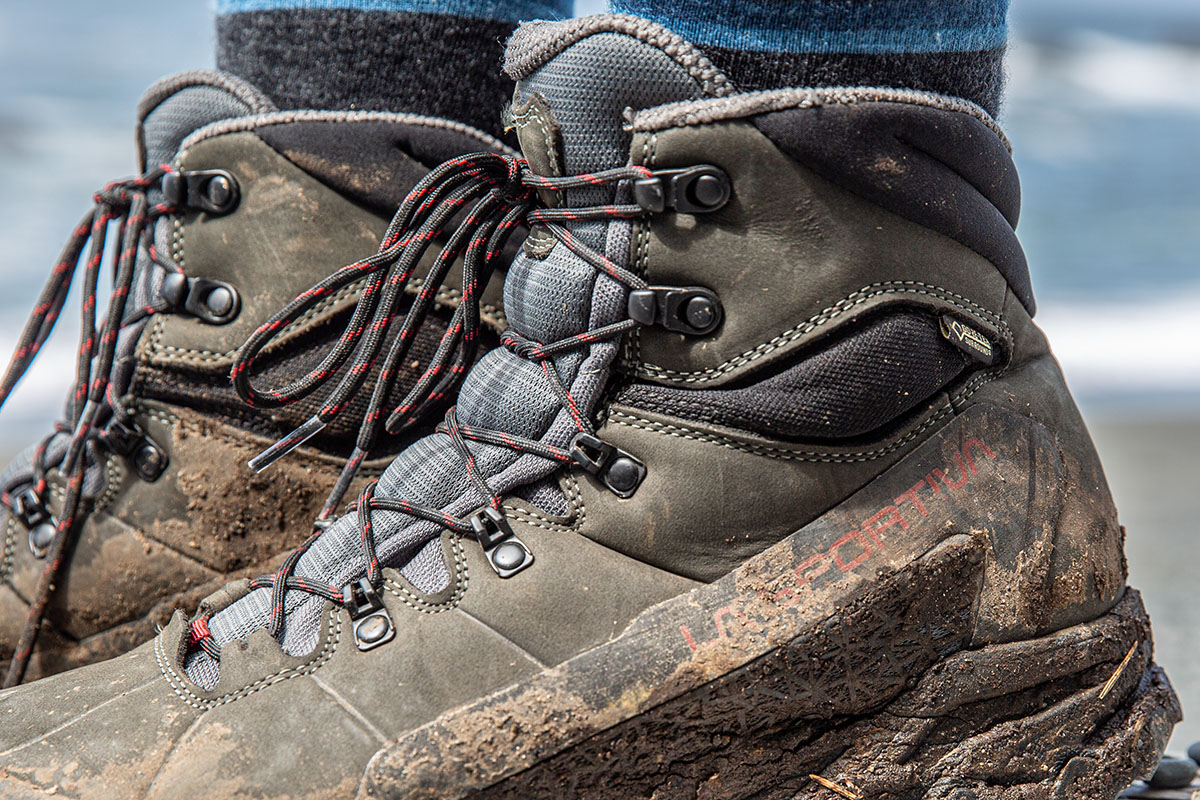 Other Versions of the La Sportiva Nucleo High II GTX
We put the men's Nucleo High II GTX to the test for this review, and La Sportiva makes the boot in a women's-specific version for the same price ($239). Stacked up to the men's model, the women's Nucleo High II GTX has an identical feature set including Gore-Tex Surround waterproofing, a Nano-Cell and leather upper, and a grippy Vibram outsole. Where the two differ is in weight and colorways: The women's version is lighter at 1 pound 10.8 ounces per pair and comes in two lighter-colored designs. Rounding out the collection are dedicated wide versions for both men and women that cost the same as the standard boots.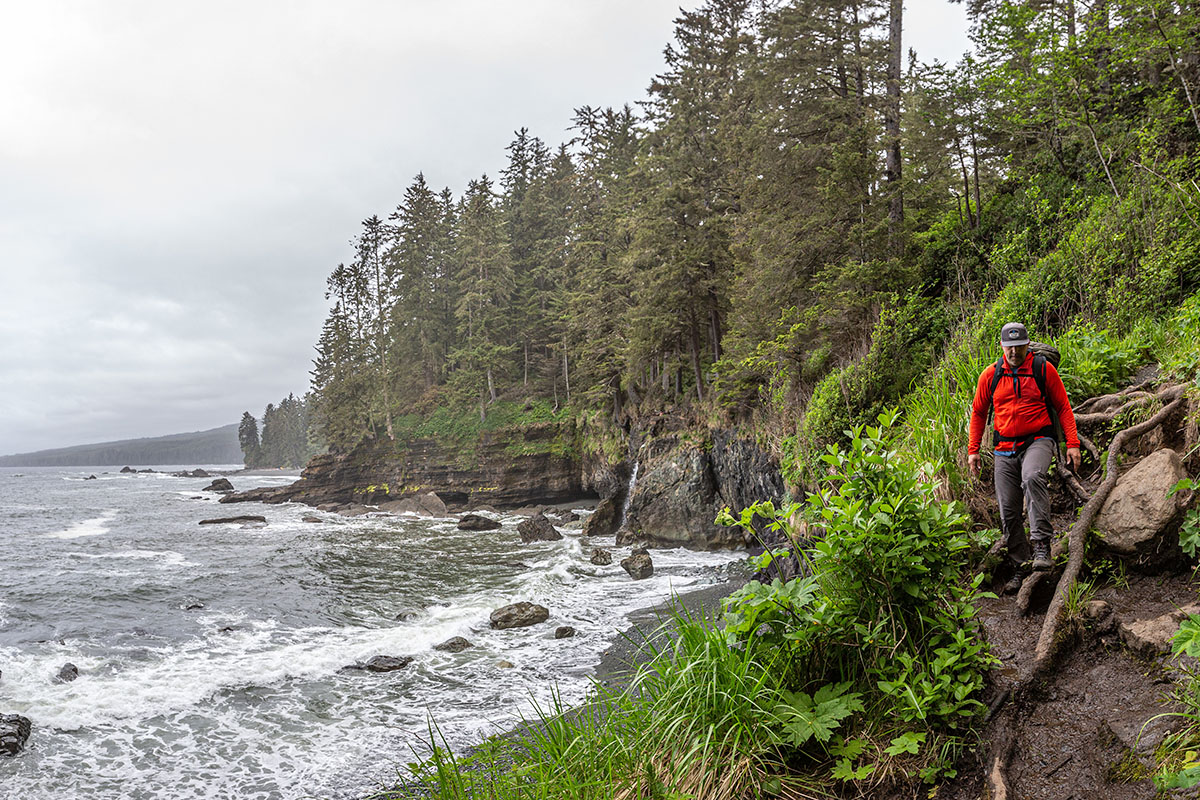 What We Like
Competitively light at just over 2 pounds per pair, especially considering the high cut and well-padded build.
Gore-Tex Surround membrane provides reliable waterproofing and better breathability than most competitors (the web-like Nano-Cell webbing along the sides helps).
Comfortable right out of the box and doesn't require much of a break-in period. 
Typical La Sportiva build quality, which is among the best out there.

What We Don't
Lightweight build compromises on all-out protection and stability—we'd upgrade to a burlier design for off-trail use, scrambling, or carrying a full load over long distances.
Pricey for a lightweight hiking boot at around $240.
Traction suffers on wet rock, although it's a pretty versatile and trustworthy design overall.
Narrow fit, especially at the forefoot (La Sportiva does offer dedicated wide sizes).


Comparison Table

The Competition
The Nucleo High II GTX is lightweight, well built, and offers good all-day comfort, which is a competitive recipe for many modern backpackers. However, our top-rated hiking boot overall this year is the Salomon X Ultra 4 Mid GTX. At 1 pound 14 ounces, it undercuts the Nucleo slightly in weight but manages to retain solid toe protection, stability, and traction. Those who like a nimble and sprightly ride will also appreciate the X Ultra's trail runner-like feel, although underfoot protection is a step down from the Nucleo. In addition, the Salomon is even more flexible and doesn't sit as high on the ankle, making the La Sportiva the better option for covering technical terrain. But for those who want to go fast and light on easy to moderate trails, the Salomon is the better all-rounder.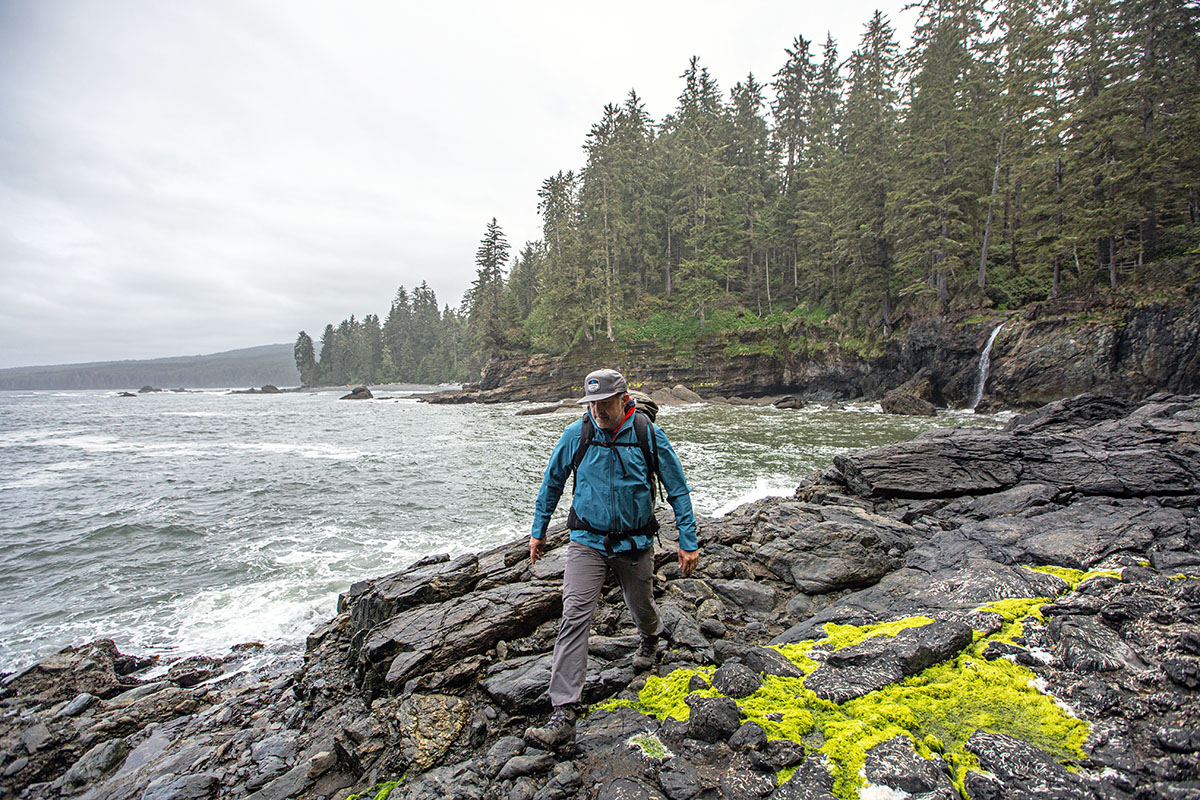 Another quality hiking boot in this category is Asolo's Falcon GV. The Falcon is an ounce heavier than the Nucleo at 2 pounds 2.6 ounces and has comparable technical chops. Comfort also was great out of the box (we think it gets the slight edge here over the La Sportiva), and the Falcon has a more accommodating fit for those with average feet. That said, the Nucleo is more supportive with its high cut, has a grippier outsole, and costs about $20 less. Overall, both are capable companions for everything from day hiking to serious backpacking (provided you're not packing the kitchen sink), and a final decision will likely come down to which design fits your foot best.
Along with the Nucleo High II, La Sportiva makes another capable leather hiker in their Ultra Raptor II Mid Leather GTX. For $20 less than the Nucleo, the Ultra Raptor II is slightly lighter at 2 pounds per pair and features a similarly high-quality build, including a Gore-Tex Extended Comfort membrane and tacky Frixion outsole. Both boots feature the brand's Impact Brake System, but the Ultra Raptor tacks on a heel stabilizer for extra support on high-mileage days, as well as a TPU shank underfoot for taking the sting out of harsh impacts. In testing the synthetic version of the Ultra Raptor, we found it offered better stability and support while stacking up well to the Nucleo in every other metric, earning our vote as the better-balanced design. Of note: Both boots have narrow toe boxes but are offered in dedicated wide sizes for those with higher-volume feet.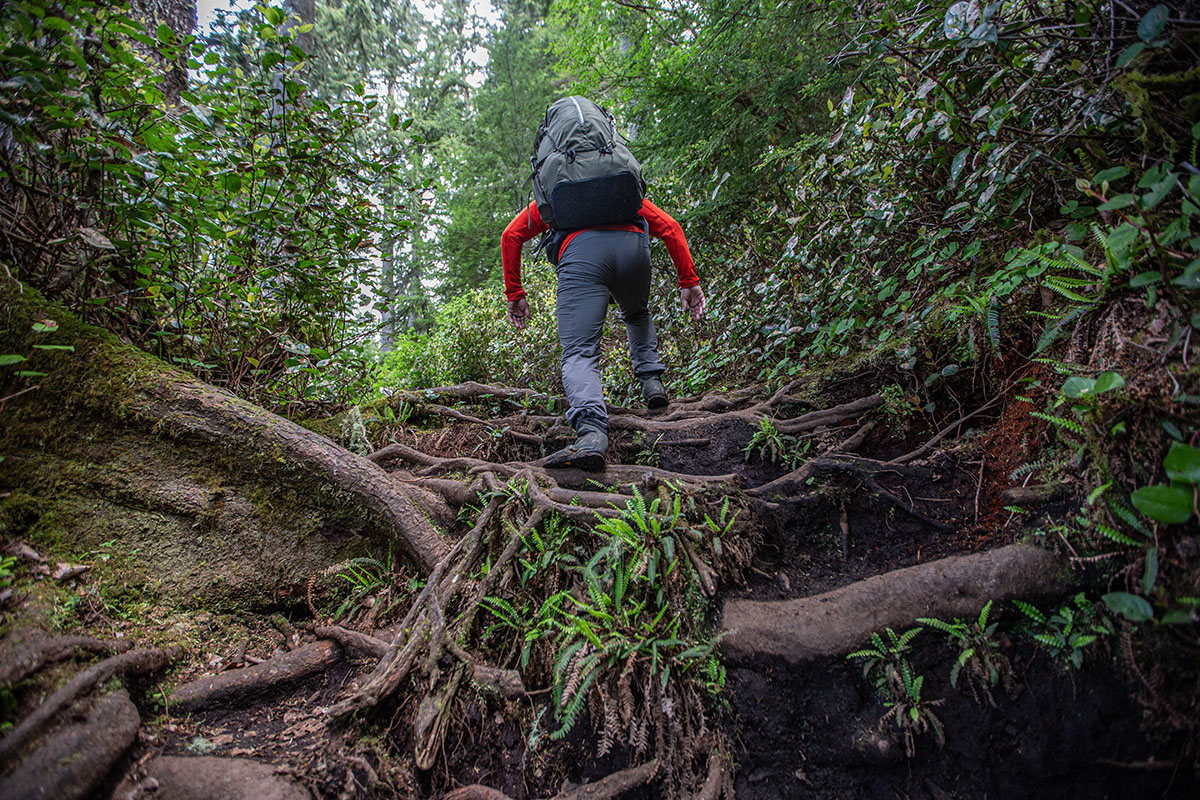 A final option to consider is Lowa's Renegade GTX Mid. The Renegade is more of a midweight boot at 2 pounds 7.2 ounces but features a similarly high cut and is one of the most popular options on the market for its impressive combination of comfort and support. One performance-related complaint we have is that the boot started to develop a separation between the toe rubber and leather upper after around two months, but the rest of the build has stood up well to hard use. All in all, despite the weight penalty, we think it's the better all-around pick, and it doesn't hurt that the Renegade is available in a range of sizes and fits, including narrow, regular, and wide widths.
If you're thinking about buying gear that we've reviewed on Switchback Travel, you can help support us in the process. Just click on any of the seller links above, and if you make a purchase, we receive a small percentage of the transaction. The cost of the product is the same to you but this helps us continue to test and write about outdoor gear. Thanks and we appreciate your support!
Depending on the seller, most products ship free in the United States on orders of $50 or more. International shipping availability and rates vary by seller. The pricing information on this page is updated hourly but we are not responsible for inaccuracies.
Read More From Switchback Travel