Nearly every major hiking boot brand has its signature model, and for Lowa, it's the Renegade GTX. We took the popular mid-height boot out backpacking and day hiking in Washington's rugged Central and North Cascades. Loaded down with gear and traveling over sometimes questionable terrain, we came to appreciate its widespread appeal. The boot is comfortable and supportive, relatively light for what it is, and for those with hard-to-fit feet, available in an impressive range of sizes and widths. Below we break down our experiences with the Renegade. To see how it stacks up to the competition, see our article on the best hiking boots.
 
---
Table of Contents
---

Performance
Comfort
Outside of initially trying on the Lowa Renegade GTX Mid, my boots went directly from the box to the trail for a multi-day backpacking trip into Washington's Alpine Lakes Wilderness. While this isn't an ideal way to break in any hiking footwear, the Renegade proved to be comfortable straight away. The feeling underfoot is just what I want out of a serious backpacking boot: firm with enough stiffness for long uphill slogs, along with a soft collar for cinching the laces. Further, the midsoles offer sufficient isolation from the trail even with a loaded down pack and lots of hiking and scrambling over rock. And I didn't come to appreciate this until later, but this is high praise for a boot: Once we arrived at our lakeside destination that evening, I didn't even think to swap out the Renegade for a pair of camp shoes (I just loosened the laces a little bit).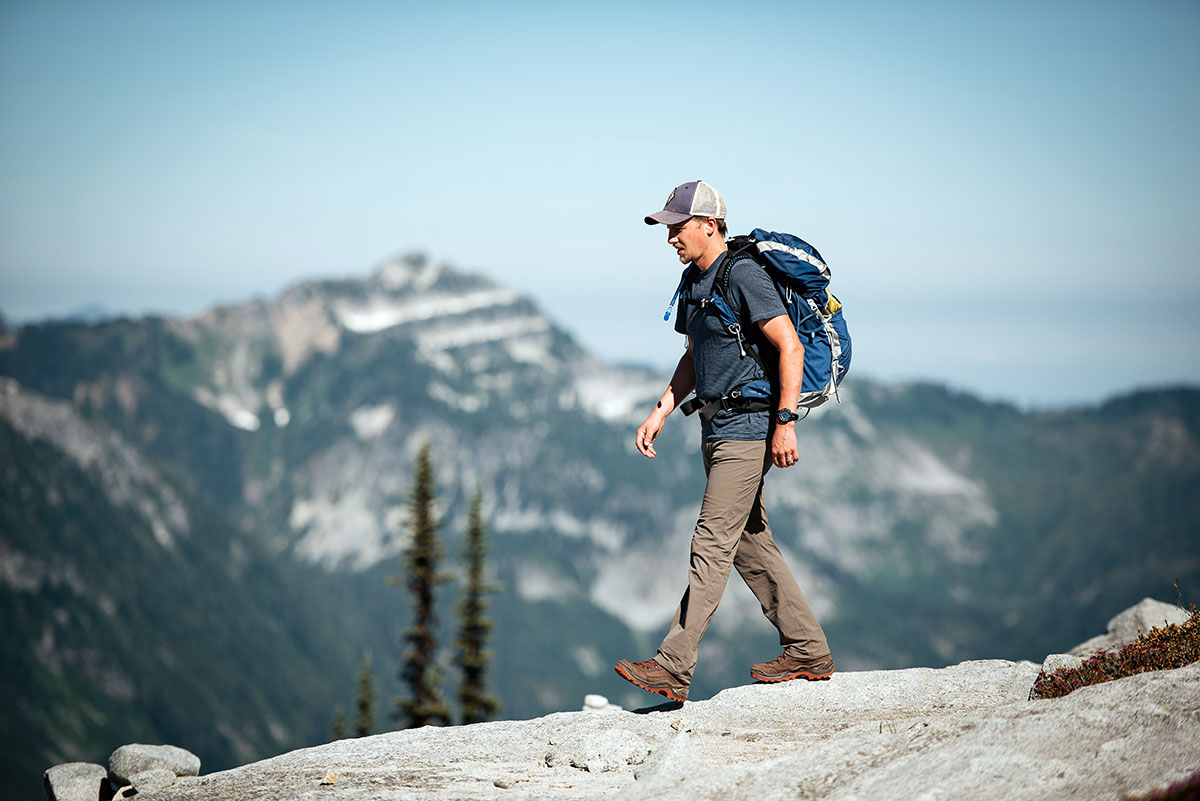 Weight
Weighing 2 pounds 10 ounces on our scale in a men's size 9 (the listed weight is 2 lbs. 7 oz.), the Lowa Renegade undercuts much of its midweight competition. This includes boots like the Salomon Quest 4 GTX (2 lbs. 14.2 oz.), Vasque St. Elias GTX (2 lbs. 15 oz.), and even the less supportive KEEN Durand II Mid WP (2 lbs. 12.2 oz.). The Lowa feels solid rather than flexible and light—and we still prefer a boot like the Salomon X Ultra 3 Mid GTX (1 lb. 15.6 oz.) for fastpacking—but the Renegade's weight is pretty impressive considering the high levels of comfort and support.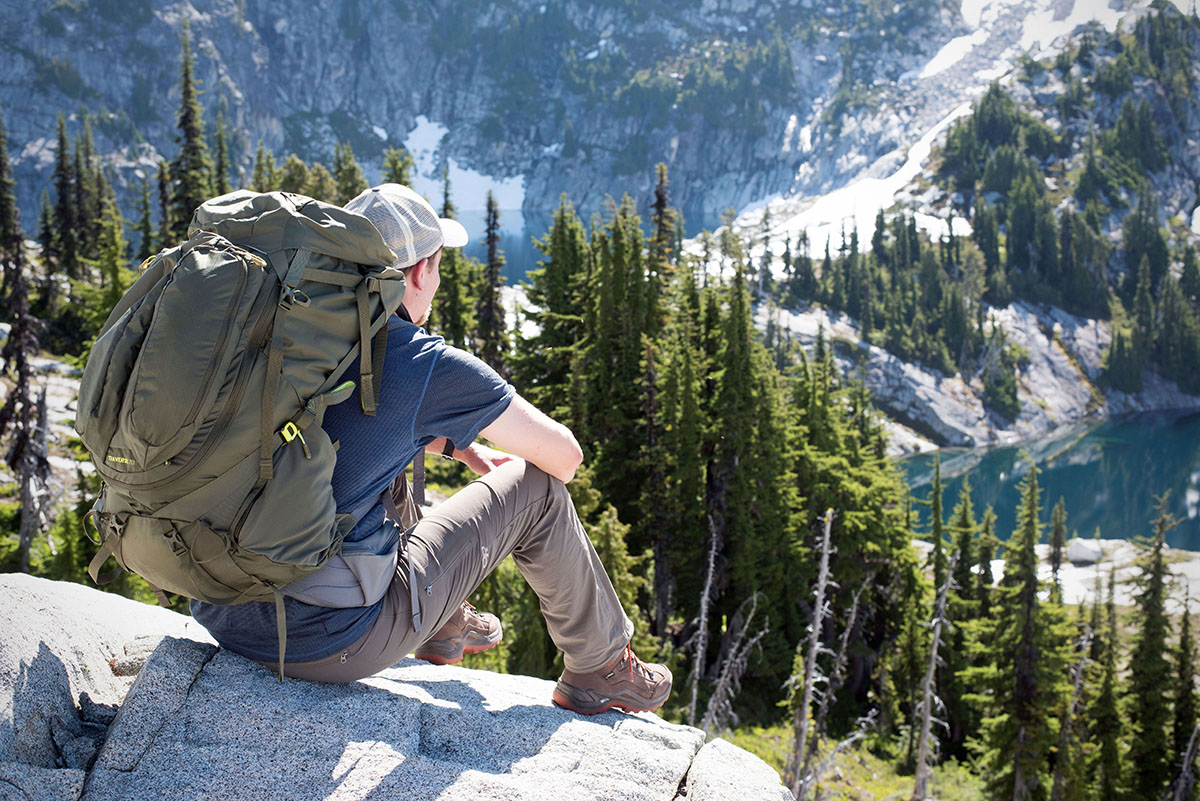 Traction
Typically, stepping up to a quality boot gets you great all-around traction, and the Lowa Renegade GTX Mid doesn't disappoint. Lowa employs Vibram for their outsoles, and the tread pattern mixes stickiness over rock and roots with plenty of bite in hardpack, soft dirt, and snow. On a recent backpacking trip, the boot excelled while descending steep granite and loose, dusty trails. As my hiking partner was carefully assessing his steps in a pair of budget-friendly KEEN Targhees, I moved with full confidence in the grippy Vibram rubber. One area we haven't tested the Renegade's traction is mud, but we expect it to perform competitively there as well.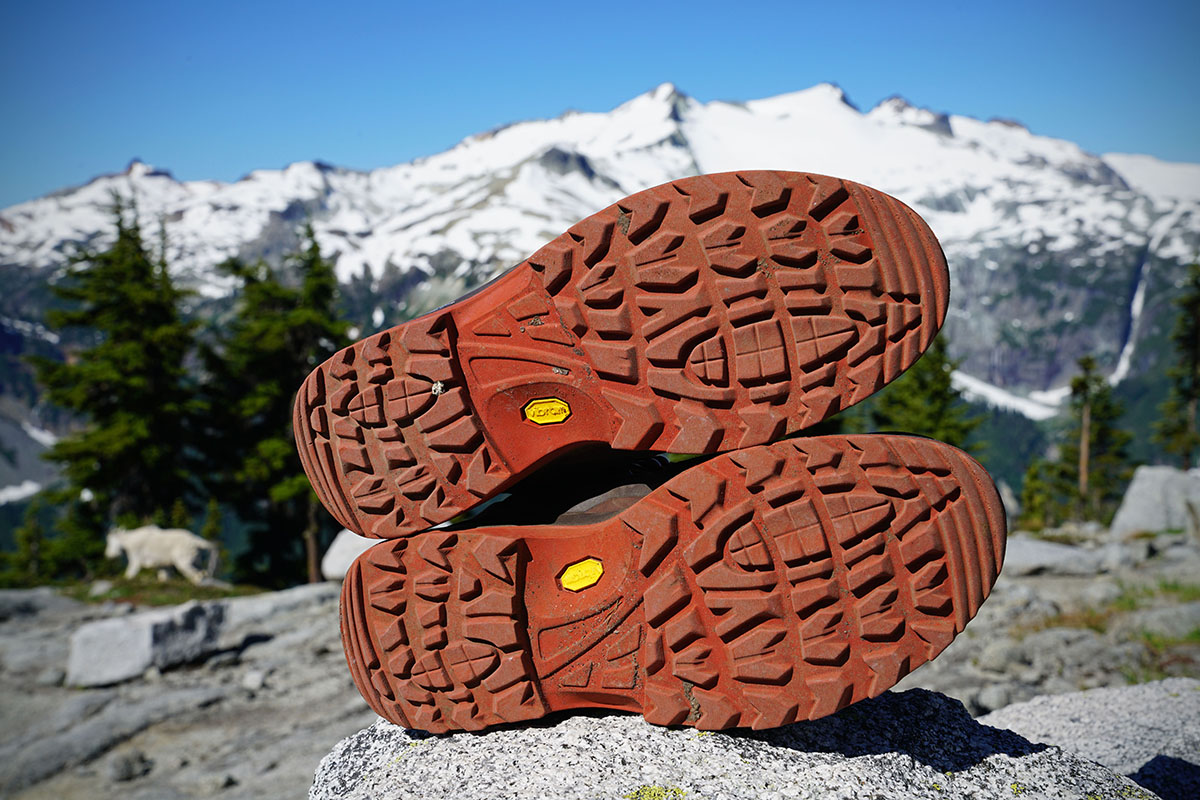 Breathability
Breathability rarely is a strong suit of a leather hiking boot–and we certainly didn't mind the cool feeling of an alpine stream surrounding the shoe as we were testing the waterproofing—but the Renegade gets a passing grade here. The leather that covers the majority of the boot's upper is thin enough that it doesn't turn it into a sauna, and the insole and lining do a decent job absorbing and dissipating moisture. It was hot on the trail and we had plenty of sun exposure, but I didn't sweat excessively or develop any hot spots or discomfort.


Waterproofing
The "GTX" in the name gives away the Renegade's waterproof design. Gore-Tex is a mainstay on hiking boots $200 and up, and along with a solid leather upper and water-repellent coating, the boot hasn't leaked a drop. The great summer weather hasn't afforded us our usual opportunities to hike in the wet Pacific Northwest, but we've given it a fair shake by crossing and standing in streams whenever possible. Even as the miles add up, the waterproofing is holding strong. The waterproof build and modest insulation from the Gore-Tex liner also should make the Lowa Renegade GTX Mid good for snowshoeing in mild temperatures.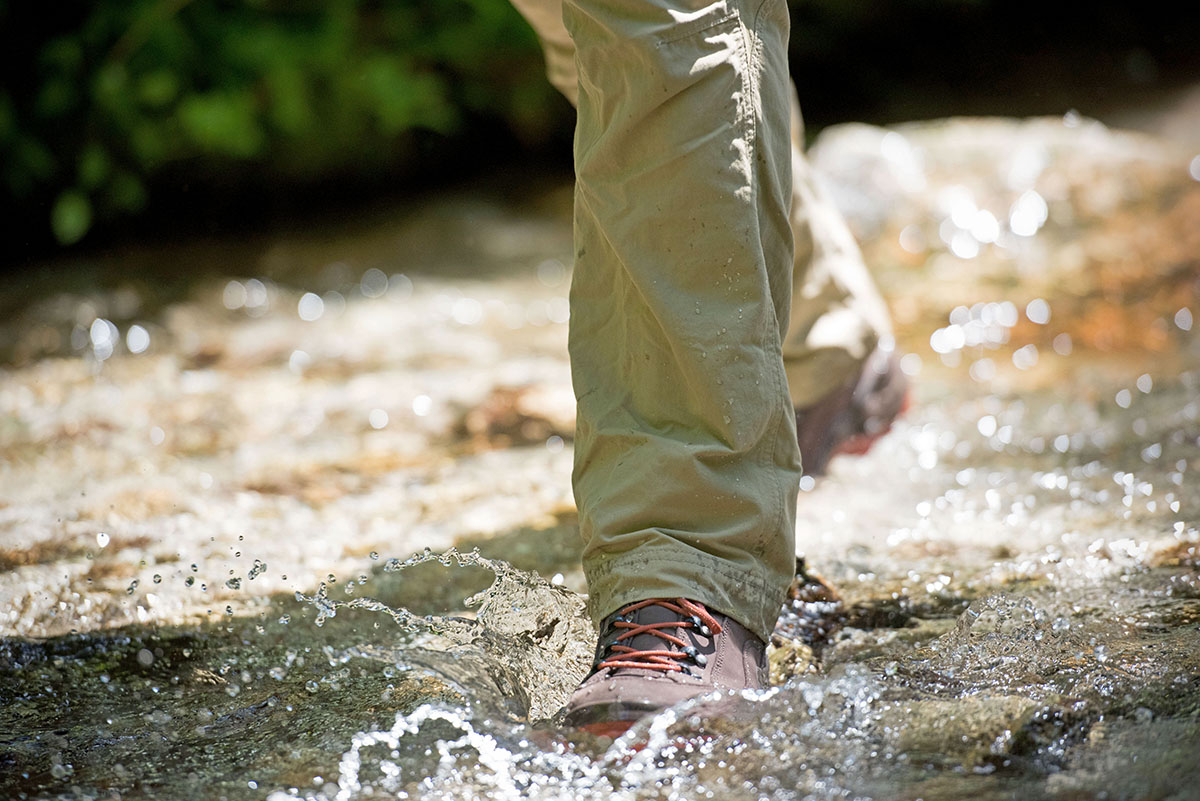 Stability and Support
Additional stability and support is one of the main arguments for stepping up to a tough boot like the Lowa Renegade. While it's not overly stiff by any means—it was comfortable enough to wear without any break-in period—the boot is noticeably more rigid underfoot than a lightweight shoe like the Merrell Moab 2. The Renegade is accomplished for hauling a heavy load—I've worn the boot weighted down with a backpacking pack, as well as a few trips with 40 pounds worth of a hiking baby carrier, child, and assorted gear, and am yet to roll an ankle. While the lacing system doesn't secure your foot as well as Salomon's Quest 4 GTX, the three sets of locking hooks tighten evenly, and the boot's solid platform is easy to trust on technical and off-camber sections of trail. If you prioritize a stable ride or like the safety net that comes with a sturdy boot, the Renegade is a great choice.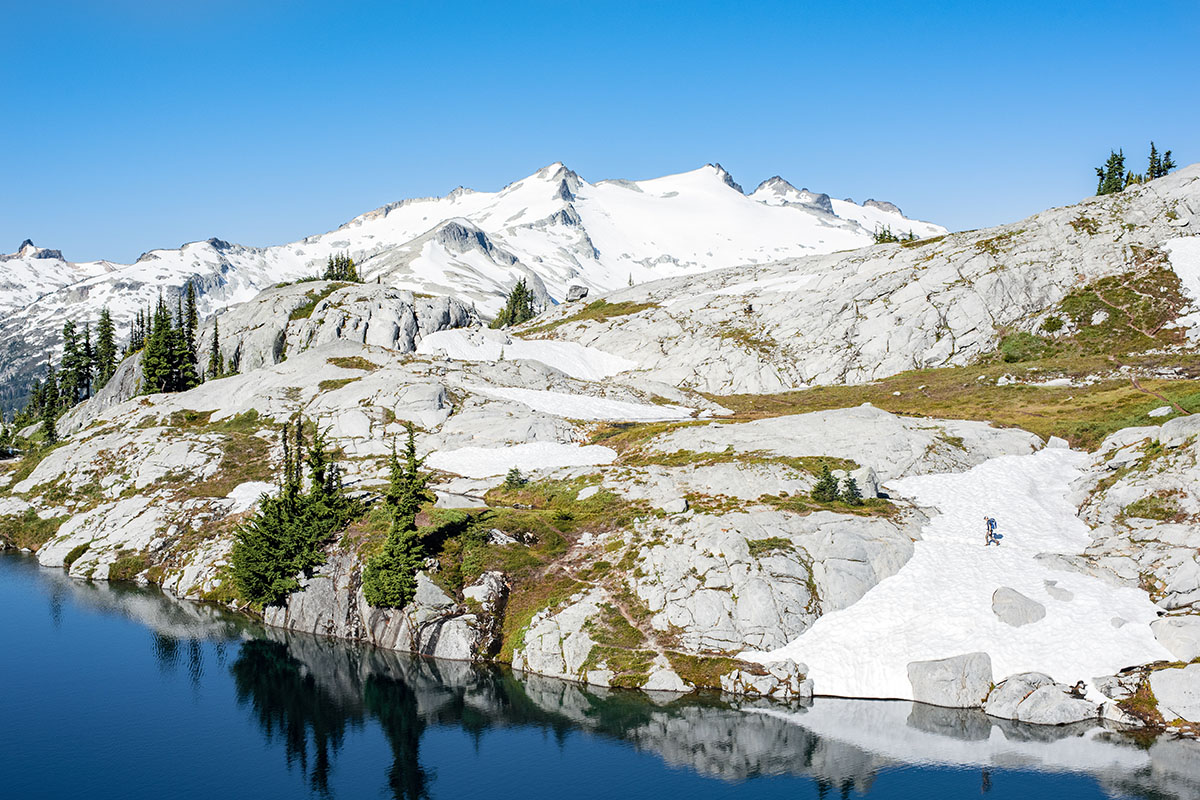 Build Quality and Durability
In short, I'm not convinced the Renegade has the toughest build within the midweight market. Thus far, the boot has seen a mix of on- and off-trail use within the granite-filled Cascade Mountains of Washington. And while the upper materials are holding up well to abrasion and the tread hasn't chipped away like some rubber will on the unforgiving rock, there is a little separation developing between the toe rubber and the leather upper on the right boot. To us, the issue seems to be that these two pieces meet halfway up the toe—unlike boots like the Salomon Quest 4 GTX that have a toe cap that extends all the way over the toes. The crack hasn't expanded during subsequent trail time, but it's nevertheless worrisome that it developed so early on.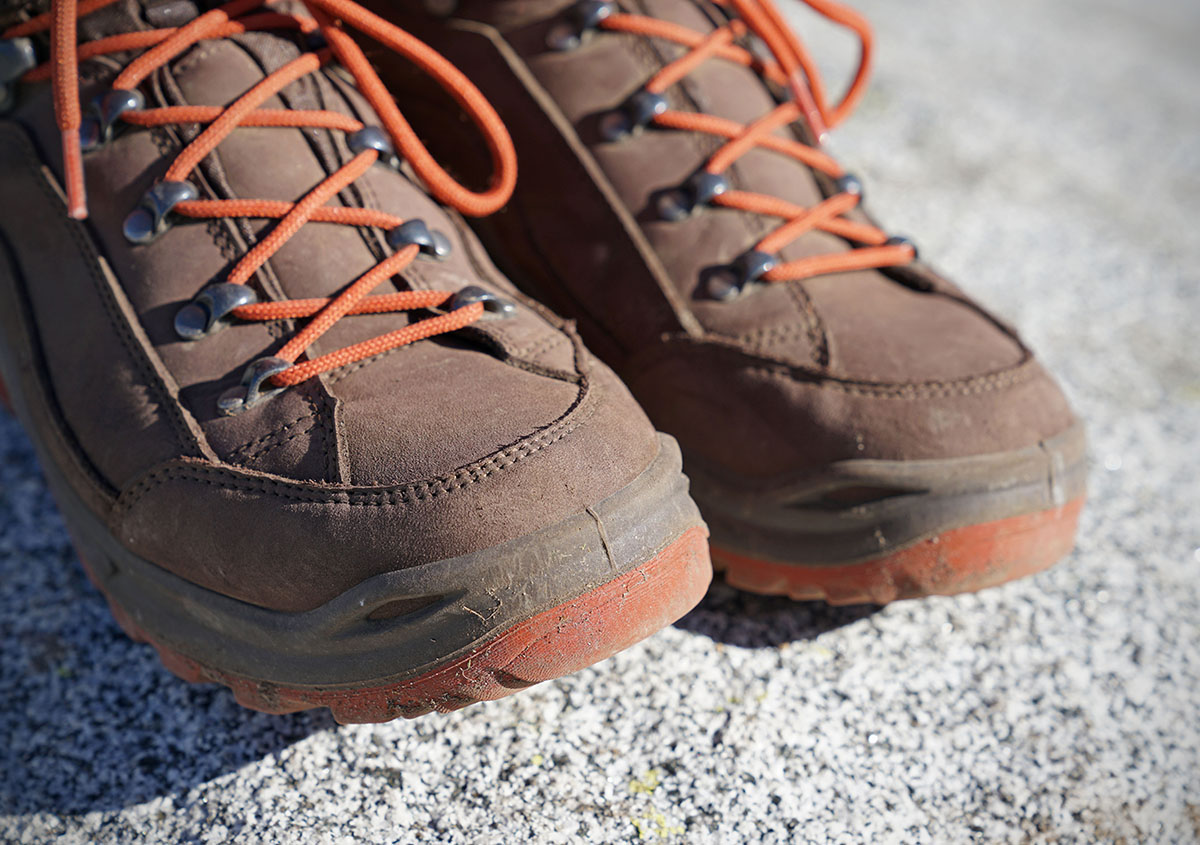 Fit and Sizing
We suspect a big part of the Renegade's popularity is its excellent fit. No one boot will be ideal for all foot types, but the Renegade gets pretty darn close. I got my typical men's size 9 in a regular width and found it fits true. The heel is snug and stays securely into place—helped by the three sets of locking lace hooks—and the toe box is roomy enough for the toes to spread and not get mashed on long descents. What sets the Lowa Renegade GTX Mid apart is its available sizes, which range from 7.5 to 16 in men's and 5.5 to 11 in women's, along with narrow, regular, and wide widths. For those that struggle to get a good fit, the Renegade is one of the best options we've seen.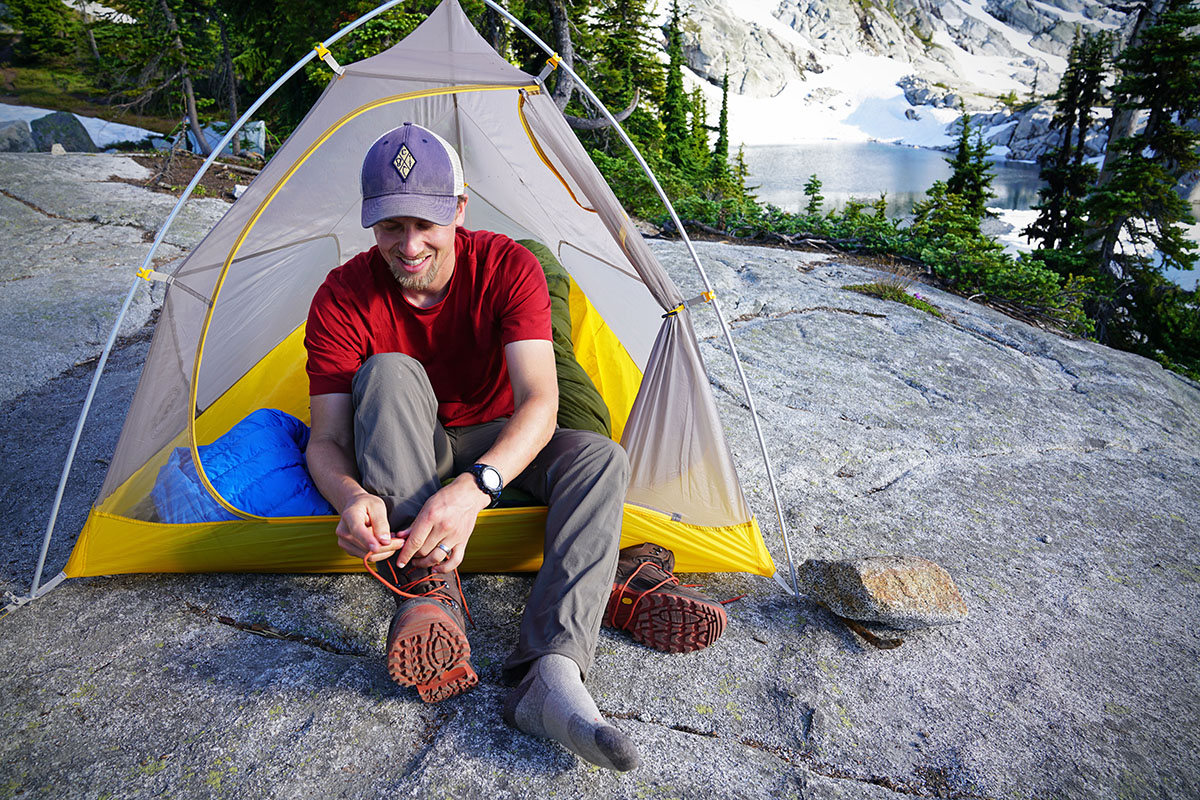 Other Versions of the Lowa Renegade
For this review, we tested the men's Renegade GTX Mid, but Lowa offers the boot in a number of variations. If you want to shave weight and don't mind sacrificing ankle support, the Renegade GTX is made in a low-top version ($230) that comes in at 2 pounds 4.7 ounces. Interestingly, the only model that does away with the Gore-Tex waterproof membrane is Lowa's LL (leather-lined) Mid, but we wish there were a more mesh-heavy option for warm and dry climates. Women's models are available in the same variations, including the women's Renegade GTX Mid, but in different colorways and with slightly lower weights (see our in-depth review of the women's boot here).

What We Like
Very comfortable underfoot along with great cushioning around the ankle.
Stable and easy to trust on difficult trails and with a heavy pack.
Available in a big range of sizes and narrow, regular, and wide widths.

What We Don't
Potential long-term durability concerns where the rubber toe cap meets the leather upper.
Lacing system falls a little short of the Salomon Quest 4.
No mesh (non-GTX) model available for those who frequently hike in warm and dry climates.


Comparison Table

The Competition
The Lowa Renegade is a year-round favorite for hikers, backpackers, and snowshoers alike. By far, its closest competitor is the Salomon Quest 4 GTX, which is another great option for difficult day hikes and long backpacking trips. They're also fairly even in weight—on our scale in a men's size 9, the Renegade weighs 2 pounds 10 ounces and the Quest 4 is slightly more at 2 pounds 14.2 ounces. In parsing out the differences, the Lowa has a more traditional upright feel in contrast to the aggressive Salomon's stance that resembles an over-the-ankle trail runner. We also found that the Renegade offers a little better trail isolation when carrying a heavier pack, but we do prefer the Quest's fit that can be secured tightly around the ankle for fantastic support. Both are excellent boots—they finish towards the top in our hiking boot round-up—but the deciding factor may come down to fit: The Salomons are somewhat low-volume and only offered in a single width, while the Renegades are available in narrow, regular, and wide sizes.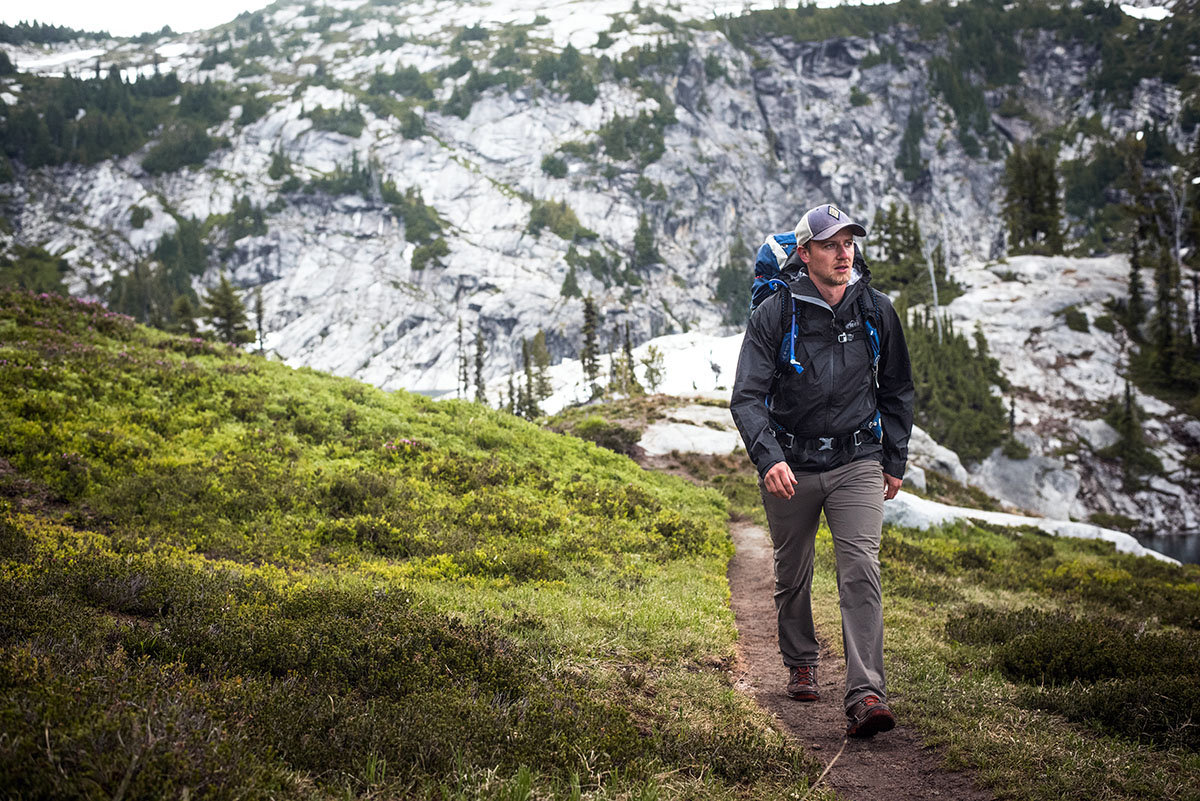 Another boot often considered alongside the Lowa Renegade is Asolo's Fugitive GTX. Both boots are built with a tough upper material, Gore-Tex lining, and proven Vibram outsole. However, the Fugitive is considerably stiffer than the Renegade, requires a longer break-in period, and clocks in significantly heavier at 3 pounds 0.7 ounces, which is noticeable as the miles add up. In the end, the Asolo's stiff construction and thick build are a nice match for uses like light mountaineering and navigating tricky, off-trail terrain with a heavy pack, but the boot is overkill for most casual backpacking outings. Unless you need the added stiffness and support, we prefer the more versatile, flexible, and $40-cheaper Renegade.
Another midweight option to consider is Vasque's St. Elias GTX. Like the Renegade, the Vasque features a waterproof Gore-Tex lining and Vibram outsole. Further, the boot offers ample stability for high-mileage backpacking while still retaining enough flexibility for shorter and less intensive day hikes. But perhaps the biggest news is cost: The St. Elias sells for $220, undercutting the Renegade by $25 without sacrificing much in the way of performance. That said, the Vasque outweighs the Renegade by around 8 ounces per pair, which can be a downside over long distances. You can't go wrong with either model, but we prefer the more comfortable fit and lower weight of the Lowa.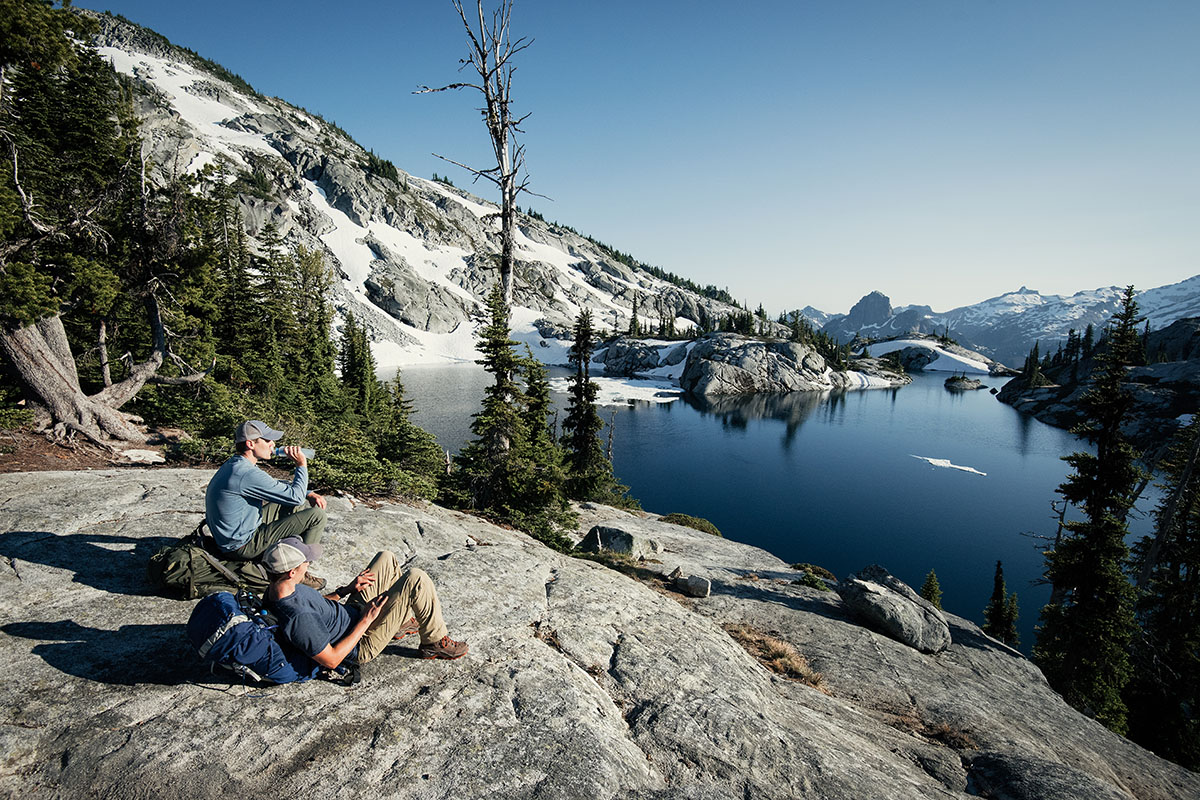 Staying within Vasque's lineup, the Breeze AT Mid GTX is a cheaper ($190) and lighter (2 lbs. 11 oz.) alternative to the St. Elias mentioned above. All in all, there's a lot to like about the Breeze AT: It's stable, supportive, and protective, uses a premium Gore-Tex liner and Vibram outsole, and boasts a tough leather construction. However, in testing, we found that the Vasque had a fairly heavy and clunky feel on the trail, and the wider lugs didn't grip particularly well on softer surfaces. In the end, the Renegade offers very similar performance for around 4 ounces less per pair, which is why we give it the slight edge in our hiking boot round-up. 
Shifting to the lightweight and budget end of the spectrum, two longtime favorites are the Merrell Moab 2 Mid WP ($145; 2 lbs. 4 oz.) and KEEN Targhee III Mid WP ($175; 2 lbs. 2.8 oz.). These boots are comfortable for day hikes and shorter backpacking trips, but we consider the Renegade the far superior option when carrying a loaded-down backpacking pack or hiking over dicey or steep terrain. You get a noticeable increase in stability, traction, and build quality—with only a moderate weight penalty—when upgrading to the Renegade.
If you're thinking about buying gear that we've reviewed on Switchback Travel, you can help support us in the process. Just click on any of the seller links above, and if you make a purchase, we receive a small percentage of the transaction. The cost of the product is the same to you but this helps us continue to test and write about outdoor gear. Thanks and we appreciate your support!
Depending on the seller, most products ship free in the United States on orders of $50 or more. International shipping availability and rates vary by seller. The pricing information on this page is updated hourly but we are not responsible for inaccuracies.
Learn More About Hiking Gear