Salomon Quest 4 GTX
Price: $230
Weight: 2 lbs. 11.2 oz. (men's size 9)
Waterproof: Yes (Gore-Tex)
What we like: Tough, protective, and supportive yet comfortable for covering long distances over technical ground.
What we don't: Overkill for smoother trails and most day hiking.
See the Men's Salomon Quest 4 GTX  See the Women's Salomon Quest 4 GTX
Salomon's Quest has garnered serious popularity over the years as a highly capable backpacking boot, and the fourth-generation model carries the torch. We put the latest Quest 4 through its paces in Washington's Hoh Rainforest, where it faced wet and slick trails with lots of loose rock, downed trees, and ankle-deep mud puddles. Overall, despite a slightly lighter weight, revamped chassis, and modernized look, the Quest 4 boasts very similar performance to its predecessor, making it an excellent pick for shuttling heavy loads over technical terrain. Below we break down our experiences with the Quest 4. To see how it stacks up to the competition, see our article on the best hiking boots. 
 
---
Table of Contents
---

Performance
Comfort
Comfort was a highlight with the past-generation model, and the latest Salomon Quest 4 GTX feels very similar with a well-cushioned build and glove-like fit. This is a premium design through and through, with a soft lining covering the interior, ample padding around the ankles and on the tongue, and one of our all-time favorite lacing systems. In practice, it's easy to get a secure and snug fit around the foot, and the locking eyelet at the base of the ankle helps keep your heel in place even on extended climbs. When cinched up, the boot practically hugs your ankle with a supportive, close, and very confidence-inspiring feel.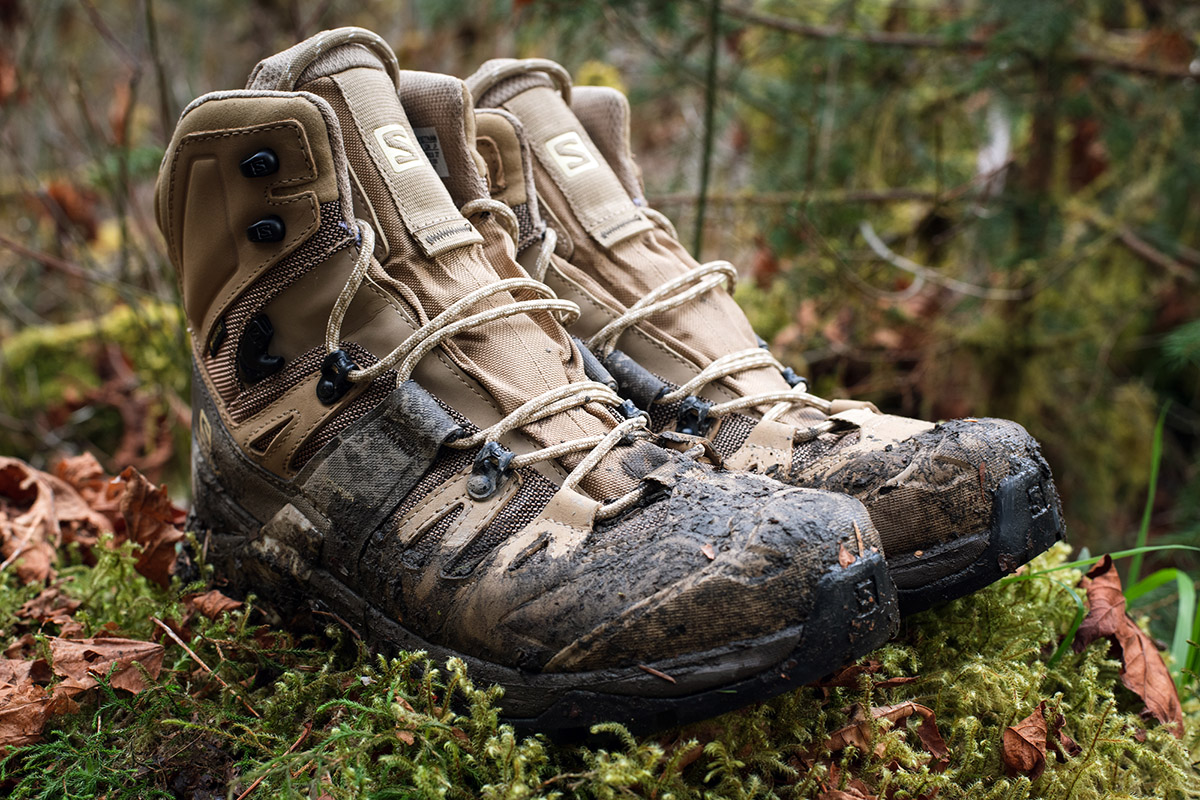 Underfoot, it's a similar story with plenty of shock absorption and protection for the rough and rocky conditions we encountered during our backpacking trip in Washington's Hoh Rainforest. Even loaded down with a moderately heavy pack (around 35 lbs.), I didn't experience any foot soreness despite a full day on the trail. That said, it's important to point out that the Quest is a serious boot that will likely be overkill for many day hikers and even backpackers that stick to well-trodden paths. Salomon did a nice job retaining some flexibility at the forefoot, so it's not too stiff while walking, but it's nevertheless a substantial and burly design that's best suited for difficult and technical terrain. For those who plan to stick to easy to moderate trails or want something lighter and more flexible, we recommend Salomon's own X Ultra 4.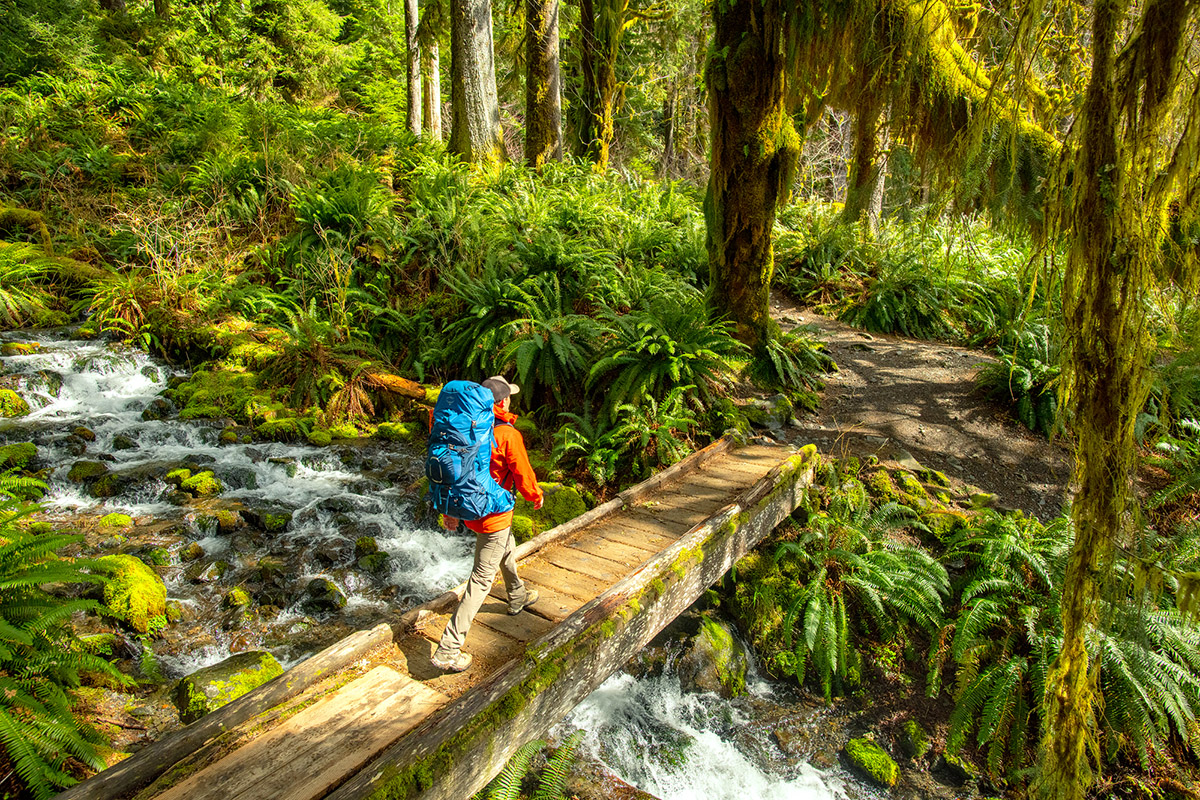 Weight
Updates to the Quest's design have led to a modest drop in weight for this latest model. In comparing my men's size 9s, Salomon trimmed about an ounce per shoe, and the newer boot weighs in at 2 pounds 11.2 ounces (listed weight is higher at 2 lbs. 14.2 oz.). Among other midweight hiking boots, this brings it closer to key competitors like the LOWA Renegade (2 lbs. 7 oz.), Scarpa Zodiac Plus GTX (2 lbs. 6.4 oz.), and Oboz Bridger Mid WP (2 lbs. 6 oz.). But to be clear, this is not a light and nimble boot like the brand's own X Ultra 4 Mid GTX (1 lb. 14 oz.). Wearing it back-to-back with the X Ultra, the added heft is immediately noticeable. But so too are the extra cushioning, taller ankle height and protection, and added stability for covering challenging terrain.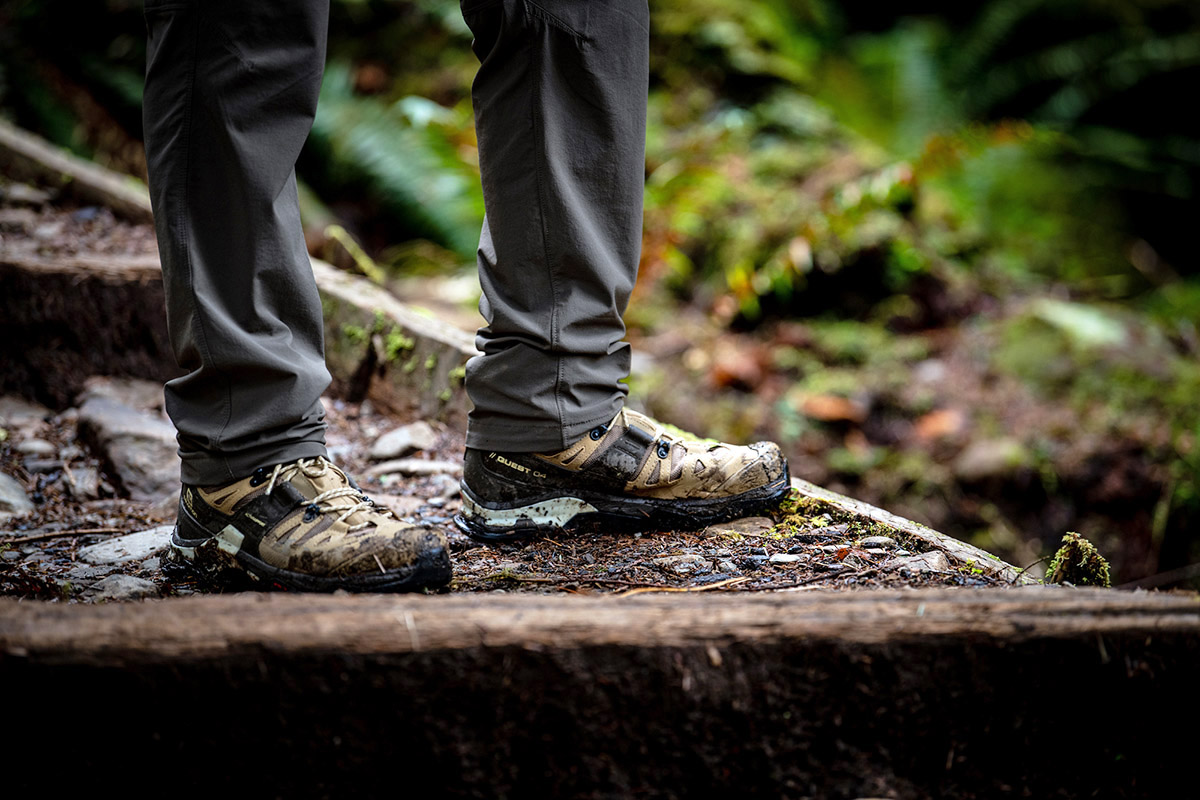 Traction
Trail conditions on our backpacking trip were as expected for early spring: extremely wet and slick. And through it all—including ankle-deep steps in mud, climbing up and over downed trees, and navigating loose rock—the Quest 4 GTX gripped reliably well. The aggressive tread bit into the soft surfaces and held nicely even on steeper climbs and descents (there's especially good braking at the heel), and the relatively widely spaced lugs shed mud pretty well. In terms of construction, the Quest utilizes Salomon's All Terrain Contagrip compound, which trades a little stickiness and flexibility for a firmer, long-lasting rubber. But despite this, it still was tacky enough to trust during rocky creek crossings and held surprisingly well on slick, mossy wooden bridges. And importantly, after fairly intensive testing, the tread is showing very little and even wear.

Stability and Support
Many hikers and backpackers step up to a burlier boot like the Salomon for its taller ankle height and sturdy feel, and the latest Quest inspires plenty of confidence on technical trails. The boot has a nice wide base, and its revamped chassis incorporates a set of wings at each side of the foot that connect directly to the lacing system. Cinching the boot, you can actually feel them tighten. Combined with the stiff heel, I felt very comfortable in the boots even when hauling a loaded-down backpacking pack (Osprey's Aether 65).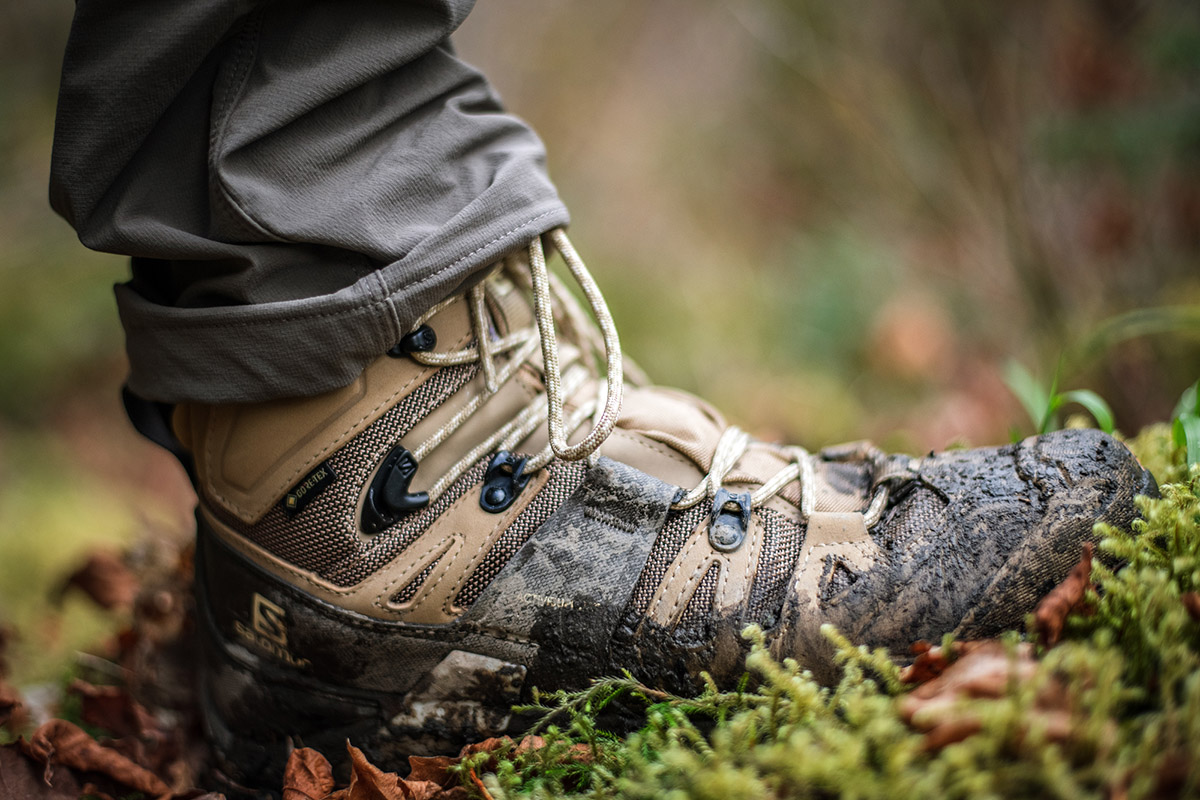 As I touched on above, there's still decent flexibility at the forefoot, so you don't feel like you're wearing an old leather clunker, but the Quest's burly overall design nevertheless is overkill for many hikers and lightweight backpackers. These folks would be perfectly fine saving with a sprightlier lightweight model like the aforementioned X Ultra 4 or Asolo's Falcon GV. However, if you want a performance fit that provides great support around the ankles for technical approaches, rough terrain, and when carrying a lot of weight, the Quest is a fantastic option.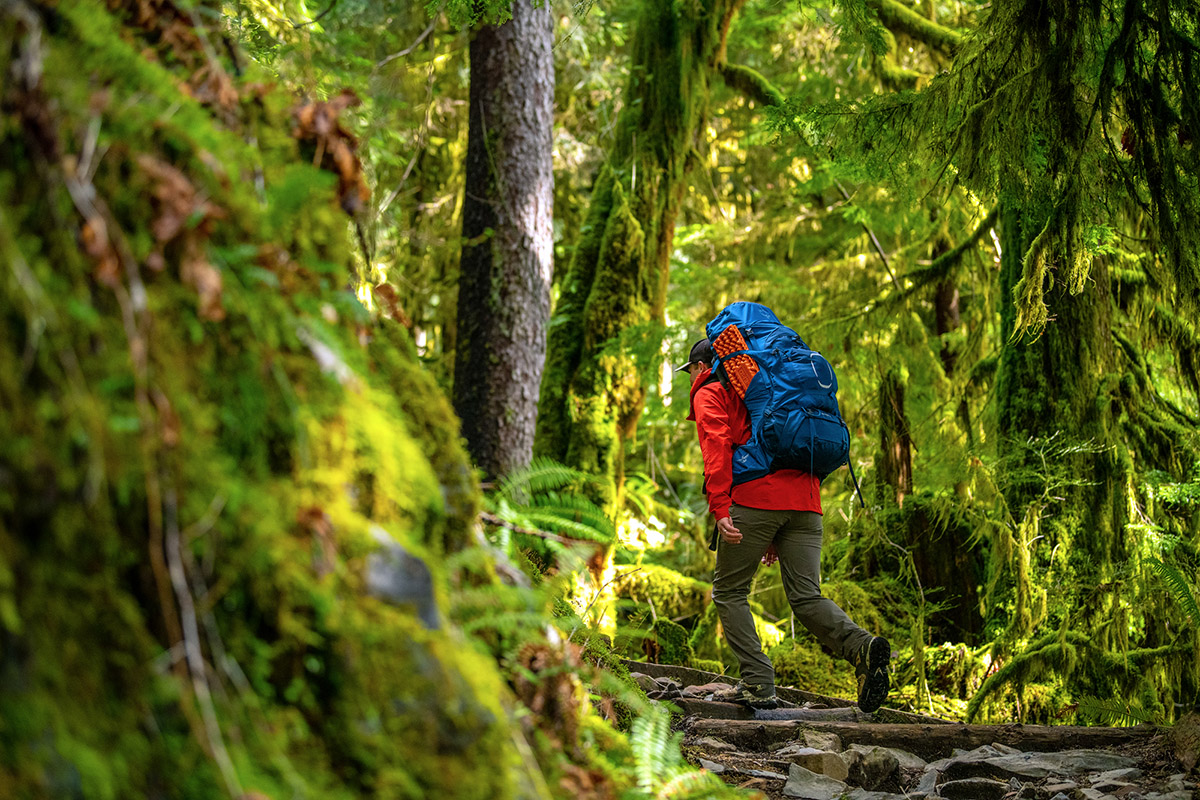 Waterproofing
The Quest's waterproof construction really shone through while hiking in Olympic National Park. The water-resistant upper and Gore-Tex liner kept my feet dry through numerous creek crossings, and the taller height was a plus when hiking through bog-like conditions in deep and wet mud. The dirt-caked boots were barely recognizable by the time we made it to camp, but my feet were impressively still dry. That said, I was mindful to make sure no water made it over the top of the collar, as the boot won't dry very quickly due to the waterproof membrane. Unfortunately, Salomon doesn't offer the Quest without the Gore-Tex liner, but a non-waterproof boot or shoe would dry much faster after getting submerged.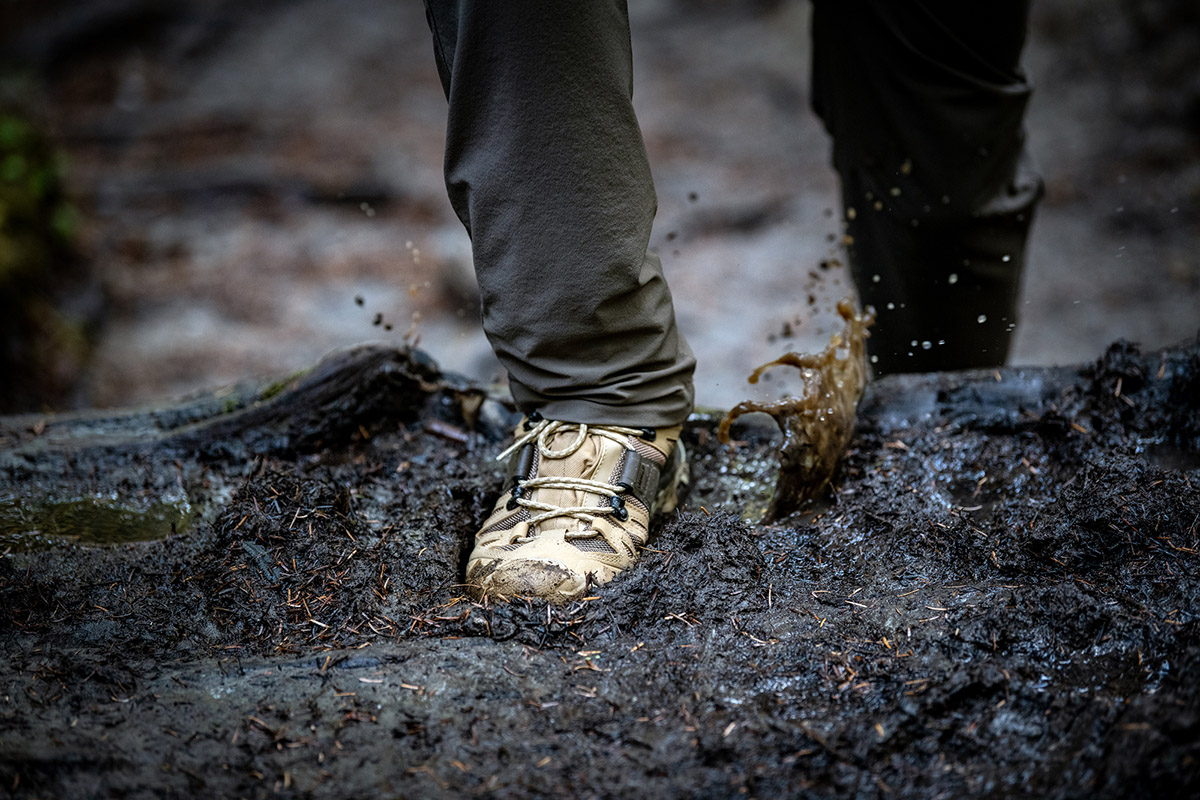 Breathability
In contrast to its excellent water resistance, breathability unsurprisingly does suffer. Put simply, the combination of a Gore-Tex bootie, thick and reinforced upper materials, and tall height make the Salomon Quest 4 GTX run hot in summer-like conditions. I didn't overheat much on our backpacking trip, with temperatures mostly in the low 50s on the trail, but it's been a different story on subsequent day hikes on the dry and hot side of the Cascade range (right in the middle of Washington State). That said, the boot's performance lines up with the majority of waterproof models in its class, and it's perfectly tolerable if you'll benefit from the added protection. Plus, the extra warmth makes it a viable option for mild-weather snowshoeing, and the touch of insulation is useful for cold nights at camp.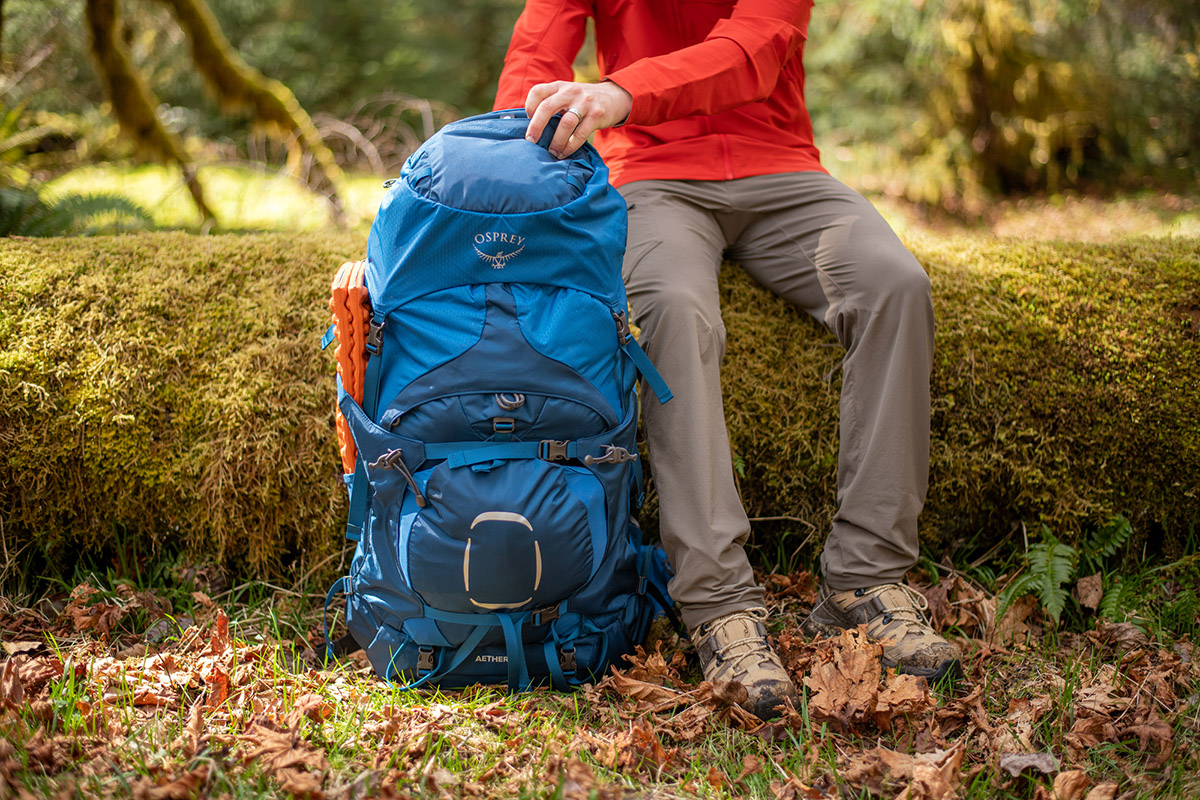 Toe and Ankle Protection
Salomon didn't make many changes to the toe and cushioning with the latest Quest, and that's good news from a protection standpoint. The rubber toe cap, padded and burly upper construction, and moderately thick cushioning around the ankles mean you get a lot security on the trail and when wedging your feet in between cracks. I also have a tendency to kick the occasional rock on the trail as the miles add up (and as my feet grow tired), but even the most direct hits didn't lead to any pain or soreness.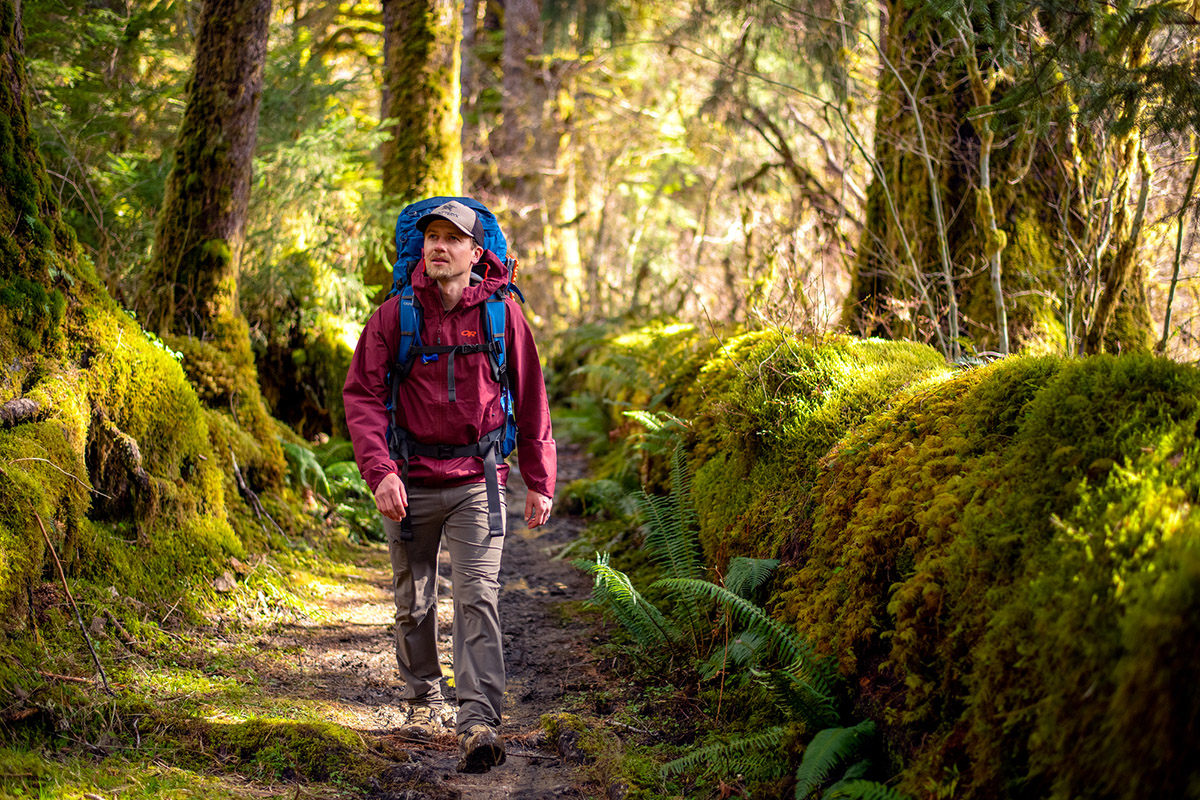 Build Quality and Durability
As Salomon's top-end hiking boot, it came as no surprise that the Quest is well made. The design is fairly busy, with a mixture of leather and a tough synthetic covering the upper, but as with my prior versions of the boot, it's all holding up extremely well. The leather has taken on a darker color after the backpacking trip—even after I cleaned all the mud off—but otherwise the boot looks like new. The laces and accompanying hardware are all intact, and the outsole is wearing evenly and very lightly. All told, I expect the Quest to have a very long lifespan.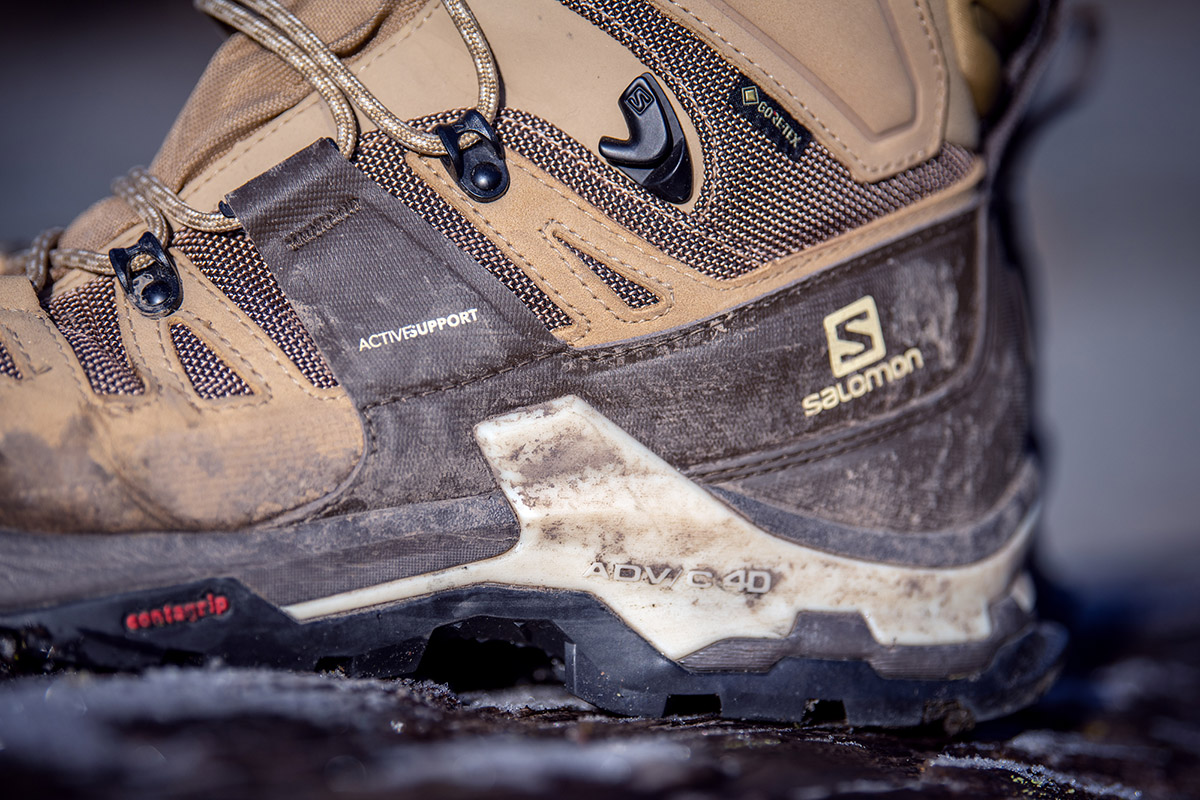 Fit and Sizing
With the Quest, Salomon hit a nice middle ground in terms of fit: The boot is snug in the heel and around the ankle, which is great for performance use, but has a pretty average width in the toe box. All told, it's the kind of fit that will work well for most hikers—myself included. For reference, I ordered my standard men's 9 and found the length to be perfect. Further, there was sufficient space around the toes even after full days on the trail, but the boot never felt sloppy or overly roomy when paired with lightly cushioned hiking socks. My only nitpick is that unlike some of its competitors like the LOWA Renegade, Salomon doesn't offer the Quest in narrow or wide widths, which can be a downside for those with particularly low- or high-volume feet.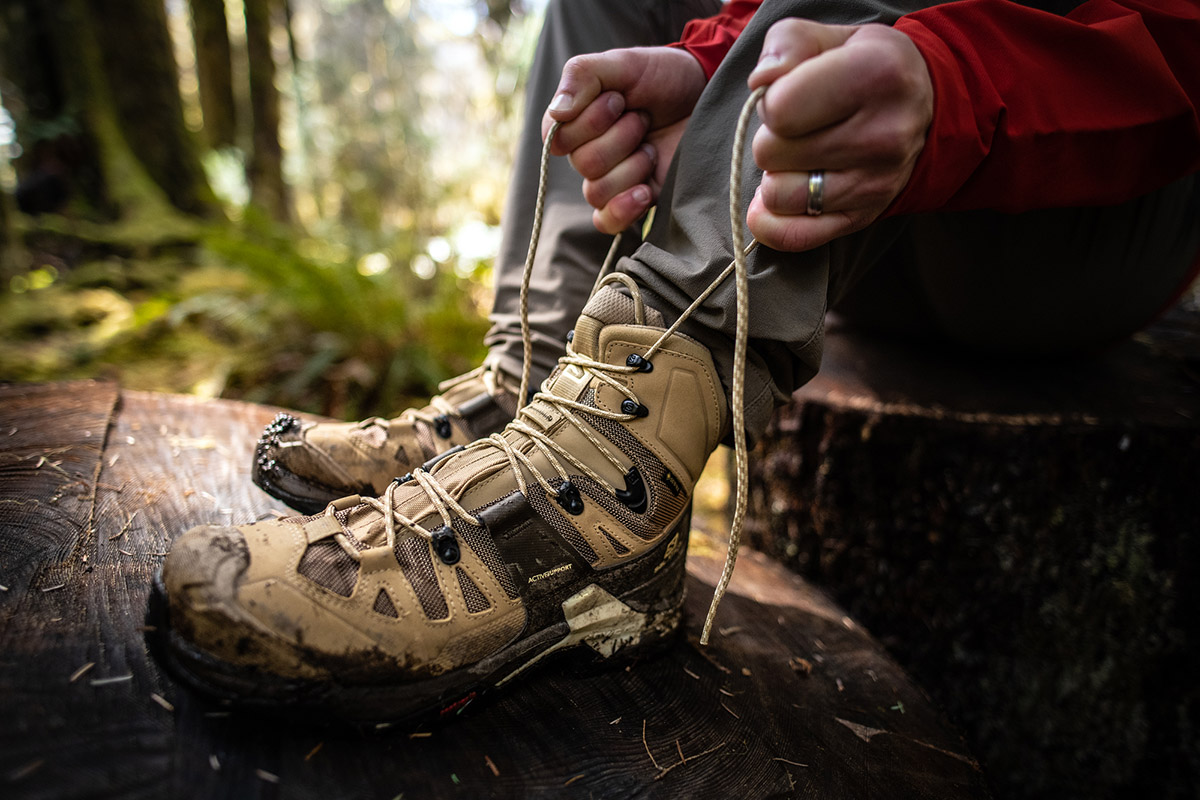 Women's Salomon Quest 4 GTX
We brought the men's Quest 4 GTX into Washington's Hoh Rainforest for testing, and Salomon makes a nearly identical model for women. The women's Quest 4 GTX costs the same at $230 and shares the same features as the men's model tested here, although it's lighter at 2 pounds 5.7 ounces and comes in different colorways (for more, see our in-depth review of the women's Quest 4). As we touched on above, unlike some of its competition, Salomon doesn't offer the Quest in a non-waterproof version, and there are no low-top, wide, or narrow variations available.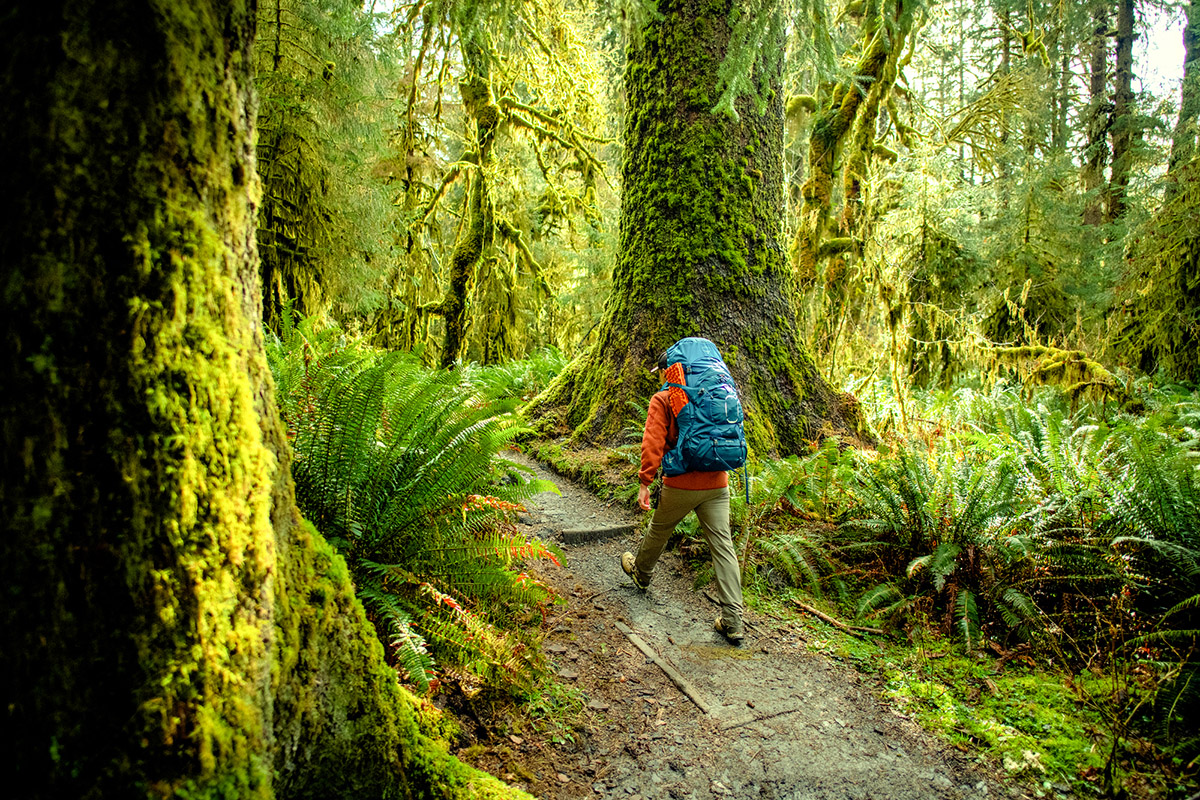 What We Like
Tough, protective, and supportive but still highly comfortable—an excellent match for carrying a full pack over rugged terrain.
The boot uses one of our all-time favorite lacing systems: It's easy to get a secure and snug fit, and the locking eyelet at the base of the ankle helps lock your heel in place on steep slopes.
Excellent traction across a wide variety of surfaces. The boot even gripped well in deep and slick mud, while walking over wet logs, and while crossing rocky creeks.
Well built with premium materials throughout, including a proven Gore-Tex liner, tough leather and synthetic upper, and quality hardware.

What We Don't
Burly build is overkill for many day hikers and backpackers that stick to well-maintained trails. 
Not a weight leader at over 2.5 pounds per pair.
Only offered in a high-cut, Gore-Tex model, which can run hot during the summer (although it does provide a nice boost in warmth in cooler temperatures).


Comparison Table
The Competition
Salomon's Quest 4 is one of our favorite hiking boots for covering challenging terrain thanks to its tough, protective, and supportive build. In this category, LOWA's Renegade GTX Mid has been popular for years and remains a competitive midweight alternative. In parsing out the differences, the LOWA is lighter by around 7 ounces per pair, has a sturdier and more planted feel, and is sold in a variety of sizes and widths (including dedicated narrow and wide models for those with hard-to-fit feet). However, the Salomon strikes us as the more aggressive and modern option, has a more hardwearing build, and its performance fit is a better match for those covering truly technical ground. All in all, both are very capable midweight designs, but the Salomon remains our top pick for navigating rough terrain.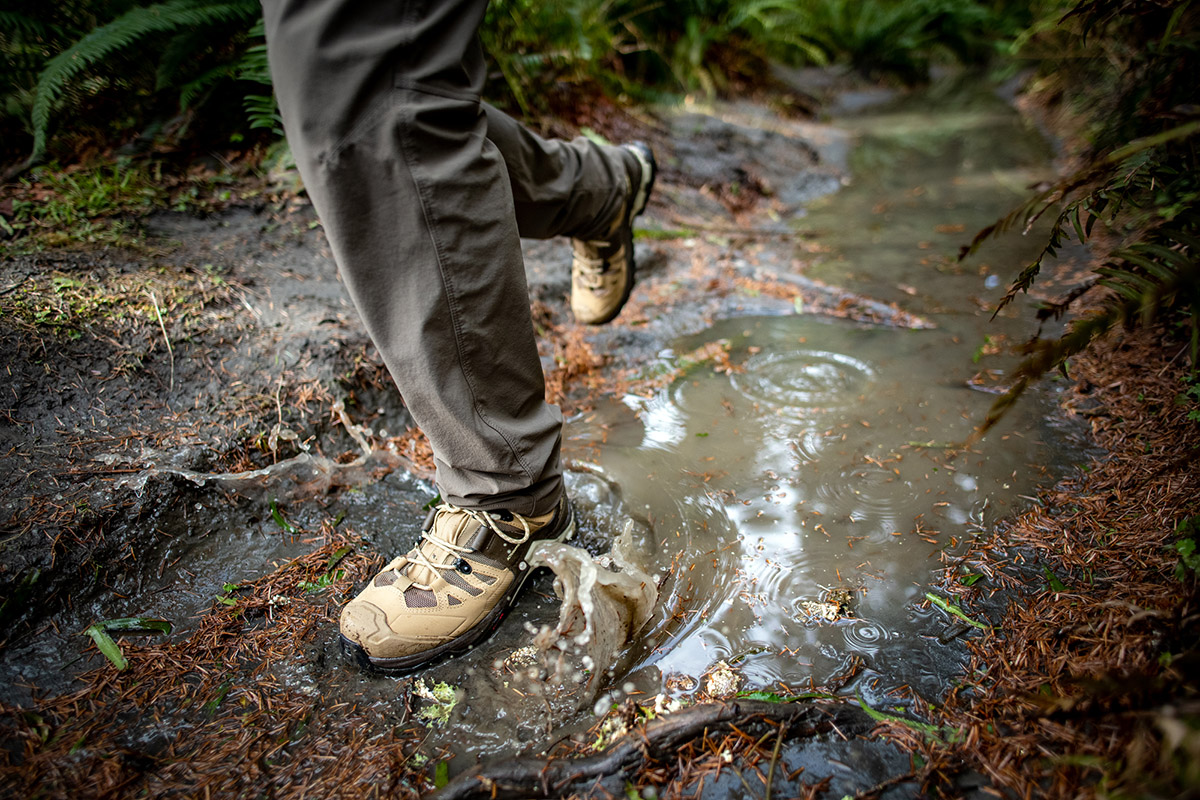 Scarpa's Zodiac Plus GTX is another boot often considered alongside the Quest, and for good reason: It's stiff, very grippy, and offers excellent support and stability for difficult hikes and backpacking trips. Like the Renegade above, the Zodiac Plus is also lighter than the Quest at 2 pounds 6.4 ounces, although it's noticeably stiffer and less cushioned. In the end, this rigid feel is what bumps the Zodiac Plus down on our hiking boot list (along with its steep $329 price tag), but it's nevertheless a mountain-ready design at a low weight. If you don't mind the slight bump in heft, however, we prefer the more padded and comfortable feel of the Quest.
Montana-based Oboz is known for their focus on comfort, and that holds true with their Bridger Mid Waterproof. That said, we found that the Bridger felt outdated and noticeably slower and heavier than most of its midweight competition, including the Quest (despite weighing 8 oz. less per pair). And the combination of a leather upper and in-house waterproofing make it run quite hot in the summer. The $40 savings are enticing, and the Oboz undeniably is a sturdy and supportive option at a good price. But from a performance standpoint, the Quest is the clear frontrunner.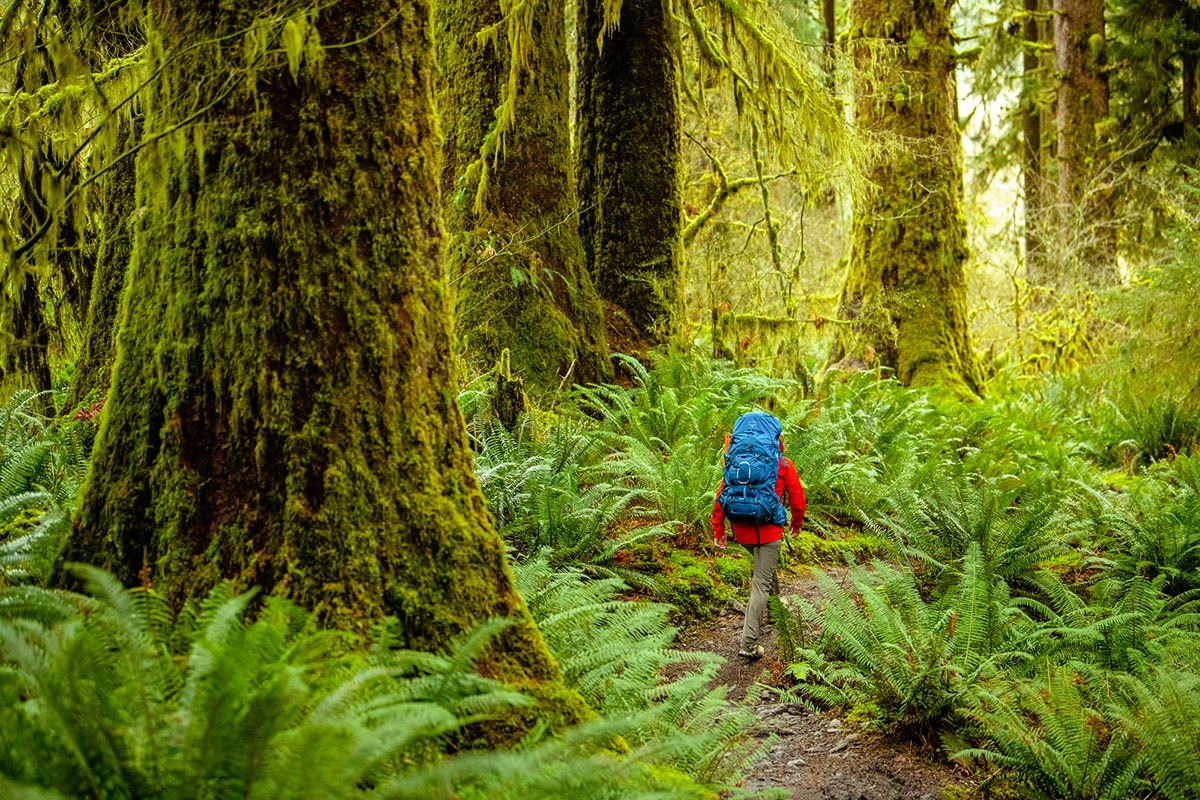 Salomon's own X Ultra 4 Mid GTX slots in as a final competitor to the Quest 4. As we touched on above, the two boots have very different intentions: While the Quest is designed for tackling technical terrain with its stiff, protective, and supportive build, the X Ultra is built more for fast-and-light day hiking and light backpacking trips. As a result, the X Ultra is considerably lighter at 1 pound 14 ounces and provides sufficient support and coverage for on-trail use, but its flexible and nimble feel fall short for covering serious mileage over challenging ground (or when hauling a heavy pack). In the end, the X Ultra is perfectly serviceable for most hikers' needs (for more, see our X Ultra 4 Mid review), but it can't dethrone the taller and stiffer Quest for truly steep and rugged trails.
If you're thinking about buying gear that we've reviewed on Switchback Travel, you can help support us in the process. Just click on any of the seller links above, and if you make a purchase, we receive a small percentage of the transaction. The cost of the product is the same to you but this helps us continue to test and write about outdoor gear. Thanks and we appreciate your support!
Depending on the seller, most products ship free in the United States on orders of $50 or more. International shipping availability and rates vary by seller. The pricing information on this page is updated hourly but we are not responsible for inaccuracies.
Read More From Switchback Travel