Salomon Quest 4 GTX
Price: $230
Weight: 2 lbs. 7.4 oz. (women's size 8)
Waterproof: Yes (Gore-Tex)
What we like: Excellent comfort, durability, protection, and support for backpacking over rough terrain with a full pack.
What we don't: Hefty, bulky, and overkill for easy to moderate hikes. 
See the Women's Salomon Quest 4 GTX  See the Men's Salomon Quest 4 GTX
Salomon's Quest 4 has been one of the most capable backpacking boots on the market for years running, and the latest model carries the torch. I took the women's version of the boots on a demanding 16-day trek through Nepal's Everest region and came away impressed by their excellent out-of-the-box comfort and unfaltering grip over variable and technical terrain. It's far from the lightest or most streamlined option on the market, but the Quest remains an excellent match for committed backpackers and trekkers covering serious mileage with heavy packs. Below we break down our experiences with the Quest 4 GTX. To see how it stacks up to the competition, see our article on the best women's hiking boots.
 
---
Table of Contents
---

Performance
Comfort
If I had to pinpoint a single strong suit of the Salomon Quest 4 GTX, it would be comfort. For reference, I purchased the boots for a committing trek over three mountain passes in Nepal and only wore them for a single trial hike before the trip, but that brief break-in period was more than enough. The boots were highly comfortable right out of the box with no pressure points or areas of rubbing that could lead to hotspots. The toe box is on the wider side and easily accommodated my left foot's bunion, and the substantial padding—particularly around the ankle and underfoot—is cushy and well-placed. I did worry that the generous cushion would cause some constriction, but it proved to be a non-issue. Even when cinched tightly via the highly customizable lacing system (more on this below), the boots were comfy, secure, and not restrictive in any way. And the outsole proved to be quite malleable while still maintaining good structure, which allowed my foot to flex naturally without feeling sloppy.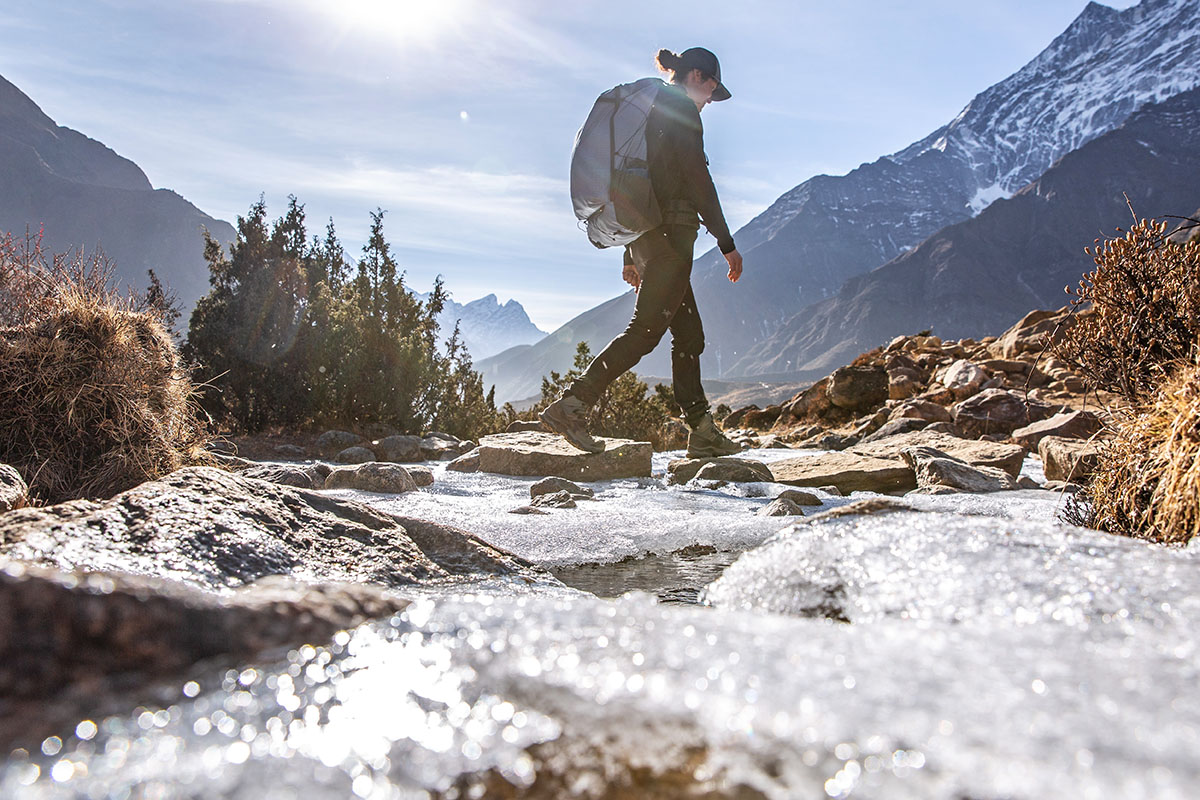 While in Nepal, we often ventured off on secondary day hikes after a morning of trekking—both for acclimatization and to catch new views (including watching the sun set by Mount Everest). For non-technical outings, my husband, Brian, often changed into more flexible trail running shoes to give his feet a break, but I never felt the need to switch my footwear—the Quest 4 is simply that comfortable. The only time I swapped them out was during casual walks around local villages, as the boots are undeniably overkill for these types of casual strolls. The Quest gripped well on steep descents, adequately protected the front of my foot from impacts with rocks, and kept my feet warm enough even in sub-freezing temperatures. And perhaps most impressively (for me, at least): I did not lose or damage any toenails on our trek, which is a common issue when I'm breaking in new boots (especially ones of the stiffer backpacking variety).

Weight
The Quest 4 GTX is a backpacking boot designed for covering long distances and challenging terrain, so it comes as little surprise that they're on the hefty end of the spectrum at 2 pounds 7.4 ounces for my pair of women's size 8 (listed weight is 2 lbs. 6.4 oz.). There are plenty of lighter and lower-profile options on the market for those willing to compromise in areas like support and stability, including Salomon's own X Ultra 4 Mid GTX (1 lb. 10.1 oz.) and Hoka One One's Anacapa Mid GTX (1 lb. 12 oz.). But given their stature, the Quest 4 is competitively light and stacks up favorably to similarly built competitors like Scarpa's Zodiac Plus GTX (2 lbs. even) and Lowa's Renegade GTX Mid (2 lbs. 2 oz.). All told, the Quest won't be mistaken for a minimalist option like Altra's Lone Peak ALL-WTHR Mid (1 lb. 8 oz.), but the weight is well-spent and perfectly reasonable for covering serious and technical ground.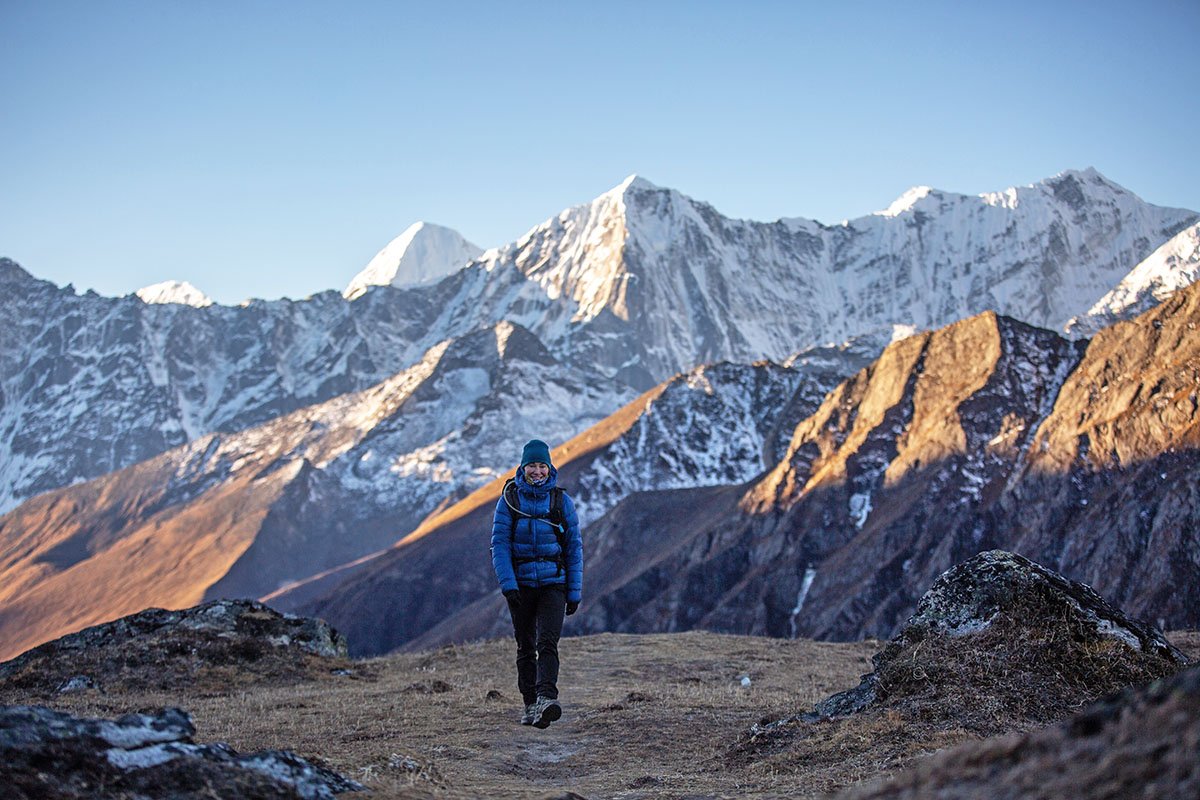 Traction
Traction is another highlight of the Quest 4 GTX. On our Nepal trek, we hiked over several mountain passes, to Everest Base Camp, and to the summit of 18,519-foot Kala Pattar. The variety of terrain was remarkable, and I only slipped once on sheer ice (where any other boot likely would have fared the same). In every other instance, the Quest's Contagrip rubber and deep, multidirectional lugs performed incredibly well, deftly biting into glacial debris, snow, mud, sand, rocks, and boulders. For reference, there was very little level ground on our adventure—even "flat" sections of trail (by Nepali standards) were still steeply undulating—but the Quest never faltered, even on slippery surfaces like slick, wet rocks and dry, dusty boulders. And when I needed a bit more grip to hike over icy 17,782-foot Cho La Pass, it was easy to fit my Hillsound traction devices over the boots.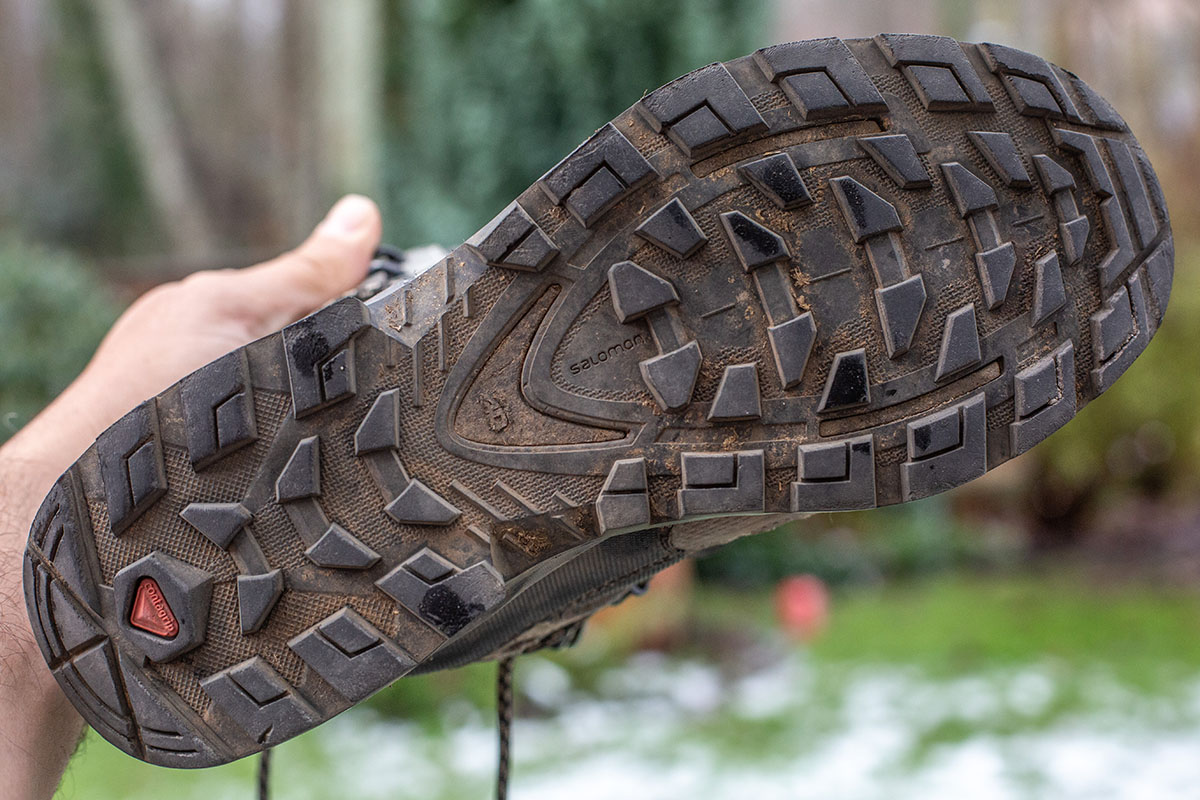 Stability and Support
One notable benefit to the Quest's heftier build is that support and stability are excellent. The boot rides high enough to protect the ankle from impacts, and the aforementioned lacing system makes it easy to snug things down and get a close and confidence-inspiring fit around the ankle and lower calf. I suffered no ankle rolls on the frequently off-camber ground in Nepal, even when walking up and down large and uneven steps along the trail. And importantly, despite the locked-in feel, the boot never felt overly restrictive and still allowed my ankle to move around comfortably inside. The Quest 4 GTX is undeniably burly and bulky, but I never felt disconnected from the ground and found it easy to balance on rocks and boulders. By comparison, I felt noticeably awkward and clumsy in the Quest Prime (a trimmed-down variation of the Quest 4 that has since been discontinued) and struggled to stay planted while crossing talus fields and rivers.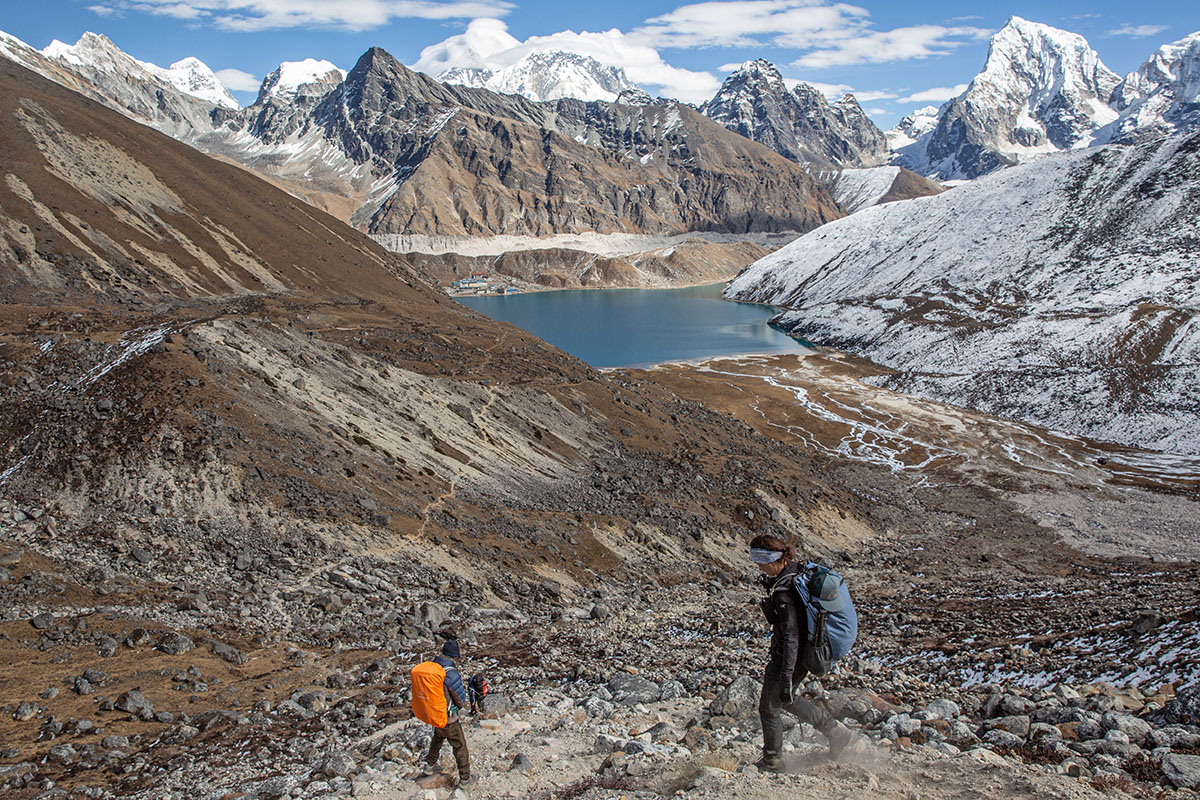 Waterproofing
Like many premium hiking boots on the market, the Quest 4 boasts a proven Gore-Tex membrane for sealing out water and snow. As expected, the boots were unphased by shallow creek crossings, and the tall collar nicely protected my feet in deeper water and while hiking over long, melting glaciers (for reference, the Quest is a little taller than the Scarpa Zodiac and rides noticeably higher than my Salomon Crosshike Mid GTX). The Gore-Tex lining does have an impact on breathability (more on this below), and there's no non-waterproof option available, but this issue isn't specific to the Quest and shouldn't pose a problem in most moderate conditions.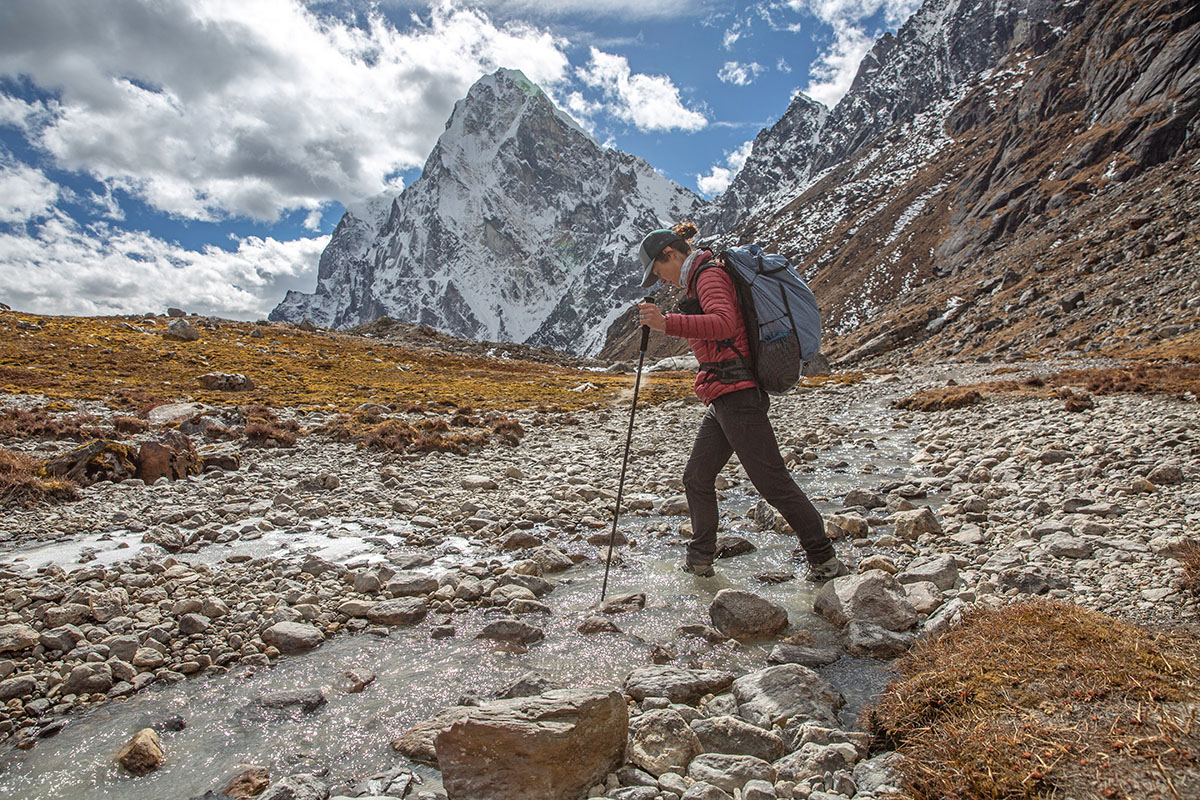 Breathability
As I touched on above, breathability does suffer due to the Quest 4's waterproof Gore-Tex build. However, to be clear, this is an inherent downside to waterproof boots, and the Quest performed reasonably well considering its tall and burly construction. It was an excellent choice for our trek in Nepal and kept my feet comfortable in moderate to below-freezing temperatures (my feet never grew overly cold or sweaty), and it also strikes me as a viable pick for mild-weather snowshoeing. On the flip side, if you anticipate doing most of your hiking in fair and warm summer conditions, it may be worth considering a non-waterproof hiking boot or shoe.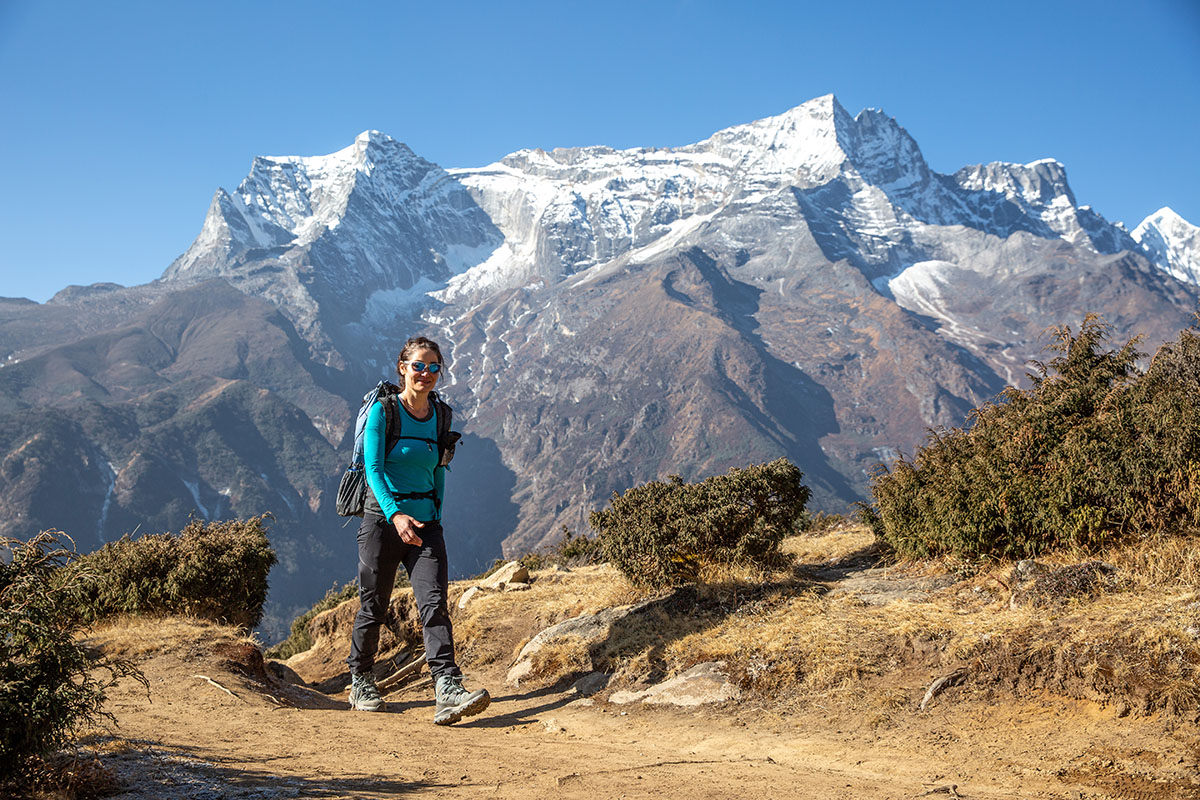 Build Quality and Durability
I have not been easy on my pair of Salomon Quest 4s, but the boots have exceeded my expectations and held up impressively well to our demanding objectives. Other than being expectedly dusty after our adventure in Nepal, my pair is otherwise unmarred: All the stitching has held up well with no loose threads, the laces and eyelets are intact and functioning flawlessly, and the boots show no noticeable scuffs despite frequent encounters with rocks. My only complaint is that the design is fairly busy with a mix of leather and synthetic along the upper, but from a quality standpoint, there's little to nitpick. All told, it's another high-quality and impressively hardwearing offering from Salomon.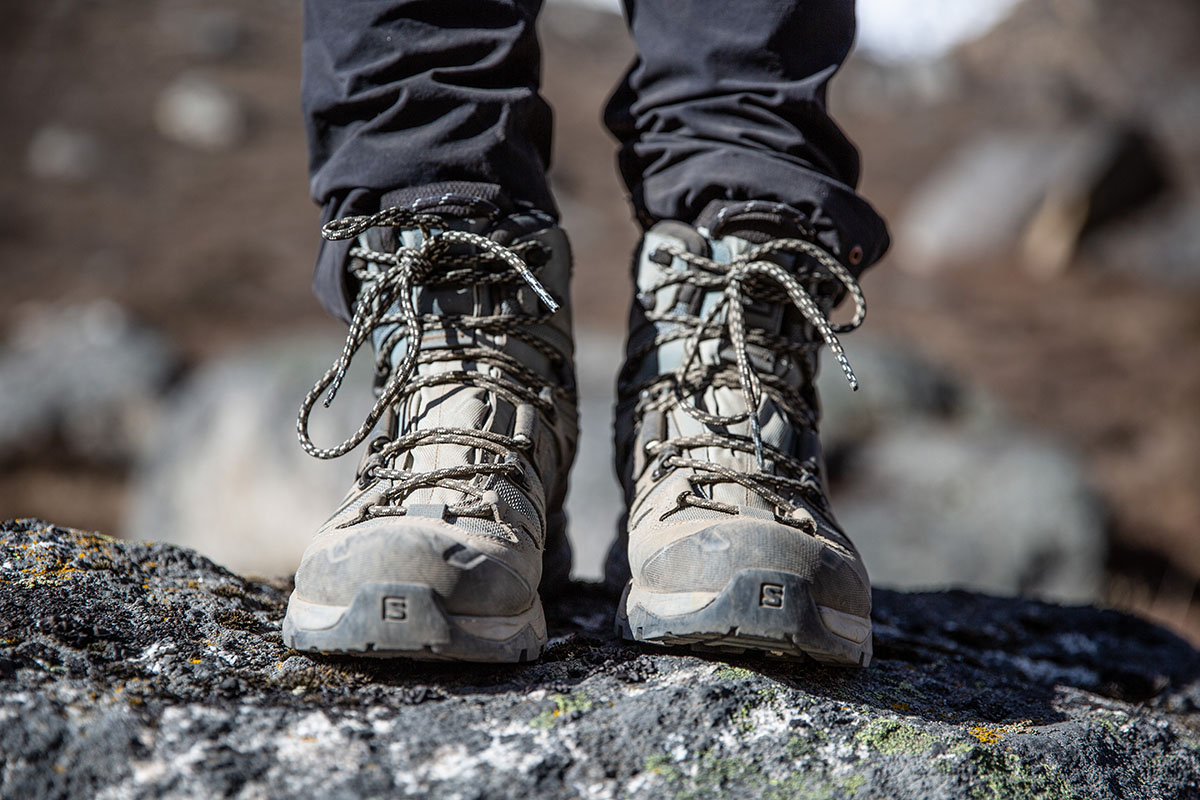 Fit and Sizing
I typically wear a women's size 8.5 and rarely have to size down, but I opted for an 8 in the Salomon Quest 4 (similar to many other Salomon boots I've tested, including the Quest Prime). I was happy with my decision, but given the intricacies, I highly recommend trying on the boots before buying, even if you've worn Salomon shoes in the past. As I mentioned previously, the toe box is generously sized to account for toe swelling after long days of hiking. Paired with a medium-thickness merino wool hiking sock, I had no issues with restriction or lack of circulation. And the lacing system is a real highlight: The corner eyelet at the ankle locks everything in place and allows for great customization. I prefer to keep the laces looser around the toes and tighter around my ankle to hold my foot in place and have never had to adjust or re-tie my laces on the trail.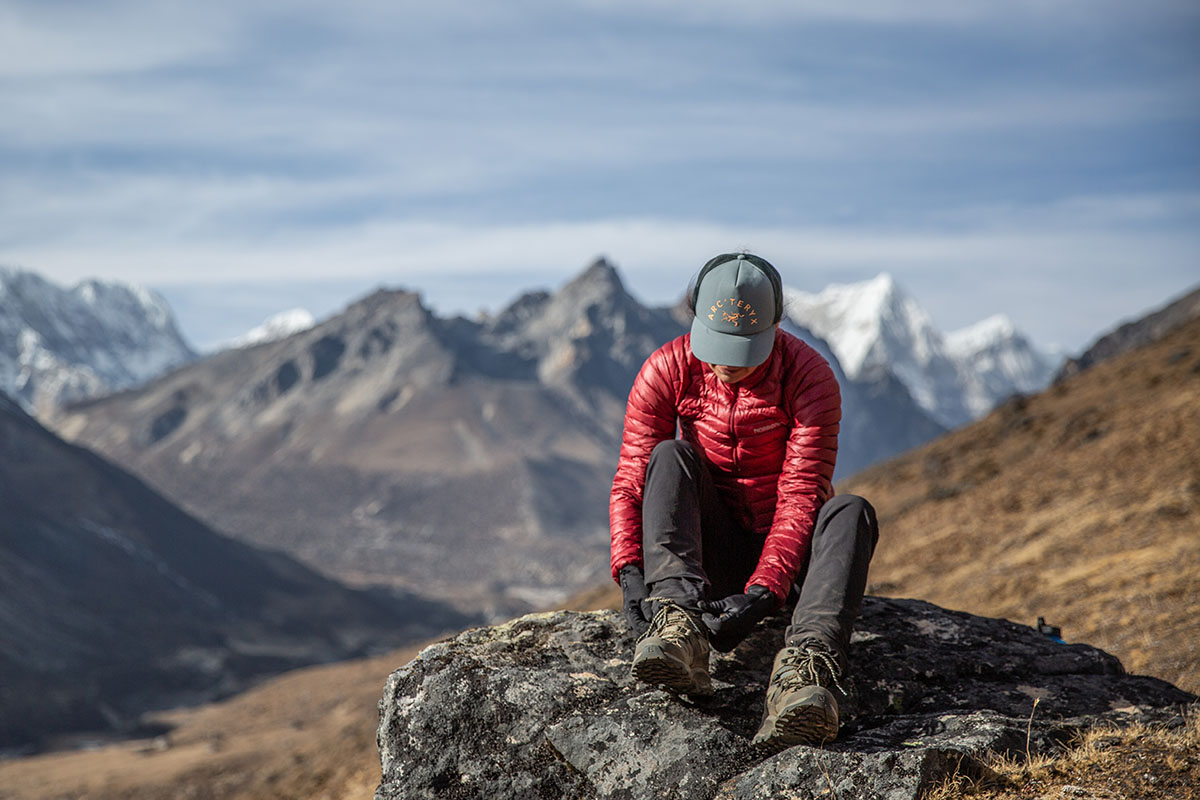 Men's Salomon Quest 4 GTX
I brought the women's Quest 4 GTX to Nepal for testing, and the boot is also offered in a men's version, which we've reviewed here. The boots are largely identical, including a $230 price tag, Gore-Tex waterproofing, Contagrip outsole, and leather/synthetic upper. The men's Quest 4 GTX is a little heavier at 2 pounds 14.4 ounces and comes in different colorways, but performance was very similar across the board. As mentioned above, Salomon doesn't sell the boot in a non-waterproof version, and there are no low-top, wide, or narrow options available.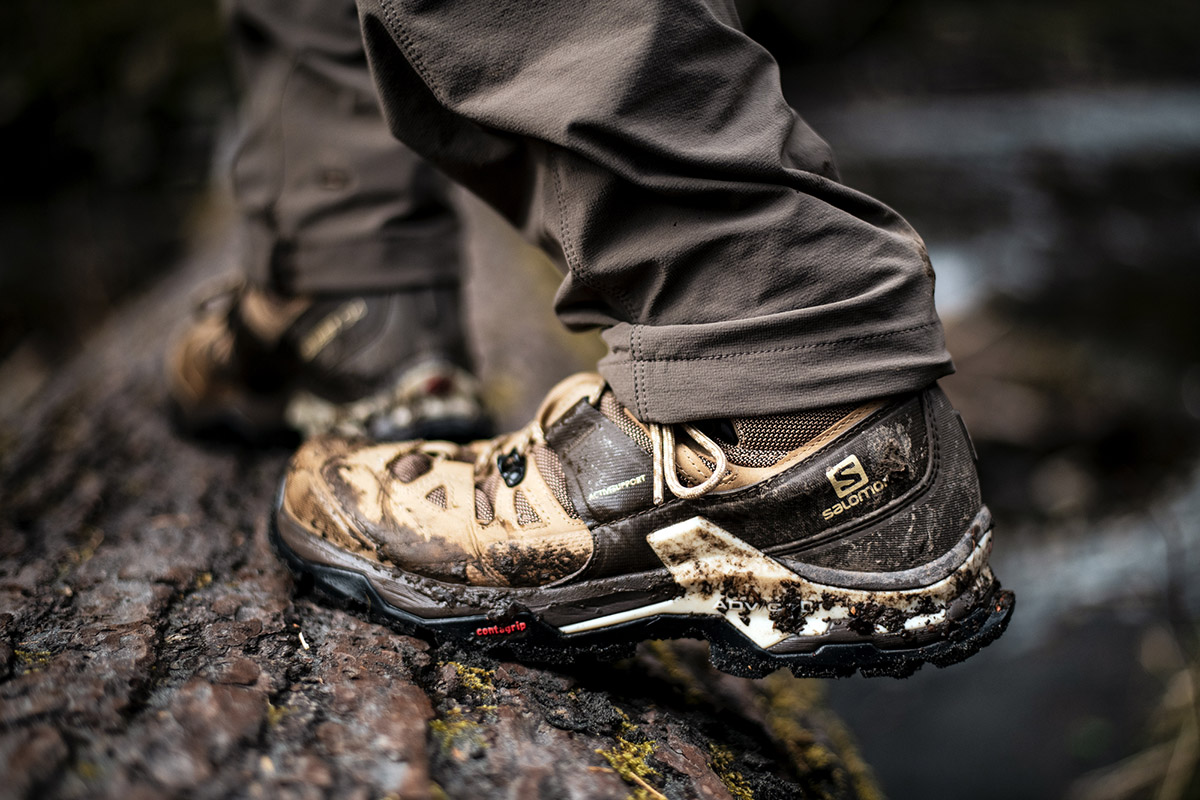 What We Like
Excellent all-day comfort with well-placed padding and little to no break-in period required.
Despite the focus on comfort, the Quest retains impressive protection and support for covering challenging terrain with a heavy pack.
The boots grip incredibly well over a wide variety of surfaces, from wet and slippery boulders to glacial debris and sand.
Top-notch build quality, including a premium Gore-Tex liner, tough leather and synthetic upper, and quality laces and eyelets.
Lacing system is well-executed and highly effective for dialing in a precise and confidence-inspiring fit.

What We Don't
Heavy at around 2.5 pounds per pair.
Burly and overkill for easy to moderate day hikes and well-maintained trails.
Upper is fairly busy with a mix of thick leather and synthetic materials—it's far from the most streamlined option on the market.
Only offered in a tall, Gore-Tex-equipped model, which can run hot during the summer months. 


Comparison Table

The Competition
Salomon's Quest 4 GTX is towards the top of our hiking boot round-up for its excellent performance over variable terrain under the weight of a fully loaded pack. Scarpa's Zodiac Plus GTX is another option in this category, but the two have notably different personalities: While the Quest 4 puts a premium on long-distance comfort with cushy padding underfoot, the Zodiac feels noticeably stiffer and less flexible by comparison. The Zodiac does undercut the Quest slightly in weight at 2 pounds even, but the Quest is the better all-rounder with broader appeal for covering mixed terrain with a heavy load. If you anticipate doing a lot of off-trail hiking or even crossing over into light mountaineering, the $39-pricier and more rigid Scarpa gets our vote.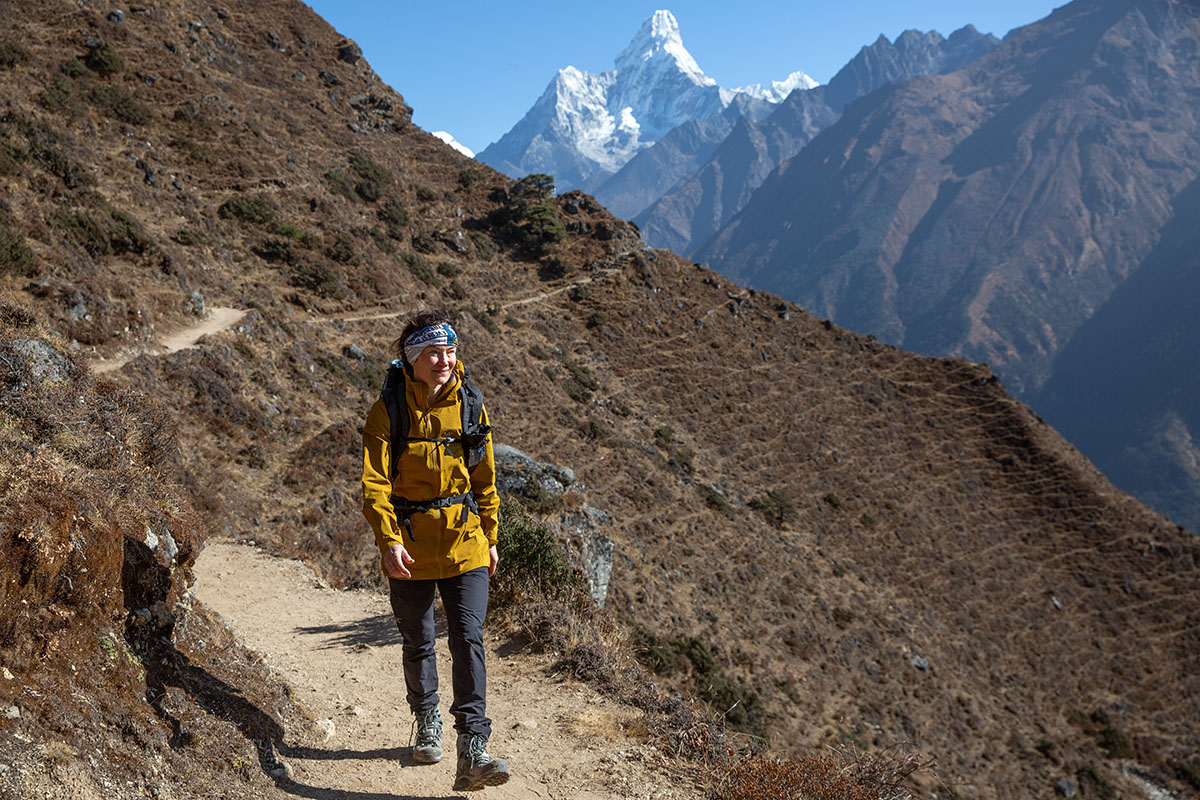 Another midweight backpacking-ready design to consider is Lowa's popular Renegade GTX Mid. Compared to the Quest 4, the Renegade is lighter by 4.4 ounces per pair, has a sturdier and more planted feel, and comes in a wide variety of sizes and widths (unlike the Salomon, which is only offered in the standard version reviewed here). However, the Salomon is the more modern and hardwearing option—the Lowa's leather upper is relatively thin by comparison—and has more of a performance-focused fit, which makes it the better pick for covering truly technical ground. If you have hard-to-fit feet, however, the Renegade is a perfectly serviceable alternative.
For a step down in price, Oboz's $50-cheaper Bridger Mid Waterproof stacks up relatively favorably to the Quest 4. Like the Quest, the Bridger is nicely cushioned and protective underfoot, and you get good all-around stability and support for backpacking missions and covering longer distances. That said, in testing, we found that the Oboz felt much heavier and more cumbersome than its 2-pound-0.4-ounce weight would suggest, and the proprietary B-Dry waterproof membrane runs warmer than the Salomon's more premium Gore-Tex design. Unless you have particularly high-volume feet (the Oboz is offered in dedicated wide sizes), we think most will be better off spending up for the more capable and well-rounded Quest.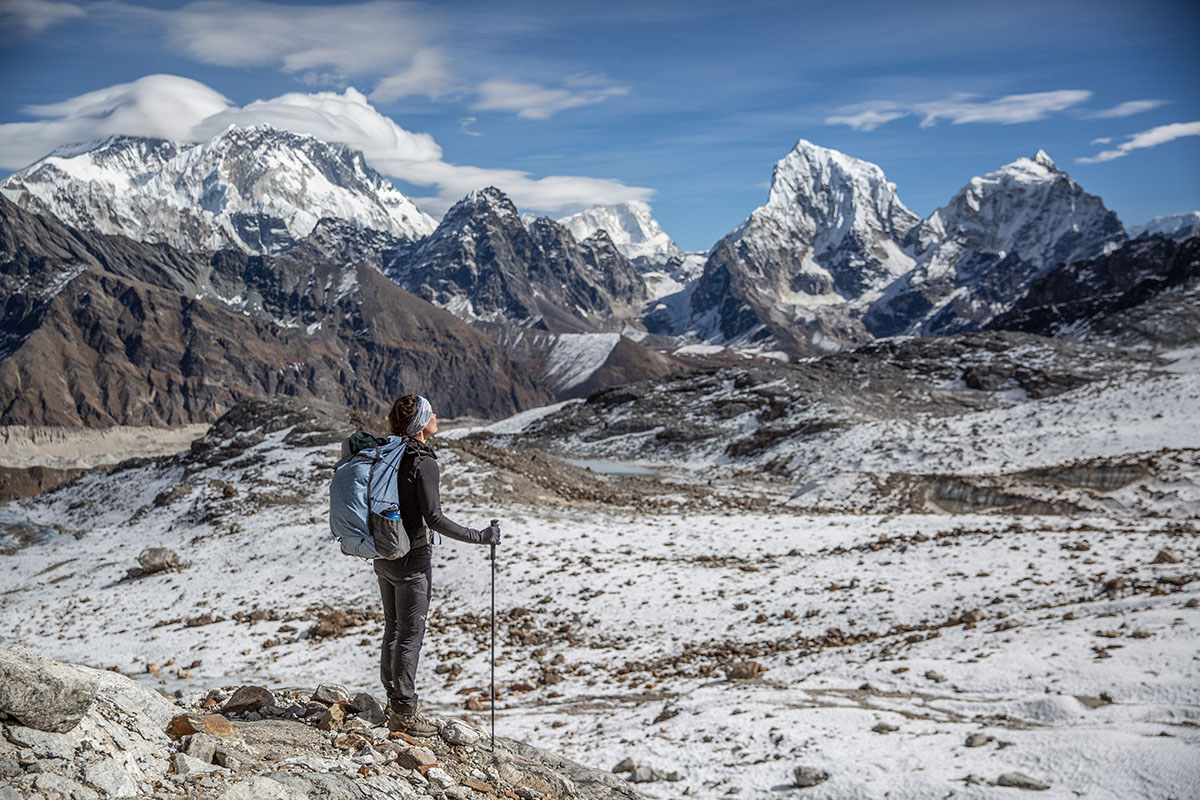 Last but not least is an in-house option to have on your radar: Salmon's legendary X Ultra 4 Mid GTX. Right away, we'll note that the two boots have very different intentions: While the Quest is built for covering challenging ground with a loaded pack, the X Ultra is more of a fast-and-light design for day hiking and light backpacking trips. As a result, it sacrifices some stiffness, protection, and support compared to the Quest, but the tradeoff is a noticeably lighter weight (1 lb. 10.1 oz.) and more agile, sprightly feel on the trail. In the end, the X Ultra gets our nod for most hiking and backpacking objectives, but the $65-pricier Quest remains our top pick for truly steep and rugged terrain. 
If you're thinking about buying gear that we've reviewed on Switchback Travel, you can help support us in the process. Just click on any of the seller links above, and if you make a purchase, we receive a small percentage of the transaction. The cost of the product is the same to you but this helps us continue to test and write about outdoor gear. Thanks and we appreciate your support!
Depending on the seller, most products ship free in the United States on orders of $50 or more. International shipping availability and rates vary by seller. The pricing information on this page is updated hourly but we are not responsible for inaccuracies.
Read More From Switchback Travel