We get this question a lot: Do your hiking shoes or boots need to be waterproof, or can you do without? Hikers and backpackers fall on both ends of the spectrum—some prefer the unparalleled breathability of non-waterproof footwear, while others prioritize protection against the elements and don't mind the sacrifices. Below we break down the considerations, including waterproofing technology, breathability, and performance, as well as the best uses for non-waterproof and waterproof footwear. For options in both categories, see our articles on the best hiking boots and hiking shoes. 

Waterproofing
Technology
Hiking boots and shoes billed as "waterproof" have a lining made of a waterproof membrane (most often Gore-Tex) underneath the outer shell. The all-important membrane is made up of expanded polytetrafluoroethylene (commonly shortened to ePTFE) and is sandwiched between a lining and a knit backer. To provide a comfortable fit, these three pieces are bonded and sewn together into a sock-like "bootie" and placed inside the upper. For simplicity's sake, we'll focus on Gore-Tex throughout this article, as it's the most well-known and common technology you'll find in hiking footwear. However, it's helpful to note that some manufacturers use their own proprietary waterproofing technology (such as Merrell's in-house membrane found in their popular Moab 3 WP) that works in a similar way.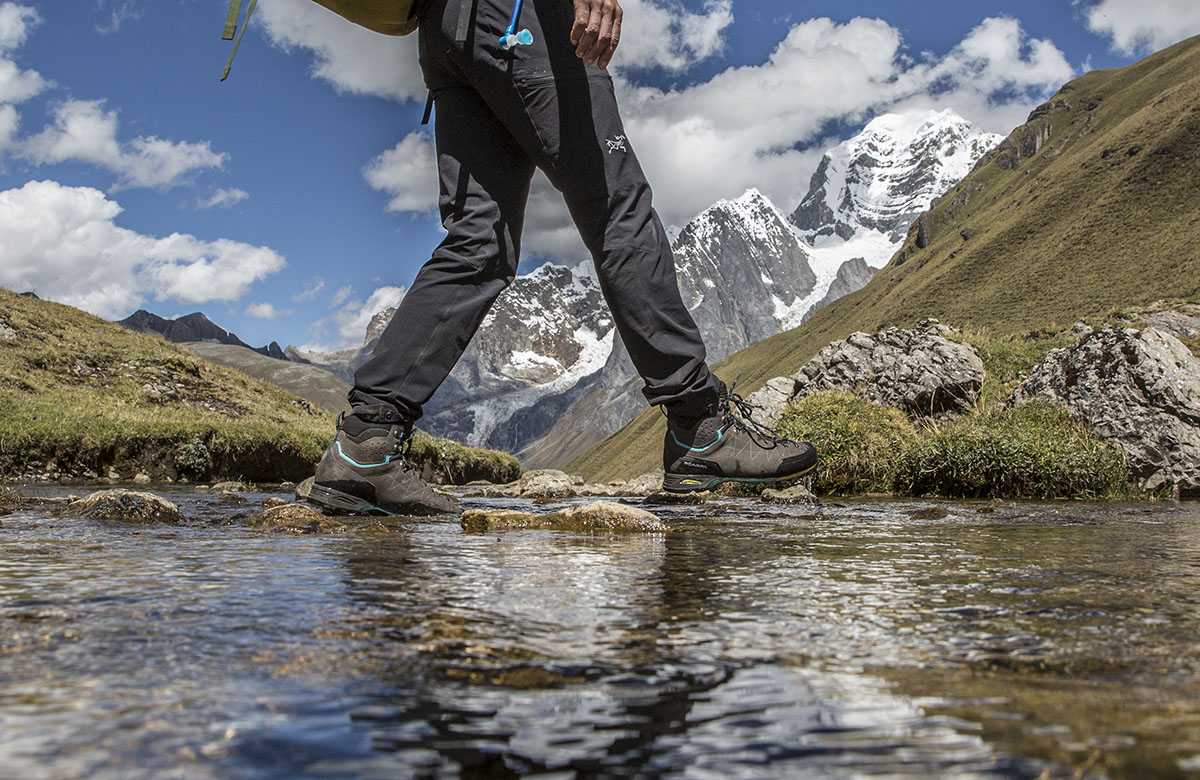 For extra protection in addition to a waterproof membrane, a shoe's upper is often made of a water-resistant material or treated with a DWR (durable water repellent) coating. However, this treatment does wear off over time and requires some care to restore. Some hikers will cure their own leather shoes with a special treatment (such as Nikwax) multiple times each year, while DWR can be reapplied with a similar spray-on or wash-in revival product.

Breathability
Keeping water out might seem like a no-brainer, but it's important to consider the consequences: If you're sealing moisture out, that also means you're sealing it in. Put another way, a waterproof shoe won't breathe nearly as well as a non-waterproof design. Non-waterproof boots are usually made with ventilated uppers and more breathable mesh liners, which allow sweat to escape much more easily. To put this into context, imagine wearing a plastic bag while hiking in the rain. While it will inevitably keep water from seeping in, it will also quickly clam up and become noticeably damp and sweaty inside. If you spend all day hiking in warm, humid conditions, your feet will feel similarly. All that said, Gore-Tex membranes are designed to allow moisture to escape, thereby ventilating from the inside out. We've found this works reasonably well in cold and mild temperatures, but we still run hot when the mercury climbs.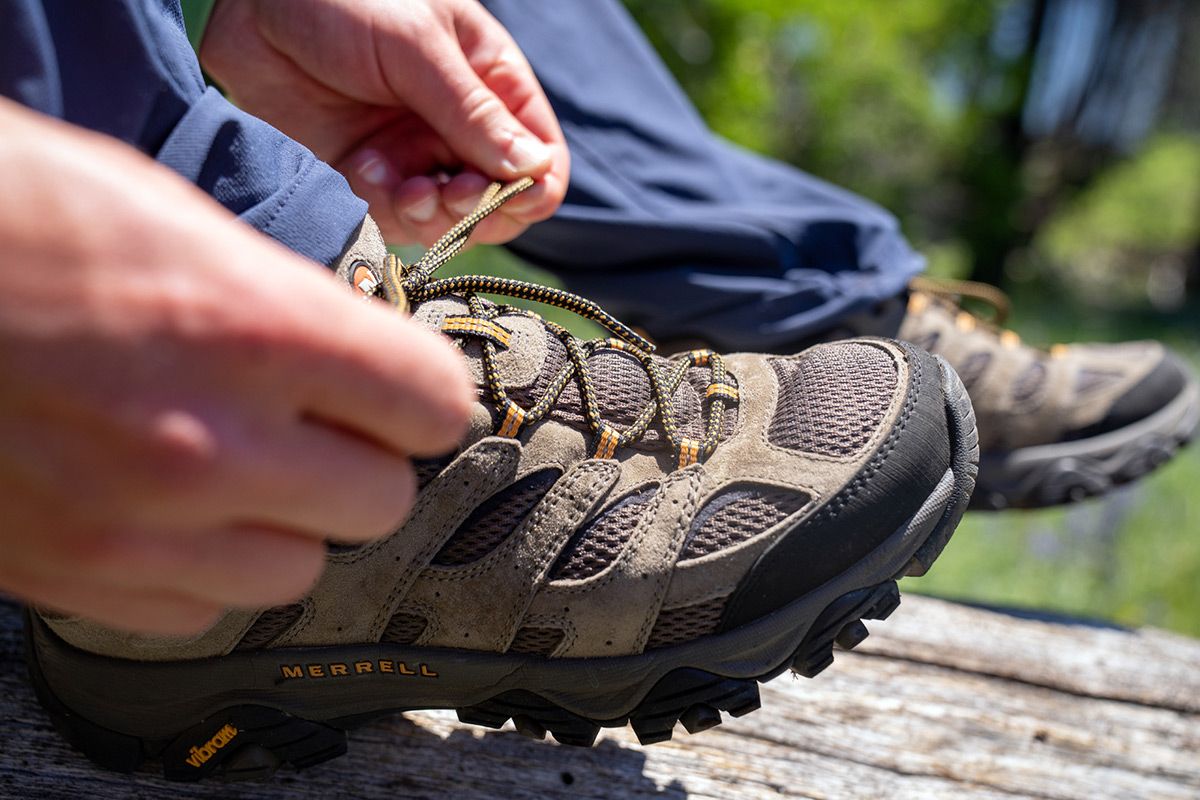 Weight and Cost
A waterproof shoe will almost always cost and weigh more than its non-waterproof counterpart. Let's take, for instance, the Salomon X Ultra 4—a light, decently flexible hiking shoe. The Gore-Tex version retails for $160 and weighs 1 pound 11.5 ounces per pair, while the non-waterproof model shaves off $20 and around 2 ounces per pair. And you can expect similar comparisons for non-Gore-Tex models. For example, the Merrell Moab 3 Mid Waterproof—one of our favorite lightweight hiking boots, which sports Merrell's proprietary in-house waterproofing technology—clocks in at $145 and 2 pounds 0.7 ounces per pair. Stacked up against its non-waterproof sibling, it costs an additional $25 and weighs 0.1 ounces more.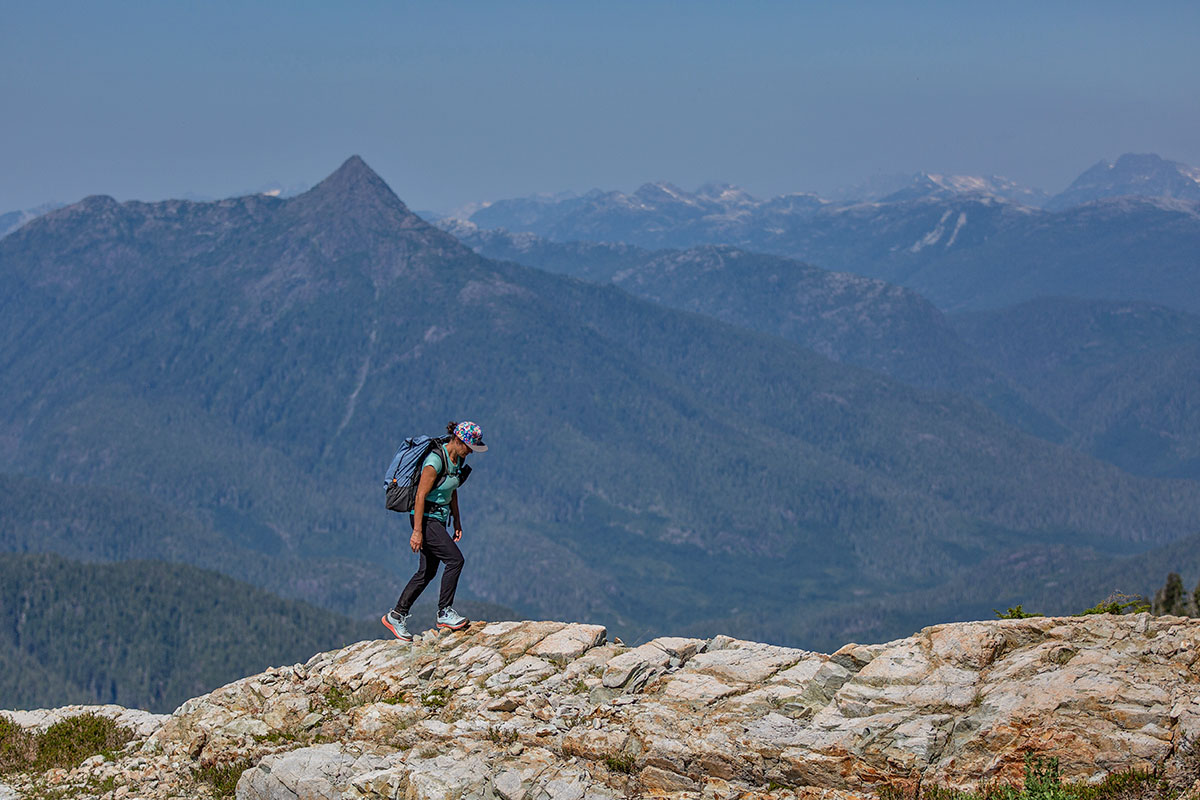 Performance: How Effective Are Waterproof Shoes?
We hate to say it, but no hiking shoe or boot is 100% waterproof. Why? In short, in order to provide total waterproofness, a fabric would have to sacrifice all breathability. For example, remember those bright yellow rubber boots that you might have used as a kid? Sure, they keep your feet bone-dry while you splash through puddles, but once you start moving and exerting, the sweat buildup soon becomes noticeably uncomfortable.
To prevent this, hiking footwear is more breathable, but that means sacrificing some waterproofing ability. In other words, waterproof hiking boots will do their job in the wet—for a while. However, dirt, sand, and other grime can dirty the delicate waterproof membrane, eventually compromising its ability to keep you dry from both the inside (from sweat) and outside (from moisture working its way through). The best way to keep your shoes as waterproof as possible is to clean them consistently, but that isn't always an option on extended trips or in harsh terrain.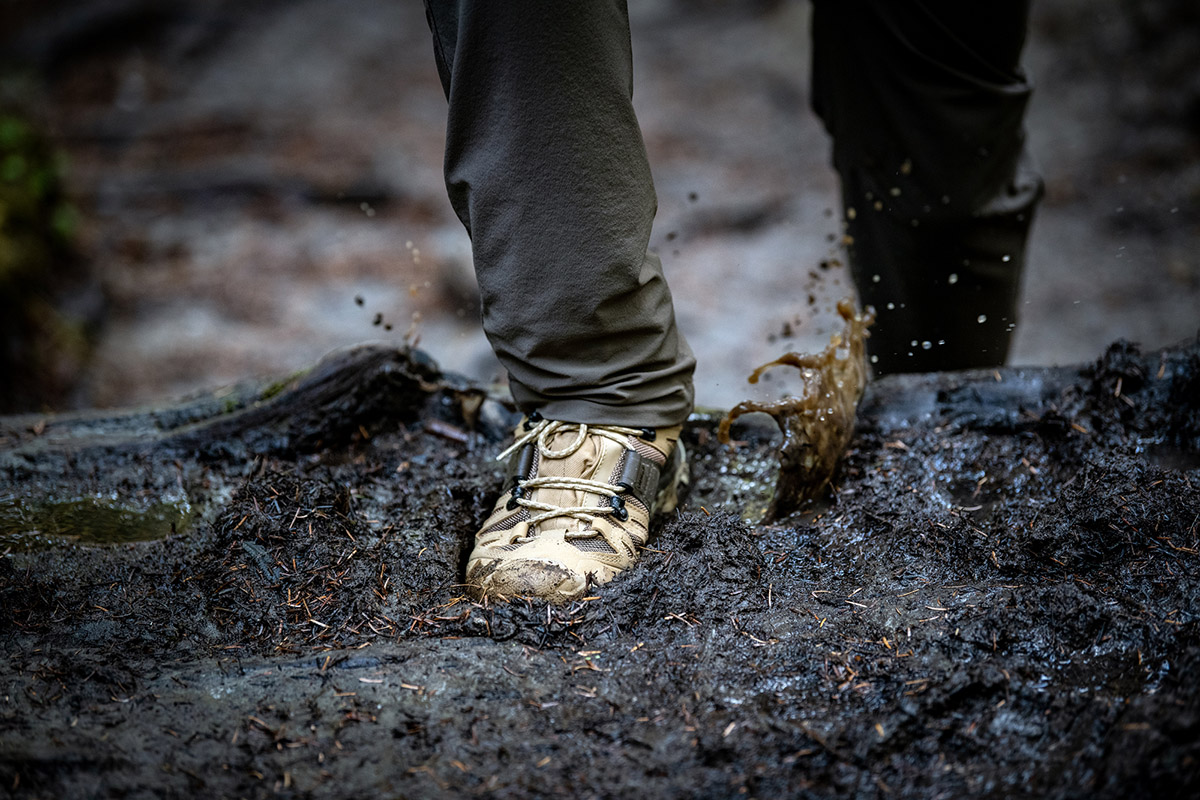 Height should also be a consideration when weighing your options. While waterproof liners will do an admirable job of keeping precipitation out, there's nothing to prevent water from flooding in over the top as you wade through flowing creeks or attempt a deep river crossing. Hiking boots with higher ankles will help (non-waterproof boots are our preferred choice here, which we talk more about below), but they're still vulnerable to splashes or if you lose your footing. 

Drying Time
Your shoes got wet unexpectedly—it happens to the best of us. Now the question remains: Will non-waterproof or waterproof boots dry faster? Non-waterproof shoes often use mesh or another fabric with larger pores, meaning air will flow much faster and easier through the materials, expediting the drying process. On the flip side, because of waterproof shoes' minimal airflow, water is more likely to remain in the fabric once it penetrates the liner. Waterproof shoes bogged down with moisture can feel heavy on the trail and can lead to foot irritations and blisters. In instances where you'll be getting your shoes consistently soaked like creek crossings (unless you plan to remove the shoes), non-waterproof designs win out and will dry much quicker if they have been soaked through.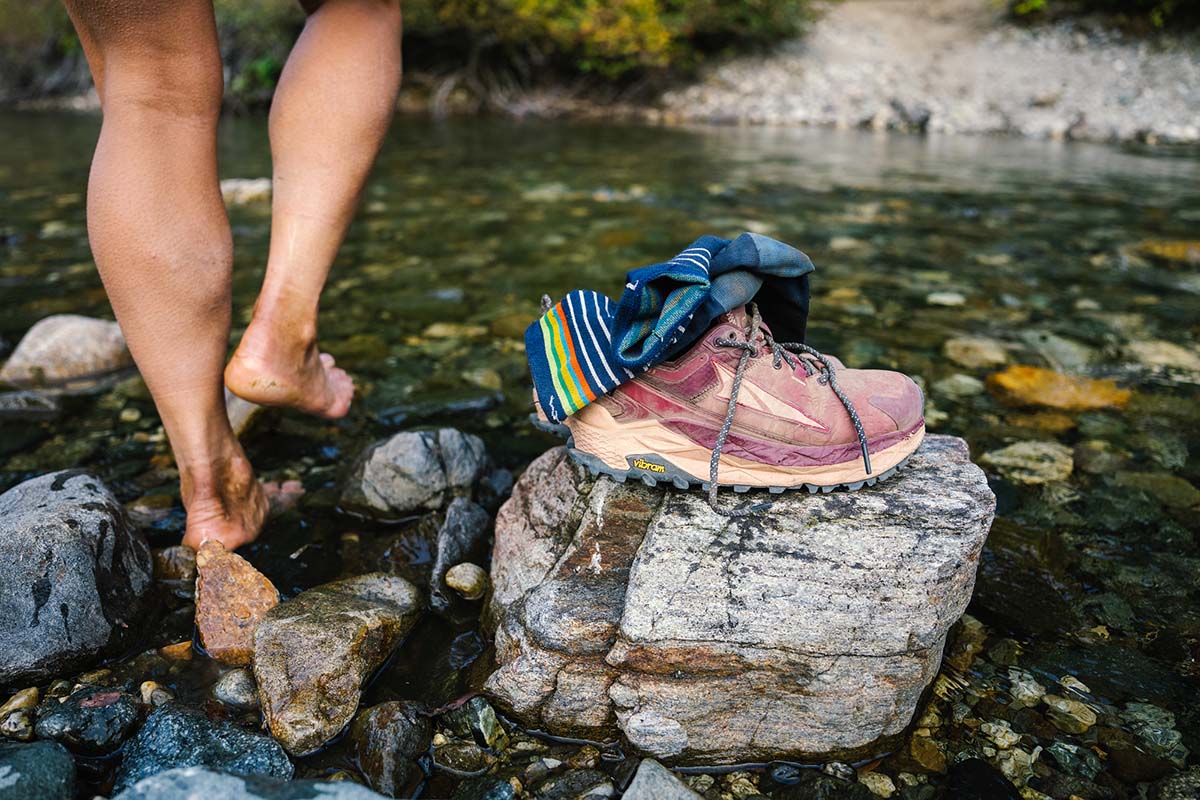 Waterproof vs. Water-Resistant and Water-Repellent
You'll probably see all of these terms thrown around when shopping for hiking boots—or any outdoor gear, for that matter. While there are no agreed-upon, industry-wide definitions, there are some rough translations. You can count on anything made with Gore-Tex to offer solid levels of waterproofing (but as we touched on above, there are limits), and we've found that in-house waterproofing technologies are fairly similar but the performance is less consistent between models. Boots labeled as water-resistant are often a step down from those labeled as waterproof—they can resist some light precipitation, but anything more than that is likely to penetrate. Finally, footwear billed as water-repellent is usually surface-coated with some sort of treatment (like DWR) that repels light moisture upon impact but wears off over time.

Best Uses for Non-Waterproof Footwear
There's no reason to spend the extra money or carry the extra weight of a waterproof boot when you're hiking in a hot, dry climate—think southern Utah canyons or the deserts of California and Arizona. When the biggest threat is your own sweat and not heavy rain, it's best to opt for a non-waterproof shoe for its added breathability. Similarly, for fast-and-light missions, added ounces from a waterproof shoe can feel like pounds over several days or many miles. In these cases, a non-waterproof shoe like the Altra Lone Peak 7 or Hoka Anacapa Breeze will cut weight and also increase sweat evaporation during higher-output hiking. And as contradictory as it might seem, we wouldn't recommend taking a waterproof shoe on an expedition with deep, frequent river crossings. In these cases, a quick-drying option is preferable over a thicker, lined boot that will hold onto water much longer (although water shoes or hiking sandals would be ideal in these circumstances).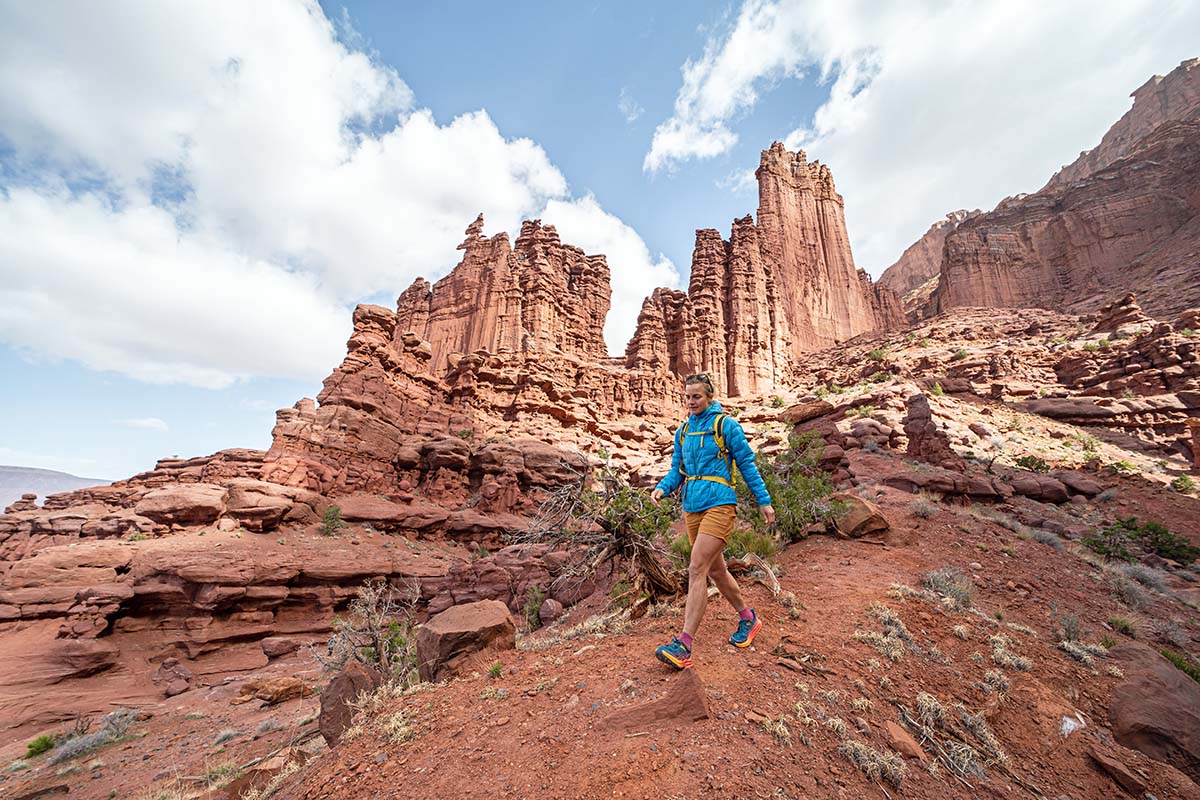 Best Uses for Waterproof Footwear
There's certainly a time and place for waterproof footwear—namely damp, cold weather or terrain that's muddy or snowy. Think winter hikes, shallow stream crossings, and day trips in often-wet climates. We also bring along our waterproof hiking footwear in areas prone to daily rain showers, or cooler places where we know we won't be working up a sweat. Ultimately, the ideal uses for a waterproof hiking shoe end up falling mid-spectrum. In other words, while non-waterproof footwear excels in ultra-dry climates and is also a better choice if you're planning to ford deep bodies of water, waterproof shoes will perform better in moderate rain and snow.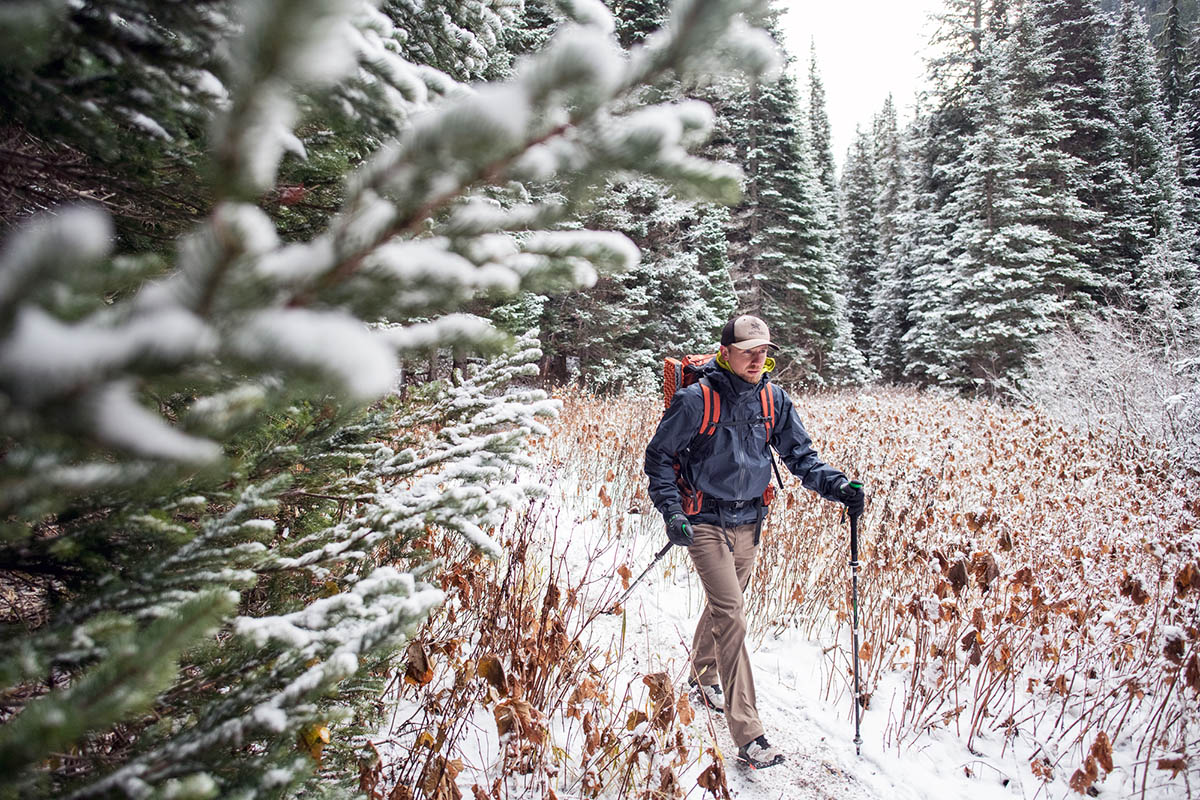 Final Thoughts
When deciding what type of hiking shoe or boot to purchase, terrain and climate should be important considerations. If you'll be heading into conditions that lie on either extreme end of the spectrum—like a hot and dry desert or extremely wet, river-ridden environment—consider non-waterproof footwear or multiple pairs of shoes. Some backpackers and thru-hikers turn to non-waterproof shoes with trail-ready gaiters over the top for added protection in especially inclement weather, which can be a nice compromise (although water will still enter at the sides of the shoe). In the end, the decision often comes down to personal preference. If you're just getting started, we recommend trying on a few pairs, doing research on where you're headed, and talking to gear shop experts that understand your local conditions. It might take a bit of experimenting to determine what's right for you.

Our Hiking Footwear Picks
Whether you've decided waterproof hiking shoes or non-waterproof hiking shoes are right for your needs, below are our top selections of each. For even more of our top picks, see our full articles on best hiking shoes, women's hiking shoes, hiking boots, and women's hiking boots.
Waterproof
Best overall: Salomon X Ultra 4 GTX men's / X Ultra 4 GTX women's
Best budget waterproof boot: Merrell Moab 3 Mid WP men's / Moab 3 Mid WP women's
Best for backpacking: Salomon Quest 4 GTX men's / Quest 4 GTX women's
Best max-cushioned boot: Hoka Anacapa GTX men's / Anacapa GTX women's
For fast-and-light mountain adventures: La Sportiva Ultra Raptor men's / Ultra Raptor women's
Non-Waterproof
Best overall: Salomon X Ultra 4 men's / X Ultra 4 women's
Best budget hiking shoe: Merrell Moab 3 men's / Moab 3 women's
Best ultralight and cushioned hiking shoe: Hoka Speedgoat 5 men's / Speedgoat 5 women's
Best for off-trail scrambling: La Sportiva TX4 men's / TX4 women's
Best non-waterproof boot: Hoka Anacapa Breeze Mid men's / Anacapa Breeze Mid women's
Back to Our Waterproof Footwear Guide  See Our Hiking Gear Reviews
Read More From Switchback Travel