Lowa Renegade GTX Mid
Price: $245
Weight: 1 lb. 15 oz. (women's)
Waterproof: Yes (Gore-Tex)
What we like: Great support, stability, and comfort for covering long distances with a full pack.
What we don't: Overkill for shorter outings on well-maintained trails.
See the Women's Renegade GTX Mid  See the Men's Renegade GTX Mid
Lowa has been making boots since the early 1920s, and the Renegade is their current flagship model designed for covering serious ground over rough terrain with a full pack. I wore the women's version of the mid-height Gore-Tex boot on the muddy and slimy trails of Vancouver Island and subsequently brought them to Patagonia for additional testing, where they deftly withstood multiple long day hikes and a three-night backpacking adventure. They're not the lightest or most agile option for well-maintained trails, but the tough leather build, stable feel, and well-cushioned midsole were a great match for our more demanding objectives. Below I break down my experiences with the Renegade GTX Mid. To see how it stacks up to the competition, see our article on the best women's hiking boots.
 
---
Table of Contents
---

Performance
Comfort
Boots designed for backpacking are often fairly stiff and rigid out of the box, but the Lowa Renegade GTX Mid broke in nicely and ended up being very comfortable on high-milage days. For reference, I wore the boots on a few local hikes before bringing them to Argentina for testing, and it did take a few outings for them to loosen up and soften. But once I had a few miles under my belt, the leather became noticeably softer and nicely conformed to my foot. Additionally, the PU midsole is decently firm but still well-cushioned for isolating my feet from harsh impacts, and the padding continues around the ankle and heel to really lock things in place.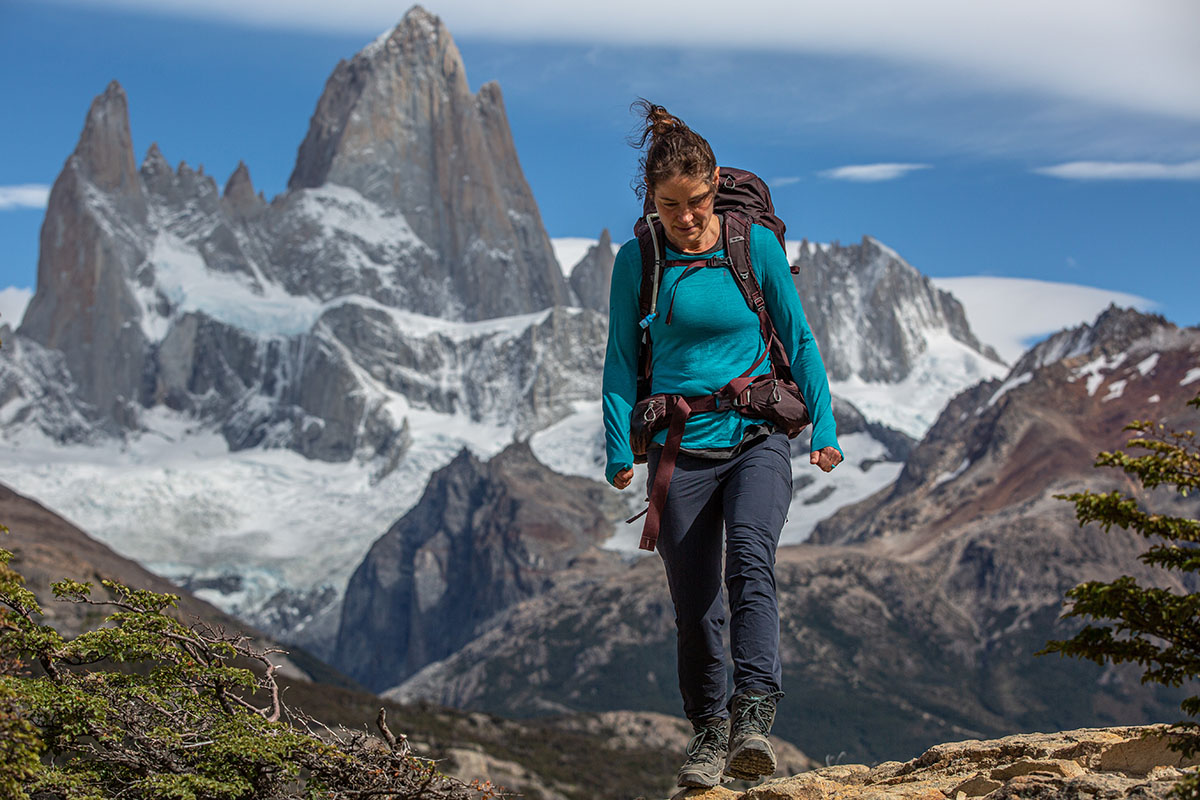 All of this held true while backpacking in Patagonia, where I suffered no blisters or hotspots on the trail despite back-to-back days of 10+ miles with a full pack. One of my baby toenails did grow sore after long descents, but it recovered without damage. I even continued to wear the Renegades at camp and reached for them right away each morning when crawling out of my tent, which speaks volumes to their overall comfort. To be clear, the Renegade is decidedly overkill for day hiking on groomed trails, but they're a great match for covering longer distances with a full pack. I still consider the Salomon Quest 4 GTX to be the more comfortable all-around design, but the Renegade isn't very far behind.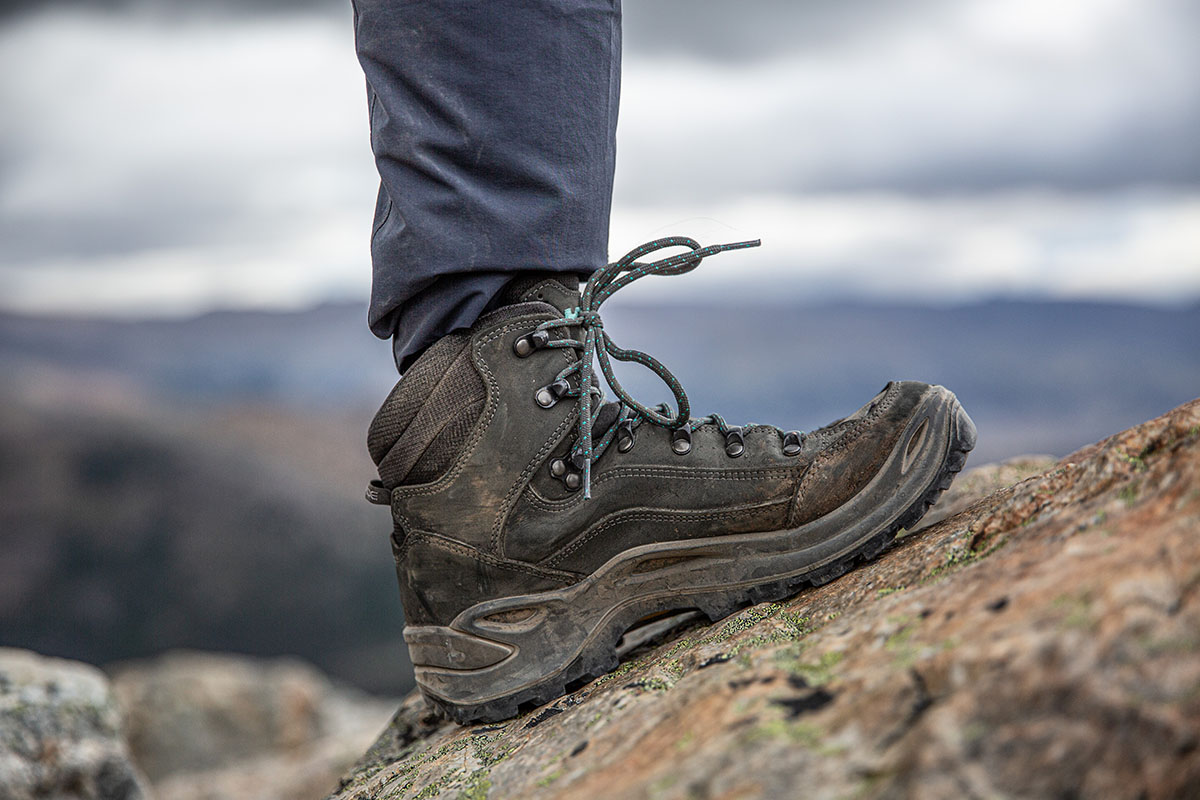 Weight
At 2 pound 2 ounces for a women's pair, the Lowa Renegade GTX Mid won't be confused for a lightweight hiker, but it's competitive within the larger backpacking boot market. It's worth noting that my pair of women's size 9s checked in considerably heavier on my scale (2 lbs. 7.4 oz.), but that may have been an anomaly. For reference, Salomon's Quest 4 GTX is the standard bearer in this category and weighs 2 pounds 5.7 ounces, while Scarpa's similarly intentioned Zodiac Plus GTX is 2 pounds 0.1 ounces. You can go lighter with a more athletic and streamlined design like Salomon's X Ultra 4 Mid GTX (1 lb. 10.1 oz.), but you'll sacrifice a good amount of stability and protection on truly rough and rugged terrain. In the end, the Renegade did feel a little clunky whenever I quickened my pace to light jog to pass slower hikers on the trails in Patagonia. But when worn as intended for hiking and backpacking, the boots were perfectly serviceable and didn't feel overly heavy or cumbersome underfoot.

Traction
I'm always hesitant when wearing new hiking boots, but the Renegade quickly became easy to trust over a wide variety of surfaces. The outsole is comprised of premium Vibram rubber (their EVO compound) with deep, aggressive lugs that are widely spaced with horizontal ridges running widthwise along the heel for added grip while descending. Before bringing the boots to Patagonia for testing, I wore them on the steep and often-sloppy trails at home in the Pacific Northwest rainforest and gained confidence in their ability to grip on everything from packed dirt to thick mud and slick rocks. In Patagonia, they continued to hold firm on the dusty and rocky trails to Laguna de los Tres and didn't falter under the weight of a heavy pack while navigating a tricky boulder field on an overnight backpacking trip in the Río Eléctrico valley. I did slip once while hiking over marble-sized rocks, but any shoe likely would have suffered the same fate, and my brief slide was easily controlled and did not result in a rolled ankle.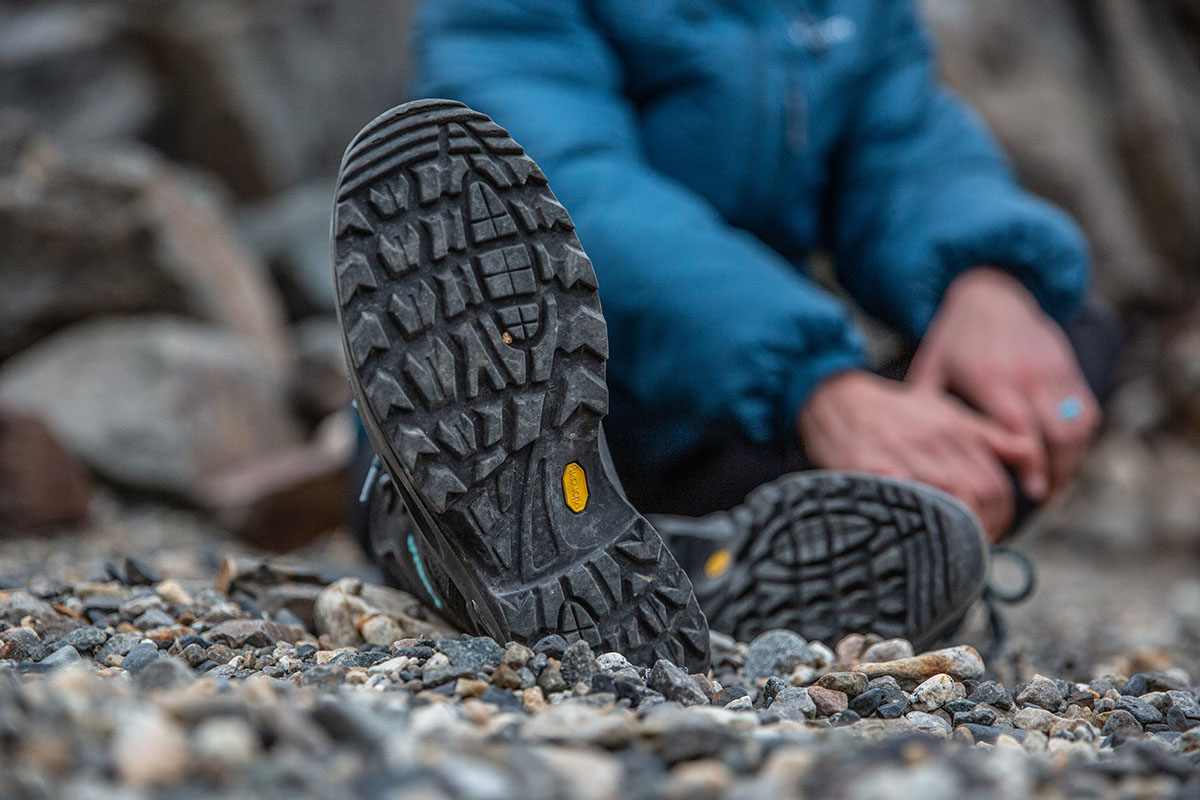 Waterproofing
The Lowa Renegade GTX Mid boasts a proven Gore-Tex membrane, so it came as no surprise that the boots were very adept at sealing out water. They kept my feet dry on many wet trails rife with mud, puddles, and drenched foliage in the Pacific Northwest, and the same held true in Patagonia during shallow water crossings. Unsurprisingly, the Renegade did soak through and grow heavy with moisture when submerged above the collar in deeper rivers during our multi-day backpacking trip, and I ended up hiking with sloshing water and soggy feet until I had a chance to take them off and dry them out. But this is a known downside to waterproof footwear, and the Renegade performed about as expected in terms of drying time.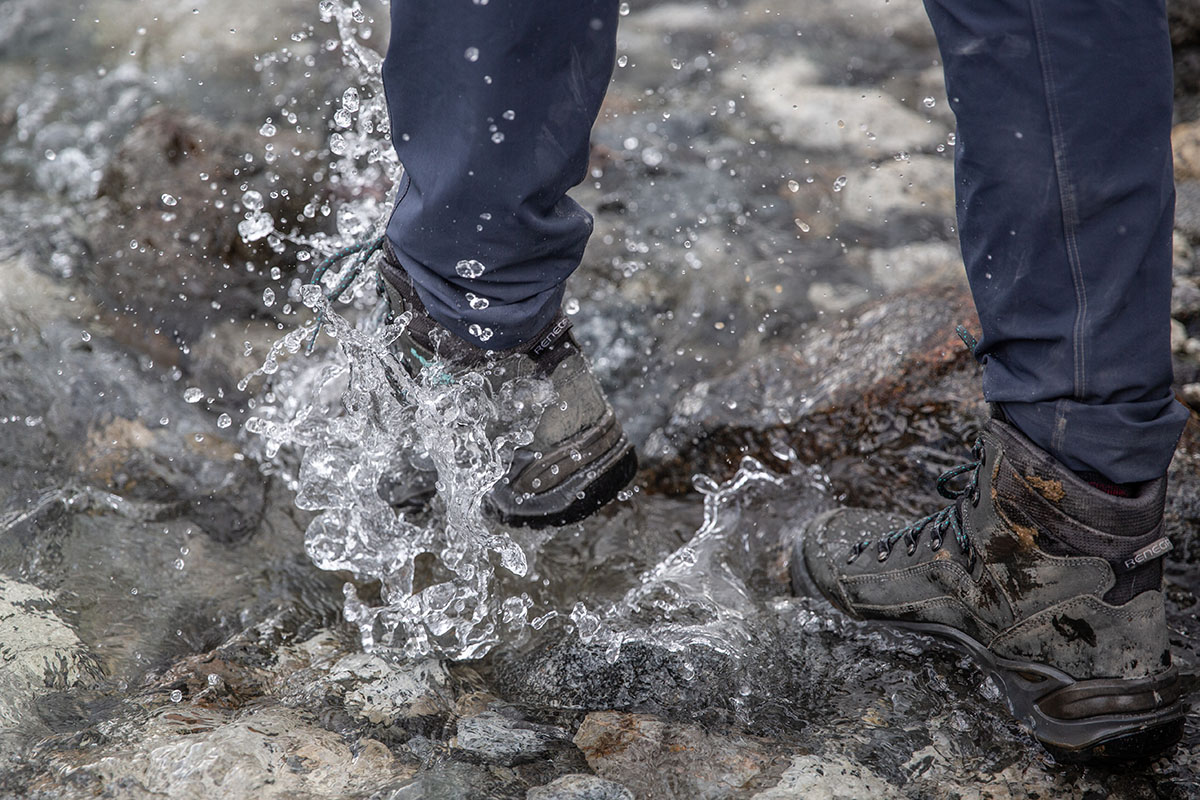 Breathability
The Lowa Renegade's Gore-Tex membrane and tough leather upper do detract from overall breathability. To be fair, we were hiking in relatively warm temperatures (into the mid 70s Fahrenheit) with little shade during our hike out from Lago Eléctrico in Patagonia, and my feet never felt overly hot or sweaty in the boots. But the lack of ventilation was noticeable, and I'd recommend purchasing a lighter colorway (mine were black), which might help a little with temperature regulation. Alternatively, if you anticipate doing most of your hiking in fair and warm summer conditions, it may be worth opting for a non-waterproof boot or shoe instead.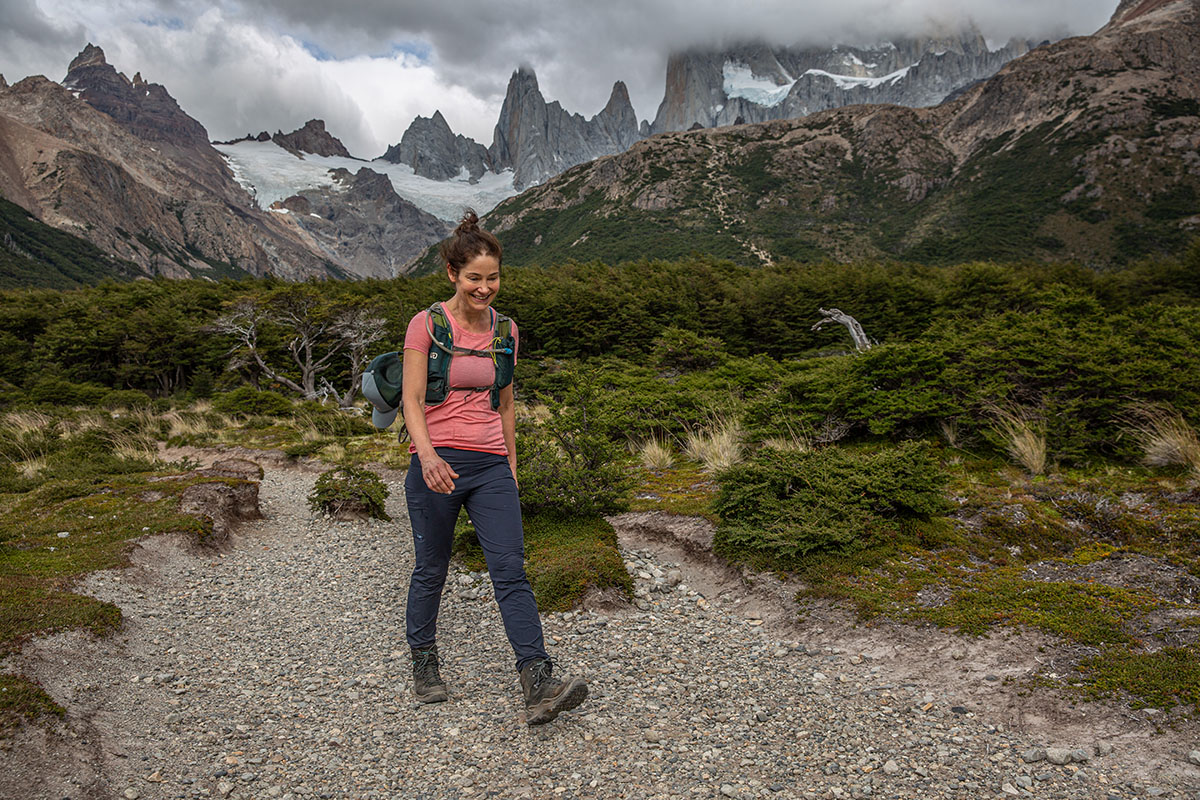 Stability and Support
As expected from the tough and burly design, the Lowa Renegade GTX Mid is a decidedly stable and supportive boot. The high cuff effectively prevented ankle rolls on the trail, and the top eyelet for the laces is positioned high enough to really lock things in place. I do wish the Renegade had a locking eyelet like what you get with the Salomon Quest 4 GTX to allow me to tighten up the ankle while leaving the forefoot loose, but it didn't have a major impact on support.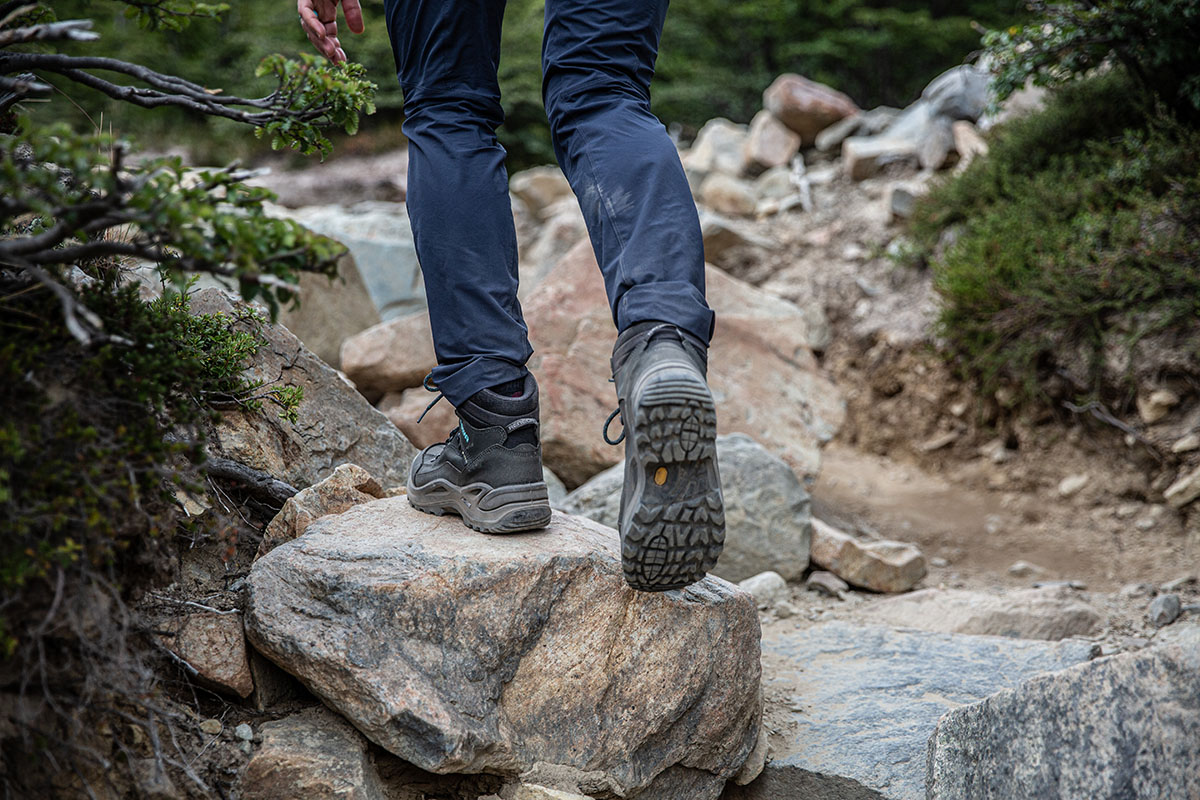 I was particularly impressed by the level of stability when rushing down a rocky and uneven section on our hike from Laguna de los Tres to pass slower hikers. The trail felt sloppy and precarious, but I had no close calls when jumping down the steps on loose rocks. And my experience was similar during our trek to Lago Eléctrico, where the boots allowed me to confidently navigate the off-camber boulder field with a full backpacking pack (I estimate I was carrying around 40 lbs.). Again, the boots are too stiff and rigid for shorter day hikes on easy trails, but they're well-equipped for this kind of rough and demanding travel with a heavy load.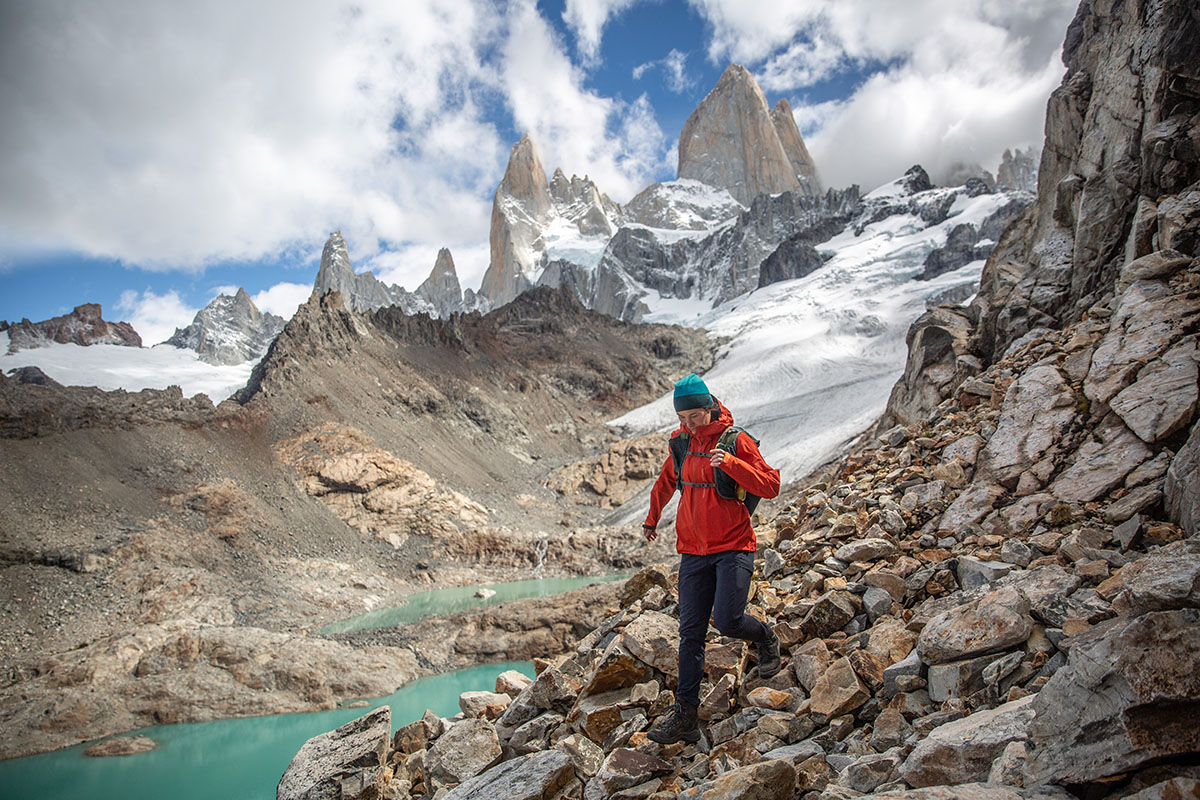 Build Quality and Durability
After putting well over 120 miles on the Lowa Renegade GTX, including over 40 miles of backpacking with a full pack, the boots are almost no worse for wear. To be sure, they do look a little worn: The leather upper has absorbed some mud and grit, and the boots have a few noticeable scuff marks. But the integrity has not been compromised, and all of the smaller details—from the stitching to the rubber rand—are holding up well with no issues. The Vibram rubber outsoles are also unscathed and still look surprisingly new despite the abuse I've put them through on rough and rocky terrain. It's worth noting that the Renegade's leather upper is a little thinner than some competitors, including the Salomon Quest 4 and Scarpa Zodiac Plus GTX. And we did experience some separation develop between the toe rubber and leather upper on one boot while testing the men's model. But thus far, my women's pair is holding up admirably, and I expect it to fare well for many seasons to come.

Fit and Sizing
I initially tried on the Lowa Renegade GTX Mid in my standard women's size 8.5 but found them to be a little tight in the forefoot. Sizing up to a 9 did the trick, with just enough room both length- and widthwise when paired with midweight merino wool socks. In the end, the fit ended up being snug but not overly tight, which was great for maximizing security and stability on the trail. And it's easy to customize the fit with the well-executed lacing system, which includes a top eyelet that's positioned high enough to effectively lock the ankle in place. As I mentioned above, I would prefer a locking eyelet like you get with the Salomon Quest 4 to dial in the fit at the ankle while leaving the forefoot loose, but that's far from a deal-breaker. Finally, if you have particularly high- or low-volume feet, Lowa also offers the boots in dedicated wide and narrow variations, which means most people should be able to find a good all-around fit.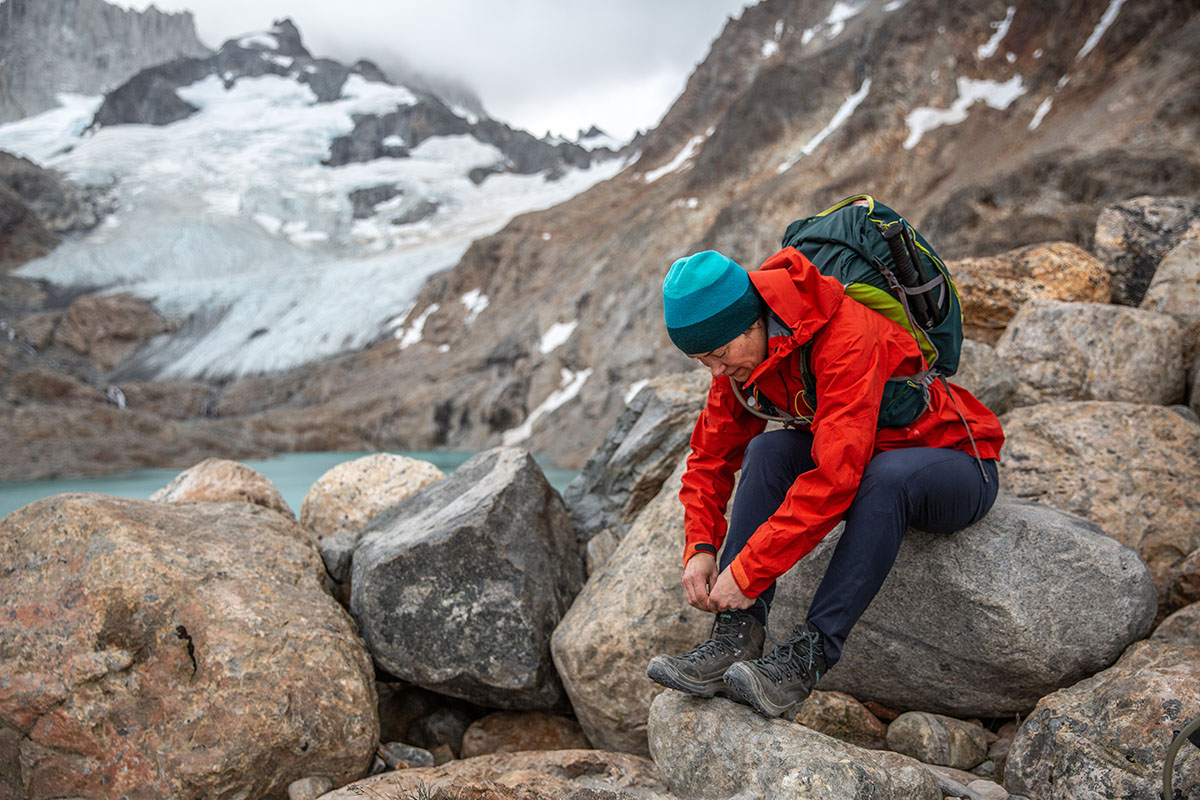 Other Versions of the Lowa Renegade
I tested the women's Renegade GTX Mid for this review, and the boot is also sold in a men's model for the same price. Compared to the women's version, the men's Renegade GTX Mid is a little heavier at 2 pounds 7.2 ounces per pair and sold in different colorways, but the overall construction and feature set are identical (for more, see our in-depth review of the men's Renegade). Given the popularity of the boot, the larger Renegade collection also includes several other options, from low-top variations to insulated designs for winter hiking and leather-lined offerings for an even closer, foot-hugging fit.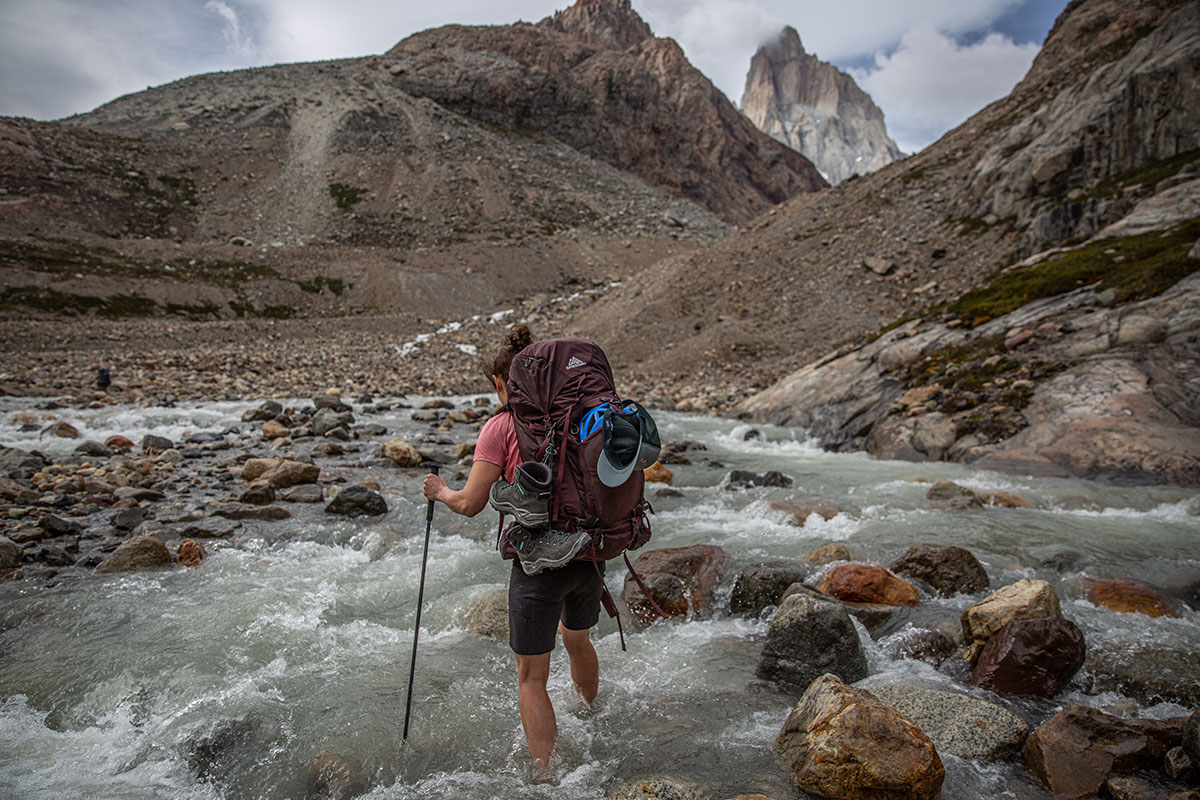 What We Like
Highly comfortable and supportive for high-mileage hiking and backpacking over rough ground, and the leather upper broke in nicely after just a couple outings.
Quality and confidence-inspiring build, including a premium Gore-Tex membrane, tacky Vibram outsole, and reasonably hardwearing construction.
Noticeably solid and stable feel while hiking over off-camber terrain with a full pack.
Lacing system is highly customizable, and the top eyelet is positioned high enough to really lock the ankle in place. 
Sold in a wide variety of colorways and sizes, including dedicated wide and narrow models.

What We Don't
Overkill for shorter day hikes on well-maintained trails.
Leather build and Gore-Tex membrane detract from overall breathability.
Leather upper is thinner than some of the competition and may be more prone to wearing down over time (although I haven't had any issues to date).
The boots run a little small, and I ended up having to go up by a half size to get a good all-around fit.
I would prefer a locking eyelet to be able to secure the ankle while leaving the forefoot loose.


Comparison Table
The Competition
Lowa's Renegade GTX Mid has been a mainstay in the hiking boot market for years and remains well-loved for its excellent overall performance for demanding backpacking objectives. In this category, Salomon's Quest 4 GTX is another popular option and surpasses the Renegade in a few key areas. The Quest has a higher listed weight at 2 pounds 5.7 ounces, but it's simply hard to beat in terms of stability and protection on technical terrain. We also prefer the Salomon's lacing system over the Renegade's, including locking eyelets that secure the heel in place and allow you to tailor the fit at the forefoot and ankle. We also give the nod to the Salomon in terms of comfort and durability: The Quest has a more performance-oriented fit and uses thicker materials throughout. On the flip side, the Renegade has a sturdier and more planted feel and comes in a wider variety of sizes and widths, which may be the deciding factor for those with hard-to-fit feet.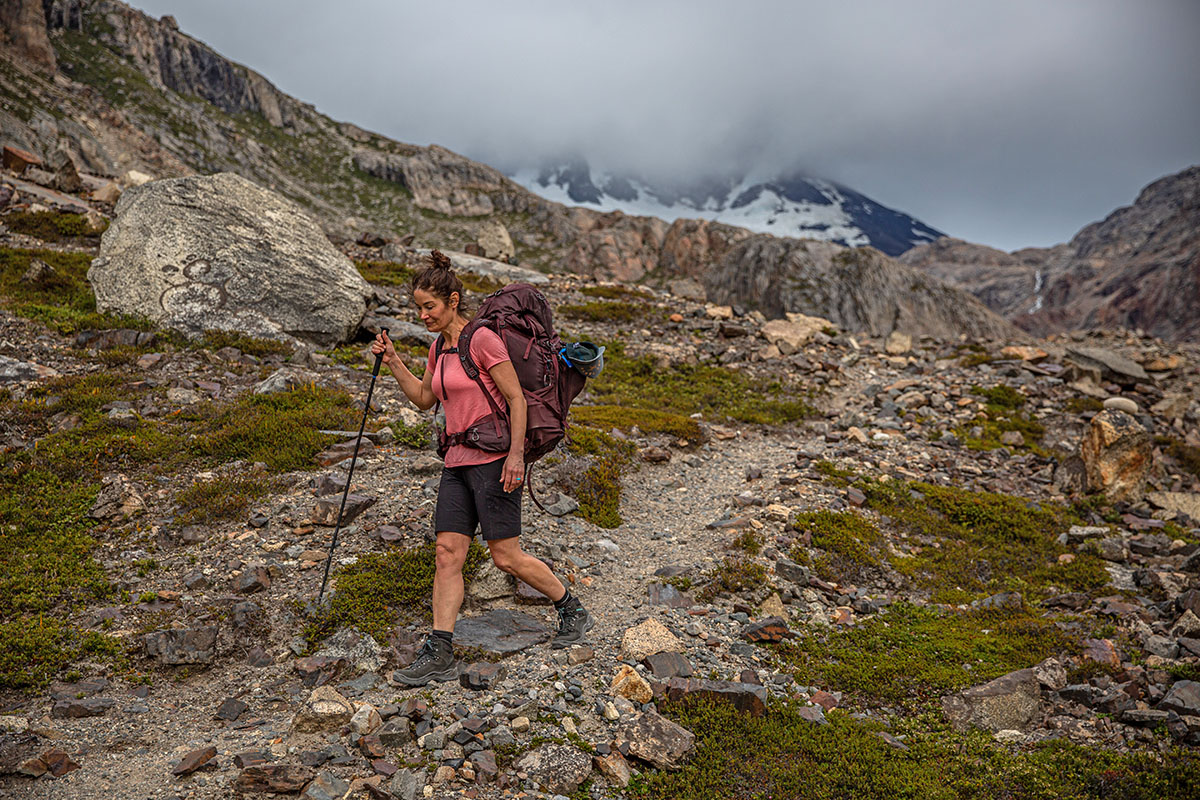 If you're looking for something a little more performance-focused, Scarpa's Zodiac Plus GTX is a more technical alternative to the Lowa Renegade. Right off the bat, we'll note that the Zodiac is noticeably stiffer and offers a closer connection to the ground with less cushioning underfoot (the Lowa gets the clear edge in comfort). However, the Zodiac's approach shoe-like traction and stability in a relatively light build (2 lbs. 0.1 oz.) is a winning combination for demanding off-trail travel with a full pack. The Scarpa's robust leather build is also more confidence-inspiring from a long-term durability standpoint, although the Renegade has more widespread appeal for most traditional hikers and backpackers. Unless you plan to add light mountaineering to the mix, we think the Lowa is the more approachable and well-rounded option in the midweight category.
For a step down in price, Oboz's $180 Bridger Mid Waterproof stacks up pretty favorably to the Lowa Renegade GTX Mid. Like the Renegade, the Bridger is nicely cushioned and protective underfoot with good all-around stability and support for longer backpacking missions. In testing the Oboz boots, however, we found that they felt much heavier and clunkier than their 2-pound-0.4-ounce weight would suggest, and the in-house B-Dry waterproofing membrane runs warmer than the Lowa's Gore-Tex design. Unless the higher price tag is a deterrent, we think most committed hikers and backpackers will be happier with the nimbler-feeling Renegade.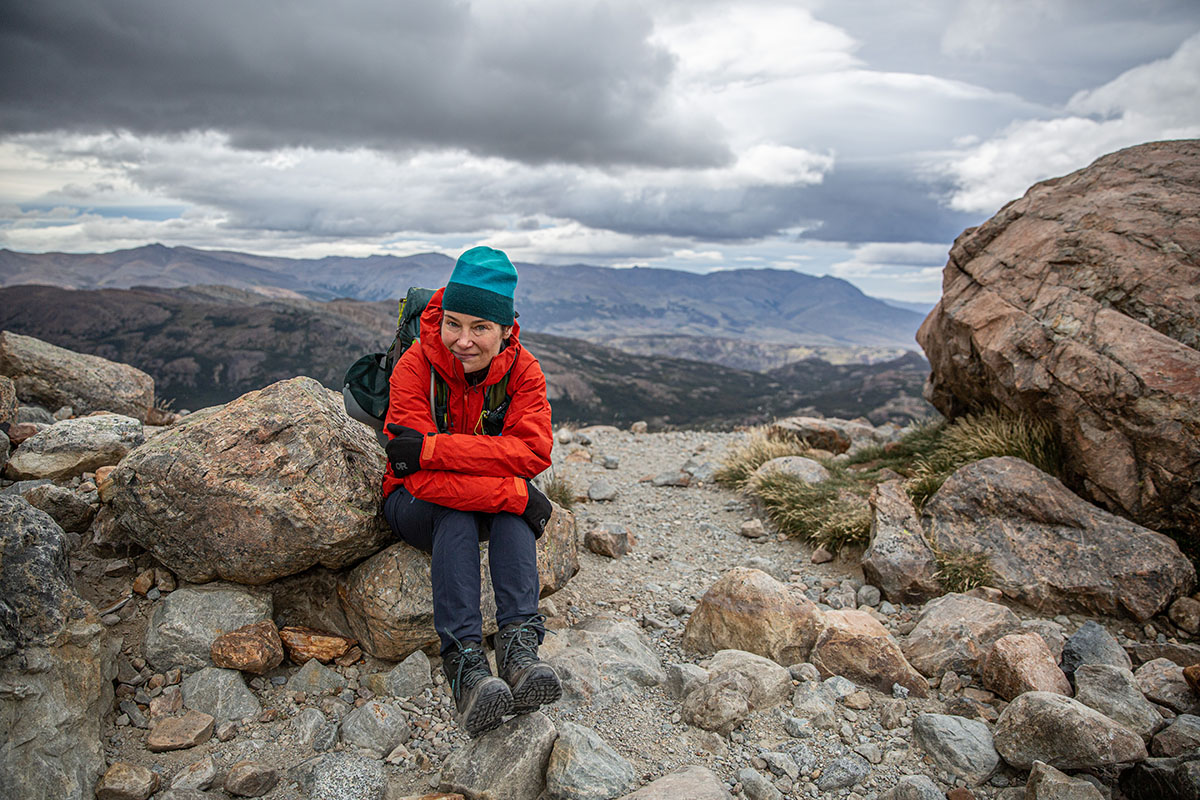 If you want something lighter and more modern for less intensive day hikes and minimalist backpacking trips, Salomon's X Ultra 4 Mid GTX is one of the most popular designs on the market and for good reason. It's competitively light at 1 pound 10.1 ounces with a very athletic feel to match, and the boot still holds its own in terms of stability and protection. On the other hand, the Lowa's heavier and beefier build is a better match for truly technical terrain, and the Salomon's thinner sole means you'll feel rocks and roots below a lot more than you would with the Lowa. Finally, the X Ultra has a pretty flexible feel, which means less support on uneven sections of trail under the weight of a full pack. But there's a reason the X Ultra 4 is ranked so highly in our hiking boot articles: It provides a hard-to-beat combination of weight and on-trail performance for everything from day hiking to lightweight backpacking.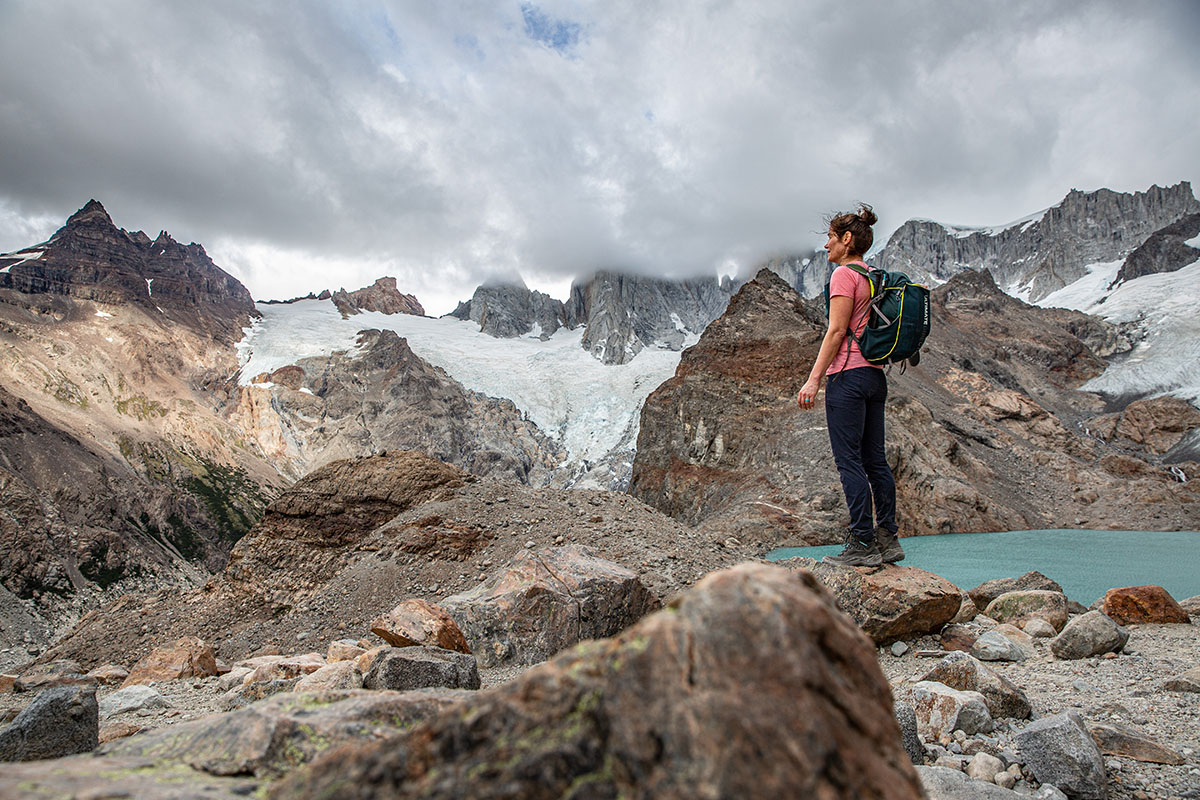 Last but not least is Salomon's Cross Hike Mid GTX, which is an even lighter and more streamlined alternative to the X Ultra 4. At 1 pound 8 ounces, the Cross Hike is around 7 ounces lighter than the Renegade while offering excellent all-around comfort in a noticeably agile and sprightly design. Traction is another highlight, with deep, multi-direction lugs that bite well into everything from thick mud to packed dirt. And many will appreciate the modern and sleek appearance of the Cross Hike, which is a far cry from the Renegade's fairly dated-looking leather construction. The Salomon is a noticeable step down in both support and stability with no eyelet at the top of the collar, and the lightweight build is much more prone to breaking down over time. But for day hiking and light backpacking missions, it's a viable alternative at a much lower weight and price ($170). For more involved objectives with a heavy pack, we'd stick with the Lowa.
If you're thinking about buying gear that we've reviewed on Switchback Travel, you can help support us in the process. Just click on any of the seller links above, and if you make a purchase, we receive a small percentage of the transaction. The cost of the product is the same to you but this helps us continue to test and write about outdoor gear. Thanks and we appreciate your support!
Depending on the seller, most products ship free in the United States on orders of $50 or more. International shipping availability and rates vary by seller. The pricing information on this page is updated hourly but we are not responsible for inaccuracies.
Read More From Switchback Travel