Salomon's hiking boot lineup is undeniably extensive, and their Cross Hike Mid GTX offers an interesting mix of running shoe-like agility with ankle-height protection. We took the women's boot on dozens of hikes along Vancouver's North Shore, fast-and-light snowshoe runs, and even a multi-day backpacking trip along Vancouver Island's Juan de Fuca Trail. The verdict: the Cross Hike is exceptionally nimble and sprightly—a nice match for done-in-a-day adventures—but fell noticeably short in support and durability. Below we outline our experiences with the Cross Hike Mid GTX. To see how it stacks up to the competition, see our articles on the best hiking boots and best women's hiking boots.
 
---
Table of Contents
---

Performance
Comfort
Upon trying on the Salomon Cross Hike Mid GTX for the first time, I was immediately struck by its comfortable and well-cushioned build. The boots required virtually zero break-in time, and I experienced no pressure points despite taking them directly from the box onto a several-hour hike over steep terrain (the seamless uppers help a lot here). Further, the OrthoLite insole is noticeably plush and padded—it felt bouncy on the trail—and the thick tongue only adds to the cushy feel. And despite a fairly tall stack height (27.7mm at the heel and 17.7mm at the forefoot), the boots never felt sloppy and still allowed ample trail feel while keeping my feet well-isolated from rocks and roots below. Finally, the EnergyCell+ midsole has excellent energy return, and I've had no issues running short distances (although they wouldn't be my first choice for days that involve more running than hiking). It all adds up to a highly responsive, flexible, and sprightly boot that feels much more like a running shoe than a traditional hiker.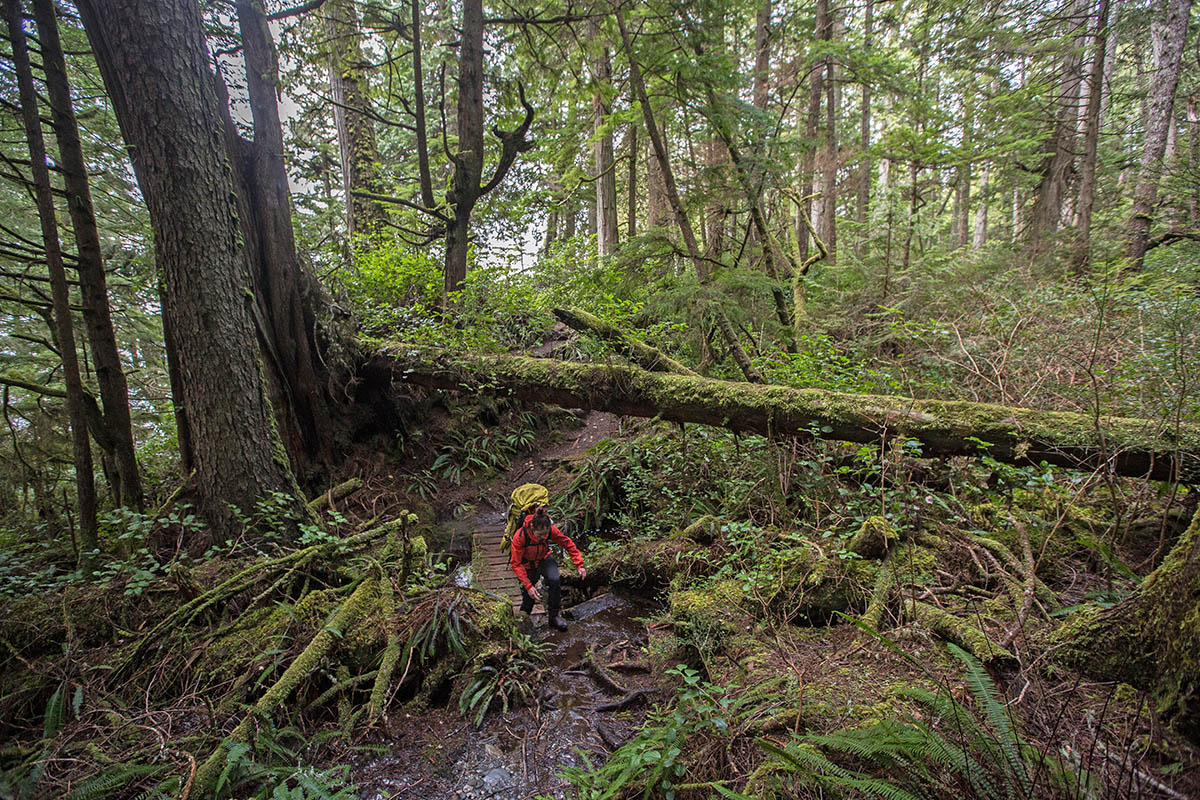 That said, I do have one big concern with the Cross Hike, and that's the lack of an eyelet at the very top of the collar. This caused the boots to gape open and allow grit and pebbles to migrate inside during a couple runs along Vancouver's North Shore trails, and the issue was only exacerbated by the aforementioned tongue padding. To be fair, I had tucked my running tights into the boots, which was a big part of the problem, but it's nevertheless a point of weakness and detracts from overall protection and stability. After my second outing, I purchased Salomon's high-cut Trail Gaiters ($45), which made a huge difference. And on our backpacking trip along the Juan de Fuca Trail, I wore hiking pants that covered the outside of the boots. In other words, it was an easy problem to solve and therefore won't be a deal-breaker for most, but one more eyelet at the top of the boot would greatly improve the design and be worth the slight weight penalty, in my opinion.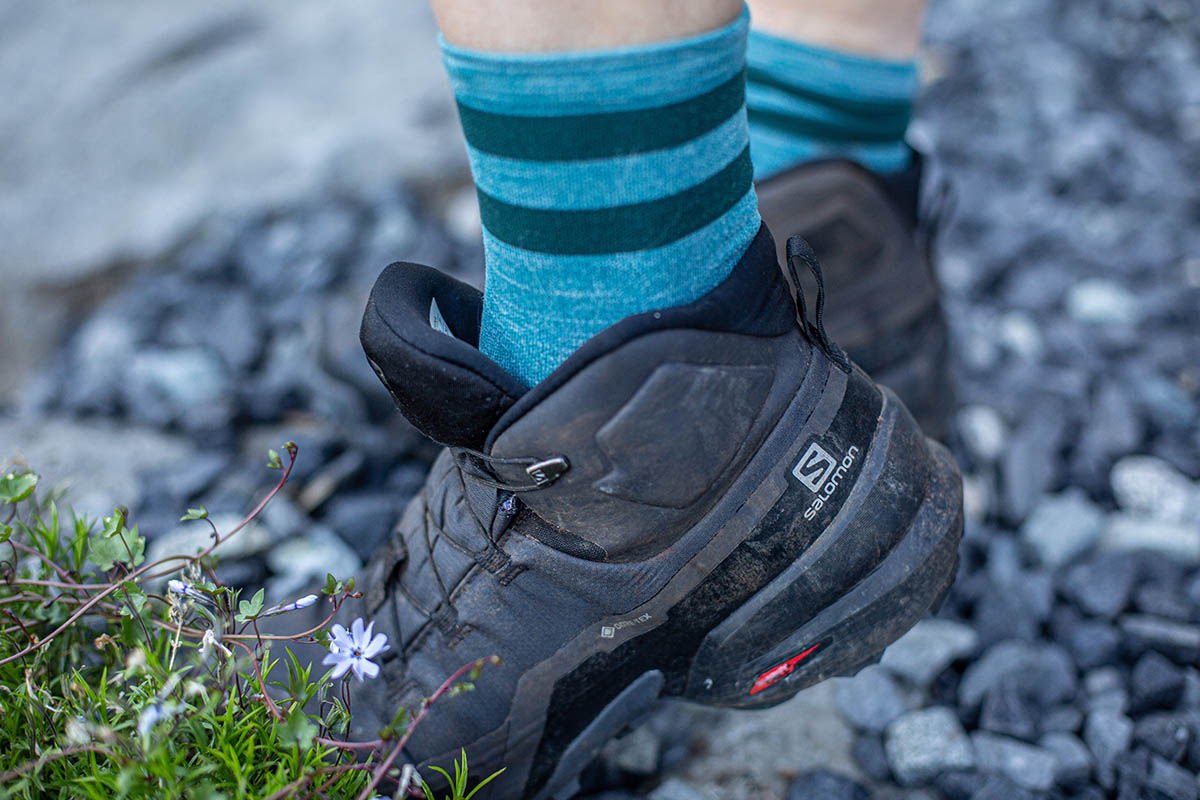 Weight
On my scale, the Salomon Cross Hike Mid GTX checked in at 1 pound 9.7 ounces per pair for my women's size 8.5 (it's listed at 1 lb. 8 oz.), which puts it in the crosshairs of many top lightweight designs. Within Salomon's own lineup, their uber-popular X Ultra 4 Mid GTX is slightly heavier at 1 pound 11.2 ounces, their OUTline Mid GTX is 1 pound 8.6 ounces, and the women's-specific Vaya Mid GTX weighs 1 pound 7.3 ounces. Other popular lightweight models, including Merrell's Moab 2 Mid WP (2 lbs.) and Keen's Targhee III WP Mid (1 lb. 12.4 oz.), clock in heavier, although both of those boots are more traditional hiking designs with substantial leather uppers. However, shaving weight often comes at the sacrifice of some durability, and I have noticed some premature delamination on my Cross Hikes (more on this below). Again, they feel very light and nimble on the trail, but it's important to be aware of that tradeoff.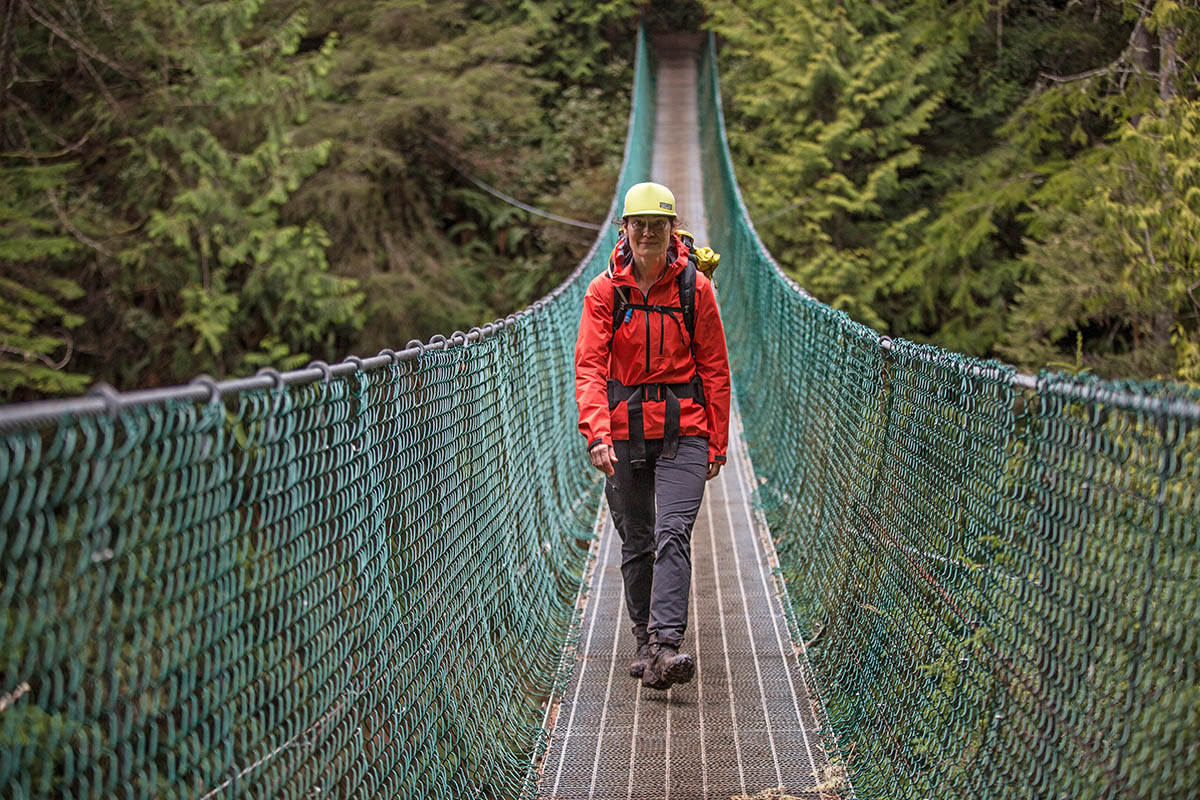 Traction 
I'll admit that I'm a bit of a diva when it comes to traction: I need to be able to trust my shoes or at least know how they will respond across variable terrain. With that in mind, I was a bit disappointed by the Salomon Cross Hike's inconsistent performance. The good news is that the boot's Contagrip outsole and deep, multi-directional tread gripped exceptionally well in packed dirt and mud, and the lugs at the front that extend up and over the toe box make a considerable difference when running uphill, allowing you to maintain contact even when your heel isn't connected to the ground.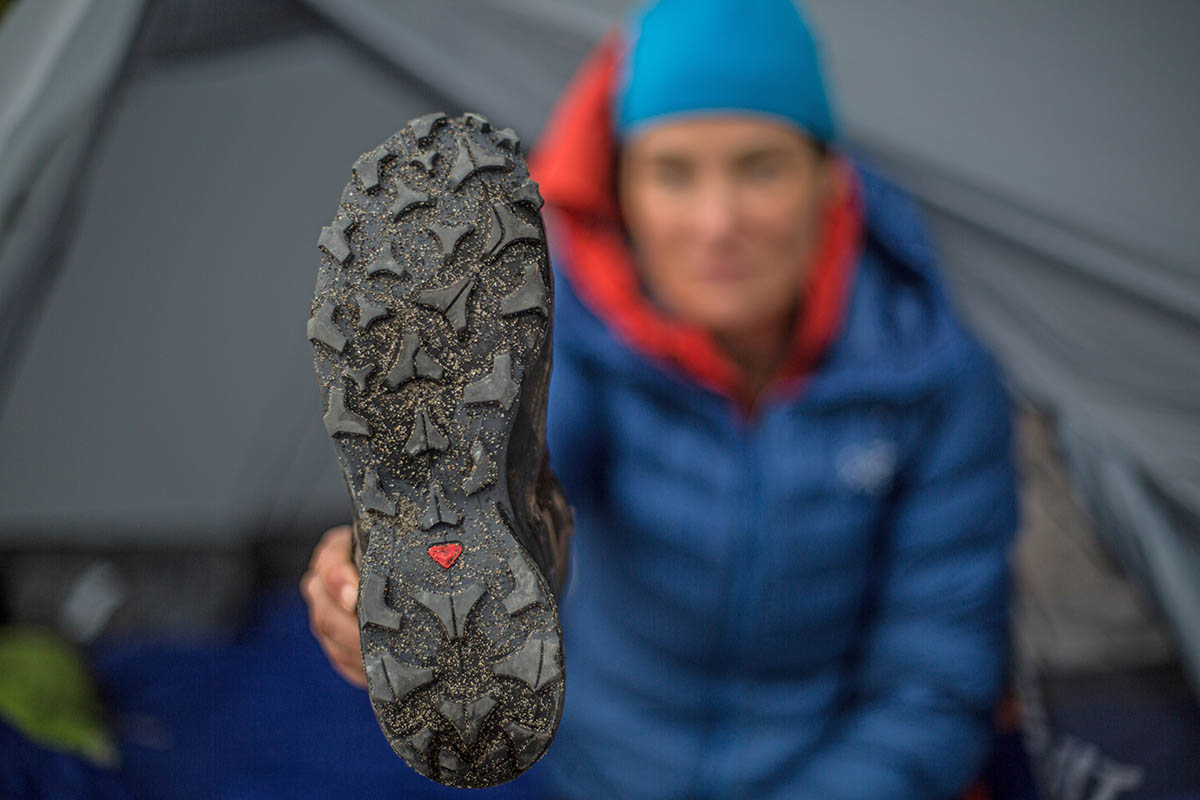 That said, wet rock posed a bit of an issue for the Cross Hike. On one outing along North Vancouver's notoriously wet trails, I took an unexpected slip and learned the hard way that I had to move carefully over slick slabs. By comparison, Salomon's own X Ultra 4 was confidence-inspiring over similar terrain, including slippery rock in Washington's Hoh Rainforest. It's hard to pinpoint the reason for the difference in performance, but the X Ultra's tighter-spaced and more traditional lug shape may help it over those firmer surfaces. I also took the Cross Hike along the Juan de Fuca Trail—the first half of which has seen very little maintenance for decades—and again took a few spills along the slimy boardwalks. However, I'm not sure any boot would have performed well here, and I did come to trust the bite across most other surfaces along the trail, including sand, roots, off-camber slopes, and long sections of calf-deep mud.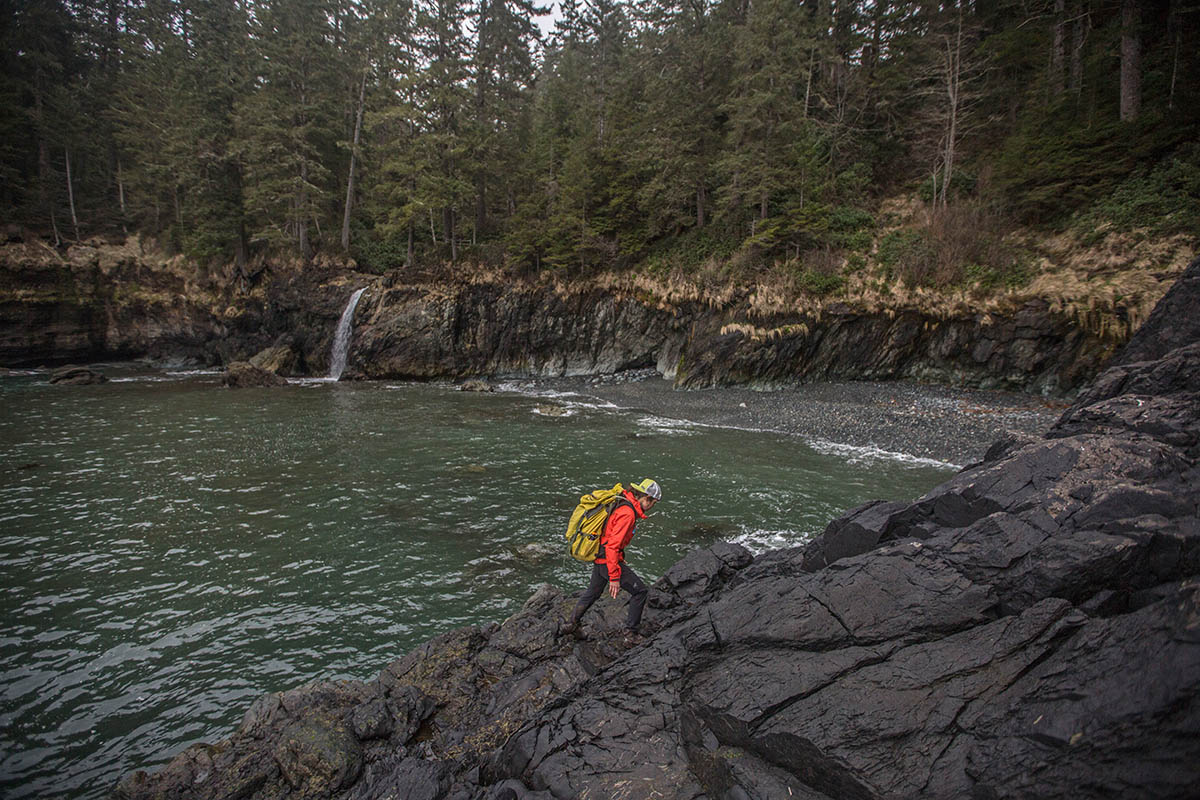 Stability and Support
Support is another area where the Cross Hike makes a few sacrifices. All told, I would categorize it as better than a trail runner but far less confidence-inspiring than a traditional hiking boot. The higher cut does provide decent protection from bumps and scrapes, but I don't feel that it adds much stability. As I touched on above, this is partially due to the lack of an additional set of eyelets at the very top of the collar, which limits its ability to securely hold the ankle in place. To be fair, I didn't experience any ankle rolls despite being loaded down by a full pack and crossing relatively challenging terrain, but hikers who prefer that locked-in feeling will probably feel insecure in the Cross Hike. On a related note, I found that the laces slip slightly over longer distances, allowing the foot to move around in the shoe even more, but the Quicklace system (more on this below) is both quick and easy to snug up.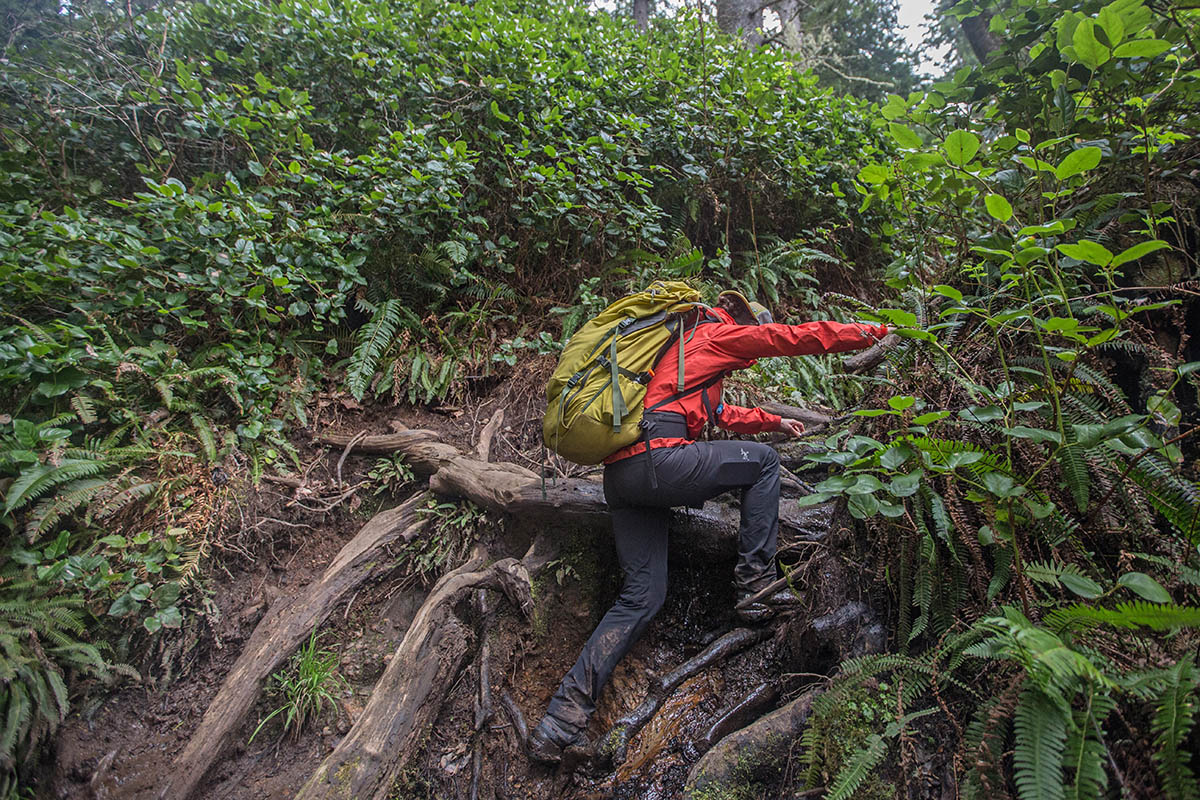 Waterproofing and Breathability
Gore-Tex-equipped hiking boots rarely disappoint from a waterproofing standpoint, and the Cross Hike is no exception. Spring conditions along the North Shore are notoriously wet, but the boots deftly fended off everything I threw their way. Even on dry days, local hikes involved muddy trails and water crossings, and the Gore-Tex construction and water-repellent treatment (along with the higher cut) provided good protection and coverage for stepping through puddles and crossing shallow streams. 
On our follow-up trip along the Juan de Fuca Trail, the boots were repeatedly submerged in mud, streams, and even ocean water and only faltered once, which was admittedly my fault for misjudging the depth of a murky and muddy puddle, allowing water to spill in over the cuff. A tighter fit at the ankle likely would have provided a better seal, but pairing the boots with gaiters (or simply paying closer attention at water crossings) is a viable solution. And it's worth noting that the shoes took a while to dry after that incident (non-waterproof models dry much quicker), but that's an unavoidable downside if you need the water protection. A final inherent tradeoff is a drop in breathability, although the Cross Hike's minimalist build translates to decent overall performance (like the X Ultra 4, you can expect it to run warm in summer heat).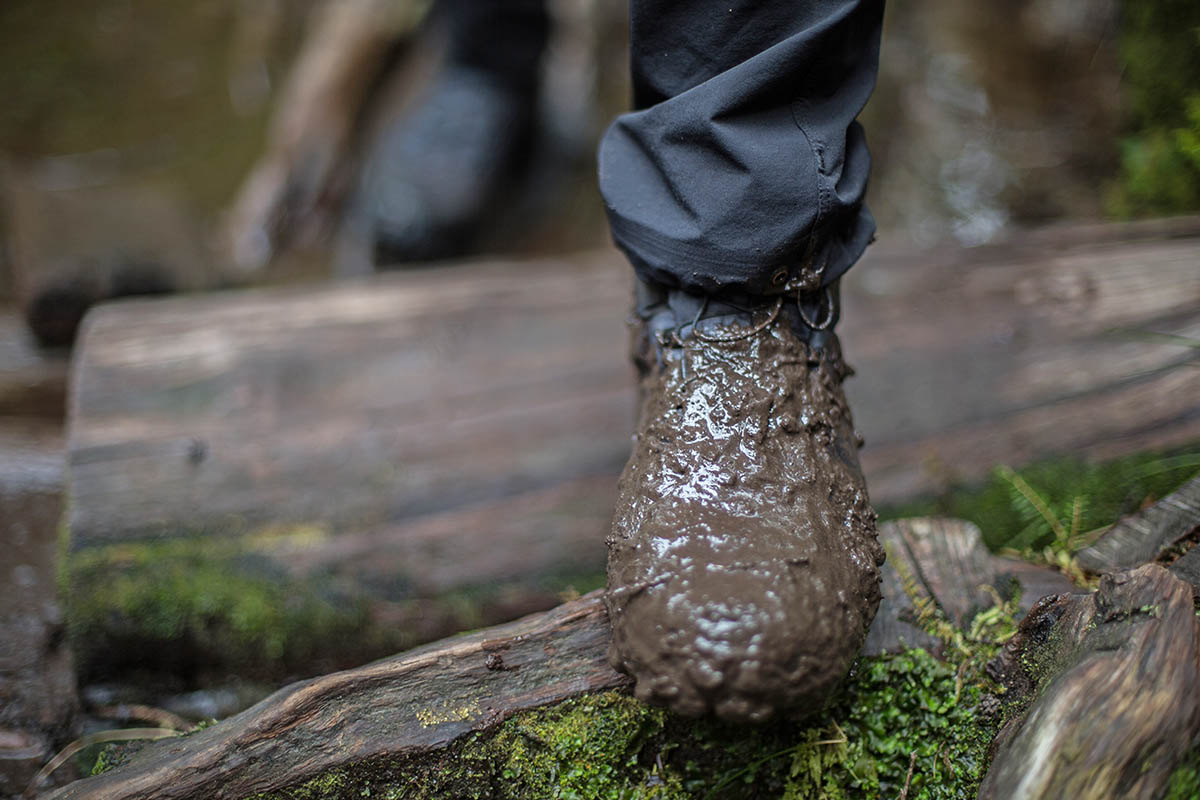 Build Quality and Durability
Salomon is a leader in the hiking footwear market and known for their well-made designs, so I was pretty surprised to experience premature durability issues with the Cross Hike Mid GTX. After just a few outings, I noticed that a section of the upper material was beginning to separate where the midfoot starts to flex, and it has continued to peel away even more over time. This hasn't affected the boot's waterproofing yet, but it's nevertheless disconcerting given how soon into testing it happened. And I will note that everything else is holding up well, from the Quicklace system to the lugs that look barely worn. But considering the other downsides I experienced—including the general lack of support—it feels like Salomon went a little too far in shaving weight.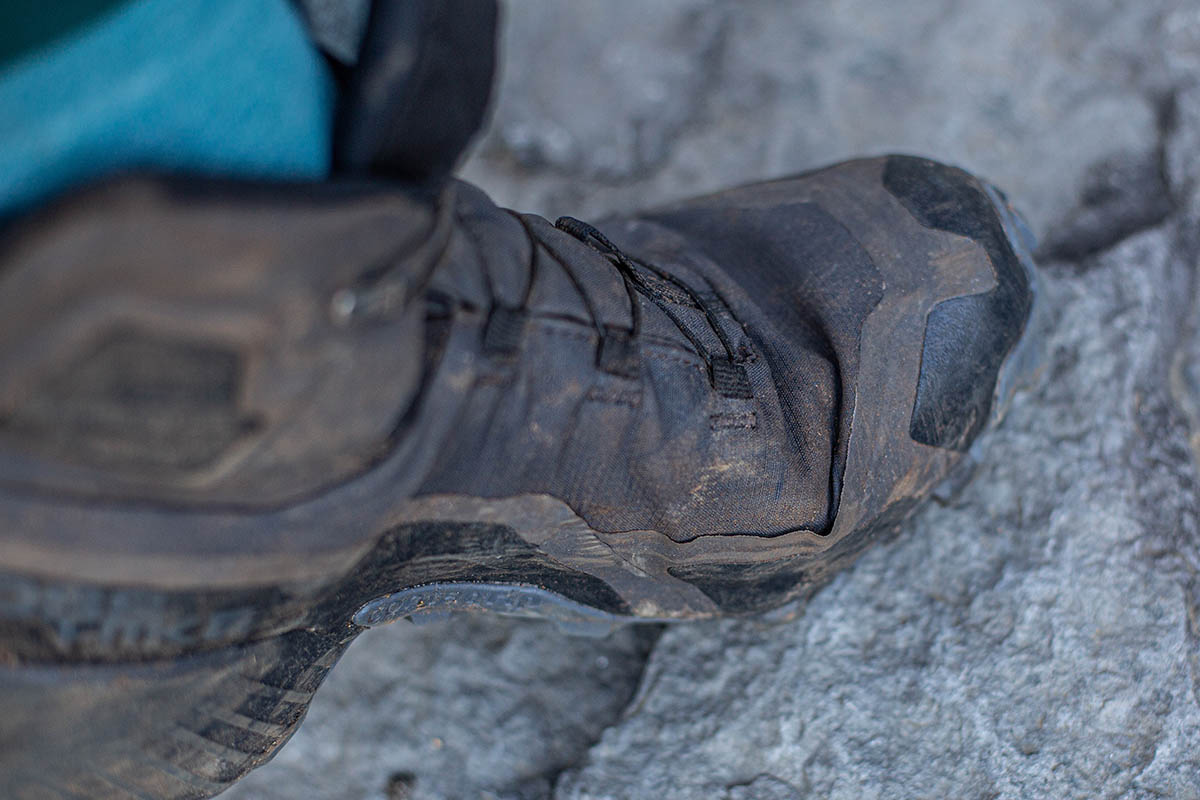 Fit and Sizing
Salomon's sizing can be a bit inconsistent at times, but I ordered my usual women's 8.5 in the Cross Hike Mid GTX and found that they fit true to size. I would categorize the boots as slightly roomy in both length and width, but I experienced no slippage at the heel and appreciated the extra space at the toes to account for foot swelling after longs days on the trail. And as I touched on above, I suffered no pressure points or hotspots, which typically indicate an area of noticeable tightness or looseness. Finally, the Quicklace system does make it harder to customize fit (standard laces allow you to tailor each area of the foot), but the design is easy to operate with one hand and convenient for making quick adjustments on the trail.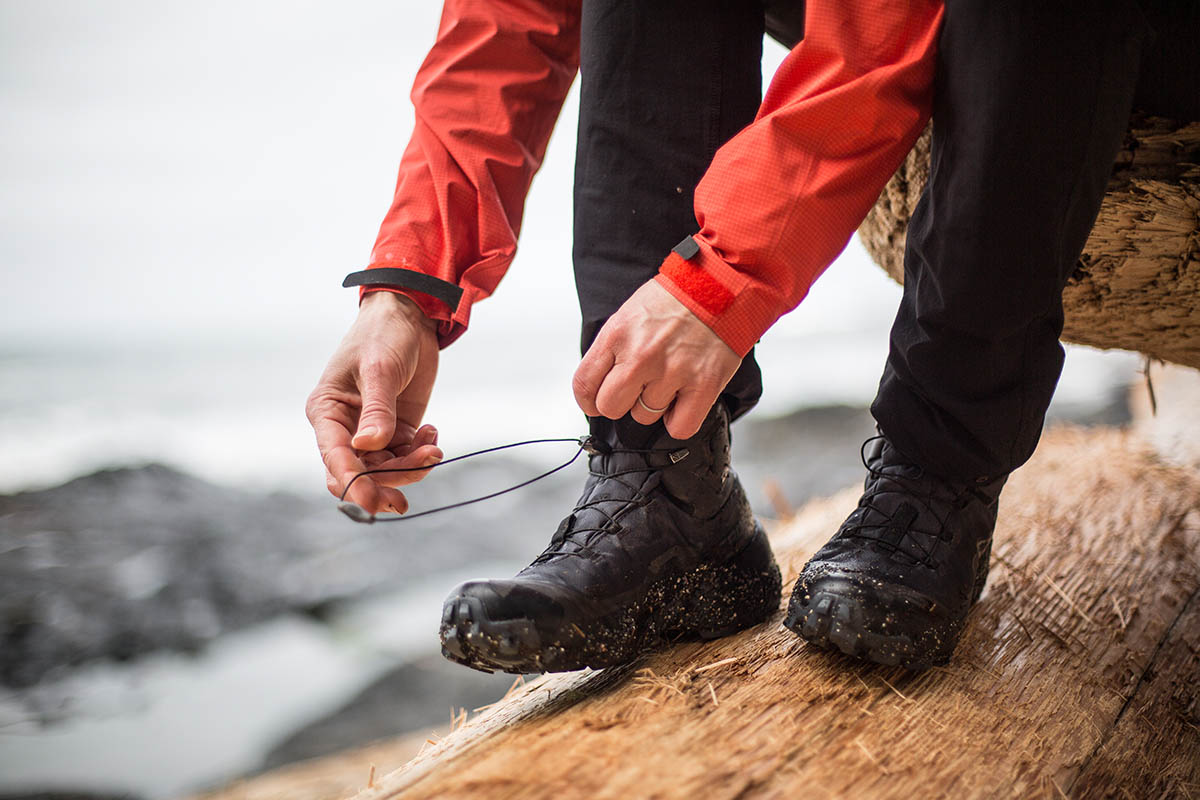 Other Versions of the Salomon Cross Hike
We put the women's Cross Hike Mid GTX through its paces for this review, and the collection also includes a men's model and low-top versions for both men and women. The men's Cross Hike Mid GTX retains an identical build and feature set to the women's boot but is sold in different colorways and checks in slightly heavier at 1 pound 11.9 ounces per pair. The low-cut models cost $10 less than the boots and also weigh less (the women's is 1 lb. 6.9 oz.) but unfortunately are only offered with Gore-Tex. Without the ankle-height coverage, we'd prefer a non-waterproof shoe for its faster drying time should you submerge the shoes while stepping through puddles or crossing streams.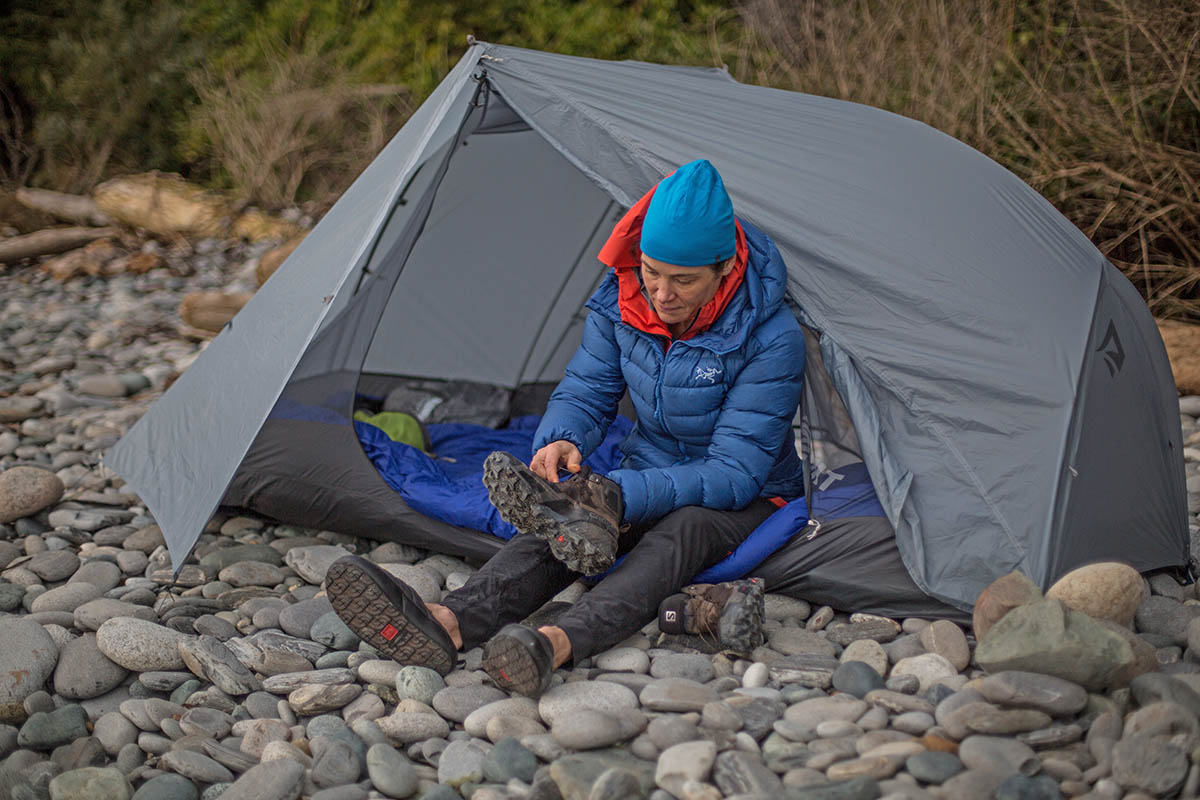 What We Like 
Despite its high cut, the Cross Hike Mid feels like a running shoe: it's light, agile, and impressively sprightly on the trail.
Midsole, tongue, and insole are all nicely cushioned, which translates to excellent all-around comfort.
Deep, multi-directional lugs provide great traction in mud and dirt, and we love the lugs at the front for maintaining grip while hiking up steep slopes.
Decidedly modern and sleek-looking design.

What We Don't
Lacks an eyelet at the very top of the collar, which detracts from overall support and causes the boot to gape open and allow trail debris to enter from the top.
The upper material on one of our boots began to separate after just a couple outings, which doesn't bode well for long-term durability.
Noticeably less stable than most traditional hiking boots—not the best match for shuttling a heavy pack over challenging terrain. 
Traction suffers considerably over wet rock.
Quicklace system makes it easy to cinch the boots but tends to loosen throughout the day and doesn't offer as much customization as traditional laces.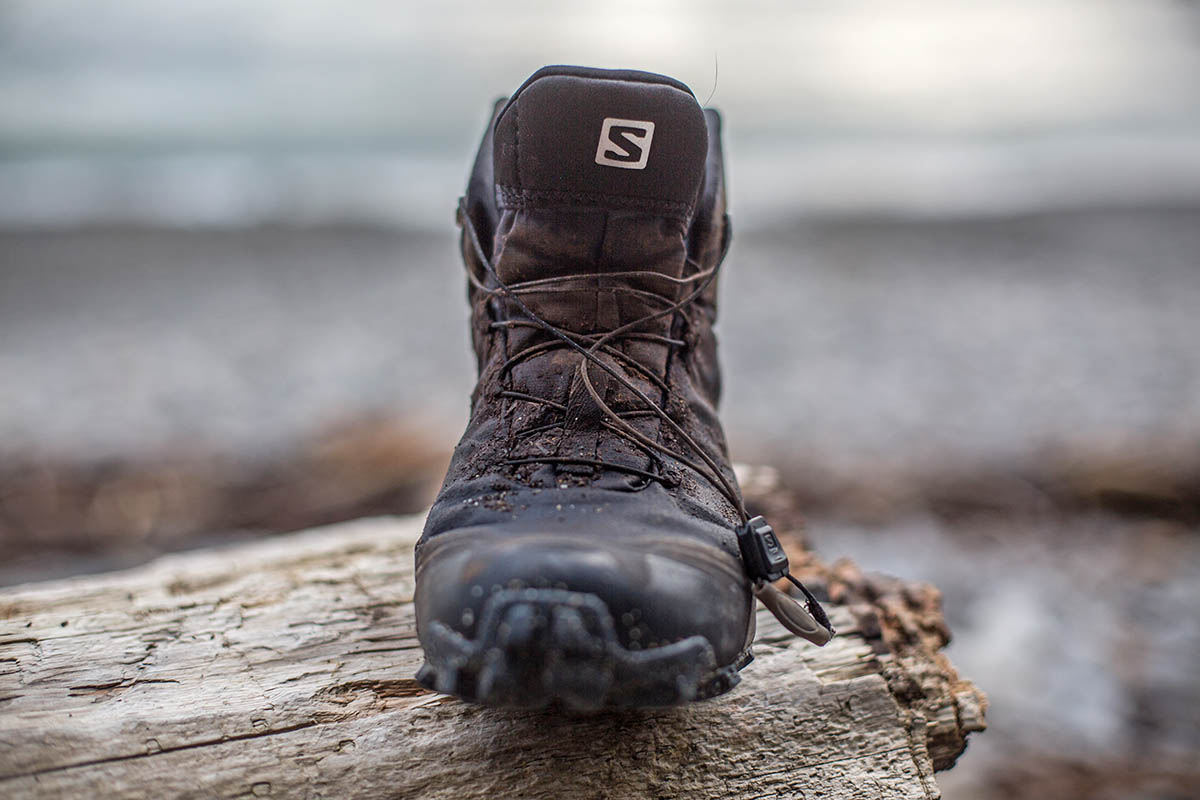 Comparison Table
The Competition
The Cross Hike Mid GTX is an impressively light and agile hiking boot, but there are a number of other designs that we think better balance weight and durability. The first is Salomon's own X Ultra 4 Mid GTX, which checks in a little heavier than the Cross Hike at 1 pound 11.2 ounces and is slightly less padded but otherwise outperforms the Cross Hike across the board. You get the same proven Gore-Tex waterproofing, responsive and cushy EnergyCell midsole, and grippy Contagrip rubber, but the X Ultra 4 has a noticeably solid look and feel that should stand up better to long-term use. We also like the X Ultra's wing-like strap along the outside of the foot, which adds a nice dose of ankle security, and we prefer its traditional laces for customizing fit. In the end, the 3-ounce weight penalty is a small price to pay for such a noticeable bump in performance.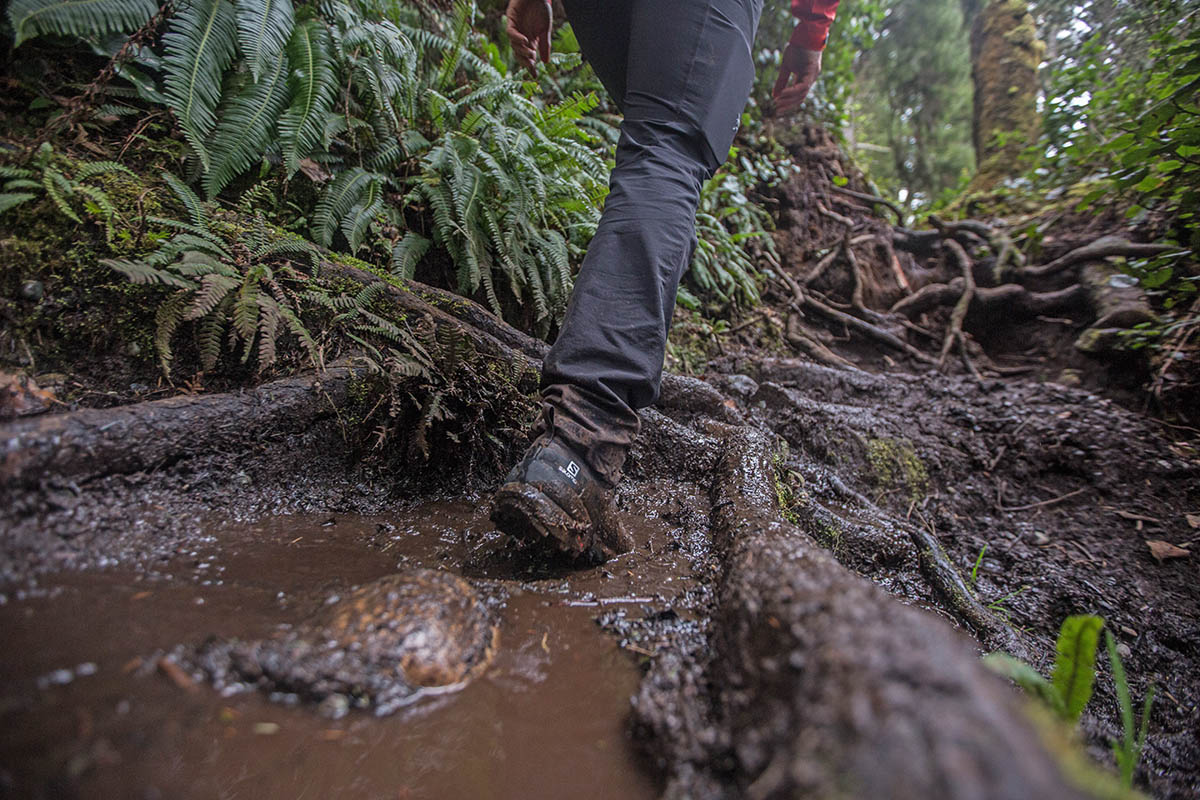 Next up is Salomon's OUTline Mid GTX, which shares the Cross Hike's running shoe-like feel, sleek looks, and ankle-height protection. At 1 pound 8.6 ounces, it's also a near match in terms of weight, and you get many of the same features including a Gore-Tex membrane, Contagrip rubber, and flexible construction. Where do the two designs differ? Most notably, the OUTline costs $20 less than the Cross Hike, uses traditional laces rather than Quicklaces, has a less aggressive outsole, and isn't as cushioned underfoot. Neither boot is ideal for shuttling a heavy pack and both suffered durability issues early into testing, which is largely due to their light and minimalist builds. In deciding between the two, the OUTline is best for easier terrain, while the Cross Hike excels over longer distances and in more challenging conditions.
If it isn't already abundantly clear, Salomon's footwear collection is expansive (we've even dedicated an article to breaking down Salomon's hiking footwear options), and a third design to have on your radar is the Vaya Mid GTX, which is a women's-specific offering that costs $10 less than the Cross Hike. In parsing out the differences, the Vaya weighs a little less at 1 pound 7.3 ounces per pair, uses a traditional lacing design that includes an extra set of eyelets for a more locked-in feel around the ankles, and boasts a SensiFlex synthetic upper that's designed to stretch to accommodate natural foot swelling. In practice, we haven't noticed any discernible difference while hiking, but the boot is comfortable all around and has never felt loose or sloppy. And its lower stack height offers a step up in trail feel (at the sacrifice of some cushioning). Time will tell how durable the Vaya is (we have concerns about the light and flexible build), but so far, it strikes us as the better all-rounder.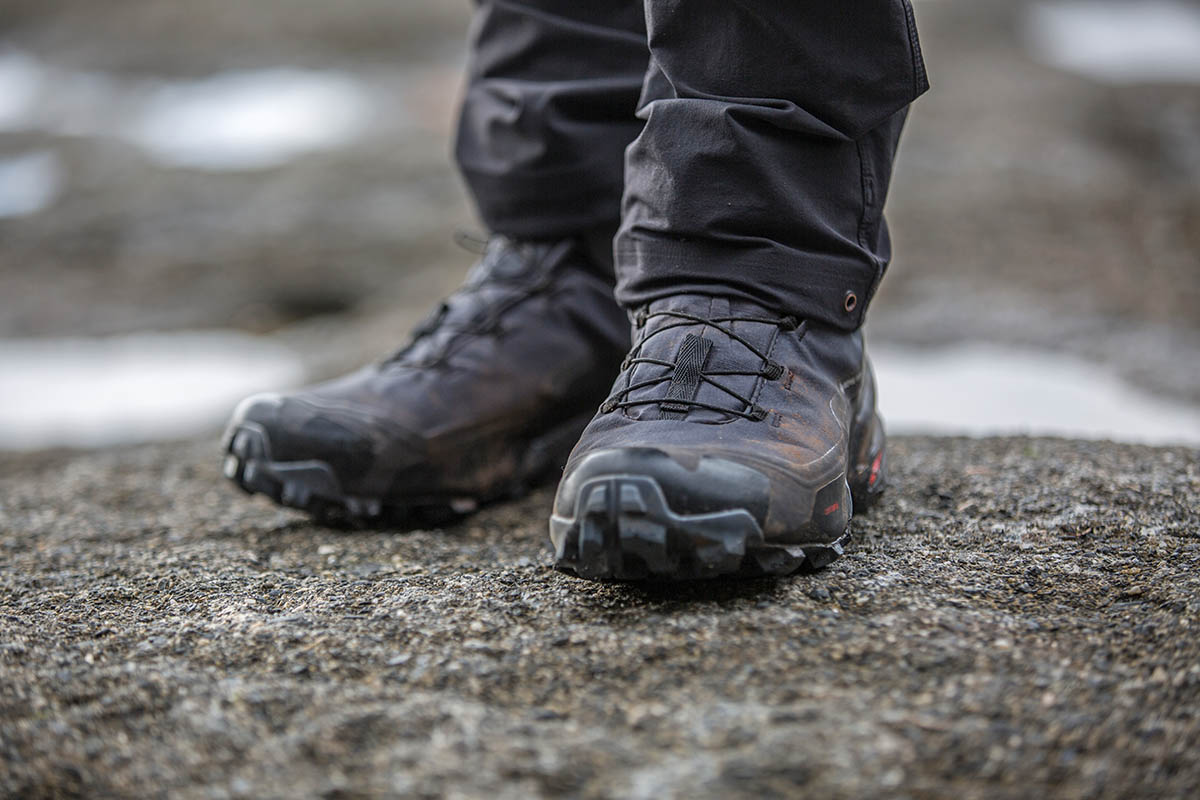 Moving away from Salomon's collection, trail running brand Hoka One One transitioned to hiking boots recently, and their Sky Toa GTX impressed us with its light and well-cushioned build. Like the Cross Hike, the Sky Toa costs $170, features Gore-Tex waterproofing (with no non-waterproof versions available), offers excellent comfort and generous padding, and feels like a running shoe but with added coverage and protection. Neither shoe is ideal for carrying a heavy pack or crossing challenging terrain, and the Hoka feels similarly compromised from a long-term durability standpoint (although it didn't break down prematurely like the Cross Hike did). At the risk of sounding like a broken record, going this light clearly has its drawbacks, but we think Hoka pulled it off a little better than Salomon.
A final alternative to consider is Altra's Lone Peak All-WTHR Mid, which is a mid-height variation of their flagship Lone Peak trail runner. The biggest news with the Lone Peak is Altra's signature Balanced Cushioning platform (formerly called ZeroDrop), which is meant to mimic your natural foot position and means that your heel and forefoot are level with the ground. In other words, the Lone Peak offers a dramatically different feel than the Cross Hike, which has a 10-millimeter drop (this will largely come down to personal preference). Another signature Altra feature is their wide toe box, which is designed to boost comfort but can make the boots feel sloppy and insecure over technical terrain. In the end, neither boot stands out for its protection or durability, and a final decision will likely come down to fit and feel.
If you're thinking about buying gear that we've reviewed on Switchback Travel, you can help support us in the process. Just click on any of the seller links above, and if you make a purchase, we receive a small percentage of the transaction. The cost of the product is the same to you but this helps us continue to test and write about outdoor gear. Thanks and we appreciate your support!
Depending on the seller, most products ship free in the United States on orders of $50 or more. International shipping availability and rates vary by seller. The pricing information on this page is updated hourly but we are not responsible for inaccuracies.
Read More From Switchback Travel