Hoka One One Sky Toa
Price: $170
Weight per pair: 1 lb. 9.2 oz. (women's)
Waterproof: Yes (Gore-Tex)
What we like: Extremely comfortable thanks to the thick cushioning and flexible construction.
What we don't: Lacks the support, stiffness, and durability needed for carrying a heavy pack or traversing challenging terrain.
See the Women's Hoka Sky Toa  See the Men's Hoka Sky Toa
Hoka One One has dabbled in hiking footwear in the past, but they truly jumped into the fray with their Sky lineup. Eager to test the boots against long-time favorites, we took the speed-focused Sky Toa into the Palisades Backcountry of eastern Idaho. All told, the lightweight build can't match the protection and stability of a burlier backpacking boot, but we were still pleased by the shoe's comfort, traction, and support on easy-to-moderate trails. Below we break down the Sky Toa's overall performance. To see how it stacks up, see our article on the best hiking boots.
 
---
Table of Contents
---

Performance
Comfort
Hoka One One is known for their max-cushioned, comfort-first running shoes, and the hiking-oriented Sky Toa carries the torch. Because of its lightweight build and emphasis on a responsive and flexible feel, the Sky Toa is notably less stiff and supportive than heavier backpacking boots (like the Scarpa Zodiac Plus GTX, for example). However, the result is an ultra-comfortable and supremely plush hiker straight out of the box. I wore the Sky Toa for the first time on an overnight backpacking trip in the backcountry of eastern Idaho and didn't experience any blisters, hotspots, or soreness in general—high praise for a new shoe.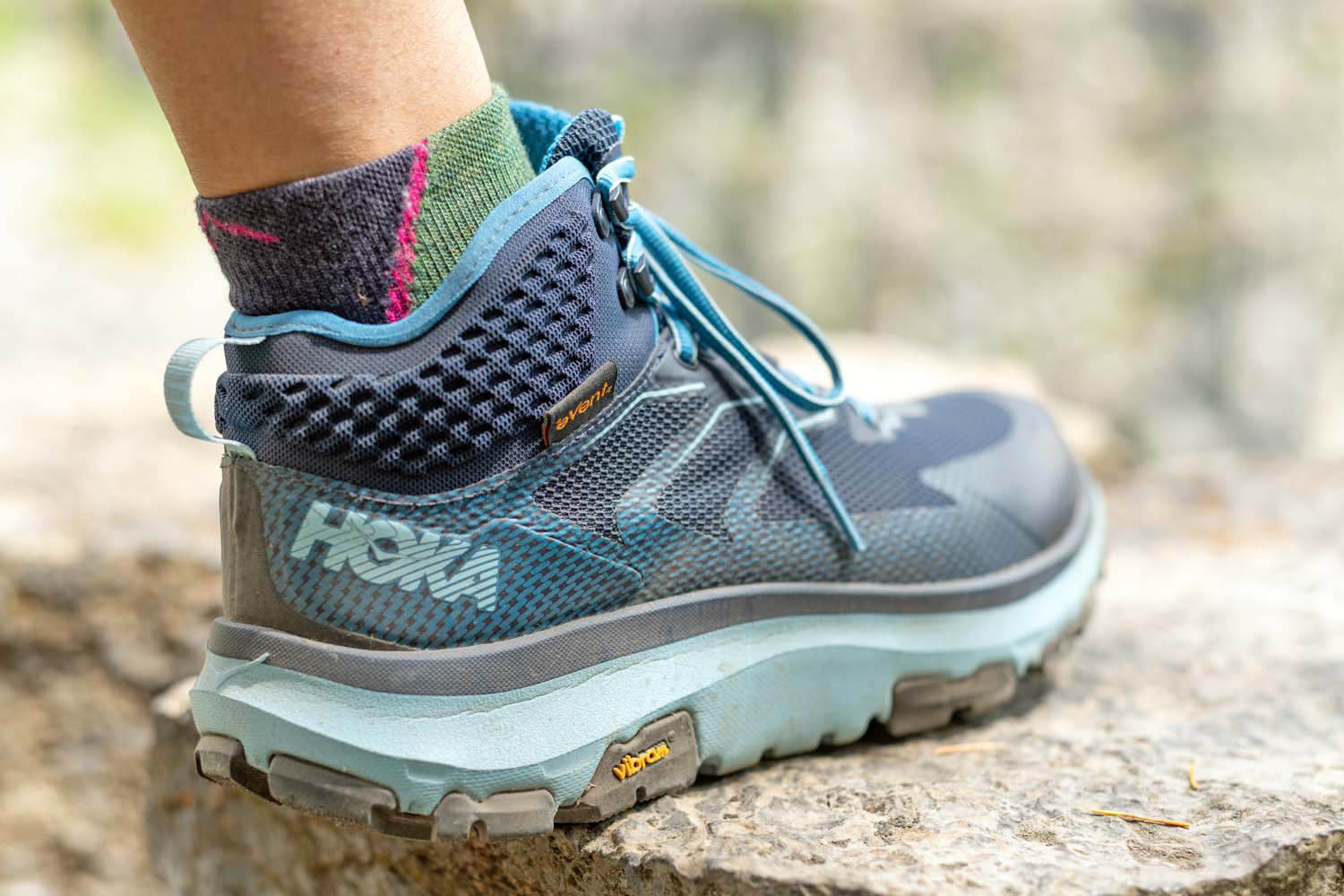 Weight
At 1 pound 9.2 ounces for a women's pair, the Sky Toa is one of the lightest hiking boots on the market. In fact, my legs still felt fresh after wearing the shoes for two long days on the trail with a full, 25-pound pack. For comparison, the Altra Lone Peak 4 Mid RSM (1 lb. 5.4 oz.) is one of few competitors that weigh less, although the shoe makes notable sacrifices in both stability and durability. Arc'teryx's Aerios FL Mid GTX (1 lb. 6.6 oz.) also slightly undercuts the Sky Toa, albeit with less cushioning. Other popular lightweight boots—including Salomon's X Ultra 3 Mid GTX (1 lb. 13.4 oz.), Merrell's Moab 2 Mid WP (2 lbs.), and Hoka's own Sky Kaha (1 lb. 14 oz.)—all come in heavier, but they are stiffer and more supportive for covering long distances.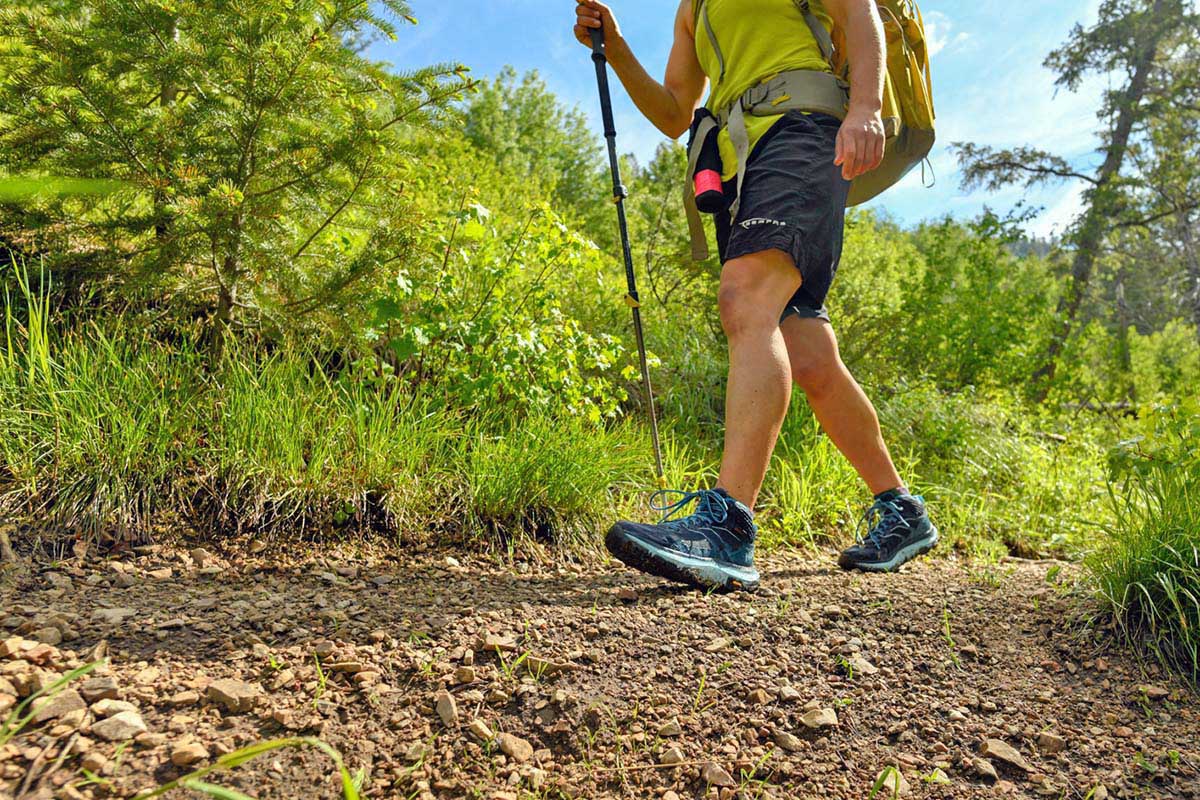 Traction
The Sky Toa's Vibram Megagrip outsole and multidirectional lugs confidently gripped dusty trails with brief rocky sections and even slippery log bridges. However, I would be hesitant to take the shoe off-trail or onto steep rock slabs or snow. In short, the tread on the toe and heel lands between a low-profile trail-running shoe and a full-on hiking boot, but the lack of stiffness along the edges means it falls short over truly technical terrain (it doesn't hold securely and is prone to slipping in these situations). In addition, I felt lucky that Idaho's late spring snow had finally melted—the sole simply isn't rigid or aggressive enough for kicking steps. But for an overnight trip on a well-maintained trail, the Sky Toa was a good match.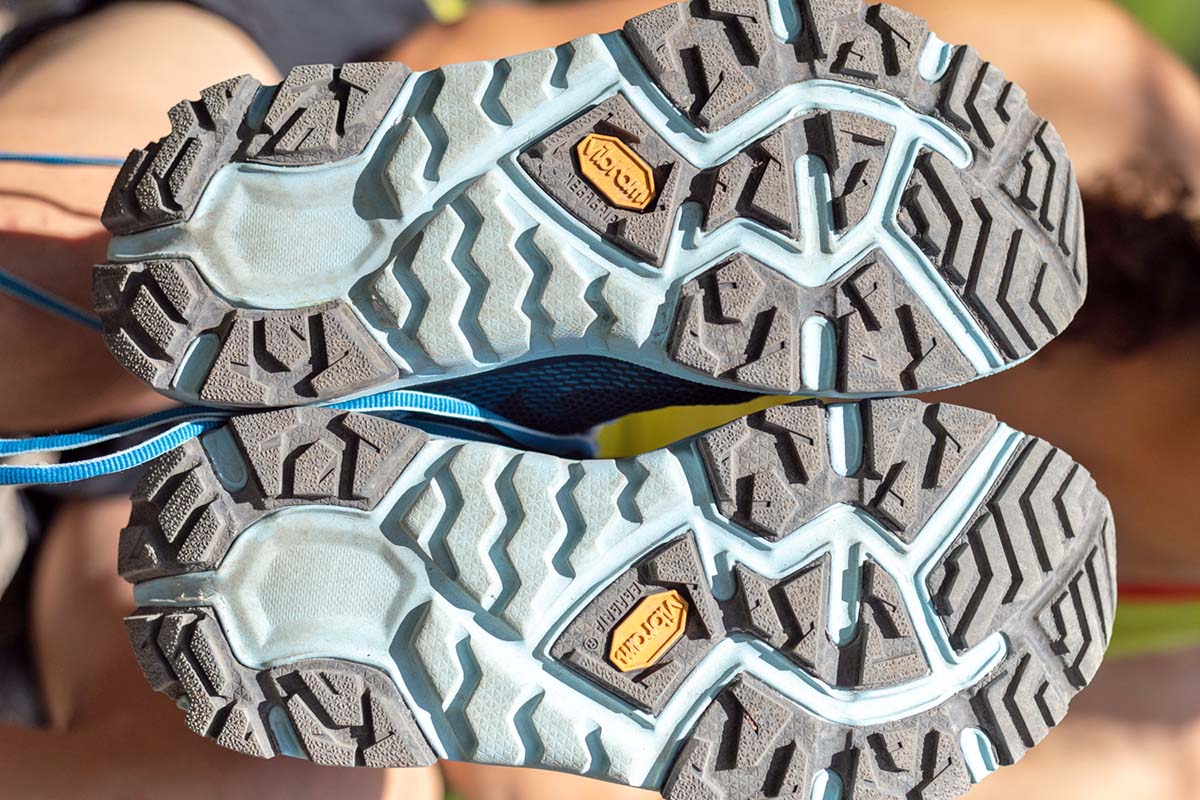 Stability and Support
The Hoka One One Sky Toa's generous cushioning had me initially concerned about losing balance on rough sections of trail, but I'm happy to report that stability wasn't an issue. In fact, the thick (26mm) sole was a welcome relief after pounding over 13 miles, and I found that the modest 4-millimeter drop promoted a very natural heel-to-toe gait. I also love that the shoe has a responsive sneaker-like feel, and I was happy with the amount of support offered by the mid-height cut. Whenever I felt a bit squirrely on uneven ground, I'd simply tighten the laces around my foot and ankle, which effectively gave me the confidence I needed.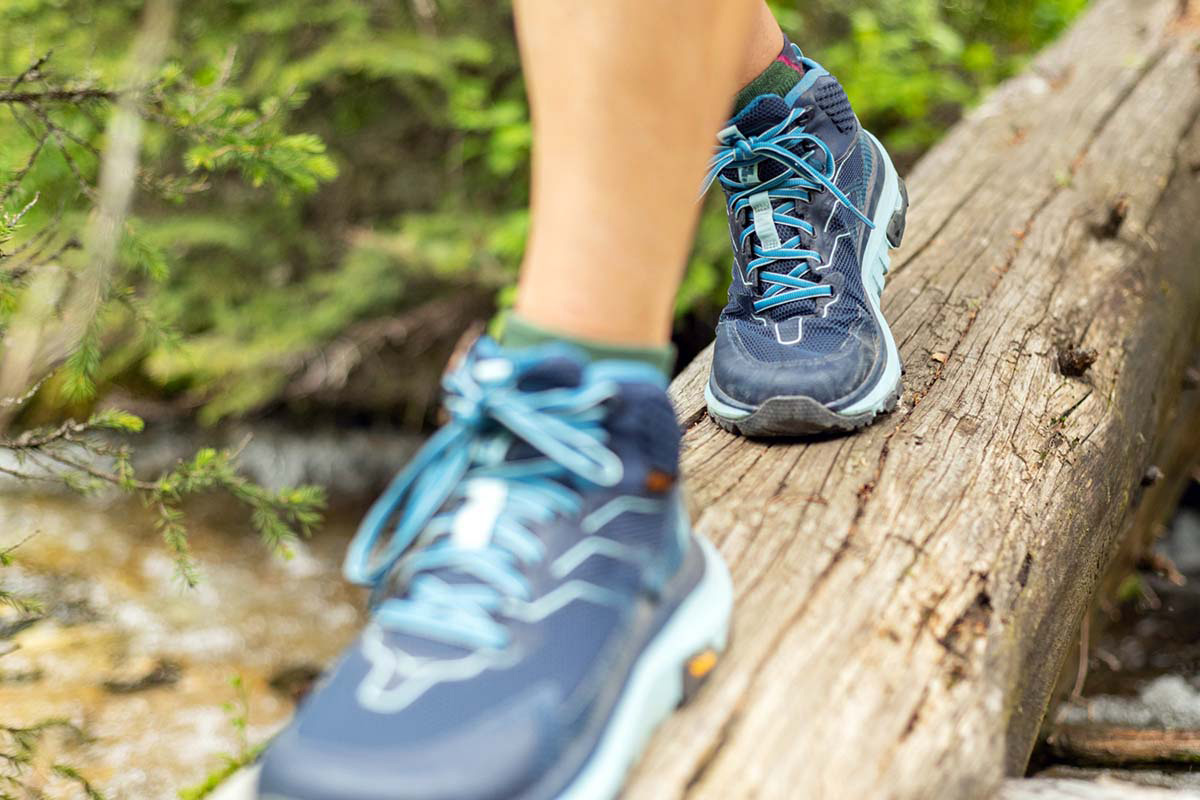 In many ways, the Sky Toa blends the performance of a trail runner with the added support of a hiking boot. However, the shoe still falls significantly short of a true backpacking design. I traveled light for my one-night trip (my pack weighed around 25 pounds), and the Sky Toa performed well under the weight. That said, if you plan to carry more than around 40 pounds or will be traversing challenging terrain, I would recommend upgrading to a more supportive and stiffer option like the Salomon Quest 4D 3 GTX or Lowa Renegade GTX Mid (even the sub-2-pound Salomon X Ultra 3 Mid offers more stability).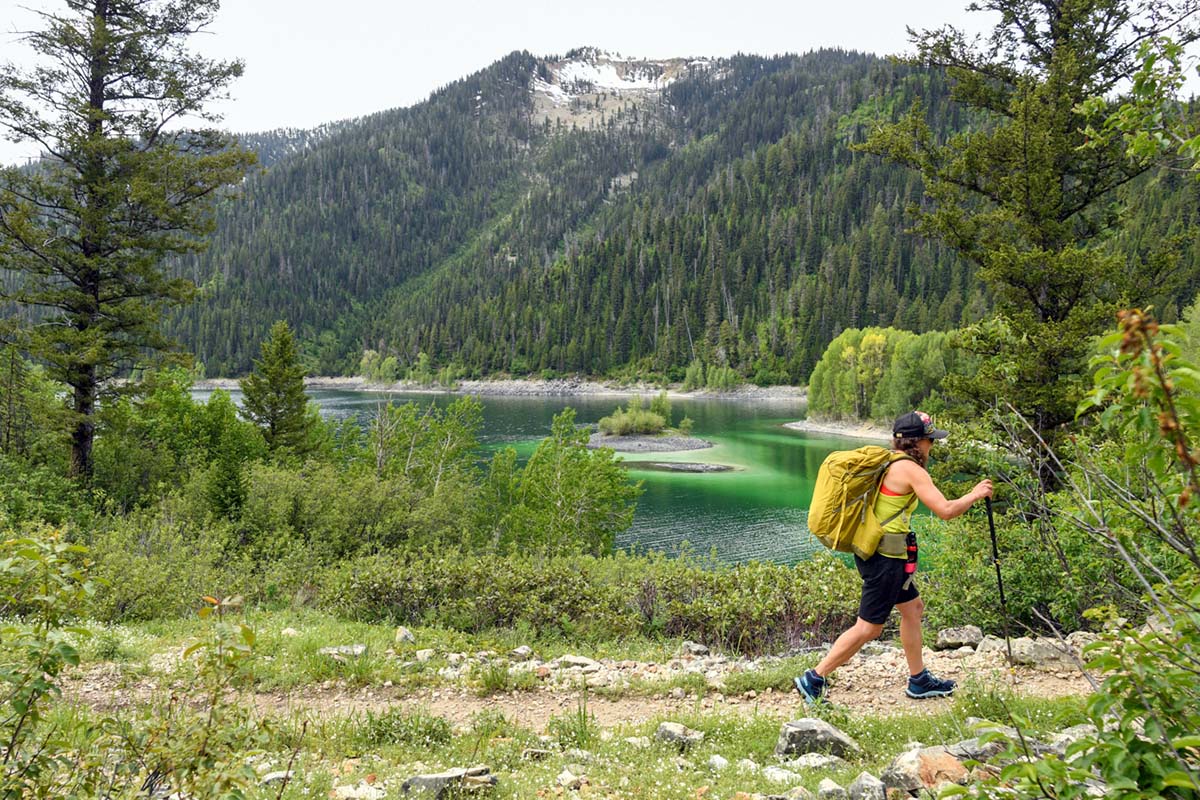 Waterproofing
I tested the original version of the Sky Toa, which included an eVent waterproof liner, and the boot did an admirable job of protecting my feet from light moisture. For 2020, Hoka changed the design, and it now features a Gore-Tex bootie, which is the current standard bearer in terms of waterproofing on the market. We haven't tried out the latest variation, but from extensive experience with Gore-Tex-equipped boots, we'd expect it to offer slightly better waterproofing than the eVent model at the sacrifice of a little breathability. That said, Hoka kept the prior version's lightweight mesh upper, so the boot should still deliver decent ventilation on hot and dry days.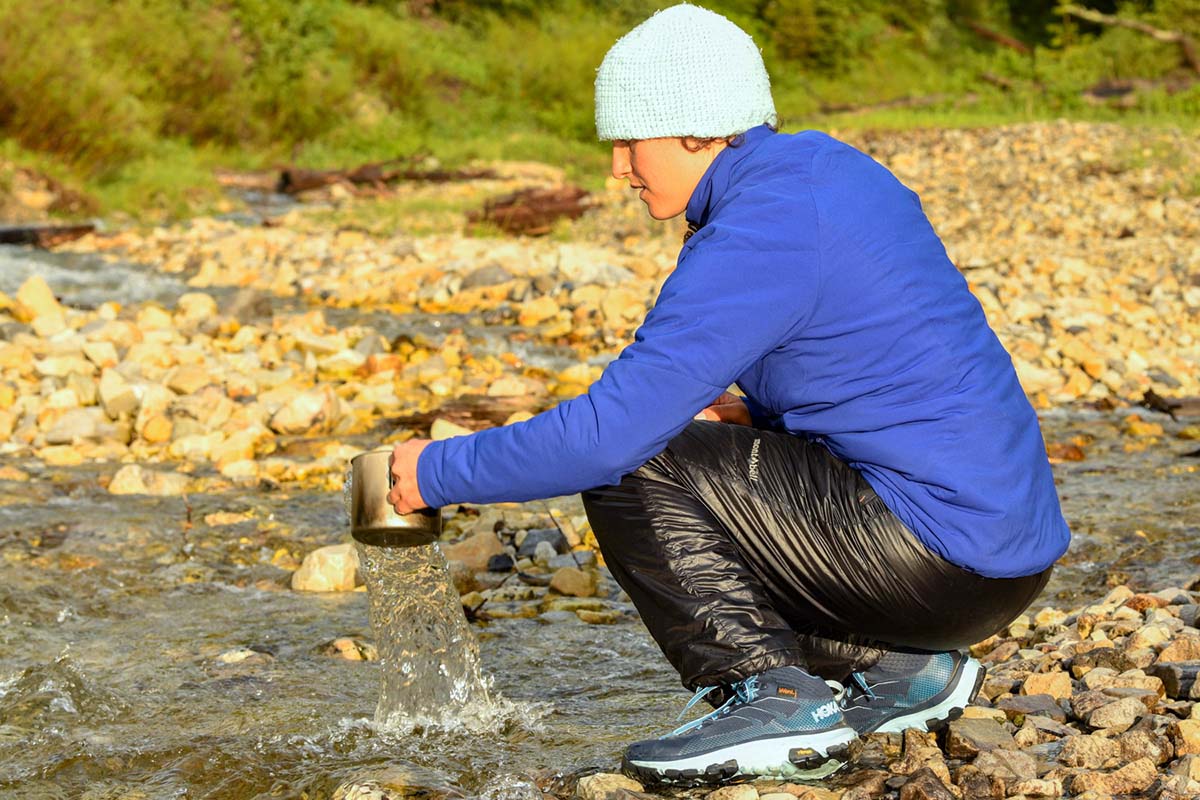 Breathability
As I touched on above, even during the hot and dry hike to our alpine campsite in the Palisades, I didn't experience any overheating or swampiness in the Hoka One One Sky Toa. A non-waterproof option (like Hoka's own Sky Arkali) will offer a bump in ventilation, but I didn't mind the Sky Toa's tradeoff for wet-weather assurance. That said, for those who frequent mostly dry and warm climates, the added protection, cost, and weight of a waterproof membrane might not be worth it.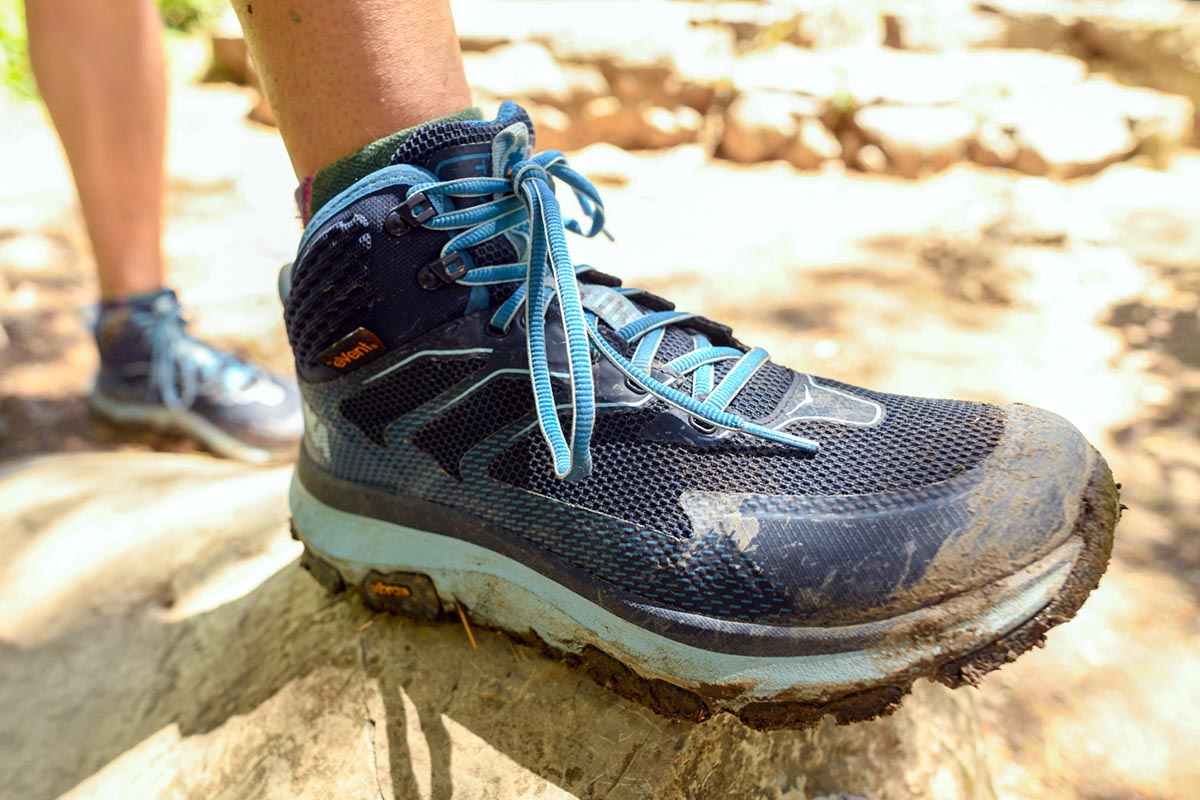 Build Quality and Durability
Hoka One One is a relative newcomer to the world of hiking footwear, and it's simply too soon for me to make a conclusion about the Sky Toa's long-term durability. My biggest concern thus far is the midsole: although extremely soft and comfortable, I fear that it will pack out and wear down quickly. The upper, on the other hand, features a combination of mesh and burly synthetic materials, which I expect to stand the test of time. That said, as with any lightweight-focused gear, the Hoka One One Sky Toa is no match for the durability of a more robust hiking boot like the Asolo Falcon GV, Oboz Sawtooth II Mid, or Salomon Quest 4D 3 GTX. Overall, expect a much more limited lifespan, especially if you plan to use the Sky Toa on rugged terrain or while carrying a heavy load.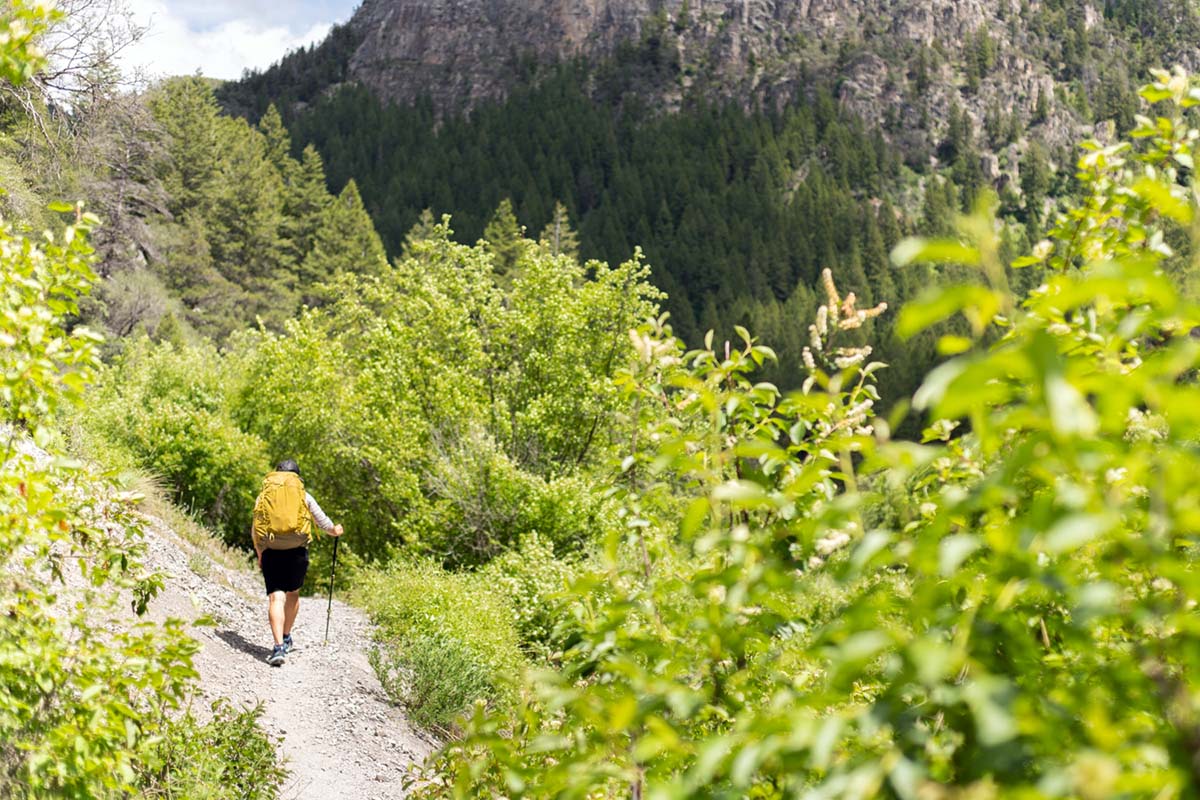 Fit and Sizing
As someone with decidedly narrow feet, the Hoka One One Sky Toa fit me perfectly. The shoe kept my foot securely in place, thanks to the durable and secure lacing system. Further, it took almost no time at all to feel comfortable on the trail. However, I was surprised by the amount of space at the front of the shoe (Hoka advertises it has a "medium" toe box). This design has become increasingly popular among lightweight hiking shoes and trail runners (Altra being the obvious example), and allows room for toes to expand and swell throughout the day (a normal occurrence after long mileage). Hoka unfortunately does not offer the Sky Toa in a "wide" model, although there seems to be enough room in the toe box to accommodate most foot shapes.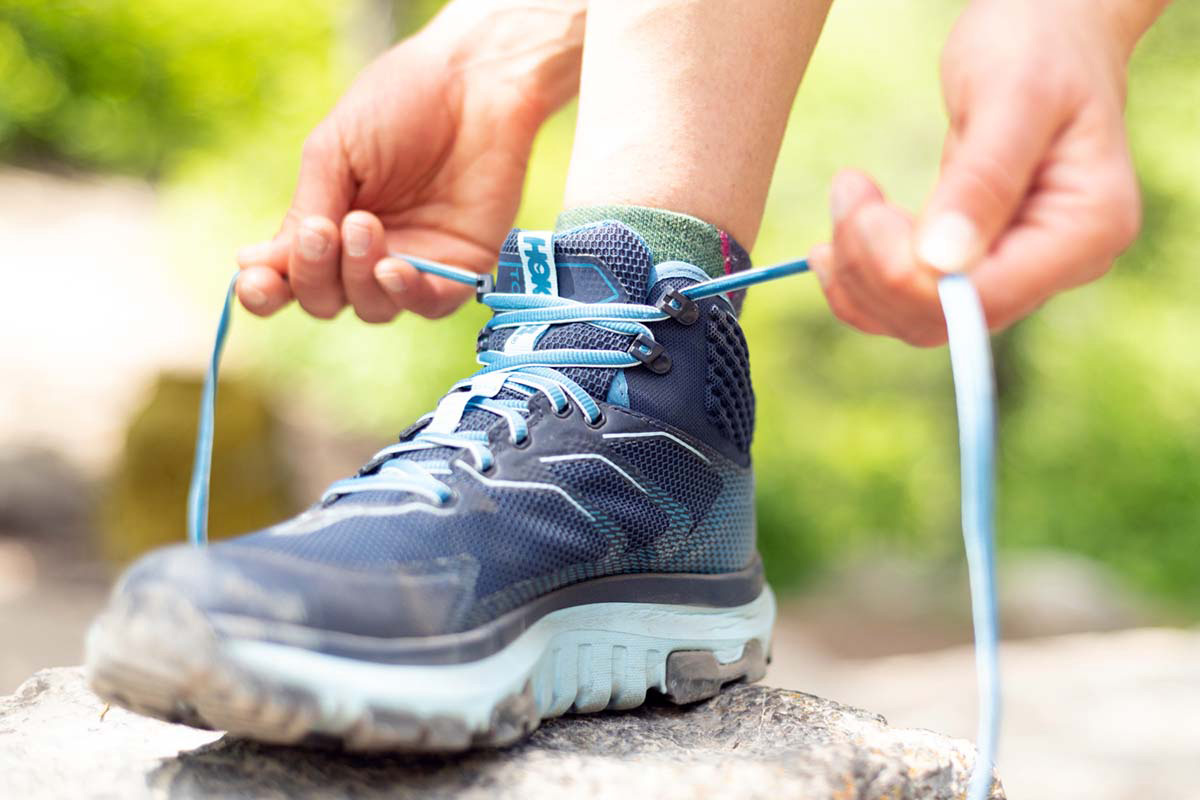 Men's Version of the Hoka One One Sky Toa
We put the women's Sky Toa through its paces for this review, and Hoka One One makes the boot in a men's version for the same price. The men's Sky Toa is 5 ounces heavier than the women's at 1 pound 14.2 ounces per pair and also is offered in three different colorways. However, the rest of the design remains the same with a Vibram Megagrip outsole, Gore-Tex waterproof bootie, and 4-millimeter heel-to-doe drop. Notably, Hoka doesn't make the Sky Toa in a non-waterproof model, which feels like it would be a natural fit given the boot's light and flexible build.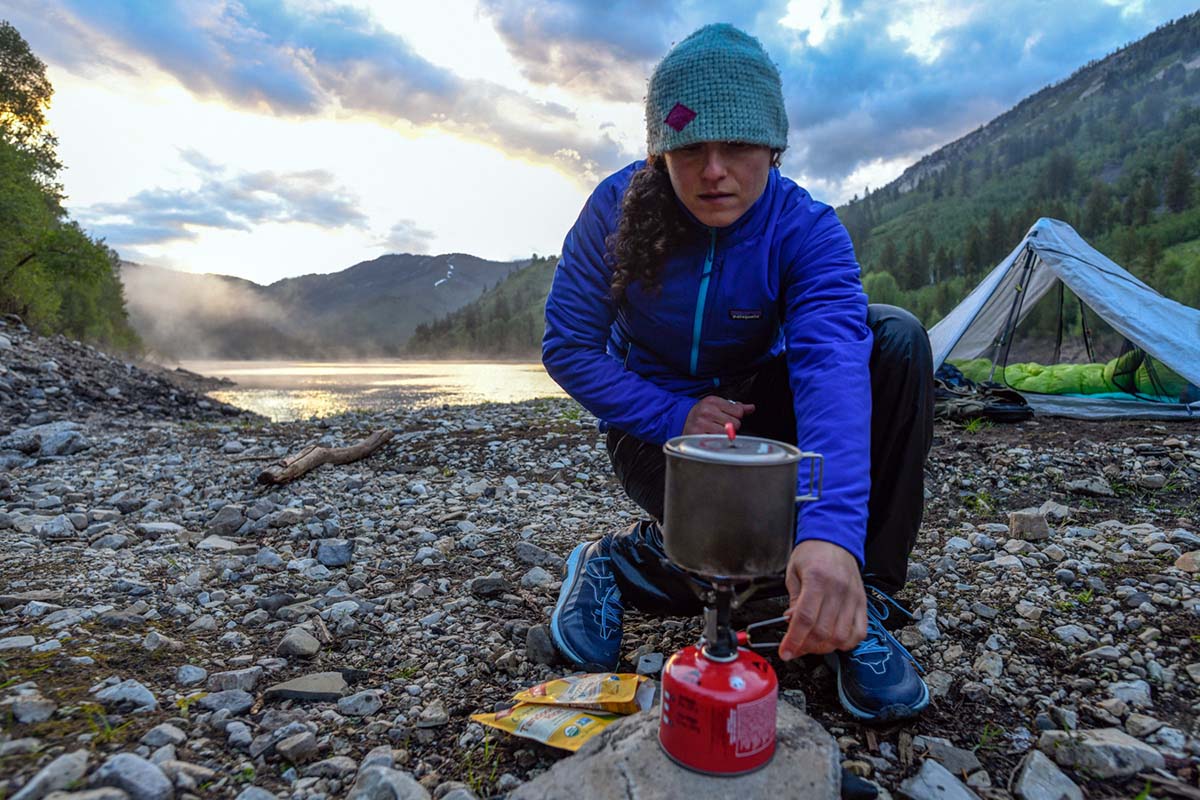 What We Like
Impressive comfort and generous cushioning we've come to expect from Hoka One One.
Well-executed fit balances a roomy toe box with a snug heel to keep your feet locked in place.
Running shoe-like feel with added ankle and foot support for trail use.
 
What We Don't
Lacks the support and stiffness needed for carrying a heavy pack or traversing challenging terrain.
Long-term durability will be significantly less than a robust hiking boot.
Not available in a non-waterproof option.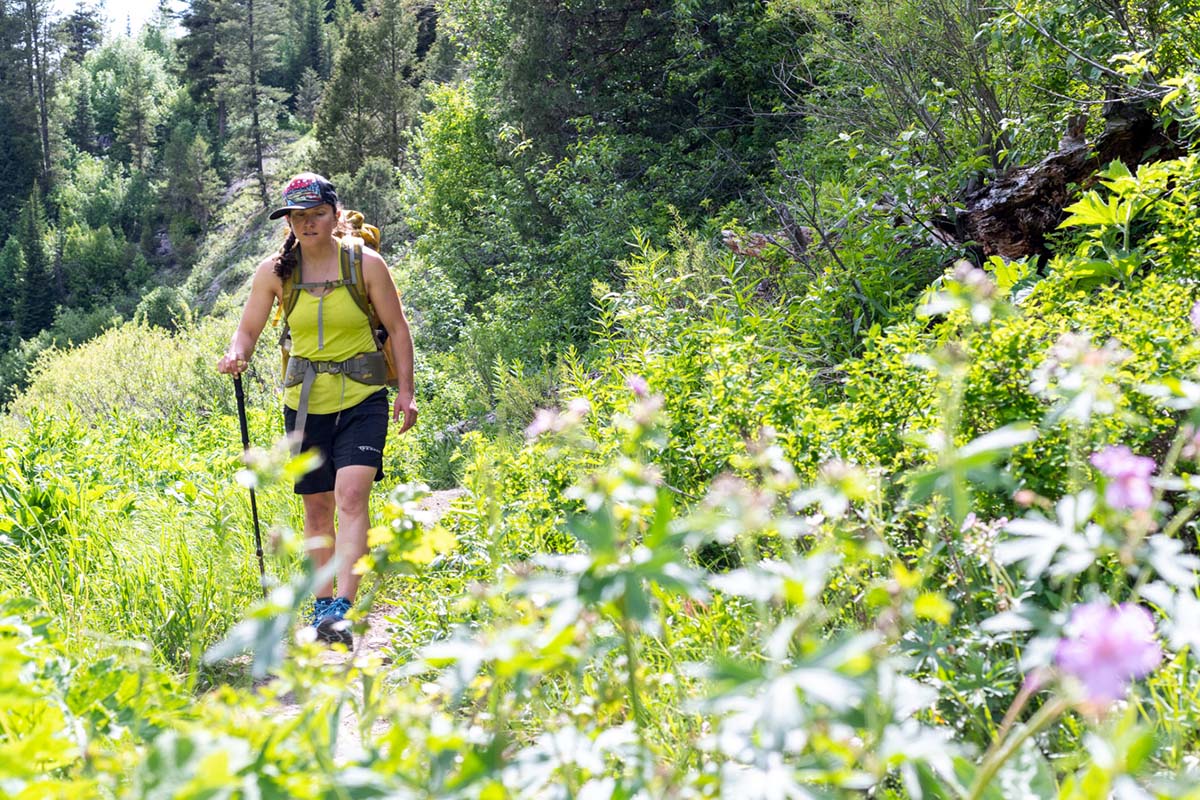 Comparison Table

The Competition
Hoka One One's Sky Toa joins a competitive field of increasingly lightweight hiking boots. In the same category, Arc'teryx's Aerios FL Mid GTX is a formidable competitor. Similarities include price ($185 for the Aerios vs. $170 for the Sky Toa), Vibram Megagrip outsole, waterproof Gore-Tex construction, and mid-height cut that works well for minimalist backpacking and lightweight hiking. The most notable difference is in trail feel: the Aerios has a stiffer, more supportive construction that is at home on rugged terrain. Its materials also have a premium and more durable feel (and our experience thus far backs that up). On the other hand, the Toa is more comfortable out of the box and over well-maintained trails due to its extra cushioning and more flexible construction. In the end, we give the lighter Aerios the edge as the better-built boot.
Altra's Lone Peak 4 Mid RSM is another popular choice among weight-conscious hikers. The Altra features similar waterproofing and breathability thanks to its eVent membrane but undercuts the Sky Toa in weight by a significant 3.8 ounces per pair. However, we had major durability issues with the Lone Peak: after just one hike, one of our toe caps began to separate. Neither shoe is particularly supportive or stable for backpacking or rough terrain, but both are a good match for those who like to cover ground quickly. It's a fairly close call, but we think the $10-pricier Sky Toa pulls ahead in the end.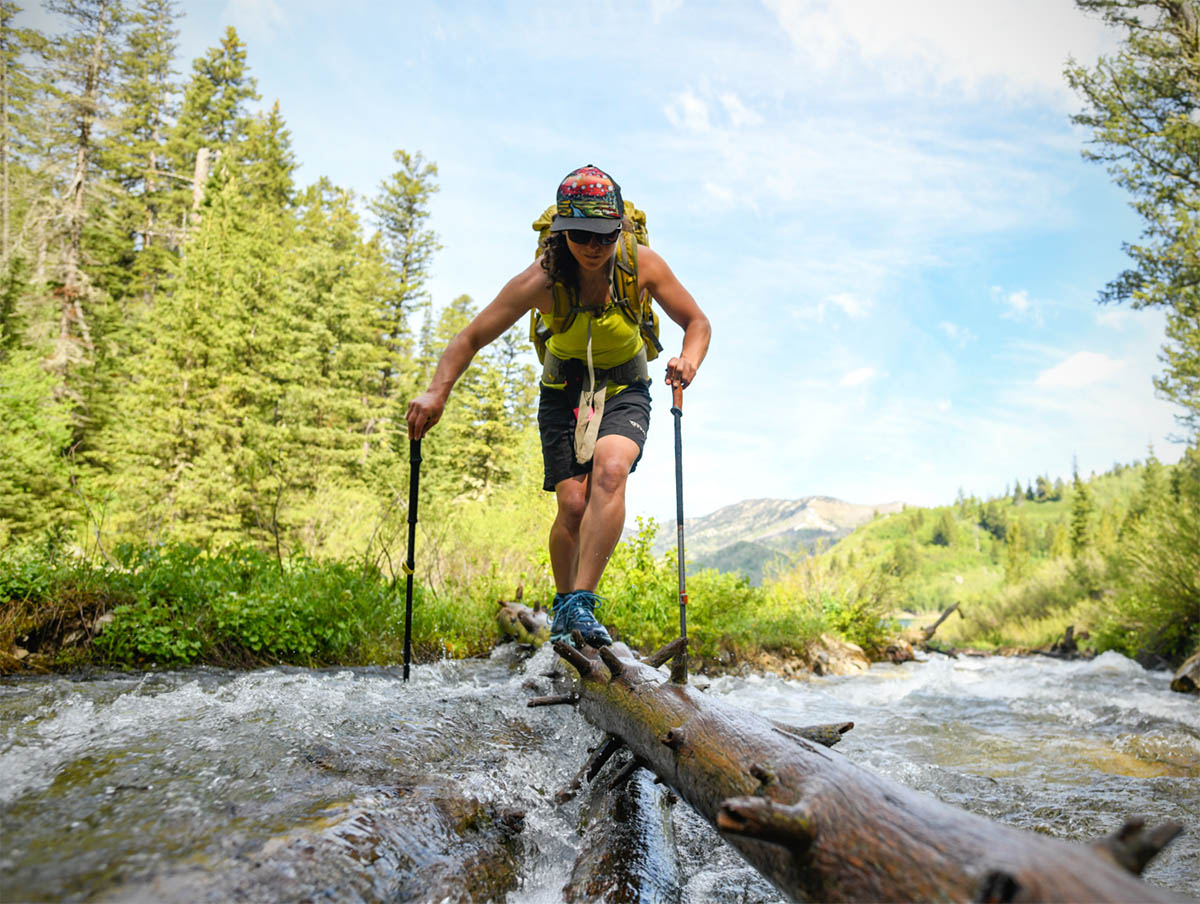 Another light and flexible design in the same price range as the Sky Toa is Vasque's Breeze LT Mid GTX. On paper, the Breeze is very competitive: it weighs just 1 pound 6 ounces per pair, uses quality Gore-Tex waterproofing and a Vibram Megagrip outsole, and has a very modern- and athletic-looking build. In testing, we also found that the Breeze had great stability and support for covering technical ground (here, it gets the edge over the Sky Toa), although we experienced delamination issues at the instep just two days into testing. All in all, there always are inherent tradeoffs in going fast and light and our build issues with the Breeze LT could be an anomaly, but the Hoka strikes us as the slightly more well-rounded build.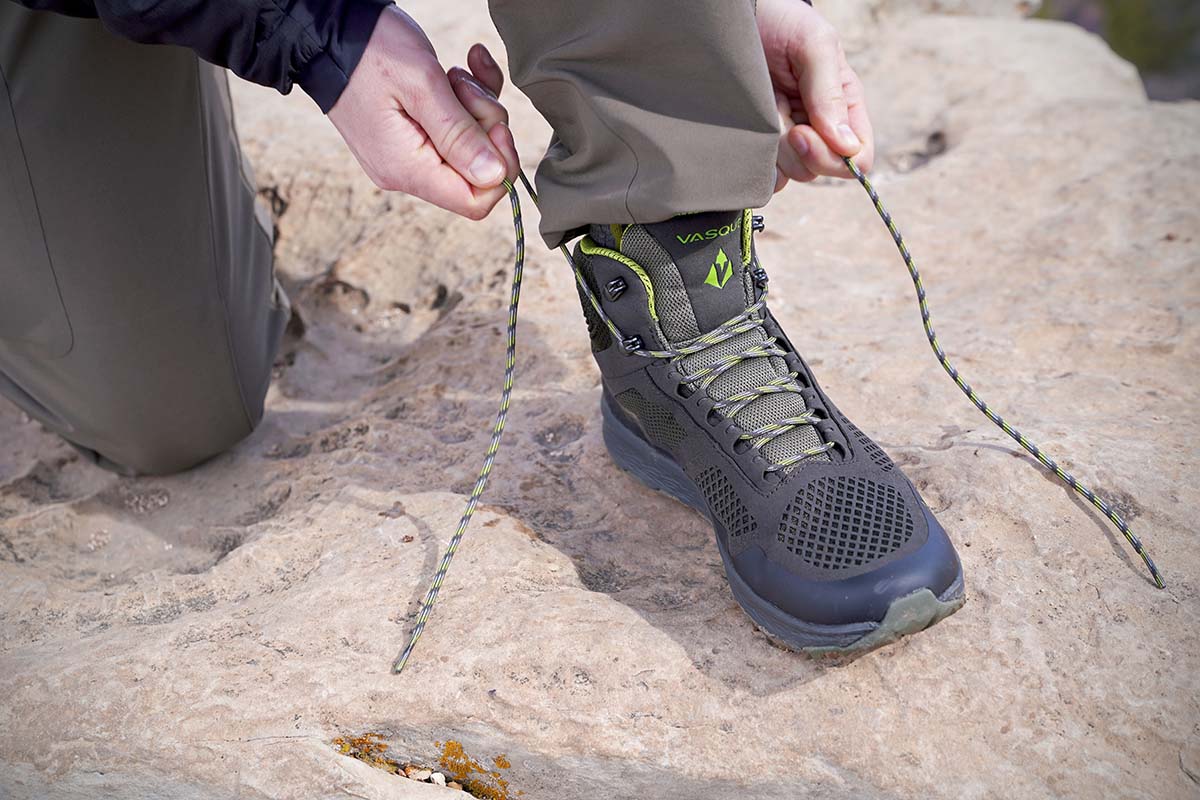 Hoka One One makes an intriguing alternative to the Sky Toa in their Speedgoat Mid Gore-Tex 2. Priced the same as the Sky Toa and building off of their popular Speedgoat trail runner, the Speedgoat Mid features a tall collar, Gore-Tex waterproofing, Megagrip outsole, and 4-millimeter heel-to-toe drop. However, the Speedgoat's more aggressive, "stepped" lugs add additional bite for running (it's billed as a "trail shoe"), and it comes in lighter at 1 pound 6.6 ounces per pair. In the end, it depends on how you plan to use the shoe: For backpacking, we prefer the more supportive Sky Toa; if you plan to add fast hiking and even some light running to the mix, we'd go with the Speedgoat.
Rounding out Hoka One One's hiking lineup are the Sky Arkali and Sky Kaha. The Arkali (1 lb. 10.5 oz.) aims to be a do-everything shoe, with a similar mid-height cut but more aggressive outsole and lacing design for improved traction over rough terrain (its midsole is also noticeably thinner). Moving up in support and protection, the leather, Gore-Tex-equipped Sky Kaha (1 lb. 14 oz.) is most similar to a traditional backpacking boot and designed for covering big mileage with a pack. The Sky Toa reviewed here is the cushiest and most flexible of the bunch and works best as a day hiker or for fast-and-light trips. All have their respective places in the market, and a final decision should come down to hiking objectives and expected terrain.
If you're thinking about buying gear that we've reviewed on Switchback Travel, you can help support us in the process. Just click on any of the seller links above, and if you make a purchase, we receive a small percentage of the transaction. The cost of the product is the same to you but this helps us continue to test and write about outdoor gear. Thanks and we appreciate your support!
Depending on the seller, most products ship free in the United States on orders of $50 or more. International shipping availability and rates vary by seller. The pricing information on this page is updated hourly but we are not responsible for inaccuracies.
Read More From Switchback Travel