Altra's Lone Peak series has been a popular choice among trail runners and weight-conscious hikers for years. Toeing the line between a hiking boot and trail running shoe, the Lone Peak 4 Mid RSM (short for "rain, snow, and mud") features an over-the-ankle design, waterproof and breathable eVent upper, cushy midsole, and aggressive tread pattern. We tested the RSM on everything from alpine scrambles to soggy singletrack and came away with mixed impressions. Its out-of-the-box comfort and traction on muddy trails are excellent, but the shoe is lacking in support and durability over difficult terrain. Below we break down our experiences with the Lone Peak 4 Mid RSM. To see how it stacks up to the competition, see our article on the best hiking boots. 
 
---
Table of Contents
---

Performance
Comfort
If there's one thing that Altra does well, it's comfort: no matter the style, every Altra shoe has a zero-drop footbed and wide, "FootShape" toe box. Many hikers and runners find that these features allow their feet and body to align and move more naturally, resulting in less impact. For us, the wide toe box provided impressive comfort right out of the box. And coupled with the thin yet supple upper, we experienced virtually no break-in period. On soft, loamy trails, the Lone Peak 4 Mid RSM offered the experience of walking on a cloud.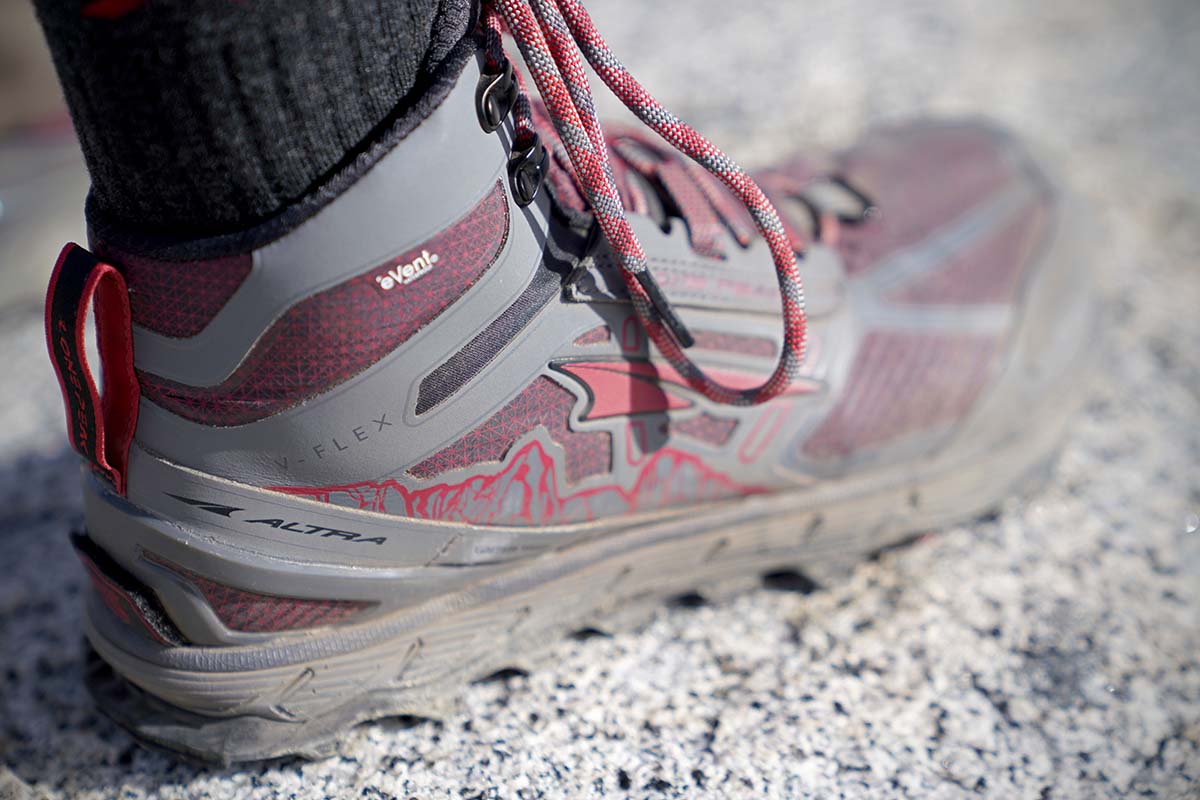 However, when put to the test on technical, rocky trail, the novelty of the roomy and flat footbed all but faded. The lack of arch support caused our feet to ache and had us wishing for a more supportive shoe. And despite the Lone Peak's 25 millimeters of cushioning and integrated stone guard, we could feel every piece of sharp granite underfoot. Our feet swam in the toe box and felt increasingly unstable and under supported, particularly in steep, off-camber sections of trail. Based on our experience, we wouldn't recommend the Lone Peak for rough terrain or carrying heavy loads—even lightweight options like the Salomon X Ultra 3 Mid and Vasque Breeze LT Mid are far better in this regard.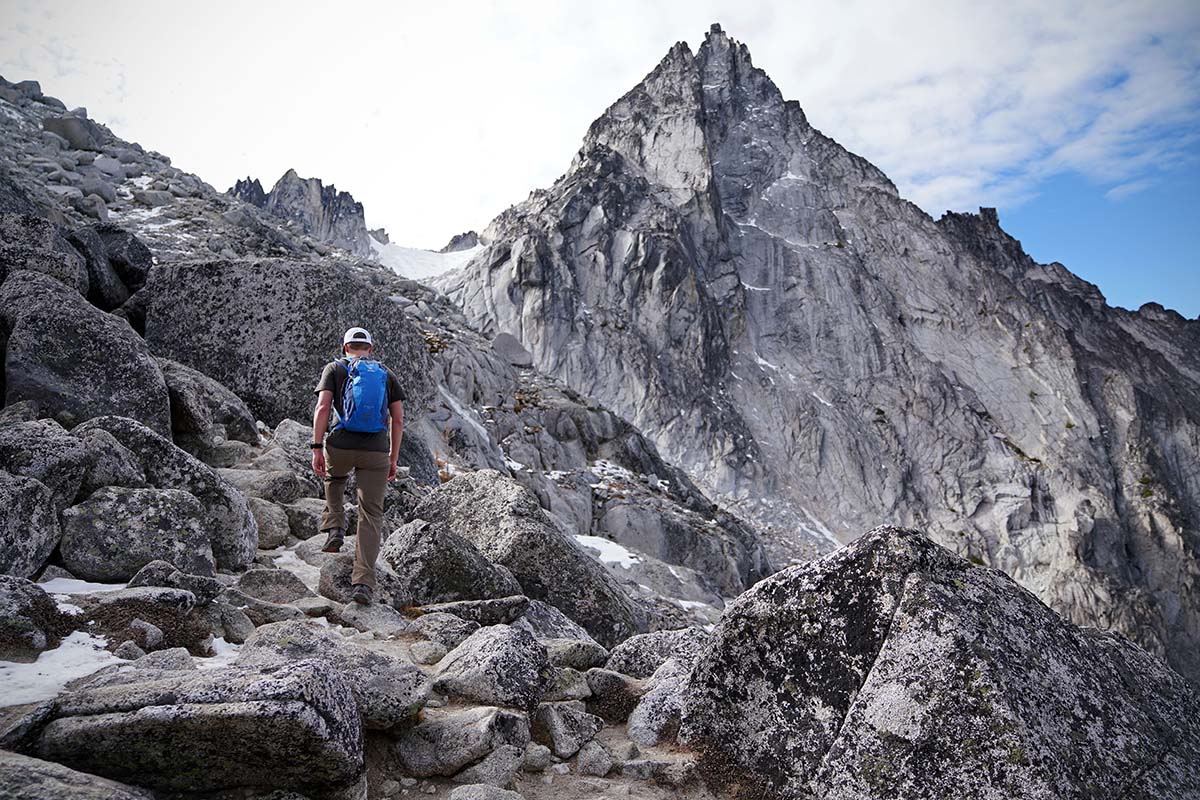 Weight
With a listed weight of 1 pound 10 ounces for the pair (our men's size 9 was 1 lb. 11 oz.), the Lone Peak 4 Mid RSM is one of the lighter mid-height hiking boots on the market. The Altra manages to undercut other popular options like the Salomon X Ultra 3 Mid GTX (1 lb. 15.6 oz.), Vasque Breeze LT Mid GTX (1 lb. 11 oz.), and Hoka One One's Sky Toa GTX (1 lb. 14.2 oz.). The Altra even comes in lighter than some waterproof trail running shoes like La Sportiva's Akyra GTX (1 lb. 11.4 oz.). In other words, for those who enjoy moving fast and light but don't want to sacrifice over-the-ankle protection, the Lone Peak Mid is an attractive option.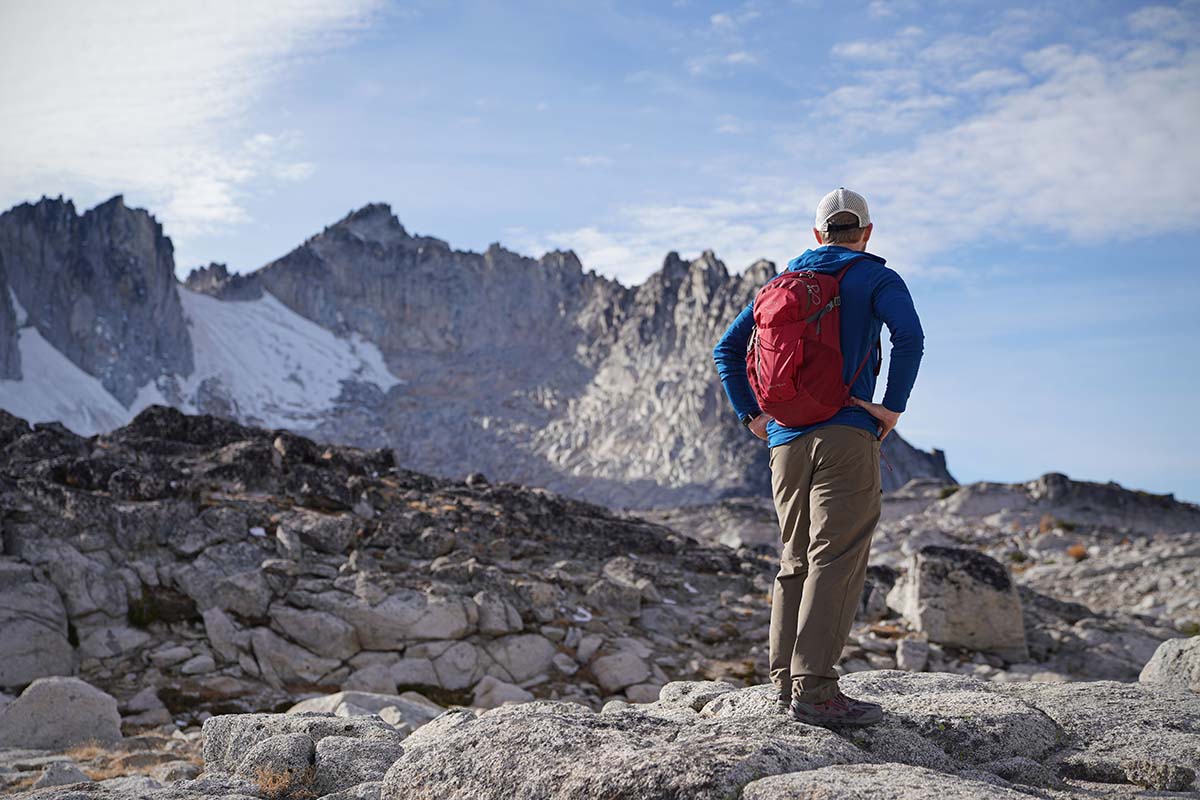 Traction
Featuring Altra's own DuraTread outsole, we found the Lone Peak 4 Mid RSM to excel on soft and even terrain. The tall, sharp lugs (arranged in a "TrailClaw" design for maximum bite) adeptly sank into muddy sections of trail, and the wide spacing ensured they cleaned out easily between steps. We've spent a good amount of time wearing the Vasque Breeze LT Mid GTX, and consider the Altra to be the better choice for soggy singletrack. However, when the trail turns technical, the Lone Peak 4 Mid RSM falls behind. The combination of tall rubber lugs and flexible sole makes for a clumsy-feeling boot, specifically on rock. Thus, we have mixed feelings on the Lone Peak 4 Mid RSM's traction overall: On one hand, the boot excels in soft and muddy conditions, but on the other, it doesn't quite stack up when the trail turns rocky and rough.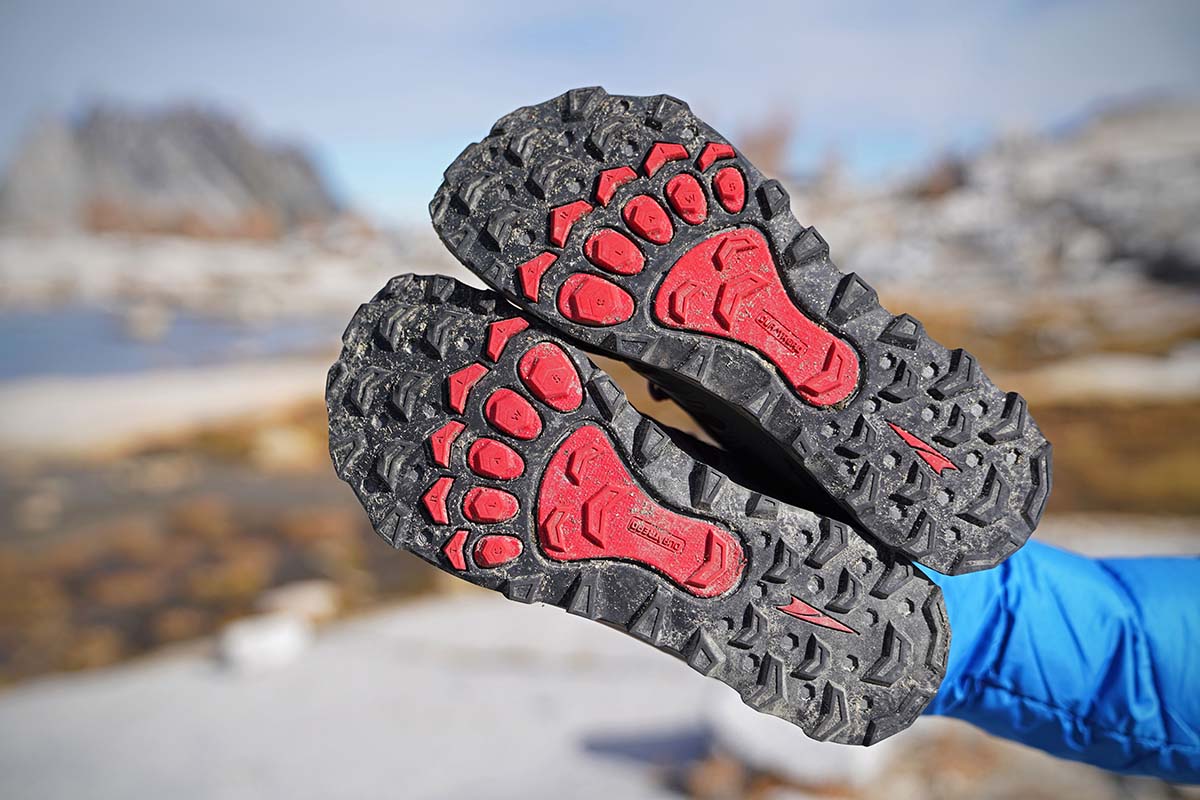 Stability and Support
Despite its mid-height design and quality lacing system, the Altra left a lot to be desired when it came to stability on the trail. The additional height was great for fending off debris and water (the shoe also comes with attachments for gaiters), but the flexible upper did little in the way of adding support. Further, the soft midsole and roomy toe box of the Altra made for a sloppy feel, especially on challenging sections of trail. In fact, the Lone Peak was surprisingly hard to slip on given the overall lack of structure, which we've never experienced in a mid-height hiking boot. For a slightly stiffer and similarly lightweight hiking boot that inspires more confidence over uneven terrain, we think Vasque's Breeze LT Mid GTX is a better choice.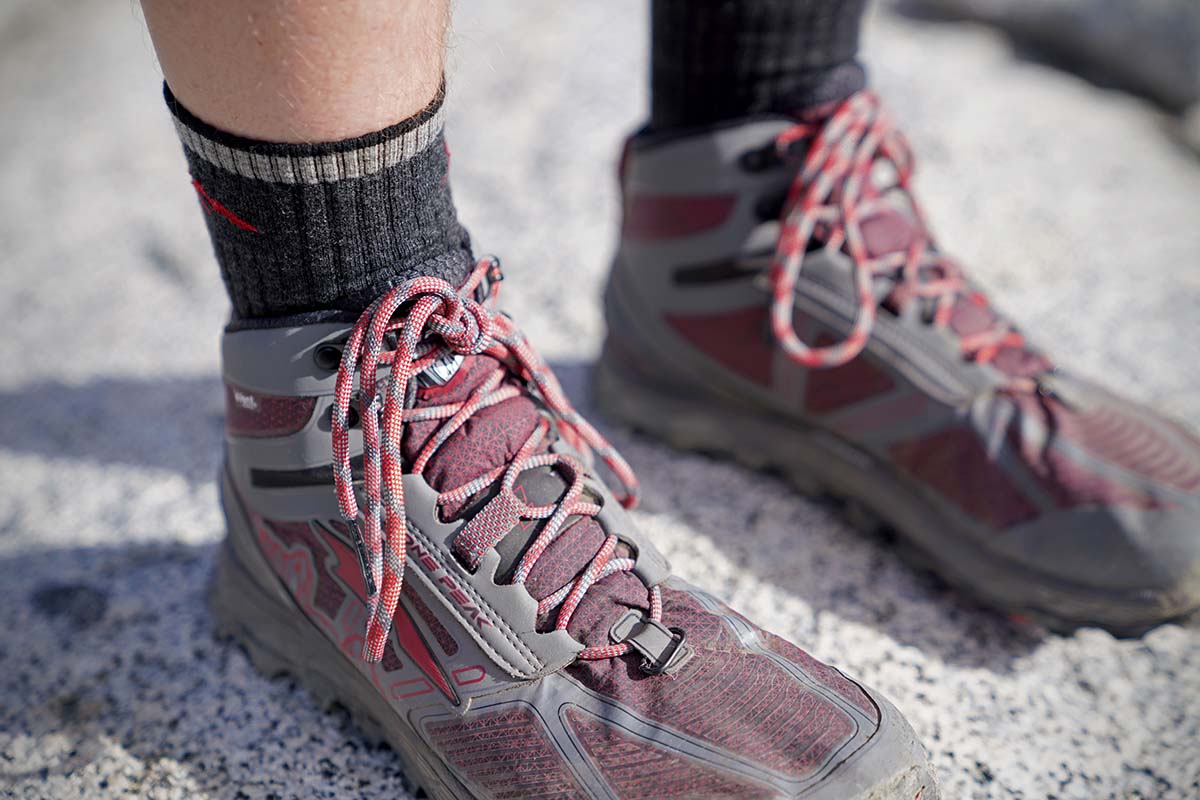 Waterproofing
With the updated 4 RSM, Altra replaced the waterproof NeoShell upper of version 3 with eVent fabric, which has proven to be a very capable performer in the wet. Most of our time in the Lone Peak 4 Mid RSM was spent on wet trails in the Pacific Northwest, as well as one long outing into the alpine. Overall, the Altra's eVent upper and over-the-ankle design did a great job of keeping water at bay, which made it a great companion for wet-weather hikes. We've spent a good amount of time using Gore-Tex-lined footwear recently, and it's nice to see that the eVent fabric provided similar levels of protection.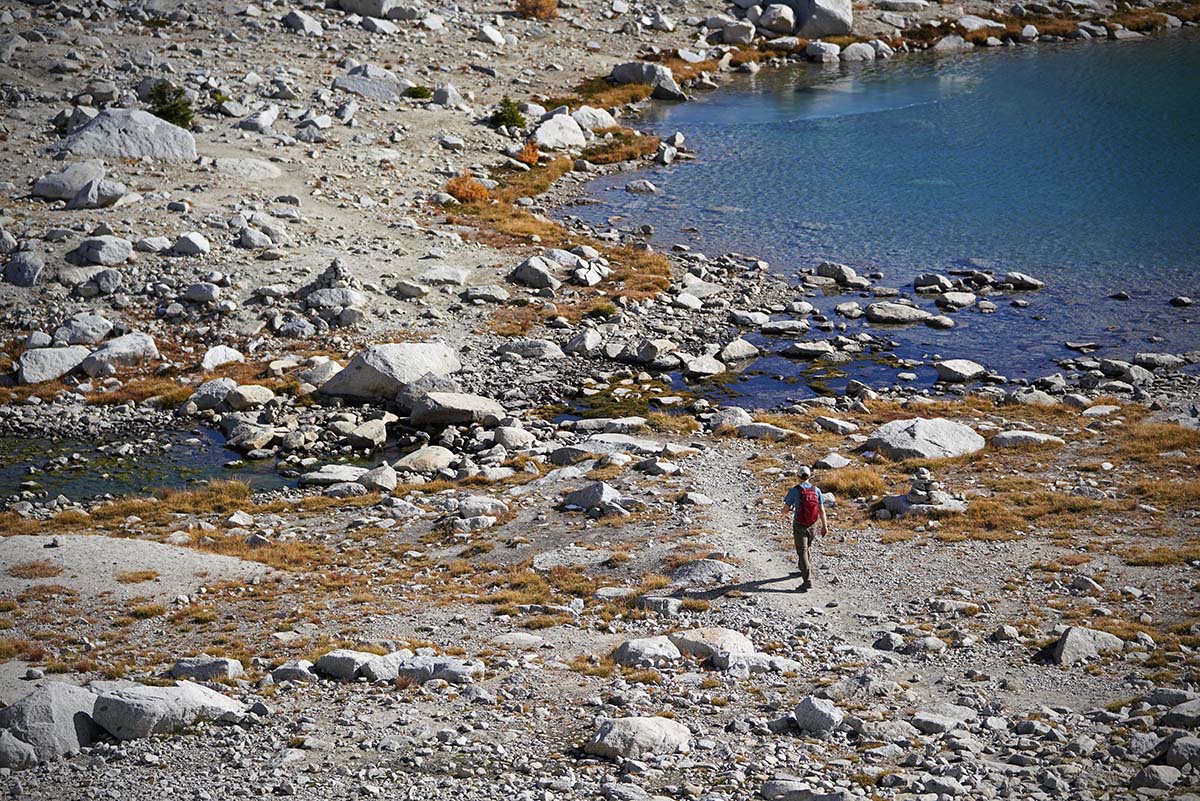 Breathability
Waterproof hiking boots aren't typically praised for their breathability, but we're pleased to report that the Lone Peak RSM is a standout in this area. While it certainly can't compete with non-waterproof mesh versions, we came away impressed with the Lone Peak RSM's ability to keep our feet cool on moderately warm days. Even during a handful of summer hikes—outings we typically reserve for trail-running shoes—our feet never felt soggy or damp due to moisture buildup. All things considered, we found the eVent upper to breathe better than similarly equipped Gore-Tex models.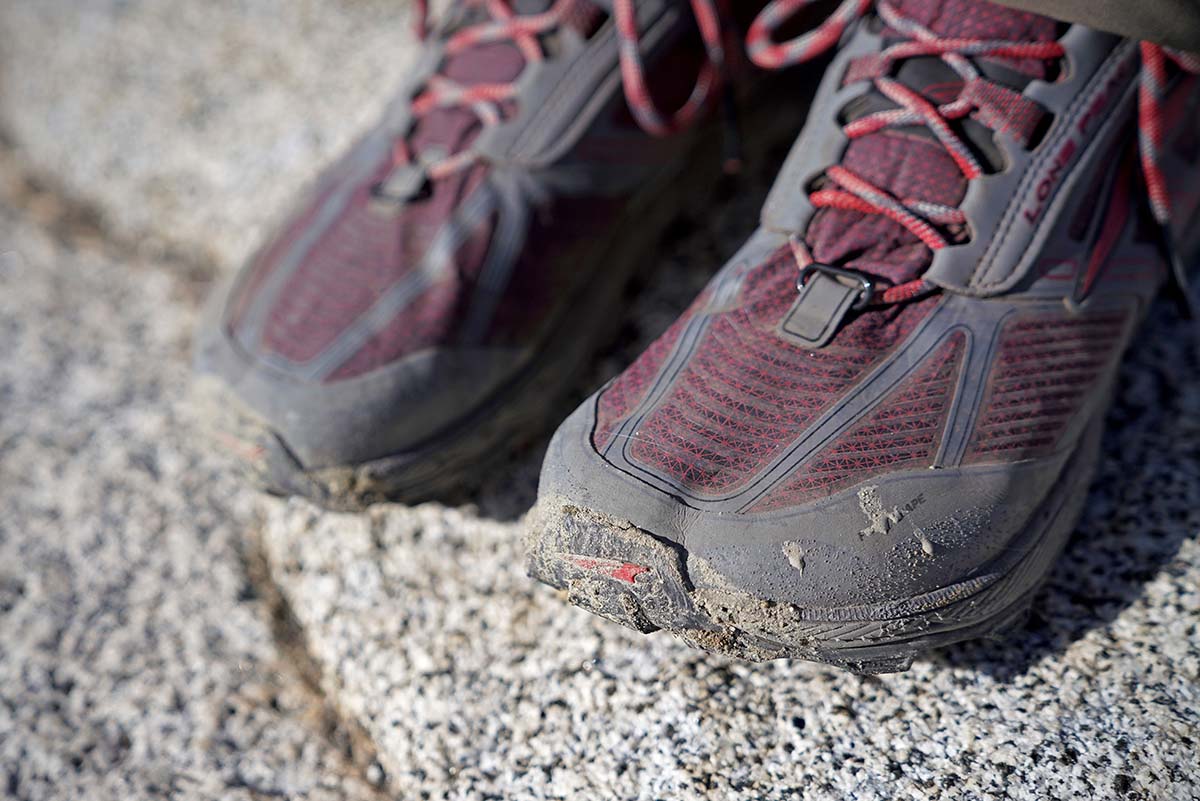 Build Quality and Durability
With its lightweight design, overall thin construction, and emphasis on shaving ounces, durability is not high on the priority list for the Lone Peak 4 Mid RSM. After our initial outing, we already started to see significant signs of wear and tear. The rubber toe cap has started to pull away on one shoe, the lugs already have chips, and the midsole has gathered a number of noteworthy nicks and cuts. Granted, the granite boulders and slabs of Washington State's Enchantments are not easy on footwear, but we didn't expect to see this type of degradation on our first outing. Given the accelerated wear we've already seen, we do have major durability concerns with the Lone Peak.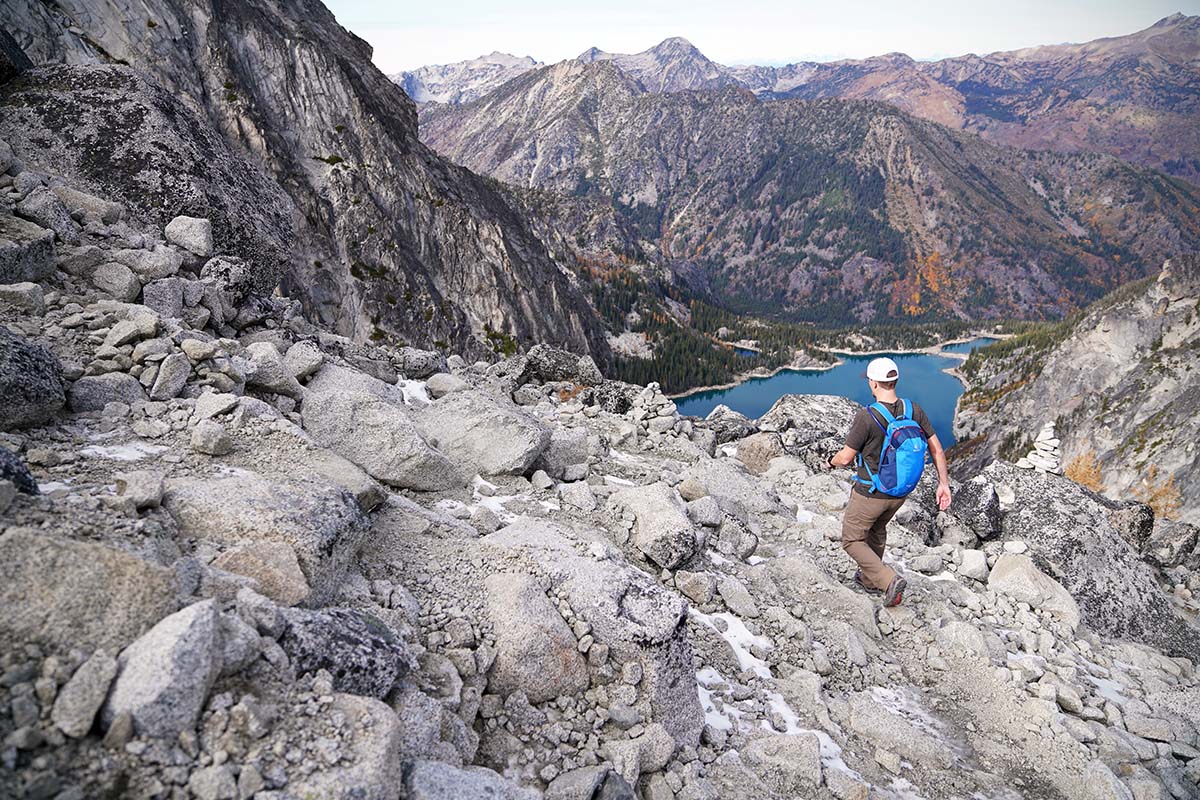 Fit and Sizing
Altra shoes are best known for their wide toe box and generally roomy feel, and the Lone Peak 4 Mid RSM is no exception. Although we've experienced sizing inconsistencies with past Altra models, we found our standard size 9 to be a good fit length-wise. The Lone Peak locked our heel in place while ascending steep terrain, and we appreciated the roomy toe box for our swelling feet during warm weather or long days on the trail. Having said that (as we alluded to above), overall we found the fit to be too roomy, resulting in a sloppy experience while traversing off-camber sections of trail. We personally prefer a snugger-fitting boot, like Vasque's Breeze LT Mid GTX, which allow for a nimble and agile feel during technical maneuvers. However, the Lone Peak can be a particularly great match for wide-footed hikers.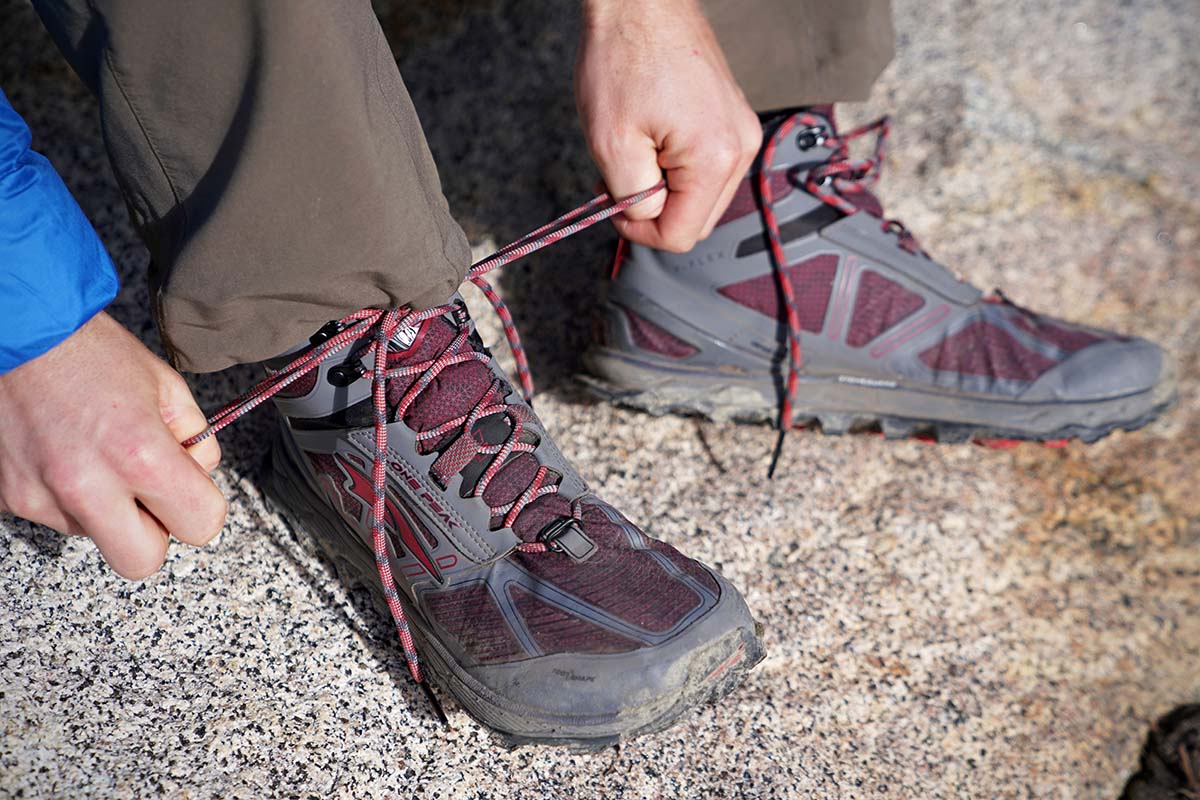 Other Versions of the Altra Lone Peak
For this review, we tested the Lone Peak 4 Mid RSM, a waterproof version of the standard Lone Peak. The non-waterproof Lone Peak 4 Mid Mesh offers a bump up in breathability and a very slight reduction in weight (1 oz. for the pair). If you don't need the full coverage of the mid height models, Altra also offers waterproof and non-waterproof low-top versions of the shoe (now the Lone Peak 5 after a recent update). Rounding out the collection, Altra also sells the ALL-WTHR Mid Lone Peak ($170), which also uses eVent for waterproofing but sports a slightly beefed-up design with an upgraded midsole and TPU heel. Finally, for spring of 2021, Altra added the new Lone Peak Hiker, which costs $140, checks in at 1 pound 7 ounces per pair, has 25 millimeters of cushioning (the same as the version here), and uses a DuraTread outsole, but lacks waterproofing.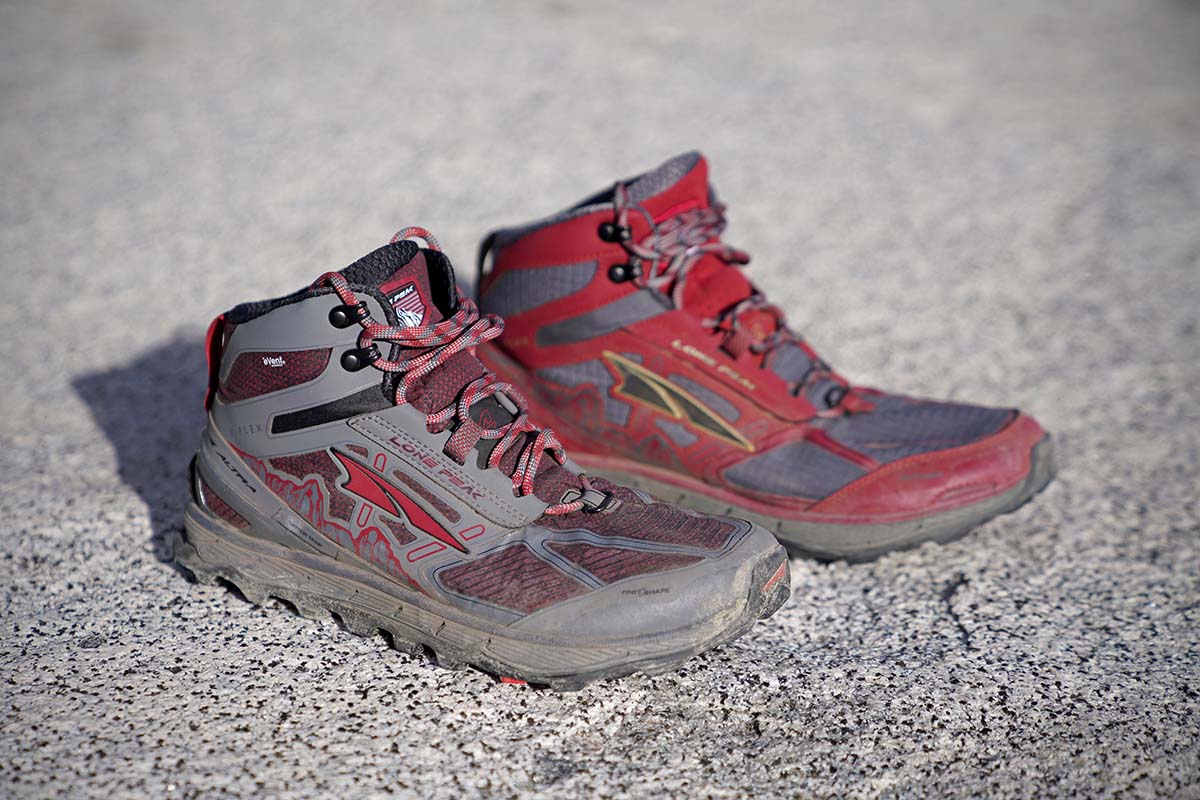 What We Like
The lightweight feel of the Lone Peak 4 Mid RSM is a great match for those who like to cover ground quickly.
The mid-height design, combined with a waterproof upper and gaiter attachment points, does a great job at sealing out the elements. 
eVent fabric and thin upper allow the Lone Peak to breathe better than most other waterproof shoes.
Excellent traction on soft and muddy trails.
 
What We Don't
Despite its over-the-ankle design, the Mid offers very little extra support and stability.
The soft midsole and roomy toe box made for a sloppy-feeling boot on technical and off-camber terrain.
With such a lightweight shoe, you'll compromise on durability: one of our toe caps began to separate after just one hike.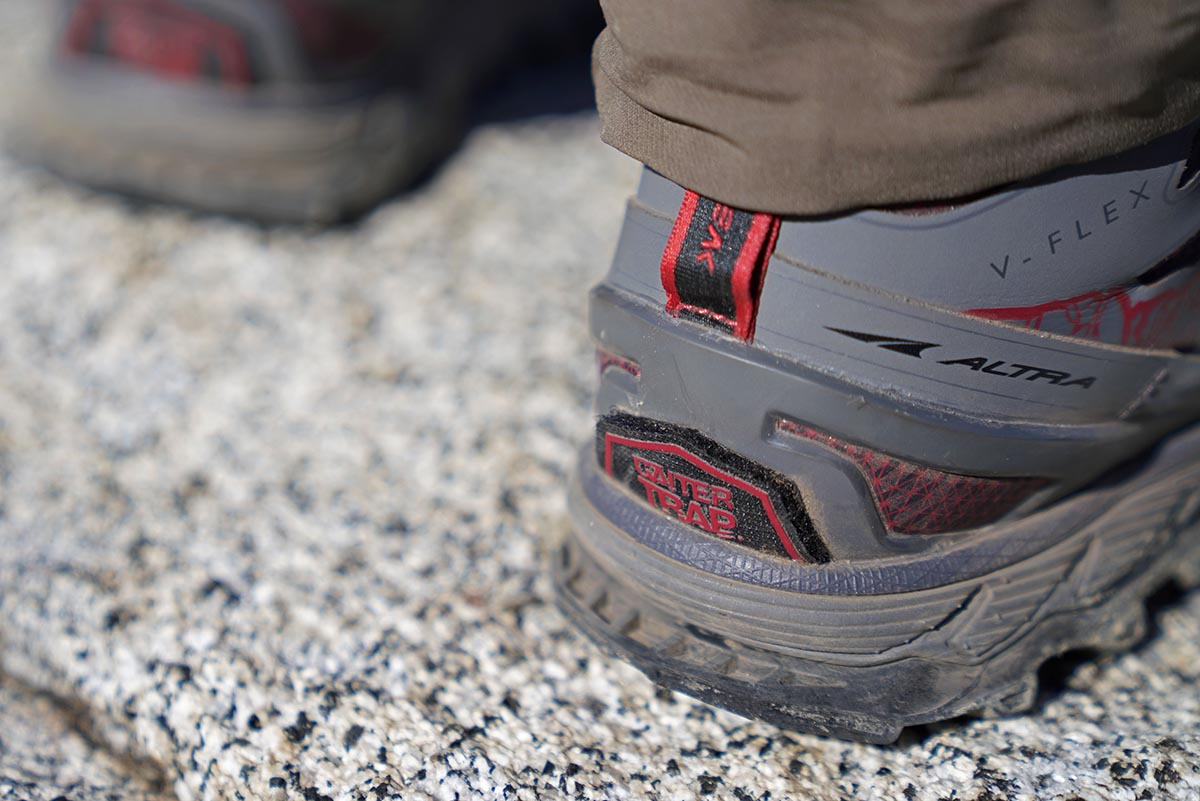 Comparison Table
The Competition
Altra's Lone Peak 4 Mid RSM is a comfortable option for lightweight fastpacking trips and day hikes alike. For these types of objectives, another shoe to consider is the Vasque Breeze LT Mid GTX. Unlike our experience with the Altra, we were impressed with the Vasque's stability on technical trail and increased levels of over-the-ankle support when carrying a loaded pack. Furthermore, its outsole is more adept on a wider variety of terrain—from hand-over-foot scrambles to muddy trails (see our in-depth Breeze LT review). But the Lone Peak wins in terms of breathability: The Altra's eVent fabric allows noticeably more airflow in warm conditions than the Vasque's Gore-Tex membrane. Finally, both shoes have us concerned about durability: we recently put the Breeze LT through a rigorous test in the Grand Canyon and experienced similar delamination between the rand and upper. 
Another very popular option for a lightweight hiking boot is the Salomon X Ultra 3 Mid GTX. Both the Altra and Salomon feature an aggressive outsole, waterproof construction, and come in low-top and mid-height options. However, the similarities end there. Whereas the Lone Peak offers a very roomy fit and large toe box (perfect for wide feet), the X Ultra runs a bit small and is better suited for narrow feet (good news is they now off a wide version). Weighing in at 1 pound 15.6 ounces, the Salomon is considerably heavier than the Altra (1 lb. 10 oz.), but this added weight undoubtably comes with an increase of support and durability—two areas where the Altra falls noticeably short. For technical trails or hiking with heavy loads, we think the Salomon is the better option.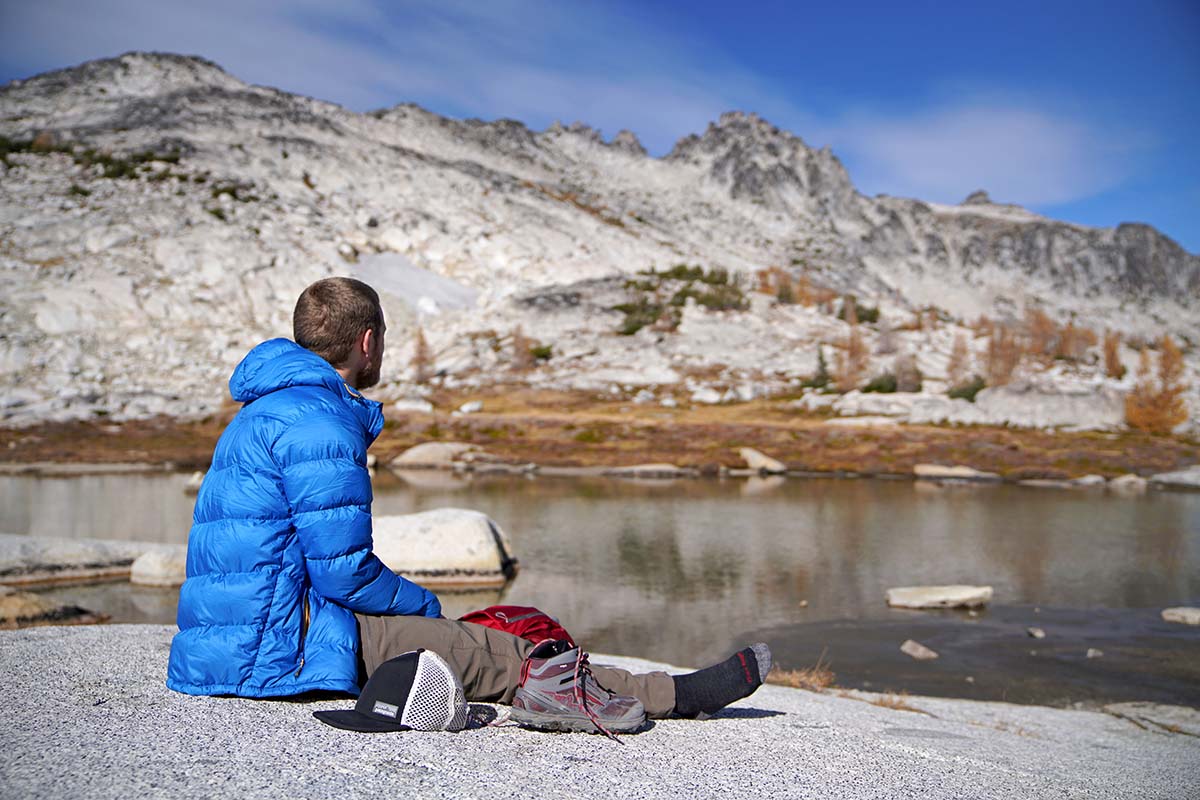 Staying within Salomon's lineup, their OUTline Mid GTX is competitive with the Lone Peak in price ($150), weight (1 lb. 13.6 oz.), and all-around intentions. In testing the low-top version, we found that it felt very athletic and nimble on the trail. However, it wasn't comfortable for covering serious ground or technical terrain (similar to the Altra), and neither shoe is a standout in durability or support. Given the similarities in specs and overall performance, we think the lighter and more breathable Lone Peak is the better option in this category, but the OUTline  Mid isn't far behind and will save you $10.
Hoka One One offers a number of lightweight hikers, and their Sky Toa GTX is another close competitor to the Lone Peak. With a running shoe-inspired design, over-the-ankle construction, and similarly polarizing looks, the two shoes share a lot in common. You also get Hoka's signature springy midsole that translates to excellent on-trail comfort, as well as a quality Gore-Tex waterproof upper that does a great job of sealing out moisture. Again, such a light and flexible shoe does sacrifice support for rough terrain and hiking with a loaded pack, but we think it's the more capable design in the fast-and-light grouping.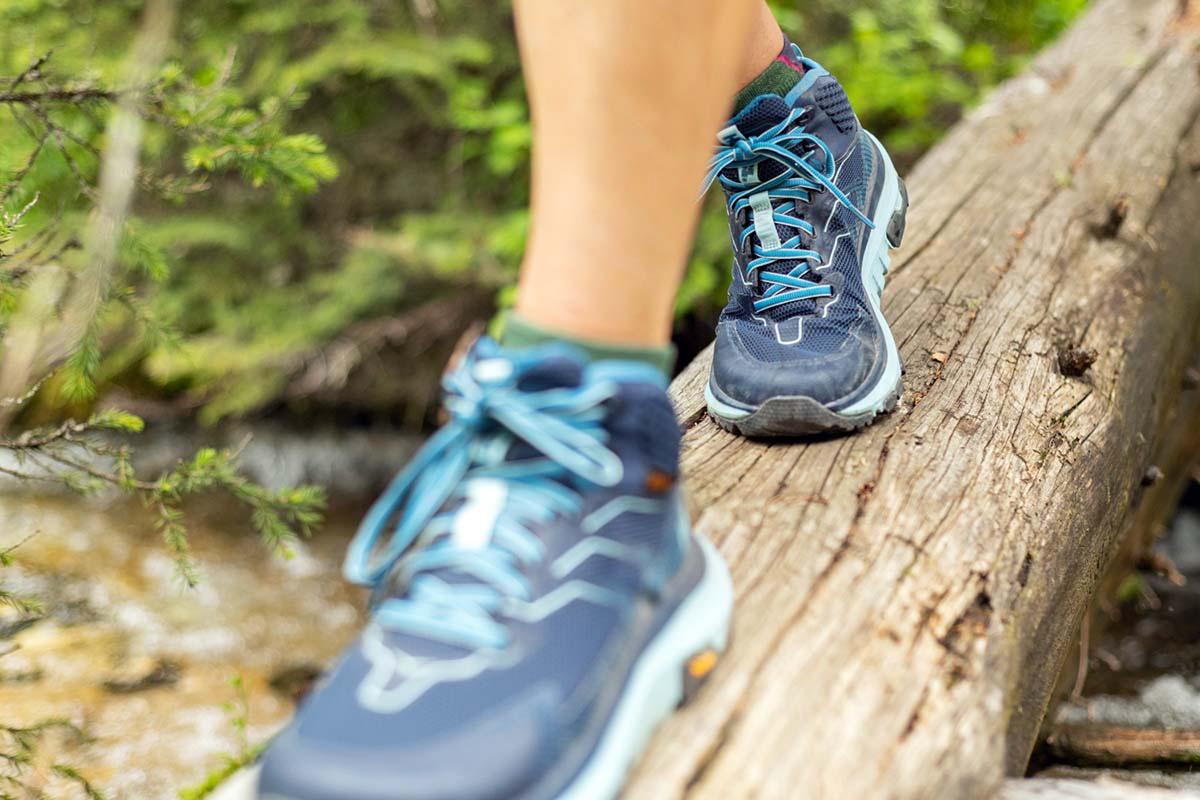 Last but not least, like the Lone Peak, Hoka's Speedgoat Mid Gore-Tex 2 takes their popular trail-running model (the Speedgoat) and adds a higher cut for crossing over into hiking and backpacking. Stacked up against the Altra, the Speedgoat is almost identical in weight at 1 pound 10.4 ounces but features Gore-Tex waterproofing rather than eVent and costs an additional $10. Both shoes are designed for traveling fast and light and therefore compromise on durability and stability over technical ground. We prefer the Speedgoat, however, as it has a superior tread design (and grippier rubber) and its upper material has held up better for us in testing.
If you're thinking about buying gear that we've reviewed on Switchback Travel, you can help support us in the process. Just click on any of the seller links above, and if you make a purchase, we receive a small percentage of the transaction. The cost of the product is the same to you but this helps us continue to test and write about outdoor gear. Thanks and we appreciate your support!
Depending on the seller, most products ship free in the United States on orders of $50 or more. International shipping availability and rates vary by seller. The pricing information on this page is updated hourly but we are not responsible for inaccuracies.
Read More From Switchback Travel