Altra Torin 4
Price: $120
Weight per pair: 14.6 oz. (women's size 8.5)
Cushioning: Moderate/maximum
Drop: 0mm
What we like: One of the most comfortable road runners we've tested.
What we don't: Fairly sluggish; wide heel and toe box sacrifice some performance.
See the Women's Altra Torin 4  See the Men's Altra Torin 4
The recently released Torin 4 is Altra's latest addition to their popular road-running lineup. Building off of the outgoing 3.5, the new model incorporates an upgraded midsole, lower stack height, redesigned mesh upper and tread, and lighter-weight build. After putting the Torin 4 through high-mileage days on both pavement and crushed gravel, I've concluded that the updates have made it a better shoe across the board. The Torin does feel sluggish compared to some of its competition, but it's a great recovery-day and long-mileage companion. Below we break down the Torin 4's cushioning and comfort, responsiveness, weight, durability, fit and sizing, and more. To see how it stacks up, see our article on the best running shoes.

Performance
Cushioning and Comfort
Featuring Altra's signature wide toe box, zero-drop design, and substantial cushioning, the Torin 4 is one of the most comfortable road runners I've tested to date. The standard "4" has a thick 26-millimeter stack height (the "Plush" version is 28mm), which I found is just about perfect for cushioning harsh impacts on pavement. Further, the generous footbox allows my toes to splay naturally, and the redesigned lacing system does a nice job keeping my midfoot locked in place. The Torin 4 also features a newly updated midsole called "Quantic," which feels softer and more energetic than that on the outgoing 3.5. All told, the shoe's accommodating fit and cushy build do detract from overall responsiveness (more on this below), but I think the tradeoff in comfort is well worth it.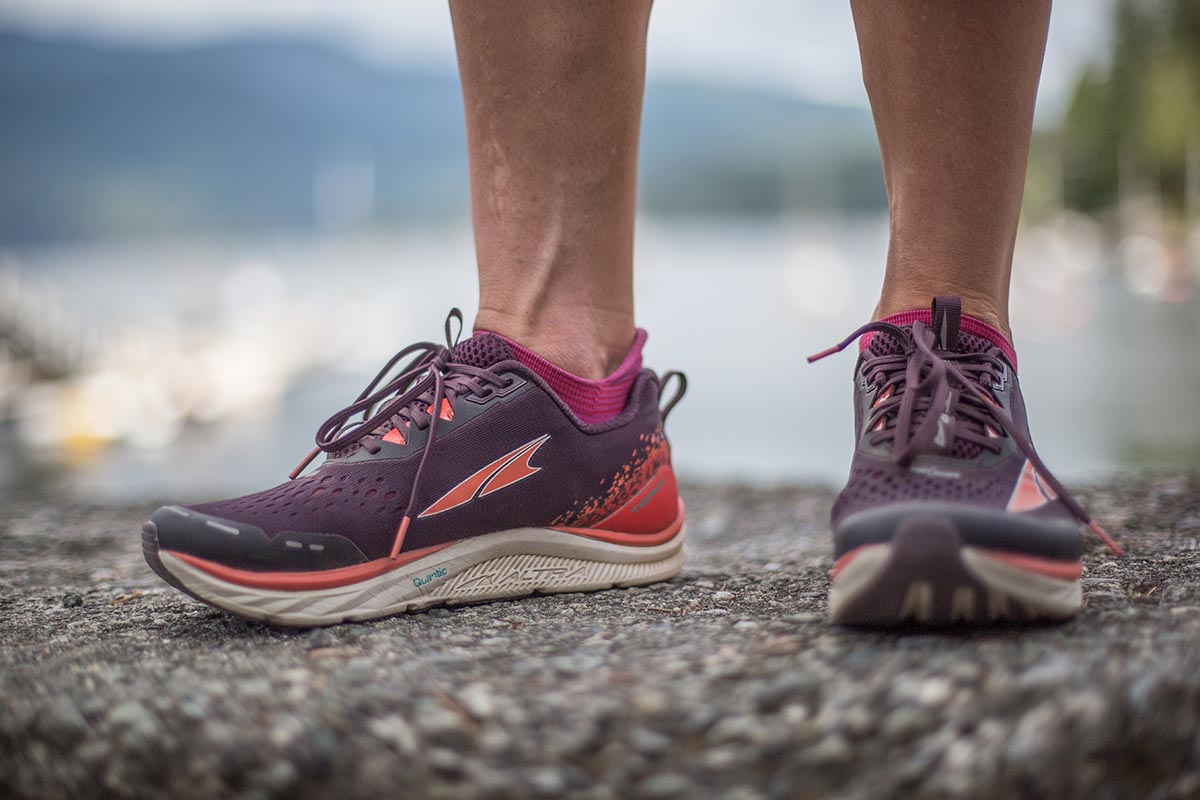 Responsiveness
As I mentioned above, the Torin won't be confused with a peppy racing flat. The cushioning does a better job absorbing impacts and isolating your feet from the ground rather than propelling you forward like a stiffer, firmer design. And the generous shape lacks the performance-oriented fit that many look for on tempo days or for speed work. That said, the shoe isn't overly squishy like Hoka's Bondi and is totally suitable for extended runs at a decent clip. The overall feel is similar to that of Hoka One One's Clifton 6—neither shoe will be a go-to for shorter races but will perform extremely well for recovery days and everyday training.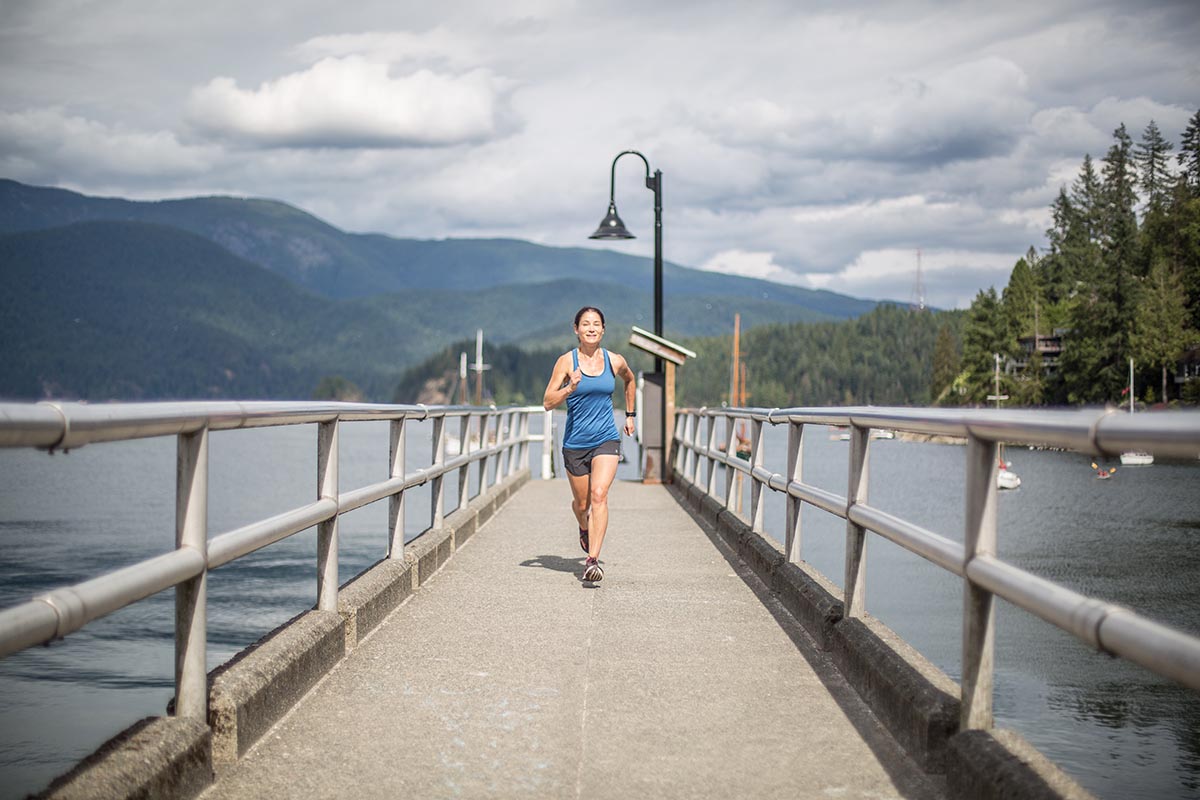 Weight
I'm a sucker for lightweight running shoes, and the Torin 4 is a great match at a listed 15.2 ounces per pair (my women's size 8.5 came in a bit lighter at 14.6 oz.). By comparison, another neutral model I've been testing this season, the Asics Gel-Cumulus 21, adds a couple ounces at 17 for the pair, and the recently updated Hoka One One Clifton 6 shaves off a bit of weight at 14.8. The Torin also stacks up competitively to many other popular trainers in its class, including the Brooks Ghost 12 (18.6 oz.), Mizuno Wave Rider 22 (17 oz.), and Nike Air Zoom Pegasus 36 (16.5 oz.). All things considered, I have no complaints about the Torin's weight. In fact, I find it impressive that Altra managed to pack in so much cushioning and durability while undercutting much of the competition.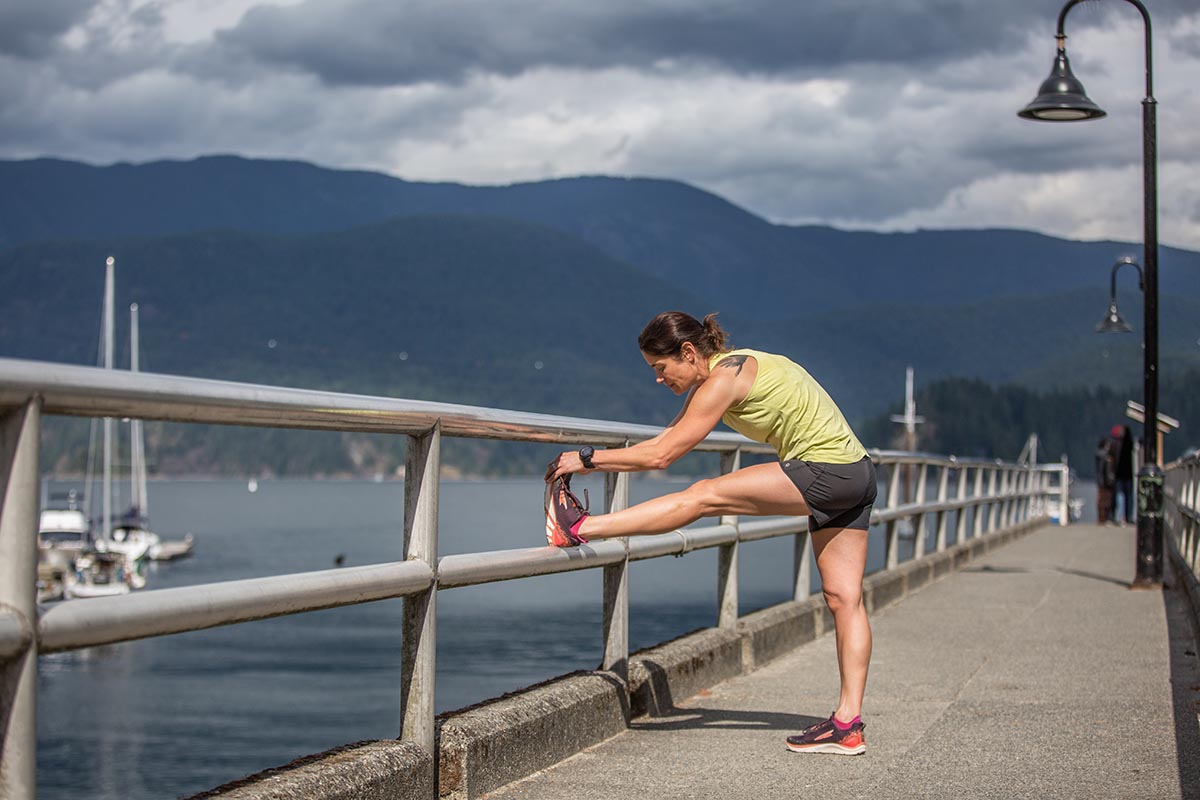 Durability
I'm not easy on my shoes, but the Altra Torin 4 has held up extremely well thus far after about 50 miles of pavement running and 20 miles on crushed gravel. The revamped mesh upper and outsole are no worse for wear and I haven't noticed any breakdown in the new Quantic midsole. The only issue I've faced is some of the Quantic's lettering has peeled off at the instep, but that's a very minor—and purely cosmetic—concern. As with the previous-generation Torin 3.5, all signs are very positive that the newer "4" is up to the task of exploring the hilly and diverse terrain of North Vancouver.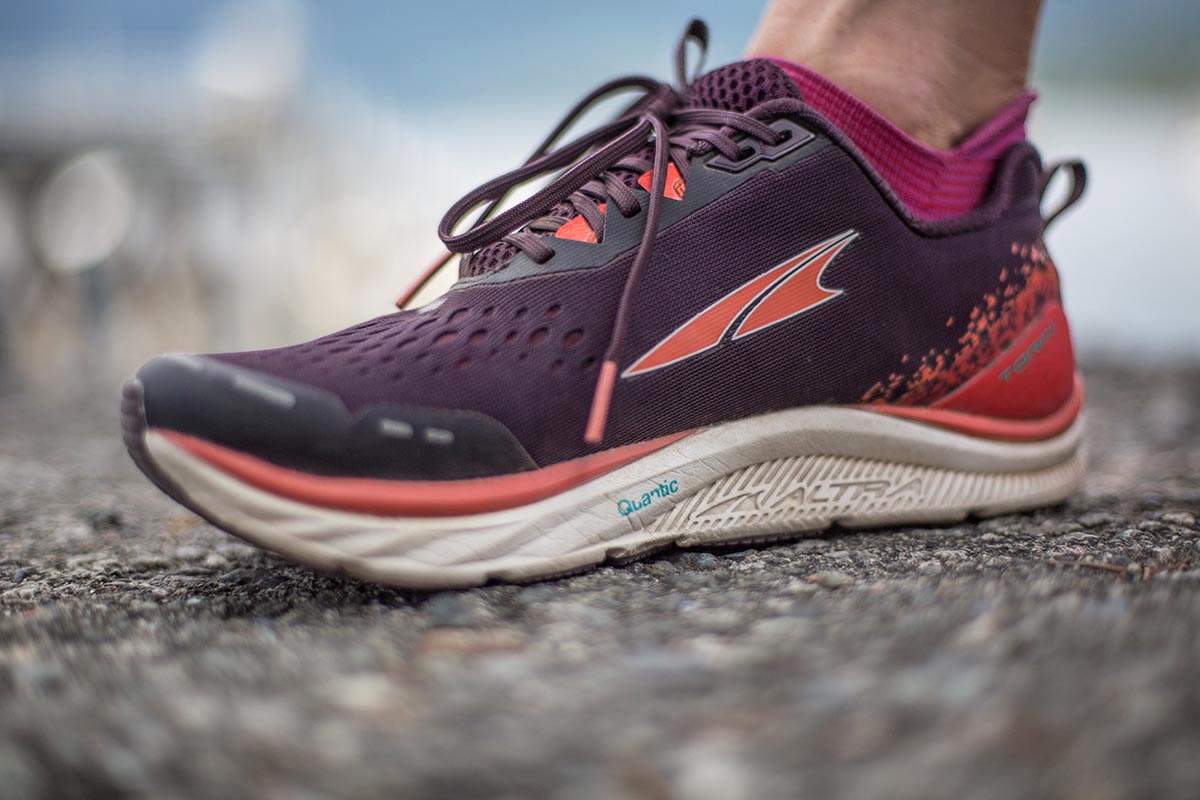 Stability and Support
Despite its wide toe box, flexible upper, and soft cushioning, I haven't experienced any stability-related issues in the Altra Torin 4. For starters, the shoe's 26-millimeter stack height nicely balances squishy padding with structure underfoot to avoid feeling wobbly or off-balance (a concern that can occasionally crop up with max-cushioned shoes). Further, Altra's A-Strap lacing system—which reminds me a bit of Saucony's ISOFit technology—allows me to easily and effectively snug the shoe down to lock in my midfoot. It's worth noting that the Torin does leave some extra room in the heel, but the overlay along each edge prevents the shoe from feeling too sloppy for me (those with narrow heels might have trouble here, however).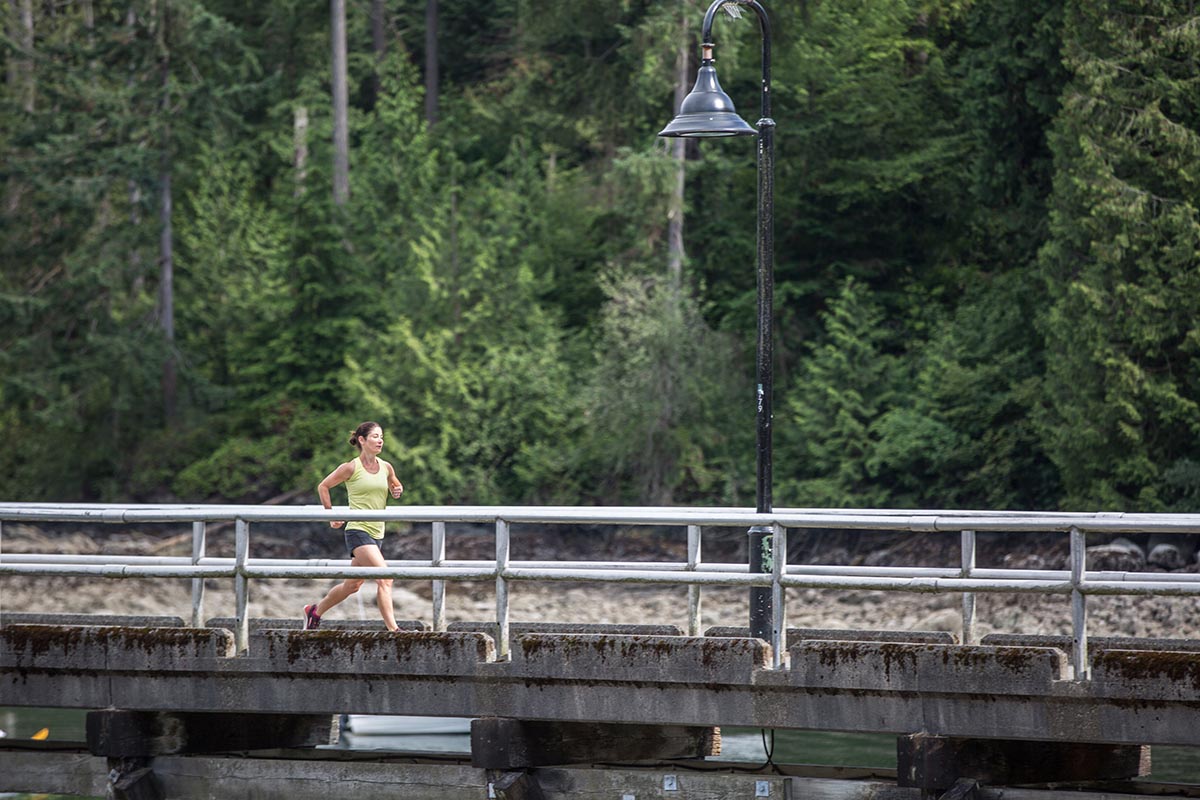 Fit and Sizing
I generally wear a women's size 8.5 in running shoes, and the Altra Torin 4 is no different. The fit is what I've come to expect from Altra: very wide in the toe box and moderately wide elsewhere. The good news is that the aforementioned lacing system does a great job with foot hold, and I've found that extra space around the toes is a positive for road use (although I don't like the brand's roomy shape for technical trail running). Those with narrow heels might have an issue with the fit but I haven't experienced any unwanted front-to-back slippage or side-to-side movement with my average-sized feet.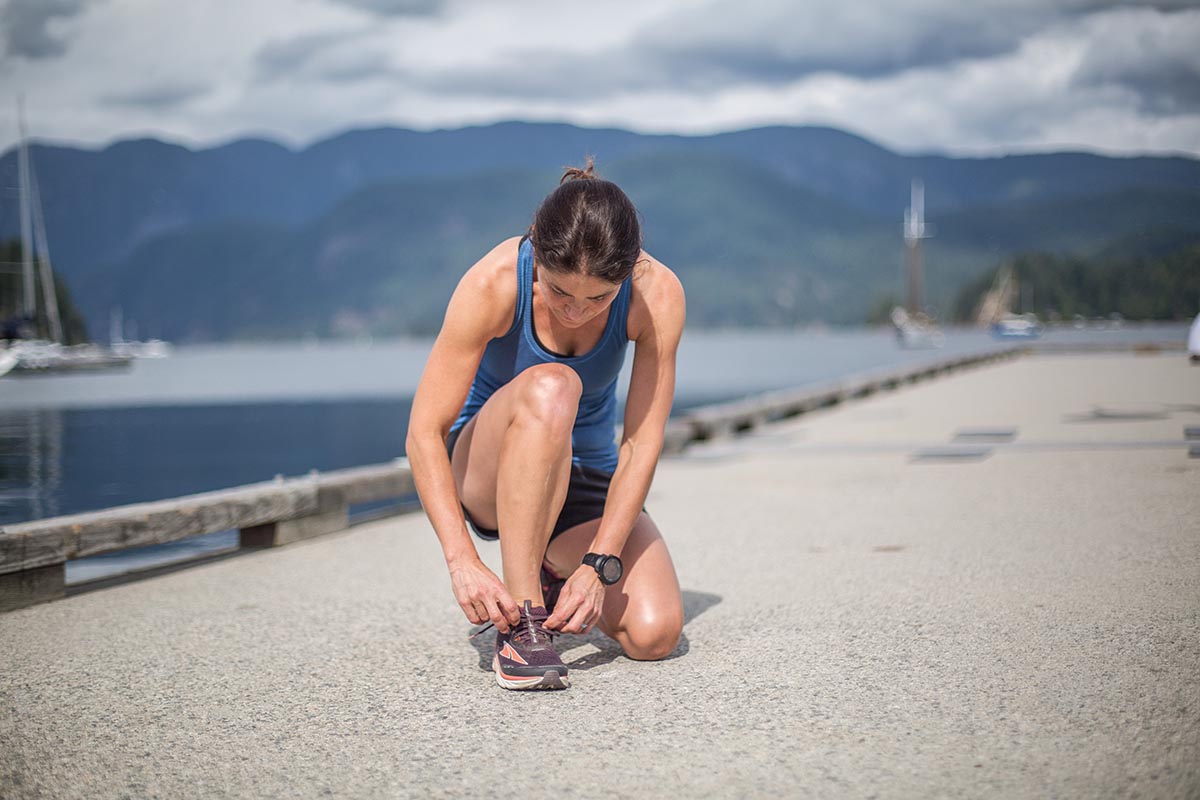 Torin 4 vs. Torin 3.5
The Torin 4 is Altra's newest addition to the Torin lineup and replaces the outgoing 3.5. In terms of similarities, both shoes share the brand's typical wide toe box and zero-drop shape, favoring comfort over all-out performance. However, in comparing the mesh versions of the shoes, the newer "4" has a lower stack height (26mm at the heel and forefoot compared to 28mm on the 3.5), replaces standard EVA foam with Hoka's softer and cushier Quantic midsole, features a redesigned mesh upper, and shaves off 1.6 ounces per pair. The Torin 4 also got a notable tread update, with the outsole now resembling the foot's skeletal structure. All things considered, I really like the changes that Altra made with the latest Torin and have found it to perform similarly or better than the 3.5 in just about every way.

Other Versions of the Altra Torin 4
I tested the women's mesh Torin 4, and Altra makes the same shoe in a knit version called the "Plush." Although the knit Torin shares the same Quantic midsole and zero-drop shape as its mesh sibling, there are significant differences worth pointing out. Most notably, the Torin 4 Plush is almost 2 ounces heavier at 17 ounces per pair, has a taller stack height of 28 millimeters (compared to the mesh version's 26mm), runs warmer, and costs $20 more. We've found that knit is typically more flexible and comfortable than mesh, but it's up to you whether the added weight and cost are worth it. Finally, both the knit and mesh Torin are also available in men's versions for the same price. Compared to the women's models, the men's shoes are a few ounces heavier and come in different colorways, but otherwise retain an identical build.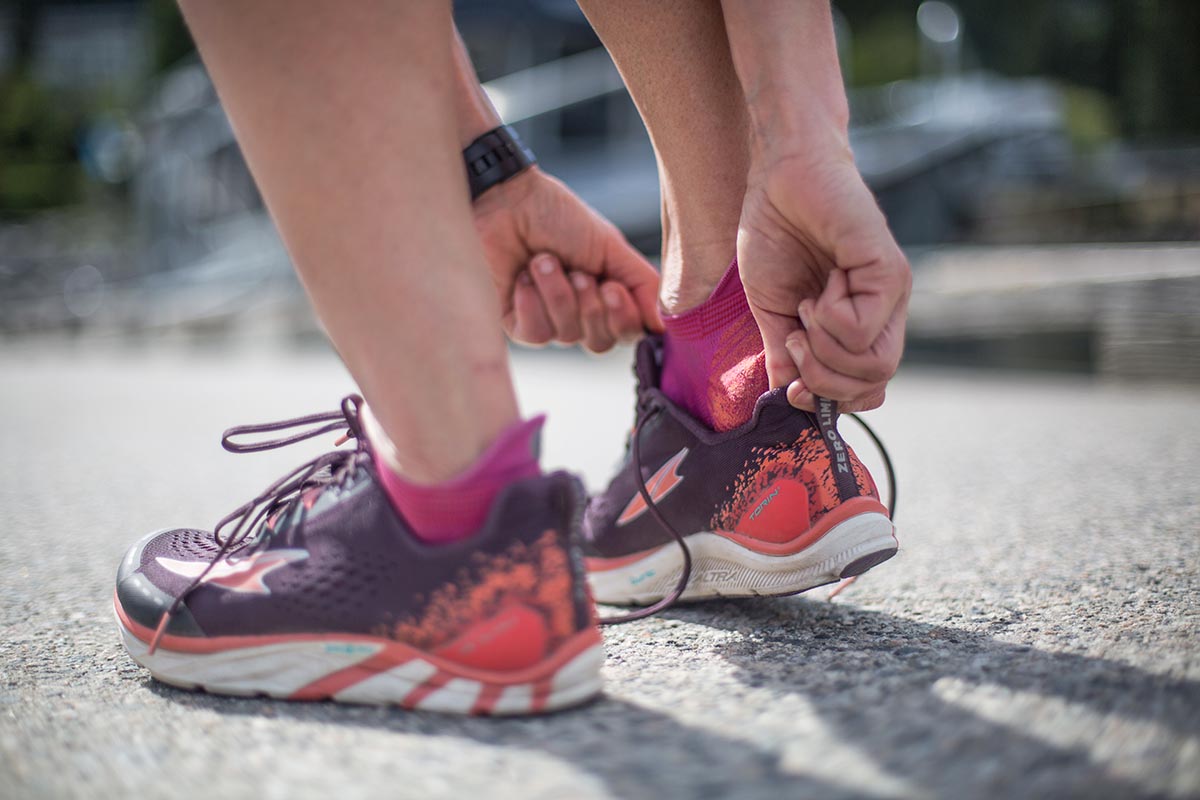 What We Like
The Torin 4's wide toe box, generous cushioning, and accommodating fit make it one of the most comfortable road runners I've tested—a great match for high-mileage training or recovery days.
Despite its lightweight build, the shoe has stood up well to rigorous use with minimal signs of wear.
The shoe offers ample stability and support on long, undulating runs.

What We Don't
The Torin is less responsive than much of the competition.
Those with narrow feet might find the wide heel and footbox a bit sloppy.
Laces are awkwardly long and require multiple knots to keep in place.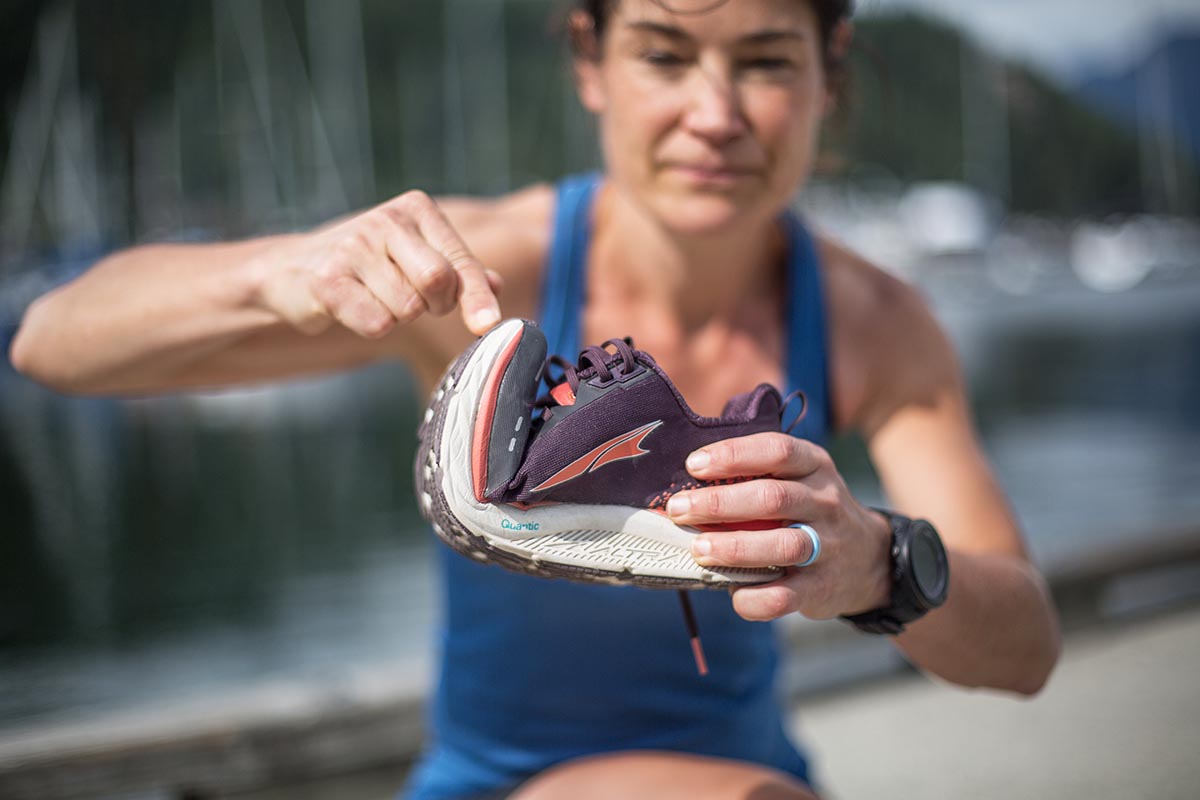 Comparison Table

The Competition
With its cushy build and accommodating fit, the Altra Torin 4 is a great match for runners that prioritize comfort over all-out performance. In the same category, Hoka One One's Clifton 6 has been another favorite of mine this season for recovery runs and long-mileage days. Weight is very similar between the two shoes (15.2 ounces for the Torin vs. 14.8 for the Clifton), but I found that the Clifton has slightly better energy transfer and offers a superior overall fit with no areas of looseness. That said, if my feet are particularly sore or painful, I'll reach for the more forgiving Torin. It's a tough call between two of my favorite running shoes, but the Clifton 6 makes fewer compromises.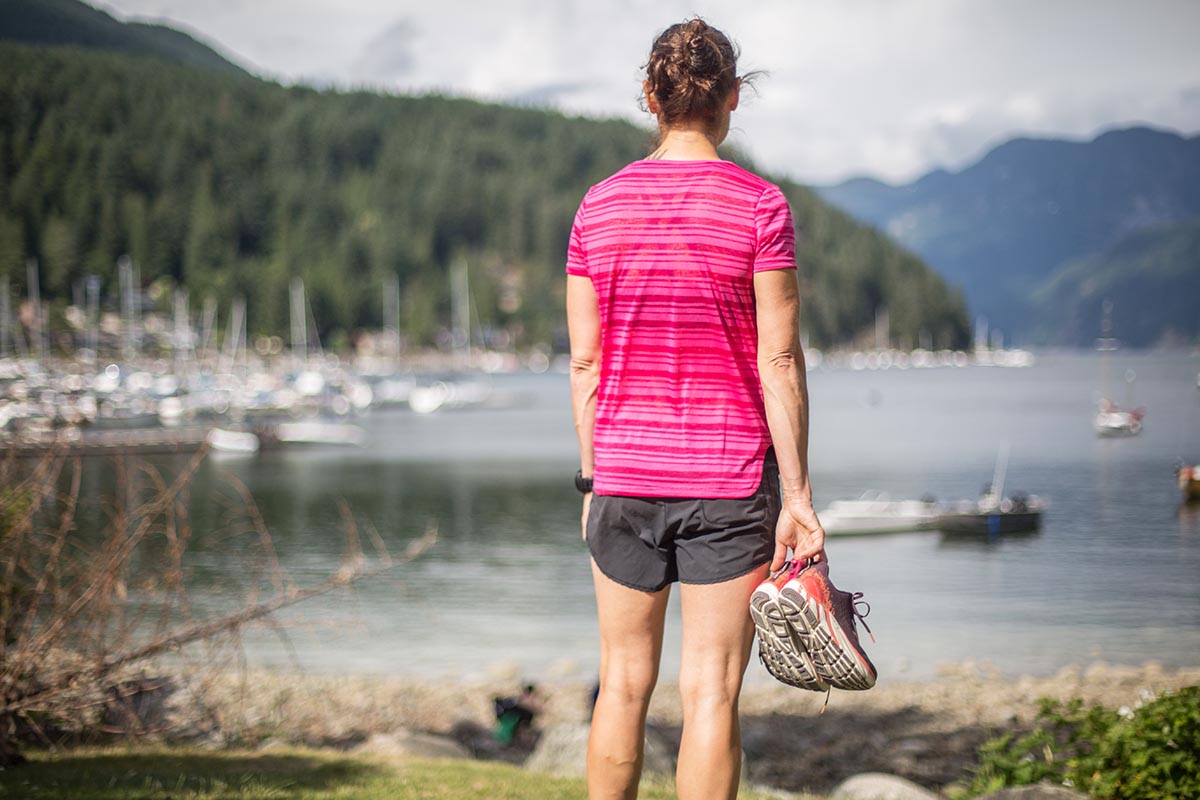 Another shoe I've been testing this season is the Asics Gel-Cumulus 21. And so far, my experience has been mostly positive: the Gel-Cumulus is well-rounded, offers ample cushioning and support for long-distance use, and performs well overall as a daily trainer. However, the Asics shoe outweighs the Altra at 17 ounces for the pair, and its stiff structure has an old-school look and feel that isn't as bouncy and fun as the Altra (for more, see our in-depth Gel-Cumulus 21 review). Neither shoe is particularly responsive, and a decision between the two will likely come down to a preference on style. If you like a stable and solid ride, the Asics is best, but fans of the zero-drop shape (the Gel-Cumulus has a 10mm drop) and flexibility will prefer the Altra.
Two final options to consider are the Brooks Ghost 12 and Nike Air Zoom Pegasus 36. Featuring moderately thick midsoles, traditional heel-to-toe drops (12mm and 10mm respectively), and minimalist uppers, the Ghost and Pegasus are versatile shoes that works well for mid- to long-distance runs. That said, the Ghost 12 and Pegasus 36 are heavier than the Torin 4 at 18.6 and 16.5 ounces, and we've also experienced some heel slippage with both shoes on longer climbs. But the Brooks and Nike outperform the Torin 4 in responsiveness for speed work without giving up much in cushioning and comfort, which give them the overall edge.
If you're thinking about buying gear that we've reviewed on Switchback Travel, you can help support us in the process. Just click on any of the seller links above, and if you make a purchase, we receive a small percentage of the transaction. The cost of the product is the same to you but this helps us continue to test and write about outdoor gear. Thanks and we appreciate your support!
Depending on the seller, most products ship free in the United States on orders of $50 or more. International shipping availability and rates vary by seller. The pricing information on this page is updated hourly but we are not responsible for inaccuracies.
Read More From Switchback Travel