Although Arc'teryx only recently entered the trail-running game with their 2016 Norvan VT (short for "varied terrain"), the Vancouver, BC company hasn't wasted any time establishing their running shoe line-up. Cue the Norvan LD ("long distance")—a trail runner designed to provide comfort and stability on high mileage days. I was initially wary of testing a running shoe from Arc'teryx, but a few outings on everything from slimy tree roots to dust-covered rocks quickly dispelled most of my concerns—minus a big durability issue early on that left one shoe torn open. Below we break down the Norvan LD's traction, cushioning and stability, breathability, durability, and more. To see how the it stacks up, check out our comparison table and article on the best trail-running shoes.
 
Performance
Traction
The Arc'teryx Norvan LD is designed with 3.5-millimeter square-shaped lugs and a Vibram Megagrip rubber outsole, resulting in great traction on a variety of terrain. I love hurtling downhill, a style which forces me to rely on my shoes to grip and react predictably. The LD aced all of my tests, flying over rocks covered in loose dust and navigating wet and "greasy" (a local term for slimy) PNW trails. And the under-the-toe traction is equally as impressive for ascending—it gripped and flexed securely to every slope I encountered. Having put many trail running shoes through similar trials, I consider the Norvan LD's traction to be on par with that of the Saucony Peregrine, although I still prefer my trusted La Sportiva Bushido when it comes to particularly aggressive trail runs.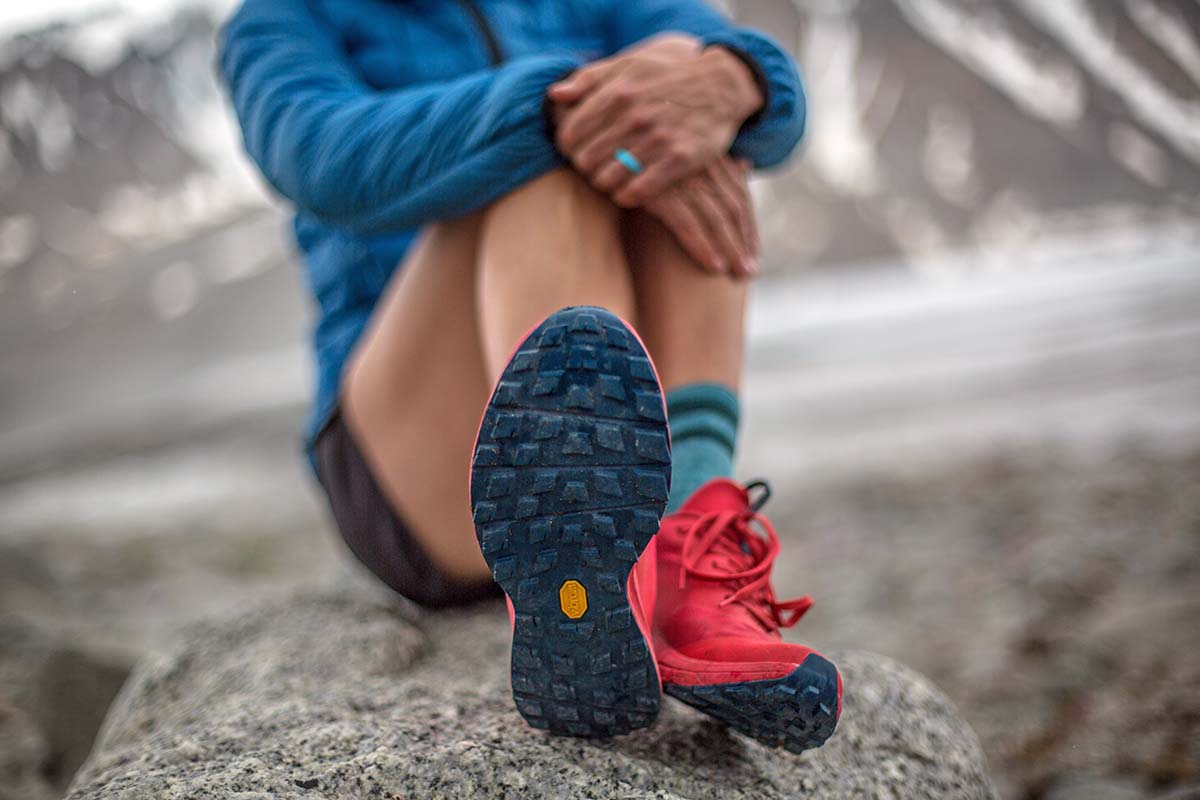 Cushioning and Stability
The amply cushioned Norvan LD has a 9-millimeter drop (the difference between the heel and toe heights), and a generous EVA midsole, making the shoe supportive and comfortable for long distances. Think of EVA as being similar to a stress ball: When landing on the shoe, the EVA foam gets compressed, forcing air out and then expanding again as weight is removed. The Norvan LD is designed with noticeably more of this foam than many trail running shoes, including the Norvan VT and the La Sportiva Bushido. A 4-millimeter molded insert under the foot adds further cushioning, and a rock plate and toe cap help to shield the foot from obstacles on the trail. I didn't feel any rocks through the sole like I do in many other shoes, including the Bushido.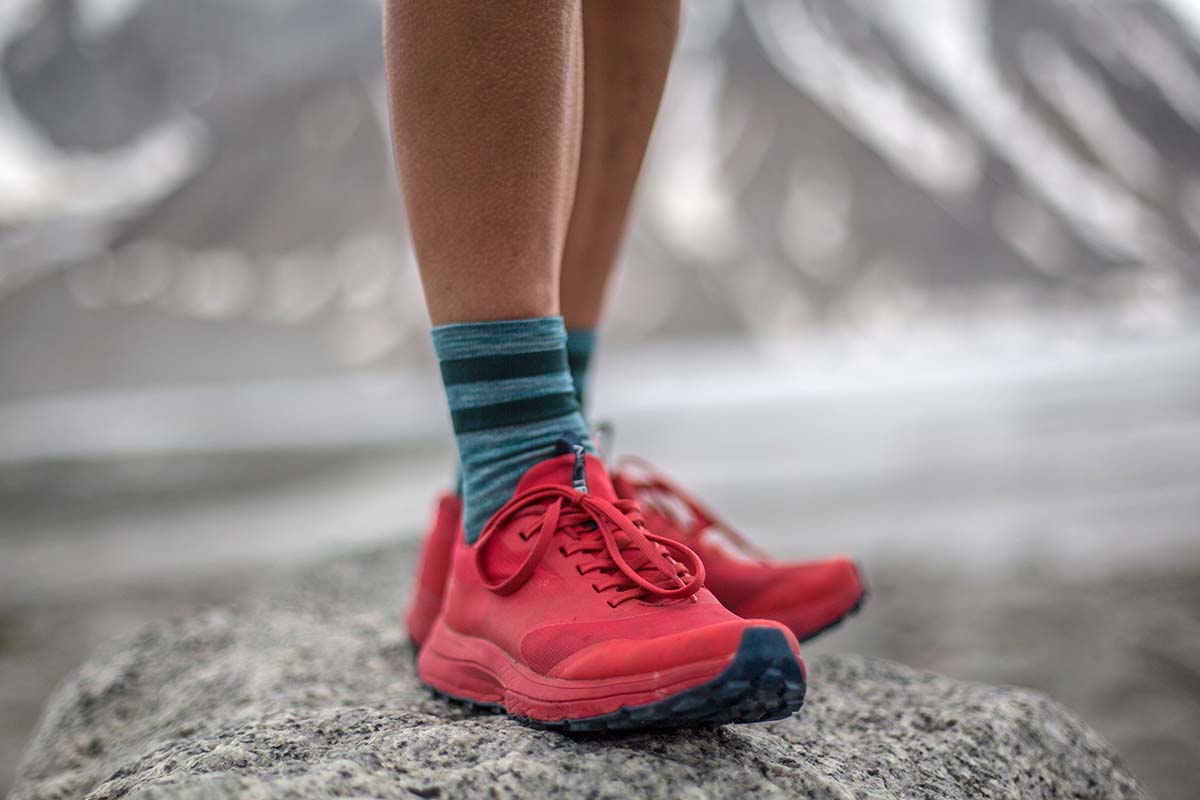 Shoes with a high amount of cushion often give up a bit in terms of stability, but this isn't the case with the Norvan LD. I consider stability and traction equally as important for instilling confidence, and the Norvan LD kept me fearless on uneven terrain. Even with more cushioning, it felt more stable than the Peregrine and equally as stable as the Bushido. How? The slightly raised sidewalls allow my foot to sit deeper in the shoe, and there isn't any feeling of the cushioning compressing unevenly, even when traversing off-camber sections of trail. The shoes feel responsive rather than sluggish, on everything from technical trail to short stints on asphalt. But if stability is your main concern, the less-cushioned Norvan VT is designed with a stiffer build for security on the most technical of terrain.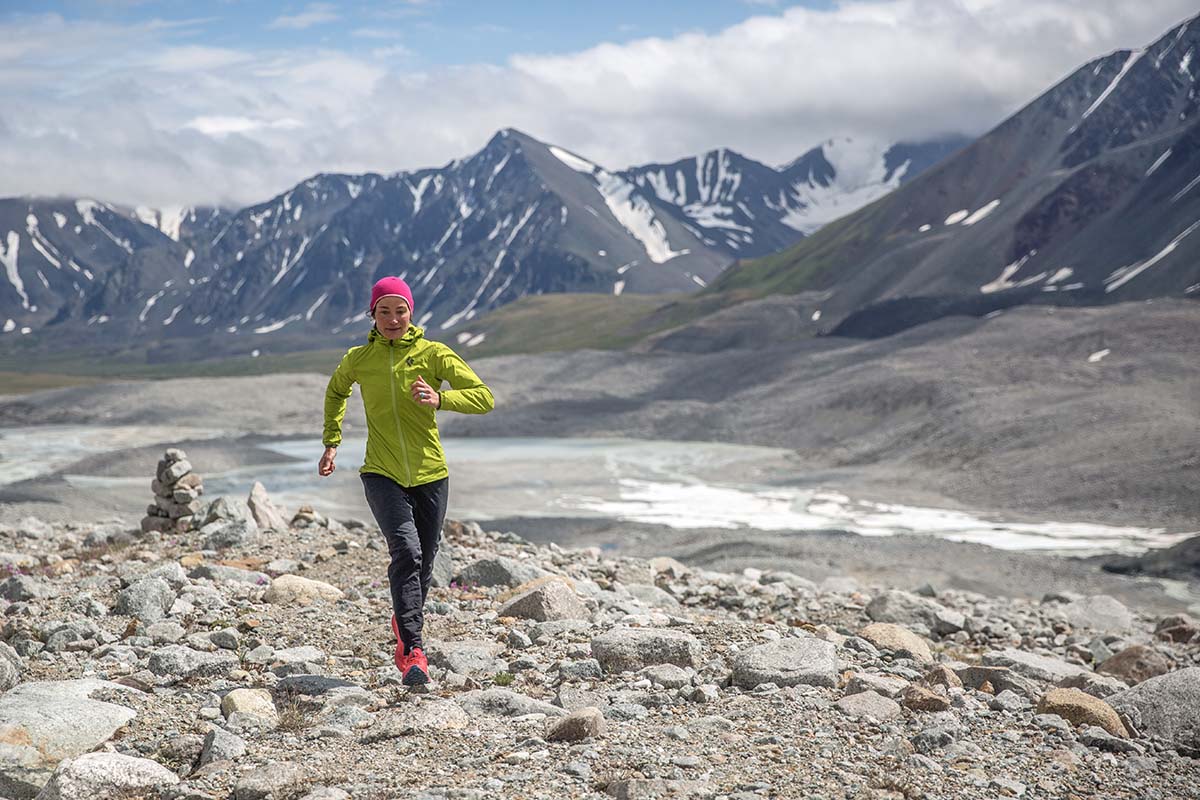 Breathability
When I first saw the Norvan LD, I was concerned that the considerable amount of laminate overlay and tightly woven mesh of the upper would limit breathability. But after exposing the shoe to summer temperatures exceeding 30 degrees Celsius (86 degrees Fahrenheit), I haven't noticed any overheating. Although they don't feel particularly airy, the single-layer mesh upper breathes surprisingly well, and the closed-cell foam around the ankle and on the tongue sheds moisture rather than absorbing it. Overall, the Norvan LD is comparable in breathability to my La Sportiva Bushido, which has far less laminate across the upper.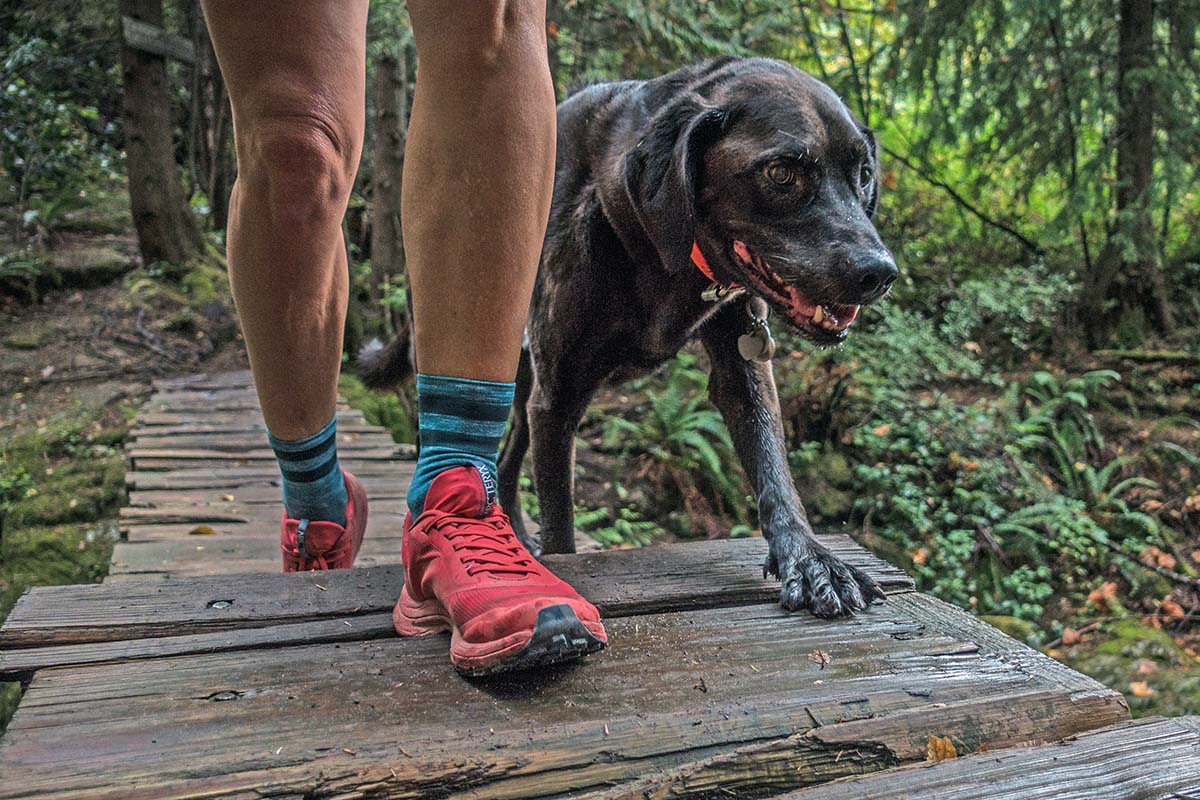 Durability
I'm accustomed to Arc'teryx products being absolutely bombproof, so I was surprised to experience durability issues early on with the Norvan LD. While running one my favorite North Vancouver trails, my toe caught on a root, and although I stayed upright, my left shoe bore the brunt of the impact. Rather than puncturing—as I've experienced many times with running shoes—the mesh upper ripped along the toe cap's edge, leaving a gaping tear and rendering the shoe unwearable. After only a handful of outings, my Norvan LD was destroyed. I immediately sent a photo to Arc'teryx, but was informed that rips and tears are not warranty issues (I have since appealed this and am awaiting a final decision).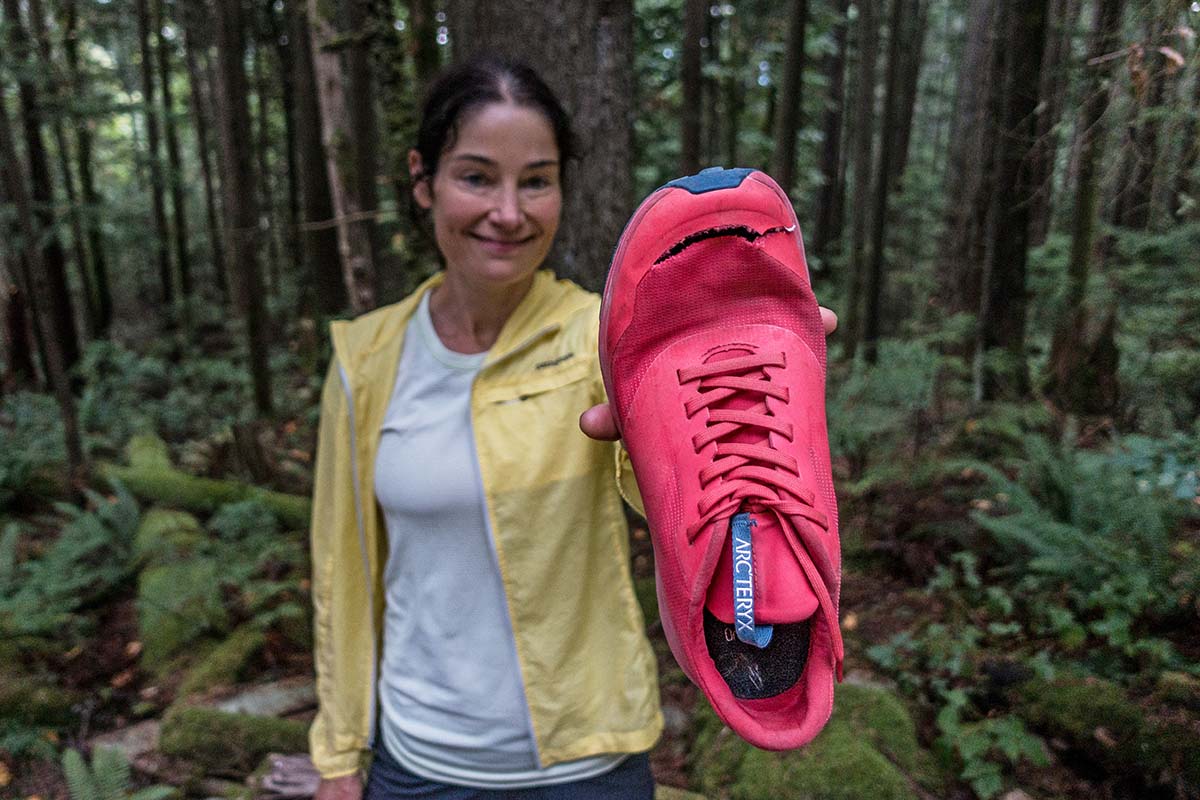 Since this incident, I have aggressively tested a new pair of Norvan LDs and have experienced no durability issues, despite subjecting them to a fair share of abuse while running the notoriously technical and gnarly trails of the North Shore and Sea-to-Sky Corridor. All aspects of the shoe, including the seamless mesh upper and laminate overlay, have held up remarkably well, which is what I would expect from any Arc'teryx product. The cushioning hasn't packed out and the extended toe grip has not peeled away from the toe box. The Vibram Megagrip sole—a compound known for being both grippy and highly durable—shows very little wear. So far, I've been impressed and hope that my first pair's early demise was simply an anomaly.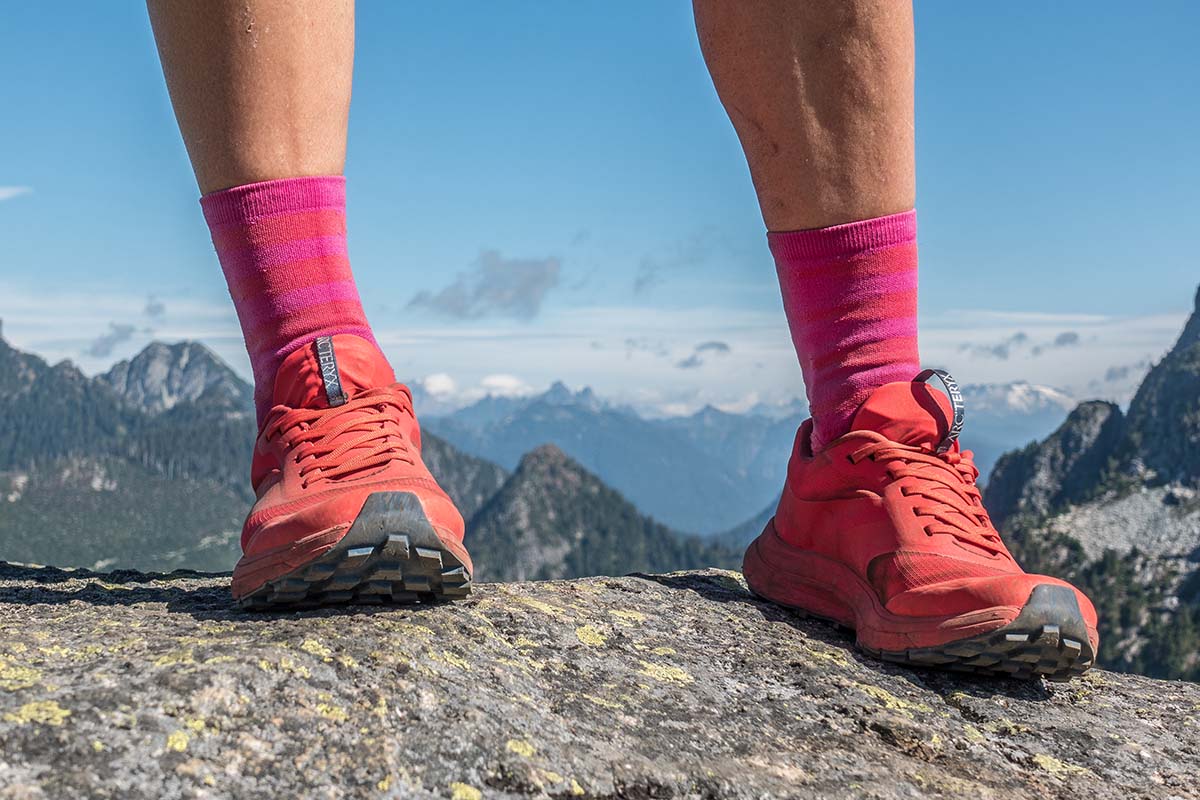 Weight
Advertised at 9.2 ounces per shoe (a women's 8.5 weighs 10.25 ounces on my scale), the Norvan LD sits solidly in the middle of the pack. However, the amount of comfort and features packed into these ounces set the shoe apart. The women's Saucony Peregrine ISO clocks in at 9.2 ounces and the Bushido tips the scale at 8.8 ounces, but neither shoe offers the generous cushioning of the Norvan LD, and the Peregrine even lacks the protection of a rock plate in the sole. In action, the Norvan LD does not feel any heavier than these shoes, even after hours on the trail.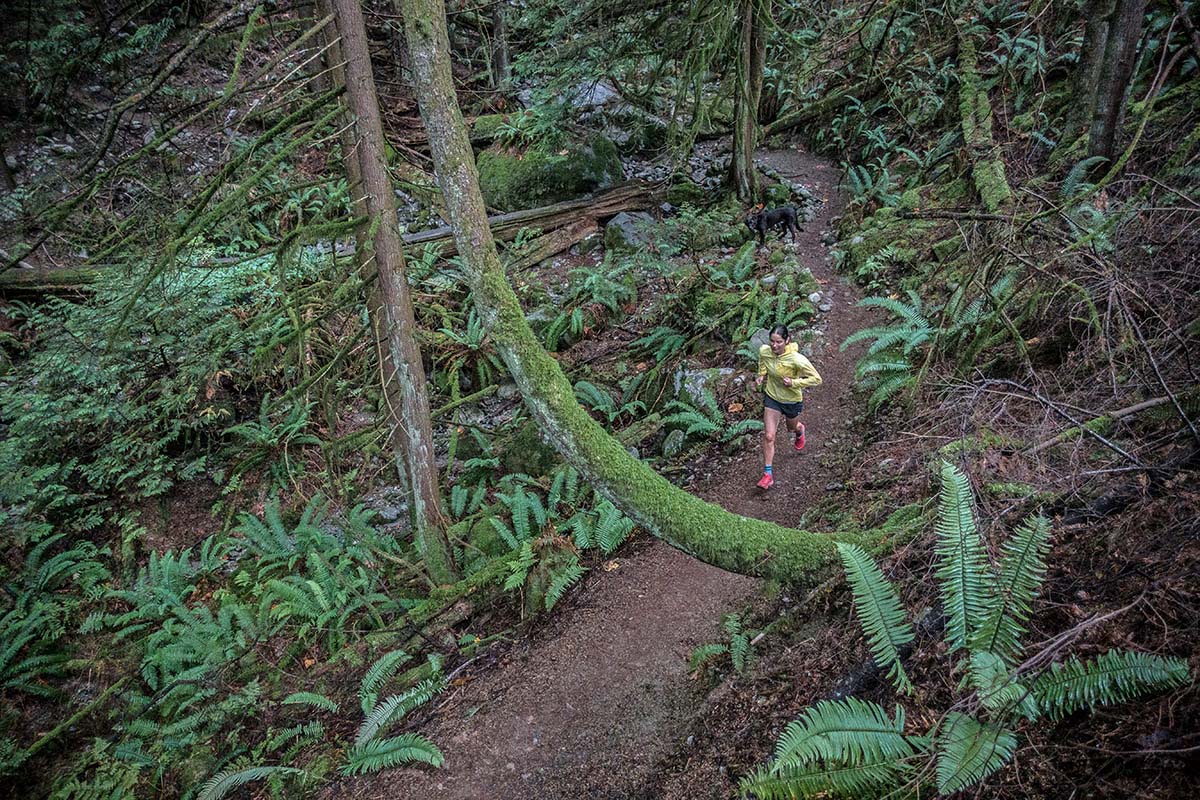 Importantly, the Norvan LD's weight remains fairly consistent regardless of conditions, due to the upper fabric's ability to wick rather than retain water. This is a crucial consideration for me, given the unpredictable weather of Vancouver's fall and winter. The Norvan LD GTX adds a Gore-Tex membrane to the LD for $35 and a few extra ounces, but I tend to think that waterproofing is an unnecessary—and futile—feature in a running shoe.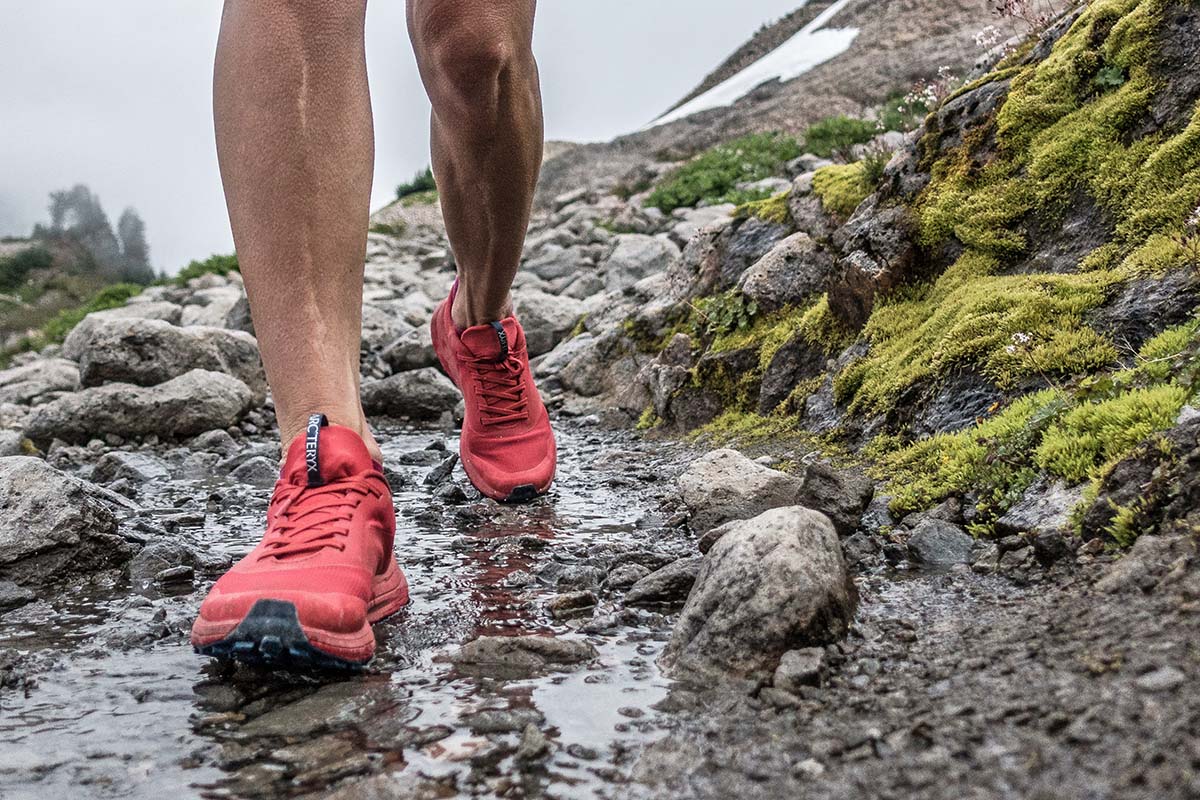 Fit, Sizing, and Comfort
I typically wear a women's 8.5, and found that the Norvan LD is a bit longer than many of my other trail running shoes (the Peregrine, for example). It's so noticeable that you might even consider sizing down, especially if you're typically in between sizes or have a particularly narrow foot. I stuck with my standard 8.5, fearing going down to an 8 would result in too narrow of a fit for my wide foot. Thankfully, the additional length has resulted in increased comfort—especially on long or hot days when my feet swell—rather than slippage or rubbing.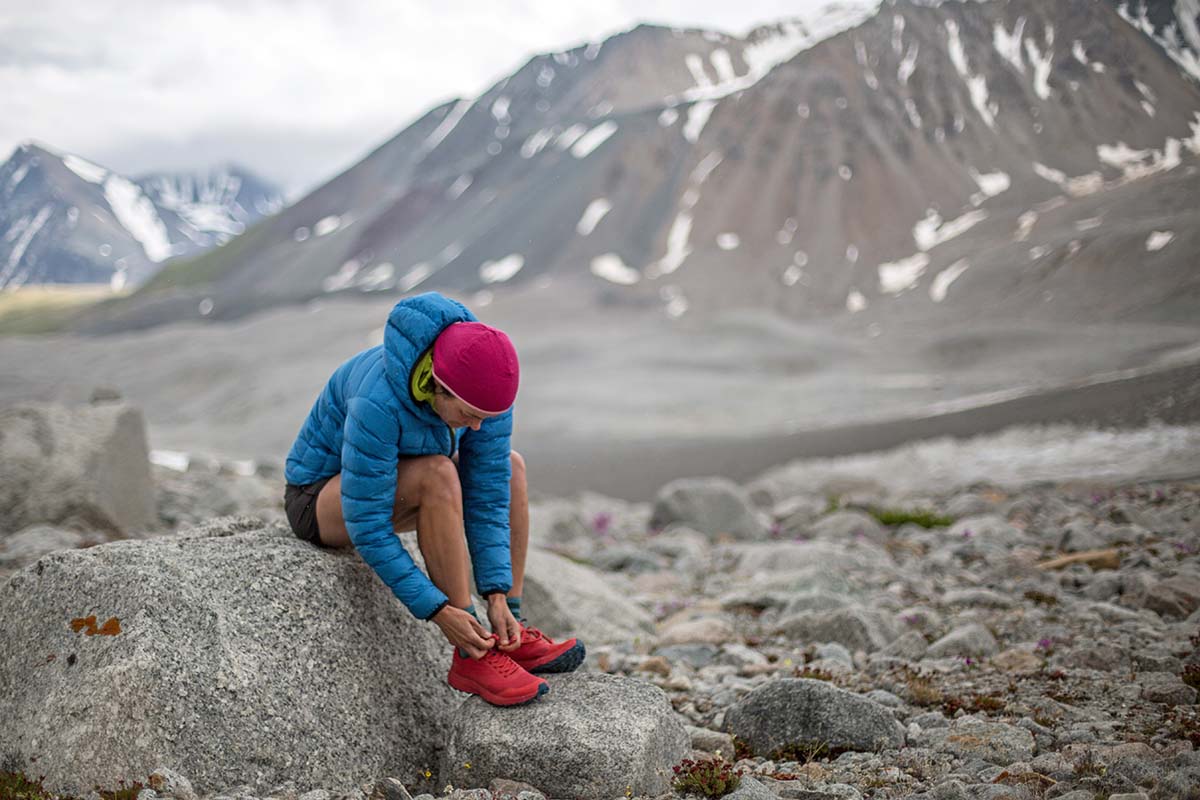 The Norvan LD is designed for long distances, meaning it is designed with comfort specifically in mind. A number of features contribute to the shoe being one of the most comfortable I have worn: The tongue is gusseted to one side of the upper with spandex, giving the shoe a snug, slipper-like feel. The seamless upper reduces potential for hotspots and rubbing, and closed-cell foam surrounds the ankle and keeps the heel from rising with each step. And while I initially found the laminate overlay on top of the middle of the toe box to be a bit stiff and unforgiving, loosening the lacing in the forefoot alleviated the issue. 
Despite everything else I've raved about, my favorite part of the Arc'teryx Norvan LD is its lacing features. The flat eyelets keep the laces straight and taught—they haven't budged once for me while running. This secure hold means the laces are a tad annoying to release when taking the shoes off, but I appreciated being able to adjust them how I wanted and keep them that way (I prefer my shoes loose at the forefoot and tight near the ankle). And the elastic pouch on the tongue is genius—the laces can be tucked away so they don't catch on brambles or roots. Even on runs that lasted all day, I found that I didn't have to re-tie or adjust my laces once.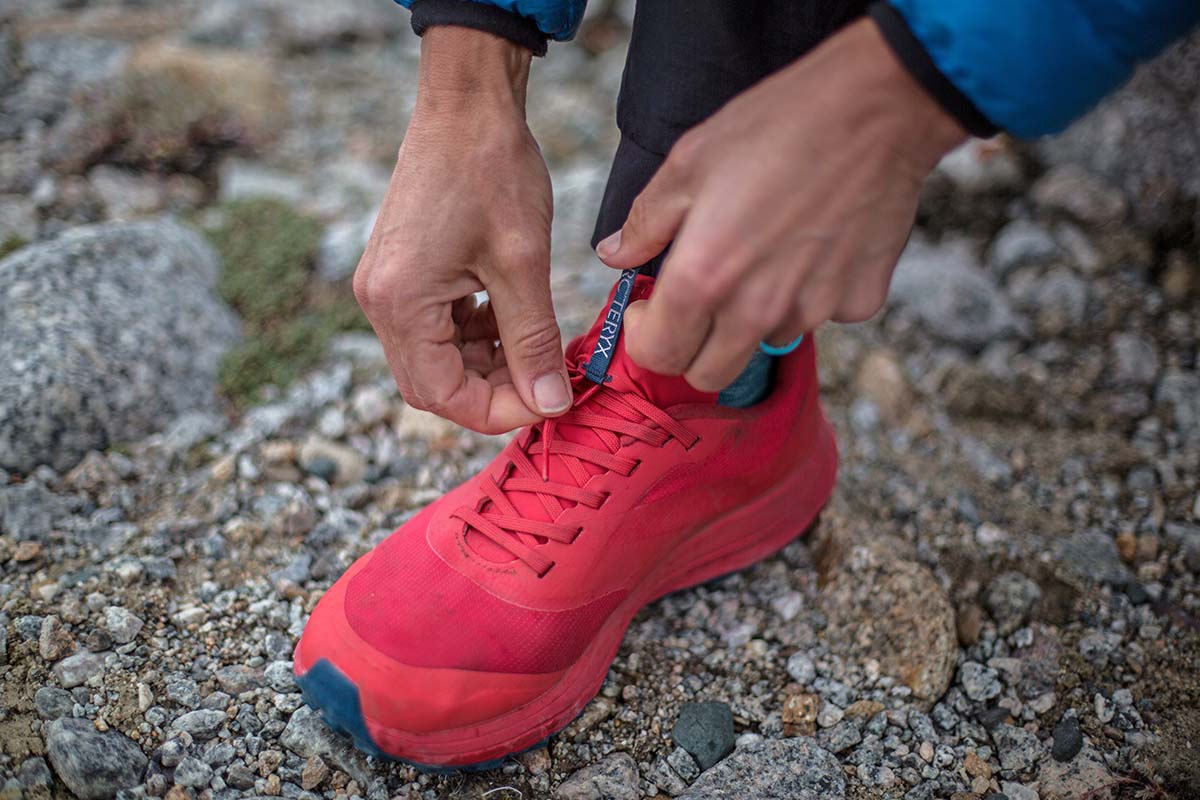 Other Versions of the Arc'teryx Norvan Shoe
We tested the women's version of the Arc'teryx Norvan LD ($160) for this review, but the shoe also comes in a men's version. The men's Norvan LD is identical in price and features, but is available in different colorways and designed with a slightly higher volume to accommodate wider feet. Both the men's and women's Norvan LD is also available in a waterproof GTX version, which is $195 and a few ounces heavier. And as we've mentioned throughout this review, Arc'teryx also makes the Norvan VT ("varied terrain"), a more protective and less cushioned shoe designed specifically for stability on technical terrain. Both the men's and women's VT are sold for $170, and are also available in GTX versions ($200).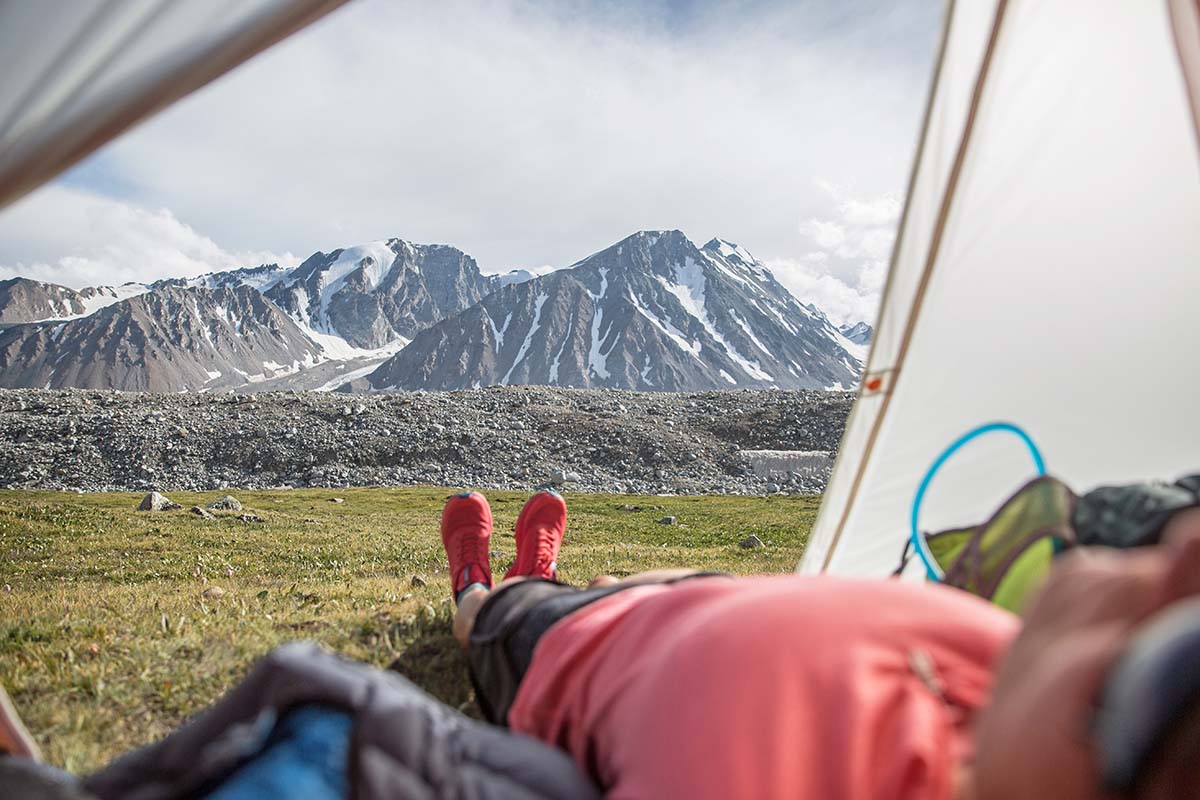 What We Like
The Norvan LD is an extremely comfortable and stable shoe, all in an impressively lightweight package.
High quality, thoughtful design and construction on par with all Arc'teryx products.
The lacing system is secure and clean, and the elastic tongue pouch is super convenient for storing the laces.
 
What We Don't
Durability was an issue with my first pair, but I'm hoping that was a one-off. I'm still awaiting Arc'teryx's decision on whether or not my shoe will be covered under their warranty.
The $160 price tag is steeper than many other options.
Sizing is weird: make sure you try on before you buy, and if you're in between sizes, size down.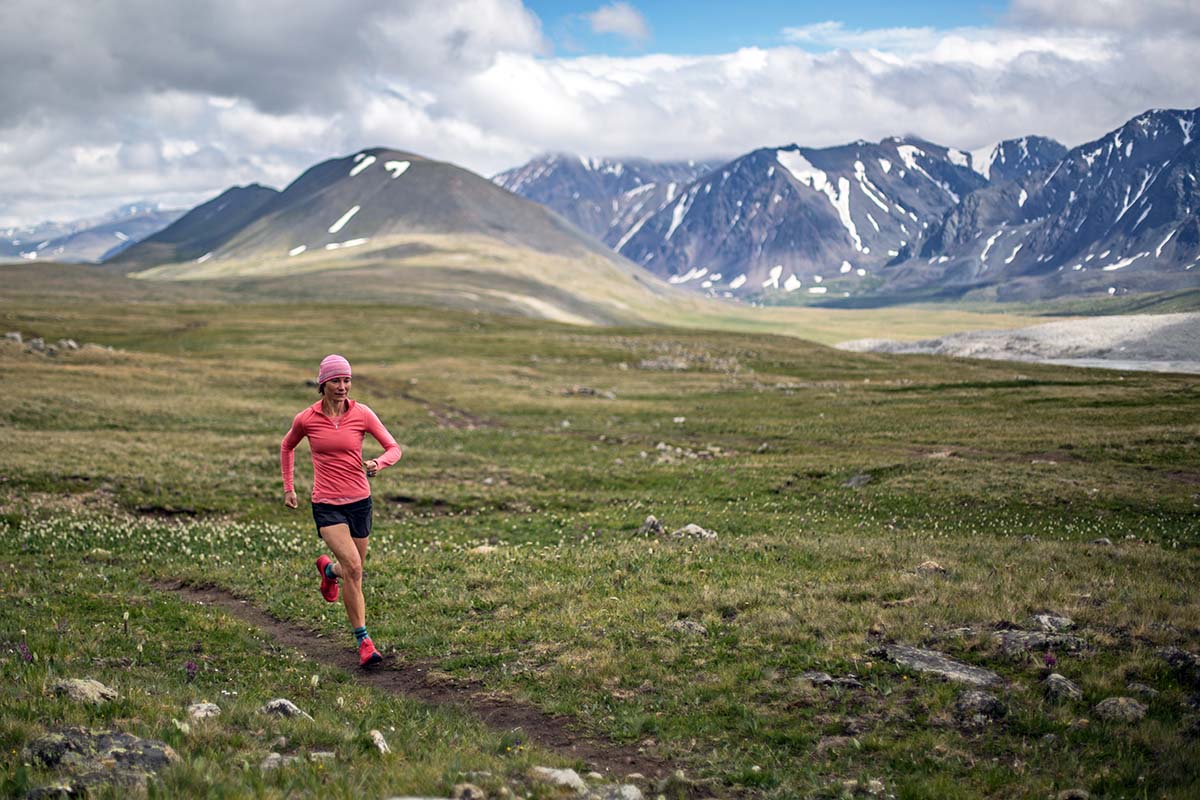 Comparison Table

The Competition
As we mentioned, Arc'teryx originally entered the trail-running world with the Norvan VT, a shoe that is truly made for the mountains. The pair make a great two-shoe quiver—the VT's stiffer sole and light cushioning will offer better traction on loose rock and wet trail, while the LD's cushioning provides more all-day comfort. But we like the LD better as an all-around shoe: It still manages to be an impressively stable, grippy shoe despite its generous cushioning, without being overkill (like the VT) on easy trail. Overall, we think the LD is a more versatile option for trail outings on all but the most technical terrain.
We've compared the Norvan LD to the La Sportiva Bushido on multiple occasions—and that's a true compliment. The Bushido is one of our favorite trail-running shoes, excelling on technical terrain with enough grip and stability to be confidence-inspiring. It has a very close-to-trail feel due to its 6mm drop and light/moderate cushioning, compared to much more robust cushioning and 9mm drop in the Norvan LD. This ends up being a matter of personal preference, but for those who want a bit more isolation from harsh impacts, the Norvan LD makes more sense. We also found the Bushido to be overkill on a smooth trail—similar to the Norvan VT—but still a reliable partner on longer runs.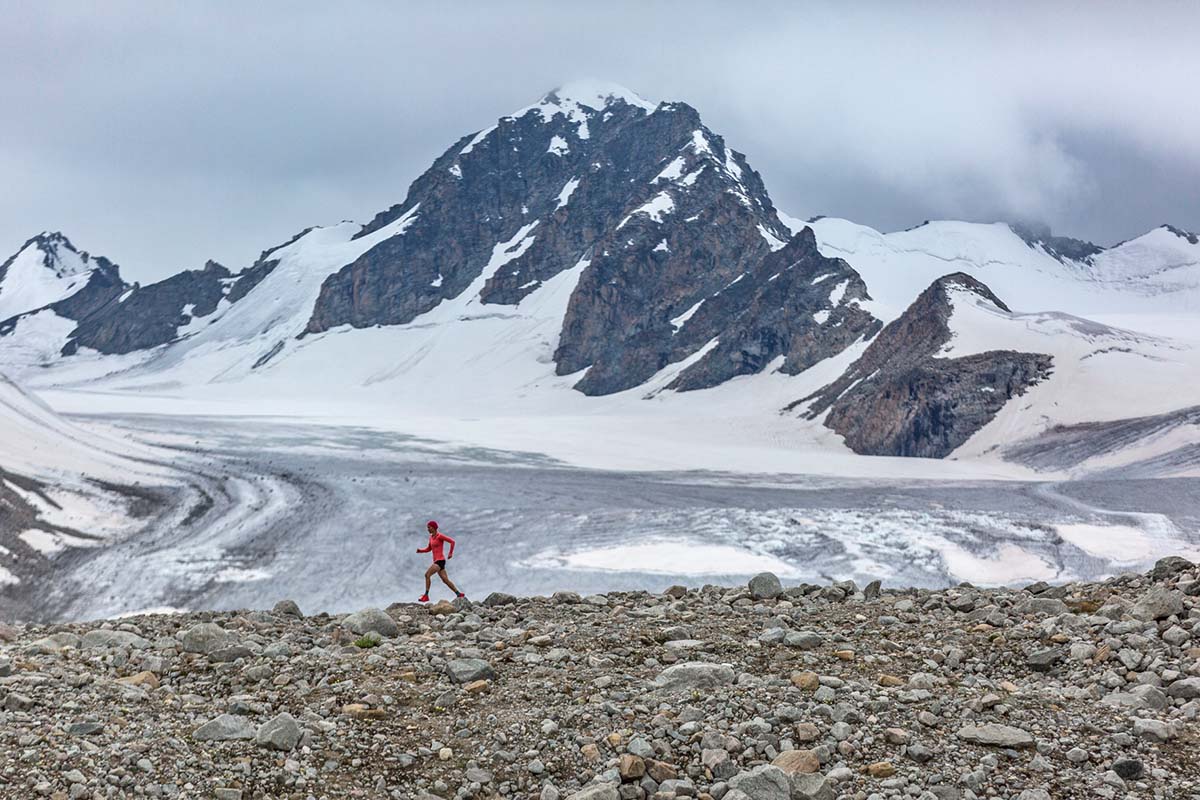 For those looking for an all-around trail runner that excels in comfort, traction, protection, and weight, the Saucony Peregrine ISO is also worth considering. As the latest iteration of the Peregrine line, the ISO has excellent comfort from its cushy midsole, substantial lugs (6mm), and grooves along the forefoot to improve responsiveness on tricky terrain. However, unlike the Norvan LD, the cushioned midsole—designed without a rock plate—seems to result in a lack of stability on rocky and rooted trails. For those looking for long-distance comfort and flexibility, the Peregrine ISO is a solid contender. But for more finesse on technical and varied terrain, the Norvan LD is a better all-around shoe.
If you're thinking about buying gear that we've reviewed on Switchback Travel, you can help support us in the process. Just click on any of the seller links above, and if you make a purchase, we receive a small percentage of the transaction. The cost of the product is the same to you but this helps us continue to test and write about outdoor gear. Thanks and we appreciate your support!
Depending on the seller, most products ship free in the United States on orders of $50 or more. International shipping availability and rates vary by seller. The pricing information on this page is updated hourly but we are not responsible for inaccuracies.
Read More From Switchback Travel