The Lone Peak 3.0 is the latest version of Altra's most popular trail shoe, released last year as a replacement for the 2.5. The core elements of the design—zero-drop platform, wide toe box, and significant cushioning—remain, but the new model has a more durable upper material and redesigned outsole. I found that the shoe offered impressive levels of cushioning and comfort on easy and moderate trails, but wasn't super adept at handling technical terrain. Below are my experiences with the Lone Peak 3.0 including thoughts on cushioning, stability, durability, design, fit, and more. To see how the Lone Peak 3.0 stacks up, see our comparison table and article on the best trail-running shoes.
 
Performance
Cushioned but Responsive on the Trail
Before the Lone Peak 3.0, I had never tried Altra shoes. But they have a very strong following in the thru-hiking, trail running, and ultrarunning communities, so I felt like it was time to see what all the fuss was about.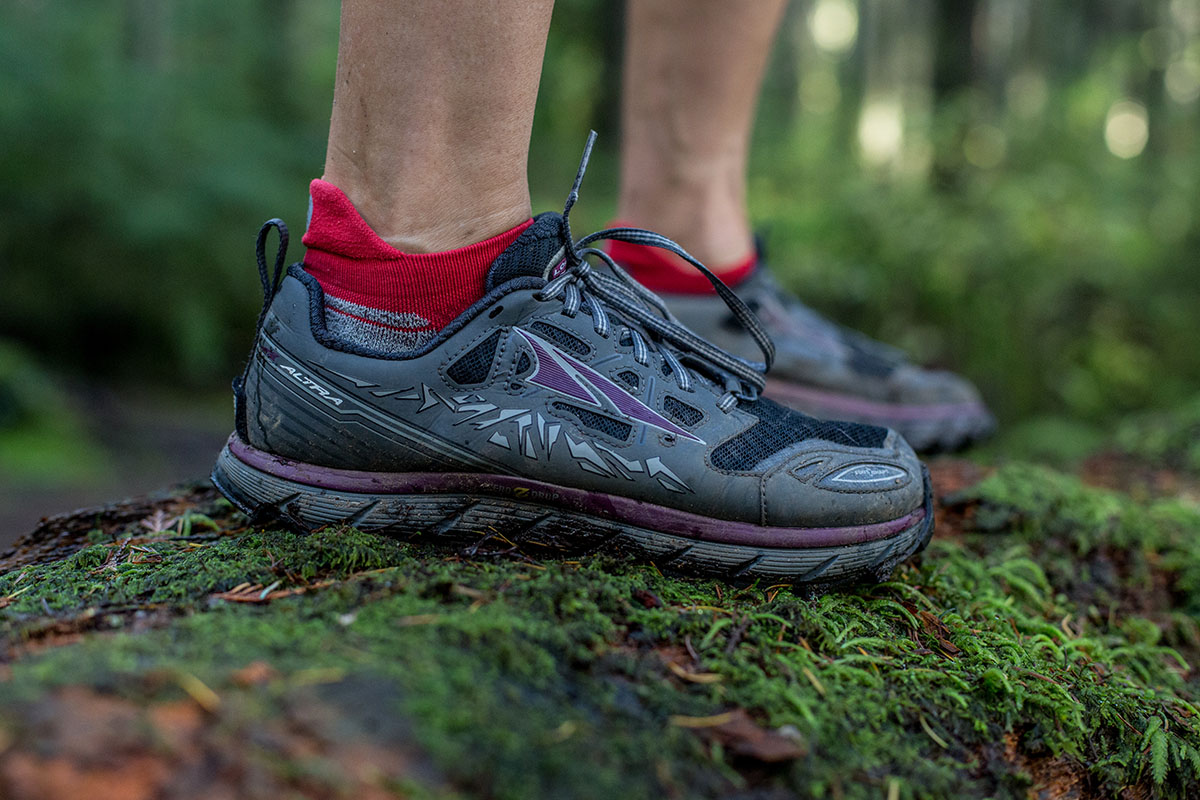 After a summer of heavy use, the trails in North Vancouver, BC, are hardpacked by autumn. Yet I noticed immediately that the cushioning of the Lone Peak 3.0 was remarkable. With a stack height of 25 millimeters, the Lone Peak has thick cushioning, and I was initially worried that it might absorb momentum. I was pleased to find that the shoes felt bouncy but without eating the energy. Altra is proud of this feature and has trademarked the top layer's EVA "A-Bound." It made me feel as though I was being kind to my joints without trying.
Since then, the midsole has broken down a bit (with about 200 miles on the pair) but is still comfortable. Importantly and considering the rough trails I run on, there is no way that rocks can protrude thanks to the flexible plate sandwiched between the outsole and midsole. And though the cushioning is substantial, it's not squishy. By that, I mean that it tends to retain its shape and does not allow the foot to move separately over the tread, one of my few complaints about my other daily driver, the Saucony Peregrine.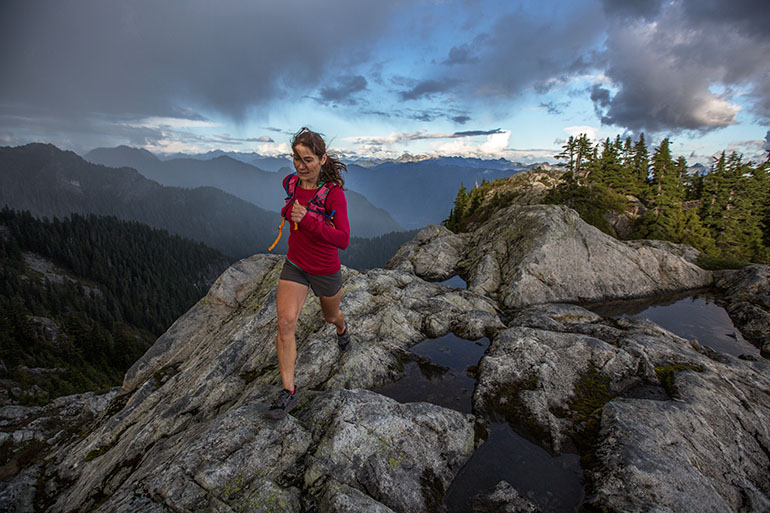 Stability
The Lone Peak's signature wide toe box and heavy cushioning does expose a downside in the design: stability on uneven trails. The more technical the terrain, the more contact with, and feedback from, you get from the trail. When I wanted to run more aggressively, I found that I constantly laced the shoes up very tightly to reduce the feeling of looseness. Especially on steep surfaces with roots and obstacles, the roomy toe box reduced my confidence as I did not always have my foot over the main point of contact. In other words, because my foot does not fill the toe box completely, the outer and inner edges of the shoe tend to feel empty.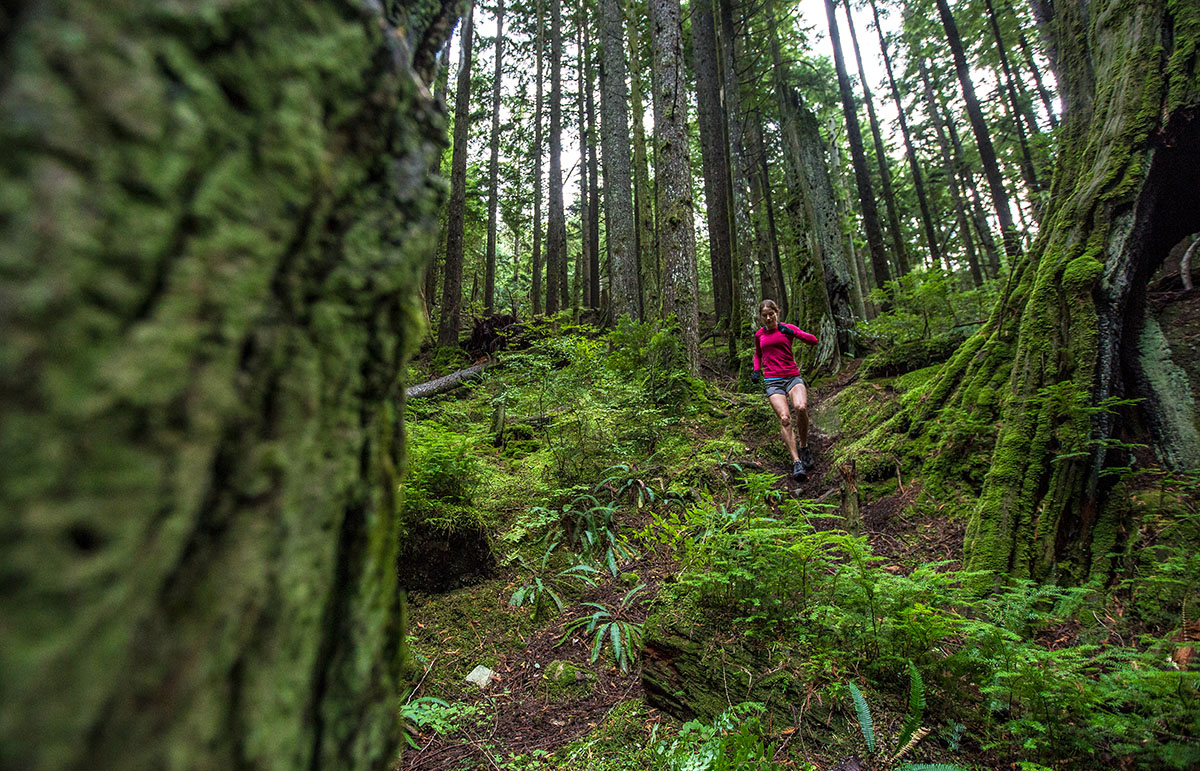 Traction
The outsole's tread (dubbed TrailClaw) has thus far held its ground with no problem of slipping on North Vancouver's slick trails. I'm always cautious when I try new shoes, but I'm now confident in my Lone Peak's treads in all conditions. The tread compound, while not as grippy as my La Sportiva Bushido, has proven to be capable in both mud and hardpack. In all, it's a fine option for year-round running (Altra also offers a semi-waterproof NeoShell model for truly nasty weather).


Durability
At this point, my Lone Peaks 3.0's have about 200 miles on them and have had no durability issues. The midsole has broken down a bit but I tend to think of this as normal, and it has not reduced their comfort or ability to protect from rocks. More, the shoe's predominantly mesh upper hasn't suffered despite repeated abuse from wet and soggy runs.


Zero-Drop Design
For those unfamiliar with the term, a zero-drop shoe has a level platform with the heel and forefoot sitting equidistant from the ground. The concept is simple: the foot is a well-designed structure, and most running shoes alter what the foot does naturally by adding, among other things, more padding at the heel than the toe resulting in a heel-to-toe drop.
I had been wearing shoes with a small 4-millimeter drop (Saucony's Peregrine), so the change to a zero-drop shoe was not dramatic. In fact, I didn't notice it, which leads me to believe that I am not very sensitive to this nuance. Having said that, I only run on trails with varied surfaces such that no two foot strikes are similar. I suspect that if one was running on flat or well groomed trails, the zero-drop would be more noticeable and could potentially result in sore calves for those not used it. Ultimately, the zero-drop should help strengthen the Achilles and lower calf muscles, but it is something that should be eased into if you're transitioning from conventional running shoes with raised heels.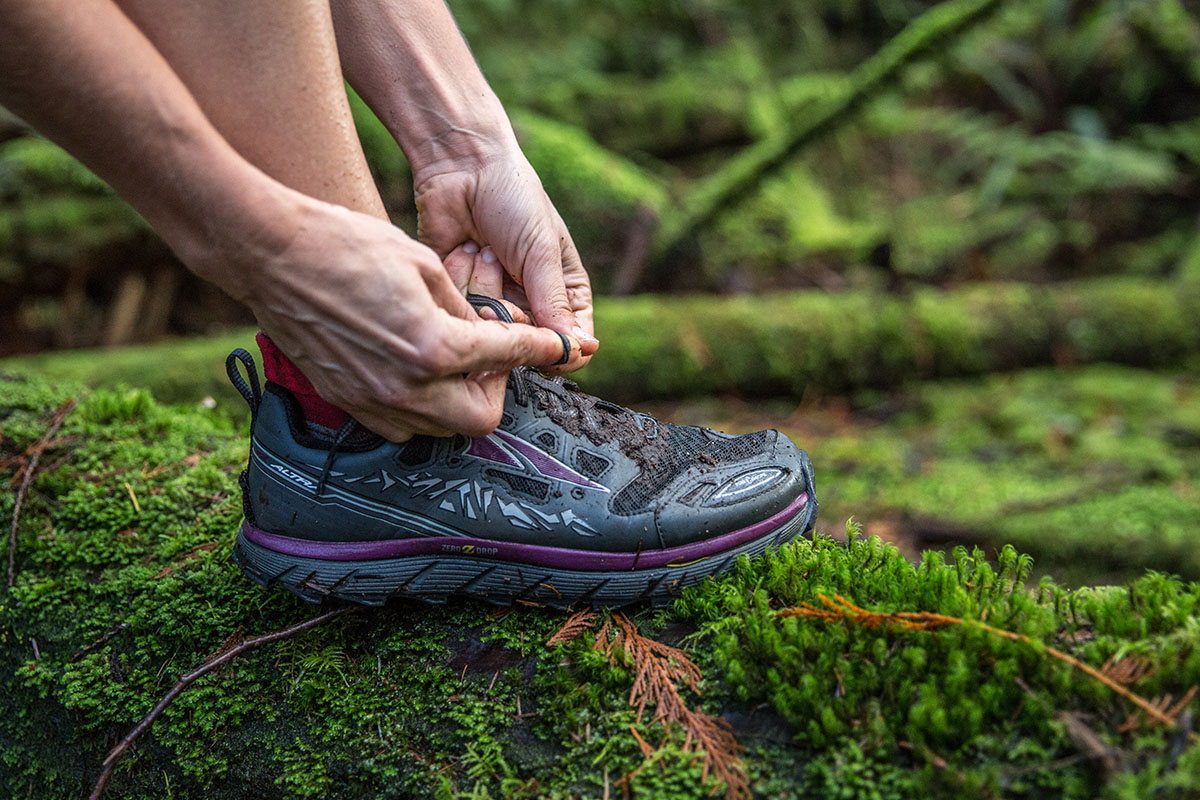 FootShape Toe Box
Altra's FootShape toe box flows from their design concept that running shoes should allow the foot to act as natural as possible. This is essentially an extremely roomy toe box that allows the toes to spread out and remain in a neutral position. It also allows the big toe to remain straight, in order to allow it to flex freely and increase power in the push-off. Though I've never noticed that my big toe has not been able to contribute fully in other shoes, I am intrigued by this idea. It is likely a subtle advantage, however, and I have not perceived it per se, but I do believe that it could add up over the length of a run.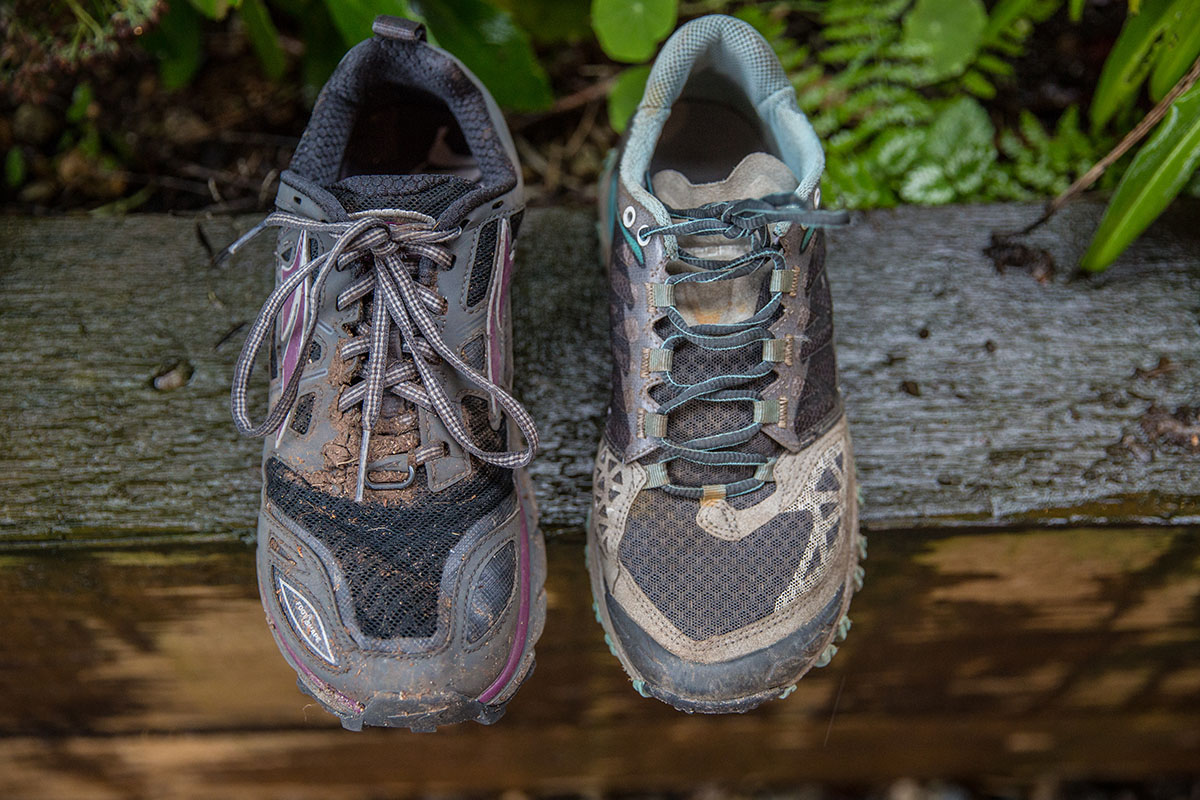 Fit and Sizing
The Lone Peak 3.0 fits true to size, and my women's 8.5 is very comfortable. Perhaps because I had never worn Altras, I was surprised by the roominess in the FootShape toe box, and at first almost felt that the shoes might be a bit large. There is plenty of room to wiggle my toes even when the shoes are tightly laced, but I've come to realize that it is by design,and not due to a sizing error. My poor feet are used to being forced into climbing shoes and ski boots and had become accustomed to being squished and uncomfortable. It is now hard to deny that my toes and bunion appreciate the extra room.
 
Comfort
I love the comfort of the Altra Lone Peak 3.0 for logging long miles when it's not important to cover steep uneven technical terrain with reckless abandon. Anyone spending significant hours on their feet will appreciate the fit and comfort making them an excellent choice for training, and I can see why they are so popular in the thru-hiking and ultrarunning community. They won't be my go-to shoe for a technical trail race, but I suspect that I would change my mind if I were to jump into 100 mile events or opt for races in less technical locations.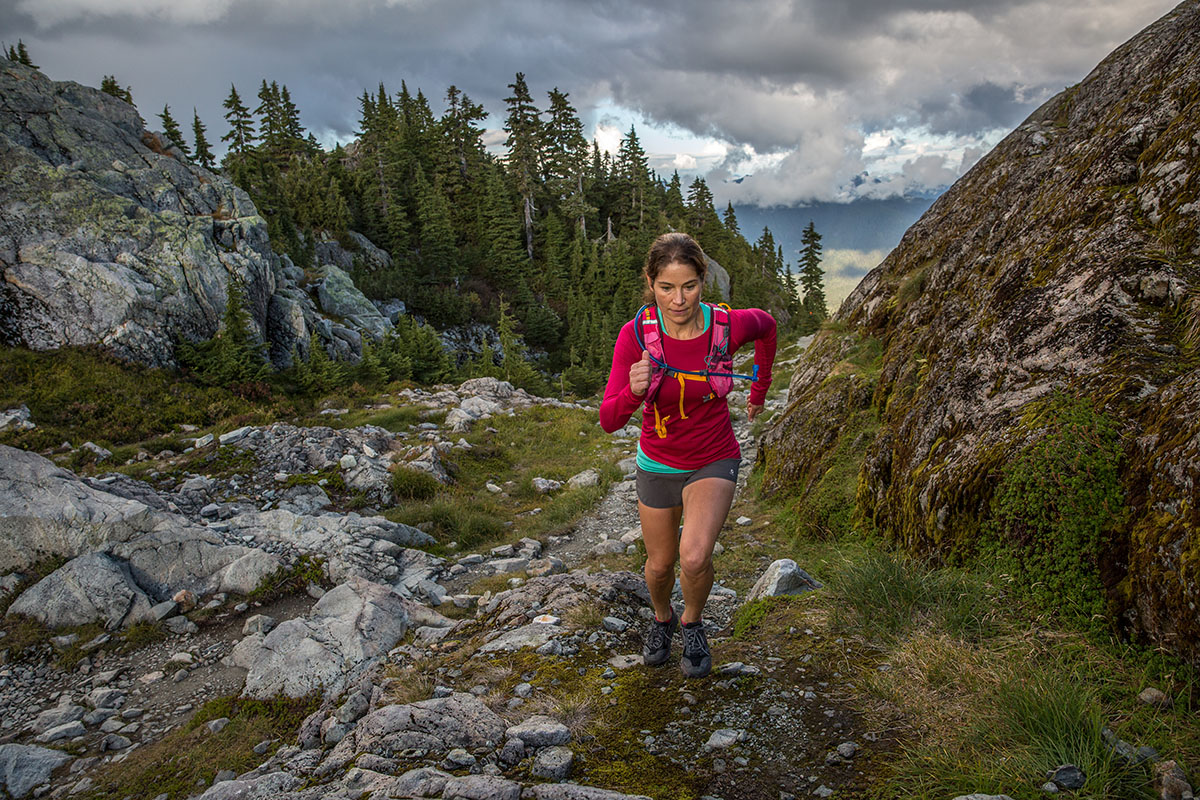 What We Like
Comfortable and roomy toe box.
Fantastic cushioning that holds its own on hardpacked trails.
Altra's Gaiter Trap, a velcro tab on the heel of the shoe, allows for quick and easy attachment of trail gaiters.
The Lone Peak 3.0 is offered in a variety of styles, including mid-height boots and a semi-waterproof NeoShell low-top for wet and cold weather.

What We Don't
Some might find the very roomy toe box too wide, making for a slightly sloppy feel.
It's still not a shoe I trust enough on demanding, technical trails.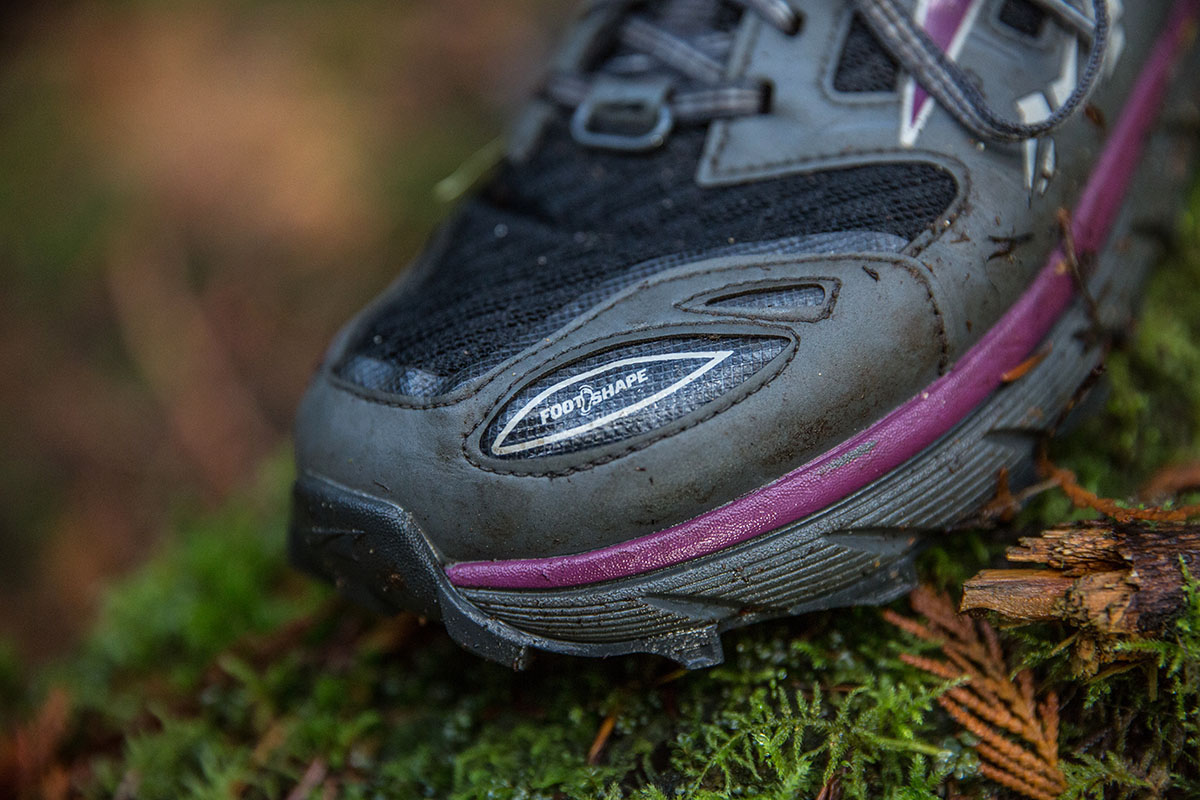 Comparison Table


The Competition
As an all-around trail shoe, the Altra Lone Peak 3.0 stacks up well but isn't best-in-class. The thick cushioning does have a modest impact on weight (my women's size 8.5 weighs 9.6 ounces) and I've found I prefer the Saucony Peregrine's (8.5 ounces) lighter feel for long distances or when speed is my top priority. And on rough trails, the La Sportiva Bushido (see our in-depth review) has a stronger connection to the ground and superior grip. On the other hand, the Lone Peak is more comfortable than either of those shoes—in fact, it's the most comfortable pair of trail runners I've worn.
It takes a lot to stand out in the very competitive trail-running shoe market, but the Lone Peak is one of the recent success stories. Altra has found a strong contingent of runners that value the wide toe box, zero-drop design, and thick cushioning. If these are your priorities and you stick primarily to non-technical trails, we highly recommend the updated Lone Peak 3.0.
If you're thinking about buying gear that we've reviewed on Switchback Travel, you can help support us in the process. Just click on any of the seller links above, and if you make a purchase, we receive a small percentage of the transaction. The cost of the product is the same to you but this helps us continue to test and write about outdoor gear. Thanks and we appreciate your support!
Depending on the seller, most products ship free in the United States on orders of $50 or more. International shipping availability and rates vary by seller. The pricing information on this page is updated hourly but we are not responsible for inaccuracies.
Learn More About Outdoor Gear