Over a decade ago I purchased and wore a La Sportiva Wildcat trail runner, and though I loved the tacky tread, the stability was unimpressive. It is clear that things have changed: La Sportiva has since established a spot in the trail running community, sponsors successful trail runners, and boasts an extensive line-up of trail shoes. Still, I was a bit skeptical when I first pulled the Bushidos from the box and tried them on. According to La Sportiva, the Bushido is "neutral, stable, lightweight, sticky and aggressive... designed for performance on technical terrain".  A few runs on varied and extremely technical terrain quickly dispensed of my initial concerns—the shoes delivered exceptionally on 4 of the 5. Below we break down the Bushido's traction, cushioning, fit and comfort, and more. To see how the Bushido stacks up, see our comparison table and article on the best trail-running shoes.

Performance
Traction and Stability
The outsole's "FriXion" rubber is remarkably tacky and gripped every terrain I could throw at it. The stickiness combined with the "Impact Brake System"—the lugs are multi-directional to increase braking power—create immediate traction for the La Sportiva Bushido. It was almost unnerving and took my brain some time to catch up to the startling responsiveness. I felt as though I should be careful to avoid tripping as the shoe attached so firmly to the ground at each foot strike, even while aggressively running downhill (I remember feeling the same when I used crampons on ice for the first time).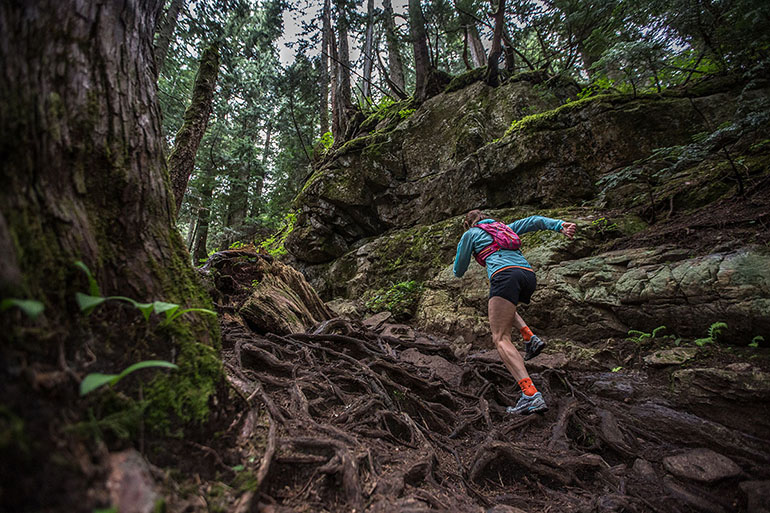 Having said that, it took only a few steps to adapt and appreciate the sure-footedness and predictability the Bushido provides. I challenged these runners on slippery rocks, creek beds with baseball-sized stones (which seem designed to cause ankle sprains), slick wood work, and slimy roots. They performed admirably throughout, gripping even the toughest of surfaces.
Coupled with the impressive traction, the stability of the Bushido is notable. The "STB Control" construction and "TPU", which essentially is a stiff durable plastic, wraps under the foot to keep it snug and provide lateral stability. The Bushidos are extremely stable in all ways; my feet did not slip within the shoe and instead always felt as though they were directly attached to the trail's surface. The wrap-around lugs, designed to provide traction on off-camber terrain and prevent skidding, also perform as promised. This stability and responsiveness allows for an aggressive style of running that only is possible when you trust your runners.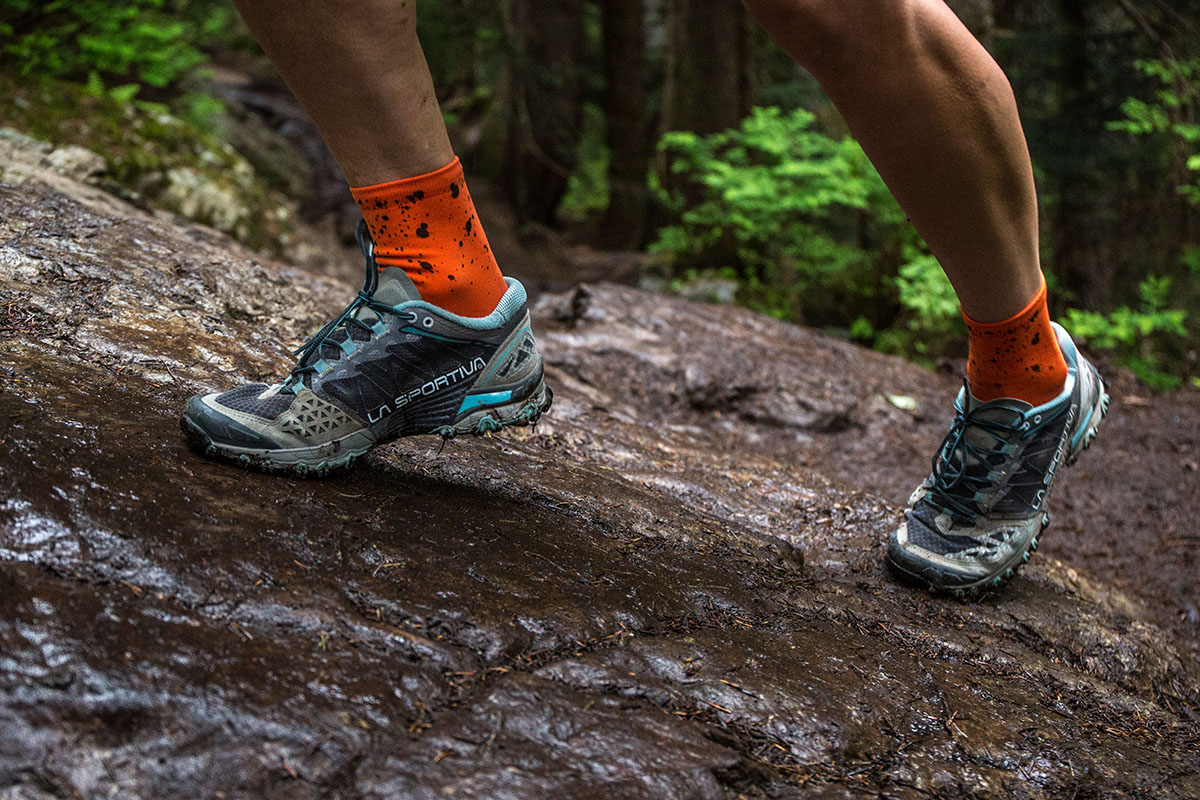 Cushioning
The downside of having such stability and responsiveness, however, is that there is only moderate cushioning and the trail's surface definitely can be felt. Even on the first use, I could feel pebbles and stones through the sole and midsole. The EVA rock guard and TPU shank protect from actual punctures, and even sharp rocks never actually hurt, but they are noticeable. Some runners might not appreciate this level of contact with the ground below, but those who like the direct feedback will welcome the connectedness.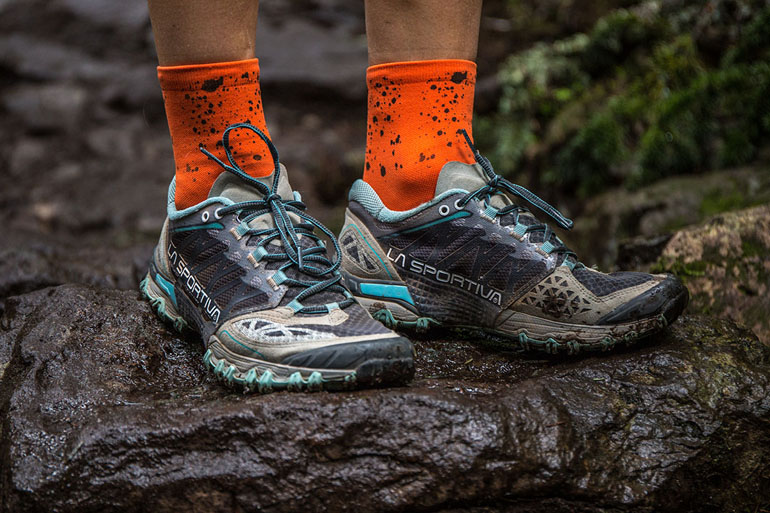 Weight
Billed as "lightweight", the Bushidos weigh in at 281g (9.9 oz.) for a women's size 8.5. That's not heavy, but they aren't exactly lightweight either (for reference, my Saucony Peregrine 6 weighs 8.5 oz.). By simply looking at the shoe, it's easy to see that there are many overlays and additions stitched or otherwise adhered to the upper, including a welded ripstop and TPU toe cap. Each serves a purpose in protecting the foot but also contributes to the total weight. Furthermore, when the Bushidos get wet they do not drain quickly, adding to their mass. Having said that, due to its nimbleness the Bushido does not feel heavy on the foot, and given the durability and substantial protection, the weight seems warranted.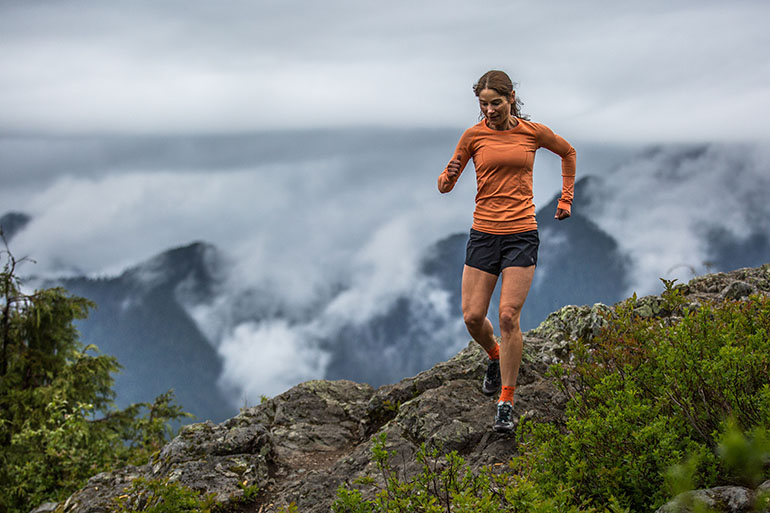 Fit, Sizing, and Comfort
The Bushido features an internal slip-on construction for a very comfortable, sock-like feel. The tongue is soft and pliable and does not rub one's ankle or sock. I know people who wear the Bushido without socks, and though I haven't tried this method, I trust that it could be done comfortably.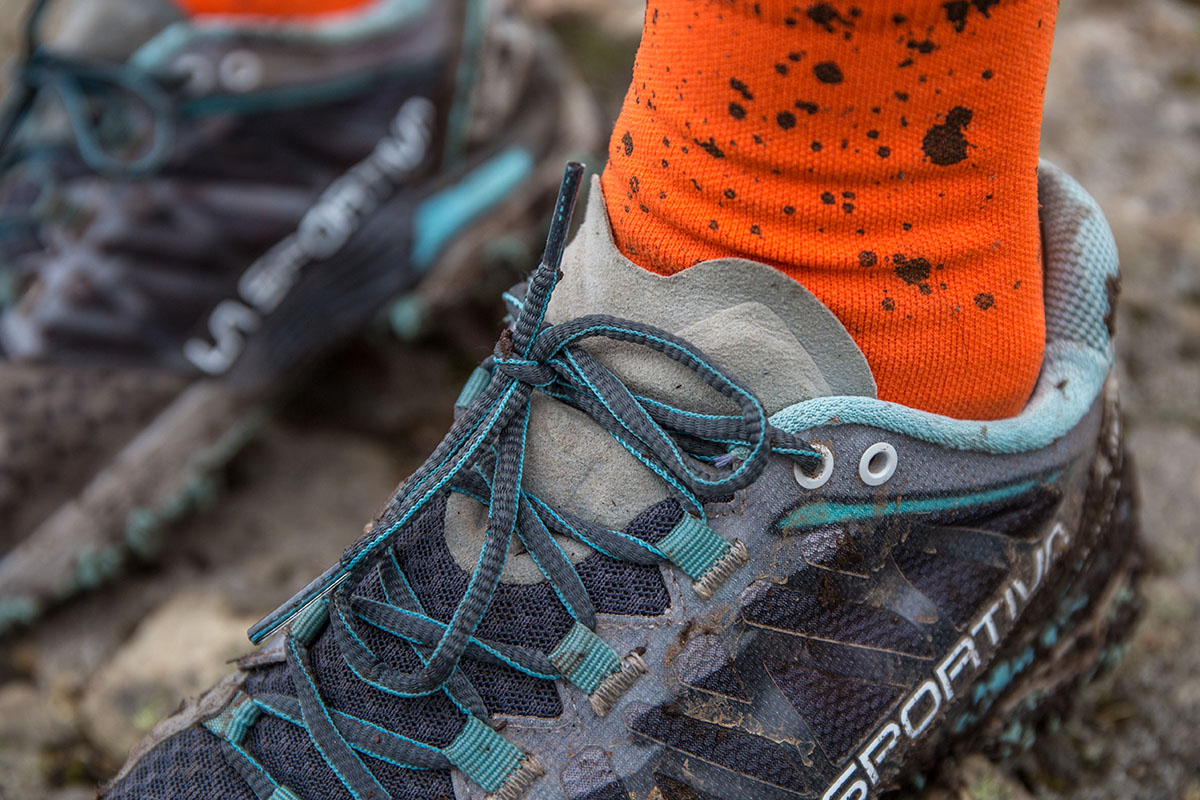 I am consistently a women's 8.5 and have wide feet complete with a bunion. I had read that the Bushidos tend to fit a narrow foot and run from ½ size to a full size small. I did not find this to be the case and was pleased that they fit me true to size. Despite over 100 miles of aggressive trail running, neither my bunion nor toenails have been compromised. It's possible that the snug fit might lead some to feel that they are too small, so it's worth trying them on and assessing fit before purchasing.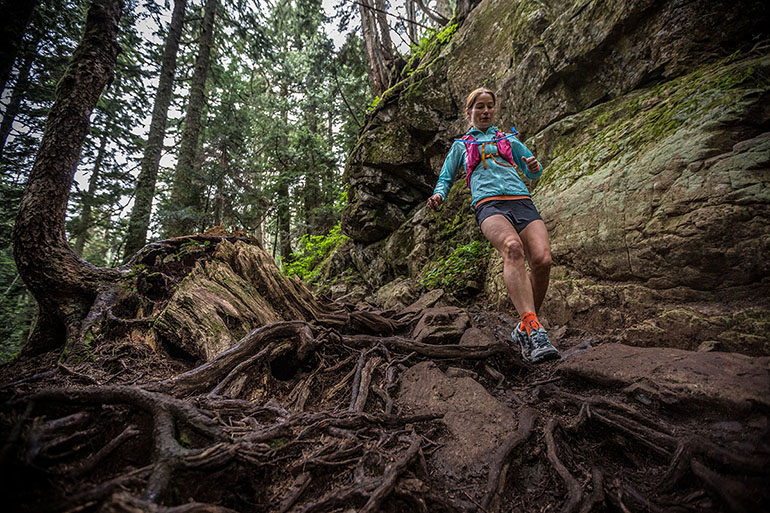 What We Like
Amazing traction and stability on all kinds of uneven and highly technical terrain. 
Snug and comfortable fit.
Durability, which includes microfiber reinforcements in areas prone to accelerated wear, such as the medial side of the toebox (big toe joint).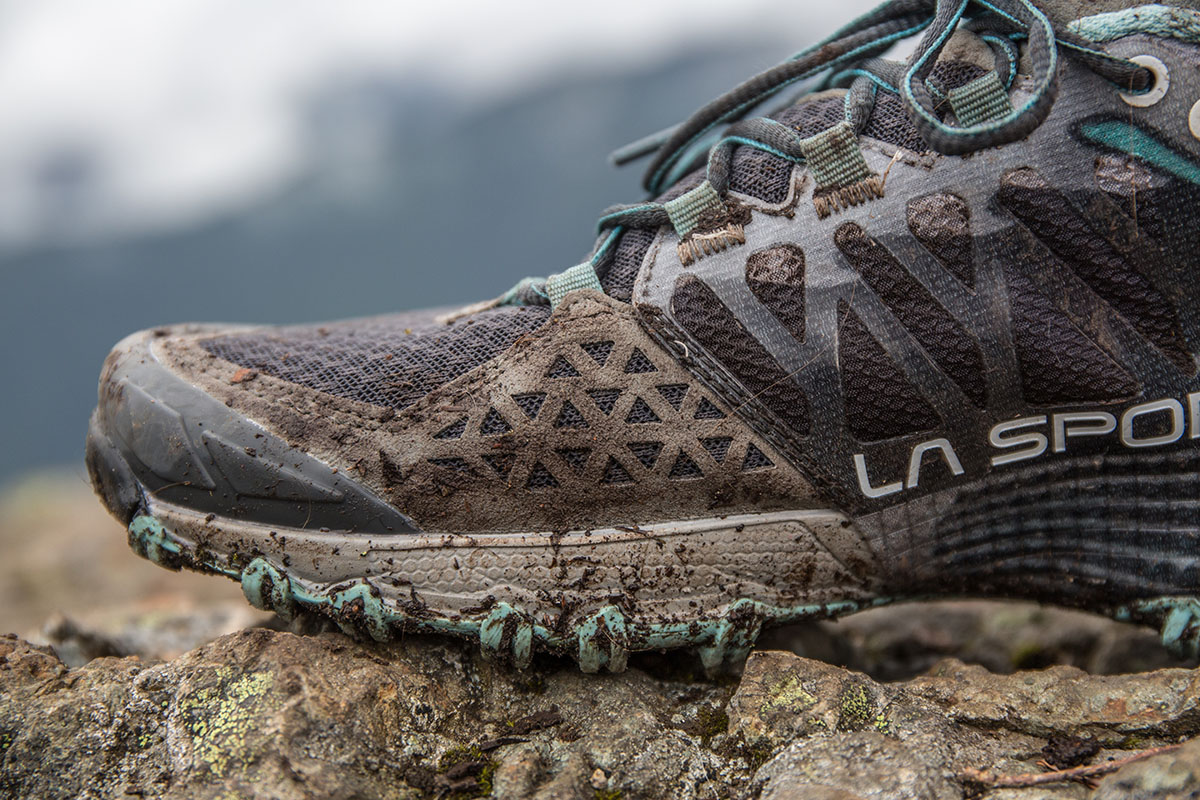 What We Don't
The shoe is a bit heavy and has underwhelming drainage. I weighed them upon returning from an average run that involved mud and found that they had put on an ounce. This might seem unremarkable, but on a long run it could become noticeable.
Cushioning is moderate at best—we label it as light/moderate. This can be a positive feature, however, for those that like to feel connected to the trail.
They are a bit stiff and inflexible, which makes them less comfortable on smooth paths or asphalt.
Given La Sportiva's Euro roots, the boring colours available on the 2016 model are a bit surprising (the men's version is brightly clad). Perhaps the blandness is an overreaction to the bizarrely colorful 2015 version.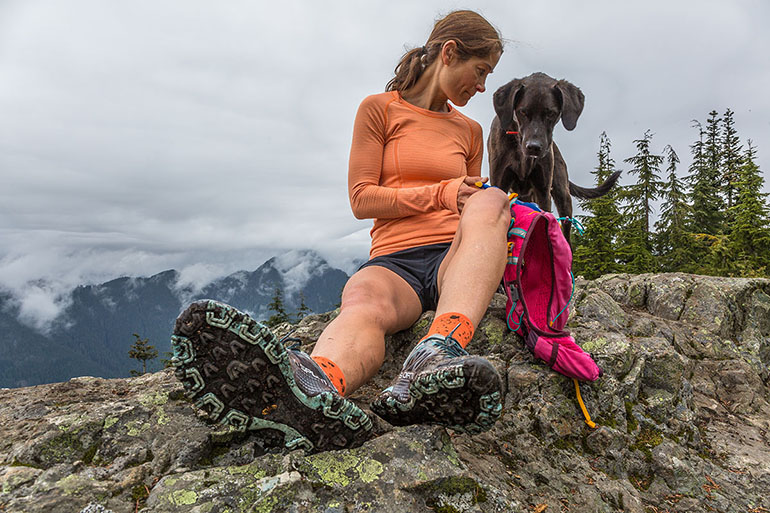 Comparison Table

The Competition
La Sportiva's Bushidos have no direct competition from my perspective. They are like armored rally cars designed to corner well yet handle rugged terrain at high speeds. Most low-profile trail-running shoes are simply not aggressive and bombproof like the Bushido. The closest I have tried are The North Face's Single Track Hyasa (18mm/8mm heel/toe, compared to the Bushido's 19mm/13mm heel/toe). The Hyasas are noticeably lighter (50 grams or 1 ¾ ounces less) but as a result feel far less substantial and offer far less protection. Also, because of the Hayasa's 10mm drop (heel to toe stack height difference), they do not contribute to a natural foot strike like the Bushidos with their more neutral 6mm drop. The new Salomon Speedcross 4 (see our in-depth review) is on par in terms of traction, but the cushioned ride isn't as stable as the Bushido over rough terrain.
Another trail-running shoe I've tested recently is the Saucony Peregrine 6, but in my experience they are very different shoes and tough to compare. It's like trying to compare the aforementioned armored rally car to a Sprinter Van. Sprinter Vans are comfortable and fun, but you wouldn't want to corner too quickly or take them on extremely technical terrain. The same holds true for the Peregrine 6. The Bushidos, on the other hand, are the nimble yet protective vehicle that is perfect for aggressive attacks on difficult trails, though they might be overkill for fire roads and smooth trails.
If you're thinking about buying gear that we've reviewed on Switchback Travel, you can help support us in the process. Just click on any of the seller links above, and if you make a purchase, we receive a small percentage of the transaction. The cost of the product is the same to you but this helps us continue to test and write about outdoor gear. Thanks and we appreciate your support!
Depending on the seller, most products ship free in the United States on orders of $50 or more. International shipping availability and rates vary by seller. The pricing information on this page is updated hourly but we are not responsible for inaccuracies.
Read More From Switchback Travel