In February of 2016, Arc'teryx introduced two new minimalist jackets: the Norvan Jacket and Norvan SL Hoody. In the latter, the "SL" stands for super light and the jacket is marketed as the lightest, most breathable, waterproof shell available. It seemed fitting to test the Norvan SL running in the North Vancouver trails from which its name was derived, and as soon as it was in my closet, I found myself wishing for rain. Luckily the weather cooperated and provided many wet and soggy days. Below we break down the Norvan SL's waterproofing, breathability, weight, fit, and more. And to see how it stacks up, check out our comparison table and article on the best rain jackets.
 
Performance
Gore-Tex with Permanent Beading Surface
The most exciting feature of the Arc'teryx Norvan SL Hoody is its use of a new material: Gore-Tex with Permanent Beading Surface. A version of this technology debuted as Gore-Tex Active in December 2015 with The North Face's HyperAir GTX Jacket, and it's a very fun addition to outdoor gear's repertoire of fabrics. You can see our comparative rain jacket review for a discussion of waterproof fabrics, but in sum, premium waterproof jackets typically have three layers: an outer face, an inner lining, and a membrane in between that provides the water protection. With Gore-Tex with Permanent Beading Surface technology, there is no external layer. The inner layer and a single laminate membrane—the "Permanent Beading Surface"—provide the outer barrier. By eliminating the external face textile, weight is reduced and breathability is increased (at least in theory).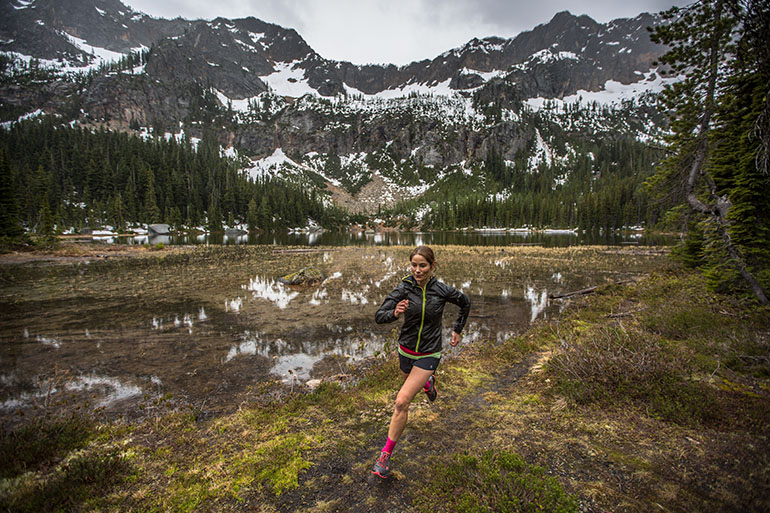 Arc'teryx went a step further than The North Face HyperAir GTX by also reducing weight caused by extra material and features. It is a form-fitting ultra-minimalist jacket best for trail running and other fast and light pursuits—there are no pockets, flaps, or extra zippers (like pit zips). Simply by the nature of its thin fabric, durability is limited so we recommend sticking to trails that don't require bushwhacking. The hood has a simple adjuster to tighten it, which also doubles as a means of folding and storing the hood when not in use (I found it difficult to roll and secure the hood, so typically I let the hood flap behind me when I didn't need the protection).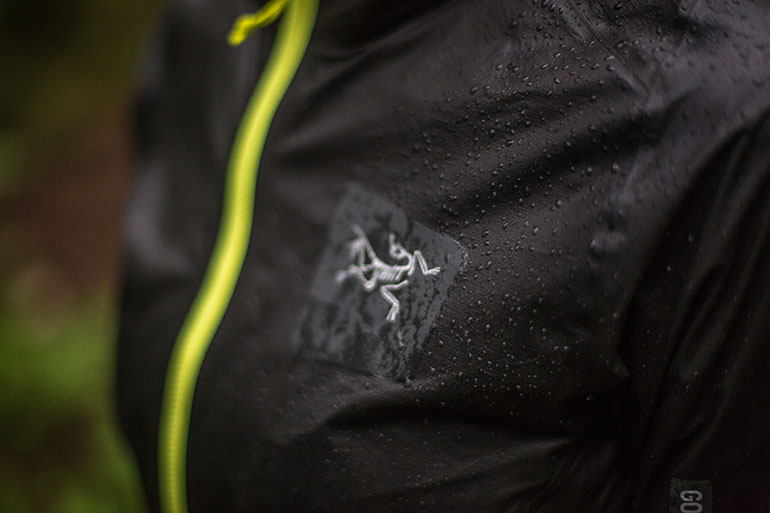 Waterproofness
The Gore-Tex with Permanent Beading Surface truly is waterproof. I did everything I could do to test this including literally standing under a waterfall. Because there is no external face textile, there is no fabric to "wet out" or soak up water. Instead, in all cases, the water simply beaded and rolled off. Furthermore, the sealed zipper has not let me down. In fact, the only means of entry is under the chin, but I found that when in a typical running position with my head nodded slightly down to watch the trail ahead, this tends to be protected as well. And the hood's slight bill is stiff enough to deflect water from my eyes.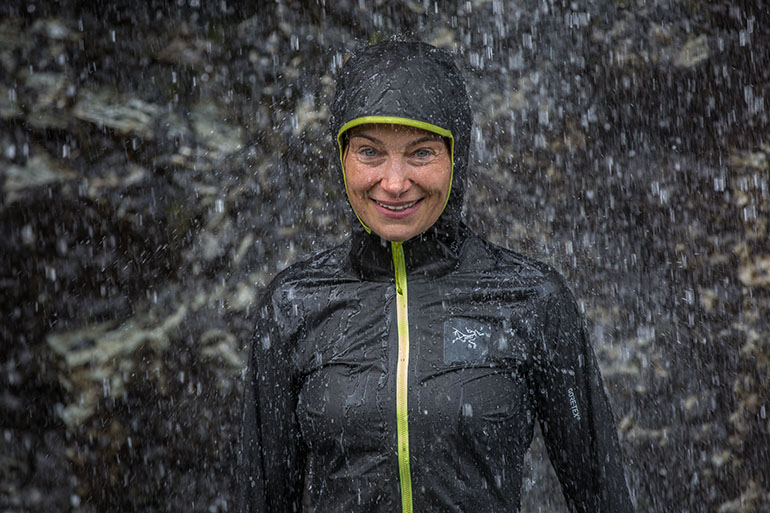 Breathability
First, I want to make a point about "breathability" in general. When we work hard, we sweat, and ideally the sweat evaporates. This evaporation is the mechanism that takes heat from our body and therefore is our body's way of cooling down. It's a pretty slick system, but requires that the air around us is able to take in more liquid. On very humid days, for example, the air cannot take on more water so our sweat does not evaporate. When it is hot, we might produce sweat faster than it can evaporate. Even if we ran naked, we would remain sweaty in these situations. Without going even further into it, the point is that if a jacket was perfectly breathable, the best it could do is keep us exactly as sweaty as we'd be if we were naked. Most waterproof rain jackets, however, reduce the amount of air flow and evaporation, leaving us wet and sweaty. So, does the Norvan SL Hoody do what every other jacket I've tried fails to do? Is it actually breathable?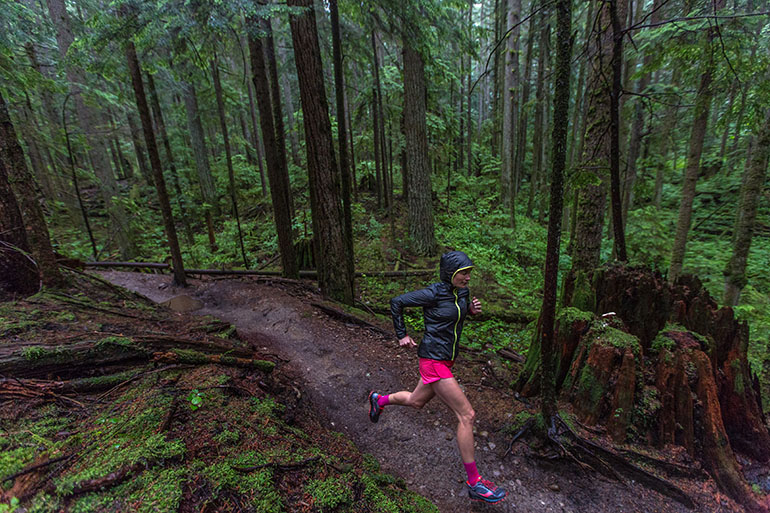 I challenged this jacket in every way that I could think of. One of my first runs happened to be a mild but torrentially rainy day—the kind of rain that only can be experienced in the Pacific Northwest in which it is impossible to imagine that more water could fall from the sky. In fact, it was reminiscent of my stint standing under a waterfall.
As mentioned above, the jacket's waterproofness is unquestionable but breathability always can be questioned. On this same run, my route took me up steady sweat-inducing climbs (I'm known to sweat a lot for a female). I felt comfortable and there was no clamminess caused by the jacket sticking to my bare arms. When I finished the run I still assumed that my t-shirt would be soaked in sweat, but was a bit shocked that other than the bottom where it peaked out of the jacket, my t-shirt remained entirely dry. In my many years of running, I have never experienced anything like it. Since that run, I have been caught in numerous rain showers in the Coast and Cascade mountain ranges, and hail and thunder storms in the Rocky Mountains, and continue to be amazed by the Norvan SL's combined waterproofness and breathability.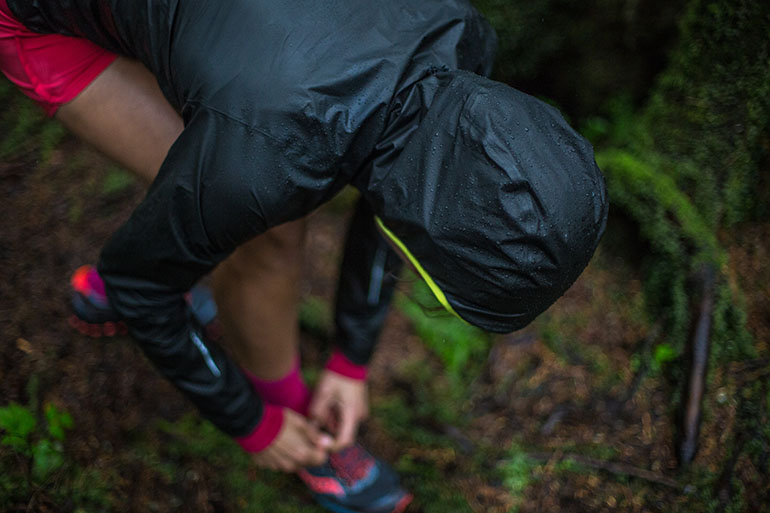 Weight and Packability
This jacket is as lightweight as claimed, with my women's extra small coming in at just 3.5 ounces. The low weight genuinely is surprising, and I went through a phase of weighing any item I could get my hands on to create realistic comparisons. For those who are curious, two packs of Clif Shot Bloks weigh 4.6 ounces and an iPhone 6 weighs 4.4 ounces.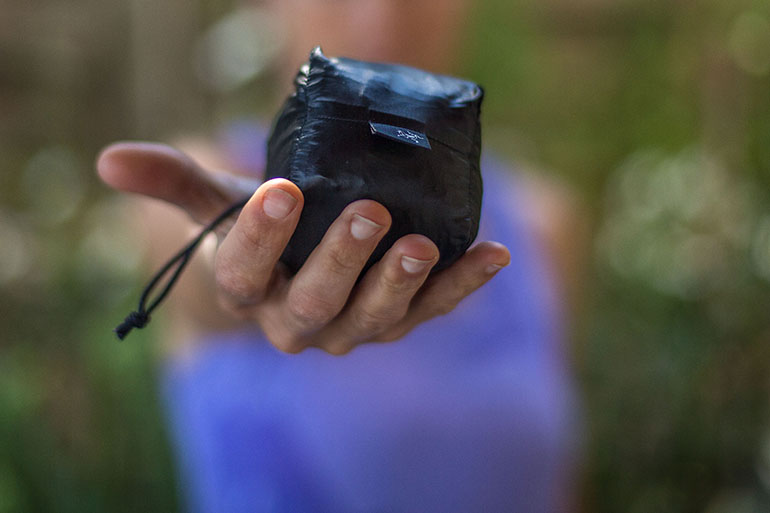 For transport, Arc'teryx includes a separate stuff sack that is incredibly compact. Unfortunately, you may end up losing this tiny bag as there is no way to keep it connected to the jacket. For a small weight penalty, adding a small chest pocket that doubles as a stuff sack could alleviate the problem, but the stuff sack does offer an extra layer of protection for the jacket's thin shell when packed away.
 
Fit and Sizing
The fit is "athletic"—it's slim with little extra material and does not flap in the wind. Still, I could easily wear several fitted long sleeve layers underneath, and even fit a thin puffy jacket as well. This was a nice discovery when it was my only shell on a multi-night fastpacking trip.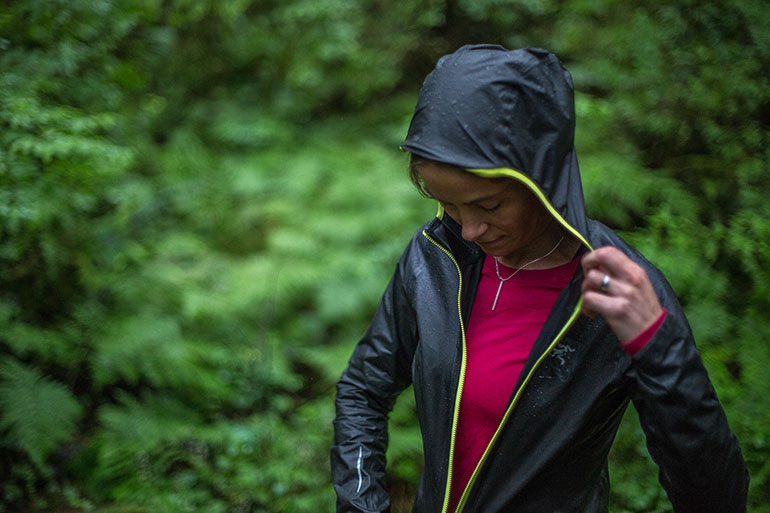 The jacket has a slight drop hem for extra coverage in the back and a thin elastic binding helps keep it in place. Although I would not suggest sizing up or down for this purpose, I did find that many of my underlayers were longer than the jacket. The bottoms of my shirts would get wet in the rain as would the ends of my sleeves. I personally would prefer that the Norvan was slightly longer in the torso and sleeves.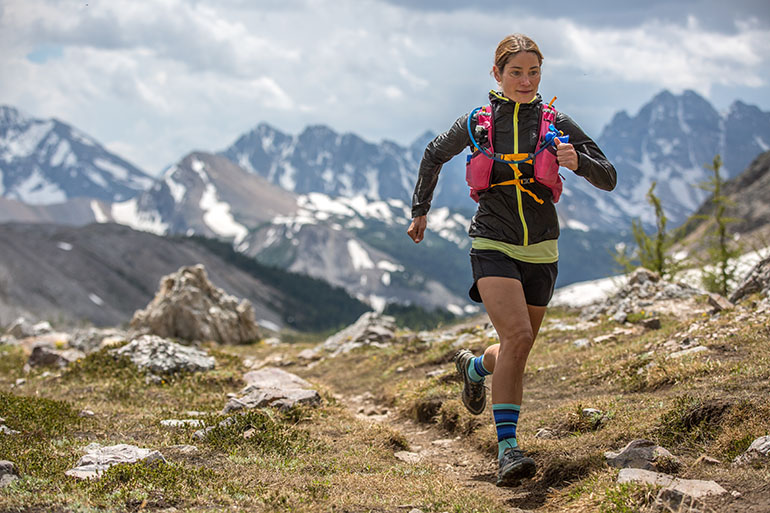 What We Like
Incredibly lightweight and compressible.
Truly waterproof and does not get heavier when wet (because it does not absorb water). It is hard to state this strongly enough: this jacket actually is waterproof and has one wishing for rain.
Despite the advanced fabrics, the Norvan SL is easily washable.
Excellent breathability and no clammy feeling.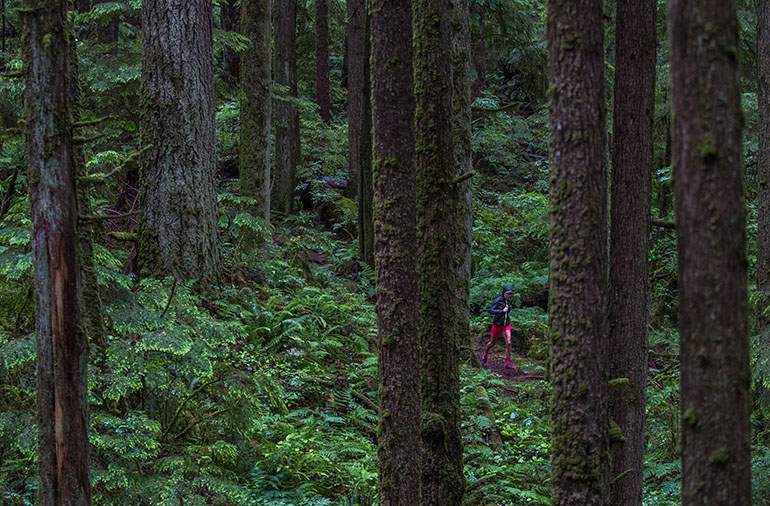 What We Don't
The stuff sack is easy to misplace and there is no means of attaching it to the jacket.
A simple pocket would be helpful. Although it would add a little weight, it could serve as a self-stowing pocket and offset some of the weight of the stuff sack. 
Sleeves are not long enough to tuck your hands into.
The hood's adjuster toggle can catch long hair when the hood is not being worn.
Limited durability. The fabric is too just thin for abuse. I would be concerned wearing a hydra-pack for lengthy runs for fear of it rubbing off the Permanent Beading Surface. This has not yet been an issue, though I have only worn a hydra-pack a few times with the jacket.
Colors other than black would be nice.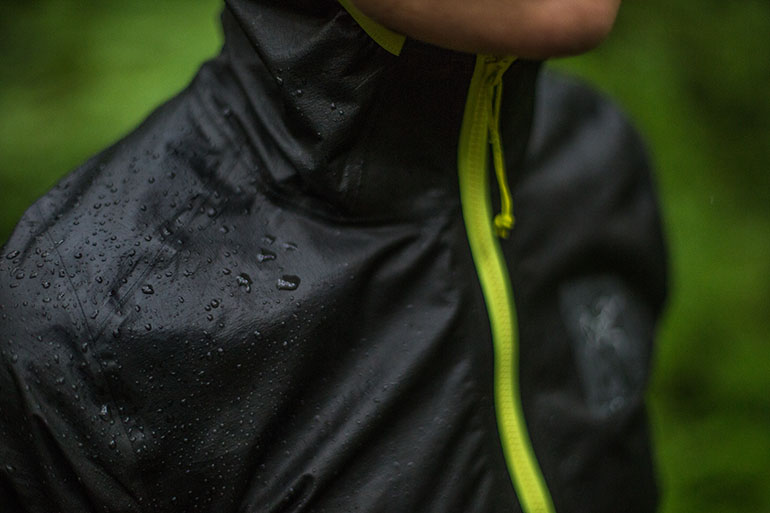 Comparison Table

The Competition
If your waterproof jacket search has led you to the $299 Arc'teryx Norvan SL, your priorities are most likely as follows: weight, waterproofness, and breathability above all else. Another jacket that we've recently tested with the same ambitions is the Montane Minimus 777 (see our in-depth review). This shell sticks to a more traditional 3-layer Pertex construction (if you can call a sub-5 ounce jacket traditional), and adds a small chest pocket. As such, it does not have the incredible waterproofing performance in a downpour but is slightly more user friendly for packing away or carrying small items. For use as an emergency shell, perhaps the Montane is the better call, but for extended trail runs in drenching conditions, we'll be reaching for the Norvan SL.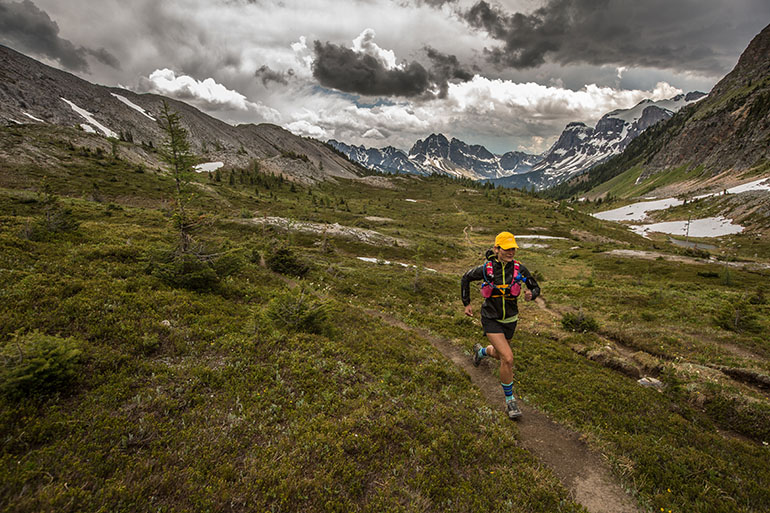 Looking elsewhere, The North Face HyperAir GTX mentioned above is its most logical competitor. However, that jacket is far more feature rich including 2 hand pockets, an interior pocket, and an adjustable hem. The penalty is weight—the HyperAir adds approximately 3 ounces at any given size. Considering the shared technology, trail performance should be pretty similar overall. For a dedicated trail runner or ounce counter, it's hard to pass up the Norvan SL's 3.5-ounce total weight (for a women's XS).
Learn More About Outdoor Gear