Purpose-built for trail running along the wet and sloppy trails of North Vancouver, Arc'teryx's Norvan collection runs the gamut from the long distance-focused Norvan LD shoes to the Gore-Tex-equipped Norvan SL Hoody tested here. In short, this rain jacket checks all the boxes for serious trail use: it's exceptionally light, highly packable, and breathes well even during strenuous climbs. We put the Norvan SL to the test in its namesake city, and below we break down our experiences with this impressive shell. To see how it stacks up to the competition, see our article on the best rain jackets.
 
---
Table of Contents
---

Performance
Water and Wind Protection
The Arc'teryx Norvan SL Hoody is undeniably thin and minimalist, but its 2-layer Gore-Tex with Shakedry build did an admirable job of fending off water and wind. Before I get into the jacket's performance, it's important to explain how Shakedry works: whereas premium waterproof jackets typically have three layers (an outer face, an inner lining, and a membrane in between that provides the water protection), this Gore-Tex design forgoes the external layer. Instead, the Gore-Tex membrane provides the outer barrier and takes on the waterproofing duties. By eliminating the external face textile, weight is reduced and breathability is increased (more on this below).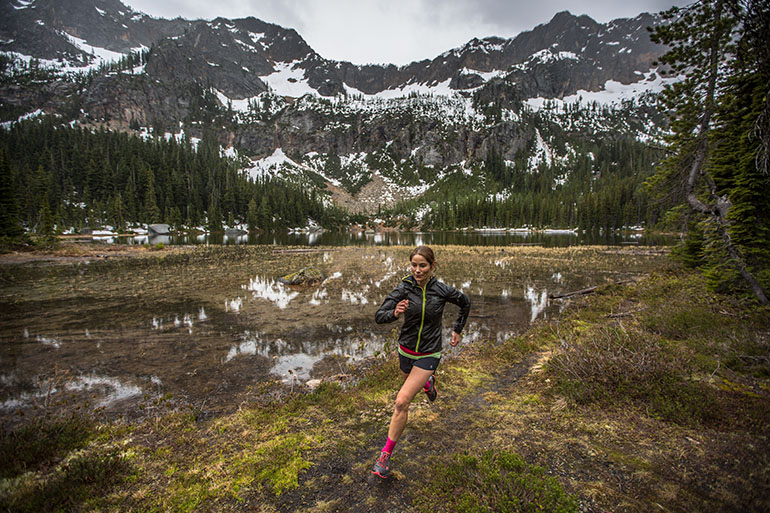 In practice, I found the Gore-Tex with Shakedry construction to be extremely weather-worthy. Because there is no external face textile, there is no fabric to "wet out" or soak up water. Instead, water simply beaded up and rolled off the jacket, even while I was standing directly under a waterfall (for testing purposes, of course). Further, the sealed zipper has not let me down. In fact, the only means of entry is under the chin, but I found that when in a typical running position with my head nodded slightly down to watch the trail ahead, this tends to be protected as well. And the hood's slight bill is stiff enough to deflect water from my eyes. All in all, I've been highly impressed with the Norvan SL's level of protection.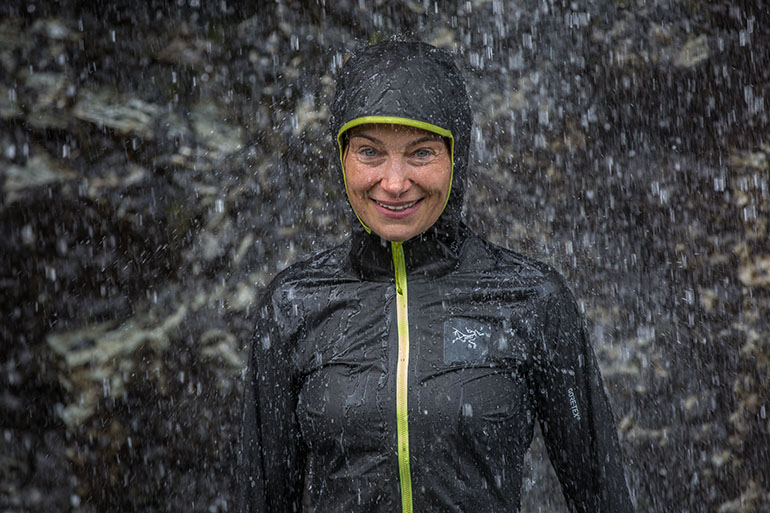 Breathability
Despite the Arc'teryx Norvan SL Hoody's waterproof build, it also scores high marks in the breathability department. When I finished my first run in the jacket, I assumed that my t-shirt would be soaked in sweat, but I was happily surprised that it remained dry (minus a small section at the bottom where it peaked out of the jacket). Even during steady, sweat-inducing climbs, I was able to remain comfortable with no clamminess or stickiness (a common issue with ultralight rain shells). In my many years of running, I have never experienced anything like it. Since that run, I have been caught in numerous rain showers in the Coast and Cascade mountain ranges, as well as hail and thunderstorms in the Rocky Mountains, and continue to be amazed by the Norvan SL's combined waterproofness and breathability.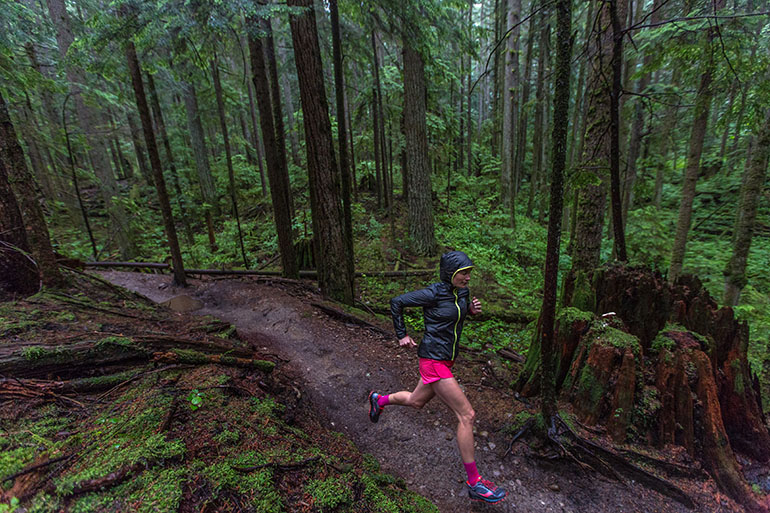 Weight and Packability
The Norvan SL is as superlight as claimed, with my women's extra small coming in at a scant 3.5 ounces (the listed weight is 3.9 oz.). For reference, Salomon's similarly designed S/Lab MotionFit 360 clocks in at 4.7 ounces, and Arc'teryx's own Cita Hoody is 4.2 ounces (although that shell is just weather-resistant rather than fully waterproof). Other competitors, including Outdoor Research's more versatile Helium (5.6 oz) and The North Face's Flight Futurelight (8.3 oz.) also outweigh the Norvan SL but are more durable and fully featured. 
For transport, Arc'teryx includes a separate stuff sack that is incredibly compact. Unfortunately, you may end up losing this tiny bag as there is no way to keep it connected to the jacket. For a small weight penalty, adding a small chest pocket that doubles as a stuff sack could alleviate the problem, but the stuff sack does offer an extra layer of protection for the jacket's thin shell when packed away.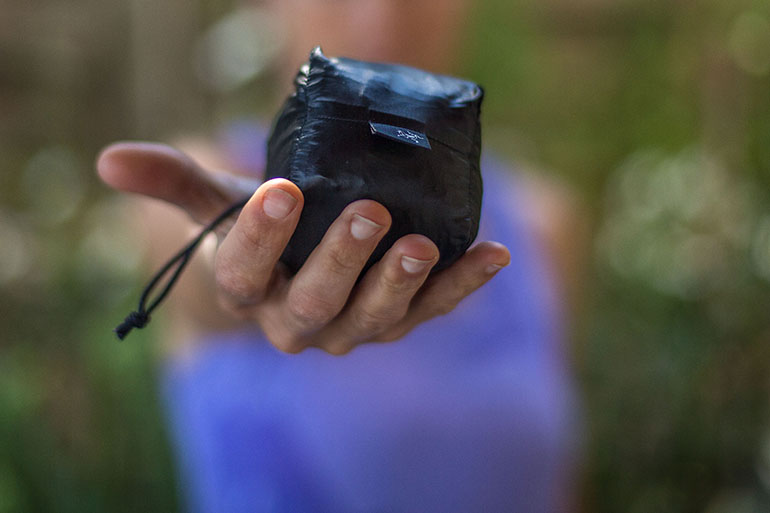 Build Quality and Durability
The biggest shortcomings of the Arc'teryx Norvan SL Hoody are its fragility and minimalist feature set (although both contribute to the impressively low weight). There are no pockets, flaps, or extra zippers (like pit zips). The hood does have a simple adjuster to tighten it, which also doubles as a means of folding and storing the hood when not in use. But I found it difficult to roll and secure the hood, so typically I let it flap behind me when I didn't need the protection. And given that the membrane is exposed along the exterior, Arc'teryx specifically discourages wearing a pack with the jacket (rubbing underneath the straps can cause abrasion). Given these concerns, we recommend sticking to trails that don't require bushwhacking and closely following Arc'teryx care instructions—including line-drying the jacket—to maximize its lifespan.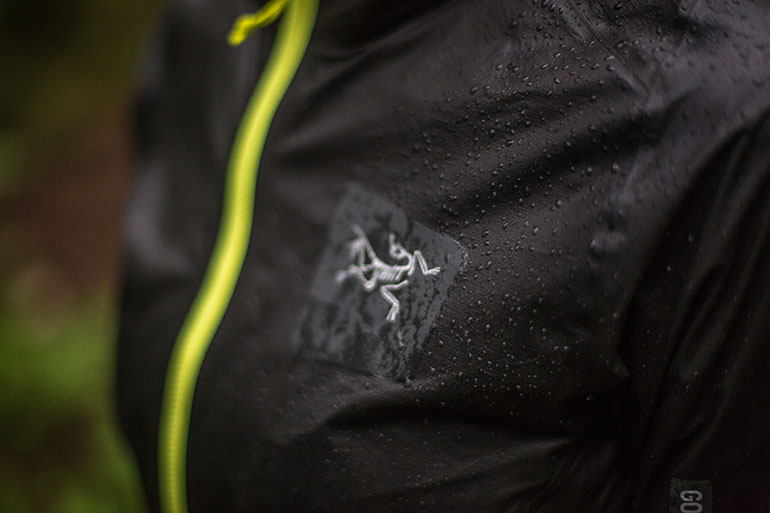 Fit and Sizing
Arc'teryx lists the Norvan SL's fit as "trim," and I agree with that designation. Overall, the jacket is slim with little extra material and does not flap in the wind. That said, I could still easily wear several fitted long-sleeve layers underneath, and I was even able to fit a thin down jacket as well, which was a nice discovery on a multi-night fastpacking trip with the Norvan SL as my only outer layer.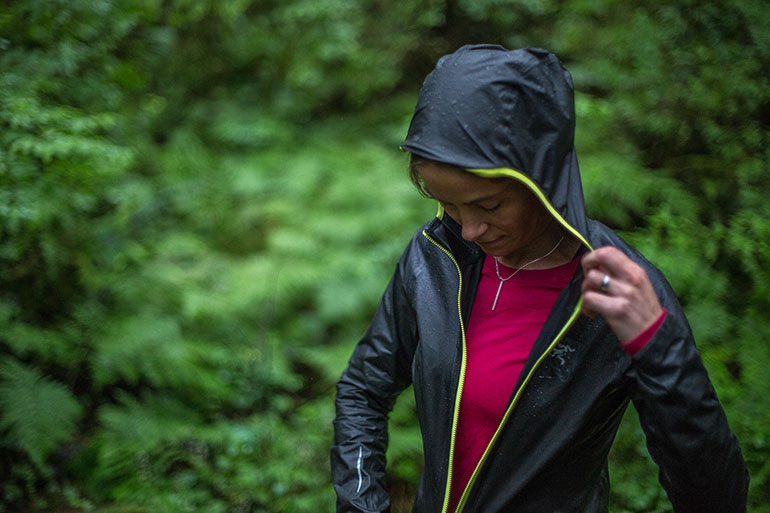 As I touched on above, the Norvan SL doesn't have any drawcords to dial in fit, but it does boast a slight drop hem for extra coverage in the back and a thin elastic binding helps keep it in place. Although I would not suggest sizing up or down for this purpose, I did find that many of my baselayers were longer than the jacket. As a result, the bottoms of my shirts and ends of my sleeves often get wet in the rain. I personally would prefer that the Norvan were slightly longer in the torso and sleeves, but this is a small nitpick and won't be an issue for everyone.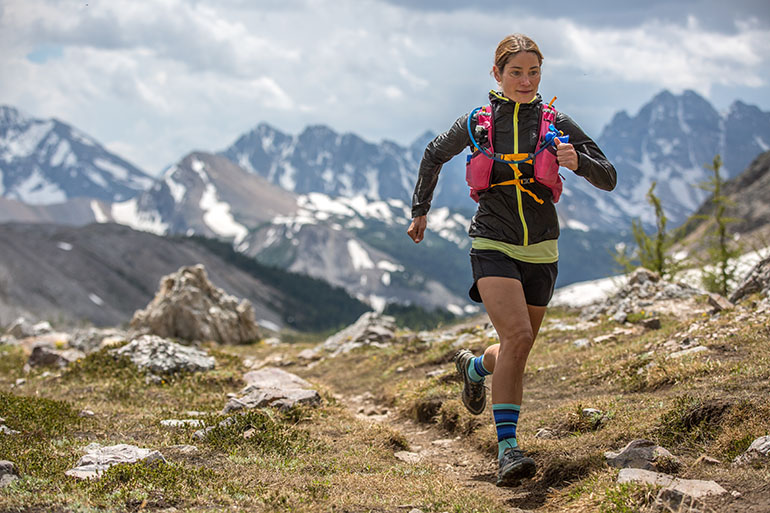 Other Versions of the Arc'teryx Norvan SL
We put the women's Norvan SL Hoody through its paces for this review, and Arc'teryx makes a nearly identical men's version. The men's Norvan SL Hoody also features 2-layer Gore-Tex with Shakedry construction, boasts a minimalist feature set, and costs $325. The men's jacket weighs a bit more at 4.2 ounces, and colorways vary slightly, but the rest of the build remains the same. Finally, Arc'teryx offers the Norvan SL in an insulated variation for $399, which clocks in at 8.6 ounces for the women's version, includes a single interior pocket, and adds 40-gram synthetic Coreloft Compact insulation for warmth during cold-weather runs (see our in-depth review here).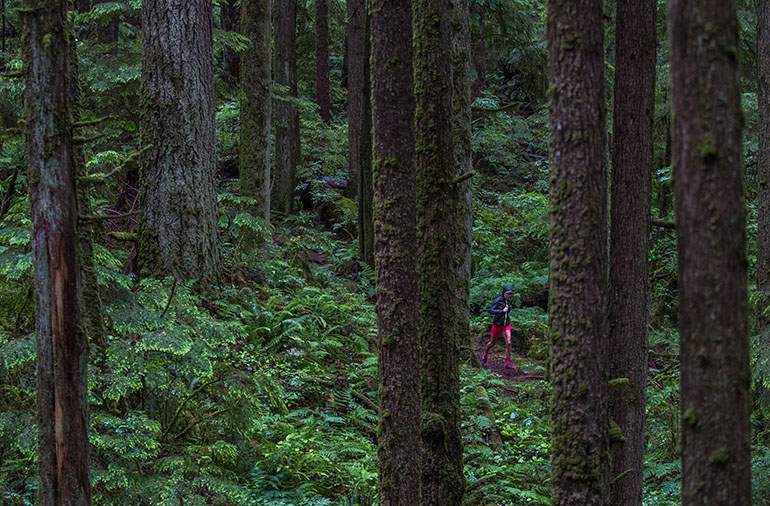 What We Like
Incredibly lightweight and compressible.
Truly waterproof and does not get heavier when wet (because it does not absorb water).
Excellent breathability and no clammy feeling, even during strenuous activity.
Despite the advanced fabrics, the Norvan SL is easily washable.

What We Don't
The stuff sack is easy to misplace and there is no means of attaching it to the jacket.
Fabric is ultra-thin and should be treated with care to avoid snags and premature wear.
A simple pocket would be helpful. Although it would add a little weight, it could serve as a self-stowing pocket and offset some of the weight of the stuff sack. 
Sleeves are not long enough to tuck your hands into.
The hood's adjuster toggle can catch long hair when the hood is not being worn.
Colors other than black would be nice.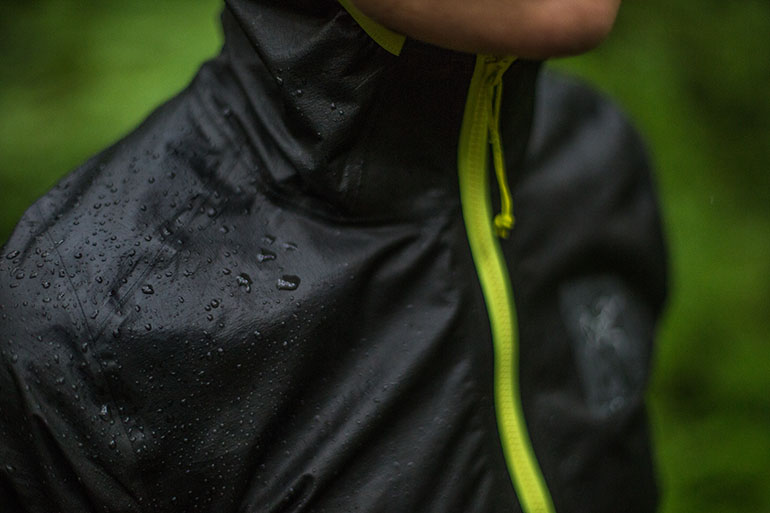 Comparison Table

The Competition
Given its limited feature set and paper-thin build, the Norvan SL isn't for everyone, but it's a great match for serious trail runners who prioritize weight and packability but don't want to sacrifice protection. Salomon is another leader in the running realm, and their Norvan SL equivalent is the S/Lab MotionFit 360. Like the Norvan, the Salomon uses a Gore-Tex build with Shakedry technology, which offers comparable breathability and protection. In parsing out the differences, the S/Lab MotionFit is noticeably stretchier and more mobile with 27 percent elastane in the build, boasts extra fabric at the back for wearing over a running pack (a small but helpful detail), and stows in its own waistband. However, it's the heavier option at 4.7 ounces and costs an additional $50, which is enough for us to recommend the Norvan over the Salomon. 
Another running-focused shell to consider is The North Face's Flight Futurelight. Rather than Gore-Tex, the jacket uses TNF's new 3-layer Futurelight membrane, which we've found to be impressively soft against the skin and highly breathable but not as impervious to the elements. The Flight Futurelight does get the edge in durability with a more hardwearing face fabric and is more well-appointed with an adjustable hem and back stash pocket (which doubles as a stuff sack), but weight goes up to 8.3 ounces (over double the Norvan SL). In the end, a final decision will come down to how you prioritize comfort and features versus weight and weather-worthiness.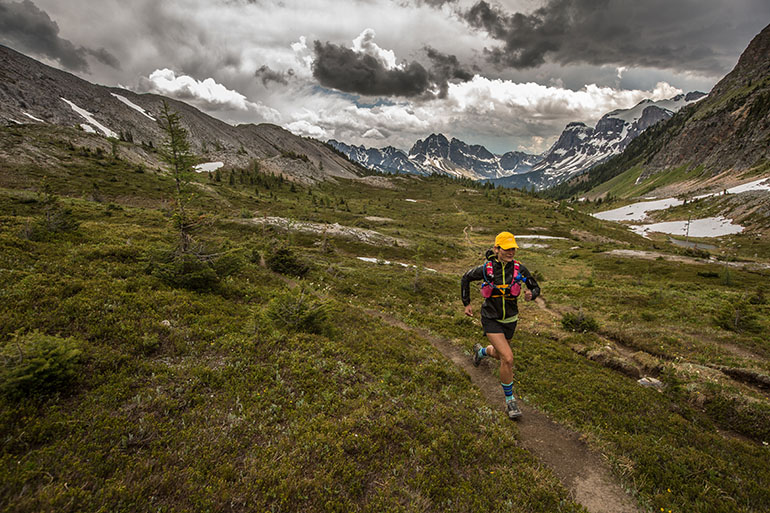 Moving away from targeted trail running models, Outdoor Research offers a quality all-around UL shell in their Helium rain jacket (in fact, it's our favorite ultralight/emergency shell this season). For waterproofing, the Helium uses a 2.5-layer Pertex Diamond Fuse construction, which we found to be quite durable and capable of fending off light to moderate rain. However, we did experience wetting out in heavy downpours, and the OR falls well short of the Norvan in breathability. All in all, for emergency use while hiking or backpacking, we consider it a great pick that will save you over $150. But for true performance use, the Norvan is far and away the more capable option.
If you don't anticipate running in very wet weather, it's worth considering a jacket like Black Diamond's Alpine Start Hoody. Unlike the options above, the Alpine Start isn't fully waterproof—instead, it uses a stretchy, softshell-like fabric that's highly mobile, breathable, and durable. That said, throughout testing, we found the Alpine Start to be a surprisingly capable companion in inclement weather—we've worn this jacket in extended light rain and blowing snow and the DWR coating held up great (for more, check out our in-depth Alpine Start review). It's heavier than the Norvan SL at 6.7 ounces and bulkier when stuffing down, but at $165 and with a host of mountain-ready features, we think it's the more well-rounded piece.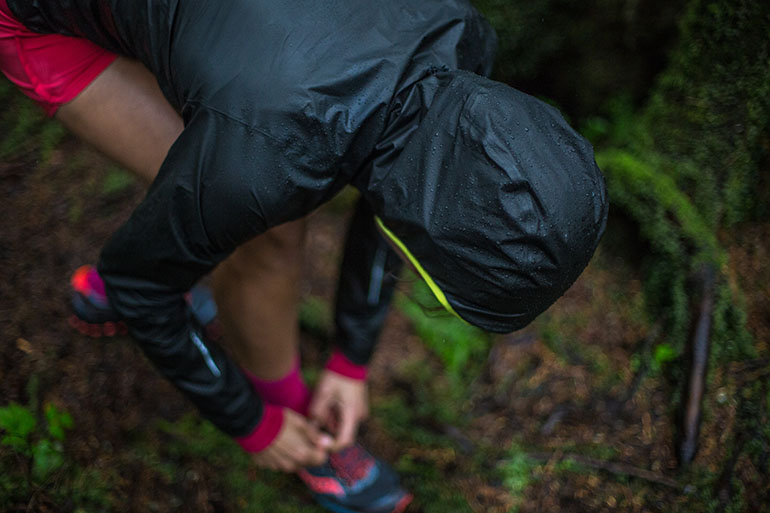 Last but not least, Arc'teryx offers an intriguing alternative to the Norvan SL in their Cita Hoody. Like the Norvan, the Cita is purpose-built for trail running with a minimalist feature set and lightweight (4.2 oz.) and stowable build. However, the Cita trades fully waterproof Gore-Tex for a 100-percent ripstop nylon construction, which is only wind- and water-resistant (don't expect to stay dry for long in sustained rain). That said, you do get helpful features like mesh under the arms to help with airflow, a zippered pocket that doubles as a stuff sack, and a more reasonable $139 price tag. Whether or not you need Gore-Tex levels of protection is up to you, but we like the savings and feature set you get with the Cita.
Learn More About Outdoor Gear