Softshell jackets had their heyday almost a decade ago, but the push for lighter and more packable options rendered them nearly obsolete for true performance-oriented activities. Instead, climbers and skiers turned to less breathable windbreakers for ultralight protection. However, softshells are making a comeback, this time merging technical performance with lighter constructions. Black Diamond's Alpine Start Hoody is one of the most competitive and well-rounded in this category: it's breathable, highly protective against the elements, and still manages to keep weight low. Below we break down the Alpine Start's weather protection, breathability, weight and packability, features, fit and sizing, and more. To see how it stacks up, see our articles on the best windbreaker jackets and best softshell jackets.
 
Performance
Weather Protection
As an ultralight piece designed to protect against light weather, the Black Diamond Alpine Start Hoody toes the line between softshell and wind breaker. But no matter what you call it, the jacket puts it all together better than most: it's impressively light and breathable while still packing in solid resistance to water and wind. In terms of construction, Black Diamond used a stretch-woven nylon shell (93% nylon, 7% elastane) and a Nanosphere coating that's designed to repel water, dirt, and oil. Although the jacket is water-resistant and not fully waterproof, the Nanosphere does a truly impressive job in rain and wet snow. While my hiking partners donned their rain jackets in Patagonia, water continued to bead up and roll off of my hoody, and I stayed dry despite a fairly constant drizzle. And in terms of wind protection, the jacket provides a serious buffer. In fact, it does such a good job keeping wind out that I'm often able to layer it over just a t-shirt, even in cold gusts.
In addition to the wind- and water-resistant fabric, the Alpine Start has a number of features that allow you to effectively batten down the hatches. The helmet-compatible hood offers great coverage, and the one-hand pullcord at the back of the head is easy to use and results in a secure fit and full range of vision. Remarkably, the hood stayed put on my head even during some of the strongest Patagonian winds I've ever experienced. Finally, simple elastic cuffs keep the jacket off my hands, and a single drawcord at the right hip cinches it tight at the hem.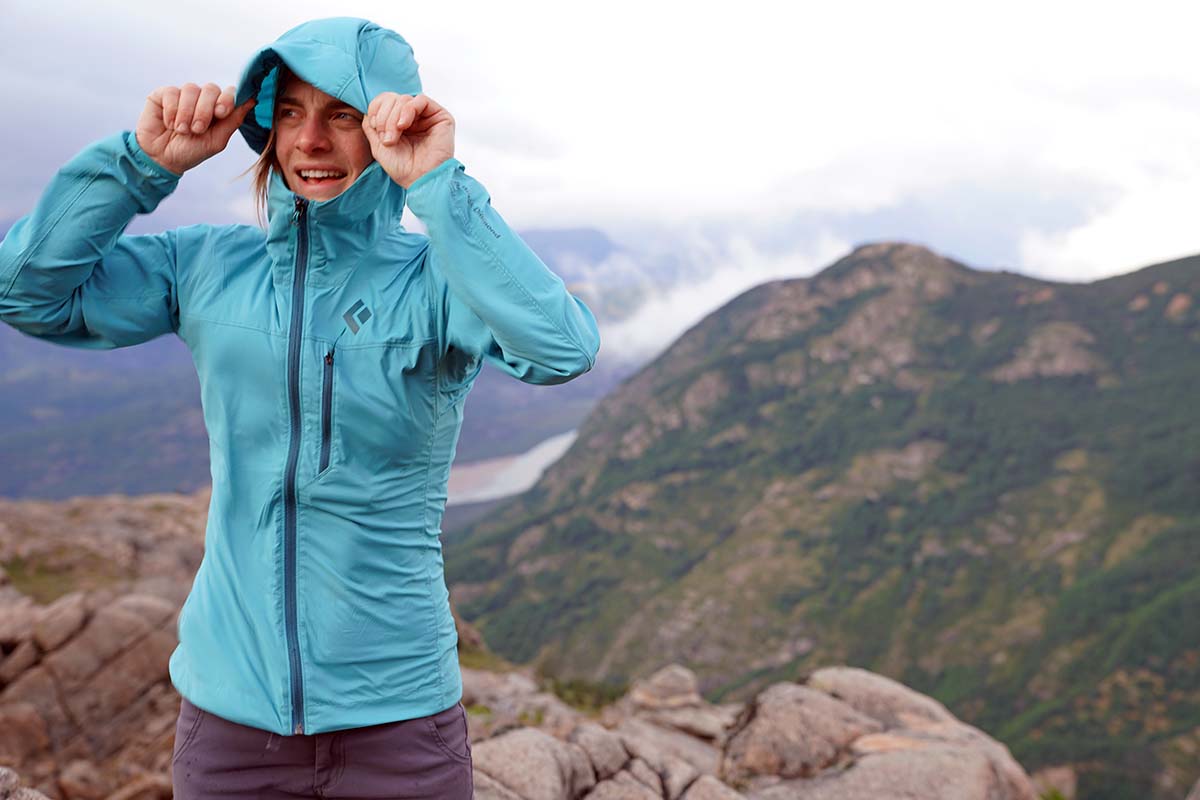 Breathability
Breathability is a hot topic, and particularly in the debate between softshell and windbreaker jackets. In general, softshells are great breathers but weigh more and are bulkier, while wind shells are impressively light but can feel like you're wearing a plastic garbage bag. Here's where the Alpine Start truly shines: at only 6.7 ounces (just slightly heavier than most windbreakers), the Alpine Start is incredibly breathable. I consistently wear it during high-output activities like trail running and ski touring and find that it lets heat escape better than most in its weight class. Compared to the Patagonia Houdini, Arc'teryx Squamish Hoody, and Outdoor Research's Tantrum II and Whirlwind that I've worn, the Alpine Start is on an entirely different level in terms of breathability.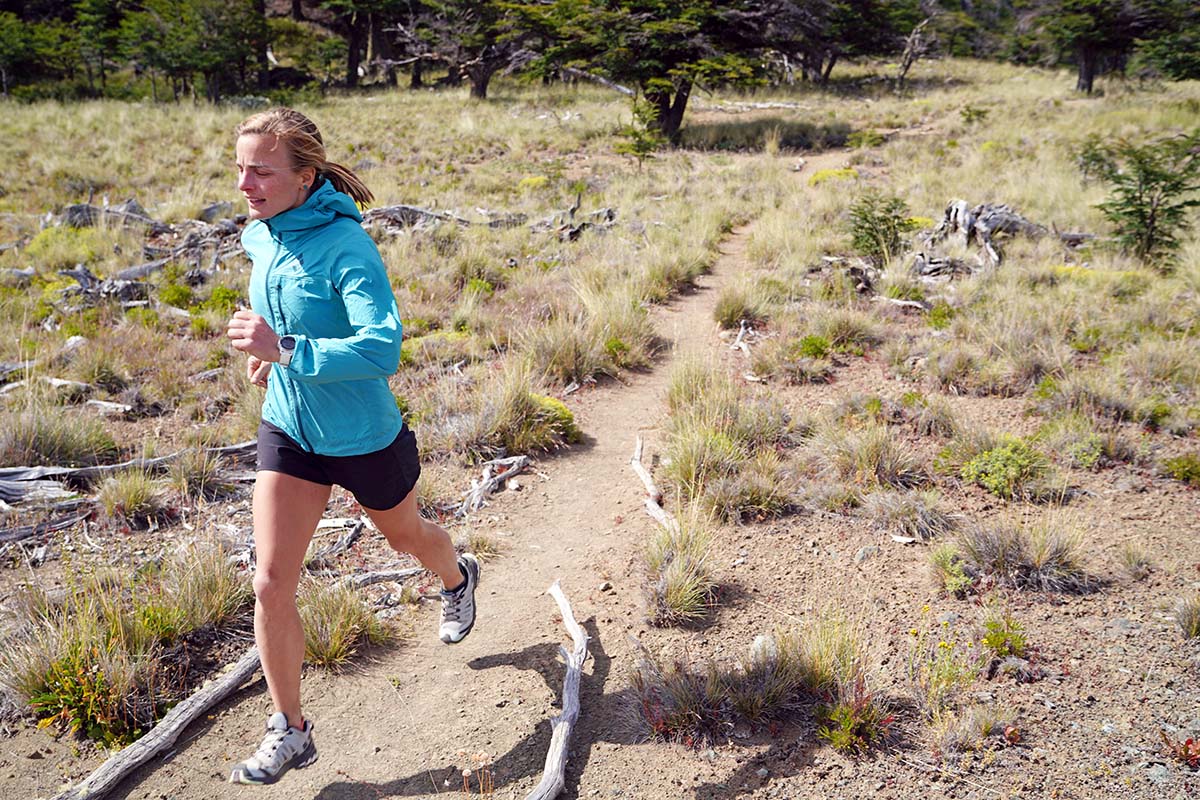 Weight and Packability
Tipping the scales at 6.7 ounces for the women's jacket, the Black Diamond Alpine Start falls at the lightweight end of the softshell spectrum, even when stacked up against other minimalist options. Competing models like the Arc'teryx Gamma SL (8.6 oz.), Sigma SL Anorak (9.3 oz.), and Rab Borealis (8.4 oz.) all offer similar weather protection and breathability for a few extra ounces (the Gamma and Borealis do feature hand pockets, however). A number of windbreakers undercut the Alpine Start significantly, including the 4.5-ounce Patagonia Airshed Pro Pullover, 3.6-ounce Patagonia Houdini Air, and 4.4-ounce Arc'teryx Squamish, but these all use thinner fabrics, are less breathable, and offer less water resistance. All in all, the Alpine Start falls in a nice middle ground: it packs everything we look for in a lightweight softshell without going overboard or sporting unnecessary features.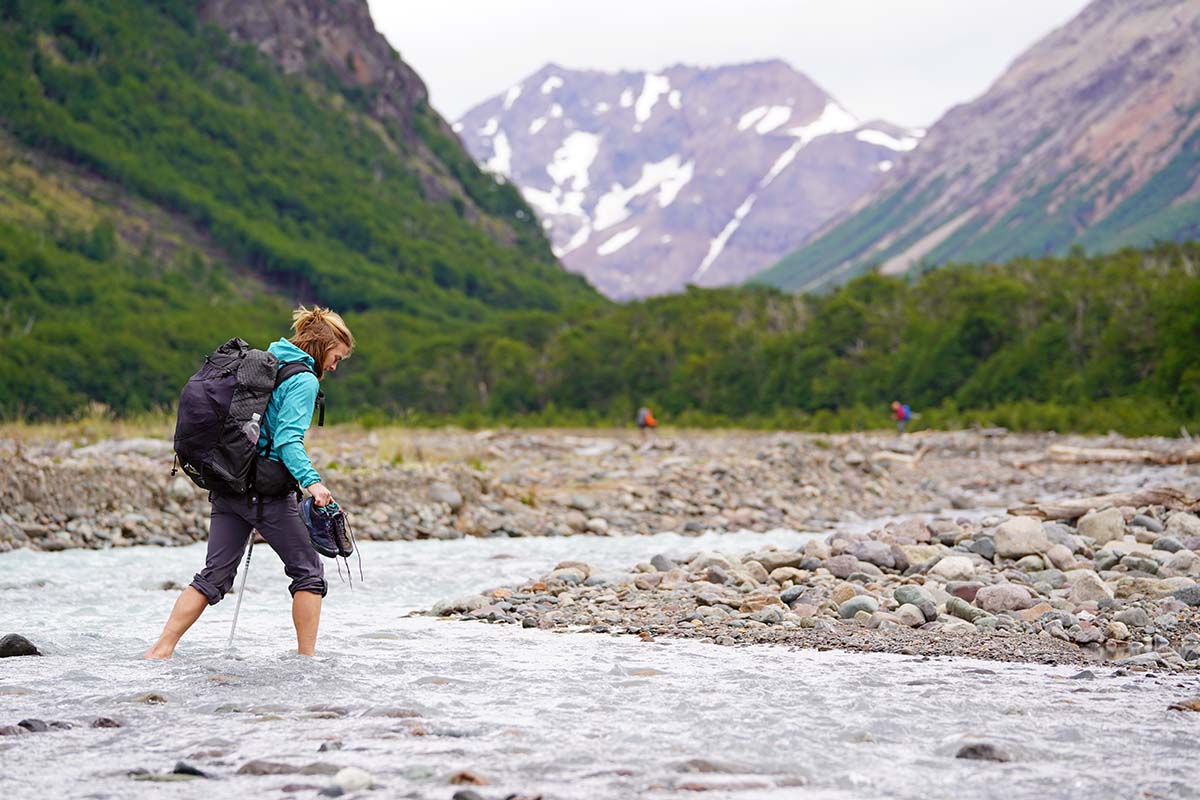 In terms of packability, our women's small Alpine Start stuffs down into its chest pocket to about the size of a softball, and even smaller when compressed. While this isn't as tiny as some windbreaker jackets (the Patagonia Houdini packs down to about half the size), it's a standout among softshells. The Arc'teryx Gamma SL and Sigma SL mentioned above do not include stuff pockets, and the Rab Borealis packs down slightly larger as well. For my purposes, the Alpine Start is a very reasonable size to hang off the back of my climbing harness or stuff into a running pack.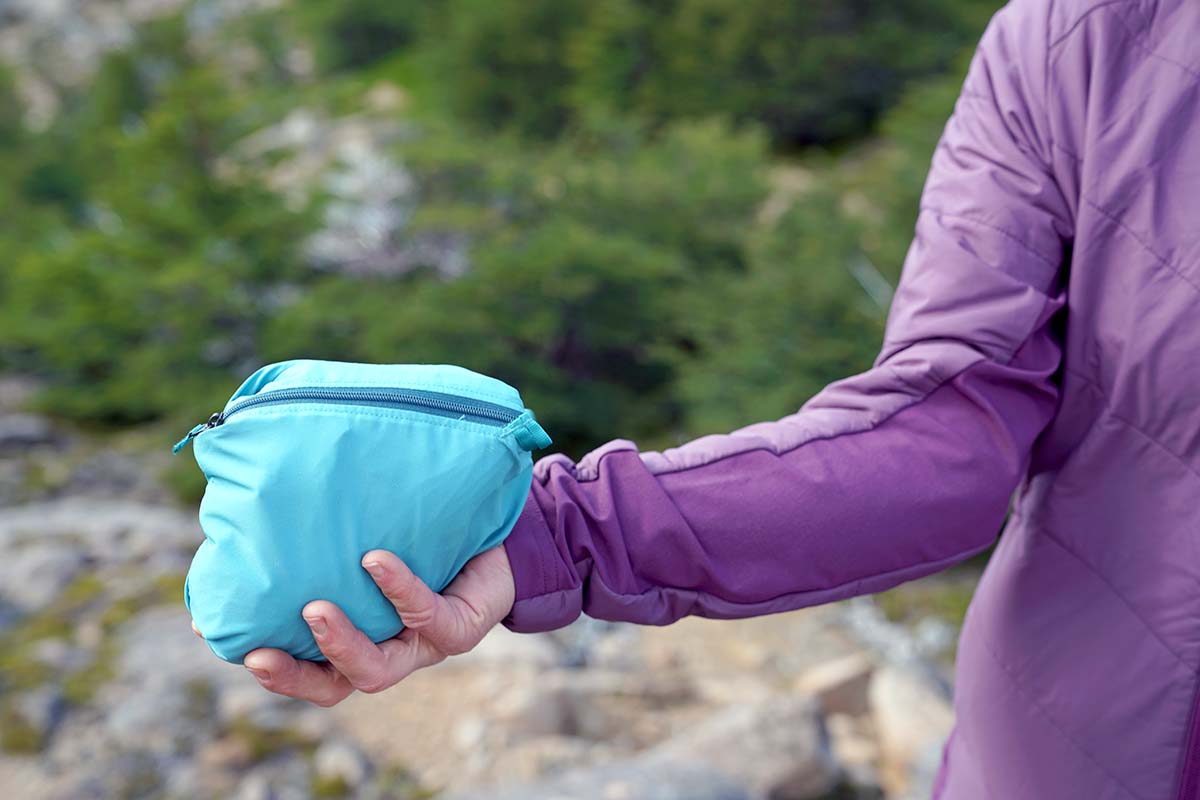 Features: Hood and Pockets
To keep weight low, the Alpine Start Hoody has a minimalist feature set: one chest pocket (which doubles as a stuff sack), a single-pull adjustment on the hood, and one hem cinch on the right hip. As I mentioned above, when cinched up, the helmet-compatible hood is impressively secure, and a nice brim keeps rain off my face and my vision wide. However, despite the lack of bells and whistles, I haven't found myself wishing for any more storage or adjustments. For those that prefer more organization options, the Arc'teryx Gamma SL and Rab's Borealis both include hand pockets (at a slight weight penalty).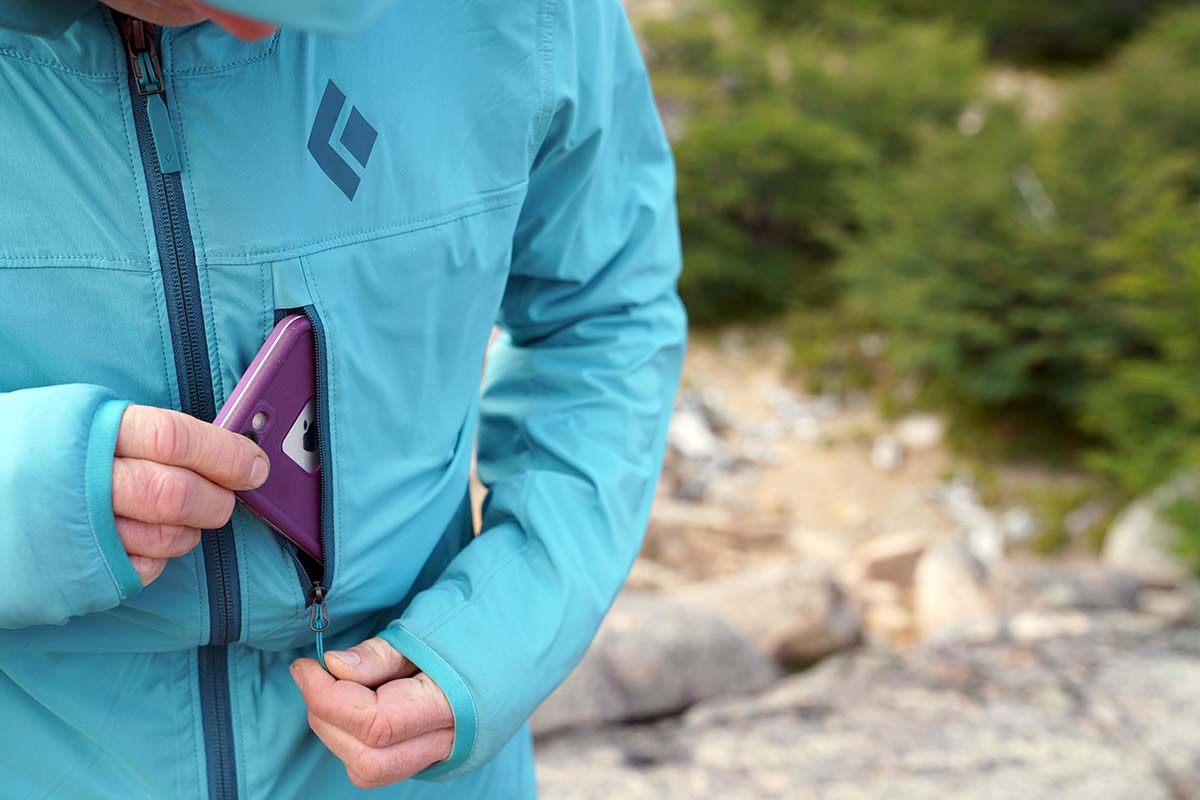 Build Quality and Durability
We've found Black Diamond to be hit or miss in terms of quality with their soft goods, and the Alpine Start is a bit of a mixed bag. To be sure, we love the overall design, but it does lack the fit and finish you get from brands like Arc'teryx and Patagonia. More specifically, the hoody has exposed stitching throughout the inside and loose threads (at least on my jacket) poking through the hole at the hood cinch. In general, it feels like a slight step down from a premium softshell jacket.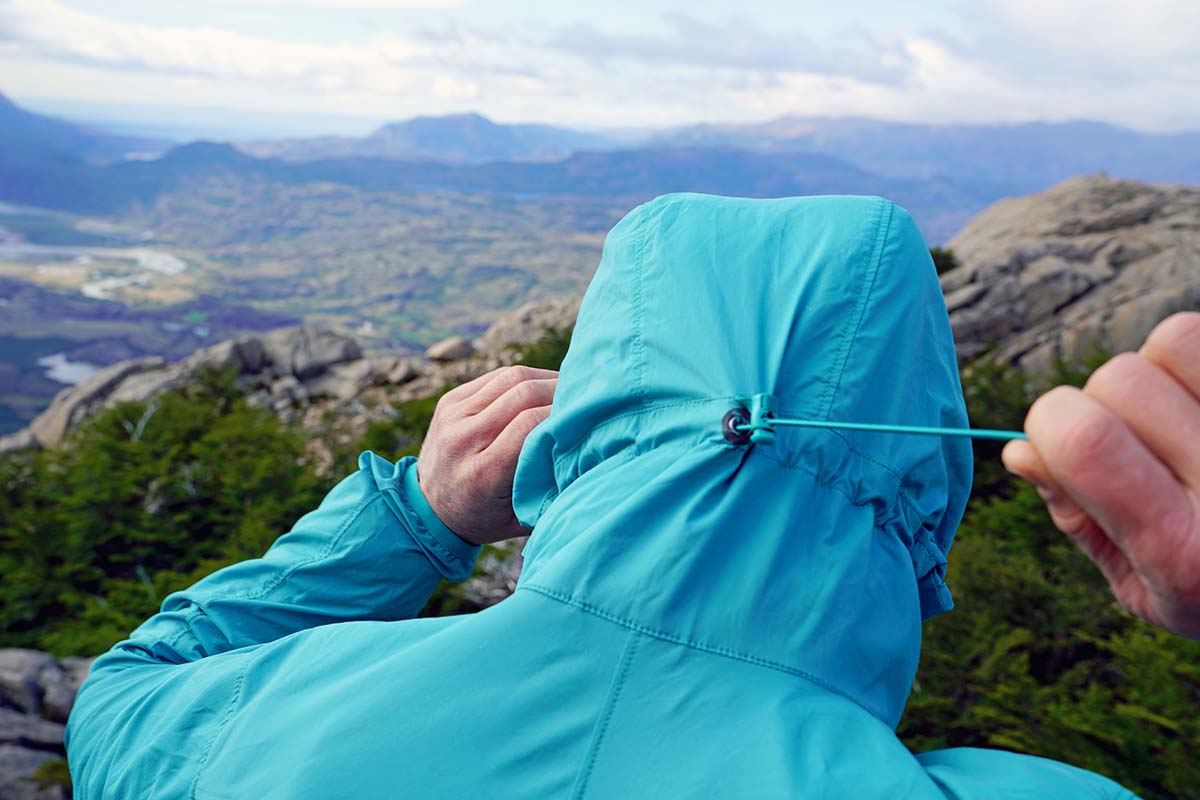 That said, the Alpine Start is holding up surprisingly well to rough use. After wearing it almost daily for the past two and a half months, the jacket shows no major signs of wear, which is especially impressive given it's not uncommon for me to run through fields of prickly manzanita. The stretch-woven nylon shell feels incredibly abrasion-resistant and, aside from the loose thread issue inside the hood cinch, no stitches are threatening to come undone. Further, the zippers are robust and run smoothly, and the simple hem and hood adjustments are easy to operate.

Fit and Sizing
I opted for my standard women's size small in the Alpine Start and found that it fits true to size. I love the extended range of motion provided by the underarm gussets—the jacket moves with me whether I'm reaching up for a climbing hold or down to rip my skins while transitioning. Further, it provides much more coverage and versatility than a jacket like the trim-fitting Patagonia Houdini—I can easily fit a lightweight down or synthetic jacket underneath, whereas the Houdini accommodates only a thin layer (unless you size up, of course). But even with the Alpine Start's generous fit, I'm still able to pair it with just a t-shirt underneath while running without it feeling overly baggy.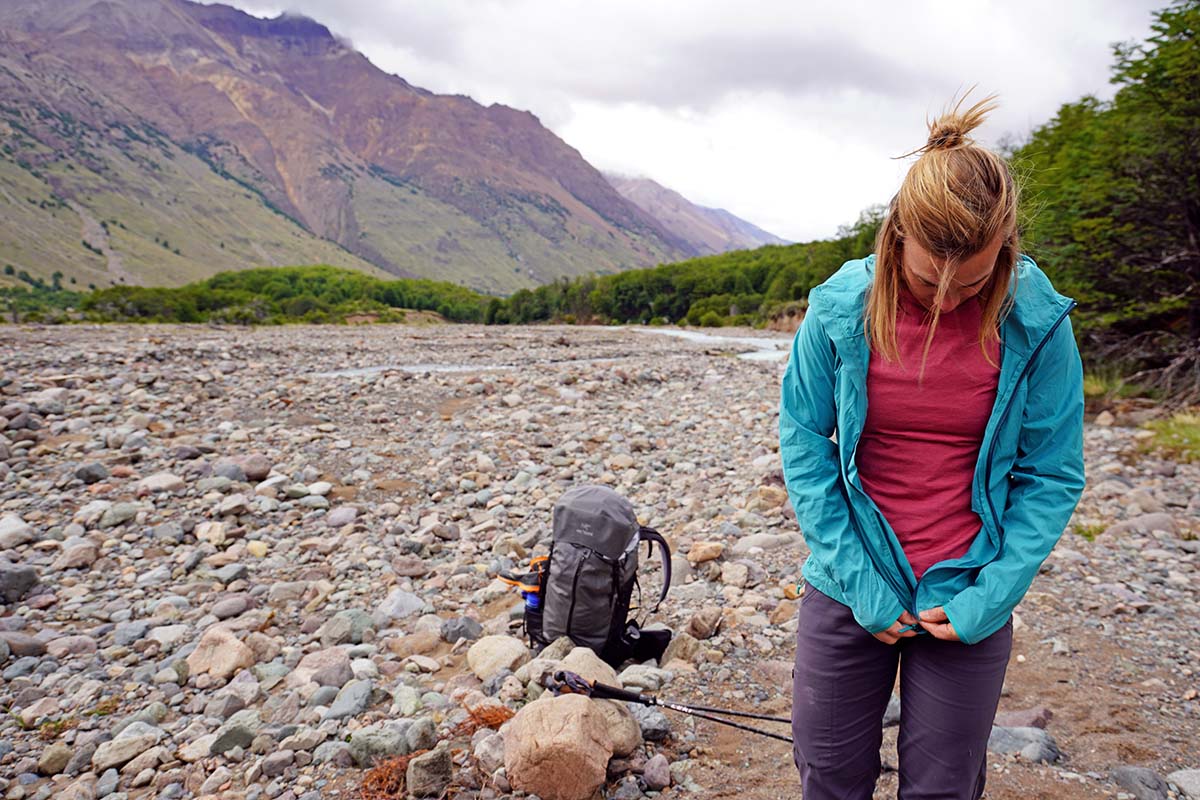 Other Versions of the Black Diamond Alpine Start
We put the women's Alpine Start Hoody through its paces for this review, and Black Diamond makes the jacket in a men's version for the same price ($165). Compared to the women's model, the men's Alpine Start has an identical feature set including gusseted underarms, a single chest pocket, and a helmet-compatible hood. Where the two differ is in colorways and weight: the men's jacket is available in five unique color options at the time of publishing and tips the scales at 7.4 ounces. Further, there is a non-hooded variation of the jacket that trims weight by 0.9 ounces, although availability of this style is pretty limited.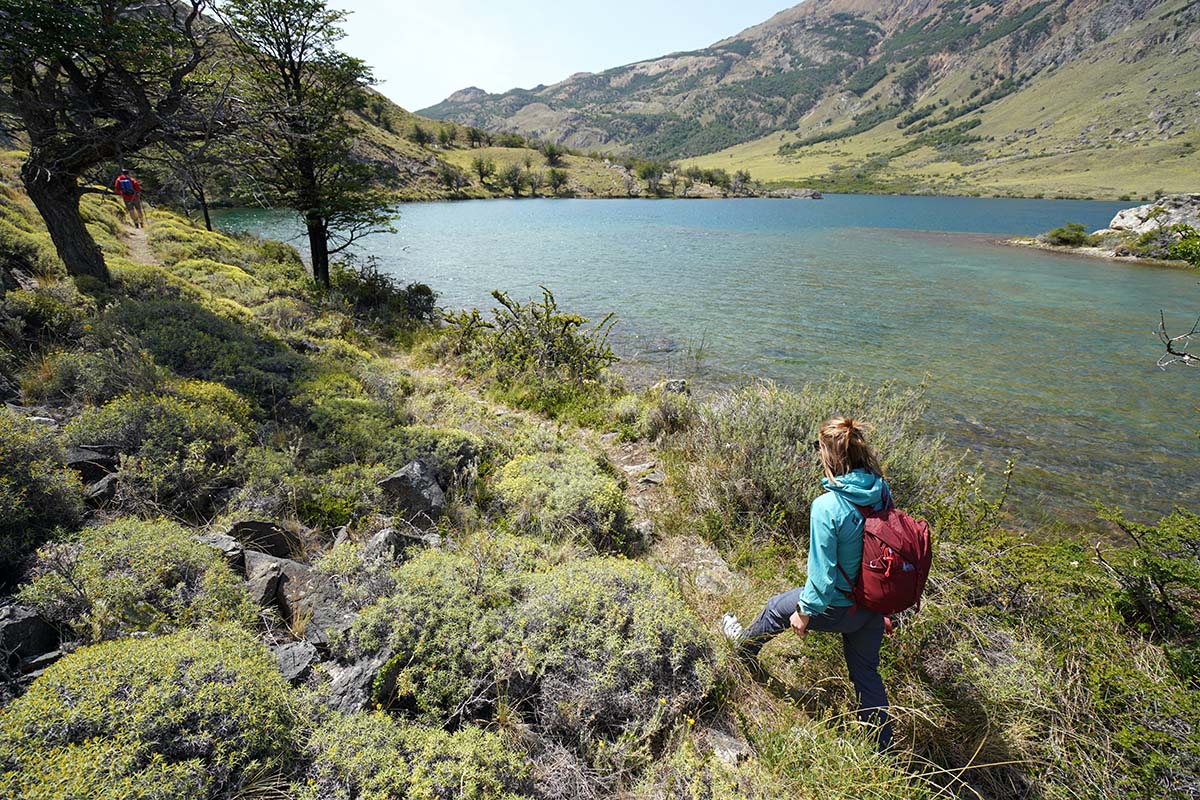 What We Like
Standout breathability, especially when compared to other windbreakers in its weight class.
Impressively water-resistant for such a lightweight jacket: the Alpine Start has kept me dry throughout hours of light precipitation.
One of the lightest softshells on the market at only 6.7 ounces, and it packs into its chest pocket.
The stretch-woven nylon shell has proven to be incredibly durable despite heavy use and abuse.
 
What We Don't
With only a single chest pocket and streamlined hood (with rear cinch), you get a fairly limited feature set compared to other minimalist softshells.
The Alpine Start is pretty heavy and bulky for a windbreaker (but we think that its stretchiness and breathability are worth the weight penalty).
Expensive compared to other windbreakers.
Build quality falls slightly short of premium offerings from Arc'teryx and Patagonia.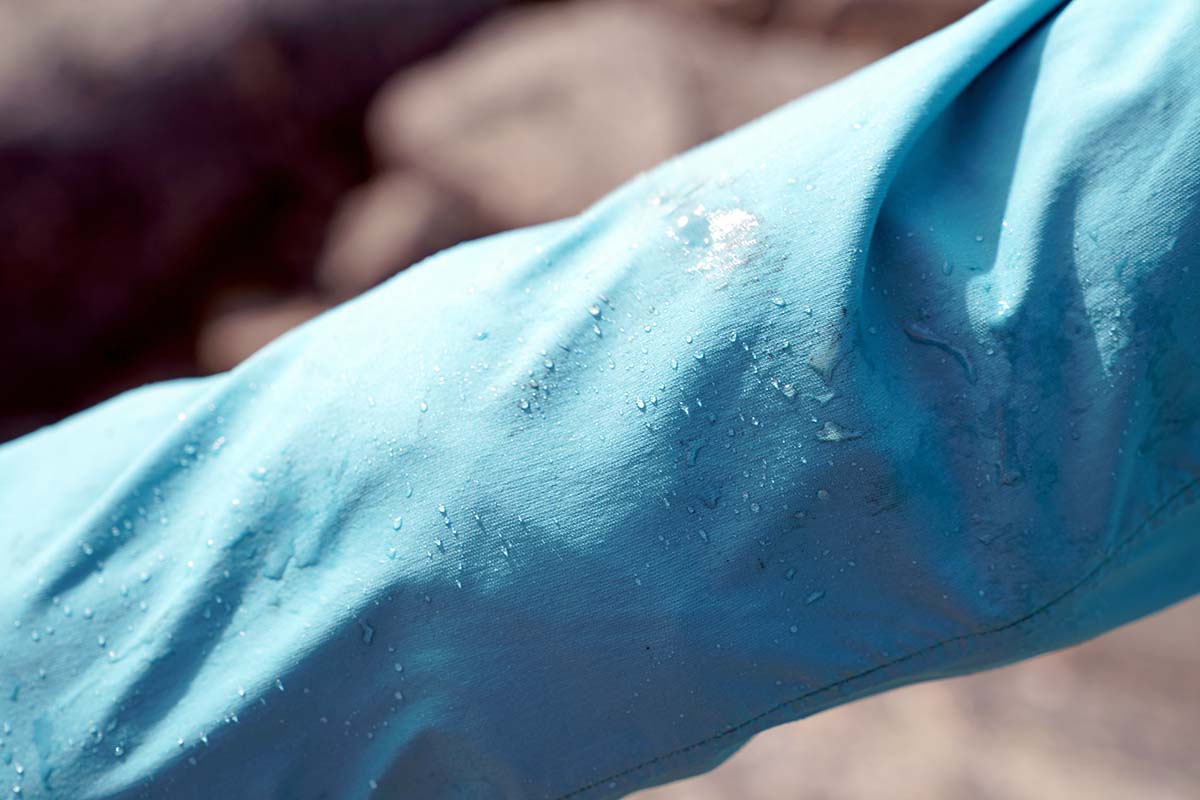 Comparison Table

The Competition
The Black Diamond Alpine Start Hoody fills a nice gap: it's lighter than most softshell jackets while offering better breathability than many windbreakers. One of its closest competitors is Patagonia's new Houdini Air. For a little over half the weight (3.6 oz.), the Houdini Air offers comparable wind protection and breathability. You also get the same limited feature set, including a single chest pocket and simple hood with a rear cinch, although the Patagonia's hood is not helmet-compatible. However, the Houdini Air's fabric doesn't have any give to it (unlike the Alpine Start's 7-percent-elastane construction) and the fit is trimmer, meaning you won't be able to squeeze extra insulation underneath. In the end, the Houdini Air is a more running-focused jacket and a better pick during summers and shoulder seasons. The Black Diamond more versatile for 4-season use (when you'll want room to layer), and the stretch-nylon shell and helmet-compatible hood are much better suited for high-output activities.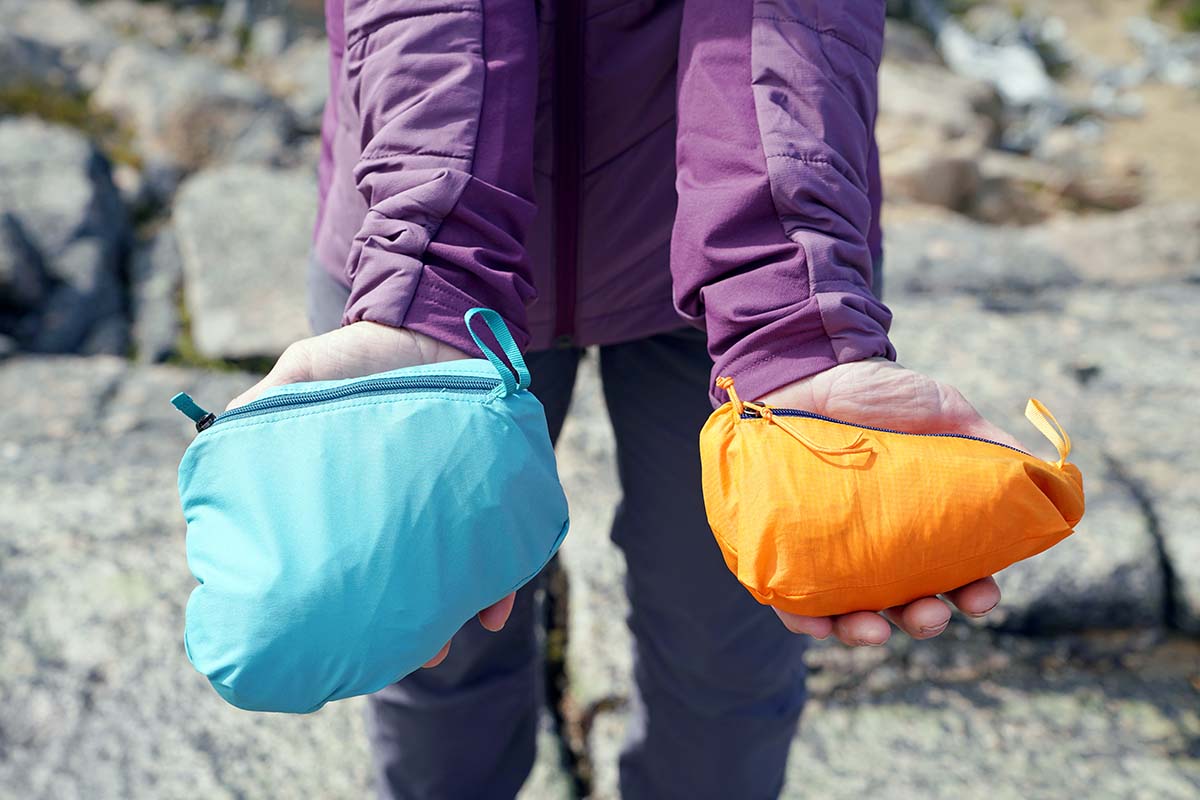 Arc'teryx's Squamish Hoody is another competitive wind shell to consider. At 4.4 ounces, it's over 2 ounces lighter than the Alpine Start, boasts a nearly identical feature set, and packs down to a similar size. Further, the Squamish Hoody features moderately durable 30-denier nylon with stretch, but it has a noticeably slipperier hand feel than the Black Diamond (plus it's a bit more prone to clamming up and overheating than the BD). In addition, it can't match the BD's wet-weather resistance (for more, see our in-depth Squamish review). All in all, the Squamish is a nice alternative for ounce-counting climbers and backcountry skiers, but despite the weight penalty, we prefer the Alpine Start for its increased mobility and weather protection.
At the other end of the spectrum is the Arc'teryx Sigma SL Anorak, a 9.3-ounce softshell pullover with a decidedly climbing-focused design. With the Sigma, you get features like gusseted underarms, Arc'teryx's Hemlock to keep the jacket from riding up under your harness, and a helmet-compatible hood with three adjustment points. The Aequora AirPerm fabric is thicker than that of the Alpine Start, and the 14-percent elastane means it's highly mobile and comfortable. However, while the more robust build provides better defense against wind and rain, it also sacrifices breathability. Because of this, we think of the Alpine Start as the more versatile layer for everything from backcountry skiing to trail running, while the Sigma SL excels most in alpine environments.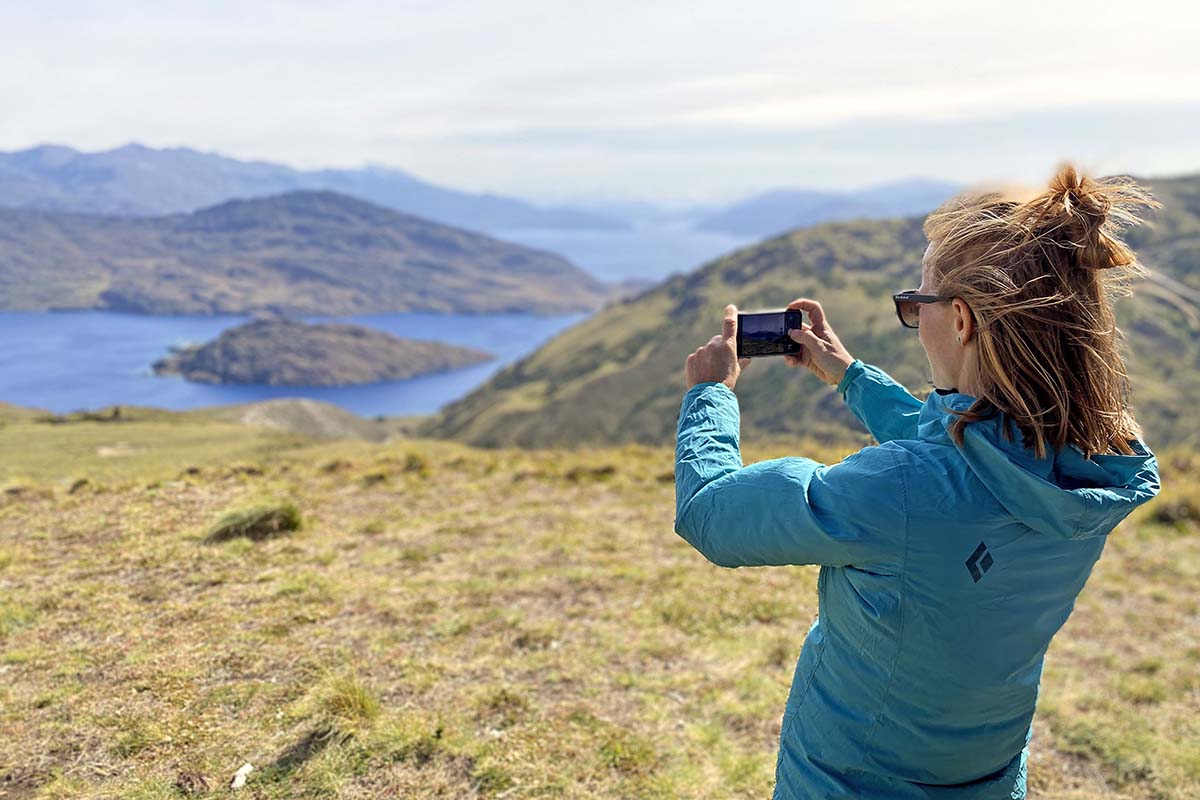 A final competitor comes from within Black Diamond's own lineup: the minimalist, trail-running-focused Distance Wind Shell. At only 2.5 ounces, the Distance is an incredibly lightweight windbreaker that still manages to pack in many of the features of the Alpine Start, including a chest pocket, hem cinch, and helmet-compatible hood. The main difference is in the choice of fabrics: the Distance is made with 100-percent ripstop nylon (no stretch) and is much thinner than the Alpine Start (30 grams per square meter vs. 80). As a result, the Distance feels rather plasticky and swampy and lags behind the Alpine Start in terms of water protection as well. But as an emergency layer or when weight and packability are at a premium, it's hard to beat the Distance's feathery build.
If you're thinking about buying gear that we've reviewed on Switchback Travel, you can help support us in the process. Just click on any of the seller links above, and if you make a purchase, we receive a small percentage of the transaction. The cost of the product is the same to you but this helps us continue to test and write about outdoor gear. Thanks and we appreciate your support!
Depending on the seller, most products ship free in the United States on orders of $50 or more. International shipping availability and rates vary by seller. The pricing information on this page is updated hourly but we are not responsible for inaccuracies.
Read More From Switchback Travel