Over the last few years, Black Diamond has assembled an impressive lineup of outdoor gear, from ski jackets and insulation to casual lifestyle apparel. The Liquid Point is their leading performance rain jacket, built with 2.5-layer Gore-Tex Paclite and featuring a rare athletic fit (rain jackets usually err on the casual side). We took the women's Liquid Point to rainy and windy Patagonia and were impressed by its high-end look and feel. However, performance came up a little short, especially considering the steep price tag. Below we break down our experiences with the Liquid Point. To see how it stacks up to the competition, see our articles on the best rain jackets and best women's rain jackets.
 
---
Table of Contents
---

Performance
Weather Protection
The Black Diamond Liquid Point isn't your typical rain jacket. Designed to offer waterproof protection for high mountain pursuits, this shell is lightweight, trim-fitting, and more technical than much of its competition. In fact, the Liquid Point looks and feels more like a hardshell than standard rain jacket. In adverse conditions, however, the 2.5-layer Gore-Tex Paclite build and DWR finish have performed well but not perfectly. The jacket kept me dry during a few days of wet hiking in Patagonia, but the rubbing of my backpack's straps compromised the DWR coating across my upper back almost instantly. In all fairness, moisture didn't penetrate the waterproof membrane and my baselayer stayed dry, but this was a bit of a letdown for such a premium (and pricey) shell.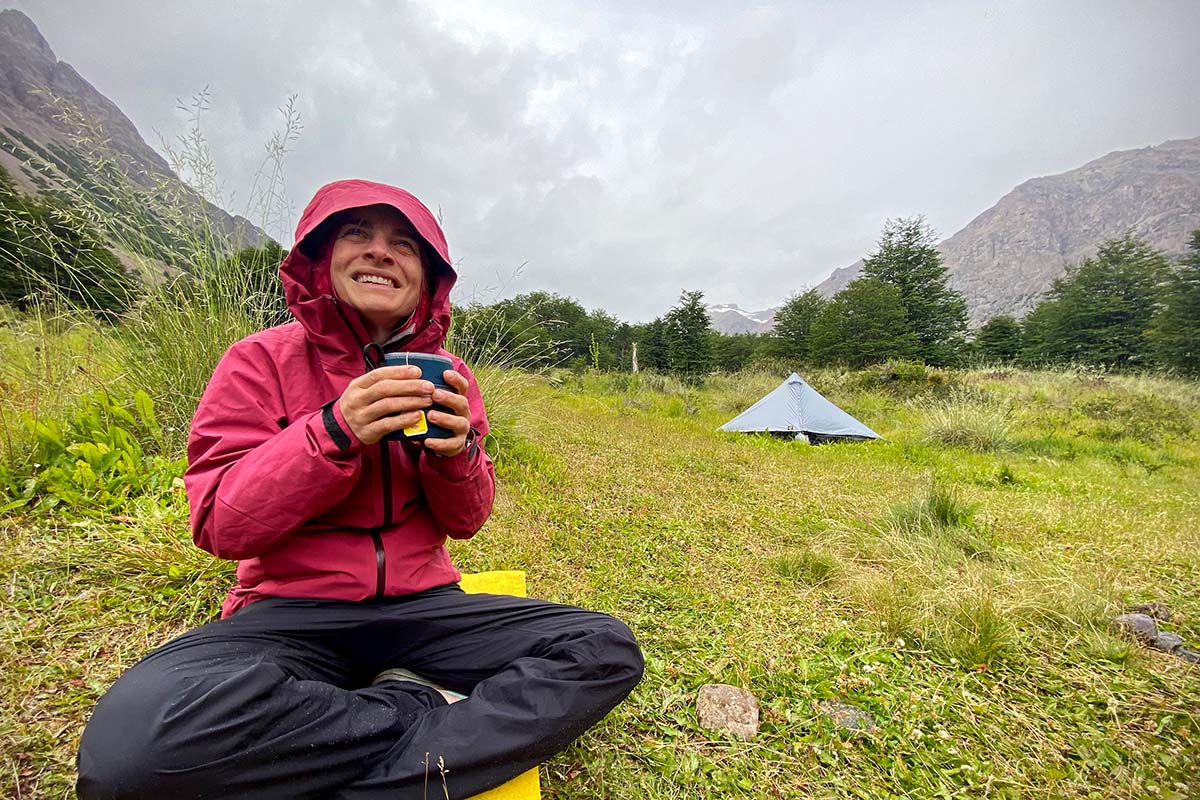 When the weather takes a real turn, it's easy to batten down the hatches. Along with sealed seams, Paclite membrane and DWR finish, and robust 75-denier face fabric, the Liquid Point features a water-resistant front zipper to seal moisture out. Additionally, the two hand pockets are covered by the waterproof fabric, and generous flaps guard against drips through the zippers. The helmet-compatible hood also offers great all-around coverage, and a nicely sized brim helps to keep rain out of your eyes. Finally, the cuffs are easy to cinch/adjust and secure at the wrists. All in all, apart from the DWR wearing out quickly, this is one highly protective and well-equipped rain shell.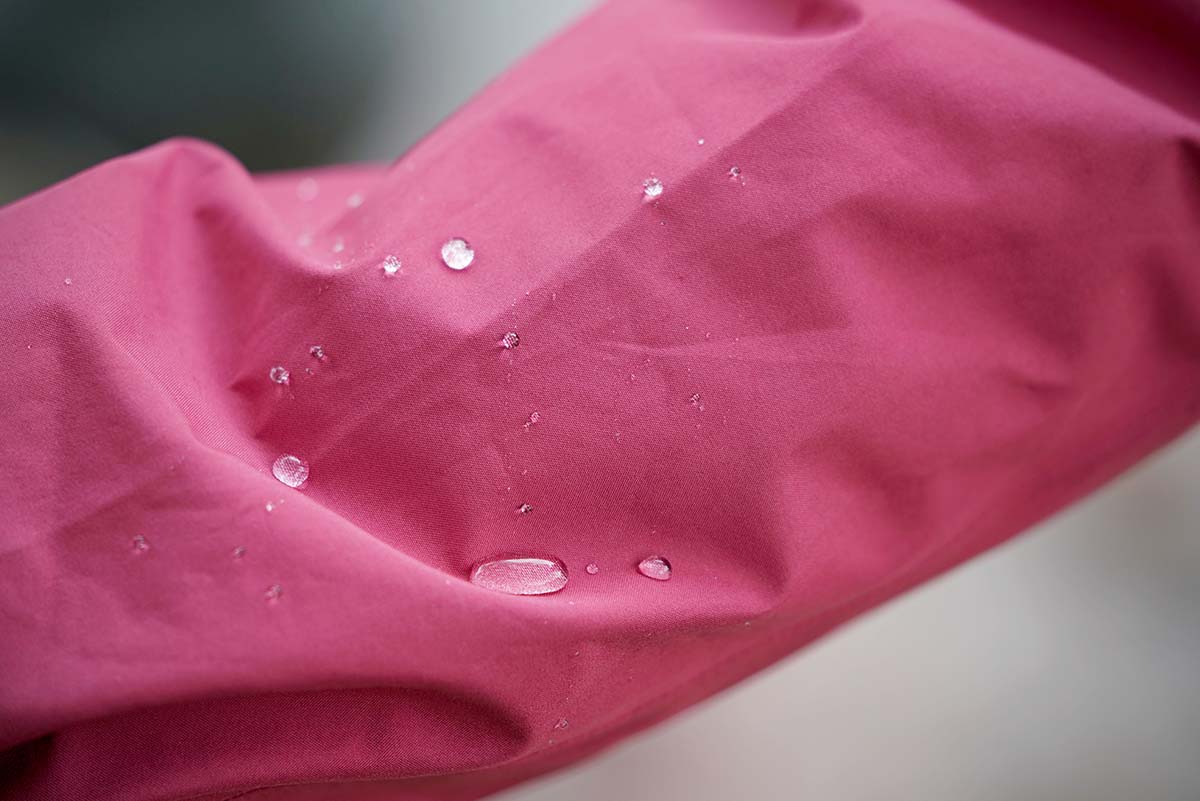 Breathability
Unlike Gore-Tex's more premium offerings, Paclite is not known for its breathability. However, I tested the Liquid Point while hiking with a 30-pound load and during a particularly strenuous uphill climb to Laguna Duff in Patagonia and came away fairly impressed. I did not overheat once, nor did I feel the need to open the two-way pit zips. Additionally, the interior feel is a cut above basic 2.5-layer designs like the Marmot PreCip Eco or The North Face Venture 2, which can grow clammy and slippery inside (although the Liquid Point's liner does feel noticeably more plasticky than 3-layer hardshell jackets). All in all, the Liquid Point offers respectable breathability for a rain jacket, but given the steep $259 price, you can get better performance in a 3-layer design like the REI Drypoint for about the same money.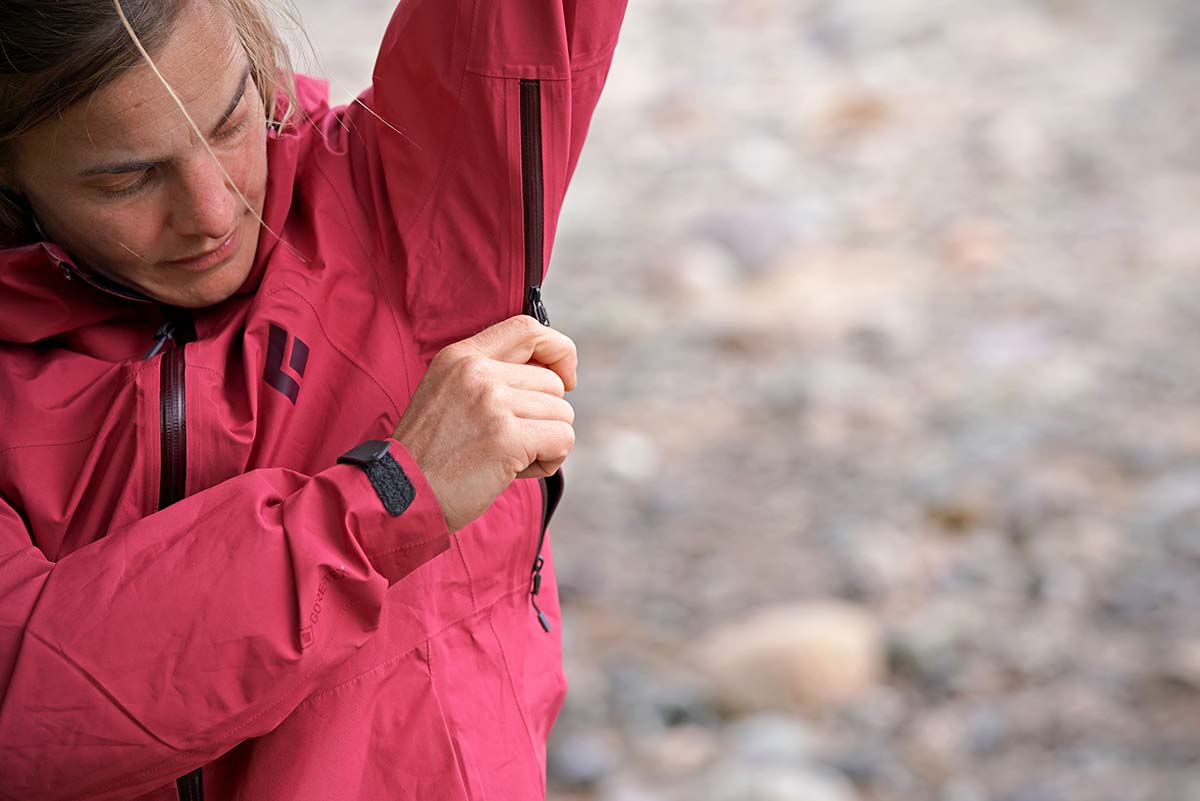 Weight and Packability
At 12.3 ounces for a women's small, the Liquid Point falls at the heavier end of the rain jacket spectrum. Those focused on shaving weight can go much lighter with a model like the Arc'teryx Zeta SL (9.5 oz.) or Black Diamond's own StormLine Stretch (8.7 oz.). However, this drop in weight does come at the sacrifice of durability. And for a step up in performance, there are a number of lightweight 3-layer models worth considering. Patagonia's Torrentshell (12.5 oz.) and Rainshadow (12.2 oz.), for example, both offer more protection than the Liquid Point for around the same weight. But compared to other 2.5-layer builds, the Liquid Point is very competitive. For reference, it slightly undercuts the Patagonia Calcite (13.1 oz.) and Outdoor Research Aspire (13.7 oz.), two other capable Paclite designs.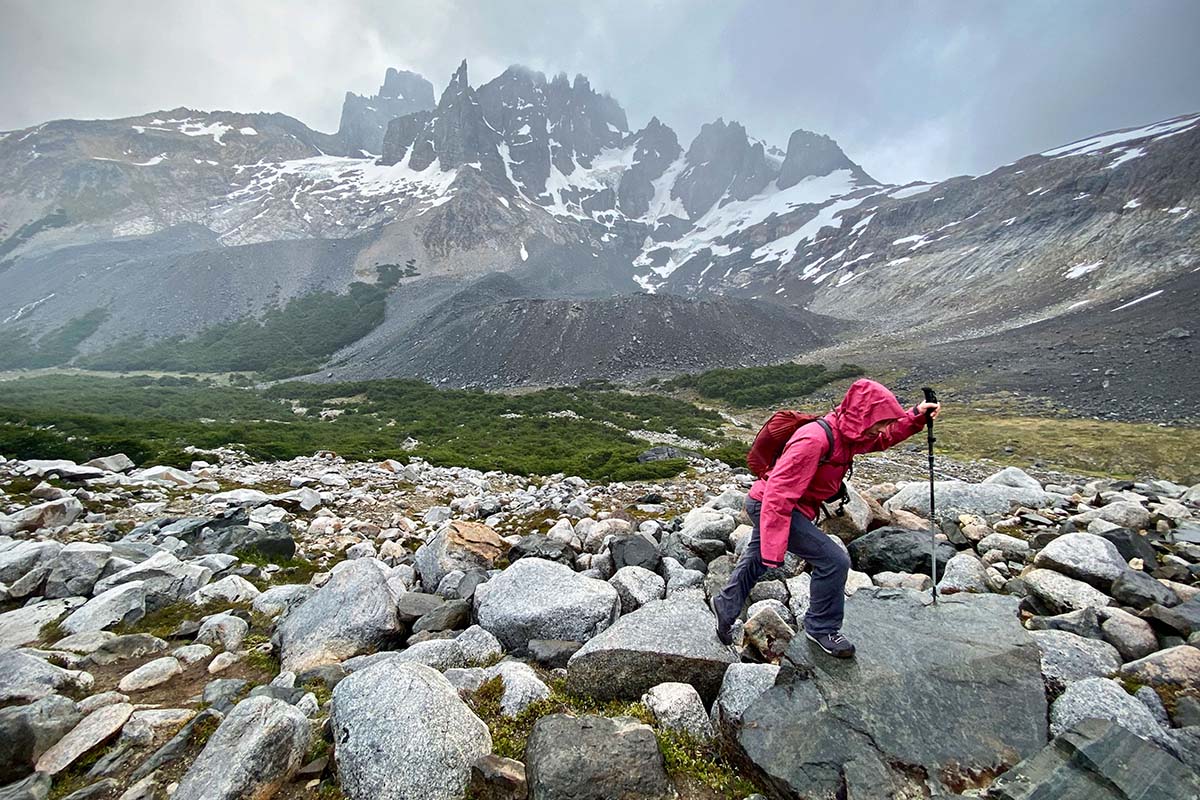 In terms of packability, the Liquid Point does not have an integrated stuff pocket or included stuff sack, and with a thick 75-denier face fabric, it's bulkier than much of the competition. If you're looking for a compressible rain jacket that can disappear into a corner of your pack, the Liquid Point is not it. If space is at a premium, we'd point you instead to one of the lighter designs above like BD's own StormLine Stretch.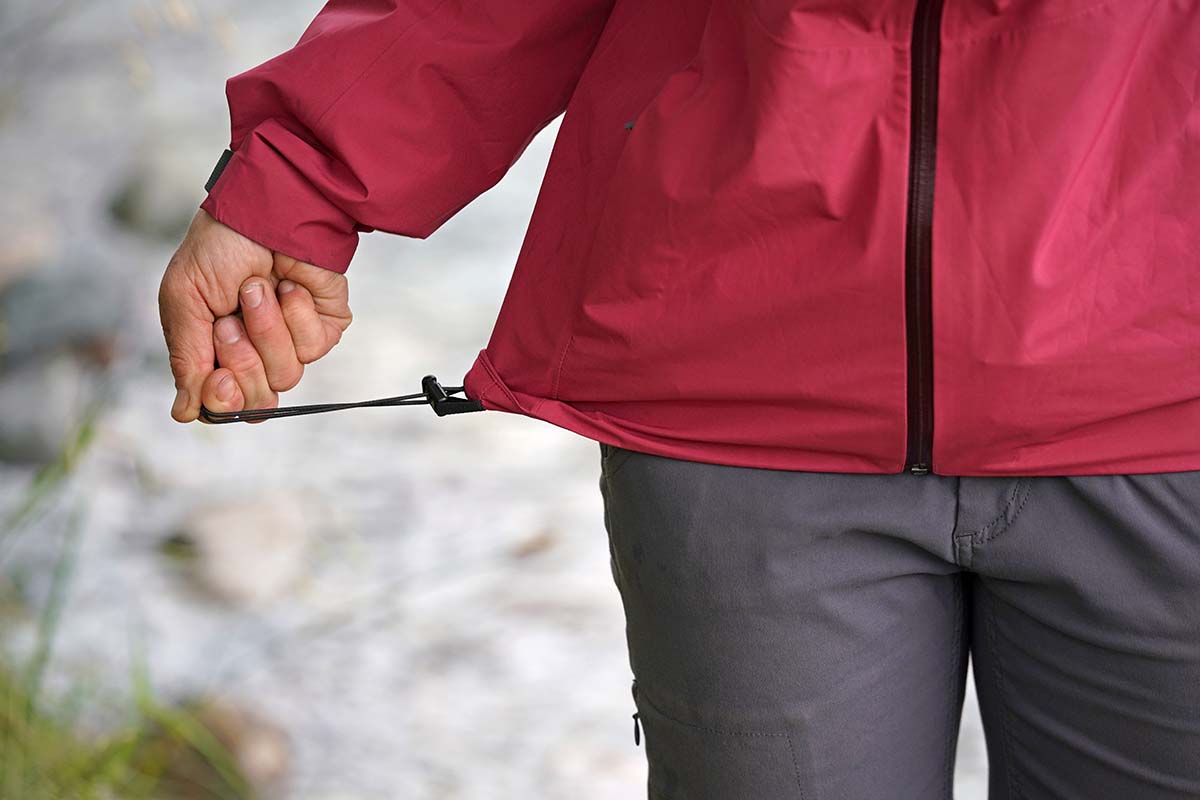 Features: Hood and Pockets
Unlike most rain jackets, the Black Diamond Liquid Point is intended for high alpine use. Along with the athletic fit, this is seen most clearly in the helmet-compatible hood. The dome is large and can accommodate a wide variety of head shapes and sizes—helmet or not. By pulling the one-handed toggle at the back of the head (the only adjustment), the hood cinches nicely around the face and has stayed securely in place, even during high winds. You also get a stiff brim to deflect water away from your face and great coverage along the sides. All that said, while I applaud Black Diamond for the helmet-compatible hood, I'm not sold on its functionality. For rock climbing, I'd rather have a lightweight emergency shell (like the 5.6-oz. Outdoor Research Helium) or the protection and breathability of a full-blown hardshell. Unfortunately, the Liquid Point seems to strike an awkward middle ground.
In terms of storage, the Liquid Point sports two simple zippered hand pockets. These don't feature water-resistant zippers, but generous flaps help seal rain out. However, considering the helmet-compatible hood, we would have expected the pockets to sit higher to allow access while wearing a harness or hipbelt, and we certainly wish the jacket had a chest pocket. But to be fair, this layout is fairly standard in the rain jacket market.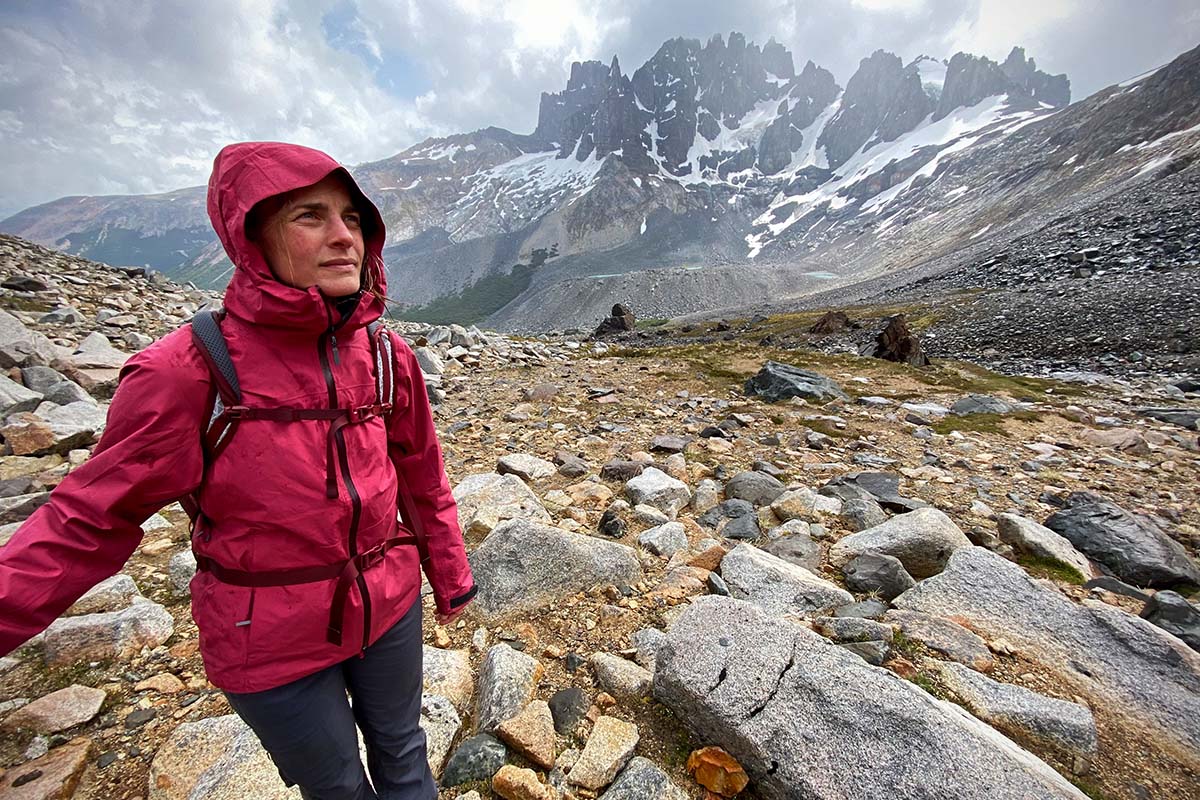 Build Quality and Durability
Black Diamond apparel hasn't always led the pack in terms of quality, but times are changing and the Liquid Point has a very high-end, premium feel. The 75-denier face fabric is hardwearing and impressively durable, which also translates to great protection from the elements. For comparison, this beats out comparable jackets like the Arc'teryx Zeta SL (40D) and Outdoor Research Aspire (50D) without incurring too much of a weight penalty. In addition, the jacket features a clean fit and finish, sleek cuff adjustments, and streamlined zippers and pulls.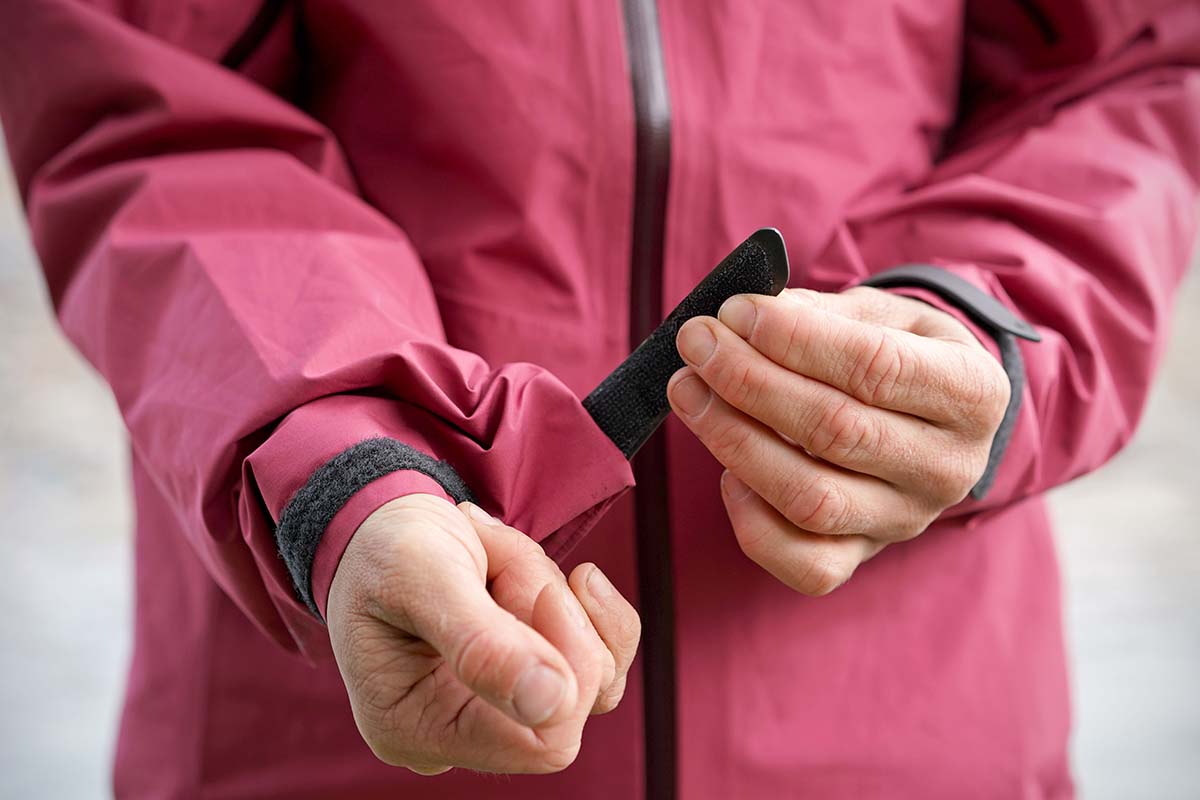 As I touched on above, my only durability-related concern is the jacket's durable water repellent (DWR) finish, which started wearing off after just one day on the trail. This was likely due to rubbing from my pack's straps, but enough of the coating had worn off that drizzle began to soak into the face fabric. While DWR maintenance is par for the course with any waterproof jacket, this felt a little premature, leading to concerns about the quality of the finish. But the good news is that DWR can be restored/reapplied fairly easily and cheaply by washing and drying the jacket or by applying a waterproofing product like Nikwax TX.Direct Spray-On.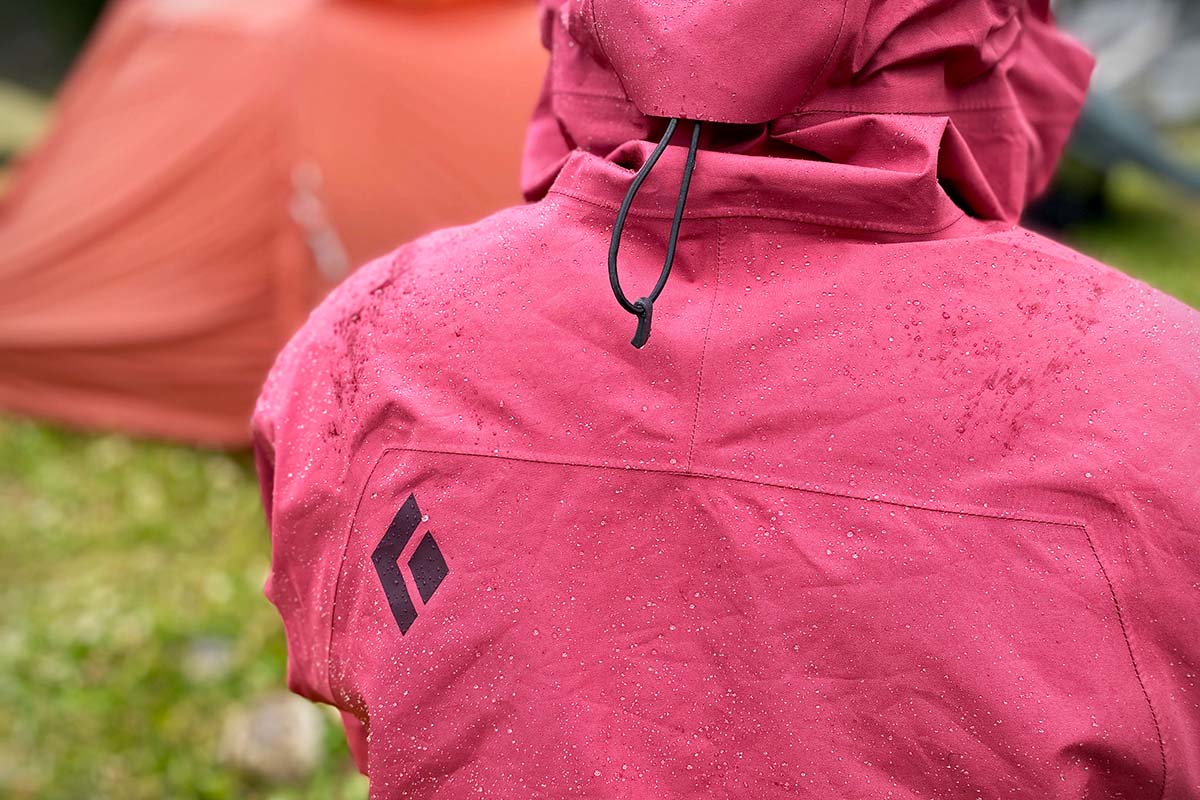 Fit and Sizing
One of the most notable aspects of the Black Diamond Liquid Point is its fit: unlike most rain shells, which tend to trend toward casual and boxy, BD opted for an athletic cut that feels more akin to a technical hardshell. As a result, the Liquid Point is roomy enough for layering and has great freedom of movement yet is still trim enough that excess fabric won't get in the way. In terms of sizing, I opted for my standard women's size small, which fits well with or without a midlayer underneath. The drop-tail hem offers nice coverage across my butt and lower back—especially great for bending down while doing chores around camp—and easy-to-pull cinches on both hips allow me to seal out the moisture evenly across the waist. I do find the arms to be particularly long, but the sleek cuff adjustments are easy to use and keep the sleeves off my hands.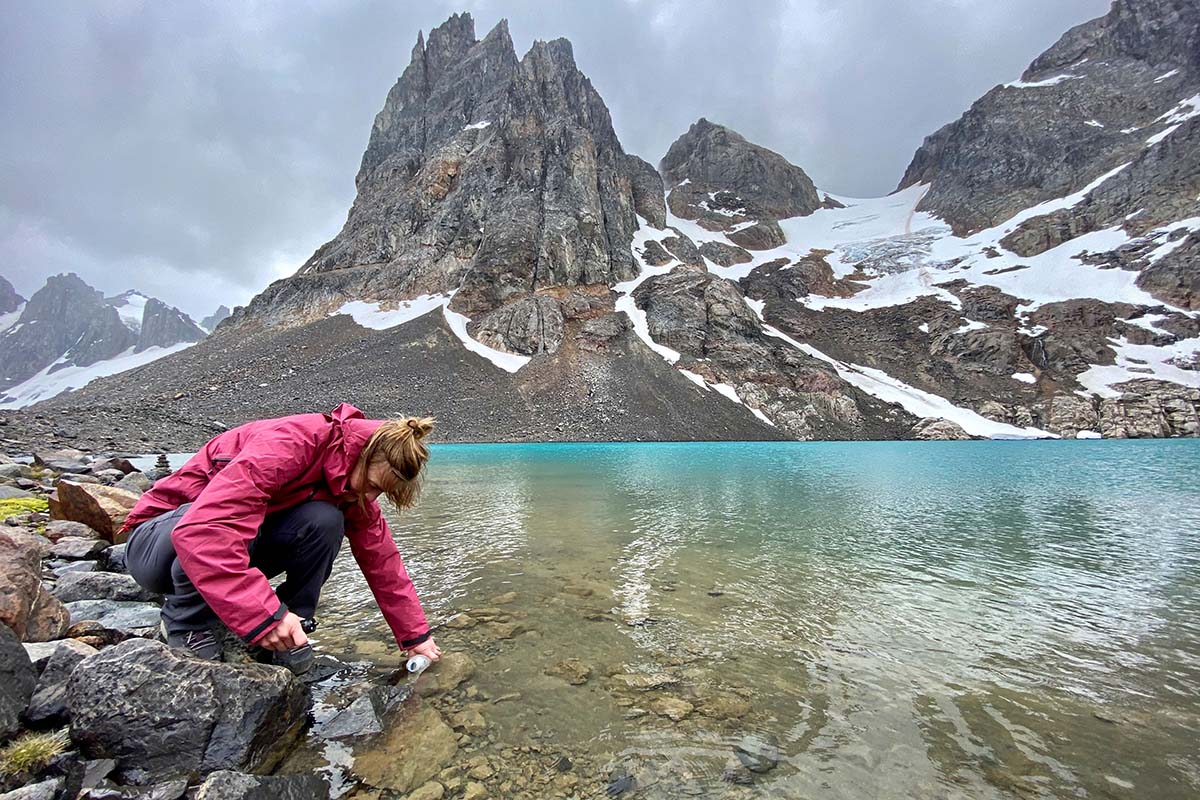 Other Versions of the Black Diamond Liquid Point
We tested the women's Liquid Point for this review, and Black Diamond also makes the jacket in a men's version. The men's Liquid Point tips the scales at 13.9 ounces, comes in three different colorways (both models are available in black), and retails for $265. We haven't had a chance to test the men's jacket yet, but we imagine it warrants similar praise for its wet-weather performance and durable build. In addition, Black Diamond makes Liquid Point Pants in both men's and women's models, which feature the same 2.5-layer Gore-Tex Paclite construction and sell for $199.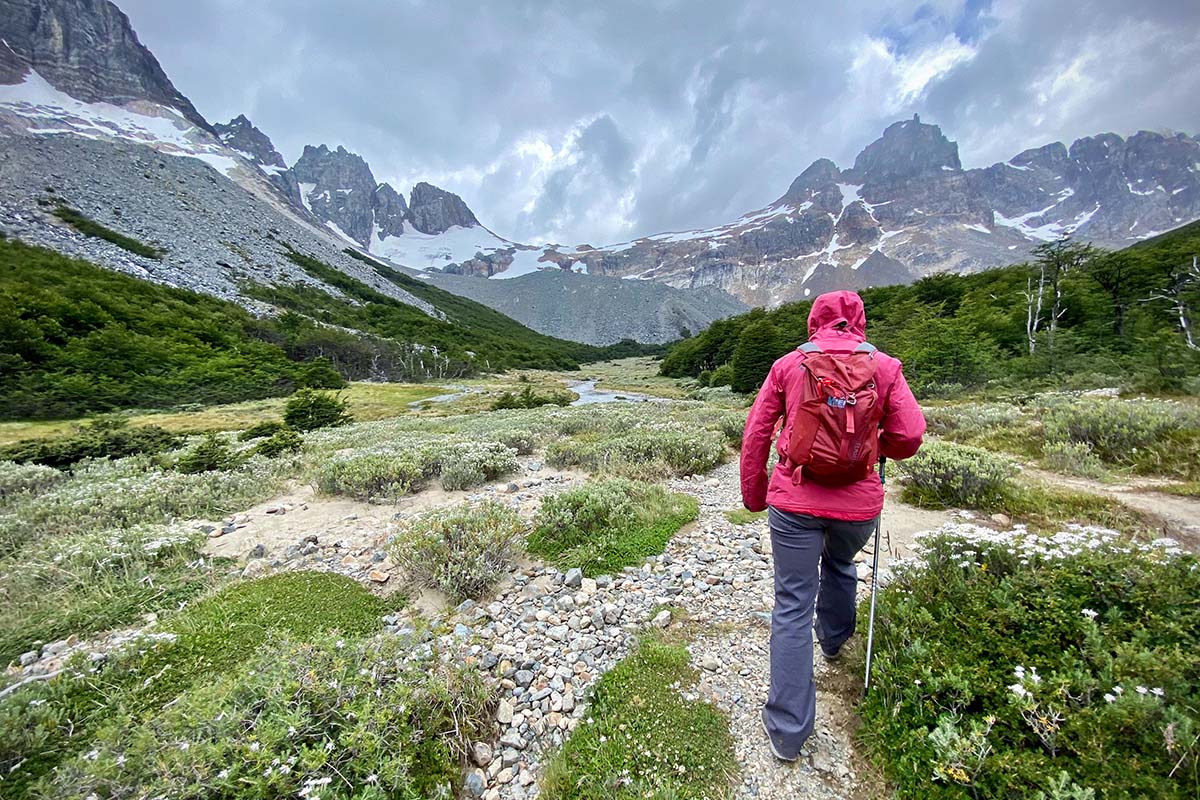 What We Like
A good-looking rain jacket with a hardshell-like feel and an athletic fit.
Proven Gore-Tex Paclite performance.
With a 75-denier shell, the Liquid Point is more durable and protective than most of its competition.
 
What We Don't
Strikes a rather odd middle ground: the look and fit of a hardshell, but without the 3-layer performance.
DWR finish wore off within a day of hiking with a pack.
At $259, the Liquid Point is expensive for a rain jacket.
Hand pockets are not high enough for use with a harness or hipbelt, and there's no chest pocket.
Helmet-compatible hood isn't ideal for hiking or everyday use.


Comparison Table

The Competition
Within the performance rain jacket realm, there's no shortage of competition for Black Diamond's Liquid Point. Outdoor Research's Aspire features similar Paclite waterproofing, but to boost ventilation, the Aspire comes equipped with unique side zips that extend the length of the jacket (OR calls this "TorsoFlo Venting"). When fully unzipped, this creates a poncho-like opening for dumping excess heat. In the end, if breathability is a priority, the Aspire is an intriguing option and will save you around $50. You do give up some crossover appeal with the unique construction, but the Aspire is a good-looking option with great functionality.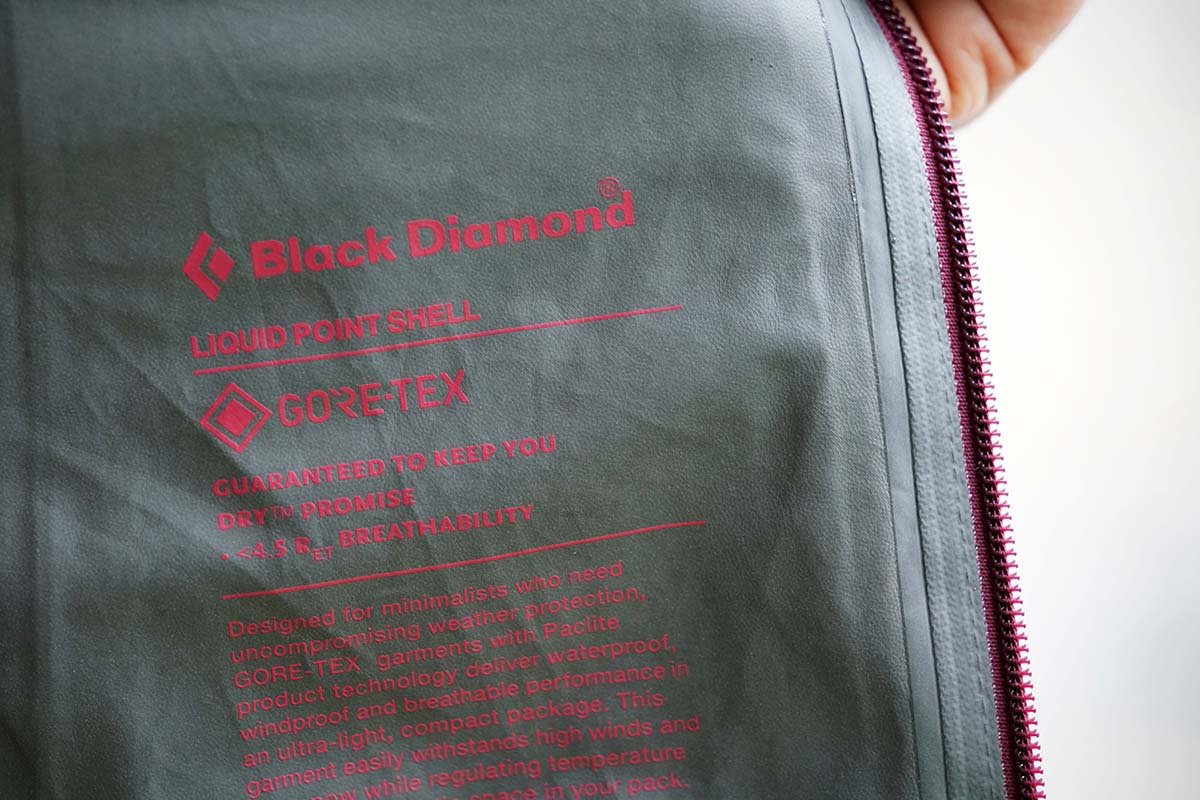 Patagonia's Calcite goes head to head with the Liquid Point. With a similar 75-denier face fabric and 2.5-layer build, both are protective and hardwearing rain shells. The Calcite tacks on a chest pocket with a DWR-treated zipper, as well as front hood adjustments that offer a better fit and sleeker look when worn without a helmet (for more, see our in-depth Calcite review). For another $10, however, the Black Diamond adds nice technical upgrades like water-resistant zippers on the arm vents and a more hardshell-like face fabric. It's a close call between the two, but the BD's more premium look and feel give it the edge for us.
Arc'teryx is one of the market leaders in shell jackets, and their Zeta SL is a very well-rounded option for hiking. It's light at 9.5 ounces, comfortable against the skin, and reasonably weather-worthy with a 2-layer Gore-Tex Paclite build. That said, the Zeta undeniably is the more minimalist option, with a thinner 40-denier shell that's decently robust but not as confidence-inspiring as the Liquid Point's 75-denier build. Further, the Zeta's 2-layer construction falls short of the Liquid Point in the breathability department, with a clammier-feeling interior and no pit zips to dump heat. That said, we love the Zeta's clean styling and lower weight. 
From within Black Diamond's own lineup, their StormLine Stretch is another intriguing alternative at a significant $110 less than the Liquid Point. Both jackets sport 2.5-layer waterproof constructions and include features like pit zips, climbing helmet-compatible hoods, and adjustable hems and cuffs. In parsing out the differences, the StormLine Stretch uses a less protective and premium in-house BD.dry membrane, weighs 8.7 ounces, and is the less technical option with a roomier cut and less hardwearing design. Both are well-appointed backcountry shells, and a final decision will come down to how you prioritize all-out protection (the Liquid Point wins out) versus value and comfort (the StormLine Stretch gets the edge).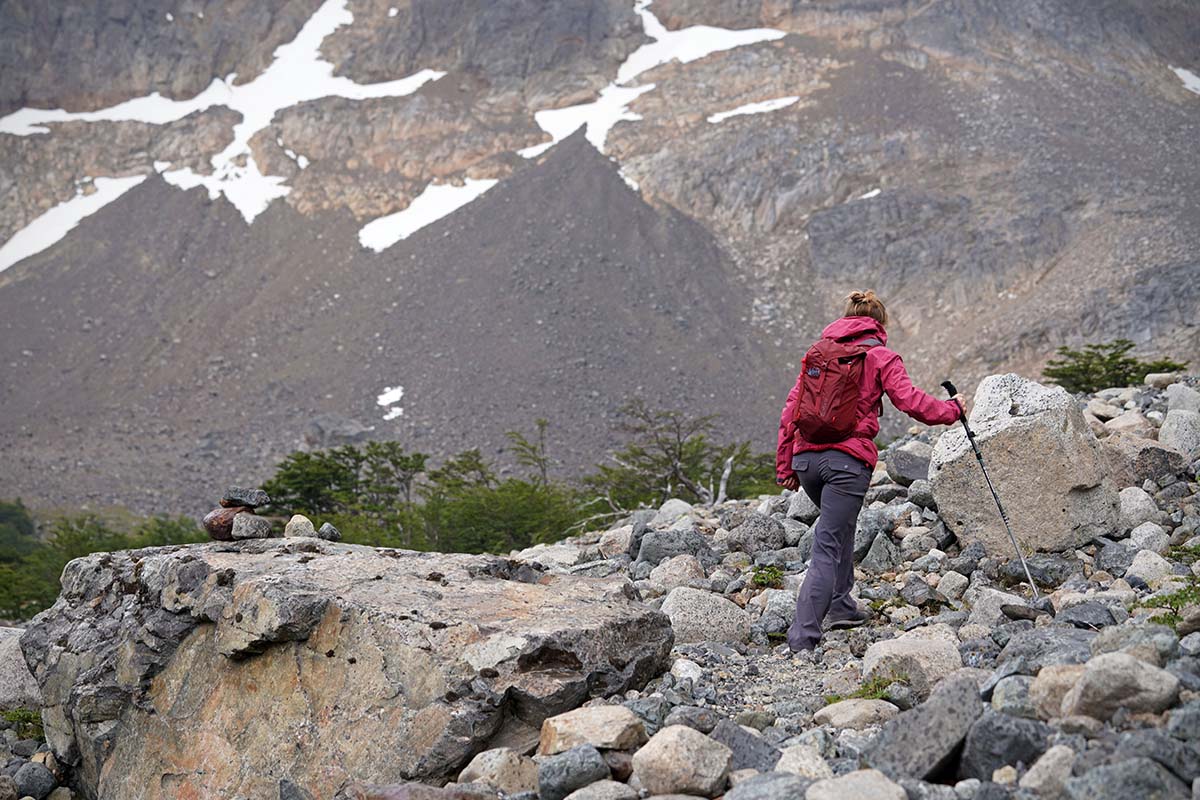 Finally, we'd be remiss not to mention Black Diamond's HighLine Stretch Shell. At 10.7 ounces, the HighLine undercuts the Liquid Point but manages to do it with a 3-layer stretch-nylon construction that's more breathable and protective than the Liquid Point's 2.5-layer build (the interior is softer, too). Importantly, the HighLine also uses a new PFC-free DWR that's not only environmentally friendly, but also designed to last longer than standard DWR. Like the Interstellar mentioned above, the HighLine is an intriguing option for climbers looking for a bit more performance but comes at a higher cost ($299).
If you're thinking about buying gear that we've reviewed on Switchback Travel, you can help support us in the process. Just click on any of the seller links above, and if you make a purchase, we receive a small percentage of the transaction. The cost of the product is the same to you but this helps us continue to test and write about outdoor gear. Thanks and we appreciate your support!
Depending on the seller, most products ship free in the United States on orders of $50 or more. International shipping availability and rates vary by seller. The pricing information on this page is updated hourly but we are not responsible for inaccuracies.
Read More From Switchback Travel