Rain jackets have a reputation for being crinkly and uncomfortable, but Mountain Hardwear's Exposure/2 Paclite Stretch bucks that trend with a dose of elastane in the waterproof build. I took the jacket hiking in Patagonia and skiing, snowshoeing, and snowmobiling back home in Oregon. In the end, it checked all the major boxes: it provides great wet-weather protection, breathes decently well, and is comfortable and mobile enough to cross over nicely between hiking and around-town use. Below we break down the Exposure/2's weather protection, breathability, weight, features, durability, fit and sizing, and more. To see how it stacks up to the competition, see our article on the best rain jackets.
 
Performance
Weather Protection
Using a 2.5-layer Gore-Tex Paclite construction, the Mountain Hardwear Exposure/2 is a very capable barrier against the elements. I've worn the jacket during pelting rain while hiking in Cerro Castillo in Chilean Patagonia and while backcountry and cross-country skiing on snowy days in the Three Sisters Wilderness outside of Bend, Oregon. Throughout it all, I've experienced no leakage and the DWR coating has done a great job resisting wetting out. Additionally, the sleeves and waist cinch down nicely to seal out the wind and cold, the jacket is fully seam-sealed to lock out moisture, the hood is adjustable and nicely secures around the head, and the drop hem adds additional coverage around back. Added up, the Exposure/2 still can't match a full-on hardshell and will excel in less than extreme conditions, but for a 2.5-layer rain jacket, it's highly protective and weather-ready.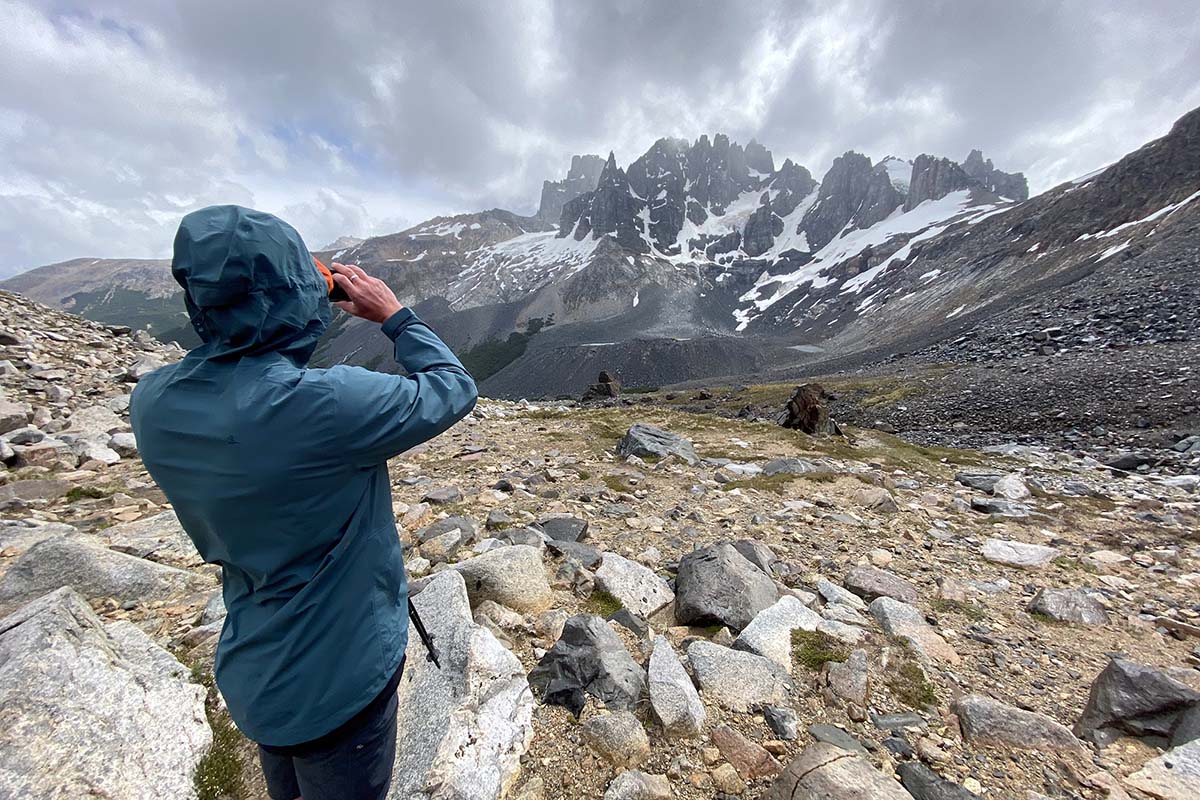 Comfort and Stretch
Immediately upon trying it on, the Exposure/2 felt different than any other rain shell I've worn. This is largely due to the addition of stretch in the jacket's fabric (it uses 8% elastane), which is noticeably pliable and flexible. This allows the jacket to move with you, boosting comfort and mobility and making it a great match for active pursuits like hiking and snowshoeing. It's worth noting that over the past few years, there have been a growing number of these waterproof rain jackets featuring built-in stretch, including Black Diamond's StormLine Stretch and Patagonia's Rainshadow. All in all, if you're looking for solid protection without the rigid, crinkly feel of a traditional hardshell, these designs are a great compromise.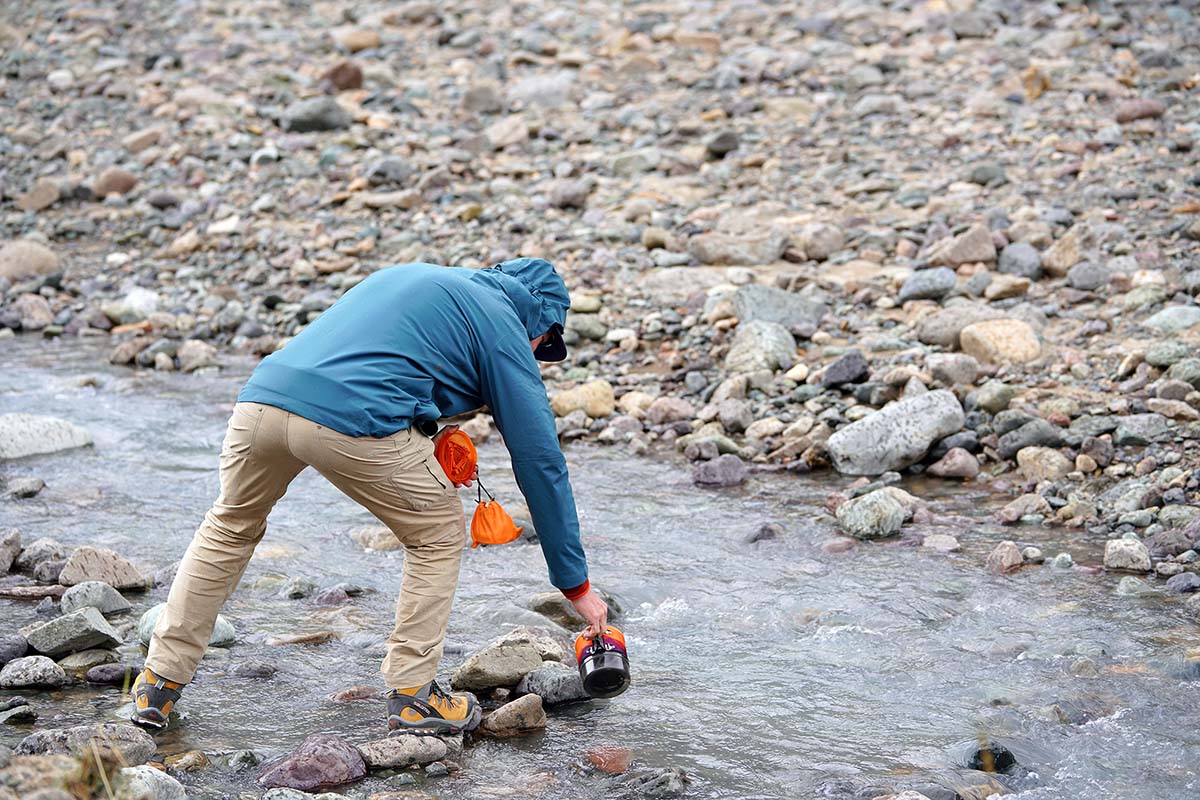 Breathability
Paclite isn't often lauded for its breathability compared to Gore's more premium designs, but I found the Mountain Hardwear Exposure/2 to be a good all-around performer. Throughout testing, the jacket has let both heat and moisture escape without issue, even in warmer conditions while hiking in Patagonia. In addition to the stretch in the fabric, this makes it a great choice for hiking and other moderately active pursuits. I do wish the Exposure/2 came with pit zips to dump heat quickly, but these would add weight, and the jacket was still able to adequately regulate temperature without them. 

Weight and Packability
At 12.5 ounces, the Mountain Hardwear Exposure/2 is fairly average when stacked up against similar rain shells. For comparison, the Marmot Minimalist and Black Diamond Liquid Point, both of which also utilize 2.5-layer Gore-Tex Paclite builds, clock in slightly heavier at 14.9 and 13.9 ounces respectively (although both include pit zips). Another jacket that adds stretch to its construction, the Black Diamond StormLine Stretch, undercuts the Exposure/2 at 9.9 ounces, but it foregoes Gore-Tex for an in-house (and less premium) BD.dry membrane. All things considered, the Exposure/2's weight is perfectly reasonable for hiking and around-town use. And in terms of packability, the jacket easily rolls up to the size of a Nalgene bottle—suitable for stowing in a pack just in case the weather takes an unexpected turn.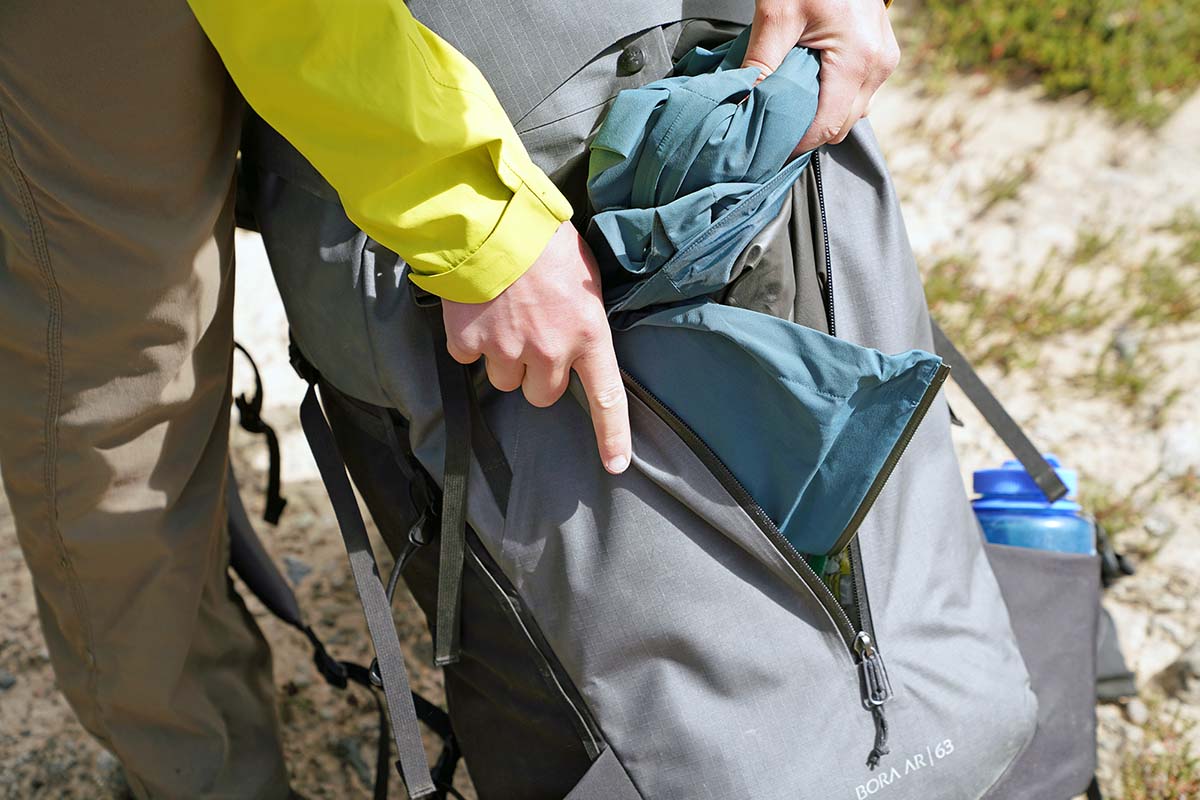 Features: Hood and Pockets
As far as features go, the Mountain Hardwear Exposure/2 is adequately appointed for hiking and daily wear. The hood is adjustable with a single drawcord at the back of the head, which I found effective at dialing in fit but not as customizable as some other jackets with more than one adjustment point. In terms of storage, the Exposure/2 has a fairly standard assortment, including two decently sized hand pockets capable of stowing essentials like gloves or a map, as well as one medium-sized outer chest pocket. As I touched on above, I did find myself wishing for pit zips at times to dump excess heat, but it wasn't a deal-breaker by any means.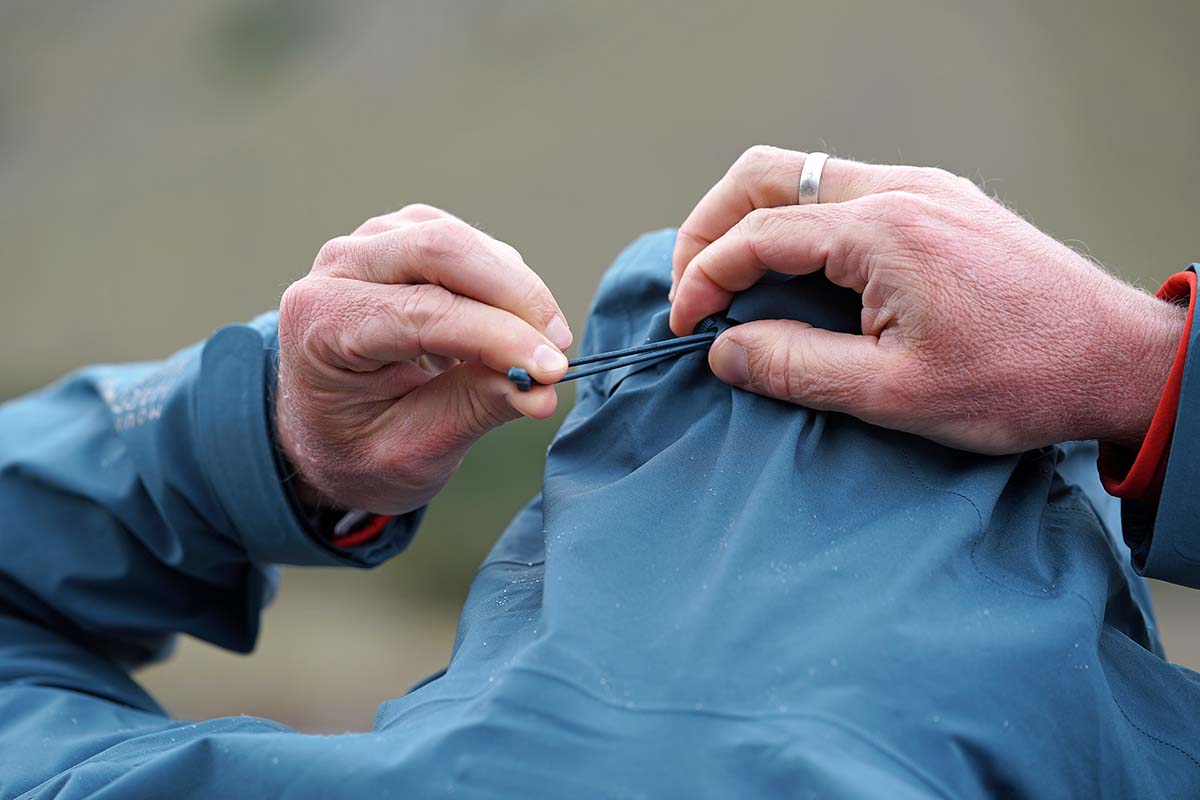 Build Quality and Durability
The Mountain Hardwear Exposure/2 is a hardwearing, well-built shell. The Gore-Tex with Paclite build is reasonably light but manages to retain impressive comfort and mobility thanks to the addition of 8-percent elastane in the fabric. To be sure, it doesn't have the bombproof feel of a 3-layer hardshell, but I've had zero concerns about longevity or quality thus far. In fact, the addition of stretch helps with abrasion resistance—rather than tearing, the fabric should give under pressure or when snagged. All in all, the shell has performed flawlessly throughout a season of use, and all signs are positive that it will continue holding up well.

Fit and Sizing
Shell sizing can be tough: it's hard to nail the balance between having enough room to comfortably layer underneath without swimming in the jacket when wearing just a baselayer. For the Exposure/2, Mountain Hardwear opted for a "standard" fit to achieve that just-right balance, and I think they accomplished it quite nicely. In practice, the jacket fits well over just a baselayer, and I'm still able add a light to midweight puffy underneath without issue. For those who like to layer more heavily, however, I would recommend sizing up.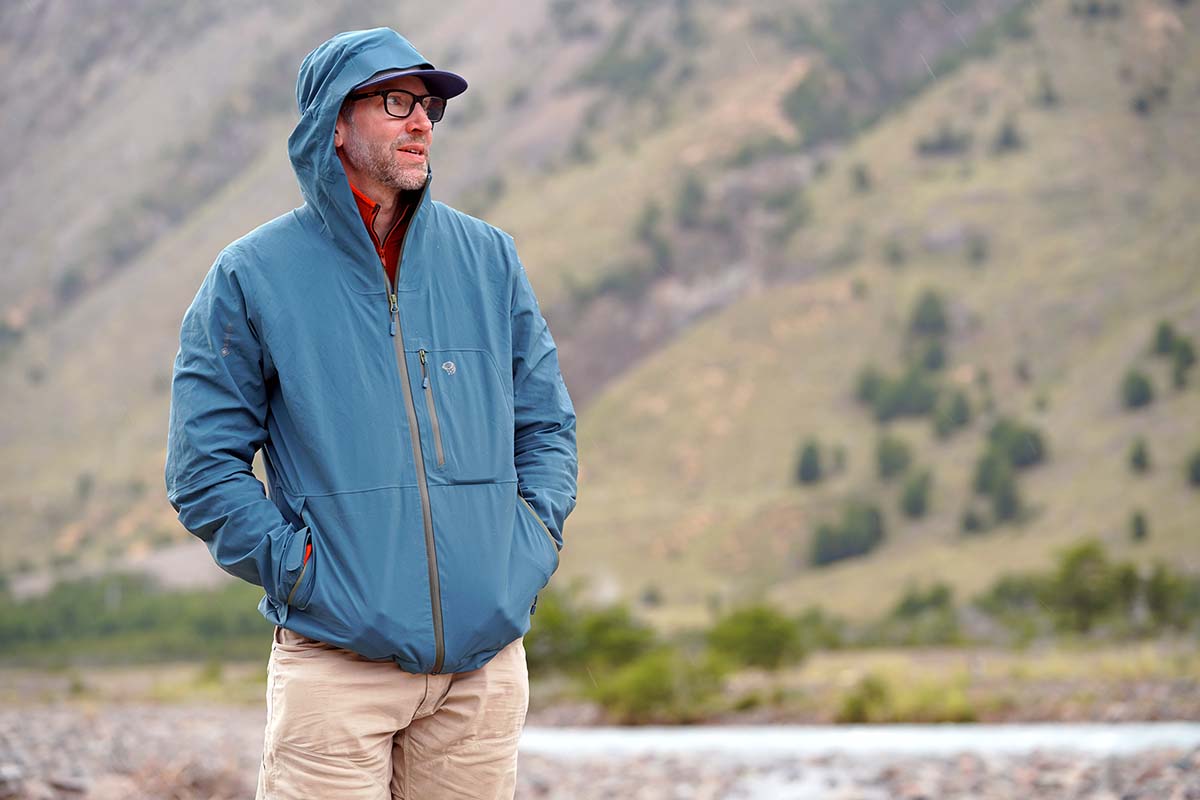 Sustainability: Bluesign-Approved Fabrics and PFC-Free DWR
Mountain Hardwear's ever-growing focus on sustainability is clear with the Exposure/2. For starters, the jacket uses bluesign-approved fabrics, which means that extra steps were taken to reduce negative impacts on the environment, workers, and consumers during production. Additionally, the Exposure/2 features a PFC-free durable water repellent (DWR) coating, which does not contain harmful chemicals. This is a significant shift, as the standard DWR finish (used widely on outerwear, tents and other outdoor gear) has been linked to both environmental and health issues. Added up, we really appreciate the effort that went into making a more eco-conscious jacket.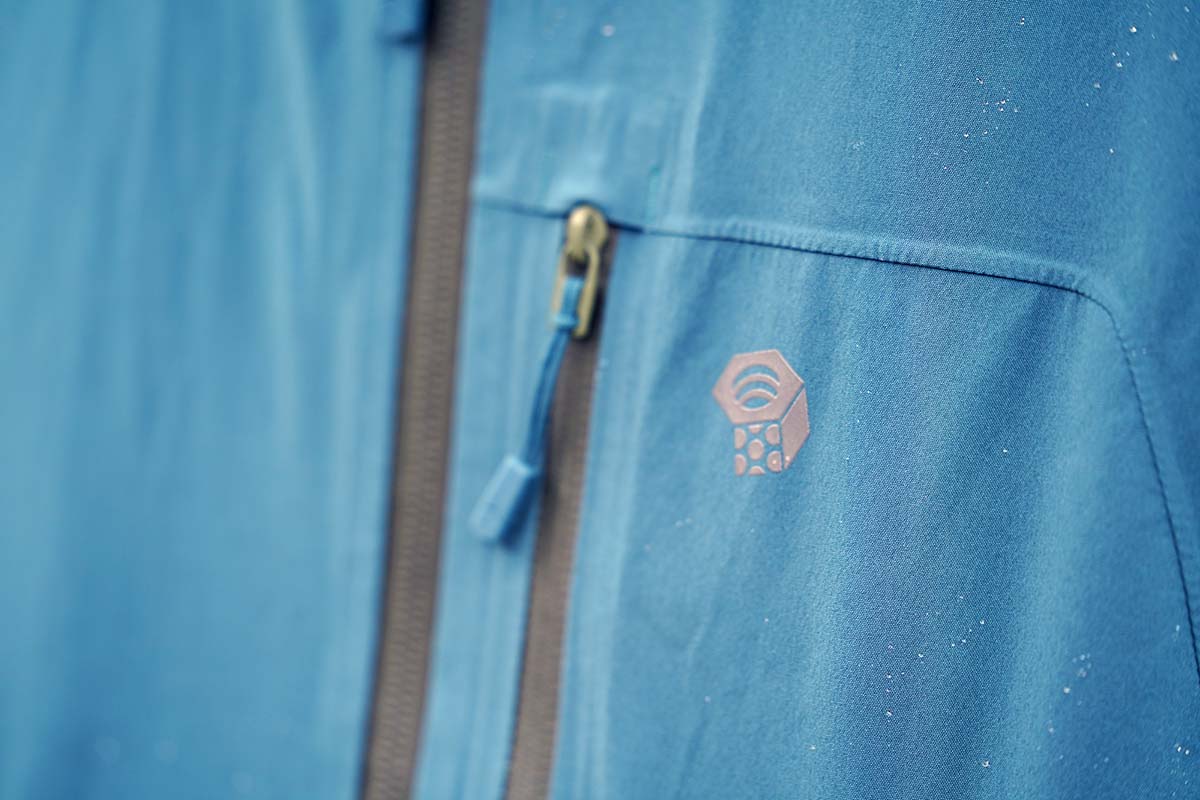 Other Versions of the Mountain Hardwear Exposure/2
We put the men's Exposure/2 Gore-Tex Paclite Stretch shell to the test for this review, and Mountain Hardwear also makes the jacket in a women's version for the same price. The women's Exposure/2 costs the same at $220 and has an identical build and feature set but comes in different colorways (three at the time of publishing). In addition, Mountain Hardwear offers a number of other variations in the Exposure collection, including an anorak version of the jacket tested here ($250), a Paclite Plus model ($300), and a 3-layer model that uses more breathable Gore-Tex Active ($425). And to complete your kit, waterproof pants are also available.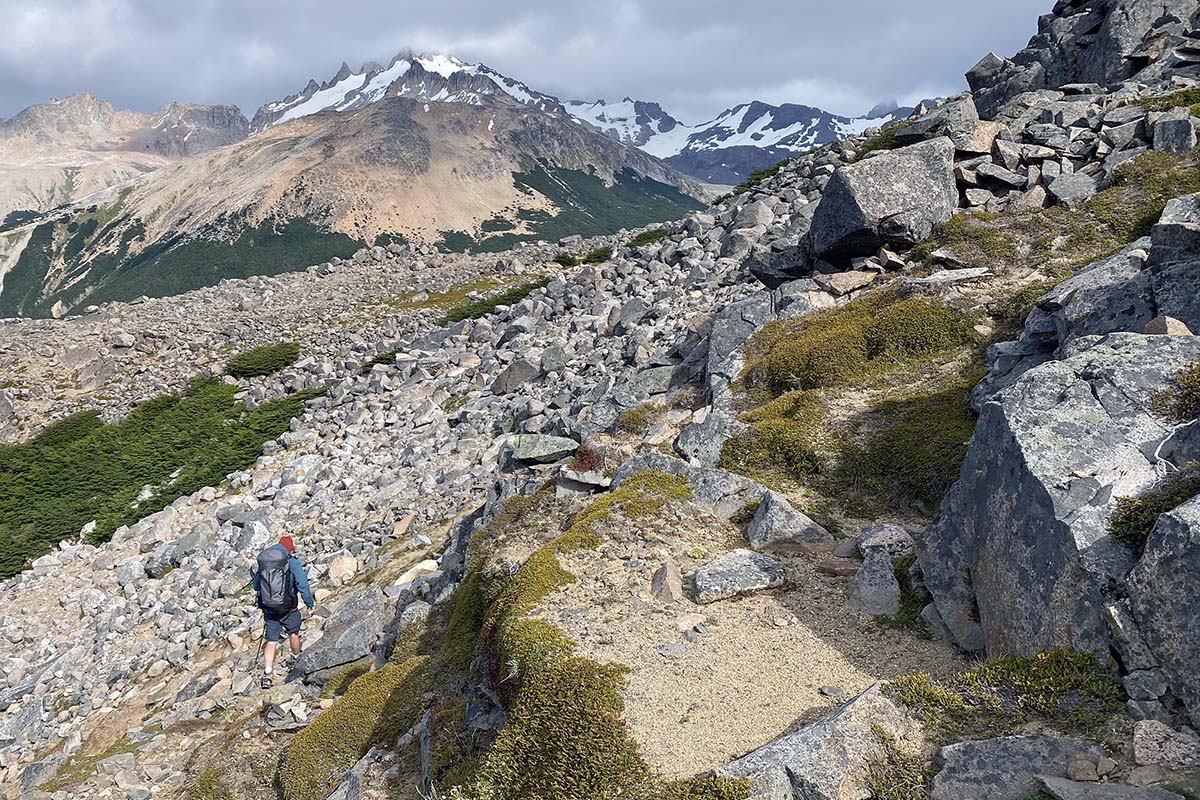 What We Like
Addition of stretch in the Exposure/2's face fabric adds comfort and mobility without sacrificing wet-weather protection.
Great all-around fit that can accommodate a variety of layers.
Breathes pretty well for a Gore-Tex Paclite design.
 
What We Don't
No pit zips to dump heat quickly.
We would prefer more fit customization from the single rear hood cinch.
Fairly pricey at $220.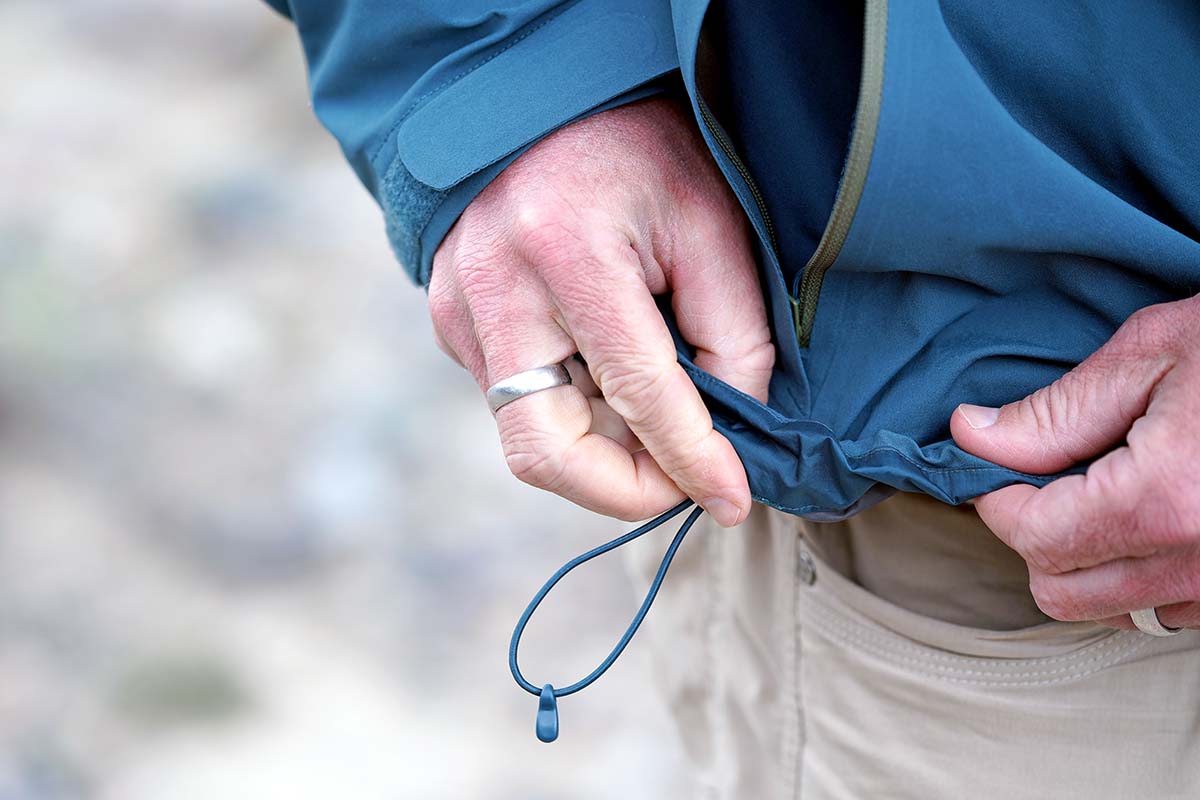 Comparison Table
Editor's Note: "Packable" indicates the jacket has a stuff pocket.
 
The Competition
Mountain Hardwear's Exposure/2 Paclite Stretch joins a crowded field of hiking-ready rain shells, and one of our favorite designs in this category is the Marmot Minimalist. Like the Exposure/2, the Minimalist uses a 2.5-layer Gore-Tex Paclite build that performed equally well against the elements. With the Minimalist, you do get a more adjustable hood and pit zips for dumping heat quickly, but it comes at a 2.4-ounce weight penalty. In choosing between the two, the Exposure's stretchy build gives it the edge in comfort, while the Minimalist has a classier look that works better around town and saves you $31.
Another 2.5-layer Gore-Tex Paclite design to consider is Black Diamond's Liquid Point. The Liquid Point is the priciest of the group at $269 ($49 more than the Mountain Hardwear), but it includes pit zips and features an athletic fit and helmet-compatible hood that wear well for more technical pursuits like climbing, hiking, and even skiing. However, the Liquid Point is heavier at 13.9 ounces and comes in at a steep $269, which puts it in 3-layer hardshell territory. For those looking for a more performance-focused shell for climbing, the Black Diamond is a nice option. But for more casual outdoor use and around-town wear, we give the advantage to the cheaper and lighter Exposure/2.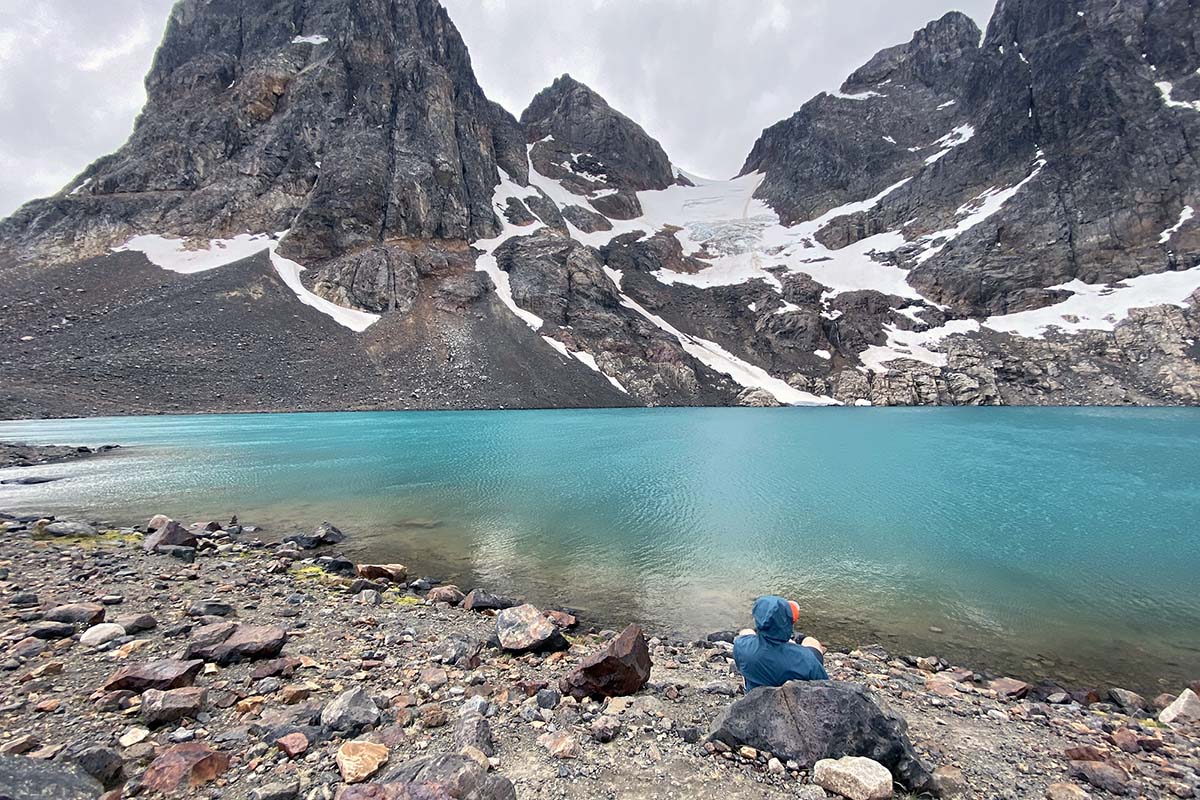 If you like the stretch of the Exposure/2, Black Diamond's StormLine Stretch is a nice alternative. Rather than Gore-Tex, the StormLine uses an in-house BD.dry construction (also 2.5 layers) to fend off water and wind. In practice, we found it to be impressively weather-worthy, and like the Exposure/2 it offers great freedom of movement with the addition of stretch in the fabric. The StormLine also undercuts the Mountain Hardwear jacket by 2.6 ounces, includes pit zips, and easily stows into its right hand pocket. Our only performance-related complaint is the jacket's large fit, which isn't ideal for backcountry use. But otherwise, the StormLine is the better-balanced design and comes in at a significant $71 less. 
Last but not least, Patagonia's Torrentshell is our favorite rain jacket this year and offers a step up in weather protection and durability with a 3-layer build. The jacket substitutes more premium Gore-Tex for Patagonia's in-house H2No waterproofing, but we've found it to still be a great all-around performer. The biggest downside to the Torrentshell is its fairly stiff and crinkly build—the Exposure/2 is much softer and quieter by comparison. However, the Patagonia is cheaper at $149, stuffs down similarly small, and includes pit zips. All in all, at this price, you'll be hard-pressed to find a better-made, better-looking, or more protective shell.
Editor's note: We usually provide a live price comparison table below our outdoor gear reviews, but the Exposure/2 Gore-Tex Paclite Stretch is sold exclusively by REI Co-op. You can see the Exposure/2 page here and support us in the process. Thanks!
Read More From Switchback Travel