Marmot's Minimalist jacket isn't new, but its combination of price and performance keeps it among our favorite rain shells year after year. With proven Gore-Tex waterproofing, a thoughtful feature set, and premium build quality, the jacket is a great choice for everyday and occasional backcountry use. And its reasonable $189 price makes it a solid value. Below we break down the Minimalist's water and wind protection, breathability, weight and packability, durability, fit and sizing, and more. To see how it stacks up to the competition, see our article on the best rain jackets.
 
Performance
Water and Wind Protection
With a strong Gore-Tex Paclite construction, the Marmot Minimalist is an impressive performer in harsh conditions. Paclite is a 2.5-layer design, which is similar in concept to many budget-friendly and lightweight models, but its substantial face fabric (now made with 100% recycled polyester) holds up markedly better in extended rain, snow, and wind. Moreover, we've found the DWR coating does a great job shedding moisture and has a long lifespan. The Minimalist's hardshell-like protection truly is impressive considering the $189 price tag—you'll need to spend quite a bit more on a 3-layer jacket to beat it.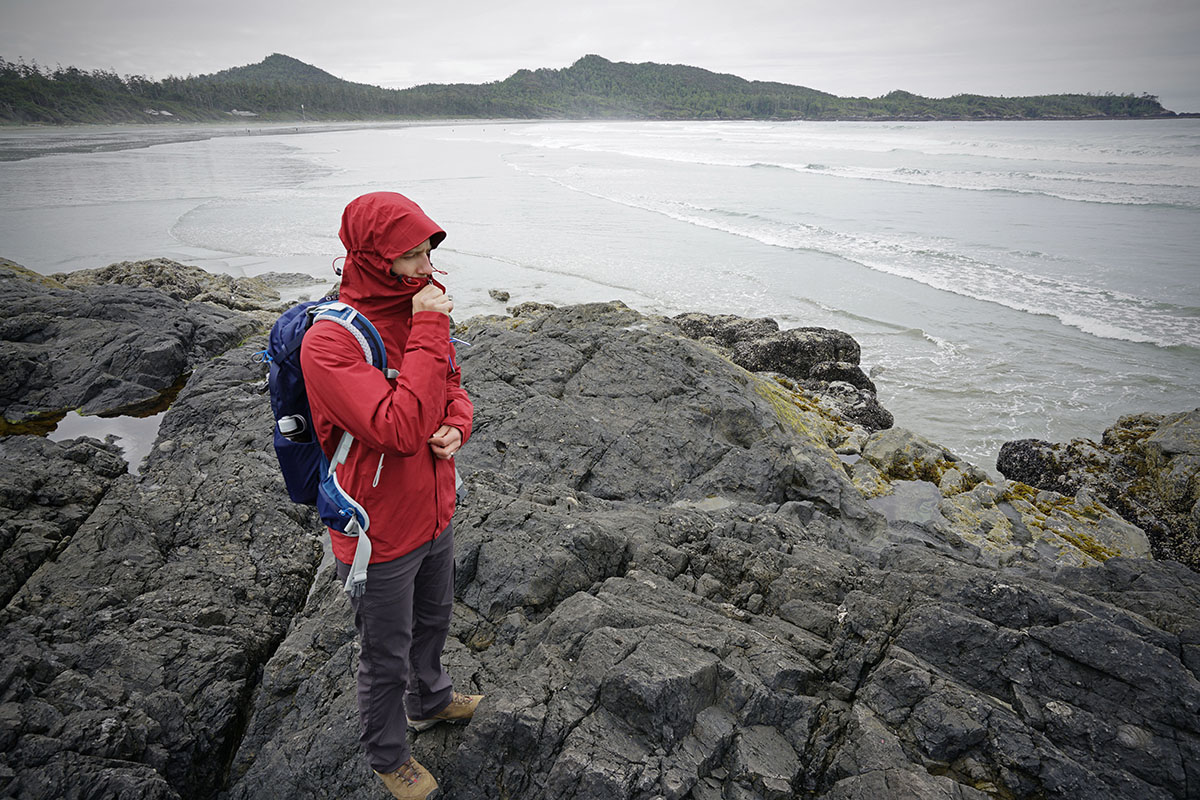 For the most part, Marmot nailed the details in making this stormproof layer. To start, the hood is easy to tighten and includes a substantial bill. Combined with a tall collar, you get fantastic coverage from driving rain and it stays solidly in place even in high winds. Further, the hand pockets are protected by storm flaps that secure with Velcro in the middle, and the cuffs use a similarly high-quality hook-and-loop system to seal out the cold and wet. The only exposed zipper is for the exterior chest pocket, and that includes a water-resistant finish and a small fabric "garage" over the top of the zipper to prevent leaking.
One small change we would like to see is additional Velcro tabs to secure the storm flap over the center zipper. Currently, you can Velcro the top when the jacket is fully zipped up and there is a button closure at the hem. This means that if you don't zip it all the way up, the stiff flap doesn't sit flush against the shell and leaves a little bit of the non-waterproof zipper exposed to the elements. Again, this is a small issue—and there is a second storm flap on the underside of the zipper—but we'd prefer a way to truly batten down the hatches in unpredictable weather.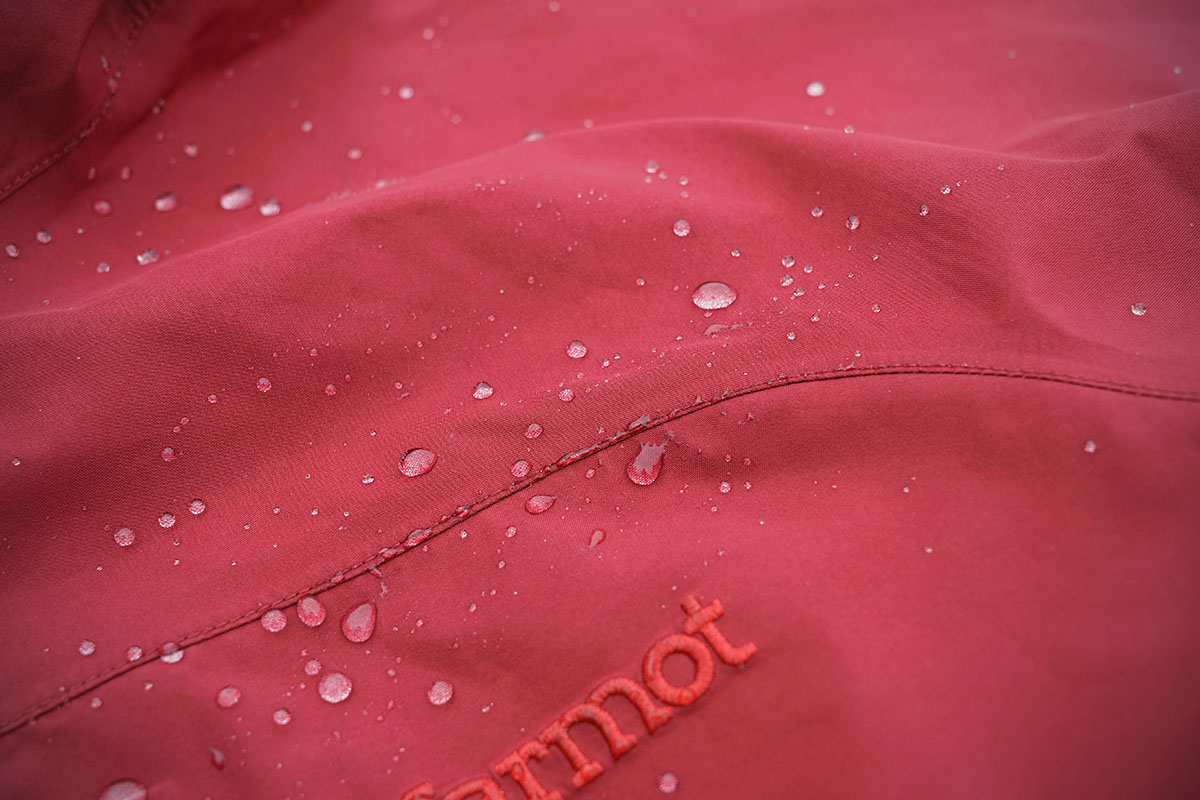 Breathability
Unlike many of Gore-Tex's premium designs, Paclite is not known for its breathability. The material will shed extended rainfall quite well, but the membrane is a somewhat dated design that can't keep up when you're working hard (note: jackets with upgraded Paclite Plus offer improved breathability). As a result, the smooth interior turns somewhat plasticky and slippery as you sweat. Thankfully, Marmot includes pit zips for dumping heat, which make the Minimalist viable for cold-weather hiking. But for backcountry skiing or other high-output activities, we think it's worth spending up for a performance-oriented, 3-layer Gore-Tex Active or Pro shell. Jackets like the Outdoor Research Optimizer and Arc'teryx Alpha FL are significantly more expensive, but they offer an all-in-one solution for skiing, mountaineering, and serious trekking.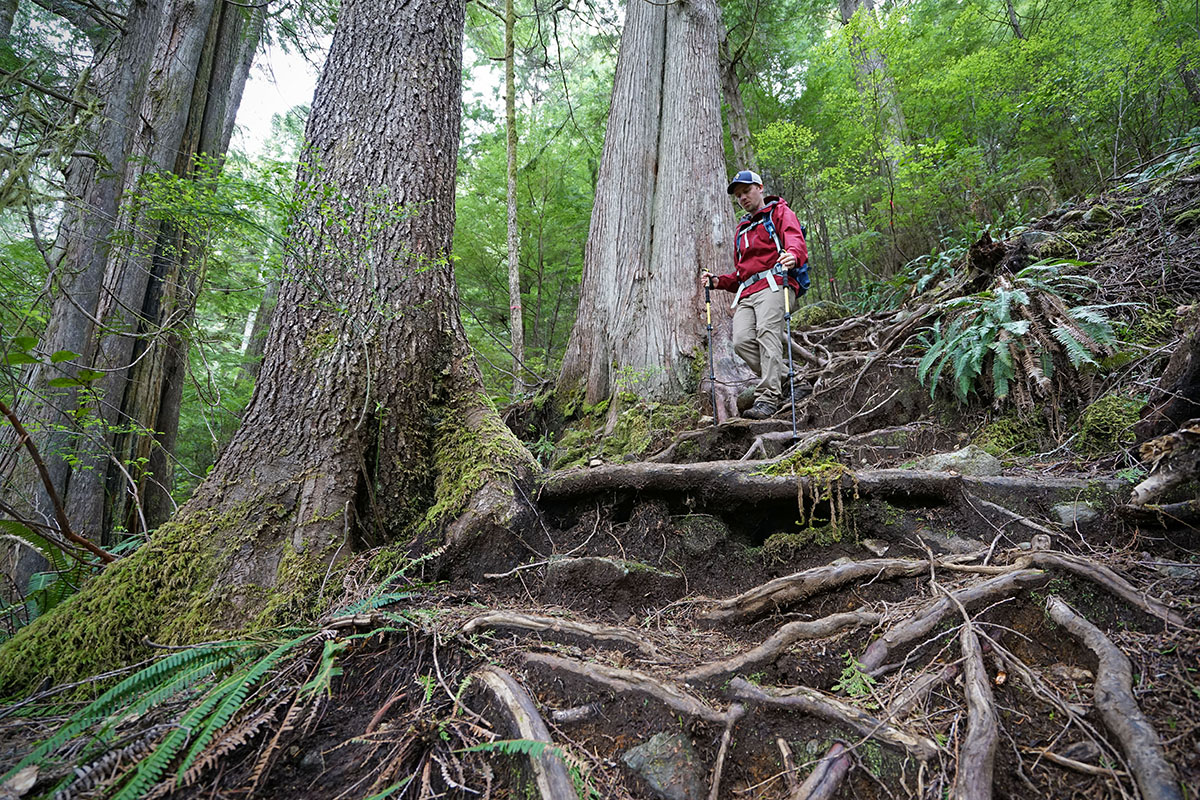 Weight and Packability
We've always found it odd that Marmot chose the Minimalist name for this jacket. It's certainly not ultralight: the strong exterior fabric and feature-rich design push the total weight of a men's medium to 14.9 ounces. For reference, Marmot's own PreCip Eco is nearly 5 ounces lighter at 10.1 ounces. Moreover, you can get a minimalist hardshell like the Arc'teryx Zeta SL, which has upgraded Paclite Plus construction, at a much lighter 10.9 ounces. But you do compromise on features with the Zeta, which doesn't include pit zips and a chest pocket, plus it costs a whopping $299. In the end, taking into consideration the Marmot's impressive weather resistance and relatively affordable price, the weight seems reasonable. But ultralight hikers and cyclists shouldn't take the jacket's name to heart (maybe it's instead a reference to the clean, simplistic styling).
Even if it's not the lightest rain jacket around, we are surprised that Marmot chose to not include a stuff pocket with the Minimalist. While their own lightweight PreCip and competitors like Outdoor Research's Foray stow in their hand pocket, the Minimalist lacks the two-sided zipper. If you'll be using the shell for backpacking or travel, however, you can roll it into the hood and tighten with the rear cinch cord. When stowed, the Minimalist isn't very compact—it's about the size and shape of an American football—but it does the trick for daily wear and the occasional backcountry trip.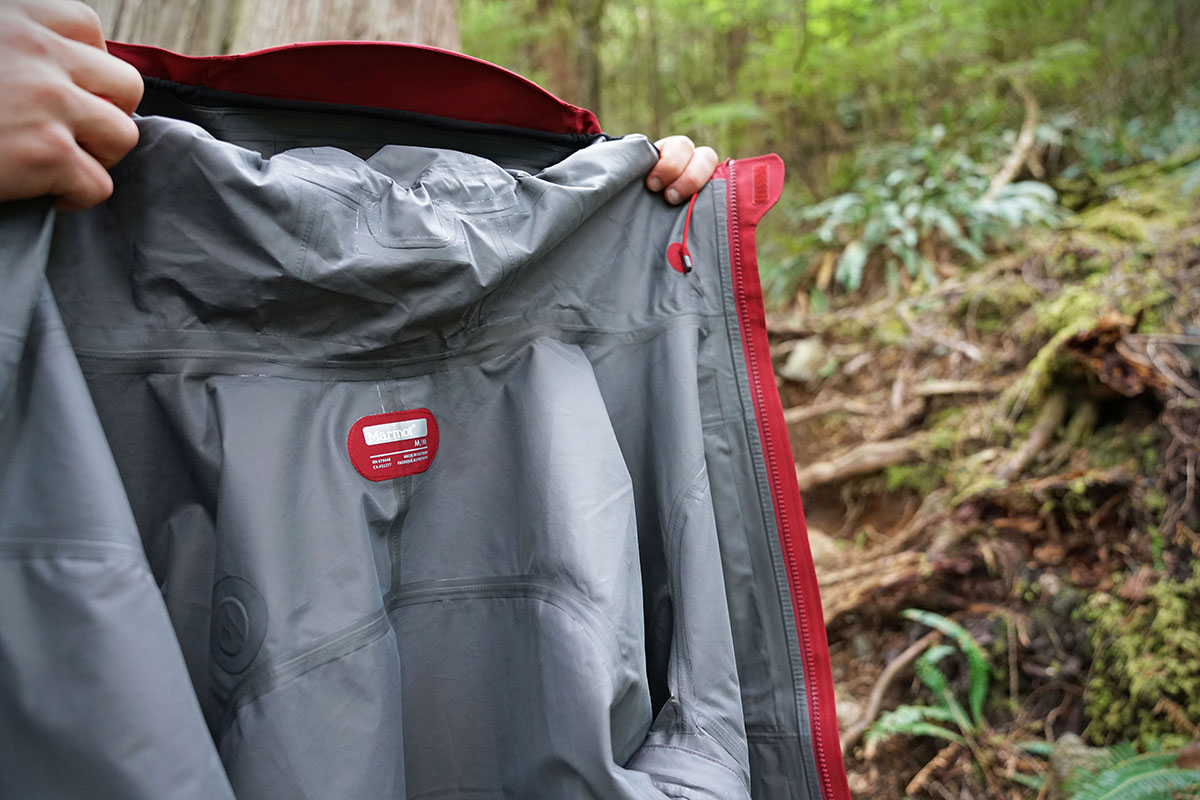 Build Quality and Durability
We like the Marmot Minimalist a lot—it's been ranked at the top of our rain jacket round-up for multiples years—and one of the big factors is its build quality. Simply put, nothing we've worn can match it for the price. The exterior has a super-clean, high-end look and feel, and Marmot nailed the details with Velcro that remains sticky over time and durable cinch cord and toggles. All the zippers are easy to operate and have worked seamlessly over the years, and we particularly like the strong main zip with its large teeth and substantial zipper pull that's glove-friendly. It's true that Paclite is among Gore-Tex's lightest and most compressible designs, but outside of using the shell for activities it's not designed for like skiing or rock climbing, we have very few concerns about durability.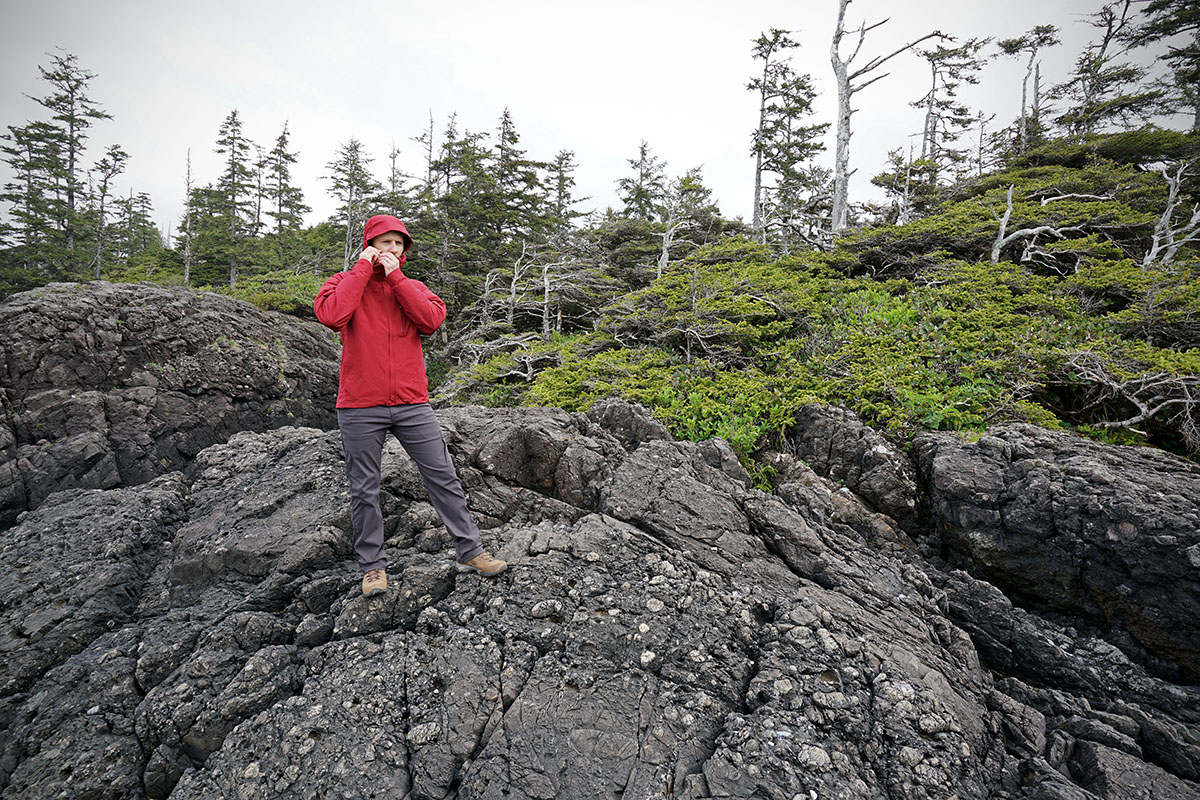 Features: Hood and Pockets
As we covered above, the Minimalist's hood is a great design. It's large but plenty adjustable to fit just about any head size and shape, and the coverage is fantastic. You get a stiff brim to deflect water away from your forehead, and there is lots of protection along the sides and chin. Dialing in the fit also is very simple with a drawcord at the back and two adjusters on each side of the front to get a tight seal. The hood isn't large enough to fit over a helmet, and technically Arc'teryx's single-pull StormHood is easier to use, but we give Marmot high marks all around with the Minimalist's design.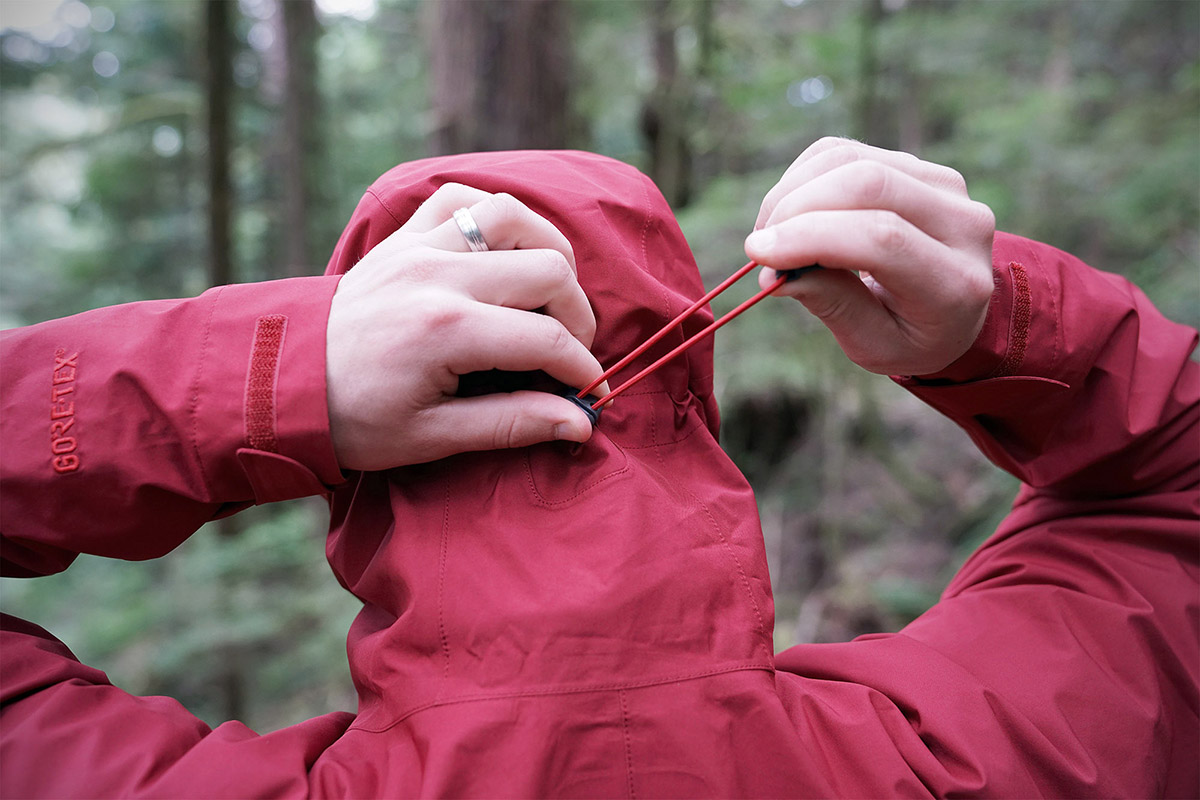 Two hand pockets and an exterior chest pocket round out the features. The hand pockets are a nice size and sit at a standard height, so they're comfortable for everyday use but will be covered up by a backpack hipbelt or climbing harness. And the chest pocket is a nice addition for travelers or those that like to keep items close at hand. We wouldn't risk storing electronics in the chest pocket in a downpour, however, as the zipper is only water-resistant so it isn't a completely secure space. This is a fairly standard recommendation for most hardshells, and we find it safer to keep valuables in our midlayer completely protected by the waterproof shell.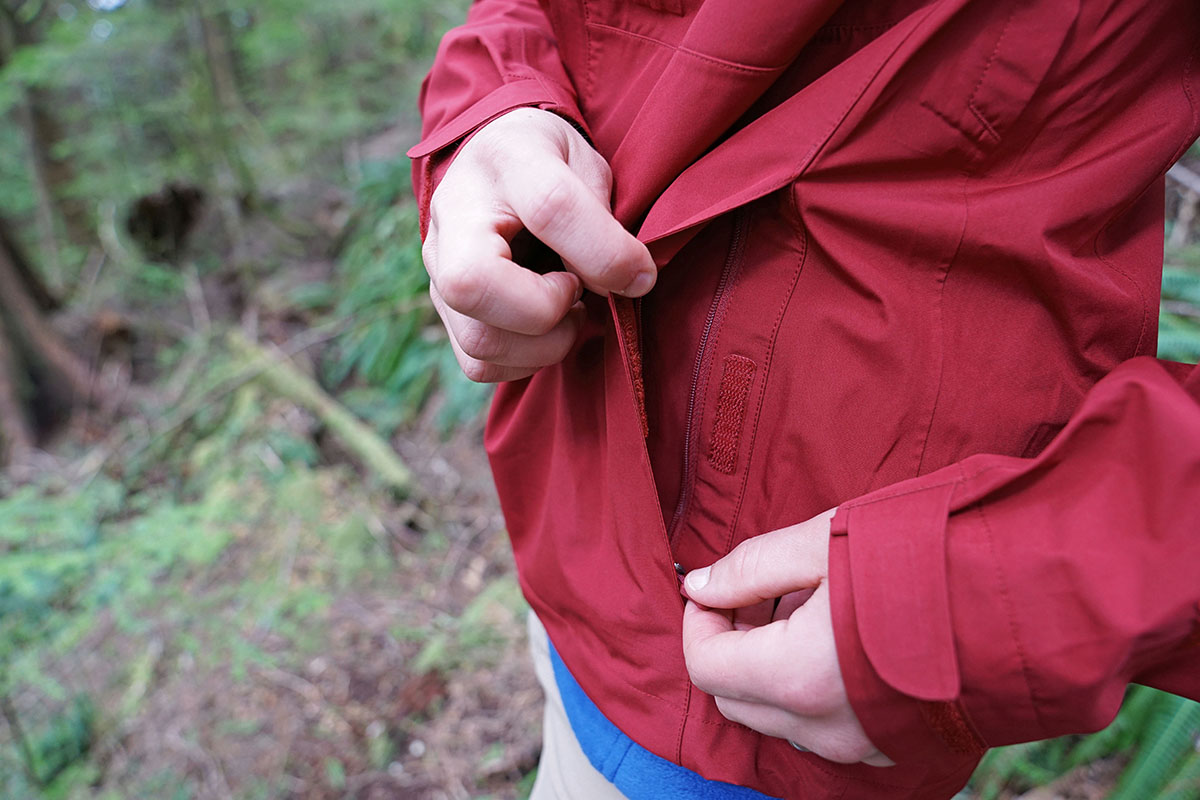 Fit and Sizing
Overall, we think the Minimalist's regular fit is a nice match for everyday use. Our men's medium is a little roomy in the torso and arms (for someone that's 5'9" with a trim build), but it's not excessively bulky and doesn't have any impact on freedom of movement. That extra space also works well for layering: we've been able to comfortably wear various thicknesses of down, synthetic, and fleece jackets underneath while walking around town, backpacking, and spring skiing. Length-wise, there's a slight drop hem at the back for great coverage. And it's simple to get a nice, even fit by cinching the hem adjusters at each side. Those looking for a dedicated performance shell will want to look Arc'teryx's way with the Zeta SL or FL, but we think the looser cut of the Minimalist is the more versatile option.

Other Versions of the Marmot Minimalist
We put the men's Minimalist to the test here, and Marmot offers the jacket in a women's-specific version for the same price. The women's Minimalist is lighter at 13.6 ounces and available in different colorways, but otherwise sports an identical feature set to its men's counterpart. To round out the Minimalist lineup, Marmot also makes rain pants for both men and women that utilize the same Gore-Tex Paclite technology and come in at $165. And for those looking for an all-in-one solution with insulation, Marmot offers the Minimalist Component 3-in-1 Jacket. As the name suggests, you get the outer Minimalist shell plus the addition of a removable synthetic liner jacket that easily zips out in warm weather. However, it's rather pricey at $350 and we think the standard rain shell tested here (or buying an insulation piece separately) is the better value.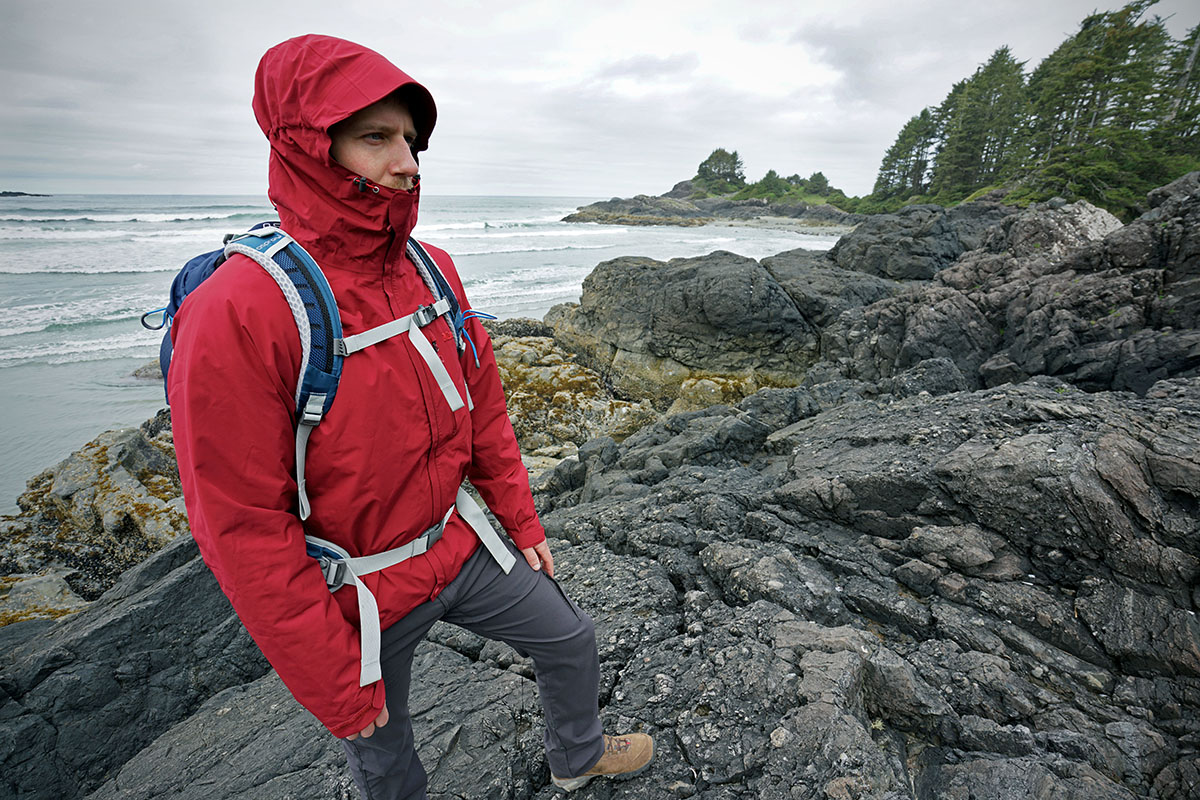 What We Like
Fantastic price for a high-quality rain jacket.
Excellent wet- and windy-weather performance.
Well-rounded design: clean styling, secure and easy-to-adjust hood, comfortable fit, and plenty of pockets.

What We Don't
"Minimalist" name is a bit of a misnomer: the jacket is feature-rich and a little heavy for hauling around in a pack.
Doesn't come with a stuff pocket for stowing away.
Gore-Tex Paclite shell is not a great ventilator.


Comparison Table
Editor's Note: "Packable" indicates the jacket has a stuff pocket.
 
The Competition
The Minimalist's premium build and good price makes it a standout in the rain jacket market. Another excellent option is the Outdoor Research Foray. The jackets share Gore-Tex Paclite constructions, clock in at similar weights (14.9 ounces for the Marmot vs. 16.3 for the Foray), and both are very well-made. Where they differ is in features: the Foray has a multi-sport slant with a water-resistant front zipper that gives it a more technical look, long pit zips that continue all the way to the hem and open like a poncho, and a built-in stuff pocket. The Minimalist is more of an all-rounder with a clean aesthetic that works great for daily use, but it has similar levels of weather resistance and packability (when stuffed into its own hood) as the Foray. If the jackets were the same price, it'd be a tough decision, but the Minimalist's $26 savings gives it the edge in our book.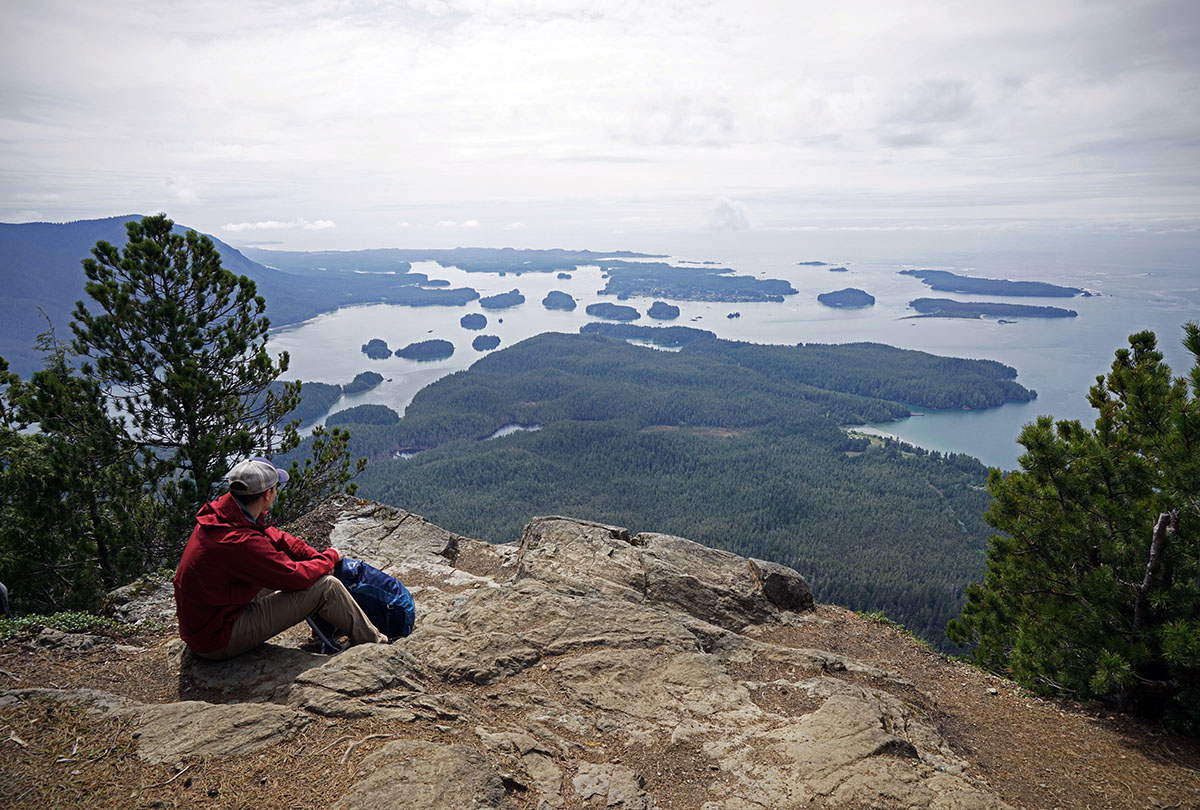 Arc'teryx is best known for their premium hardshells, but they also dip into the mid-range, hiking rain jacket market with the Zeta SL. While the Minimalist and Zeta share a basic Gore-Tex Paclite design, the differences quickly become apparent. The Arc'teryx is built for the backcountry with a simplistic feature set, upgraded, more breathable Paclite Plus construction, and very light 10.9-ounce weight. This gives it a 4-ounce advantage over the Minimalist and it packs down much smaller, too. If you're needing excellent emergency weather protection at minimal weight, the Zeta SL is the clear choice. However, the Arc'teryx piece costs an additional $110, doesn't include pit zips, and not everyone will like the trim fit for daily wear. It's a great piece, but the Minimalist is the superior overall rain jacket.
For a budget-friendly alternative, REI Co-op's XeroDry GTX ($159) is another lightweight jacket to have on your radar. Like the Minimalist, the XeroDry utilizes Gore-Tex Paclite but in a 2-layer construction, and clocks in lighter at 12.5 ounces. However, in saving $30 compared to the Minimalist, you do give up some everyday appeal, and the REI's mesh-lined hand pockets aren't as effective at dumping heat as the Marmot's pit zips. Throughout testing, we also found that the XeroDry's cheaper face fabric fell short and was more prone to wetting out in sustained precipitation. We love the price tag of the REI, but for a slight bump in cost we prefer the more well-rounded and better-built Minimalist.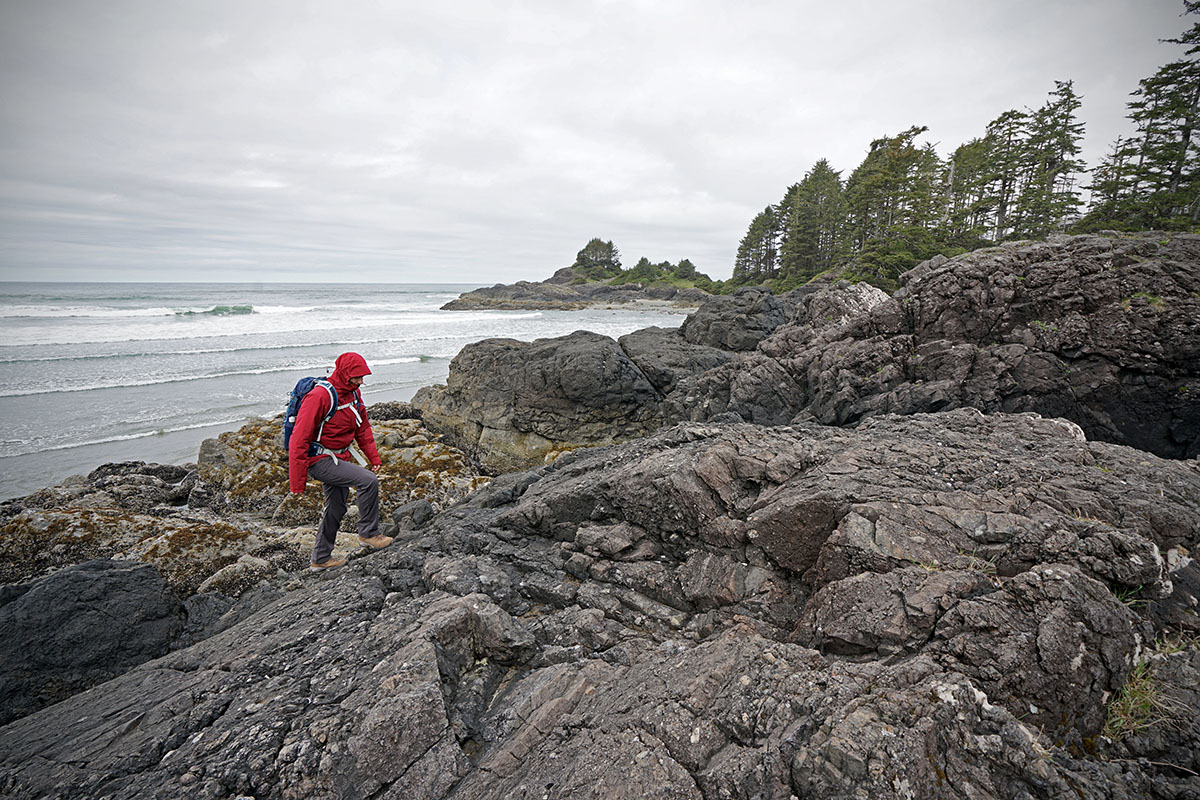 A final option to consider is Marmot's own PreCip Eco. To start, the two are built very differently: whereas the Minimalist has high-quality and substantial Gore-Tex, the PreCip is made with a thin 2.5-layer NanoPro Eco. The PreCip also is $89 cheaper and around 5 ounces lighter, but it represents a clear step down in weather protection and long-term durability (for more, see our in-depth PreCip review). A choice between the two should come down to priorities: if you want a lightweight jacket that excels around town and for stuffing away in a suitcase or backpack, go with the PreCip. If you want better weather resistance, classier looks, and a premium build, the Minimalist is the ticket.
If you're thinking about buying gear that we've reviewed on Switchback Travel, you can help support us in the process. Just click on any of the seller links above, and if you make a purchase, we receive a small percentage of the transaction. The cost of the product is the same to you but this helps us continue to test and write about outdoor gear. Thanks and we appreciate your support!
Depending on the seller, most products ship free in the United States on orders of $50 or more. International shipping availability and rates vary by seller. The pricing information on this page is updated hourly but we are not responsible for inaccuracies.
Learn More About Outdoor Gear