Arc'teryx's new Beta Jacket slots into the brand's expansive collection as a premium hiking shell. Offering more protection than a rain jacket but a step below a full-on winter hardshell, the light and packable Beta hits a sweet spot for three-season adventuring. We brought the shell to Patagonia and put it through the wringer in the region's notoriously rough conditions. Overall, it held up exceptionally well, although the lack of pit zips may be a deal breaker for some. Below we break down our experiences with the Beta, and to see how it stacks up to the competition, see our articles on the best rain jackets and best hardshell jackets.
 
---
Table of Contents
---

Performance
Weather Protection
Despite having the thinnest build and lightest weight in the Beta family, Arc'teryx's Beta Jacket still provides impressive levels of protection. In knock-you-over winds and pelting rain in Patagonia, the shell held up extremely well. The wind protection in particular stuck out: Every time I donned the jacket, it provided a fortress-like feel and completely blocked out the extremely strong gusts. The 3-layer Gore-Tex construction, premium seam taping along the interior, and durable water repellent (DWR) coating along the outside all combined to seal out the elements. Since returning from Patagonia, I've had additional opportunities to test the waterproofing in wet snow and rain, and the Beta has performed admirably.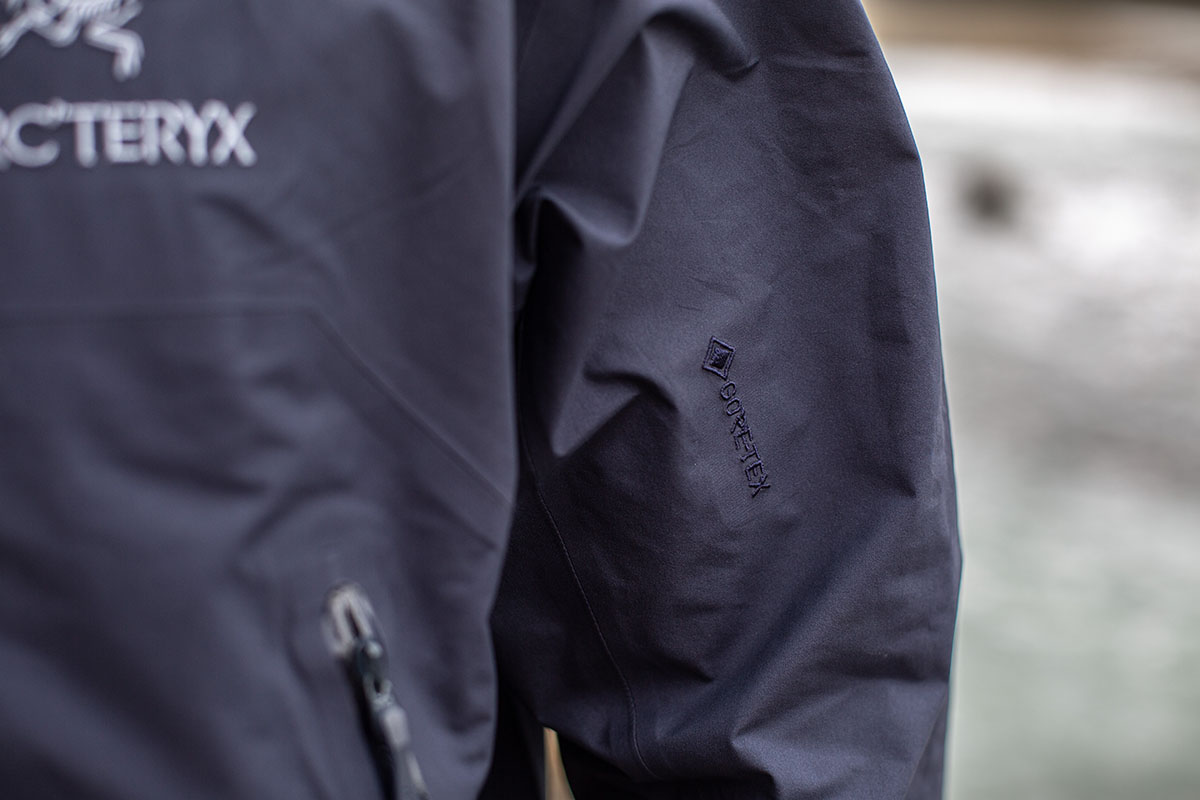 This impressive level of weather protection in a superlight package does beg the question of how best to use the Beta Jacket. It's a clear step up from my 2-layer Arc'teryx Zeta SL, which qualifies as a packable hiking shell for summertime and sub-alpine adventures. But the Beta's lack of a helmet-compatible hood, relatively short back length and collar height (it ends just below my bottom lip), and undeniably thin construction mean it's not tough enough for true winter adventuring. Instead, the jacket excels exactly how I used it: as a three-season hiking and everyday shell.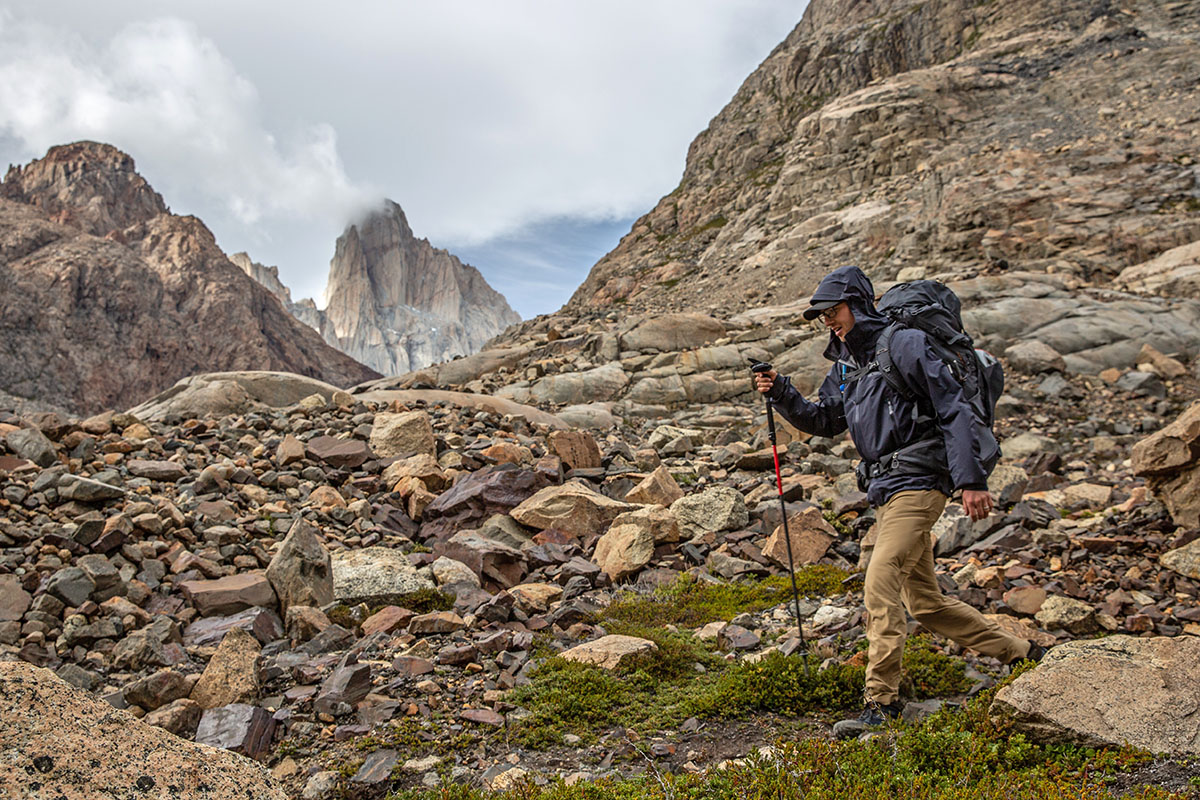 Breathability
Full-on Gore-Tex jackets aren't known for their breathability—and our collective experiences have confirmed this—but the Arc'teryx Beta Jacket performs better than most. Its thin fabrics and moisture-wicking C-Knit backer along the interior do a nice job limiting that clammy feeling as you're working up a sweat. In fact, I was able to keep the jacket on for longer than expected while backpacking—even as the sun peeked out—which was very valuable as the conditions in Patagonia were constantly changing. 
That said, if the wind died down for long enough and temperatures were mild, I inevitably started overheating. The main culprit in these cases was the lack of pit zips, which is a notable downside of the design. I understand why Arc'teryx omitted them (to shave weight), but it certainly impacts the Beta's ability to perform during higher-output activities. And it's a leading factor in why I find myself reaching for their upgraded—and pit zip-equipped—Beta LT Jacket more often.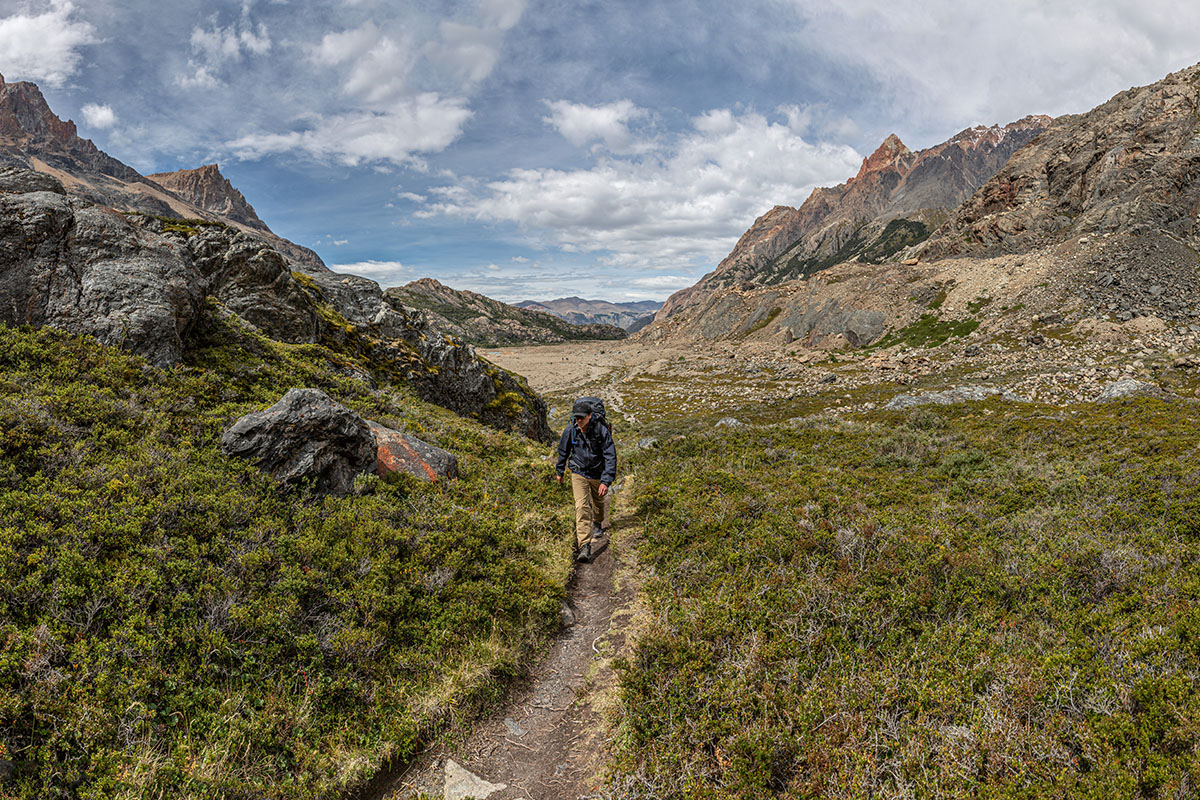 Weight and Packability
Weighing in at only 10.4 ounces in my men's medium (listed weight is slightly more at 10.6 oz.), the Arc'teryx Beta is among the lightest 3-layer jackets on the market. For reference, it handily undercuts the more feature-rich Beta LT (13.9 oz.) and Black Diamond's Highline Stretch (12.7 oz.), and it even squeaks under Arc'teryx's aforementioned 2-layer Zeta SL rain jacket (10.9 oz.). You can go a little lighter with minimalist, alpine-focused pieces like Patagonia's Storm10 (8.3 oz.) or Arc'teryx's own Alpha SL Anorak (7.4 oz.), but both of those jackets come with notable compromises in terms of features. Finally, as far as packability goes, the Beta rolls into its own hood and can easily be cinched down and compressed to about the size of a large grapefruit, which is very impressive and convenient.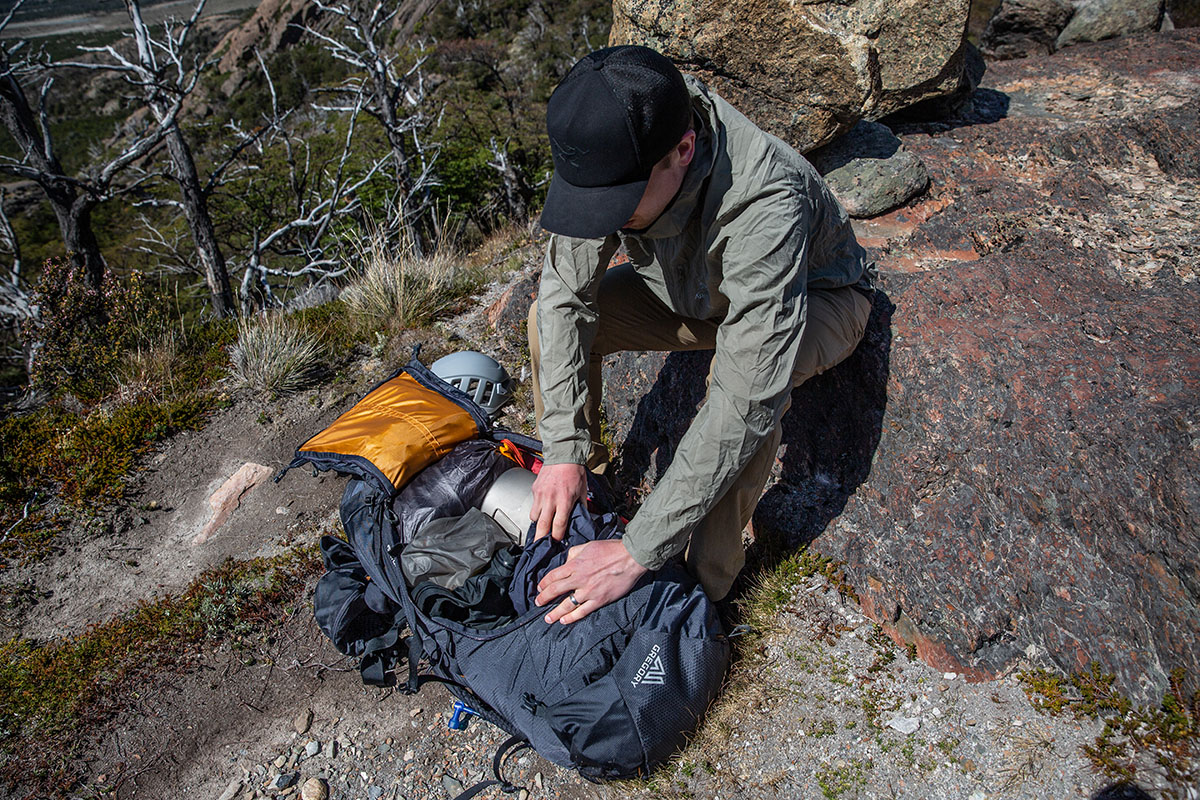 Comfort
One pleasant surprise with the Arc'teryx Beta was its overall comfort—it's a far cry from a stiff and crinkly hardshell jacket. Instead, the jacket's smooth construction is relatively quiet on the trail, and its premium C-Knit interior has a nice hand feel and wicks moisture well. I also liked the trim cut, which helped a lot with mobility (more on this below). It's true the Beta lacks the flexibility of a stretchy design like Patagonia's Storm10, but it didn't prove to a problem for me while hiking with a very heavy pack over some pretty tricky terrain. One final touch is that Arc'teryx decided to include a soft, fleece-like patch at the top of the collar—a common piece to omit when cutting weight—which pays dividends in next-to-skin feel when battening down the hatches in rough weather.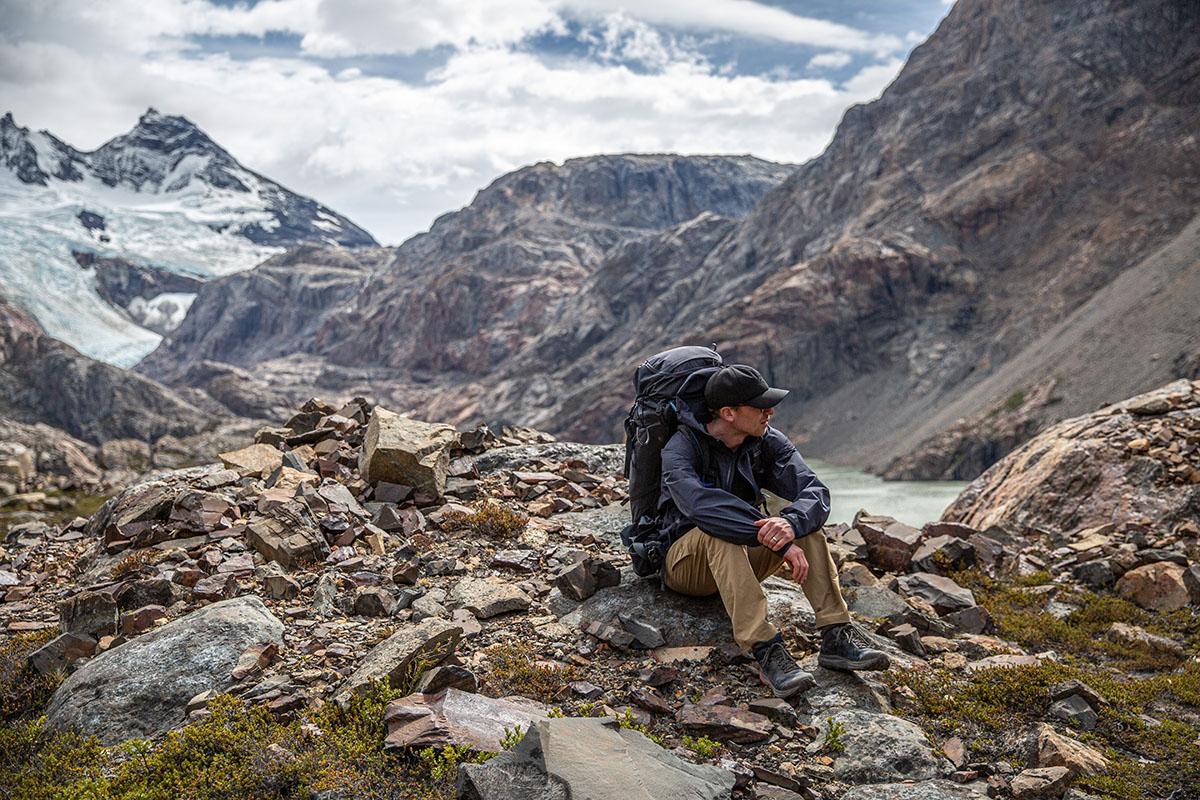 Build Quality and Durability
Arc'teryx made its name on its build quality, and despite growing at a rapid pace of late and dabbling more in the urban market, we haven't yet seen a dip in performance. The Beta Jacket is an undeniably good-looking shell with its super clean lines, trim fit, high levels of comfort, and premium water-resistant zippers along the exterior. The only true durability concern for me is the thin, 30-denier (D) face fabric. For reference, the slightly burlier Beta LT uses 40D, while the more winter-ready Beta AR features an upgraded Gore-Tex Pro shell (the Beta and Beta LT use a standard Gore-Tex construction) and thick 80D sections of fabric in high-wear areas. Given that the hood doesn't fit over a helmet, the intention is pretty clear that you won't be wearing the Beta around sharp climbing or skiing equipment. But it's still important to reiterate that toughness was sacrificed in the name of weight and packability.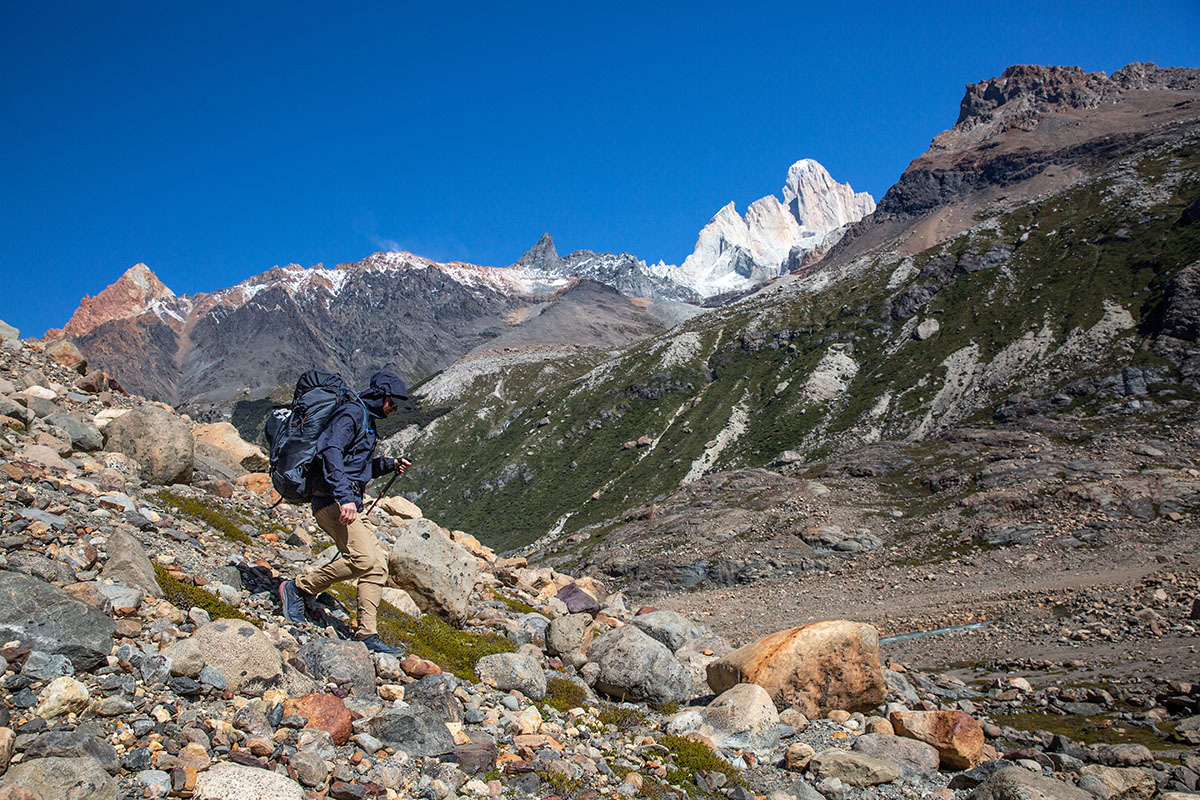 Key Design Features
Hood
Arc'teryx's Beta family is known as their mountain-ready line, so it's notable that the Beta Jacket does not feature a helmet-compatible hood. However, its smaller profile pays serious dividends when worn just over a ballcap, with no bunching along the sides as you cinch it down. And like our experience with other Arc'teryx hoods, it's easy to quickly get an even fit around your head with a single pull at the back. Tack on a small brim that directs moisture away from your face, and you have a well-sorted hood design. And if helmet compatibility is an essential feature for you, we recommend stepping up to the Beta LT or Norrøna's Falketind Gore-Tex Jacket.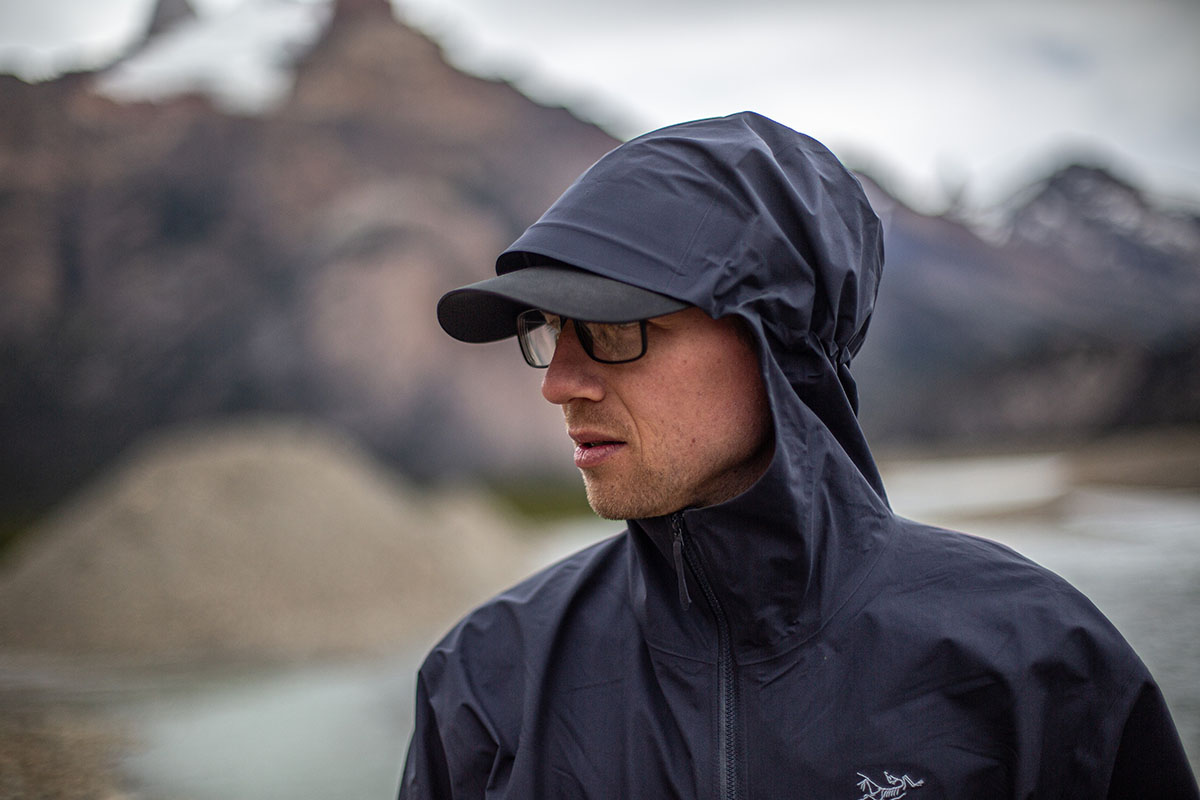 Storage: Pockets
Like the rest of the design, the Beta Jacket's storage layout is fairly simple. You get two hand pockets along the exterior, which are protected with water-resistant zippers. The pockets are set at a comfortable height—just high enough to clear my backpack's hipbelt but not too high up to put your hands at an awkward angle when resting them inside. The interior of those hand pockets is also quite generous, with a lot of room up and down to fit tall items inside. Rounding out the storage, there's a zippered chest pocket along the interior that's just large enough to fit my iPhone 11.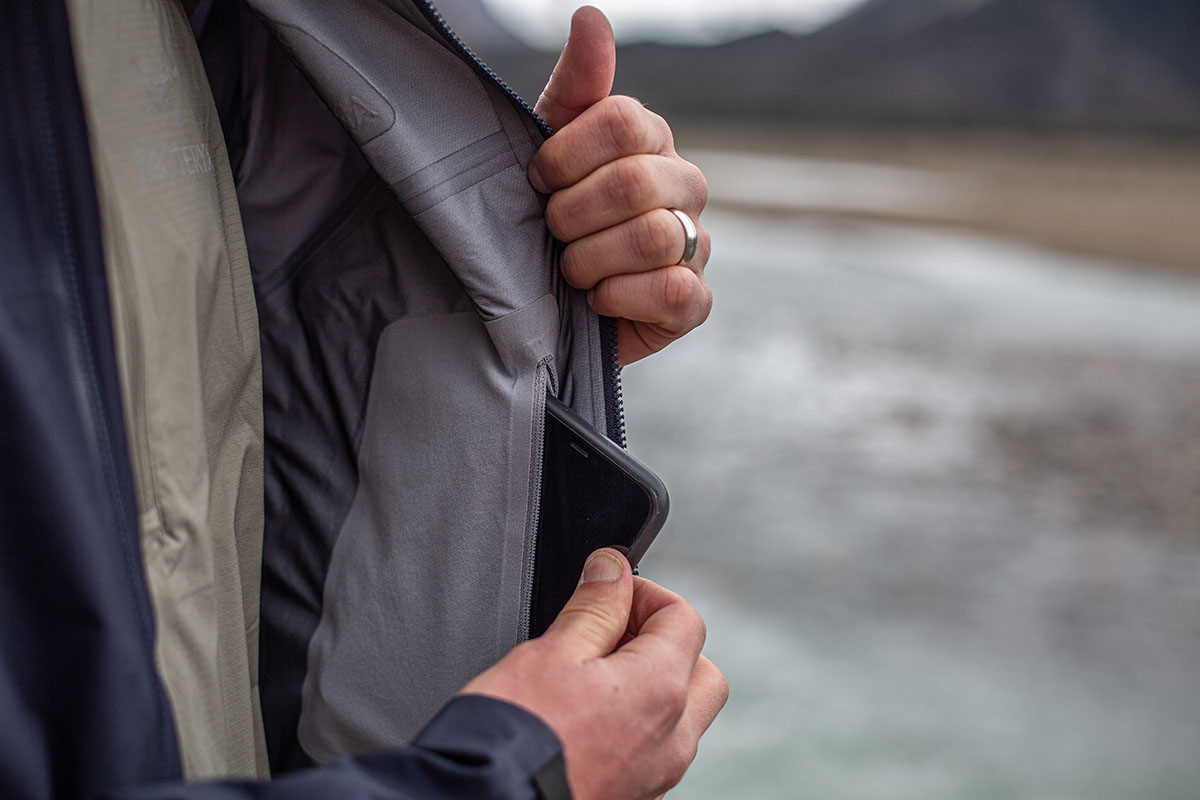 Fit and Sizing
At 5'9" and 155 pounds, I'm a pretty consistent medium in jackets and found the fit of the Beta to be essentially perfect. The trim cut means it sits comfortably over a t-shirt or baselayer without being bulky, and there's enough room to fit a lightweight down jacket underneath without causing any restriction. The back length is on the shorter end at 30 inches, but the drop-hem design provides sufficient coverage even when bending down or reaching up. And if I truly needed more protection, I just threw on a pair of rain pants. A final note regarding fit: Unlike many lightweight rain jackets, the Beta retains hem adjusters at each side. This addresses a complaint we often have about lightweight pieces that only have a single adjuster that pulls the jacket to the side when cinched. Instead, the Beta fits nice and evenly.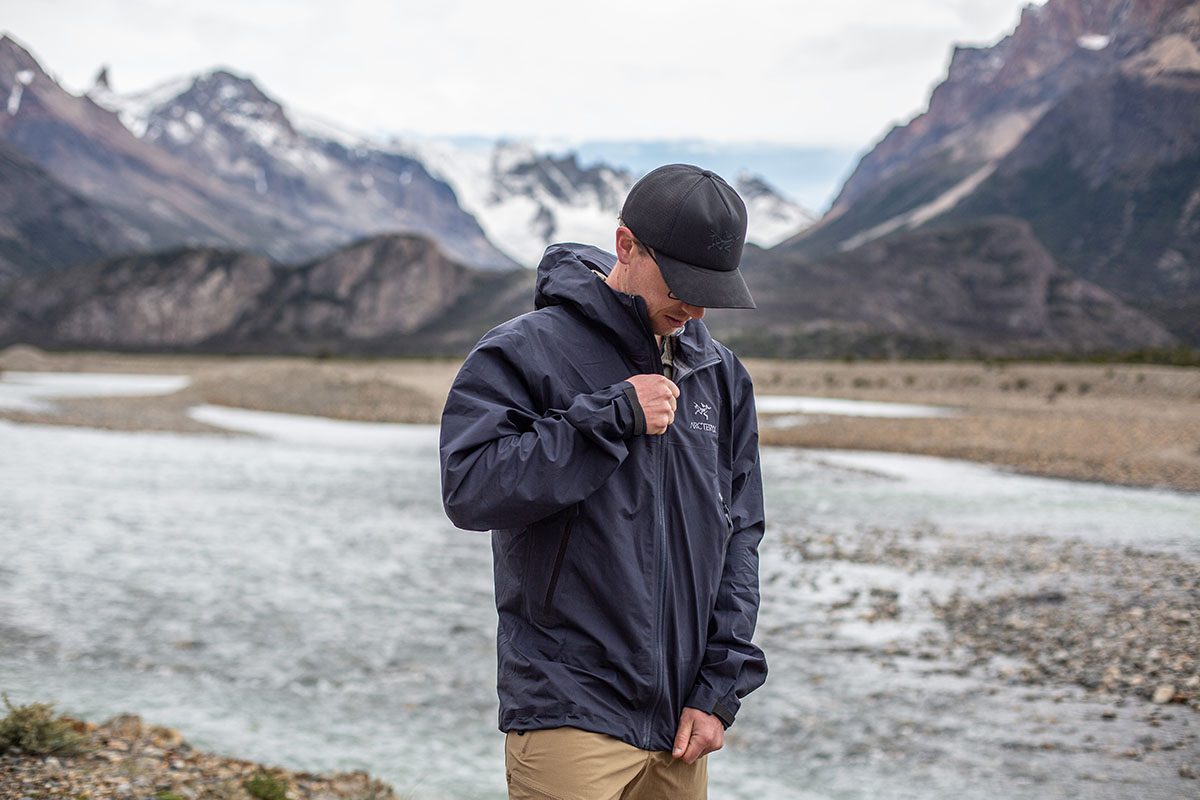 Women's Version of the Arc'teryx Beta Jacket
We put the men's Beta Jacket through its paces for this review, and Arc'teryx sells it in a dedicated women's model for the same price. In parsing out the differences, the women's Beta Jacket is a little lighter at 9.5 ounces, shorter at 28.3 inches down the back, and has a more accommodating "regular" fit that makes it easier to layer underneath. It's also sold in different colorways than the men's variation, although all other features remain the same, including a 3-layer Gore-Tex construction, low-profile hood, dual hem adjustments, and water-resistant zippers.

What We Like
3-layer Gore-Tex construction, premium seam taping, and quality DWR coating provide excellent protection against moisture and wind.
One of the lightest 3-layer GTX hardshells on the market at just 10.6 ounces.
Smooth build, C-Knit backer, and trim cut give the jacket a very comfortable and mobile feel.
We appreciate that Arc'teryx retained dual hem adjusters for evenly cinching the waist (most lightweight designs just have one). 

What We Don't
Lack of pit zips is limiting for high-output activities.
Hood isn't helmet-compatible, which is a downside for winter and/or performance use (although the low-profile design works great over a beanie or cap).
30D face fabric is on the thinner end and less winter-ready than other options in the Beta family.


Comparison Table
The Competition
Arc'teryx's latest Beta Jacket stands out among the hardshell jacket competition for its impressive weather protection at a very low weight. Another option in this category is Arc'teryx's own Beta LT (short for "lightweight"). Stacked up against the standard Beta, the LT costs $50 more and is a little heavier at 13.9 ounces but utilizes a more durable 40D shell fabric. You also get helpful performance additions like pit zips for dumping heat quickly and a helmet-compatible hood. In the end, it's a tough call between the two Betas, and a final decision will likely come down to whether you need those two latter features.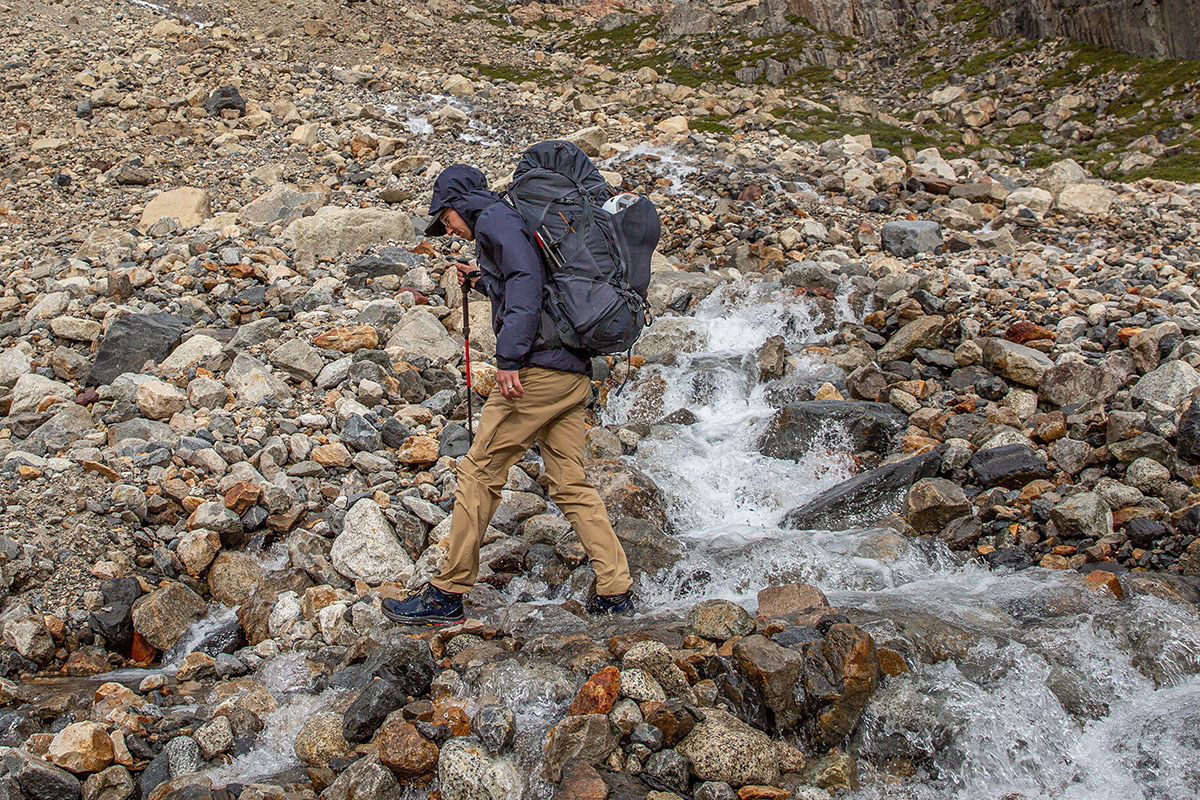 For an even lighter alternative to the Beta Jacket, Arc'teryx's Alpha SL Anorak clocks in at a scant 7.4 ounces while retaining great all-around protection and toughness. Like the Beta, the Alpha SL uses a proven 3-layer Gore-Tex construction for effectively fending off rain and wind, has a performance-minded "trim" fit, and boasts quality details including water-resistant zippers and a solid DWR finish. And importantly, despite the Alpha SL's thinner 20-denier shell, the gridded Hadron face fabric is impressively tough and abrasion-resistant. Features are the biggest concession: The Alpha SL is only sold in a pullover anorak style, includes just one drawcord at the hem, and only has a single chest pocket for storage. In the end, it's a pretty niche piece and most appealing for fast-and-light climbers and mountain runners. For hiking and daily use, we'd go with the Beta.
Outside of Arc'teryx's lineup, Patagonia's Storm10 Jacket is another light and minimalist option that doesn't compromise too much on protection. Rather than Gore-Tex, Patagonia opted for their 3-layer H2NO construction, which isn't particularly soft against the skin but does a great job fending off rough weather. Weight and packability are two more highlights: The Storm10 weighs in at just 8.3 ounces and stuffs down into its own chest pocket. It's also better equipped than the Beta for performance use with a helmet-compatible hood, harness-friendly pockets, and a slim fit. That said, the Patagonia's shell fabric is thinner and less durable at 20D, and it's harder to layer underneath. Like the Alpha SL above, we consider the Storm10 to be a great option for dedicated minimalists, but it's too specialized for everyday use (here, the $51-pricier Beta gets the clear edge).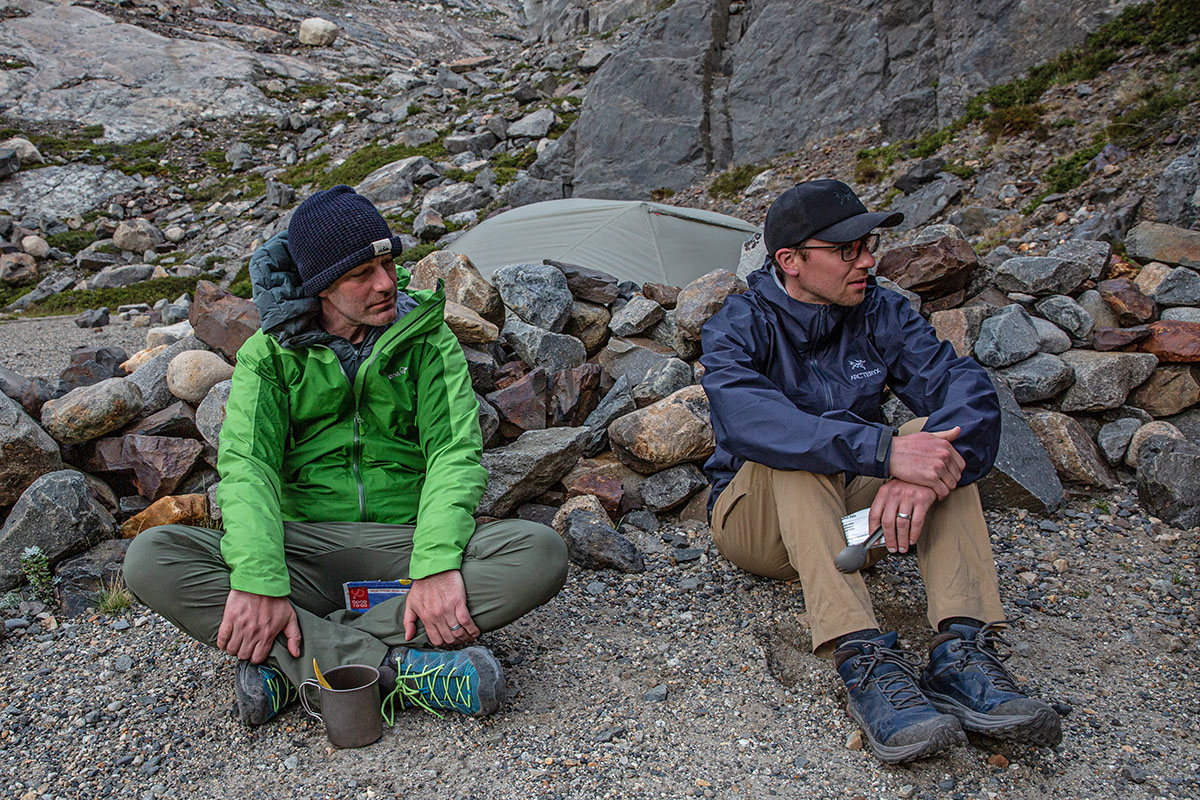 A final option to consider is Black Diamond's Highline Stretch Shell. For $50 less than the Beta Jacket, the Highline Stretch adds helpful features like pit zips and integrated stretch in the fabric for maximizing mobility. However, the Highline's 3-layer BD.dry construction is a step down in all-out protection compared to Gore-Tex in truly rough and rowdy weather, and some of the finer details fall short too, including stiff-feeling zippers. Finally, the Highline is a little heavier than the Beta at 12.7 ounces (for more, see our Highline Stretch review). Given these downsides, we consider the Beta Jacket the better-built and more competitive overall design in the lightweight hardshell category.
If you're thinking about buying gear that we've reviewed on Switchback Travel, you can help support us in the process. Just click on any of the seller links above, and if you make a purchase, we receive a small percentage of the transaction. The cost of the product is the same to you but this helps us continue to test and write about outdoor gear. Thanks and we appreciate your support!
Depending on the seller, most products ship free in the United States on orders of $50 or more. International shipping availability and rates vary by seller. The pricing information on this page is updated hourly but we are not responsible for inaccuracies.
Read More From Switchback Travel