Arc'teryx's hardshell collection is highly revered among avid backcountry-goers, and their Beta LT has been a mainstay for years. Updated a few seasons back, the latest jacket represents a fairly substantial shift from the past-generation LT, featuring standard 3-layer Gore-Tex (no longer the high-end "Pro" construction) and the addition of pit zips (the old model didn't have them). Importantly, the shell is still light and packable, breathes well, and can hold its own in moderately rough conditions. However, the downgraded weatherproofing and thin build make it less reliable for serious outdoor pursuits like mountaineering or backcountry skiing. Below we break down the Beta LT's performance. To see how it stacks up to the competition, see our articles on the best hardshell jackets and best rain jackets.
Editor's note: Arc'teryx recently released the successor to the Beta LT: the Beta Lightweight. The new jacket costs $50 more but is 0.5 ounces lighter and tacks on Gore's C-Knit backer for added comfort, an interior chest pocket, and a Recco reflector that allows rescuers to pinpoint your location in the event of an emergency. The outgoing model covered here is still widely available at the time of publishing, and we will update this review once we test the Beta Lightweight.
 
---
Table of Contents
---

Performance
Weather Protection
The biggest change with Arc'teryx's latest Beta LT Jacket was the shift from top-end Gore-Tex Pro to a standard 3-layer Gore-Tex construction. But thankfully, despite some definite compromises in swapping the membranes (which we outline below), I found the difference in weather protection to be fairly minimal. Like nearly every 3-layer Arc'teryx shell we've tested, the Beta LT is quite formidable in rowdy conditions: Its 40-denier (D) face fabric and proven Gore-Tex waterproofing have effectively blocked everything from wet and slushy snowfall to strong gusts blowing off of alpine lakes. Further, the drop hem keeps the shell in place under a pack and offers just enough coverage for uses like winter and shoulder-season hiking and on shorter and less intensive ski touring days. It did feel lighter, more delicate, and less bombproof when worn back to back with Arc'teryx's upgraded Beta AR (which uses 40 and 80D Gore-Tex Pro), but I haven't had any failures to date.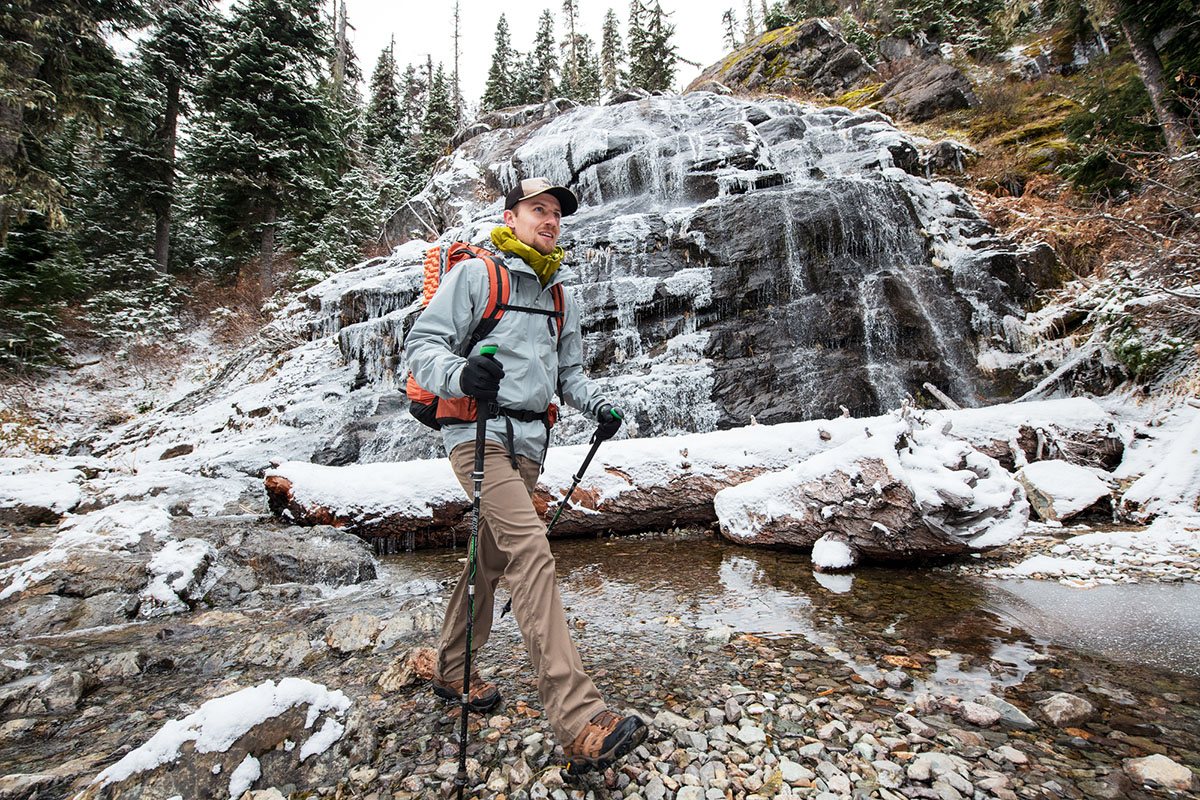 To help seal out the elements, the Beta LT comes with a nice array of thoughtful and protective features. For starters, the StormHood is highly adjustable, has a generous brim, and stays locked in place. Importantly, it also cinches down evenly when worn over just a beanie, ball cap, or even a lightweight buff and leaves less excess material along the sides than most helmet-compatible hoods. Further, all of the zippers have held up nicely, and the RS sliders nicely seal out moisture. Rounding out the design, glove-friendly cinches at each side of the hem make it easy to keep out the cold, and rip and stick closures at each wrist allow you to secure the cuffs over undercuff-style gloves or around bare wrists. Finally, the collar is moderately tall and reaches my bottom lip when zipped, which is nice for ducking into during inclement weather (although alpine-ready shells like the Alpha SV and Beta AR offer more coverage in this area).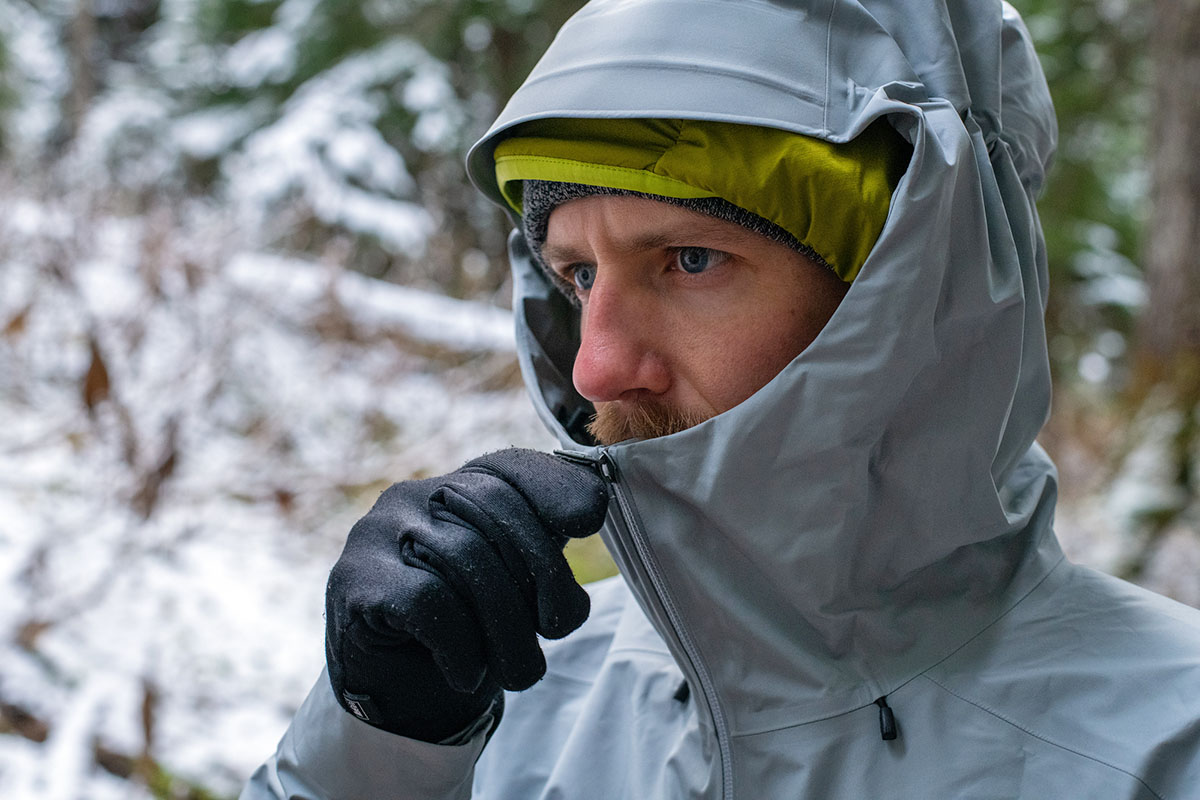 Breathability
In short, I was happily surprised by the Beta LT's breathability. I run pretty warm in general, but the combination of the shell's moderately thin construction and generously sized pit zips (mine measure 13 in. in length) meant I was able to keep the jacket on longer than expected. This included yo-yo laps while backcountry skiing, where I wore the shell over my midlayer (Arc'teryx's Atom SL) on fairly steep ascents of about 20 to 30 minutes. Temperatures were in the high 20s Fahrenheit with very little wind—conditions that typically cause me to overheat—but I remained comfortable during the climb and continued wearing the shell on the way down, which cut out a step of the transition process.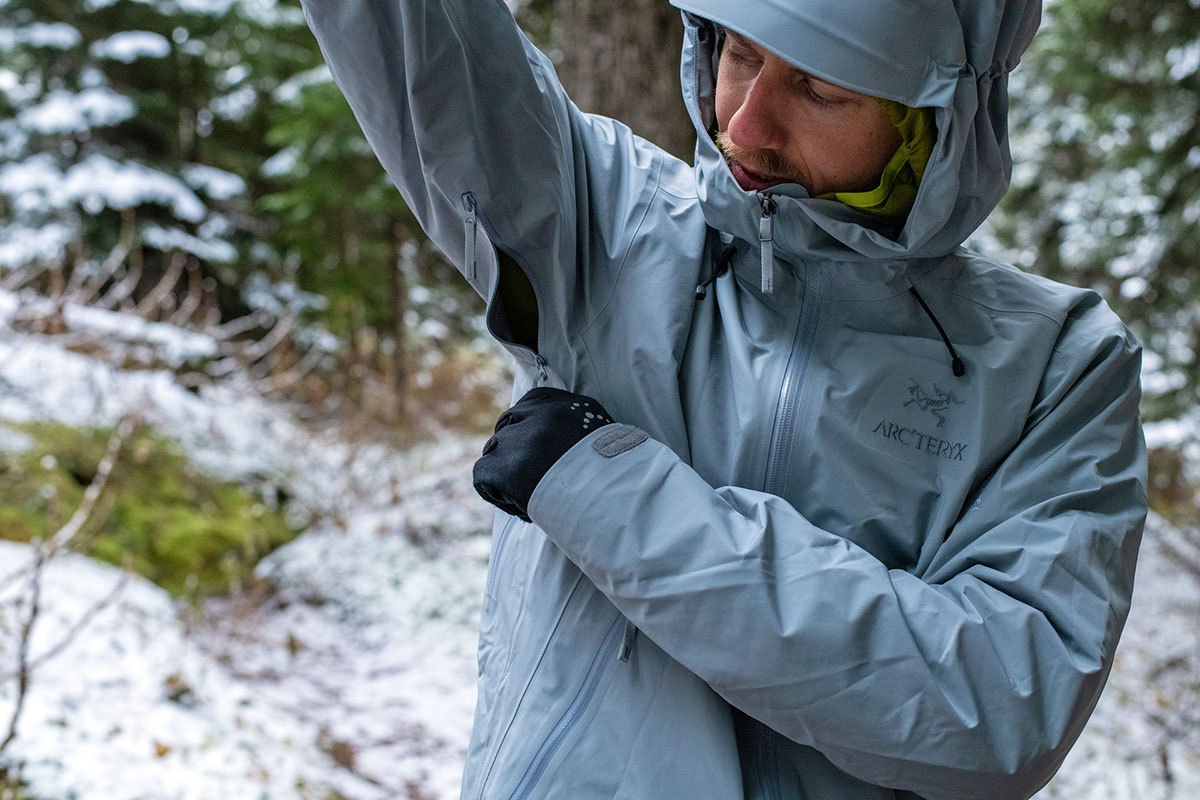 My impressions were similar while hiking: I was able to continue wearing the Beta a little longer than more substantial hardshells I've been testing, including the burlier Beta AR. Technically, Gore's Active membrane is the most breathable (but still fully waterproof) option in their lineup, but that would mean compromising on toughness. All in all, the Beta LT is a great breather and a nice choice for activities ranging from rainy backpacking trips to spring or mild-weather ski touring.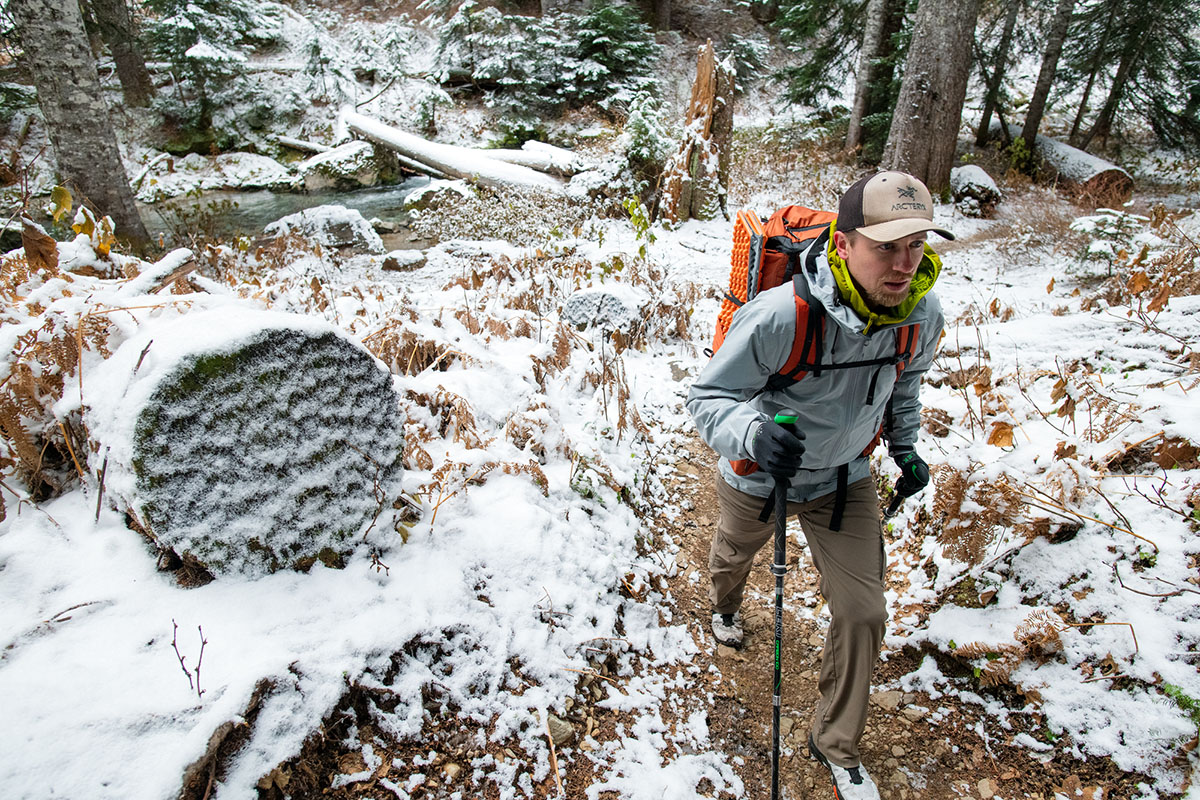 Weight and Packability
The "LT" in the Beta's name is short for "lightweight," so it came as no surprise that my men's medium tipped the scales at a reasonable 13.8 ounces (nearly spot-on with Arc'teryx's listed weight of 13.9 oz.). For reference, Arc'teryx's Beta AR is heavier at 1 pound, although you get a thicker and more weatherproof build, as well as an internal pocket that makes it easier to stow valuables. Outside of Arc'teryx's lineup, the Beta LT also undercuts competitors like Outdoor Research's Microgravity (14.6 oz.) and Patagonia's Triolet (1 lb. 3.4 oz.), although the latter is again noticeably more robust and feature-rich.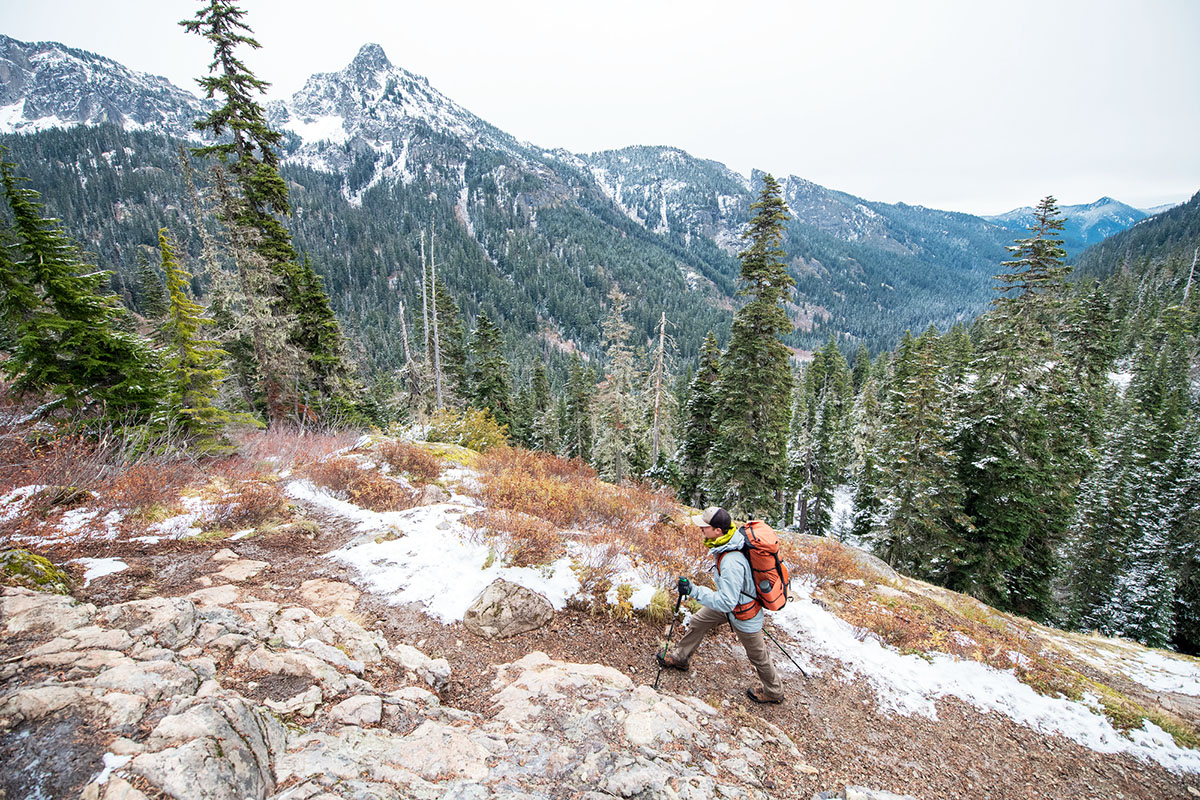 In terms of packability, the Beta LT didn't disappoint. The jacket rolls very easily into its own hood (common among hardshell jackets), and you can cinch it down to about the size of a 32-ounce Nalgene bottle. And it's worth noting that there's extra room in the hood when the shell is stuffed down, which means it can be compressed even further in a dedicated compression sack (it ends up being around the size of a large grapefruit). All things considered, for uses like hiking, backpacking, and ski touring, the Beta LT's size and weight are perfectly reasonable.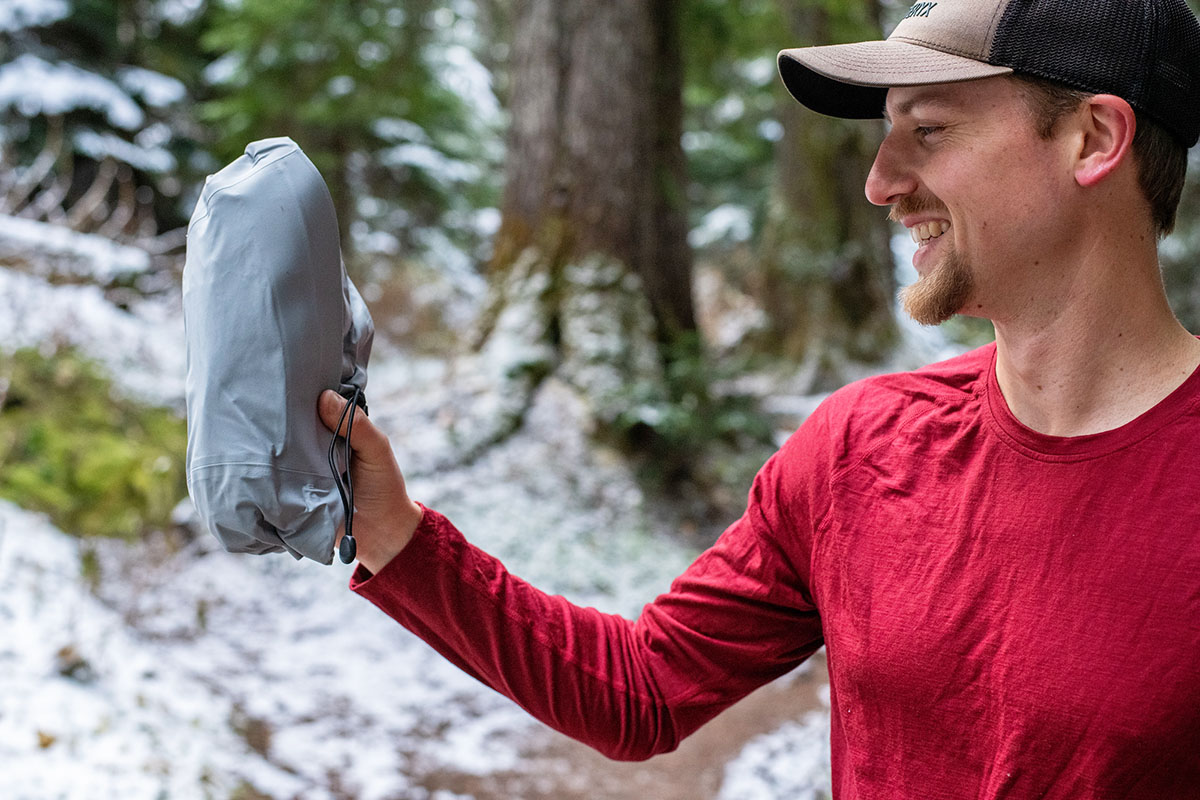 Comfort
One of the benefits in using Gore's standard membrane is that the Beta LT now has a noticeably softer and less crinkly construction than its predecessor. In many ways, the latest Beta feels like a quality rain jacket: The interior lining has a tricot backer that's relatively soft and isn't prone to growing clammy, and the fabrics in general have a flexible and non-restrictive feel. To be clear, it can't match the stretchy and mobile build of an alternative like Outdoor Research's Microgravity (which uses mechanical stretch in the shell), but it's certainly more comfortable and quieter than a Gore-Tex Pro design. I also appreciate the patches of fleece-like material at the back of the neck and top of the main zipper on the inside, the latter of which is noticeably soft against the skin when the jacket is fully zipped. Overall, the rain jacket-like feel does come with downsides in durability (outlined below), but from a comfort standpoint, the Beta LT is a real winner.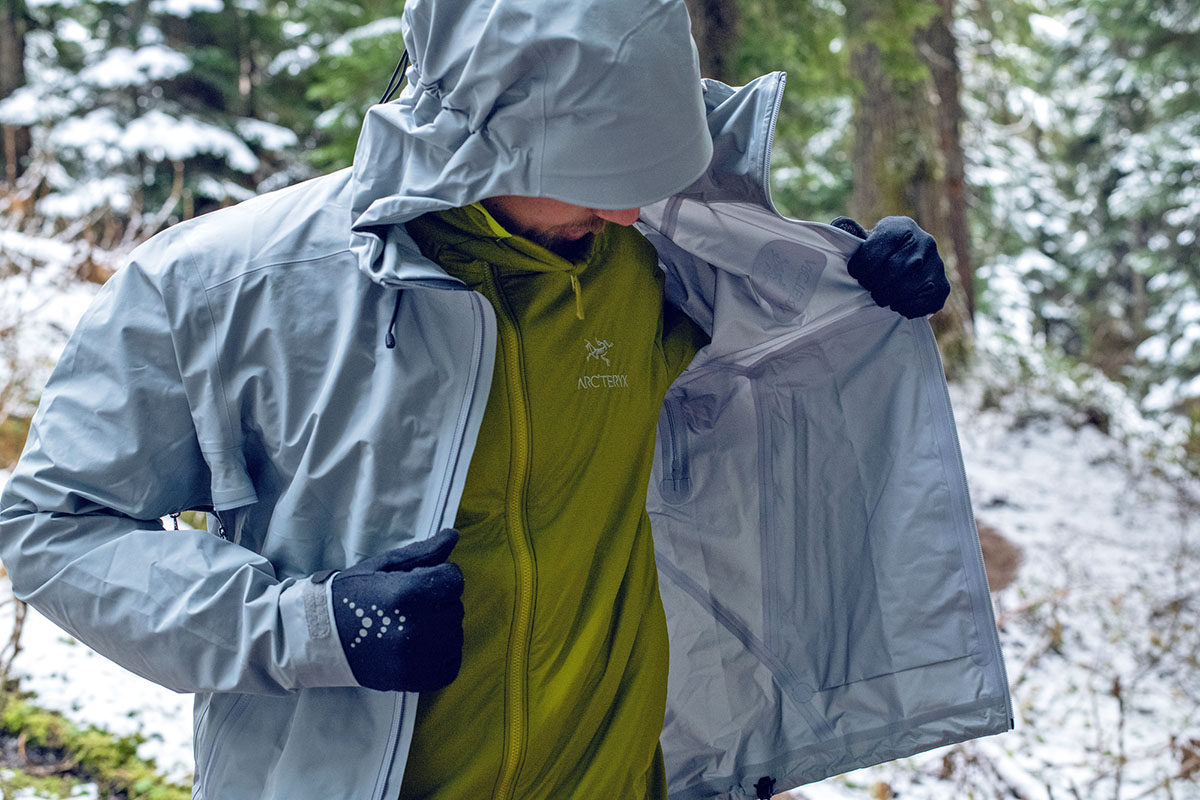 Build Quality and Durability
It's extremely rare that we have build quality concerns with Arc'teryx products, and this largely holds true with the Beta LT Jacket. On one hand, it's clearly well made and fits a niche that was previously lacking in the brand's rather extensive hardshell lineup. However, this is one of the few Arc'teryx products I've tested that didn't feel particularly special. In my opinion, this largely comes down to the combination of a standard 3-layer Gore-Tex build (rather than a premium Pro construction), thin and not particularly durable 40D shell, and steep $450 price tag.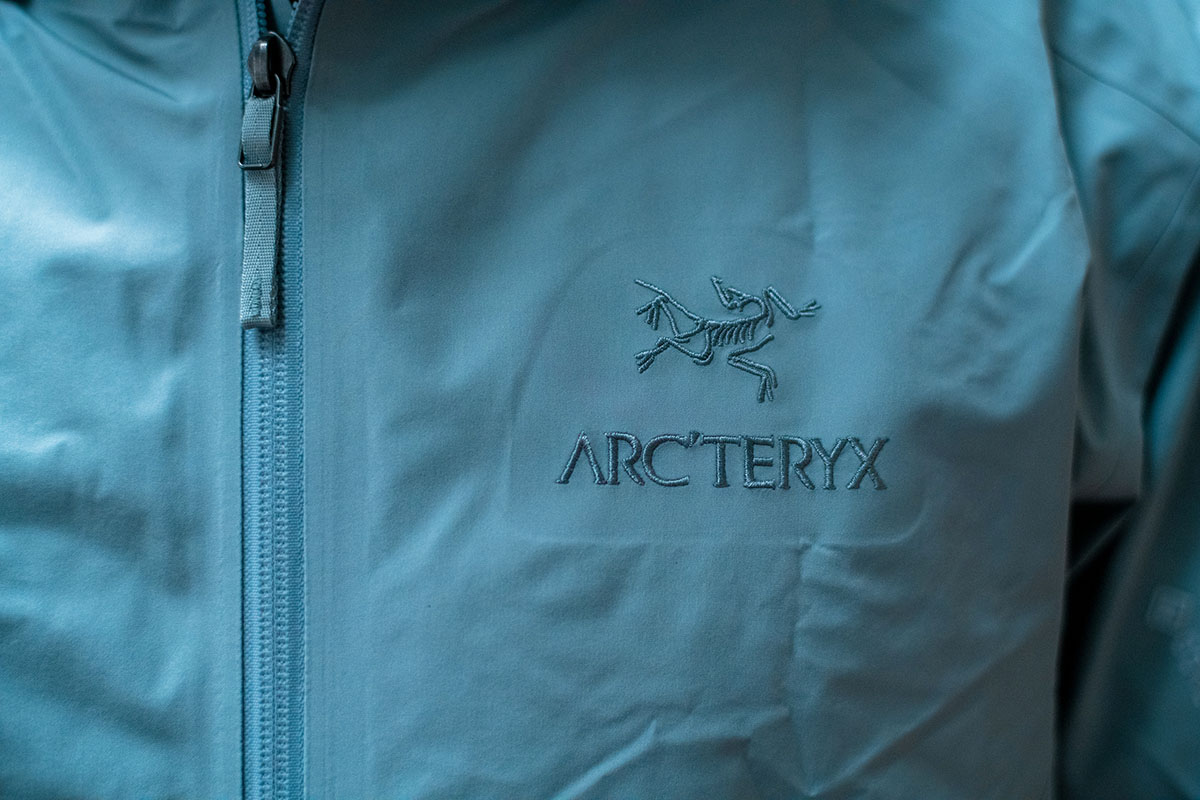 To be fair, all of the Beta LT's details are nicely sorted, and it boasts the same premium fit and finish that we've come to expect from Arc'teryx. But it's not a standout in any major way, and the recent changes make it noticeably less reliable than the past-generation model for serious outdoor pursuits like mountaineering, consistent use around sharp equipment, or being exposed to the rigors of downhill and backcountry skiing. For these uses, I recommend upgrading to the Gore-Tex-Pro-equipped Beta AR or SV (for a considerable $150-$225 more).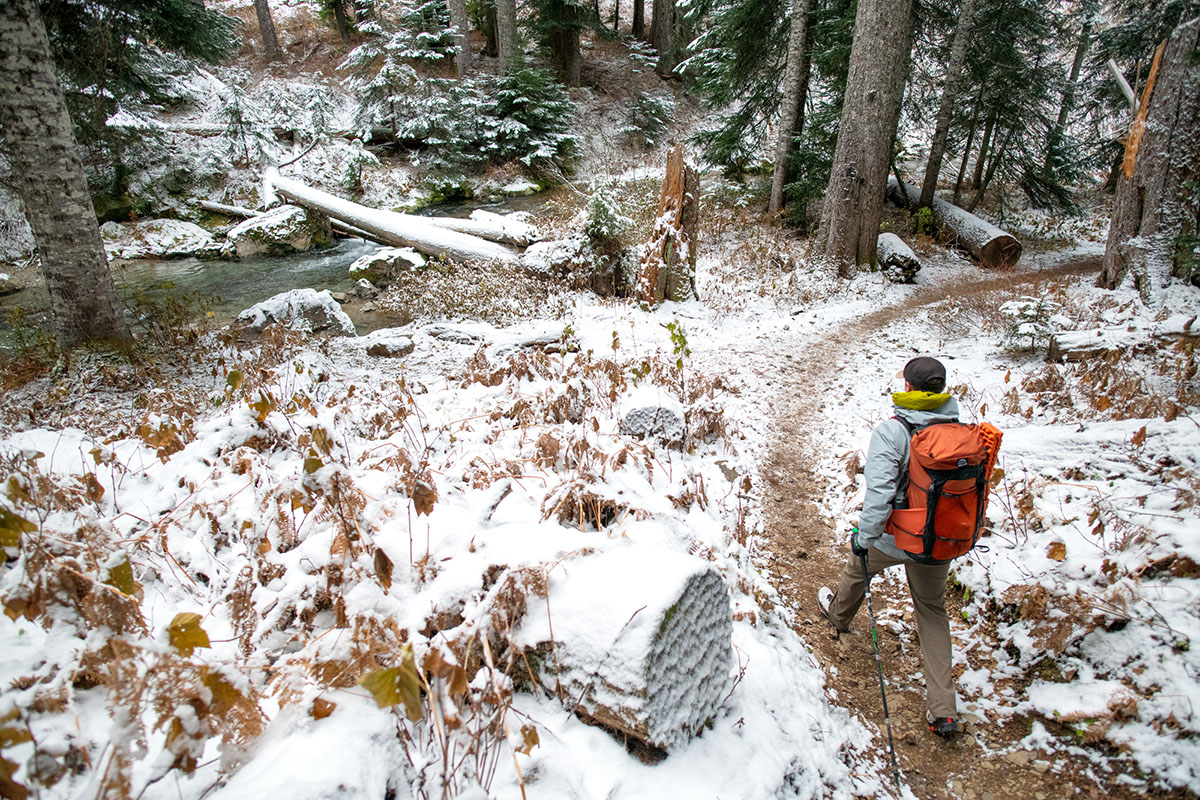 Key Design Features
StormHood
We've complimented Arc'teryx's StormHood on a number of occasions, and it's the same story here. The design is extremely secure, has a nicely sized brim that keeps water from dripping down on your face or ski goggles, and fits well over either a helmet or just a hat. And as I touched on above, when cinched over a thin beanie or headband, the Beta LT's shape leaves far less excess material along the sides of the face, which is pretty rare among helmet-compatible hoods. My only complaint is that the adjustments at the front of the hood are small and require pinching to loosen the cord, which is not a glove-friendly process. But otherwise, it's yet another premium hood design from the brand.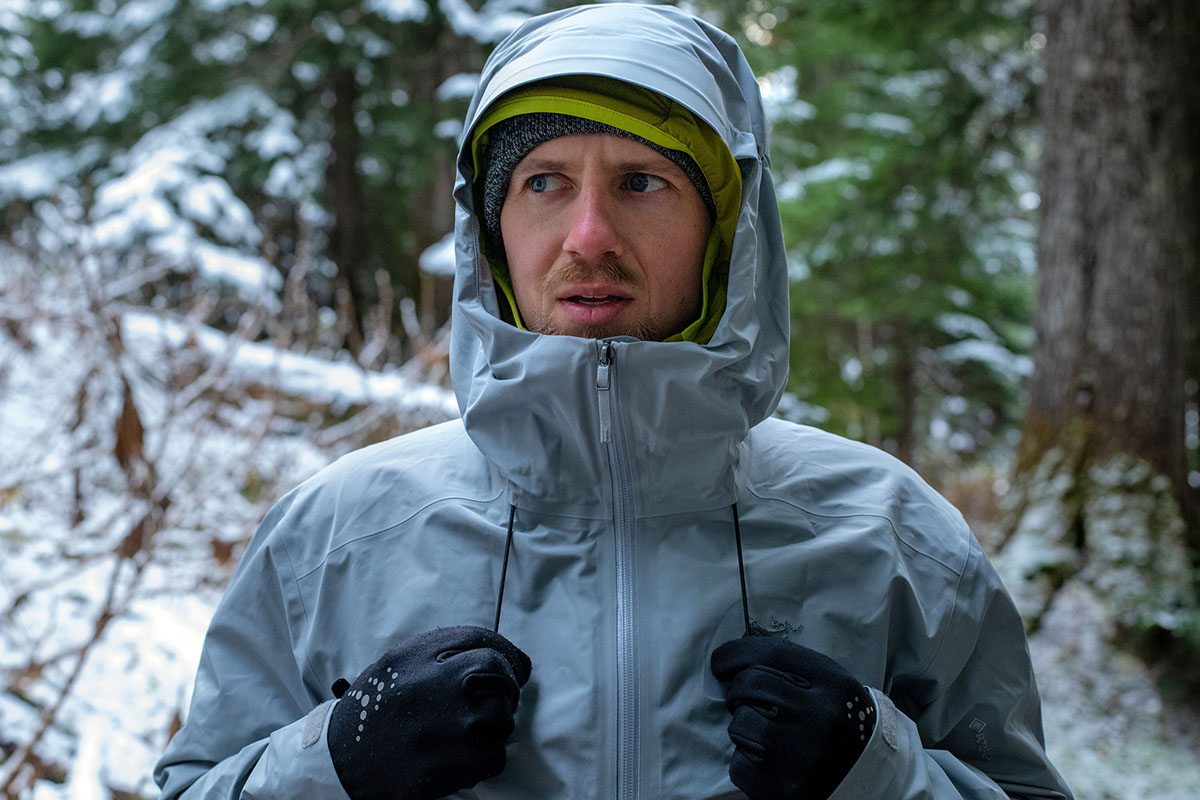 Storage: Pockets
Along with the thin face fabric, the Beta LT's minimalist design is evident in its storage layout that consists only of two zippered hand pockets. Importantly, these are set high enough to remain accessible while wearing a pack, but the layout can still create some challenges during certain activities and uses. For example, I often utilize my midlayer for stowing items like my phone, but when worn over just a baselayer, the lack of an interior pocket becomes a problem. In the end, if I were to change one thing about the Beta LT's build, I would include the same interior chest pocket that's featured on the AR. Some might wish for more exterior storage as well, but I've found it to be less secure overall (despite water-resistant zippers, moisture could still make its way through to your electronics).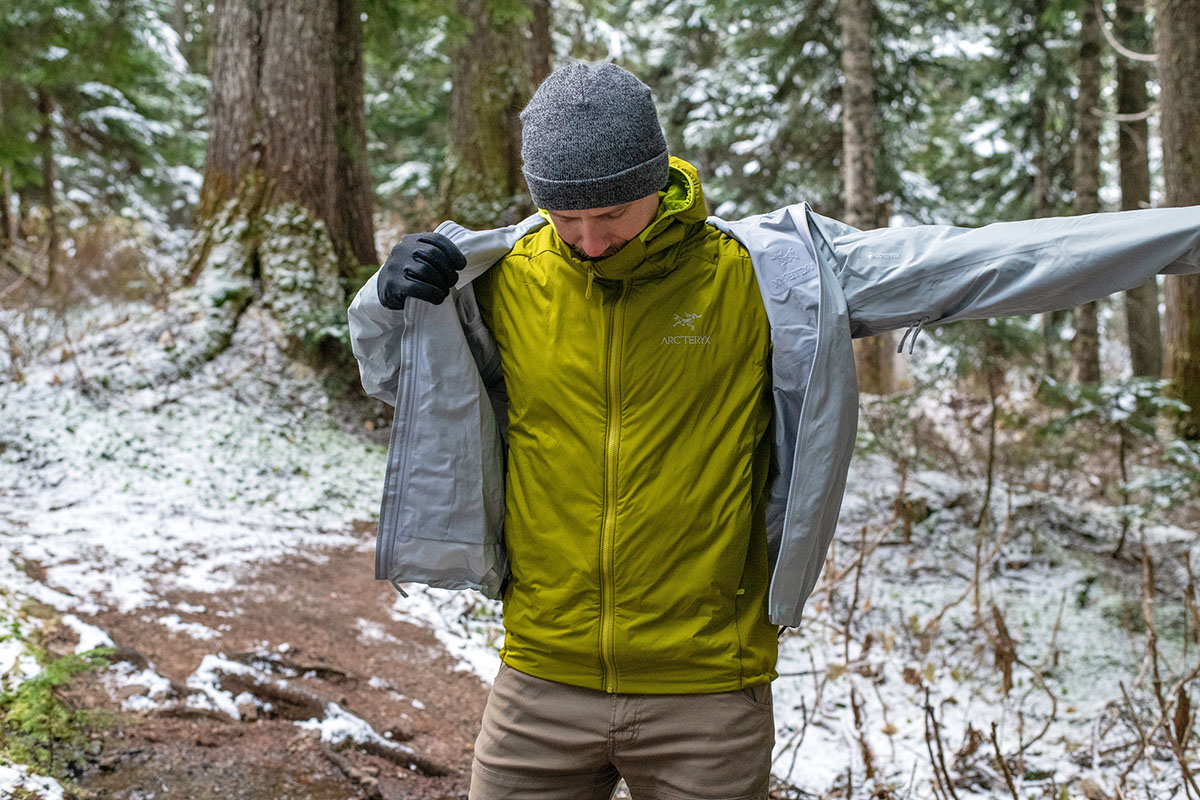 RS (Rain Shield) Zipper Sliders
As I touched on above, the Arc'teryx Beta LT's two exterior pockets feature the brand's innovative RS zipper sliders. This unique design ditches the fabric "hood" that is typically found above the top of the zipper to keep water from entering the pocket. Arc'teryx technically considers these zippers to only be water-resistant, but we've never had moisture enter the pockets of any of our RS-equipped shells. In fact, I tested the Beta LT in the shower by applying consistent pressure at the top of the zipper openings and didn't experience any leaks. Again, I don't trust them to protect my electronics in a deluge, but the sliders do help minimize weight and bulk and contribute to the jacket's smooth, clean appearance.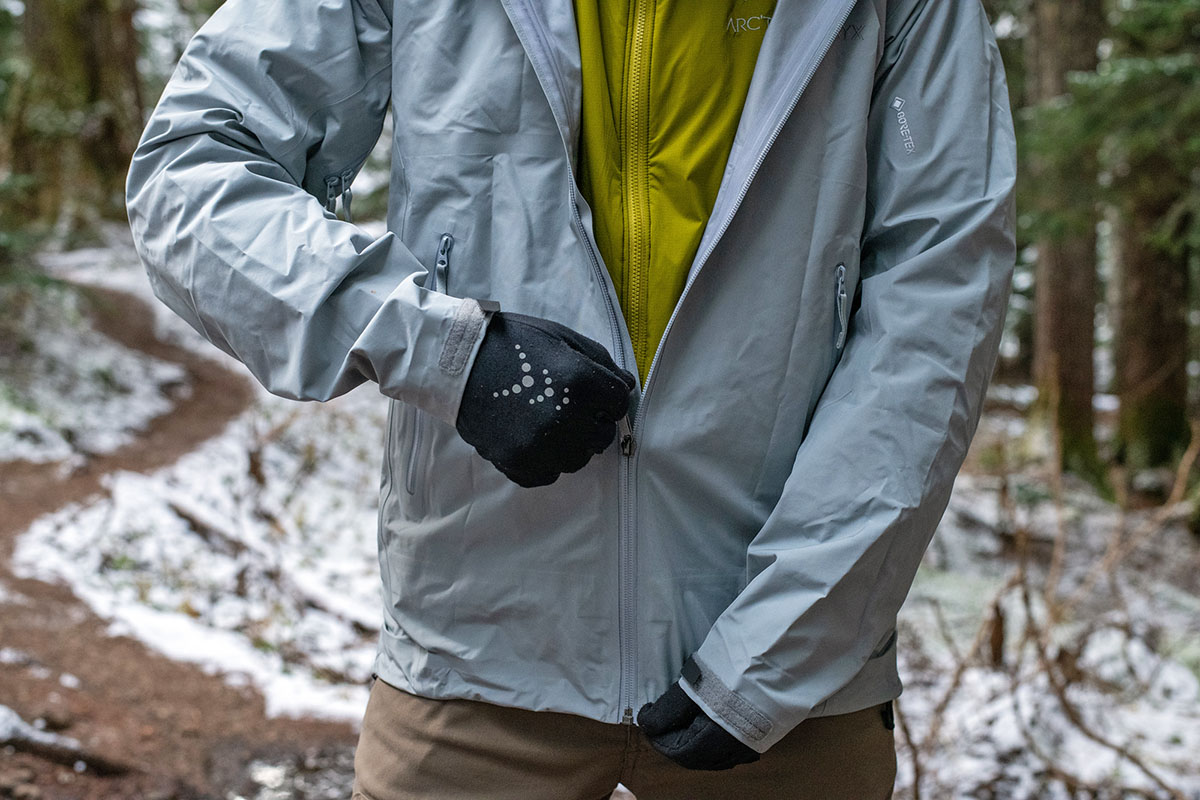 Fit and Sizing
In addition to premium build quality, another element that sets Arc'teryx apart is how consistently they deliver a precise, tailored fit. The Beta LT has what they consider a "fitted" cut, and we think that's an accurate designation. My men's medium fit very well (for reference, I'm 5'9" and 155 lbs.) and offered excellent range of motion when wearing a baselayer or lightweight puffy underneath. That said, if you'll be in truly frigid weather and anticipate needing a thicker midlayer, you may want to consider opting for the Beta AR, which has a "regular" fit with more room in the torso (although it's bulkier when only wearing a baselayer). And those who need added coverage while skiing or climbing might prefer Arc'teryx's Alpha series, including the longer Alpha SV or standard Alpha Jacket (both have a 30.9-in. center back length in a men's medium.). But overall, the Beta LT (30 in.) provided good coverage for me, falling just below my waist in the front and slightly lower in the back.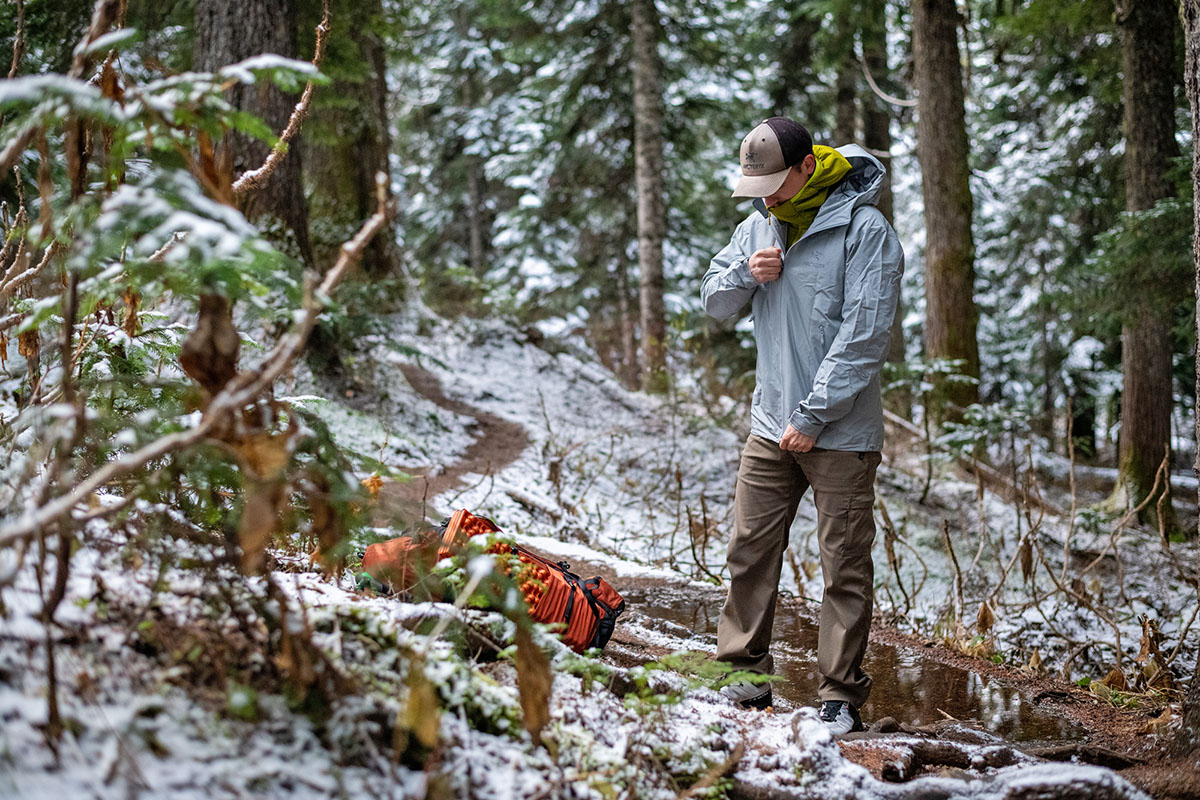 Sustainability
In recent years, many major outdoor brands have made notable progress toward creating more sustainably made products, and we're excited to see Arc'teryx working to improve their lineup. In this case, the Beta LT's fabrics are bluesign-approved, meaning that they've been certified as safe for workers, consumers, and the environment. It's worth noting that competitors like Patagonia have also worked to certify many of their garments to the Fair Trade standard, which means they put extra money into production to ensure workers are getting compensated fairly and have access to resources like healthcare. We hope that Arc'teryx follows suit in the future, but it's nice to see sustainability is becoming a point of emphasis.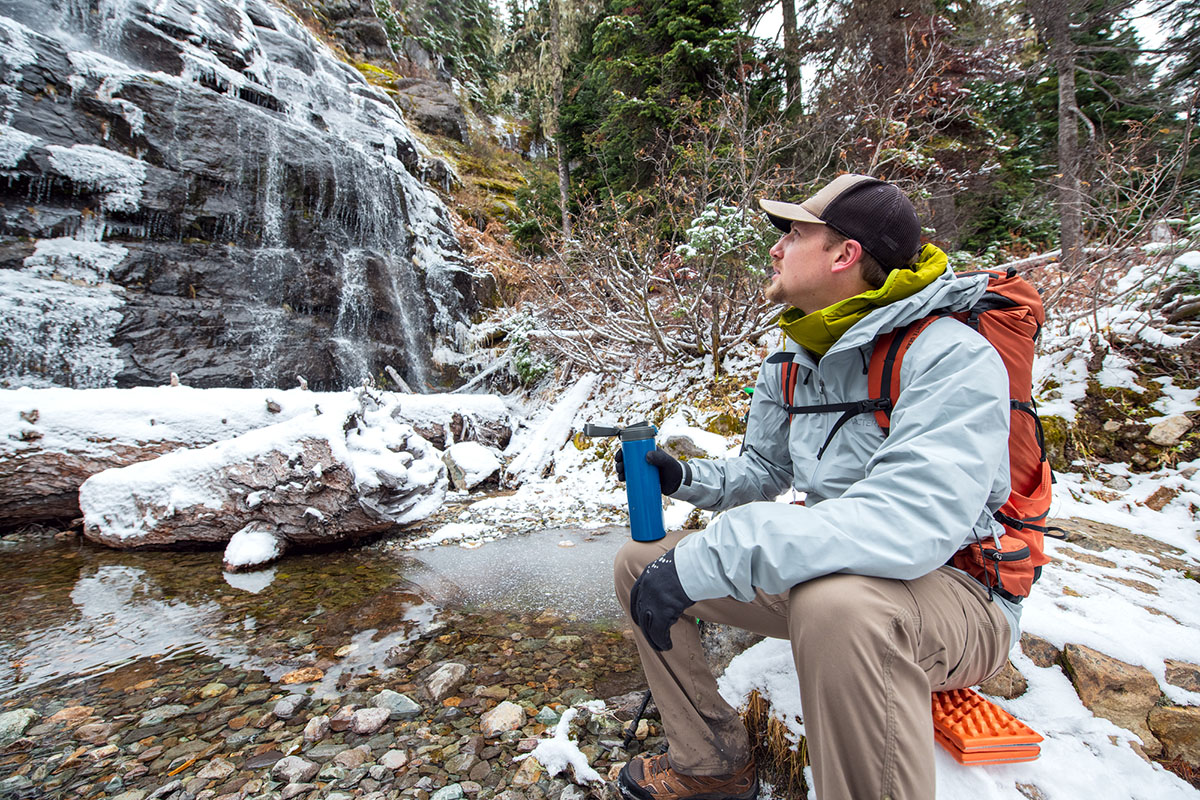 Other Versions of the Arc'teryx Beta LT
We put the men's Beta LT through its paces for this review, and Arc'teryx also offers the design in a dedicated women's version. The women's Beta LT Jacket retails for $450 and uses a similar 40D, 3-layer Gore-Tex construction but weighs less at 12.3 ounces and is sold in different colorways (center back length is also shorter at a listed 27.2 in.). We haven't had a chance to test the women's shell, but given the identical feature set and minor spec differences, we expect performance to be very similar across the board. Finally, as we mentioned above, the Beta Lightweight is the successor to the LT and features a few nice additions, including Gore's supple C-Knit backer, an interior chest pocket, and a Recco reflector that makes you searchable to rescuers.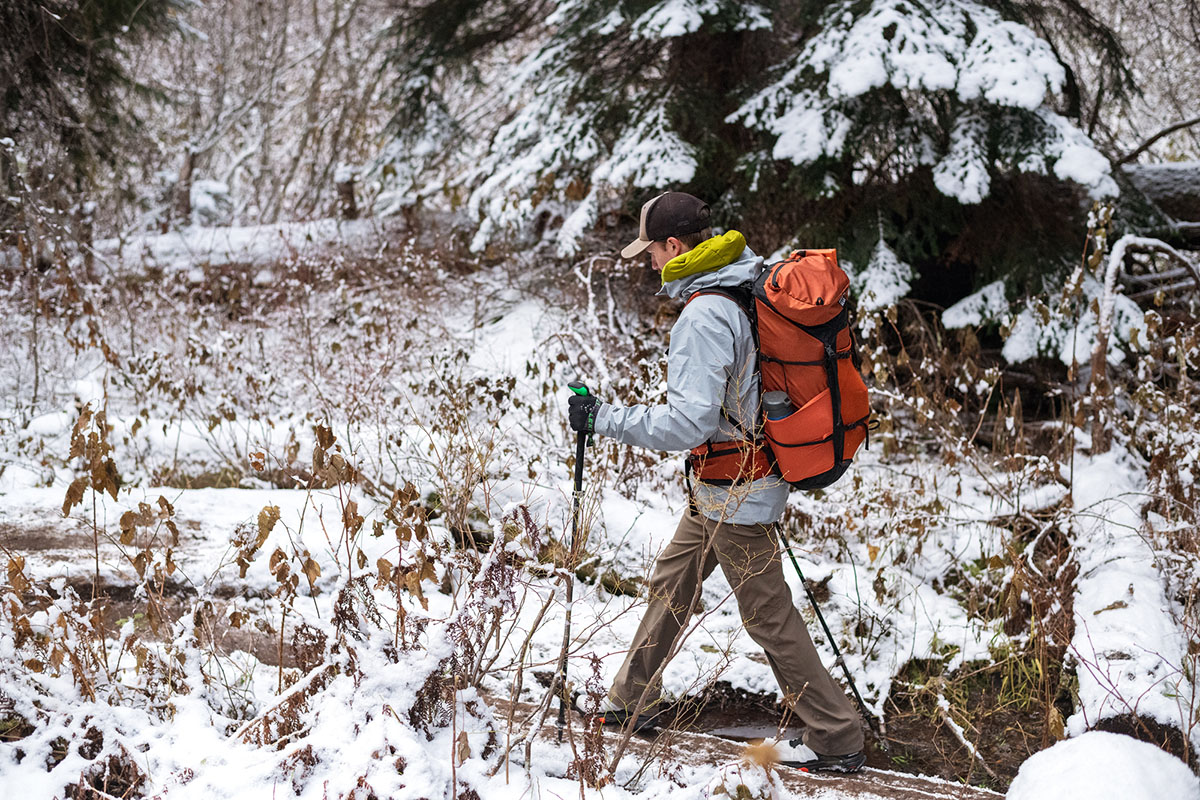 We We Like
Light, packable, and highly breathable—an excellent combination for ambitious day hikes and less intensive ski touring days.
Gore-Tex build offers good all-around comfort with a noticeably softer and less crinkly feel than the past-generation Beta LT (which used Gore-Tex Pro).
StormHood leaves very little excess material along the sides the face, which isn't often the case with helmet-compatible hoods.
We appreciate that Arc'teryx has started incorporating sustainable practices into their line, including the use of bluesign-approved fabrics.

What We Don't
Feels more delicate and less bombproof than Gore-Tex-Pro-equipped hardshells, although we haven't had any weatherproofing issues to date (and the boost in comfort is nice).
Not a great value at $450, especially considering the fairly thin fabrics and standard Gore-Tex construction.
Storage is very minimal with only two hand pockets, and we wish Arc'teryx had included an interior pocket to securely stow valuables.


Comparison Table
The Competition
Arc'teryx is a clear leader in the premium hardshell market, so a number of the Beta LT's strongest competitors come from within the brand. First is the top-end Beta AR, which gets you an upgraded Gore-Tex Pro build that's more protective and versatile for winter activities like skiing, and panels of thick 80D fabric in high-wear areas. Arc'teryx also included a handy chest pocket and their DropHood rather than StormHood (there is a new StormHood-equipped version available in limited colorways), which offers a little less coverage but boasts a separate collar to protect against drafts and moisture when you're not wearing the hood. The AR is a little heavier at 1 pound even, and not everyone will be willing to spend an extra $150 for the added features and protection, but there's no denying the impressive overall performance.
Next up is a newer addition to the Beta family: the standard Beta Jacket. Compared to the Beta AR outlined above, the Beta is a small step down in weatherproofing with standard Gore-Tex (similar to the LT), although you get Gore's soft C-Knit backer for a nice boost in comfort. The Beta is also lighter than the LT by 3.3 ounces and cheaper by $50, but there's not much else to give it the edge: The construction is thinner at 30D, the hood design is more basic and not helmet-compatible, and you don't get pit zips for regulating temperature (for more, see our in-depth Beta Jacket review). These features aren't must-haves for everyone, but we consider the Beta LT's upgrades worth the price jump.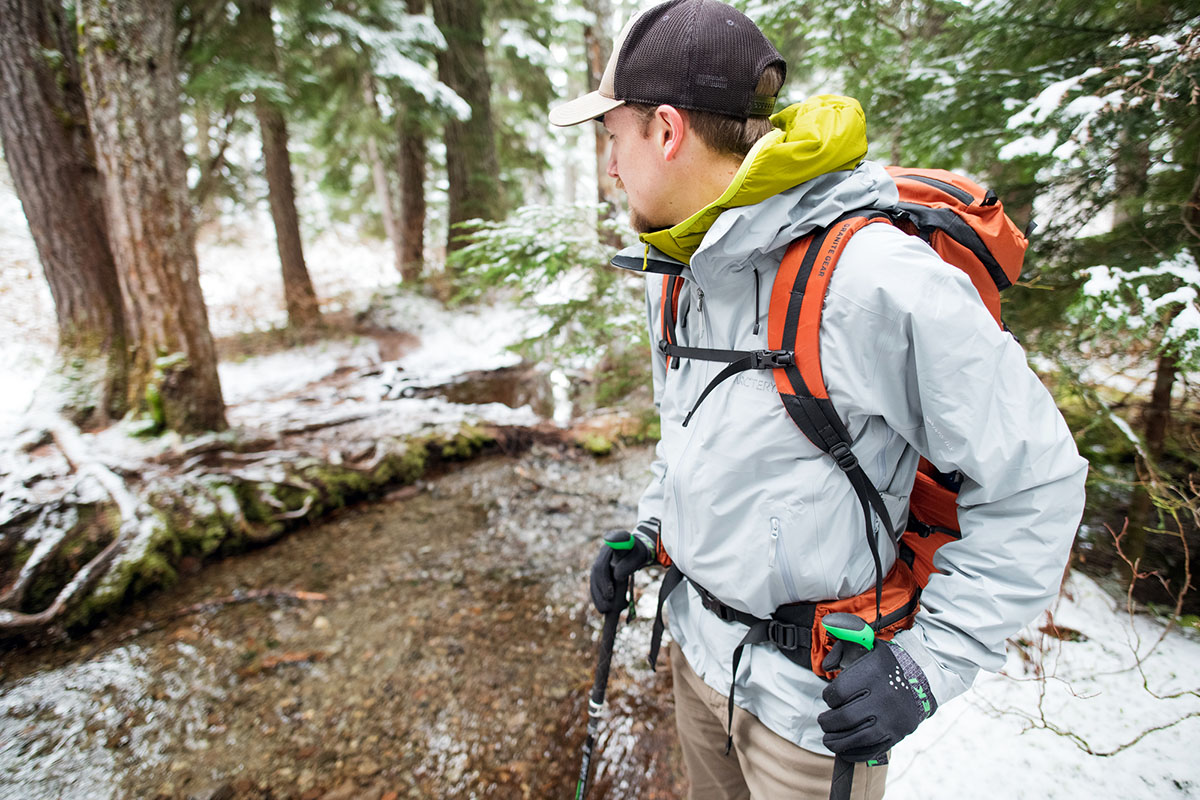 Outside of Arc'teryx's collection, Outdoor Research's Microgravity stacks up decently well to the Beta LT but at a much lower $279 price point. Rather than Gore-Tex waterproofing, the OR swaps in their in-house AscentShell membrane that's highly comfortable and breathable. It is a slight step down in all-out protection compared to Gore-Tex, but the Microgravity is fully serviceable for most backcountry conditions. Unfortunately, we found some of the finer details aren't as well sorted as the Beta's, including a hood cinch that sits uncomfortably over the ears and no pit zips to dump heat quickly. That said, the Microgravity is a nice shell for active use at a good value. For those willing to spend up, the Beta LT is the more refined and well-rounded pick.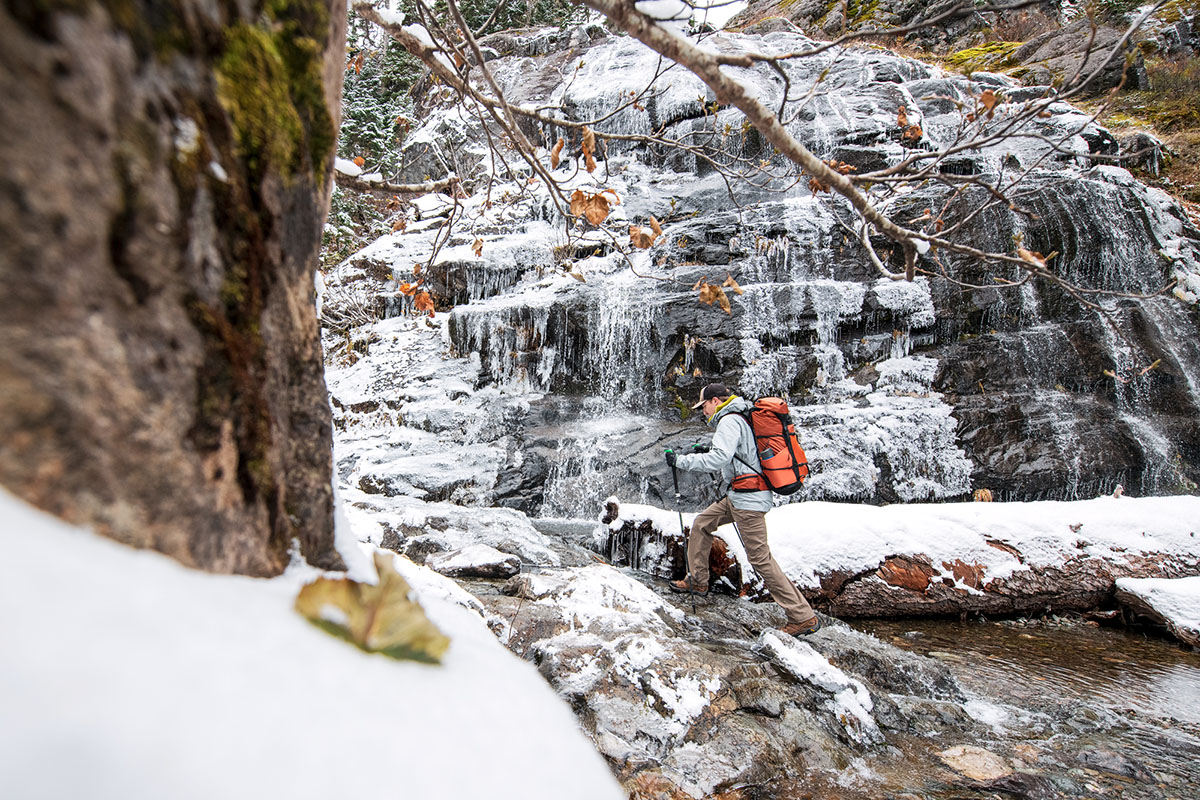 Last but not least is Patagonia's Triolet, which has been one of our favorite hardshells for years for its solid and feature-rich build. For around $50 less than the Beta LT, the Triolet is significantly more robust and durable (it uses a 75D standard Gore-Tex construction), offers better coverage with a longer cut, and wins by a landslide in storage with five total pockets (including four exterior and one interior). The Patagonia is much bulkier and heavier at 1 pound 3.4 ounces and includes ski-specific features like a RECCO reflector and strap to connect to compatible snow pants, but we consider it the more capable option if you plan to spend a good amount of time in the snow.
If you're thinking about buying gear that we've reviewed on Switchback Travel, you can help support us in the process. Just click on any of the seller links above, and if you make a purchase, we receive a small percentage of the transaction. The cost of the product is the same to you but this helps us continue to test and write about outdoor gear. Thanks and we appreciate your support!
Depending on the seller, most products ship free in the United States on orders of $50 or more. International shipping availability and rates vary by seller. The pricing information on this page is updated hourly but we are not responsible for inaccuracies.
Read More From Switchback Travel