Sliding in just below Arc'teryx's popular Beta AR in their hardshell lineup is the light but tough Beta LT. Featuring a compelling mix of 3-layer Gore-Tex Pro waterproofing and 12.2-ounce weight, we tested the jacket on everything from a remote backpacking trip along the Southern Patagonia Icefield to a couple seasons of backcountry and resort skiing in the Pacific Northwest. In the end, the Beta LT proved itself as a strong and reliable performer in harsh alpine conditions. Below we break down the Beta LT's weather protection, breathability, weight and packability, durability, fit and sizing, and more. To see how it stacks up, see our article on the best hardshell jackets.
 
Performance
Weather Protection
Patagonia's notoriously strong winds were the backdrop to my initial experience with the Arc'teryx Beta LT, and in gusts and piercing rain that were laughable in their strength and violence, the jacket felt nearly bulletproof. Credit to this fortress-like performance comes from Gore's top-end Pro construction, which is their sturdiest 3-layer design intended for brutal conditions. And despite having the lightest build in the Beta series—undercutting the AR by nearly 4 ounces—and a fairly thin 40-denier face fabric, there weren't any compromises made in the weather protection department: the burly hood and its substantial bill stayed locked in place, the WaterTight zippers sealed out moisture as advertised, and the adjustable cuffs and hem kept me dry in blowing rain and snow.
In addition to the backpacking adventure, I used the Beta LT as my primary backcountry and resort ski shell for two seasons in the Pacific Northwest. And I've yet to experience a slipup: the face fabric and membrane continue to shed moisture extremely well (I've followed Gore's recommended cleaning cycle of washing and drying every 10 to 15 uses), the hood works nicely with or without my ski helmet, and the collar is the ideal height for tucking my face in to hide from the wind. It's true that jackets in Arc'teryx's climbing-focused Alpha series have a longer cut for a little more coverage—and in deep, wet snow, I did find myself wishing for a little more length—but that's about the only nitpick that I have in terms of weather protection.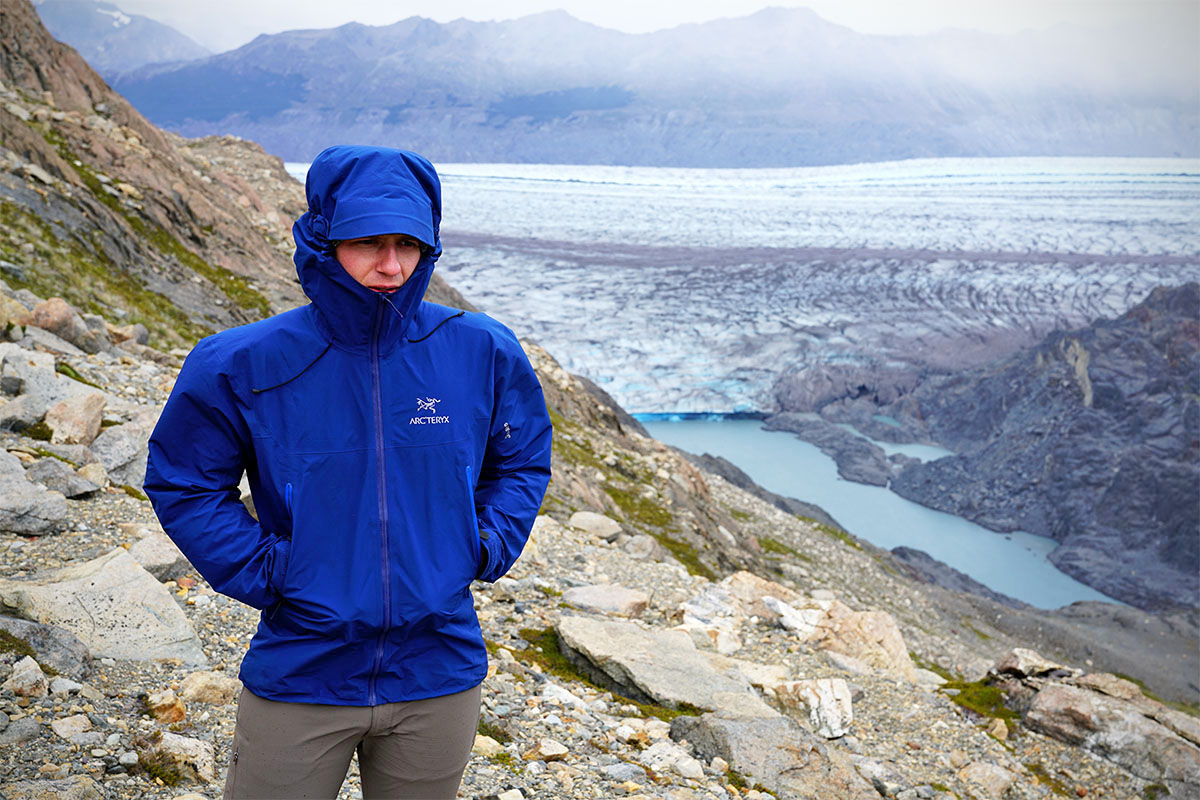 Breathability 
Like in our test of the similarly designed Arc'teryx Apha FL, the Beta's athletic cut and relatively thin construction combined to offer some of the better breathability we've experienced in a Gore-Tex Pro shell. Icy winds whipping across the Southern Patagonia Icefield meant that we were forced to wear our hardshells a lot, including while climbing a series of unrelentingly steep mountain passes. And even with a full pack on and the jacket zipped over my chin, I didn't overheat. For perspective, the weather was hovering around freezing and I had a breathable baselayer on, but this is a notable accomplishment. Of course, the ventilation had its limitations, and I found myself unzipping the front of the jacket (or ditching it altogether) back at home while skinning in temperatures above about 20 degrees Fahrenheit. But I would rate the Beta LT's overall performance as well above average.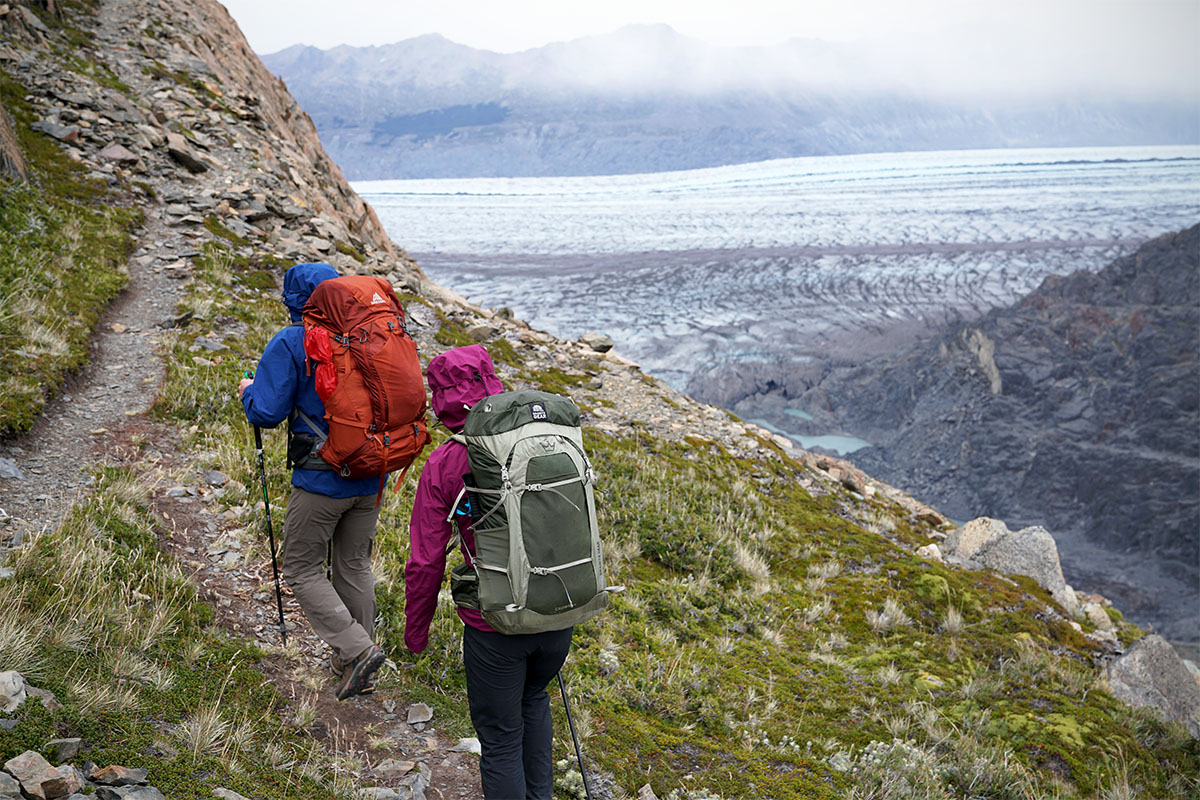 The Gore-Tex membrane certainly held up its end of the bargain, but I am disappointed that Arc'teryx chose to omit pit zips on the jacket. While I understand the reasoning—this is intended as a lightweight, packable piece—it does have a pretty significant impact on its versatility. I ended up leaving the Beta LT behind on some mild-weather trips, and there have been a number of instances where I would've liked the ability to quickly dump heat. To be fair, Arc'teryx doesn't include pit zips on most of their minimalist shells (the Beta SL Hybrid is one notable exception).
 
Weight and Packability
The LT in the Beta's name is short for "lightweight," and the jacket certainly delivers in this regard. Weighing in at 12.3 ounces on our scale in a men's medium (Arc'teryx lists it at 12.2 oz.), it's among the lightest Gore-Tex Pro designs on the market. Patagonia's Pluma also uses a 40-denier Pro shell but comes in at 14.6 ounces and Arc'teryx's own Beta AR is 16 ounces (you do get pit zips with both jackets, however). The Beta LT even undercuts the Mountain Hardwear's Exposure/2 Active (13.5 ounces), which uses a lighter 30-denier fabric and Gore's less durable Active membrane (you do get pit zips with the Exposure). One lighter-weight Gore-Tex Pro alternative is Arc'teryx's Alpha FL (11.1 ounces). But with only a single chest pocket, it's more tailored toward the climbing crowd than hiking and skiing.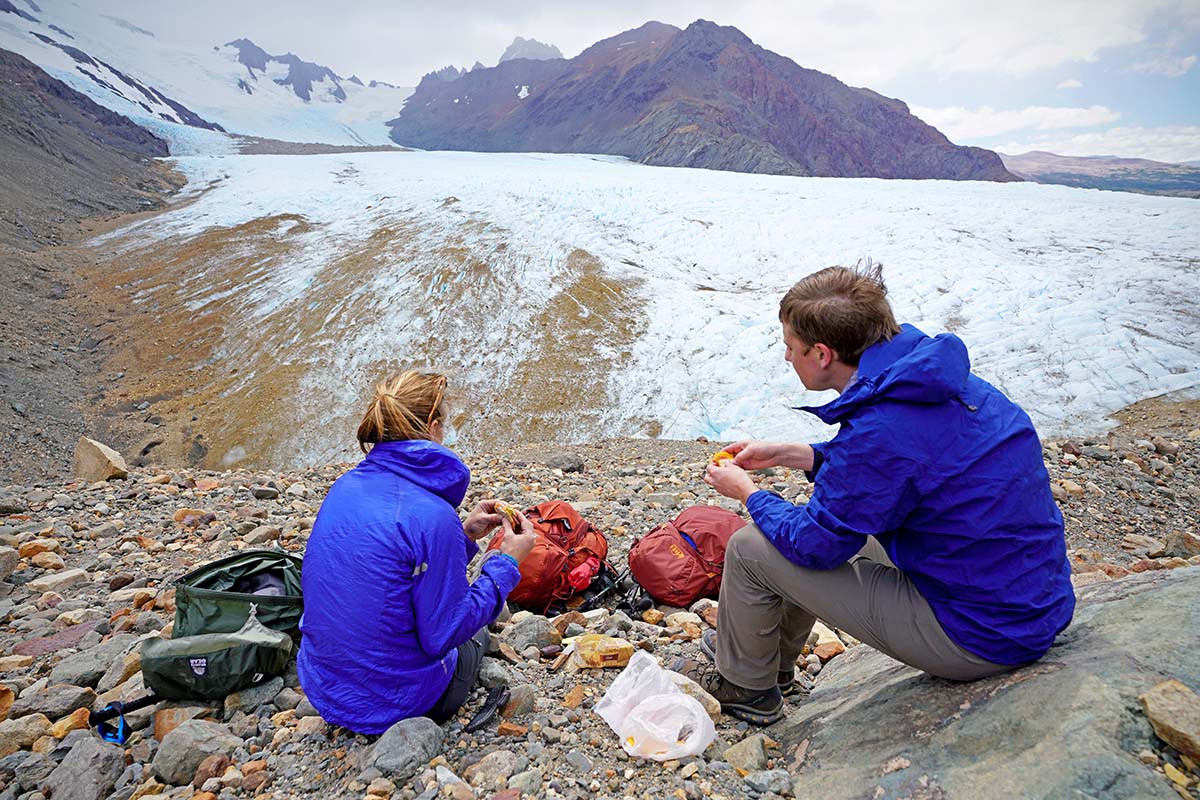 The Beta LT does not come with a stuff sack nor is it designed to be stowed in its own hand or chest pocket, but it's a packable shell nevertheless. The jacket rolls easily into its own hood—you can cinch the hood to compress it further—and I had no issues squeezing it into small openings in my ski or backpacking packs. All told, climbers that want to attach the shell to their harness will be disappointed (the Alpha FL comes with a stuff sack), but otherwise I have little to complain about regarding weight and stuff size.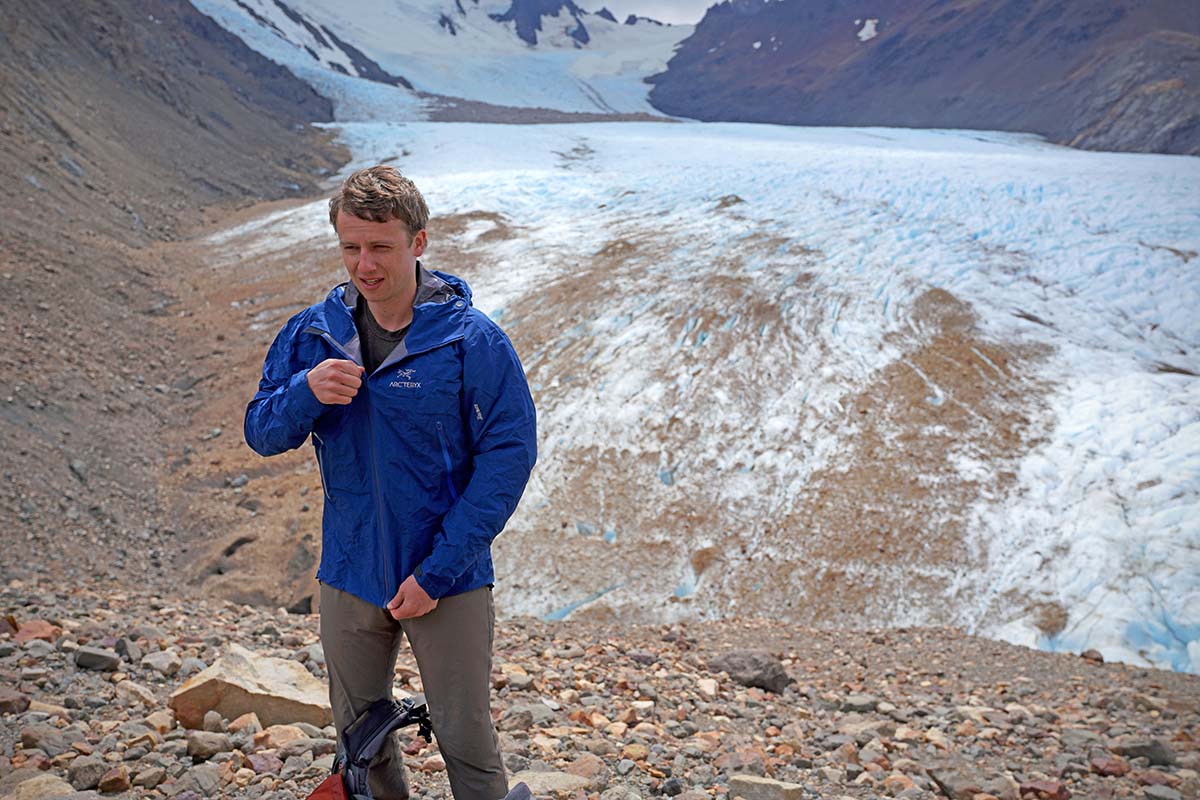 Durability and Build Quality
A common tradeoff in trimming weight is durability, but the Beta LT Jacket doesn't give up much in this respect. Gore-Tex Pro is the brand's toughest waterproof design, and even with a relatively thin 40-denier face fabric, the LT has a strong, confidence-inspiring feel. Compared with the 20-denier REI Co-op Drypoint GTX that we also had on our Patagonia trip, the Beta was noticeably thicker and had a much sturdier construction. And the jacket has held up perfectly through rough winter use, which has included more than a few brushes with the metal edges of my skis and a number of days lapping the resort. Where it will likely fall a little short is if you'll be consistently around sharp gear or if you just prefer a burly jacket that you don't want to have to think about tearing. Upgrading to either the Beta AR—which includes offsetting panels of 40- and 80-denier fabrics—or jumping all the way to the bomber 100-denier Alpha SV might be safer bets.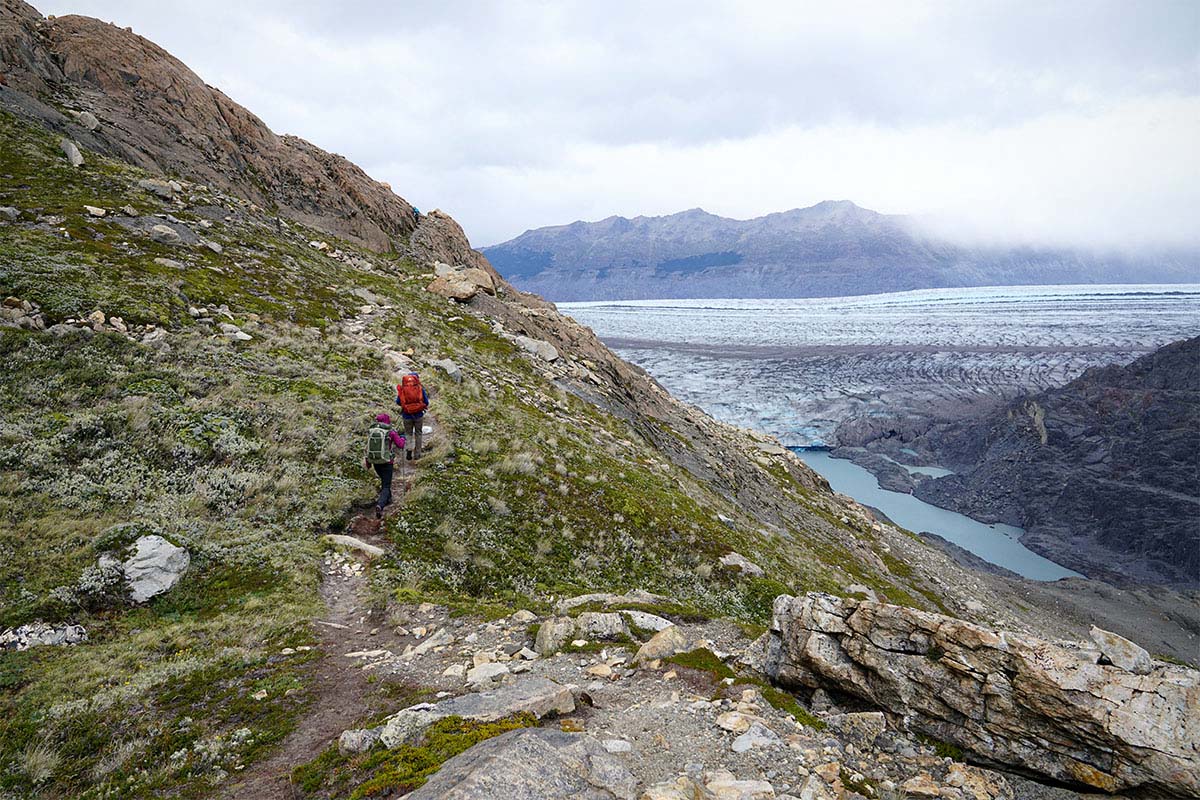 We've tested a lot of Arc'teryx hardshells over the years, and one element that never disappoints is their build quality. Simply put, the Beta LT is yet another premium Arc'teryx jacket with very clean lines and plenty of thoughtful touches like a fleece-like liner for your neck and low-profile RS zipper sliders (more on this below). The shell fits great and is extremely comfortable (despite being a bit crinkly), performs as advertised, and Arc'teryx does a great job standing behind their product (whether for repairs or warranty replacement). You pay a seriously high price—in this case, $525—but you're not left questioning the design, quality of materials, or overall craftsmanship.

Key Design Features
StormHood
The Beta LT includes the brand's StormHood, which we've also used on jackets like the Alpha SV, FL, and SL. The design features a substantial bill for keeping moisture out of your face, three points of adjustment, and a large, helmet-compatible shape. When not wearing a helmet, I found it takes some fine-tuning and fiddling with the front Cohaesive adjusters to get it evenly cinched down. That said, the low-profile button system is easy to use even with gloves on, and I had zero issues with the hood staying locked in place even in direct, high winds. And the upside to the big fit is that it accommodated a range of ski helmets I tried, including the Smith Level, Giro Range, and POC Obex SPIN (all in size medium).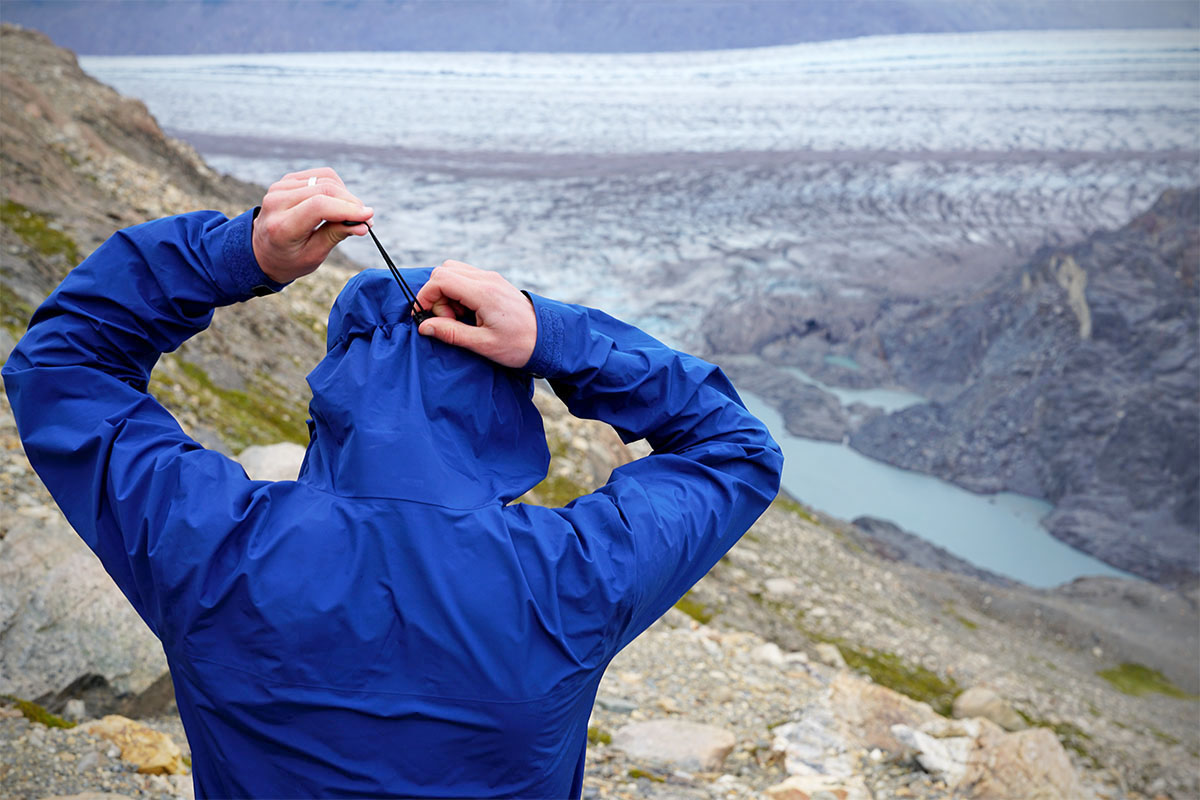 Storage: Pockets
Unlike Arc'teryx's Alpha FL, which compromises hand pockets in the quest to save weight, we have no complaints with the Beta LT's storage layout. You get two hand pockets along the exterior that are fully accessible while wearing a backpack or harness. The pockets are generously sized and provided a nice refuge for gloved hands, and backcountry skiers will be happy to know that there is enough space to store climbing skins. To round out the design, there is a zippered interior chest pocket that works well for stowing small items like a phone or energy bar.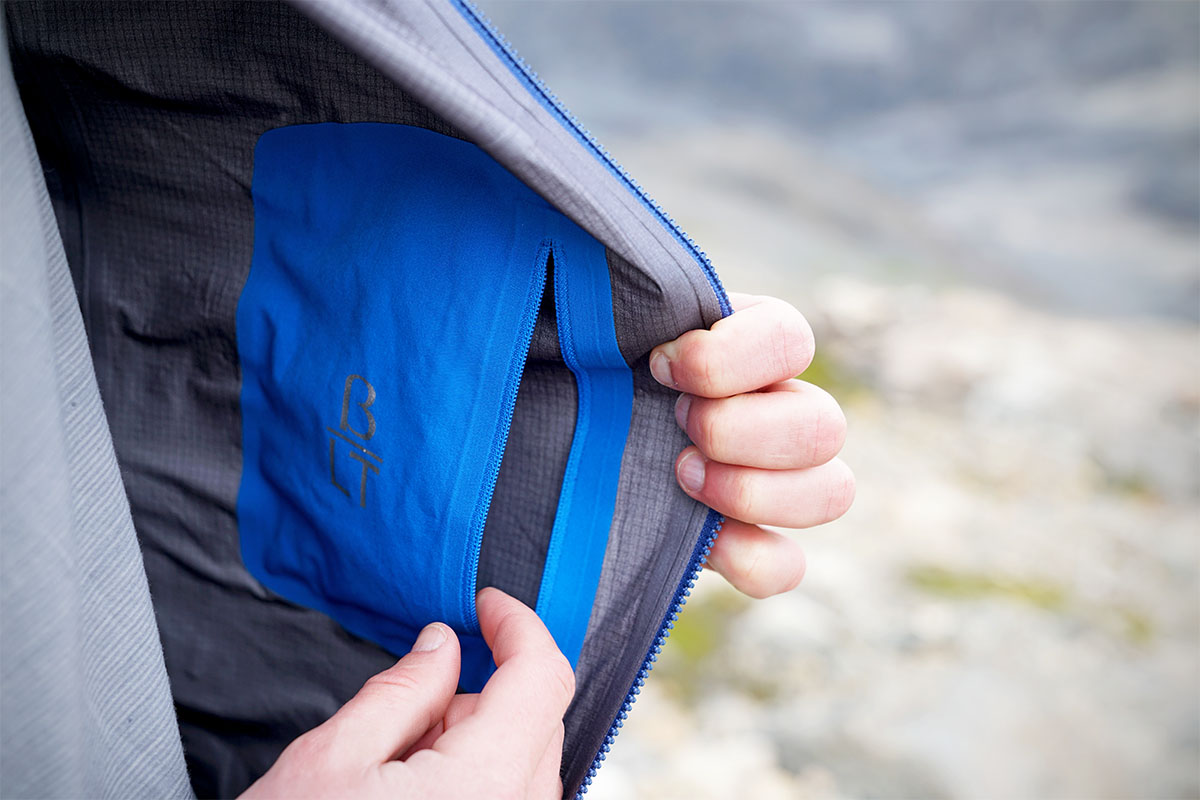 RS Zipper Sliders
Released a couple years ago, the jacket's two exterior pockets feature Arc'teryx's innovative RS zipper sliders. This unique design ditches the fabric "hood" that is typically found above the top of the zipper to keep water from entering the pocket. Arc'teryx technically considers these zippers to only be water-resistant, but we've never had moisture enter the pockets of any of our RS-equipped shells. It's a small detail, but the zippers have tangible benefits, such as reducing weight and packed size and enhancing the jacket's smooth, clean appearance.
 
Fit and Sizing
In addition to premium build quality, another element that sets Arc'teryx apart is how consistently they deliver a precise, tailored fit. The Beta LT has what they consider a "trim" cut, and we think it's a good designation. Our men's medium jacket fit our two testers (5'9" and 6'1" with slim builds) very well and offered excellent range of motion when wearing just a baselayer or lightweight puffy over top. If you'll be in truly frigid weather and need a heavier-weight midlayer, you may want to consider the "regular" fit Beta AR that has a larger cut in the torso (the downside is that the AR is bulkier when only wearing a baselayer). Length-wise, the LT falls just below the waist in front and the small drop hem in the back provides good coverage overall. But as mentioned above, those that prefer a longer fit for extra protection while skiing or climbing may prefer Arc'teryx's Alpha series shells instead.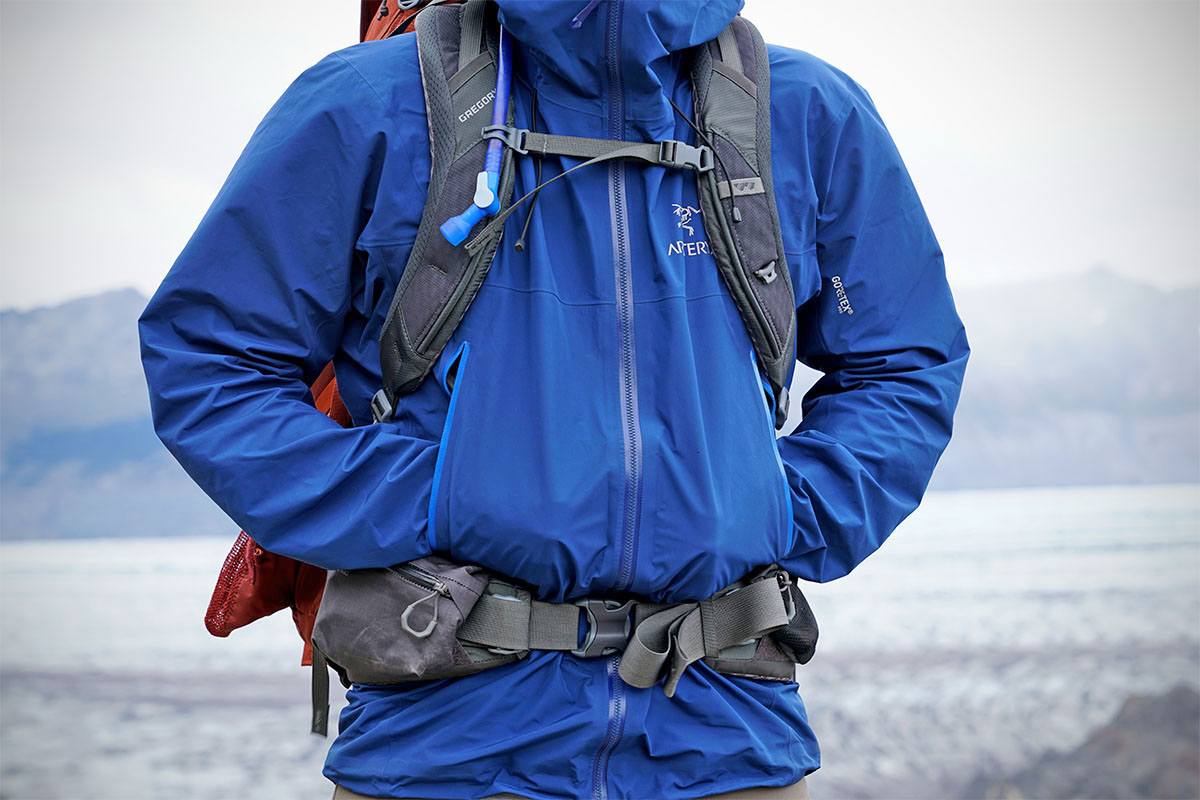 Women's Version of the Arc'teryx Beta LT
For this review, we tested the men's version of the Beta LT, but Arc'teryx also offers the design with a women's-specific fit. Outside of unique colorways and a small variance in weight due to sizing differences, the two models are nearly identical. The women's LT has the same pocket layout, hood design, and light-and-packable 40-denier Gore-Tex Pro build as the men's. And its trim cut makes the jacket a great choice for anything from backpacking or cycling trips to ski touring.

What We Like
The Beta LT offers typical Arc'teryx build quality with bombproof Gore-Tex Pro weather protection.
Impressively light and packable considering the feature set and all-around performance. 
The jacket has an ideal trim fit for active use. 
Standout build quality and surprisingly good durability—it still looks like new despite having been worn over 50 times.
 
What We Don't
The Beta LT's lightweight build sacrifices pit zips.
Some skiers will prefer a longer cut for maximum protection.
Expensive at $525, especially when you can get the similar Arc'teryx Alpha FL for $100 less.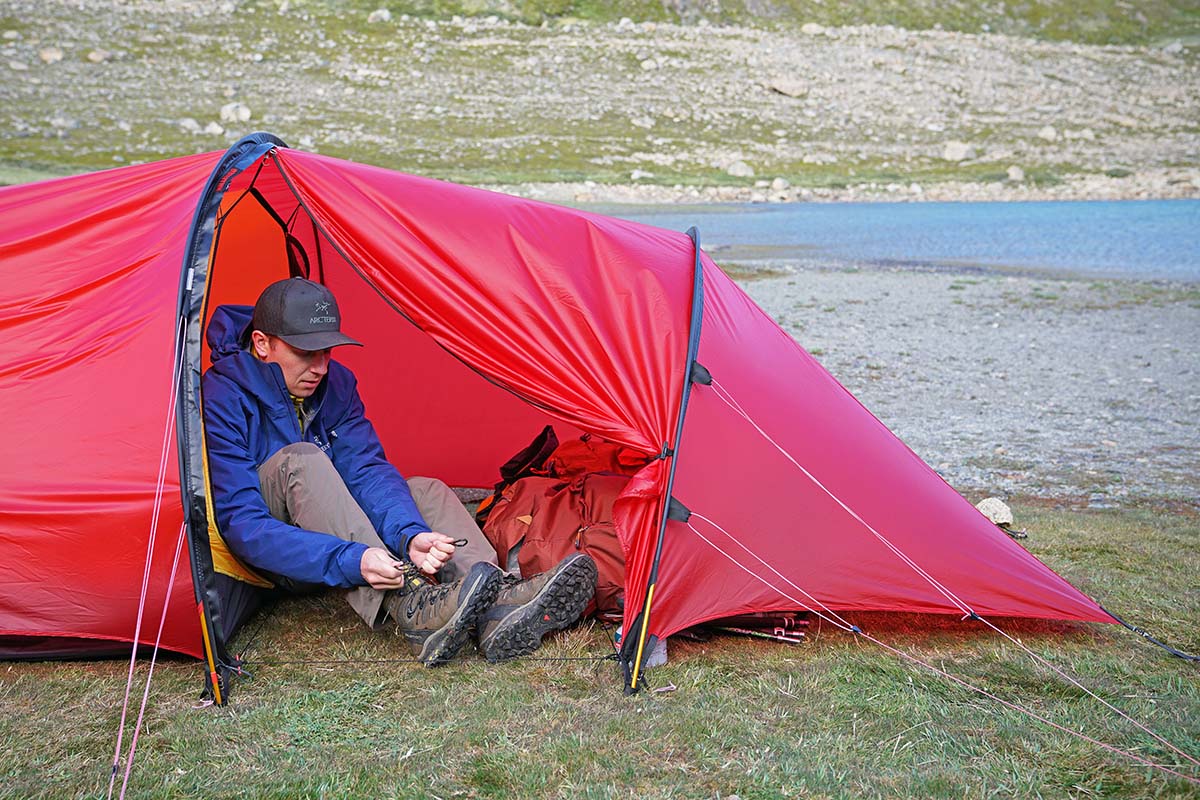 Comparison Table

The Competition
Arc'teryx is a clear leader in the premium hardshell market, so a number of the Beta LT's strongest competitors come from within the brand. One option that closely resembles the jacket is the Alpha FL that I've mentioned throughout this review. Both shells have 40-denier Gore-Tex Pro builds, full coverage and helmet-compatible StormHoods, and nicely balance weatherproofing and breathability. The Alpha has more of a climbing focus with a longer cut, and it's also a little lighter at 11.1 ounces versus 12.2 ounces for the Beta. But you do compromise storage as the Alpha only has one exterior pocket compared to the Beta's two (they both also have one interior pocket). While both are standout options, the Alpha has the clear edge in pricing at $425 (for more, see our in-depth Alpha FL review). Unless you really need the hand pockets, it's hard to justify spending another $100 for the Beta LT.
A second in-house model to consider is the popular Beta AR. The two jackets share a lot in common—unsurprising given they're from the same all-rounder Beta family—including Gore-Tex Pro construction, three total pockets, and adjustments at the wrists and hem. Where the AR differs from the LT is its pit zips, roomier "regular" fit (compared to the LT's "trim" fit), and panels of thicker 80-denier fabric on high-wear areas like the shoulders. In addition, the AR has the brand's DropHood, which offers a little more coverage around the front of the neck, but we've found that snow can occasionally build up in between the raised collar and hood. As with the Alpha FL above, it's hard to go wrong with Arc'teryx (if you're willing to swallow the big price tags), but the do-everything personality of the Beta AR is what's put it at the top of our hardshell jacket round-up for the past few years.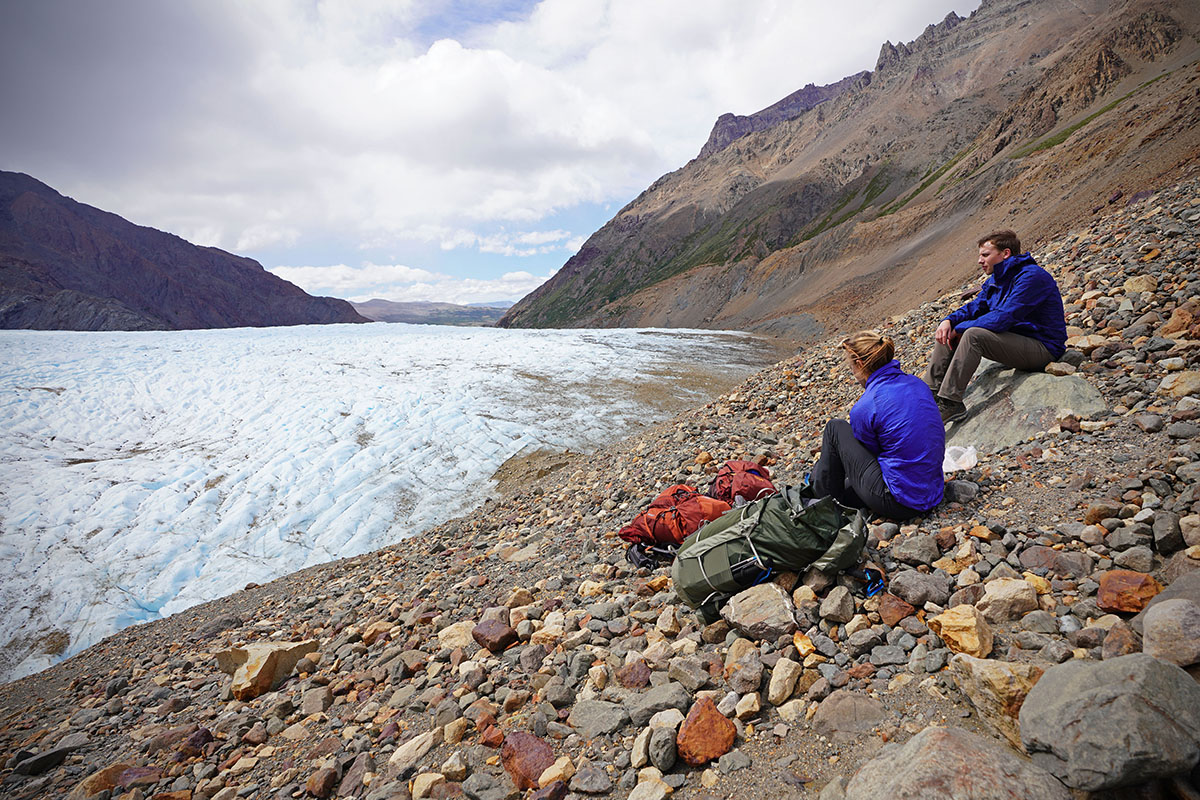 Moving outside of Arc'teryx, Patagonia's top-end Pluma hardshell is a formidable competitor to the Beta LT. Both feature 40-denier Gore-Tex Pro constructions, highly adjustable cuffs and hoods, and similar price tags ($549 for the Patagonia and $525 for the Arc'teryx). The Pluma has the upper hand for high-output activities like mild-weather backcountry skiing with its included pit zips. That being said, it's not as polished of a piece as the Beta: we've found the Patagonia's hood is too small to comfortably fit over a ski helmet, and its DWR coating hasn't held up nearly as well as the LT's. If the lack of pit zips isn't a deal breaker for you, we prefer the Arc'teryx. And if you need pit zips, the Beta AR is the better all-around choice.
A final jacket to have on your radar is Mountain Hardwear's Exposure/2 Active. This shell is similar in weight to the Beta at 13.5 ounces, has excellent breathability thanks to its Gore-Tex Active membrane, and comes in at a more palatable $425. We like the helmet-compatible hood, pit zips, and generous storage on the Exposure, although it can't match the range of motion and barely-there level of comfort that you get with the Beta. Further, the MH's thin 30-denier face fabric and less durable Active membrane are red flags for serious backcountry use. It's hard to deny the value that you get from the Exposure, but we'll take the lighter, tougher, and more versatile Beta LT in this case.
If you're thinking about buying gear that we've reviewed on Switchback Travel, you can help support us in the process. Just click on any of the seller links above, and if you make a purchase, we receive a small percentage of the transaction. The cost of the product is the same to you but this helps us continue to test and write about outdoor gear. Thanks and we appreciate your support!
Depending on the seller, most products ship free in the United States on orders of $50 or more. International shipping availability and rates vary by seller. The pricing information on this page is updated hourly but we are not responsible for inaccuracies.
Read More From Switchback Travel