From Arc'teryx's formidable hardshell lineup, the Beta AR slots in as the all-around workhorse. The jacket has been a flagship piece since its release back in 2000, and it's a favorite for everything from hiking and backpacking in rough conditions to mountaineering and ski touring. Arc'teryx updated the design for winter 2020-2021 with Gore's latest Most Rugged Technology, a RECCO reflector, and small tweaks to the DropHood. But despite the changes, the Beta AR keeps the same combination of harsh-weather performance, well-tailored fit, complete feature set, and light weight that's made it our top-rated hardshell for a number of years. Below we outline our experiences with the Beta AR. To see how it stacks up to the competition, see our article on the best hardshell jackets.
 
---
Table of Contents
---

Performance
Weather Protection
The Arc'teryx Beta AR has proven to be both a great shoulder-season and winter jacket, skillfully blocking out rain, wind, and snow. Built with the latest beefed-up version of Gore-Tex's Pro membrane, the jacket delivers bombproof 3-layer protection at a reasonable weight. Arc'teryx has cleverly divided this jacket into zones, with lighter-weight, more breathable 40-denier Gore-Tex Pro fabric used on the majority of the jacket and heftier 80-denier Gore-Tex Pro covering exposed (and wear-prone) areas such as the hood and shoulders. Compared with the burlier Alpha SV, which has a 100-denier Gore-Tex Pro build, the Beta AR is moderately less durable but hasn't given up much in terms of weather protection.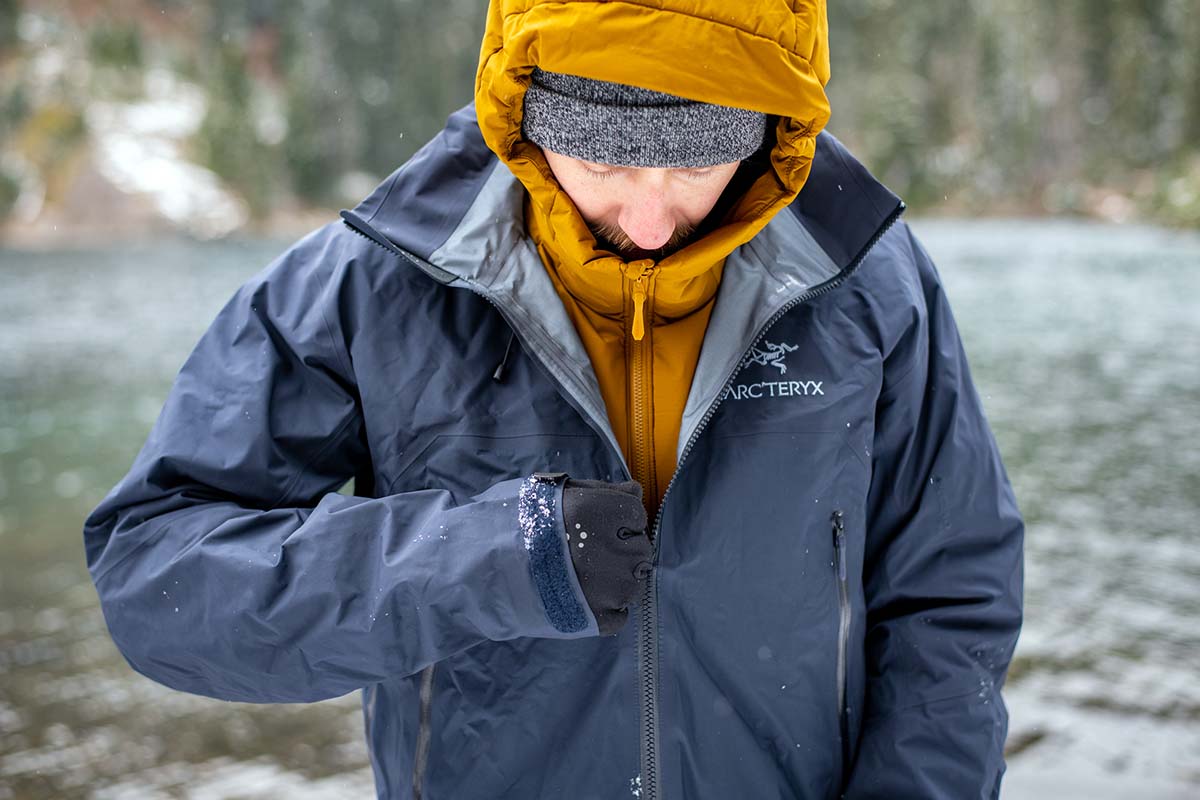 The Pacific Northwest is prime hardshell testing grounds, and we haven't found a vulnerability in the Beta AR's design yet. Like previous versions of the jacket, the high-quality DWR coating and fully taped seams have repelled downpours and snowfall that can wet out a lesser jacket. Additionally, Arc'teryx's WaterTight external zippers have helped to prevent moisture from penetrating the shell (Arc'teryx does state, however, that the zippers are not waterproof and only water-resistant). And to top it off, the AR features an adjustable, full-coverage hood with a separate collar that provides a cozy and warm seal around the neck. If I were to nitpick, the back length is a bit short to use as a dedicated ski shell, particularly on very deep days (more on this in "Fit and Sizing" below). But it's easy to get a solid seal with the dual adjustments at the hem, and we've found the protection otherwise is simply fantastic.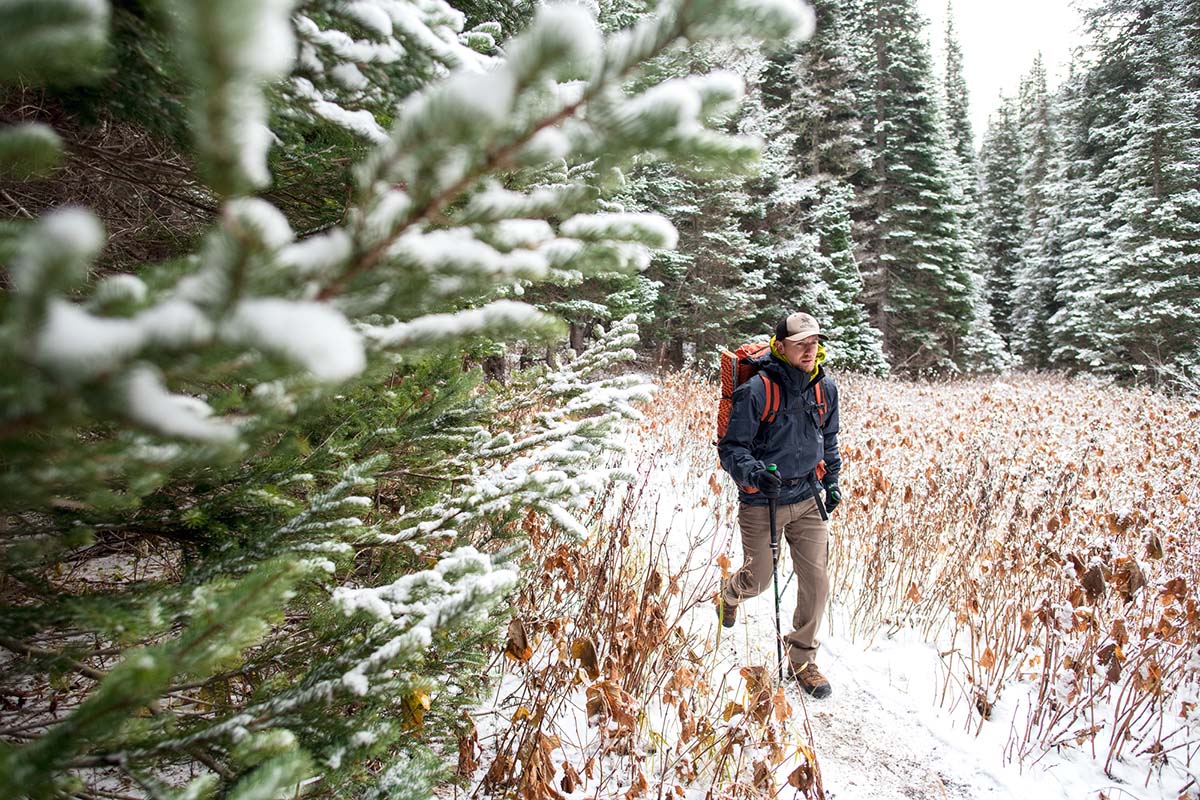 Breathability
One of the compromises in Gore-Tex Pro's standout weather protection is breathability, and the latest Most Rugged Technology hasn't moved the needle in this respect. To be fair, this is pretty common among serious hardshell jackets, but it does limit my primary uses with the Beta AR to transitions while backcountry skiing, on descents, and when the weather is particularly harsh. And for times when I've needed to wear the Beta on the move—such as a snowy alpine hike in Washington's Cascade Mountains—I often open up the pit zips to help regulate my temperature. The zips are reasonably large and easy to open and close with the large zipper pulls, and I've found they do their job in dumping heat. Overall, I would rate the Beta's breathability as middle-of-the-pack and it's perfectly serviceable for most cold-weather adventuring. That said, if you want a highly breathable shell and are willing to compromise some protection, there are better options out there (including Outdoor Research's AscentShell offerings).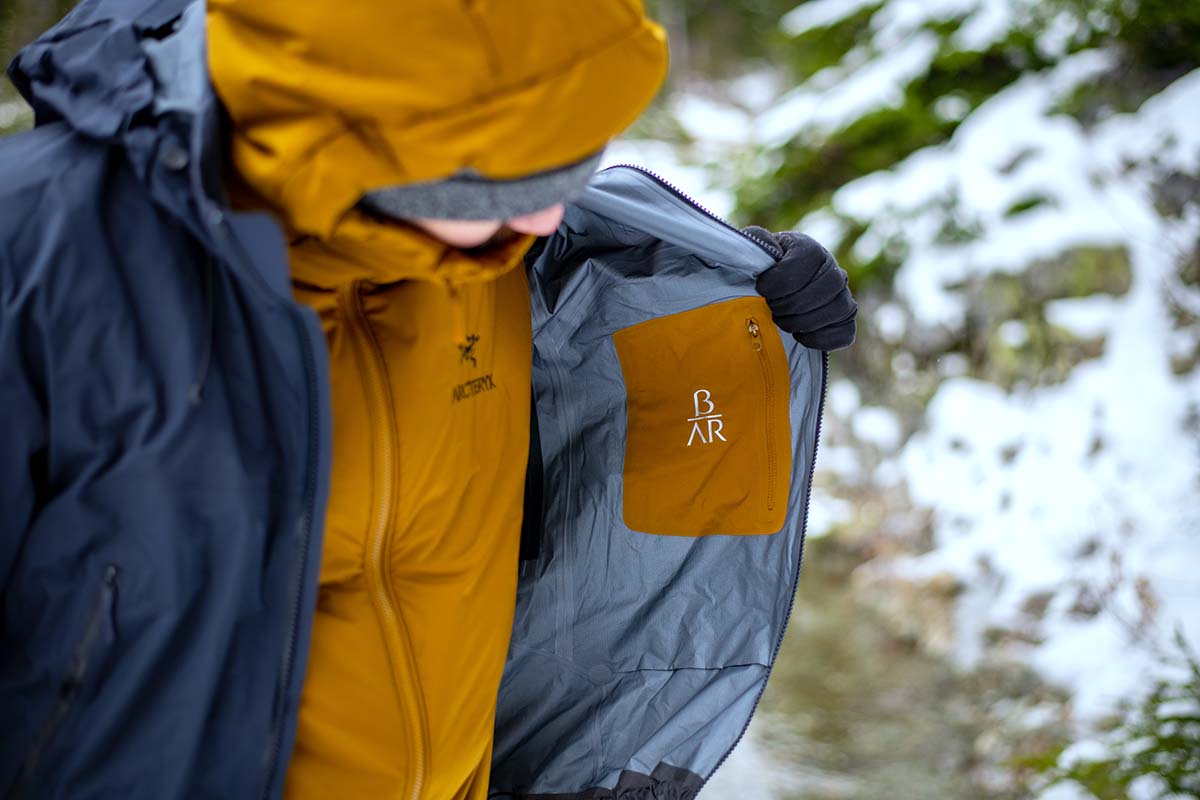 Build Quality and Durability
We have come to expect nothing less than top-notch quality from Arc'teryx, and the updated Beta AR is no exception. Every detail on this jacket has been attended to, from glove-friendly and confidence-inspiring zipper pulls and hood and hem adjustments, to clever fabric mapping and a precise 1.6-millimeter seam allowance. Generations of this jacket have withstood the elements, wear and tear, and hardships associated with life in the bottom of a pack with a shovel, probe, and ski crampons, and we have every reason to expect that to continue. As mentioned above, the high-use areas of the Arc'teryx Beta AR feature reinforced 80-denier Gore-Tex Pro with Most Rugged Technology (quite the mouthful to say), providing extra durability in the arms and shoulders and allowing the jacket to effectively resist abrasion from backpack straps. And we've found that the thinner 40-denier variation of the "Most Rugged" fabric doesn't sacrifice much durability either, with a surprisingly burly and confidence-inspiring feel.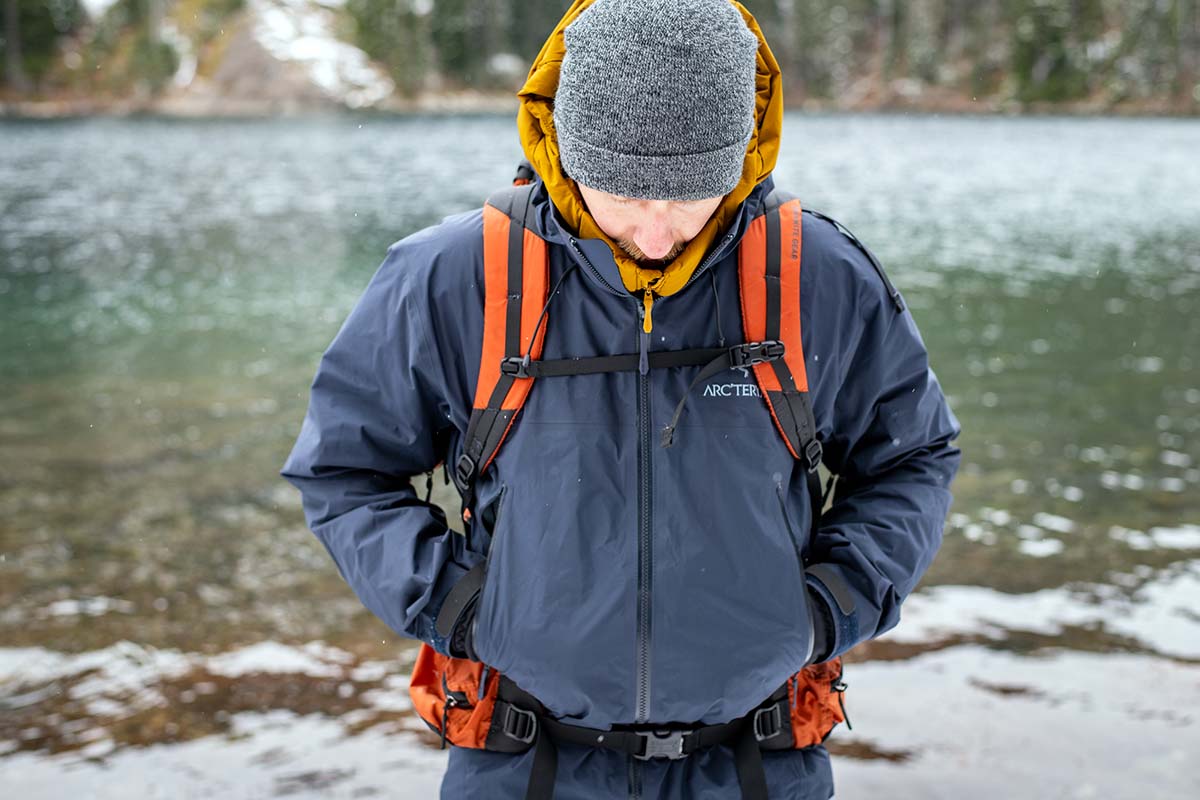 Weight and Packability
The Beta AR weighs in at 15.6 ounces for a men's medium, which puts it about middle of the pack for alpine-ready hardshells. It's certainly not a fast-and-light machine like Arc'teryx's 12-ounce Alpha FL or new 12.7-ounce Beta FL, and it even weighs a bit more than Patagonia's all-rounder Pluma (14.6 oz.). Perhaps a future update will trim an ounce or two, but we think the weight is put to good use overall: the jacket has excellent all-day comfort with a microsuede-lined collar, a large and highly functional hood with laminated brim, multiple pockets, pit zips, and a balanced fit that allows for layering. Further, it compresses nicely into its own hood, which can be cinched down into about a 1.5-liter size to keep everything neat and tidy.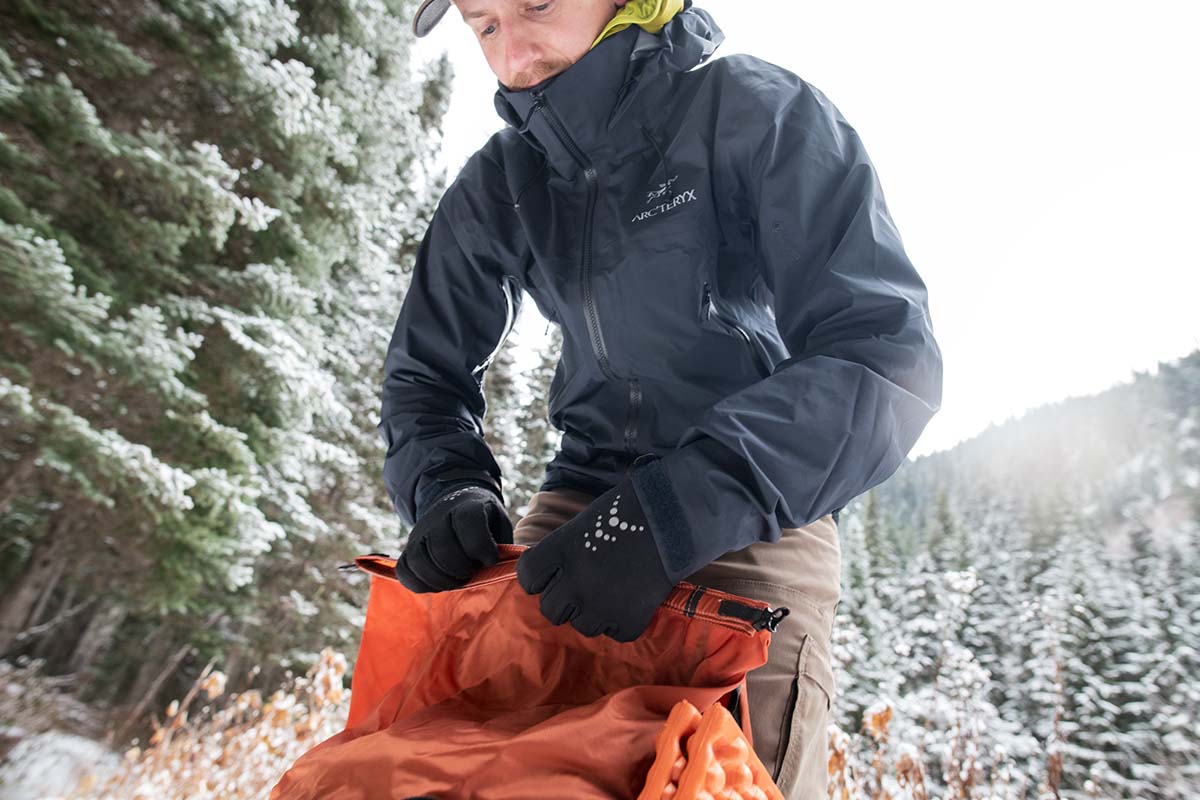 Key Design Features
DropHood
When skiing, mountaineering, or climbing, a sturdy, large, and adjustable hood is a must, and the DropHood on the Beta AR excels at all the above. The design is helmet-compatible and easy to fine tune, with a separate collar for additional comfort and protection. The large hood fit easily around my Smith Level MIPS ski helmet (size medium) without restricting movement. Importantly, the highly adjustable design (there are two cinches at the back and two at the front) means it's not too bulky and cumbersome when only worn over a beanie or hat (a common complaint with helmet-ready hoods). In addition, the laminated brim on the hood effectively kept rain and snow off the face. Finally, I found the drawcord tabs and small buttons at the front easy to reach and large enough to manipulate with ski gloves on, which is extremely handy in cold temperatures when removing gloves means instant discomfort.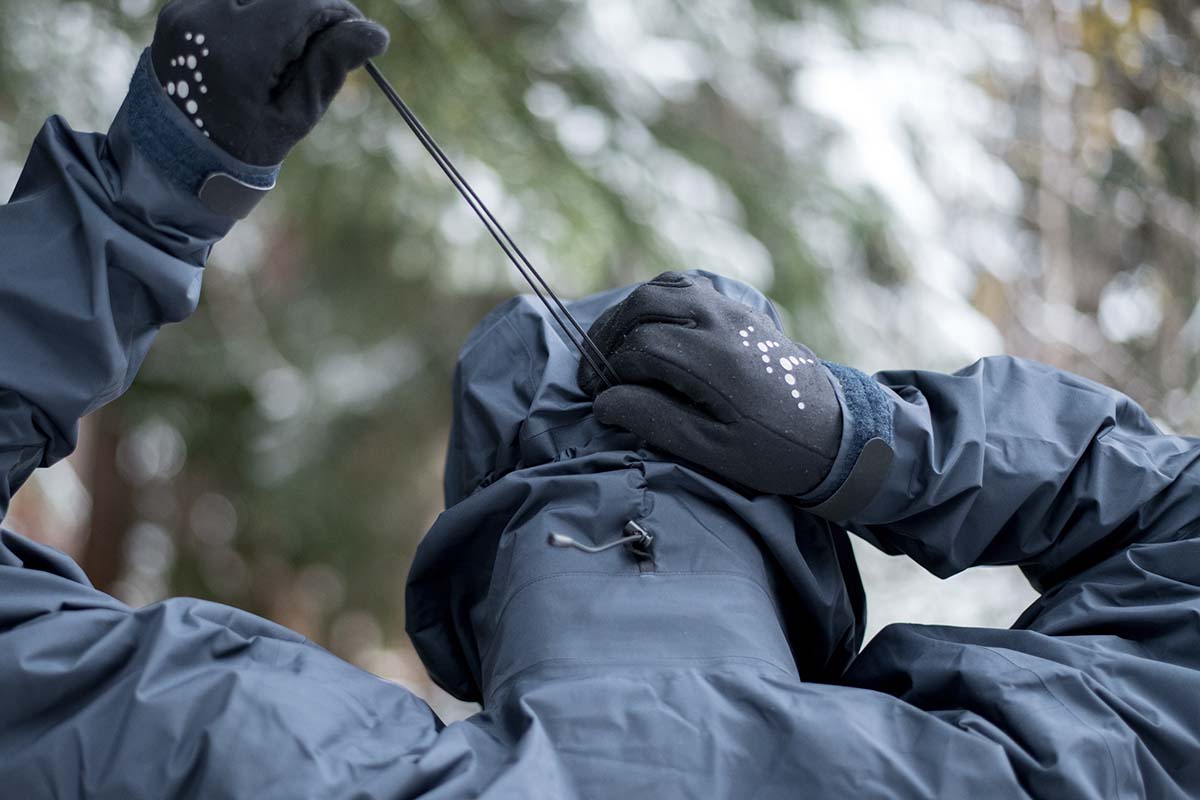 Compared with Arc'teryx's one-piece StormHood, which is found on the brand's Beta SV, Alpha FL, and Alpha SV jackets, the DropHood is almost identical in size and adjustability. Unfortunately, it does leave a small opening at the front between the collar and hood where blowing snow can potentially build up in a storm (although this requires strong and direct gusts and only happens rarely). That being said, the DropHood's collar is a nice touch when you don't quite need a hood but you still want to tuck your chin away or keep drafts or moisture from entering your jacket (something I found especially useful while hiking). In the end, we prefer the StormHood's slightly improved protection and the weight savings of the one-piece design, but both have their pros and cons.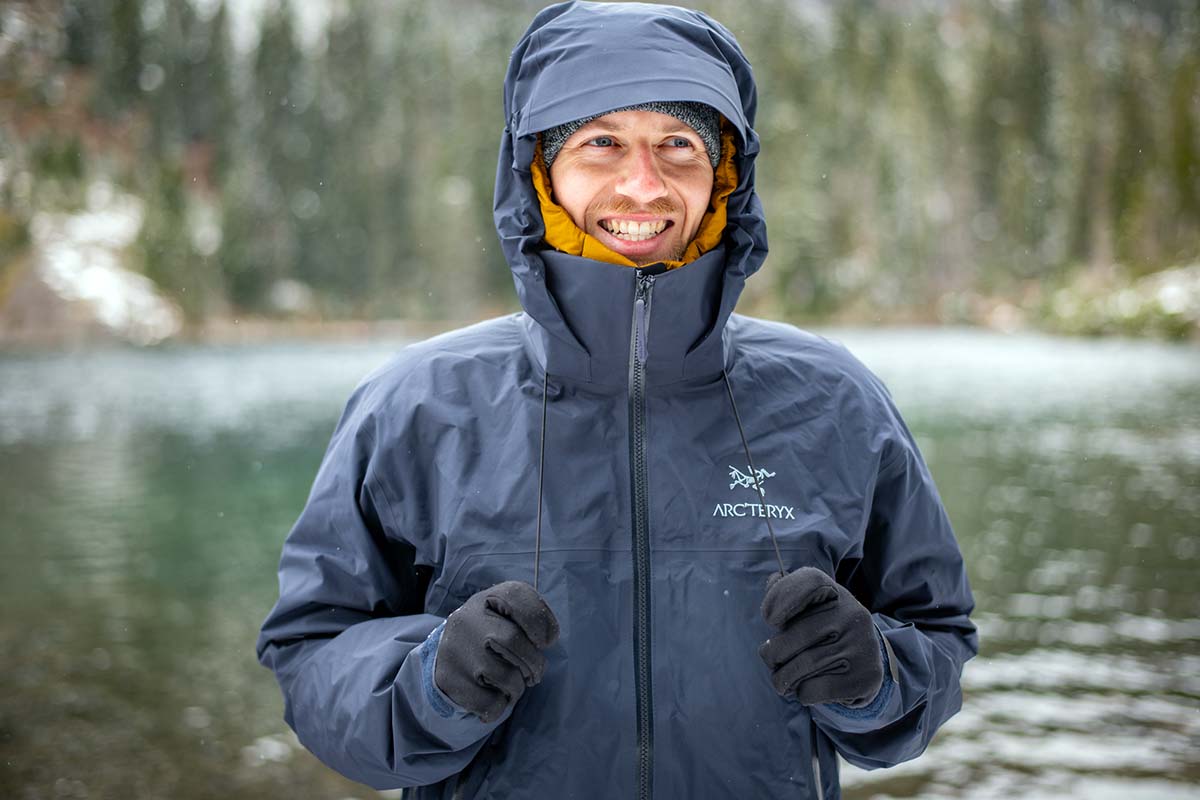 Storage
Storage is another strong suit of the Beta AR and falls nicely in line with its multi-sport intentions. The jacket is outfitted with two large-volume hand pockets that are easily accessible even when wearing a pack or harness. Unlike more streamlined chest pockets, these openings are better placed to protect hands, but can also accommodate larger items like ski goggles, skins, maps, or a two-way radio. A small internal chest pocket is great for stowing smaller items like a mobile phone (it's just large enough to fit my iPhone 11) or GPS device. Skiers may prefer a jacket with drop-in pockets for storing skins closer to the body, but otherwise we think the Beta's organization is spot-on.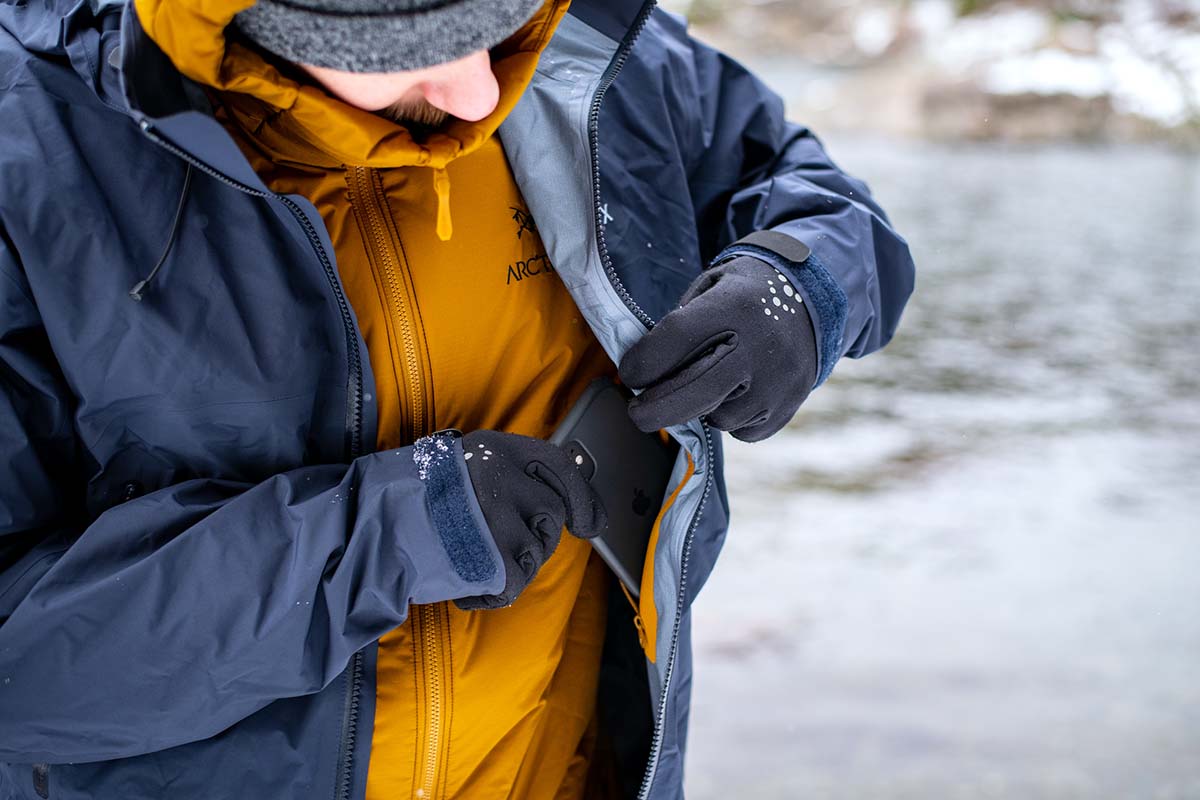 Fit and Sizing
Billed as a "regular fit" by Arc'teryx, I've found the latest Beta AR to fall slightly on the trim end of the spectrum. Wearing a men's medium at 5'9" and 155 pounds, the jacket is a little roomy over just a baselayer, but I didn't have any complaints in terms of mobility or comfort. And there's sufficient space underneath for me to wear a wide range of midlayers, from a lightweight fleece to the brand's Atom AR midweight synthetic. For the Beta's all-rounder intentions, this fit strikes me as just about perfect. And the tailoring is what makes it special: the no-lift gusseted underarms and articulated elbows allowed for an unrestricted feeling when adjusting the hood, reaching for skis in a roof box, and skinning and hiking up sleep slopes.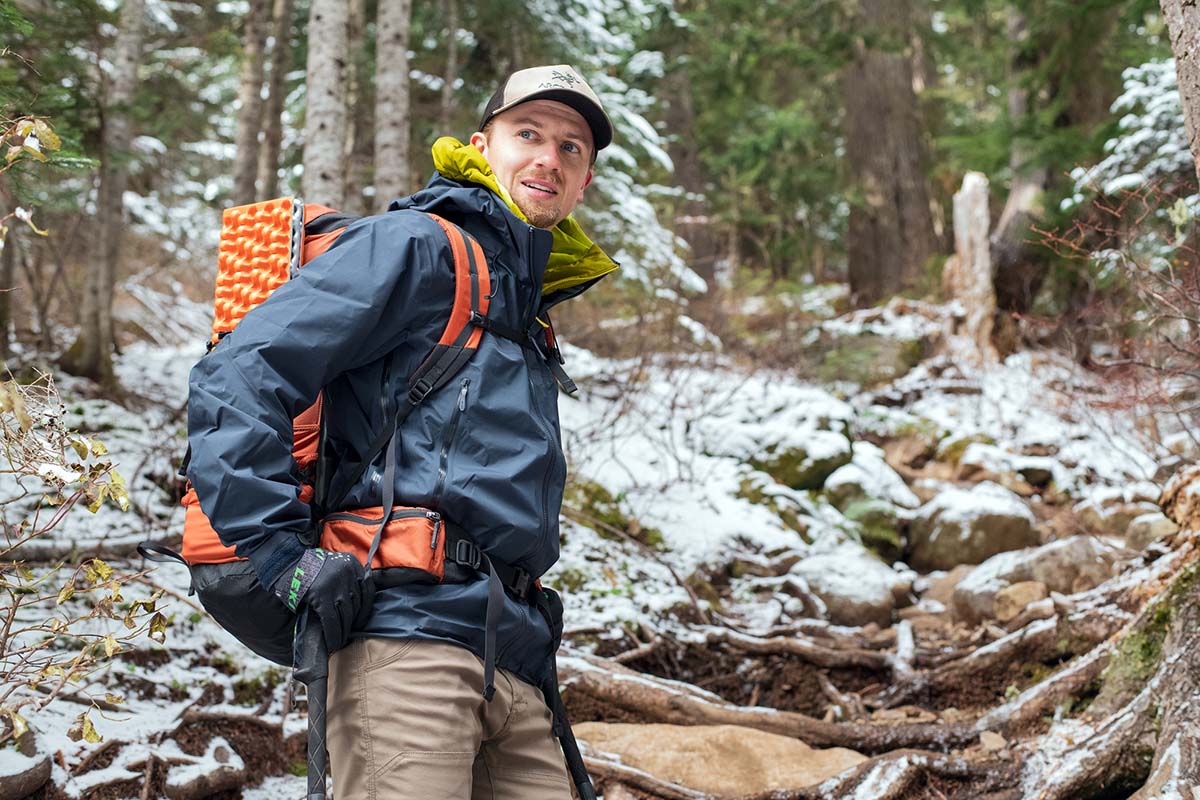 It's important to note that its back length of 30.4 inches (77cm) is slightly on the short end of the spectrum for skiing or wearing consistently under a harness or backpack. Compared to my Sabre AR shell (31 in. back length), the difference is noticeable, although the Beta's drop hem means that it's just long enough to cover my butt when standing upright (and it doesn't ride up too far when bending over to adjust ski boots, reach into a pack, or work on my bindings). Unlike some of Arc'teryx's climbing-oriented jackets, the Beta AR does not feature the harness hemlock, which is a handy feature to keep the jacket from riding up. That said, I haven't found myself needing to pull down on the hem, even when wearing it under hiking and skiing packs.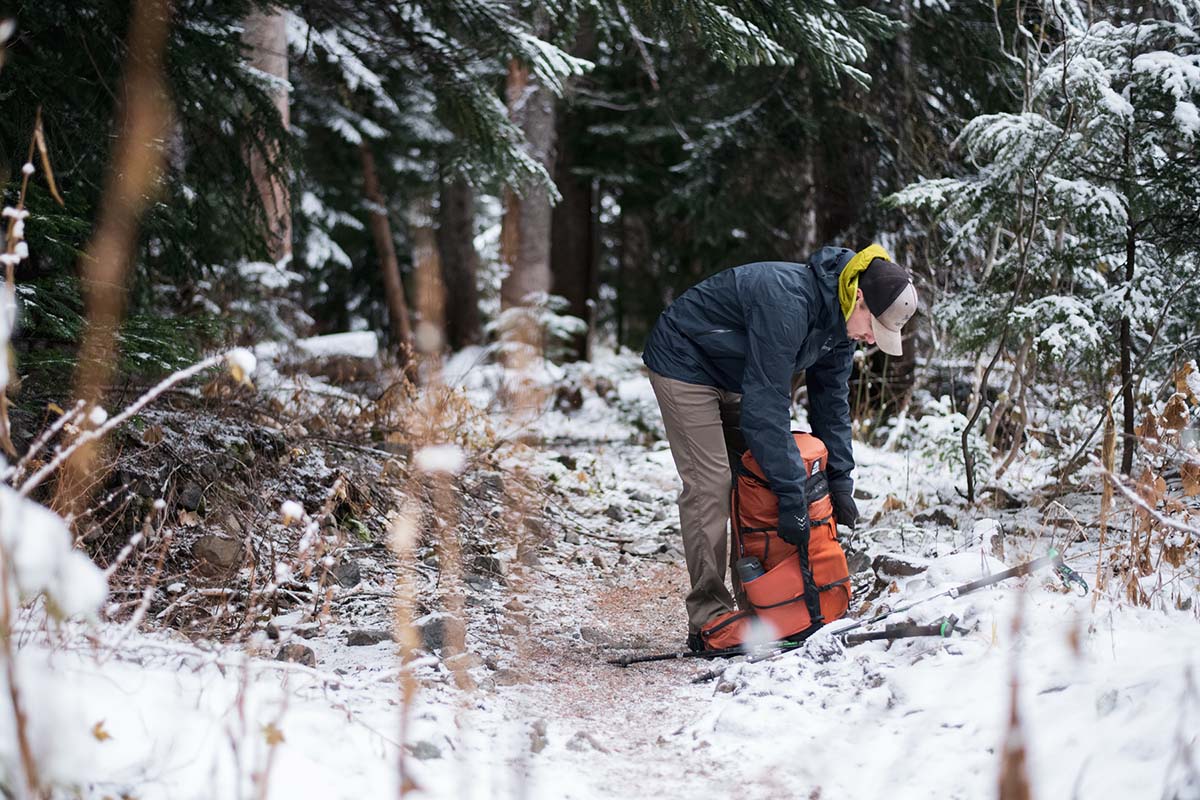 Other Versions of the Arc'teryx Beta AR
We tested the men's Beta AR Jacket for this review, but the popular line also includes women's-specific shell and pant variations. The women's Beta AR Jacket mirrors the men's design with a Gore-Tex Pro build (also upgraded for 2020-2021), helmet-compatible DropHood, and mix of 40- and 80-denier face fabrics. Its listed weight is a little lighter (14.5 oz.) due to sizing differences with the men's model, but otherwise it's the same high-quality piece. The Beta AR Pant is offered in both men's and women's sizes and is intended for general backcountry use: mountaineering, skiing, backpacking, and ice climbing. Unsurprisingly, it shares a lot in common with the jacket, including the Gore-Tex Pro membrane and regular fit. It's also pretty expensive at $499 but is among the more versatile waterproof pants on the market.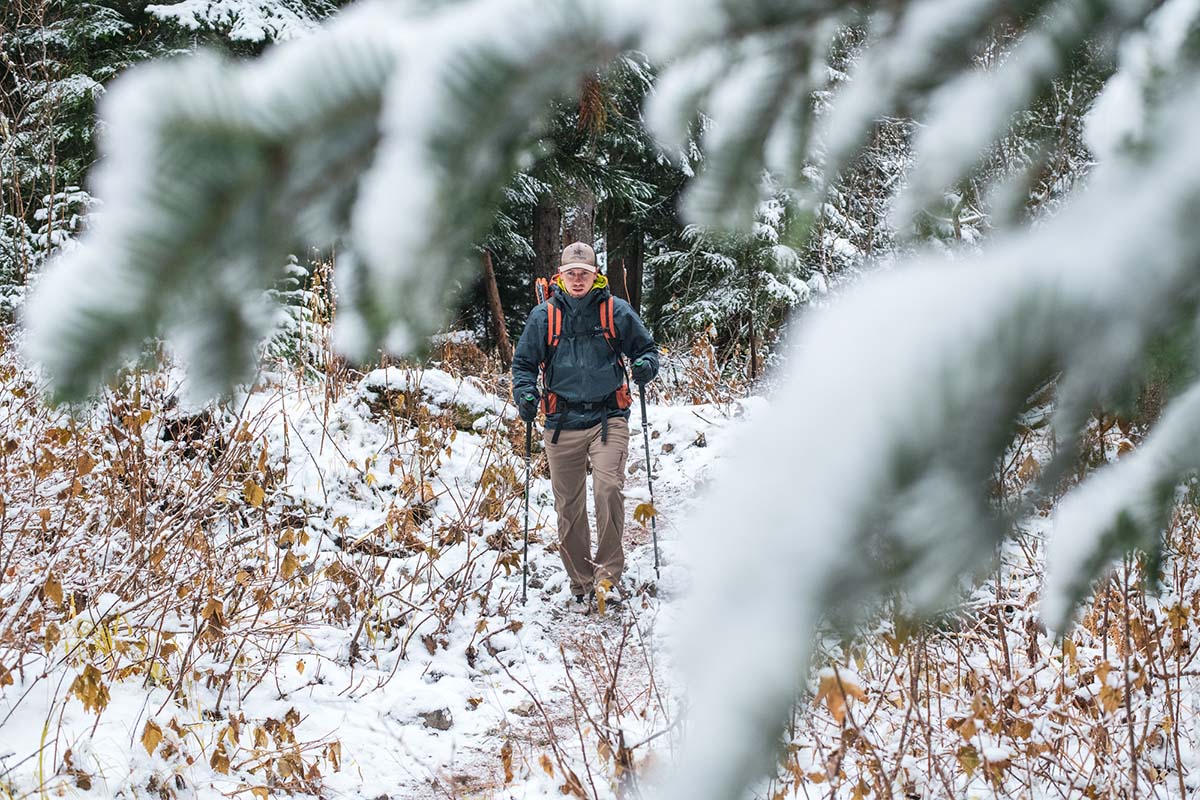 What We Like
Gore-Tex Pro construction and a mix of 40- and 80-denier shell fabrics make for a bombproof, durable, and reasonably lightweight jacket.
Large hood does not impair vision and is easy to adjust with gloves on.
The hand pockets are large enough to fit skins for quick transitions.
Well-tailored fit provides space to layer without the jacket riding up or restricting movement.
 
What We Don't
The separate collar and hood adds weight and allows for snow to occasionally build up in between.
We'd prefer a longer cut for additional coverage while skiing and wearing under a harness/backpack.
Breathability has not improved with the latest Gore-Tex Pro "Most Rugged" membrane.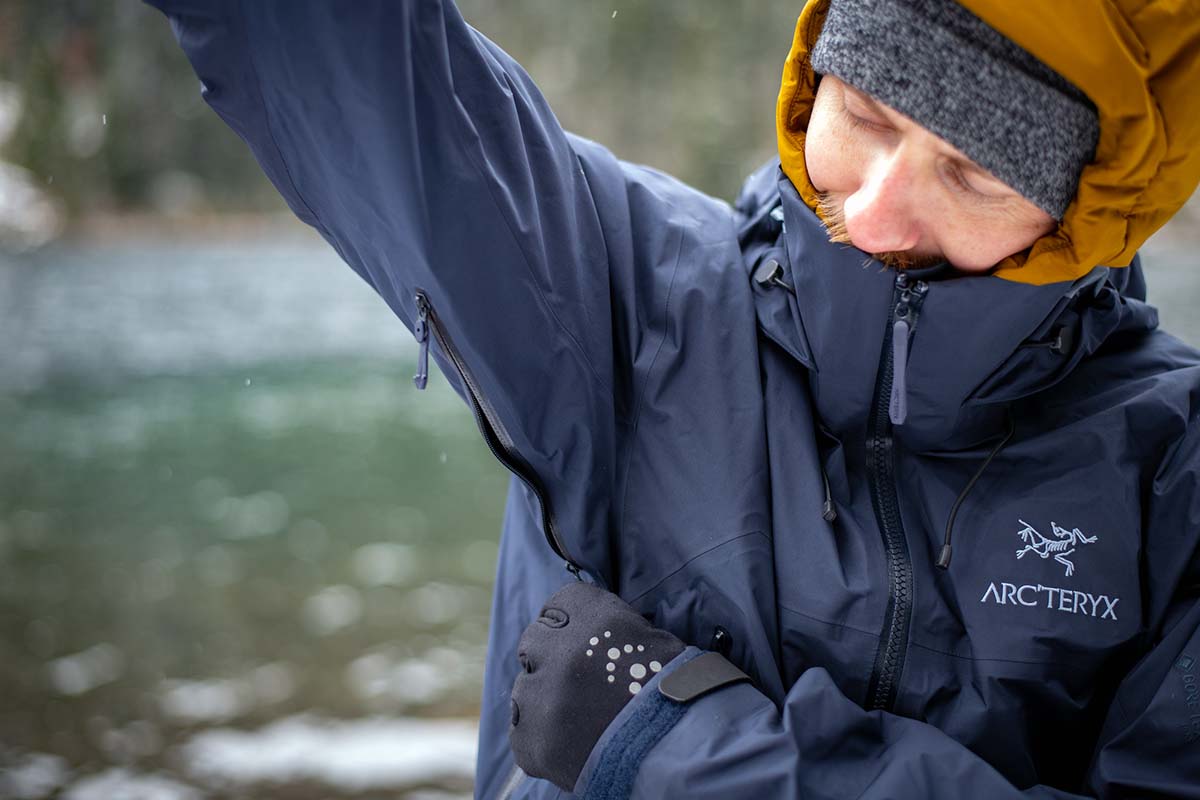 Comparison Table

The Competition
As the all-rounder of the multi-sport Beta family, the Beta AR is one of our favorite one-quiver hardshell jackets. Arc'teryx has an unmatched selection of storm-ready alpine pieces, so some of the best alternatives to the Beta AR come from in-house. At the premium end is the Alpha SV, which costs an additional $200 than the already-spendy AR. For the extra money, you get greater durability with a very burly 100-denier shell and only a small weight penalty (the Alpha SV clocks in at 1 lb. 2 oz.). It's a climbing-focused piece so there aren't hand pockets included, although the SV's dual chest pockets, sleeve pocket, and internal dump storage are excellent for climbing and skiing purposes. In the end, if you want the best of the best, it's hard to beat the Alpha SV, but it's difficult to justify the price difference unless you'll be out in the absolute worst conditions.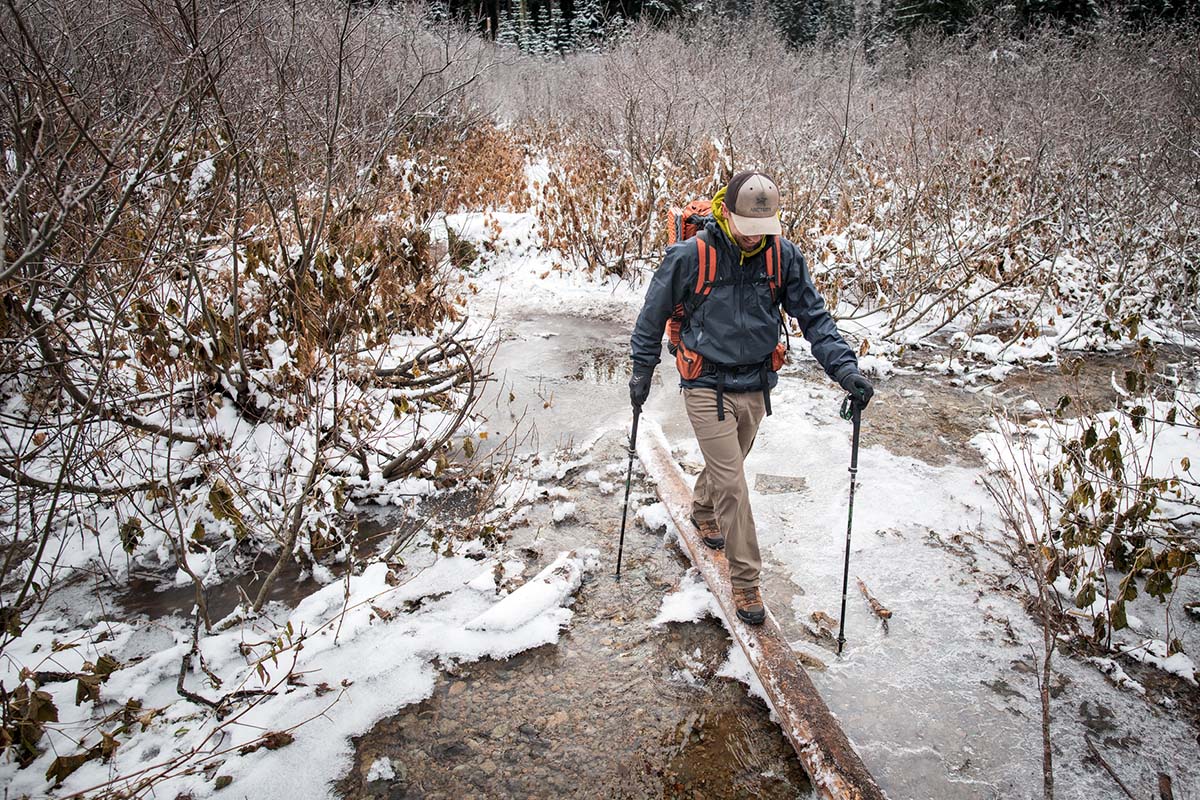 Two lighter-weight Gore-Tex Pro alternatives from Arc'teryx are the Beta FL and Alpha FL jackets. The Beta FL is new for fall 2020 and costs $50 less than the AR but retains many of the same features, including a 3-layer Gore-Tex Pro build, three total pockets, and a nice array of protective features. The FL's 40-denier shell falls short of the reinforced 80-denier sections of the Beta AR, but the addition of Gore's Most Breathable technology goes a long way in increasing breathability (keep in mind that the FL does omit pit zips). For climbers and backpackers looking for a trim fit, light weight (the Beta FL is 12.7 oz.), and easy packability, the Beta FL is a nice alternative to AR (for more, see our Beta FL review).
Next up is the Alpha FL, which was also updated this season with a mix of Gore's new Most Breathable and Most Rugged Pro fabrics. Like the Beta FL referenced above, the Alpha FL uses a thinner 40-denier construction throughout, and it also forgoes pit zips. The clincher for many will be the lack of hand pockets, which makes sense for alpine pursuits and keeps weight low (12 oz.) but falls short for daily wear and less demanding activities like hiking and backpacking. Again, for fast and light missions or when weight and packability are at a premium, the Alpha FL is a great pick. But for all-around backcountry use, the Beta AR has wider appeal.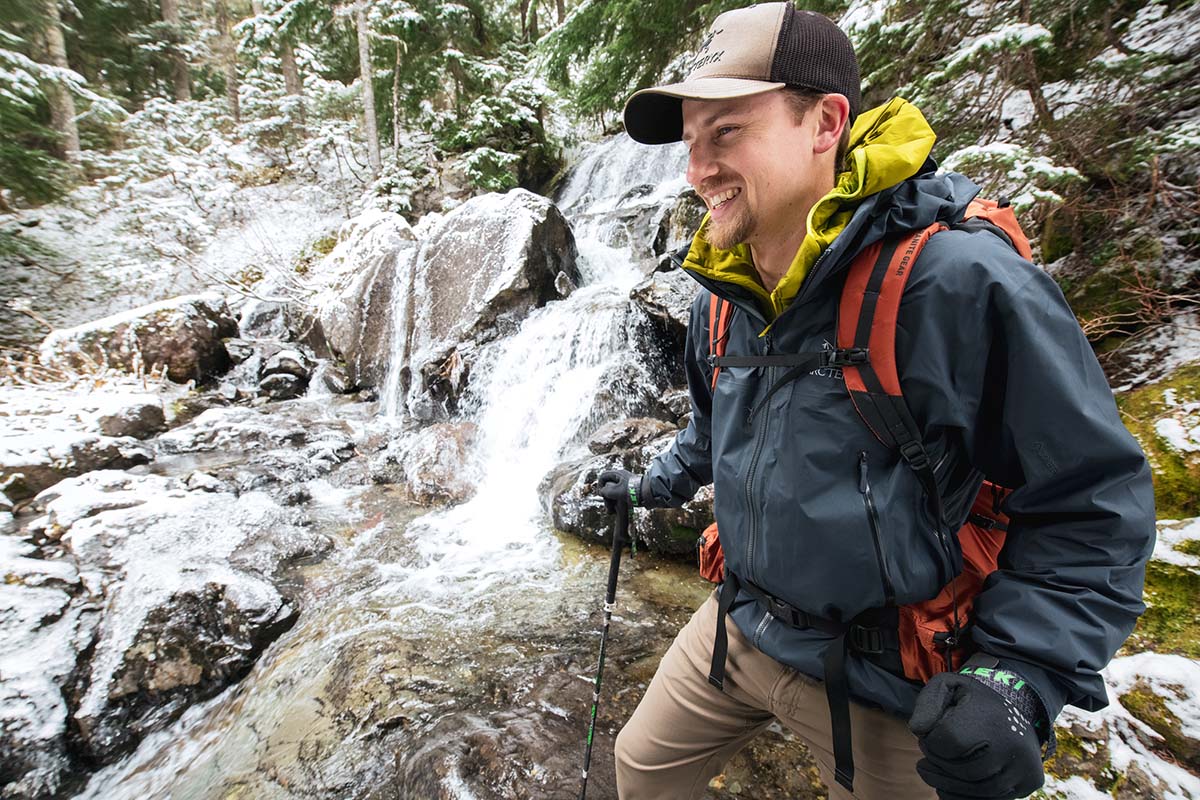 Patagonia offers a quality competitor to the Beta AR in their top-shelf Pluma Jacket. The $549 shell features a 40-denier Gore-Tex Pro construction, pit zips, and a helmet-compatible hood. In testing, the Pluma's hood unfortunately is too small to comfortably fit a ski helmet, and we found the DWR didn't hold up as long as we'd like, but it's a strong competitor overall and undercuts the Beta a little in terms of weight and packability (for more information, read our in-depth Pluma review). As a mountaineering piece, it very well could get the edge for you, but we prefer the more versatile Beta AR for most winter activities.
A final shell to consider is Black Diamond's Sharp End. Balancing a 70-denier Gore-Tex Pro construction, $549 price tag, and very sleek look, the jacket is a formidable alternative to the Beta AR. The two designs also are nearly identical in weight and include niceties like pit zips and plenty of pockets (the BD gets the edge here with an external chest pocket). Where they differ is fit: the Sharp End is roomier than we prefer, which impacts range of motion when wearing lighter layers underneath. Further, it's hood isn't as adaptable to as wide a range of large ski helmets as the Beta AR. Both are quality shells, but similar to our conclusion with the Pluma above, the Beta AR is the more complete all-around package.
If you're thinking about buying gear that we've reviewed on Switchback Travel, you can help support us in the process. Just click on any of the seller links above, and if you make a purchase, we receive a small percentage of the transaction. The cost of the product is the same to you but this helps us continue to test and write about outdoor gear. Thanks and we appreciate your support!
Depending on the seller, most products ship free in the United States on orders of $50 or more. International shipping availability and rates vary by seller. The pricing information on this page is updated hourly but we are not responsible for inaccuracies.
Learn More About Outdoor Gear