Patagonia Storm10 Jacket
Price: $299
Weight: 9.3 oz. (men's large)
Waterproofing: 3L H2No Performance Standard
What we like: Ultralight yet protective for summer and shoulder-season conditions.
What we don't: You do sacrifice some features and comfort by going this light.
See the Men's Patagonia Storm10  See the Women's Patagonia Storm10
Ultralight without being ultra-compromised, Patagonia's new Storm10 Jacket is purpose-built for moving quickly in unpredictable mountain environments. With a protective 3-layer H2No construction, functional feature set, and remarkably light and packable build, the Storm10 was an excellent match for a recent backpacking trip on Vancouver Island's notoriously wet and windy Juan de Fuca Trail. We do wish the jacket came with a few more bells and whistles—including pit zips and more adjustability at the hood—but for the price and weight, the Storm10 is an impressively well-rounded alpine companion. Below we break down the Storm10's overall performance. To see how it stacks up to the competition, see our articles on the best hardshell jackets and the best rain jackets.
 
---
Table of Contents
---

Performance
Weather Protection
The Patagonia Storm10 Jacket toes the line between our hardshell and rain jacket categories, combining a 3-layer H2No Performance Standard membrane (Patagonia's proprietary waterproofing), alpine-ready feature set, and supple 20-denier face fabric. Compared to most rain jackets (which commonly use 2 or 2.5L construction), the full 3-layer build offers a bump in protection. On the other hand, measured up against more robust hardshells, its thin fabrics lack durability and are more vulnerable to wetting out (the Arc'teryx Alpha SV, for example, has a 100D shell). Regardless of categorization, in practice the Storm10 was impressive: on a wet and blustery backpacking trip along the coast of Vancouver Island, the ultralight piece kept me dry both while hiking and waiting out bad weather for extended stretches at camp. Despite constant battering by coastal storms over multiple days, moisture continued to bead up nicely on the outer shell, and I've experienced no issues with protection or wetting out to date.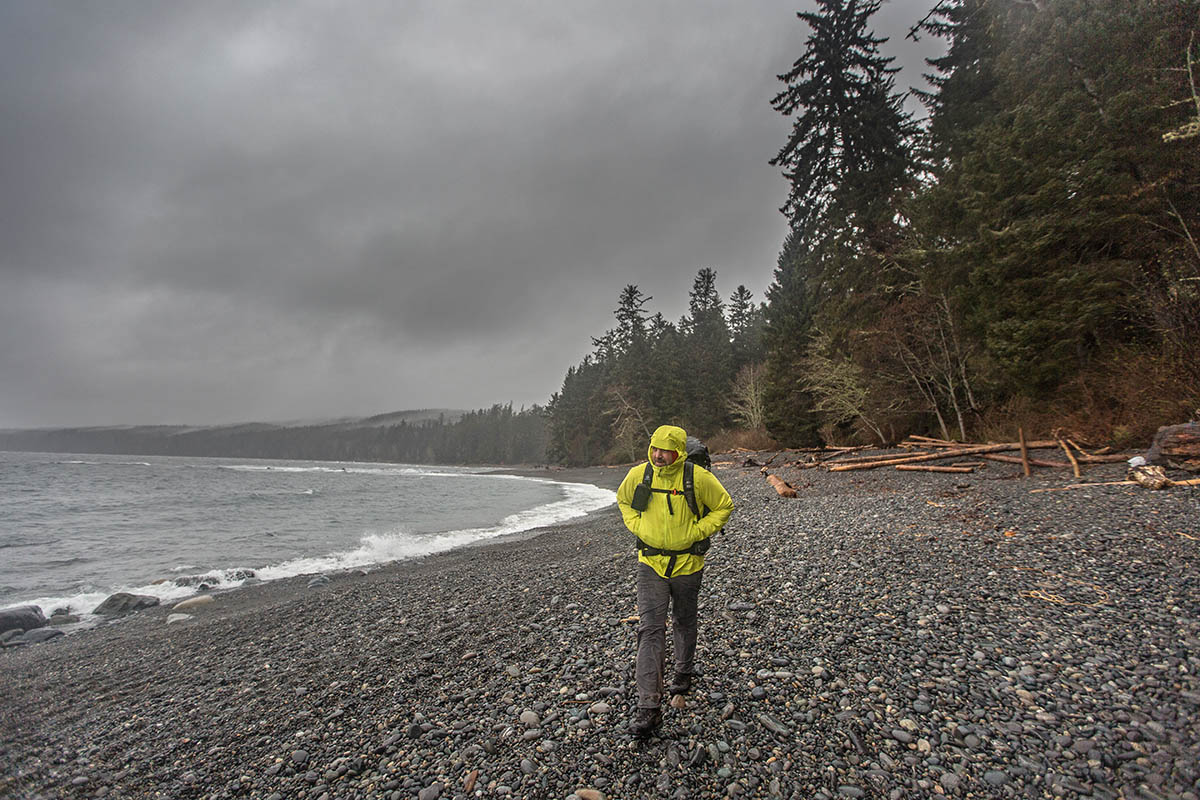 In terms of protective features, the Storm10 checks most of the important boxes but is still fairly minimalist. The design includes Velcro cuffs for sealing out moisture at the wrists, a raised collar and brimmed hood with a single drawcord (rather than multiple cords to snug the hood down tightly), and dual-adjust cinches at the hem. In addition, the zippers are watertight with "garages" at the top for added protection, and you also get an internal storm flap behind the main zip as an extra layer of defense. For reference, I've never had moisture penetrate any of the zippers, and I rely on the pockets regularly to stow my phone and other electronics. In the end, the Storm10's weatherproofing can't match the performance of burlier hardshell designs (we don't recommend it for winter use), but it's more reliable than most rain jackets and has the technical features to back it up. For sustained exposure in summer and shoulder-season conditions (from the alpine to the coast), the Patagonia is a really nice choice.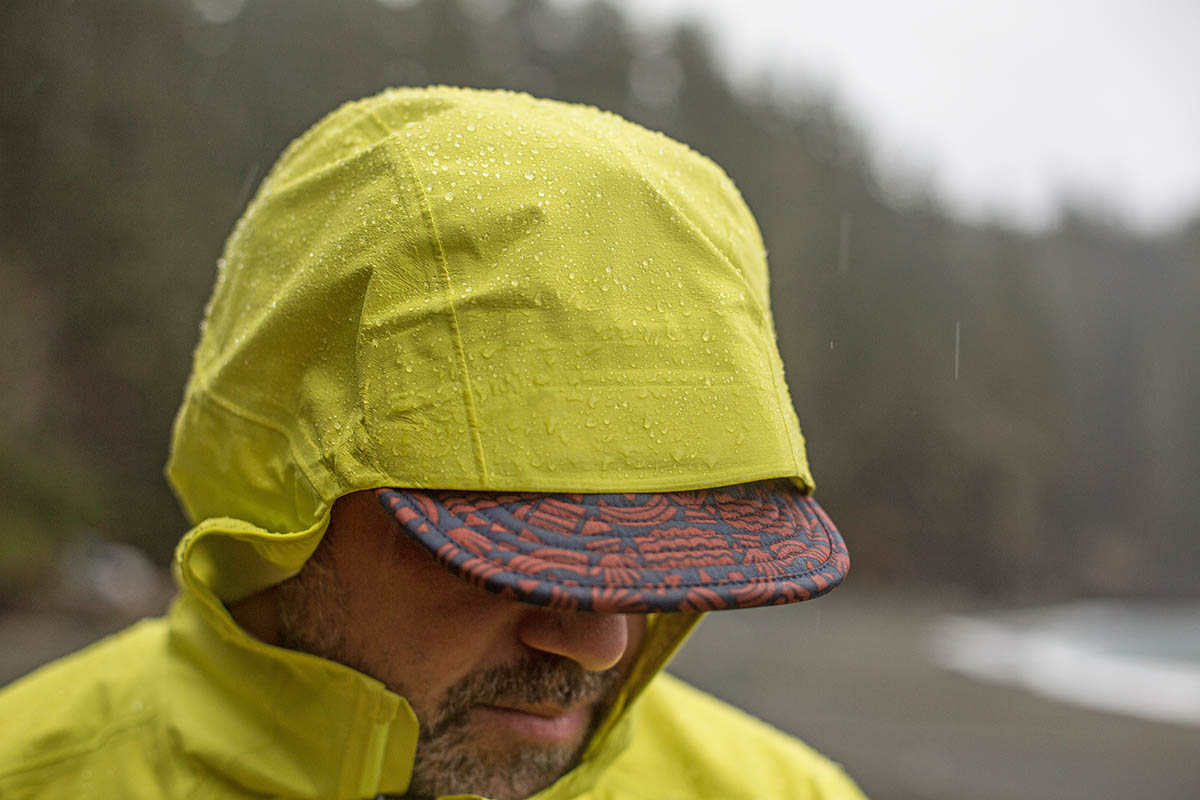 Breathability 
Most shells don't breathe well enough for me to wear them while exerting, but the Patagonia Storm10's thin (20D) shell and breathable 3-layer construction means I can leave it on for extended stretches of hiking. In fact, I found it quite comfortable on undulating terrain where we alternated between ascending and descending, although I did have to remove the shell during sustained climbs to prevent overheating. And it's important to point out that the Storm10 does not have pit zips, which I find to be very effective at dumping heat quickly while on the move. I was able to open the main zipper to cool off and always plan my layers accordingly, but some might find the shell too warm for working hard even in moderate conditions.

Comfort
One of my favorite parts about the Patagonia Storm10 Jacket is its slight stretchiness, which makes it very comfortable and maneuverable for mobility-dependent activities like climbing and backpacking. In practice, the feel is more along the lines of a high-performance rain jacket than a rigid, crinkly hardshell. Unfortunately, I didn't find the tricot backer to be particularly soft against the skin and it does grow a little clammy when I work up a sweat. That said, it slides nicely over baselayers and is on par with Gore-Tex shells in terms of overall plushness (those with Gore's supple C-Knit backer are an exception). And Patagonia didn't add any fleece at the collar area to reduce abrasion at the chin, but the zipper garage does keep my facial hair from snagging on the zipper, which is always the bigger concern for me. All in all, the Storm10 is a jacket that I can put on and mostly forget about, which is high praise.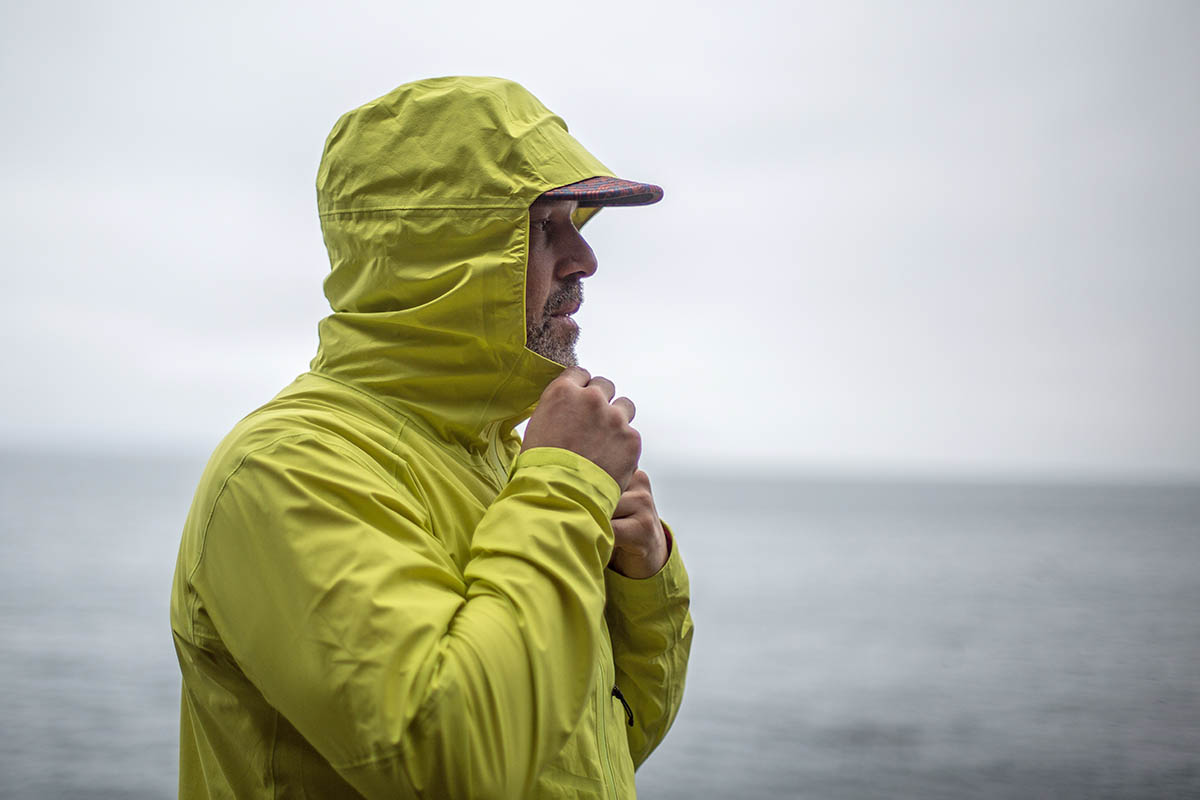 Weight and Packability
Clocking in at a scant 8.3 ounces (my men's large weighed slightly more at 9.3 oz.), the Patagonia Storm10 is one of the lightest and most packable 3-layer shells on the market and a proper UL piece. For reference, Black Diamond's similarly appointed Highline Stretch checks in at 12.7 ounces, Arc'teryx's hiking-focused (and less technical) Zeta SL is 10.9 ounces, and Montbell's Storm Cruiser weighs 10 ounces. Arc'teryx's Alpha SL Anorak is one of few 3-layer shells to undercut the Storm10 at 7.4 ounces, but it comes with a number of sacrifices, including no hand pockets, a partial-length main zipper, and a much steeper price tag. Ounce for ounce, the Storm10 is a standout when it comes to balancing weight, protection, features, and price.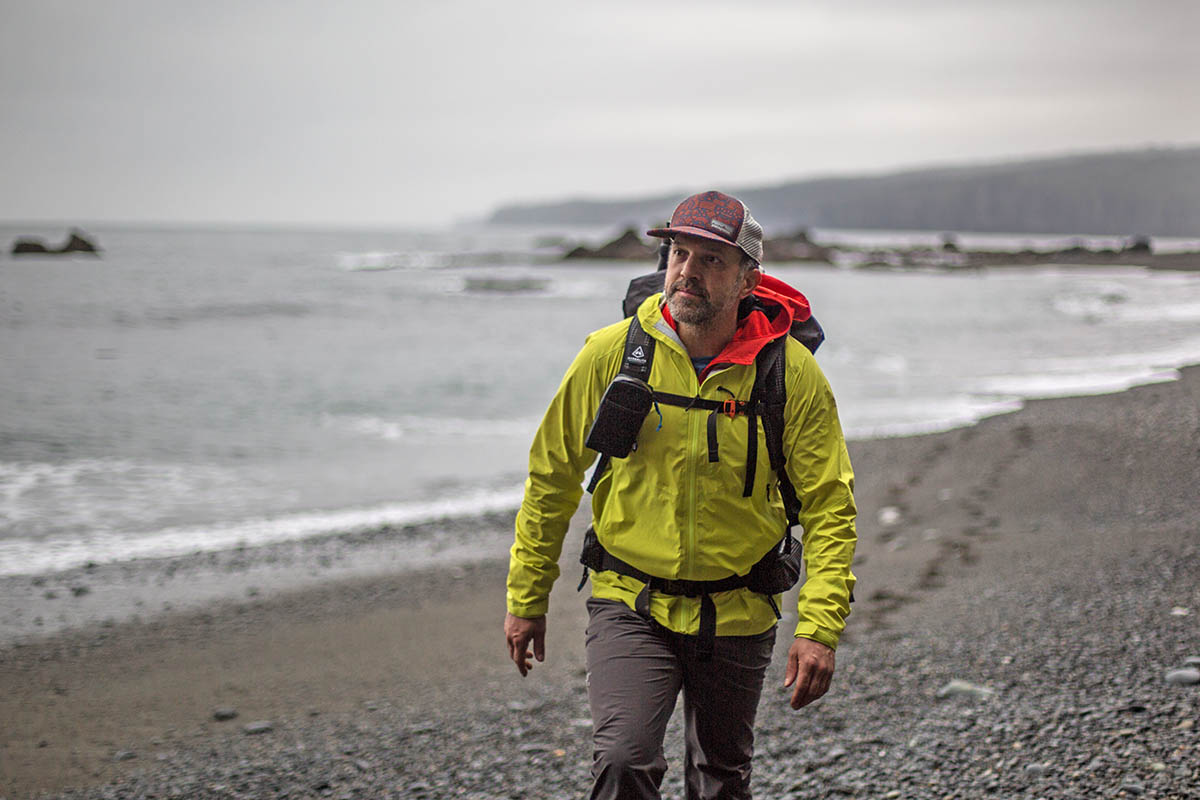 When it comes time to stuff the jacket in your pack, the Storm10 compresses extremely small into its left chest pocket, which has a double-sided zipper and carabiner loop for attaching to a climbing harness. When stuffed, the whole package ends up being about the dimensions of a 6-inch Subway sandwich, which is undeniably impressive given the jacket's level of weatherproofing and feature set. Considering its diminutive size, I'm confident in bringing the Storm10 along for backpacking and far-off bikepacking trips where space is at a premium but protection is required.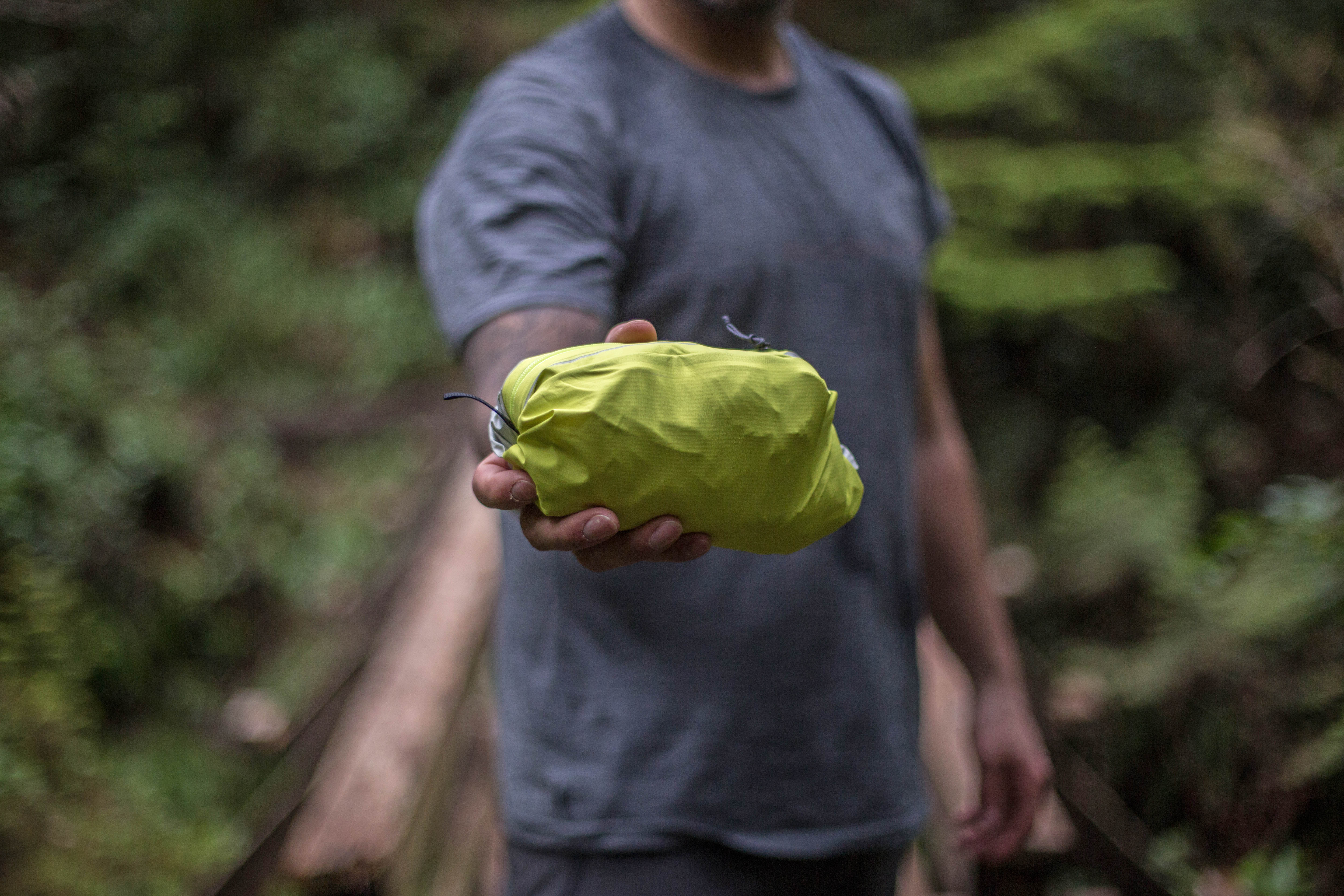 Build Quality and Durability
Patagonia is known for their well-made, high-quality gear, and the Storm10 is no exception. All in all, the shell looks and performs just as we would expect from the reputable brand, including tidy seams and clean lines, great all-around protection, a flattering fit, and a well-executed feature set. And although the shell doesn't feel particularly robust—for reference, it has a 20-denier (D) face fabric and thin 7D tricot backer—I haven't experienced any snags, tears, or other issues to date. In fact, even the shoulders, which have been repeatedly exposed to the weight of a 40-plus-pound backpacking pack, are holding up well with no signs of wear or abrasion.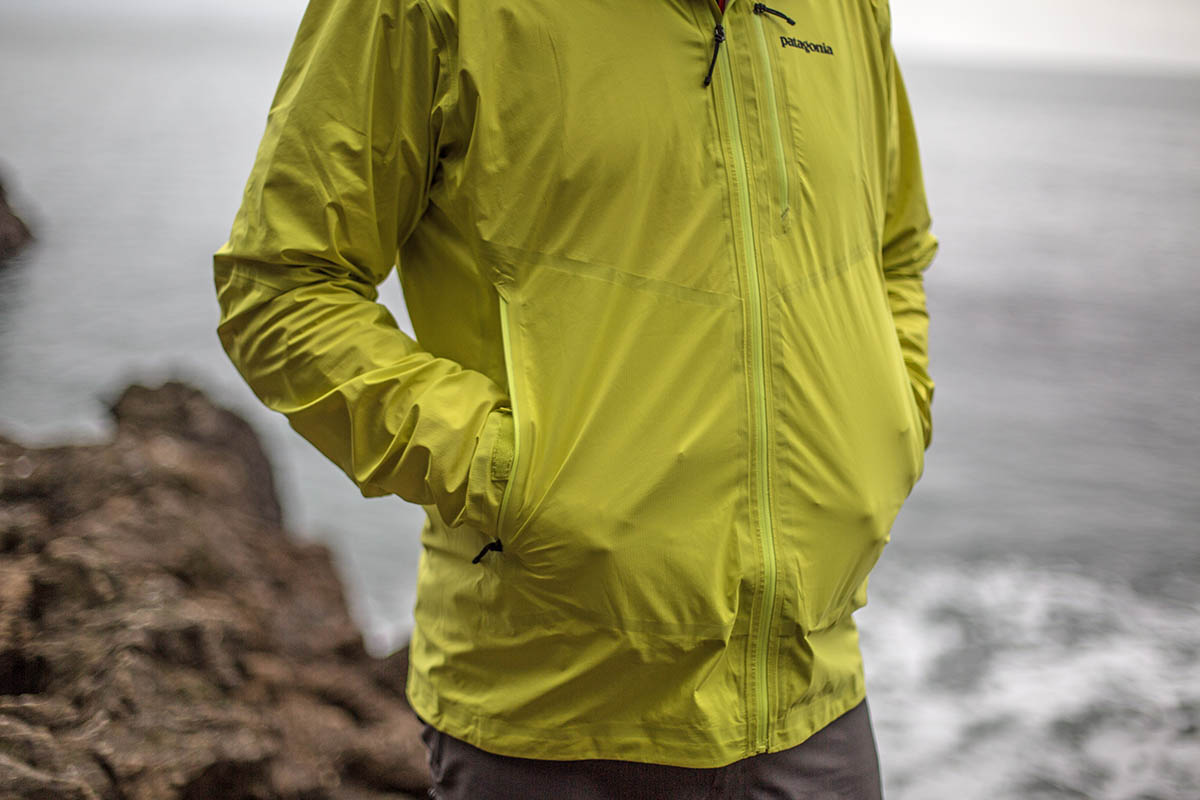 Key Design Features
Hood
Along with the 3-layer membrane and slim fit, the Storm10's feature set is where we really see it depart from our idea of a standard rain jacket. The shell comes equipped with an alpine helmet-compatible hood that can be adjusted with one drawcord located at the back of the head. The cord itself is rather thin, but I haven't had any issues with durability or reliability. When cinched, the brim and halo tighten nicely, and the collar comes up over my chin and provides ample coverage when I need to hide from the elements. My only complaint is that the drawcord does not adjust the aperture of the hood, leaving my face fairly exposed. Cutting down on adjustments was likely a weight-saving measure, but I do wish Patagonia included one or two more toggles to improve protection here.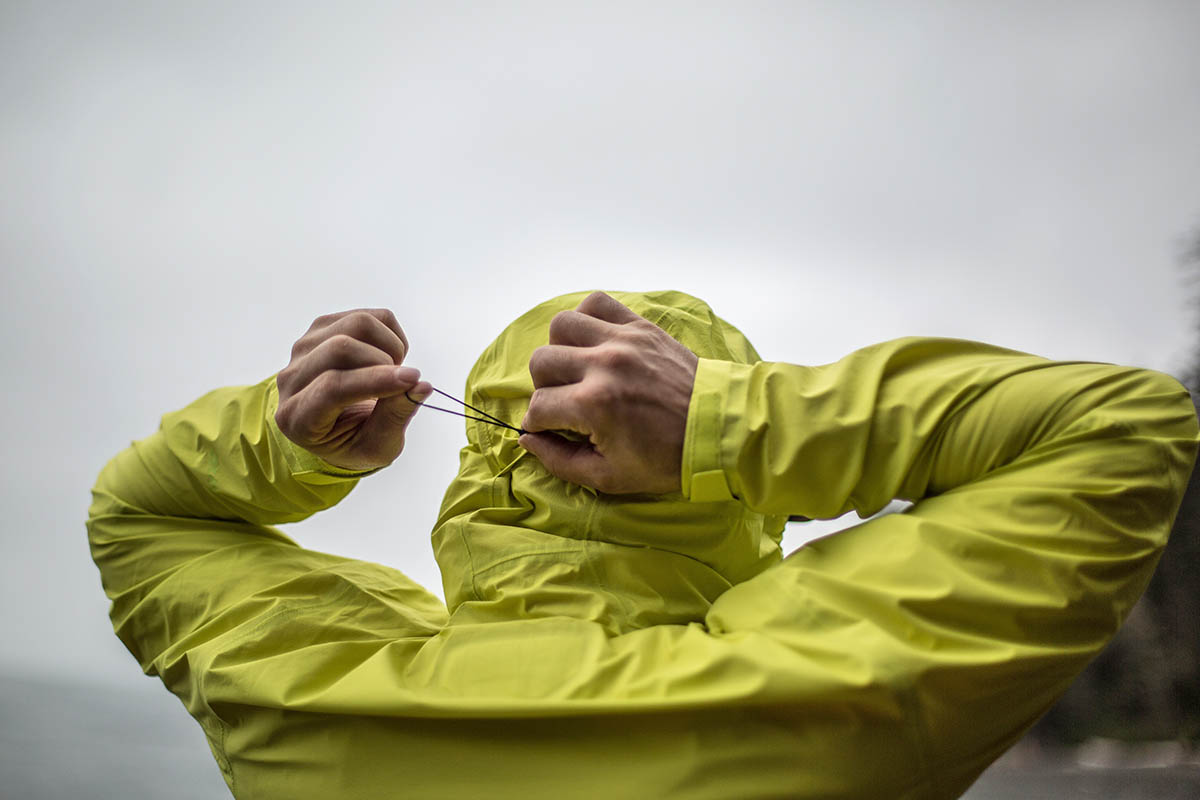 Storage: Pockets
Despite its ultralight build, the Storm10 still comes adequately equipped for stowing the essentials with three total pockets. The two handwarmer pockets are placed high enough that they're easily accessible above my backpack's hipbelt, and comfortably accommodate gloved hands, a camera lens, or my Garmin inReach Explorer+. Further, a single chest pocket at the left side is perfect for stashing a map, headlamp, or wallet. As I touched on above, this pocket also doubles as the jacket's stuff sack. All of the pockets feature coated, watertight zippers with garages at the top for sealing out moisture, which I've found to be plenty effective and confidence-inspiring for securely stowing valuables and electronics.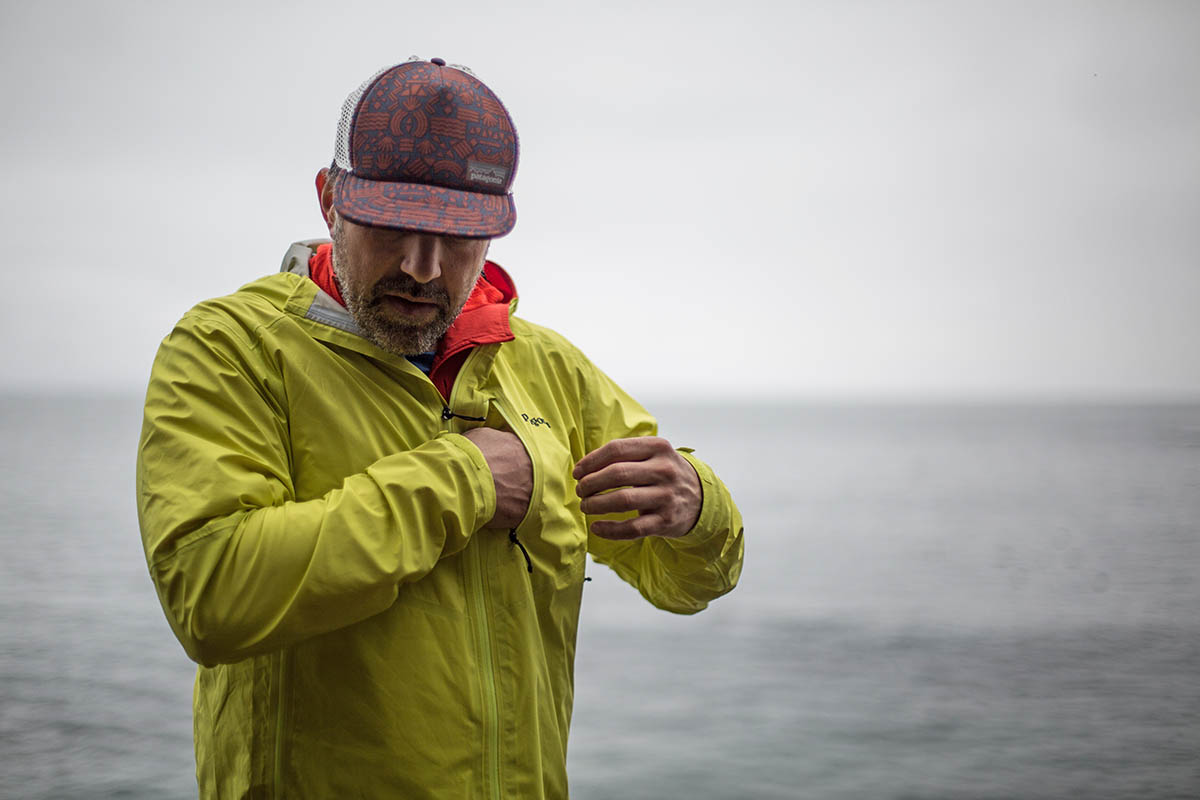 Fit and Sizing
I ordered my usual men's size large in the Patagonia Storm10 and found that it fits true to size. For reference, I'm 6 feet tall, weigh 220 pounds, and have broad shoulders, but I still found the "slim fit" Storm10 to be reasonably comfortable while layered over my Arc'teryx Cerium SL or Mountain Hardwear Ghost Whisperer/2, both of which are pretty thin down jackets. The only area I experienced a little tightness was at the armpits, where the lack of mobility was noticeable but not prohibitive. That said, unless you have a particularly slim build, it's unlikely you'll be able to fit a larger or bulkier midlayer underneath. If you plan to wear a thicker down or synthetic jacket, we recommend sizing up.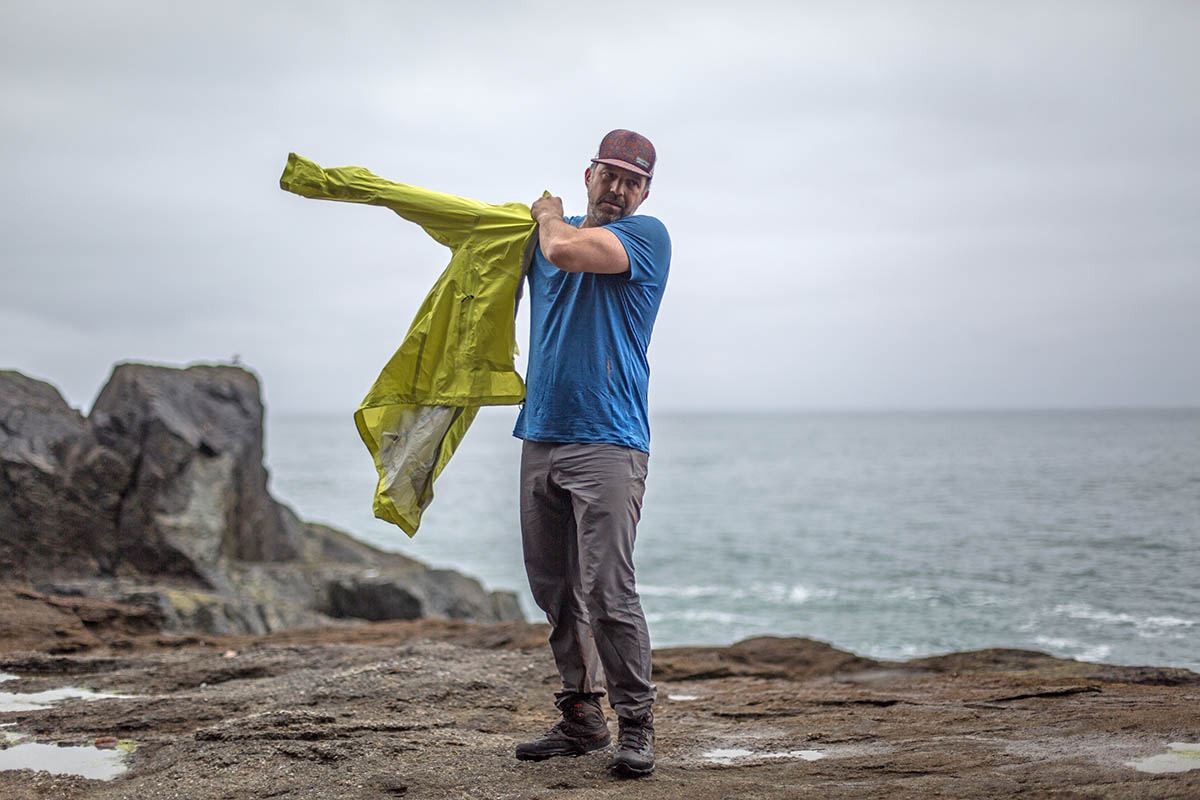 Sustainability
Patagonia is a leader in the sustainability realm, and their Storm10 is a testament to their ongoing efforts. As we've come to expect with the brand's newer shells, the jacket utilizes recycled fabrics, including a 100-percent-recycled nylon ripstop shell. It's also Fair Trade Certified sewn, which means that Patagonia put extra money into production to ensure that workers are compensated fairly and have access to a safe working environment. There are still areas for improvement—the Storm10 isn't bluesign-approved and uses a fluorinated DWR coating, for example—but Patagonia is working to go PFC-free, and we do appreciate the transparency and well-outlined initiatives.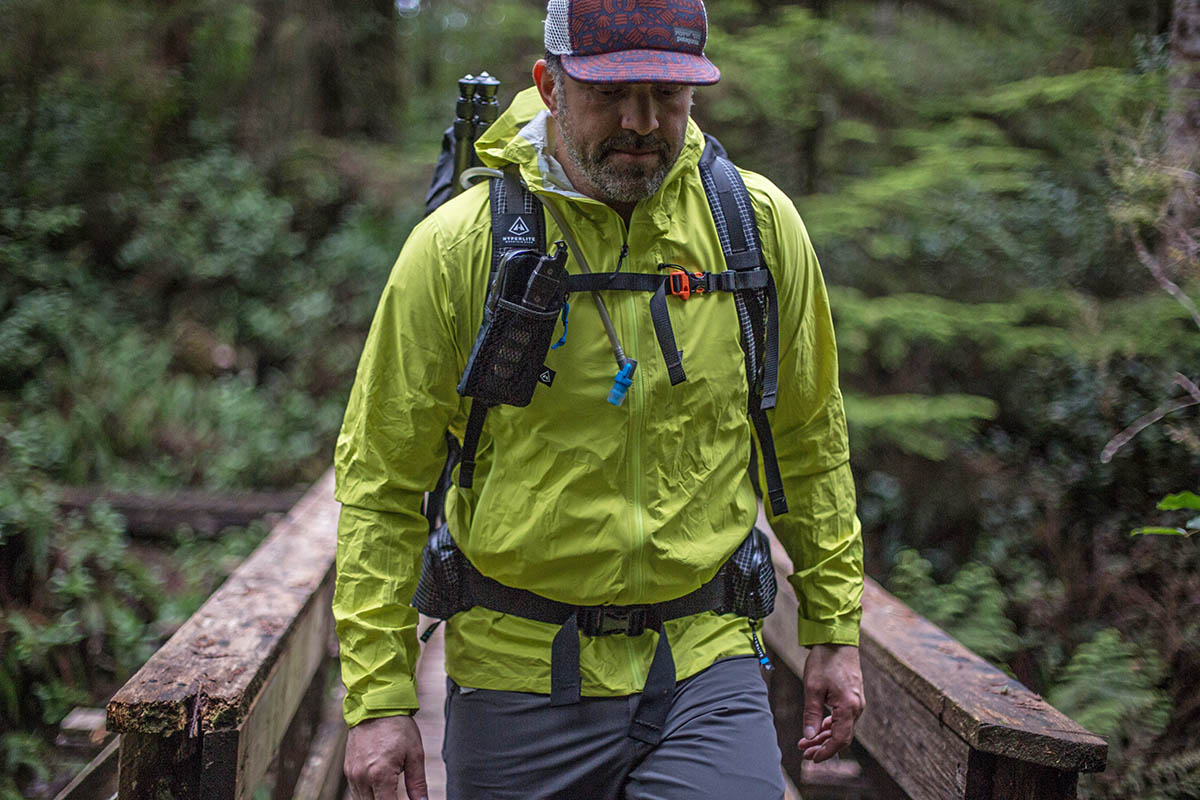 Women's Patagonia Storm10 Jacket
We put the men's version of Patagonia's new Storm10 through its paces for this review, and the jacket is also offered in a nearly identical women's model. The women's Storm10 Jacket costs the same at $299 and boasts the same feature set as the men's design but weighs less at 7.4 ounces and comes in slightly different colorways. Like the men's version, it fits true to size, with a slim fit akin to many other Patagonia hardshells we've tested. And similarly, we've also noticed that the women's jacket has a relatively tight contour in the armpits, which does not impact mobility but might be slightly pesky for some (especially when wearing over a bulky midlayer).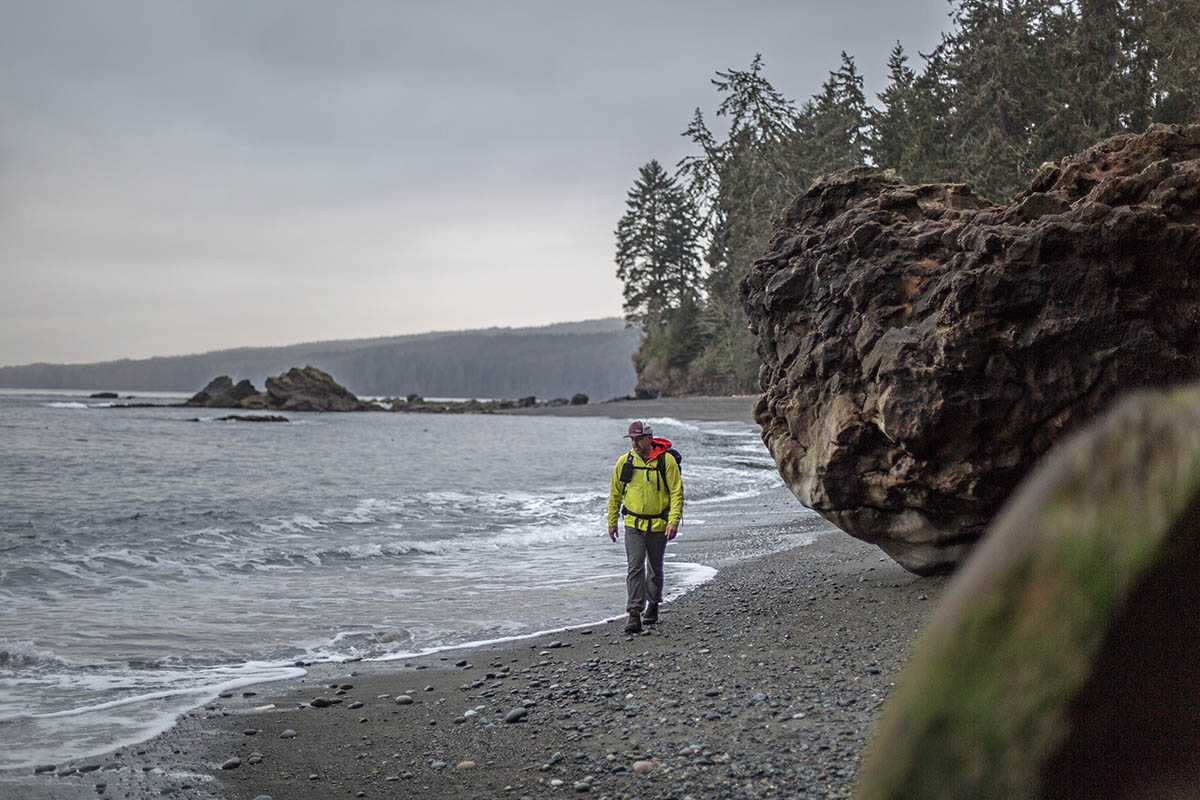 What We Like
Standout combination of weight and protection: the Storm10 checks in at a scant 8.3 ounces but proved to be stalwart in wet and windy conditions.
Despite the low weight, Patagonia managed to retain a functional feature set including three pockets, adjustability at the hood and hem, and relatively durable materials.
Reasonably priced at $299—you'd be hard-pressed to find a lighter and more protective shell for less.
We appreciate Patagonia's ongoing focus on sustainability, including the use of recycled fabrics and Fair Trade Certification.

What We Don't
Hood aperture does not cinch tight, which leaves a good portion of my face exposed to the elements.
Interior isn't particularly soft against the skin and tends to grow clammy under heavy exertion, but the slight stretchiness is great for mobility.
Breathability is good but not great, and we wish the jacket came with pit zips to dump heat.
Slim fit means that the jacket runs a little trim, so we'd recommend sizing up if you plan to add a mid- or heavyweight layer underneath.


Comparison Table
The Competition
Patagonia's Storm10 defies labels, sliding somewhere in between a hardshell and a rain jacket in terms of protection, weight and packability, features, and durability. And regardless of what you call it—ultralight hardshell, alpine-ready rain jacket, or simply a "shell"—this 'tweener category is alive and well in 2021, with a number of similar options from leading brands. First off is Black Diamond's Highline Stretch, a minimalist, 3-layer jacket designed for fast and light alpine missions. Black Diamond employed their BD.dry membrane for waterproofing, which we've found to be a slight step down in all-out protection from the more premium H2No but still water- and windproof. Like the Storm10, the Highline Stretch also includes functional storage with two hand pockets and a chest pocket, an adjustable and climbing helmet-compatible hood, and watertight zippers. And the BD wins out in breathability with the addition of pit zips, although weight jumps to 12.7 ounces. In the end, a final decision will come down to preferences on features versus weight.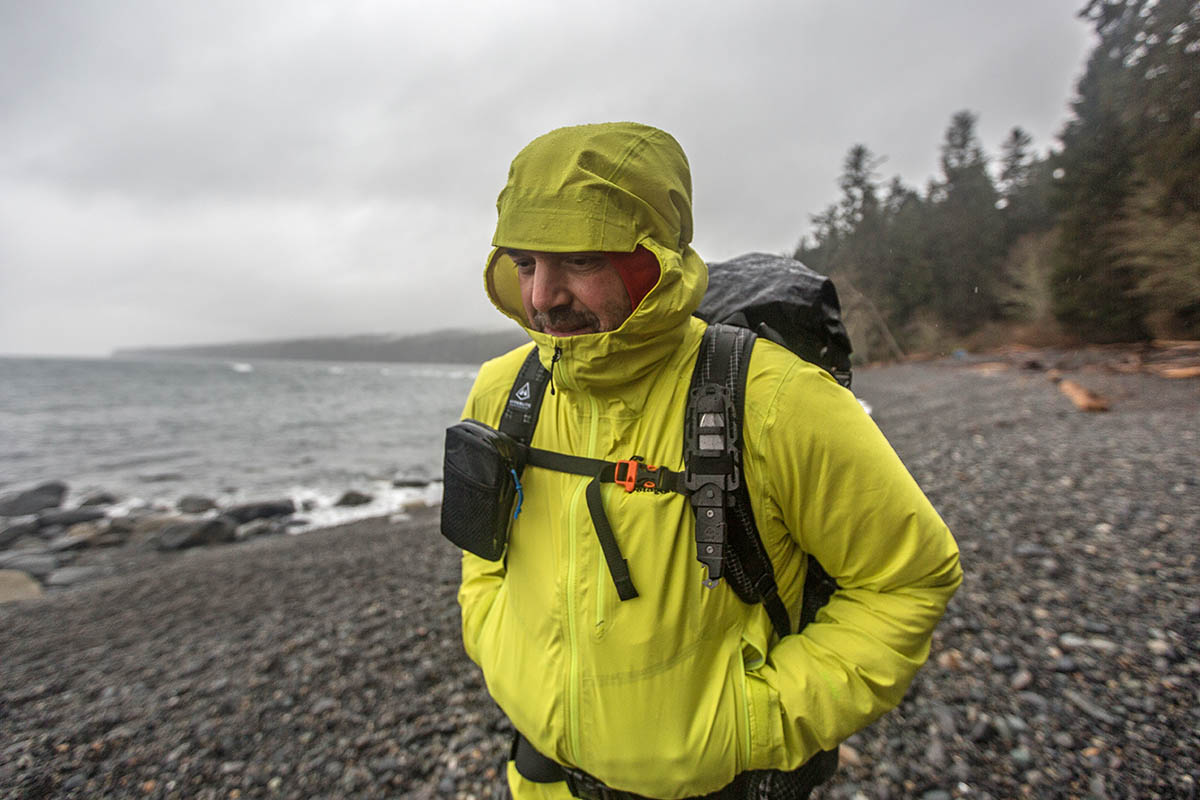 As we touched on above, Arc'teryx's new Alpha SL Anorak is one of the few waterproof shells to undercut the Storm10 in weight. Touted as the brand's lightest climbing hardshell, the Alpha SL checks in at a remarkable 7.4 ounces, boasts a protective 3-layer Gore-Tex build, and includes a helmet-friendly hood and adjustable hem and cuffs. However, you sacrifice storage with only a single chest pocket, and not everyone will love the anorak style (we prefer the Storm10's full zipper for venting and easier on/off). Unless you need the modest step up in weatherproofing, we think the Patagonia is the more well-rounded UL piece.
Like Arc'teryx, U.K.-based Rab is another leader in the technical alpine shell market, and their competitor to the Storm10 is the Zenith Gore-Tex Jacket. The Zenith uses Gore-Tex's 2-layer Paclite Plus membrane for combatting the elements, which is lightweight and packable but sacrifices some protection and durability. On the bright side, the Rab doesn't skimp on features with a helmet-compatible hood, dual chest pockets that provide easy access while belaying, and pit zips for dumping heat quickly. But with an even thinner face fabric (13D in the body and 20D at the hood and shoulders) and the aforementioned 2-layer membrane, the Zenith surprisingly doesn't cut weight off the Storm10's design, clocking in noticeably heavier at 11.6 ounces. Tack on the Patagonia's better performance and more hardwearing fabrics, and it's clearly the more competitive alpine design.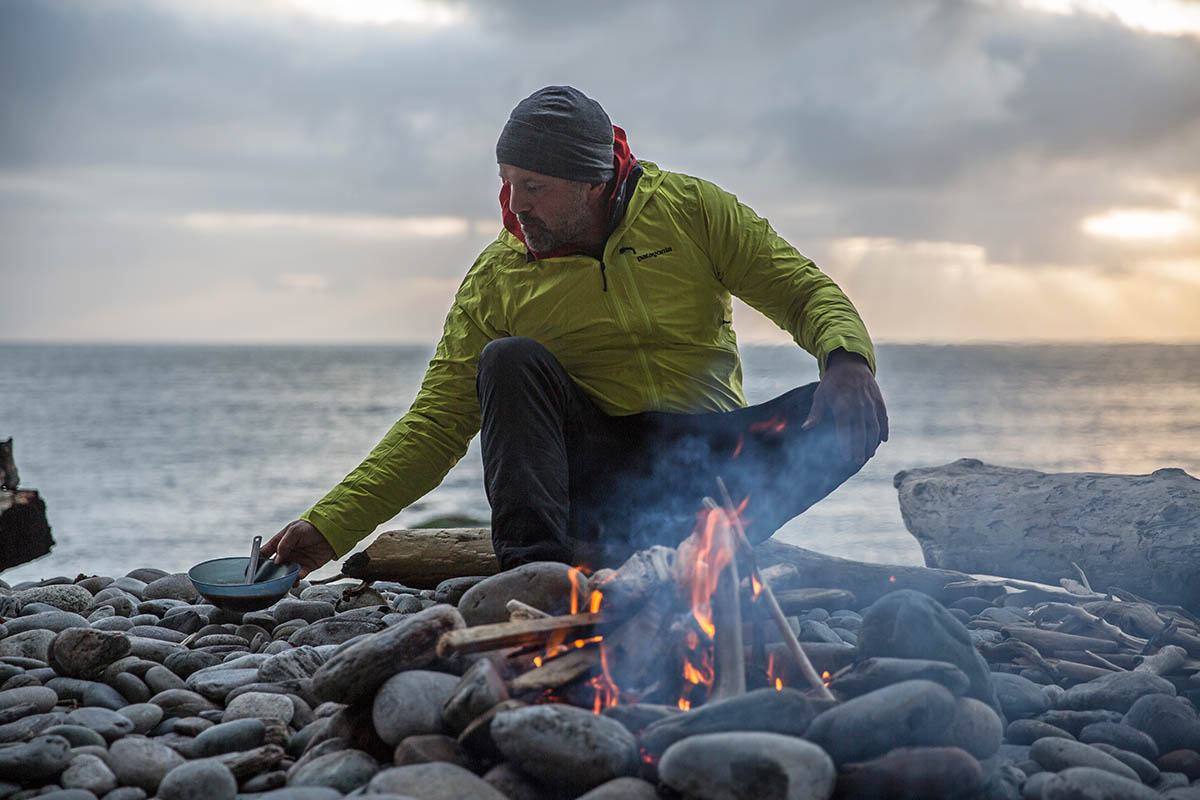 Montbell is an ultralight specialist, and they offer an intriguing alternative to the Storm10 in their Storm Cruiser. Right off the bat, we'll note that the Montbell is more of a hiking-focused piece than the more technical Storm10, but we like the combination of protection, features, and weight. Most notably, the Storm Cruiser features a Gore-Tex construction with a soft and supple C-Knit backer, includes pit zips, and weighs just 10 ounces. The Storm10 is more specialized, with a helmet-compatible hood and self-stuffing build that attaches to a harness (the Montbell comes with a separate stuff sack), but the Storm Cruiser wins out in terms of comfort, breathability, and weatherproofing. Depending on anticipated conditions and objectives, the Montbell could be a better match.
Finally, from within Patagonia's own lineup, the Ascensionist Jacket offers a sizable boost in all-around performance compared to the Storm10. Rather than H2No, the Ascensionist uses a more protective 3-layer Gore-Tex construction (it employs Gore's lightweight and breathable Active membrane), boasts an additional pocket along the interior, adds two-way pit zips for venting, and has more adjustability at the hood. The Ascensionist also utilizes Gore's aforementioned C-Knit backer, which we've found to be impressively smooth and supple against bare skin, even when working up a sweat (a step up from the Storm10's clammy-feeling interior). Weight goes up to 13.1 ounces, but the biggest deterrent by far is price: the Ascensionist costs a steep $499, which is a whopping $200 more than the Storm10. Whether or not the added features and winter-ready performance are worth the cost and weight penalties will come down to your priorities.
If you're thinking about buying gear that we've reviewed on Switchback Travel, you can help support us in the process. Just click on any of the seller links above, and if you make a purchase, we receive a small percentage of the transaction. The cost of the product is the same to you but this helps us continue to test and write about outdoor gear. Thanks and we appreciate your support!
Depending on the seller, most products ship free in the United States on orders of $50 or more. International shipping availability and rates vary by seller. The pricing information on this page is updated hourly but we are not responsible for inaccuracies.
Read More From Switchback Travel