Norrøna Falketind GTX Paclite Jacket
Price: $349
Weight: 7.8 oz. (women's small)
Waterproofing: 2L Gore-Tex Paclite Plus
What we like: An ultralight yet high-performance rain jacket; Paclite Plus membrane is supple and lacks the plasticky feel of many alternatives.
What we don't: Waterproofing and breathability aren't quite on par with 3-layer hardshells.
See the Women's Falketind GTX Paclite  See the Men's Falketind GTX Paclite
Waterproof protection comes in all forms, from burly, ski-specific hardshells to ultralight emergency layers and casual rain jackets. Finding a really functional middle ground is the Falketind Gore-Tex Paclite, Norrøna's lightest and most packable waterproof jacket. The minimalist design shaves weight with 2-layer construction and thin face fabric, but premium Gore-Tex Paclite Plus and a performance-oriented fit and feature set result in a high-end rain jacket that's more at home in the mountains than on the streets. Below we outline our experience with the Falketind Gore-Tex Paclite Jacket. To see how it stacks up to the competition, see our articles on the best rain jackets and the best women's rain jackets. 
 
---
Table of Contents
---

Performance
Weather Protection
The Norrøna Falketind Gore-Tex Paclite is a high-performance rain shell, ideal for use in mild shoulder-season and summer conditions or as an emergency layer. With a mountain-ready feature set and Gore's most premium 2-layer membrane (Paclite Plus), it's a great compromise between a hardshell and rain jacket—you get the fit and finish of the former, alongside the light weight and packability of the latter. I tested the minimalist Falketind while trekking in southern Patagonia's characteristically windy and wet conditions, and the jacket performed excellently. The durable water repellent (DWR) finish beaded moisture on the shell's surface, and the high-quality membrane and seam taping kept all elements at bay.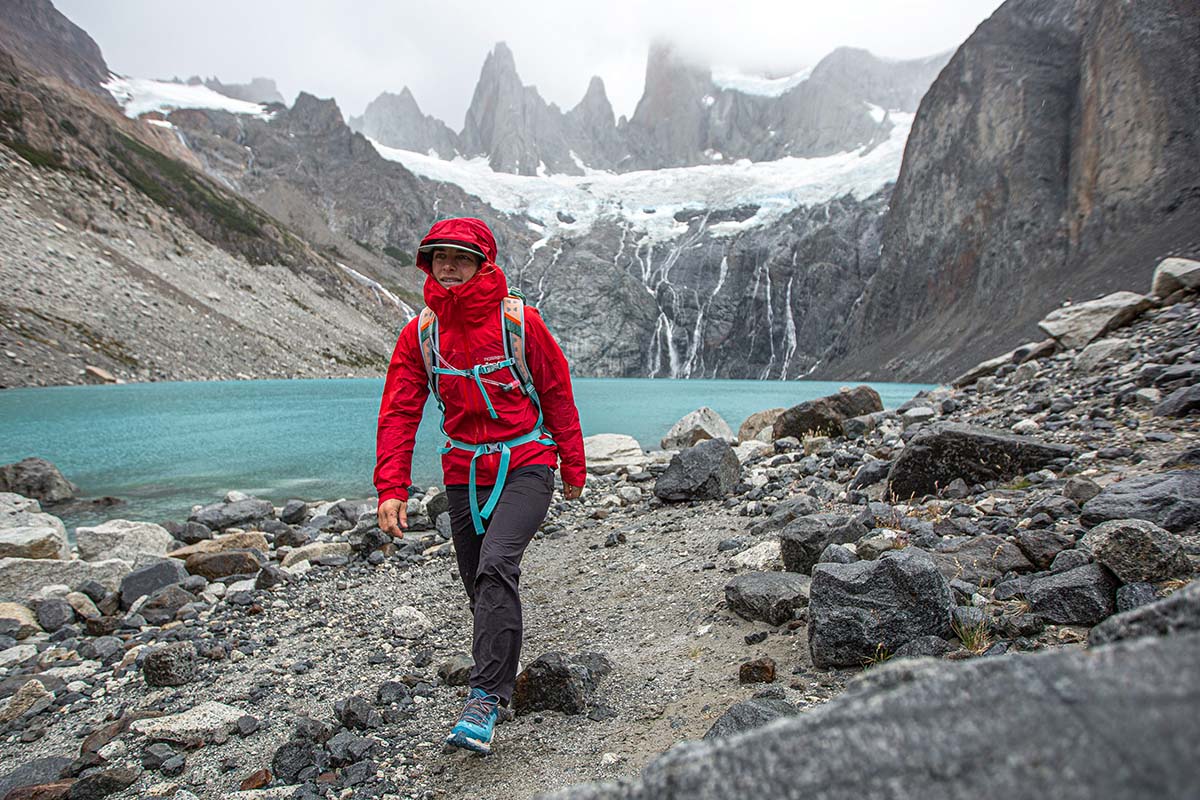 The Falketind Gore-Tex Paclite Jacket is a great option for fast-and-light endeavors like thru-hiking and alpine climbing, and its performance-oriented design (including a helmet-compatible hood, trim fit, and generous drop-tail hem with adjustable cinch) can play double duty for backcountry skiing, too. That said, it's important to note that the thin 20-denier (D) shell and 2-layer construction are more prone to being overwhelmed by heavy moisture than a burlier 3-layer hardshell jacket. As a result, I'd be hesitant to wear the Falketind in consistently wet or stormy winter conditions. But it speaks volumes that the jacket has earned a dedicated spot in my alpine rock climbing arsenal, recently nudging out the Patagonia Storm10 as my favorite minimalist rain shell. For those looking for premium weather protection in an ultralight build, the Falketind Gore-Tex Paclite is hard to beat.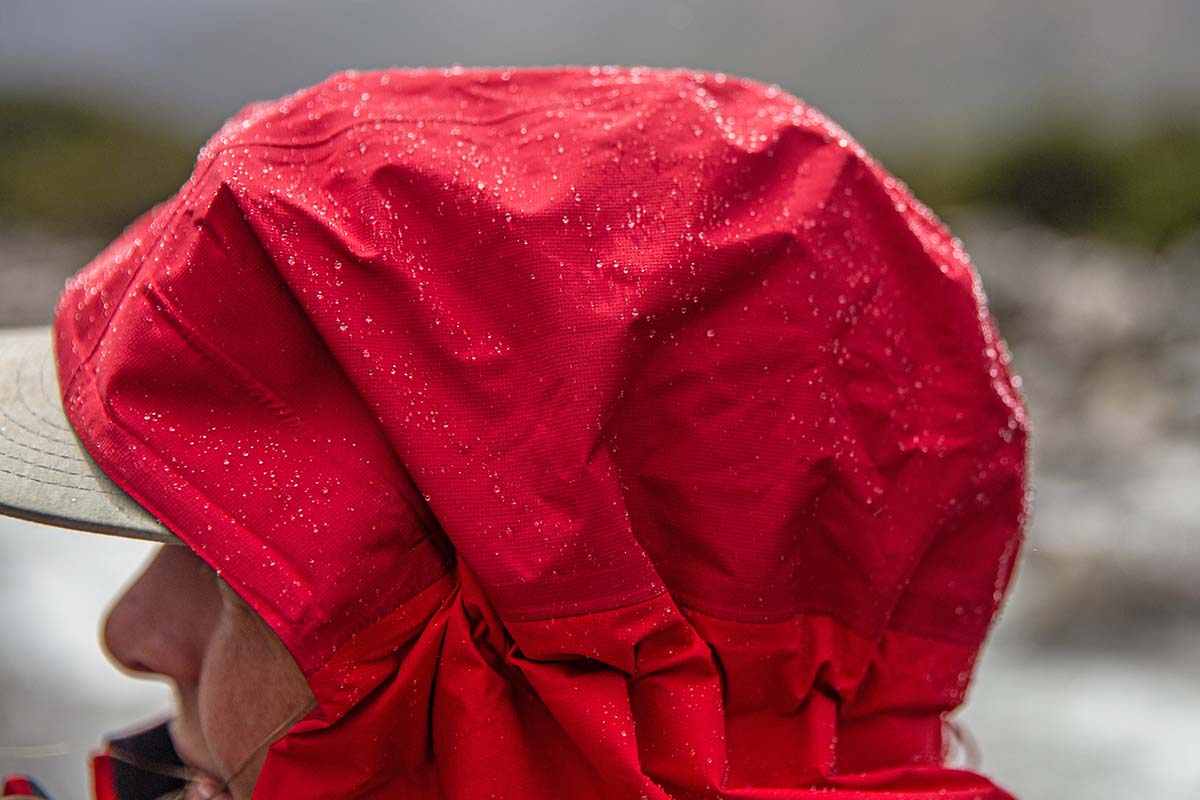 Breathability
Most 2-layer rain jackets don't excel in the breathability department with plasticky interiors that trap heat and feel sticky against bare skin. However, Gore-Tex's Paclite Plus was developed to alleviate this issue and is much softer and better at wicking moisture than the competition (including standard Paclite). The Falketind's interior even features tiny raised dots that help to separate the membrane from the body and mitigate that plasticky feel. But despite the improvements over a standard 2-layer shell, the Norrøna still isn't perfect: In quickly changing Patagonian weather—rainy one minute, sunny the next—I found myself regularly overheating. It's worth noting that these are challenging conditions for any waterproof jacket, and I'm not sure I would have fared much better in a 3-layer design.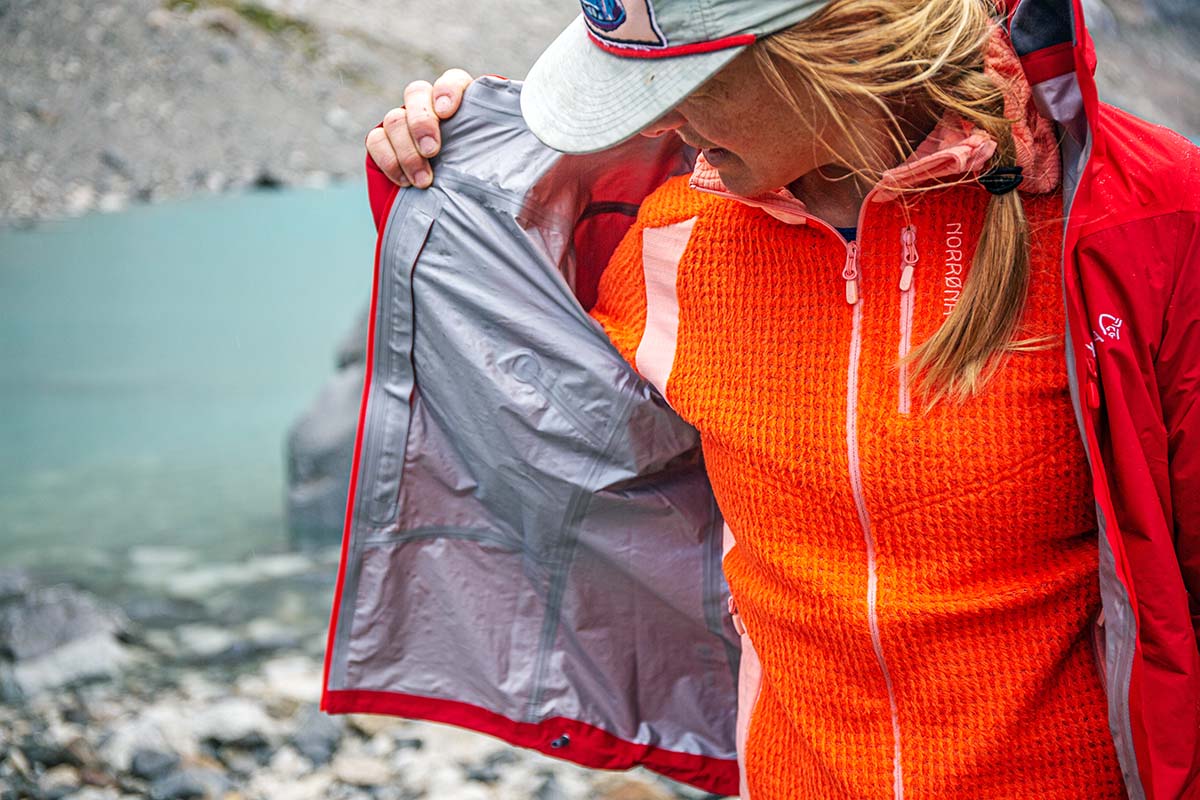 That said, pit zips certainly would have helped. In lieu of pit zips, the Falketind uses a single core vent, situated to the right of the main zipper, to dump heat. At first I was drawn to this feature—it offers a nice symmetry with the chest pocket and can also be used to access a midlayer chest pocket underneath. But in use, the core vent didn't actually release much heat (it lies flat against my chest, where—unlike pit zips—there's no articulation to prop it open), and I quickly realized that I could achieve better temperature regulation by just unzipping the front zip. Due to the lack of functional venting, the Falketind Gore-Tex Paclite is not my first choice for high-output activities like hiking and ski touring. But for lower-intensity use (alpine climbing, for example) or as an emergency layer, it makes a lot more sense.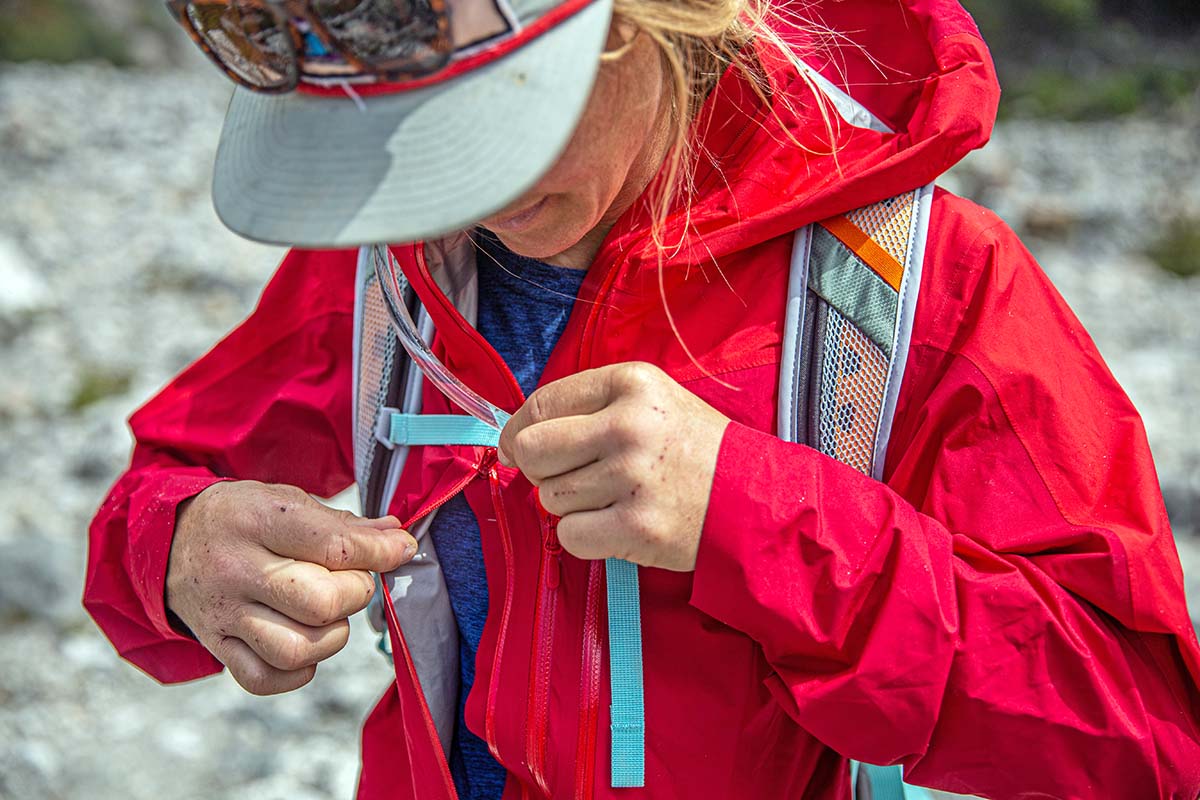 Comfort
The Norrøna Falketind Gore-Tex Paclite is high on comfort, thanks to its soft Paclite Plus waterproof membrane, thin face fabric (20D), and well-patterned design that leads to great freedom of movement. Compared to plasticky rain shells and rigid hardshell jackets, the Falketind offers a refreshingly supple feel and exceptional mobility. It also features some nice additional touches, including a fleece chin guard, articulated elbows, and seamless shoulders that eliminate pressure points when wearing a backpack. Notably, after testing the jacket, the Falketind replaced the Patagonia Storm10 as my go-to alpine climbing shell, thanks in part to its easier-moving fabric and longer hem. All in all, the Norrøna is a comfort standout among the waterproof jacket competition.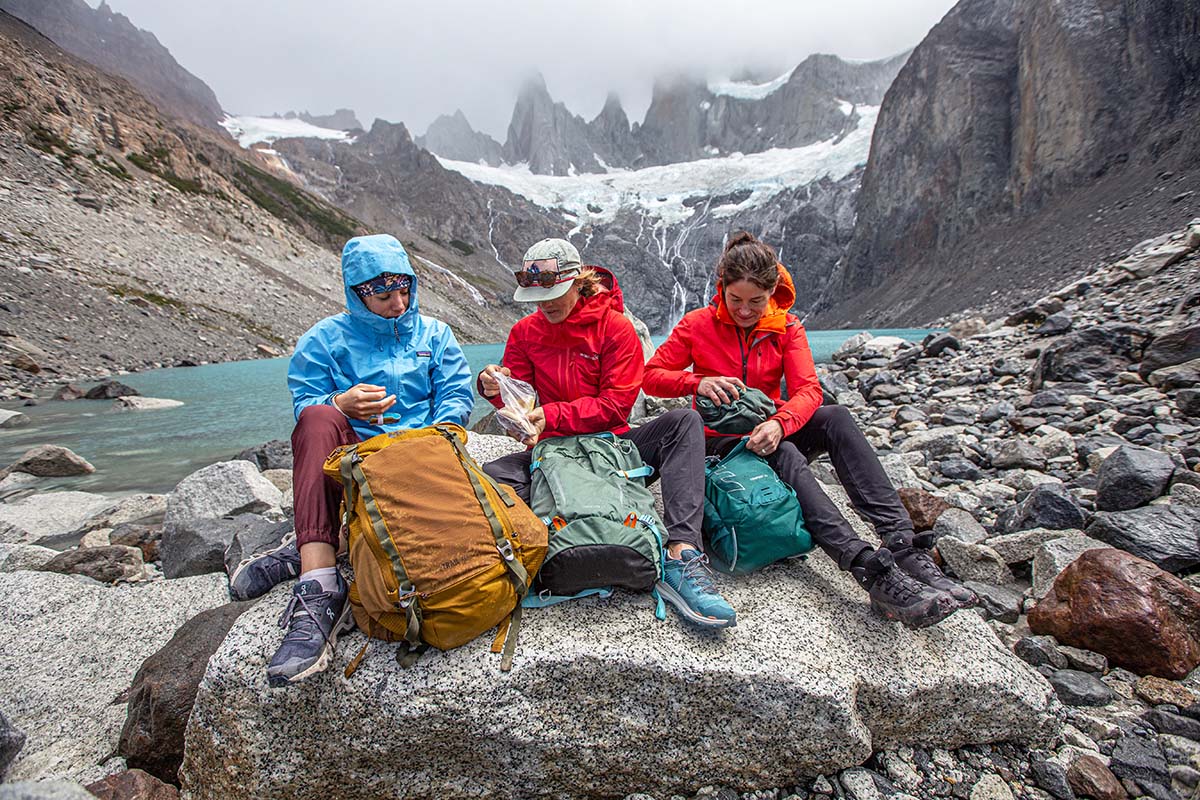 Weight and Packability
The Falketind Gore-Tex Paclite checks in as the lightest and most packable waterproof jacket in Norrøna's lineup, and it truly shines as a minimalist piece. My women's small tips the scales at just 7.8 ounces and stuffs easily into its chest pocket, which features a carabiner attachment for easy harness carry. For comparison's sake, our top-ranked Patagonia Torrentshell 3L weighs 12.4 ounces and is about 1.5 times the size of the Norrøna when packed into its pocket. And among true ultralight designs, the Falketind is particularly well rounded: The Outdoor Research Helium Rain Jacket weighs just 6.3 ounces, but it lacks the Norrøna's premium finishes and suffers in terms of breathability. The biggest competition comes from Patagonia's 3-layer Storm10 (7.4 oz.), which offers slightly better weather protection and breathability but can't measure up in terms of comfort and freedom of movement.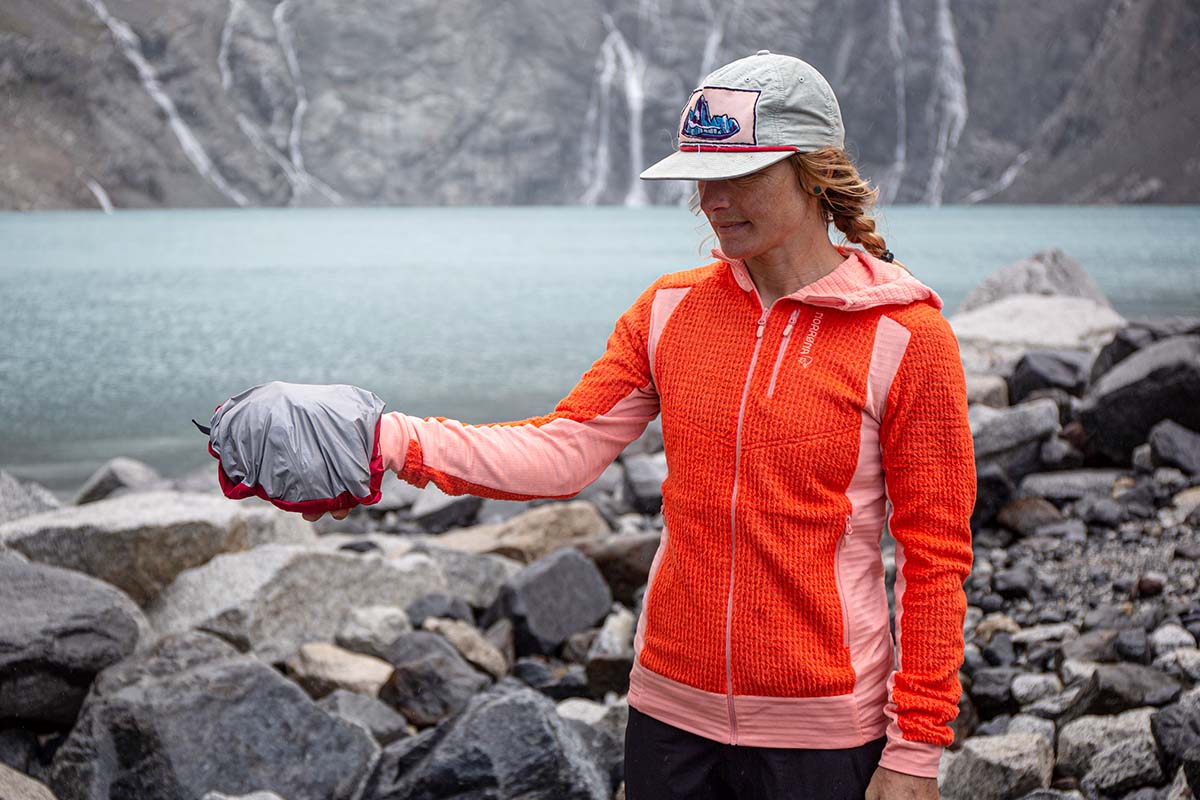 Build Quality and Durability
Norrøna is known for making premium products with a high attention to detail, and the Falketind Gore-Tex Paclite Jacket is case in point. Overall, this jacket is exceptionally well made with a great fit, tidy seams and seam taping, and clean lines. What's more, the subtle two-toned colorways and classy branding lend a really high-end feel. It's worth noting that the 20D nylon face fabric is very thin for a shell, and you'll want to exercise caution around sharp objects like crampons, ice tools, and even abrasive rocks. That said, thin materials are par for the course among ultralight rain jackets, and I have yet to have any notable issues with the Falketind throughout my testing: It's suffered no tearing or snags, there are no visible signs of wear, and the watertight zippers work flawlessly despite their thin construction.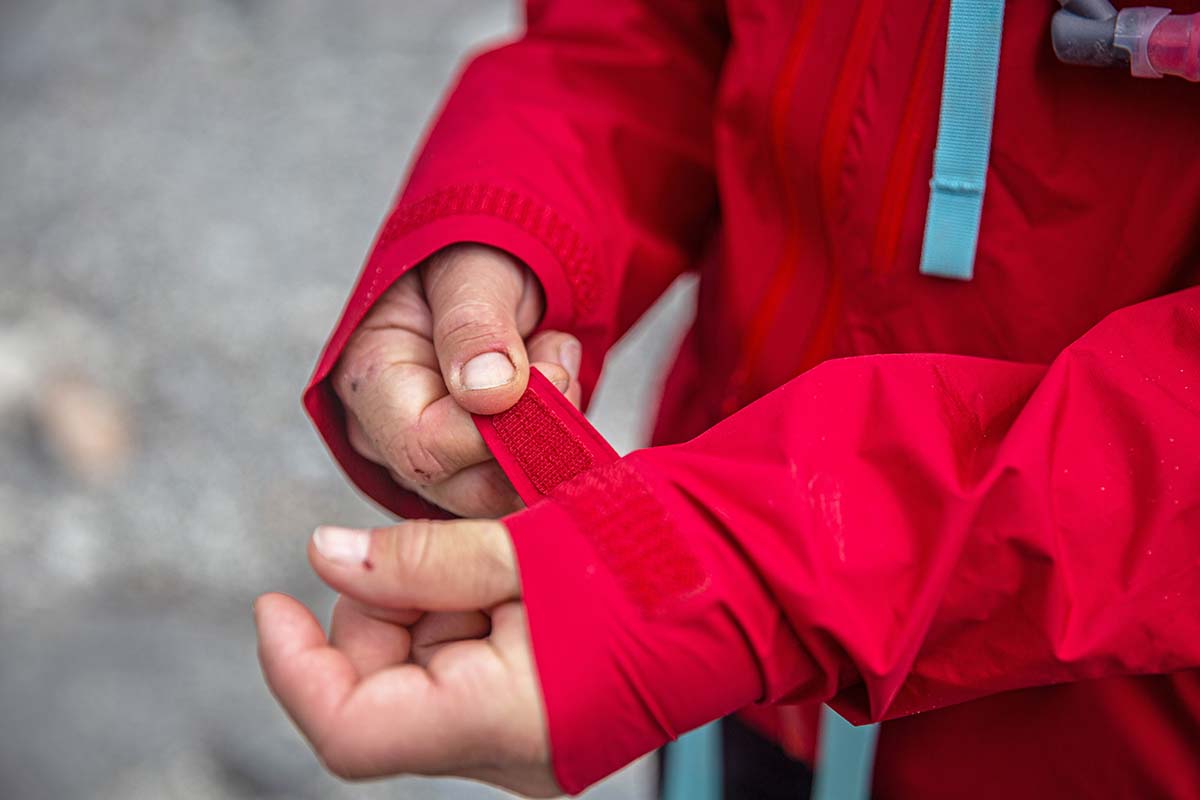 Key Features
The Norrøna Falketind Gore-Tex Paclite's feature set is decidedly minimalist but fine-tuned for performance use. The hood slides easily over a climbing helmet or low-profile ski helmet and features a one-handed adjustment at the rear. While hiking, the hood cinched down nicely over my ball cap and stayed secure in the wind without obstructing my peripheral vision. Moving to the wrists, the Falketind's cuffs are cut to cover the top of the hand without obstructing the palm, and the Velcro tabs are easy to adjust. Finally, the jacket also features two drawcord adjustments at the hem, a generously sized zippered chest pocket, and a long chest vent. It's undoubtedly low on storage, but for the most part, I only use chest pockets when wearing a backpack or harness. If I could make one change, I would eliminate the chest vent and add a second pocket in its place.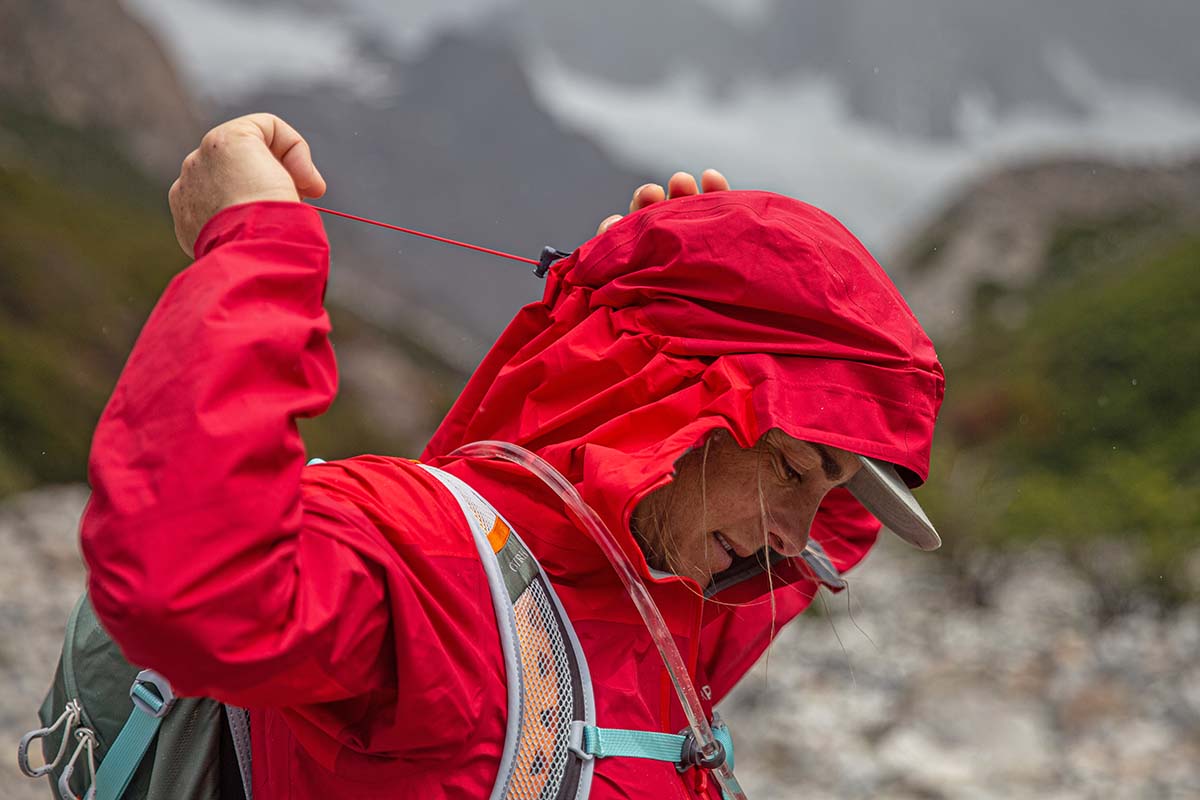 Fit and Sizing
Norrøna bills the Falketind as a "technical fit" (their second-tightest fit), which I think is a fair designation. At 5'5" and 135 pounds, I opted for my usual women's small. All in all, the jacket fit true to size but is definitely on the sleek side, which keeps bulk low and range of motion high. The articulated elbows offer great mobility (especially ideal for climbing), and the drop-tail hem provides a nice extra dose of coverage down the back—I really appreciate the generous length of the Falketind compared to my shorter Patagonia Storm10. In terms of layering, I wouldn't want to pair the Norrøna with something as bulky as a midweight down jacket, but it slid well over my lightweight fleece and synthetic Patagonia DAS Light Hoody. Finally, the Falketind Gore-Tex Paclite comes in five sizes for women, ranging from XS to XL.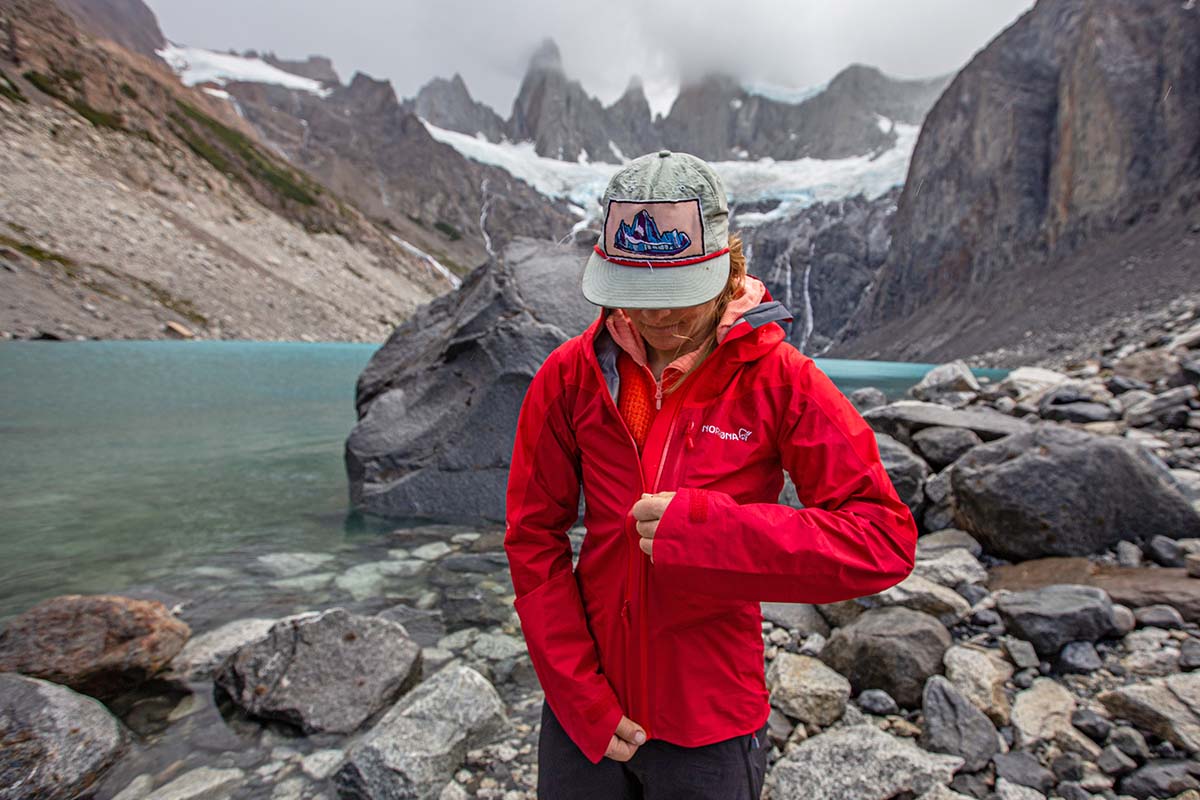 Sustainability
Norway-based Norrøna has been at the forefront of the sustainability push within the outdoor apparel market, and their Falketind Gore-Tex Paclite Jacket is a shining example. Highlights include bluesign-approved fabrics that have been deemed safe for the environment, workers, and consumers; a recycled shell; and an Oeko-Tex certification that ensures that all chemicals used during production meet international standards. What's more, we appreciate that Norrøna provides a factory list on their website for transparency, with third-party inspectors that regularly evaluate production practices. Taken together, it's one of the most comprehensive sustainability efforts we've seen to date, and we commend Norrøna for their commitment to eco-friendly practices.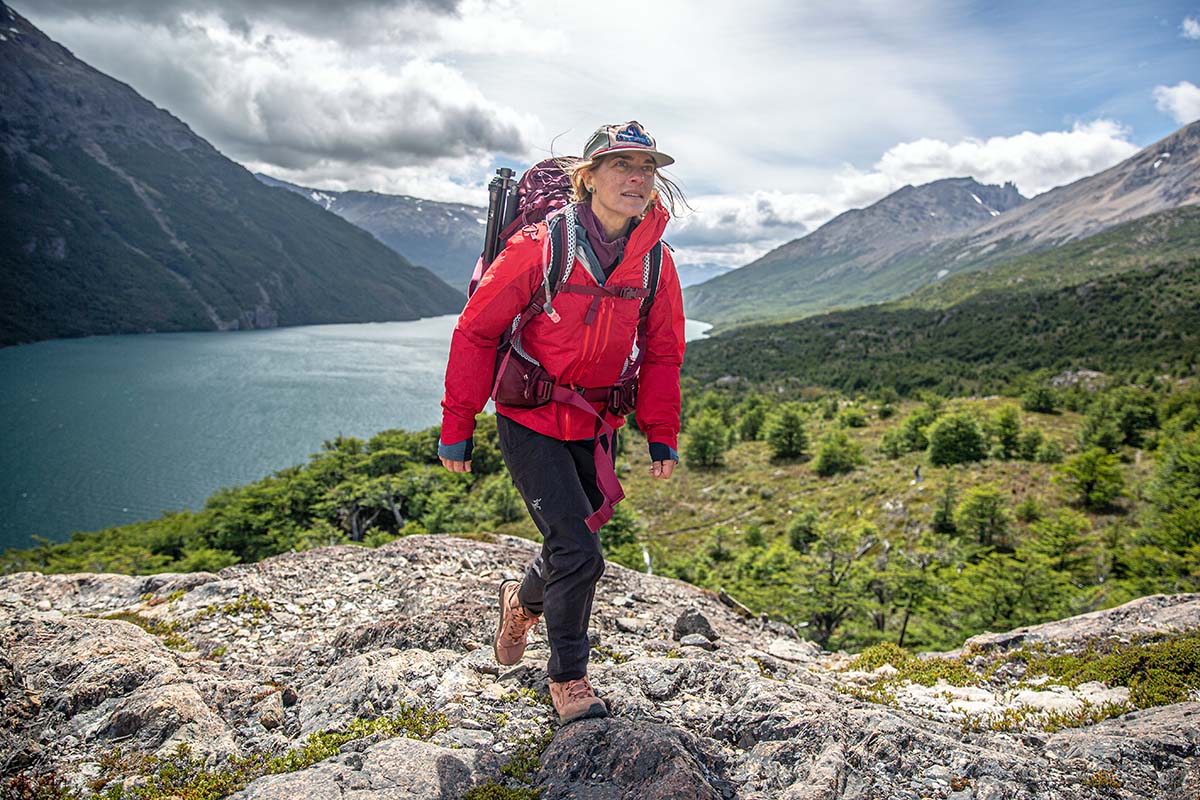 Men's Norrøna Falketind GTX Paclite Jacket
We tested the women's Falketind Gore-Tex Paclite Jacket, but Norrøna also makes the same design in a men's version. The men's Falketind Gore-Tex Paclite Jacket is heavier at 9.1 ounces and offered in different colorways, but otherwise, the two models have identical feature sets and overall constructions. Like the women's jacket, the men's model comes in five sizes, which range from S to XXL.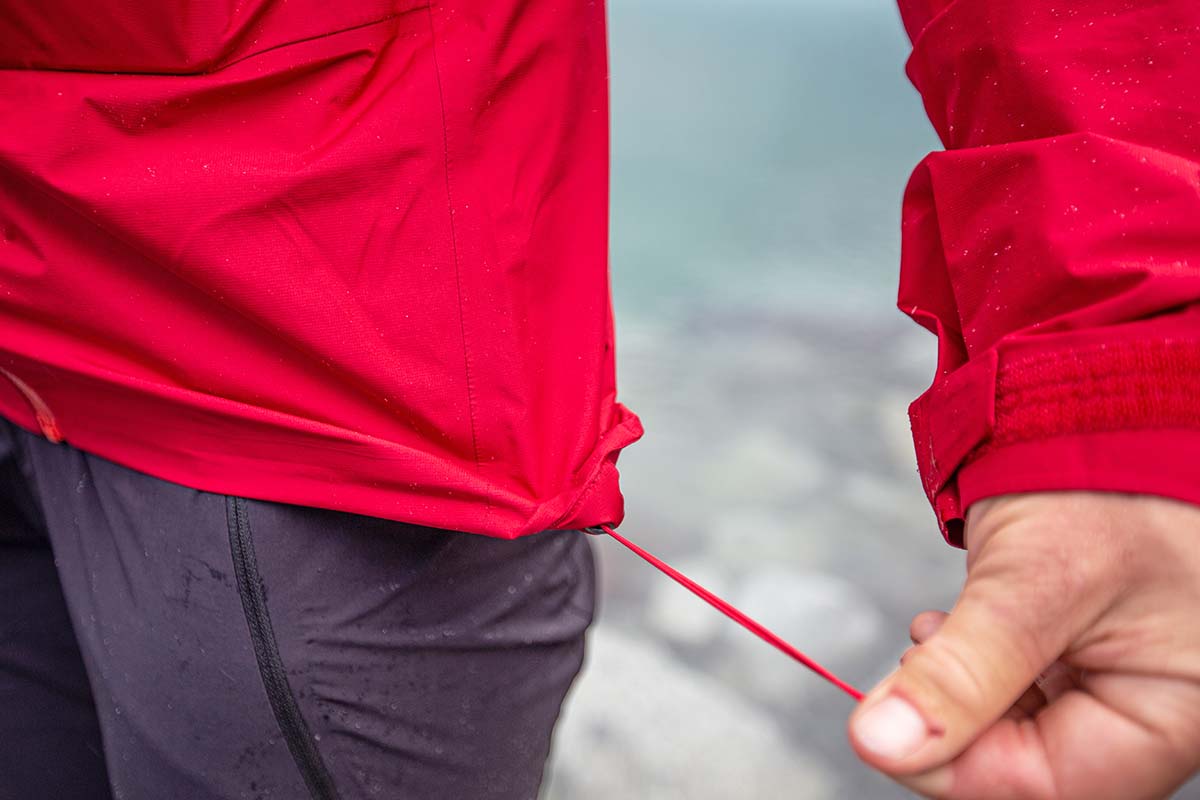 What We Like
An incredibly lightweight and packable waterproof jacket with fewer compromises than most ultralight shells.
Standout comfort and mobility, including a supple face fabric, great articulation, and a long drop-tail hem that stays put under a harness or backpack.
Premium build quality and the fit, look, and feel of a very high-end jacket.

What We Don't
Two-layer construction and thin face fabric (20D) are more prone to being overwhelmed by moisture than a thicker 3-layer hardshell.
Breathability suffers compared to 3-layer designs, and the core vent is a disappointing alternative to pit zips.
With only one chest pocket, the streamlined feature set won't appeal to all.
You'll have to exercise caution around sharp gear and objects with the thin nylon shell.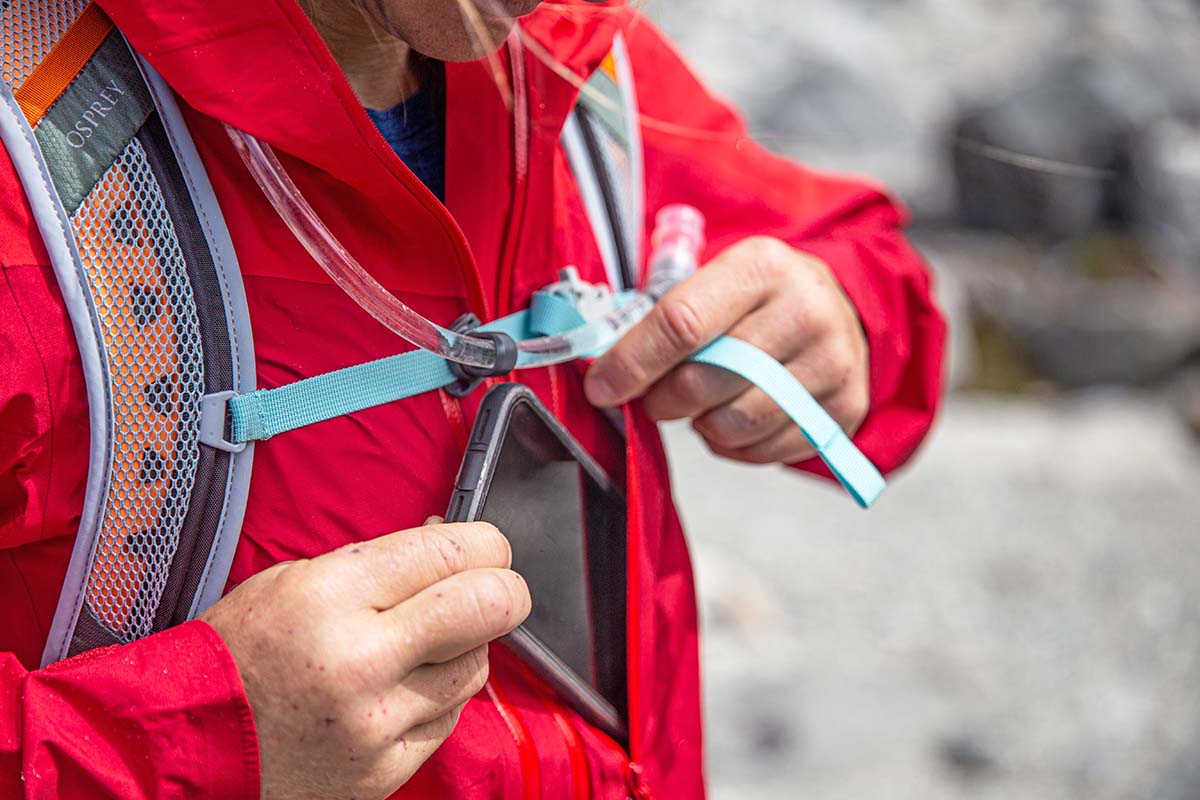 Comparison Table

The Competition
If you're in the market for ultralight waterproofing, another rain jacket to consider is Patagonia's Storm10. The Storm10 opts for 3-layer construction instead of the Falketind's 2-layer but manages to keep weight very low (7.4 oz.) with a 20D shell. As a result, the Patagonia is a bit more confidence-inspiring in truly wet weather, but I haven't noticed it to be any more breathable than the Falketind (it also lacks pit zips). Plus, the tradeoff to the 3-layer construction is a more rigid and crinkly feel that misses out on the Norrøna's impressive comfort and mobility. Finally, I've found that the Storm10's hand pockets become inaccessible when wearing a backpack or harness, and the slightly shorter cut doesn't stay put as well underneath. If weather protection is your top priority, the Patagonia is an excellent ultralight jacket (and will save you $20), but the Falketind is the more comfortable pick for most applications.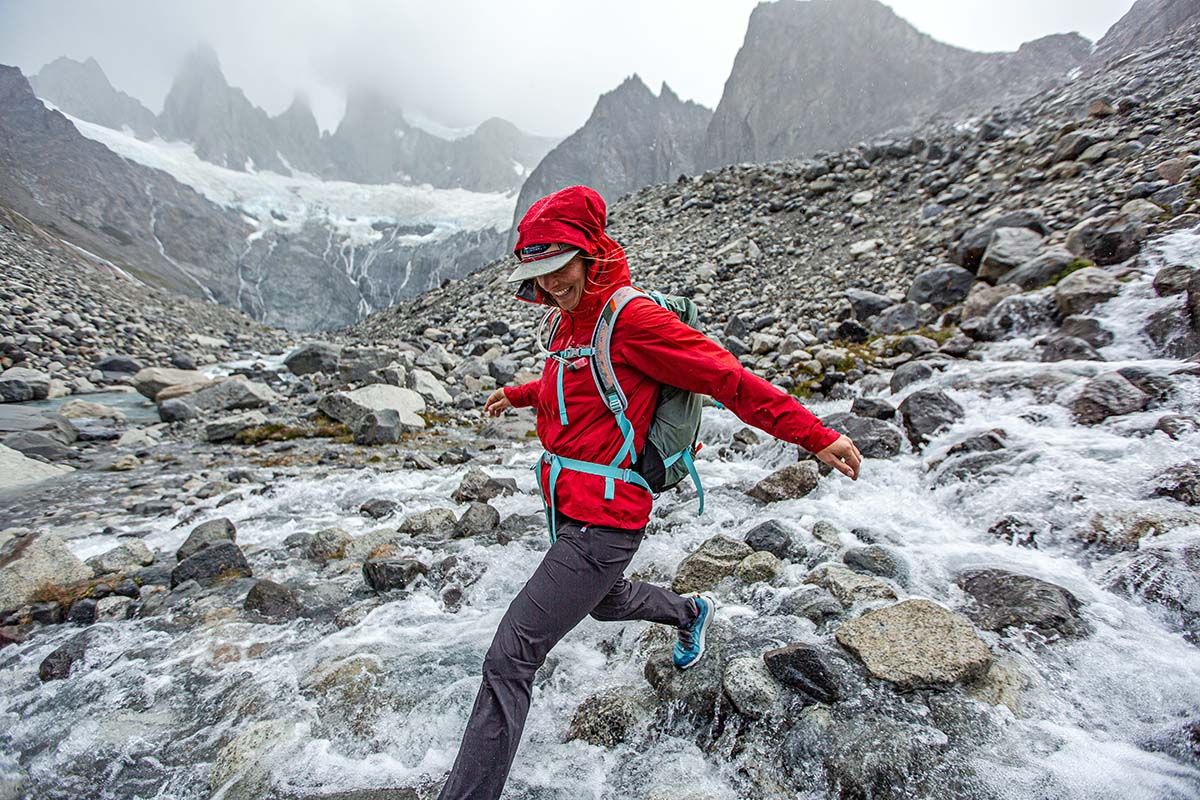 If you're willing to make a few compromises, you can save a lot of money with the Outdoor Research Helium Rain Jacket. For about half the cost of the Norrøna ($180), the Helium offers 2.5-layer waterproof protection and checks in at just 6.3 ounces. It's also more durable than both the Storm10 and Falketind with a 30D shell that features Pertex's Diamond Fuse technology for abrasion resistance. But that's about where the praise ends: The Helium is decidedly clammy and simply impractical for most high-output use. What's more, compared to the Falketind's premium Gore-Tex waterproofing, the OR's Pertex membrane falls a bit short. All that said, we really like the Helium as a lightweight emergency layer or for activities where breathability is less of a concern.
In a conversation about premium waterproof shells, we'd be remiss not to mention Arc'teryx. At the moment, Arc'teryx doesn't have a true ultralight offering (we loved their Beta LT Hadron, which is now out of stock), but they still have a number of jackets worth mentioning. The Beta LT Jacket is one of our favorite options for those looking for uncompromised protection at a low weight. At 12.3 ounces, it's not nearly as minimalist as the aforementioned jackets, but the extra weight translates to four-season performance (thanks to the 3L Gore-Tex membrane and 40D shell) and considerably better breathability (the design also features pit zips). Keep in mind that with the Beta LT, you do get the rigid and crinkly feel of a hardshell, while the Falketind Gore-Tex Paclite gets high marks for comfort and freedom of movement. But if you want full-on hardshell protection and features for minimal weight (and can stomach the $450 price tag), the Beta LT is a great place to start.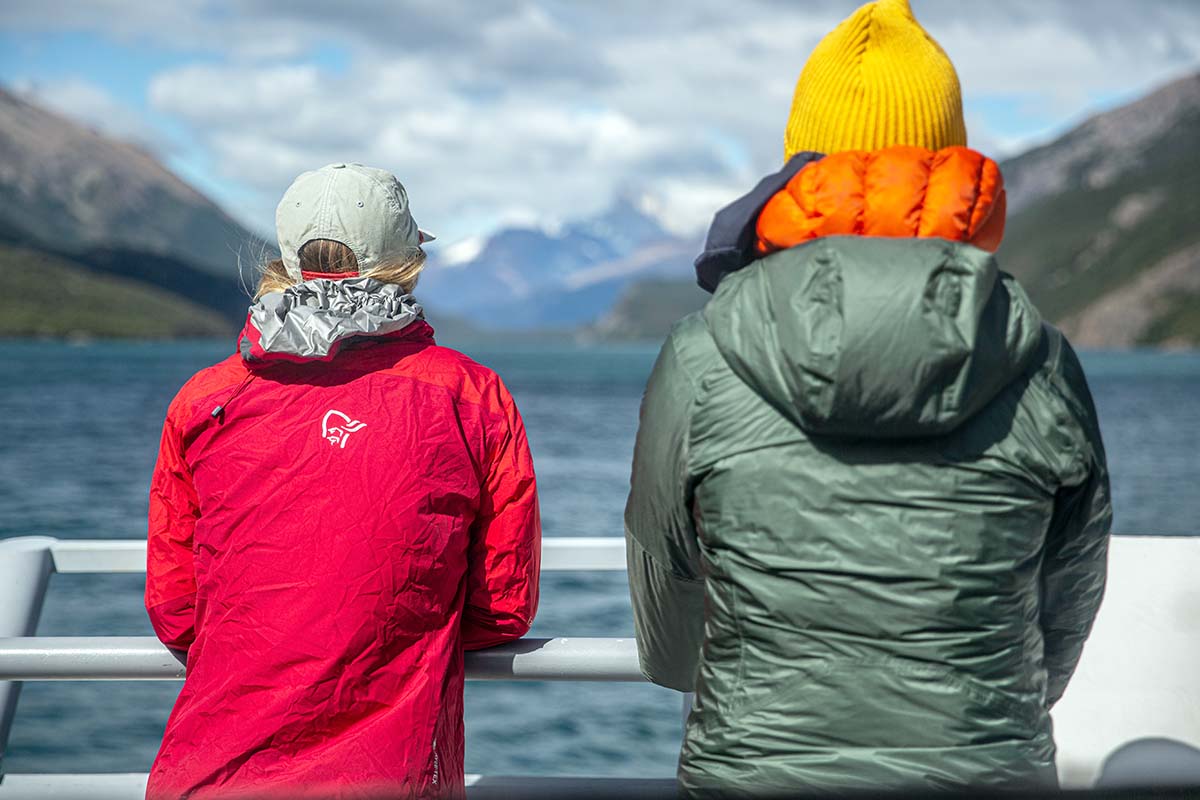 Bridging the gap between the Beta LT and the Falketind Gore-Tex Paclite is the Arc'teryx Beta Jacket, which features a 30D shell and Gore's soft and breathable C-Knit backer. Along with its supple construction, the Beta is impressively light at just 9.5 ounces and offers a streamlined feature set that includes a low-profile hood, two hand pockets, an internal chest pocket, and a simple hem adjustment (read: no pit zips). But while the Beta fits into the minimalist shell category in most ways, its roomy "regular" fit lends itself best to casual or frontcountry use. This identity crisis (in addition to the steep $400 price tag) means the Arc'teryx isn't our top pick among ultralight shells, but it's a versatile solution for those who want more features and protection (and room for layering) than the Norrøna offers. Finally, for the lightest shell in Arc'teryx's lineup, check out their trail running-specific Norvan LT Hoody, which clocks in at 6 ounces and features an even thinner, 13D face fabric.
Rounding out the competition is Norrøna's Falketind Gore-Tex Jacket. While the Paclite version reviewed here excels in comfort and minimalism, the standard Falketind is a versatile four-season companion with a 3-layer Gore-Tex construction (that also uses their soft C-Knit backer) and 30D shell that provide confidence-inspiring protection against wet and stormy conditions. The hardshell also offers a more well-rounded feature set, including large hipbelt-compatible pockets, an internal zip pocket, and generously sized pit zips. At 13.1 ounces, the Falketind doesn't fall into the same ultralight category as the 2-layer jacket we tested, but it's nevertheless very lightweight for a hardshell, and the thinner face fabric and C-Knit backer mean it's more supple and breathable than most. If you've got the money in your budget, it's certainly worth a look.
See the Women's Norrøna Falketind GTX Paclite  See the Men's Norrøna Falketind GTX Paclite
Read More From Switchback Travel