REI Co-op has made major strides over the past few years, assembling an impressive in-house lineup of high-quality gear and clothing that doesn't break the bank. And the XeroDry GTX rain jacket, a follow-up to their impressive Drypoint GTX, carries the torch. Constructed with Gore-Tex Paclite, we brought REI's lightweight shell along on an ambitious trek through the Grand Canyon, where it faced everything from strong winds and rain to hail and snow. All told, it performed well for its weight, but sustained, heavy moisture overwhelmed the jacket's DWR coating and face fabric. Below we break down the REI XeroDry GTX's water and wind protection, breathability, weight and packability, durability, fit and sizing, and more. To see how the XeroDry stacks up to the competition, see our article on the best rain jackets.
 
Performance
Water and Wind Protection
Using a Gore-Tex Paclite waterproof membrane, durable water repellant (DWR) finish, and full seam taping, REI packed solid wet-weather and wind protection into the XeroDry GTX. During our four-day trek through the Grand Canyon, the jacket easily shed light to moderate rainfall. But on our final day, we were hit with an unrelenting storm and exceptionally strong gusts: the perfect testing conditions. At the onset, the jacket effectively sealed out rain and kept me dry for most of the day, and I barely felt any drafts through the outer shell.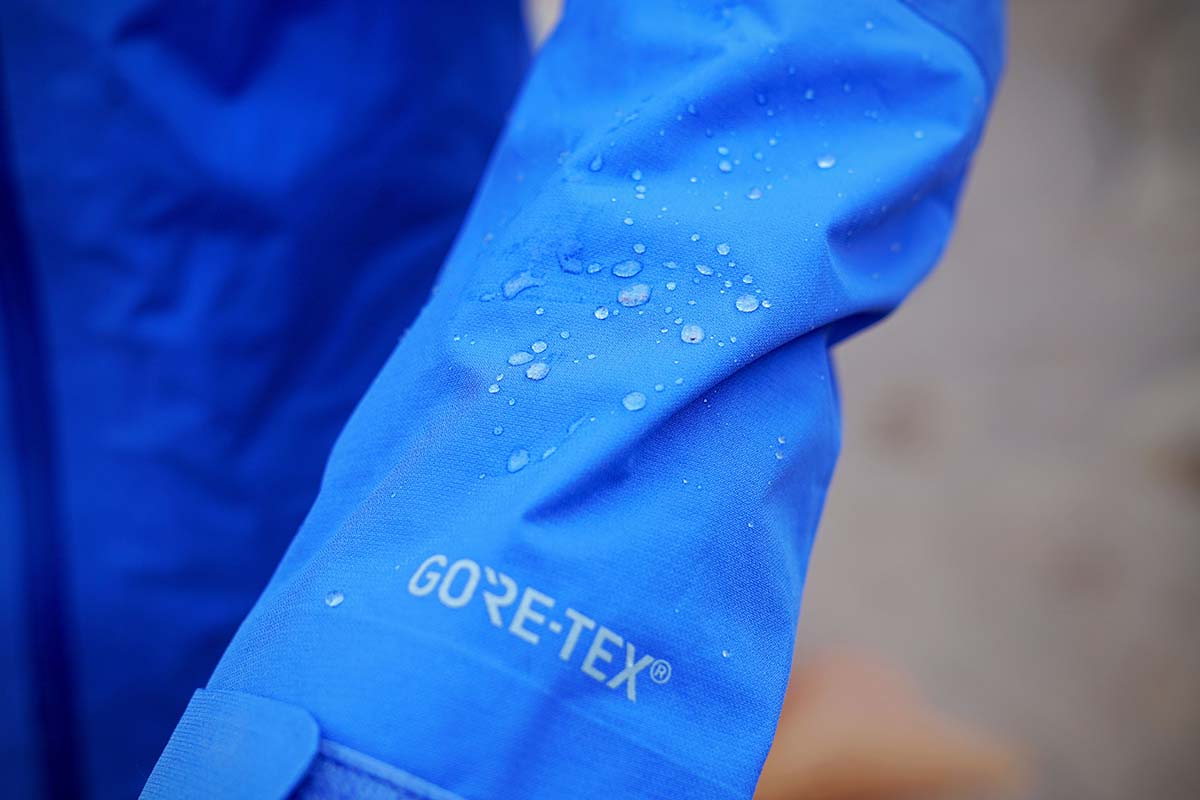 However, once the rain really picked up, the XeroDry GTX's face fabric quickly wetted out and my midlayer became soaked. While I typically feel confident in any Gore-Tex garment for waterproofing, the budget-oriented REI shell falls a bit short. It's hard to pinpoint the problem, but the XeroDry's face fabric appears to be made with a cheaper material and the DWR coating is certainly not a strong performer (although the DWR doesn't play a role in moisture soaking through the jacket). Moreover, the two upgraded Gore-Tex Paclite Plus shells that we also were testing on the trip—Arc'teryx's Zeta SL and Patagonia's Calcite—both worked flawlessly in the same conditions. In the end, I concluded that the XeroDry's performance matches its $159 price. It's a step up from cheap designs like the $100 The North Face Venture 2 but falls short of higher-end options like the aforementioned Zeta, Calcite, or even Marmot's popular Minimalist.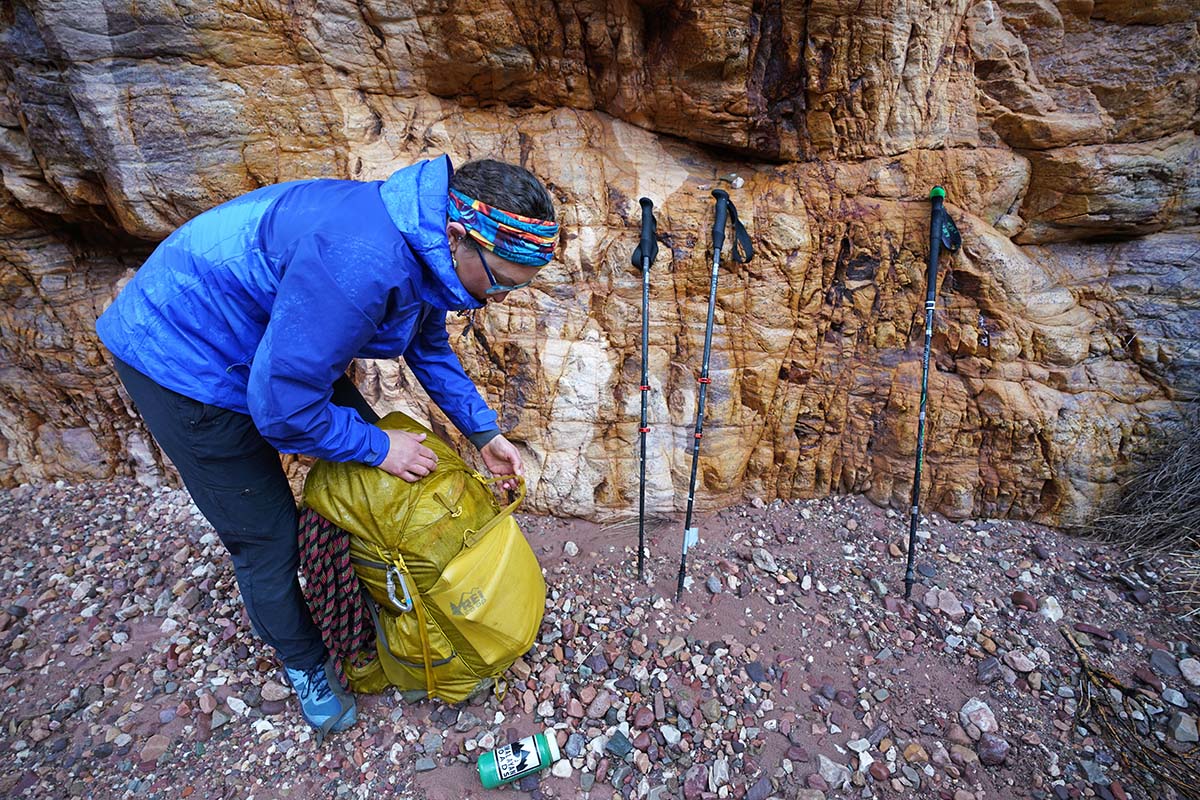 Breathability
As with most rain jackets, I found the REI Co-op XeroDry was quick to overheat when hiking in moderate temperatures. On the final, strenuous ascent out of the Grand Canyon, the shell kept me comfortable and trapped my body heat during the cool morning. However, a couple hours into the hike, I caught myself repeatedly reaching for non-existent pit zips in an attempt to cool off. The shell got noticeably damp on the inside from my own sweat, and even opening the jacket's mesh-lined hand pockets—which double as core vents—couldn't stop me from overheating. Given the choice, I would gladly take the slight weight penalty of adding true pit zips to be able to quickly dump heat. Not only do the core vents disappoint in terms of ventilation, but opening them compromises their ability to store personal items (more on this in "Features" below).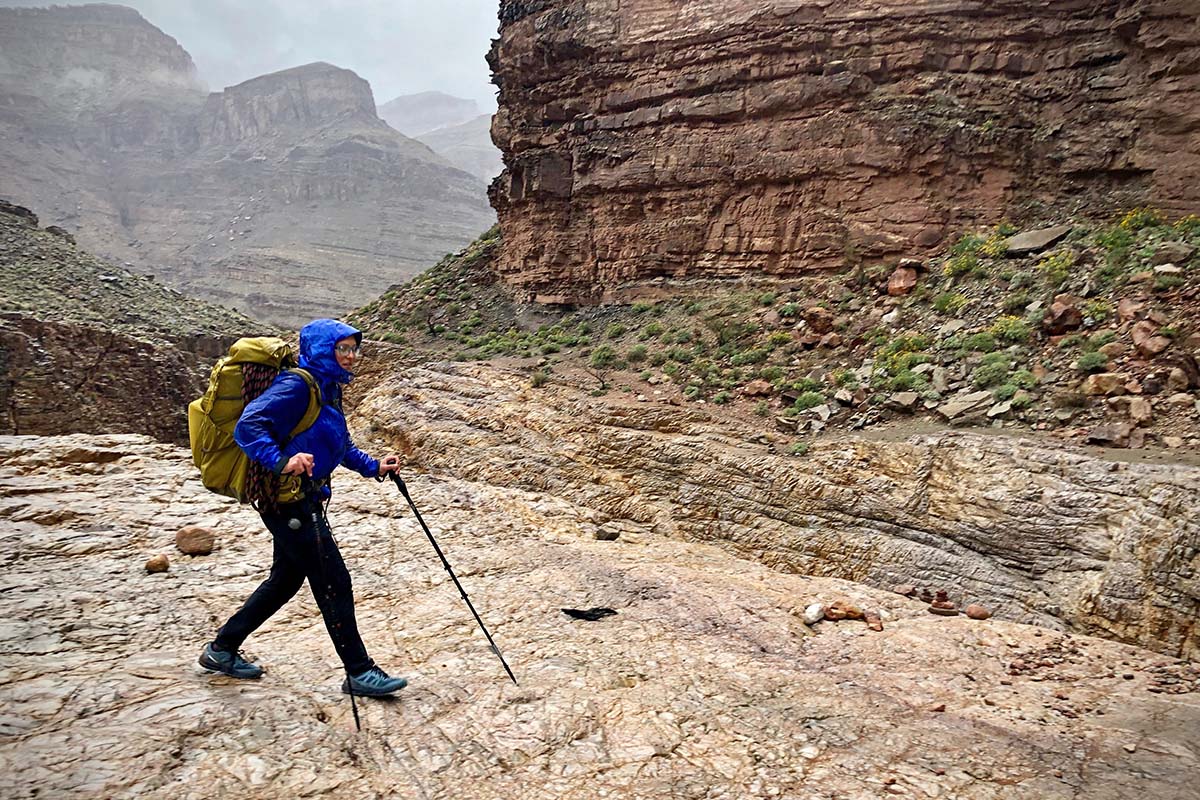 Weight and Packability
At 10.6 ounces for a women's medium, the REI XeroDry is plenty light for hauling in a pack on hiking and backpacking trips. Comparable Gore-Tex Paclite rain jackets like the Marmot Minimalist (13.6 ounces) and Outdoor Research Aspire (13.7 ounces) come in a bit heavier, although they do offer a step up in weather protection, features, and ventilation. On the other end of the spectrum is a minimalist shell like REI's own Drypoint GTX (8.6 ounces). That jacket's 3-layer construction gives it a boost in durability and breathability, but it comes with a higher $249 price tag.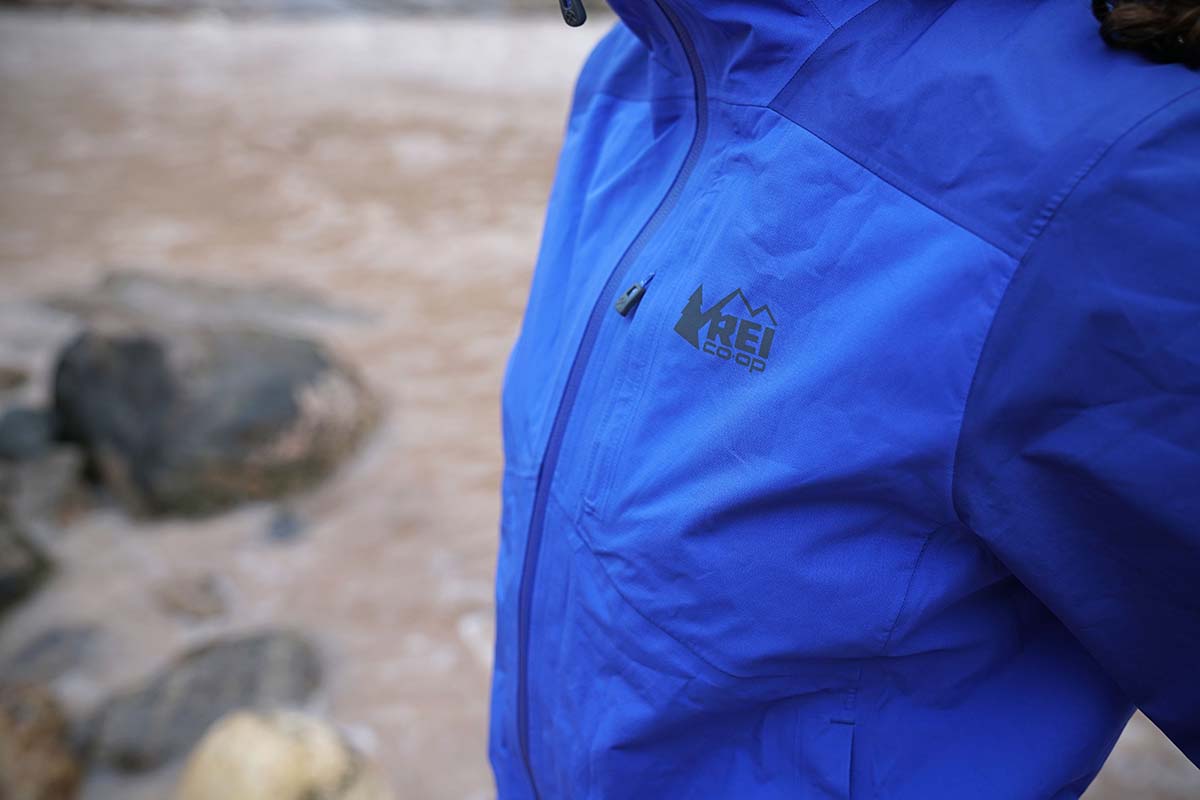 As far as packability goes, the XeroDry doesn't include a dedicated stuff sack or a two-sided zipper for storing in one of its own pockets. But it is easy to roll the jacket into its own hood, and the thin and relatively supple fabric made the jacket easy to stuff into an already-full pack. For my purposes, a stuff sack would be a nice addition for further compression or hanging onto a harness, but considering its price and intended use, the jacket is sufficiently light and packable.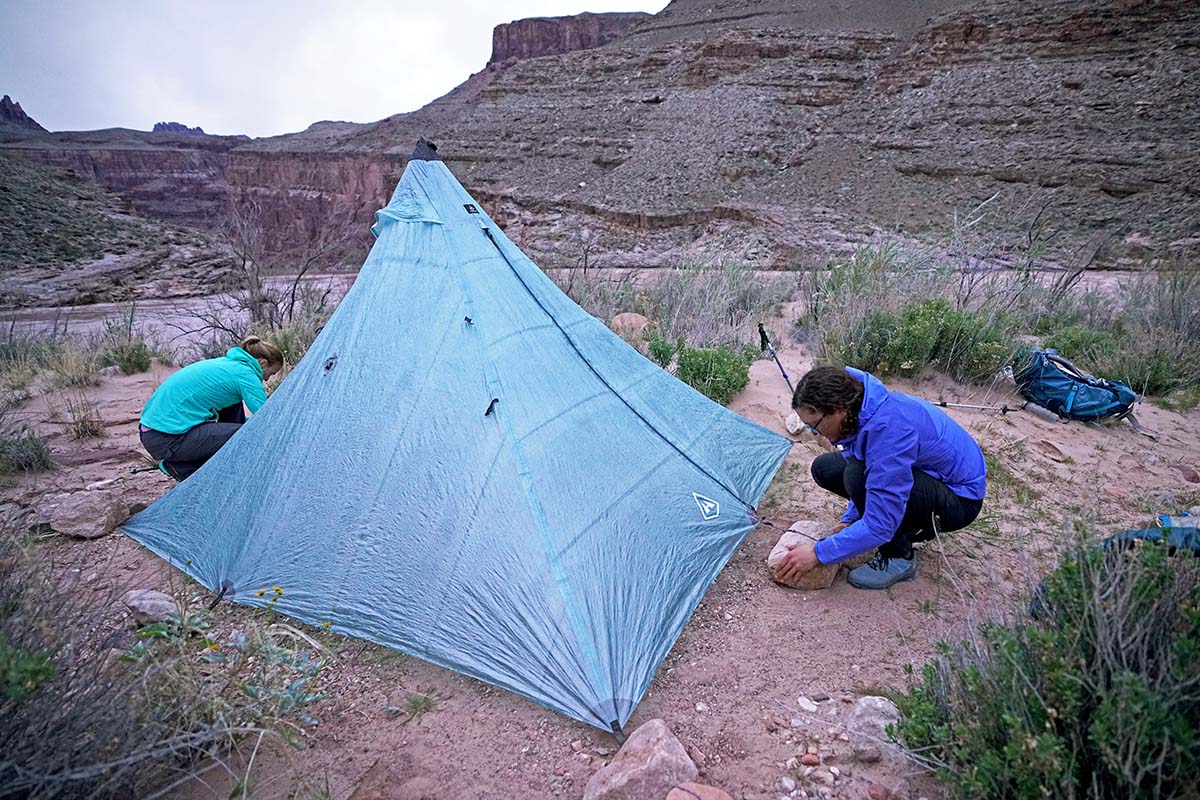 Build Quality and Durability
Where the XeroDry stands out in the competitive sub-$200 rain jacket market is its sleek, simple design and solid build. To start, the XeroDry has a softer interior than many crinkly hardshells and rain jackets, allowing me to wear it comfortably over just a t-shirt. Moreover, the flap inside the main zipper has a felt-like coating that was cozy against my face, and the asymmetric arm hem provided great coverage over the top of my hands without restricting movement. As far as durability is concerned, the XeroDry's shoulders, back, and arms are reinforced with a slightly burlier fabric (75-denier) than the rest of the jacket (50-denier), which help protect high-wear areas that consistently rub against a pack.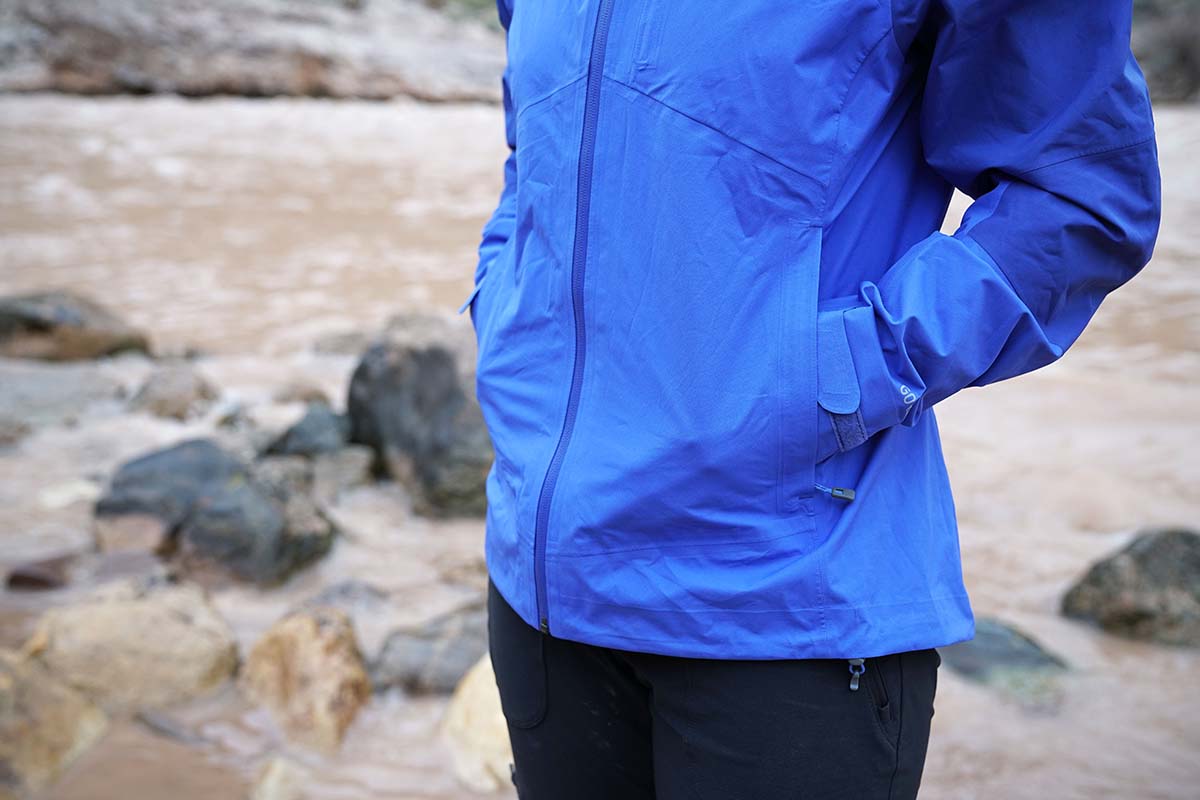 Features: Pockets and Hood
The XeroDry GTX is fairly bereft of features compared to many other premium shells, with the most noticeable sacrifice being pit zips. However, it does include two hipbelt-compatible hand pockets that are backed with mesh to double as core vents. As I mentioned above, I didn't love the design—I prefer to use this space for storing small valuables, and even when the pockets were open, they didn't ventilate nearly as well as traditional pit zips. Instead, I used the small chest pocket to stow my phone (although it's safest to keep electronics in your midlayer or in a pack during rain).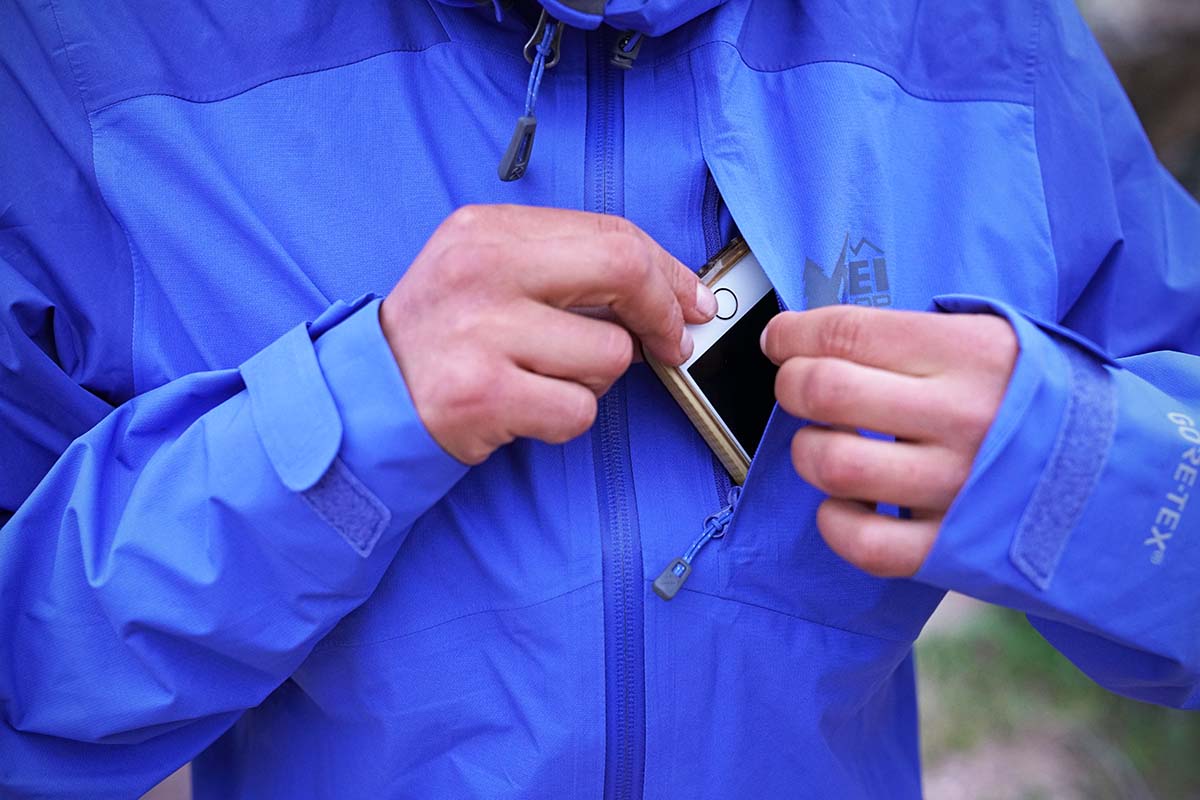 Aside from storage, the XeroDry has a two-way adjustable hood that provides excellent coverage. REI doesn't list the hood as helmet-compatible, but I suspect its large, accommodating shape could fit over my climbing helmet with relative ease. On the trip, it was plenty spacious for layering over a hat, provided full protection for the back and side of the head, and its two drawcords near the collar were easy to toggle and tighten without restricting visibility.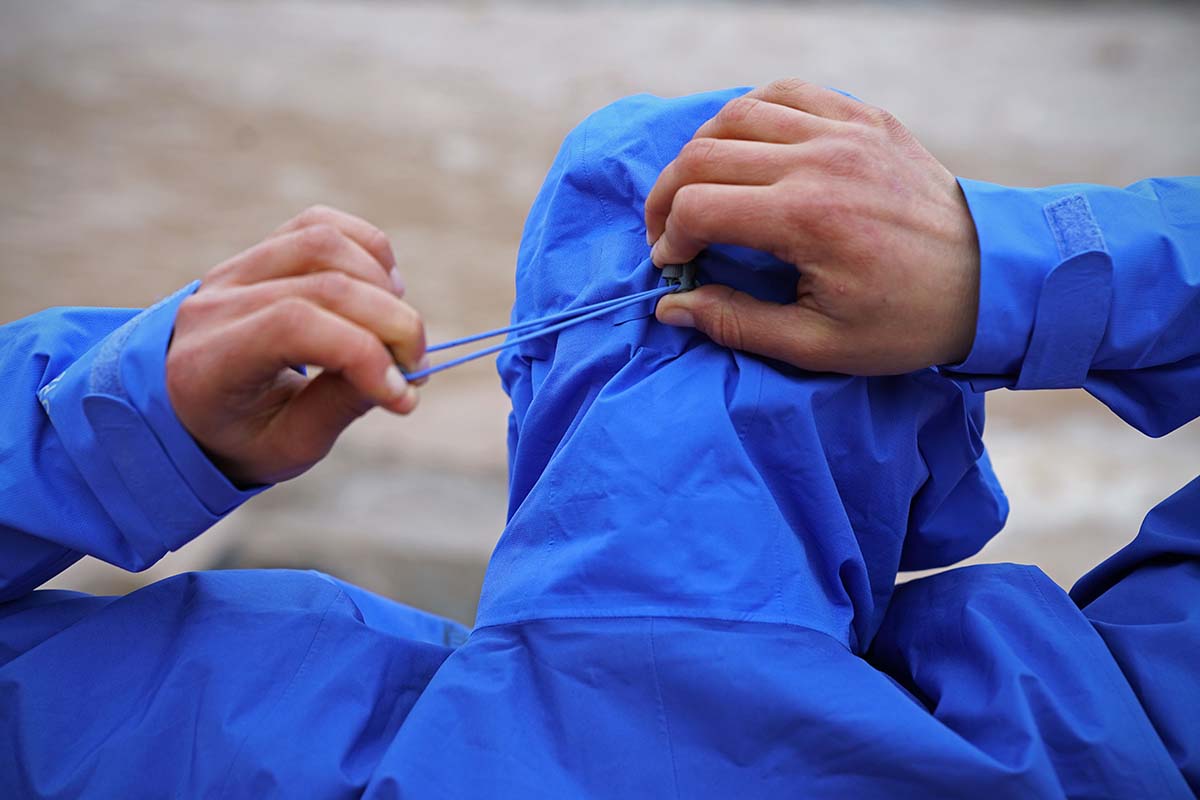 Fit and Sizing
Fit-wise, the XeroDry falls on the roomy end of the spectrum, which allowed ample freedom of movement and layering options. This also caused the jacket to feel a bit drafty, but that was easily fixed by cinching the hem drawcord. That said, the XeroDry was noticeably short in the torso—the bottom hem ended at my tail bone, whereas I'm used to performance-oriented shells running longer to provide more coverage in the back. This was especially apparent anytime I lifted my hands over my head (mostly while setting up camp), causing the jacket to rise almost to my belly button. Compared to the more performance-focused, slim fit on the Arc'teryx Zeta SL, for example, the XeroDry fell notably short (both literally and figuratively). The good news is that I enjoyed layering however I wanted and was able to seal out rain and wind easily—two major considerations for a shell.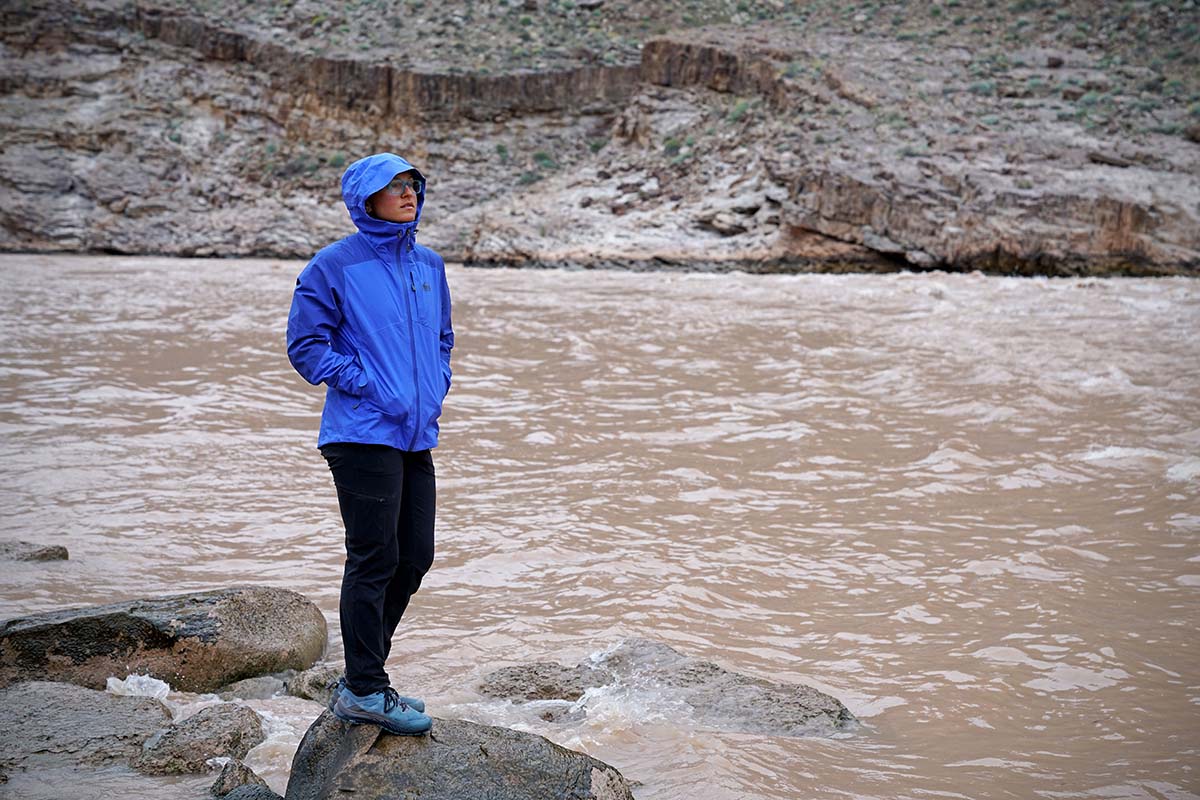 Other Versions of the REI Co-op XeroDry GTX
For this review, we tested the women's version of the REI Co-op XeroDry GTX. This jacket is also made in a men's version, which weighs slightly more (12.5 ounces) and comes in different colorways, but with the same design overall. Furthermore, REI offers XeroDry rain pants for both women and men with the same 2-layer Gore-Tex Paclite design of the jacket reviewed here. These pants are black in color, available in a variety of sizes, and retail for $139.

What We Like
The XeroDry is a great value: for $159, you get a sturdy Gore-Tex shell that's lightweight and packable.
High-wear areas are reinforced with more durable fabric than the rest of the shell, lending great durability.
Unlike some crinkly hardshells and rain jackets, the XeroDry's interior felt reasonably soft against bare skin.
 
What We Don't
The XeroDry wetted out and soaked through surprisingly quickly during heavy rain.
Gore's entry-level Paclite construction doesn't breathe very well. 
The mesh-lined hand pockets that double as core vents don't dump heat as effectively as pit zips. Plus, opening the vents means that you can't store anything in the pockets.
The jacket is a little baggy and short and I would have liked extra coverage, especially in the back.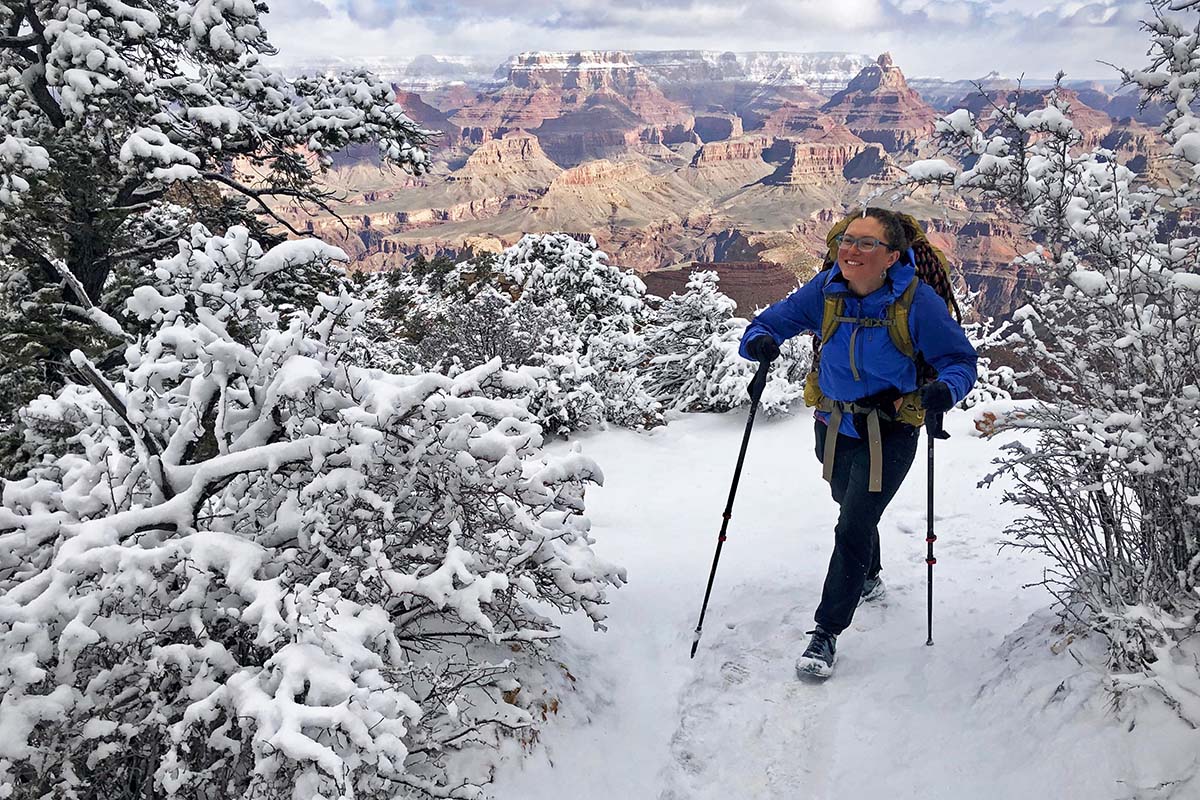 Comparison Table

The Competition
REI Co-op's XeroDry GTX Jacket joins a crowded landscape of lightweight rain shells, and our favorite this season is the Marmot Minimalist. The Minimalist also uses Gore-Tex Paclite but with a higher-quality and burlier face fabric, which translates to a bump in water protection. However, "minimalist" is a bit of a misnomer with the Marmot: at 13.6 ounces, it's 3 ounces heavier than the XeroDry and doesn't pack down as small for backcountry trips. On the other hand, the Minimalist includes pit zips and features a cleaner look that translates better to everyday wear. Value-wise, you do save $30 with the REI, but we think the Marmot's superior weather protection and around-town versatility is worth the extra cost in the long run.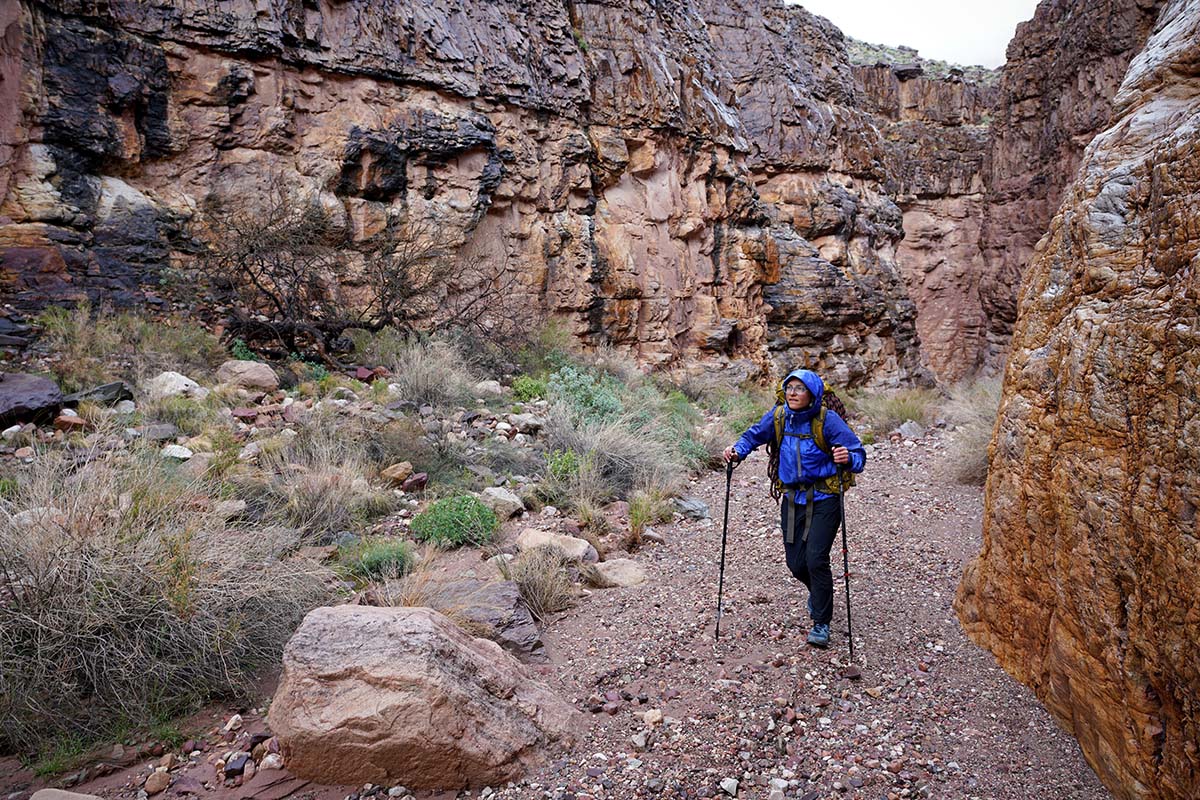 Clocking in at the same weight as the REI XeroDry, Patagonia's Torrentshell is another solid all-around performer. Using a 2.5-layer H2No Performance Standard construction (Patagonia's proprietary waterproofing material), the Torrentshell offered ample protection during testing for both daily wear and moderate outdoor use. It did start to absorb moisture during heavy rain just like the XeroDry, but the Patagonia jacket offers two notable features that set it apart: pit zips and a dedicated stuff pocket with clip-in carabiner loop for easy carry. All in all, the two jackets are very similar, but it's hard to argue with Patagonia-level quality and style—especially for $30 less than the XeroDry.
We've also referenced REI's own Drypoint GTX throughout this article—a precursor to the XeroDry with a more performance-focused build. For starters, the Drypoint uses a more robust and breathable 3-layer Gore-Tex Active construction, comes in lighter than the XeroDry (8.6 vs. 10.6 ounces), and protects noticeably better against intense rain and wind. However, like the XeroDry, the Drypoint sacrifices pit zips for mesh-lined pockets that serve as core vents. At $249, the Drypoint is $90 pricier than the XeroDry, but it's a considerable upgrade for those who need the boost in breathability and weather protection.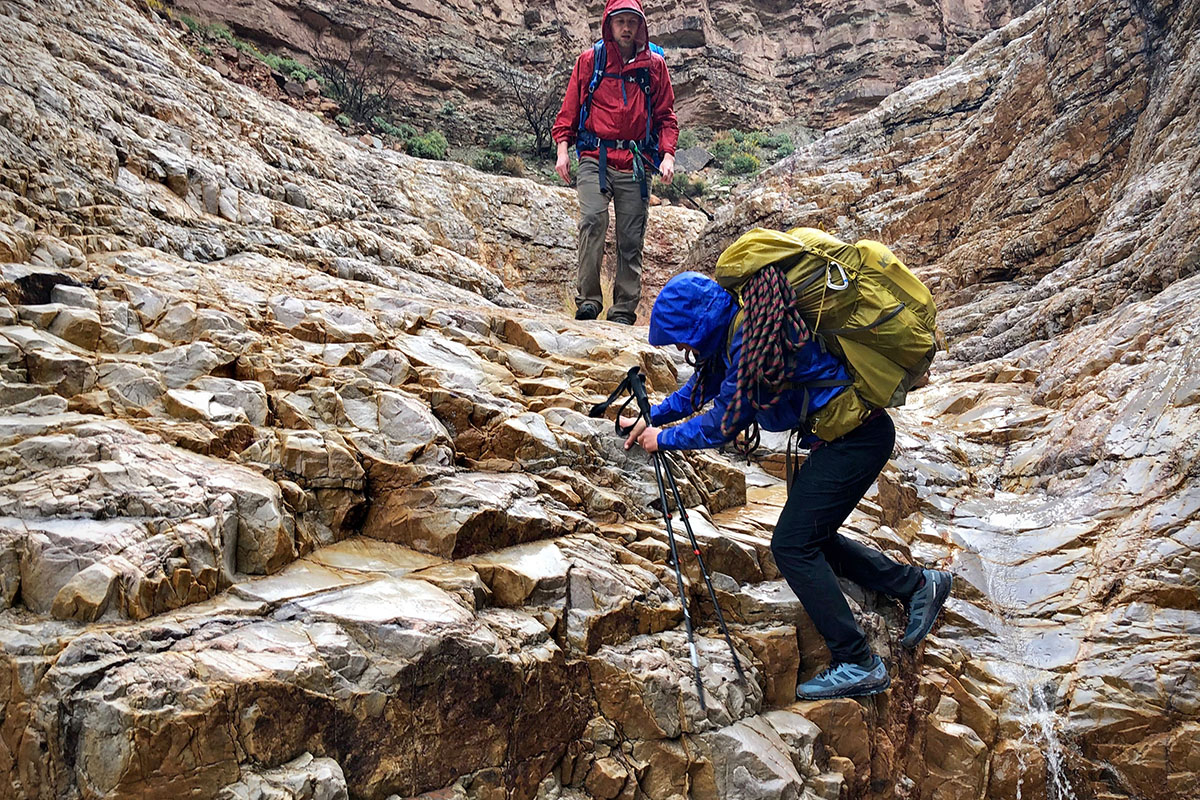 Last but not least, Black Diamond's StormLine Stretch Rain Shell is one of the lightest fully featured rain jackets on the market. At 8.7 ounces, it undercuts the XeroDry by around 2 ounces, but includes additions like pit zips and a stretchy face fabric for added elasticity and comfort (although it lacks a chest pocket). Further, unlike the XeroDry's 2-layer Gore-Tex build, the StormLine features a 2.5-layer, in-house BD.dry construction, which we found to be very capable in wet weather but lacking in breathability (importantly, however, it gets the edge here over the XeroDry). All things considered, we prefer the StormLine's more performance-oriented build, and it doesn't hurt that it saves you $10.
Editor's note: We usually provide a live price comparison table below our outdoor gear reviews, but the XeroDry is sold exclusively by REI Co-op. You can see the XeroDry GTX page here and support us in the process. Thanks!
Read More From Switchback Travel