Patagonia Torrentshell 3L Jacket
Price: $179
Weight: 13.7 oz. (men's medium)
Waterproofing: 3L H2No Performance Standard
What we like: One of the best values on the market: This shell is well built, highly protective, and looks good.
What we don't: Fairly crinkly and stiff; doesn't have a chest pocket.
See the Men's Patagonia Torrentshell  See the Women's Patagonia Torrentshell
Patagonia's Torrentshell 3L rain jacket is about as popular and well liked as it gets in the outdoor apparel space. The hardwearing 3-layer build offers excellent protection and durability, you get a wide variety of color options, and the price is right at $179. Patagonia lightly updated the design in late 2022—the most notable change is a PFC-free DWR coating—and we took the latest model to southern Patagonia for testing. Our takeaways were similar to the outgoing jacket: The shell is a bit stiff, and we'd prefer it came with a chest pocket, but it's otherwise a true standout for mixed casual and outdoor use. Below we outline our experience with the Torrentshell 3L. To see how it stacks up to the competition, see our article on the best rain jackets.
 
---
Table of Contents
---

Performance
Weather Protection
Southern Patagonia is synonymous with sideways rain and constant wind, and the Torrentshell 3L Jacket proved to be an extremely capable and reliable barrier against those challenging elements. The H2No Performance Standard waterproofing, quality seam taping, and durable water repellent (DWR) finish did an admirable job of fending off rain and blocking strong gusts, and the jacket never once soaked through. At only $179, this is truly impressive performance. For reference, the vast majority of competitors utilize a thinner 2.5-layer build, which is more prone to being overwhelmed by heavy moisture. You do pay for the added protection in weight and heft (more on this below), but that tradeoff is worth it for many, and especially those who live in areas with consistent rainfall.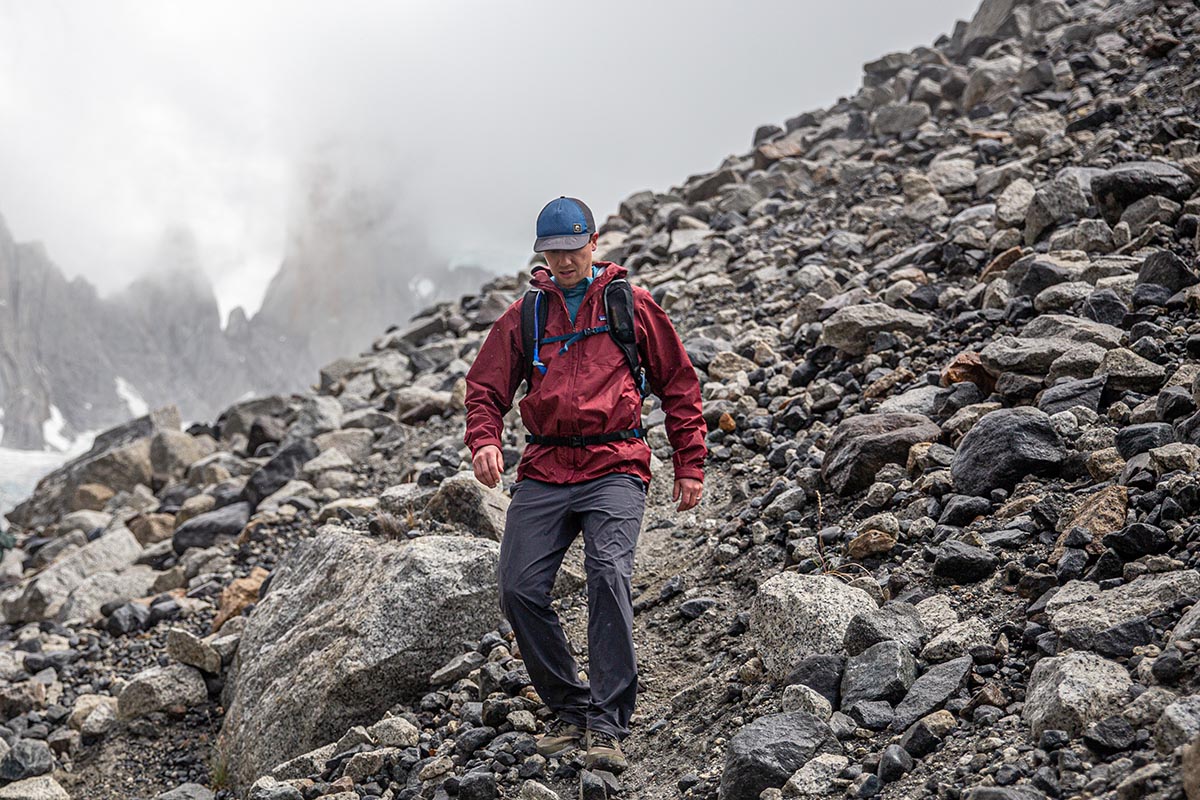 In addition to the quality waterproofing, the Torrentshell has a healthy number of protective features, including Velcro cuffs, zipper flaps, and hem adjustments at each side. I found it easy to batten down the hatches with the large hood, and even in extremely strong gusts and periods of true downpour, I had no issues with leaking. It's worth noting the hand pockets only have fabric flaps to keep out moisture, so I wouldn't recommend storing valuables in there in heavy rainfall. But again, I saw no signs of leakage even after extended exposure to rain, wind, and even blowing snow. All in all, from a protection standpoint, the Torrentshell 3L is as good as I've seen for under $200.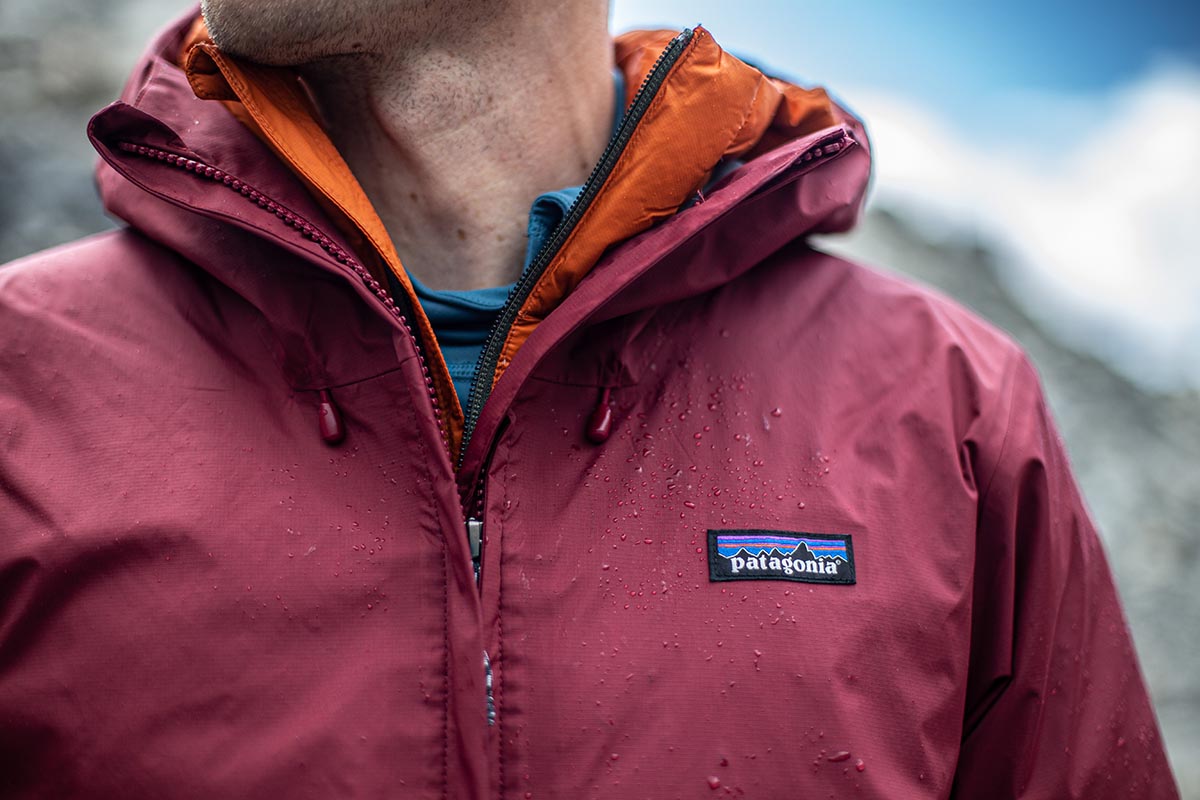 Breathability
Three-layer jackets are often better breathers than 2.5-layer designs, but this seems to be one area of compromise with the cheaper Torrentshell. So, while its wet-weather performance easily beat out competitors like the Rab Downpour Plus 2.0 or Black Diamond StormLine Stretch, I found the Patagonia to be similarly breathable (if not slightly worse in the case of the StormLine). The thick and substantial fabrics likely play a role here, and it's pretty clear that Patagonia prioritized durability and protection over air permeability. In general, the jacket strikes me as a fine piece for hiking and backpacking, but it's worth upgrading to a higher-performing option like the Outdoor Research Microgravity or Arc'teryx Beta LT for more strenuous activities like ski touring or biking.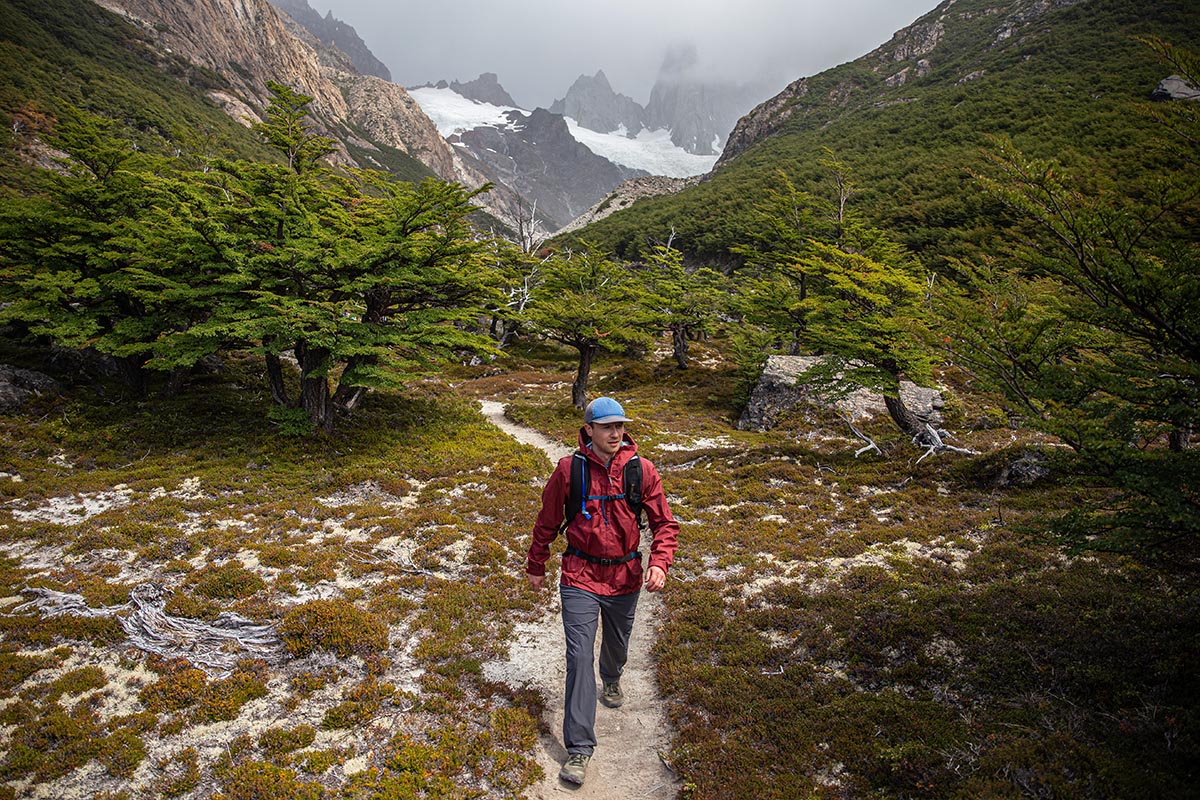 That said, the Patagonia Torrentshell 3L does include pit zips, which are a must for those who run warm. I wore the shell on numerous climbs, and the openings kept me from overheating. I did grow noticeably warm quickly, but the dual zippers allowed for easy customization to regulate airflow, and the fabric zipper pulls were easy to find and grab (although they're on the small side for manipulating with gloves on). Patagonia did opt for a fabric flap here for protecting the zippers, which plays a role in the jacket's heft and larger packed size (many performance-focused designs use coated zippers instead), but this is a very small nitpick and not a major concern for most.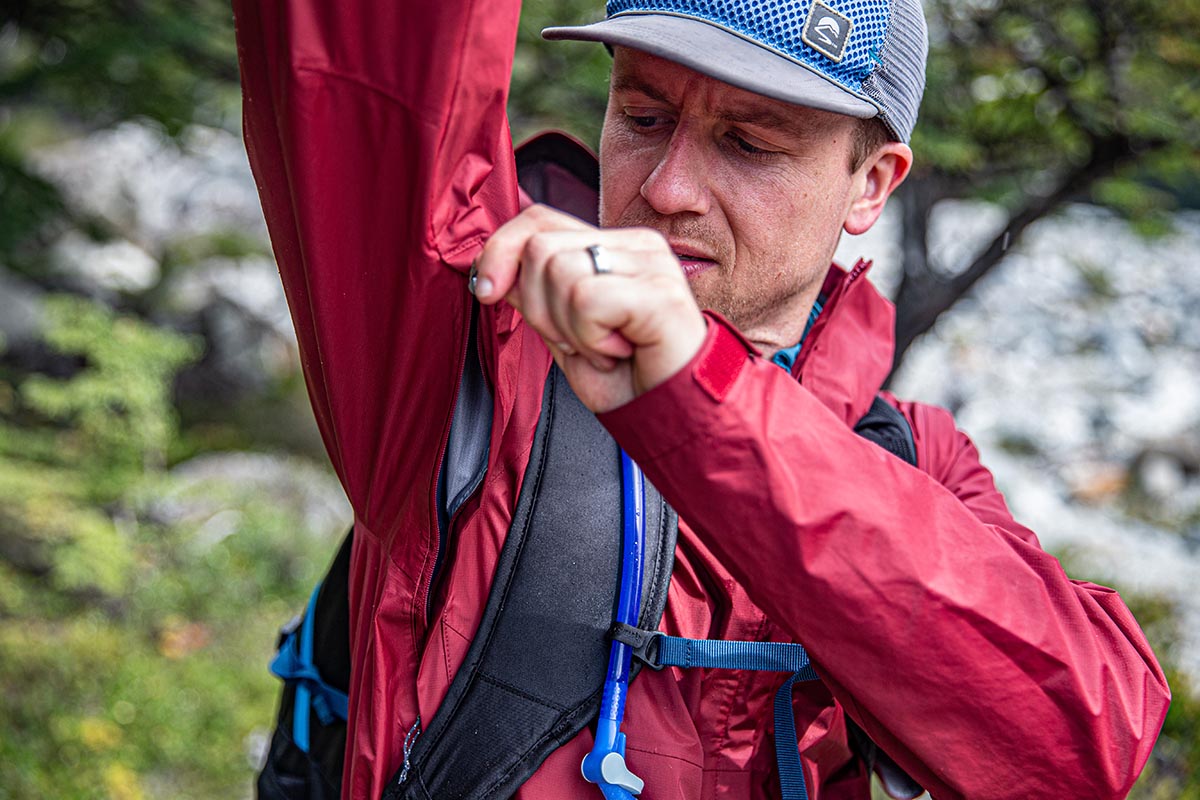 Comfort
Comfort is a bit of a mixed bag with the latest Torrentshell. On one hand, the 3-layer construction means you get a full lining along the interior, which makes it less plasticky- and slippery-feeling while working up a sweat. However, it's decidedly one of the stiffest rain jackets I've worn to date: The fabric is crinkly and noisy—reminiscent of a winter-ready hardshell—and it's noticeably less supple than the older version that used a 2.5-layer construction (I found it does break in and soften a little over time, however). In addition, there's no fleece along the chin, but the zipper garage does keep my facial hair from snagging on the main zip. And on the bright side, Patagonia did incorporate fleece at the back of the neck. All in all, I wouldn't call the Torrentshell a standout in this department by any means, but many will find the numerous tradeoffs in weather protection and longevity worth it.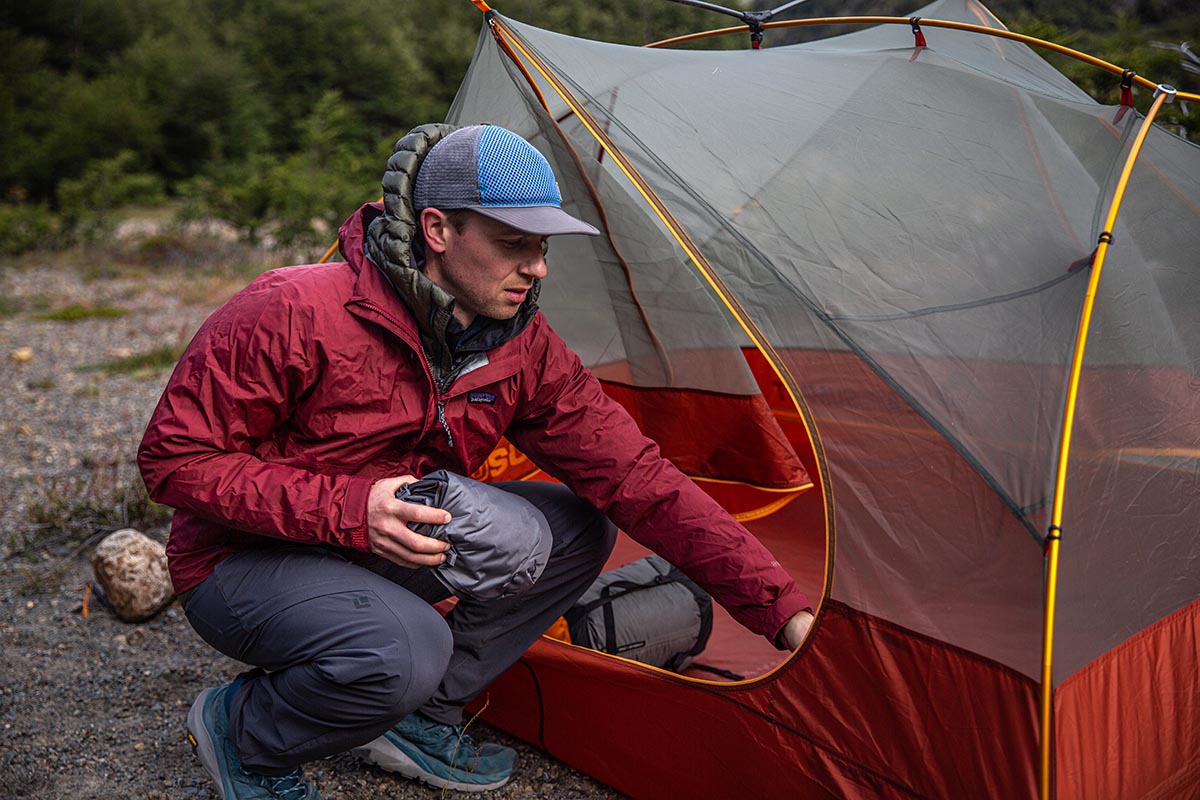 Weight and Packability
At 13.7 ounces for a men's size medium (the listed weight is 14.1 oz.), the Patagonia Torrentshell 3L won't be mistaken for a minimalist backcountry shell, but it's perfectly serviceable for most outdoor use and daily wear. For comparison, Marmot's popular PreCip Eco clocks in a few ounces lighter at 10.6 ounces, and Black Diamond's StormLine (11.3 oz.) and Rab's Downpour Plus 2.0 (13.2 oz.) undercut it. Stepping up to more premium and burlier Gore-Tex models, Marmot's Minimalist (13 oz.) and Outdoor Research's Foray II (11.9 oz.) are also a little lighter, although they're pricier at $220 and $225 respectively and use thinner (2.5 and 2L) constructions.
There aren't many 3-layer options in this price range, but opting for a more performance-oriented jacket like Patagonia's own Storm10 will save you significant weight (8.3 oz.) for backcountry and alpine pursuits. In the end, the Torrentshell isn't a class leader and does feel a bit thick and rigid, but it packs down surprisingly well into the left pocket and does the trick for most outdoor adventures when weight isn't a primary focus.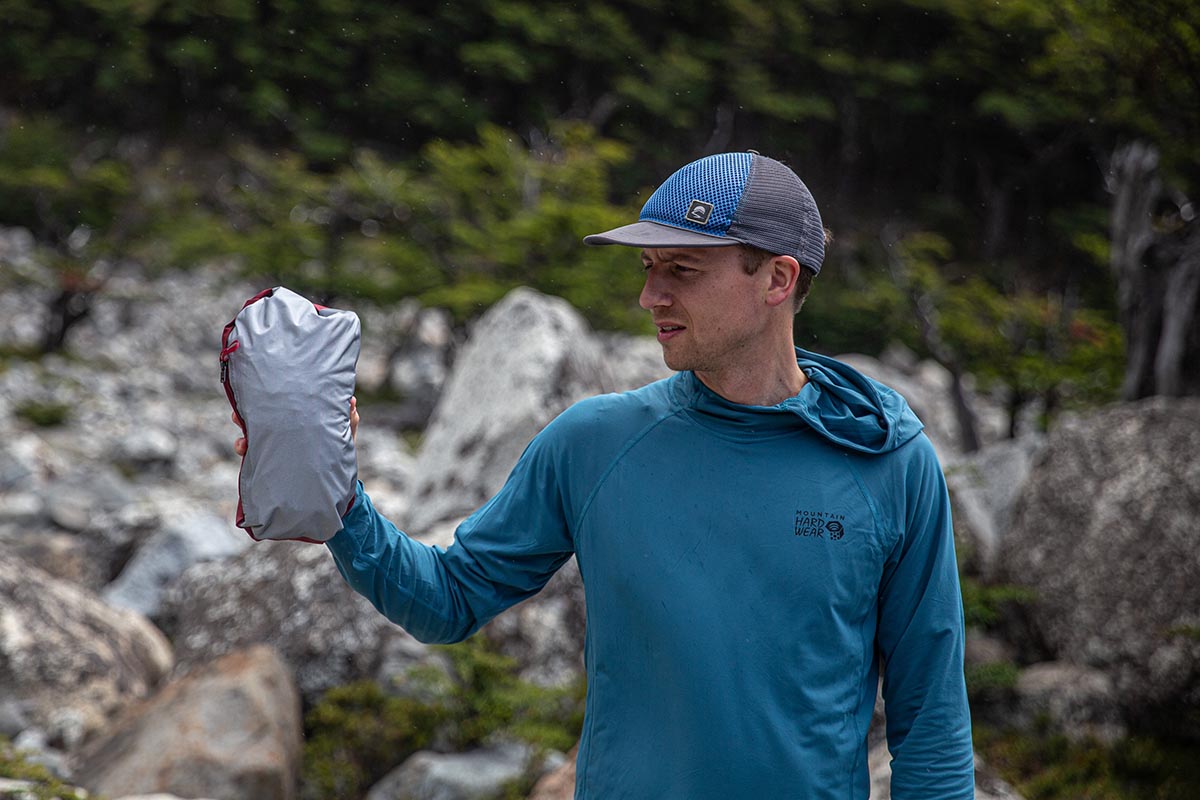 Build Quality and Durability
Patagonia rarely disappoints from a build quality standpoint, and this held true with the Torrentshell 3L. Overall, this jacket is well made with a classy look, tidy seams, and clean lines. Throughout testing, I've had no issues with tearing or snags, there are no visible signs of wear, and all zippers and other features are holding up well and working flawlessly (the large-toothed main zipper is a nice, premium touch). In addition, the 3-layer construction and 50-denier (D) face fabric are confidence-inspiring and noticeably tough—all the materials feel substantial and almost hardshell-like. Given my experience thus far, I expect the Torrentshell to last a long time without issue.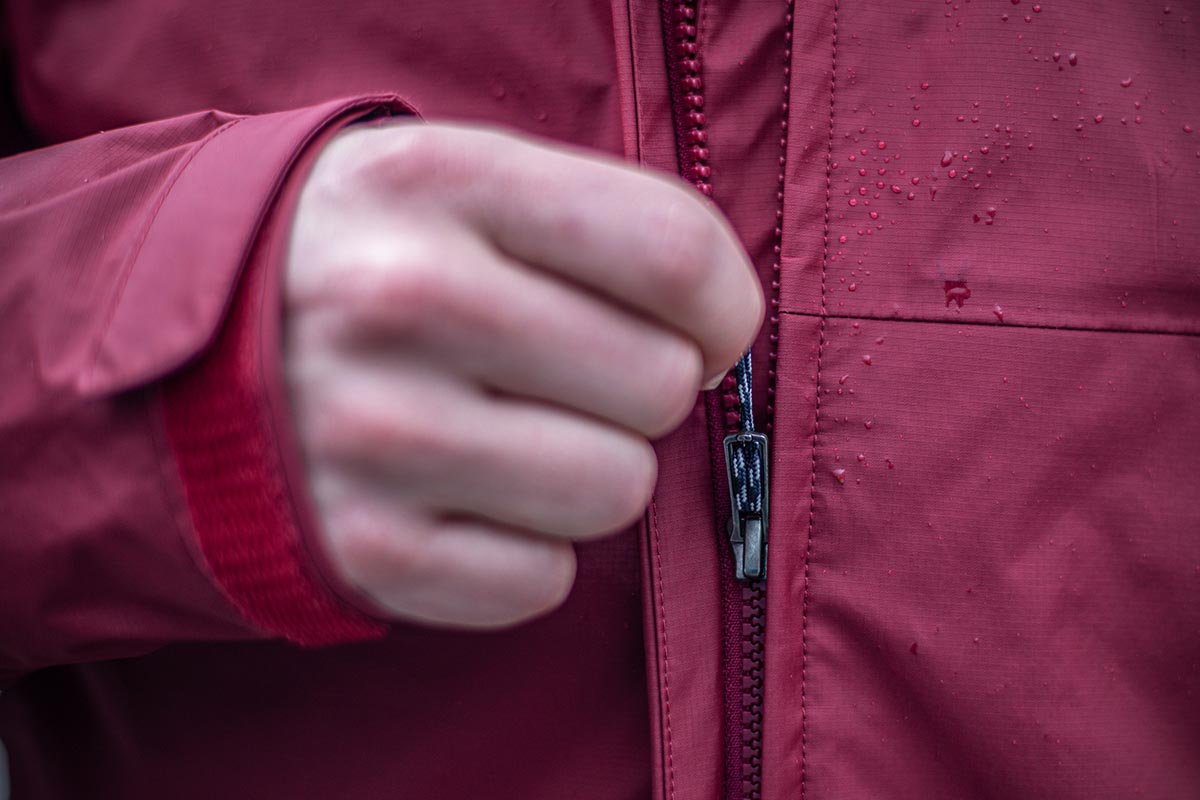 Features: Hood and Pockets
In terms of features, the Patagonia Torrentshell 3L Jacket comes decently equipped with a functional hood and generously sized pockets. Starting with the former, you get a good amount of adjustability with drawcords at the back and front. And unlike many budget-oriented designs, the cinch cord secures all the way around the head, including the bill. As a result, you get a snug fit that stays securely in place, even in blustery conditions. And the bill itself is large and does a nice job keeping moisture from dripping down onto your forehead or face. Size-wise, the hood is large, but it's easy to tighten and fits well over a hat or beanie (although it's not helmet-compatible).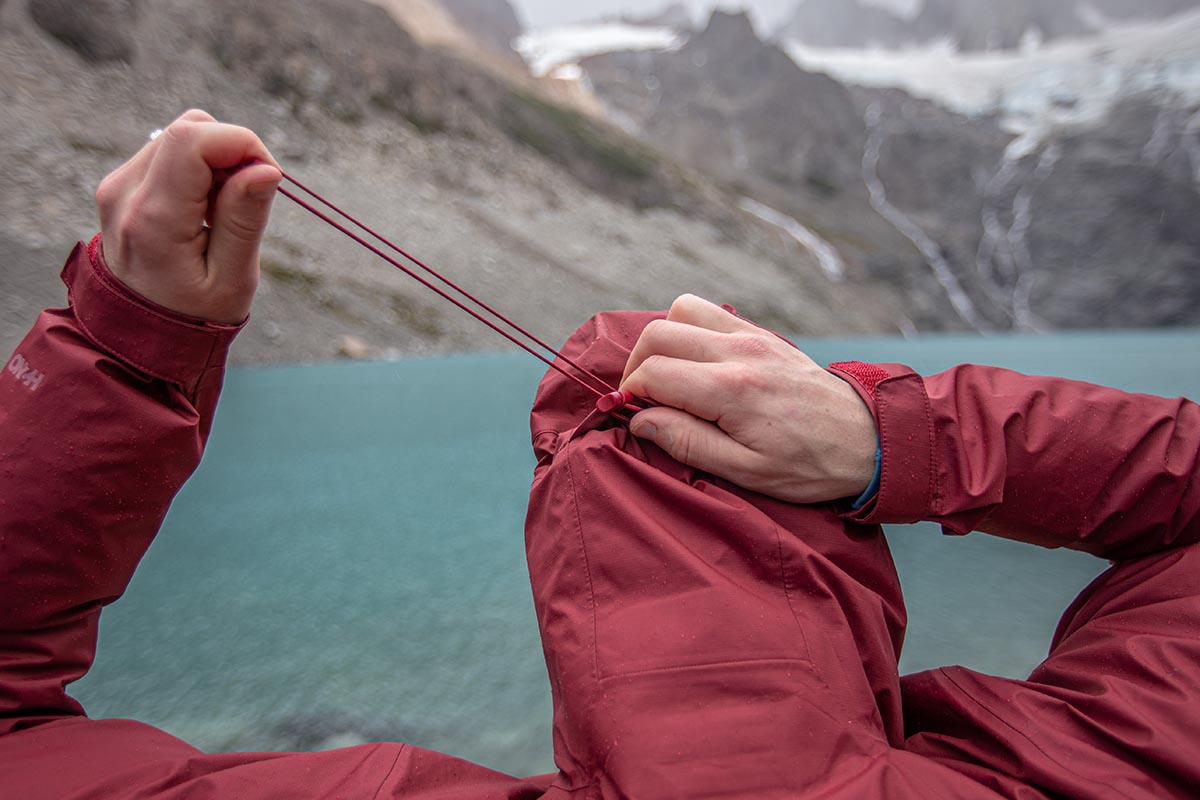 As far as storage goes, the Torrentshell sticks to the basics with only two handwarmer pockets. The good news is that these are nicely sized, protected by fabric flaps to seal out moisture, and comfortably fit gloves, a hat, or cold hands. That said, I did find myself wishing for more storage in the form of a chest pocket to stash items like my phone or map (stowing these items in the lower pockets means they can fall out with your hands inside). Some won't be bothered by the minimalist layout, and zippers do add weight and cost, but expect to be slightly inconvenienced if you're used to more storage.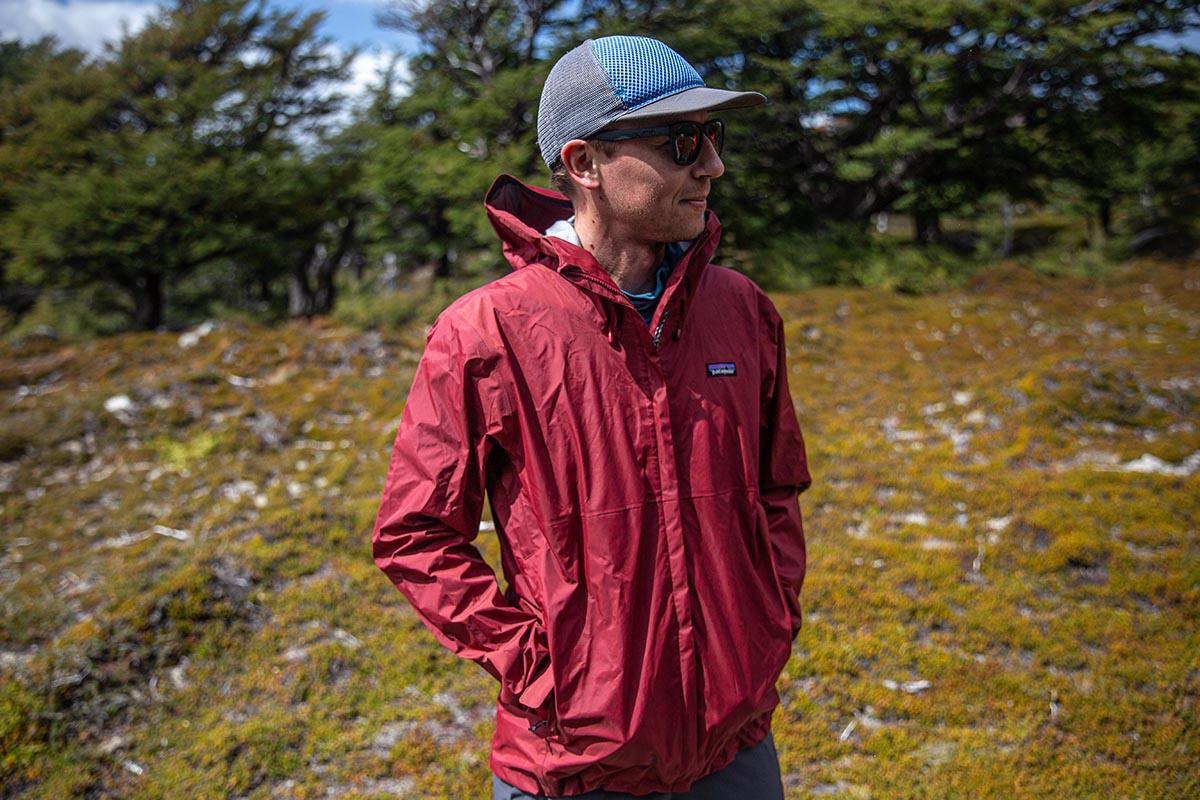 Fit and Sizing
Patagonia bills the Torrentshell as a "regular fit," which I think is a fair designation. At 5'9" and 155 pounds, I opted for my usual men's medium. All in all, the jacket fit true to size with enough room to comfortably layer underneath without ever feeling overly restrictive or baggy. The neck area can be a little constricting if your midlayer has a hood, but this isn't too surprising, as doubling up on hoods almost always feels awkward and bulky. And some might not love the slightly boxy cut—it's more noticeable when wearing the jacket over just a t-shirt—but again, this was great for layering and provided a versatile and accommodating all-around fit.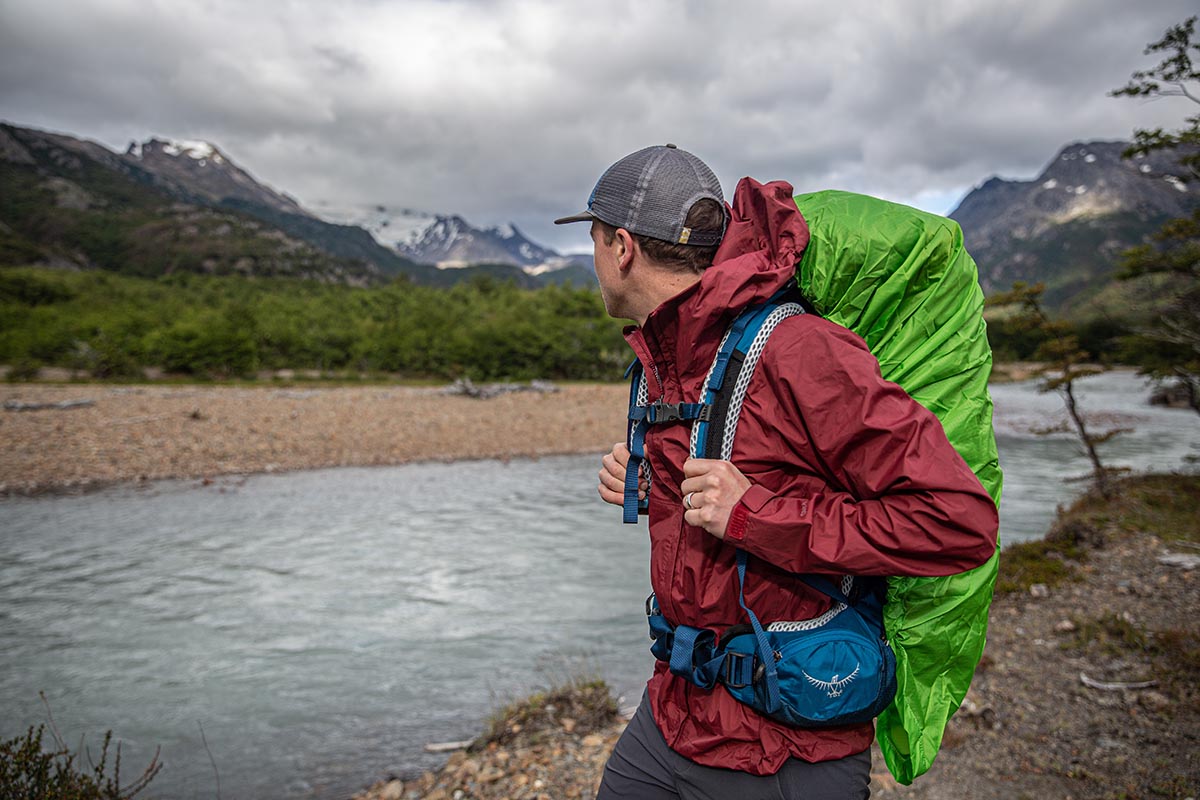 Sustainability
Patagonia has been a longtime leader in sustainability practices among outdoor brands. In the case of the Torrentshell 3L Jacket, they use a 100% recycled nylon ripstop face fabric and PU membrane that's made with 13% bio-based content, and all materials are bluesign-approved, meaning that they are safe for the environment, workers, and customers. And new to the latest model is a PFC-free DWR coating, which Patagonia is implementing across their outerwear lineup. Finally, the Torrentshell is Fair Trade Certified sewn, which indicates that Patagonia put extra money into the jacket's production to ensure that workers are compensated fairly and can fund community projects, healthcare programs, and more. For additional info, the bottom of the Torrentshell's product page details all of these measures.
 
Other Versions of the Patagonia Torrentshell
We tested the men's version of the Patagonia Torrentshell 3L Jacket for this review, and there are a number of other variations in the lineup. For starters, the jacket is also available in a women's version for the same price. The women's Torrentshell 3L Jacket is lighter at 12.4 ounces and offered in different colorways, but otherwise, the two models have identical feature sets and overall constructions. In addition, Patagonia sells the Torrentshell in men's pants ($129), a women's-specific, parka-length City Coat ($249), and kids' options including jackets, pants, and bibs. All versions share the 3-layer H2No Performance Standard waterproofing and similar sustainability measures.

What We Like
The Torrentshell is a superb value at $179: You get excellent weatherproofing from a quality 3-layer build, great looks and clean styling, and typical Patagonia build quality.
Versatile fit that can easily accommodate layers underneath but doesn't feel overly restrictive or bulky.
Sustainability focus is a big plus, including recycled, bluesign-approved fabrics, PFC-free DWR, and Fair Trade Certification.
Extensive selection of colorways (nine options for men and nine for women at time of publishing).

What We Don't
This shell is noticeably stiff and crinkly, although it does break in a little over time.
Fairly heavy for backcountry use at 13.7 ounces (for my men's medium).
Lack of chest pocket is limiting for stowing valuables and other important items.
Not a standout in breathability, but it has pit zips and gets the job done for mild outdoor pursuits and daily wear.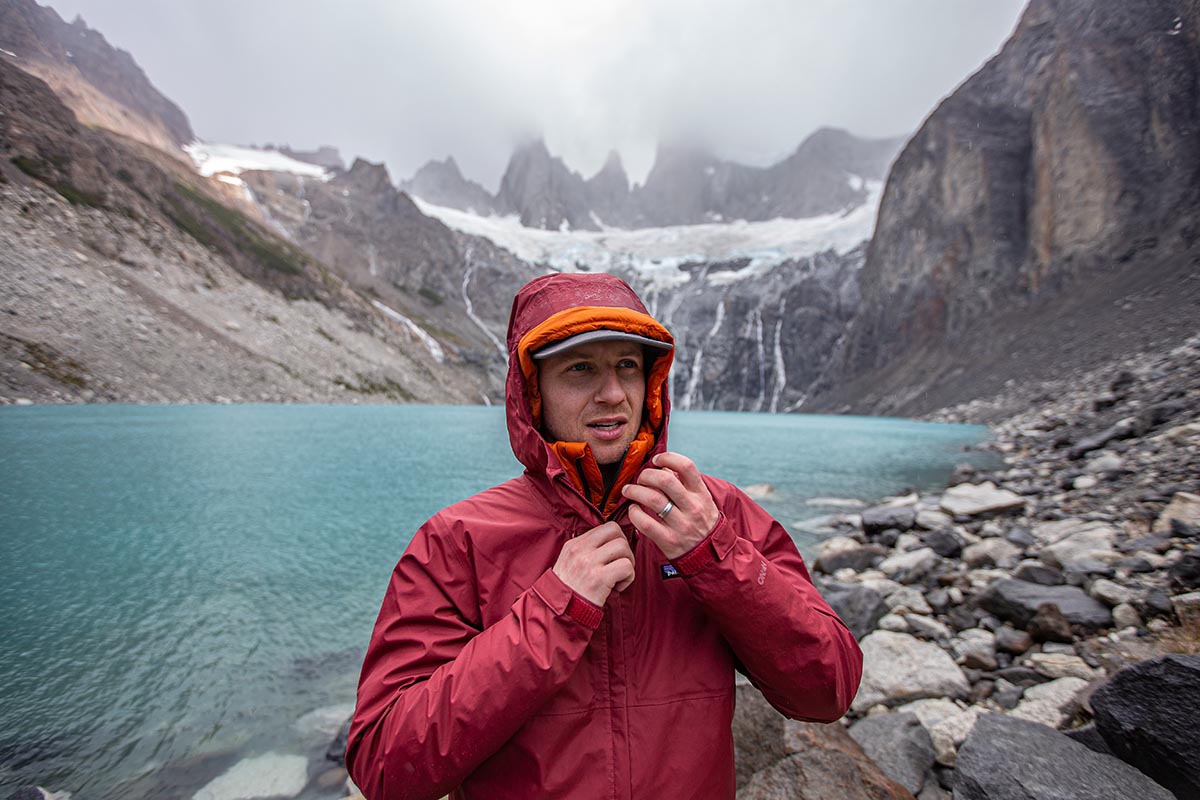 Comparison Table

The Competition
Patagonia's Torrentshell 3L is our top-rated rain jacket this year for its quality build and waterproofing at a reasonable $179 price point. In many ways, Marmot's Minimalist is one of the Torrentshell's closest competitors. Despite having a 2.5-layer build, the Minimalist is similarly thick and durable, has very solid weatherproofing thanks to the Gore-Tex construction, and crosses over nicely into daily wear. In trying them on back to back, the Minimalist is less crinkly and includes a chest pocket, but the Torrentshell has a smoother, less plasticky interior and matches it in just about every other respect while saving you $41. Totaled up, the Patagonia gets the edge for us.
REI Co-op is another leader in bang for buck, and their XeroDry GTX Jacket comes with Gore-Tex waterproofing for a reasonable $169. That said, instead of a 3-layer build, the XeroDry uses a cheaper and more basic 2-layer construction that suffered in sustained, heavy moisture (during our testing, the jacket fended off light showers just fine but got overwhelmed quickly once the rain picked up). The XeroDry also falls short of the Torrentshell in breathability, with mesh-lined hand pockets that don't dump heat as quickly or effectively as the Patagonia's pit zips. The REI does get the advantage in weight (12.5 oz.) and has a less rigid face fabric, but the Torrentshell strikes us as the more well-rounded piece.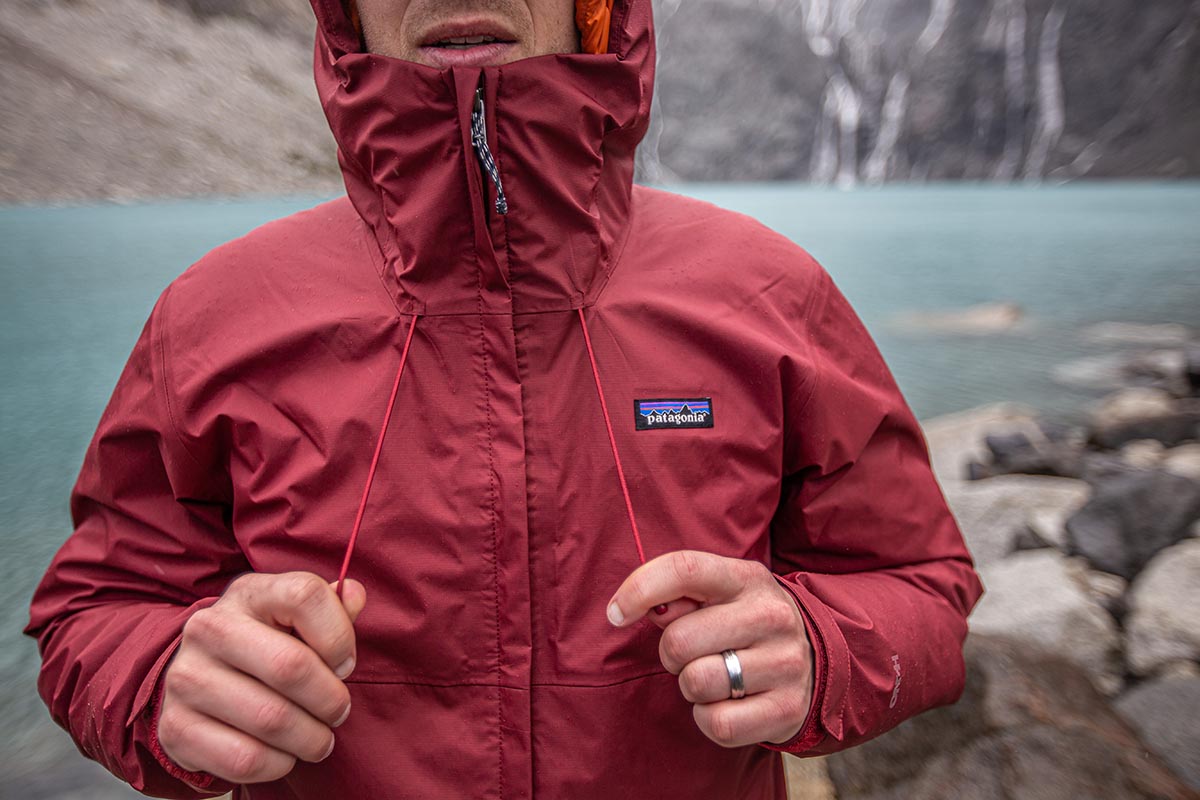 At a similar price point as the Torrentshell, we also like Black Diamond's StormLine Stretch. However, right off the bat, we'll note that the two have very different strengths. First, the BD is noticeably stretchy and lightweight (11.3 oz.), while the Patagonia puts a bigger focus on toughness and all-out protection. The StormLine also lacks the crinkly, stiff feel you get with the Patagonia and includes technical features like a helmet-compatible hood and coated zippers (rather than flaps). In the end, a final decision between the two comes down to priorities: If weight and mobility matter most, we'd go with the BD; for heavier rainfall, less intensive outdoor pursuits, and crossing over in casual wear, the Torrentshell is our pick.
Transitioning to a cheaper option, Marmot's PreCip Eco is one of our favorite budget rain jackets year after year for its impressive all-around performance at a low $100 price point. Stacked up against the Torrentshell, the Marmot is lighter at 10.6 ounces and more packable, but the 2.5-layer build falls notably short of the Patagonia's 3-layer construction in durability, comfort, and protection. However, you still get a full feature set including pit zips, a stuff pocket, and an adjustable hood, which makes the PreCip Eco a great option for hikers, backpackers, and everyday users alike. Neither are high-end performance pieces—and the Torrentshell does get the clear edge in rough weather—but the PreCip Eco is a great value for what you get and perfectly serviceable for most mild conditions.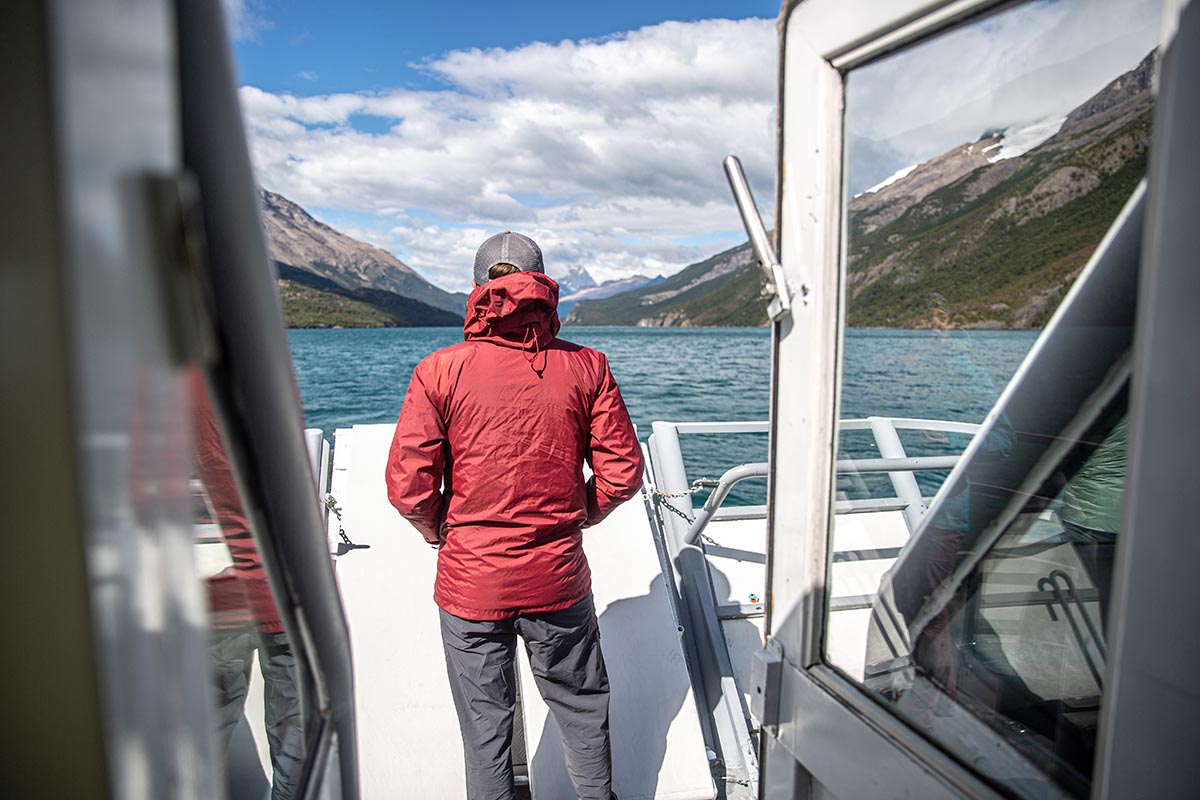 A final option to consider comes from within Patagonia's own lineup: the Granite Crest Jacket. For an additional $100, the Granite Crest features a thinner and more supple face fabric (30D vs. 50D for the Torrentshell) and includes extras like a helmet-compatible hood, chest pocket, and coated main zipper. Both jackets rely on Patagonia's in-house H2No waterproofing, weigh about the same, and have Velcro cuffs and pit zips. In deciding between the two, the Granite Crest's upgrades make it more capable in the backcountry—the thinner builds helps with breathability, too—but the jump in price won't be worth it for many (for more, see our Granite Crest review). If you're simply looking for an everyday shell that can pull double duty for hiking and backpacking, the Torrentshell is the better value.
If you're thinking about buying gear that we've reviewed on Switchback Travel, you can help support us in the process. Just click on any of the seller links above, and if you make a purchase, we receive a small percentage of the transaction. The cost of the product is the same to you but this helps us continue to test and write about outdoor gear. Thanks and we appreciate your support!
Depending on the seller, most products ship free in the United States on orders of $50 or more. International shipping availability and rates vary by seller. The pricing information on this page is updated hourly but we are not responsible for inaccuracies.
Learn More About Outdoor Gear