Marmot PreCip Eco
Price: $100
Weight: 10.3 oz. (men's medium)
Waterproofing: 2.5L NanoPro Eco
What we like: Proven performance, light and packable design, and an excellent value.
What we don't: Basic interior lining feels clammy when working hard; no chest pocket. 
See the Men's Marmot PreCip Eco  See the Women's Marmot PreCip Eco
Being from Seattle, we get asked for rain jacket recommendations a lot, and we often steer people to the Marmot PreCip. The reasons for this are fairly simple: the jacket punches well above its $100 price with quality waterproofing, a versatile feature set, and a comfortable, lightweight construction. Now the "Eco" thanks to a recycled face fabric, the jacket remains an all-around winner for everything from daily use, hiking, backpacking, bike commuting, and just about any other subalpine adventuring. Below we outline our experiences with the PreCip Eco. To see how it stacks up to the competition, see our article on the best rain jackets.
 
---
Table of Contents
---

Performance
Weather Protection
As a rain and wind blocker, the Marmot PreCip Eco is a leader in its price range. The jacket is built with a 2.5-layer NanoPro Eco waterproof and breathable shell, which has provided us with solid protection in drenching rain, gusty winds, and even occasional snowfall. To keep moisture from pooling on the jacket and soaking into the outer layer, the PreCip also includes a DWR coating. The coating is fairly unique in the industry as it's PFC-free (short for perfluorocarbons, which is a non-biodegradable chemical used in most DWRs). In testing, the coating has done a fine job shedding Pacific Northwest drizzle and mountain rain over the past few months, however it will get overwhelmed in a deluge.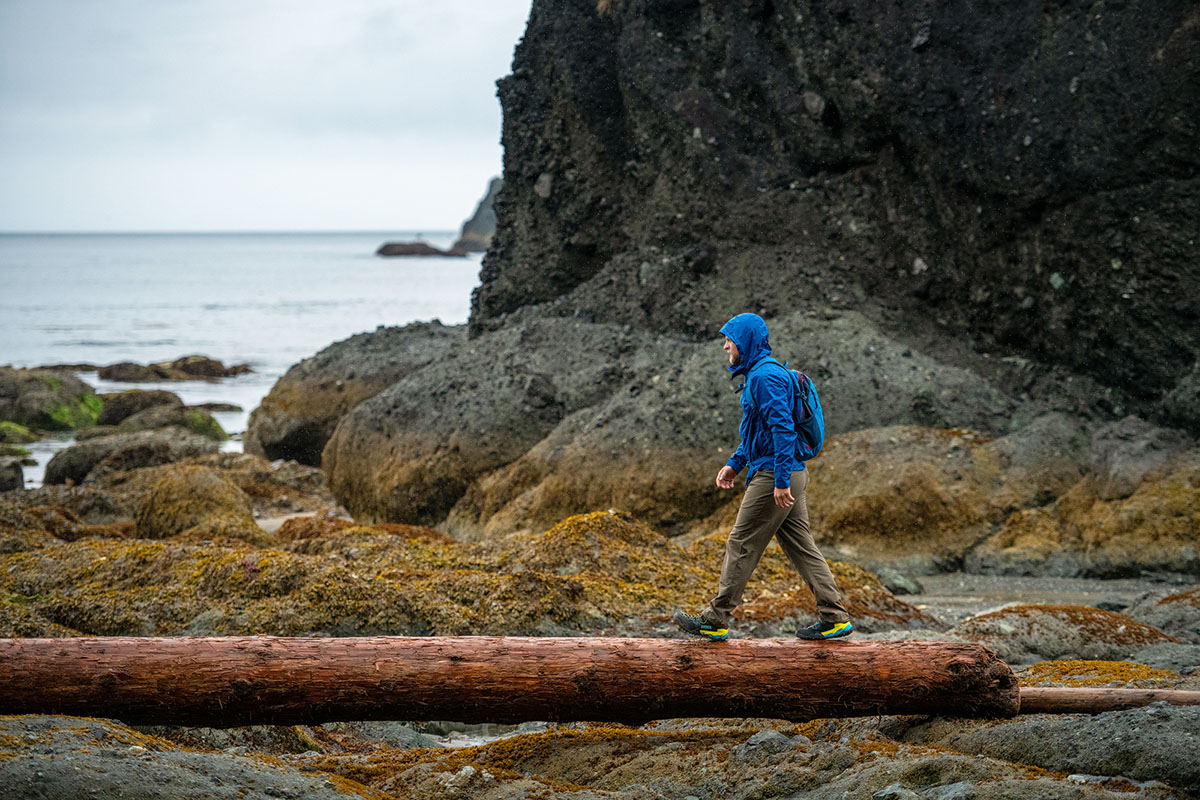 Moving beyond the shell fabric, the jacket has other nice touches for keeping the elements at bay. The collar and adjustable hood offer good coverage for the chin, forehead, and sides of the head, although we'd prefer a moldable bill on the hood for even more security in wind (we cover this in more detail in the "Features" section below). The cuffs secure easily with a Velcro tab for a snug seal, a large flap with Velcro hook and loop closures protects the main zipper, and an additional storm flap on the interior of the zipper provides a second layer of defense against driving rain. Through extended use of the Eco and prior-generation PreCip, we've found it's plenty tough in moderate weather and stacks up very well among competitors like the Patagonia Torrentshell, The North Face Venture 2, and REI Co-op Rainier.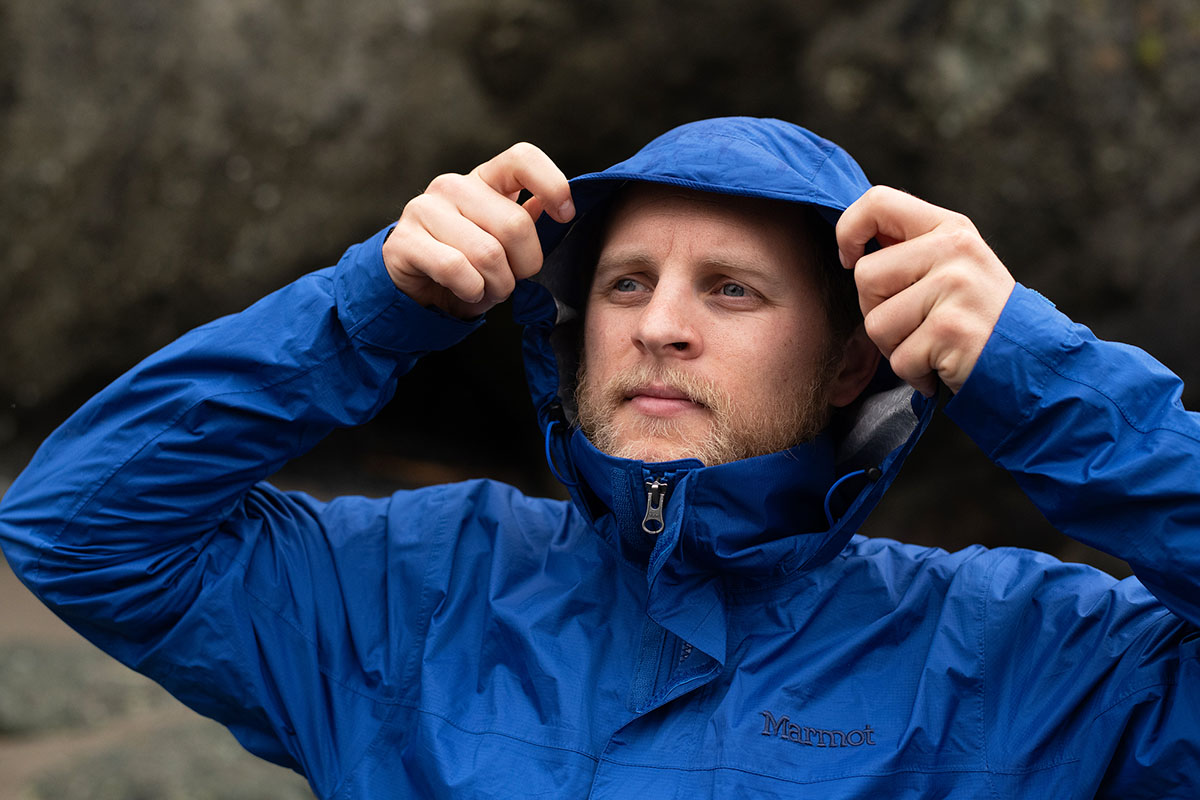 At $100, the PreCip Eco is on the cheaper end of the rain jacket spectrum, so it's important to understand what you're giving up. To start, you don't get high-end touches like water-resistant zippers, although the storm flaps do their job. Secondly, in heavy downpours, the DWR and thin construction can't keep up and the jacket will start to absorb some moisture into the top layer of the fabric. This doesn't mean the shell is leaking, but if you're wearing short sleeves, your arms will feel the cold and wet sensation of the material being pinned up against your skin. These are nitpicks, however, and more a consequence of the lightweight and value-oriented design. Overall, the PreCip is a great defender against nearly all types of rain, wind, and snow—just don't expect it to perform like a $400 hardshell jacket.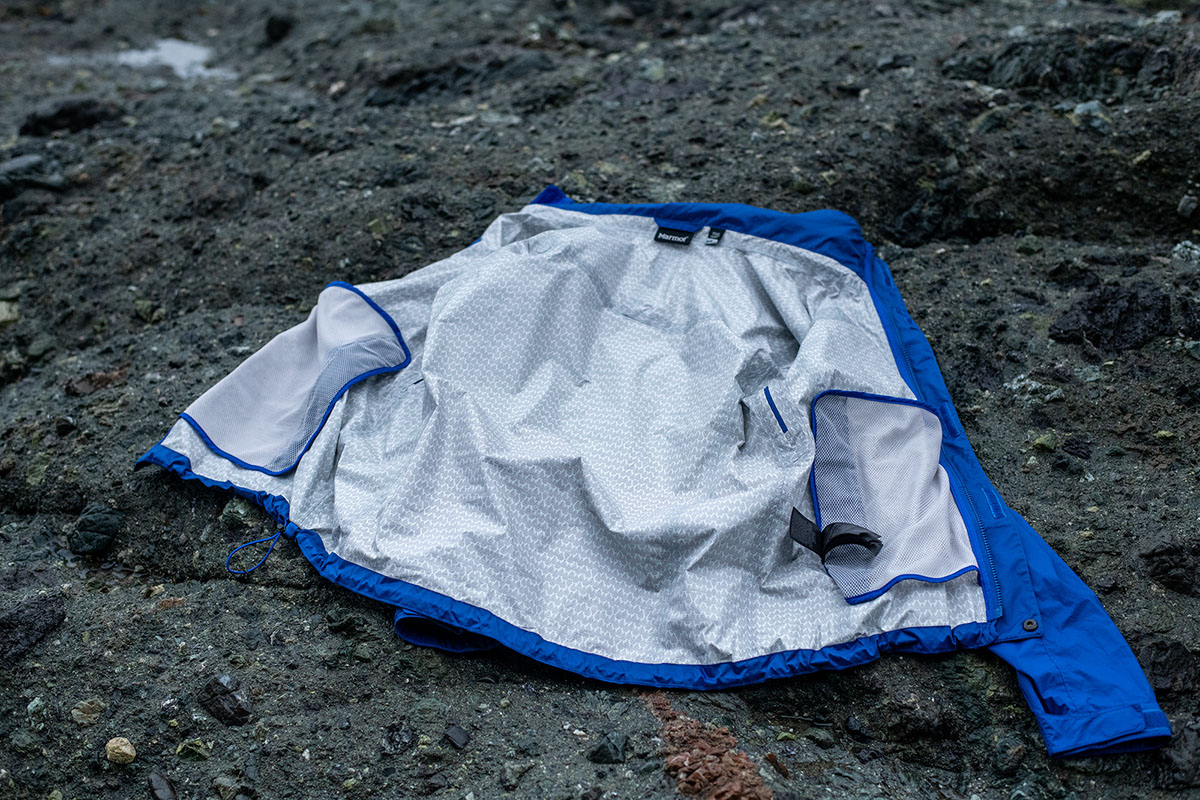 Breathability
We'll start by saying that 2.5-layer jackets aren't renowned for their breathability, and the PreCip Eco is no exception. When you're working up a sweat, the jacket can feel wet and clammy against your skin. But Marmot has done a good job with its design to maximize your opportunities to stay cool. To start, the jacket has pit zips for dumping heat, which are reasonably protected under the arms, so you're unlikely to let in rain unless the conditions are very rough. Additionally, the hand pockets, which are protected by small flaps over the zippers, are made of mesh to release even more heat. On the whole, the PreCip can't touch the breathability of a more expensive 3-layer design (or even some higher-end 2.5-layer options like the Black Diamond Liquid Point), but its creative build gives you a number of options to stay as comfortable as possible while on the go.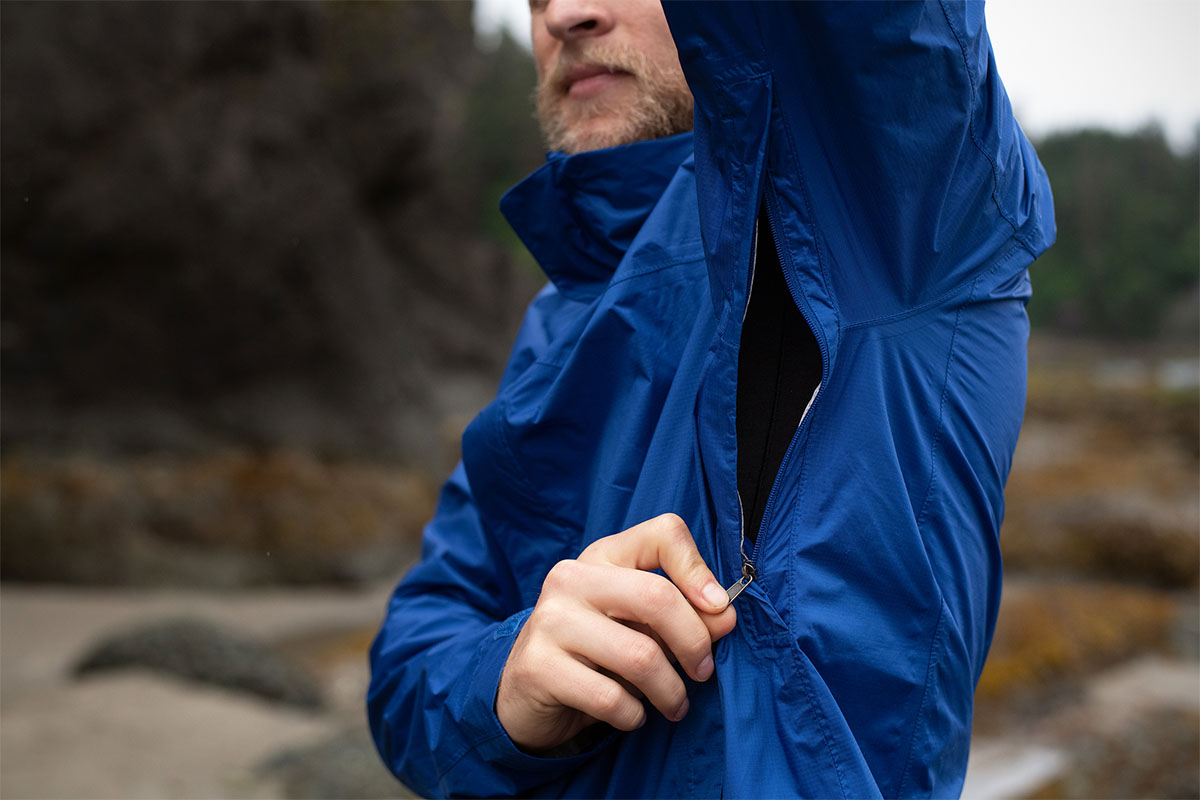 Weight and Packability
The Marmot PreCip Eco feels very light in hand, and the numbers back it up. On our scale, a men's medium weighs 10.3 ounces, which is the exact same as our prior-generation PreCip. That's around 1-2 ounces less than its main competition, including The North Face Venture 2 (11.6 oz.) and REI Co-op Rainier (12.5 oz.). Among the larger multi-sport and everyday rain shell category, the PreCip stacks up well. Pricier and thicker Gore-Tex Paclite options like the REI Co-op XeroDry and Marmot Minimalist may offer better overall weather protection, but the PreCip undercuts them by a significant 2.2 and 4.6 ounces, respectively. And you can shave weight with ultralight designs like the Outdoor Research Helium (6.3 oz.), but you compromise on durability and features like pit zips and pockets. For everyone from hikers to travelers, we think the PreCip hits a nice balance in terms of weight.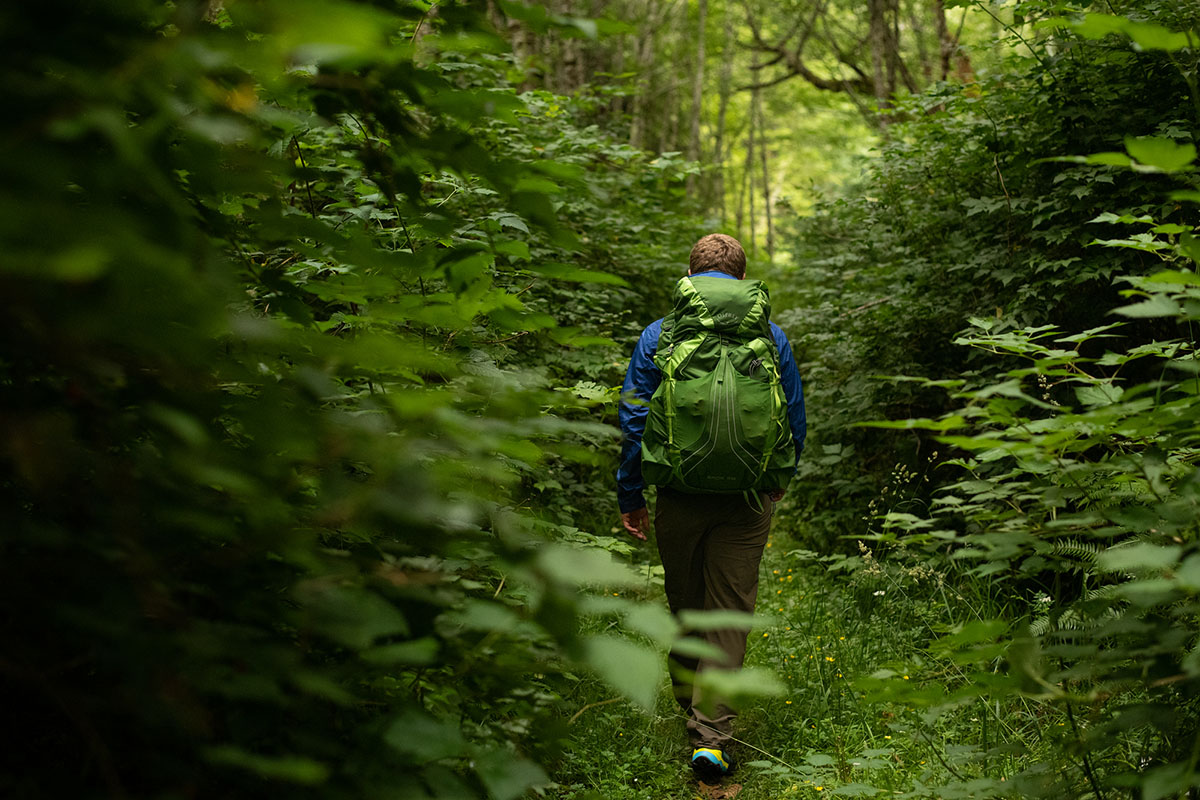 As for packability, the PreCip is easy to squeeze into your backpack or suitcase. It compresses down into its left-hand pocket, which includes a two-sided zipper for storage. Depending on how you manipulate the stuff pocket while stowing it away, it's about the size of a large grapefruit. This puts it on par with The North Face Venture above and it easily undercuts the Gore-Tex Paclite options. We hesitate recommending the jacket for climbers, however, as the mesh stuff pocket can be torn on rock while attached to a climbing harness. 

Build Quality and Durability
Among its lightweight and relatively inexpensive peers, the Marmot PreCip Eco has held up well. The shell fabric still looks practically new even after a backpacking trip, being stuffed into various packs and suitcases for travel, and lots of daily use. And the zippers have been faultless: the large teeth on the center zip are super smooth, and the same goes for the smaller, coil design for the hand pockets. It's still a lightweight piece so you'll want to be wary around sharp equipment, but we've found the PreCip to be an impressively tough rain jacket considering its weight and price.
That said, it's important to note that rain jackets like the Marmot PreCip and The North Face Venture 2 likely won't last as long as more expensive models. In particular, the thin interior of its 2.5-layer construction may deteriorate after extended use (often after many years). As we touched on above, the PreCip's mesh hand pockets aren't very resistant to tears. And a final area of concern is the center flap over the main zipper—The Velcro securing the flap on our prior-generation PreCip stopped holding on all that well after a few years. But so far, it's still holding up nicely on our newer jacket.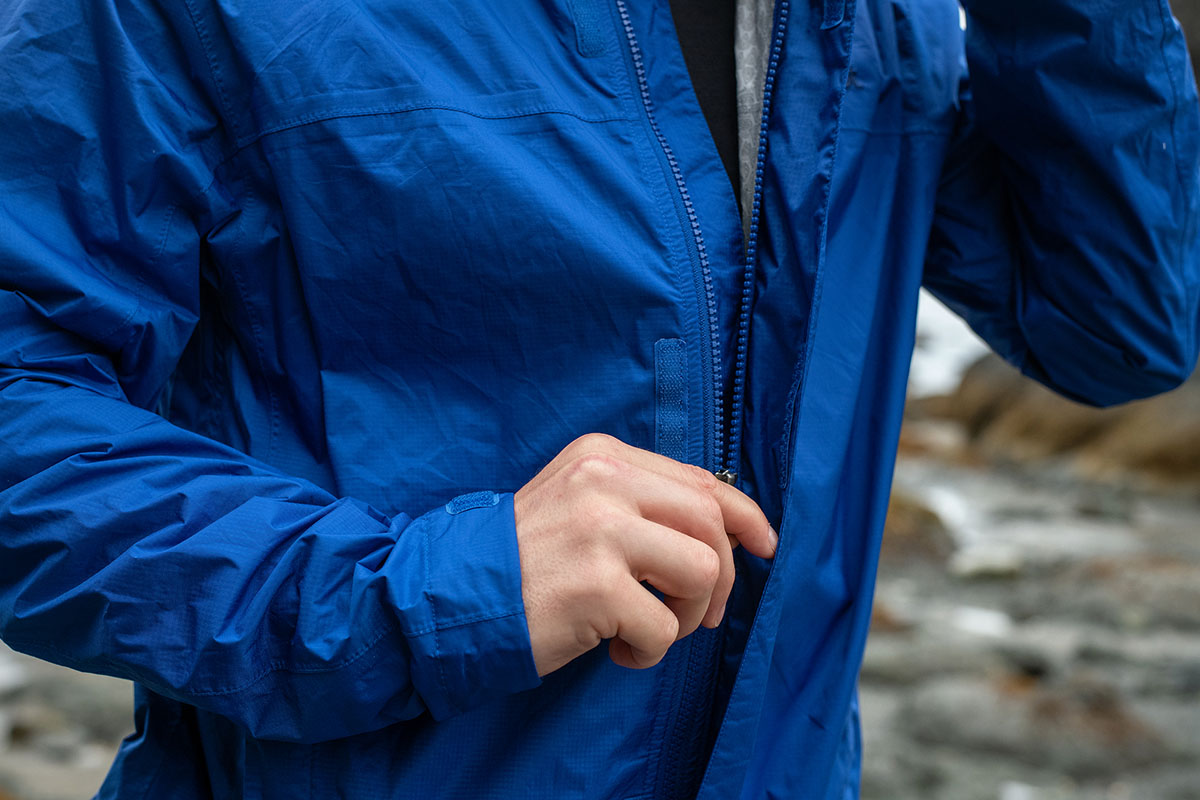 Features: Hood and Pockets
As we covered above, the PreCip Eco comes with a quality and very adjustable hood. The design is a little unique: unlike most models that combine the hood and collar into a single piece, the hood of the PreCip is separate and connects to the jacket at the base of the collar. As a result, you can put the hood on and take it off even when it's zipped all the way up. The hood itself can be adjusted with a Velcro tab at the back and two pull cords on either side at the front. We do prefer hoods that have a toggle cord at the back for securing around the bill, such as what Marmot includes with their pricier Minimalist jacket, but otherwise it's a solid build. And a final design touch: the hood can be stowed and secured under the collar when not in use.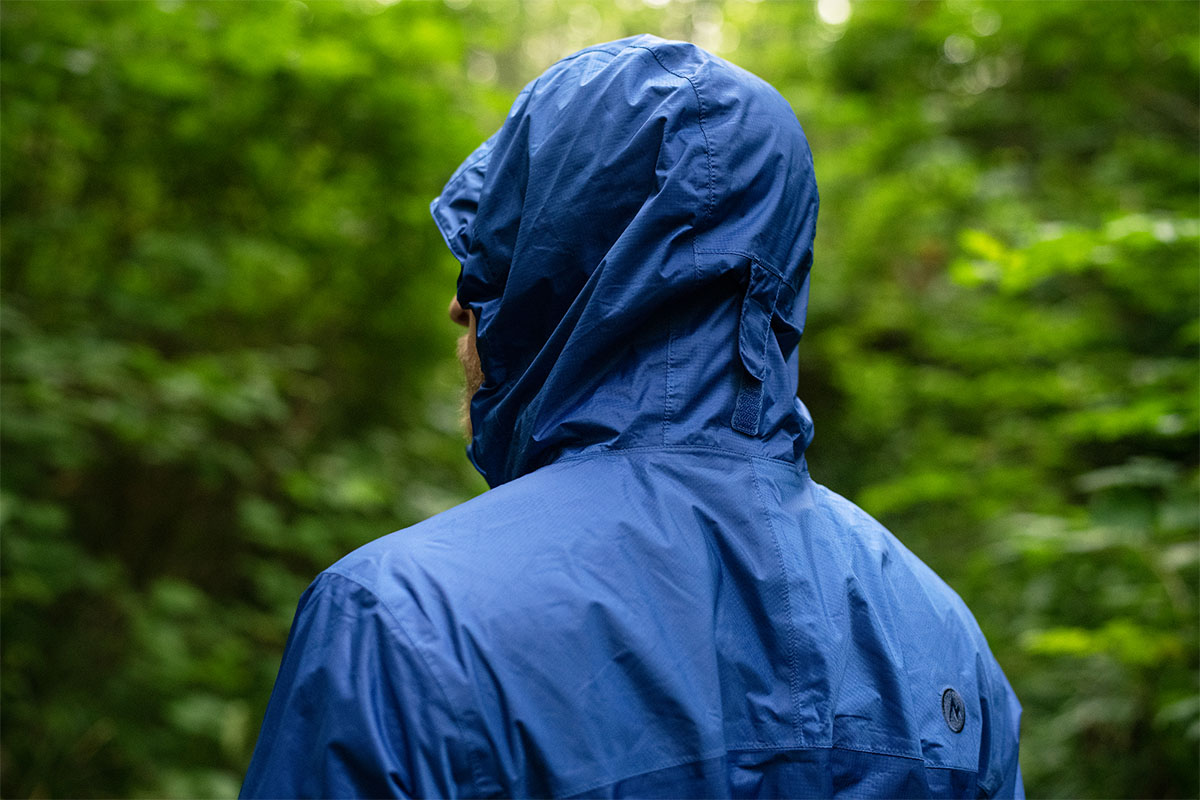 Lightweight jackets have simple feature sets, and the Marmot PreCip Eco is no different. You only get two hand pockets, but they are nicely sized and can store small items if needed. The mesh construction doesn't make them particularly durable, however, so we wouldn't recommend storing valuables or objects that may tear through the fabric. Travelers that prefer a chest pocket for securing personal items may be disappointed, but it's likely only a small compromise for most users.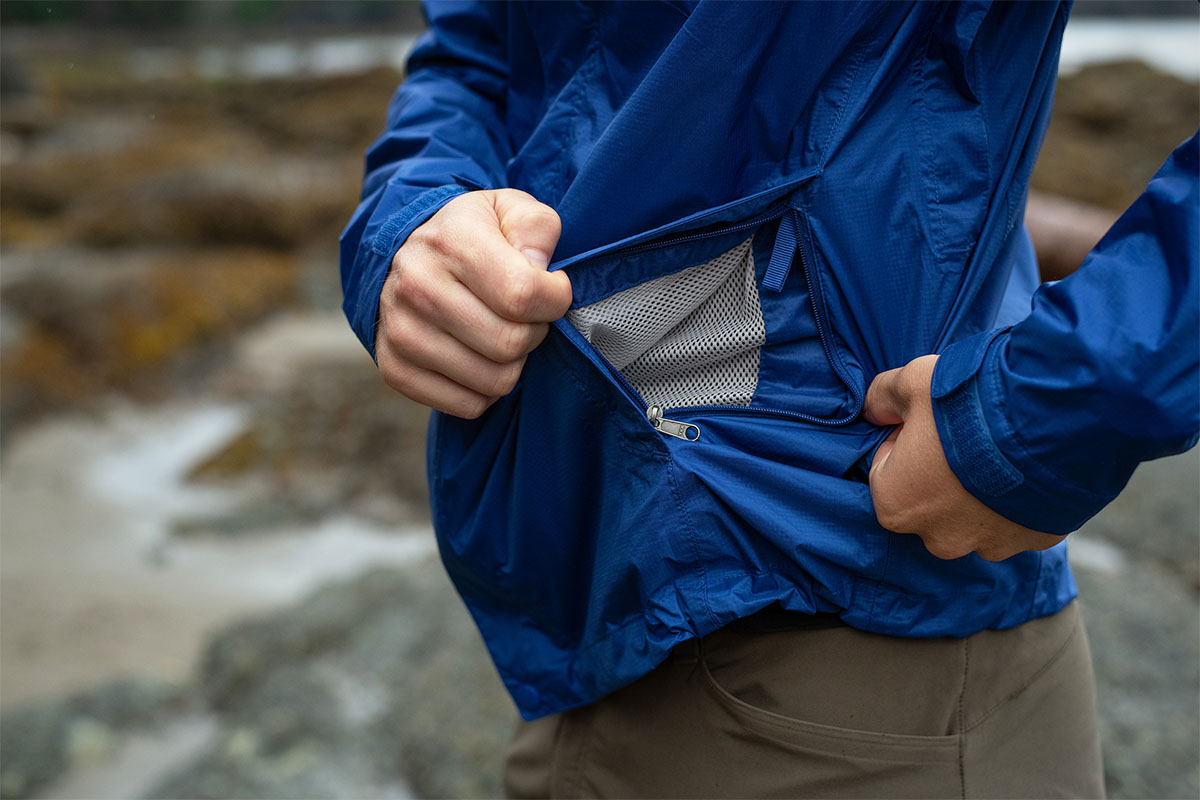 Fit and Sizing
Matching its versatile design and feature set, the PreCip Eco has a nice, regular fit. We ordered our usual medium size and found that it was comfortable, if not a little roomy, when wearing a thin baselayer. Mobility still was excellent, and we had no issues when adding a lightweight down jacket or fleece jacket underneath. The hem cinches with a single drawcord at the right side, which can bunch up the hem a little in that direction if pulled tight. We consider this a fine tradeoff given the weight of the jacket, however, and don't think it takes away from its everyday appeal. And for those with larger builds, Marmot sells dedicated big and tall options for an additional $20.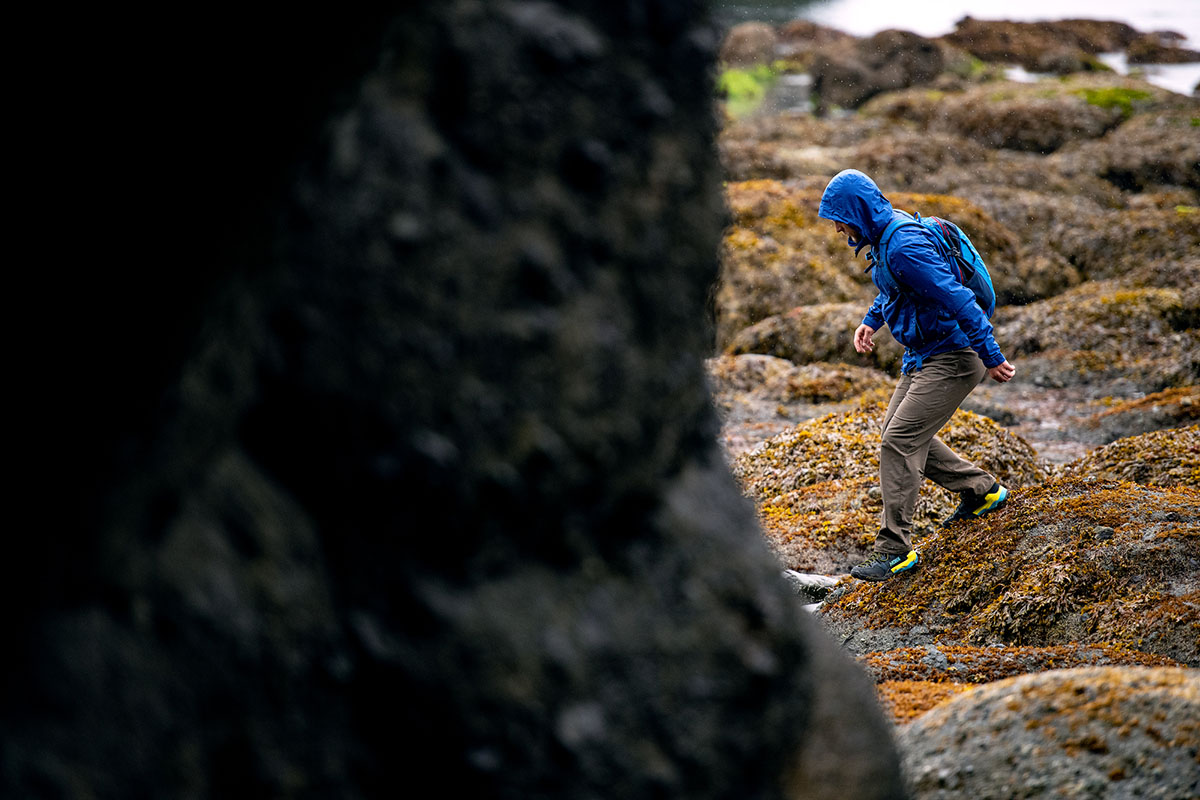 Sustainability: Recycled Nylon and PFC-Free DWR
As we touched on above, the latest PreCip includes a number of eco-friendly updates. To start, the NanoPro construction now uses 100% recycled nylon, which is something we're seeing in more and more products (including Marmot's own Minimalist). Additionally, they've switched to a PFC-free DWR coating. This is a significant shift as the chemical finish on just about every jacket currently on the market has been linked to both environmental and health issues. All in all, we think these sustainable steps made an already great jacket even better.

Other Versions of the Marmot PreCip Eco
We tested the men's PreCip Eco rain jacket for this review, and Marmot has a number of other offerings in the PreCip lineup. If you prefer the look of a half-zip jacket, Marmot makes the PreCip Eco in an anorak version for $90, which sports fun two-tone colorways and a kangaroo-style pocket in the front. If you live in a notoriously wet environment, Marmot also sells PreCip Eco pants in short, regular, and long lengths (all $80), as well as a full-zip variation ($100), which also feature the NanoPro Eco waterproofing and PFC-free DWR coating. All are available in women's versions for the same price. Compared to the men's rain jacket tested here, the women's model is slightly lighter at 8.7 ounces and sold in different colors, but otherwise the two share an identical feature set and overall construction. Rounding out the PreCip collection are accessories and kids' offerings, including hats and insulated designs.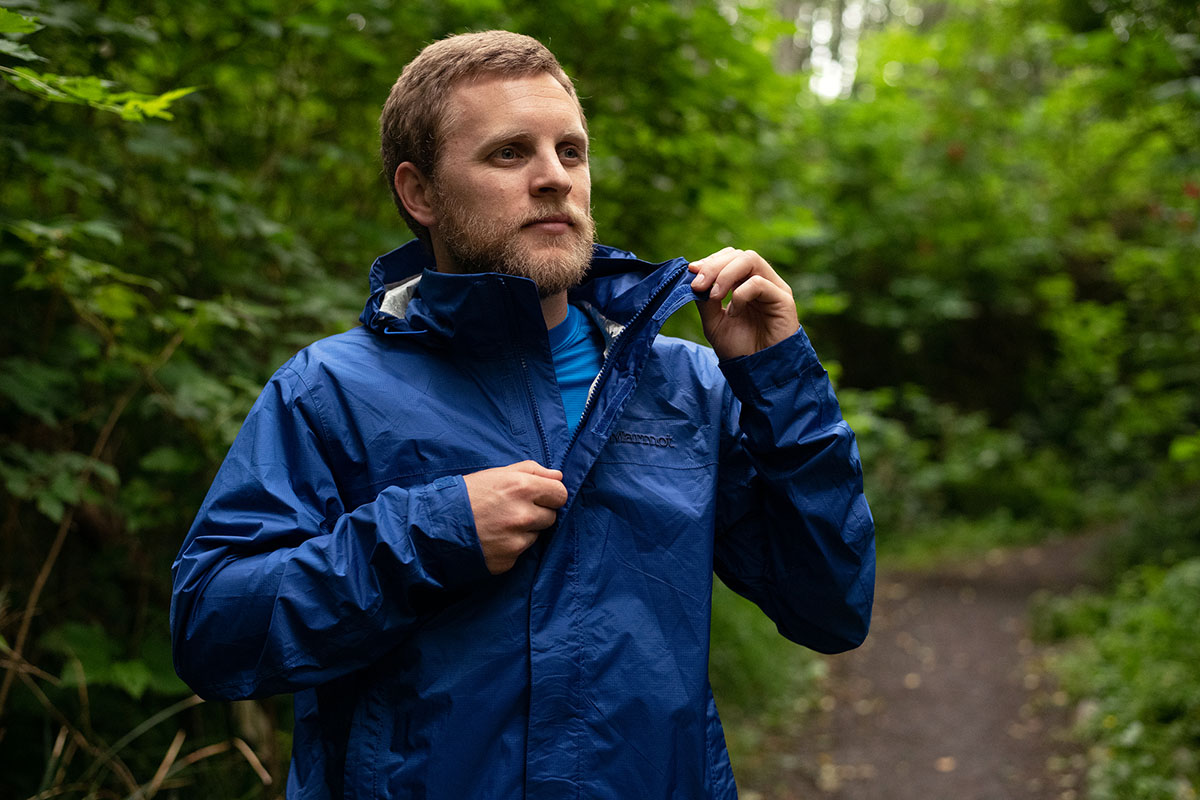 What We Like
Excellent mix of price, weather protection, and weight.
The versatile design: all the features you need in an everyday rain jacket, plus the pit zips and small stuffed size make it great for hiking and backpacking.
Quality hood design with plenty of adjustability, and you can stow the hood away under the collar when not in use.
Latest PreCip Eco includes a recycled nylon fabric and PFC-free DWR coating without an increase in price.

What We Don't
Heavy rainfall will overwhelm the DWR coating and relatively thin materials, but this is true of nearly all 2.5-layer rain jackets.
Interior feels clammy when you work up a sweat hiking (again, common with budget shells).
Velcro used for protecting the main zipper feels a little cheap and can lose its stickiness over time.


Comparison Table

The Competition
As we touched on above, the Marmot PreCip is an easy jacket to recommend due to its excellent combination of price and performance. As a result, we see it all over the rainy Pacific Northwest. But right up there in terms of popularity is Patagonia's Torrentshell, which was recently updated from a 2.5-layer design to a more hardwearing, breathable, and weather-worthy 3-layer build. This has affected comfort slightly—the Torrentshell 3L is now crinklier than the older version—and added some weight (it clocks in at 13.9 oz.). But overall, we think the changes were well-executed and make the Torrentshell the best all-around rain jacket on the market.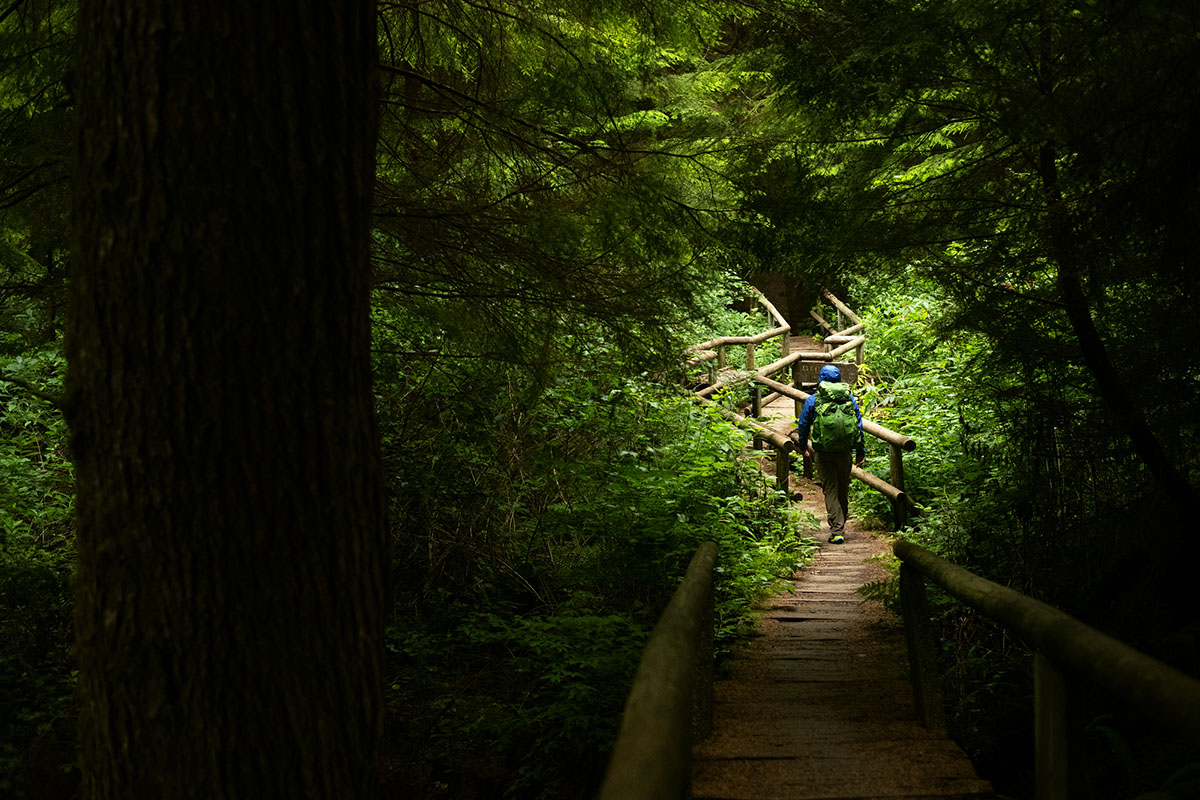 The North Face Venture 2 is another long-time competitor of the PreCip. As with the Torrentshell, the jacket is a good option for everyday use, travel, and outdoor activities like hiking and backpacking. It weighs about the same as the PreCip and includes features like an adjustable hood, two hand pockets, and pit zips. Our issue with the Venture is that it feels cheap. Both jackets cost $100, but the PreCip just doesn't have the same entry-level feel. The Venture's main zipper isn't as smooth and the bulky fit doesn't offer as good of mobility. And most importantly, we've found the Venture wets out faster in a downpour (see our in-depth Venture 2 review). Overall, unless you can get a screaming deal on the Venture 2, we find the PreCip to be the superior $100 jacket.
Another 2.5-layer shell to consider is REI Co-op's Rainier jacket. When we first put it on, we were immediately struck with how much it shared in common with the PreCip: the hood design is nearly identical, you get nice touches like pit zips and mesh hand pockets for dumping heat, and its shell material is also recycled. The Rainier gets the edge in price by $10, but falls short of the PreCip in a few key areas. For one, the REI jacket fits very large and we ended up sizing down to get a comparable fit. Further, its hand pockets are on the small side and it weighs about 2 ounces more. Both are solid jackets and provide similar performance, but the PreCip wins out for us as the more complete piece.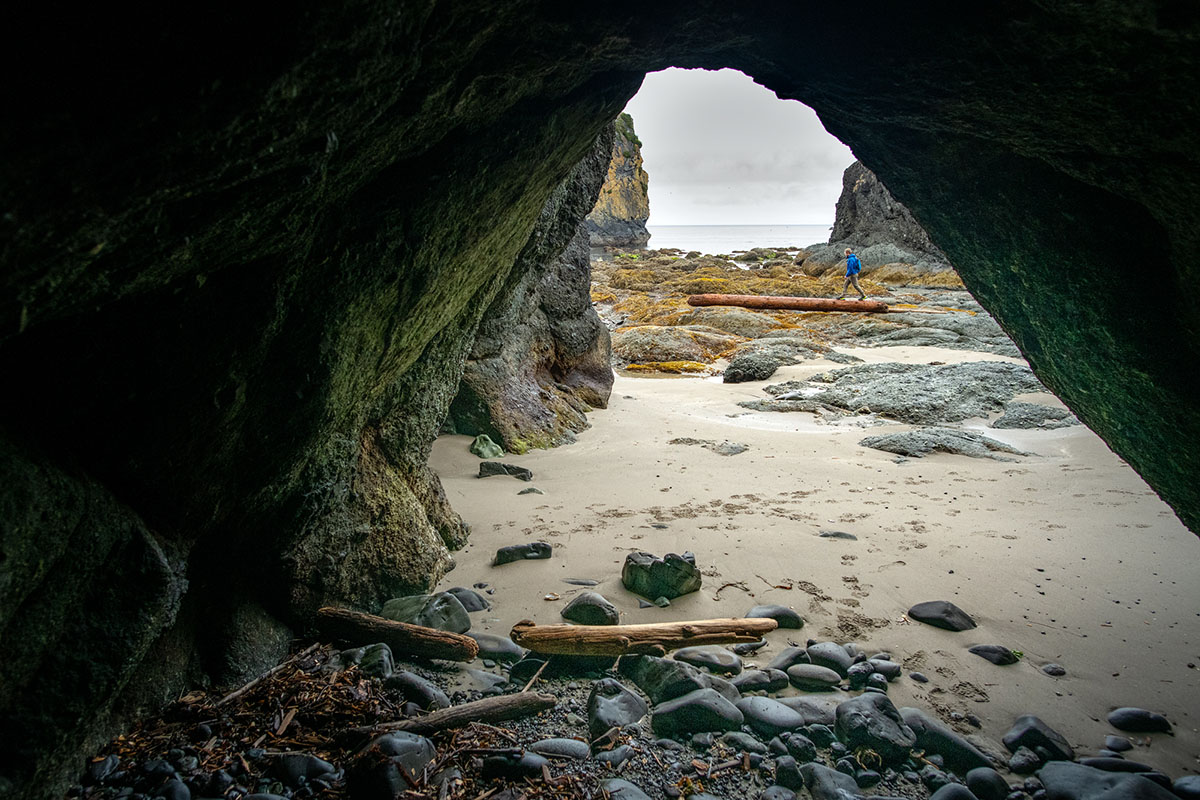 If you're in need of more durability and weather protection, you may want to consider a Gore-Tex Paclite design like the Marmot Minimalist or REI Co-op XeroDry. Starting with the Minimalist, you get a more substantial face fabric, which as a consequence won't get pinned against your skin as easily in heavy rain. Additionally, the Minimalist won't break down as quickly as the budget-friendly PreCip. The downsides are that the Minimalist is pricier at $189, weigh more at 14.9 ounces, and doesn't pack down as small. If you want a thicker build or are making a long-term investment, the Minimalist is a nice choice. But for activities like hiking and backpacking, the PreCip is hard to beat.
Last but not least is Black Diamond's StormLine Stretch, which costs $59 more than the PreCip Eco but comes with a couple key performance upgrades. Most notably, the StormLine utilizes a stretchy 2.5-layer construction (Black Diamond's in-house BD.dry) that offers impressive comfort and mobility for movement-dependent activities. In use, we found the interior to be noticeably soft to the touch and less prone to clamminess when working up a sweat. The BD is also the better multi-sport option with a helmet-compatible hood in addition to functional features like pit zips, a stuff pocket, and a lightweight (11.3 oz.) build. Most casual hikers will likely prefer saving with the Marmot, but if you value the added features or boost in comfort, the BD is an excellent value and a slightly more capable pick for technical pursuits.
If you're thinking about buying gear that we've reviewed on Switchback Travel, you can help support us in the process. Just click on any of the seller links above, and if you make a purchase, we receive a small percentage of the transaction. The cost of the product is the same to you but this helps us continue to test and write about outdoor gear. Thanks and we appreciate your support!
Depending on the seller, most products ship free in the United States on orders of $50 or more. International shipping availability and rates vary by seller. The pricing information on this page is updated hourly but we are not responsible for inaccuracies.
Learn More About Outdoor Gear