The North Face Venture 2
Price: $99
Weight: 11 oz. (men's medium)
Waterproofing: 2.5L DryVent
What we like: Good price; includes useful features like a highly adjustable hood and pit zips.
What we don't: Disappointing performance in heavy rain and baggy fit isn't for everyone.
See the Men's TNF Venture 2  See the Women's TNF Venture 2
The Venture 2 has been a long-time staple in The North Face's rain jacket collection, aiming to balance weather protection, weight, and price. Over the past year, we've tested the shell extensively from backpacking in the Grand Canyon to daily wear around town. The verdict: it's a good value and includes a solid feature set, but we found its waterproofing to be lacking in rough conditions and heavy rainfall. Below we break down the Venture's water and wind protection, breathability, weight and packability, durability, fit and sizing, and more. To see how it stacks up to the competition, see our article on the best rain jackets.

Performance
Water and Wind Protection
Against my better judgement, I brought The North Face Venture 2 as my primary rain shell on a late winter backpacking trip through the Grand Canyon. With heavy rain and possible snow in the forecast, its thin 2.5-layer construction and $99 price point didn't inspire a ton of confidence. And when the skies inevitably opened up, the jacket underwhelmed in terms of water protection. The DWR coating beaded up light rain for a short stretch, but the top fabric layer started wetting out rather quickly (much faster than competitors like the Marmot PreCip Eco or Patagonia Torrentshell). And as the intensity of the weather increased, the shoulders and arms of the jacket soaked through and became pinned against my layer underneath. Finally, even after laying out the shell overnight inside my tent, it was still completely wet when I grabbed it the next morning. Needless to say, the Venture didn't leave a positive impression.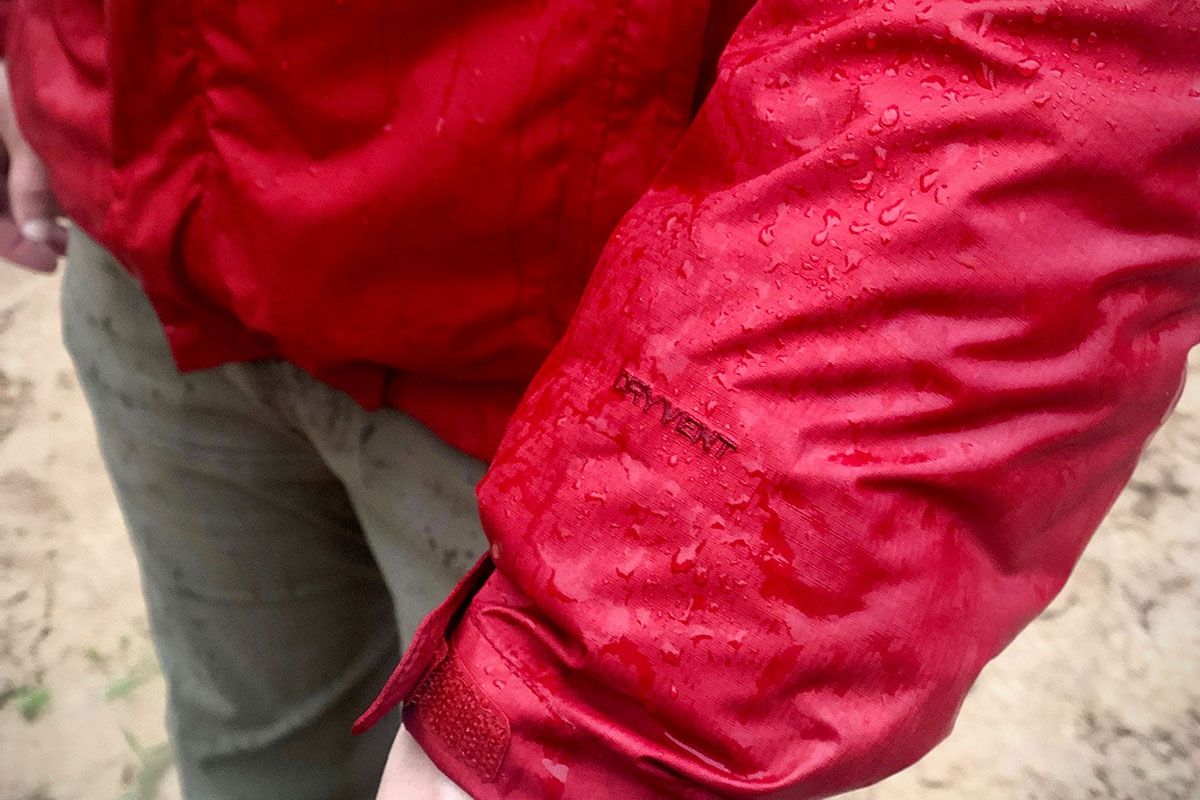 In fairness to the Venture 2, rain jackets in this category are far from bulletproof and The North Face did a fine job blocking strong gusts of wind. As an emergency shell for around town or light summer backcountry use, it should do the trick. The hood is easy to cinch, and while the bill is flimsy and leaves a little too much of the forehead exposed, it stayed securely in place throughout the test. Further, Velcro cuffs do a solid job sealing out moisture around the wrists, and I didn't experience any leaking around the center zipper that is covered by a nylon flap (also secured with Velcro). It just so happens that we pushed the jacket too hard, but as long as you set reasonable expectations and stay on top of cleaning (always a good idea), the Venture 2 is a suitable entry-level option.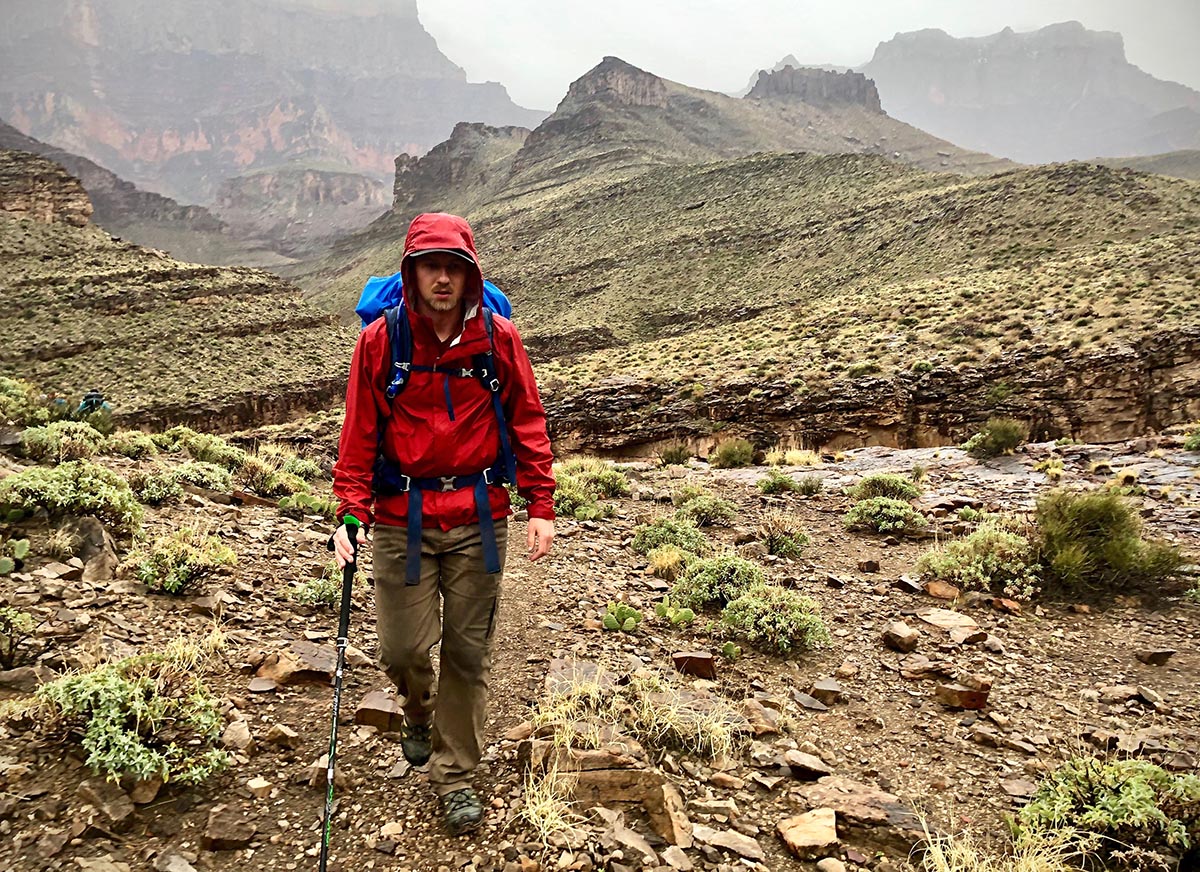 Breathability
Like most budget-oriented, 2.5-layer rain jackets, the Venture doesn't provide standout levels of breathability. I wore it for extended stretches while hiking through rain, wind, and hail, and in each case I started overheating rather quickly. Even over milder terrain and with temperatures hovering in the low 40s Fahrenheit, the interior lining felt clammy, slippery, and uncomfortable against my skin. While this isn't all that abnormal for a 2.5-layer build, I've found that competitors like the aforementioned Patagonia Torrentshell and Marmot PreCip are better alternatives when working up a sweat. The Torrentshell has a higher-quality liner with a softer feel, and the Marmot's mesh hand pockets do a nice job encouraging air flow (the Venture's pockets are a solid nylon). On the plus side, The North Face has large pit zips, which help dump heat—without them I don't think I would've been able to wear the jacket much at all on the trek.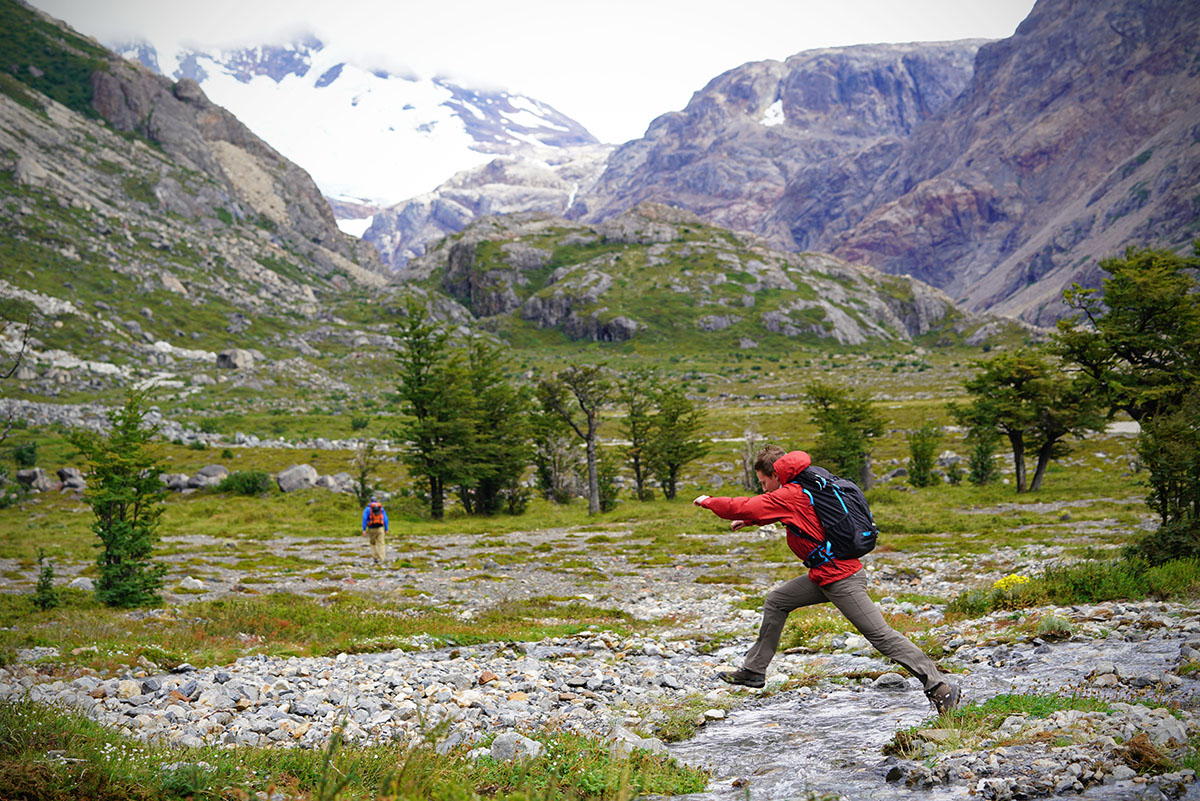 Weight and Packability
On our scale, the Venture 2 in a men's medium weighs in at 11 ounces on the dot, which is a little less than the advertised 11.6 ounces from The North Face. This stacks up nicely with the larger 2.5-layer jacket market: Patagonia's Torrentshell is a little heavier at 12.1 ounces and Marmot's PreCip Eco undercuts it at 10.1 ounces. Further, REI Co-op's XeroDry, which features an upgraded Gore-Tex Paclite shell, is a little heavier at 12.5 ounces. That jacket, however, doesn't include pit zips and costs an additional $60. Overall, the Venture's weight is perfectly reasonable for throwing in a pack, suitcase, or bike pannier.
As with its weight, the Venture's packability is quite good. The jacket's moderately thin 40-denier (D) shell compresses easily into its left-hand pocket. Zipped up, the stuff pocket measures about 10 inches in length and can be scrunched down further as needed. Given the fickle weather on our trip, I often stored the Venture in the outer mesh pocket of my backpacking pack and never had an issue squeezing it into place.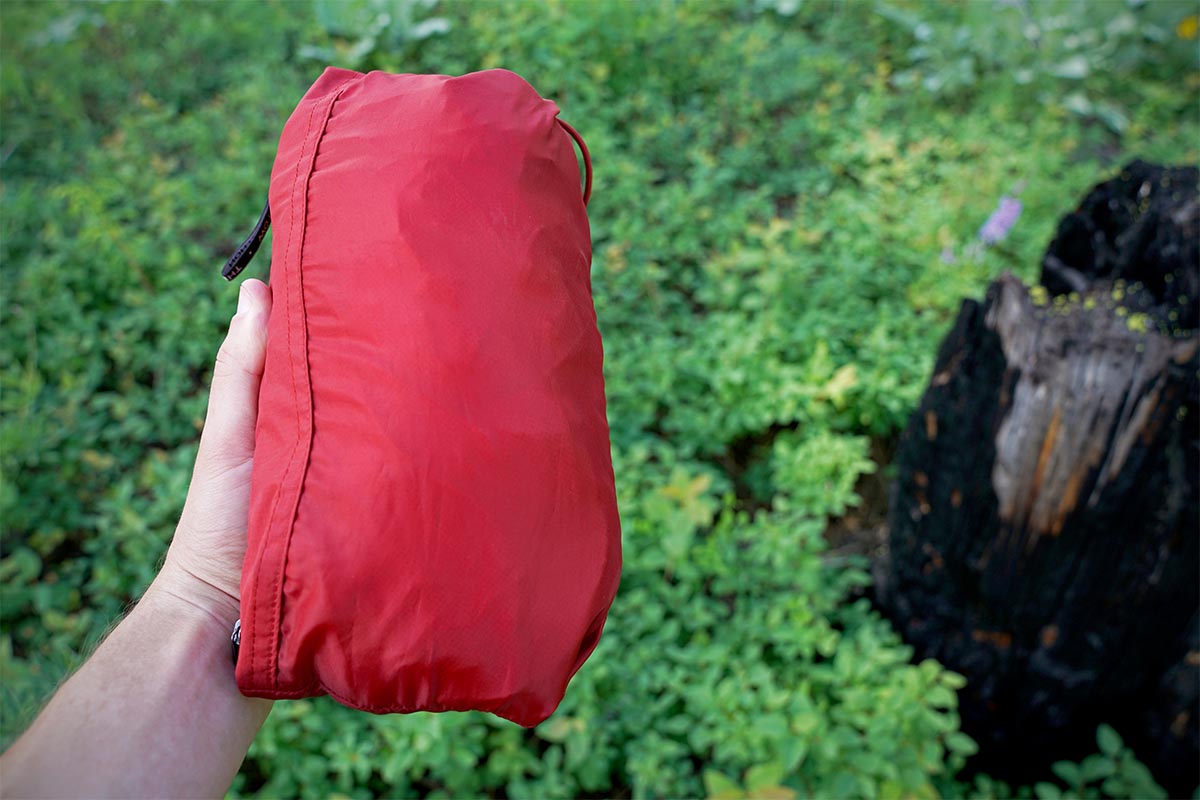 Build Quality and Durability
The original Venture rain shell left a lot to be desired in terms of material and build quality, but we've seen a noticeable upgrade with the latest version. Its Velcro has held up nicely through extended use and I haven't had any hiccups with the zippers' performance (the main zipper's small coil design isn't all that confidence-inspiring, however). It's good to be mindful around sharp equipment with the 40D shell, and the half layer along the interior also requires some extra care. But I haven't put any holes in the jacket despite traveling with it to far-off places like Patagonia.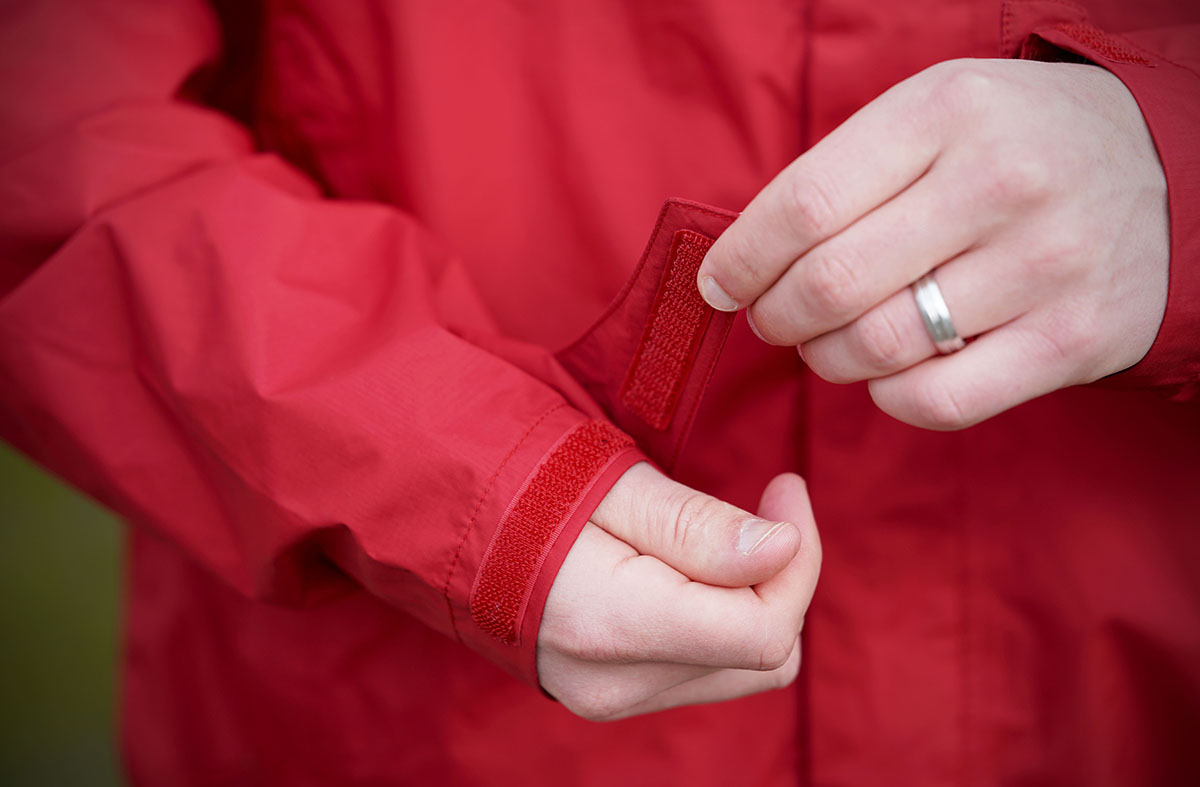 Features: Hood and Pockets
Given its lightweight intent and low price point, the Venture 2 isn't loaded with features. Its hood is one of the more user-friendly designs we've tested, featuring a cinch toggle at the back and adjusters at each side of the face. The hood is nicely sized to balance fitting over a hat or beanie while not being overly bulky or ungainly when you snug it down (it's not compatible with climbing or ski helmets, however). Even in rough conditions, the hood didn't require any retightening and stayed locked in place. That said, as I touched on above, I would prefer that the bill were a little larger and more rigid—like what you get on the Marmot Minimalist—to keep rain from rolling onto my forehead. To supplement this, I wore a hat underneath to increase the coverage and protection.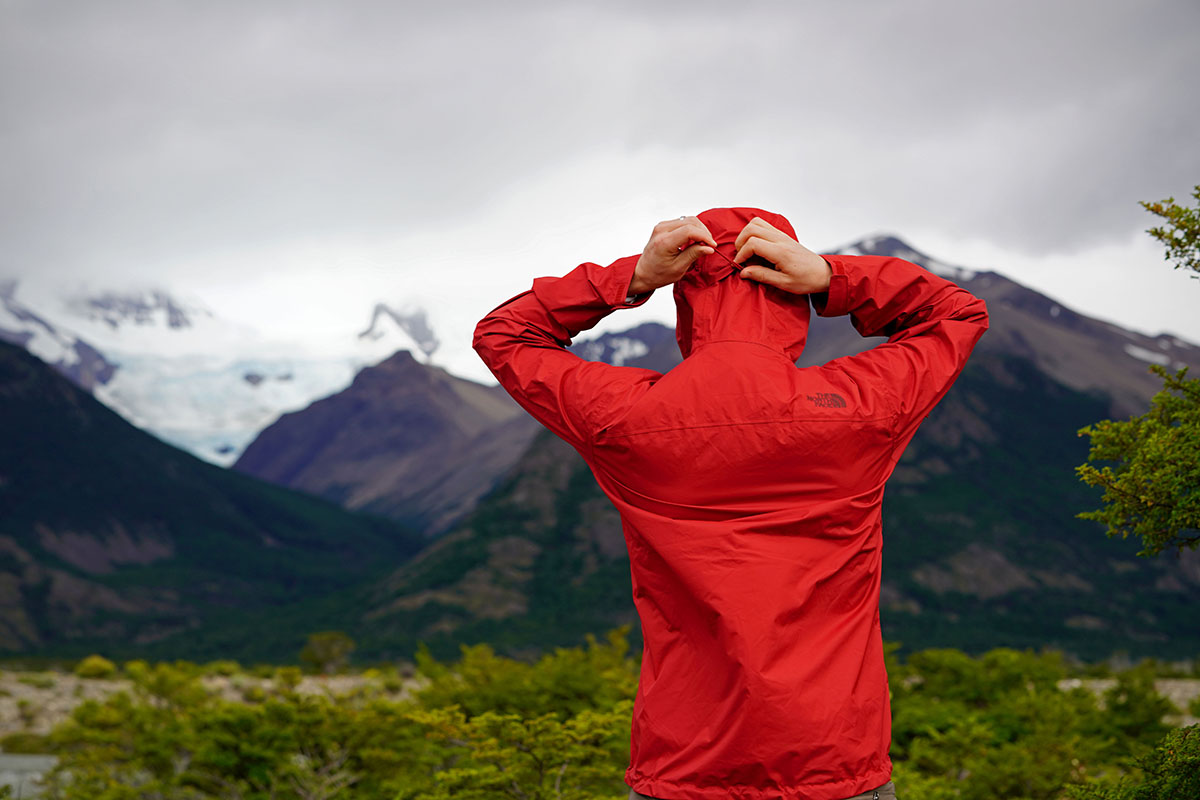 On the Venture 2, the North Face included two simple hand pockets with zipper closures and nylon flaps to keep rain at bay. The pockets sit a little too low to work well with a backpack hipbelt or climbing harness, but the tradeoff is that they're in a comfortable spot for around-town wear. Given the jacket's tendency to soak up moisture, we wouldn't recommend storing valuables in the pockets if you'll be out in anything more than a light rain shower.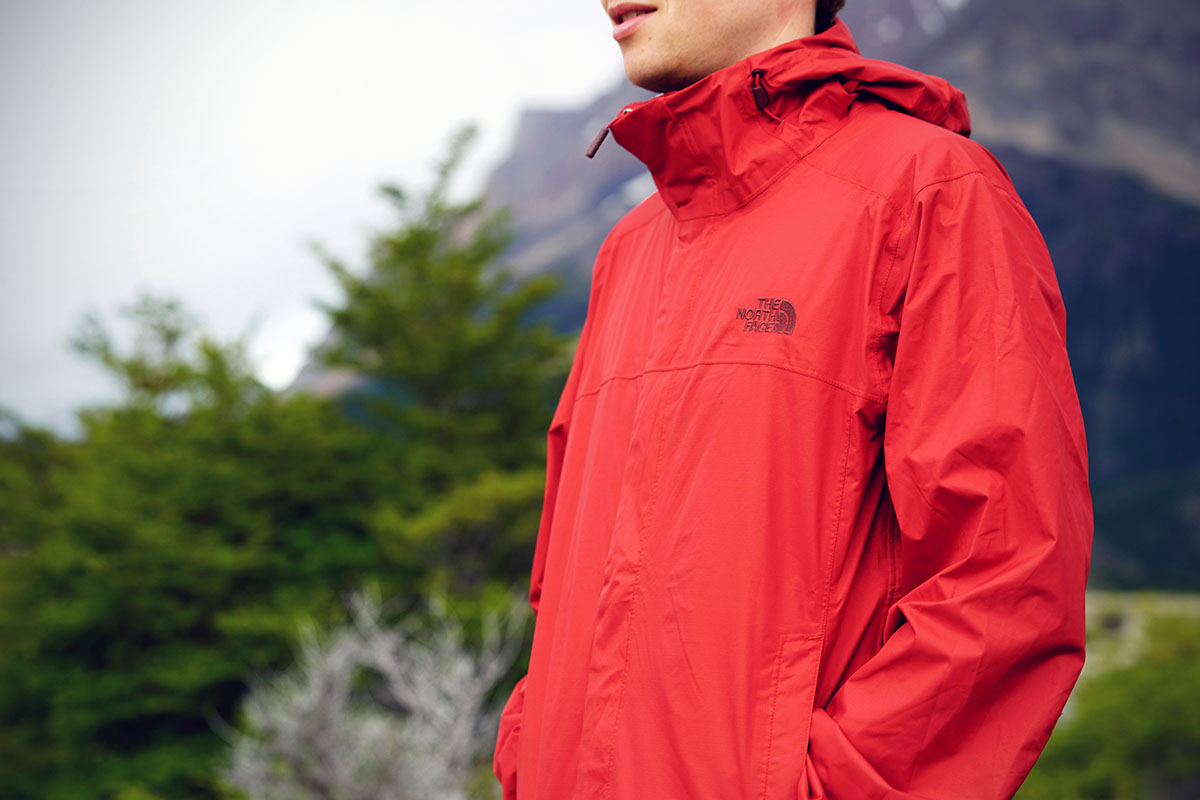 Fit and Sizing
I chose my typical men's size medium with the Venture 2 and would describe the fit as relaxed. There was sufficient space for wearing a puffy midlayer without feeling snug, but it was pretty baggy throughout the torso and arms with only a t-shirt underneath. I also had to cinch the hem quite a bit to get a good seal around my waist (for reference, I'm 5'9" and weigh 155 lbs.). The extra space meant that the jacket bunched up around my pack's shoulder straps and hipbelt—an issue I haven't had with the trimmer-fitting Patagonia Torrentshell—although the sizing probably is spot on for most everyday users. It's worth noting that the Venture is one of only a few rain jackets to be offered in a 3XL (men's and women's) and tall sizes (men's only), but those versions do cost $20 more at $119.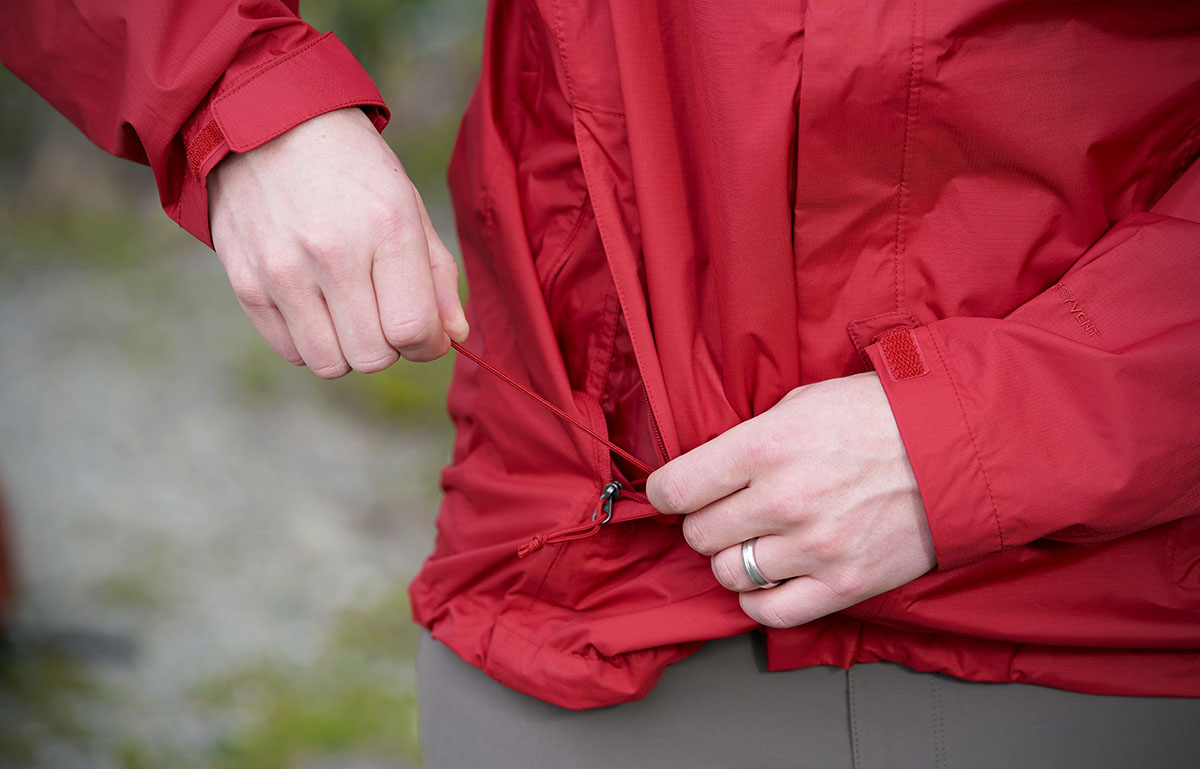 Women's Version of The North Face Venture 2
I tested the men's Venture 2, but The North Face makes the same design with a women's-specific fit. The two jackets are nearly identical, sharing the 40D shell, 2.5-layer DryVent waterproof construction, and expansive sizing options (XS up to 3XL). Fit-wise, The North Face also describes it as having a relaxed cut, although due to sizing differences, the women's jacket is slightly lighter at 10.6 ounces. While we haven't had a chance to put the women's version of the Venture to the test just yet, we're confident it will offer similar levels of weather protection and all-around performance as the men's model.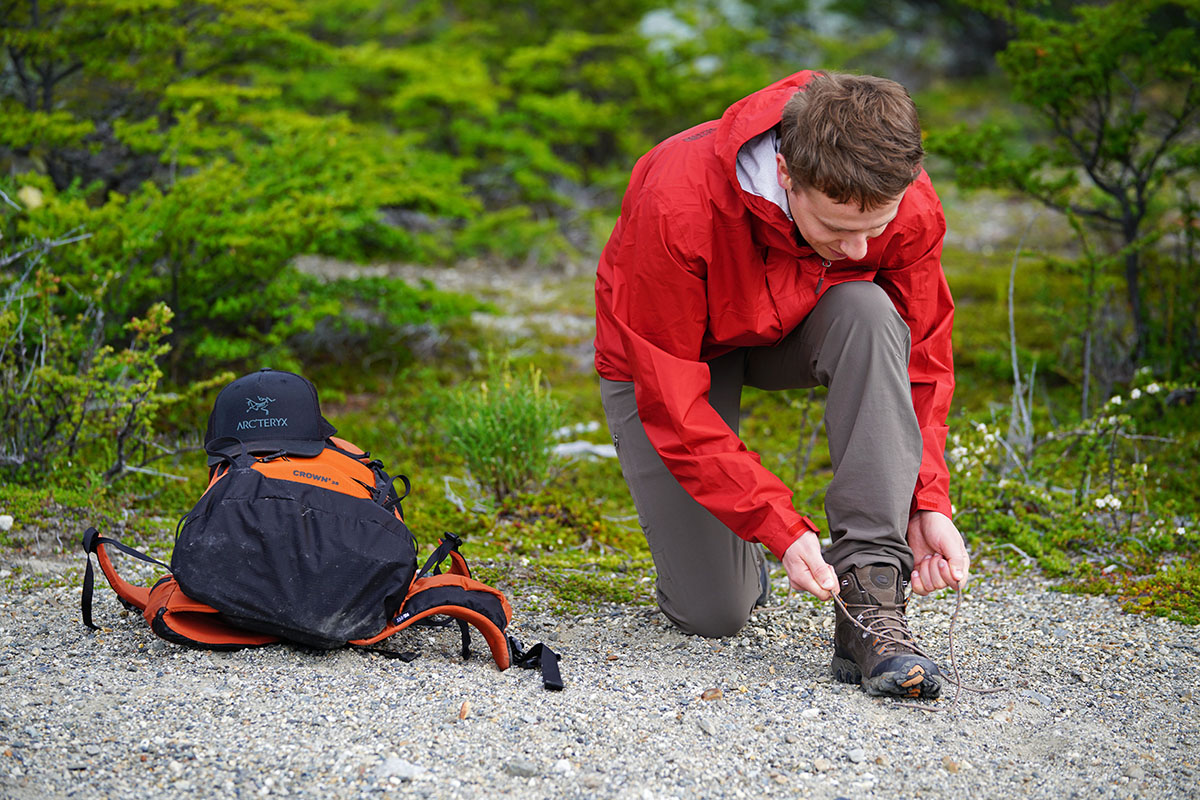 What We Like
The Venture is competitively priced at $99 and reasonably lightweight.
Versatile feature set includes pit zips, a highly adjustable hood, and a stuff pocket.
We haven't experienced any durability issues despite extended use. Everything from the zippers to the Velcro is holding up very well.

What We Don't
Disappointing performance in heavy rain: the Venture wetted out quickly and took a very long time to dry.
Flimsy bill on the hood reduces protection around the forehead.
Breathability falls short of competitors like the Marmot PreCip Eco and Patagonia Torrentshell.
Baggy fit isn't for everyone: it's easy to layer underneath and fine around town, but too roomy for performance use.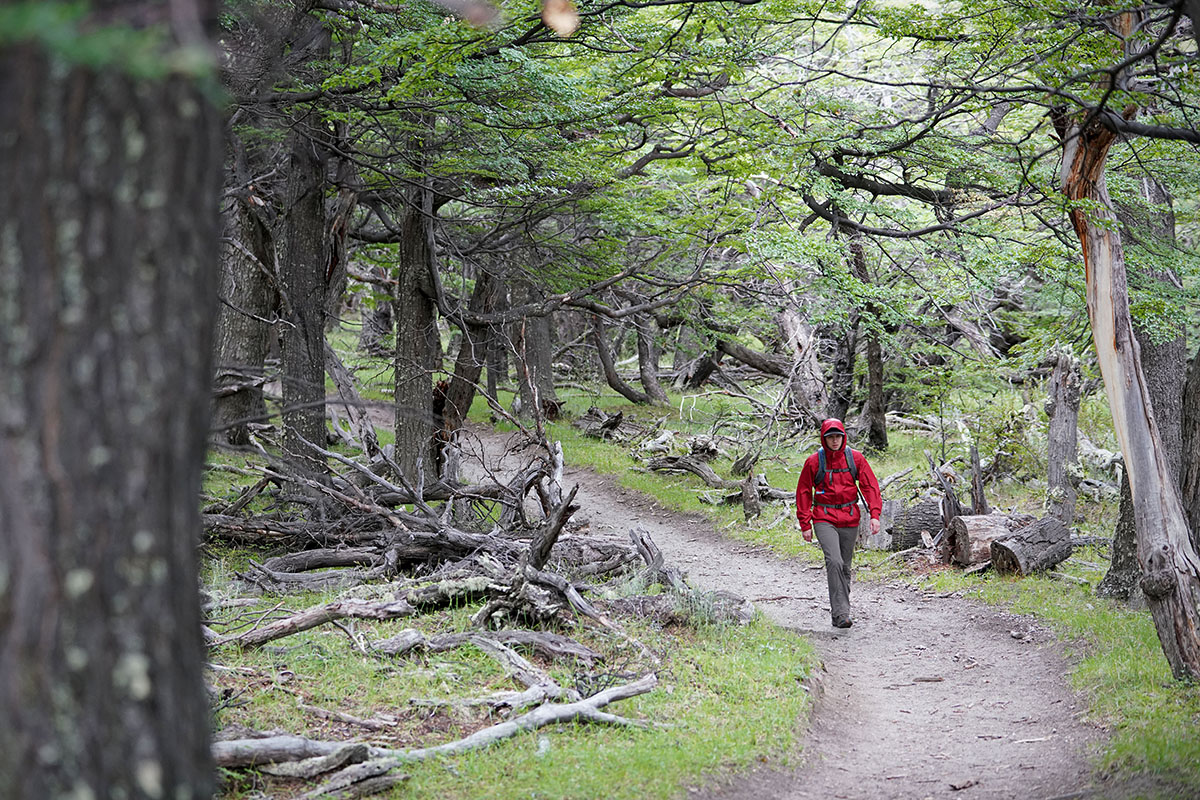 Comparison Table 

The Competition
The budget end of the rain jacket market isn't short on options, but the Venture 2 offers a pretty solid mix of price and build quality. A long-time competitor is Marmot's PreCip, which is now called the "PreCip Eco" thanks to a new recycled and PFC-free face fabric for 2019. The two jackets share a lot in common: 2.5-layer constructions, pocket layouts, and features like pit zips and adjustable hoods. The Marmot gets the edge in weight at 10.1 ounces compared with 11.6 ounces for The North Face, and it's a better option for hiking with mesh hand pockets to help with ventilation. Finally, the PreCip has a better track record in water protection and doesn't cost any more (technically, it's an additional $1), which is why it beats out the Venture as our favorite budget rain jacket.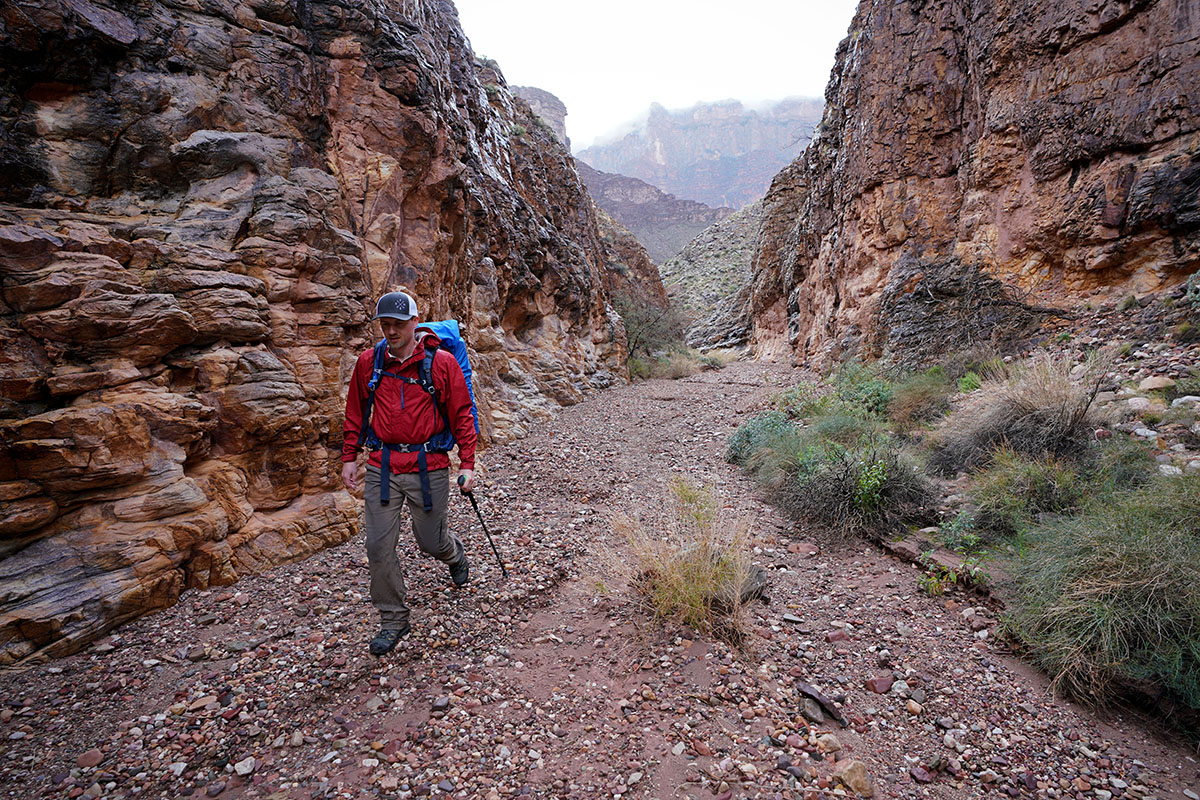 A second alternative to have in mind is Patagonia's Torrentshell. This is another very popular rain jacket for both hiking and everyday use. In comparison to the Venture, the Torrentshell costs an additional $30 and weighs a little more at 12.1 ounces. But that extra investment gets you a sturdier shell fabric (50D compared with 40D) and upgrades like a higher-quality center zipper and larger bill on the hood. We don't love the two unsecured flaps on the Patagonia that cover the main zipper—they occasionally can get in the way as you zip it up and down—but otherwise it beats the Venture in just about every way. If you're willing to spend the extra $30, the Torrentshell is a great choice.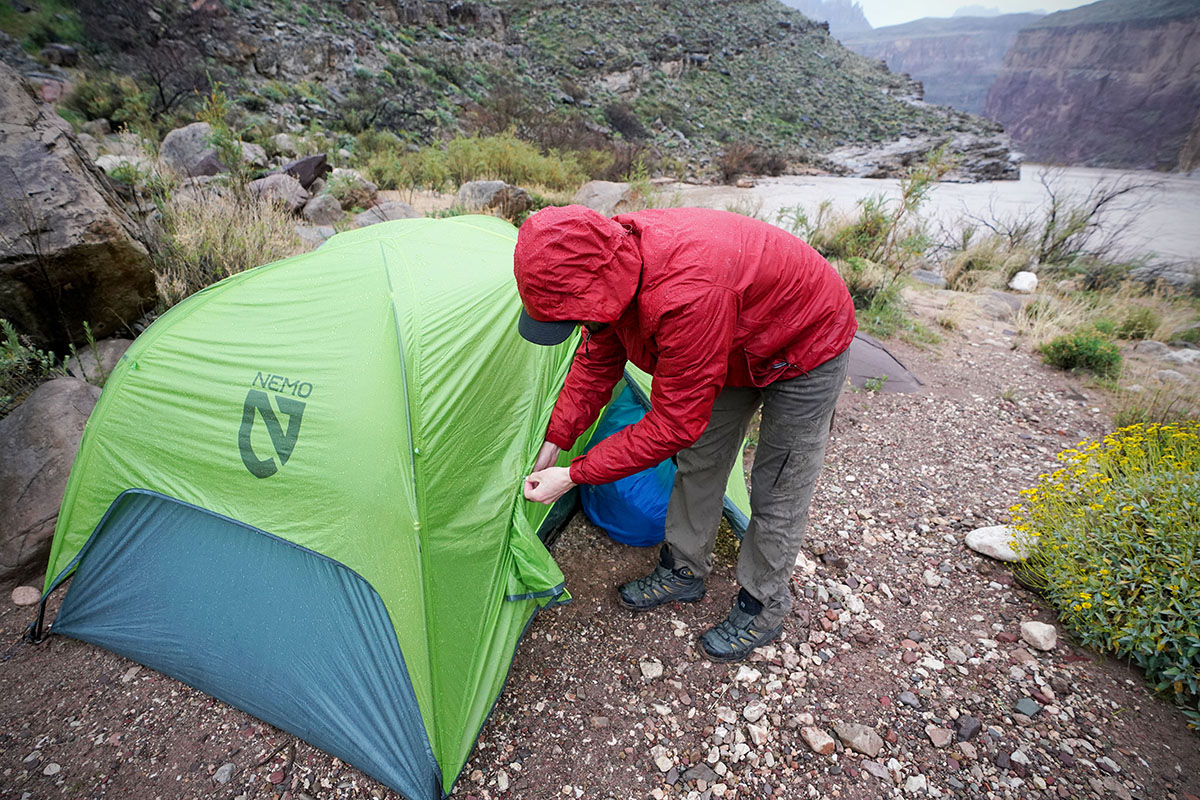 REI's in-house line of gear and apparel has a reputation for delivering solid bang for your buck, and their XeroDry GTX shell is a leading hiking design. For $60 more than the Venture, you get a Gore-Tex Paclite construction and thicker face fabrics (75D on the shoulders, back, and arms; 50D on the rest). This translates to a step up in waterproofing, although we did find that the jacket eventually will wet out in a heavy downpour (see our in-depth XeroDry review here). The Venture gets the advantage in weight by about an ounce, and its more flexible materials compress smaller for storing in a bag. We also prefer The North Face's pit zips to the XeroDry's pocket vents for dumping heat quickly without compromising storage. In the end, the XeroDry's superior weather protection and added features like a chest pocket give it the slight edge in our book.
 
A final shell to consider is Columbia's entry-level Watertight II. This rain jacket is a leader in price—it's often available for $60 or less on Amazon—but comes with a number of compromises. To start, it's a throwback 2-layer design that includes a hanging mesh liner along the interior. This makes it bulkier and heavier than the Venture, and its lack of pit zips means it runs hot during just about any form of outdoor adventuring. On the other hand, the burly shell is plenty tough for use around town and there are a wide range of colors and sizes available. Casual users likely will find that the Watertight is plenty functional, although we think the Venture is worth the upgrade in most cases.
If you're thinking about buying gear that we've reviewed on Switchback Travel, you can help support us in the process. Just click on any of the seller links above, and if you make a purchase, we receive a small percentage of the transaction. The cost of the product is the same to you but this helps us continue to test and write about outdoor gear. Thanks and we appreciate your support!
Depending on the seller, most products ship free in the United States on orders of $50 or more. International shipping availability and rates vary by seller. The pricing information on this page is updated hourly but we are not responsible for inaccuracies.
Read More From Switchback Travel