There are a healthy number of budget-oriented rain shells on the market, and Columbia's versatile Watertight II is among the most popular. The jacket isn't a standout in wet-weather performance—you'll need to spend up for that—but its approachable price, durable construction, and extended range of sizes make it a staple for casual outings, commuting, and the occasional rainy-day hike. Below we break down our experiences with the Watertight II. To see how it stacks up against the competition, see our article on the best rain jackets.
 
---
Table of Contents
---

Performance
Water and Wind Protection
For errands around town and occasional off-season hiking trips, Columbia's Watertight II is a solid value in a rain jacket. In use, the 2-layer Omni-Tech waterproof shell fabric adequately kept moisture from soaking through, and the jacket's DWR coating beaded drops on the surface exceptionally well. After half an hour of standing in pouring rain, the Watertight II's fabric held strong. In terms of wind protection, the jacket's hood, hem cinches, and Velcro cuffs effectively sealed out drafts.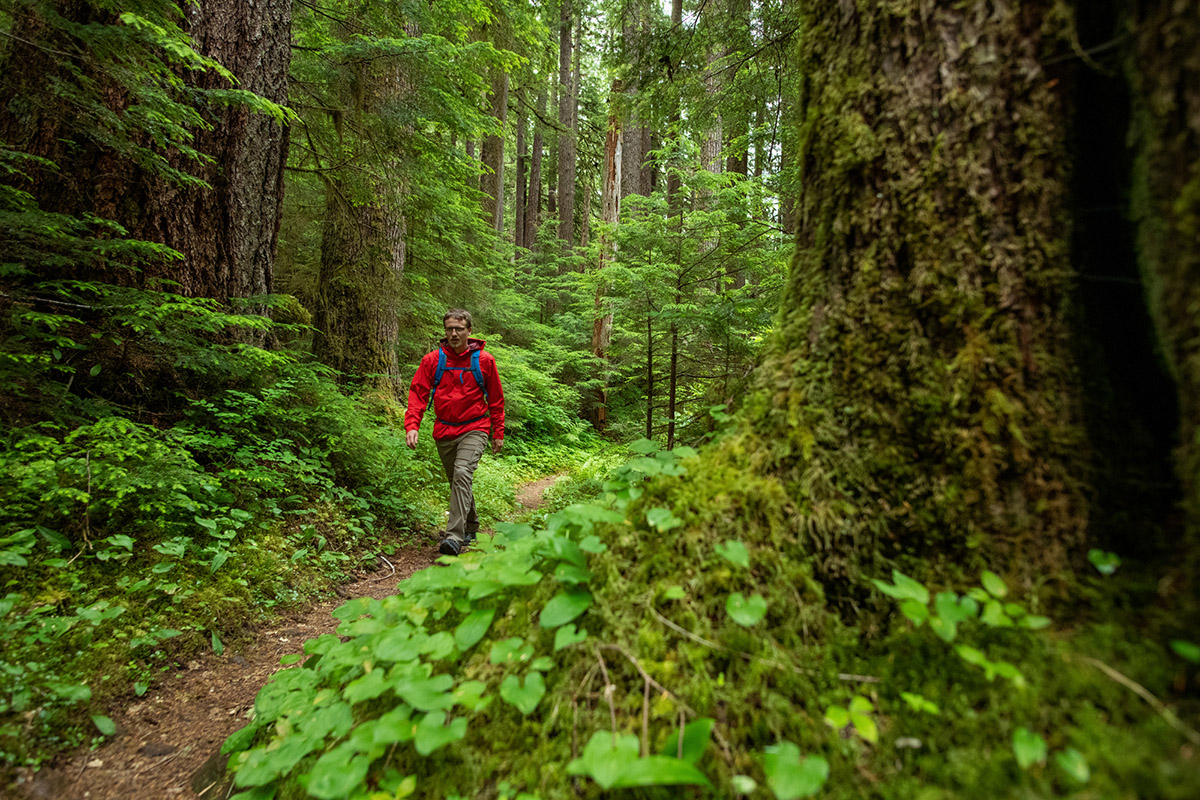 It's important to have realistic expectations for a $60 rain jacket. The Watertight II is serviceable for short to medium jaunts in bad weather, but can't match the performance of jackets that cost twice as much or more. For example, after being exposed to about an hour of heavy rain, the Watertight II started to soak through. While the shell and DWR coating held strong, the stitching on the hood and at the end of the cuffs began to fail, causing the rest of the fabric in these areas to become saturated (the jacket is listed as being "fully seam-sealed," but that clearly has limitations). All things considered, we wouldn't take the Watertight II out for extended trips into the backcountry, but for casual use and short hikes, it should get the job done in most cases.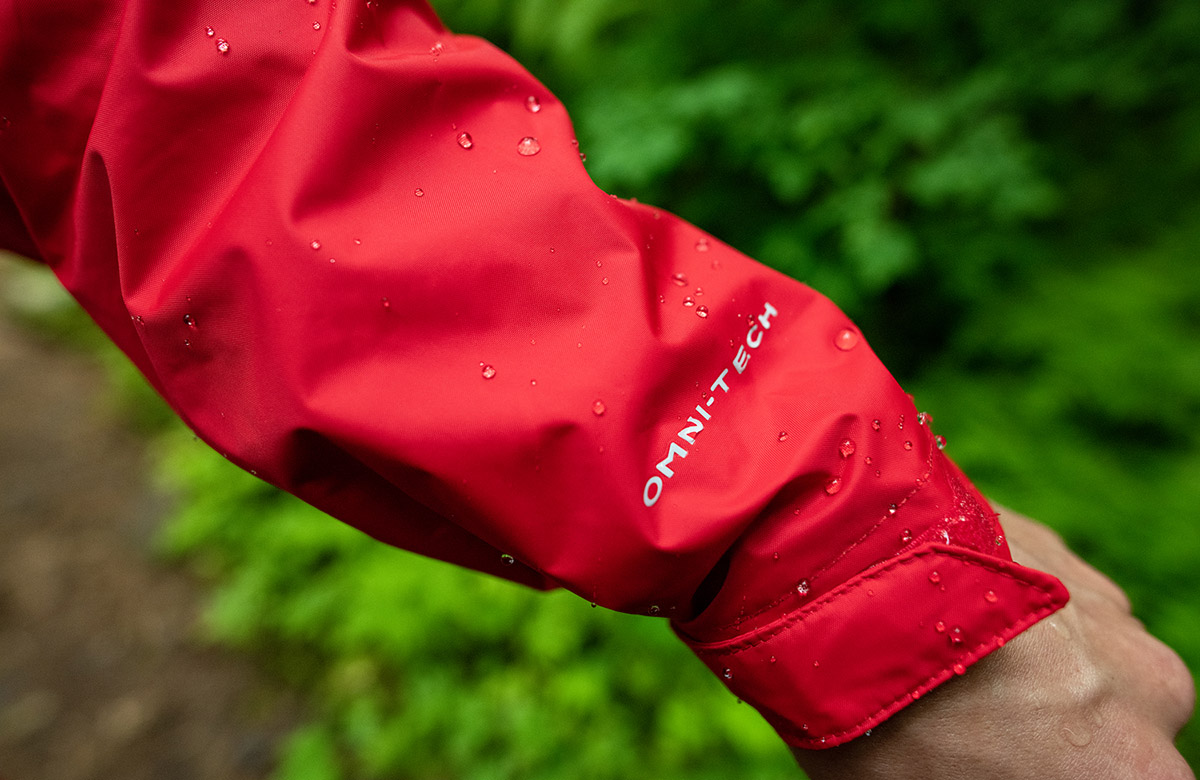 Breathability
Rain jackets typically aren't praised for their breathability, and the Watertight II is no exception. Although it breathed well during use around town—I never felt clammy or hot while running errands—I quickly began to overheat as my activity level increased. I do tend to run a little warm while exercising, but after about 5 minutes of hiking uphill on a 50-degree rainy day, I was ready to shed the Watertight II. The jacket's lack of pit zips is a major downfall in this department—instead, it relies on the mesh-lined hand pockets to regulate body temperature. Not only does this prove to be relatively ineffective during any kind of serious activity, doing so leaves your pocket's contents exposed to the elements.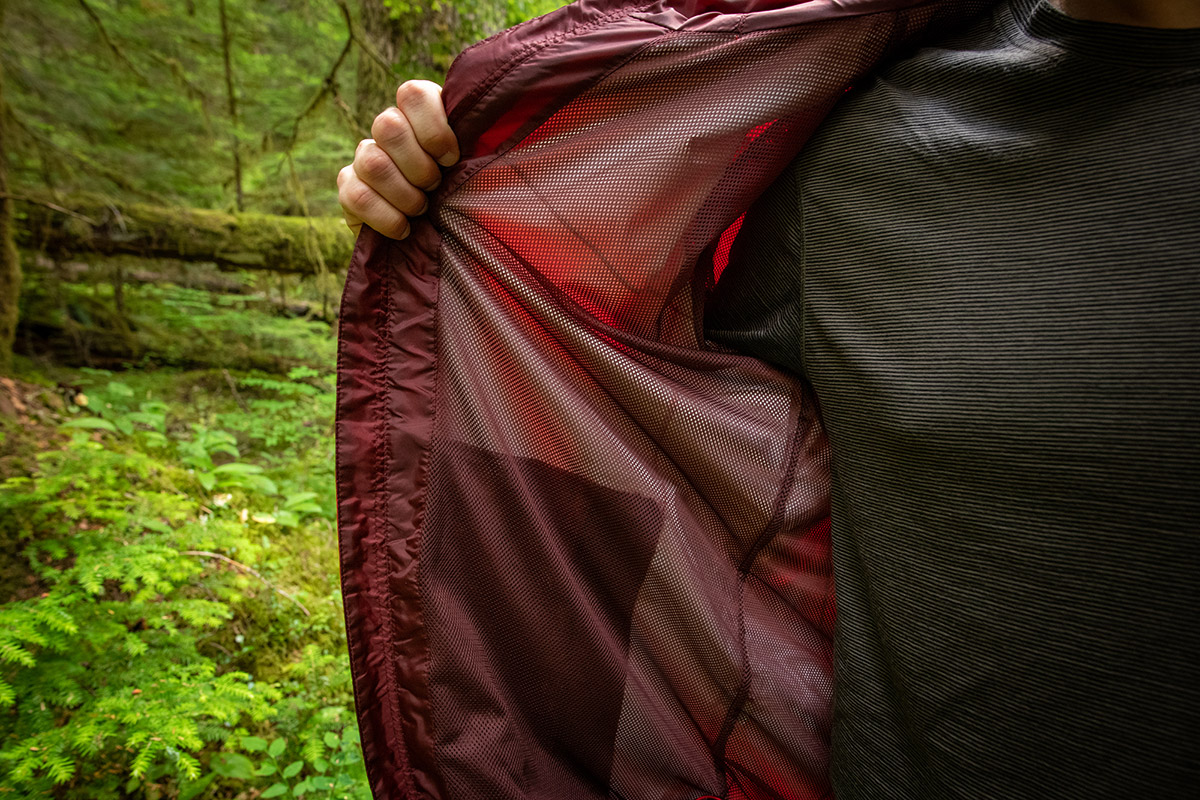 The reality is that to achieve high levels of breathability, you'll need to spend up for premium waterproofing (Gore-Tex is the market leader) or get a more performance-oriented feature set like pit zips. For example, the REI Co-op Drypoint GTX uses Gore-Tex Active and doesn't get nearly as clammy during heavy use but costs a whopping $249. Even a 2.5-layer jacket like the Patagonia Calcite, which has pit zips but uses in-house waterproofing, still isn't a great breather and costs over $200. The bottom line: entry-level and even mid-range rain jackets are lacking in the breathability department, and for that functionality you'll need to spend up for a performance-oriented piece.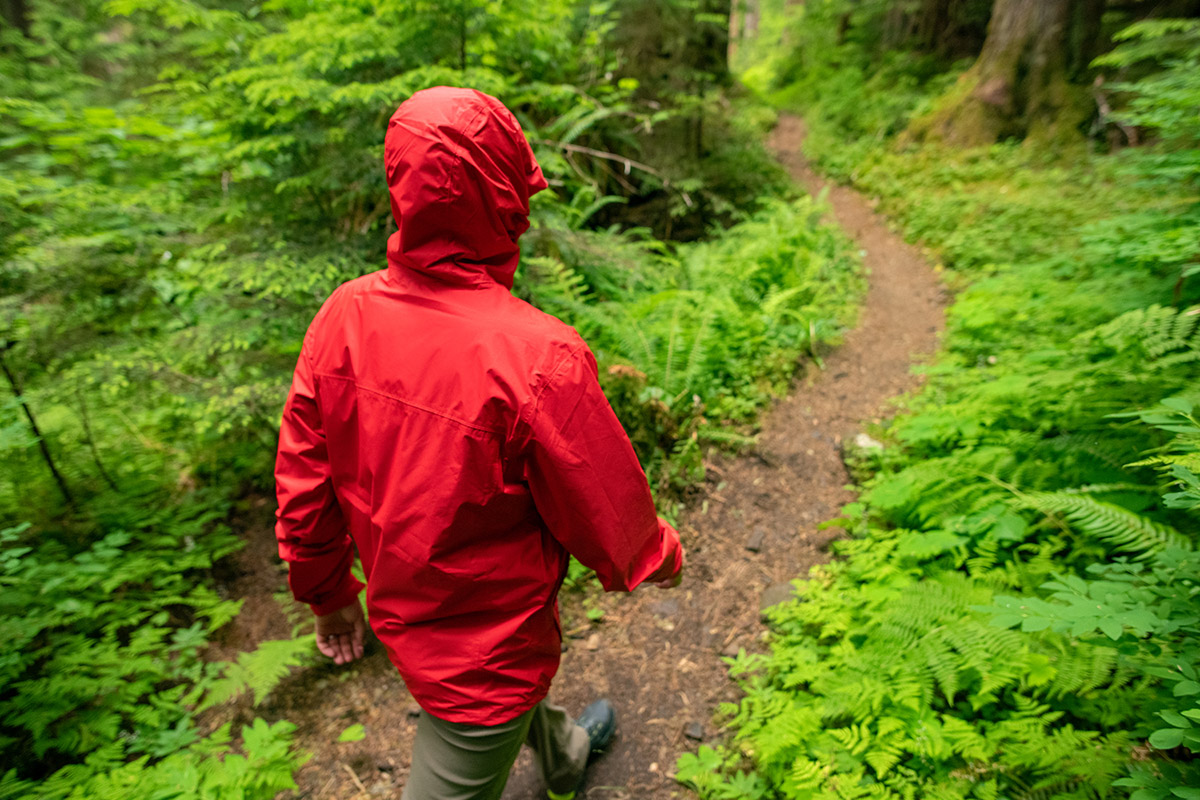 Weight and Packability
In terms of weight, the Watertight II feels average in hand: it's neither too hefty nor very light. At 13.7 ounces for a men's medium on our scale, it's slightly heavier than its listed weight of 13 ounces but right in line with other popular budget options like the REI Co-op Groundbreaker 2.0 (14.5 oz.) and Rainier rain jackets (13 oz.), although the Rainer does include pit zips). Compared to slightly more expensive alternatives that offer better weather protection, like the Marmot PreCip Eco (10.1 oz.) and The North Face Venture 2 (11.6 oz.), the Watertight II starts to look a little heavy. And in terms of packability, the jacket stuffs down nicely into its left-hand pocket, which features an easy-to-operate two-way zipper. When packed, the Watertight II is slightly larger than a Nalgene.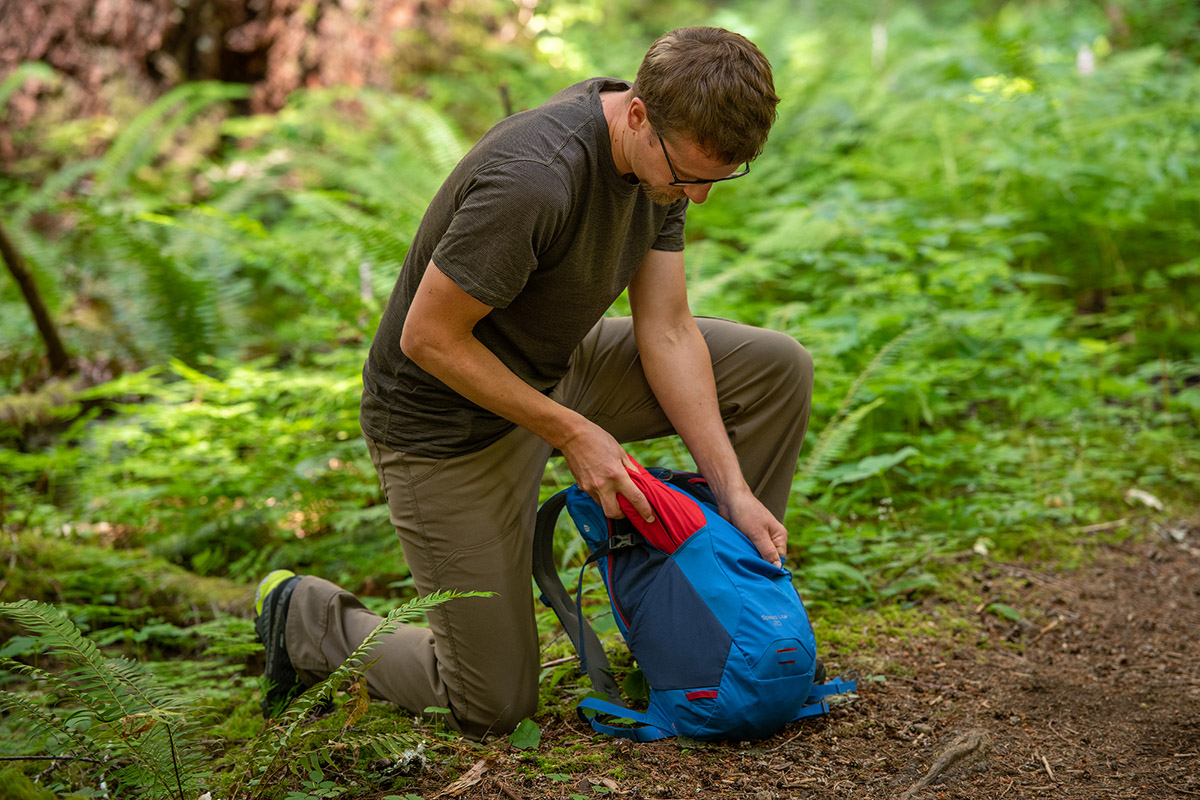 Build Quality and Durability
In terms of build quality and feel, budget-oriented products like the Columbia Watertight II simply can't compete with premium offerings from brands like Patagonia (and aren't really designed to). The jacket feels quite plasticky in-hand, but it surprised me by being exceptionally tough and robust. After a number of outings, both around town and on the trails, I have few concerns regarding its durability. The nylon exterior remains free of any defects or rips and the Velcro cuffs still function like new. The one area that gives me pause, however, is the lightweight and fragile feel of the zippers. They've been trouble-free up to this point, but I wouldn't be shocked if they eventually have issues as I continue to use the jacket.


Features: Hood and Pockets
The Watertight II has a well-sized hood that strikes a nice balance between offering sufficient coverage and remaining streamlined. It was just large enough to fit over my favorite hooded midlayer, the Arc'teryx Atom LT, and the semi-rigid bill kept it from restricting my views. Additionally, the two side cinches did a great job of sealing out strong gusts. All in all, I was very impressed with the hood's overall comfort, especially given the jacket's low price point.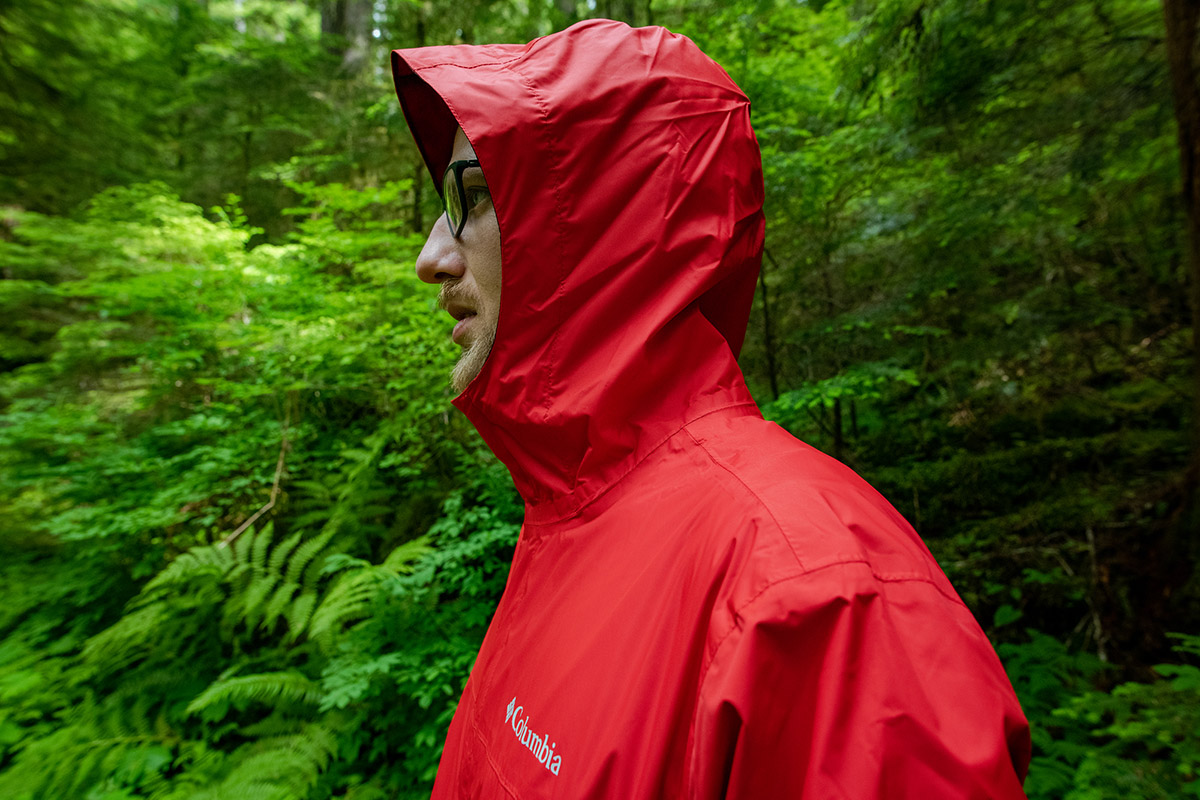 In terms of storage, Columbia included two simple mesh-lined hand pockets on the Watertight II, which should fulfill the needs of most users. The pockets are large enough to store essentials like a phone and set of keys, and feature small storm flaps that help keep moisture at bay. It's worth noting that the pockets do sit a little too low to be easily accessed while wearing a backpack, although unclipping the waist belt solves that problem. And you don't get a chest pocket or interior pockets on this jacket, but that shouldn't be too much of an issue for casual use.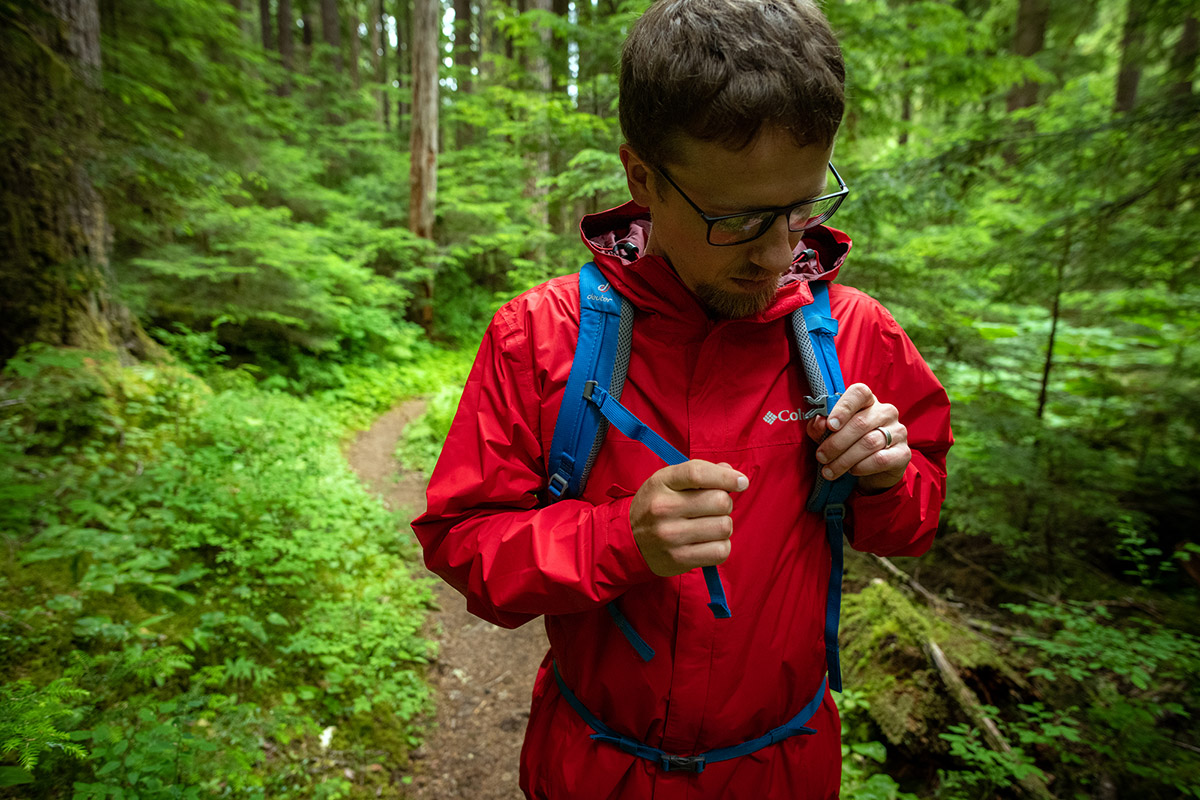 Fit and Sizing
As is the case with most Columbia products I've worn, I found the Watertight II's fit to be on the larger side. I ordered my standard size men's medium and was easily able to fit a lightweight midlayer underneath without feeling constricted, which was ideal for cold-weather walks. However, during strenuous hikes in the rain with just a t-shirt underneath, it was baggier than I would have liked (for reference, I'm about 5'9" and 160 pounds). In the end, if you're on the border between sizes or looking for more of a streamlined, performance fit, you may very well want to size down. It's also worth noting that the Watertight II is one of the few rain jackets available in both big (1x to 4x) and tall (LT to 4XT) sizing.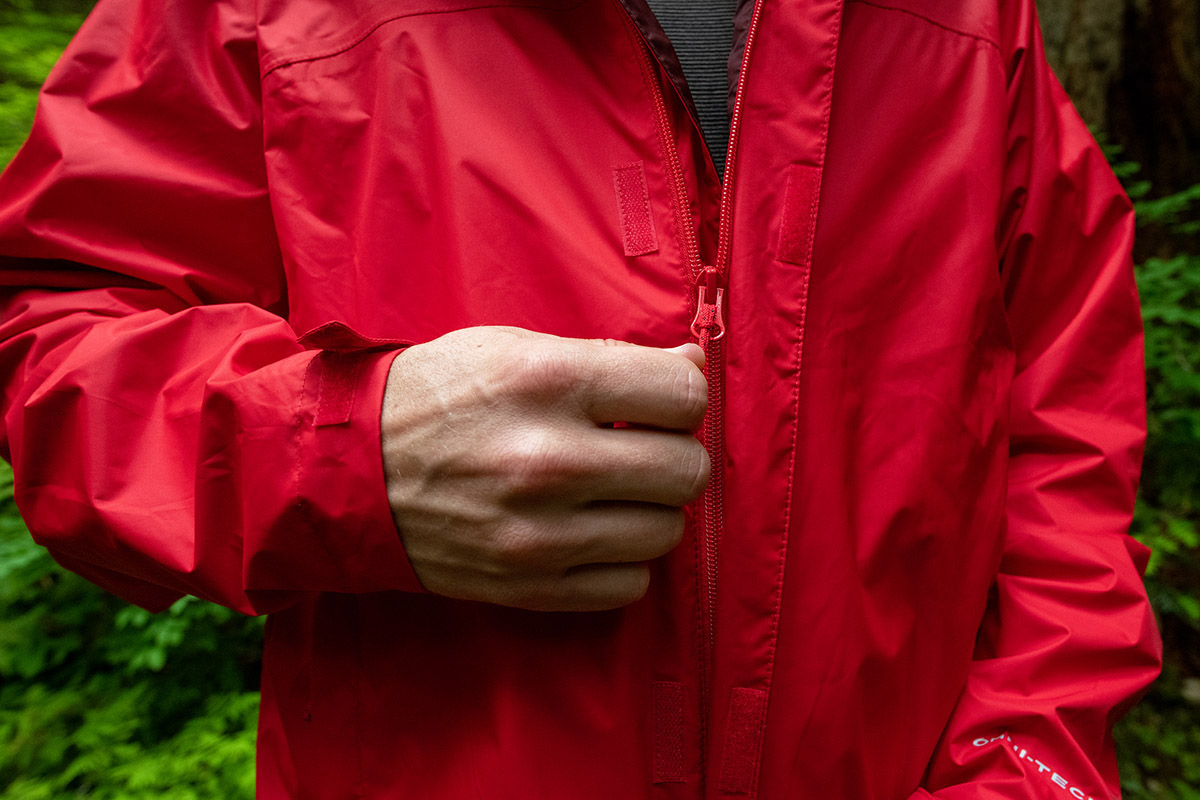 Women's Columbia Arcadia II
We tested the men's Watertight II for this review, and Columbia also makes the jacket in a women's model called the Arcadia II. Both share the same 2-layer Omni-Tech waterproof/breathable build, and the feature set is identical including zippered hand pockets and an adjustable and very functional hood. Aside from that, the Arcadia has a women's-specific fit and is offered in different colorways, but both jackets are $60. 

What We Like
At $60 MSRP and often cheaper on sale, the Watertight II is a nice value for daily wear and light outdoor use.
The tough-feeling shell fabric should last for many seasons, which isn't always the case with budget products.
The hood provides good coverage without sacrificing visibility.

What We Don't
During heavy bouts of rain, the jacket eventually soaked through at the seams.
The 2-layer build and lack of pit zips means that breathability is lacking.
The fit is baggier than we prefer, although it was good for layering.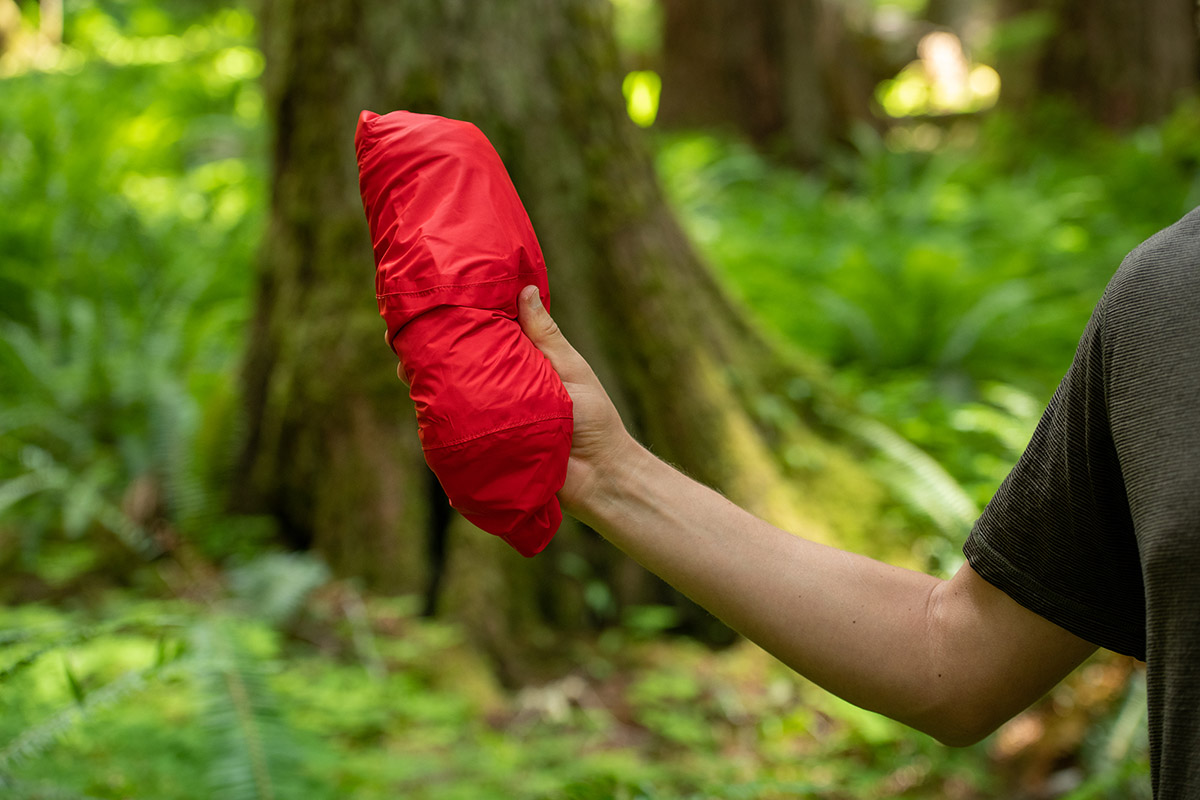 Comparison Table

The Competition
The Columbia Watertight II manages to balance an approachable price tag with decent weather protection for casual users, which makes it one of the most popular budget-oriented rain jackets on the market. However, REI's $60 Groundbreaker is a worthy alternative. Both jackets have a relaxed fit, feature a 2-layer waterproof laminate and mesh liner, and weigh about the same (the REI is 1.5 oz. heavier). With its softer fabric and minimal branding, the Groundbreaker gets the edge for casual use, although the REI is only critically seam-sealed, which means that it falls short for more technical endeavors. In the end, we prefer the Groundbreaker for daily wear, but the Watertight II does win out for light-duty hiking
If you're in need of better weather protection or additional features than the Columbia Watertight II or REI Groundbreaker provide, you should consider Marmot's PreCip Eco rain jacket. The Marmot's more modern 2.5-layer construction and sealed seams do a better job of keeping water at bay (the seams are where the Watertight leaked for us), and the pit zips are better at managing heat buildup during activity. We also like the Marmot's slightly more trim fit, which still allowed plenty of room for layering. Both the Watertight II and Groundbreaker are significantly cheaper, but if your budget allows, we recommend spending up for the more capable PreCip Eco at $100.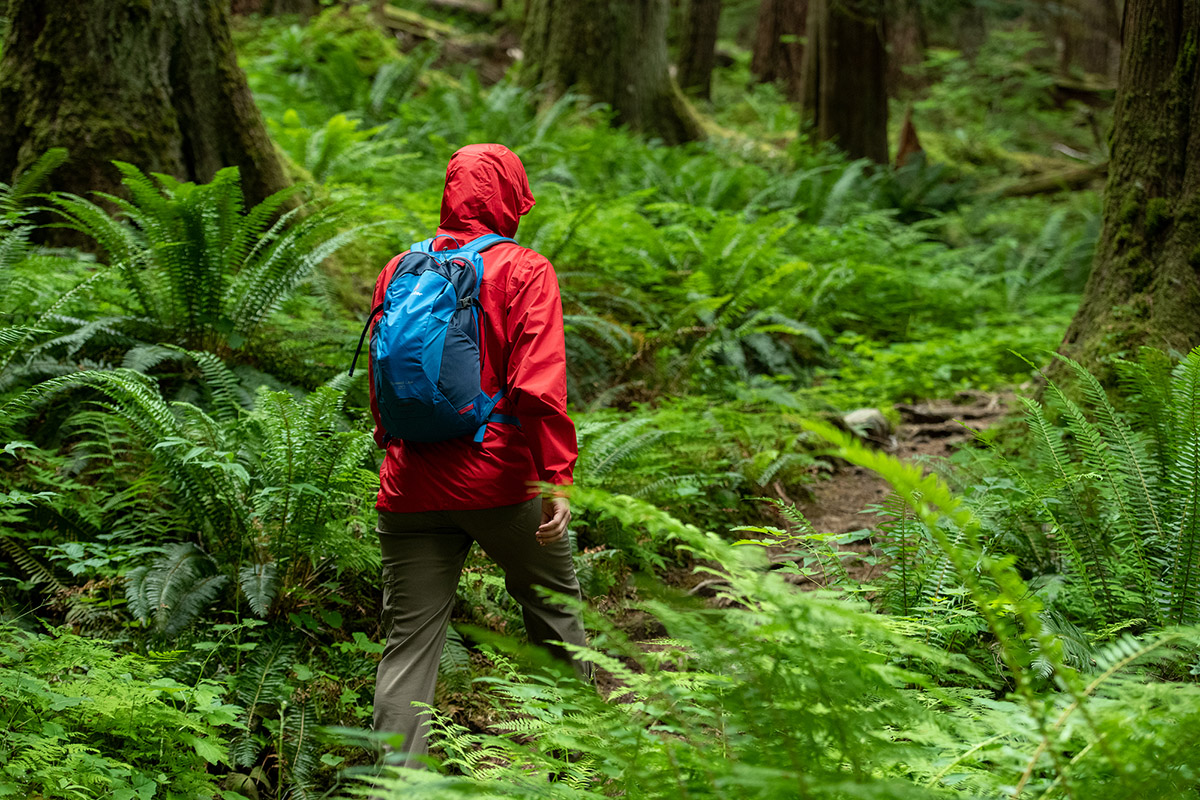 Another option to consider is The North Face Venture 2, which is a popular rain jacket for hiking, traveling and around-town use. At $99, Venture 2 features a 2.5-layer DryVent waterproof construction, weighs a bit less at 11.6 ounces total, and has additional features like pit zips. But while the Venture 2 looks good on paper, a stormy trip to the Grand Canyon left us disappointed. In short, its baggy fit, cheap-feeling construction, and questionable weather protection barely outperformed the Watertight II in most cases. For those on a budget, the less expensive Columbia is the smarter choice.
For a step up in price and performance from the Groundbreaker above, REI also sells their Rainier rain jacket. For the extra money, you get an upgraded 2.5-layer waterproof construction that can hold its own in sustained rain, pit zips to dump heat quickly, and a reasonable weight of 12.5 ounces. We did find the fit to be fairly large and baggy, but we think the Rainier handily outperforms its $90 price tag. Unless you're on a tight budget or only plan on using your rain jacket casually, we recommend going with the Rainier over the Watertight II. 
Last but not least is Patagonia's Torrentshell, which is the priciest of the bunch at $149 but comes with notable upgrades in protection, features, and build quality. To start, you get a more weather-ready 3-layer build that we've found to be highly protective, even in heavy moisture and strong gusts. Additionally, the Torrentshell has a streamlined cut that can accommodate layers underneath but doesn't feel or look overly baggy (an issue we had with the Watertight II), and you also get functional additions like pit zips and a carabiner clip-in loop for attaching to a pack or harness when stowed. All in all, if you plan to hike or backpack with regularity, we think it's worth stepping up for the added features and performance benefits of the Patagonia. 
If you're thinking about buying gear that we've reviewed on Switchback Travel, you can help support us in the process. Just click on any of the seller links above, and if you make a purchase, we receive a small percentage of the transaction. The cost of the product is the same to you but this helps us continue to test and write about outdoor gear. Thanks and we appreciate your support!
Depending on the seller, most products ship free in the United States on orders of $50 or more. International shipping availability and rates vary by seller. The pricing information on this page is updated hourly but we are not responsible for inaccuracies.
Learn More About Outdoor Gear