Seattle-based Outdoor Research is no stranger to creating quality rain jackets that can fend off the elements, and we like what they've come up with in the Foray. This do-it-all shell is light and packable for hiking and backpacking yet tough enough to hold its own for spring skiing. Recently updated, the latest "II" is substantially lighter than the original but retains the proven combination of solid Gore-Tex waterproofing, premium touches like YKK Aquaguard zippers, and the brand's signature TorsoFlo vents. These huge openings run from the bicep all the way to the hem and make it easy to quickly release heat, although they do come with compromises in comfort and styling. Below we break down our experiences with the Foray II. To see how it stacks up to the competition, see our article on the best rain jackets.
 
---
Table of Contents
---

Performance
Weather Protection
Featuring proven Gore-Tex Paclite waterproofing and a thicker-than-average 50-denier (D) shell, Outdoor Research's Foray II GTX Jacket provides excellent protection from wind and rain. It's true that the 2-layer construction prioritizes weight savings and packability and won't be confused with a full-on, winter-ready hardshell, but it's about as protective as it gets in the rain jacket market. For reference, the Foray II has held up extremely well in everything from wet and blowing snow and sleet to a deluge of rain in Kauai. The durable water repellent (DWR) coating effectively sheds light moisture (although it'll get overwhelmed in heavy rainfall), the tall collar and three-way adjustable hood can be battened down in a storm, and the interior is fully seam taped and has yet to show any signs of vulnerability. As such, we think the Foray is an excellent option for three-season hiking and backpacking, and it's even viable for the occasional mild-weather ski tour (something we did with the prior-generation Foray).
Rounding out the design, you get adjustable hook-and-loop cuffs that fit nicely over bare wrists with minimal to no bunching. They also worked well when paired with gloves ranging from thin liners to substantial undercuff winter designs like Hestra's Fall Line Gloves and Mittens. In addition, the Foray has a moderately long cut and slight drop hem (center back length is listed at 29.5 in), which provide above-average coverage. And for sealing out the elements, you can cinch the back half of the hem via a single toggle on the right side. We're not a big fan of that final piece—it's a compromise of the generous TorsoFlo vents—and we cover the potential downsides in the "Key Features" section below.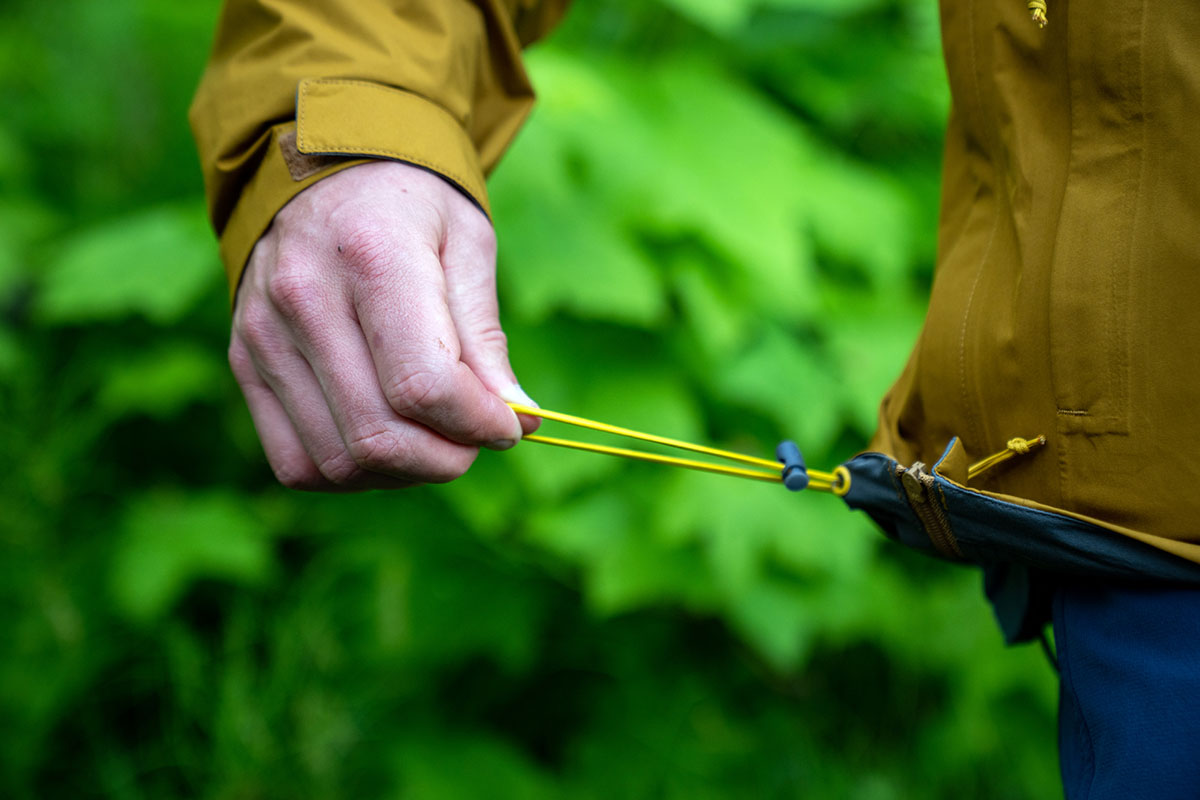 Breathability
Similar to other 2-layer Gore-Tex Paclite rain jackets, we found the Foray quickly overheats during moderate activity (note: From our experience, jackets with upgraded Paclite Plus offer improved breathability). If you're working hard, the Foray's lining can feel clammy against the skin, especially compared to pricier models like the 3-layer Arc'teryx Beta LT ($450) and Beta Jacket ($400), which feature softer and more breathable interiors that wick moisture better. That said, the magic of the Foray lies in its full-length side zips—dubbed TorsoFlo—which run from the bottom hem to the bicep. These massive vents allowed me to dump a ton of heat quickly while on the trail—more so than any hardshell I've ever used. In other words, while the fabric itself can't match the breathability of more premium options, the side zips definitely help make up for it.

Comfort
While the Foray's 2-layer construction makes some sacrifices in breathability, it does give the jacket a flexible and comfortable overall feel. Unlike a traditional hardshell jacket that's stiff and crinkly, the Foray's smooth polyester shell is relatively quiet and unrestrictive even during activity. To be clear, there are downsides to the unlined interior—including clamminess during high-output use and a bit of a rubbery feel in general—but they're far from deal breakers and only truly noticeable when wearing the jacket over bare arms. And a final nice touch is that OR included a large patch of fleece-like material along the inside of the collar that feels cozy when fully zipped.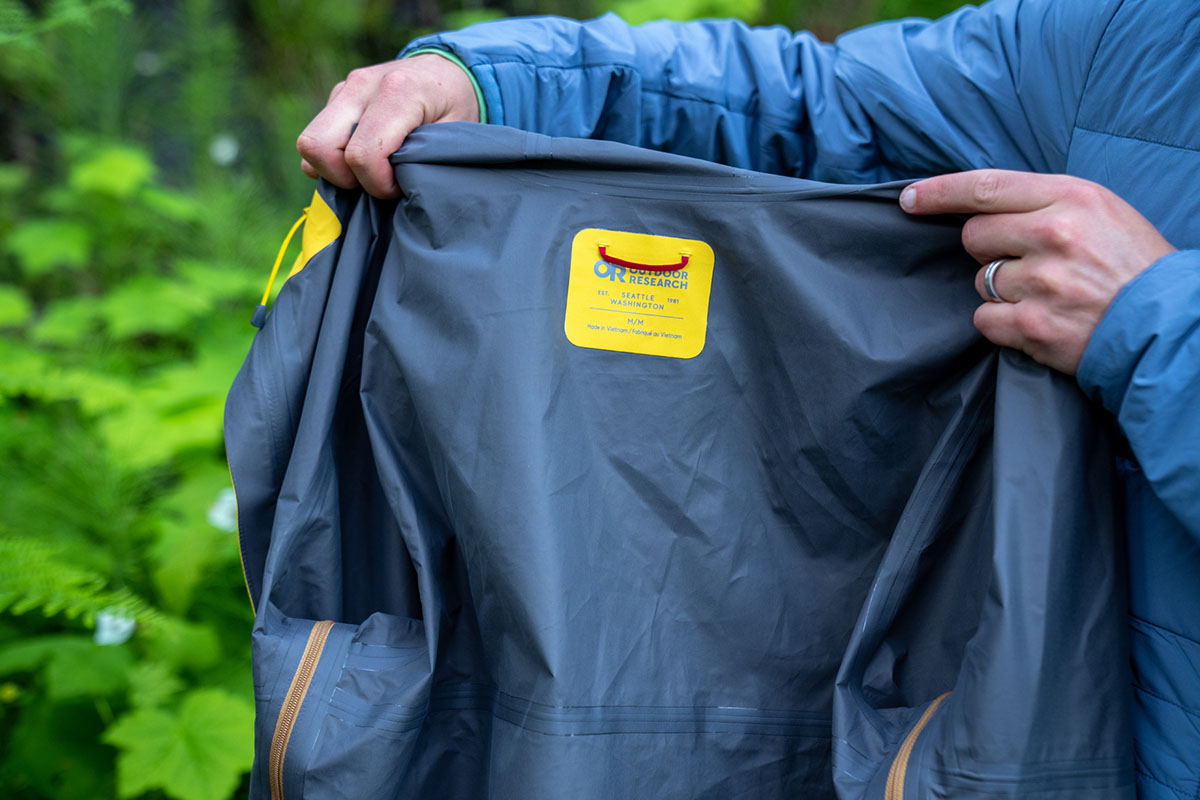 Weight and Packability
Weighing in at 12 ounces on our scale for a men's medium (the listed weight is 11.9 oz.), the latest Foray II is around 4 ounces lighter than its predecessor. Given the substantial drop, the Foray has gone from being a relative heavyweight to highly competitive in the rain jacket market. For reference, it's lighter than similarly intentioned designs like Marmot's Minimalist (13 oz.), Black Diamond's Liquid Point (13.9 oz.), REI's XeroDry GTX (12.5 oz.), and Arc'teryx's Beta LT (13.9 oz.). You can shave some weight with Arc'teryx's 10.6-ounce Beta Jacket or a true ultralight piece like OR's own Helium Rain Jacket (6.3 oz.), but both of those are more specialized options that forgo features like pit zips (the Helium also leaves out hand pockets). All in all, the Foray II strikes a really nice balance—it's well appointed but still reasonably light—and I'd have no qualms about bringing it on long backcountry adventures.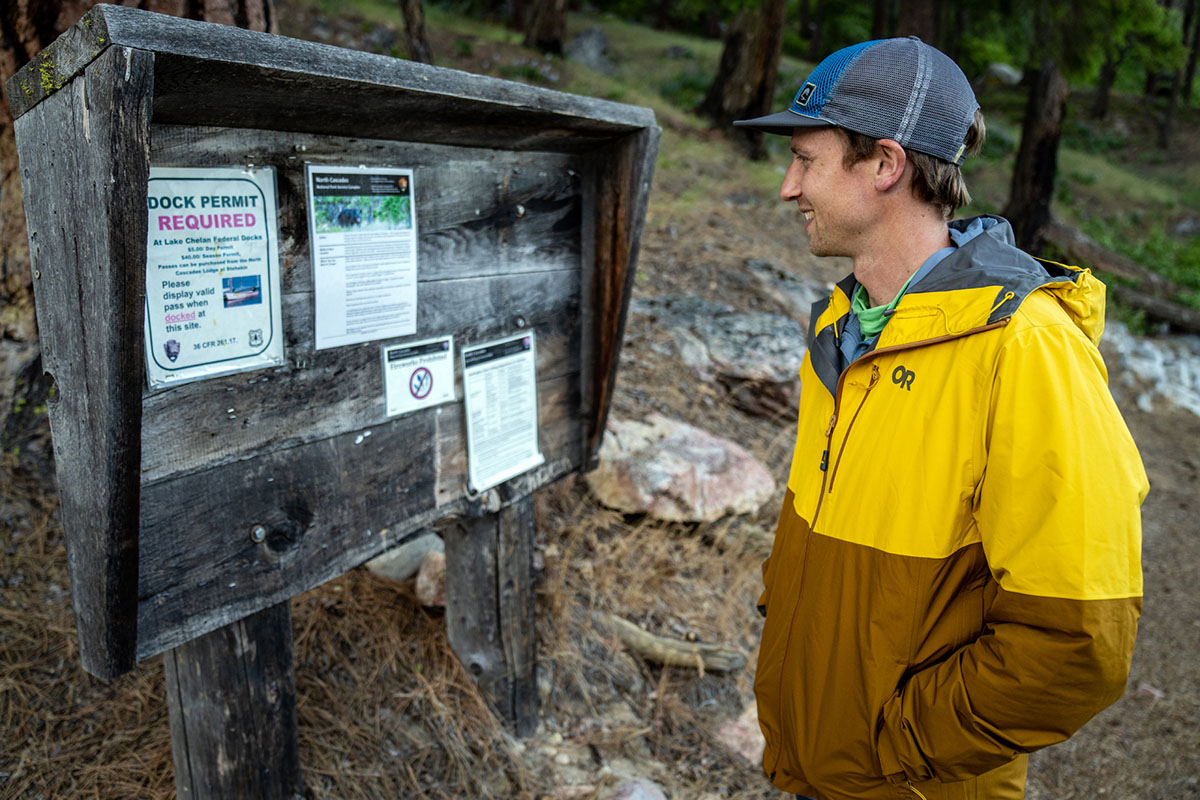 Along with its trimmed-down weight, packability is equally impressive. And while the jacket no longer comes with a two-sided zipper for storing in a hand pocket—not a big loss in our eyes—it rolls easily into its hood. Using this method, the Foray II compresses to the size of a large burrito, and we had no issue fitting it into small and large packs alike. Of note: For those who prefer to store their rain jackets in a hand pocket, the Foray still stuffs in just fine (and measures a compact 9 x 6.5 in. when stashed in the hand pocket), but it's more of a pain to zip it back open without the two-sided zipper.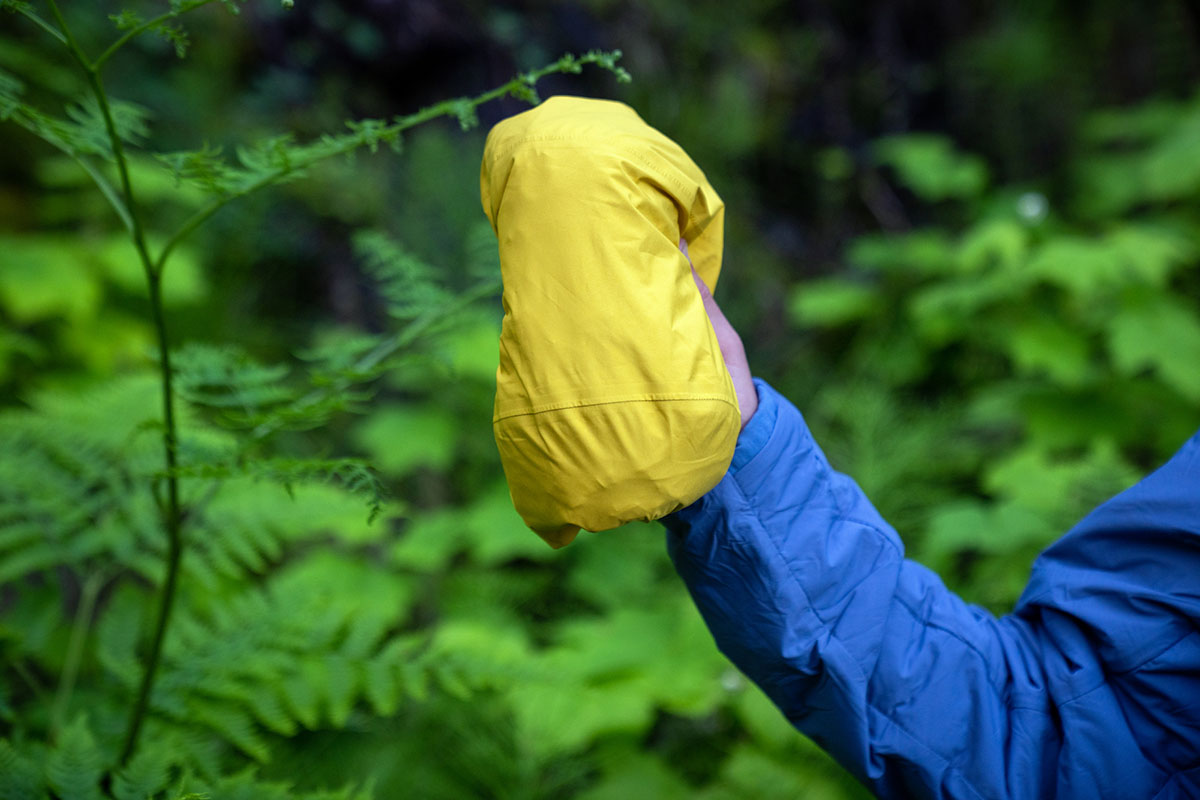 Build Quality and Durability
There's a lot to like about the OR Foray II GTX Jacket when it comes to build quality and durability. Like our experiences with the prior-generation model, which saw its fair share of bushwhacking and rough use and came away unscathed, the "II" is holding up great thus far. Key to its tough build is the 50D polyester shell, which is thick compared to the competition—most alternatives are 40D or thinner—and gives the jacket a relatively substantial feel. Additionally, the stitched seams along on the outside of the jacket are well made and show no signs of fraying, the seam taping on the interior is in great shape, and all of the zippers work flawlessly and continue to operate with ease. All told, while the Foray II can't match the hardwearing nature of a burly 3-layer hardshell, it feels decidedly more robust than other lightweight rain jackets.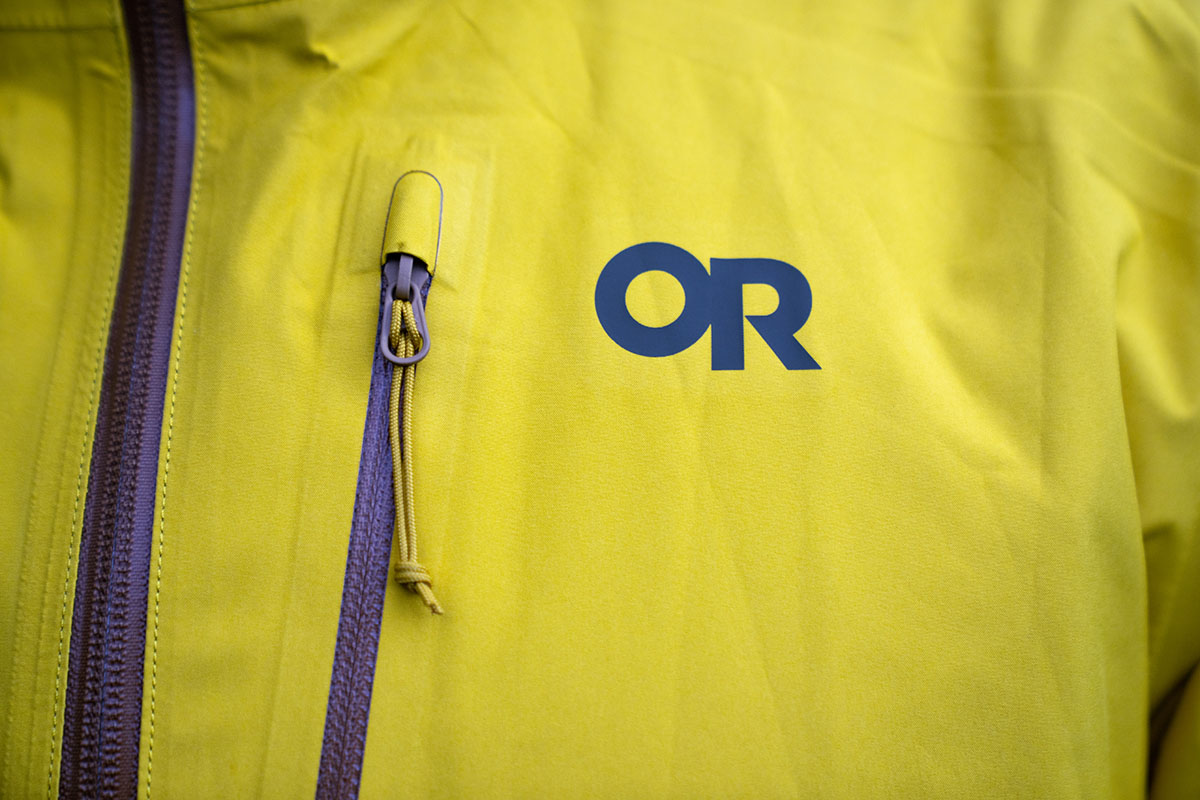 Key Features
TorsoFlo Venting
As we touched on above, the OR Foray II's full-length TorsoFlo side zips are a clear highlight of the design, extending the pit zips all the way to the bottom hem. When fully unzipped, this creates a poncho-like opening for awesome venting on the trail—they're a great way to dump excess heat while still retaining reliable all-around waterproofing and coverage. The huge openings and dual zippers also mean you can get creative with how you customize airflow. Worn under a backpacking pack, the side zips and their storm flap are noticeable under the hipbelt but didn't create any notable pressure points for me. And in poncho mode, the back half of the jacket can even fit over a backpack.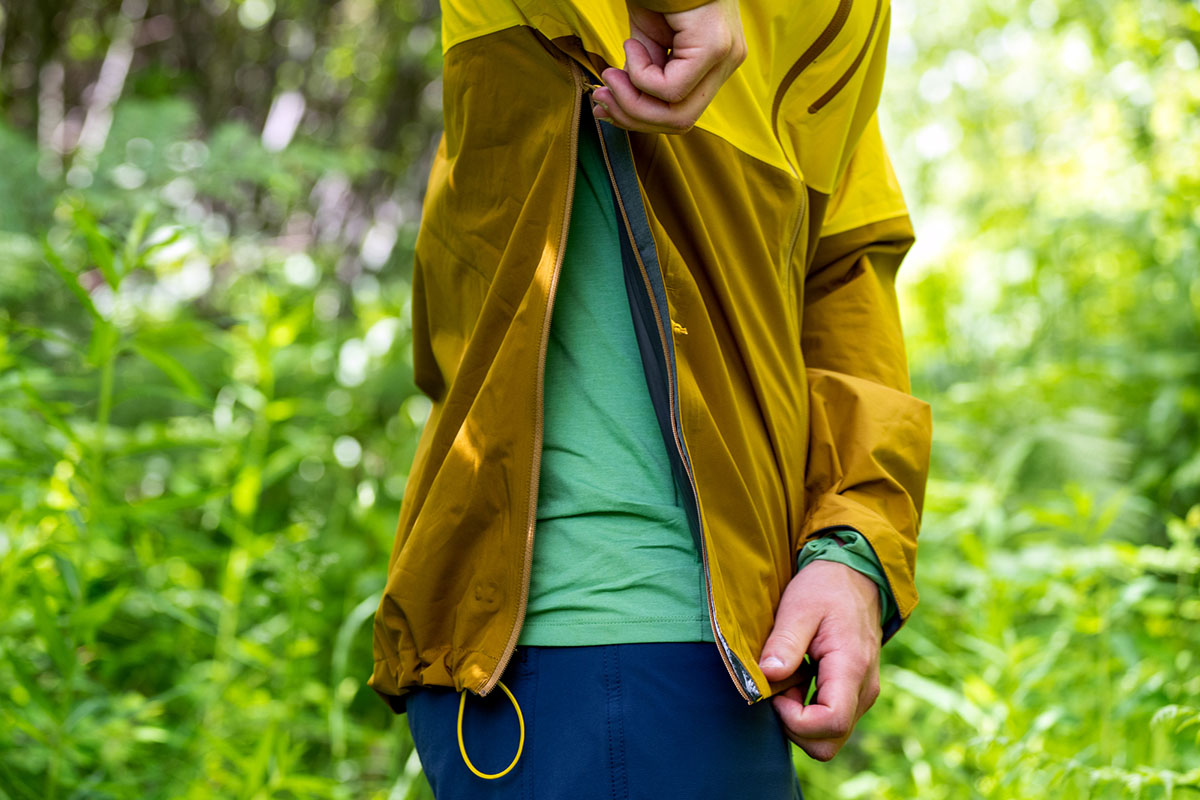 If ventilation is a priority, the TorsoFlo vents are a big selling point of the Foray II, but they do create some quirks and potential downsides. One notable compromise for us is that you can only adjust the hem behind the zipper's bottom stop—the cinch cord only covers the back half of the jacket. This results in a slightly uneven look, with the front side of the jacket smooth and the back bunched up. It's not a deal breaker per se, but I was aware of the slightly odd fit. And from a styling perspective, the storm flap and exposed zipper pulls at the bottom give the Foray a little more of a technical look than more everyday-friendly designs like the Marmot Minimalist.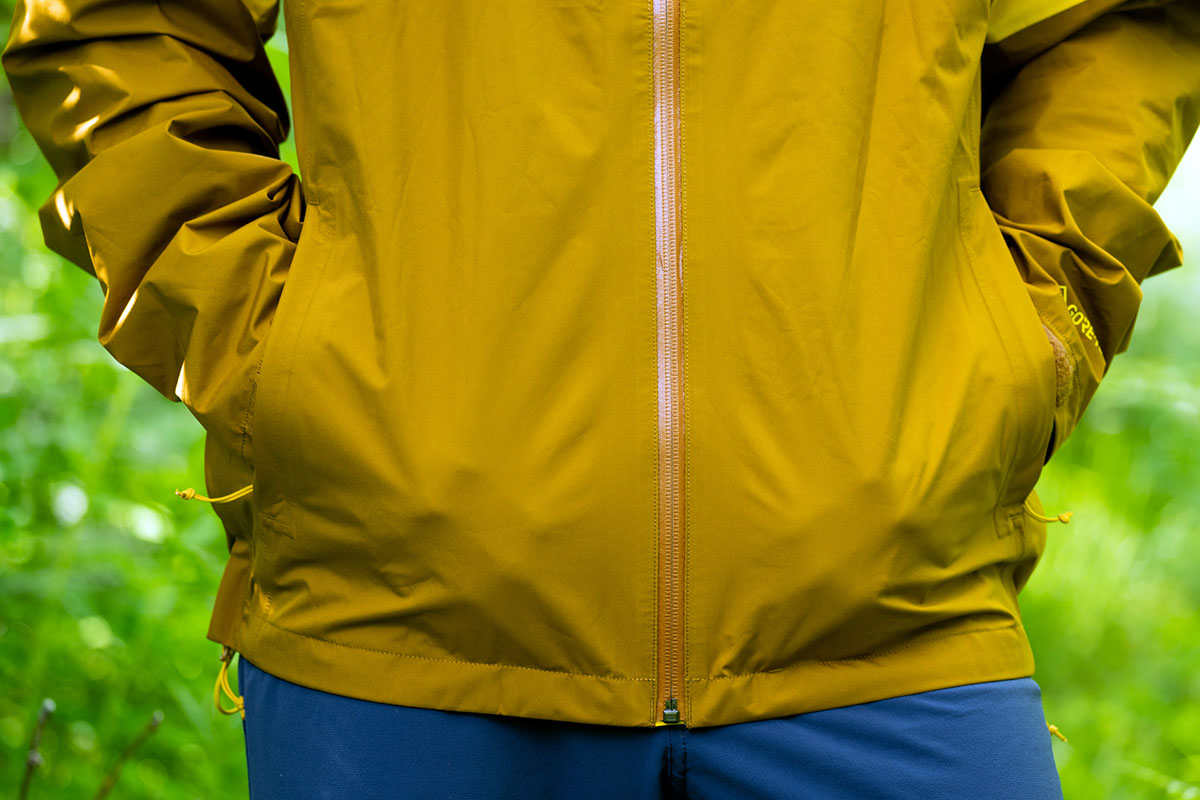 Hood and Pockets
We've had mixed experiences with OR hoods, but the latest Foray II is a solid all-around effort. In a nice change from the old model, the toggle at the back of the hood is now easy to pinch, and you have two additional adjustment points at the front. It's also generously sized and slides easily over a beanie, trucker hat, or even a low-profile climbing helmet (although it won't work with a bulkier downhill ski helmet). Combined with the tall collar and semi-rigid bill at the front, you get ample coverage for rough and rowdy weather. And while it takes some work to get an even fit—Arc'teryx's single-pull StormHood beats the Foray in ease of use—it's not too effortful. Taken together, the hood's design matches the rest of the jacket as fully functional for three-season use.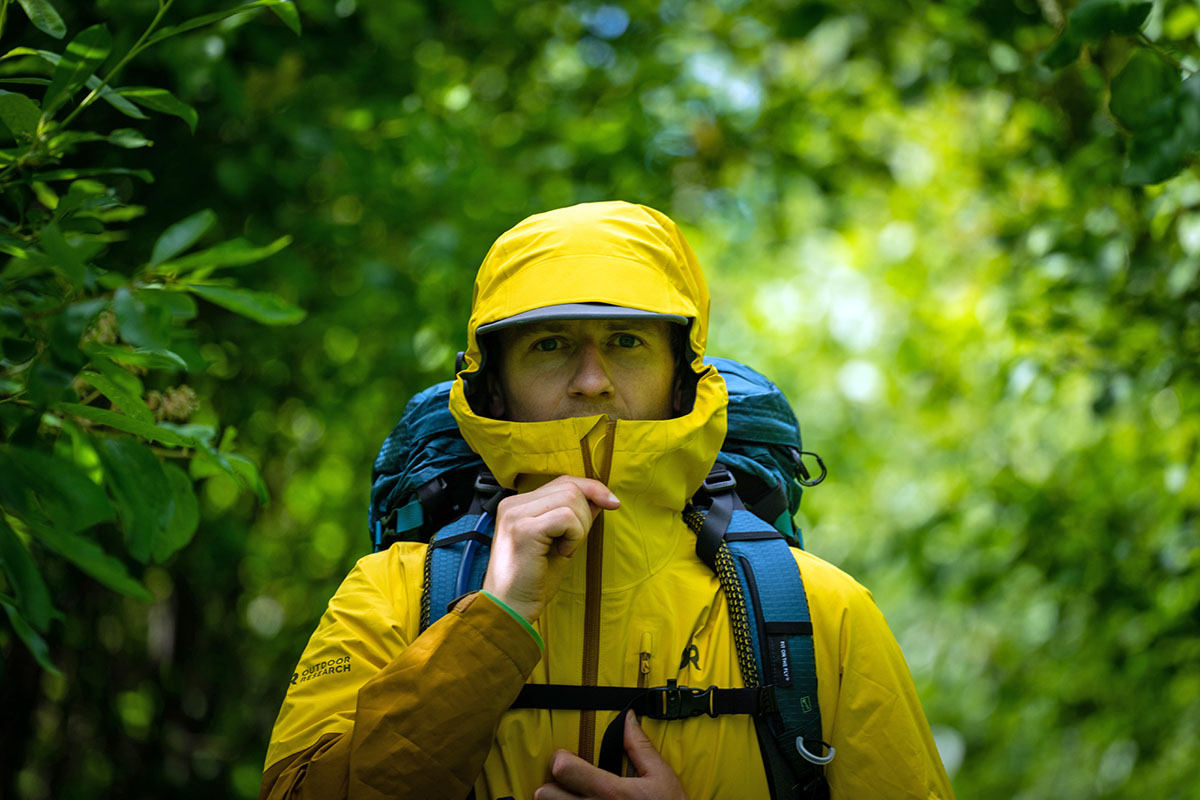 For storage, the OR Foray II GTX Jacket comes with three total pockets. The chest pocket is easy to find with its quality, exposed YKK Aquaguard zipper, and the interior is plenty big for storing moderately bulky items like a cellphone. The zippered hand pockets forego the water-resistant treatment but have storm flaps for protection and are generously sized—plenty big for gloved hands. There's also a handy key clip integrated into the left hand pocket for added security. It's worth noting that the hand pockets aren't hipbelt- or harness-compatible, which is a little surprising given the Foray's performance slant. This renders them mostly useless for activities like hiking, climbing, and skiing, but the upside is that they're at a natural height when you're wearing the jacket around town or without a pack.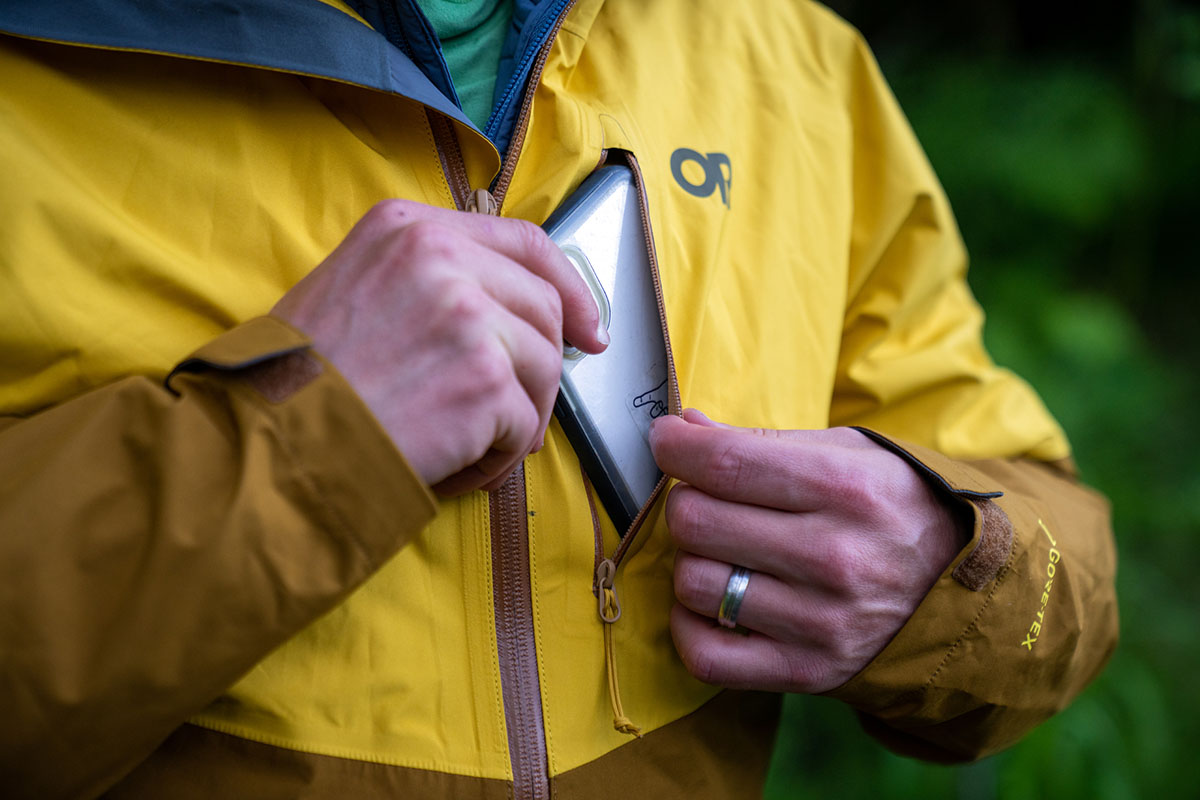 Fit and Sizing
Outdoor Research tweaked the fit for the Foray II, and we think it was for the better. We found the old jacket to be rather baggy, while the new model hits a real sweet spot for active use and layering. At 5'9" and 155 pounds, I opted for my standard men's medium and had zero fit-related complaints. The Foray is not excessively big when worn over just a t-shirt, but there's enough space to accommodate a lightweight puffy (like Patagonia's Down Sweater or Micro Puff, Arc'teryx's Cerium, etc.) without feeling restrictive. All told, I'd describe the cut as "regular"—something that should work for a lot of folks. And it's worth noting that Outdoor Research now offers the jacket in a healthy range of sizes, from S up to XXXL.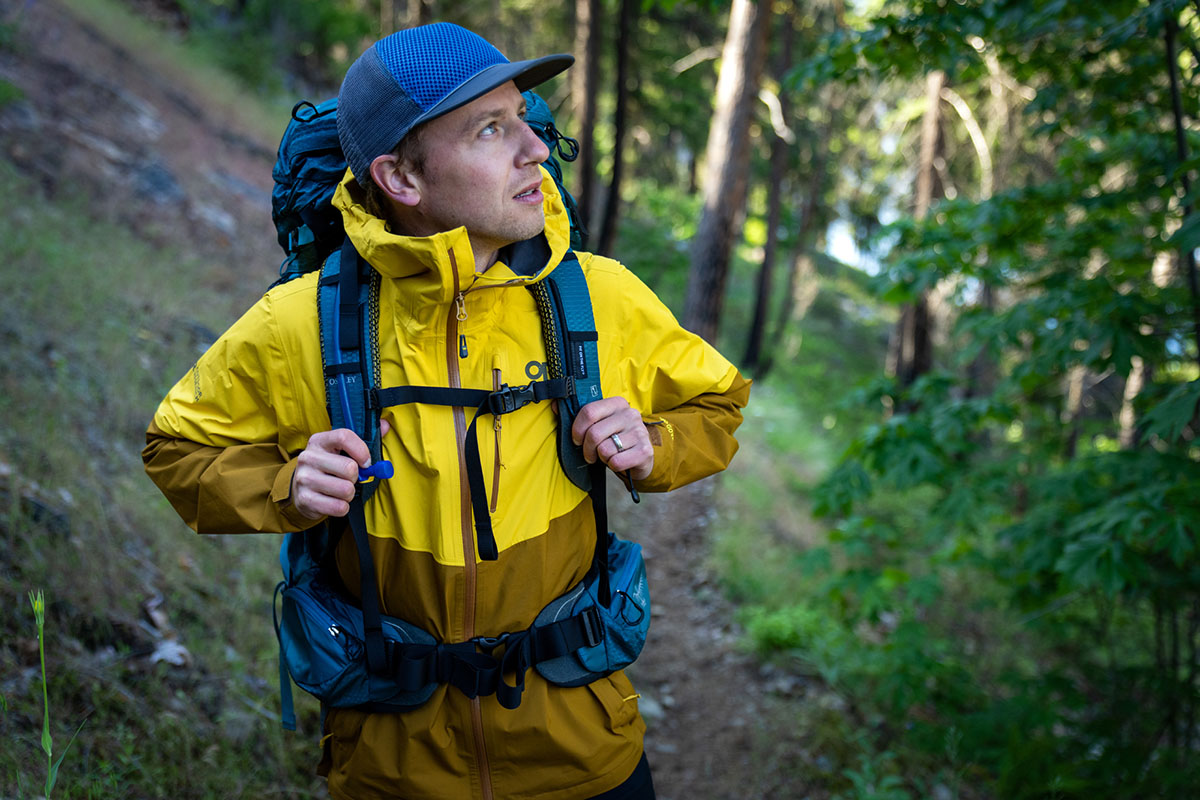 Sustainability
Many outdoor brands have put a big emphasis on sustainable practices of late, and Outdoor Research is no exception. In this case, the Foray II GTX Jacket uses bluesign-approved Gore-Tex, which indicates that it meets strict chemical safety requirements and has been deemed safe for consumers, workers, and the environment. Like the prior-generation model, the latest Foray II also has a PFC-free DWR coating, which forgoes the use of perfluorocarbons that are known to be harmful to the environment. We hope to see OR incorporate recycled fabrics during the next update, but we nevertheless appreciate the steps they've taken thus far toward improving the lineup.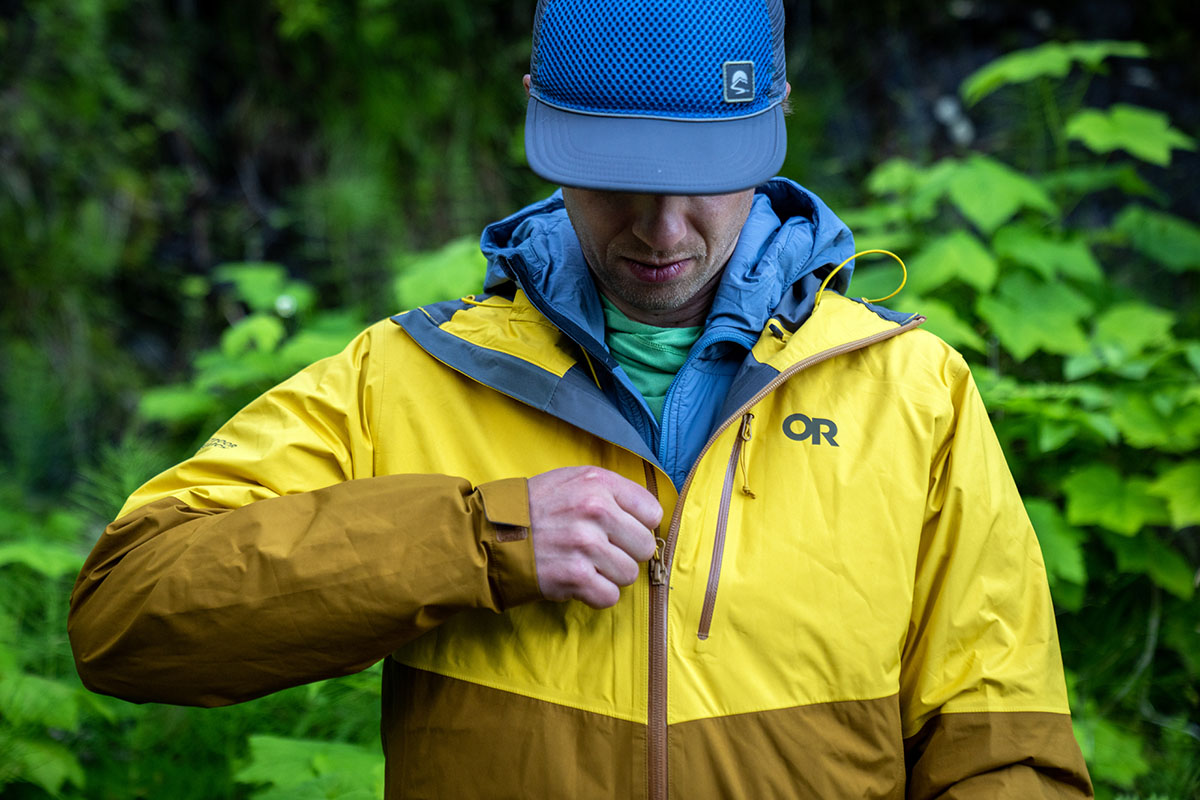 Other Versions of the Outdoor Research Foray
In addition to the men's Foray II GTX Jacket tested here, Outdoor Research also makes Foray Gore-Tex Pants that retail for $180, use the same 2-layer construction, and weigh 10.7 ounces. They also recently released the $399 Foray 3-in-1 Parka, which pairs a 2-layer outer shell with an insulated midlayer that uses the brand's 60g VerticalX Eco fill for cold-weather warmth. On the women's side, the Aspire II GTX Jacket costs the same as the Foray and retains a nearly identical build and feature set, including a 2-layer Gore-Tex Paclite membrane, 50D shell, and signature TorsoFlo vents (see our in-depth Aspire II GTX review here). The only major differences are weight and colorways, with the women's Aspire Jacket clocking in at 11.7 ounces and the pants at 9.8 ounces (both are also offered in dedicated plus sizes). There's no 3-in-1 women's option, although the new Aspire Trench ($249) is a nice addition to the collection for wet commutes and around-town use. 

What We Like
Well-rounded design and feature set for everything from three-season hiking and backpacking to the occasional mild-weather ski tour.
2-layer Gore-Tex Paclite build provides excellent water and wind protection for the rain jacket category.
Unique full-length side zips do an amazing job at dumping excess heat.
Smooth polyester shell is relatively quiet, unrestrictive, and more flexible than traditional hardshells. 
Excellent build quality, including a relatively durable 50D shell, stitched seams, and smooth-operating zippers.
Healthy selection of colorways (12 at the time of publishing) and sizes (S to XXXL).

What We Don't
Lining feels clammy against bare skin during high-output use and lacks the breathability and softness of premium 3-layer alternatives.
Cinch cord only covers the back half of the jacket, which leads to an uneven look and bunching at the rear hem.
Hand pockets aren't hipbelt- or harness-compatible, which detracts from the shell's performance slant. 
No longer comes with a two-sided zipper for storing in a hand pocket, although it's still possible (and the hood is a viable substitute).


Comparison Table

The Competition
Our overall impressions of the Outdoor Research Foray II are positive, enough so that we rank it mid-pack in our round-up of the best rain jackets. Marmot's Minimalist is another one of our favorites and a very well-rounded design for the price. That said, the latest Foray is lighter by around an ounce, has a higher-quality feel—the Minimalist feels cheap by comparison with its stiff storm flap on the front and less premium fabrics—and gets the clear edge in breathability with its massive TorsoFlo vents (the Marmot has standard pit zips). It's true the Marmot has a cleaner and simpler look for around-town use, also uses reliable Gore-Tex Paclite waterproofing (2.5L), and saves you around $25, but we think it's worth spending up for the more complete and performance-ready Foray II.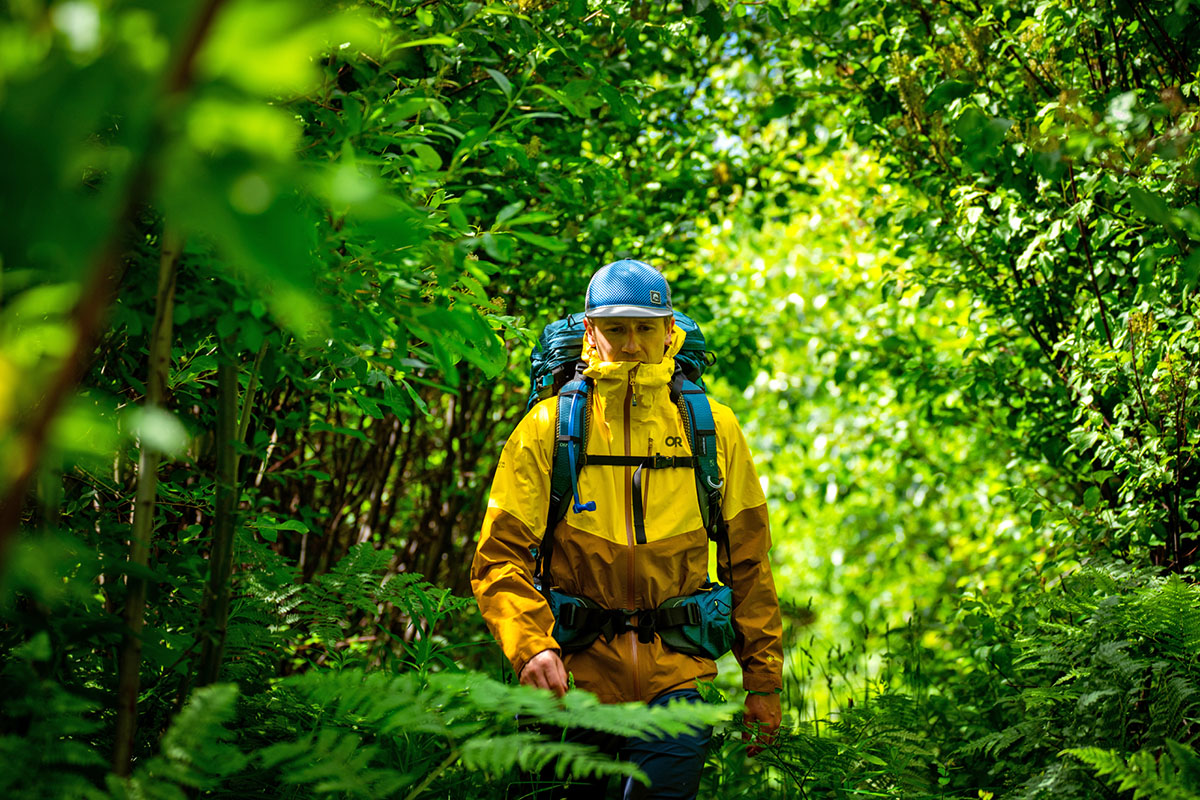 The Foray II's performance falls short of the premium Arc'teryx Beta Jacket ($400), but so does the price. Both are billed as hiking-centric jackets and use Gore-Tex materials, but that's where the similarities end. The Beta has a 3-layer construction—compared to the 2-layer Foray—and its softer interior (which uses Gore's C-Knit backer) breathes better and feels less clammy against bare skin. We also prefer the slightly trimmer fit of the Beta for active use, although the lack of pit zips is a notable downside when you're working hard. It's true that the Beta is a little lighter at 10.6 ounces and has a higher-end feel, but the Foray II will save you a whopping $175 and checks all the boxes we look for in a well-rounded three-season rain shell.
For about $55 less than the Foray II, REI Co-op's XeroDry GTX offers a similar 2-layer Gore-Tex Paclite shell complete with three pockets and a highly adjustable hood. You do give up pit zips, which are extremely valuable for regulating body temperature, but the REI is competitively lightweight at 12.5 ounces and offered in a nice range of sizes and colors. However, while the XeroDry looks good on paper, we have concerns about its performance in very wet weather—a heavy storm in the Grand Canyon left one of our testers soaked while others stayed dry. Because of this and the Foray's well-rounded appeal, it's our choice over the XeroDry in most instances.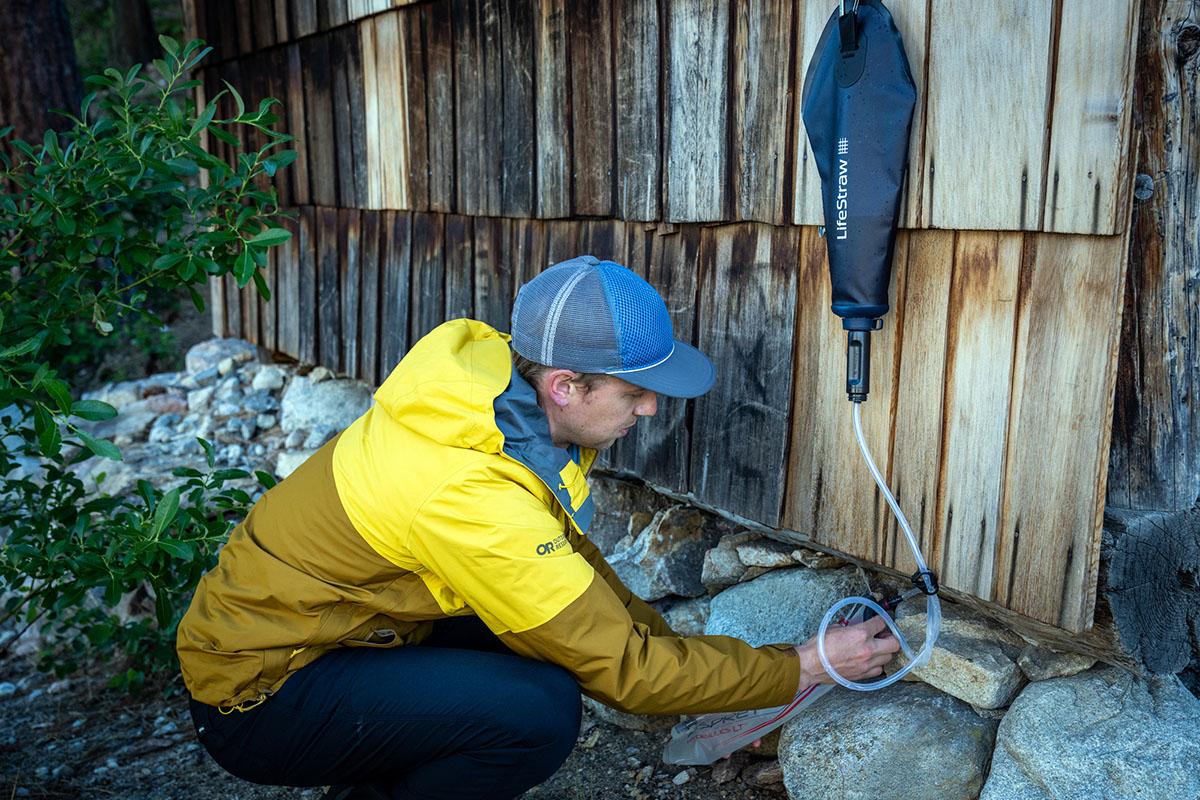 Another Paclite design to consider is Black Diamond's Liquid Point Shell. Compared to the Foray II and aforementioned Marmot Minimalist, the BD is the most technical of the bunch with a climbing helmet-compatible hood, two-way pit zips, and tough 75D build (the Foray is 50D). We like the athletic cut of the Liquid Point and its high-end look and feel, although it's $45 pricier than the OR and only sports two pockets (the Foray has three). We also found the larger hood to be a bit unshapely and cumbersome for use while hiking and exploring around town, which makes it less of an everyday piece than the Foray (for more, see our in-depth Liquid Point review here). In the end, given the Liquid Point's steeper price tag and more targeted build, we think the Foray is the better buy.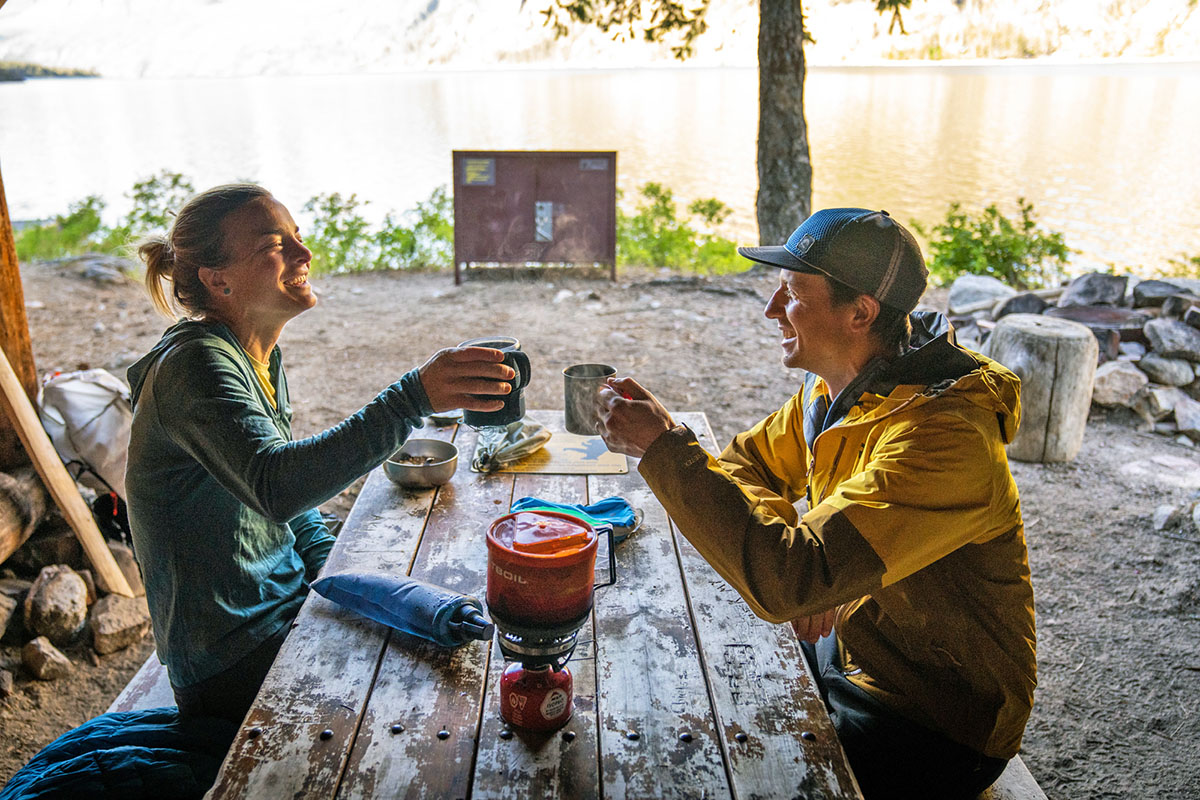 Patagonia is another leader in the rain shell market, and their competitor to the Foray is the Calcite Jacket. The mid-range Patagonia uses a 2.5-layer Gore-Tex construction (with the upgraded Paclite Plus fabric), is competitively light at 14.5 ounces, and has a bit more of a performance slant with a robust 75D face fabric. You also get a similar three-pocket layout, including two hand pockets and one chest pocket, although the OR gets the edge in breathability with its TorsoFlo vents (the Calcite's standard pit zips dump heat a bit less effectively). And clincher for some will be price: At $299, the Calcite is a pretty substantial jump considering the similar overall build. To be sure, its upgraded interior and bump in durability make it viable for activities like climbing and winter sports, but the Foray costs less and doesn't sacrifice much in the way of performance.
If you're thinking about buying gear that we've reviewed on Switchback Travel, you can help support us in the process. Just click on any of the seller links above, and if you make a purchase, we receive a small percentage of the transaction. The cost of the product is the same to you but this helps us continue to test and write about outdoor gear. Thanks and we appreciate your support!
Depending on the seller, most products ship free in the United States on orders of $50 or more. International shipping availability and rates vary by seller. The pricing information on this page is updated hourly but we are not responsible for inaccuracies.
Learn More About Outdoor Gear