There's no shortage of rain jackets to choose from, and one way to narrow down your search is by determining what sort of construction best fits your needs. Depending on their application, rain jackets are built with 2, 2.5, or 3 layers (referring to the combination of shell fabric, waterproof/breathable membrane, and liner), which has a direct impact on waterproofing, breathability, weight and bulk, durability, intended use, and more. Whether you're looking for a daily driver or a lightweight shell for the alpine, the jacket's construction is a great place to start.
 
Rain Jacket Construction
2-Layer Rain Jackets
Jackets with 2-layer construction feature two key layers: an exterior face fabric and a bonded waterproof/breathable membrane. To protect the membrane from abrasion, wear and tear, and skin oils, they also use a hanging liner along the interior, generally made out of mesh. Two-layer rain jackets (including models like Columbia's $75 Watertight II and women's Arcadia II) are almost always budget designs (usually under $100) and ideal for casual and frontcountry use, but their weight, bulk, and lack of breathability make them fairly impractical for activities like hiking and backpacking.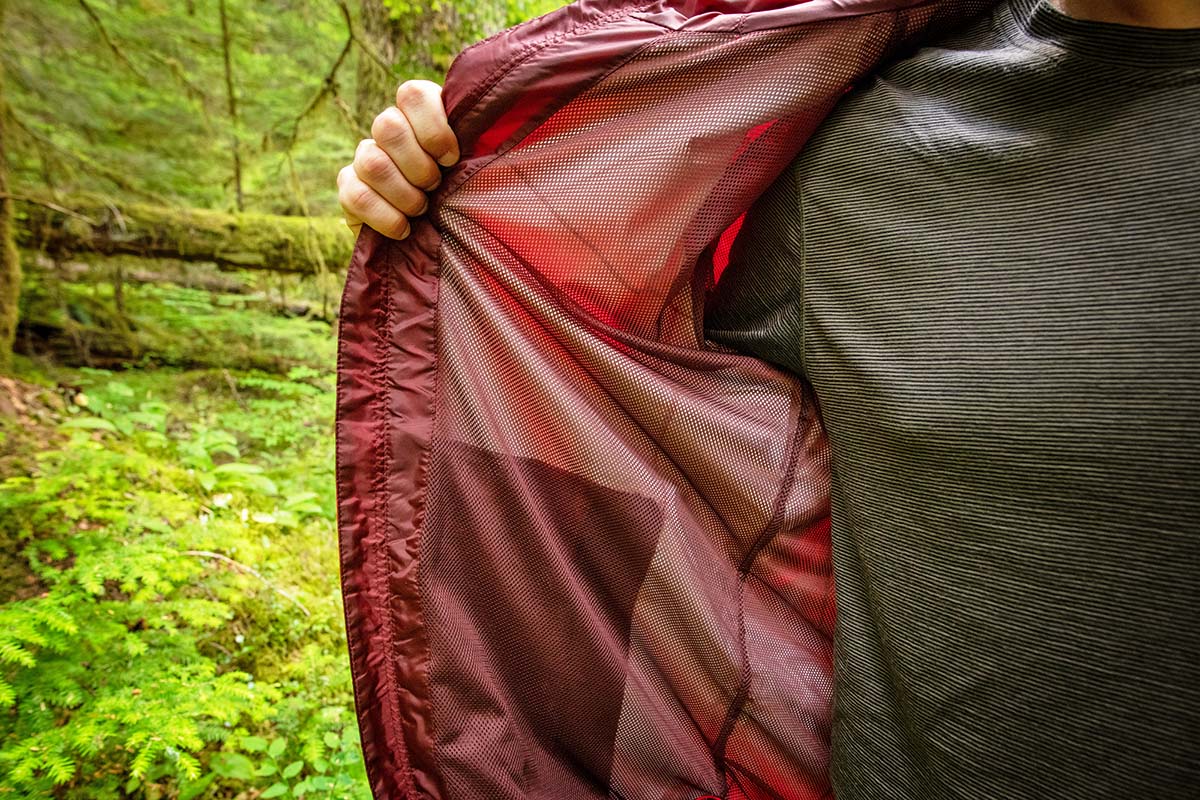 2.5-Layer Rain Jackets
The 2.5-layer category comprises the bulk of the rain jacket market. This construction follows the same initial formula as 2-layer jackets—an exterior face fabric and waterproof/breathable membrane—but features a printed- or sprayed-on "liner" that protects the membrane (rather than the hanging mesh liner used in 2L designs). In this way, most 2.5-layer jackets are quite lightweight and packable, making them a great go-to for everything from around-town wear to backcountry or emergency use.
However, not all 2.5-layer jackets are created equal: This category does run the gamut from premium ($300+) to budget (around $100), so you'll want to dig a bit deeper to make sure you're getting what you need. Gore-Tex's Paclite and Paclite Plus are far and away the most premium of 2.5-layer technologies, used in jackets like the Outdoor Research Foray II (and women's Aspire II); but there's also a variety of cheaper alternatives like REI's Peak, The North Face's DryVent, and Marmot's NanoPro.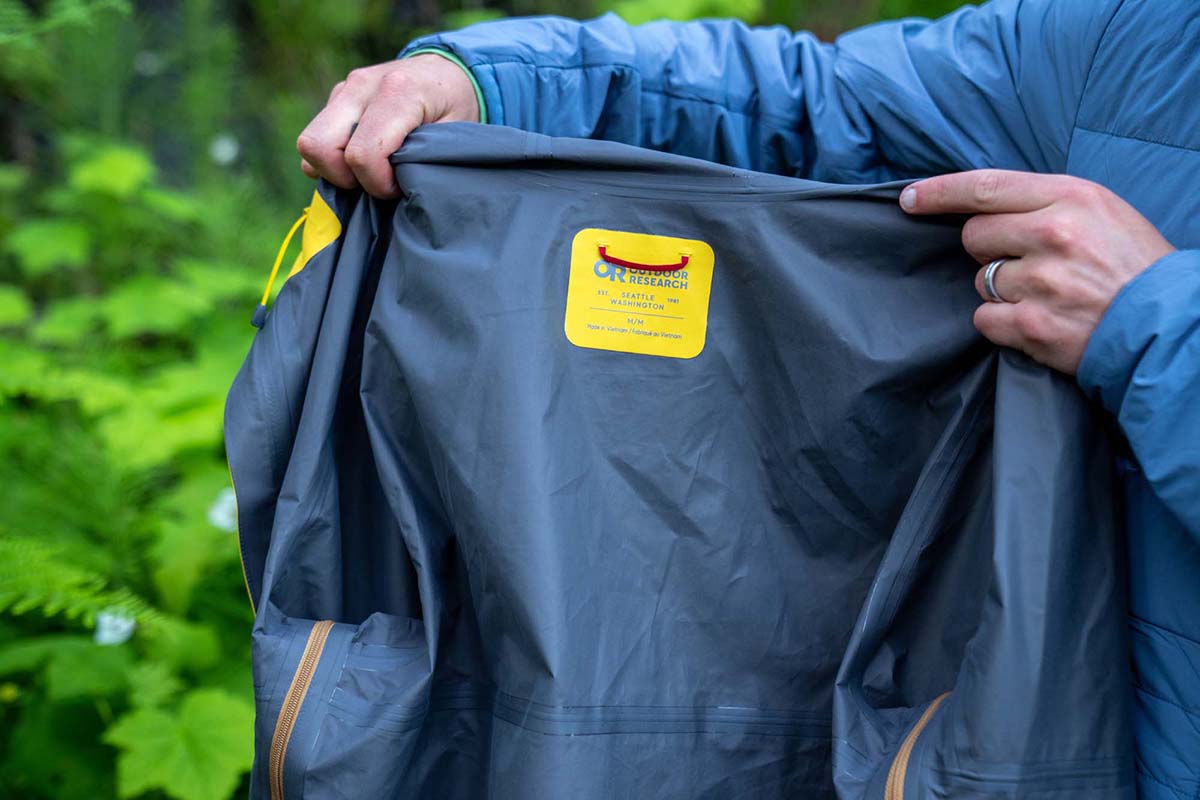 Gore-Tex Paclite (2.5L) vs. Paclite Plus (Unlined 2L)
One of the most mystifying distinctions among rain jackets is between Gore-Tex Paclite and Paclite Plus technologies. The former (used in casual and performance jackets like the OR Foray and Marmot Minimalist) is a standard 2.5-layer construction, which features the shell material, membrane, and protective coating. Similar to standard Paclite, the latter (featured in the Norrøna Falketind GTX Paclite Plus) forgoes an actual liner, but features a lighter but more abrasion-resistant treatment on the membrane. Paclite Plus' application is thinner than that of Paclite (Gore-Tex refers to it as "2-layer unlined construction"), but it's actually more durable and built for rugged use. For the purposes of this article, we lump Paclite Plus into the 2.5-layer category, but keep in mind that it's a more premium technology that's at once more hardwearing and lighter weight.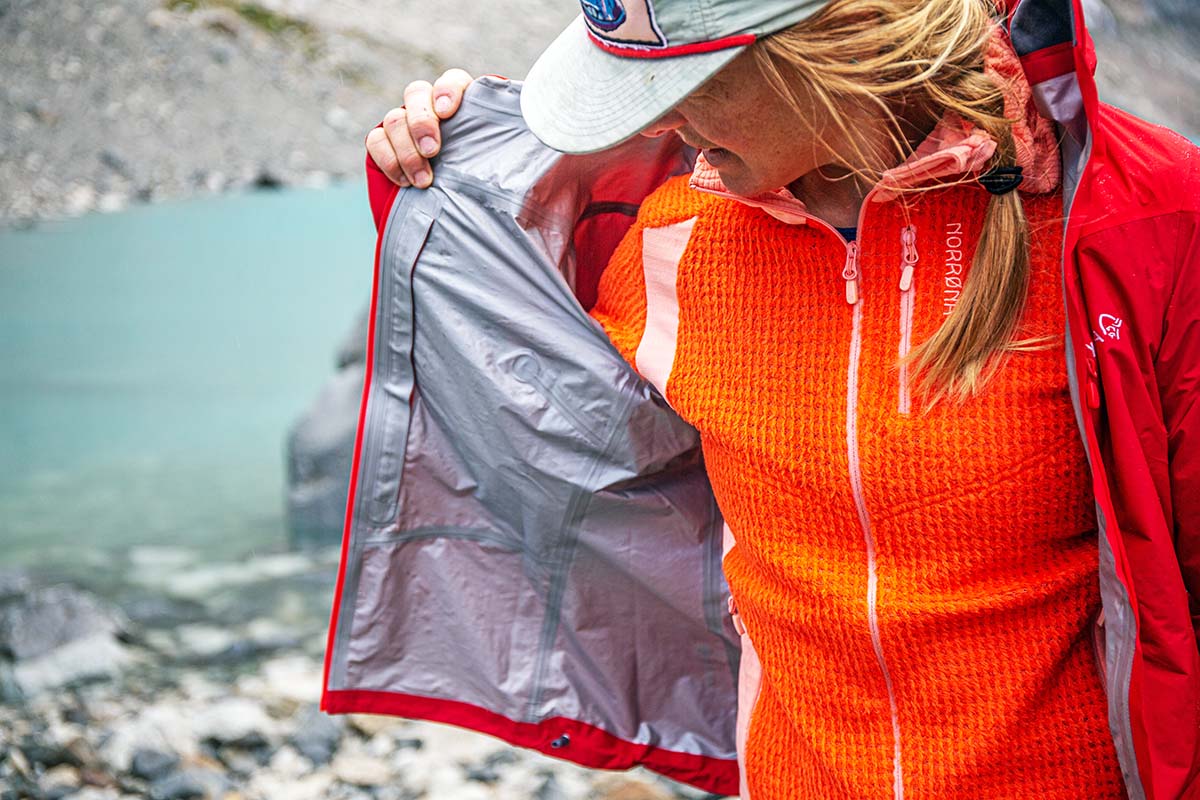 3-Layer Rain Jackets
Similar to 2- and 2.5-layer rain jackets, 3-layer designs feature a waterproof membrane bonded to the exterior face fabric. Where they differ is in the use of an integrated liner rather than a hanging or sprayed-on liner. This liner—a thin piece of fabric, often nylon or a soft tricot—is affixed directly to the inside of the membrane, resulting in a jacket that is sleeker and more breathable than a 2-layer design and more durable than a 2.5-layer design (with a better next-to-skin feel, too).
Rain jackets with 3-layer construction are undeniably premium and provide real-deal performance for serious use, but they're overkill in many cases. With the same construction as a hardshell jacket, they often have a crinkly, rigid feel and can be relatively heavy and bulky compared to a standard rain jacket. That said, there are a number of more rain-jacket-esque 3-layer offerings, including the Patagonia Torrentshell 3L and Storm10. For more information, see our article Hardshells vs. Rain Jackets: How to Choose.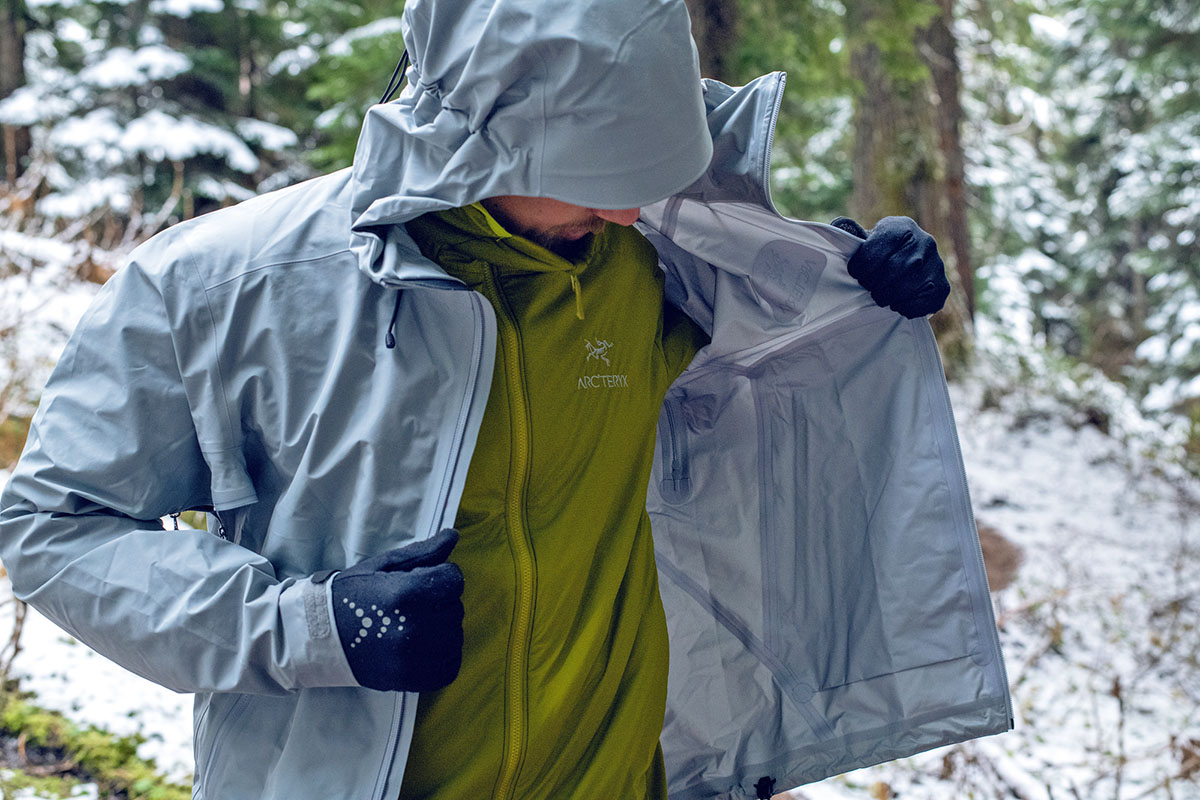 2L vs. 2.5L vs. 3L: Key Considerations
Waterproofing Advantage: 3L
Generally speaking, a rain jacket's waterproofing is the result of three main factors: the type of waterproof membrane, the thickness of the shell fabric, and the quality of the finishes (including seam taping and DWR treatment). With this in mind, 3-layer rain jackets like the Arc'teryx Beta LT and Patagonia Torrentshell 3L take the waterproofing crown—they use high-quality membranes (Gore-Tex and Patagonia's H2No Performance Standard), employ relatively thick shell fabrics (40 and 50D, respectively), and have impressive durable water repellent finishes that keep the jacket from wetting out. If we're headed into harsh backcountry environments or sustained wet weather, we'll reach for a 3-layer rain jacket first.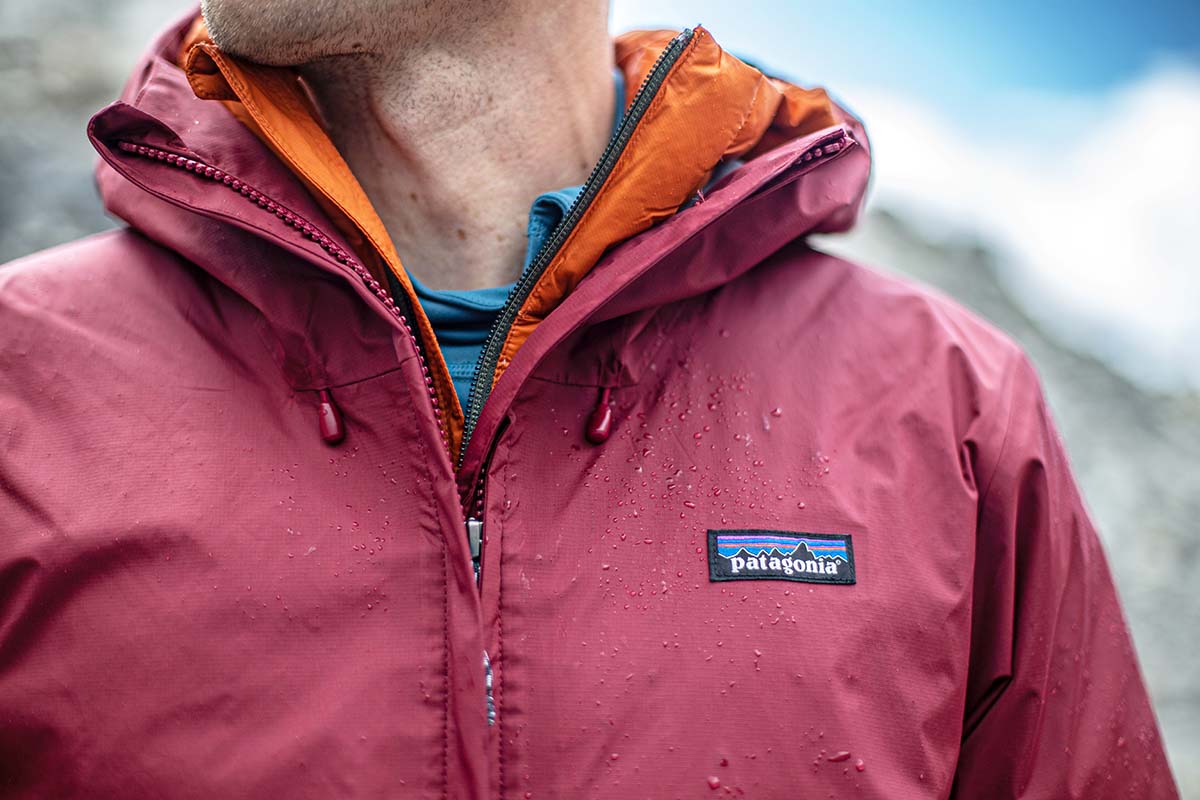 Jackets with 2.5-layer construction aren't far behind 3-layer designs, especially those with Gore-Tex's premium Paclite and Paclite Plus membranes. However, many jackets use cheaper shell fabrics and DWR finishes that are more prone to wetting out (as we found with The North Face's Venture 2), and the membrane of a 2.5-layer design is more vulnerable to wear and tear throughout its lifespan—we'll touch more on this below. As a result, 2.5-layer jackets function great as an emergency layer and they'll get the job done in most inclement weather (particularly robust designs like the 50D Outdoor Research Foray II), but we'd hesitate to rely on them for all-day deluges. Finally, 2-layer jackets take up the rear: Most commonly, these use cheap in-house membranes, thin face fabrics, and low-quality finishes.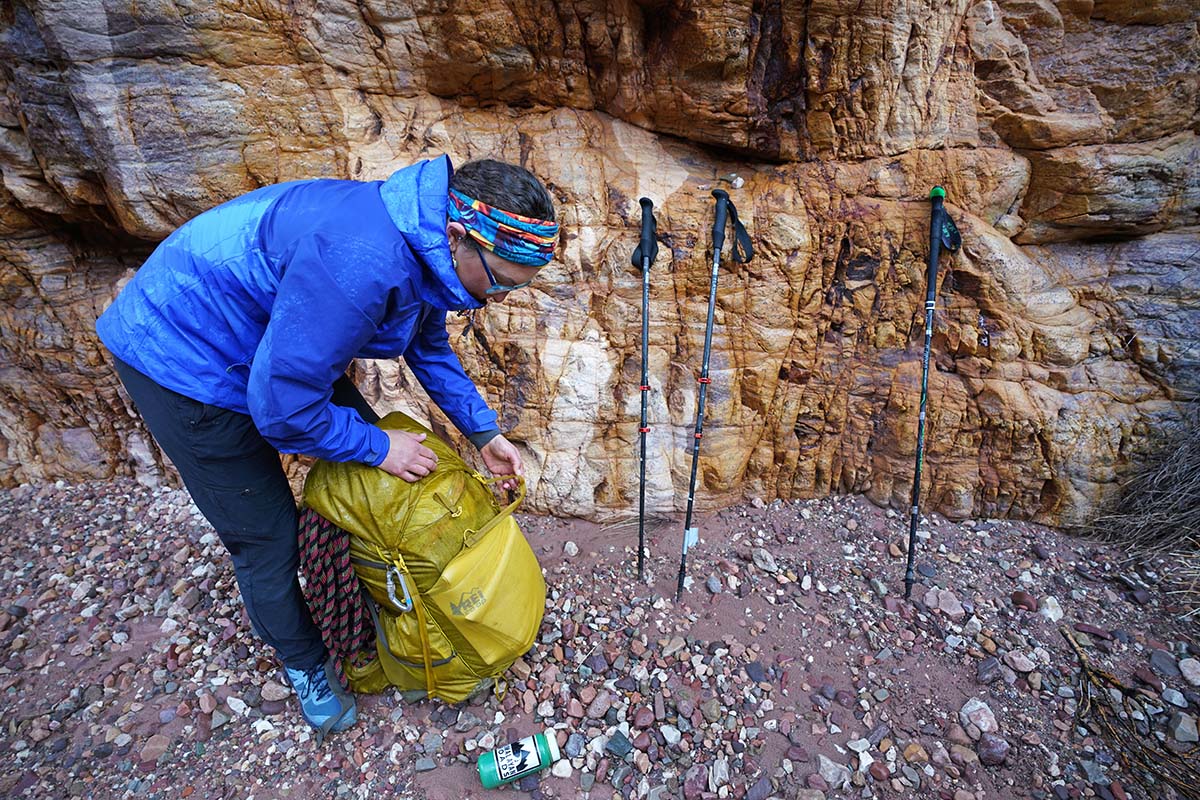 Breathability Advantage: 3L
Breathability is one of the main ways in which 2-, 2.5-, and 3-layer constructions diverge, and the edge again goes to 3-layer designs. These jackets use the highest-quality membranes that manage to be both waterproof and breathable (a true feat) and feature streamlined liners that wick moisture and are generally quite air-permeable. Many 2.5-layer jackets are also decently breathable, especially those that use a Gore-Tex Paclite or Paclite Plus membrane, but the lack of actual liner means the interior can grow clammy as your body heat starts to rise. While this isn't a huge issue if you're wearing a long-sleeve baselayer or midlayer, pairing a cheap 2.5-layer rain jacket with a t-shirt can offer the feeling of wearing a plastic bag. Last—and least—are 2-layer jackets, which trap heat with their budget membranes and hanging mesh liners.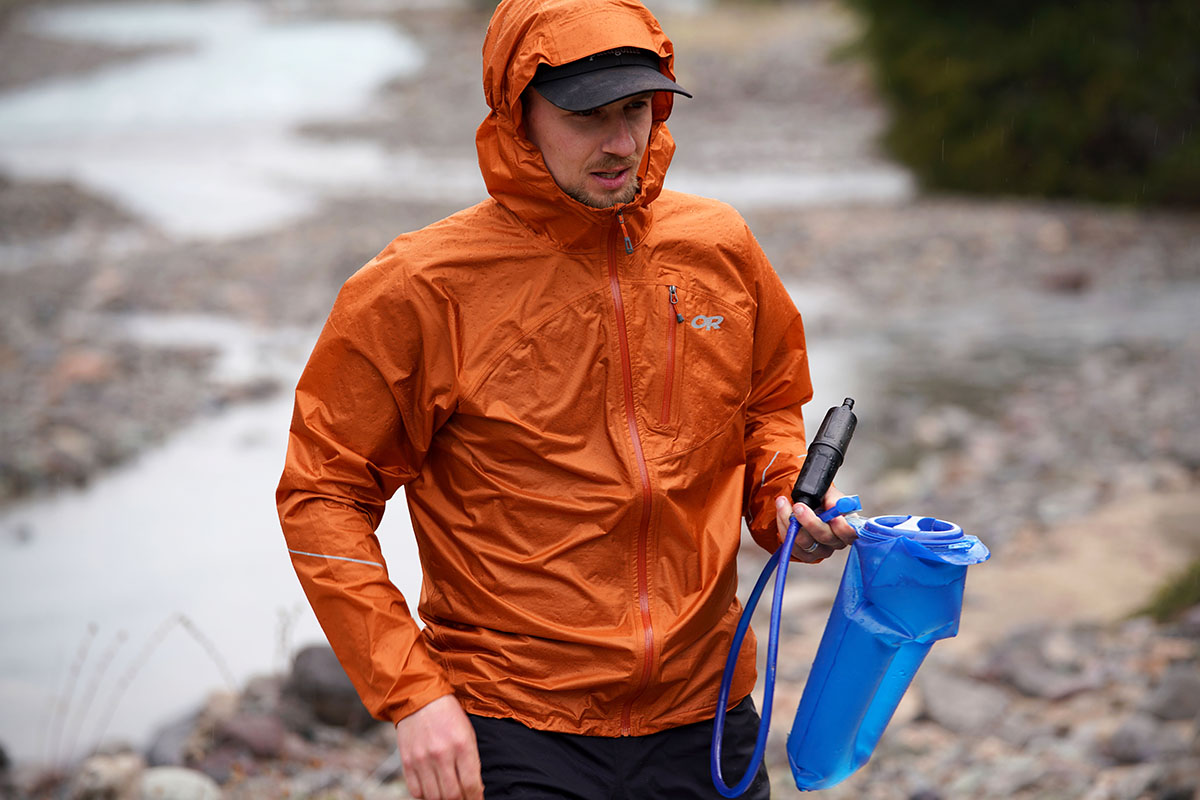 Another deciding factor between 2.5- and 3-layer rain jackets is the thickness of the shell fabric. Jackets with thinner shells, like the 20D Patagonia Storm10 (3L) or Norrøna Falketind Gore-Tex Paclite (2.5L) will be more breathable than those with thicker shells, like the 50D Patagonia Torrentshell 3L or Outdoor Research Foray II (2.5L). In general, we recommend both 2.5- and 3-layer jackets for high-output activities like hiking and backpacking; but for the best of the best, go with a streamlined 3-layer design such as the aforementioned Patagonia Storm10 or Arc'teryx Beta Jacket (30D).
Weight and Bulk Advantage: 2.5L & 3L
With construction specifically designed to shave weight and bulk, 2.5-layer jackets are the lightest and most packable rain jackets available, including designs like the Outdoor Research Helium Rain (6.3 oz.) and the Norrøna Falketind Gore-Tex Paclite (9.1 oz.). Three-layer shells can go either way: Many tack on weight and bulk with a thicker shell fabric and liner (the 14.1-oz. Patagonia Torrentshell uses 50D face fabric and a tricot backer), while some prioritize a streamlined build (the 8.3-oz. Patagonia Storm10 uses a 20D shell and 7D liner). Toward the bottom of the heap—once again—are 2-layer jackets, which add a significant amount of bulk and weight by way of their hanging liner (consider the 13-oz. Columbia Watertight II). In conclusion, if you're hoping to keep weight and bulk low for your next human-powered adventure, look for a streamlined 2.5- or 3-layer jacket.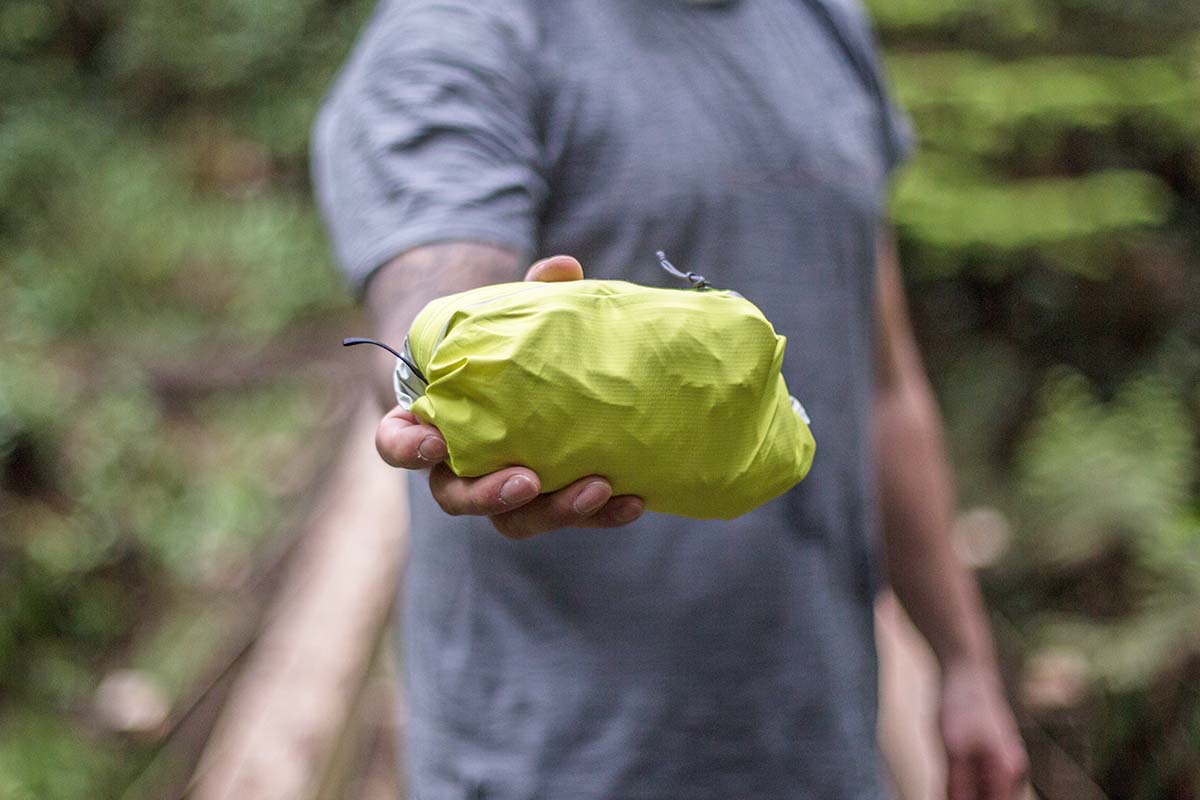 Durability Advantage: 3L
The prize for durability goes to 3-layer jackets, thanks to their solid liner that fully covers the waterproof/breathable membrane and protects it from abrasion, wear and tear, and the skin's oils. On the other hand, 2- and 2.5-layer jackets use a hanging-mesh or printed-on liner (respectively), both of which can deteriorate over time and expose the membrane, making it vulnerable to wear. Cheaper membranes even have a tendency to delaminate, or detach from the shell fabric (we had a string of early-2000s Marmot PreCip jackets that all suffered this same fate). For this reason, companies like Patagonia don't even make 2- or 2.5-layer rain jackets—with a shorter lifespan, they're simply not a sustainably built product. All told, if you're looking for a daily driver or backcountry go-to that you can use and abuse with very little drop in performance, start with a 3-layer shell.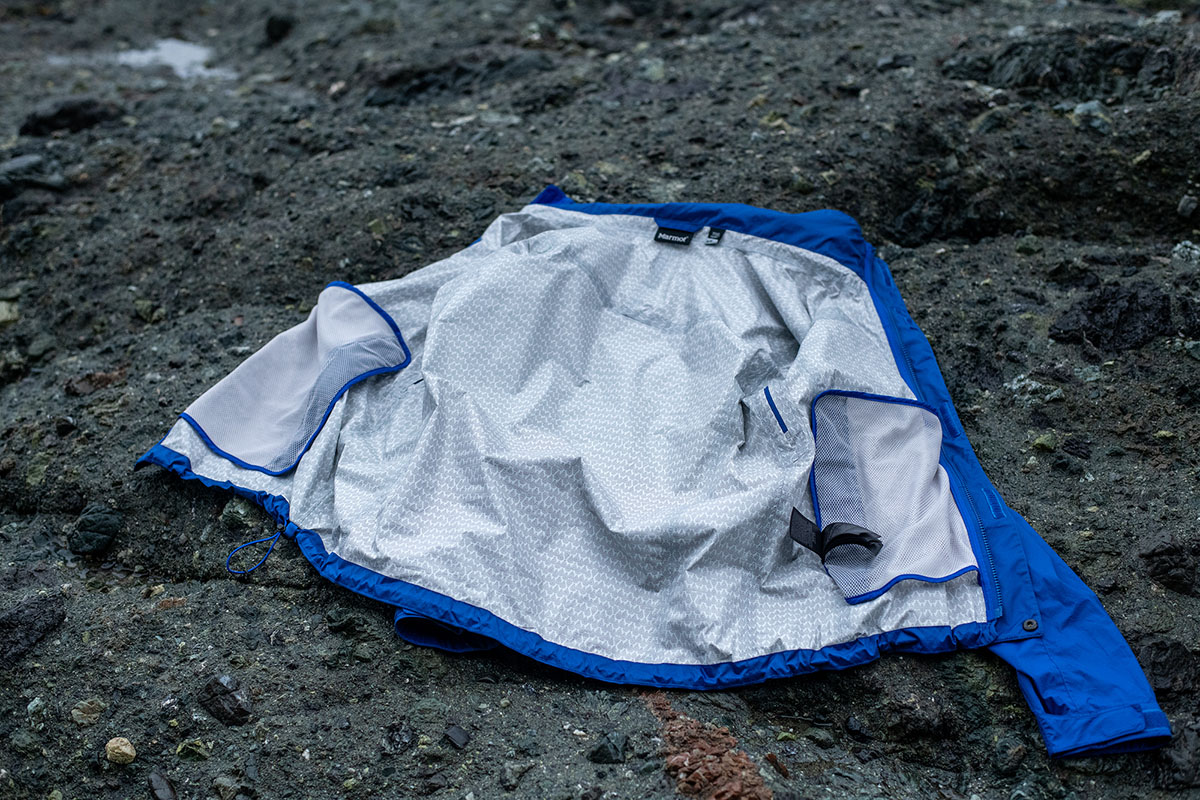 In addition to the liner style, durability is also a function of the thickness of the shell fabric (expressed as denier) and the overall build quality of the jacket. Generally speaking, 3-layer jackets use the most robust shell materials (often as thick as 40 to 50D) and are on the premium end of the spectrum with well-executed seam taping and high-quality DWR finishes. Some 2.5-layer jackets fit into this category too, such as the Outdoor Research Foray II (50D). Thinner 2.5- and 3-layer jackets give up a bit of durability—our Patagonia Storm10 (3L) has sustained a healthy amount of tears—but abrasions are relatively easy to patch, and the drop in weight is worth it for many. And as is the theme, most 2-layer jackets use cheap materials, thin shells, and are not built to stand the test of time.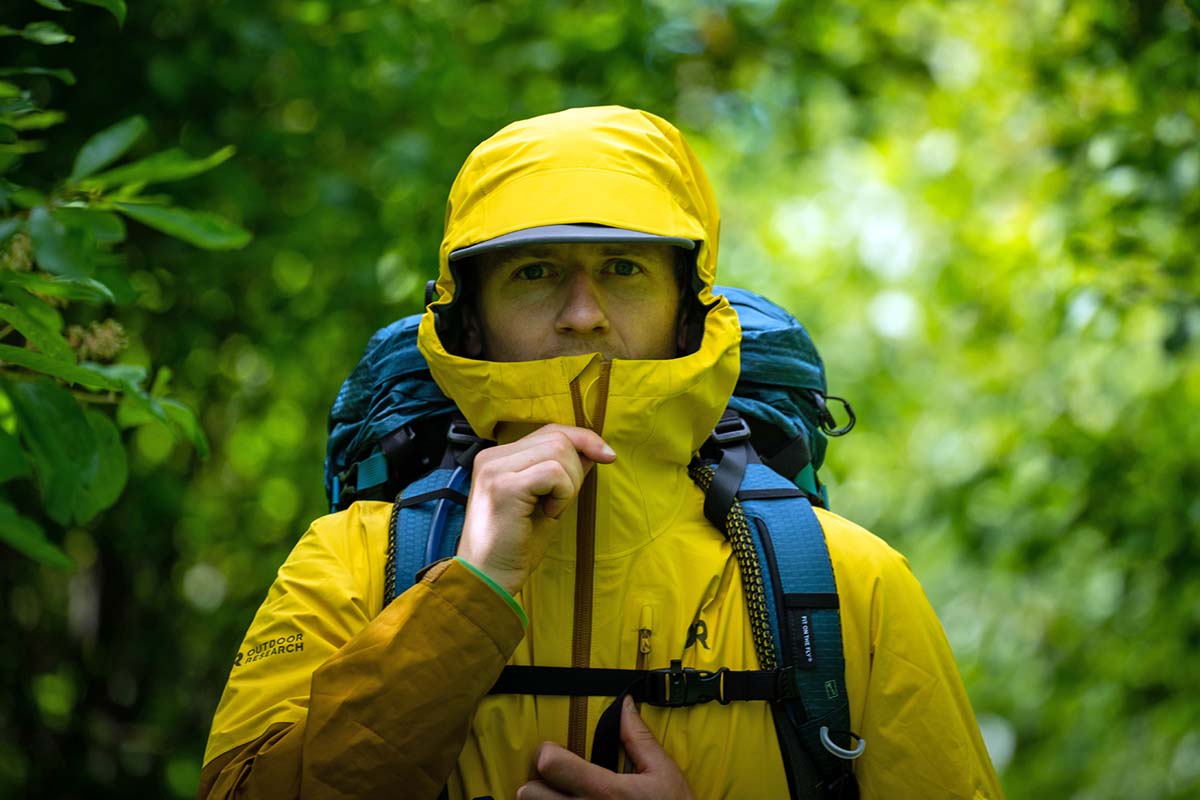 Price Advantage: 2L
Price is the final consideration in the 2- vs. 2.5- vs. 3-layer debate. Two-layer jackets are by far the most affordable of the bunch, great for penny pinchers who only pull their rain jacket out of the closet a few times a year. At the time of publishing, the 2-layer Columbia Watertight II and women's Arcadia II cost a mere $75. Next in line are 2.5-layer jackets, which can run the gamut from $100 for the REI Co-op Rainier to $349 for the Norrøna Falketind Gore-Tex Paclite. Generally speaking, the pricier a 2.5-layer jacket, the better the membrane and build quality. Finally, most 3-layer rain shells will set you back at least $300, and the Arc'teryx Beta LT is a whopping $450. Patagonia's Torrentshell 3L ($179) and Slate Sky ($199) are noteworthy outliers and high on value: both feature 3-layer construction, durable face fabrics, and Patagonia's H2No Performance Standard membrane.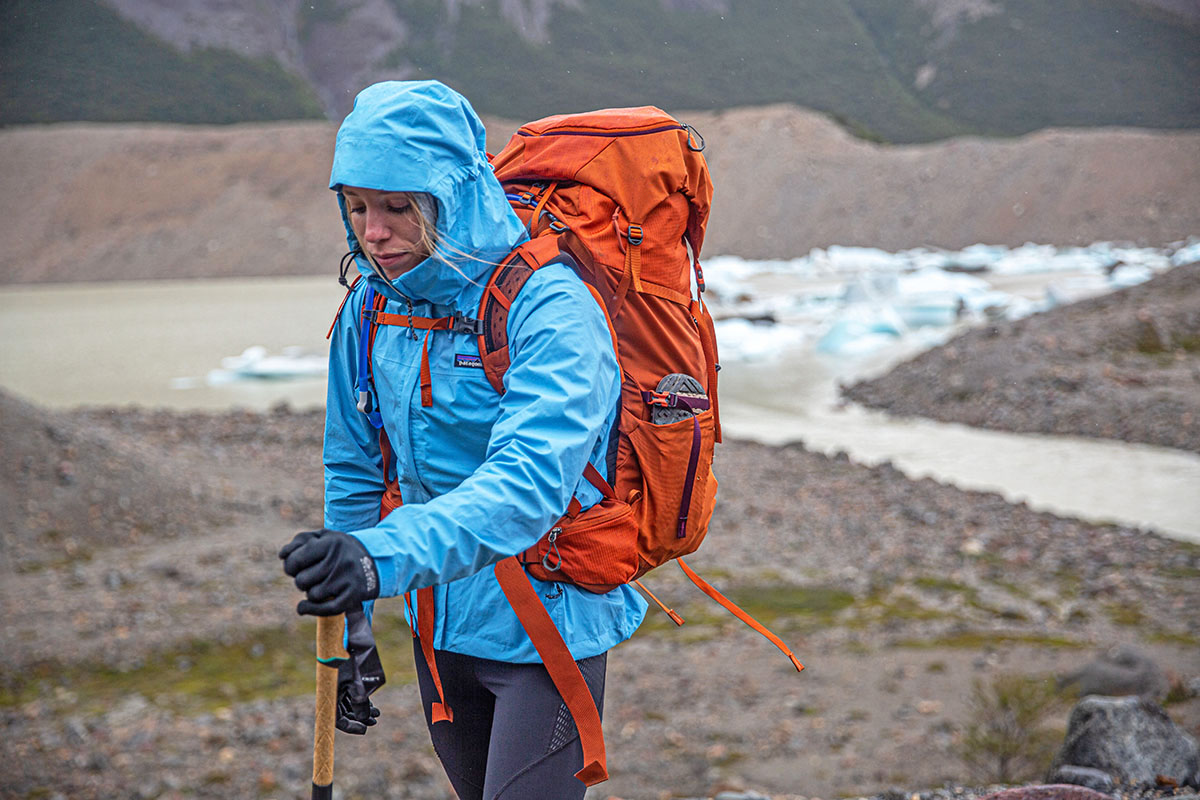 Intended Uses
It's easy to spell out intentions for 2-layer jackets—due to their performance shortcomings, we recommend them only for budget seekers and truly casual use. But deciding between a 2.5-layer and 3-layer jacket can be a bit more challenging, as both can be highly waterproof and feature premium builds. That said, there's a lot of variation in both categories, and you can learn a lot by taking a closer look under the hood. 
 
Daily Wear
If you're looking for a rain jacket for casual, everyday wear, let price be your first guide. Especially ideal for those on a budget, 2-layer jackets are purpose-built for around-town use, with roomy dimensions that accommodate bulky layers, non-helmet-compatible hoods, and handwarmer pockets placed along the hem—right where you want them if you're not wearing a backpack. A number of 2.5-layer jackets also have everyday intentions and are priced below $200, including the Marmot Minimalist, REI Co-op Rainier, and Black Diamond StormLine Stretch. Finally, we're big fans of Patagonia's 3-layer rain jacket offerings for casual use—the Torrentshell 3L and Slate Sky are just $179 and $199 respectively, and offer all the performance of a 3-layer jacket in a casual design.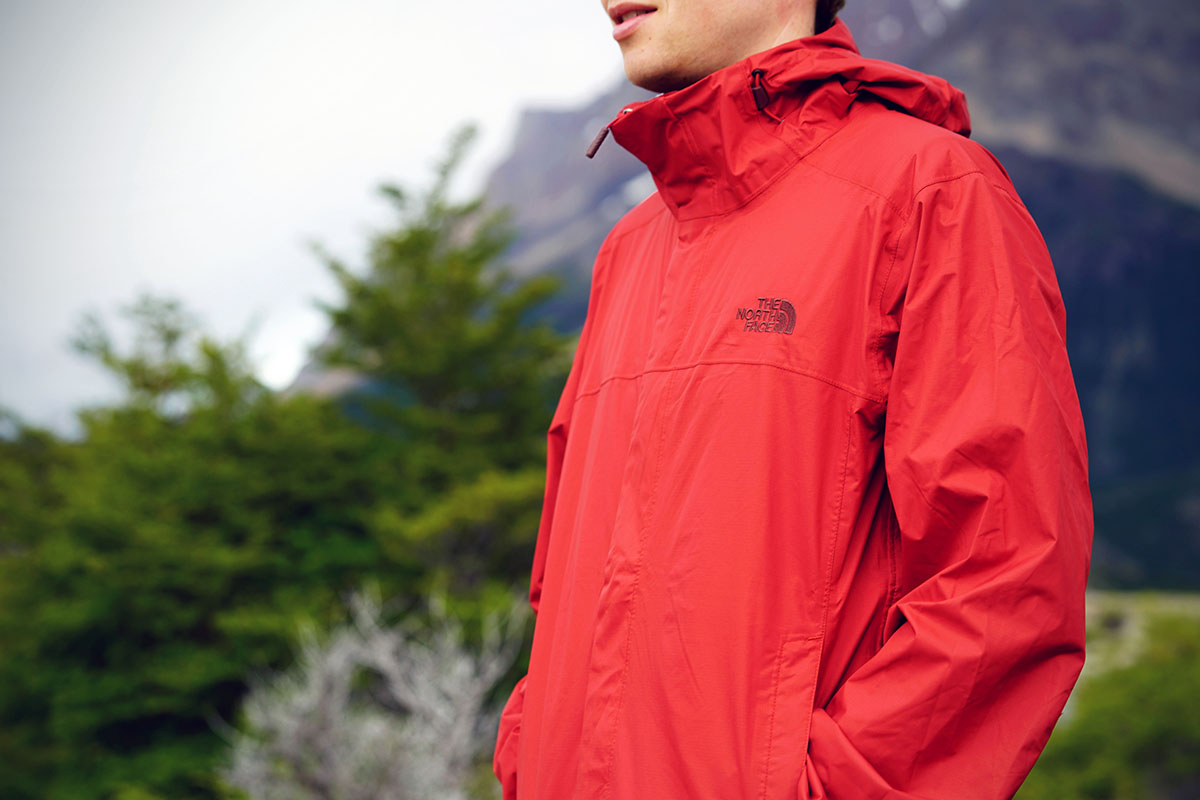 Hiking and Backpacking
When choosing a rain jacket for hiking or backpacking, we look first and foremost for a lightweight and packable design. Both 2.5- and 3-layer jackets fit this bill, and particularly those with durable yet lightweight face fabrics (roughly 30 to 50D), streamlined dimensions, and minimal feature sets. You probably don't need a helmet-compatible hood for the trail, but you'll want pit zips and pockets that are accessible above your backpack's hipbelt. Breathability is also an important consideration, and both 3-layer and premium 2.5-layer Gore-Tex Paclite designs get the job done (beware of cheaper 2.5-layer designs with in-house membranes—their breathability will fall short). For hiking and backpacking, our favorite rain jackets include the Arc'teryx Beta Jacket and Beta LT (the latter features pit zips), Outdoor Research Foray II (and women's Aspire II), and value-oriented REI Co-op Xero Dry GTX.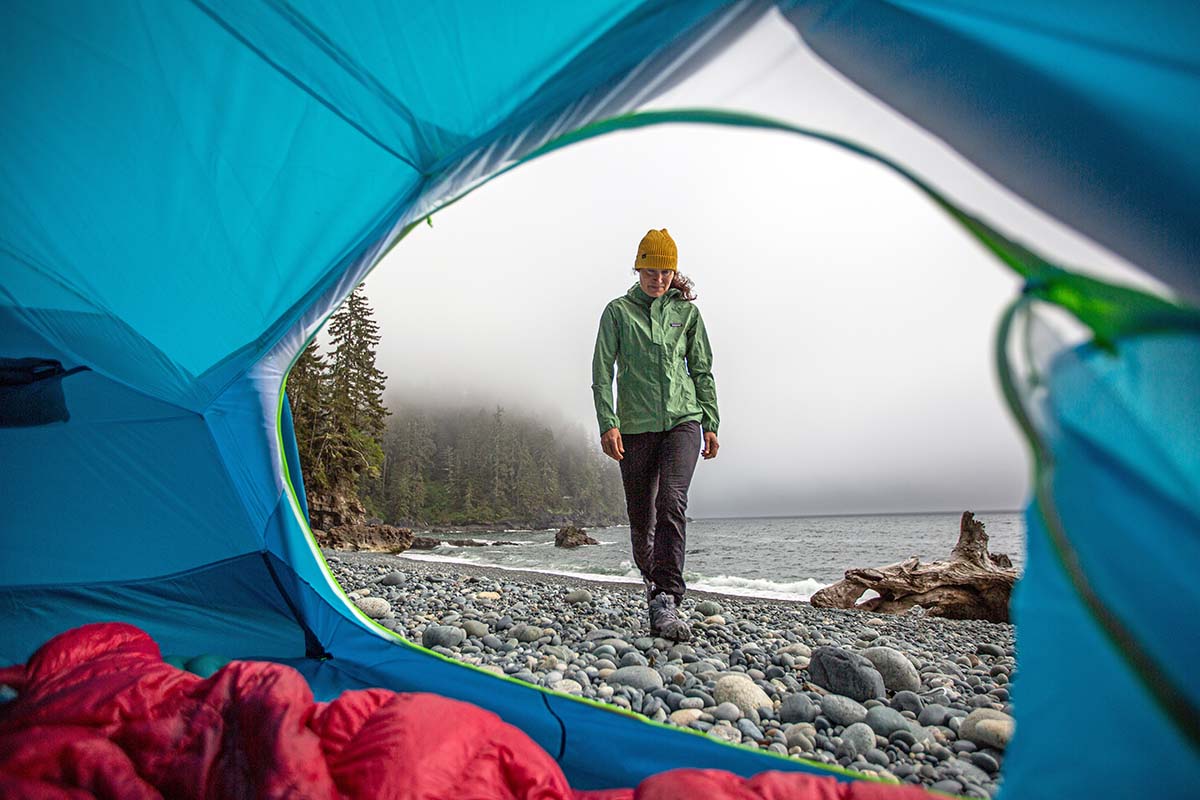 Alpine Climbing
Those headed beyond the trail will have similar priorities as hikers and backpackers, but there are a few rain jackets purpose-built for alpine environments. These jackets feature even thinner fabrics (around 20D) and more streamlined dimensions, harness-compatible pockets and helmet-compatible hoods, and often forgo pit zips in the name of weight-savings. Both 3-layer and premium 2.5-layer designs fit into this category; among our favorites are the Norrøna Falketind Gore-Tex Paclite, Patagonia Storm10, and Arc'teryx Beta LT.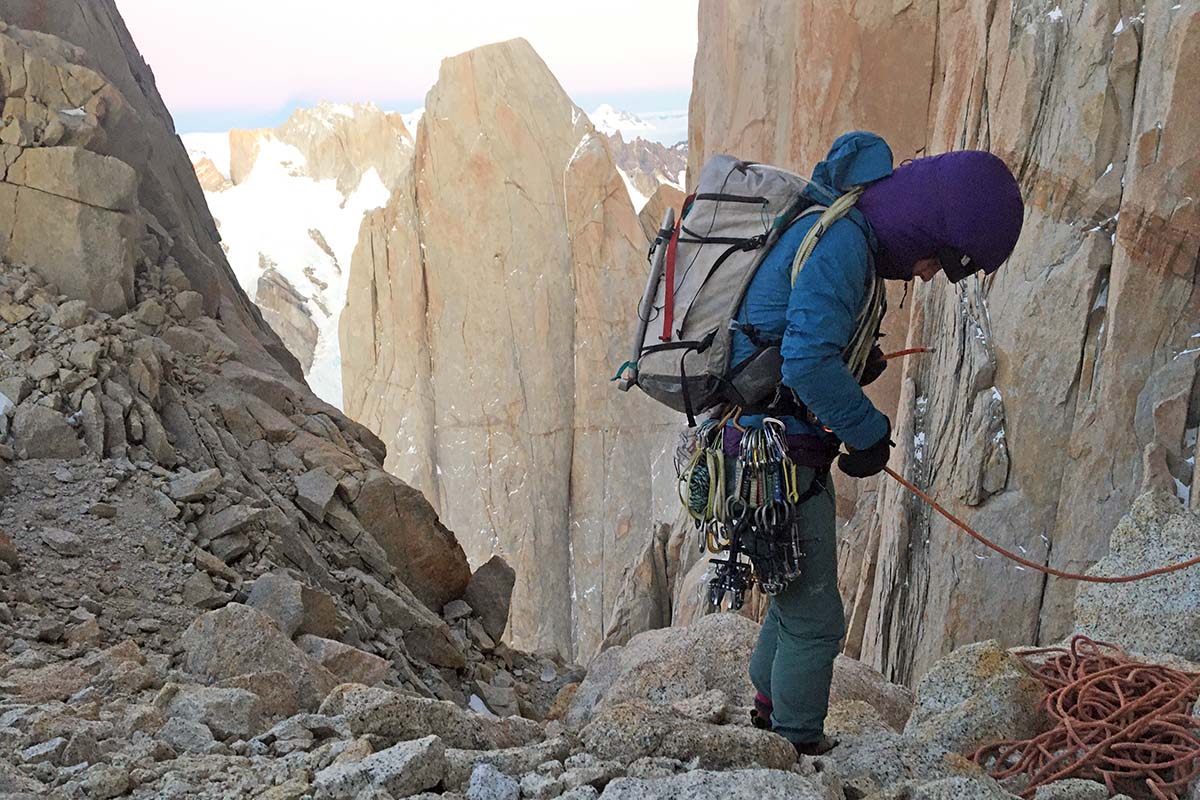 Emergency Use
We'd be the first to admit that we're fair-weather adventurers, especially when it comes to multi-day trips. But because mountain weather can be fickle, we almost always bring along a rain jacket, even when the forecast is favorable. Rain jackets with 2.5-layer construction make for the best emergency layers—they're lightweight, packable, and you're unlikely to notice their minor deficits in a short squall. Our favorite emergency rain jacket is the 6.3-ounce Outdoor Research Helium Rain ($170), and runners might want to check out Arc'teryx's Norvan Shell ($400), which features 3-layer construction, a thin 13-denier face fabric with breathable knit backer, and checks in at just 6.7 ounces.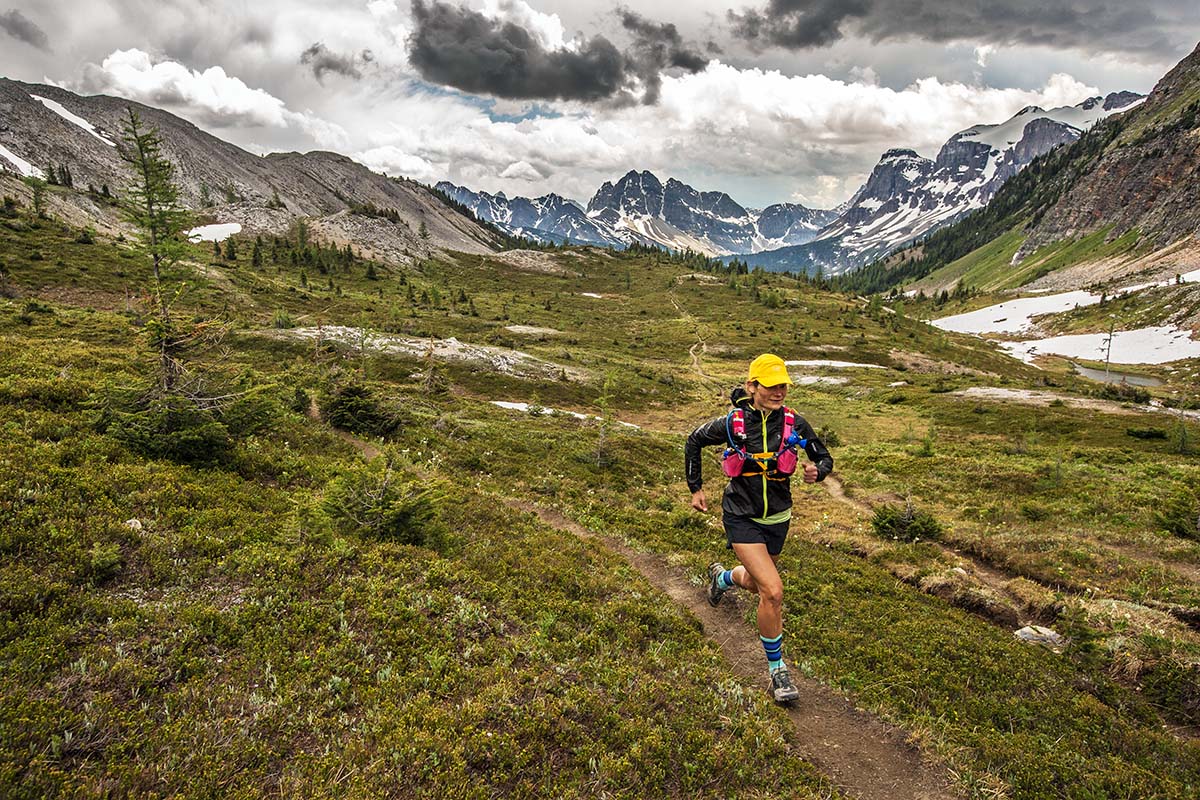 Our 2L, 2.5L, and 3L Rain Jacket Picks
Nailing down the type of rain jacket that's best for you is an important early step in the buying process. Below are our team's top 2-, 2.5-, and 3-layer selections, including jackets for daily wear, hiking and backpacking, alpine climbing, and emergency use. For even more options, see our articles on the best rain jackets and best women's rain jackets.
Daily Wear
2-layer: Columbia Watertight II and Arcadia II ($75)
2.5-layer: Marmot Minimalist ($220)
3-layer: Patagonia Torrentshell 3L ($179)

Hiking and Backpacking
2.5-layer: Outdoor Research Foray II and Aspire II ($225)
3-layer: Arc'teryx Beta ($400) or Arc'teryx Beta LT ($450)

Alpine Climbing
2.5-layer: Norrøna Falketind Gore-Tex Paclite ($349)
3-layer: Patagonia Storm10 ($329) 
Emergency Use
2.5-layer: Outdoor Research Helium Rain ($170)
3-layer: Arc'teryx Norvan Shell ($400)
Back to Our Rain Jacket Construction Guide  See Our Hiking Gear Reviews
Learn More About Outdoor Gear