Salsa Timberjack NX Eagle 27.5+
Price: $1,999
Suspension: 130mm (front)
Tires: 27.5 x 2.8 in.
Gears: 1 x 12
What we like: Great combination of singletrack-worthy performance and bikepacking-specific features.
What we don't: Pricey for a hardtail; wide and heavy 2.8-inch tires may be overkill for multi-day trips.
See the Salsa Timberjack NX Eagle 27.5+
Of all the bike brands on the market today, Minnesota-based Salsa Cycles conjures up the most thoughts of adventure and getting off the beaten path. I spent the last few months aboard their top-of-the-line Timberjack NX Eagle 27.5+ and thoroughly enjoyed its fun-loving singletrack demeanor, bikepacking friendly design, and smart spec choices. Needless to say, I quickly fell in love with this versatile hardtail from Salsa, which I affectionally now call Orange Crush. Below we break down the Salsa Timberjack's descending and climbing performance, key features, components and specs, and other versions in the line. To see how it stacks up, see our articles on the best mountain bikes and mountain bikes under $2,000.
 
Descending
By nature, hardtails aren't typically known for their descending skills, but this is just one of the many standout qualities of Salsa's Timberjack NX Eagle 27.5+. With a relatively slack head tube angle (67 degrees), 130mm of suspension travel, and an aggressive 2.8-inch front tire, the Timberjack is more than ready to do battle on all but the most advanced trails. And while no amount of tire width can replace the supple feel and traction of a full-suspension bike, Salsa's multitalented hardtail is more than happy to take on roots and rocks when pointed downhill.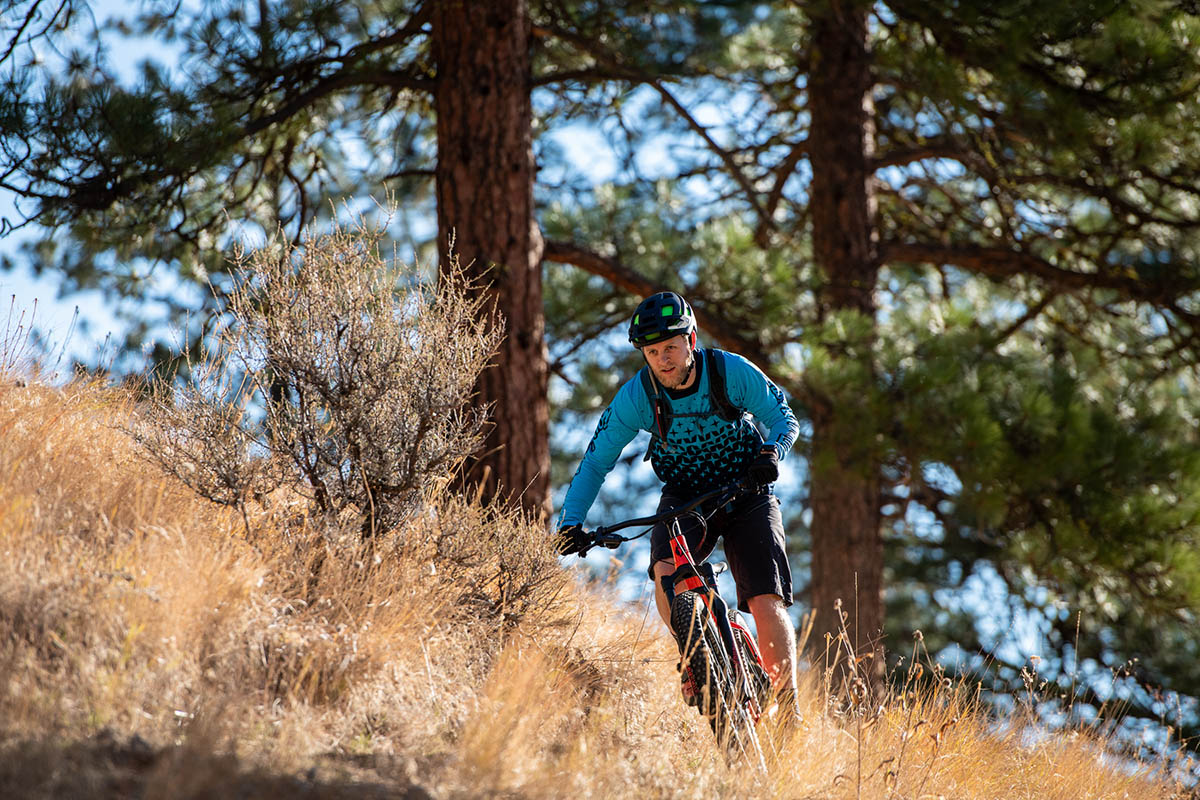 I began by riding the Timberjack like I do most hardtails: tip-toeing down rough sections of trail for fear of smashing wheels and body parts. Eventually, however, I found myself launching into root and rock-infested areas and coming out on the other end unscathed and upright. The tough and high-volume tires combined with the quality RockShox Sektor fork made the Timberjack feel more capable than its 130mm would suggest. In fact, had I been given the bike with no prior knowledge, I would have guessed it had 150mm of travel on tap. In the end, once I grew to appreciate its skill, I was riding the Timberjack more aggressively—and foolishly—than I've ridden any hardtail in the past (which includes Santa Cruz's popular Chameleon).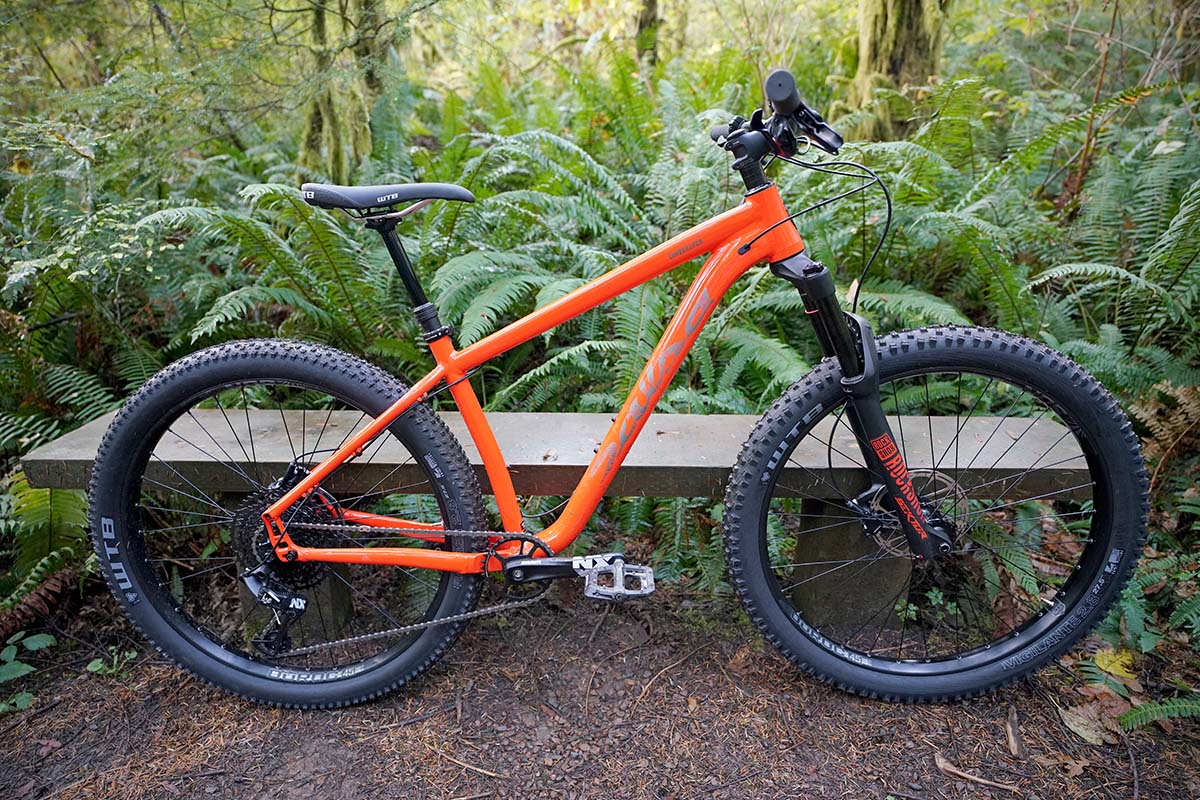 While riding the 2019 Timberjack on technical trails was pretty fun, there's only so much you can (safety) do without rear suspension. As a result, the bike really shined on smooth and more buffed-out trails. The more aggressive WTB Vigilante tire provided a ton of traction at the front—especially on sandy or blown-out sections—while the WTB Ranger rolled fast on the rear yet still provided plenty of grip. I found myself railing berms, popping off trailside lips, and manualing down the trail—what a good time it was! In the hands of the right rider, the Timberjack is an admirable descender, and one that can hold its own against short-travel full-suspension bikes on most terrain.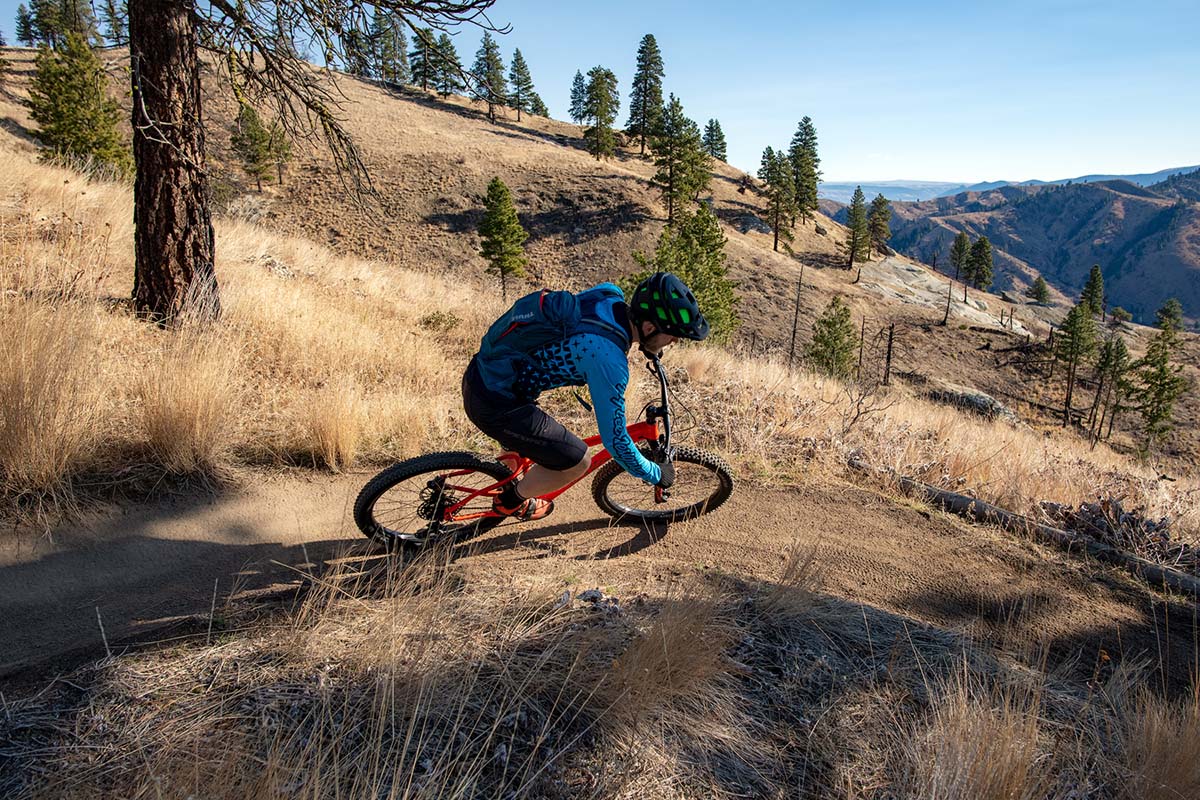 Climbing
The Timberjack proved to be impressively capable for uphill travel, but compromised a fair amount of speed in the process. One of my favorite test loops for XC and hardtail mountain bikes is the Grand Ridge trail located in Issaquah, Washington. This route has a good mix of ups and downs as well as rough and smooth sections. You can even extend the ride (via Soaring Eagle park) into a 30-mile out and back, which makes a great venue for testing a bike's comfort. On this particular outing, there were three things that really stood out to me in relation to the Timberjack's climbing abilities. One, the 27.5-plus tires provided an insane amount of traction on steep and loose portions of trail; two, the 12-speed SRAM Eagle drivetrain made it possible to easily sit and spin my way up the hill (no more standing or grinding); and three, I wasn't setting any time records.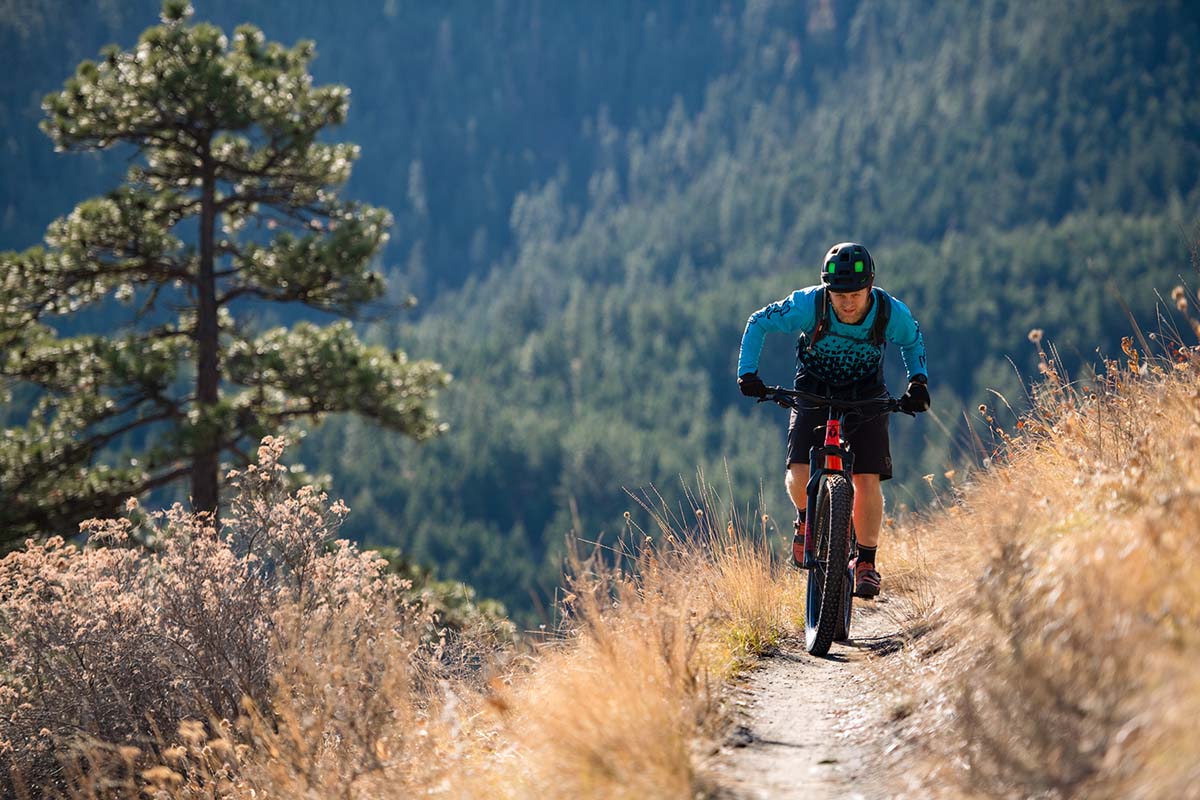 In terms of going fast up smooth sections of trail, I would say the Timberjack is a mediocre climber at best, but don't let that dissuade you. Most bikes in my garage feature more traditional 2.3- to 2.5-inch wide tires, which are considerably lighter than the Timberjack's 2.8-inch monsters. The big and heavy 27.5+ tires that provide a supple ride and a silly amount of traction will slow you down when the trail heads upward. That being said, throw some techy and rough bits in there, and the Timberjack really starts to come into its own and surpasses the capability of most other hardtails. The high-volume tires, when set to the correct air pressure, make small bumps all but disappear and really smooth out the trail. Overall, the Timberjack puts you in a comfortable position for hour long ascents and will happily get you where you need to go—just don't expect to be the first one there.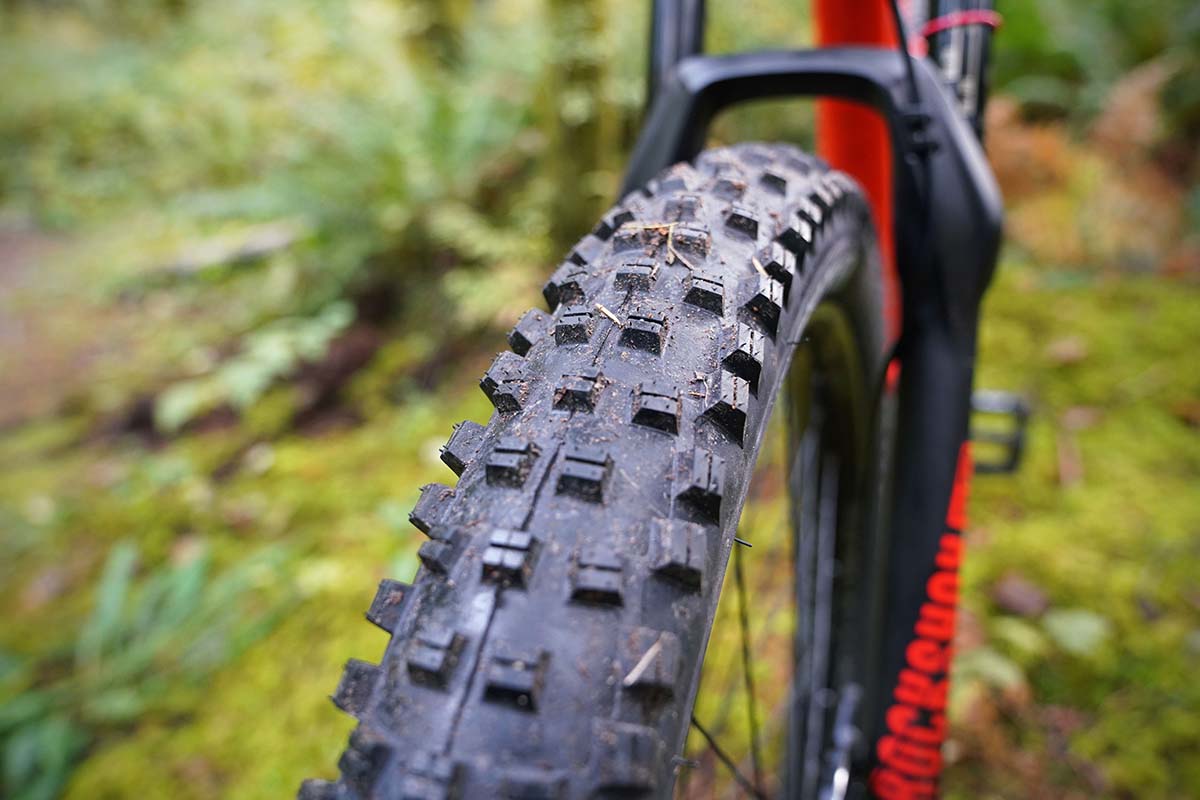 General Riding
The more time I spent on the Salsa Timberjack NX Eagle 27.5+ the more I came to appreciate its well-rounded nature. It truly is a jack-of-all-trades kind of bike. 25-mile rides were handled with ease, nearly all types of descents were pretty darn fun, and if you saw me riding the Salsa on meandering trails, there's a good chance I had a big grin on my face. That said, the Timberjack really outshines most other plus hardtails with its sheer versatility—unlike similar bikes, this one can transform into a bikepacking machine. Loaded with features like adjustable dropouts, three water bottle mounts (on size medium and above), and a rack-friendly design, it's clear that Salsa has much higher expectations for the Timberjack than simply a weekday shredder (which it also happens to excel at).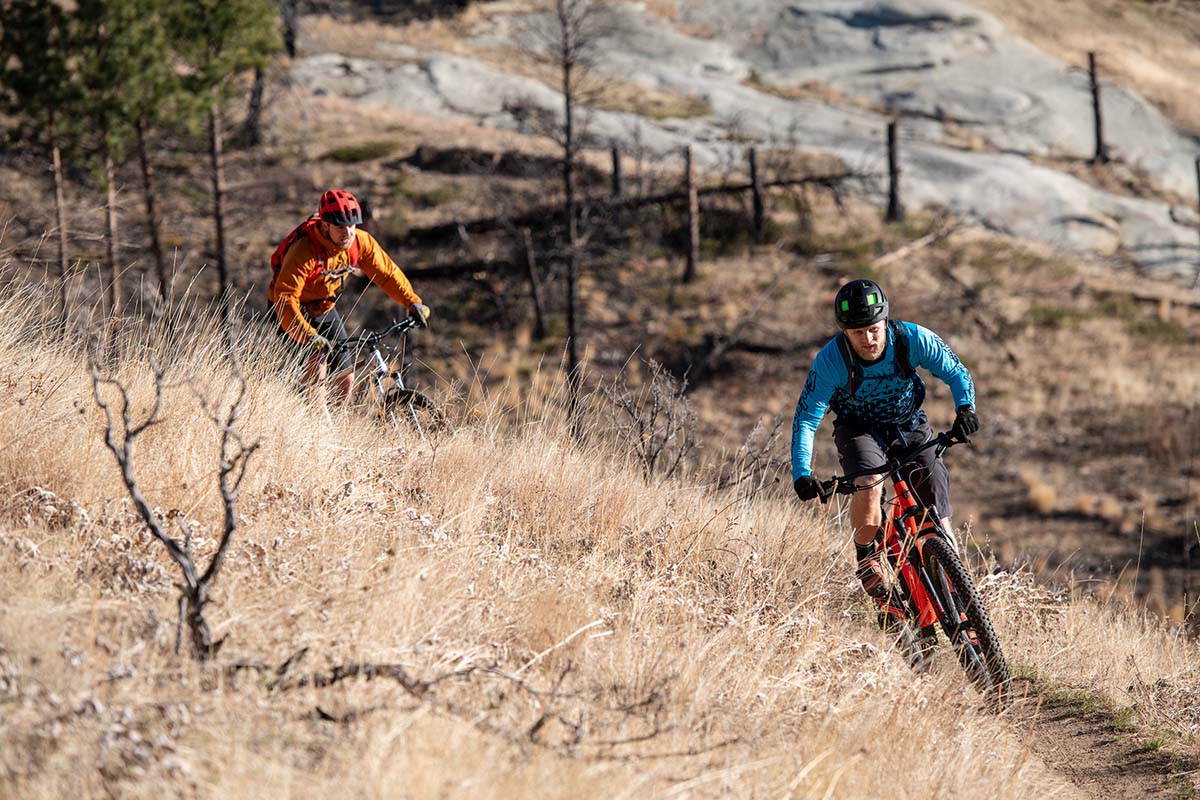 While I haven't yet had the chance to do any overnight trips with the Timberjack, I'm hoping to make it happen in the near future. But in the name of testing—and to provide additional insights for would-be buyers—I loaded the Timberjack up with my bikepacking kit and took it for a spin around the block. While a pavement test ride is hardly indicative of what it will be like on the trail, I'm happy to report the Salsa handles the extra weight of bikepacking gear quite well. It has the overall sluggish feeling you would expect with the additional luggage and bulk, but I didn't notice any glaring concerns.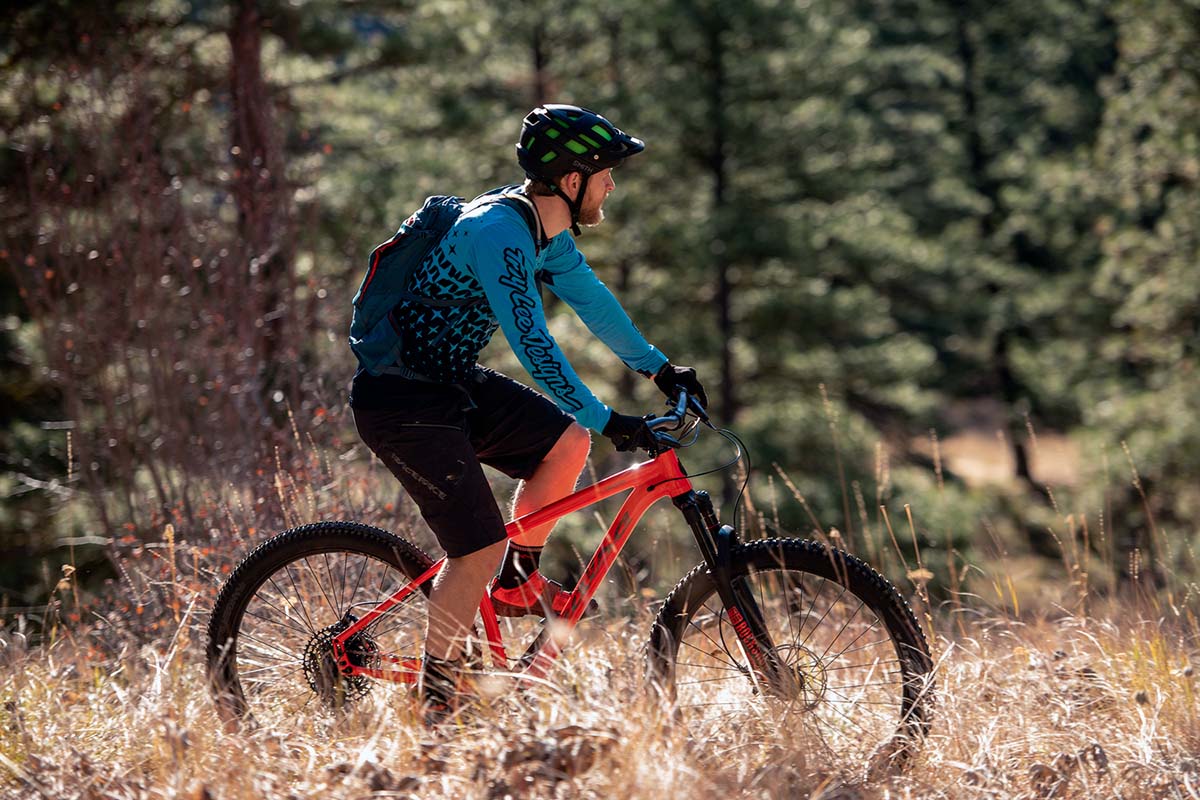 Key Features
Frame
I was pleasantly surprised when I laid eyes on the Salsa for the very first time. The internal routing of the cables makes for a clean-looking frame, the orange color undeniably pops (in a good way), and the all-black RockShox Sektor fork certainly gives it a premium look and feel. Furthermore, there's plenty of tire clearance in the rear, and should you want to go up a size to a 3.0-inch tire, there's room for that as well. Speaking of tire sizes, the Timberjack will also happily accommodate 29-inch wheels with tire widths up to 2.6 inches, which only adds to its versatility.
Plus, the Timberjack has a few more tricks up its sleeve. The Salsa hardtail features adjustable dropouts that allow you to shorten the chain stays (which makes for a more playful and lively feel) or lengthen them for more stability (which can come in handy when loaded down with gear). These special dropouts, called Alternator Dropouts, also allow you to customize your drivetrain to a single-speed setup or even an internal hub. All in all (and in case you didn't understand a word you just read), the Salsa Timberjack allows for almost infinite drivetrain options to best suit your needs.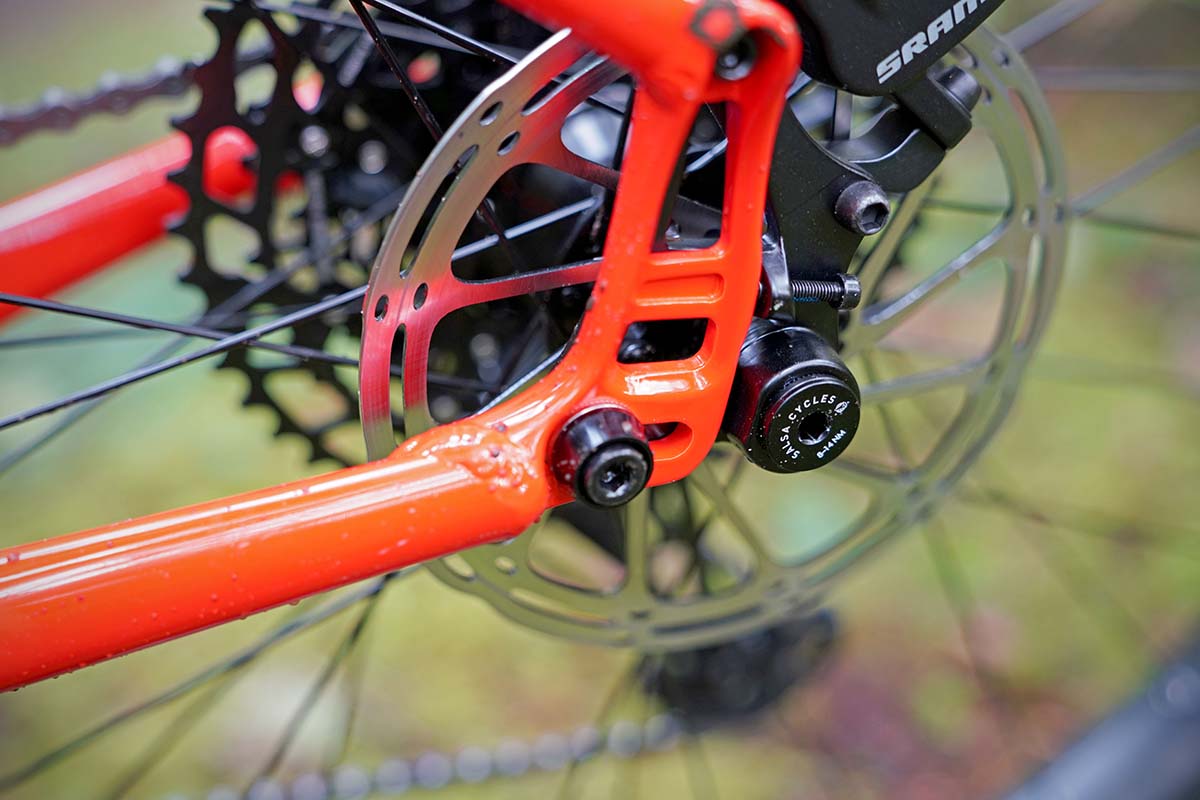 Geometry
Known more for bike adventuring than toeing the race line, I think Salsa pretty much nailed the geometry of the Timberjack. The 67-degree head tube angle may be seen by some as too slack, but given the amount of suspension travel and intended purpose, I think it's just about right. Not once did I wish it was steeper during the climbs or slacker during the descent. However, if I had one complaint about the medium-sized Salsa, it would be its relatively short reach and top tube length, which comes in at 425 and 612 millimeters.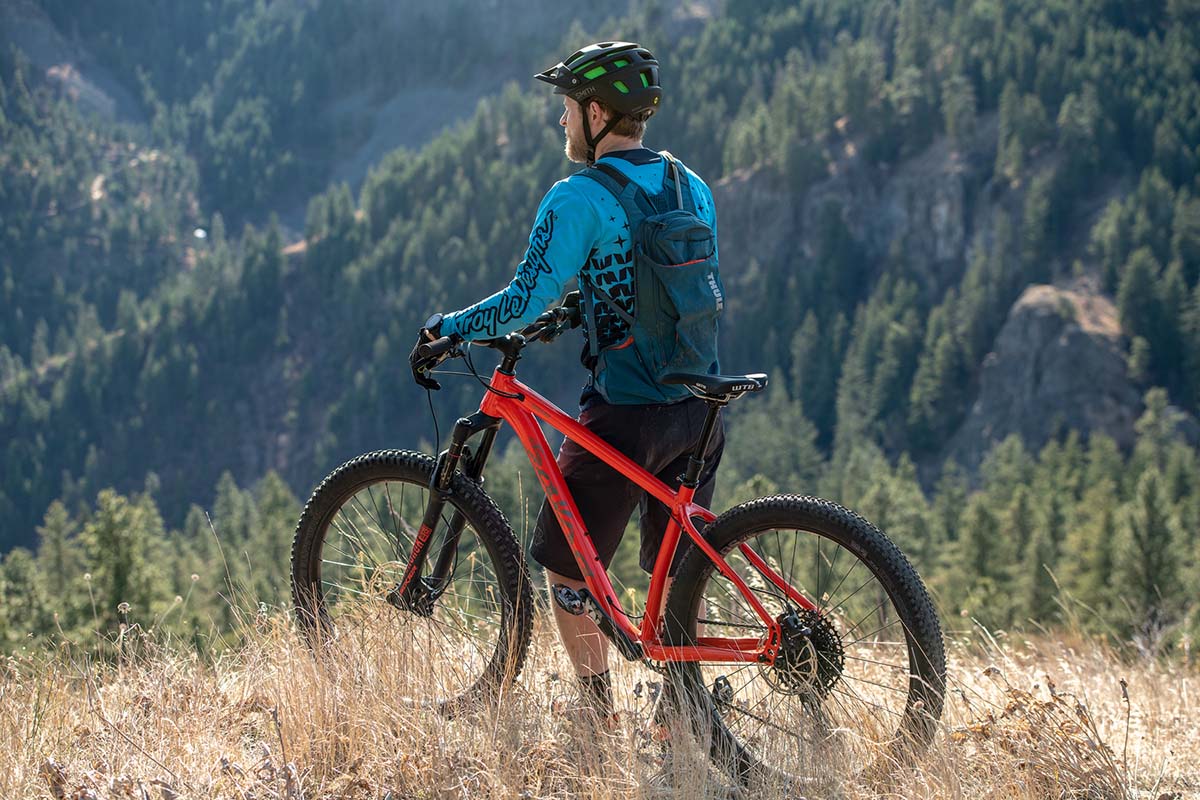 I'm not a huge disciple of the longer and lower club, but with a fairly long torso for my 5'9" frame, I did feel a little more compact than I would have liked. This made for a rather upright riding position, which isn't necessarily a bad thing, but I would have preferred to see the Timberjack's frame stretched out another 15 to 20 millimeters. Keep in mind too that the recommended height range for a size medium is 5'8" to 6'0" (according to Salsa's website). Considering my experience, I would recommend taking a close look at their geometry charts before making a purchase. If you're 5'10" or taller, you might consider moving up to the size large.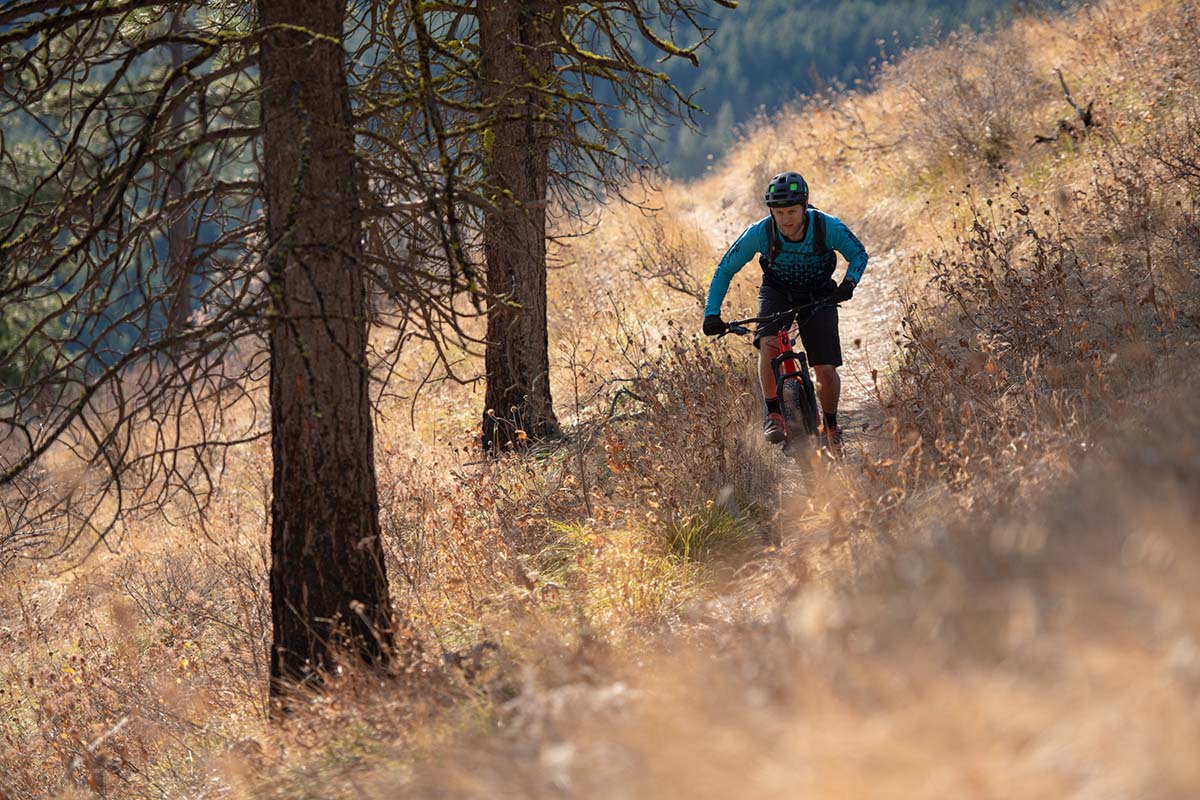 Components and Specs
SRAM Eagle NX Drivetrain
SRAM's Eagle NX 12-speed drivetrain is one of the standout components of the bike, and in my opinion, what really sets it apart from other mountain bikes in this price range. While the Timberjack certainly saw a good amount of use, I also put this drivetrain through the wringer on another bike last season and continue to be impressed by its durability and lack of fussiness. The large 50-tooth sprocket in the rear allows you to easily spin up steep climbs, something that 11-speed systems have a hard time matching. Nonetheless, there's no denying the fact that the entry-level NX model doesn't shift as precisely or smoothly as upper-echelon parts (plus it weighs more). And while you can certainly get a similar gear range with a standard 2x setup, the ease of use, simplicity, and lack of front derailleur streamline the shifting process.

SRAM Level Brakes
I'll be honest, when I saw that the top-of-the-line Timberjack came equipped with SRAM's Level brakes, my heart sunk a little bit. Due to their lack of power and squishy feel, I've never been a fan of the XC-focused bargain stoppers from SRAM. Having said that, I was completely blown away by the amazing performance of the stock brakes on the Timberjack. The action of the lever felt crisp, the power was more than I expected, and the modulation was great. Never once did I think about my brakes, which is one of the biggest compliments I typically give a product—if it's not on my mind then it's working perfectly. Although the performance was top notch, I do have one gripe: the reach adjust feature is on the inside of the lever and impossible to tweak without removing the brake assembly, which also requires removing the grip. Basically, any trailside adjustments turn into a bit of a fiasco and take about five minutes of fussing. Poorly-placed reach adjustment screws aside, I was thoroughly impressed with the SRAM Level brakes.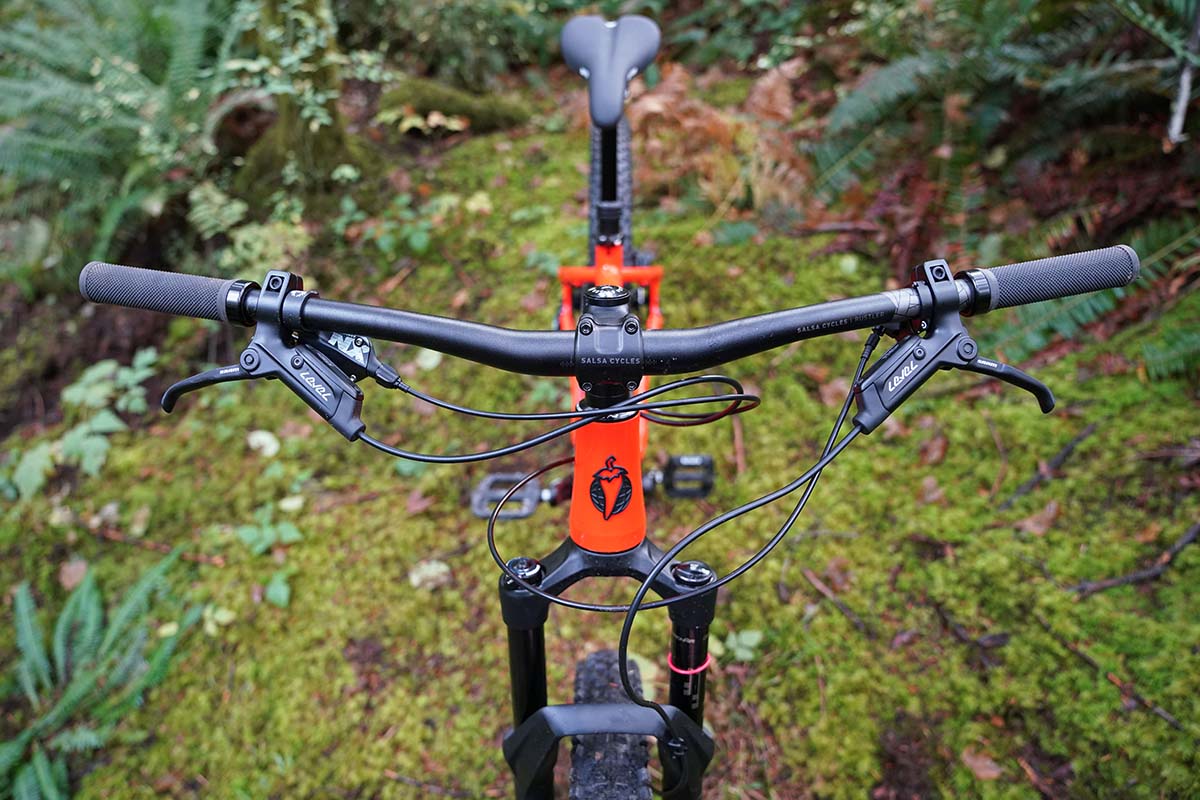 RockShox Sektor RL Fork
While I'm generally more accustomed to RockShox's higher-end offerings like the Pike and Lyrik, I found the mid-range Sektor RL to be a great match for the Timberjack. Oftentimes, voluminous and supple plus tires can mask any shortcomings of suspension, but I found the Sektor to be plenty supple through the rough stuff and stout enough to take on big hits. I weigh about 170 pounds ready to ride and ran 90 psi in the fork, which is slightly higher than the recommend air pressure for my weight. I also liked the lockout feature for any road riding to or from the trailhead, which bikepackers will certainly appreciate during long stretches of smooth road. All in all, I have nothing to complain about regarding the Sektor RL and it met my expectations throughout the duration of testing.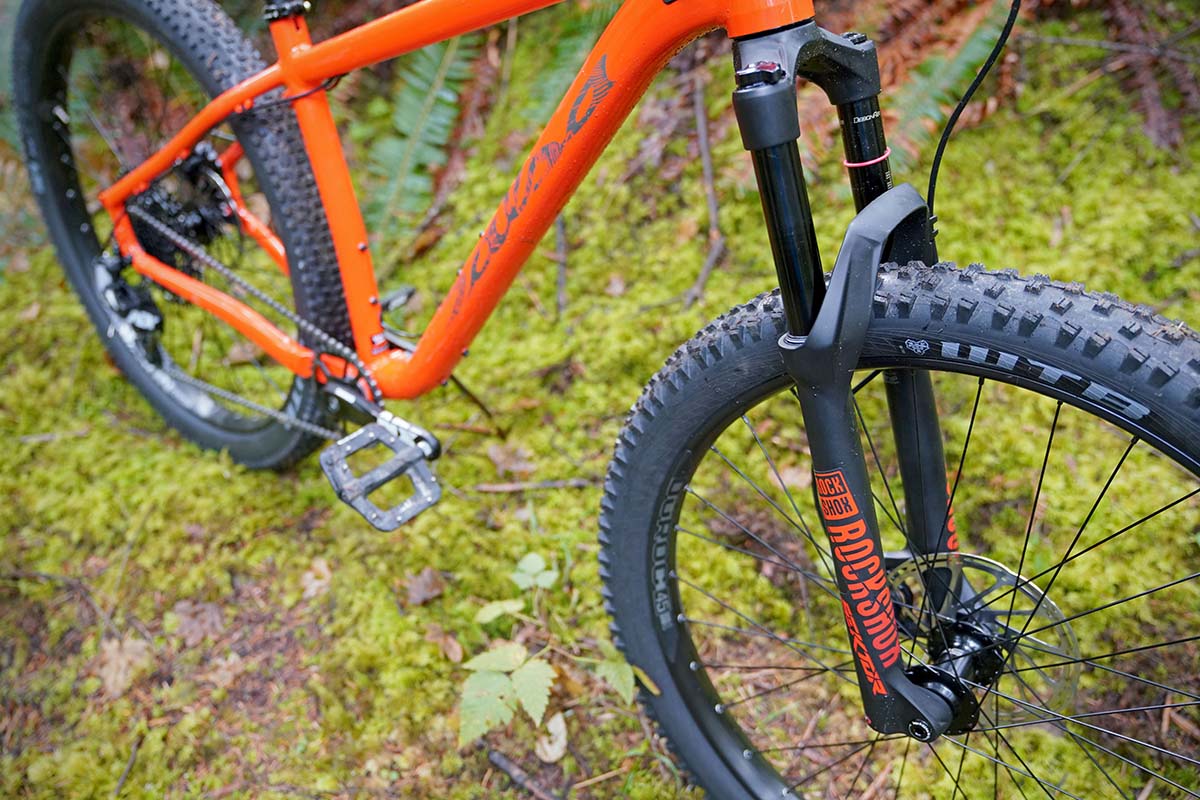 Tires and Wheels
While most of my time is spent on tires in the 2.3 to 2.5-inch range, I thought the wide 2.8-inch plus tires were an absolute hoot to ride. I settled on 16 psi in the rear and 14 psi in the front and the level of traction they provided at these pressures (especially the front Vigilante TCS Light model) was remarkable. I was able to lean the bike over to ridiculous angles, and slippery off-camber roots became my best friends. Needless to say, I was making silly line choices aboard the Timberjack and having a heck of a good time doing it. I really love that Salsa chose a faster rolling rear tire (where most of the drag comes from) with a more aggressive front tire (where most of your traction comes from). This is something I've been doing for a number of years now and is a design decision that really shows their expertise. With that said, if logging miles and bikepacking is your thing, swapping out the Vigilante to something like the Ranger may be worth it.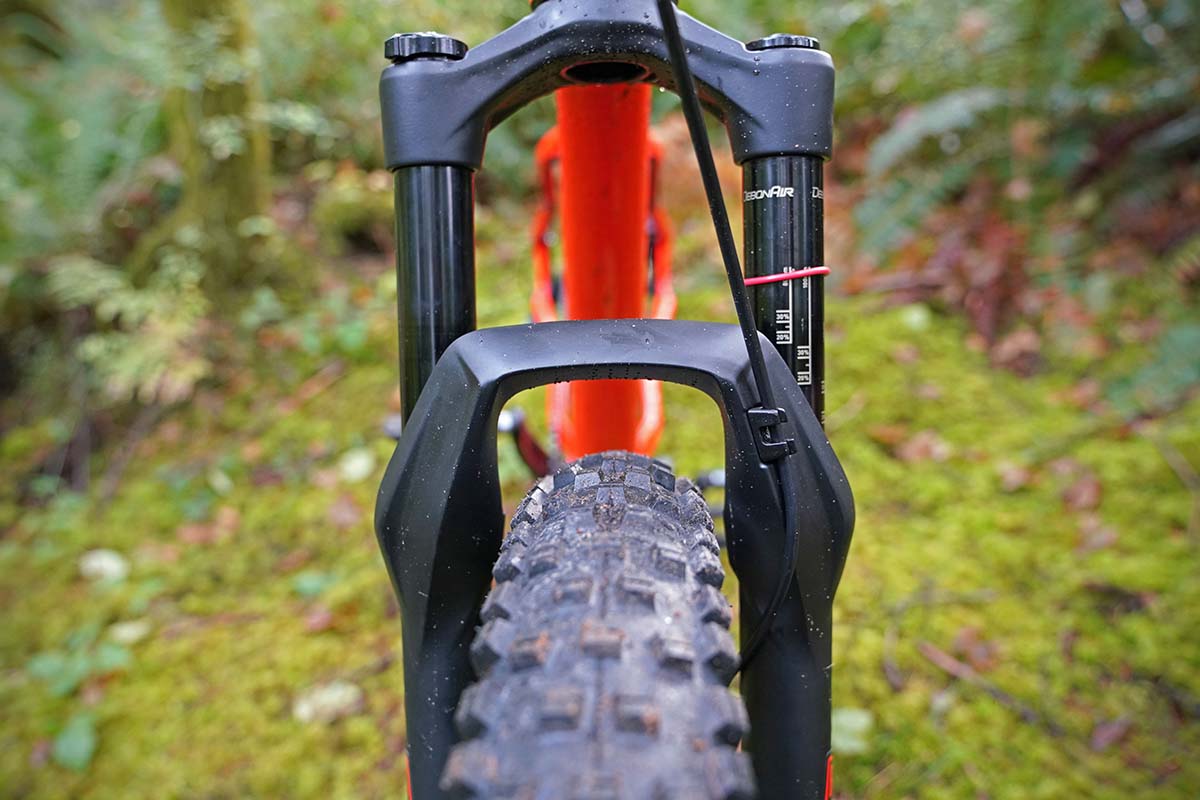 The stock wheels held up well during my time aboard the Timberjack, and considering all the fun I had, I'd say they passed the durability test. The 45-millimeter inner width allows the 2.8-inch tires to reach their maximum potential, and should you want to go wider, the rims will easily support those sizes as well. They aired up tubeless tires quite easily, and at the end of my time with them, only took a couple quarter turns of the spoke wrench to get them straight as an arrow again. Just like most of the other components on the Salsa Timberjack, the tires and wheels were well suited to the bike and its intentions.

TransX Dropper Seat post
Initially, I gave little notice to the seat post that came on the Timberjack, as it functioned well and didn't give me any issues. However, upon closer inspection I realized it was made by TransX, which was my first foray with the budget-oriented brand. While the dropper post may come in at a fraction of the cost of most others, it performed flawlessly throughout the test period. I realize that a couple of months of use may not bring out the worst in a product, but I have no concerns about its durability at this point. If I had to complain about one thing, it would be its 120mm of travel, which is considered quite short these days. Be that as it may, I actually never found myself wishing for more drop.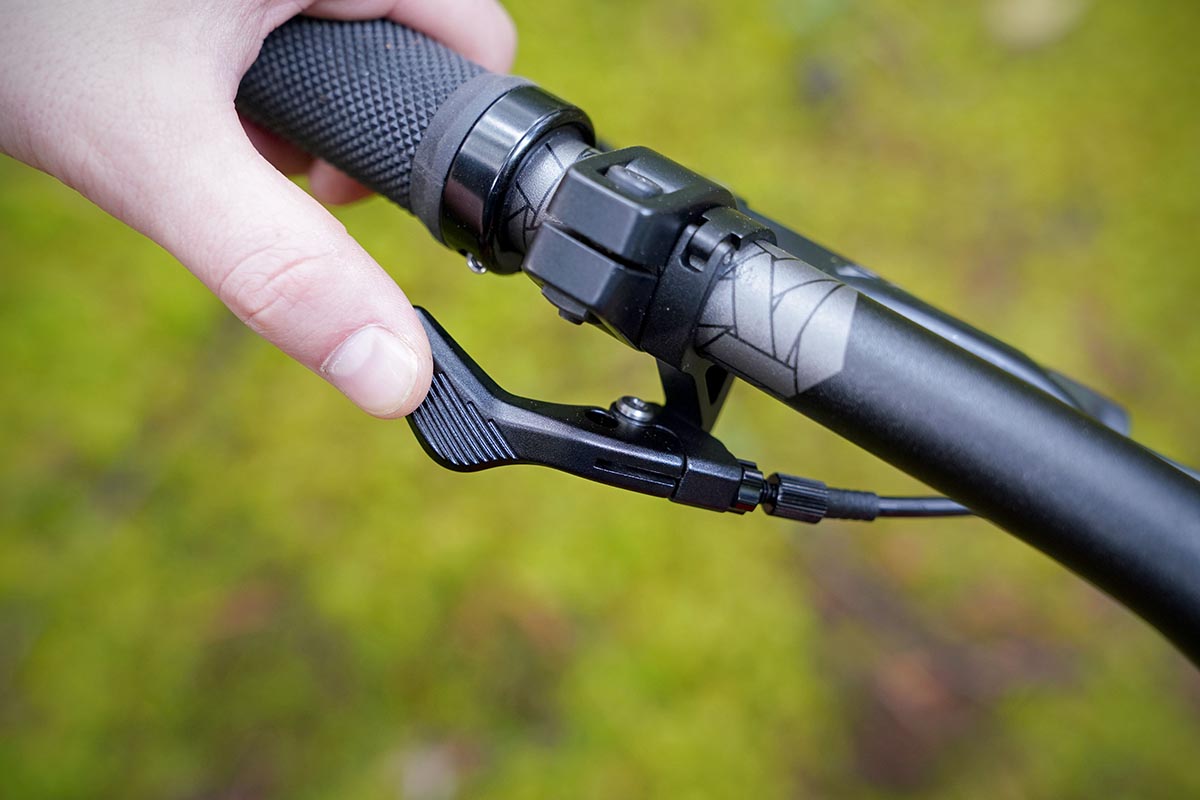 Other Versions of the Salsa Timberjack
For this review, I tested the range-topping Timberjack NX Eagle 27.5+ model, which features an aluminum frame, SRAM NX Eagle 12-speed drivetrain, RockShox Sektor RL fork, and SRAM Level brakes. It's a well spec'd bike that leaves little to be desired for its $1,999 retail price. Salsa also offers a number of other models, including the budget-conscious Timberjack Deore (available in both 27.5+ and 29-inch wheels sizes), which comes in at $1,100 and features a SR Suntour fork and Shimano Deore drivetrain. They also offer a frame-only option that's made out of titanium, which will set you back $2,499. And should you decide that your family won't be complete without little Timberjacks rolling around, Salsa sells 20- and 24-inch youth versions as well. All in all, there are seven adult and four child Timberjack models to choose from.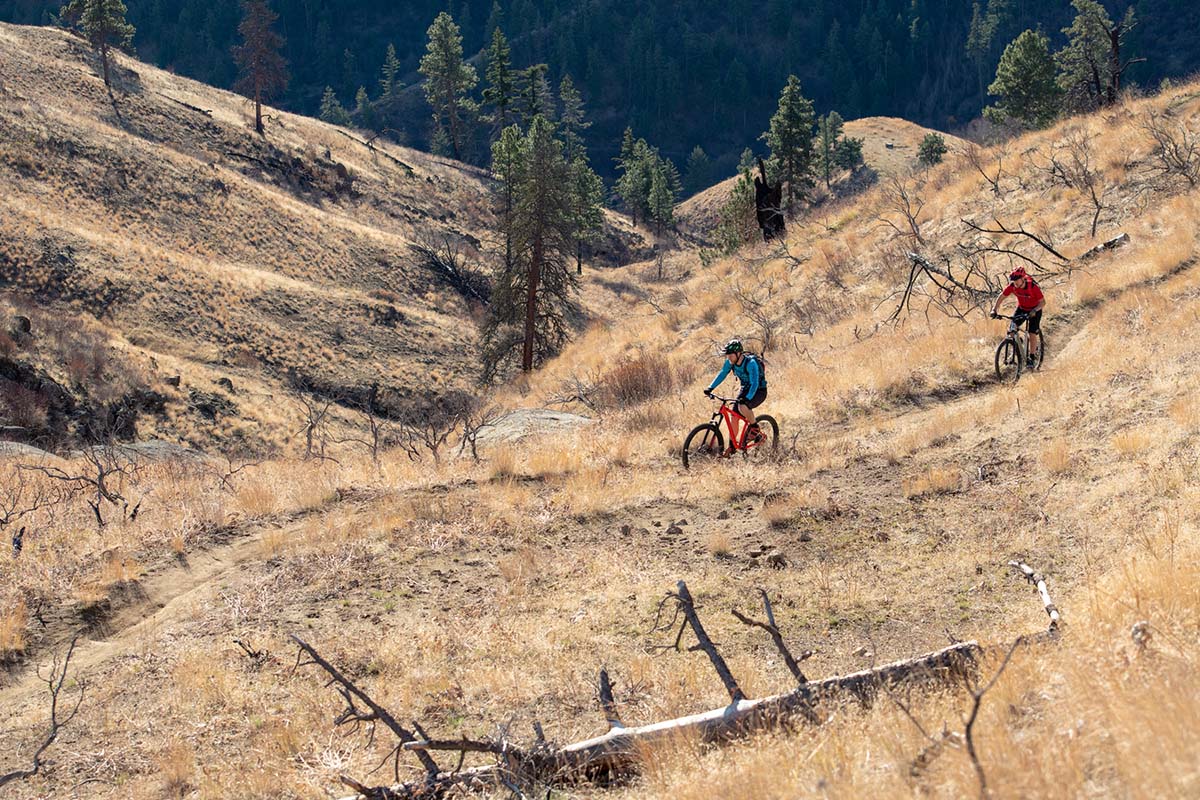 What We Like
The Timberjack is one of the most versatile hardtails out there and excels at everything from post-work rides to technical bikepacking trips.
Rear-rack mounts allow you to haul overnight gear into the backcountry.
The WTB tires hit the sweet spot between traction, comfort, and rolling resistance. They are also easy to set up tubeless.
Three water bottle mounts ensure you have plenty of storage space for water and supplies.
The adjustable chain stays let you alter the bike's handling between fun and playful or long and stable.
 
What We Don't 
The size medium Timberjack felt a bit small for my 5'9" height. I recommend carefully examining Salsa's size chart before purchasing.
Some may not like the bright orange paint scheme, although I think it looks great.
The aggressive WTB Vigilante front tire may be overkill for long bikepacking trips.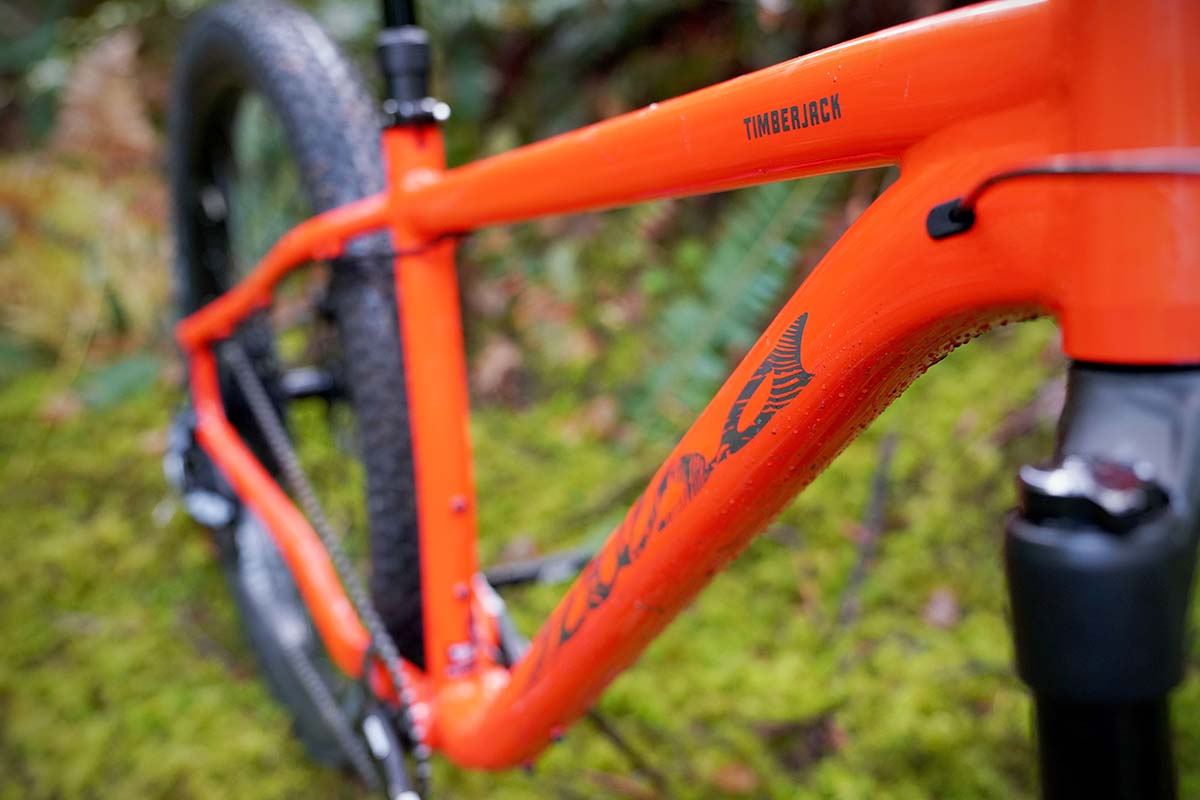 Comparison Table
| Bike | Price | Travel | Wheel Size | Drivetrain |
| --- | --- | --- | --- | --- |
| Salsa Cycles Timberjack NX Eagle | $1,999 | 130mm | 27.5+ in. (also fits 29 in.) | SRAM NX Eagle, 12 speed |
| REI Co-op Cycles DRT 2.2 | $1,899 | 120mm | 27.5+ in. (also fits 29 in.) | Shimano SLX, 11 speed |
| Santa Cruz Chameleon R+ | $2,399 | 130mm | 27.5+ in. (also fits 29 in.) | SRAM NX Eagle, 12 speed |
| Trek Roscoe 8 | $1,539 | 120mm | 27.5+ in | SRAM NX Eagle, 12 speed |
| Salsa Cycles Timberjack SLX | $1,400 | 130mm | 27.5+ in. (also fits 29 in.) | Shimano SLX, 11 speed |

The Competition
If Salsa's Timberjack has caught your eye, then there's a good chance REI's Co-op Cycles DRT 2.2 has as well. Coming in at $1,899 and sporting 27.5+ tires, similar amounts of suspension travel, a dropper seat post, and an adventure-by-bike ethos, these two hardtails are a pretty even match. So where do they differ? The big call out here is the Timberjack's 12-speed drivetrain and its very wide range of gears—the 11-speed system found on the DRT simply can't match it. We also prefer the proven and reliable RockShox Sektor fork that's found on the Timberjack over the X-Fusion on the DRT. And in terms of carrying bikepacking gear, the Timberjack once again wins hands down. The three water bottle mounts can carry more supplies (the DRT has one) and the more open design is better able to accommodate frame bags. From after-work trail rides to week-long bikepacking trips, the Timberjack NX Eagle 27.5+ is the superior bike in every way.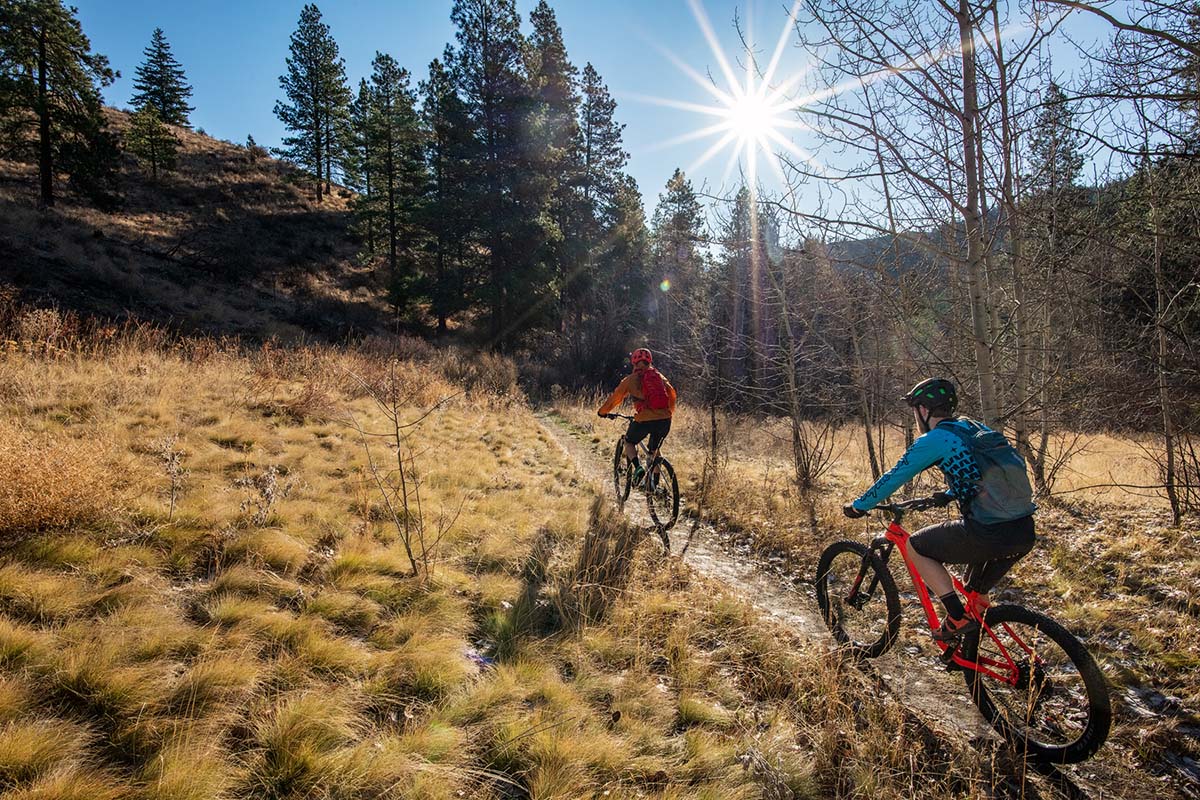 Santa Cruz Bicycles may be better known for their lineup of full-suspension models, but their Chameleon R+ hardtail is a worthy opponent to Salsa's Timberjack lineup. Both bikes feature strong aluminum frames, are available in 27.5+ and 29-inch wheel-size options, and share similar head tube angles. In terms of pricing, the Timberjack NX Eagle 27.5+ is hard to beat—a similarly-equipped Chameleon R+ will set you back another $400. And if your focus is on bikepacking and adventure, the Santa Cruz is no match for the versatility and gear-mounting locations on the Timberjack. However, if money be no object and singletrack shenanigans is your main priority, we give the edge to the fun-loving Chameleon. The Santa Cruz hardtail features slightly shorter chain stays for a more playful ride, and its do-anything personality is hard to ignore. Furthermore, the Chameleon is offered in a carbon-framed version, although that will set you back $3,799 for the base model. All in all, both are great bikes and ones we'd be happy to ride on a daily basis.
While we don't have any saddle time on Trek's Roscoe 8, it's worth a hard look in our opinion. This top-of-the-line model shares a lot with the Timberjack: SRAM Eagle NX 12-speed drivetrain, 27.5+ tires, and a dropper seat post. That said, Roscoe 8's price tag of $1,539 undercuts the Timberjack by about $450. Considering its 12-speed Eagle drivetrain, this is a steal in our books. Another major difference between the two bikes is their geometry: with its 68.5-degree head tube angle, the Roscoe is slightly more conservative and a better match for mellow terrain. The Salsa comes out ahead in the suspension department— its Sektor fork is a step up in performance and stiffness when compared to the Judy model found on the Roscoe. And if pure versatility is your main goal, we once again give the nod to the Timberjack and its plethora of mounting locations. That being said, if you're on a budget and a 12-speed drivetrain is your top priority, we recommend the Roscoe 8.
Editor's note: We usually provide a live price comparison table below our outdoor gear reviews, but at the time of publishing the Salsa Timberjack is only available nationwide at REI Co-op (for in-store pick up). You can see the Timberjack NX page here and support us in the process. Thanks!
Learn More About Mountain Biking