Cannondale Habit 4
Price: $3,150
Suspension: 130mm (front), 130mm (rear)
Tires: 29 x 2.5 in. (front), 2.3 in. (rear)
Gears: 1 x 12
What we like: Stout aluminum frame and slack head tube angle encourage trailside shenanigans.
What we don't: Heavy at 33.5 pounds; gets knocked around on truly rough trails.
See the Cannondale Habit 4
Connecticut-based Cannondale has always done things a little differently, but their revamped and surprisingly mainstream 2019 Habit seeks to make them a top contender once again. With its fresh design and graphics, up-to-date features, and all-around good looks, this new trail bike made a lasting impression on our testers. We spent the better part of the fall and winter evaluating the mid-range Habit 4 in the Pacific Northwest and came to appreciate the bike's ability to carry speed down the trail and its above-average technical climbing skills. Below we break down the Cannondale Habit's descending and climbing performance, key features, components and specs, and other versions in the line. To see how it stacks up, see our article on the best mountain bikes.
 
Descending
Featuring aggressive Maxxis tires, a relatively slack head tube angle (for a 130mm travel 29er), and burly frame, Cannondale's new Habit is geared more towards descending than ever before. But do the sum of these parts equal a bike that's truly adept at bombing downhill? Yes and no. There's no escaping the fact that 130mm of front and rear travel will never feel like a full-on enduro bike, no matter the wheel size. But in general, I found the bike to be a solid all-around descender. It doesn't shy away from being tossed sideways on loose natural trails and it's equally fun carving berms and popping off lips. As long as the going doesn't get too steep, then the new Habit is quite happy.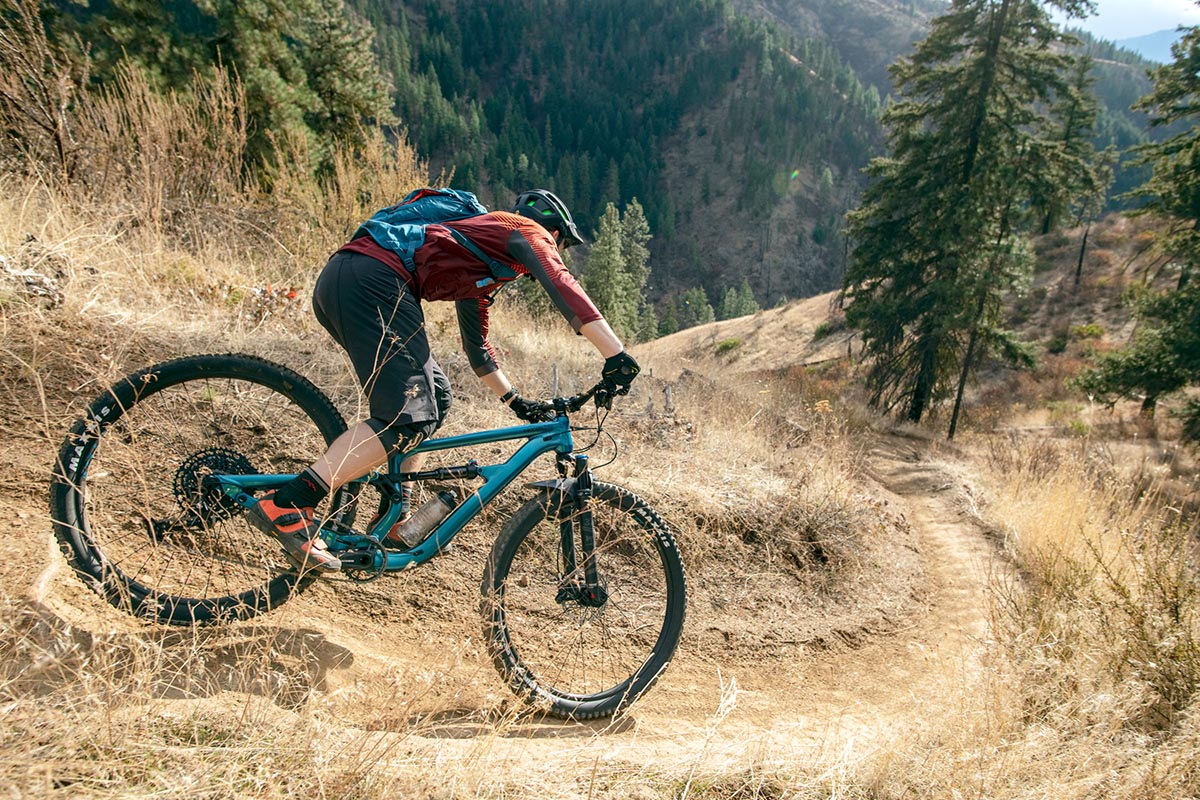 Like a lot of fellow riders tuned into the world of mountain bikes, I was pretty darn excited about Cannondale's seemingly "normal" new mountain bike. No Lefty fork, no weird pull shock, and no press fit bottom bracket–Cannondale had made a bike for the people! So with that excitement, I went out on my first ride. Unfortunately, I made the mistake of mindlessly setting up the suspension as I would on most other bikes: 20% sag in the front and about 30% in the rear. Turns out, Cannondale recommends a hair over 20% sag for the rear of the Habit, which was quite a bit different than my initial setting. I also had issues with the Fox Float Rhythm 34 and its one factory-installed volume spacer. Even with the correct sag and air pressure for my body weight, I found myself harshly bottoming out the fork on very small trail features. Needless to say, my first ride aboard the new bike was a wallowy mess.
Correctly adjusted to 25% sag in the rear and 18% (as well as three volume spacers) in the Fox fork, I eventually found the Cannondale's sweet spot: moving fast over moderately steep and not overly technical terrain. It particularly excelled at one of my favorite winter riding areas near Seattle: Tokul. The trails here drain exceptionally well, are relatively short, and never get excessively gnarly. Despite its hefty weight (more on this in "climbing" below), the Habit was a blast in this environment. I wouldn't call it flickable, as the burly aluminum construction requires a lot of effort to make it dance, but it carried speed very well on the flow trails and loved to get airborne. It's when I ventured into steep and rough areas—like "Predator" at Washington State's Tiger Mountain—that I felt knocked around on the bike. It was still manageable, but I could tell the Habit was out of its comfort zone and I had to be much more intentional in choosing my lines than when I was riding Santa Cruz's new 150mm Bronson.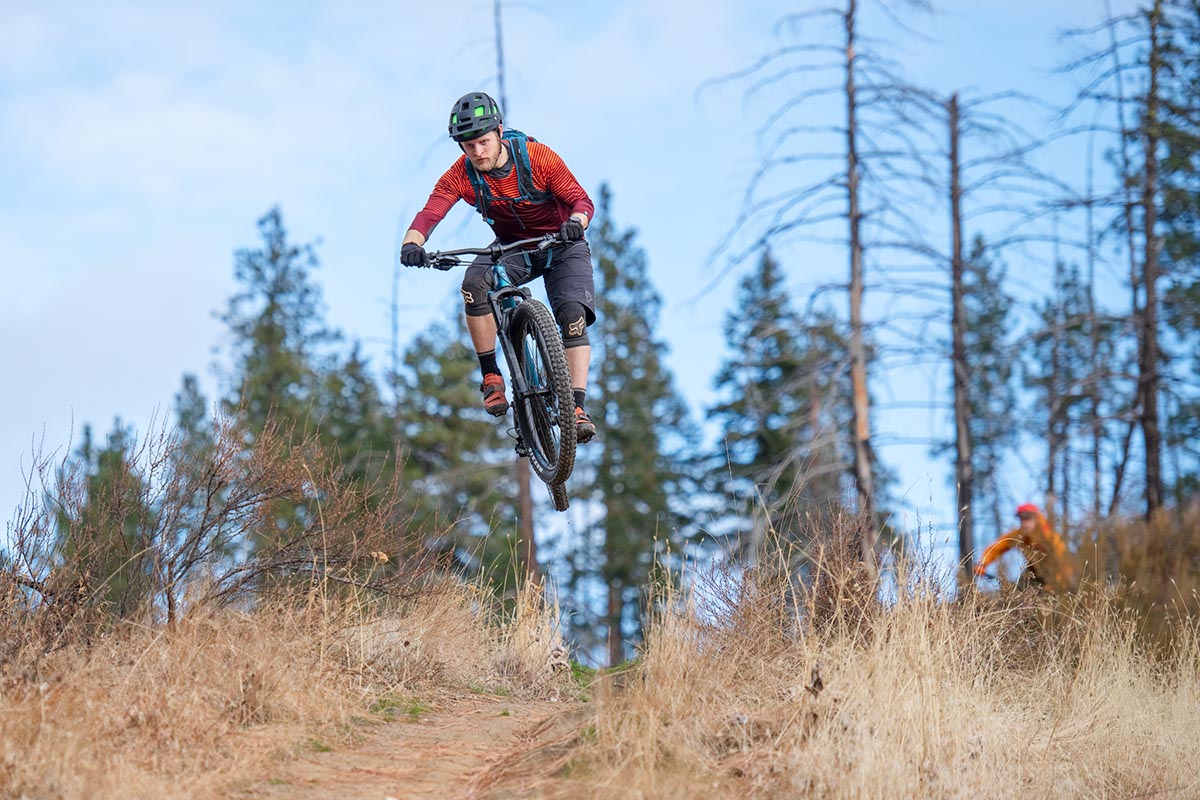 Overall, the 2019 Habit is plenty capable on the downhill for the majority of riders eyeing a 130mm trail bike. But with its super stout rear end and serious rubber, it's clear Cannondale had bigger goals, and I couldn't help but feel it was being held back by the Fox 34 on the front. The fork performed well in its own right, but it felt primed for an upgrade to a 140mm RockShox Yari or Fox 36. The additional weight would be negligible and I think the increased travel would help balance out the suspension on steep portions of trail, where I continually felt as though I was being pitched forward. If this were my personal bike for the long-term, I would definitely experiment with this change.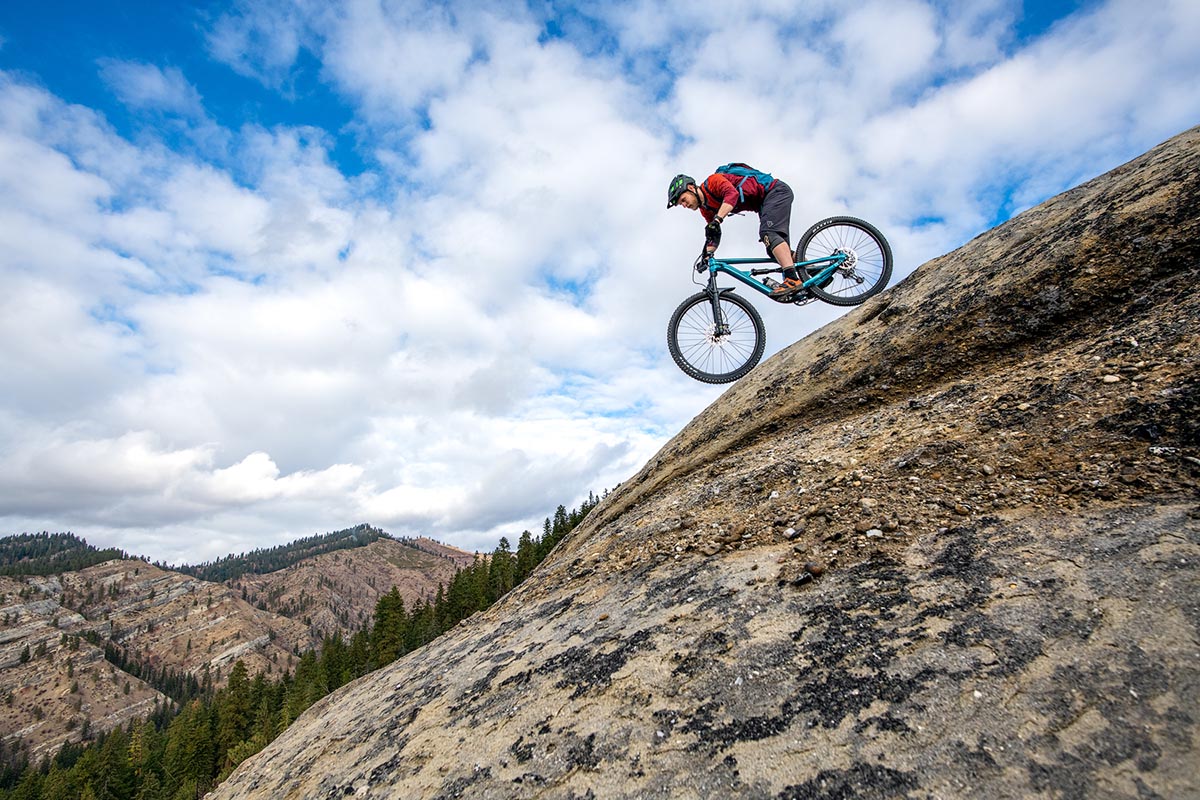 Climbing
Cannondale is well known in the cycling industry for producing very light aluminum frames, so I was a bit shocked when I picked up the new Habit. Without pedals and set up tubeless, the new bike weighed in at 33.5 pounds on my digital scale. I haven't ridden a full-suspension bike this heavy in a number of years and the heft was noticeable when lifting it on and off my bike rack. What did surprise me, however, was that out on the trail it didn't feel all that portly. To say it turned into a featherweight carbon climbing machine would be false, but it happily chugged up climbing trails and fire roads. Out-of-the-saddle efforts were not rewarded with neck-snapping acceleration, but once up to speed, it carried momentum quite well. In general, it's the type of bike that rewards riders who are content to sit and spin rather than attack the uphill.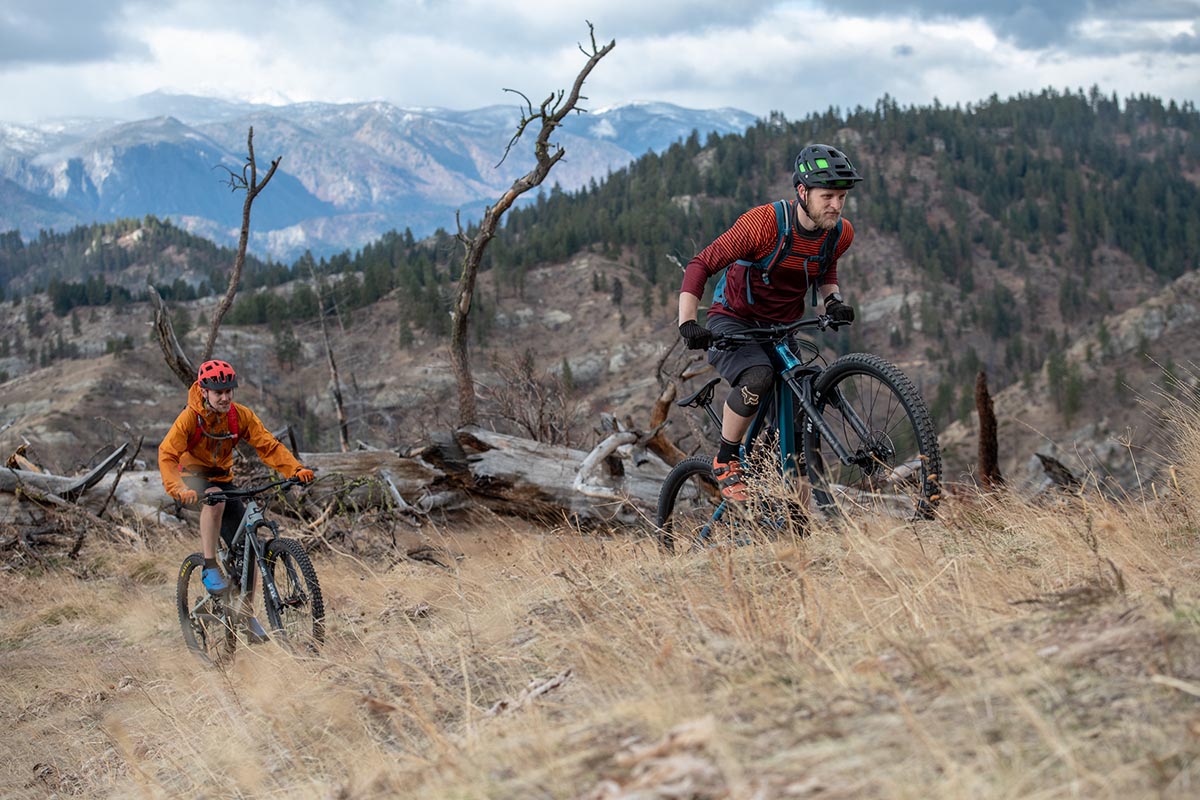 Considering its heavy weight and fairly slow acceleration, I pretty much wrote the Habit off as an average ascender. However, as I started up my first rough climb aboard the new bike, my initial assumptions began to change. We don't have a lot of technical climbing trails in the Seattle area, and fire roads are the norm, but I did my best to seek out the worst available. This came in the form of riding up the rocky and root-filled Preston trail at Tiger Mountain. Here, the Habit kept the rear tire glued to the ground, there was a minimal amount of pedal bob, small roots and rocks almost disappeared under the rear tire, and pedal kickback was non-existent. I put over 1,500 miles on the original Santa Cruz Hightower a couple of years ago, and compared to that bike, the new Habit takes the cake for technical climbing. Nice work, Cannondale!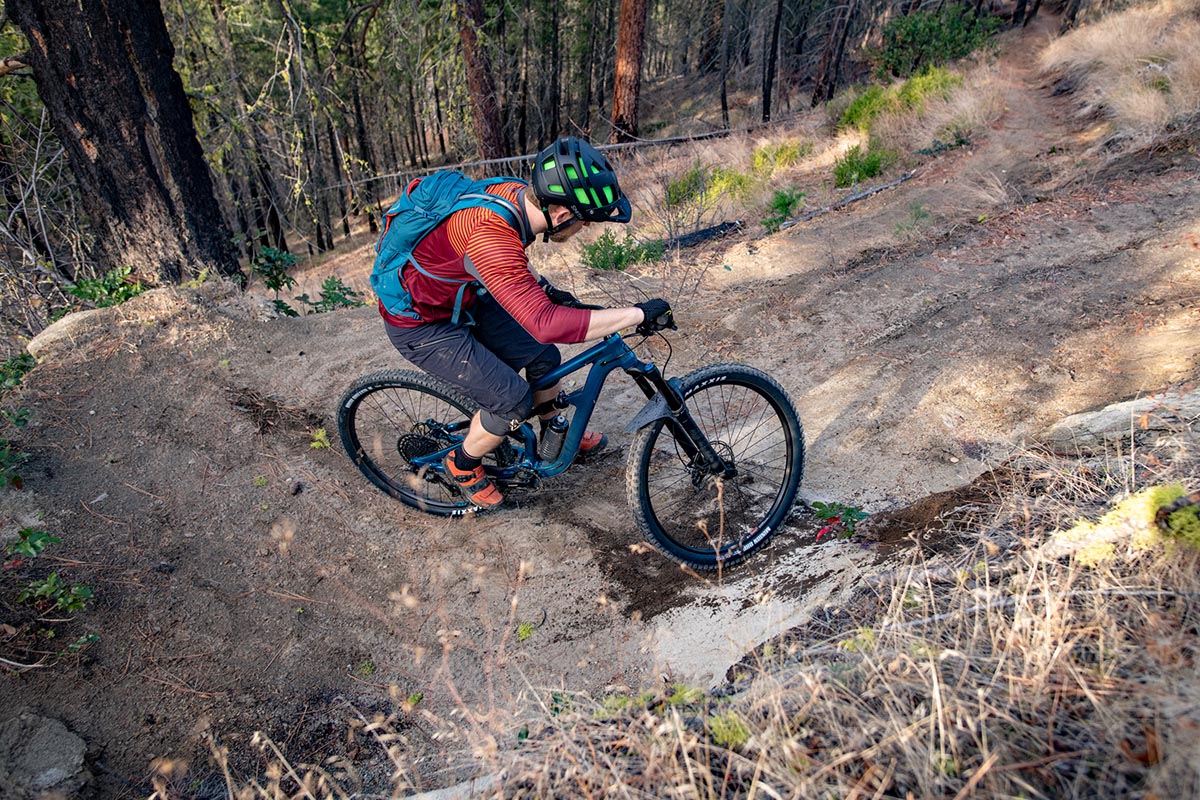 General Riding
To be frank, Cannondale's new Habit 4 was a tricky bike to nail down, and one that continued to confuse me deep into the testing process. On one hand, you have its aggressive geometry, burly tires, heavy weight, and lackluster acceleration, which would suggest that it descends like a boss on the rowdiest of trails. And on the other hand, you have a bike with a relatively small amount of travel (130mm front and rear), a trail-oriented Fox 34 fork, and above-average technical climbing skills.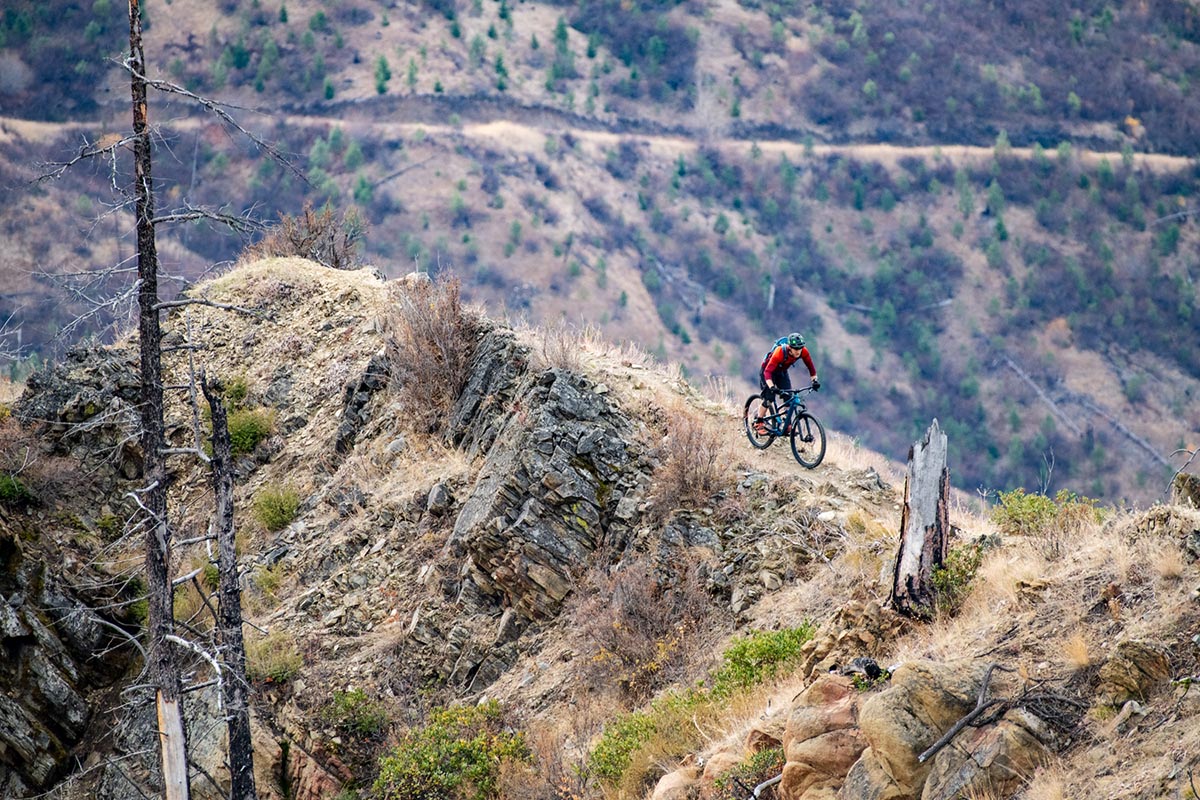 It wasn't until my most recent ride aboard the Habit that I really figured out what it is best for: good old-fashioned mountain biking. In a world where marketing teams and product line managers are designing bikes for specific uses, it seems that Cannondale has made a bit of a generalist. For better or worse (I lean towards the former), the Habit is what I would call a "jack of all trades, master of none." It doesn't blow you away on either the up or downhill, but the bike lands in the middle as a solid option for someone whose home trails have a little bit of everything and involve technical ascents.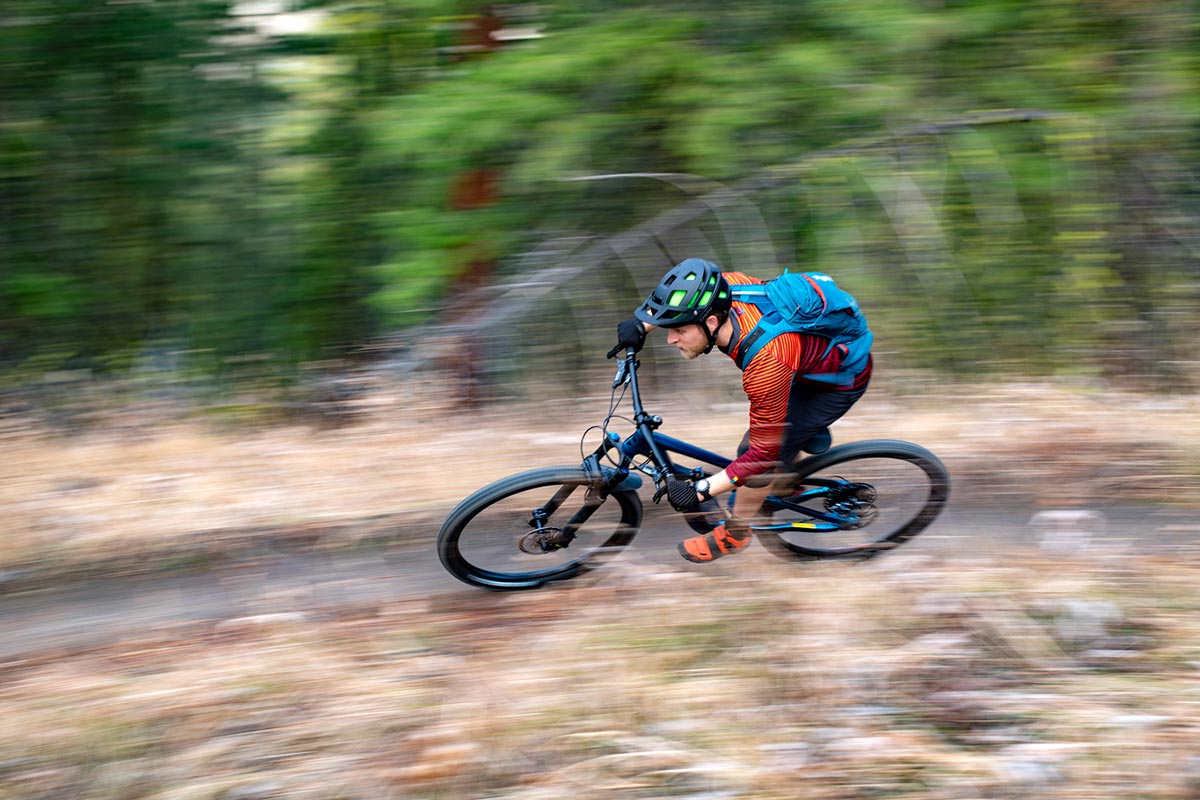 Key Features
Frame
To my eyes, Cannondale's new Habit is one of the better-looking (if not best) full-suspension bikes they've made. In breaking from tradition, the color and graphics package is pared down, and you'll no longer be able to count up to 30 Cannondale logos on the frame, which I don't think anyone will miss. Instead, they have decided to go with small brand logos and subdued colors. Further, the internal routing of the brake, shifter, and dropper post lines make for a sleek-looking frame, and the plastic grommets do a nice job of holding everything in place for a rattle-free ride. If you're familiar with Cannondale's popular Jeykll, then you're aware of the rat's nest of cables stemming from the cockpit. Thankfully, this is not the case with the Habit.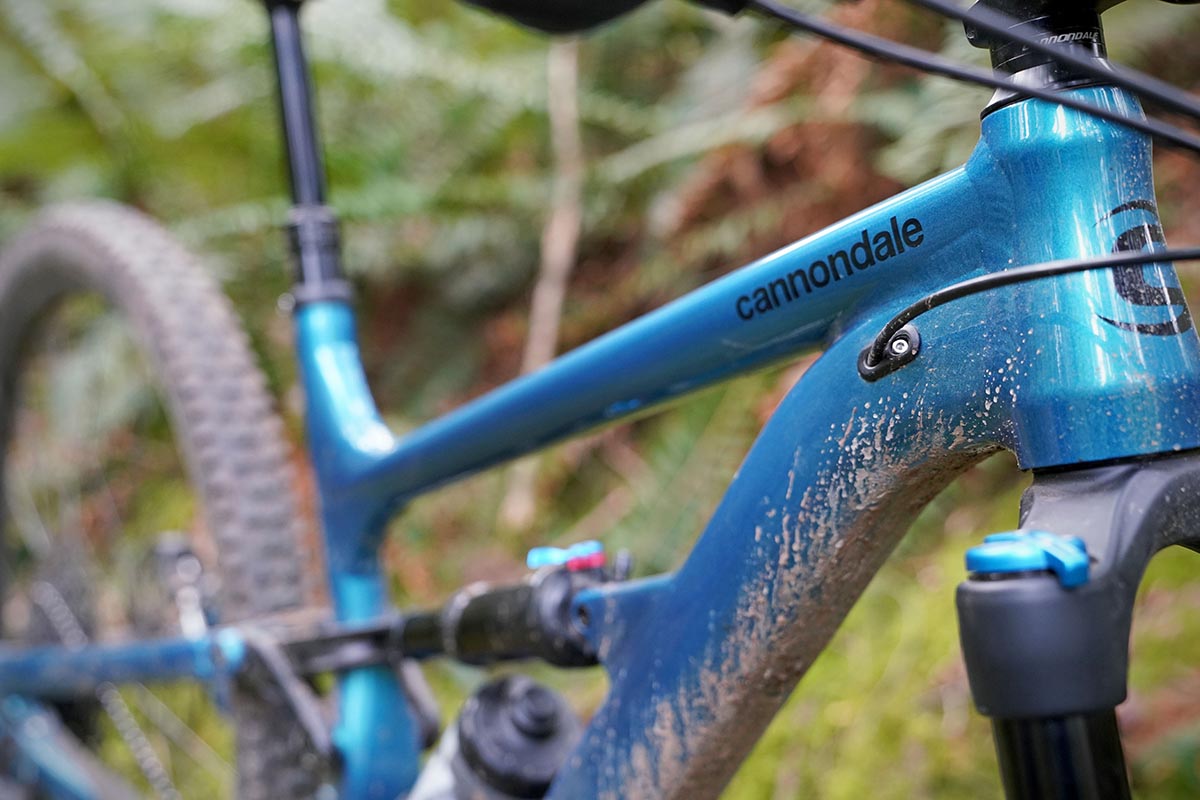 A nice addition to the bike's frame is the clear protective stickers that have been placed on the chain and seat stays. This simple yet functional addition helps minimize the effects of heel rub and wards off small scratches–a nice touch and something you don't often find from competitors. Having said that, I've managed to rub the paint completely off on the drive side weld of the chain stay during the testing period. Much of my time aboard the Habit has been in muddy conditions where abrasion is likely to happen, but I am a bit surprised to see this appear so soon. Unfortunately, this spot is just beyond the clear protective sticker referenced above.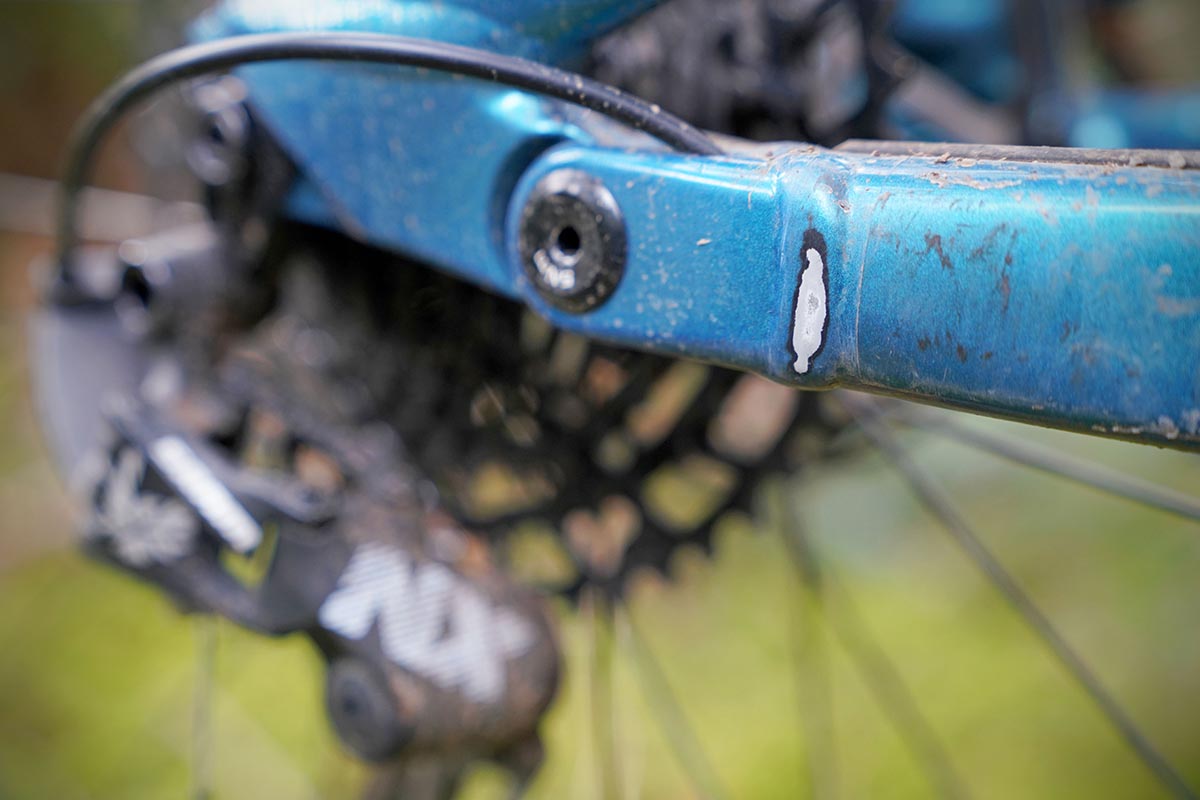 Geometry
Cannondale has never really been known to push extreme angles or measurements with their bikes and the 2019 Habit falls in line with that trend for the most part. Safe, proven, and fun are all words that come to mind when describing the new bike's geometry. The combination of a 66-degree head tube angle and 130mm of travel would have been seen as quite progressive a couple of years ago, but bikes like Transition's Smuggler and Evil's Following have been sporting similar geometry since 2015. Accordingly, there's a reason the two aforementioned bikes are so popular among the short-travel 29er crowd: they are a hoot to ride and are perfectly suited for most trails.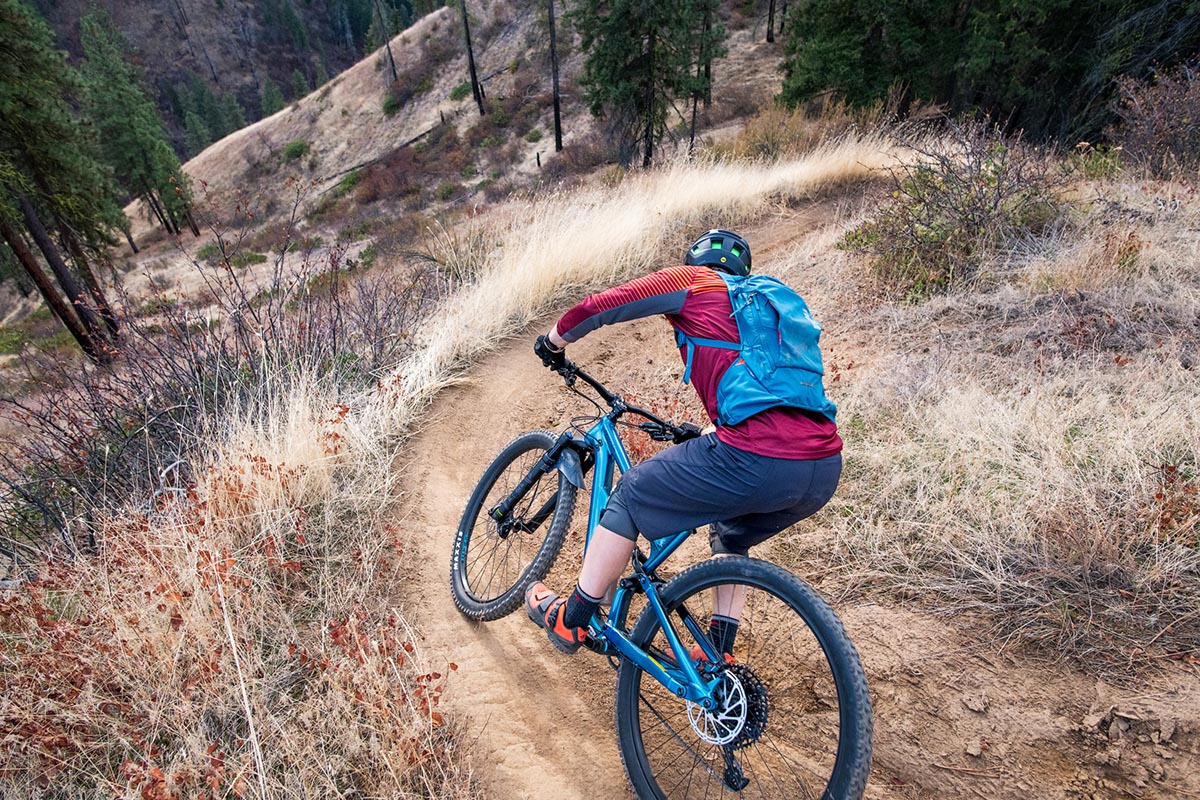 With that said, if Cannondale continued the above trend throughout the rest of the bike, then I would have probably described the geometry as fairly progressive. But because its 74.5-degree seat tube angle and 430mm reach (for a size medium) are numbers more commonly found on bikes from 2016, many will see the Habit as slightly behind the times. Evil's new 29er Offering, which features 140mm of travel and a 66-degree head tube angle, has a reach of 462mm (in a size medium) and a 76-degree seat tube angle. Whether deserved or not, I think Cannondale may receive some flack from riders who are looking for the most up-to-date numbers in their new ride.
 
Components and Specs
SRAM Eagle NX Drivetrain
With its low cost and impressive gear range, SRAM's newest drivetrain attempts to bring 12 speeds to the masses. And considering that you can buy an entire NX Eagle set-up for about the same price as an X01 Eagle cassette, they may have succeeded. I originally had my doubts with the budget offering, but I'm happy to report that it has performed admirably and I've had no issues to date. That said, there's no denying the fact that the new 12-speed drivetrain is hefty—as a whole, it's about 1 pound heavier than the more expensive options from SRAM. While it certainly doesn't move through the gears as seamlessly as its upper echelon brothers and sisters, I think the NX drivetrain is a great match for the Habit 4, and one that most owners will be very pleased with.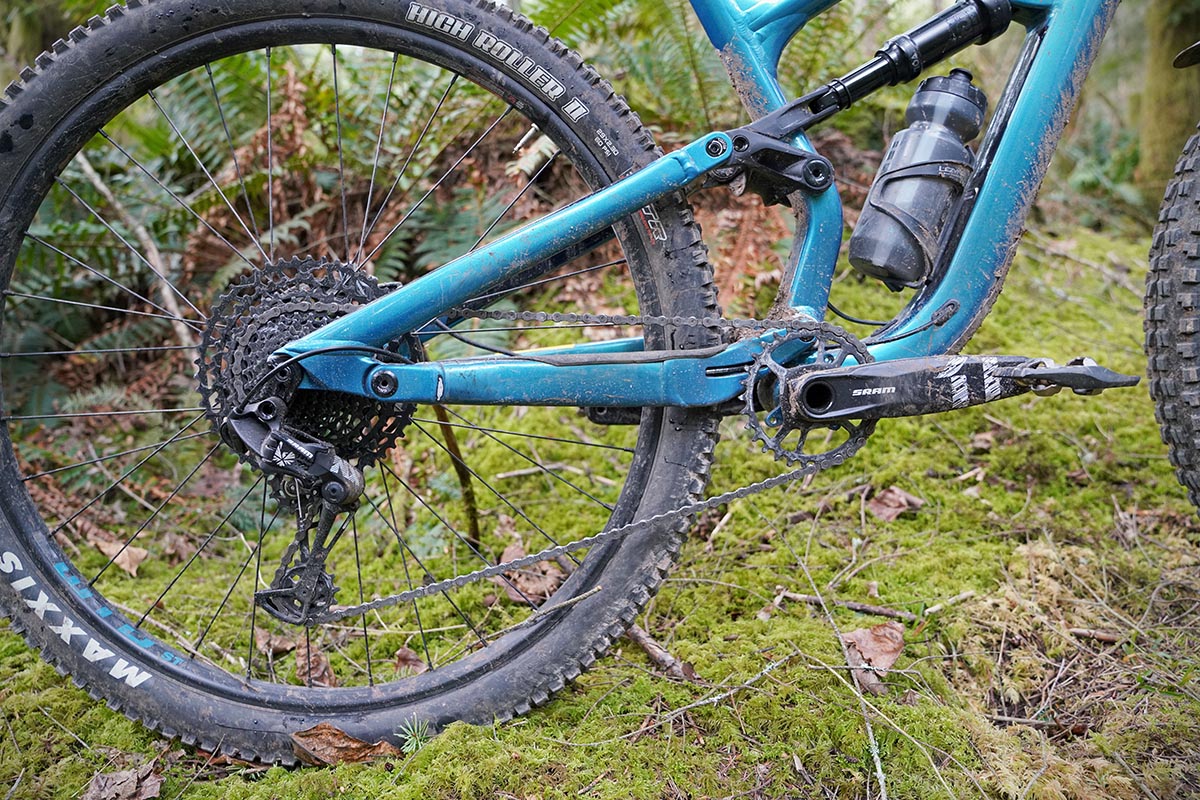 Fox Float Rhythm 34 Fork
Considered by Fox as their entry-level fork, the Float Rhythm 34 has received solid reviews within the industry since its release, and I was excited to see how it would perform on the Habit. Once the initial quirks were worked out (described above) I found it to be a pretty good offering. I can't say that I was overly impressed with its performance, but given where it stands in Fox's line-up I think it is a good match for the bike. The small bump compliance was pretty good out of the box, and once I added a handful of volume spacers it ramped up nicely towards the end of the stroke. I also liked the ability to adjust low-speed compression on the fly via the GRIP damper knob, which I ran about one-quarter to one-eighth of a turn from fully open most of the time.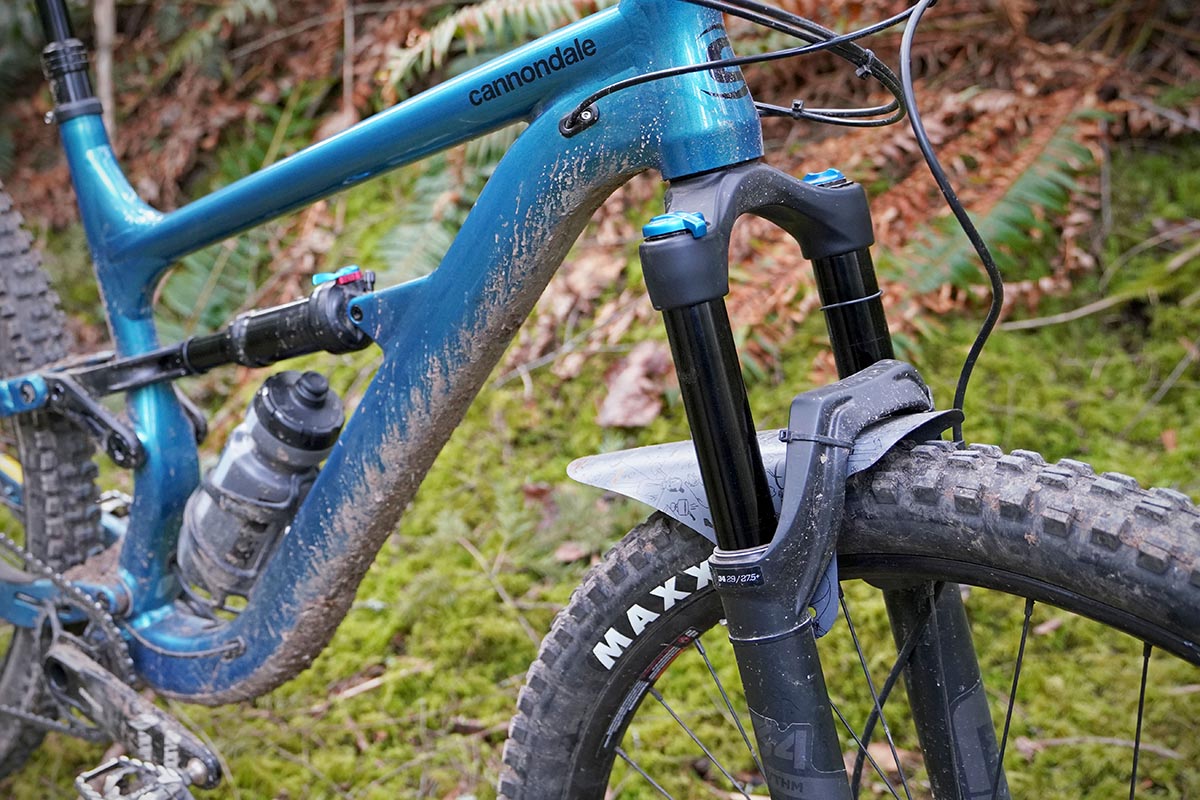 I did, however, find the fork to be slightly lacking in midstroke support. To be fair, there isn't a whole lot of room to work with when you have 130mm of travel, so this might have been part of my problem. But I personally like the feel and all-around performance of RockShox's Pike RC fork (but this may simply come down to what I'm used to spending time on). All in all, I found the Rhythm 34 to be reliable throughout the testing period and offered enough adjustments to keep me happy.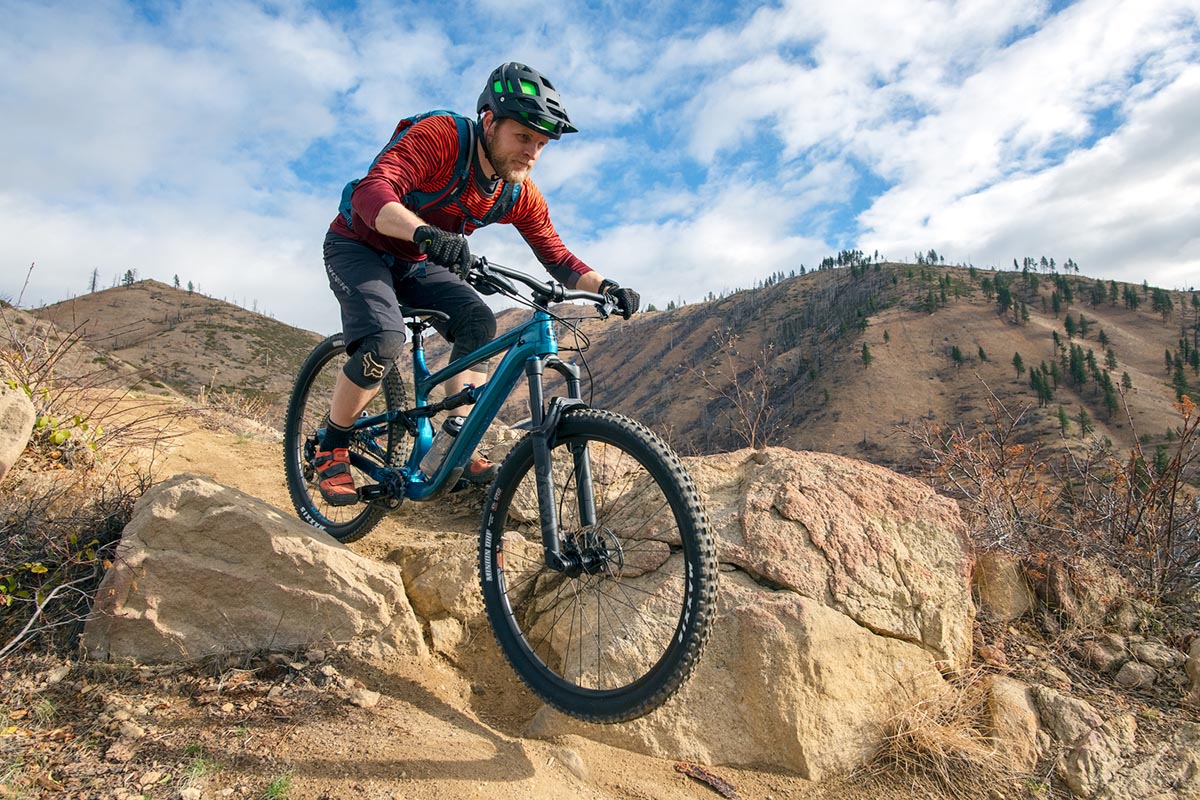 SRAM Guide T Brakes
I've spent a good amount of time on different versions of SRAM's Guide brakes, but this was my first experience on the budget-oriented Guide T stoppers. Generally, I've gotten along well with the ergonomics of the other Guide models, so I wasn't surprised to feel the same way about the "T." For general riding. I would say that the performance of the brakes was adequate, but I was often left wishing for more power on long or steep descents. This could be partially remedied by larger rotors (upgrading the front from 180mm to 200mm) and metallic pads—something I would definitely do if this were my personal bike.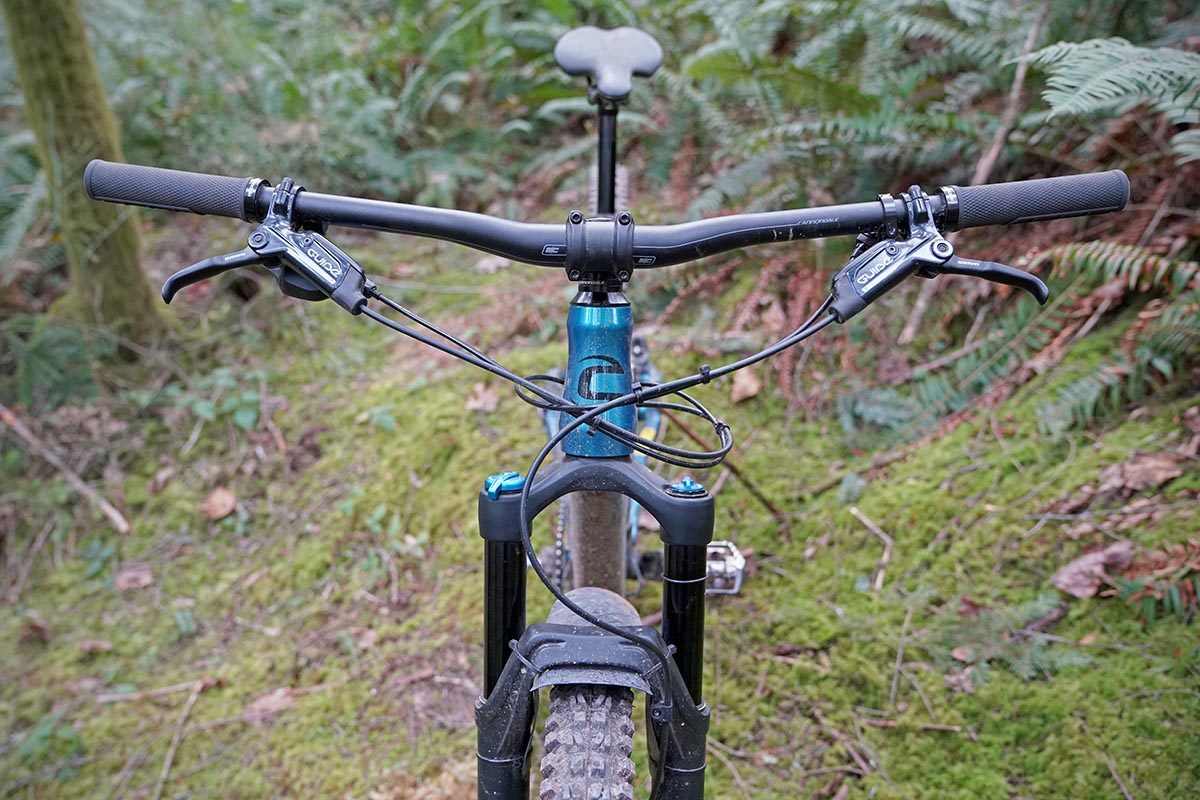 In addition to their lack of power, the thing that bothered me the most about the brakes was the position of the reach adjustment. It is tucked away behind the lever and is only accessible (with a multitool) when the brake is removed from your handlebar, which is far from ideal. With that said, if you're a set it and forget it type of person (I have tinkering issues) and your typical trails are more rolling in nature than straight down, then I imagine you'll be completely satisfied with the Guide T brakes in their stock form.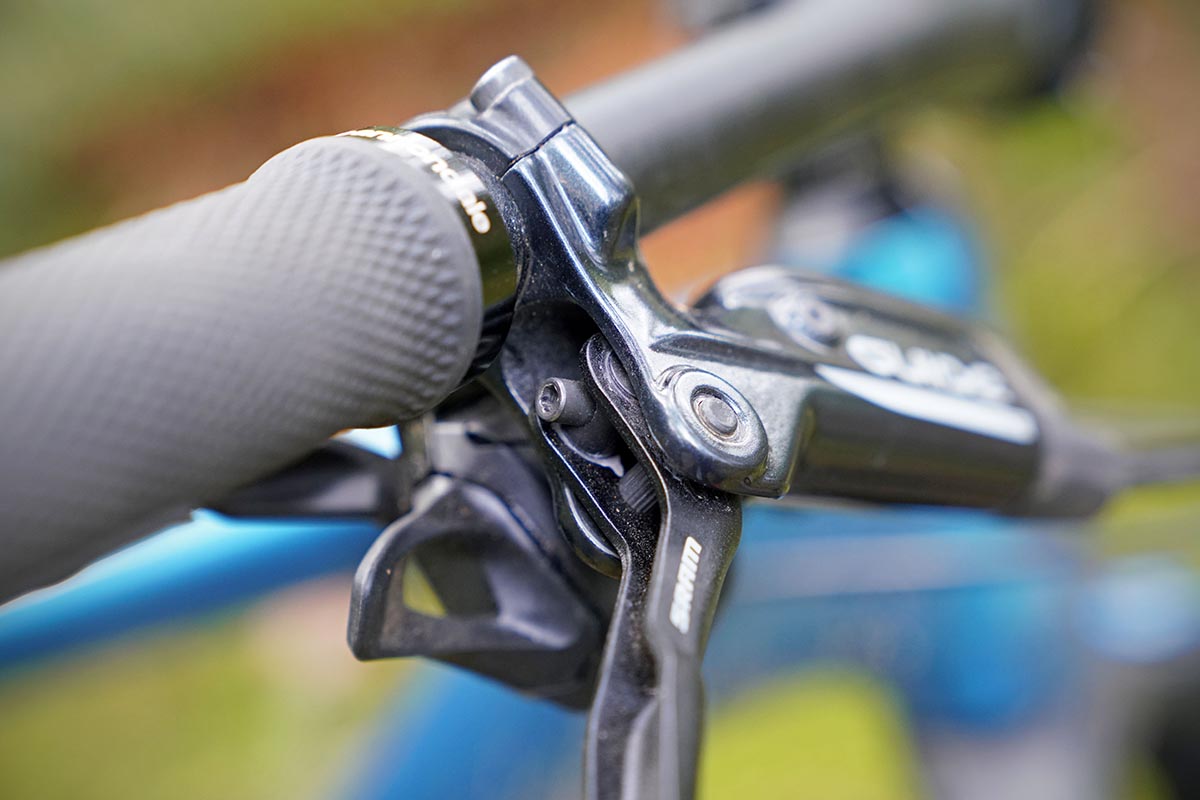 Fox Float Performance DPS EVOL Shock
Correctly setting up the rear shock on any bike can be a tricky undertaking, and this was particularly true for the Habit 4. As I touched on above, Cannondale recommends just over 20% sag for the Fox Float rear shock, which seemed fairly minimal as I generally run around 30%. For the undulating and XC-style trails at Black Diamond and Grand Ridge in the Seattle area, I found the recommended sag to perform well, albeit a bit stiff. On the steeper and more technical areas of Tiger Mountain and Exit 27, I was continually being pitched forward running the recommended psi. By dropping the pressure to achieve about 30% sag, I found the Habit to work better in these steeper locations. One problem with that, however, is that bottoming out then became an issue. In the end, I found running between 25-28% to be a good balance.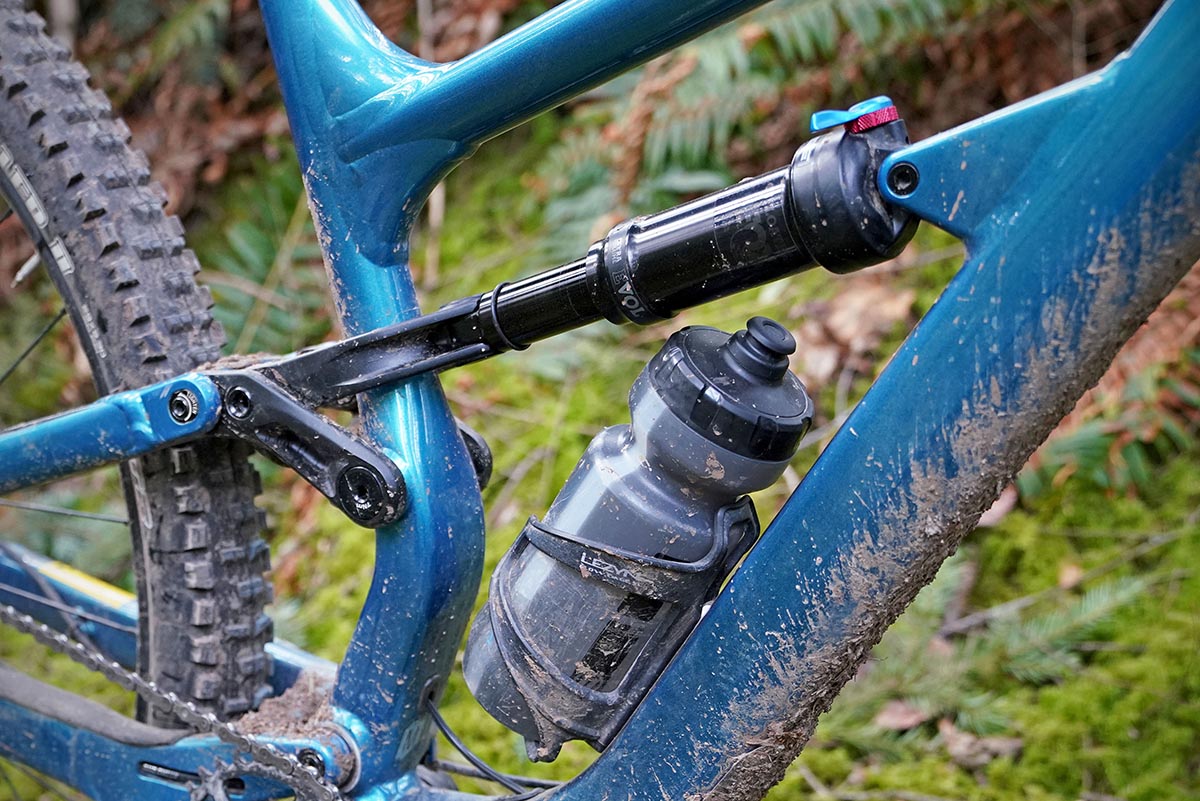 Another problem I had with the Fox shock was that I was completely at one end of the adjustment range for rebound, literally 2 clicks from the slowest setting. Anything faster and I my rear end would have been pogoing down the trail. At 170 pounds geared up to ride, I assumed I would fall within the average weight for a size medium bike and its shock, so I was a bit perplexed at the rebound tune. I can't help but think anyone much lighter than myself might run into adjustment issues with this shock. I've had great experiences with Fox Float Performance DPS shocks on other bikes, so from a historical perspective, I expected it to perform much better.

Tires and Wheels
For riding and racing in the Pacific Northwest, I prefer Maxxis tires on my personal bikes, so I was pretty darn excited when I saw that Cannondale spec'd proper rubber on the Habit line-up. The 2.5-inch Minion DHF up front is one of my favorites, as it excels in most types of terrain. And the 2.3-inch High Roller II, which is known for its sharp cornering characteristics and braking capabilities, is another Maxxis classic. I would've liked to see Cannondale use a 3C rubber compound on the front tire to increase grip—a feature that's found on the higher-end Habit models—but this would have likely raised the overall cost of the bike.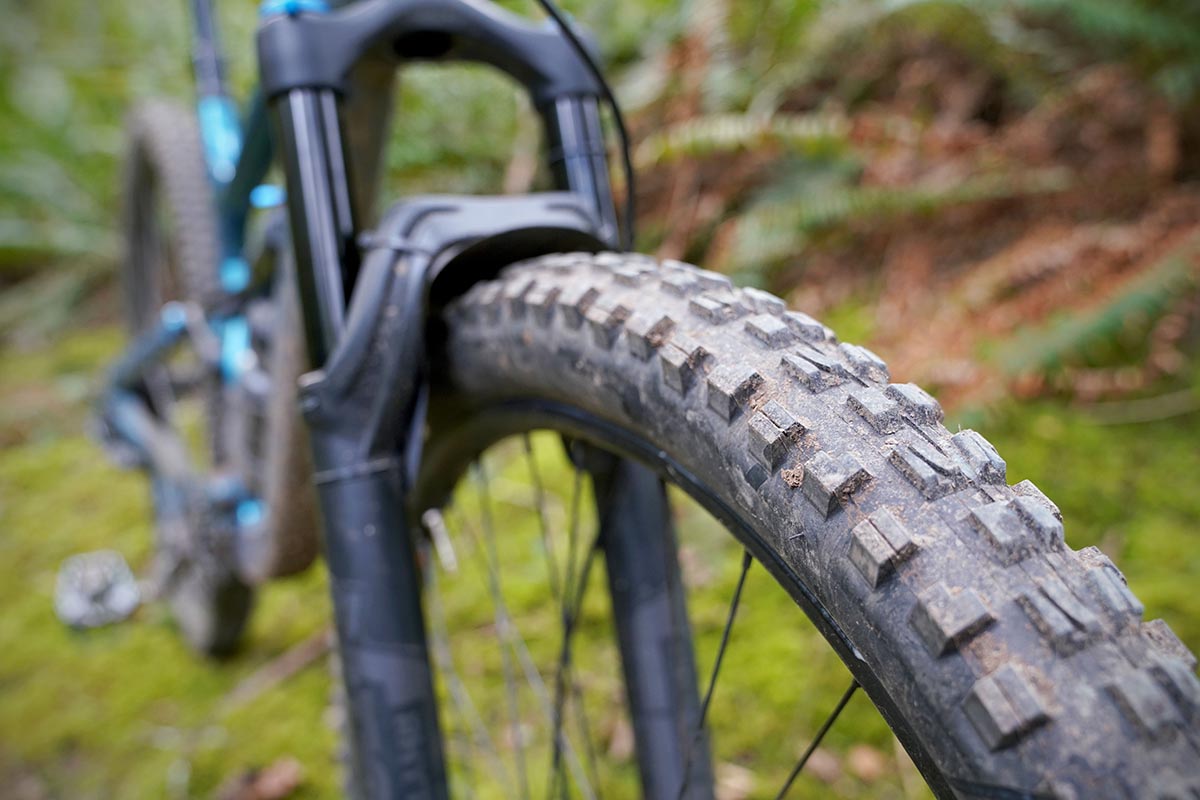 For rims, the WTB ST i25 are proven performers and I experienced zero issues with them throughout the duration of the test. With that said, the 25mm internal measurement is a bit narrow by today's standards and limits the effectiveness of the wide 2.5-inch Minion up front. It's still quite good, but something in the 30mm range would allow you to increase grip by running the tires at a lower pressure. Overall, although it's a bit on the heavy side, Cannondale did a good job spec'ing a capable, proven, and problem-free tire and wheel set-up on the Habit 4.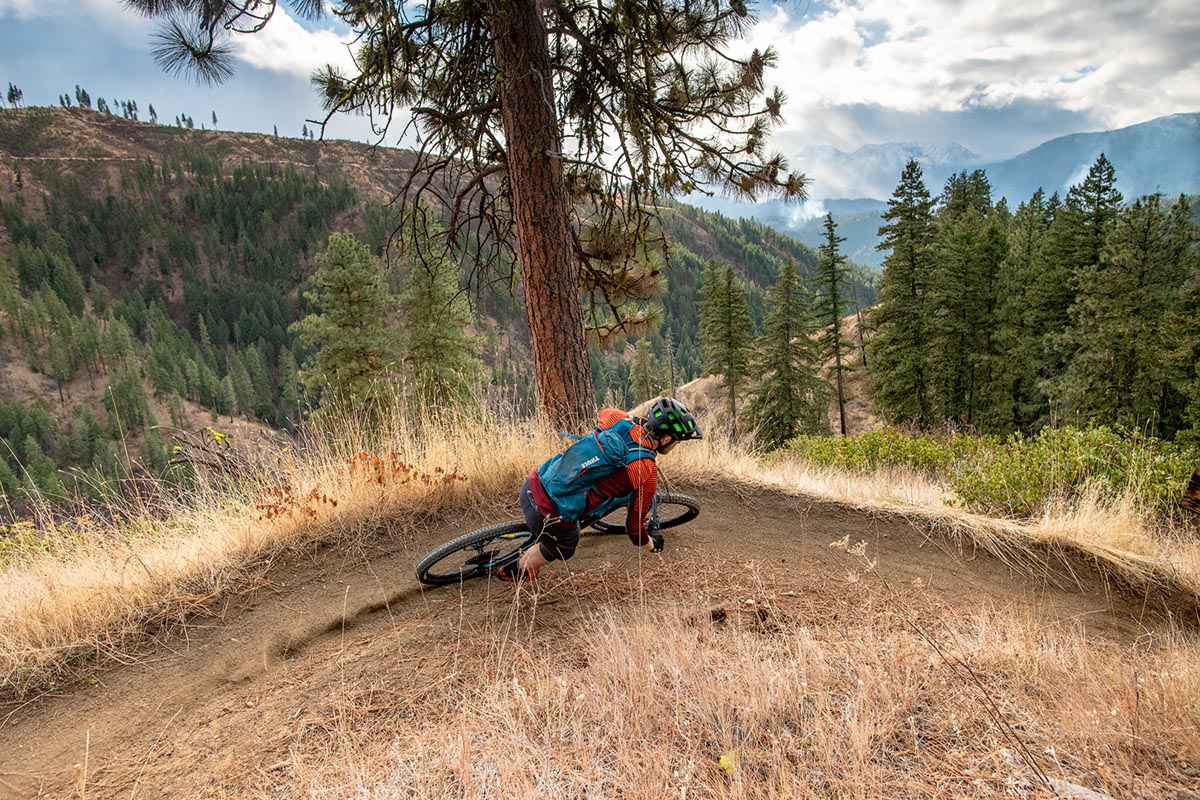 Other Versions of the Cannondale Habit
For this review, I rode the 2019 Cannondale Habit 4, which comes with an aluminum frame, SRAM NX Eagle 12-speed drivetrain, Fox Float Rhythm 34 fork, and SRAM Guide T brakes. It's a solidly spec'd bike that leaves little to be desired at its $3,150 price tag. However, Cannondale also offers a more budget-friendly option in the form of the Habit 6 ($2,100), which includes a downgraded 10-speed Shimano Deore drivetrain. On the other end of the line-up is the Habit 1. With its carbon frame, Kashima-coated Fox suspension, and Shimano XTR kit, this version will set you back $7,900. Finally, Cannondale also sells plus-size build kits (known as the Bad Habit) should you be looking for a bit more tire width. All in all, there are 11 Habit models to choose from, although we think the mid-range offerings like the "4" that we tested deliver the best bang for your buck.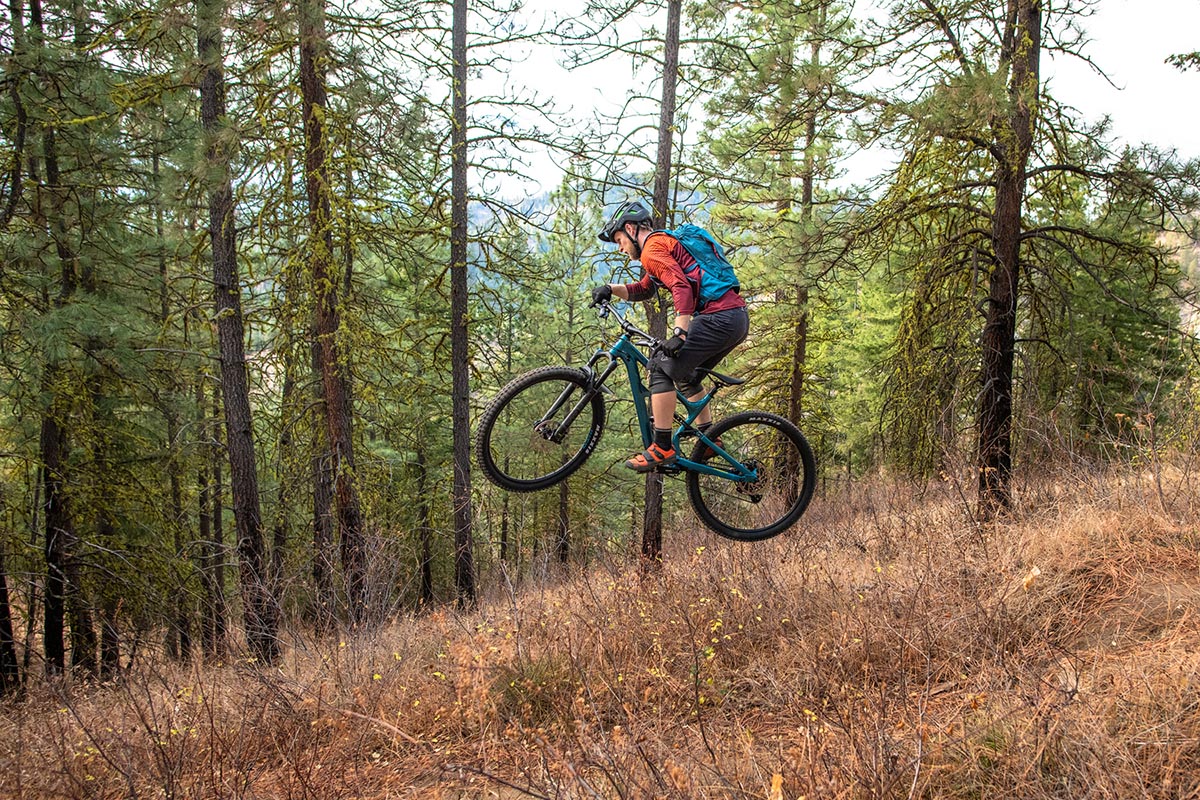 What We Like
The Habit is a solid all-around mountain bike that excels on a wide variety of trails and terrain.
The burly frame design and proven Horst Link suspension layout should stand up to years of abuse.
Despite its hefty weight, the Habit 4 is a very good technical climber.
The internal routing and general shape give it a very clean look. Arguably, it's one of Cannondale's best-ever full-suspension designs.
You won't find any proprietary components or funky spec choices, which is something that Cannondale has done in the past (for better and worse).

What We Don't
At 33.5 pounds, the bike is quite heavy given the relatively minimal amount of travel.
The rebound adjustment on the rear shock was almost maxed out. I can't help but think Cannondale and Fox need to re-work this aspect of the bike.
I found the lever reach adjustment on the Guide T's to be poorly executed and the brakes also lacked power.
The rims are on the narrow side and don't allow you to take full advantage of the high-volume front tire.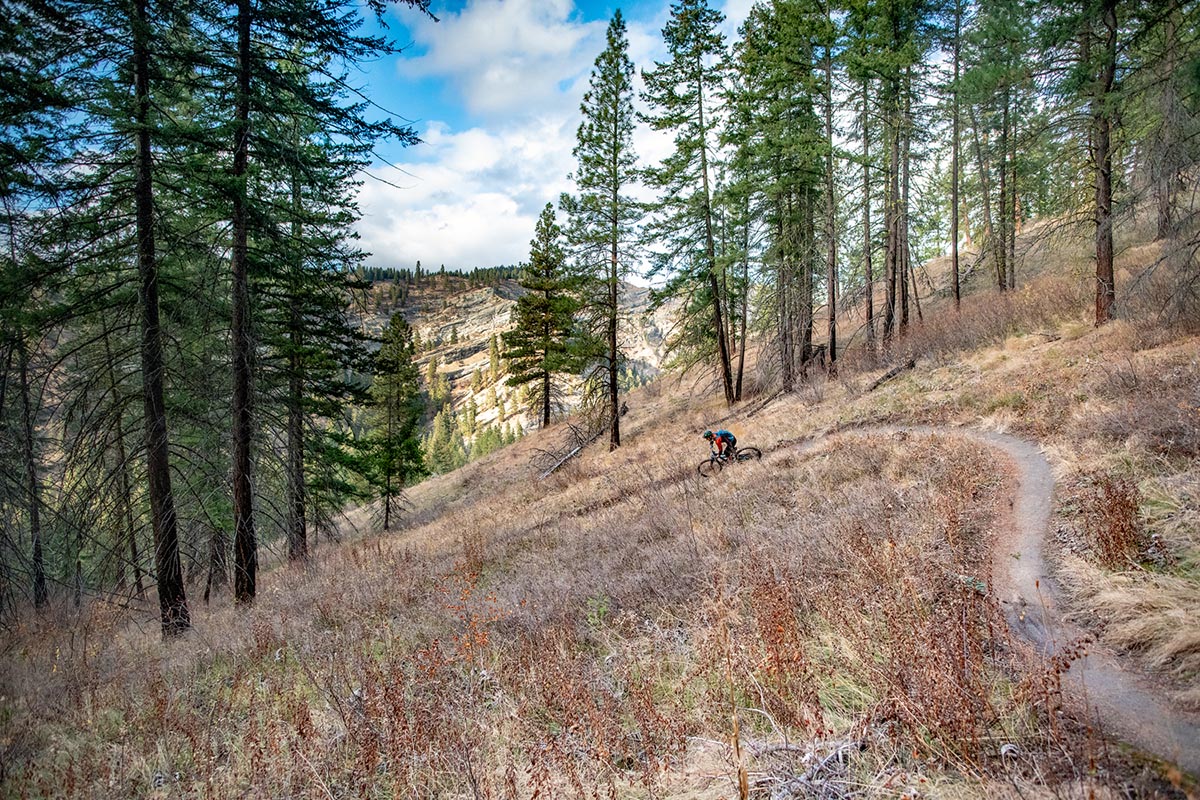 Comparison Table
| Bike | Price | Travel (F/R) | Tires | Drivetrain |
| --- | --- | --- | --- | --- |
| Cannondale Habit 4 | $3,150 | 130/130mm | 29 in. x 2.5 in. / 2.3 in. | SRAM NX Eagle, 12 speed |
| Stumpjumper ST Comp Alloy 29 | $3,020 | 130/120mm | 29 in. x 2.3 in. | Shimano Deore, 11 speed |
| Santa Cruz Hightower | $3,999 | 140/135mm | 29 in. x 2.3 in. | SRAM NX Eagle, 12 speed |
| Evil Bikes The Offering | $5,699 | 140/140mm | 29 in. x 2.3 in. | SRAM GX Eagle, 12 speed |
| Co-op Cycles DRT 3.2 | $2,799 | 140/130mm | 27.5 x 2.8 in. | SRAM NX Eagle, 12 speed |

The Competition
Compared to previous versions of the Habit, the new 2019 bike shares almost nothing in common. The old Habit was considered by most to be an aggressive XC bike with its 27.5 wheels, 68-degree head tube angle, and 120mm of travel. While the overall travel hasn't changed dramatically, it's clear that Cannondale put a bigger emphasis on the descent with its slacker geometry and burlier feel. We also applaud the much-needed refresh in terms of colors and graphics. Given the radical departure from the previous iterations, I'm actually surprised a new name was not given to this bike. That point aside, unless you're focused on the ups more than the downs, the 2019 Habit is better in just about every way.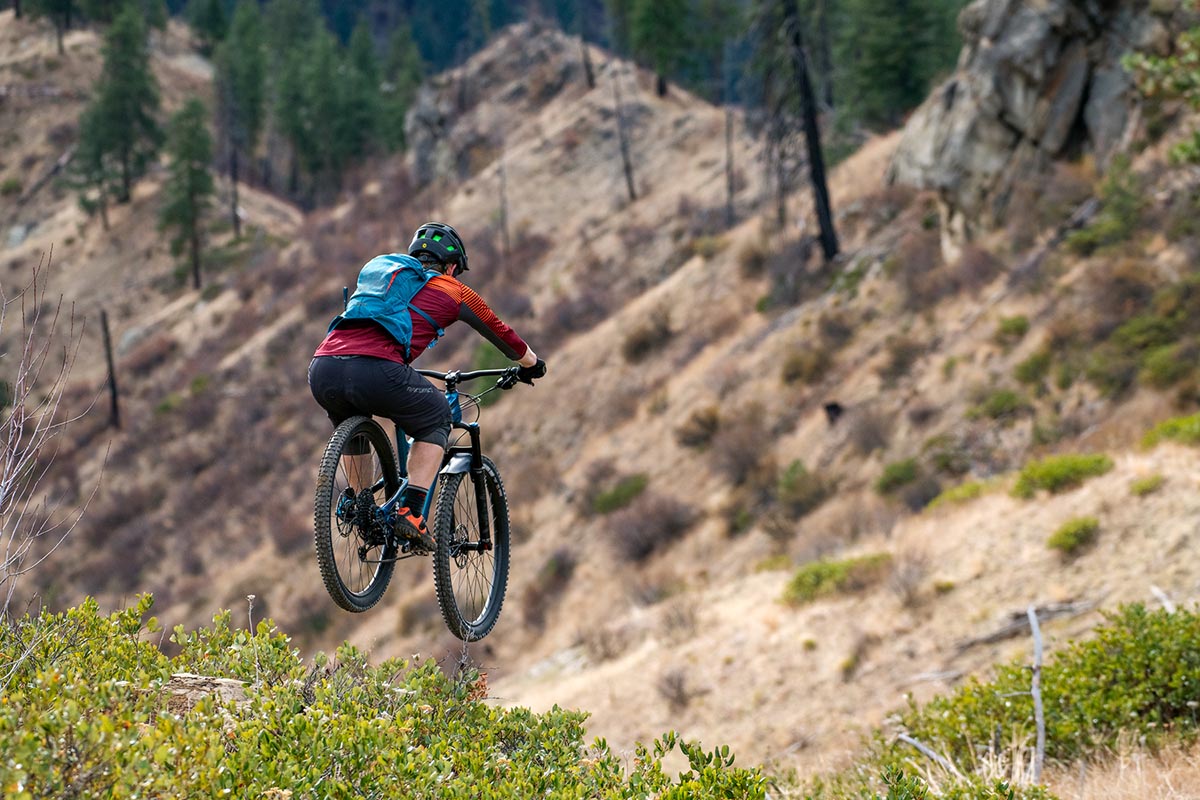 If Cannondale's Habit 4 has caught your eye, then there's a good chance the new Specialized Stumpjumper ST Comp Alloy 29 has as well. Rolling on 29-inch wheels, sporting similar amounts of travel (120mm rear and 130mm front), and coming in at $3,020, the new aluminum Stumpjumper is a worthy adversary. Both bikes are squarely aimed at the trail bike segment and feature the exact same Fox suspension components. So where do they differ? For starters, the Habit 4 features SRAM's NX Eagle 12-speed drivetrain, whereas the Stumpjumper is equipped with Shimano's 11-speed Deore system, which features a narrower range. The 66-degree head tube angle of the Habit is a bit more aggressive than the Stumpjumper's rather conservative 67.5 degrees, which illustrates the Habit's preference for descending. But the Stumpjumper ST is the superior climber (a very positive trait among short-travel bikes) and has a more lively feel in general.
I spent a little over a year on Santa Cruz's 135mm travel Hightower, logging about 1,500 miles in the process. While I'll admit that my 28-pound carbon Hightower isn't a great 1:1 comparison to the heavy aluminum Habit 4, they share a lot in common. Both bikes have similar amounts of travel (130mm for the Habit and 135mm for the Hightower), their geometry is quite comparable, and both roll on 29-inch wheels. Given the Hightower's significantly lower weight, it should be no surprise the Santa Cruz is the faster climber. Having said that, the Habit is more capable when pedaling up a root-infested trail. For the descents, the Hightower gets the edge, especially in steep and difficult terrain. In the end, we prefer the Santa Cruz, although the entry-level "R" edition costs a hearty $850 more than the Habit 4 and includes similar components (but it does have a carbon frame).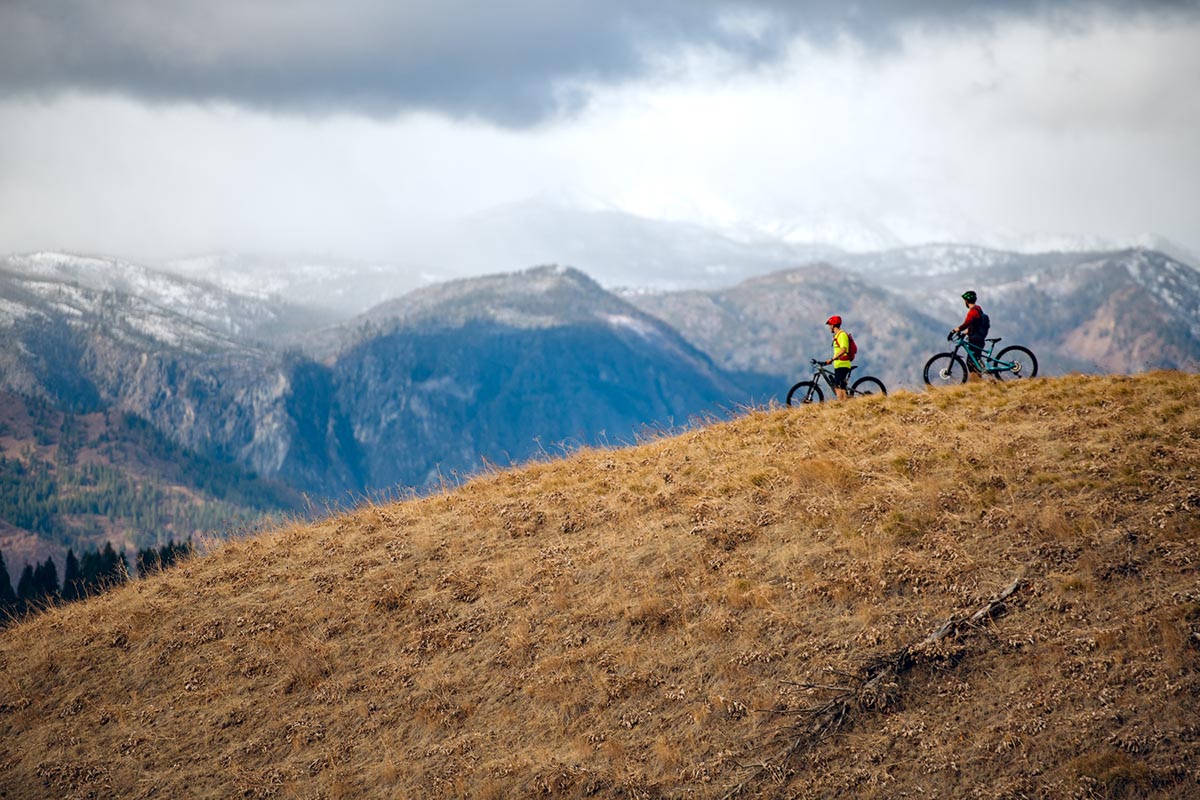 Evil Bikes may not be a household name like Specialized or Santa Cruz, but they've developed a reputation for producing fun bikes with a focus on descending. Their new 29-inch The Offering resembles the Habit with 140mm of travel front and rear and a 66-degree head tube angle. But The Offering has a more progressive 76-degree seat tube angle (the Habit is 74.5 degrees), which puts you in a better position for steep and sustained climbs. Further, the reach on a size medium Offering (462mm) is significantly longer than the Habit's (430mm), and this allows you to run a shorter stem for increased downhill stability. Unfortunately, there are currently no aluminum-framed versions of The Offering. And even the "entry-level" model is about $450 more than the similarly-equipped Habit 2. As with the comparison to the Hightower above, from a value perspective, the Habit has a lot going for it.
Editor's note: We usually provide a live price comparison table below our outdoor gear reviews, but at the time of publishing the Cannondale Habit 4 is only available nationwide at REI Co-op (for in-store pick up). You can see the Habit 4 page here and support us in the process. Thanks!
Read More From Switchback Travel