Santa Cruz Bronson Carbon S
Price: $5,199
Suspension: 160mm (front), 150mm (rear)
Tires: 27.5 x 2.5 in. (front), 2.4 in. (rear)
Gears: 1 x 12
What we like: Quality carbon frame and excellent rear suspension excel on rough and steep trails.
What we don't: Pricey relative to the quality of the components.
See the Santa Cruz Bronson  See the Women's Juliana Roubion
Santa Cruz is known for making some of the best bikes in the industry, and their attention to detail and quality of craftsmanship are second to none. The Bronson line made its debut all the way back in 2013, and once again Santa Cruz has set its sights high and released the third iteration of the bike for 2019. We took the new Bronson Carbon C with the "S" build out for extended testing in the Pacific Northwest and came away extremely impressed with its updated suspension on technical descents, comfortable climbing position, and well-thought-out component choices. Below we break down the 2019 Bronson's descending and climbing performance, key features, components and specs, and other versions in the line. To see how it stacks up, see our article on the best mountain bikes.
 
Descending
Let's cut straight to the chase: Santa Cruz's new Bronson is an absolute weapon on the descents. The bike effortlessly carves its way through berms, will happily air off big jumps, and begs to be tossed around through the rough and loose stuff. I've spent a lot of time on Santa Cruz bikes over the years, actually owning the first and second generations of the Bronson, and have become very familiar with how they ride. Given my history with the brand and bikes, I feel quite qualified to comment on this latest version. So, when I say the 2019 Bronson is an extremely impressive descender, I really mean it.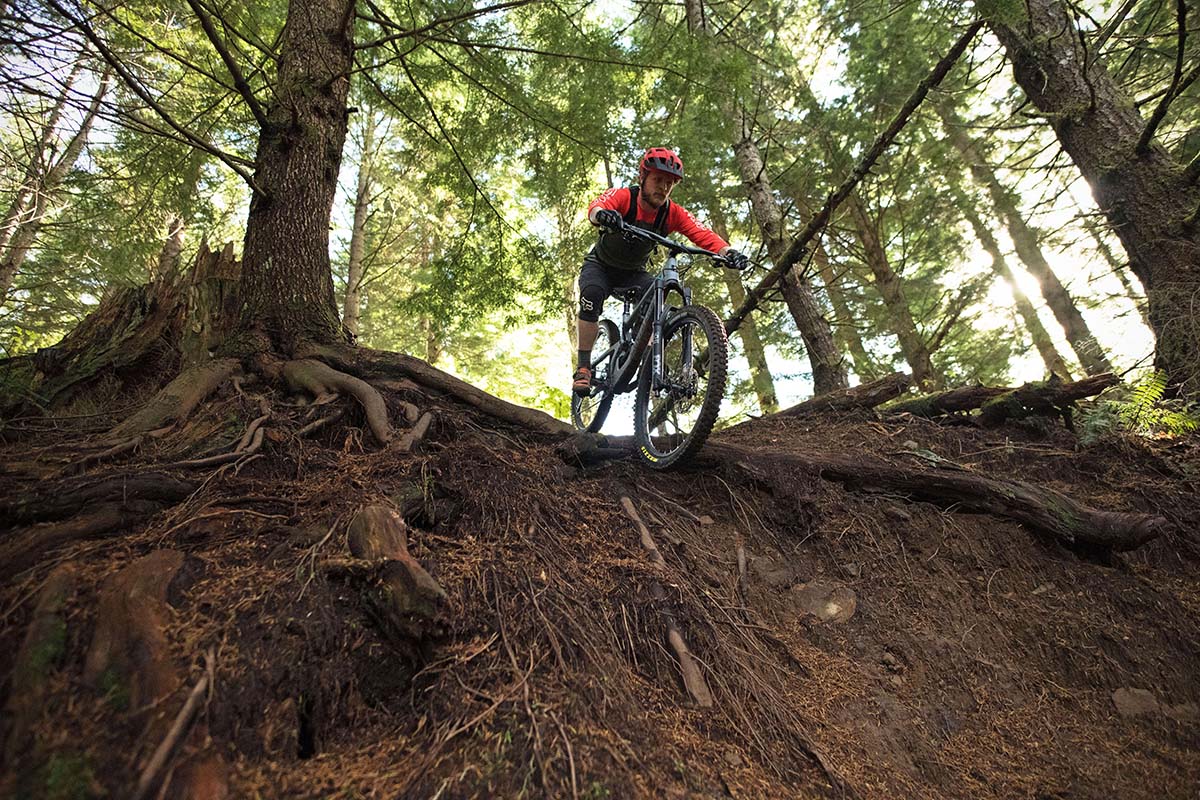 The Bronson really shines on steep and technical trails, and the new rear suspension design makes for one of the better riding bikes I've been on in a long time. On one of my go-to routes  there's a rock slab that's about 40-feet long, pretty chunky, and ends with a sweeping left-hand turn that you can't afford to miss. Needless to say, it can be tricky to nail, especially when it's wet. During my second ride on the Bronson, I cautiously rolled up to the top of the wet slab, and as I peered down the face, didn't really know what to expect. The new bike was far from being dialed in, but I was (fairly) confident in my ability to make it down unscathed. I nosed over the roll in, let off the brakes, and went for it. What had been a fairly jarring experience on my Hightower LT turned into a surprisingly smooth ride (not magic carpet ride smooth, but pretty darn close). All in all, I was very impressed with how the bike maintained its composure down the big trail feature.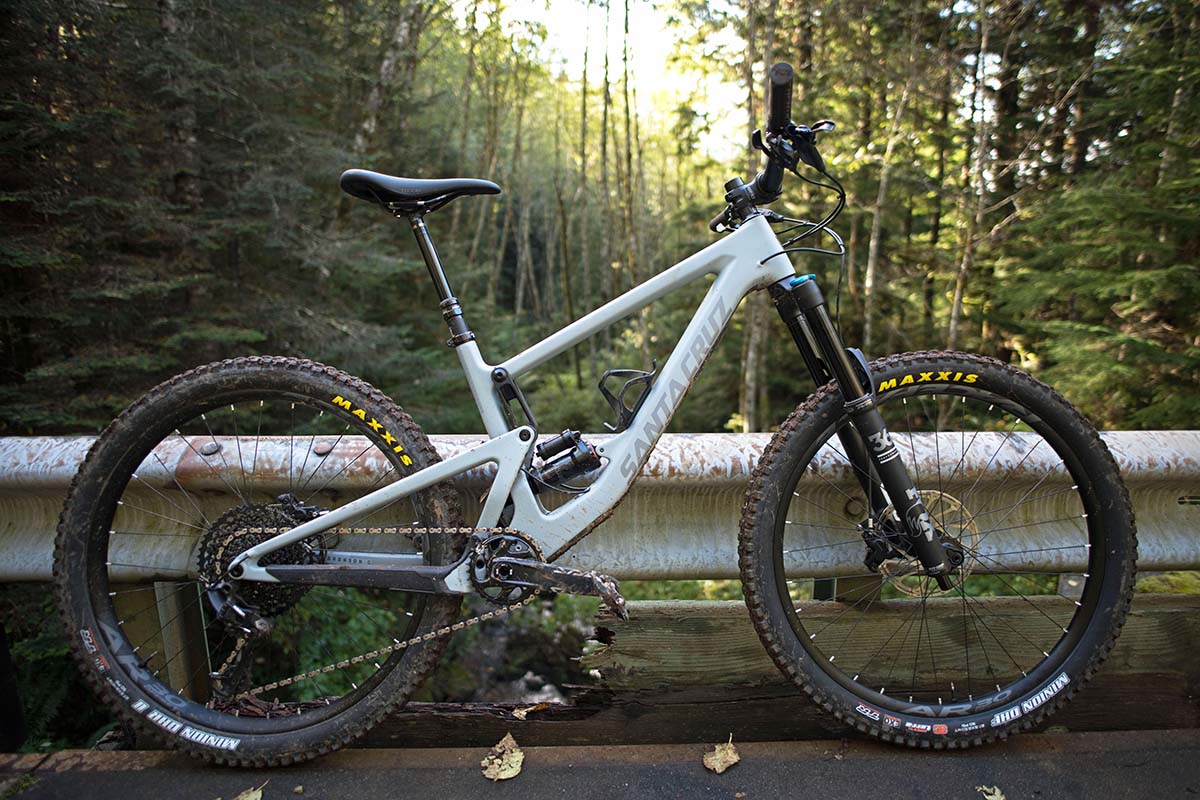 While the Bronson is certainly in its element on rough and natural sections, I found it to be equally enjoyable on jump lines and flow trails. Despite it being a relatively long travel shredder (160mm front/150mm rear) with a slack head tube angle (65.4 degrees), the bike was pretty responsive to quick accelerations and general rider input. Make no mistake, it's certainly no short-travel trail bike like the 5010, but it will happily pop off obstacles and is a joy to get airborne with. I took it on 20-foot step down jumps with grace and never missed a beat—the only thing holding this bike back is the rider. Furthermore, the new Santa Cruz is a pure treat through turns and berms: it simply loves to be laid over on its side. While we tested the non-plus version of the bike, we can only imagine how much fun (and grip) the meaty 2.6-inch Maxxis rubber would generate.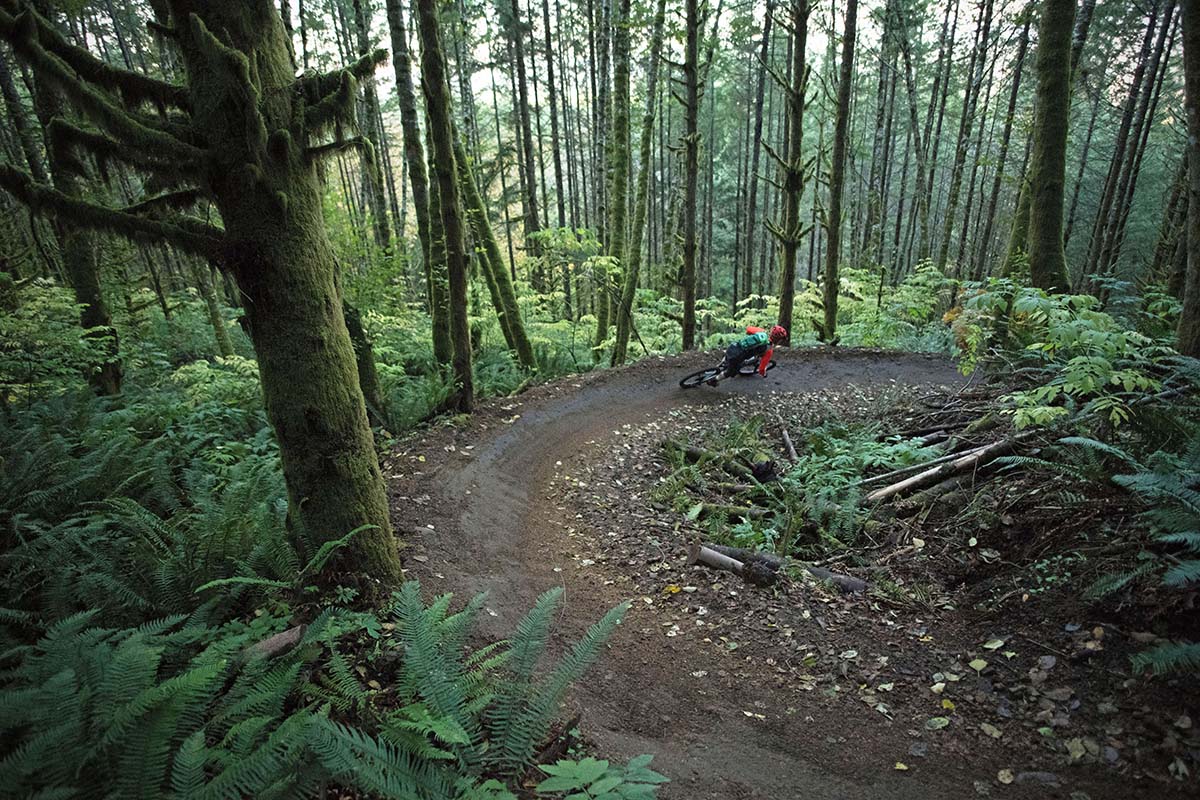 Compared to past versions of the Bronson, which I always felt were more like long-legged trail bikes, the latest iteration is finally the all-mountain shredder they were made out to be. This is largely due to Santa Cruz's decision to use its updated VPP suspension platform (borrowed from the latest Nomad and V10) where the lower link drives the shock. This translates to a rear end that is exceptionally supple off the top, much more so than any Santa Cruz bike I've ridden in the past. Plus, you get excellent mid-stroke support, which wasn't the case with older versions. On the trail, this translates to a rear wheel that is able to track the ground through chunder better than most other bikes I've ridden and was immediately noticeable from the get-go. As the conditions turned from tacky fall singletrack to rooty slippery war zones in October, this became even more apparent.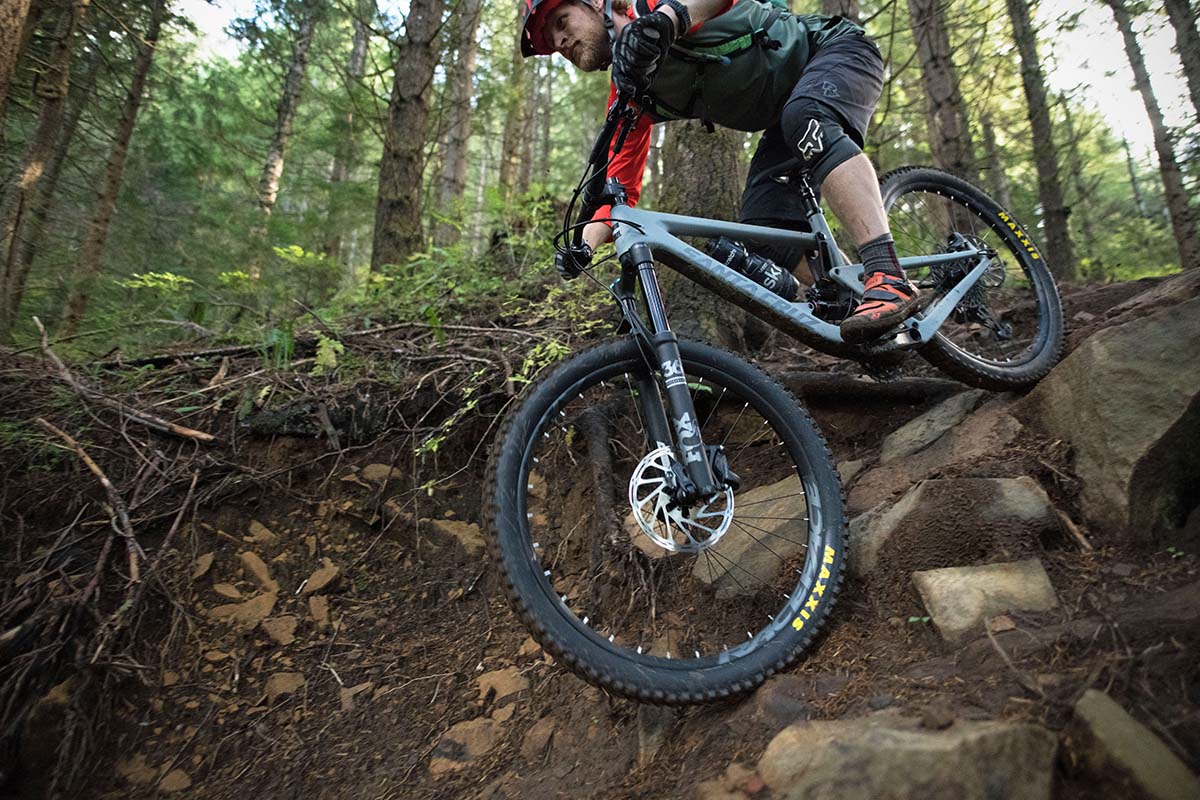 Over the last couple of years, I've spent most of my time on 29ers, so I was curious to see how the 2019 Bronson and its 27.5-inch wheels would do with big holes in the trail and carrying speed in general. In practice, I found myself getting hung up a little more often on some of the rougher trails, which required a bit more effort on my part to keep things rolling. What did surprise me, however, was that my overall trail time remained about the same, albeit just a tad bit slower (according to Strava anyway). I actually came to appreciate the quick side to side movements and the agility that the smaller wheels afforded. Sam Hill and Martin Maes seem to be doing just fine with 27.5-inch wheeled bikes, so maybe I shouldn't be surprised by their capabilities.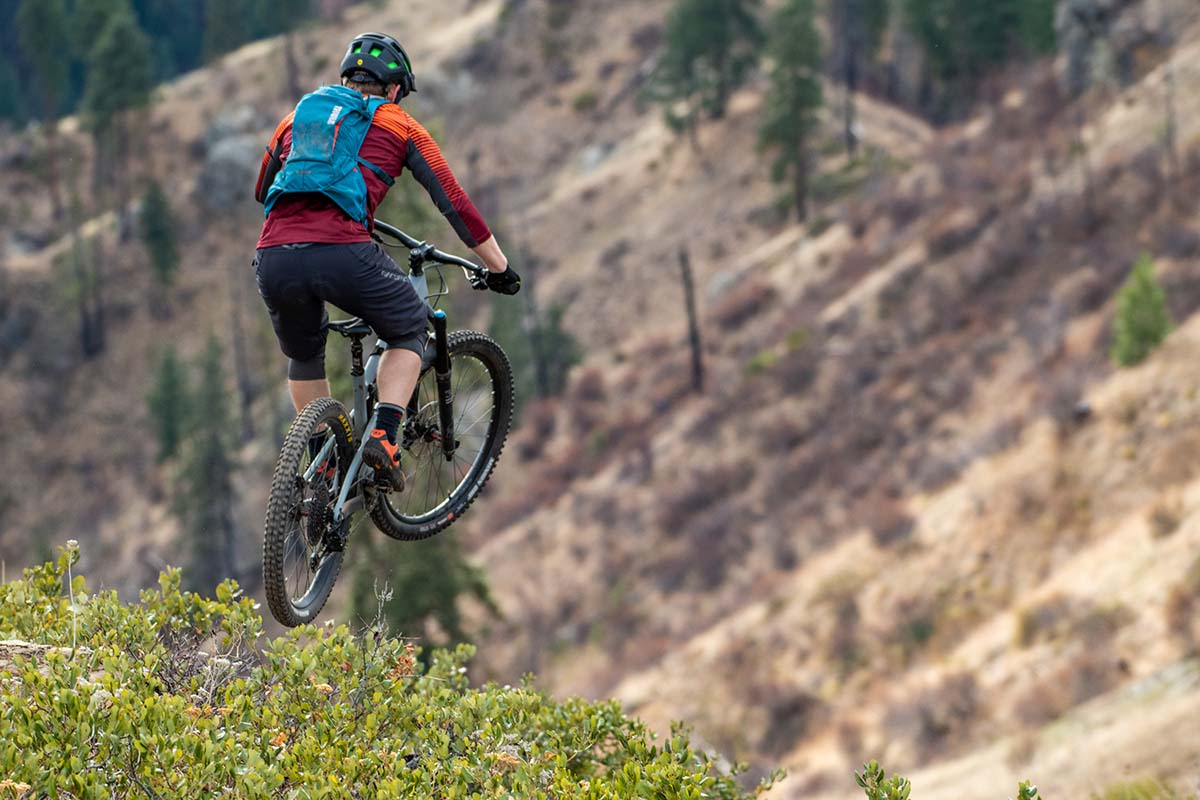 Climbing
Someone once said, "every great descent starts with a soul-sucking climb," or maybe that's just the phrase I hear inside my head each time I go out for a ride these days. Either way, unless you're riding lifts all day, you need to go up to come down. To say that climbing on the 2019 Bronson is pure joy would be inaccurate: 2.4/2.5 Maxxis Minion tires, 30mm inner width rims, and 160/150mm of travel is not the perfect formula for going uphill. The good news is that the Bronson is more than adequate to get you to the top of your next trail, and it won't make you want to strap a motor to your bike to get there.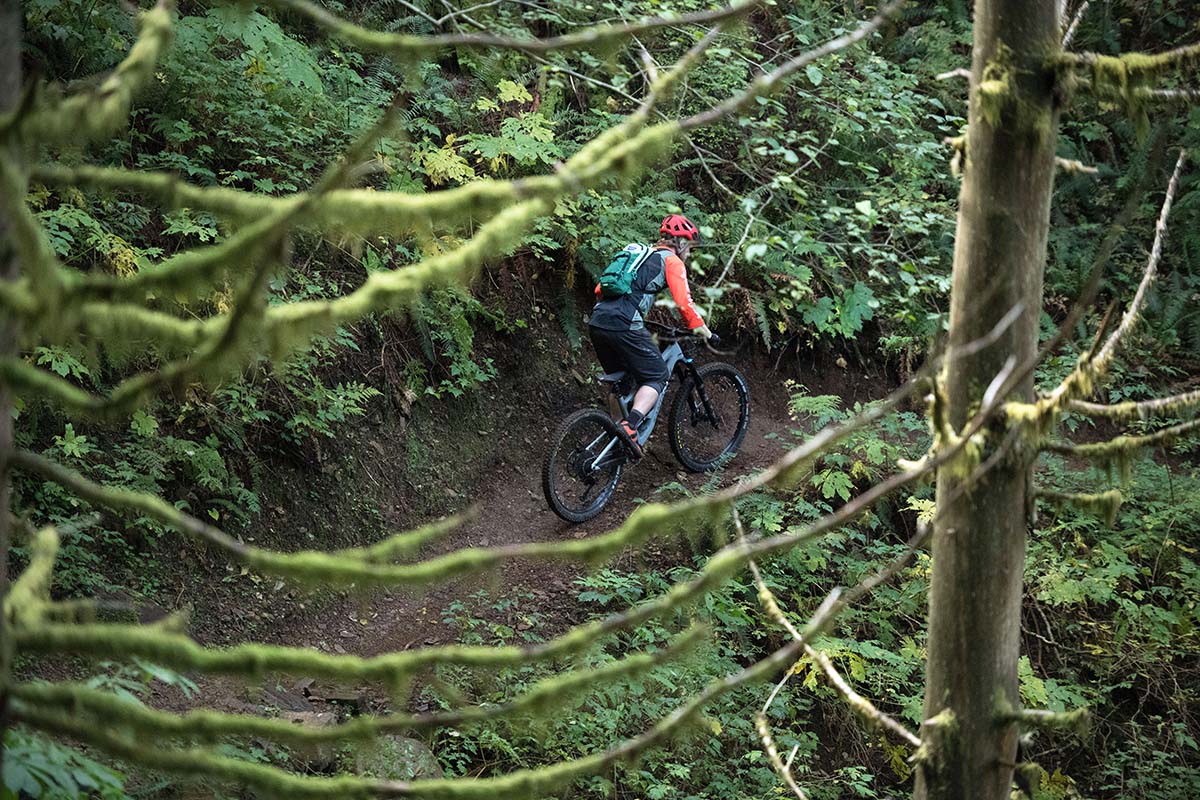 Most of the climbing around the Seattle area where I live involves 2 to 5 miles of smooth-ish forest service roads or double track. In my opinion, how a bike climbs simply comes down to wheel and tire weight, as well as riding position. Given the hefty tires and wheels on the Bronson, don't expect to be crushing climbs. However, the riding position is pretty darn nice and the relatively steep seat tube angle (75 degrees) puts you in a comfortable position for one to two slogs. You won't be stealing any KOM's on the way up, but at least you'll be comfortable.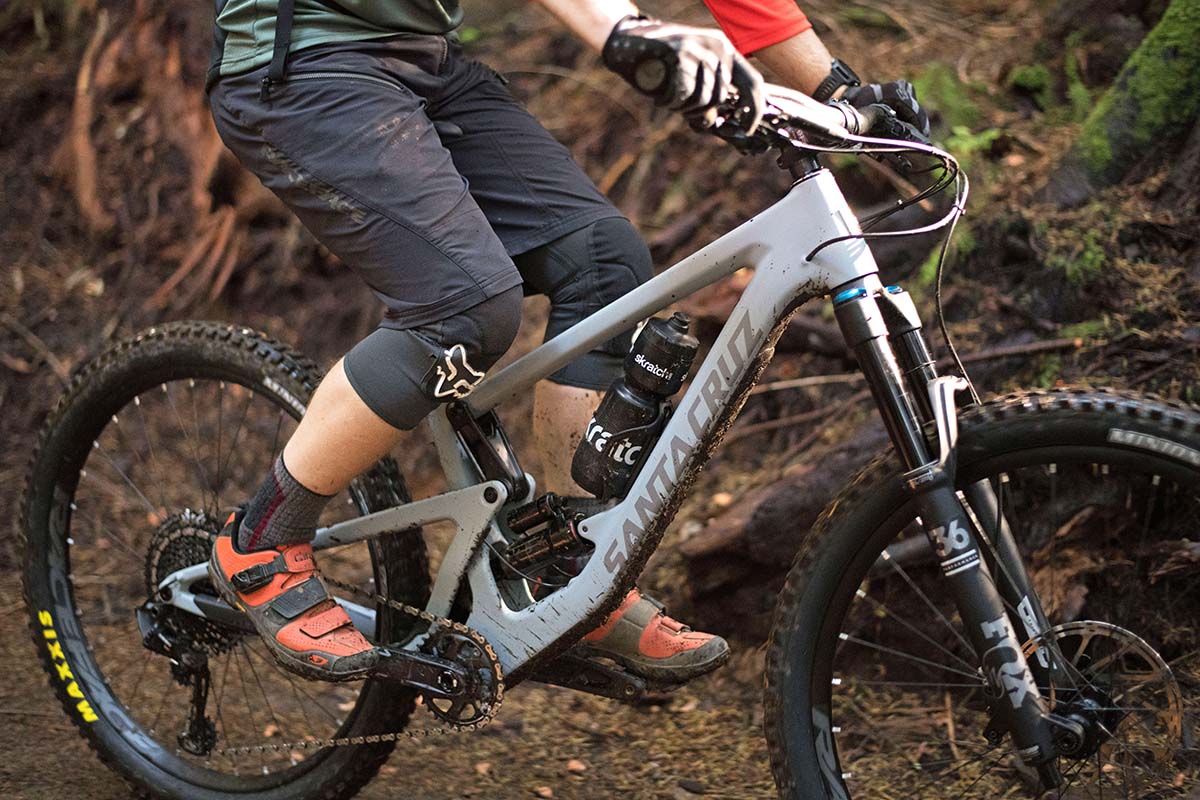 There is a certain section of fire road on one of my local loops that really puts you in the pain cave. It averages 18% for about 5 minutes. It was here that I really noticed and appreciated the slightly steeper seat tube angle compared to the Hightower LT that I've recently spent a lot of time on. Not only did it put me in a better position over the pedals, it also helped keep the front wheel on the ground, a positive trait that I also noticed on steep switchback climbs.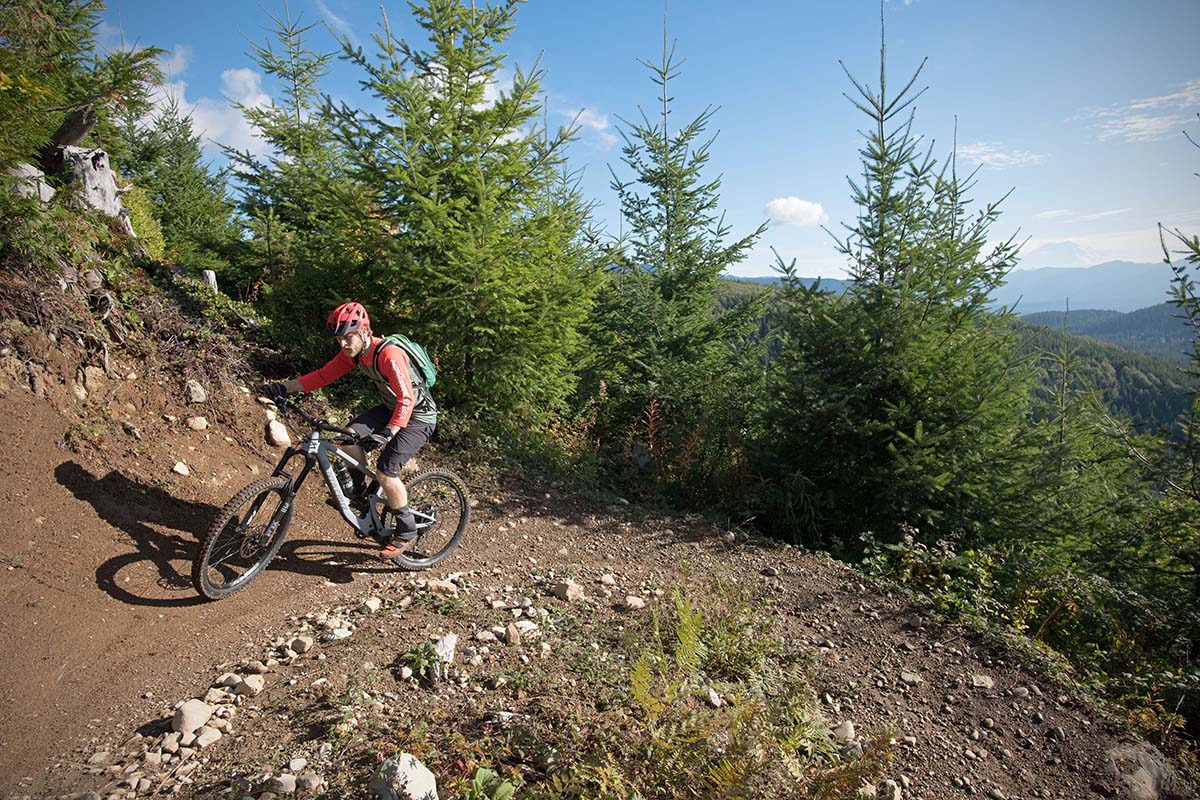 Remember how I talked above about the suspension being exceptionally supple at the beginning of the stroke but still supportive as you move through the travel? Well, this happens to pay dividends on technical climbs as well. On past versions of the Santa Cruz Bronson, and most VPP bikes in general, technical climbing traction was never their strong suit. I always felt that there was a fair bit of pedal kickback and the rear wheel didn't track the rough trail very well. You do lose some of the snappiness that other Santa Cruz VPP bikes are known for with this new design, but it provides exponentially more traction, and not just going down. 
One of my local multi-use trails has a short rocky climb on an otherwise smooth trail, and I've stalled and slipped through this section more times than I'd like to admit. It looks so simple, but someone who clearly hates bikes put some real effort into making it miserable for two-wheel fanatics. But the Bronson handled it like a champ. I downshifted to a low gear and simply spun my way up, and there was very little fuss as the rear wheel tracked the wet rocks without issue. All things considered, I think the Bronson would be a great bike for someone whose local trails include a lot of technical climbing. During my time on the bike, there were a handful of standout moments where I was really impressed, and that simple little climb proved to be one of them.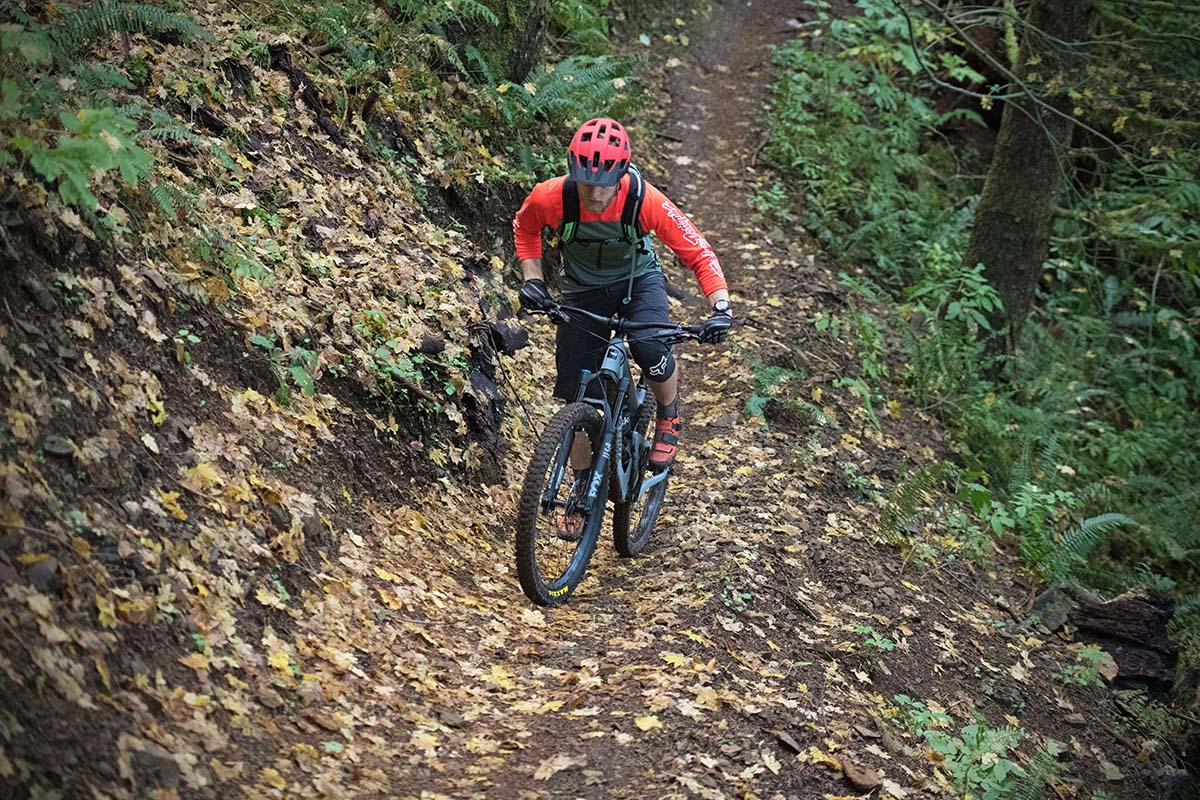 General Riding
I'm a big fan of the newish crop of short travel, yet aggressive, trail bikes (I'm talking about that 120 to 140mm-ish travel category here). I think they're a riot to rip around on, and if we're honest with ourselves, are perfectly suited for about 80 percent of the trails that most people ride. With that in mind, the Santa Cruz Bronson probably wouldn't be my first choice for tame, mellow, or XC style rides. There's no way around the fact that this bike is built with descending in mind, much more so than its predecessors. I think you would be doing the Bronson a disservice if you bought it purely for smooth singletrack riding.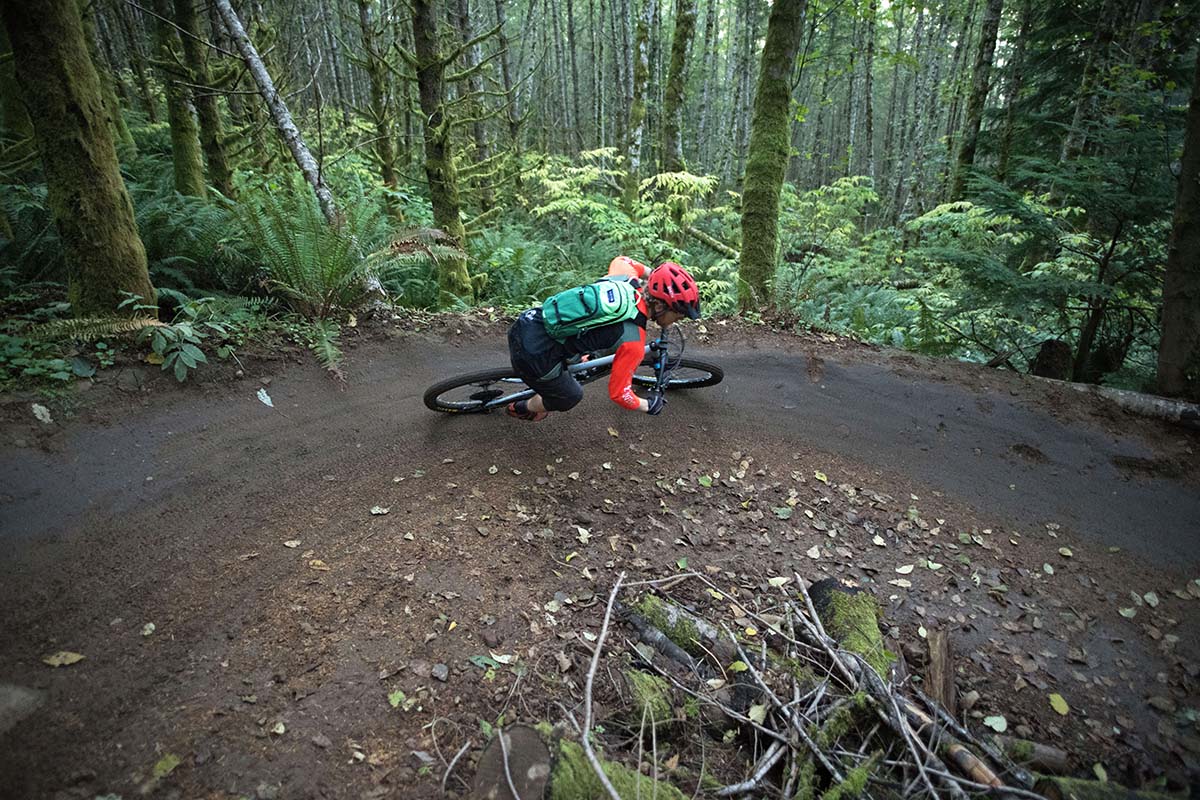 With that said, the Bronson is no slouch. Should your trails warrant it, it can make a great one-bike quiver so long as you appreciate the downhill more than the up. The bike pedals quite well and I'd happily sit and spin on it all day long, which I have. I've done a handful of 4,000 to 5,000-foot days on the Bronson so far, and while not the peppiest bike I've ever ridden, it happily chugs along for hours on end. I find it quick to change directions, it's easy to snap through corners, pumping and manualing down flow trails is a joy, and it doesn't mind plowing through rough stuff one bit. The more you let go of the brakes, the more you realize how capable this new bike from Santa Cruz really is.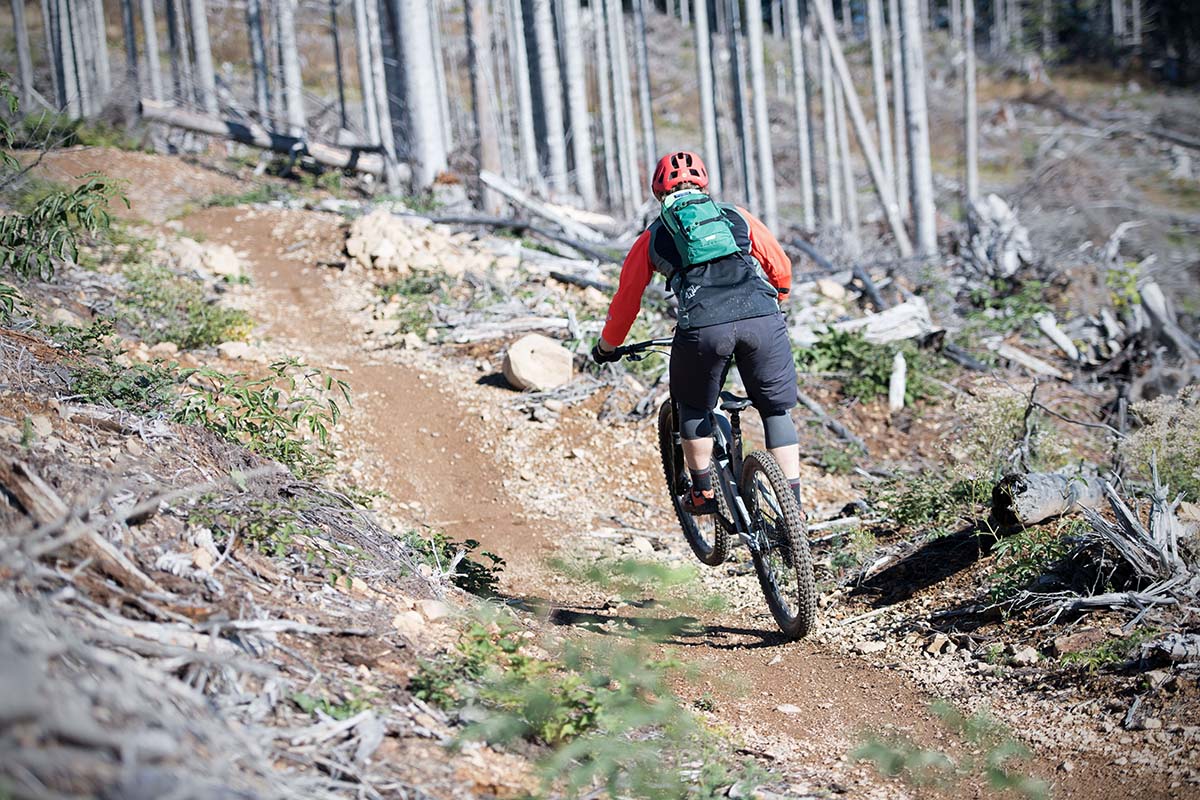 Key Features
Frame
As with every Santa Cruz bike I've owned, the build quality and attention to detail on the 2019 Bronson are extremely impressive. The carbon frame is a work of art in my eyes (I know, I have some issues) and if it wasn't so darn fun to ride, I'd proudly hang it above my fireplace for all to see. Some of the more thoughtful features include tubes that the internally-routed brake and derailleur lines pass through for "easy" installation, a removable downtube protector for shuttle days (it protects the frame from getting pillaged by tailgates), and a rear shock mudguard to deflect trail debris.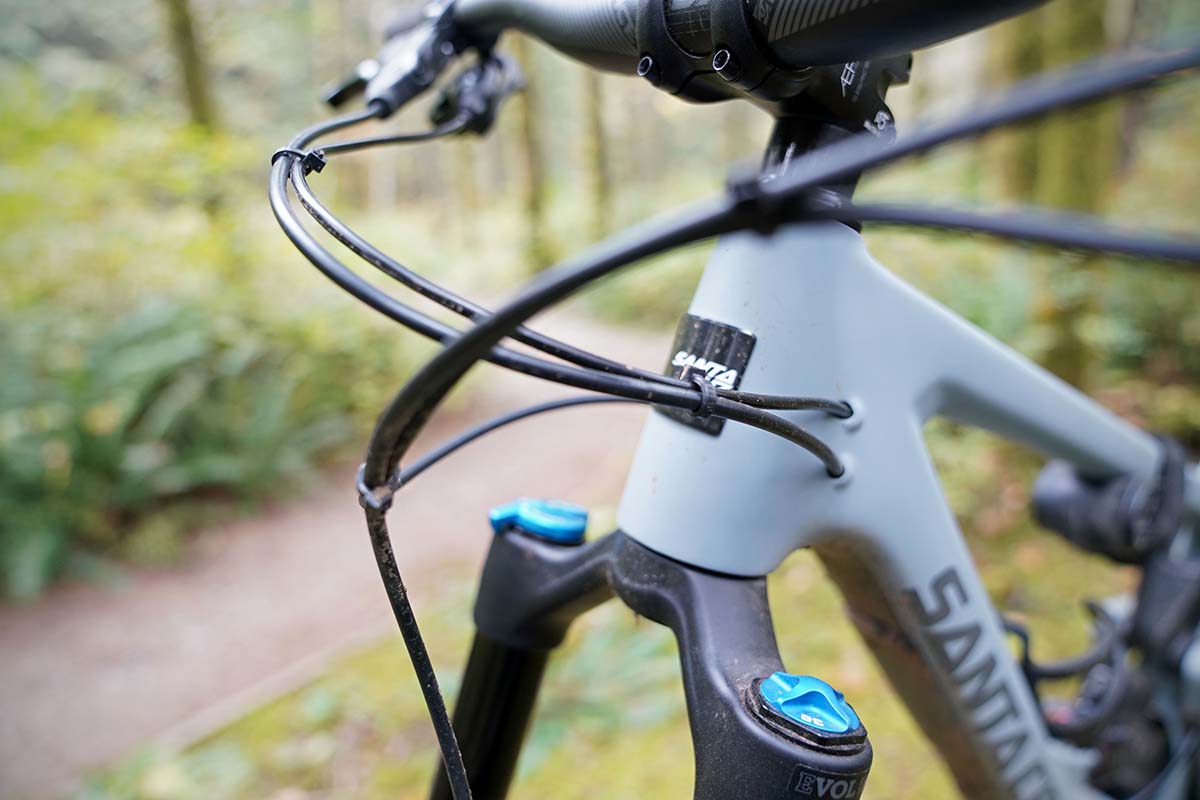 One particular feature that has become popular for Santa Cruz in recent years is a flip chip, which is located at the end of the shock. Most notably, it changes the bike's head tube and seat tube angles, as well as the bottom bracket height. Beyond slightly tweaking the geometry, moving the chip from high to low position, or vice versa, is used to compensate for changing tire sizes from regular to plus sizes. Speaking of wide tires, the Bronson is able to fit up to 27.5" x 2.8" tires should you choose to go that route.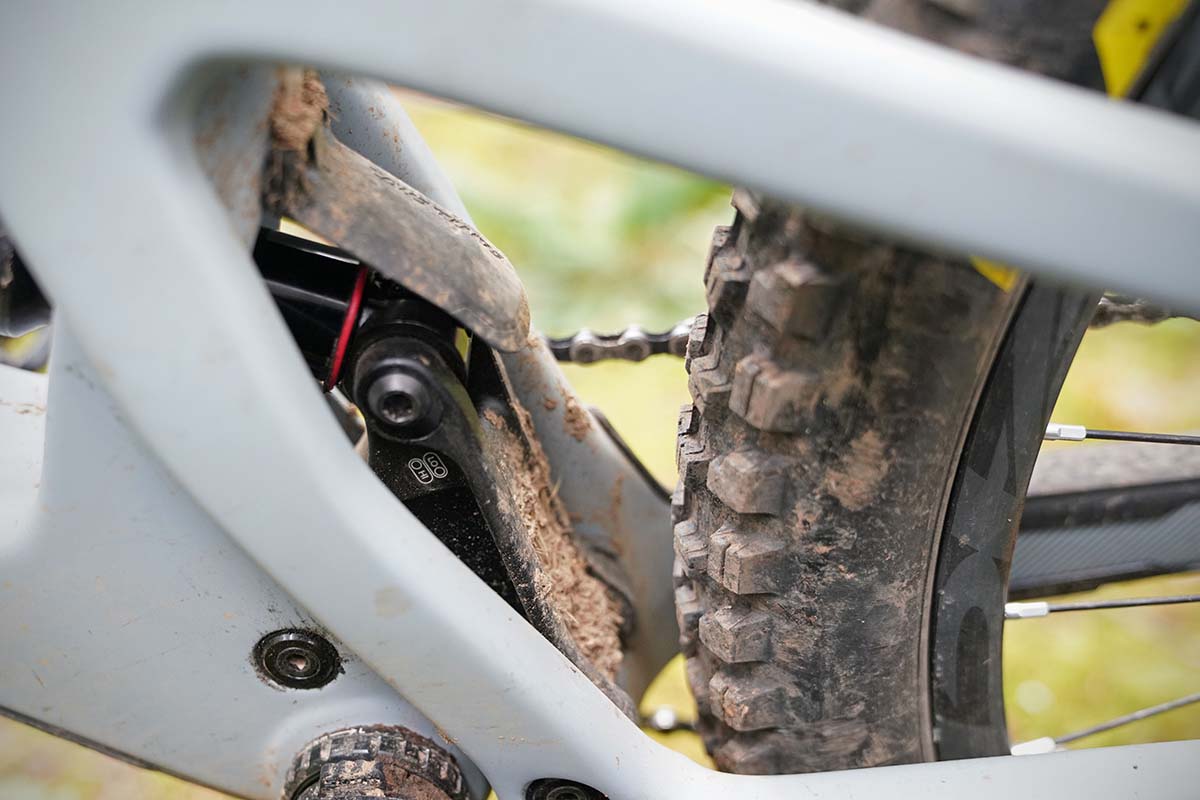 There is one more trick up the Bronson's sleeve: it now can accommodate a full-size water bottle. Long ago, I shunned my full backpack in favor of the more stylish bum bag that you often see clinging to people's rear ends as they bounce down the trail. The one problem with ditching the backpack is that your water supply is limited to the size of the bottle you can fit on your bike, which has been 21 ounces for me for a long time. Not anymore! I can fit a 26-ounce bottle on the Bronson's medium size frame with ease, and it has not been ejected yet. Five extra ounces might not sound like much, but that often translates to another 20 to 30 minutes of trail time on hot summer days.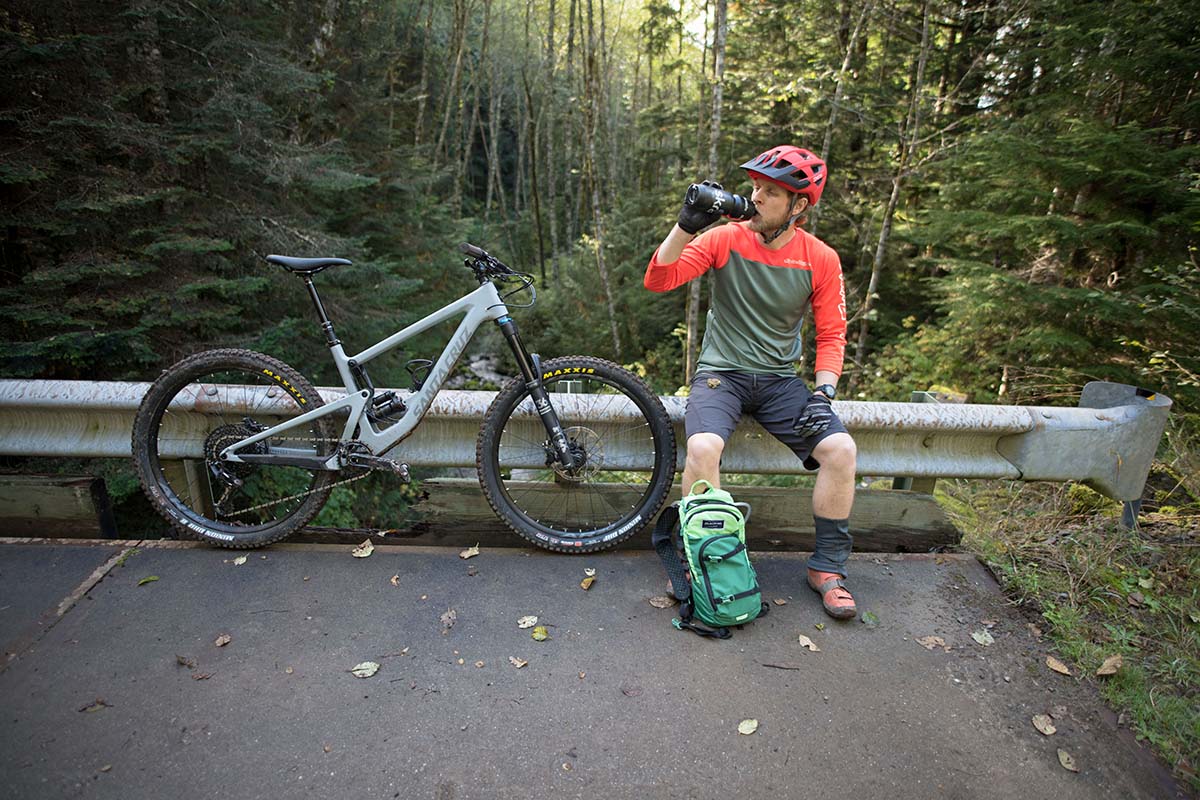 Geometry
I've never felt that Santa Cruz pushes the envelope with reach numbers or head tube angles, and they generally seem happy to sit in the middle of industry trends. The Bronson's geometry is no different and about what you'd expect from a new bike with 160/150mm of travel. A couple of years ago, the 65.4-degree head tube angle (in the high position) probably would have been seen as somewhat extreme, but it now falls right in line with the current market. If 65 degrees sounds way too slack, then I'm guessing you haven't ridden a new bike recently, and I never felt like the Bronson was floppy on slow-speed climbs or too long on tight switchbacks.
Coming in at 75.3 degrees, the Bronson's seat tube angle is one of the steepest in the Santa Cruz line-up and puts you in a comfortable climbing position. As stated above, I particularly enjoyed this on some of the steeper climbs in the foothills of the Cascades as I was able to weight the front wheel very easily, which resulted in almost zero wandering, something that was more of a challenge on bikes like the Hightower LT.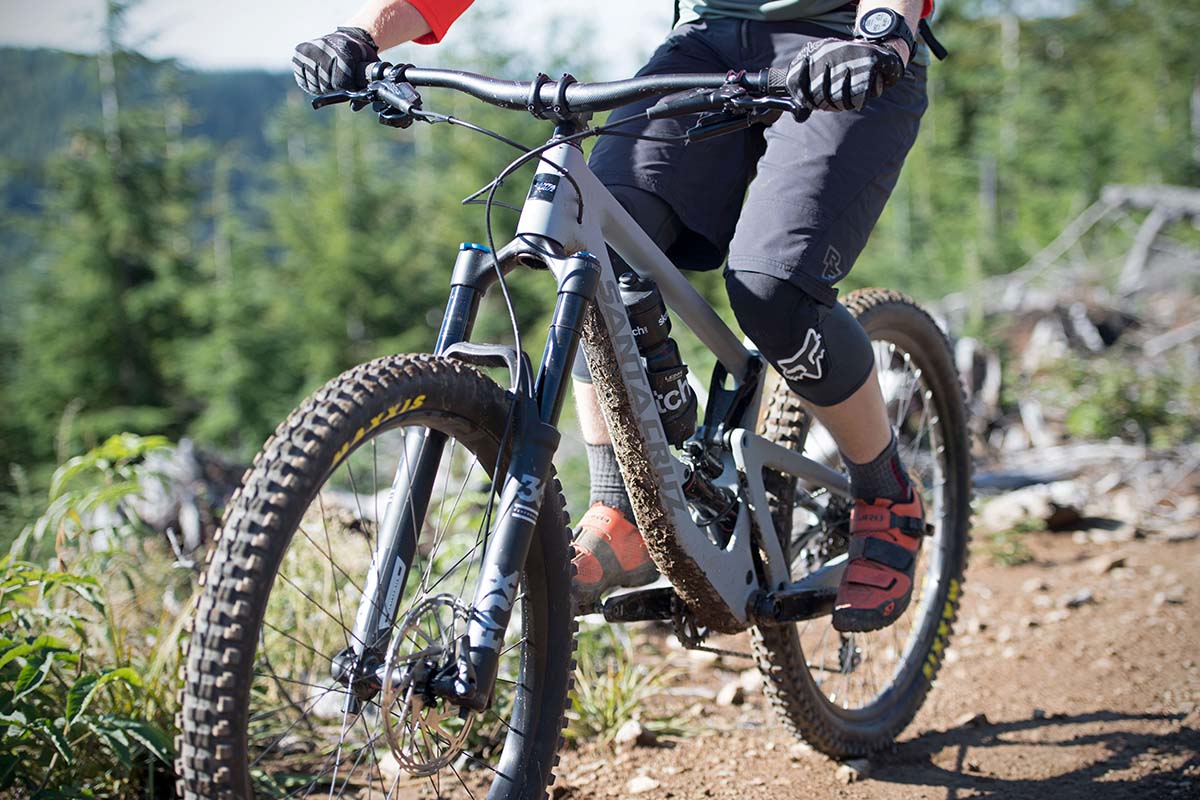 In addition, the reach of the Bronson in a size medium is just about what you'd expect from a frame these days, coming in at 436 millimeters. This number is right in line with other popular bikes like the new Specialized Stumpjumper, although it may seem on the short side if you're comparing it to a bike like the Transition Patrol, which has a reach of 450 millimeters. All in all, the Bronson's geometry is a big step forward from previous versions and pays dividends on the trail.

Components and Specs
SRAM Eagle GX Drivetrain
I've been using SRAM's Eagle drivetrain on various bikes for a while now, but this was my first time using the GX range (all my previous time was spent on the X01 range). I have to say, I'm pretty darn impressed with the less expensive GX group. There were a few discernable differences, but I'm not sure the X01 is worth the extra cost at this point. The rear cassette on the GX is heavy—there's no way around that—and it was fairly noticeable from the get-go, especially when accelerating from slow speeds. One other small thing that I didn't like about the GX drivetrain was the location of the thumb paddle on the shifter—the X01 version is adjustable and I've gotten used to its specific location. But these complaints are pretty minimal about an otherwise solid drivetrain that I've had basically no issues with thus far.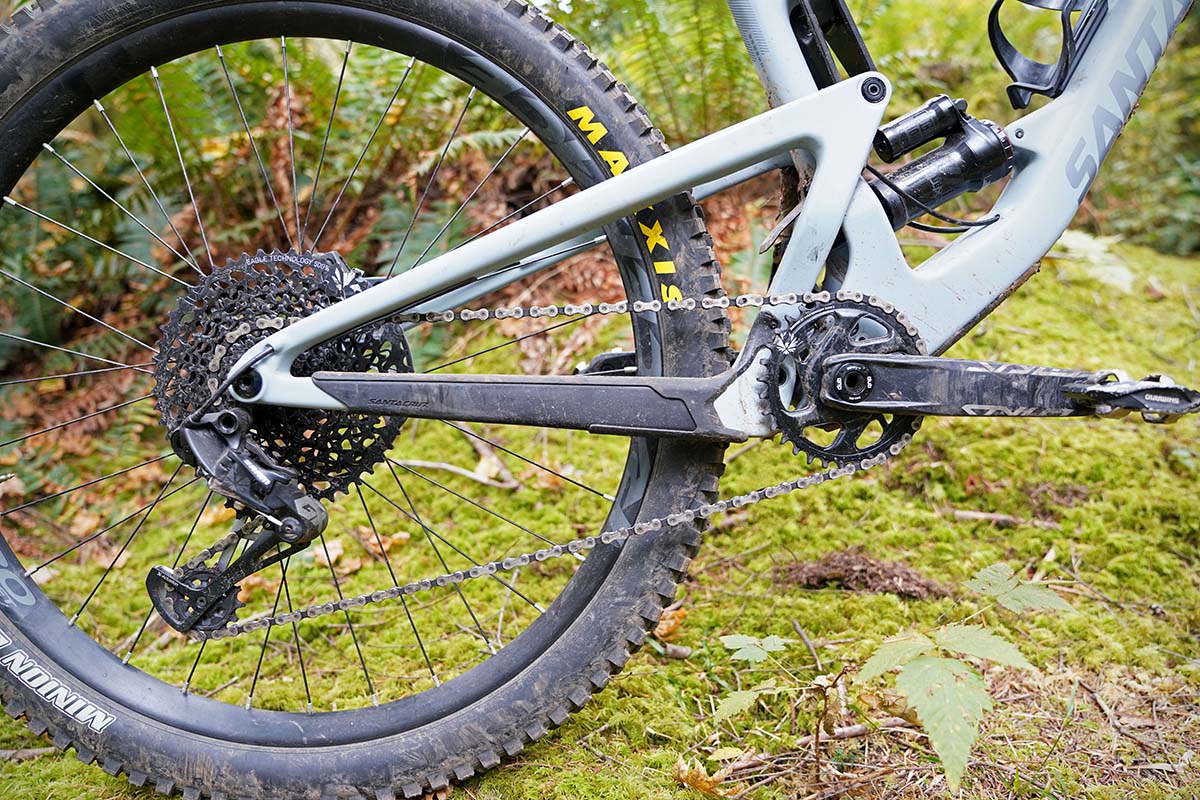 Fox 36 Float Performance Fork
I've been on a RockShox Lyrik for the last couple of years and was excited to give the Fox 36 a go to see how they compare. Both the Lyrik and 36 are pretty darn supple off the top, and both require minimal force to get them moving. I think the 36 has better mid-stroke support and I often felt as though I was riding higher in its travel. With that said, I found it to be just a tad harsher while in the middle of the travel. My hands seemed to confirm this by being slightly sore after multiple long rough downhill trails, something that hadn't happened all summer on the Lyrik. With that said, Fox's 36 is a high-performing fork and I'd happily throw it on the front of my personal bike.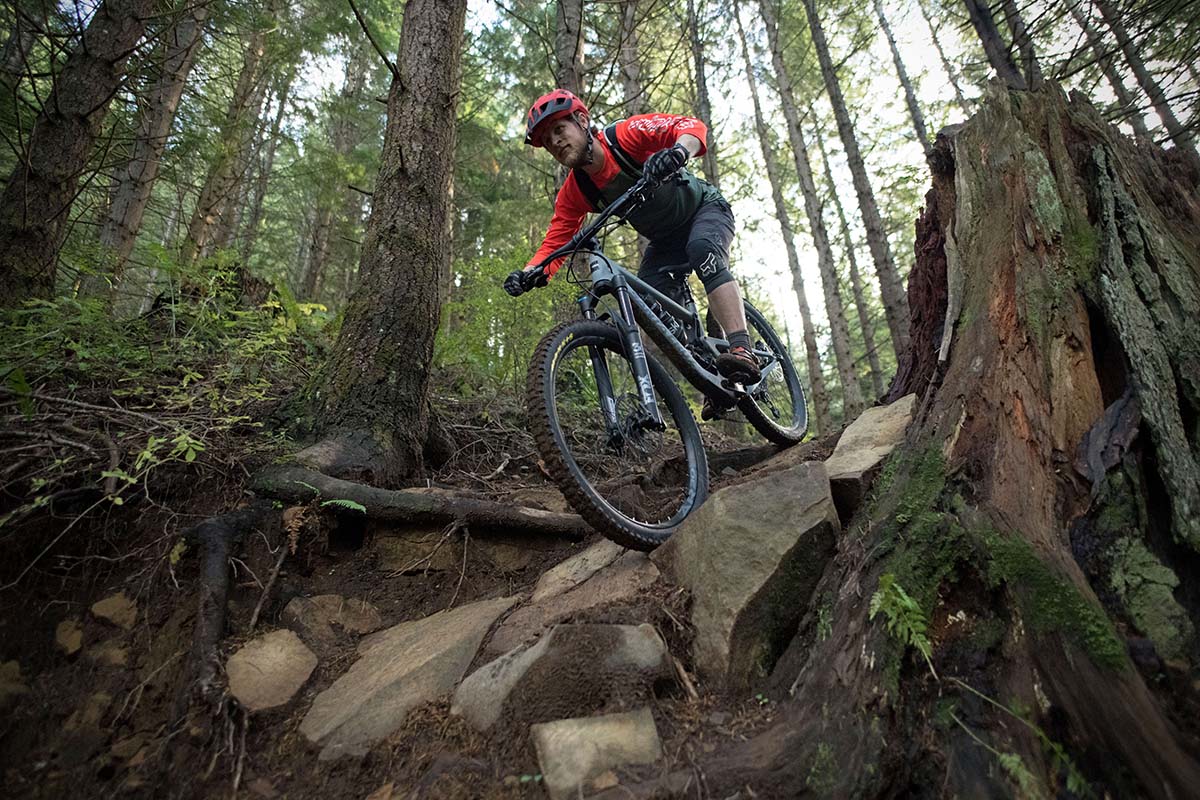 SRAM Code R Brakes
In my opinion, the SRAM Code R are some of the best brakes on the market right now. I have long been a fan of Shimano but kept having issues with them last year, so I took the plunge and made the move to SRAM. I've been on Codes ever since and don't plan on switching anytime soon. They're not the lightest brakes by any means, but if your main goal is all-out stopping power (while also maintaining decent modulation), then these are what you want on your bike. On my personal bike I run the Code RSC's with the pad contact adjustment feature—and I did miss that a bit—but the R's are every bit as good in all other ways. One performance downside about the Codes, regardless of model, is that they come with organic pads. When I squeeze my brakes, I want to stop as quickly as possible and with as little effort as possible. If that's your goal, you can swap these out for metallic pads.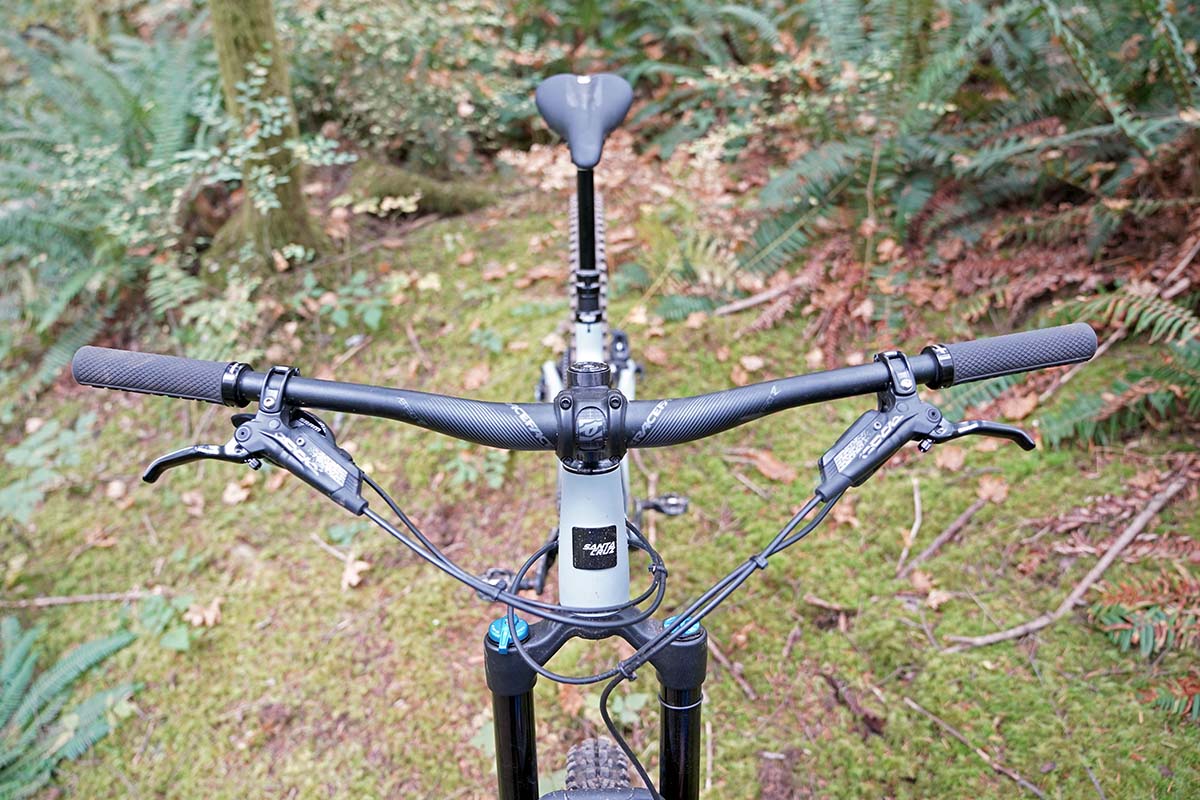 RockShox Super Deluxe R Shock
If there was one area that Santa Cruz fell short on with past models, it was the shock. I put about 1,500 miles on the original Hightower over the course of a year and the stock rear shock on that bike was terrible. Lucky for us, Santa Cruz knocked it out of the park when they spec'd the Super Deluxe R on the Bronson. I've never ridden a stock shock as nice as this—it comes close to matching the performance of the Vorsprung tuned Monarch Plus RCT3 that I rode all season. The downhill performance is phenomenal: it's very supple off the top, taking almost zero force to initiate into the travel (the rear bearing mount definitely helps), and it stays nice and collected when things get crazy. The Super Deluxe can't take all the credit as the new VPP design plays a big part, but I've never been as pleased with a stock shock.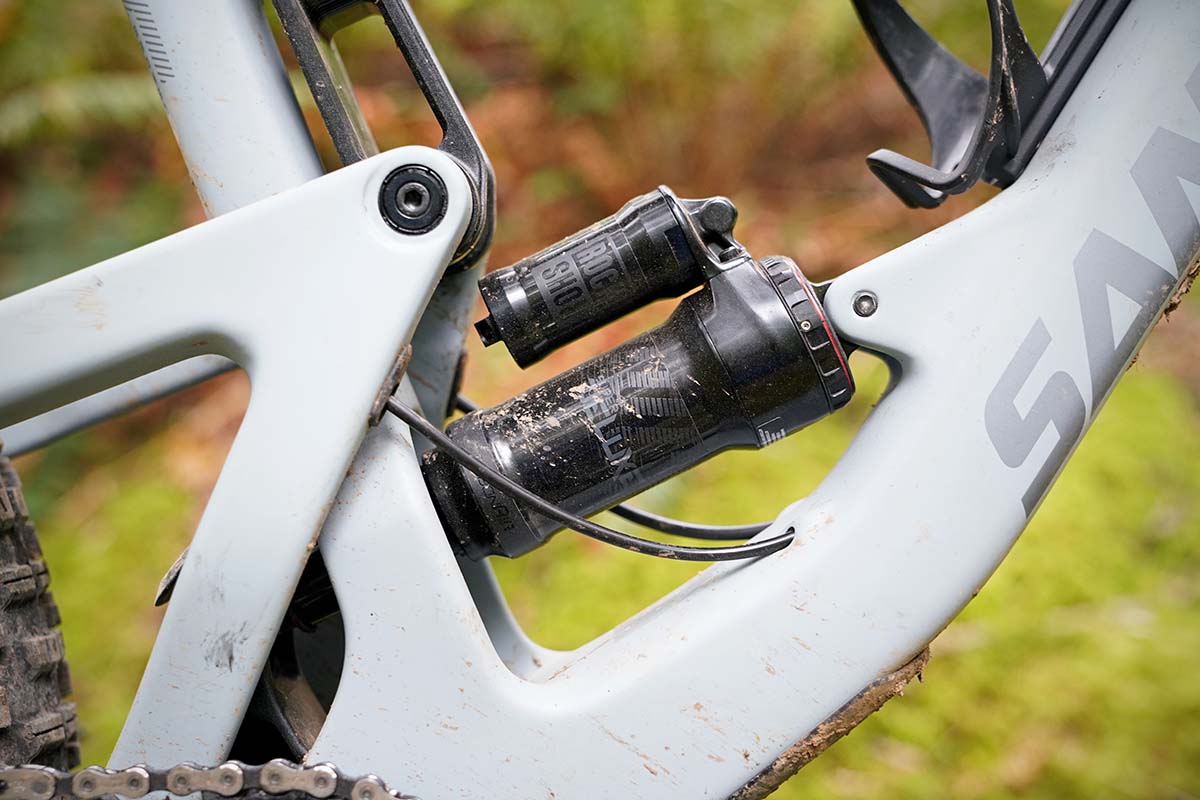 There's no climb switch on the Super Deluxe R, which was pretty disappointing as it's something I regularly use on our long fire road climbs. Not only does it minimize suspension movement while out of the saddle, it also keeps sag to a minimum, which in turn helps to maintain a good climbing position. Another major feature that I missed was not having any type of low-speed compression adjustment. I would have liked to add a few clicks to settle things down just a little bit, especially on high-speed trails. Despite these shortcomings, I was still quite happy with the stock shock and think most riders will be blown away by its performance.


Tires and Wheels
It's hard to go wrong with Maxxis tires, and Santa Cruz nailed it by choosing to pair a 2.4 Minion DHR2 on the rear with a 2.5 Minion DHF on the front. They're not light, but boy are they awesome when the trail points down. After trying many different tire combinations over the past several years, these two tires permanently made their way onto my personal bikes as well. To date, there haven't been any issues with the RaceFace AR rims and DT Swiss 370 hub combination. They're not light and I wish the rear hub engaged quicker when I started to pedal, but so far, they've been problem-free. I was disappointed to see that the DT Swiss 370 hub does not use the star ratchet system found on the 350 and 240 versions, which is something to note if you were planning to upgrade to more points of engagement down the road.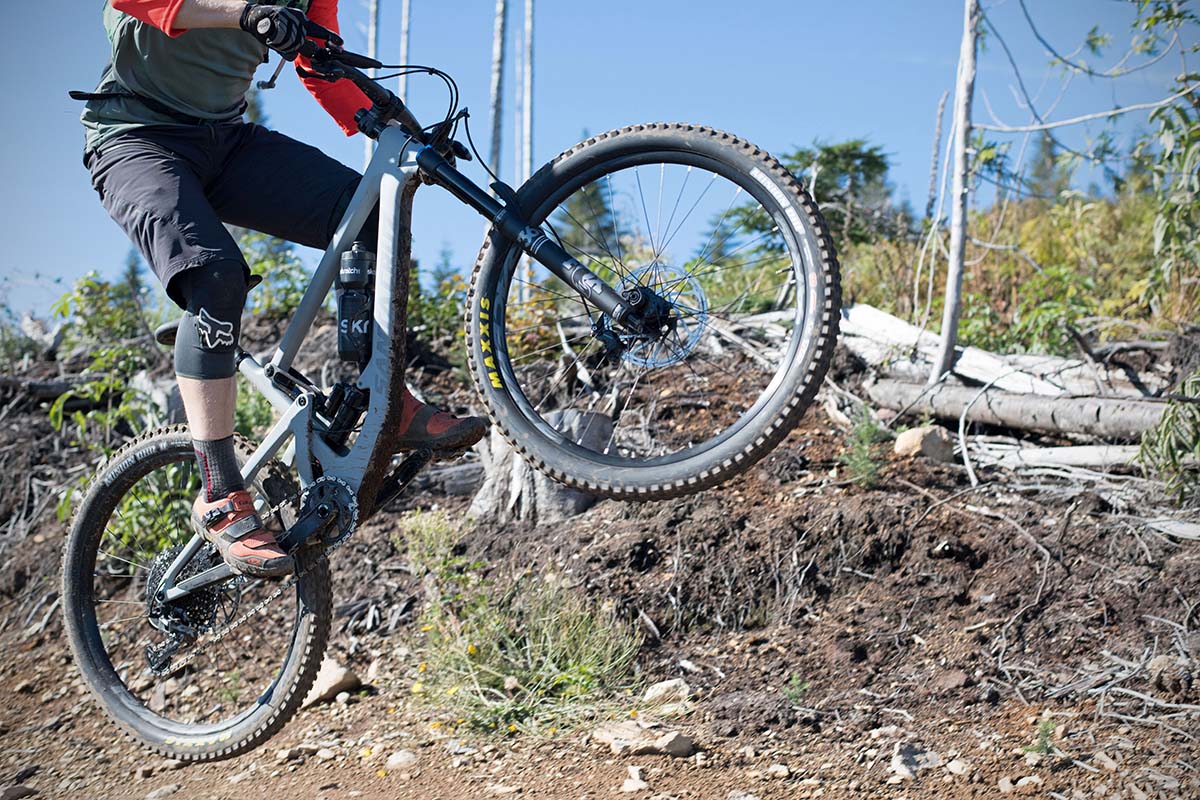 Other Versions of the Santa Cruz Bronson
We tested the 2019 Bronson Carbon C model with the "S" build, which as mentioned above, consisted of a SRAM Eagle GX 12-speed drivetrain, a Fox Float 36 Performance fork, and SRAM Code R brakes. It's a well-spec'd bike that leaves little to be desired and comes with a price tag of $5,199. Santa Cruz also offers a more budget-friendly aluminum version that comes in at $3,499. And those with deep pockets always can go with their top-of-the-line Bronson XTR model, which includes carbon everything for a whopping $9,899. Finally, Santa Cruz offers plus-sized build kits should that be your thing. All told, there are 14 different Bronson build options to choose from, and regardless of your budget or tire width preference, you should be able to find a good fit for your needs.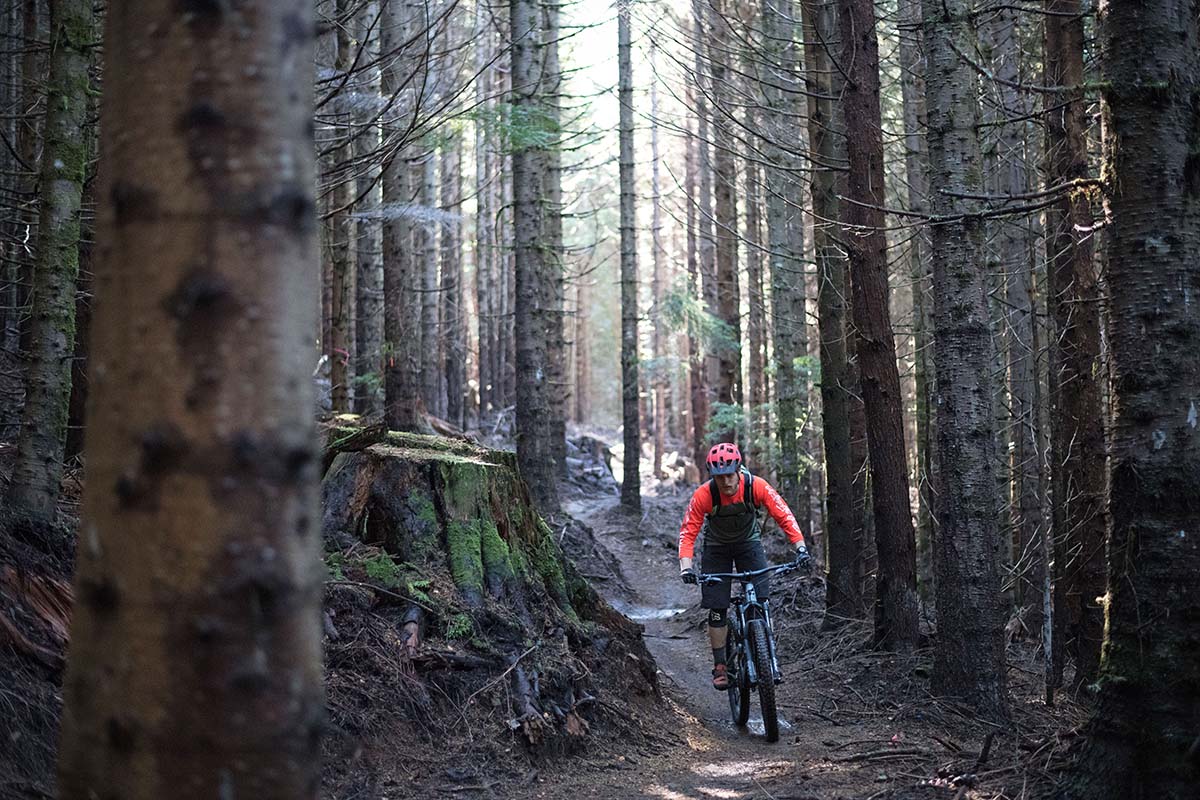 What We Like
A phenomenal bike on descents, even more so than previous iterations of the Bronson. 
The new suspension design is excellent in just about every way. 
The frame has many well-thought-out details like a replaceable downtube protector and rear shock mud guard.
Internal routing makes for a very clean-looking bike.
Quality component choices leave little to be desired (unless you're looking for more carbon).
Santa Cruz reputation and build quality. There's a reason many top riders choose to go with this brand. 

What We Don't
A good climber, and particularly on technical trails, but not a great climber. 
The rear shock doesn't have a compression adjustment or lockout lever.
The rear hub is pretty slow to engage, which is disappointing for a $5k bike.
Santa Cruz pricing. The Bronson is expensive compared to other brands and consumer-direct bikes from companies like YT Industries and Canyon.


Comparison Table
| Bike | Price | Travel (F/R) | Wheel Size | Drivetrain |
| --- | --- | --- | --- | --- |
| Santa Cruz Bronson Carbon S | $5,199 | 160/150mm | 27.5 in. (27.5+ available) | SRAM GX Eagle, 12 speed |
| Santa Cruz Hightower LT Carbon S | $4,899 | 150/150mm | 29 in. | SRAM GX Eagle, 12 speed |
| Specialized Stumpjumper Expert | $5,520 | 150/150mm | 27.5 in. (29 in. available) | SRAM GX Eagle, 12 speed |
| YT Industries Jeffsy 27 CF Pro Race | $5,699 | 160/160mm | 27.5 in. (29 in. available) | Shimano XTR, 11 speed |
| Santa Cruz Nomad Carbon S | $5,299 | 170/170mm | 27.5 in | SRAM GX Eagle, 12 speed |

The Competition
Compared to previous versions of the Santa Cruz Bronson, the 2019 model certainly isn't the same rig. In fact, the name, amount of travel, and wheel size are about the only things that it has in common with past iterations. The new Bronson descends better, climbs better (especially on technical trails), and generally is more fun to ride. If you're a current owner of an older Bronson and are interested in this new version, the 2019 is better in just about every way. And the cherry on top: you can now fit a full-size water bottle on the new frame, which is a small but meaningful addition.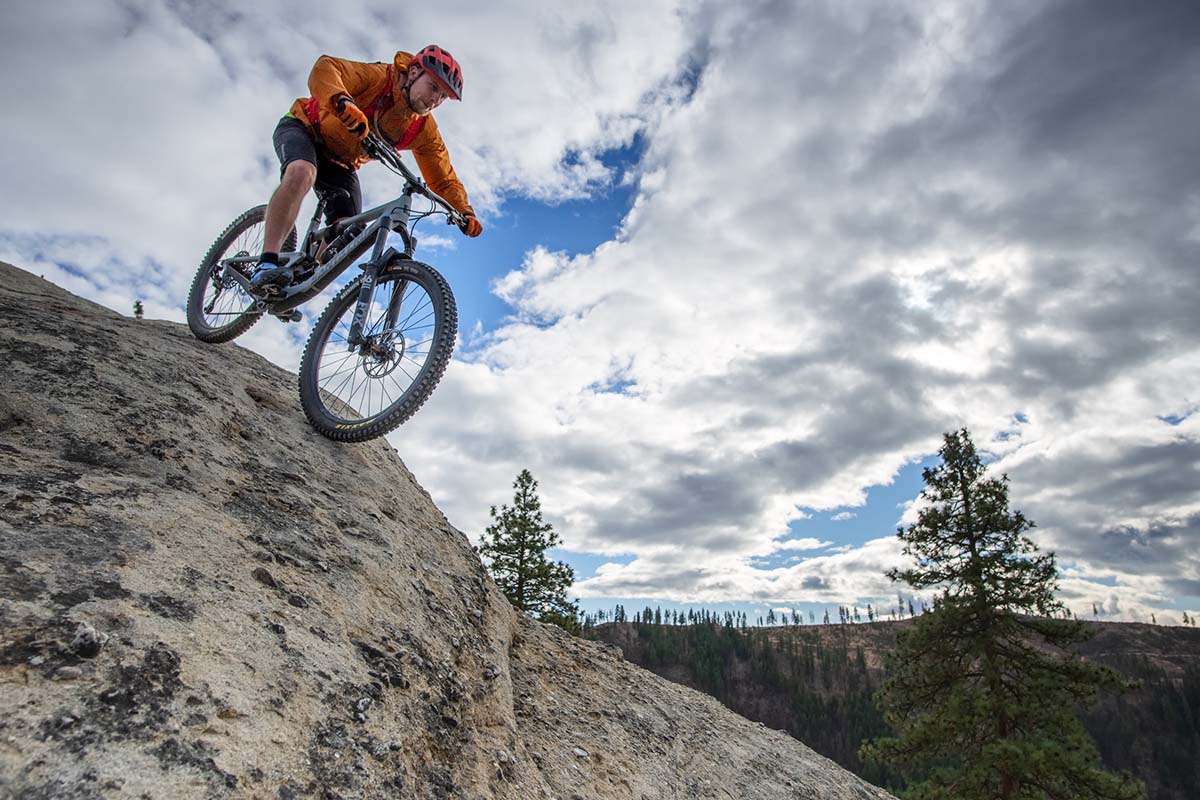 I spent the last 10 months or so riding a Santa Cruz Hightower LT, logging about 1,500 miles in the process. Compared to that bike, I find the new Bronson to be more poppy and playful overall. The smaller wheels no doubt play a part, but regardless of wheel size, the Bronson still has a more energetic personality (it'll be interesting to see how the Bronson compares to the recently released Megatower). Flow trails generally are more enjoyable, it will happily carve every berm in sight, and it's a bit more willing to pop off of trail features. The 2019 Bronson also is much quicker to change directions, again due to the smaller wheel size, but it's pretty darn noticeable. On the first couple of rides with the Bronson, I found myself initiating turns way too soon. With that said, the Bronson still is a 160/150mm travel bike, and as such, it takes a bit more effort to make all this dancing around happen, especially when compared to a shorter trail bike like the Santa Cruz 5010.
If the 2019 Bronson has caught your eye, chances are the new Specialized Stumpjumper may be on your radar as well. We haven't spent time on this bike just yet (review to come), but with its 65.5-degree head tube angle and 150mm of travel in the rear, the Stumpjumper Expert 27.5 is a formidable alternative. SRAM's GX 12-speed drivetrain takes on shifting duties for each bike and both feature threaded bottom brackets. The Stumpjumper Expert sports SRAM Guide R brakes, as opposed to the more gravity-oriented Code's found on the Bronson, which suggests that it has slightly less of a downhill focus. One standout difference between the two bikes is that the Stumpjumper Expert comes with a Roval Traverse carbon wheelset, which features 30mm inner width rims and spins on DT Swiss 350 hubs. In terms of price, the Stumpjumper comes in at $5,520, about $300 more than the Bronson C "S" build reviewed here, but given the impressive wheelset upgrade, it's a pretty strong value in our eyes (to get a similarly equipped Bronson, you're looking at $6,399). Although the Stumpjumper has slightly less travel up front (10mm less) and leans a bit more to the trail bike end of the spectrum, it's still a viable alternative to the Bronson, especially if you want something a bit lighter and quicker.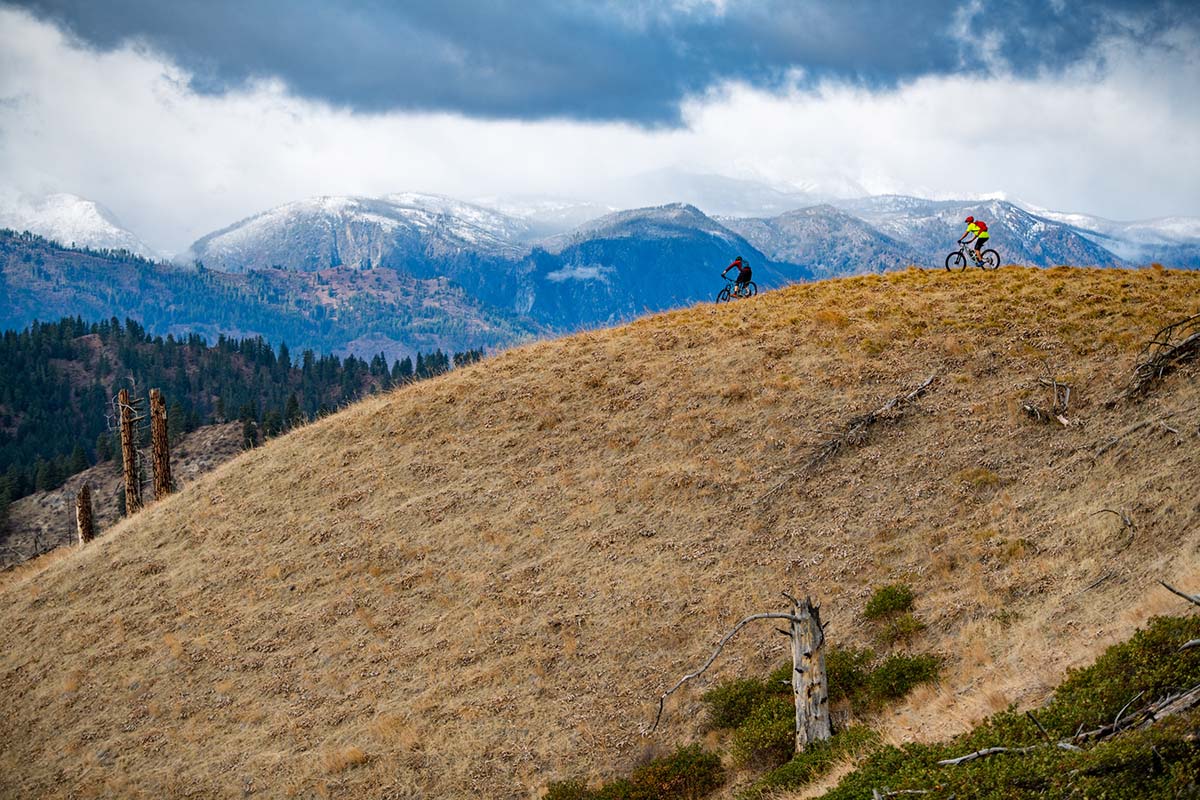 If you're looking for the most bang for your buck, then buying from a consumer-direct brand should be on your radar. They don't always have the best track records for customer service or support, and availability can be an issue, but brands like YT Industries, Canyon, and Commencal offer significantly better components for your money. YT's new 2019 Jeffsy 27 is a great alternative to the Bronson, featuring a similar all-around design and amount of suspension travel (160mm front and rear). Priced at $5,699 for the top-spec model, it's a screaming deal: you get Kashima-coated Fox Suspension, e*thirteen carbon wheels and carbon crankset, Renthal carbon bars and stem, and Shimano's XTR drivetrain. Personal preferences aside, you really couldn't ask for more. If you want to get this kind of build kit on non-consumer-direct bikes, you'd have to spend upwards of $9,000 (Bronson included). While YT may not be as refined as Santa Cruz and doesn't come with the same reputation, it's hard to ignore the value.
If you're thinking about buying gear that we've reviewed on Switchback Travel, you can help support us in the process. Just click on any of the seller links above, and if you make a purchase, we receive a small percentage of the transaction. The cost of the product is the same to you but this helps us continue to test and write about outdoor gear. Thanks and we appreciate your support!
Depending on the seller, most products ship free in the United States on orders of $50 or more. International shipping availability and rates vary by seller. The pricing information on this page is updated hourly but we are not responsible for inaccuracies.
Read More From Switchback Travel