Outdoor Research has updated its long-standing and very popular ultralight rain shell for 2020. The latest Helium—replacing the "II"—sticks largely to the same formula with upgrades in durability and fit without impacting weight or cost. We tested the revamped Helium in Patagonia and early spring conditions in the Pacific Northwest, and below we break down our experiences with the jacket. To see how it stacks up to the competition, see our article on the best rain jackets.
 
---
Table of Contents
---

Performance
Water and Wind Protection
Ultralight rain shells aren't typically intended for serious alpine conditions or day-long deluges, and this holds true for the Outdoor Research Helium. With a 2.5-layer Pertex Shield Diamond Fuse build and thin materials used throughout, the jacket's face fabric will get overwhelmed in a strong downpour and start to absorb moisture and press against your shoulders and forearms (this is particularly noticeable if you're wearing short sleeves). That said, the level of protection is excellent for emergency use on most backpacking trips or day adventures from late spring to early fall.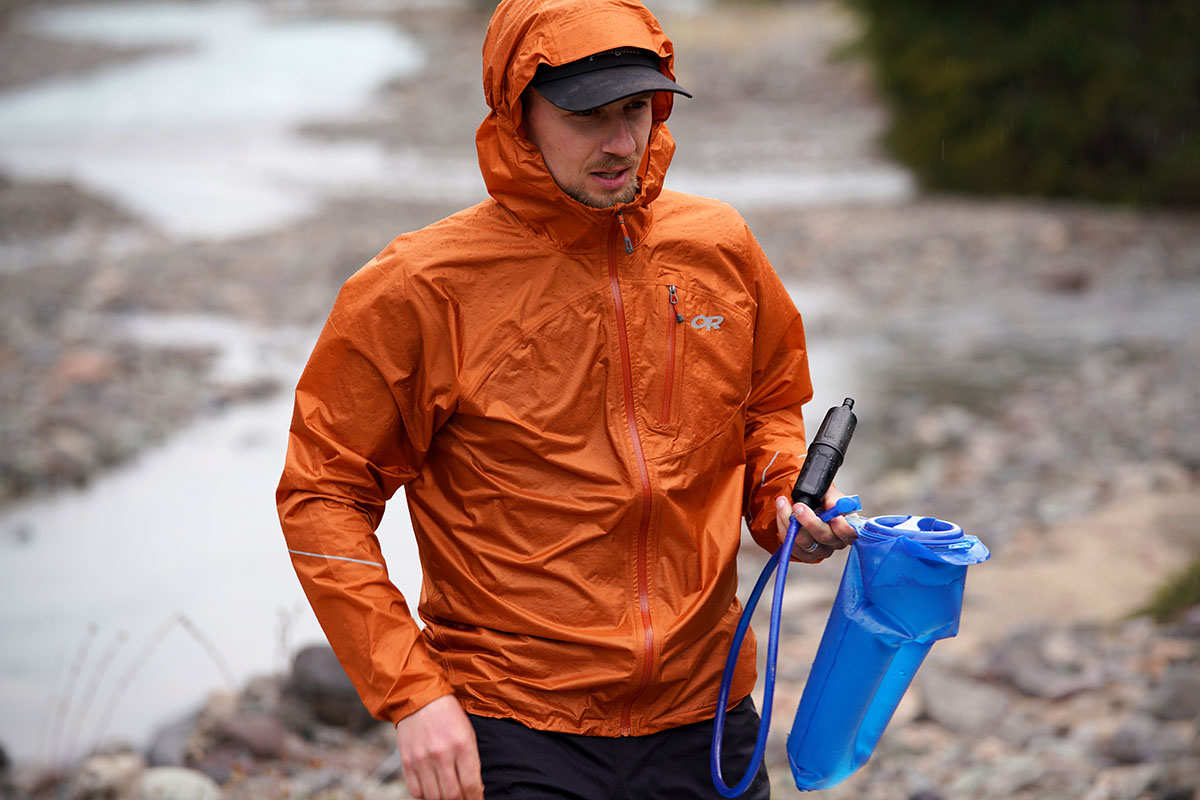 The jacket also includes a durable water repellent (DWR) coating that nicely sheds moderate precipitation, has fully taped seams, and the water-resistant zippers at the front haven't shown any signs of leakage. Further, the hem can be cinched along the right side, and the hood adjusts evenly around the head and face with a single pull at the back. I prefer to pair it with a hat for added coverage, but the hood does include a small bill to keep moisture from dripping onto your forehead and face. Finally, the jacket is an impressive wind blocker– I've used it and the prior generation Helium II on cold days while mountain biking to take the sting out on a frigid descent and provide some heat-trapping warmth. You can get better protection for a similar weight with Arc'teryx's Gore-Tex-equipped Zeta FL, but you'll need to double your budget to do so. All told, for most sub-alpine summer adventuring, the Helium is plenty of jacket.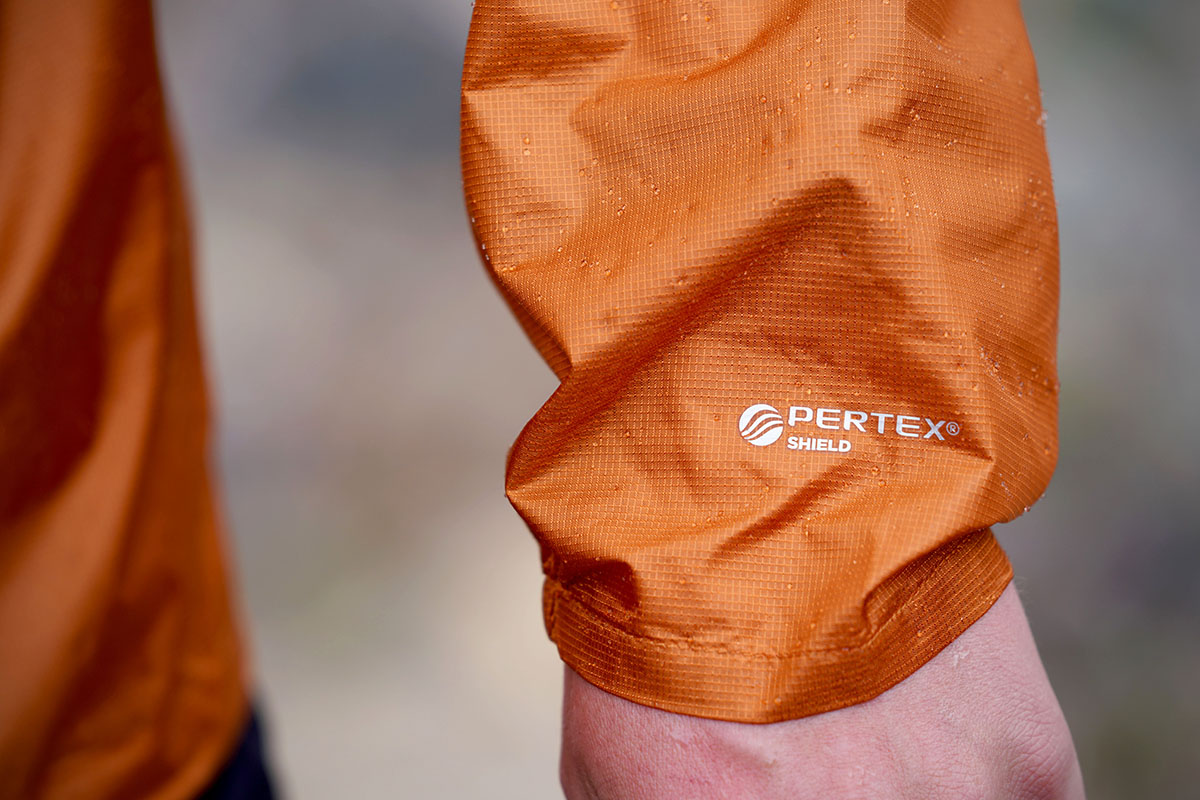 Breathability 
Like prior generations of the Helium, the latest model is not a standout in terms of breathability. Its 2.5-layer build leads to a clammy feeling along the interior when you start working up a sweat (the slippery lining fails to pull moisture effectively away from your skin). The temperatures weren't very extreme for most of our time in Patagonia, but I found myself needing to ditch the Helium while backpacking even on overcast days with temperatures in the mid 50s Fahrenheit. I was also testing OR's Microgravity shell on the same trip, and its 3-layer build far outperformed the Helium (however, it's double the weight and costs another $90). 
For mountain biking, I only can tolerate wearing the Helium on the descents. As a result, I've found myself grabbing my windbreaker jacket instead (the Patagonia Houdini) in all but the worst conditions. I do know of people that can wear the Helium for stretches of time while trail running in bad weather, but it runs far too hot for me. Finally, this won't come as a surprise given the focus on minimalism, but there are no venting options other than opening the front zipper.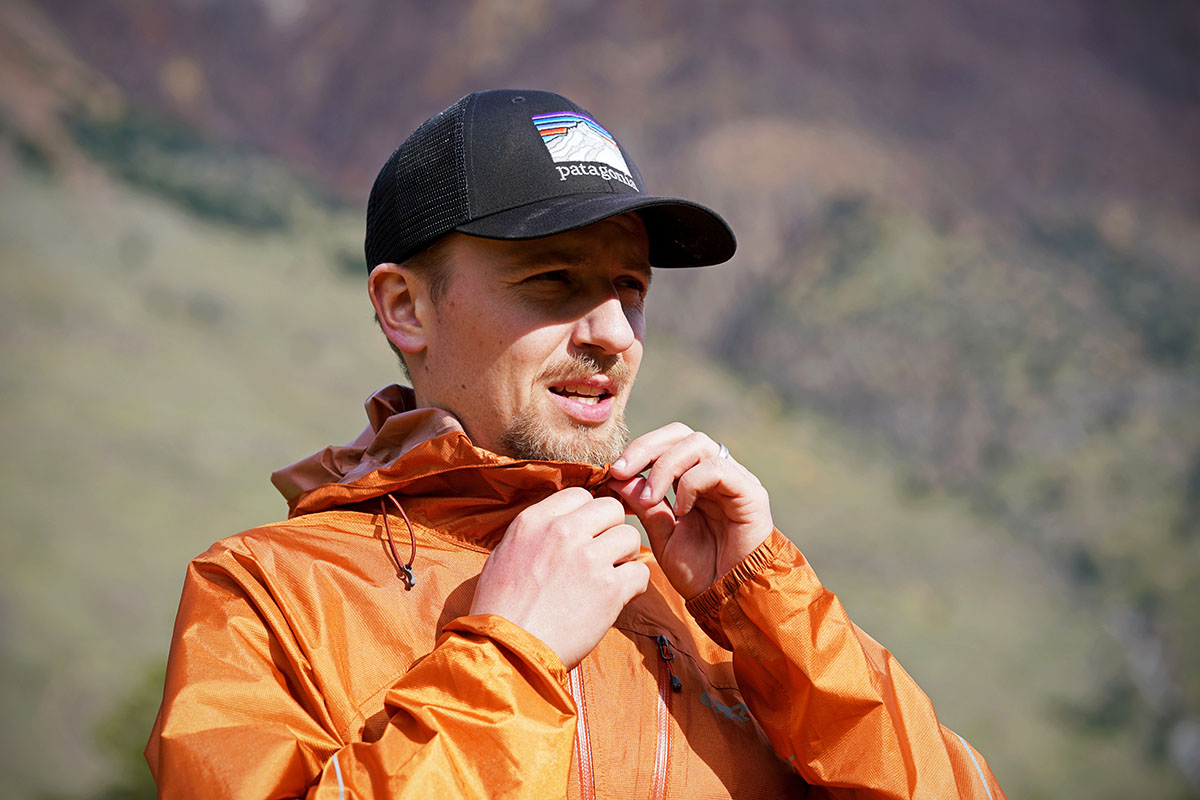 Weight and Packability
On my scale, a men's medium weighs in at 6.1 ounces, undercutting the listed weight of 6.3 ounces. This amounts to a 0.1-ounce drop from the prior model while retaining important features like an adjustable hood, hem, and chest pocket. This weight puts it squarely in the ultralight category, easily undercutting popular lightweight choices like the Marmot PreCip Eco (10.1 oz.) and REI Co-op Rainier (12.5 oz.). Instead, it goes head-to-head with serious UL pieces like the Zpacks Vertice (6.2 oz.), Marmot Bantamweight (6 oz.), and Arc'teryx's Zeta FL (7.2 oz.). All perform surprising well given their minimalist builds, but what sets the Helium apart is its price, as those competitors all cost at least $100 more. Black Diamond's FineLine is an interesting alternative with its stretchy construction that undercuts it slightly in price at $135. But at 8.1 ounces, it can't match the OR's feathery build.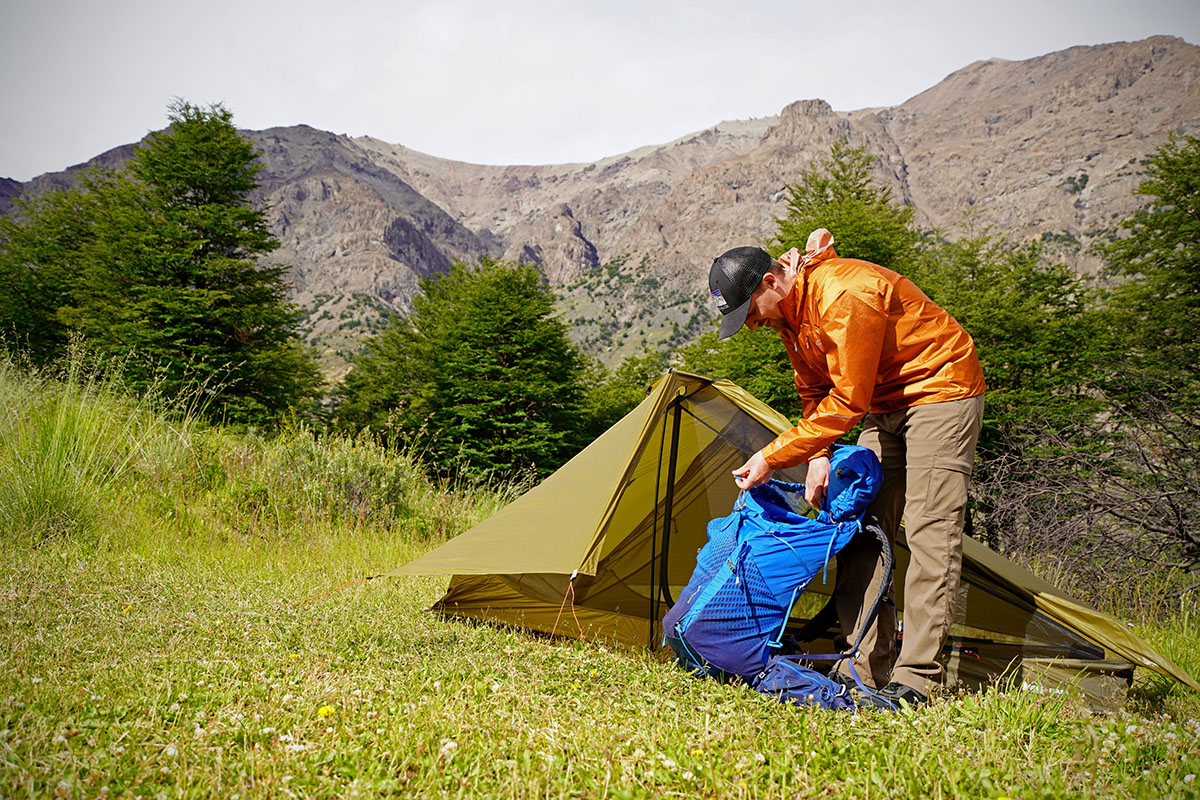 Given the jacket's low weight, it comes as no surprise that packability is also impressive. In short, the Helium packs down small enough to make it easy to justify bringing along on those "just-in-case" kind of days. The jacket stuffs easily into its own chest pocket and secures with a two-sided zipper. It's compact enough to easily hold in one hand and can be compressed even more for stowing in small hydration or mountain bike packs. There's also a fabric loop along the stuff pocket for attaching to a climbing harness. In fact, its packed size is only a little bigger than my non-waterproof Patagonia Houdini, which is truly a big accomplishment. 

Build Quality and Durability
One of the standout features of the latest Helium shell is its combination of weight and durability. The Helium uses Pertex's new Diamond Fuse face fabric, which boosts tear resistance from the prior model by a claimed 5 times (OR explains the testing process here). In use, we've been very impressed by the toughness of the retooled shell. The 30-denier ripstop face fabric feels surprisingly burly, and we've had zero issues thus far after a couple backpacking trips in Patagonia and subsequent use back home in the PNW while mountain biking. Further, all zippers, seam tape, and cords are functioning flawlessly and don't feel overly thin or compromised. The shell has also gone through the wash a couple times and is still looking like new. To be fair, it's still too early to confidently give it high marks on longevity, but all signs are positive. For a 30-denier fabric, this jacket is one of the burliest we've tested.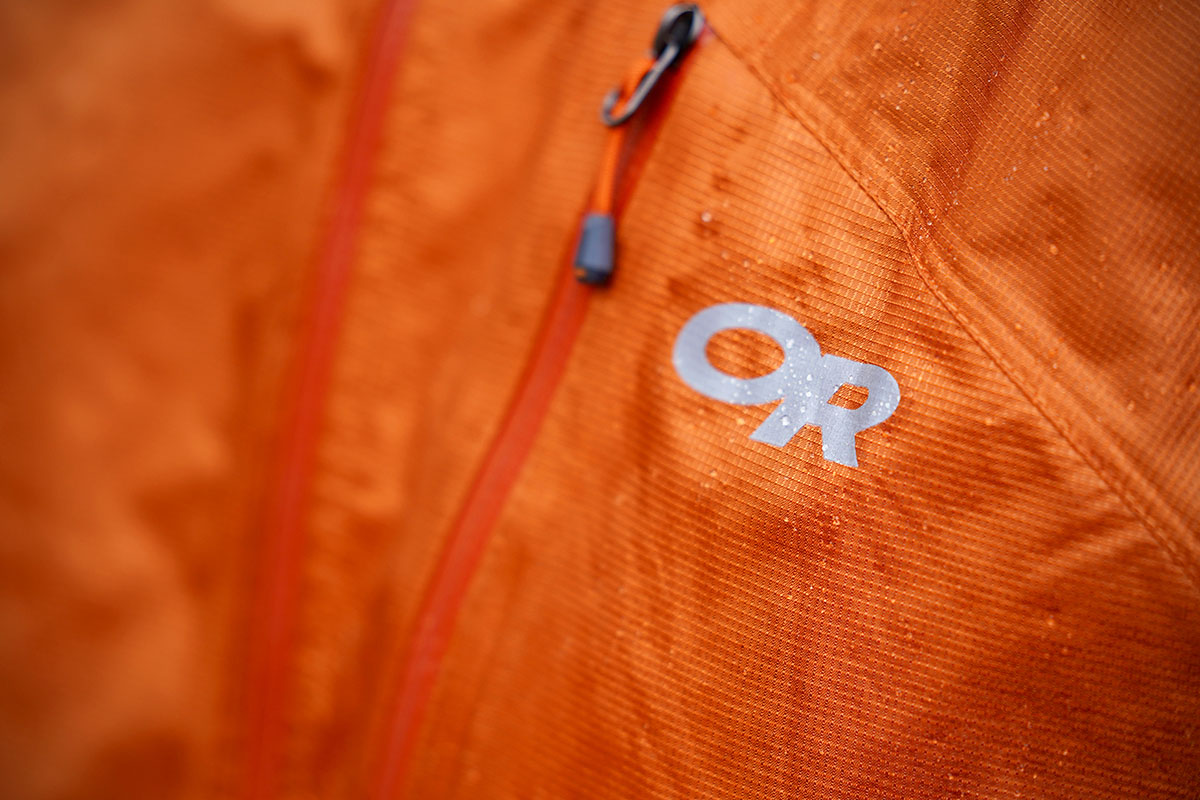 Features: Hood and Pocket
As expected, the Helium is light on features but checks the right boxes. In particular, we think OR did a great job with the hood design. As mentioned above, it cinches in the back with a single drawcord but secures around both the side of the head and face (many simple hood designs don't also secure around the face). In practice, it has held solidly in place in inclement weather with plenty of coverage and no excessive bunching. Plus, while OR doesn't specifically call it helmet-compatible, I've been able to fit it over my bike helmets, including the Giro Radix and Smith Forefront 2 (both size medium). I suspect a lower-profile climbing helmet would also work, although I haven't had a chance to verify. I do often leave the collar portion unzipped to avoid restricting movement, but it's more than workable.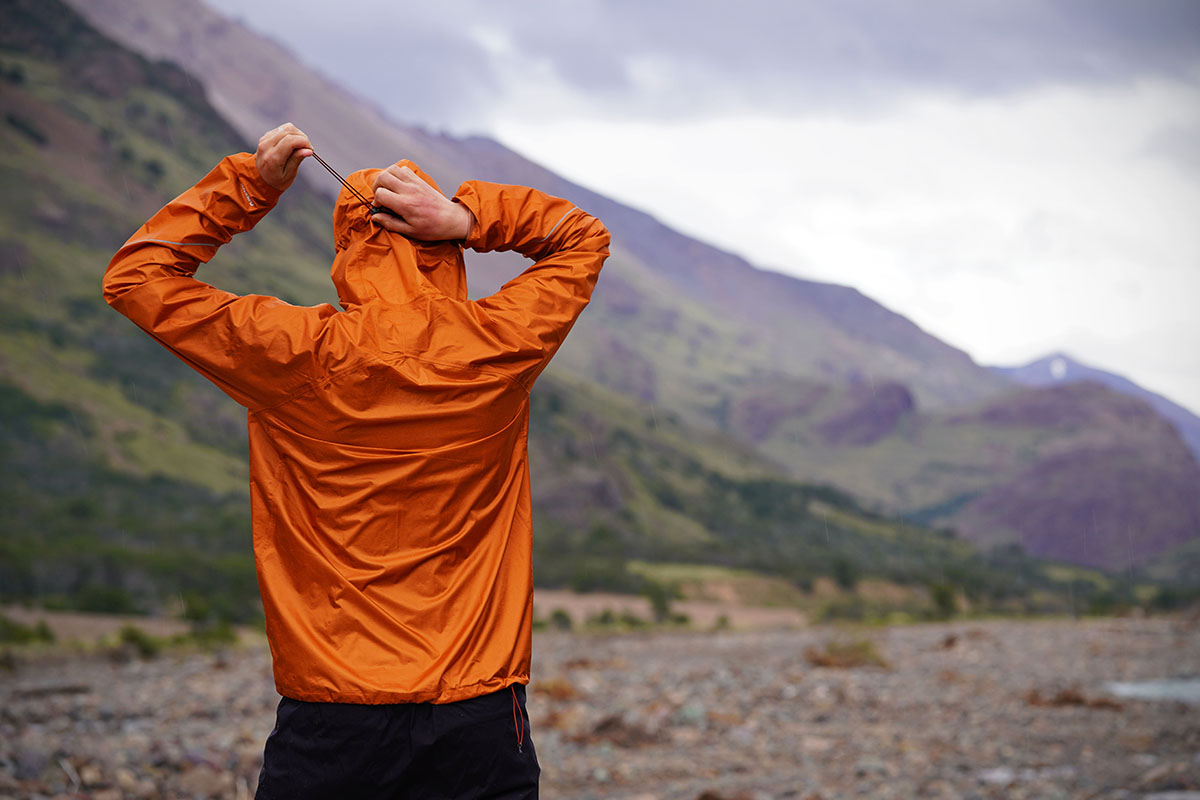 In terms of storage, the Outdoor Research Helium features only a single chest pocket, which is standard fare among many minimalist shells and windbreakers. This is something to keep in mind as you might need to pack gloves for hand protection and a little warmth for times when you'd otherwise be stuffing them into the hand pockets. But the chest pocket is a decent size for fitting an average-sized phone (it's too small for the large iPhone 11), energy bars, and your keys (there's a plastic clip inside for securing them).

Fit and Sizing
I really like the fit of the latest Helium: I'm 5'9" and 155 pounds and the medium has a nice, trim cut. It works very well with just a thin baselayer underneath—when I've biked with it, there isn't a lot of buffeting or flapping, and the same goes for hiking and running (although as I touched on above, there are far better running options). The cut isn't overly snug, however, and still allows for some layering underneath (it's sized right to fit a lightweight midlayer like the Patagonia Nano Puff or OR's Transcendent). I can't fit anything thicker without it feeling overly tight, but this is right in line with the jacket's summer/shoulder-season intentions.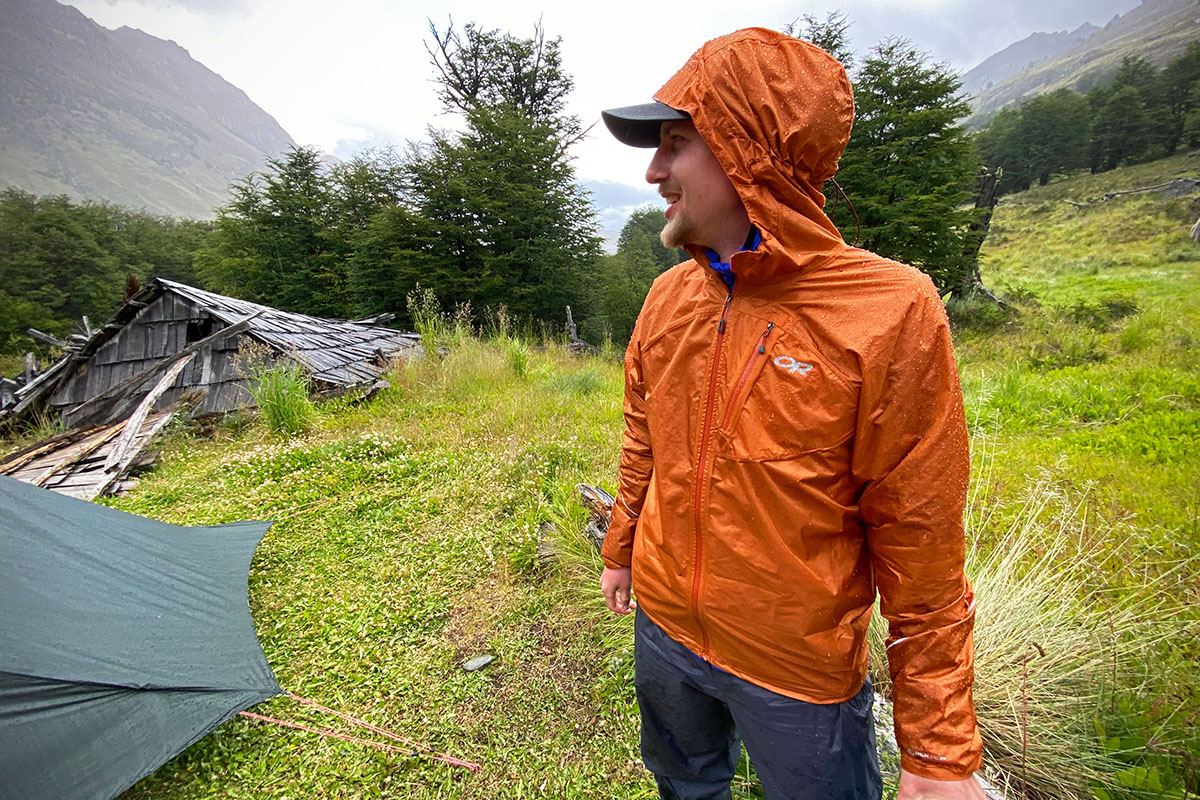 Other Versions of the Outdoor Research Helium
In addition to the men's Helium tested here, Outdoor Research also makes the jacket in a women's-specific version for the same price. The women's Helium sports an identical feature set, including the single chest pocket that doubles as a stuff sack and 2.5-layer Pertex Shield Diamond Fuse build, although it's lighter at 5.6 ounces and comes in different colorways. It's also worth noting that at the time of publishing, the prior-generation Helium II is still widely available. The major difference is the lack of Diamond Fuse technology (it uses standard Pertex Shield), which results is less durability and protection. In the end, we think it's worth getting the latest model, but you may be able to find the II at a good discount.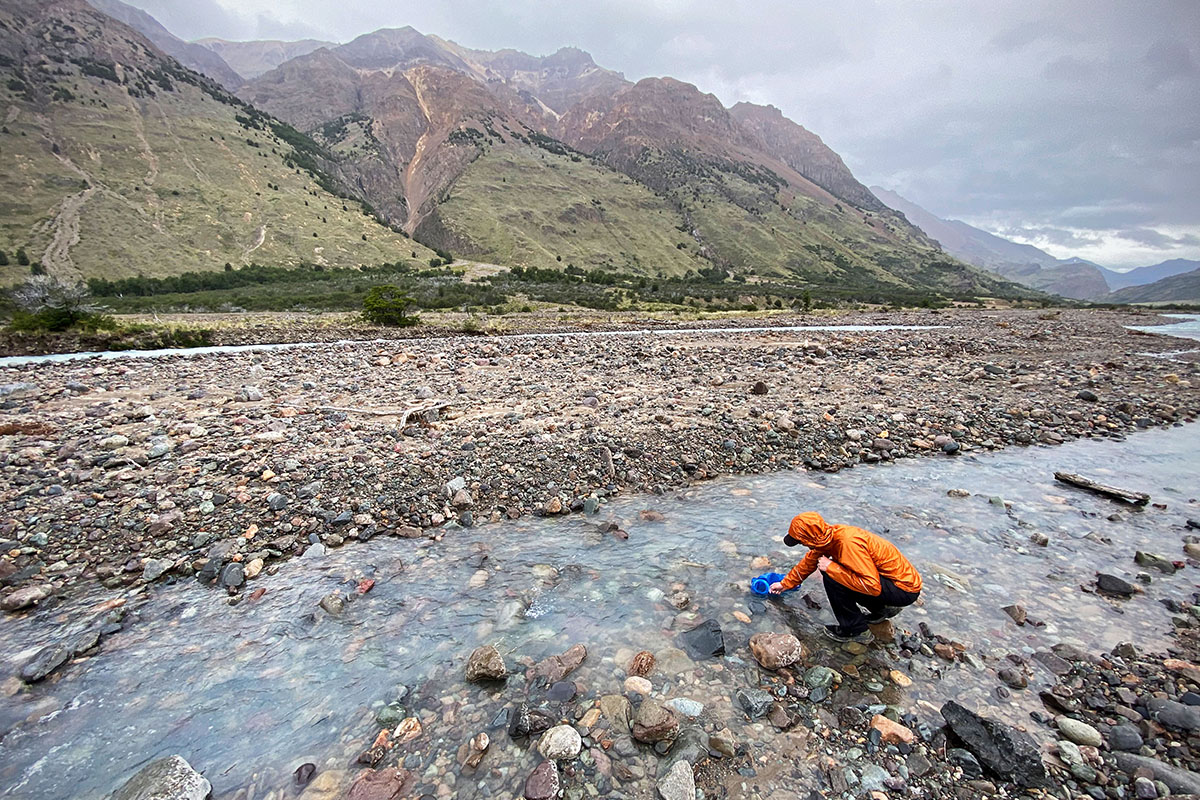 What We Like
The Helium is a true ultralight shell at a very reasonable price (most of the UL competition is at least $100 more expensive).
Impressively tough given its relatively thin (30D) construction.
Hood offers great coverage both at the sides of the head and the face.
Excellent trim fit that works well with or without a midlayer.

What We Don't
Face fabric gets overwhelmed and starts to absorb moisture in strong downpours.
Not a standout breather. When you start working up a sweat, the 2.5-layer build quickly grows clammy, and there are no venting options other than the front zip.
No hand pockets.


Comparison Table
The Competition
The Outdoor Research Helium's combination of $159 price tag, 6-ounce weight, and full waterproofing put it in a unique spot in the market—most of its rain jacket competitors are either more expensive or quite a bit heavier. One interesting alternative is Black Diamond's FineLine. This jacket uses a 2.5-layer construction with built-in stretch and has a similar trim fit. As a result, we've found it to be more comfortable for active pursuits like hiking, and its lining is less prone to feeling clammy (it's still not a standout breather, however). That said, it's about 2 ounces heavier (exactly 2 oz. between men's mediums on our scale), and while it packs into its own pocket, it's double the size of our Helium. As a result, the OR is the better minimalist pick but the FineLine is arguably more versatile (and $24 cheaper).
Montbell is another leader in ultralight gear, and their Versalite Jacket is an intriguing alternative to the Helium. Weight is nearly identical between the two models (the Versalite clocks in at 6.4 oz.), but the Montbell manages to pack in additional features like two hand pockets, pit zips, a three-way adjustable hood (the Helium has one point of adjustability), and Velcro at the cuffs. Where the Helium gets the edge is protection: the Montbell uses a less weather-ready 2-layer Gore-Tex Infinium Windstopper build and super-thin 10-denier nylon face fabric, which translate to considerably less durability and assurance in wet and rowdy conditions. Unless you need the added storage and features, we think the Helium is the more well-rounded and longer-lasting UL shell.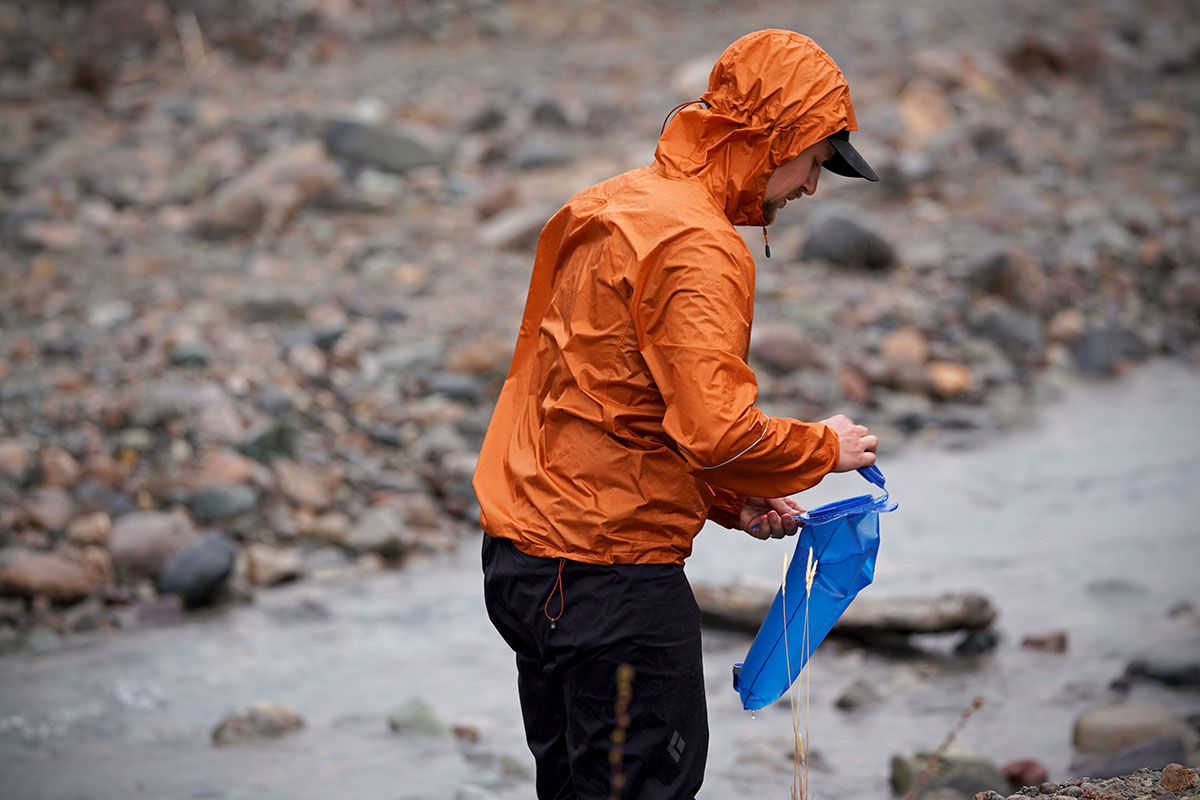 Stepping up in price is Marmot's impressive Bantamweight jacket. This shell also uses 2.5-layer Pertex for its waterproofing, but the minimalist build manages to trim weight down to an even 6 ounces while retaining features like hand pockets and an adjustable hood. Further, with cutouts under the arms, the Marmot offers superior breathability (again, the Helium has no venting options other than the front zip). But the Bantamweight is ultra-thin, which gives us serious concerns about its longevity, and will set you back an additional $116 at $275 total. For all but the most serious ounce-counters, we recommend the more well-rounded Helium.
Another spendy but ultralight jacket to have on your radar is Arc'teryx's Zeta FL. Coming from their hiking-focused line, the FL is the lightest and most trimmed-down option at 7.2 ounces. What you get for that weight is a premium feel from the 2-layer Gore-Tex Paclite Plus construction, a fantastic athletic cut, and excellent waterproofing and durability. That said, you can buy a quality 3-layer hardshell for the same price, and we think it's simply too much to spend for a jacket that will primarily be used as a backup/emergency layer.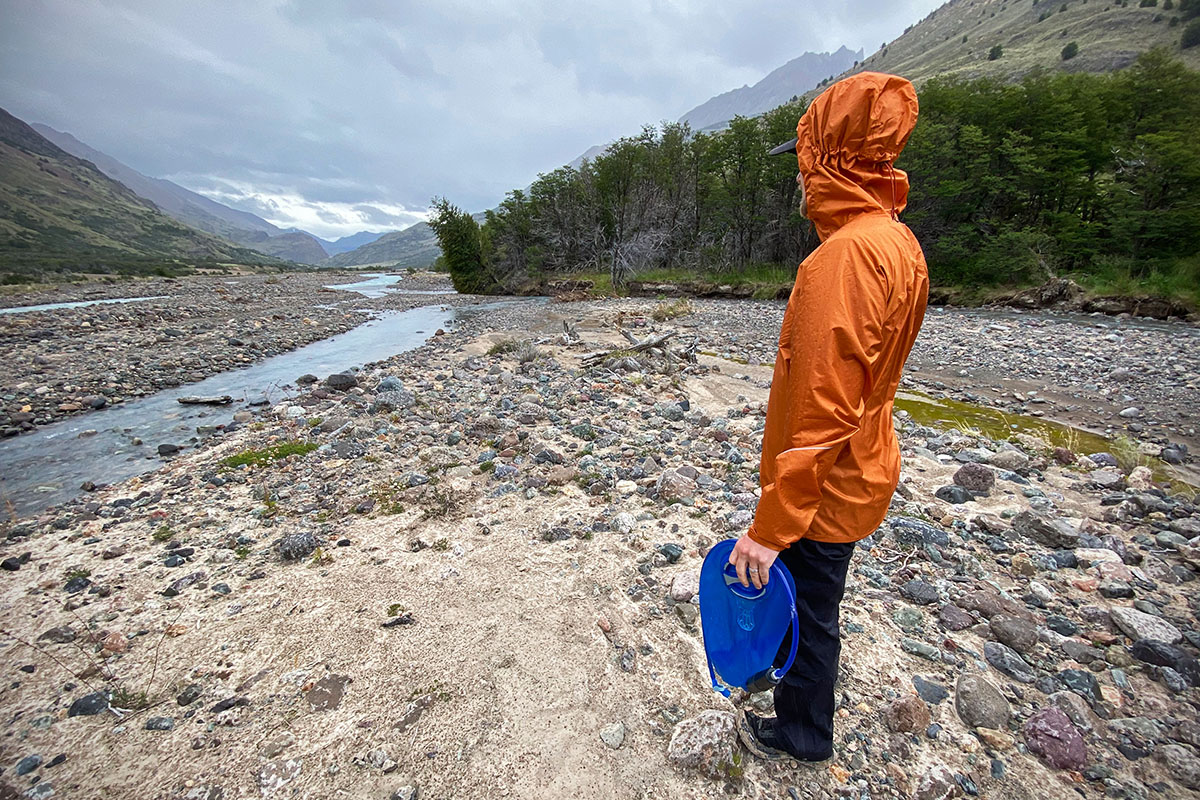 Our final competitor also comes from Arc'teryx: their Norvan SL. This unique 4.2-ounce wunderkind is built primarily for trail running with Gore's Shakedry technology that omits a face fabric. This allows it to offer truly excellent weatherproofing and breathability at a crazy low weight. Compared to the Helium, the Norvan is a far better performer when active, but it's not a jacket we would recommend throwing in a bag for hiking or even climbing. Even the shoulder straps on a pack can damage the Norvan's membrane, although we will use a light hydration pack with ours on occasion. Clearly, the SL is a specialized piece, but for the right user (such as our gear testers that do plenty of wet-weather running in the mountains of British Columbia), it can be almost perfect. The rest of us will be better off with the Helium. 
If you're thinking about buying gear that we've reviewed on Switchback Travel, you can help support us in the process. Just click on any of the seller links above, and if you make a purchase, we receive a small percentage of the transaction. The cost of the product is the same to you but this helps us continue to test and write about outdoor gear. Thanks and we appreciate your support!
Depending on the seller, most products ship free in the United States on orders of $50 or more. International shipping availability and rates vary by seller. The pricing information on this page is updated hourly but we are not responsible for inaccuracies.
Read More From Switchback Travel