Approach shoes are an important piece of gear for many rock climbers. More than hiking shoes or trail runners, they ensure solid footing on loose trails, scree slopes, boulder fields, and ridge scrambles. But given the variety of models available, it can be difficult to know which style is best for you. Below we break down everything you need to know when it comes time to buy, including the types of approach shoes, traction and tread, leather vs. synthetic uppers, weight, waterproofing, and more. For a look at our top picks, check out our article on the best approach shoes.

1. What is An Approach Shoe?
Approach shoes are a style of footwear specifically designed for climbers who hike across rocky, technical terrain in order to reach their route. In general, they are stiffer than a hiking shoe or trail runner, snugger for precision on small footholds, and have generous rubber rands for protection. But most importantly, they're designed with sticky rubber soles—the same material used in climbing shoes. This provides excellent traction on rock, making approach shoes the best choice for rugged, mountainous landscapes that require secure footing.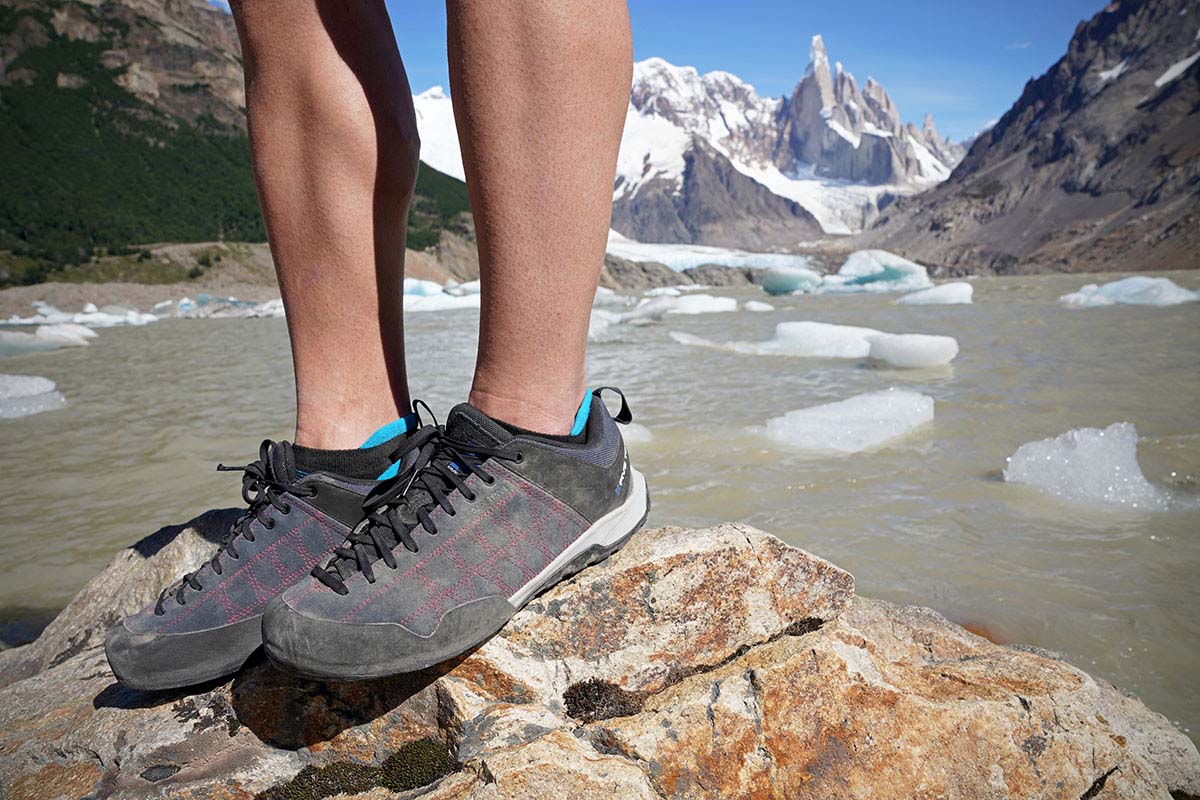 That said, not every climber needs a pair of approach shoes. For short and mellow walks to the crag, hiking shoes—or even sandals—will suffice. But for those looking at longer, more adventurous forays into the mountains, there's simply no better option. And they're not just for hiking—approach shoes are also a great match for climbers tackling sections of 4th- and 5th-class rock when a climbing shoe might be uncomfortable or overkill.

2. Intended Use: Hiking, Climbing, or Cragging?
Like any piece of gear, it's important to have an idea of your intended use for your approach shoes before you buy. Will you be using them mainly for hiking or for scrambles along exposed ridgelines and low 5th-class terrain? Perhaps you'll be taking them on and off throughout a day at the crag. Each approach shoe has its own balance of hiking and climbing prowess, including strengths and weaknesses in terms of comfort, weight, traction, and more. To help you choose, we've broken down the styles into three general categories below: hiking, climbing, and cragging.

Hiking
If you plan to wear your approach shoes mainly for hiking on and off trail, you'll want a design that prioritizes comfort, support, and a roomy and soft build. Look for more flexible models with generous cushioning in the sole. Importantly, most approach shoes that excel at hiking have a trail-ready tread, with angular lugs across both the heel and midfoot (on climbing-focused shoes, you're more likely to see softly rounded lugs for grip on rock). This sharper tread promotes excellent grip on a variety of terrain, including loose dirt, wet leaves, snow, and rock. A couple of our favorite models in this category are the Scarpa Crux and Salewa Mountain Trainer GTX. The drawback to hiking-focused approach shoes, however, is that they generally lack precision and stiffness for scrambling or technical rock climbing.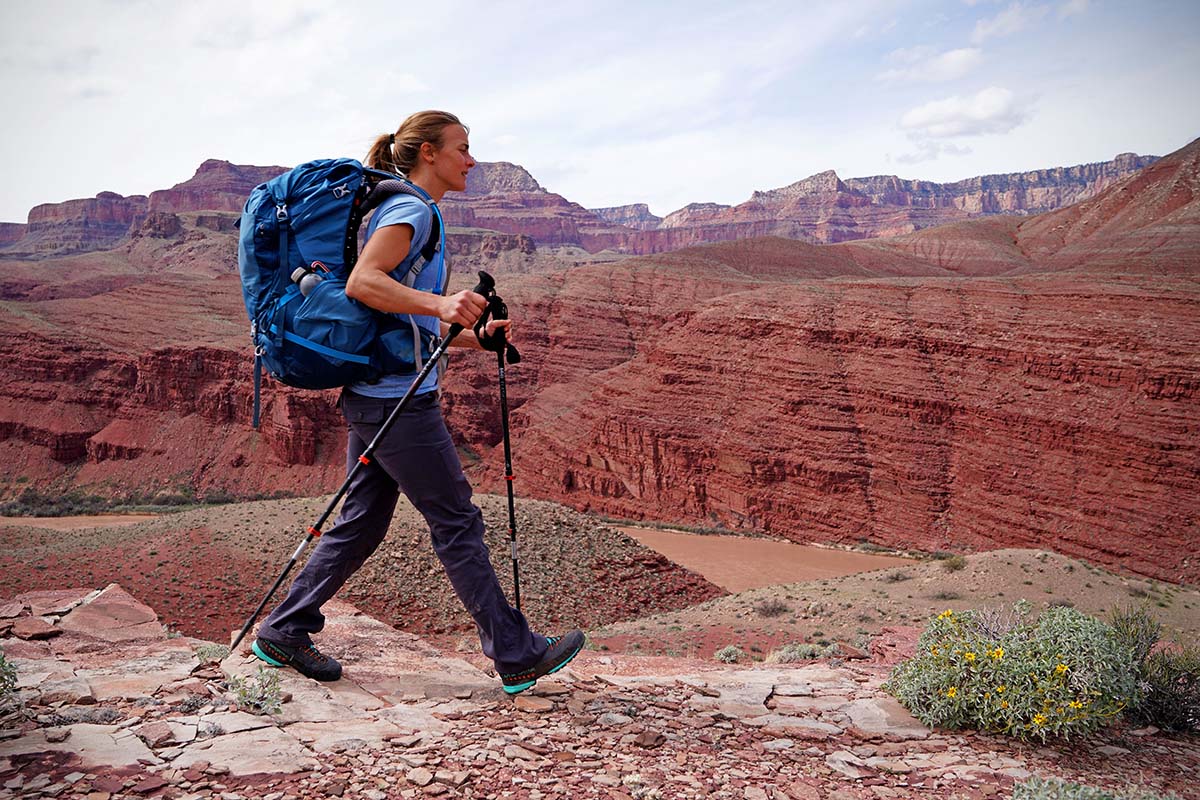 Climbing
For steeper and more technical terrain like 4th- and 5th-class scrambles, alpine ridge traverses, and easy vertical rock (such as scrambling the North Chimney on the Diamond), you'll need a more climbing-focused approach shoe. This style is the closest crossover between a hiking shoe and a rock climbing slipper, offering enough support and protection for the trail but with precise edges, a stiff sole, low weight, and the narrow profile necessary to move over near-vertical stone. Additionally, an approach shoe designed for climbing will commonly have circular tread under the toe box and midfoot and a smooth piece of rubber around the toes for smearing and edging. Guides who spend their days setting up moderate routes for clients will often opt for this style, but the tradeoff is that most aren't quite as comfortable to walk in over long distances. Two great options in this category are the Black Diamond Technician and Five Ten Guide Tennie.

Cragging
For crag days with short walks to the cliff or boulders, you may not need an approach shoe at all. In fact, to this day, I wear my Chacos cragging for easy on/off between climbs. That said, many will still appreciate the sticky rubber and full protection of an approach shoe. Notably, there are a few models specifically designed for cragging, which are often more affordable, casual-looking for great crossover appeal, and feature a heel that folds down for use as a slipper. The Evolv Cruzer Psyche is one of the most popular options for craggers, and it doesn't hurt that it comes in at an affordable $79.

3. Traction and Tread
The sole of an approach shoe is made with sticky rubber, but not all treads are the same—each provides different levels of traction on various terrain. On a shoe that's designed for excellent grip on rock, look for smooth tread (often in a dotted pattern) throughout the entire outsole—the Five Ten Guide Tennie is a perfect example. These designs also often feature a well-built, beveled edge on the inside of the big toe and a smooth patch underfoot for smearing and edging (mimicking a climbing shoe). On the other end of the spectrum, shoes like the Salewa Mountain Trainer GTX have sharp, angular lugs and heel brakes for better traction on snow, slippery rock, and wet and muddy trails. Finally, many models will combine aspects of both—the La Sportiva TX3, for example, has circular lugs on the toe box and an angular pattern on the heel for a nice balance of hiking and climbing abilities.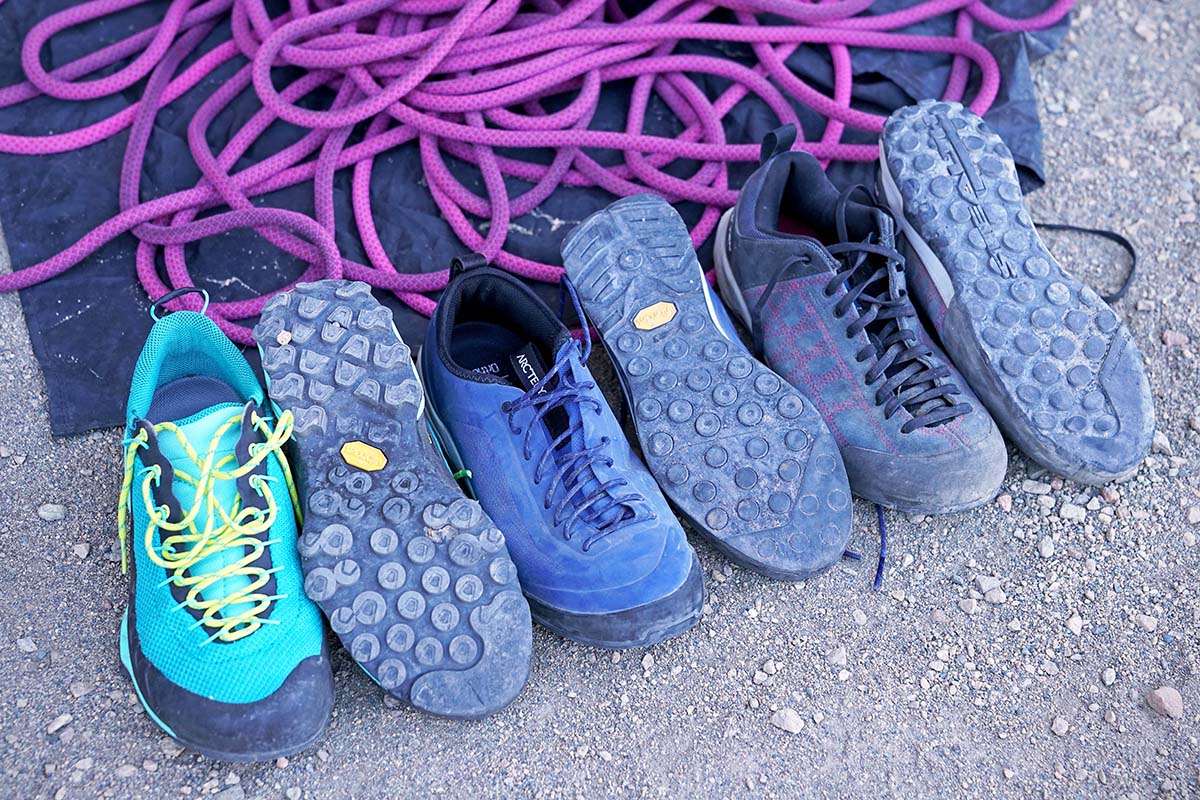 4. Leather vs. Synthetic Uppers
The upper of an approach shoe—the material that makes up the top of the shoe—is most often leather or synthetic (canvas is another option, though much less common). Leather uppers are more durable, offer better protection, and have better water resistance than their synthetic counterparts. You also are likely to get a longer lifespan out of a leather approach shoe. The La Sportiva TX4, for example, beats out the TX3 as our top pick due to the durability of its leather upper. Finally, leather molds to your foot over time (unlike synthetic), meaning it offers a more precise fit and greater comfort. The downside to leather is that it is slightly heavier and less breathable than synthetic, which is less than ideal during long approaches under the summer sun. Leather also stretches, and especially when wet, which means your shoes may not fit the same out of the box as they will six months down the road. Because of this, it's a good idea to downsize slightly to ensure that your leather approach shoes don't loosen too much over time.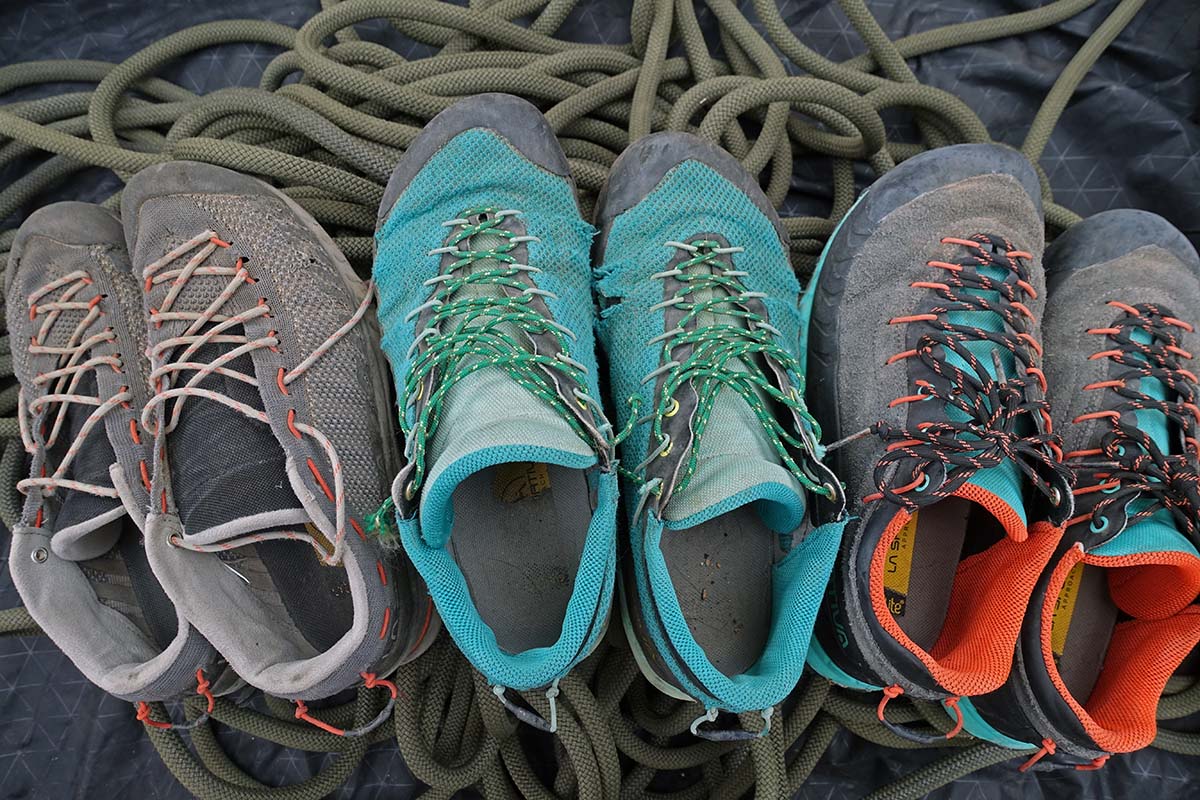 Synthetic mesh or knit (typically made of nylon) is often used in an effort to shed weight from an approach shoe. These designs also are more breathable, don't stretch over time, and, though they are less water-resistant, dry out faster than leather. The drawbacks, as mentioned above, are that they are less durable, offer less protection, and don't climb as well. Synthetic shoes are a great choice for warm, dry climates, but for slogging through rain and snow with technical climbing mixed in, leather is the superior option.

5. Does Weight Matter?
There is an old backpacking adage that says 1 pound on your feet equals 5 on your back, meaning that mile after mile of schlepping down the trail in heavy boots will weigh you down significantly. But while we love a nice lightweight shoe, it's important to keep in mind that shaving ounces usually comes at the sacrifice of protection, durability, and support. Approach shoes range from around 1 pound on the lightweight end of the spectrum (the La Sportiva TX2) to almost 3 pounds at the heavy end (the La Sportiva Trango Tech). Unless you need extreme weight savings or a great deal of protection, we'd recommend opting for a model somewhere in the middle, which will get you a nice, nimble feel without compromising too much in the way of durability or support. There are a number of designs that strike a happy medium, such as the La Sportiva TX3 (1 lb. 9 oz.) and Arc'teryx Konseal FL (1 lb. 5 oz.).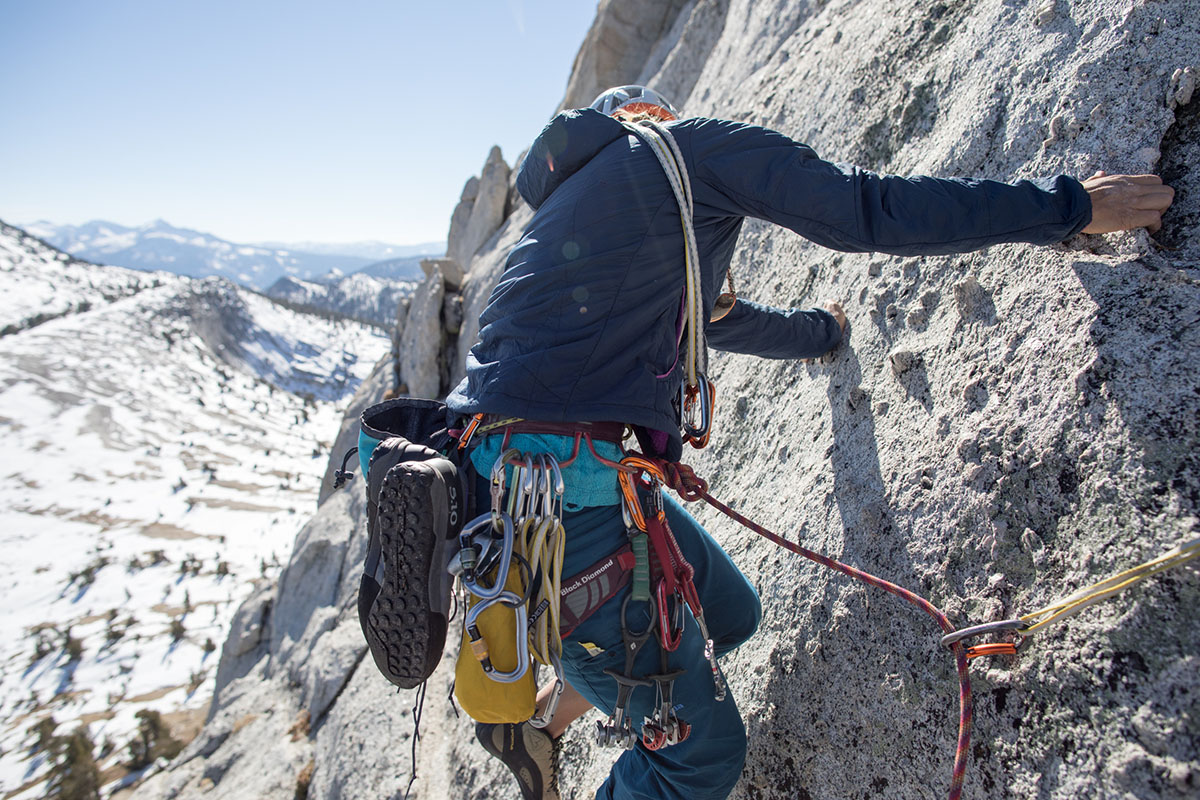 It's worth noting that weight is especially important if you're going to wear your approach shoes to the base of a wall, then hang them off your harness or stuff them in your pack during the climb so you can walk off the top. It's a huge annoyance to have heavy shoes dangling on your harness while you climb. Size becomes an important consideration as well—you don't want to be pumped out on lead and desperately looking for a piece on your harness while your heavy and bulky shoes get in the way (because of this, my partners and I sometimes have the follower carry both pairs of shoes). If you're looking for a shoe that will ride particularly well on your harness, we recommend the La Sportiva TX2.

6. Fit and Sizing
Just like buying a rock shoe, you'll want to try on approach shoes before making a decision. Not everybody has the same foot shape and not all models are built the same. For example, shoes in the La Sportiva TX series are known to be wide, while Arc'teryx and Scarpa designs are on the slimmer side. Wearing poor-fitting approach shoes could mean misery on the trail, or even danger if the approach involves technical scrambling—you don't want your feet to slosh around inside a shoe while climbing. And on that note, if you plan on doing technical ascents in your approach shoes, it's important to go for a snugger fit that will give you more sensitivity and responsiveness. On the other hand, for ultra-long approaches without scrambling, it's nice to have a little extra wiggle room in the toes for added comfort and to allow for foot swelling. Luckily, most approach shoes lace all the way down to the toes, giving you control over how loose or snug of a fit you want depending on your objectives.

7. Do You Need Waterproofing?
Most climbers would seldom choose to go climbing on a day when it's raining. Because of this, the vast majority don't need a waterproof approach shoe, as waterproofing tends to add a little weight and drastically reduce breathability. However, for the alpine climber headed across snowfields and river crossings with the weather changing on a dime, waterproofing can be a life saver—having wet feet in the backcountry is not only dreadfully uncomfortable, but it can also be dangerous over extended periods. There are a handful of Gore-Tex approach shoes available, like the Salewa Mountain Trainer 2 GTX, that are ideal for keeping your feet dry in wet mountain environments.

8. The Mid-Height Approach Shoe
Similar to hiking boots, mid-height approach shoes extend past the ankle for more support and protection. While this style may be overkill for most climbers, they do add ankle stability and protection, which is especially great for carrying heavy loads over uneven ground. They also perform better on snow, and some (like the La Sportiva Trango Tech) even have semi-automatic crampon compatibility. However, these shoes are heavier and bulkier than low-riding models, and you probably won't want to hang them off your harness while climbing. Here's our take: unless you need the extra support or anticipate traveling over a lot of snow, we generally don't recommend the mid-height approach shoe.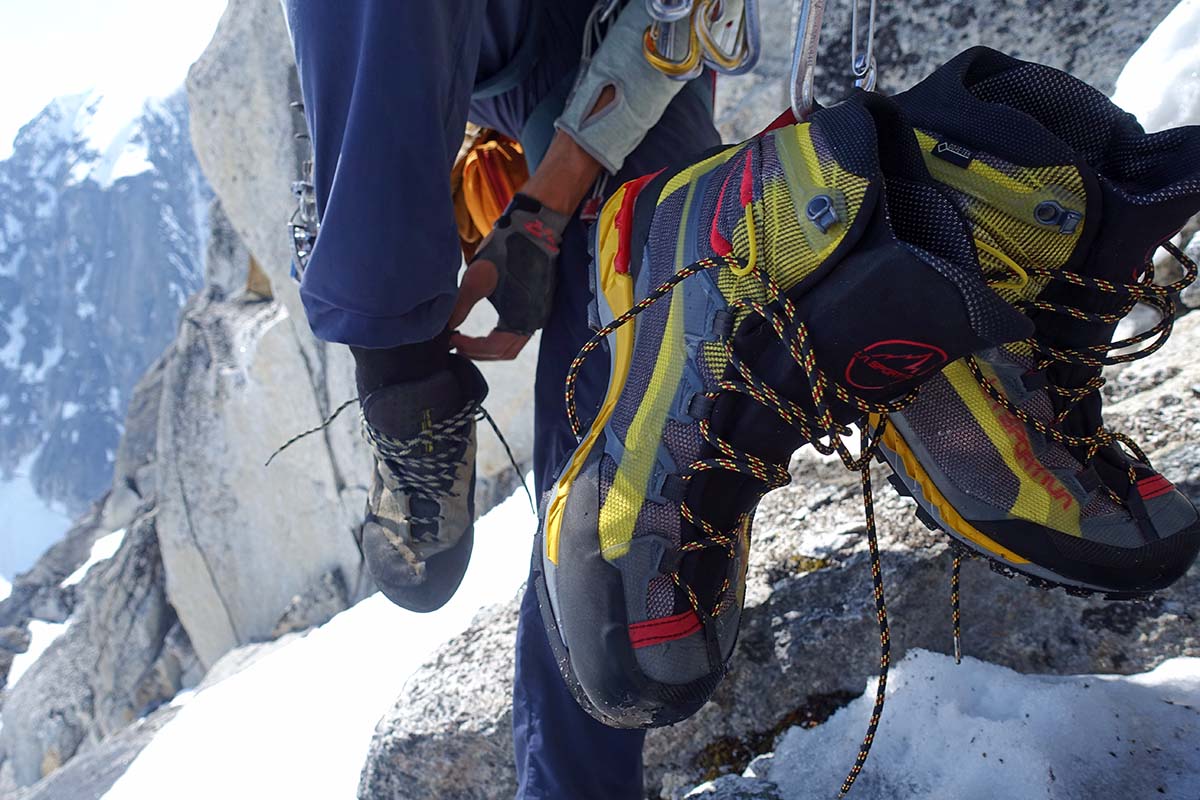 9. Do You Need an Approach Shoe?
Just because you're a climber doesn't necessarily mean you need an approach shoe. Take it from me: I've done hundreds of approaches in Kentucky's Red River Gorge in Chacos, and have easily accessed a great deal of climbing on Colorado's Front Range in hiking shoes and trail runners. In short, for most craggers, boulderers, and gym climbers, approach shoes might be overkill. However, once your approach turns long or technical—including miles of hiking or 5th-class scrambling—approach shoes become an important part of your quiver. In the end, it comes down to what kind of ground you expect to cover and whether or not you'll be putting that sticky rubber to good use.

10. Our Top Approach Shoe Picks
Over the years, we've tested a wide range of approach shoes in a variety of environments, from high peaks in the Alaska Range to local crags. Our best approach shoe article puts together our top picks, which run the gamut from all-around models to budget craggers and hiking-specific designs. Below are a few of our favorites broken down into key categories:
Best Overall Approach Shoe: La Sportiva TX4
A Close Second: Five Ten Guide Tennie
Best Budget Approach Shoe (and great for cragging): Evolv Cruzer Psyche
Best Approach Shoe for Hiking: Salewa Mountain Trainer 2 GTX
See Our List of Best Approach Shoes
Learn More About Rock Climbing