Scarpa Crux
Price: $130
Weight: 1 lb. 6.8 oz.
Upper: Suede
Sole: Vibram Megagrip
What we like: Great comfort and support for hiking; inexpensive and lightweight all-rounder.
What we don't: Not adept on technical terrain; outsole lacks durability.
See the Men's Scarpa Crux  See the Women's Scarpa Crux
Visit any crag across the country, and you're bound to see Scarpa's Crux on the feet of multiple climbers. This entry-level approach shoe is a well-built, affordable offering that excels on trail and easy rock. And in early 2018, it got a few upgrades—most notably, a new rubber compound with increased lifespan and better grip. I took the updated Scarpa Crux on my spring and summer adventures, from cragging at Smith Rock to approaching routes in the Stuart Range of Washington State. Below I break down the shoe's hiking and climbing performance, durability and construction, waterproofing and breathability, weight, sizing and comfort, and more. To check out the competition, see our article on the best approach shoes.

Performance
Hiking
When it comes to the trail, the Scarpa Crux is among the best approach shoes I have worn. The burly suede upper offers almost as much support and protection as a hiking boot, and a flexible and well cushioned midsole provides agility and comfort on par with a trail runner. The result is a cushy shoe that can move quickly and handle high mileage days, but still offers support and protection from stubbed toes and sharp rocks. For long approaches into the mountains with a heavy pack, the Crux is a top performer.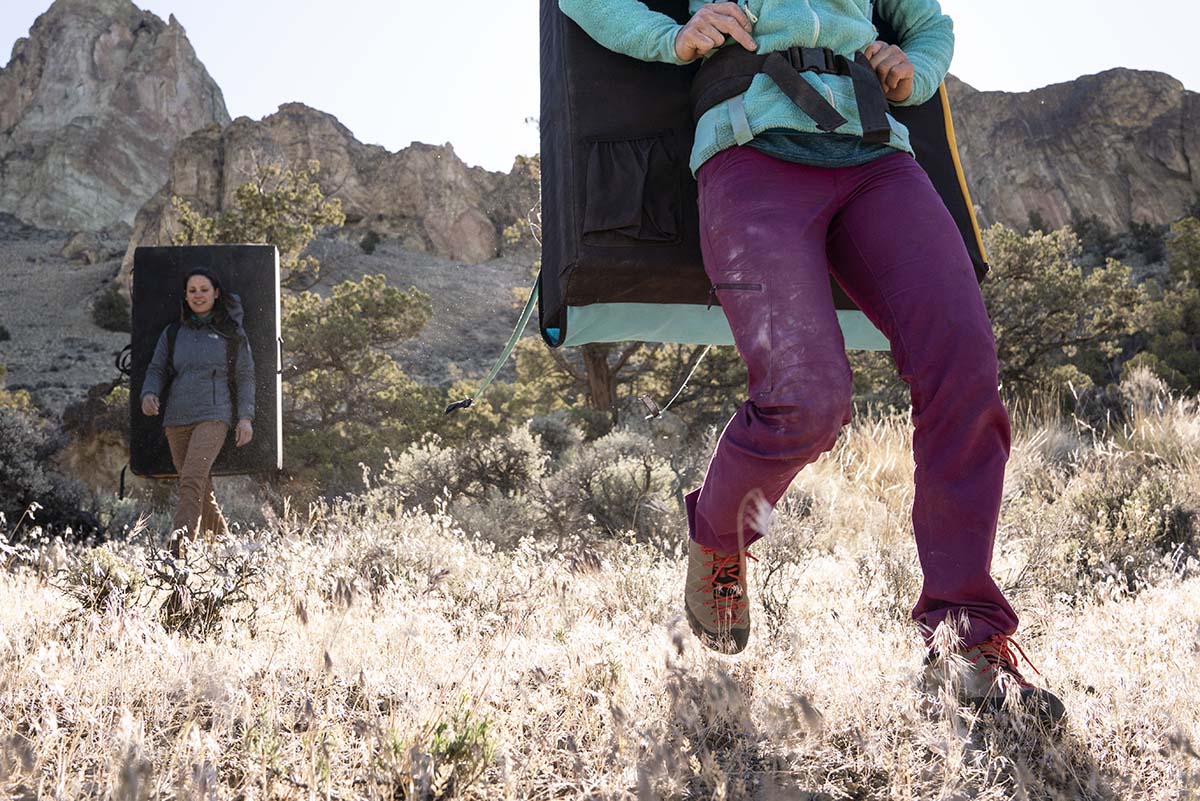 The sole of the Crux features a sharp, varied tread that gives the shoe a noticeable bump in traction on wet terrain. This tread is distinct from the common circular pattern (or Dotty rubber, as Five Ten calls it) of models like the La Sportiva TX3 and Five Ten Guide Tennie—though grippy on rock, these shoes struggle on slippery leaves and mud. What's more, in the latest version of the Crux, Scarpa swapped out the Vibram Idrogrip sole for Vibram Megagrip, a more durable and stickier rubber. This updated sole provides traction on rock similar to that of class leading approach shoes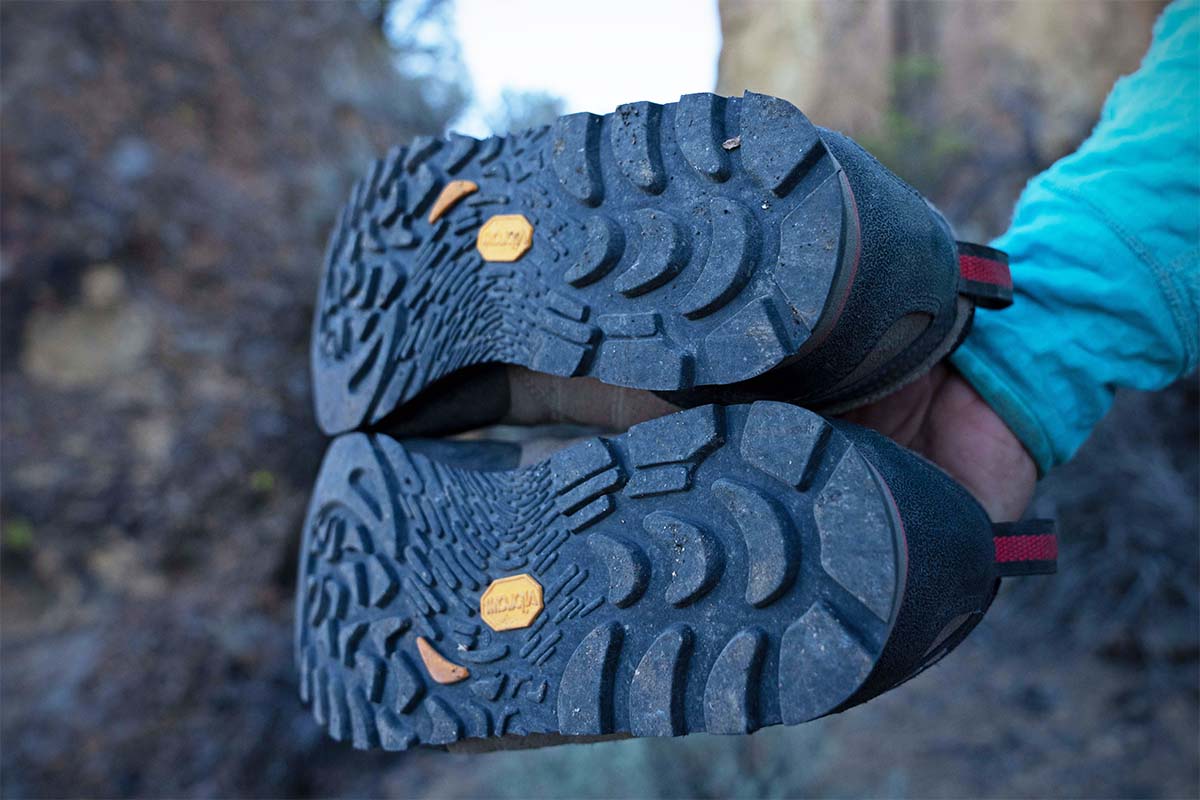 Climbing
The Crux is not, however, my top choice for climbing technical rock—the same features that excel on the trail detract from performance on steeper terrain. First off, the flexible midsole does not offer much stability or power transfer on small edges, bending easily at the arch rather than maintaining a solid platform for the foot. This also results in decreased performance while kicking steps in snow, and I've even experienced the shoe buckling within an aluminum crampon. Secondly, the Crux is designed with two layers of soft foam in the midsole—while comfortable for hiking, this foam compresses while edging and compromises the sturdy platform needed to stand on small holds. For technical terrain, I much prefer the stiffer sole and more streamlined edge design of shoes like the La Sportiva TX4 or Scarpa's own Gecko.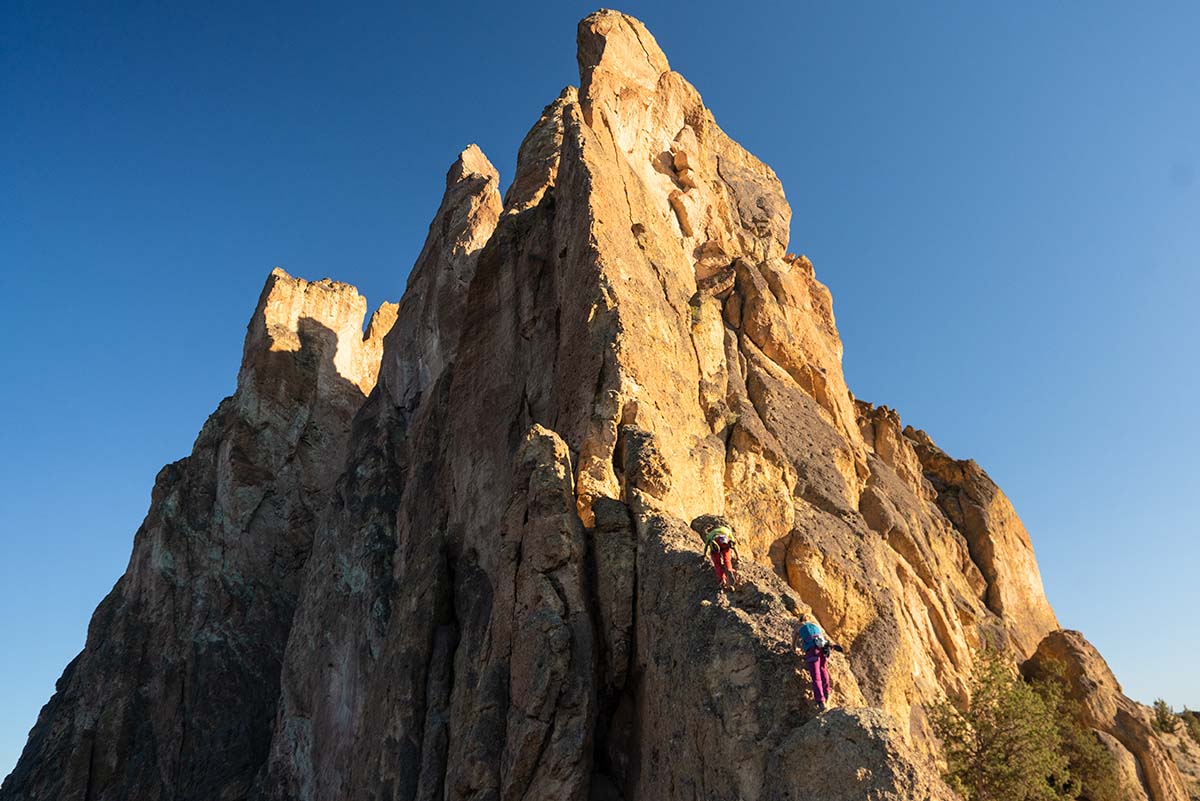 Despite its shortcomings, the Crux does have a number of notable features that boost performance on less technical rock. The impressively sticky Megagrip sole features a smooth patch of rubber below the big toe for edging, and a rubber rand extends around the toe box for increased protection, durability, and traction (especially in cracks). The leather upper is highly protective, and provides a snug fit that conforms to the foot better than mesh or canvas, resulting in more responsiveness and security on small holds and in cracks. Furthermore, the toe rand has seen some updates in the latest version—it is now lighter and narrower for greater control and stability on edges. These features lend themselves to performance while scrambling and boulder hopping, but the flexible and cushioned midsole keep the Crux from being a true performer on fifth-class rock.
 
Durability and Construction
In the past, the Scarpa Crux has been unimpressive in terms of durability, owing mostly to the short lifespan of the Vibram Idrogrip sole. But in the 2018 upgrade, stickier and more durable Megagrip replaces Idrogrip. Combined with an already impressive upper, this new version should have a longer lifespan. The strong suede withstands abuse and abrasion better than most approach shoes (especially non-leather models), and Scarpa's use of Kevlar webbing between the laces and the midfoot mitigates the suede's stretch for a more consistent and secure fit. We've noticed a huge difference between the Crux and Sportiva's similar Boulder X in this respect—both are made with leather, but the Crux maintains its shape much better, especially when wet.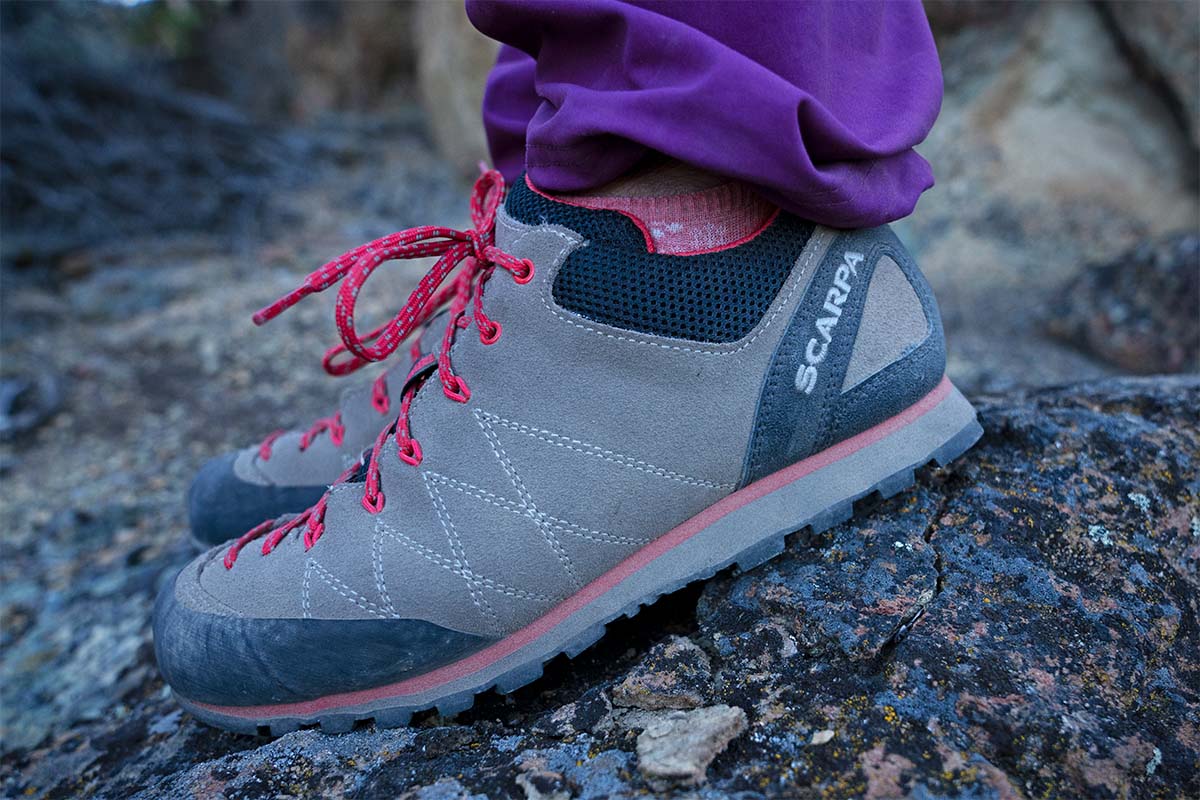 Waterproofing and Breathability
In general, shoes with leather uppers will be less breathable than mesh or canvas models. That said, with thin 1.8mm suede and polyester mesh on the tongue and around the ankle, the Crux manages to be more breathable than other leather shoes like the Five Ten Guide Tennie or the La Sportiva Boulder X. We prefer the highly breathable mesh upper of the La Sportiva TX2 or TX3 for summer climbing, but favor a suede construction when durability and protection are the higher priority.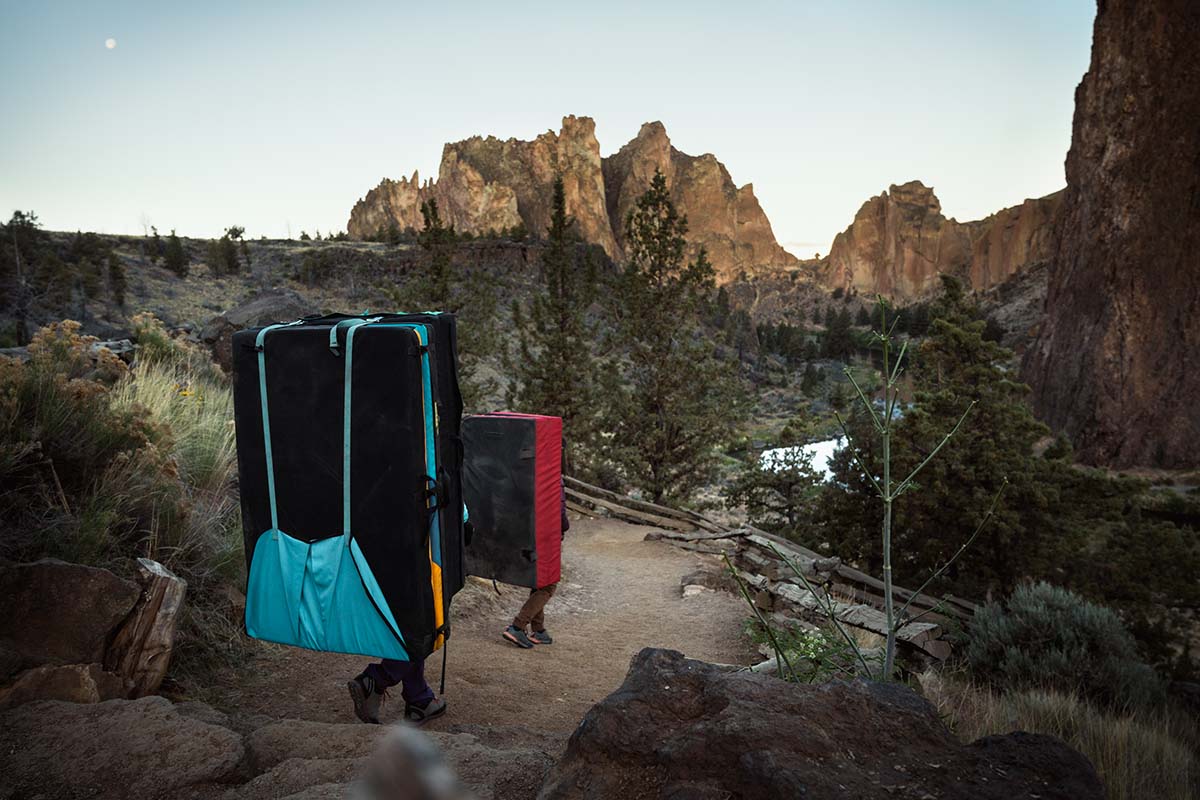 Though not designed to be waterproof, the suede upper of the Crux provides a high level of water resistance, and keeps out light moisture better than mesh or canvas. The thin composition of the suede also means that the shoes dry out quickly when they do become wet, rather than retaining water weight. If you're in the market for a truly waterproof shoe, we'd recommend something like the Salewa Mountain Trainer GTX instead. Alternatively, you can apply a layer of Nikwax products or Sno-Seal to the Crux (although this will affect breathability).
 
Weight
The women's model of the Scarpa Crux clocks in at 1 pound 10 ounces for the pair, which puts it on the heavy side for a low-top approach shoe. For comparison's sake, the women's Five Ten Guide Tennie weighs 1 pound 6.6 ounces, La Sportiva's TX3 tips the scale at 1 pound 4 ounces, and their Boulder X—a shoe similar to the Crux in bulk and design—comes in at 1 pound 13 ounces. The additional ounces of the Boulder X and the Crux result in slightly more protection, cushion, and durability—well worth it if the main function of your approach shoe is hiking. However, if you're routinely climbing or strapping them to your harness for the descent, we recommend opting for a lighter model. La Sportiva's 14.4 ounce TX2 offers a lightweight combination of both impressive hiking and climbing performance.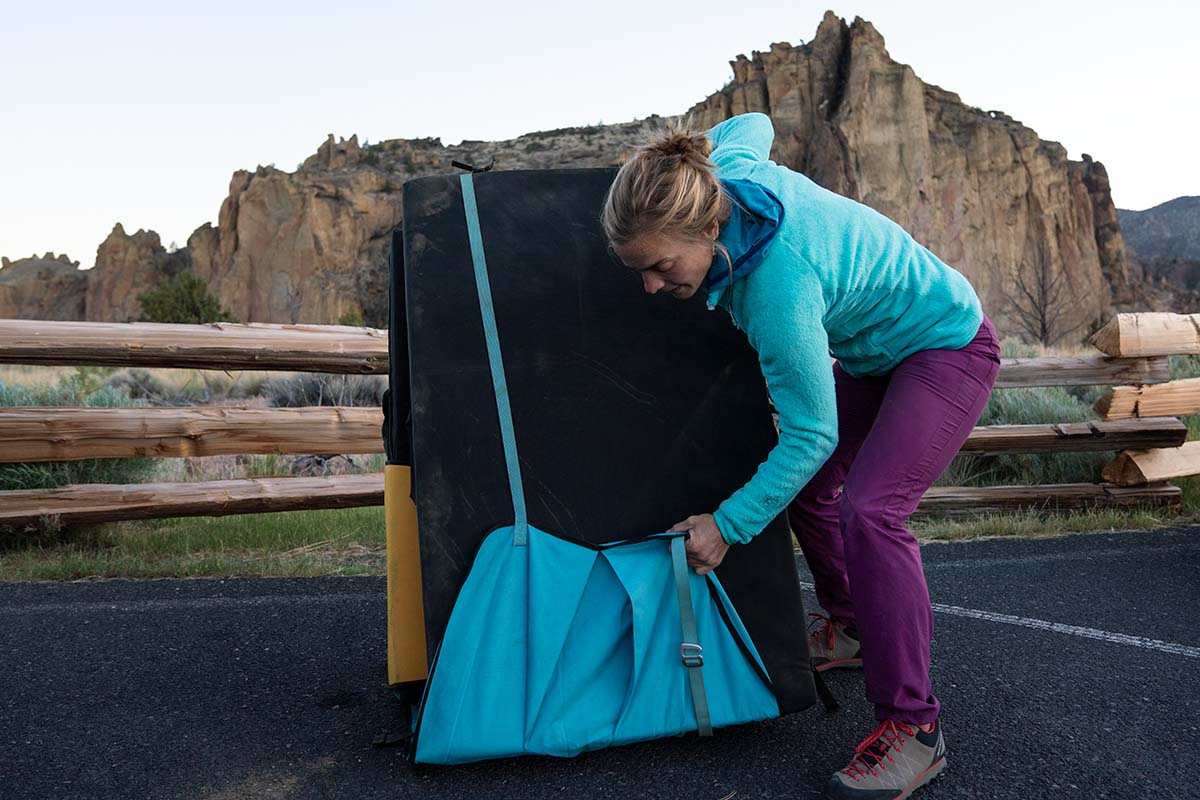 Fit, Sizing, and Comfort
The Scarpa Crux fits true to size and accommodates my wide feet better than most shoes. In fact, the shoe is so roomy that it might be less than ideal for those with narrow feet. Thankfully, as with most approach shoes, the laces extend all the way to the toes so you can dial in the fit. Furthermore, the Crux has a great deal of comfort worked into its design, with a flexible midsole and layered EVA foam that offers more agility and cushioning than a rigid shoe like the Five Ten Guide Tennie. Cushioned mesh on top of the foot and around the ankle provides padded comfort in addition to breathability.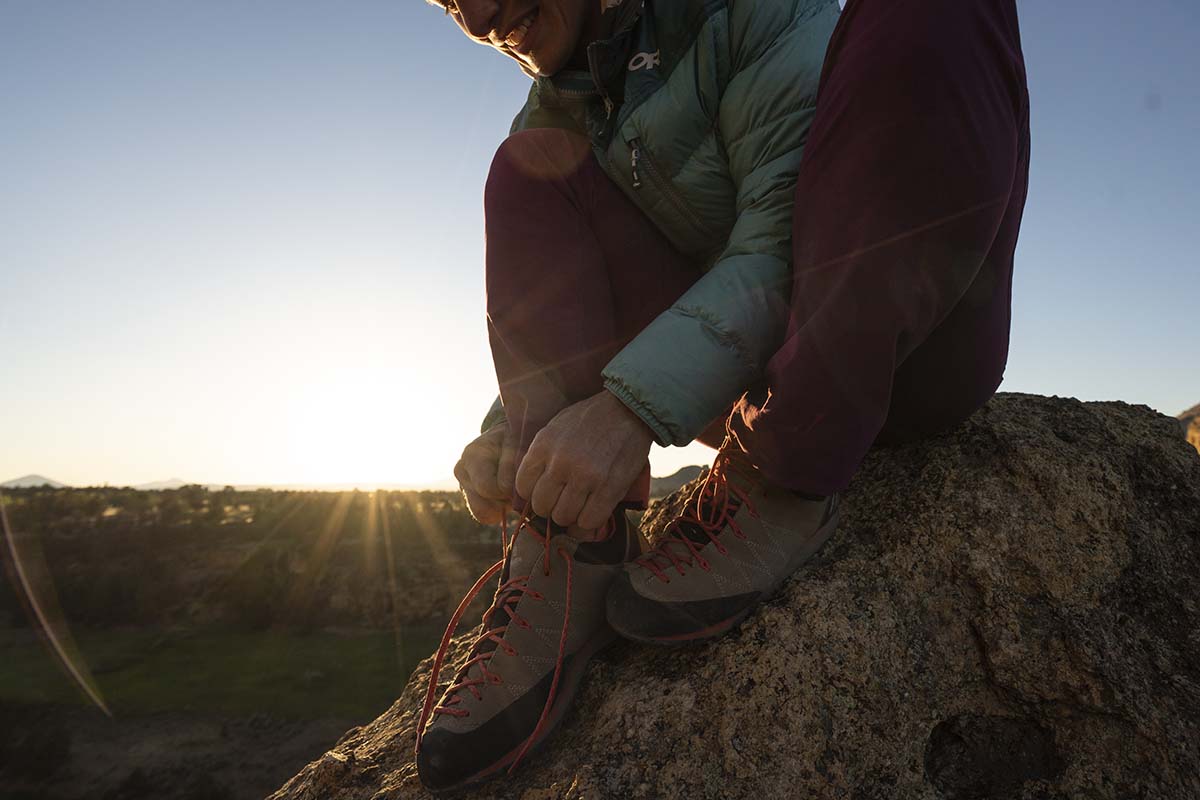 Other Versions of the Scarpa Crux
For this review, we tested the women's version of the Crux. Scarpa also makes the shoe a men's model, which weighs slightly more (1 pound 14 ounces) and comes in different colorways but has the same overall design. We haven't worn the men's version yet, but it is safe to assume that it's designed to accommodate a slightly higher-volume foot than the women's model and will offer similar performance and durability. Further, Scarpa also makes the Crux Air ($130), which swaps the Crux's suede upper for mesh, resulting in greater breathability and a lighter, 1 pound 3.8 ounce build.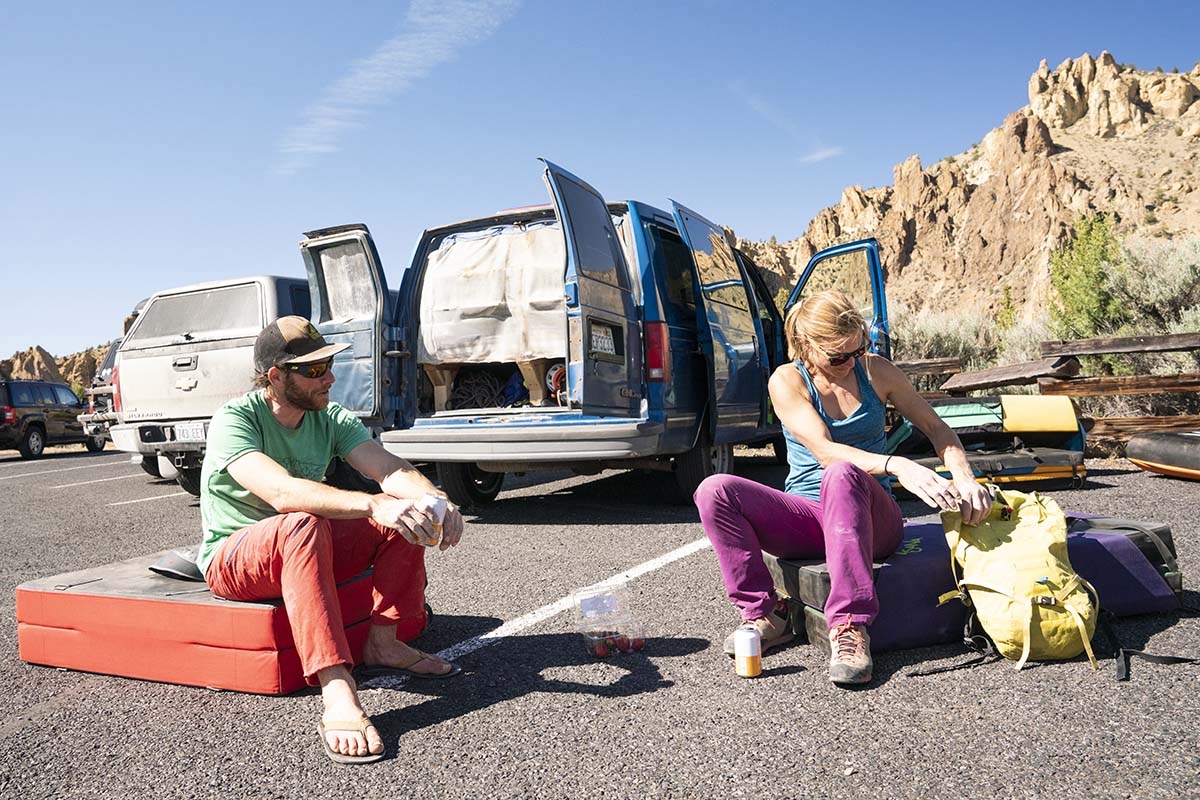 What We Like
Durable and protective upper on a flexible and lightweight shoe makes for all day comfort and support on the trail.
The new Megagrip sole provides superior traction on wet terrain, and it's durable too.
Thin 1.8mm suede is lightweight and breathable yet still water resistant and protective.
 
What We Don't
On the heavy and bulky side for an approach shoe.
Cushioned and flexible midsole means the Crux does not perform well on technical rock, steep snow, or when paired with aluminum crampons.
Less breathable than shoes with a mesh or canvas upper.


Comparison Table

The Competition
There's no shortage of approach shoes on the market, and each comes with its own distinct blend of hiking and climbing performance. Before you buy, it will help to identify your priorities—how much do you actually climb in your approach shoe? Do mud or slippery leaves line the trail to your local crag? Do you value protection and durability over breathability and weight-savings, or vice versa? And, how much do you want to spend?
The Crux is a hiking-oriented approach shoe that is durable, comfortable, more affordable, and more breathable than most leather models. The Boulder X is a similar entry-level offering from La Sportiva with comparable hiking and climbing performance. You'll save $10, but overall it's a less breathable, bulkier, and heavier shoe, with an upper that loses its structure when wet and a less durable Idrogrip sole to boot. For a cushioned, flexible hiker, we'd stick with the Crux.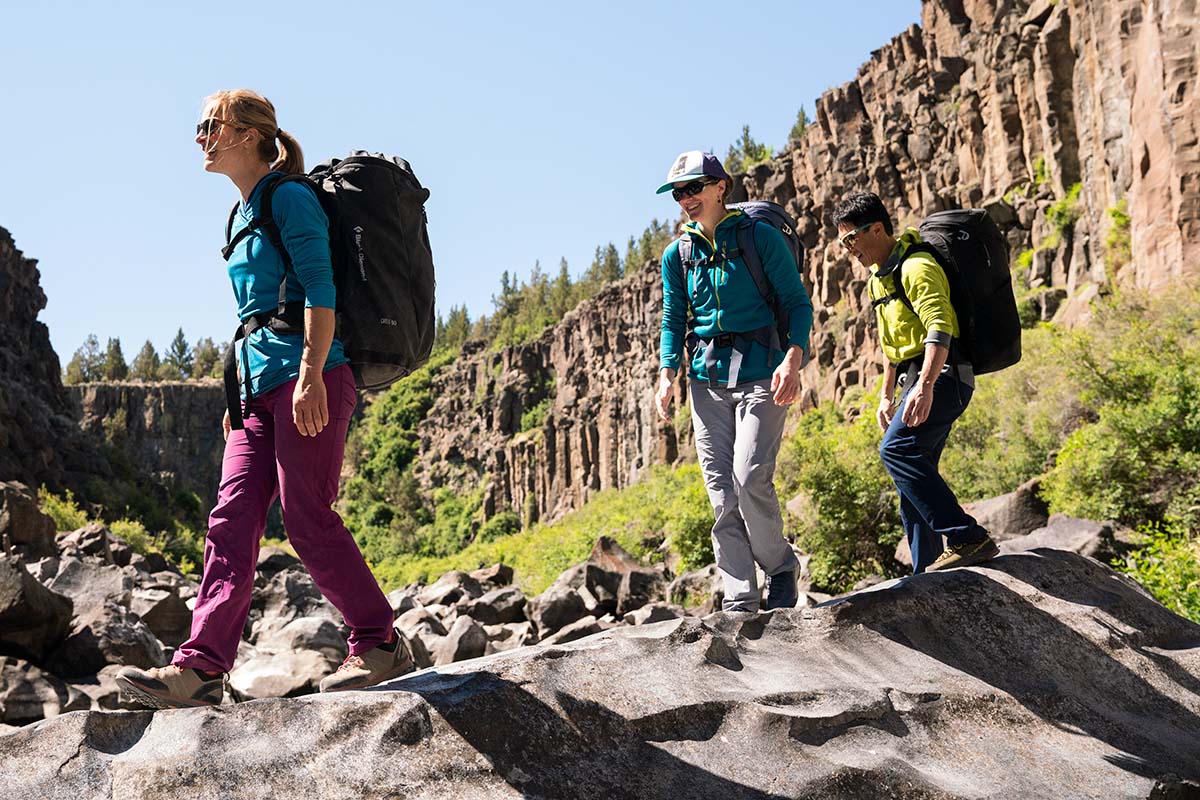 If you're looking to level up to an approach shoe with more climbing performance, the Five Ten Guide Tennie is a high-quality option. At 1 pound 6.6 ounces, it's lighter weight for easier carrying, has a stiffer midsole for more stability on technical terrain, and features a more rock-oriented sole. If you're often hiking on wet leaves to the crag (think east coast and southeast approaches) and seldom are climbing in your approach shoes, we'd stick with the Scarpa Crux. But for all other applications, the Guide Tennie (see our in-depth review here) is a more high-performance option.
Another wildly popular approach shoe—and one of our favorites—is the La Sportiva TX3 ($135). With a mesh upper, the TX3 is lighter than the Crux at 1 pound 4 ounces and offers improved breathability for warm-weather approaches and those who run hot. Like the Guide Tennie above, the TX3 features a dotted rubber sole that excels on rock, whether you're scrambling through a boulder field or climbing low-fifth-class terrain. You do get significantly less durability with the mesh upper of the TX3, but La Sportiva also makes the all-leather TX4, which is less than a pound heavier and priced competitively at $140 (see our in-depth review here).
The last shoe we'll mention here is Scarpa's own Gecko. Whereas the Crux is designed for comfort, protection, and breathability on the trail, the Gecko excels on technical terrain. Its combination of a lower volume build, less cushioning, and stiffer midsole gives it far more stability and precision on rock and steep snow. Alpine rock climbers and those that like to climb in their approach shoes, take note. That said, the Gecko is less cushioned than the Crux and noticeably less breathable, with more sticky rubber around the toe box and continuous leather around the ankle. If you're simply in the market for a hiking shoe, we recommend saving $45 and sticking with the Crux. 
If you're thinking about buying gear that we've reviewed on Switchback Travel, you can help support us in the process. Just click on any of the seller links above, and if you make a purchase, we receive a small percentage of the transaction. The cost of the product is the same to you but this helps us continue to test and write about outdoor gear. Thanks and we appreciate your support!
Depending on the seller, most products ship free in the United States on orders of $50 or more. International shipping availability and rates vary by seller. The pricing information on this page is updated hourly but we are not responsible for inaccuracies.
Learn More About Climbing