La Sportiva TX4
Price: $140
Weight: 1 lb. 4.8 oz.
Upper: Leather
Sole: Vibram Megagrip Traverse
What we like: More durability and protection than the TX3 for just $5 more.
What we don't: Leather shrinks when wet and the toe box will be too wide for some.
See the Women's La Sportiva TX4  See the Men's La Sportiva TX4
La Sportiva's popular TX lineup runs the gamut from the minimalist TX2 approach shoe to the mid-height TX5 hiking boot. Over the past few seasons, I've enjoyed my middle-of-the-pack TX3: an approach shoe with a great combination of breathability, support, and performance on both trail and rock. But after experiencing durability issues with the mesh upper, I decided to try the leather TX4. Since making the switch, I've been surprisingly impressed: the TX4's added protection, longevity, and waterproofing are worth the small weight penalty. Below we break down the La Sportiva TX4's hiking performance, climbing performance, waterproofing and breathability, weight, sizing and fit, and more. To see how the TX4 stacks up, see our articles on the best approach shoes and best lightweight hiking shoes.

Performance
Hiking
The La Sportiva TX4 provides an impressive combination of support, protection, and traction on the trail, making it one of our favorite approach shoes for hiking. I debuted the TX4 on a four-day, 35-mile backpacking trip in the Grand Canyon where we encountered everything from mud and packed dirt to talus, ice, and snow. With the same Vibram Megagrip Traverse rubber sole as the TX3—a very sticky rubber with dotty tread on the forefoot and sharper lugs on the heel—I felt secure over all the terrain we came across. In fact, the TX4 seemed to outperform many of the lightweight hiking shoes worn by members of my group, specifically when it came to traction.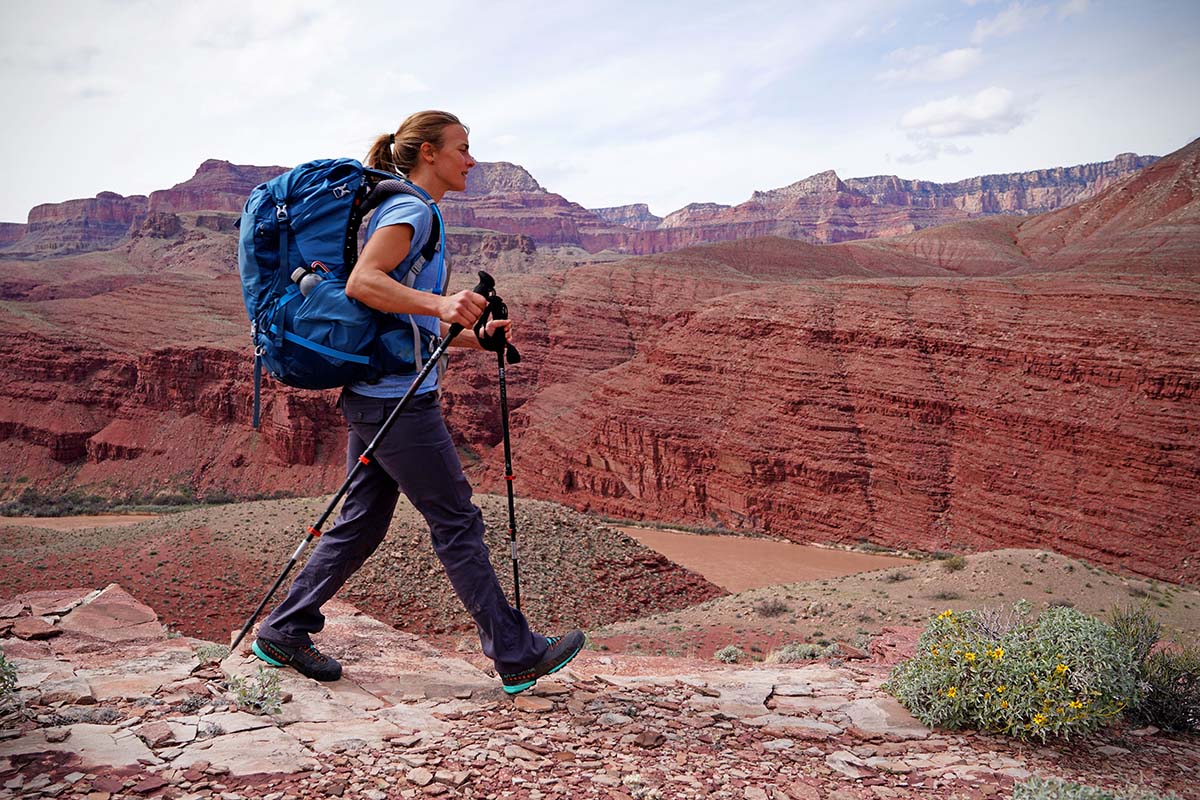 While their rigid, climbing-specific sole often gives approach shoes the reputation of being clunkier on the trail than lightweight hikers, the TX4 offers a nice balance of stiffness and flexibility. Compared to the thick, brick-like sole of the Five Ten Guide Tennie, the TX4 allows noticeably more natural bounce to each step. At the start of our hike, my pair of TX4s weren't broken in at all, but the leather upper quickly conformed to my foot over the course of our first 10 miles. Even with a 40-pound load on my back, I suffered no rubbing or hot spots and appreciated the light cushioning underfoot. Additionally, the leather upper gives a tangible boost in protection—especially compared to popular mesh approach shoes and lightweight hikers. The Grand Canyon was rife with rocks and sharp plants along the trail, but the TX4's leather guarded my foot where the mesh of the TX3 would have fallen short.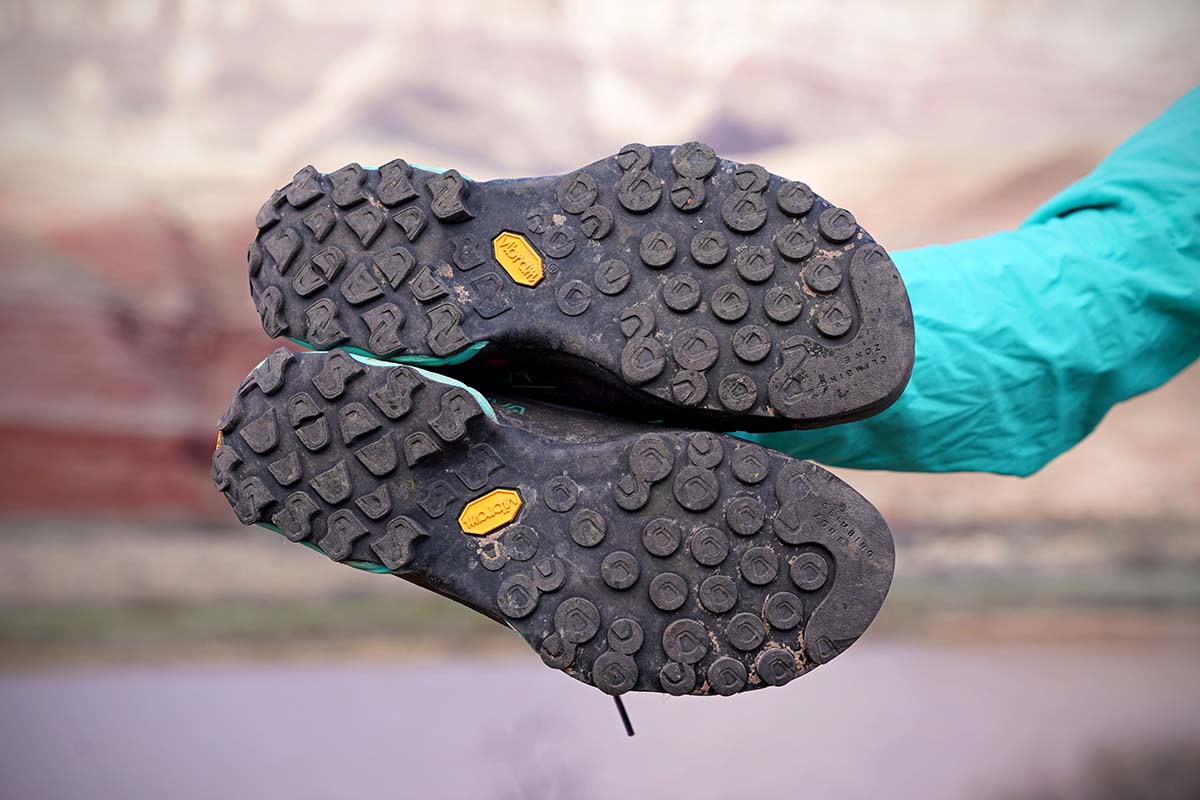 Climbing
With a leather upper, stiff and sticky sole, and generous rand along the base of the foot, the La Sportiva TX4 also excels on technical rock. While scrambling the low-5th-class approach to the Monkey Face at Smith Rock, I was able to perch on small edges and smear on slab with confidence. In fact, I found that the smooth patch of rubber underneath the toe lends grip and precision that rival that of a climbing shoe. Further, the snug and form-fitting leather upper kept my foot from swimming in the shoe, allowing me to step on foot holds and jam my foot in cracks with accuracy. Compared to the mesh upper of the TX3 or canvas upper of the Evolv Cruzer Psyche, the TX4's leather boosts the shoe's climbing ability significantly by adding protection, rigidity, and a close fit. Comparatively, the leather Five Ten Guide Tennie offers a slightly tighter fit and more streamlined toe box for technical precision, but these climbing-specific features detract from comfort and protection on the trail.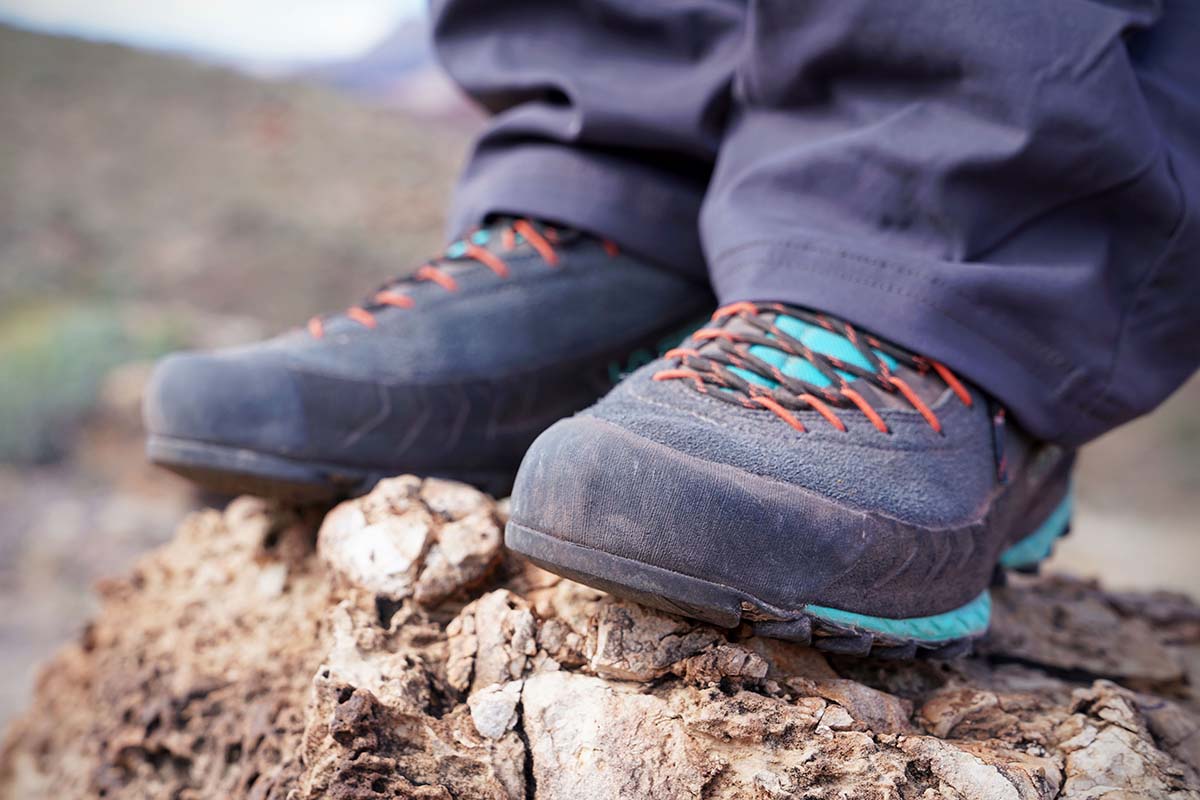 Waterproofing and Breathability
With a leather upper, the TX4 provides ample water resistance without compromising much in the way of breathability. Although the shoe does not incorporate a waterproof membrane like the Salewa Mountain Trainer GTX or La Sportiva's TX4 Mid GTX, I have worn it through miles of snow and beside lapping water and have come away impressed. Water quickly beads up on the leather rather than seeping through, and during a particularly snowy hike to the rim of the Grand Canyon, my feet stayed dry until the snow became so deep that it entered the shoe at my ankle. Under repeated exposure to wet conditions, I expect the TX4 will wet out and grow heavy with water weight, but you can always enhance the waterproofing capabilities of a leather shoe with treatments from brands like Sno-Seal or Nikwax (although these will negatively impact breathability).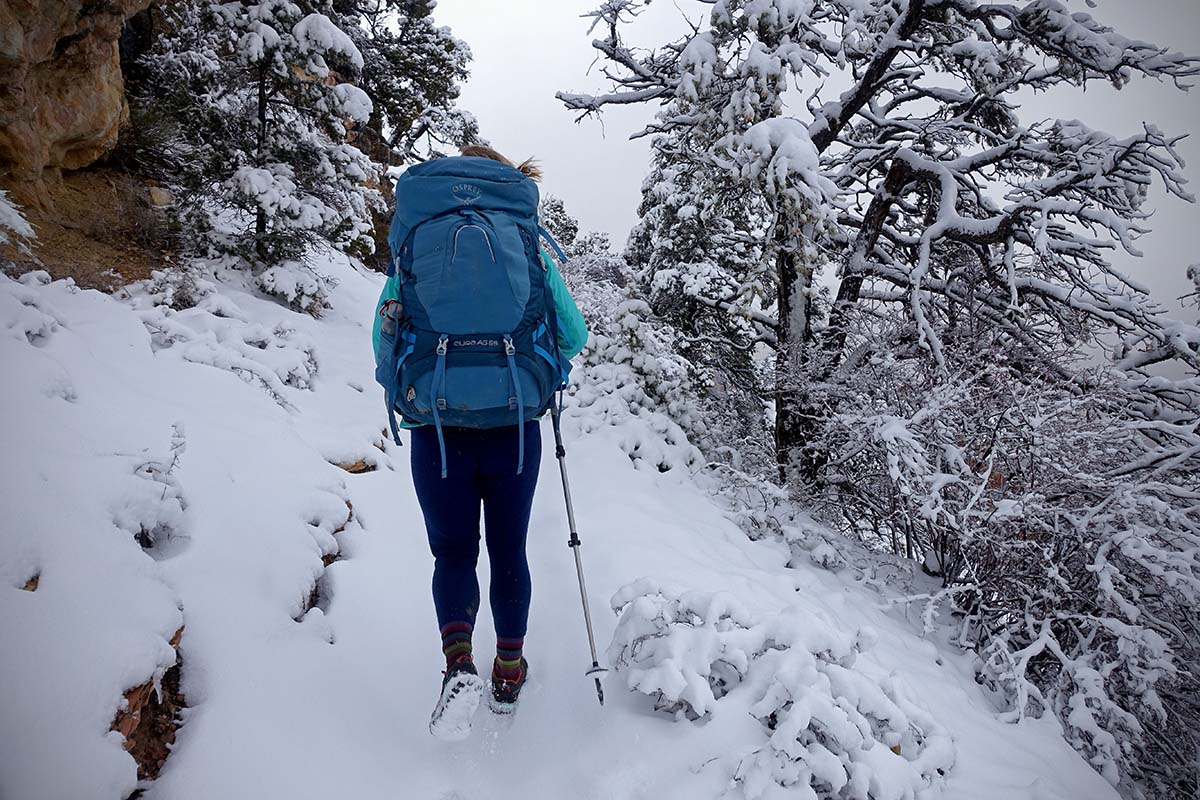 Waterproofing and breathability are where the mesh TX3 and leather TX4 differ most. The TX3 offers superb breathability for hot summer days but lacks waterproofing altogether. On the other hand, the TX4 provides solid water protection—great for hiking in wet brush or across snow fields—but less ventilation. That said, unlike Gore-Tex and other synthetic waterproof membranes, leather is naturally breathable. In fact, while hiking in mid-60-degree, sunny conditions in the Grand Canyon, my feet never once broke a sweat. With both shoes in my arsenal, I'll opt for the TX3 when I want comfort on a hot day and the forecast is clear, but I mostly turn to the TX4 for its best-of-both-worlds combination of waterproofing and breathability.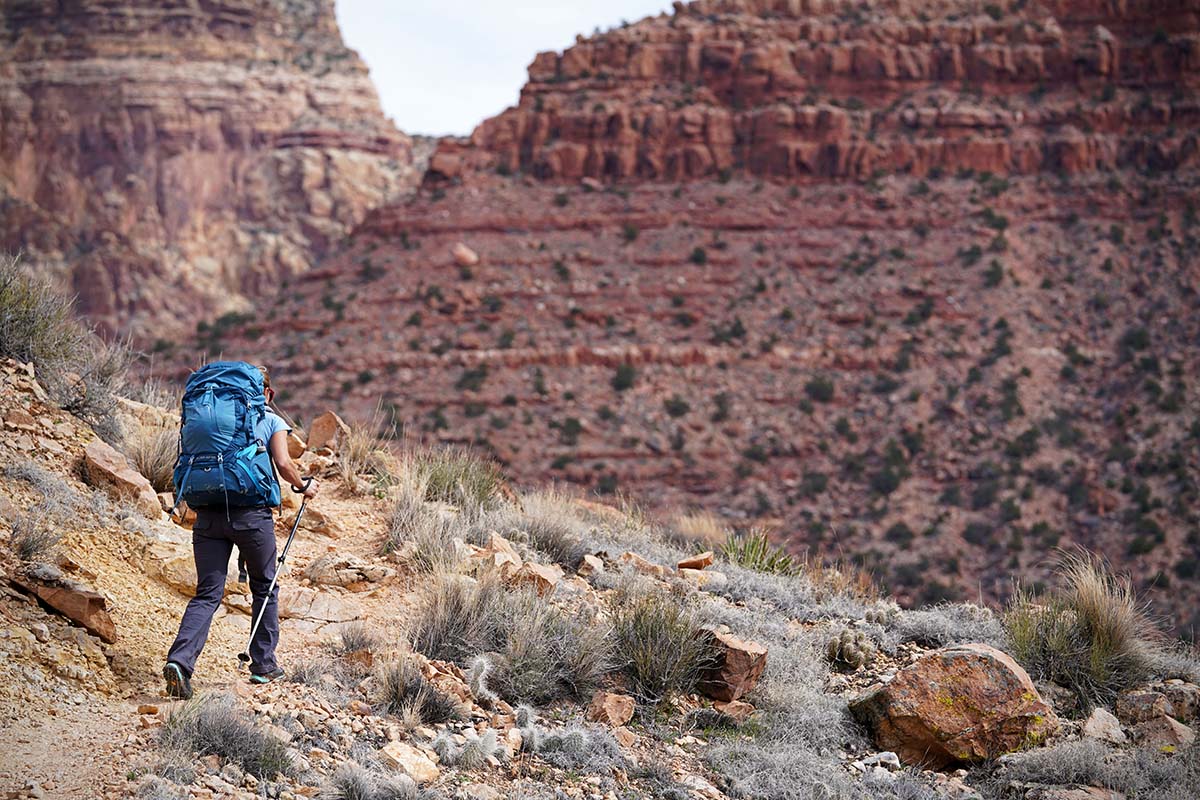 Weight
My pair of TX4s (women's size 8) clocked in at 1 pound 7.6 ounces on my scale (2.8 ounces heavier than the advertised weight), which is decent for an approach shoe that balances hiking and climbing abilities. In comparison, my same-sized TX3s weigh 1 pound 6.7 ounces on my scale, which means that the TX4 adds significant durability, water resistance, protection, and climbing performance for a negligible weight penalty of just 0.9 ounces. I even consider the TX4 light enough to carry up a climb on my harness, especially if I need support and protection for the approach or descent (such as for the rugged canyon approaches in Red Rock or glacial commute in the Bugaboos). If I'm climbing in an area with simple access (think Squamish or Tuolumne), I'd instead opt for a lighter design like Sportiva's TX2 (1 pound 2.6 ounces on my scale) or the Evolv Cruzer Psyche (1 pound 0.8 ounces).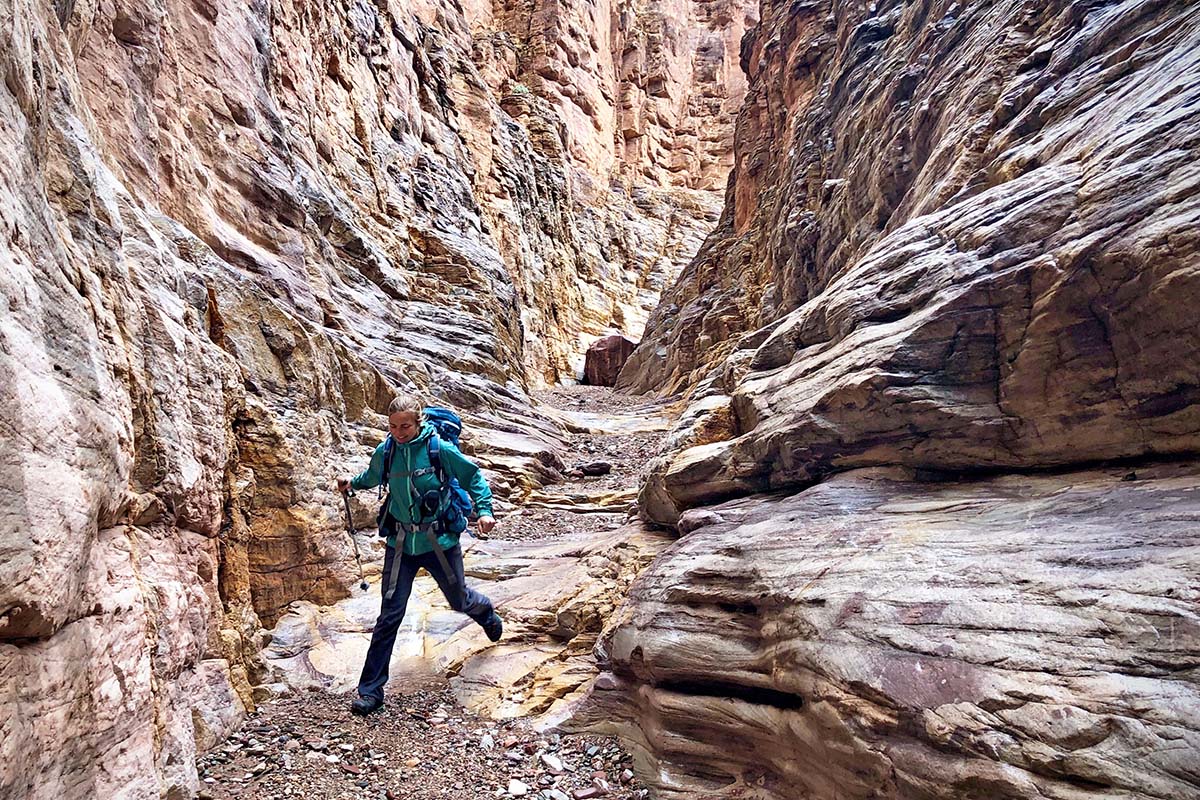 Build Quality and Durability
With a thick leather upper, generously sized wraparound rand, and burly Vibram sole, the TX4 is an impressively well-made and durable shoe that is meant to last. I bored holes in the mesh upper on three pairs of TX3s in the last two years, assuming that the TX4 (which I had never actually tried on) was too heavy and bulky for my climbing style. However, now that I've tried it, there's no going back. The leather upper of the TX4 offers much more durability at an insignificant cost and weight increase (less than an ounce and $5). Further, like the Five Ten Guide Tennie, the TX4 doesn't lose its shape when wet, which is a common complaint with leather approach shoes (the La Sportiva Boulder X, in particular). All told, La Sportiva's TX4 is a thoughtfully designed shoe that will stand the test of time.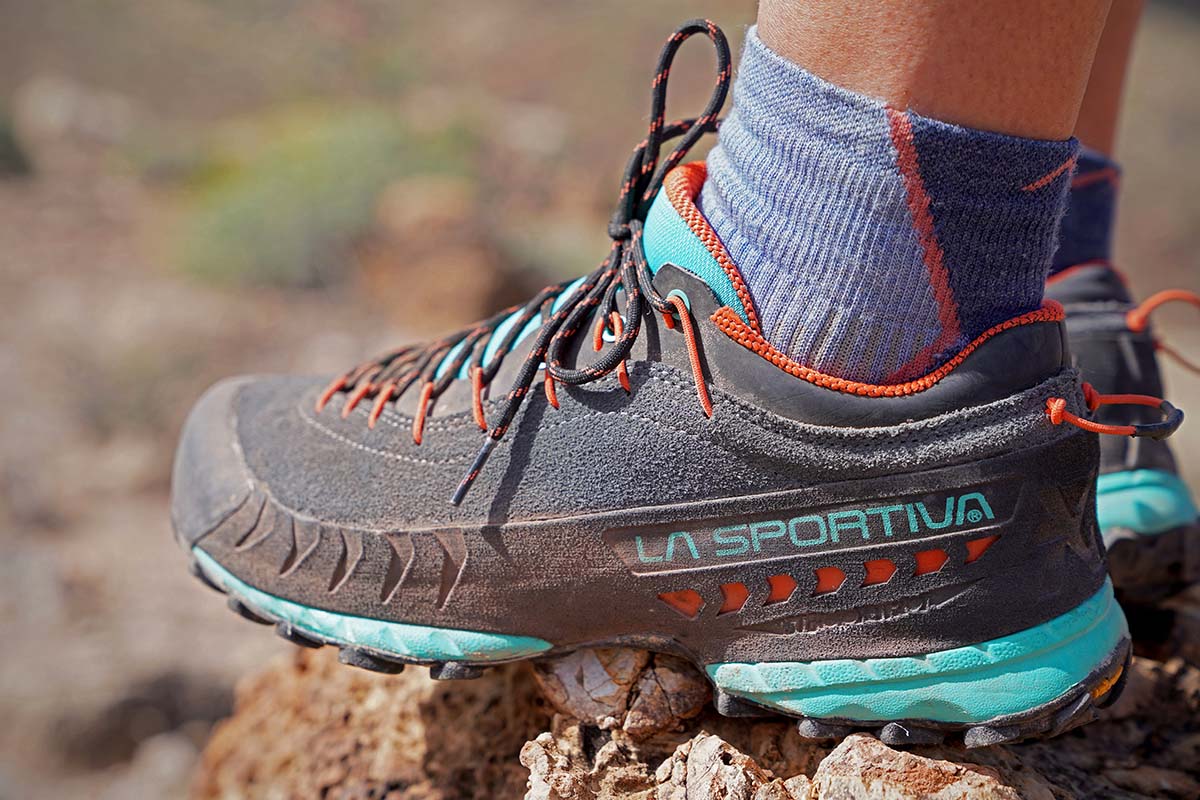 Sizing and Fit
If you've tried on any shoe in the TX lineup, you know the drill: both the sizing and fit of these shoes are unique. For starters, most people find that they run large, so if you're on the fence, we recommend sizing down a half size from your normal number. I have the TX2, TX3, and TX4, and wear a size 8 in all three instead of my usual 8.5. Second, both the TX3 and TX4 have a wide forefoot designed to increase both comfort and stability, which is uncommon from La Sportiva. As someone who has a particularly wide foot, I really love the fit of these shoes. However, if you have a narrow or low-volume foot, you'll likely find the TX4 to be far too roomy. In the end, if this is your first pair of shoes from the TX lineup, we recommend trying on before you buy, or at least purchasing from an online marketplace with a lenient return and exchange policy.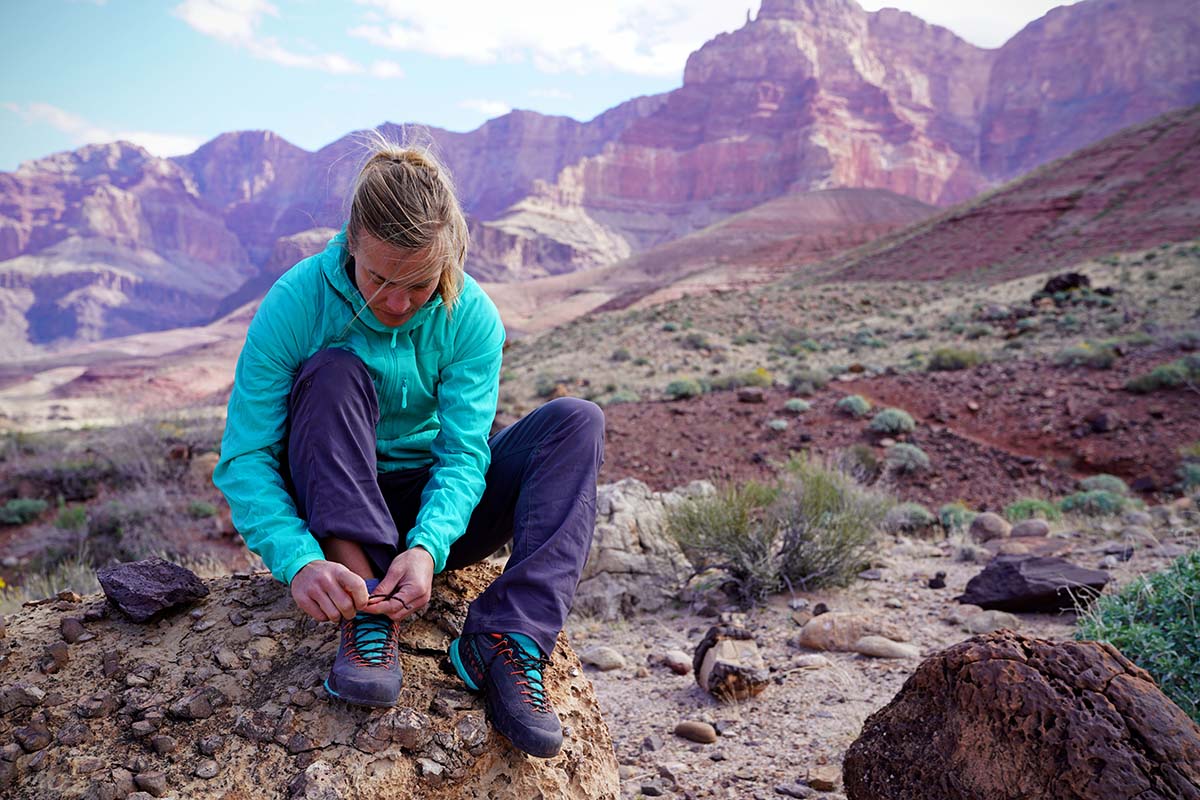 Other Shoes in the TX Lineup
We tested the women's version of the TX4 ($140), but the shoe also is available in a men's version at the same price and with a nearly identical build. In terms of La Sportiva's growing TX lineup, it's currently home to six models that range from ultralight approach shoe (TX2) to all-around backpacking boot (TX5). The TX3 and TX4 are the most similar designs within this grouping, with the only major difference being the construction of the uppers. For $5 less, the mesh TX3 gives you added breathability and a small (about 1 ounce) drop in weight, but you'll sacrifice water resistance, durability, protection, and a precision fit (see our in-depth review of the La Sportiva TX3). The TX4 also comes in a mid-height Gore-Tex build, which clocks in at 2 pounds for the pair and runs $190. It's also worth noting that the TX2 is available in leather ($125), which is about 5 ounces lighter and significantly more compact than the TX4 but also less durable, protective, and comfortable for long days on the trail.

What We Like
Unlike most approach shoes, the TX4 performs impressively well both for hiking and climbing. 
The leather upper is water-resistant without sacrificing much breathability.
Compared to the TX3, you get more durability and protection without adding much weight.
 
What We Don't
The slightly large fit and wide toe box—built for comfort and stability—may be too roomy for those with low-volume or narrow feet.
Leather can wet out and grow heavy and misshapen with extended exposure to rain or snow. You can apply waterproofing products, but keep in mind that they will impact breathability.
This shoe is not fully waterproof, although La Sportiva does make a TX4 GTX for $190.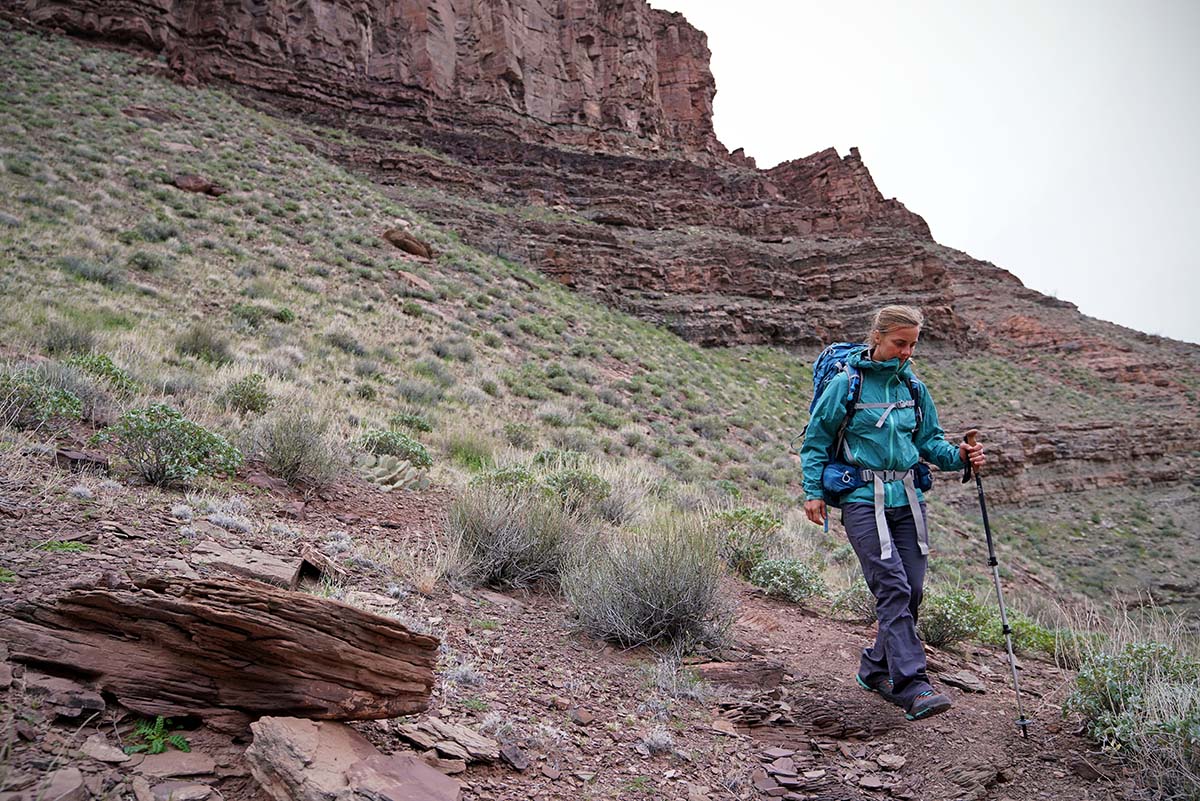 Comparison Table

The Competition
The La Sportiva TX4 is an impressive approach shoe that combines durability, protection, and performance in a lightweight and comfortable build. We've worn over 10 different models of approach shoes over the years, and the TX4 is our all-time favorite hands-down. But despite the high praise, the TX4 won't work for everyone, and there are a number of worthy contenders. As we touched on above, the TX3 from within Sportiva's own lineup offers similar comfort and traction and a boost in breathability for a slightly lower weight (0.8 ounces lighter per pair) and price. For those with particularly sweaty feet or hot summer objectives, the mesh TX3 is a great choice. But with much better durability, protection, and water resistance (and a negligible $5 price increase), we consider the TX4 the better all-rounder.
Similar to the TX4, the Five Ten Guide Tennie is a leather approach shoe with impressive durability and climbing performance that's $20 cheaper than the Sportiva (see our in-depth review here). The leather upper is thicker than that of the TX4, and with a stiff sole, narrow toe box, and smooth edging platform (similar to a climbing shoe), the Guide Tennie arguably is the better shoe for climbing. That said, I found the Five Ten to be prohibitively stiff and clunky on the trail, and the shoe's low ankle design sacrifices comfort and protection. Further, while the dotty rubber sole excels on rock, it loses traction on snow, mud, and wet leaves. The Guide Tennie has a devoted following among climbers and does shave off about an ounce per pair, but the TX4 is more comfortable, hikes better, and gets the edge from us as our favorite leather approach shoe.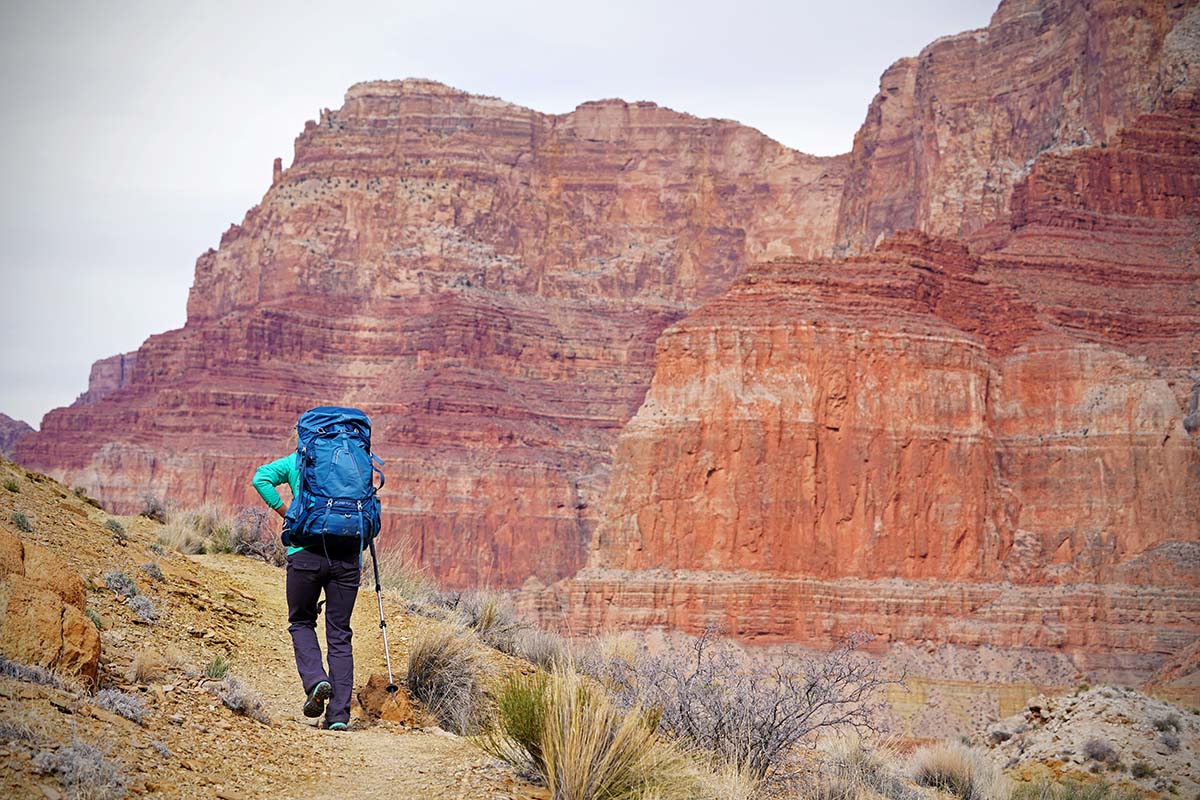 Leather approach shoes like the TX4 and Guide Tennie sit at the top of the pack in terms of durability and fit, but the synthetic Arc'teryx Konseal FL isn't far behind (see our in-depth review here). At only 1 pound 2.4 ounces, the Konseal FL shaves weight with a ripstop mesh upper and a streamlined, climbing-focused build, making it even more capable on technical rock than the TX4. You don't get the snug, form-fitting feel of leather, but the Konseal FL is impressively durable for a mesh shoe (significantly more so than the TX3), and we appreciate how the upper dries quickly and doesn't grow heavy when wet. We'll stick with the TX series for its comfort during long approaches, but the Konseal FL is an intriguing choice for weight-conscious missions when breathability and durability are paramount.
Last, if alpine is more your speed, a hiking-focused approach shoe makes sense for long approaches with a heavy pack. The Salewa Mountain Trainer GTX—Jackson Hole Mountain Guides' shoe of choice for approaches in the Tetons—is a supportive, protective, and durable shoe, built with a waterproof membrane for added assurance. You'll pay a premium both in cost ($200) and weight (2 pounds for the women's version), but we think it's a worthwhile tradeoff if you're logging significant trail mileage.
If you're thinking about buying gear that we've reviewed on Switchback Travel, you can help support us in the process. Just click on any of the seller links above, and if you make a purchase, we receive a small percentage of the transaction. The cost of the product is the same to you but this helps us continue to test and write about outdoor gear. Thanks and we appreciate your support!
Depending on the seller, most products ship free in the United States on orders of $50 or more. International shipping availability and rates vary by seller. The pricing information on this page is updated hourly but we are not responsible for inaccuracies.
Read More From Switchback Travel