Most hikers know Merrell by their popular Moab hiking shoe and boot, which are on the feet of many a casual trail-goer. But while the Moab is decidedly classic, it's not a particularly technically savvy offering. Enter Merrell's MQM series—short for Moving Quickly in the Mountains—and the latest MQM 3 here. Combining features from hiking shoes, approach shoes, and trail runners, the MQM 3 is a high-performance design that's built to tackle technical trails and cross-country terrain. We recently took the shoe hiking in southern Patagonia and enjoyed its unique skill set, although it's a bit too stiff for general hiking needs. Below we outline our experiences with the women's MQM 3. To see how it stacks up to the competition, see our articles on the best hiking shoes, the best women's hiking shoes, and the best approach shoes.
 
---
Table of Contents
---

Performance
Best Uses
The first thing to note about Merrell's MQM 3 Gore-Tex is that this is not your average hiking shoe. True to its MQM heritage (short for "Moving Quickly in the Mountains"), it's a versatile offering that—in Merrell's words—"is stable enough to hike in, agile enough to run in, and durable enough for light scrambling." In other words, the MQM 3 is part approach shoe (stable platform, outsole climbing zone, and to-the-toe lacing), part trail runner (lightweight build and rocker), and part all-around hiking shoe. But with that jack-of-all-trades mindset, does it excel at anything?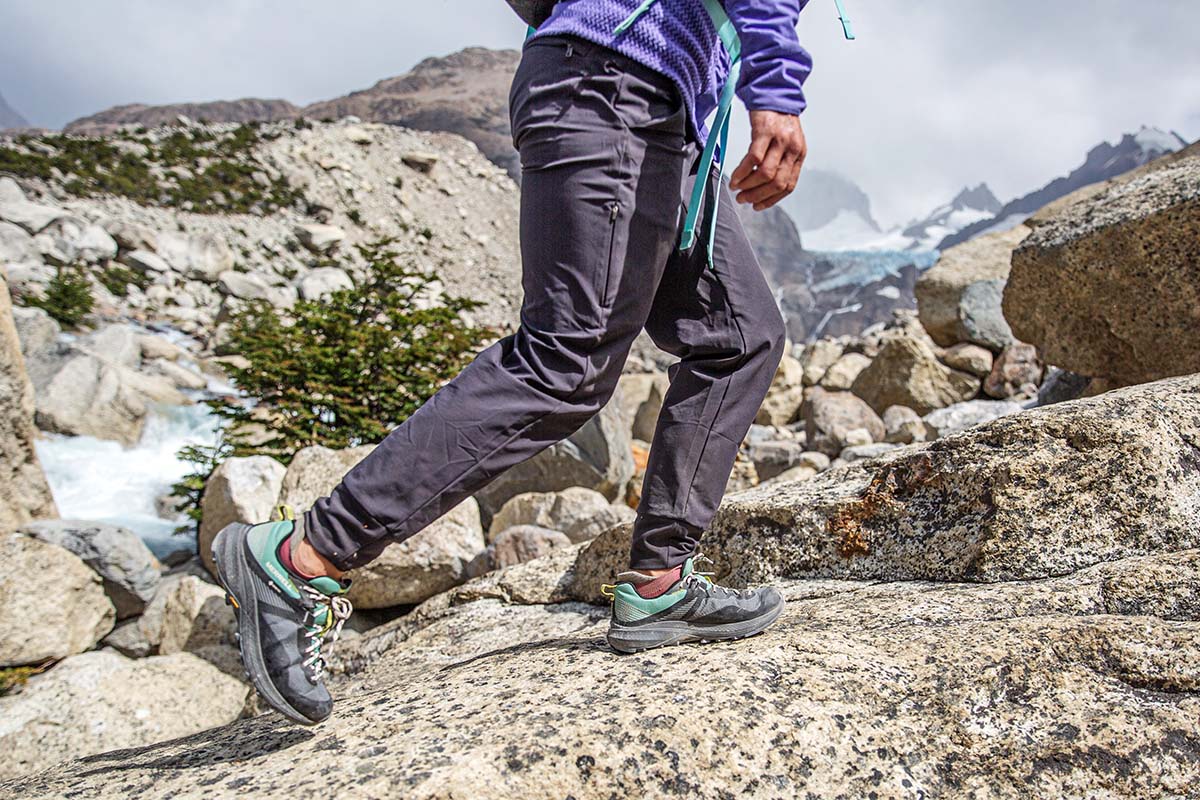 In my opinion, the MQM 3 Gore-Tex nails the approach shoe part of the equation better than the others. As a result, it's a great lightweight alternative to popular approach shoes like the La Sportiva TX4 and TX Guide, Black Diamond Mission LT, and Arc'teryx Konseal FL 2, touting a really functional combination of stability and comfort. On the other hand, it's far too stiff and snug to operate as a dedicated hiking shoe, unless your version of hiking is scrambling Colorado Fourteeners or cross-country exploring in the North Cascades—in which case the MQM 3 Gore-Tex is an excellent option. And it goes without saying that the MQM 3 is too stiff for running, although it's a versatile shoe for new-wave mountain runners who frequent ridgelines rather than trails. In the end, it's one of those pieces of gear that achieves "if you know, you know" status: If you're deep in the world of fast-and-light mountain travel, the Merrell's design likely makes a lot of sense to you. If not, it's probably best to stick with a dedicated hiking shoe.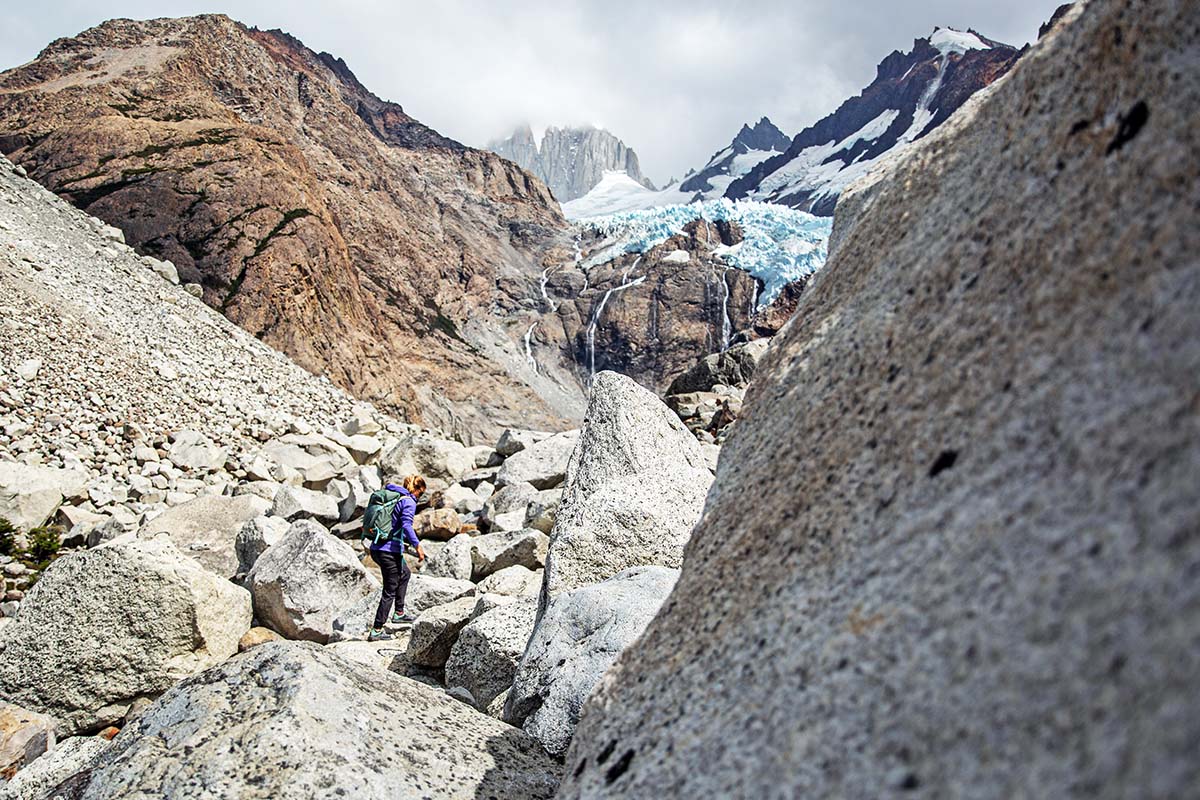 Comfort
When I first took the Merrell MQM 3 Gore-Tex out of the box, I was not thrilled: The shoe looked rigid and unforgiving. I even held it by its heel and toe and gave it a push, only to confirm my suspicions that the MQM 3's sole was indeed stiff. Having just returned from a four-day climbing trip in the Chaltén Massif, my feet were swollen and sore; I was not excited to force them into any hiking shoe—no less a hiking shoe that moonlights as an approach shoe. So I delayed, wore a cushy trail runner-inspired hiking shoe for our first day hike, and then donned the MQM 3.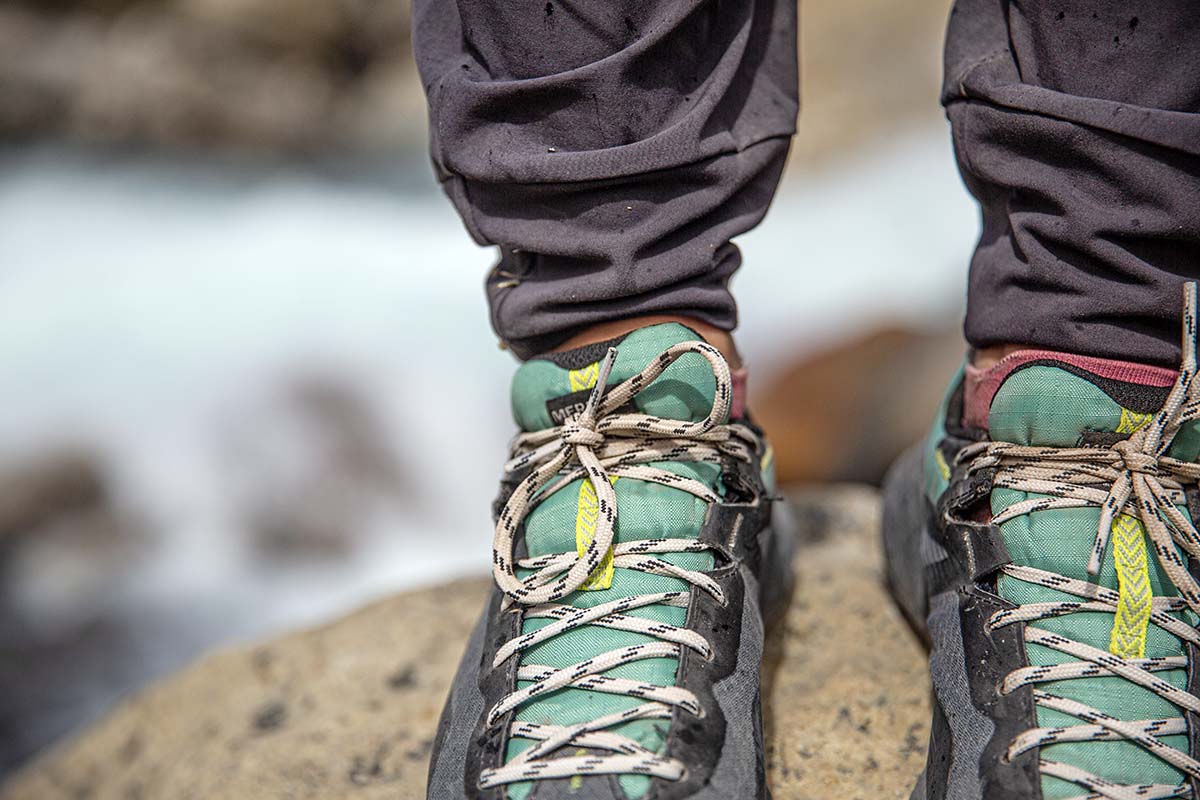 The result: The shoe broke in much better than I expected on its first hike, a nine-mile jaunt to a glacial lake outside of El Chaltén. Mercifully, Merrell compensates for the MQM 3's stiff underfoot feel with a decent amount of cushion, especially at the heel. What's more, my wide forefoot had ample room to move around, and despite my concerns (and swollen feet), I didn't suffer any blisters throughout the day. Finally, the dense synthetic upper and gusseted tongue did an excellent job keeping the shoe free of trail debris. The MQM 3's subtle brick-like feel is a far cry from a soft, cushioned option like the HOKA Speedgoat 5 or The North Face Vectiv Exploris 2, but it scores higher on my comfort scale than most approach shoes. However, Merrell's claim that the shoe is "agile enough to run in" is—in my opinion—a bit of an overstatement.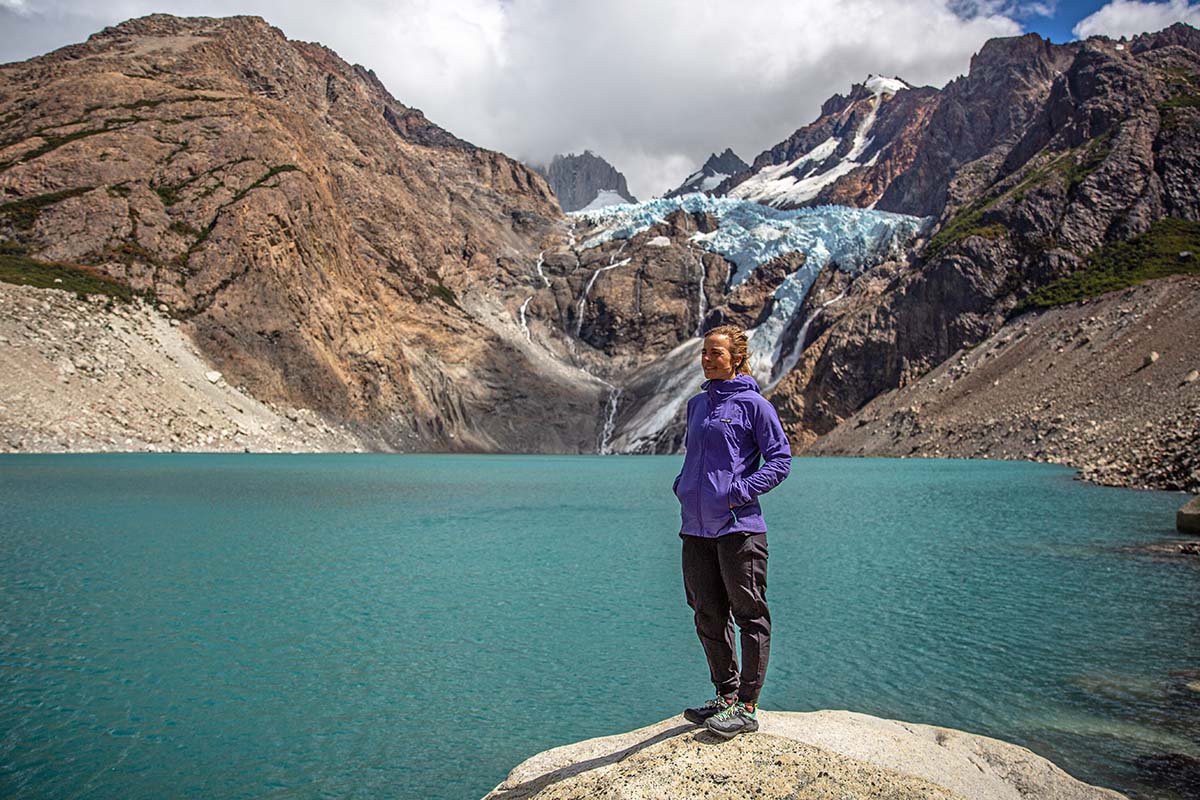 Weight
The Merrell MQM 3 Gore-Tex checks in at 1 pound 3 ounces for the women's pair, which is impressively lightweight for a hiking shoe or approach shoe. For comparison's sake, it's lighter than our top-ranked hiker (the Merrell Moab Speed Low) and my favorite approach shoe (the La Sportiva TX4), which weigh 3.6 and 1.8 ounces more, respectively. This nimble design is a big contributing factor to the MQM 3's comfort, as it won't weigh you down throughout long days of hiking. What's more, it seems as though Merrell has compromised little to achieve such a lightweight build: The MQM 3 is highly durable and offers a high level of performance for covering technical terrain.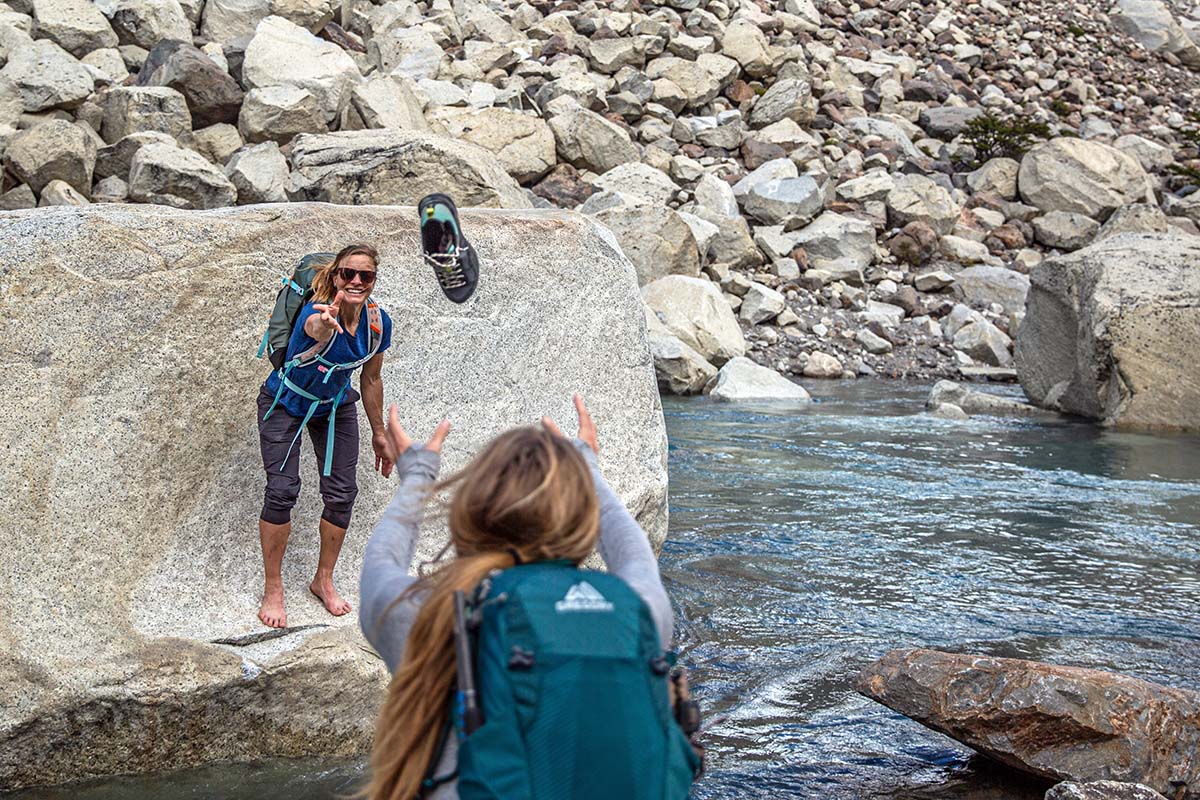 Traction
With the MQM's recent update, the third iteration features a Vibram TC5+ outsole, which is the same compound used in the Moab collection. In my experience, the TC5+ compound is noticeably less sticky than rubbers like Vibram's Megagrip or The North Face's SurfaceCTRL: I slipped a few times while boulder hopping in dry conditions, whereas the previous day, my Vectiv Fastpack Futurelight shoes had provided confidence-inspiring grip in the rain. Some of this is likely due to the stiffer nature of the MQM's sole, which I expect to break in over time.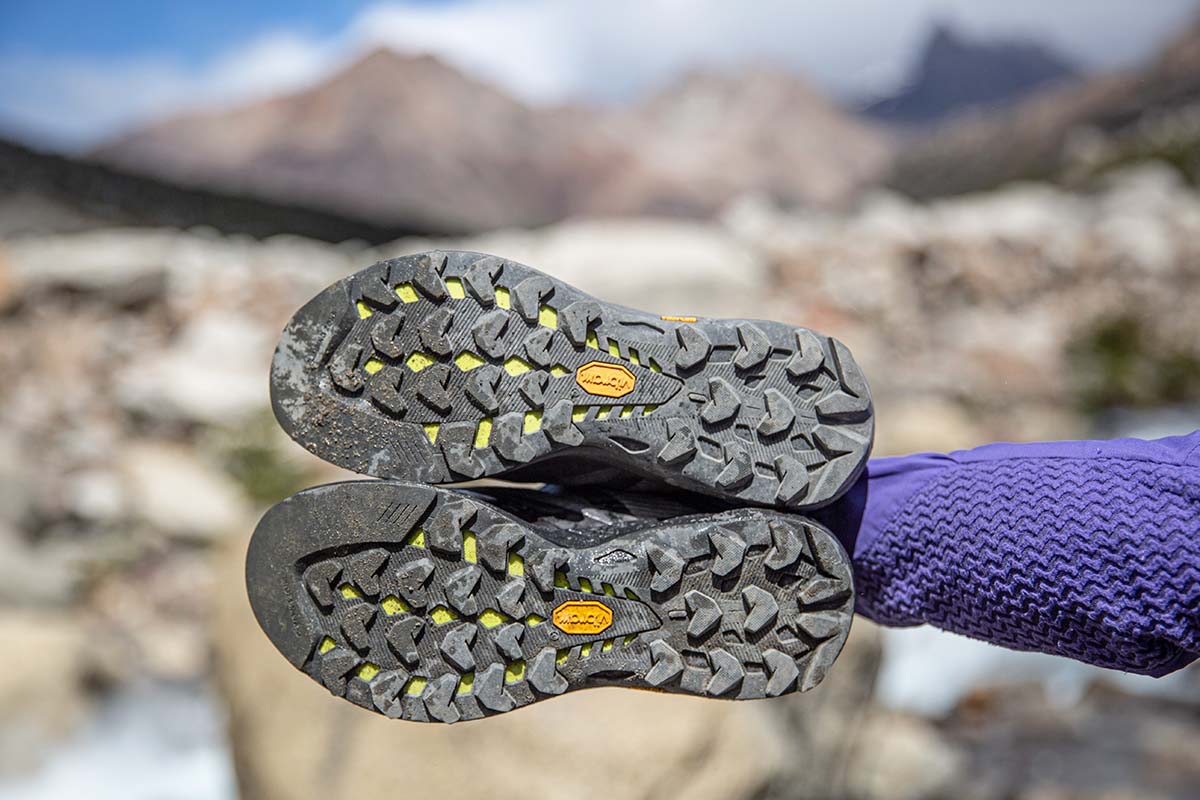 Gripes aside, the MQM 3 still provides decent traction on rock thanks to its relatively shallow (5mm) and rounded lugs, along with the smooth patch of rubber underneath the toes (nicknamed the "climbing zone"). Like most approach shoes, it edges well, smears with ease, and is durable enough to shove into cracks. Similar to most approach shoes, the MQM 3 won't be the best choice for soft terrain like wet leaves, mud, or snow due to the lug pattern (a design like the Salomon Cross Hike 2 Mid is a soft-terrain specialist). In sum, the Merrell offers above-average traction on a variety of terrain—and particularly on rock—but is far from the grippiest shoe I've tested.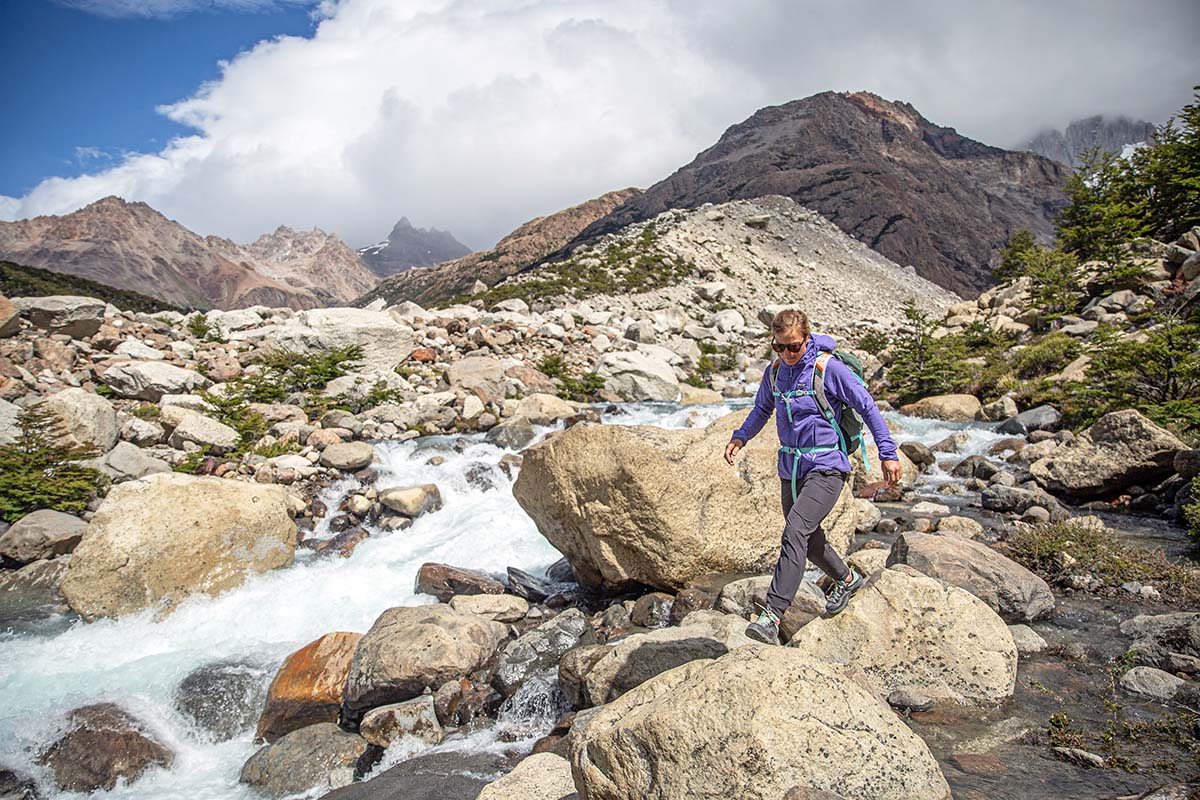 Stability and Support
Compared to more cushioned, flexible hiking shoes, the Merrell MQM 3 offers a high level of stability thanks to its stiff outsole and snug fit. On off-camber terrain, this means you get a reliable platform to support your foot, rather than a shoe that bends and contorts to its environment. Merrell has also attended to the details, with an extra dose of cushion in the heel for added stability and shock absorption. All told, the MQM 3's stability is on par with that of an approach shoe and specifically designed for loose and scrambly off-trail terrain.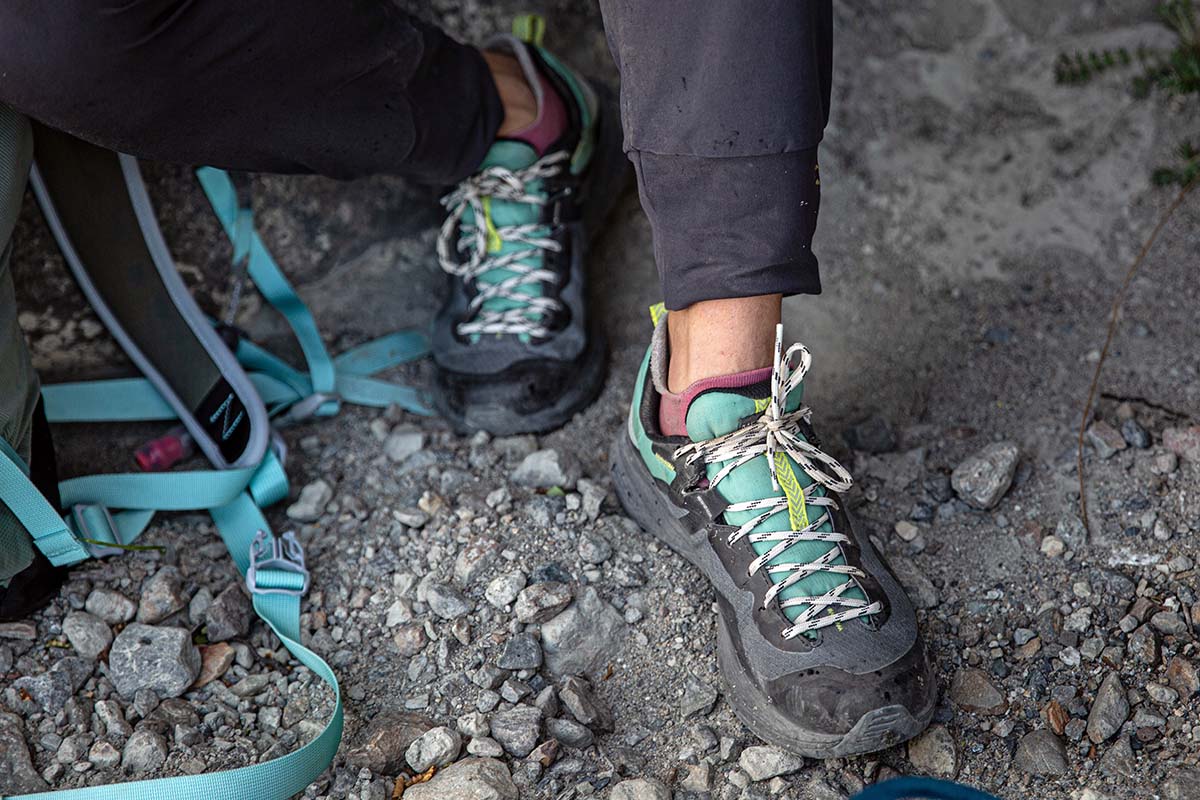 Waterproofing
The Merrell MQM 3 features a premium Gore-Tex membrane, the gold standard for waterproofing in footwear and outerwear. The design also includes a gusseted tongue that extends almost the entire way up the shoe, ensuring that water doesn't enter through the cracks. I tramped through a number of streams to try out the MQM 3's waterproofing, and it proved to be very capable. However, opting for a waterproof hiking shoe is a bit of a Catch-22—while it will provide protection against very shallow crossings, you'll want to be careful not to get the MQM 3 in too deep (literally). Unlike a mesh design that can easily drain and dry, if water enters the MQM 3 at the ankle, it has no way of escaping.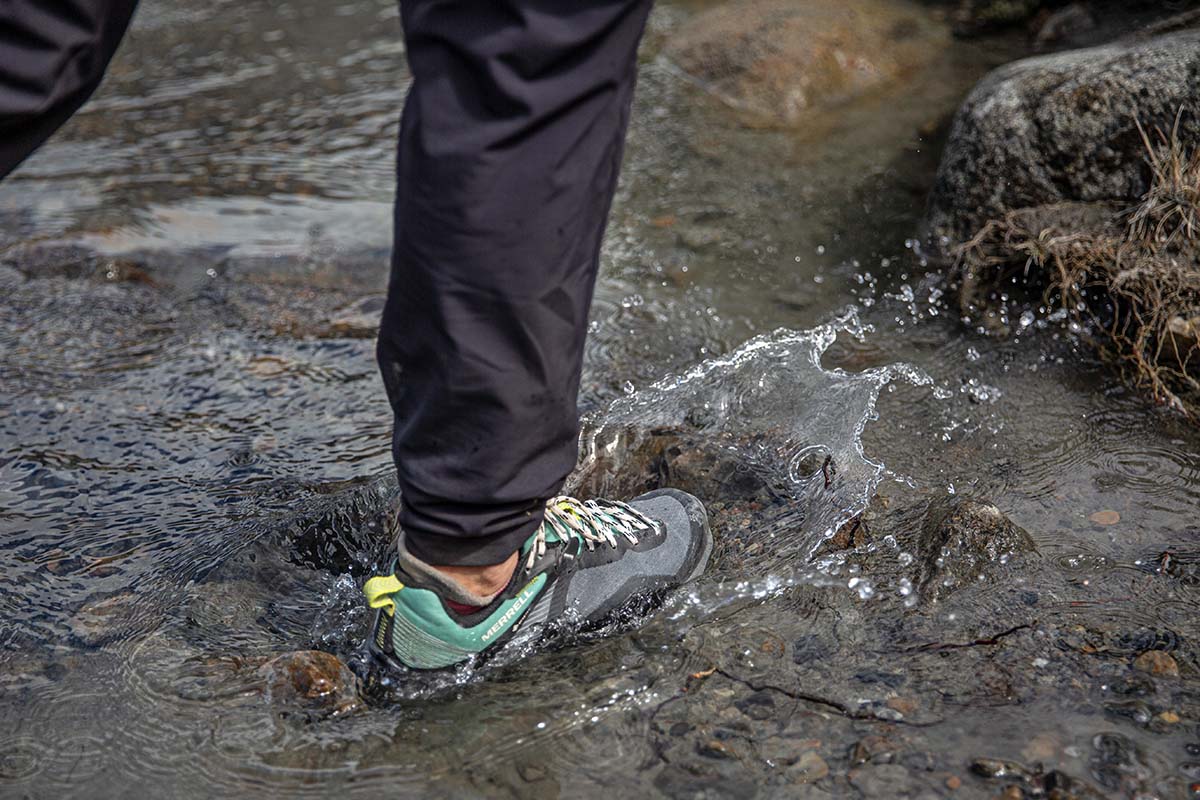 Breathability
As with all waterproof footwear, the MQM 3 Gore-Tex is not perfectly breathable—the same membrane that serves to keep water out also aids in keeping moisture in. For this reason, I don't recommend the MQM 3 for hot and dry hiking. In comfortable summer conditions—even in areas with a lot of stream crossings—most will appreciate the better versatility and temperature control of a non-waterproof shoe. But for the cold conditions we experienced in Patagonia, I was grateful to have the MQM 3 Gore-Tex's added protection and warmth. And for help with the inevitable stink of a waterproof shoe, the Merrell is treated with Cleansport NXT, a non-toxic probiotic treatment that kills the bacteria that cause odors. For more help choosing the right footwear, see our article: Do You Need Waterproof Hiking Shoes?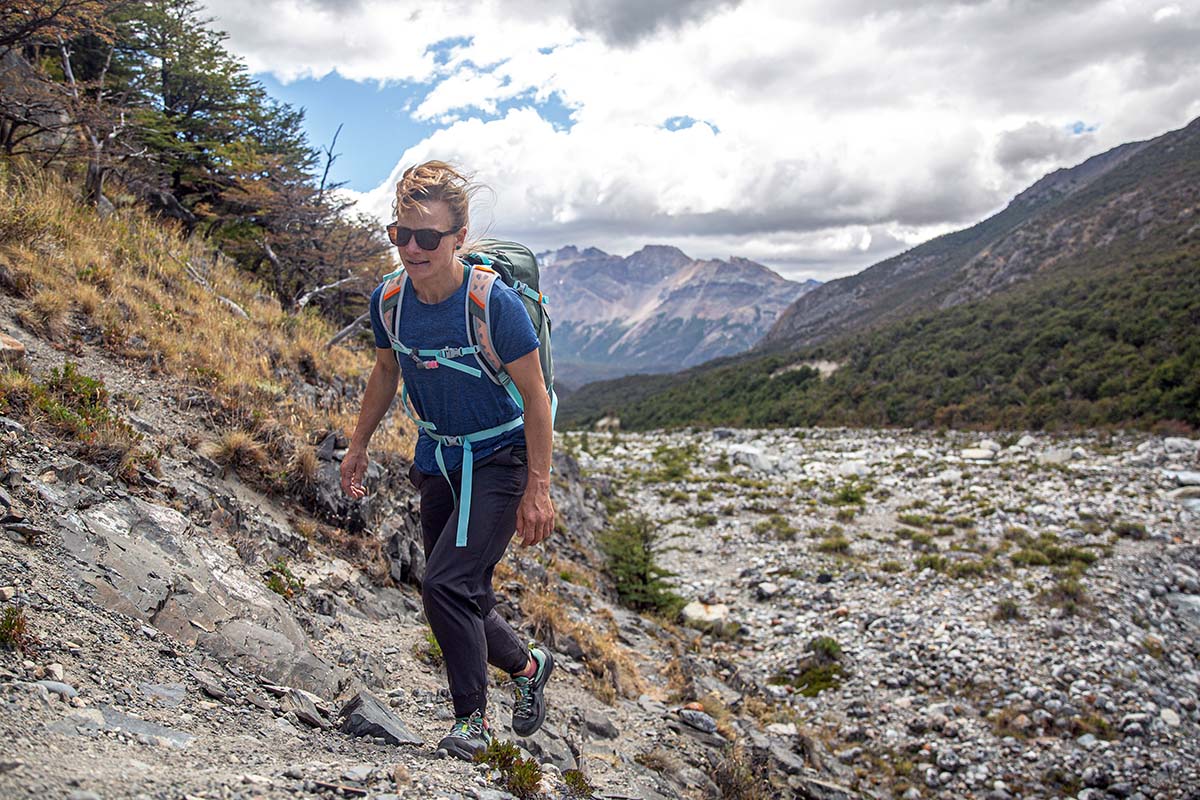 Build Quality and Durability
Merrell specializes in footwear, and their quality rarely disappoints. In other words, it comes as little surprise that the MQM 3 is a well-built shoe with a high attention to detail, from the Vibram outsole and Gore-Tex membrane to the durable upper, playful colorways, and fun accent stitching. The shoe has held up well throughout my testing: The upper deftly resists abrasions large or small, the laces are burly and offer a solid hold, and the Vibram TC5+ rubber has a great track record of longevity. All told, the MQM 3 will last longer than most hiking shoes in its weight class, especially those with airy mesh uppers.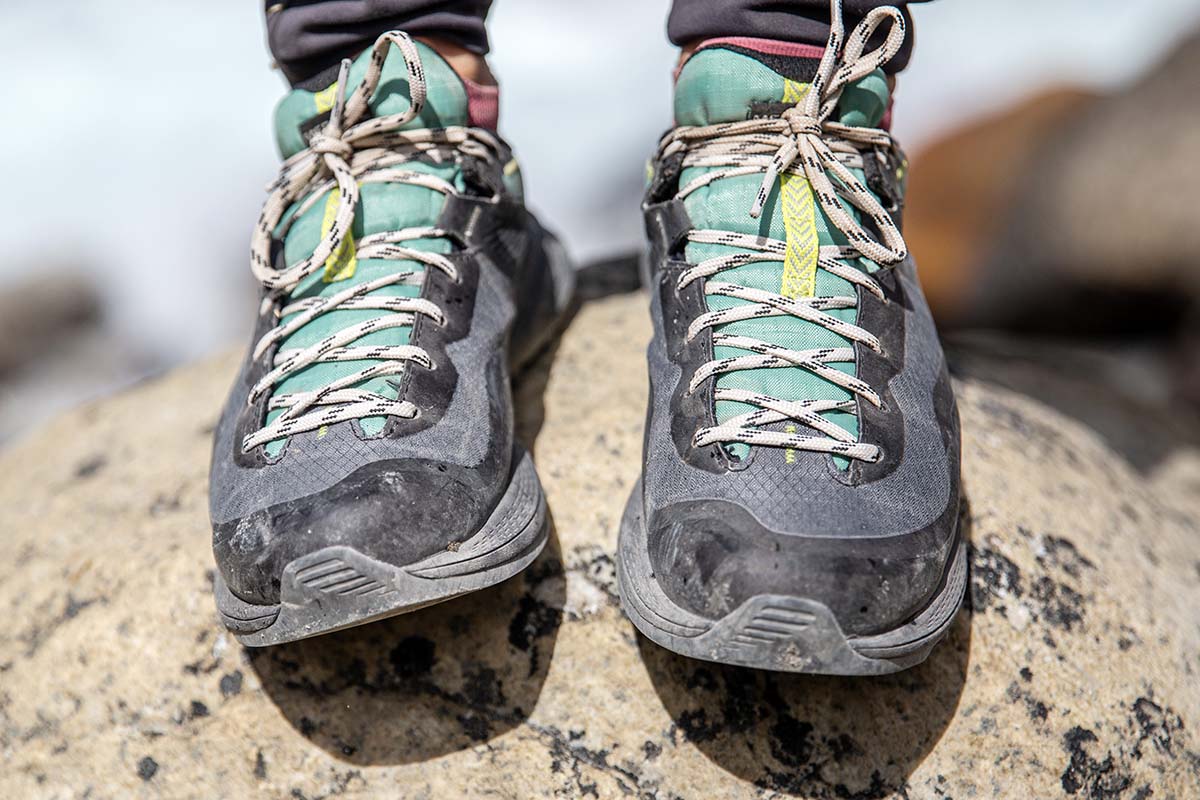 Fit and Sizing
The Merrell MQM 3 Gore-Tex comes in 13 women's sizes from 5 to 11 and is available in one width (medium). Unlike previous iterations, the MQM 3 features to-the-toe lacing, a common approach or climbing shoe design that allows you to dial in fit throughout the length of the shoe (thereby improving precision in the forefoot). I opted for my standard women's 8.5, and the MQM 3 fit true to size with a snug shape (again, reminiscent of an approach shoe) but roomy-enough toe box for my wide feet. If you're prone to swelling feet or like to wear thick hiking socks, you'll want to consider sizing up. Finally, I loved the MQM's laces, which are durable and stay securely tied, even without double knots.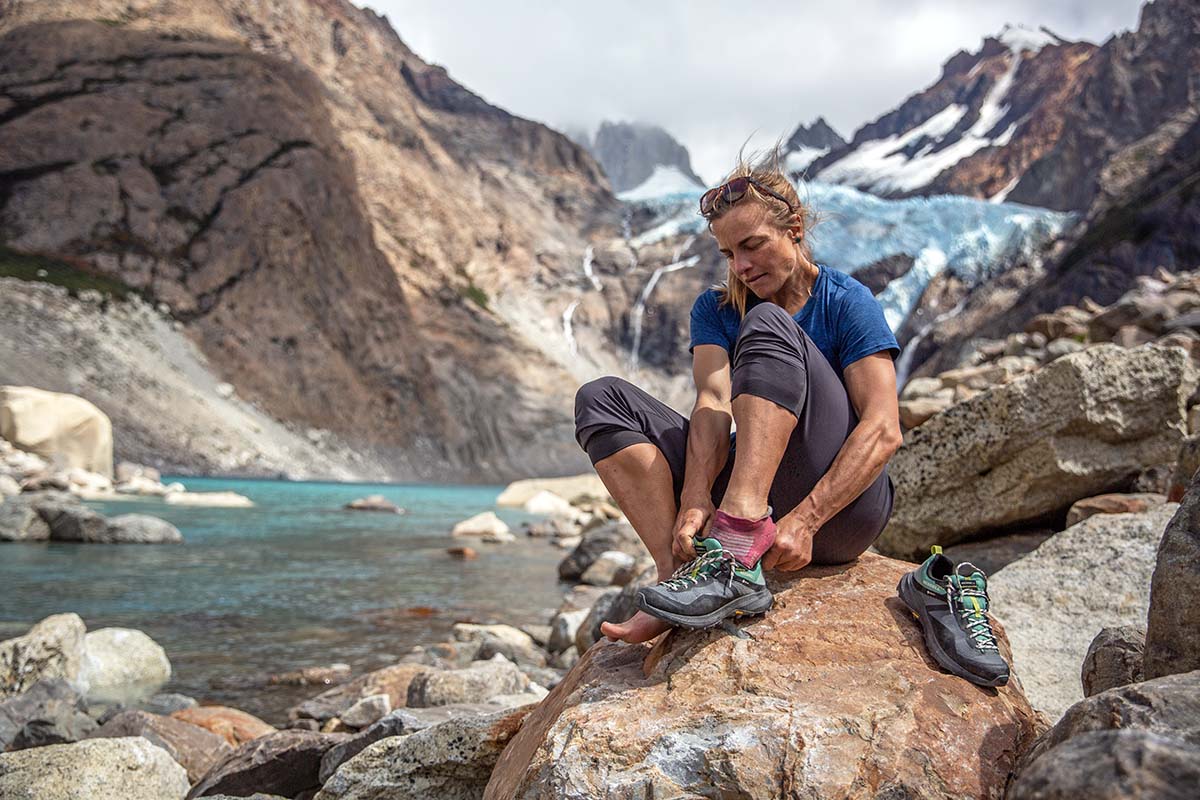 Sustainability
In 2023, the outdoor gear industry is seeing a huge push toward more sustainable practices, including an emphasis on ethical working conditions, the elimination of harmful chemicals, and the use of recycled materials. Merrell has made a lot of progress in this arena, setting an admirable standard for other footwear companies to follow. The MQM 3 Gore-Tex in particular features a 100% recycled mesh lining, 100% recycled laces and webbing, and 50% recycled EVA foam in the footbed. Notably, Merrell has committed to working toward 100% recycled, renewable, or organic materials by 2025, in addition to a significant reduction in production waste and plastic use. It's also worth checking out their ReTread program, which gives you $20 off your next Merrell purchase when you send in your retired footwear (rather than tossing it in the trash). 

Other Versions of the Merrell MQM 3
For this review, we tested the women's MQM 3 Gore-Tex, but the shoe also comes in a men's version. The men's MQM 3 Gore-Tex features the same materials and design but comes in six unique colorways and 15 sizes from 7 to 15. The shoe is also available in an eco-friendly, non-waterproof design for both men and women: The women's MQM 3 Eco ($120) tips the scales at just 1 pound 1 ounce and features an airy mesh upper and Vibram Ecostep Recycle outsole. For a limited time, the non-Eco MQM low-top is also available through REI. Finally, the MQM design is offered in a waterproof mid-height version (the MQM 3 Mid Gore-Tex), which comes in two color offerings for both men and women and retails for $160.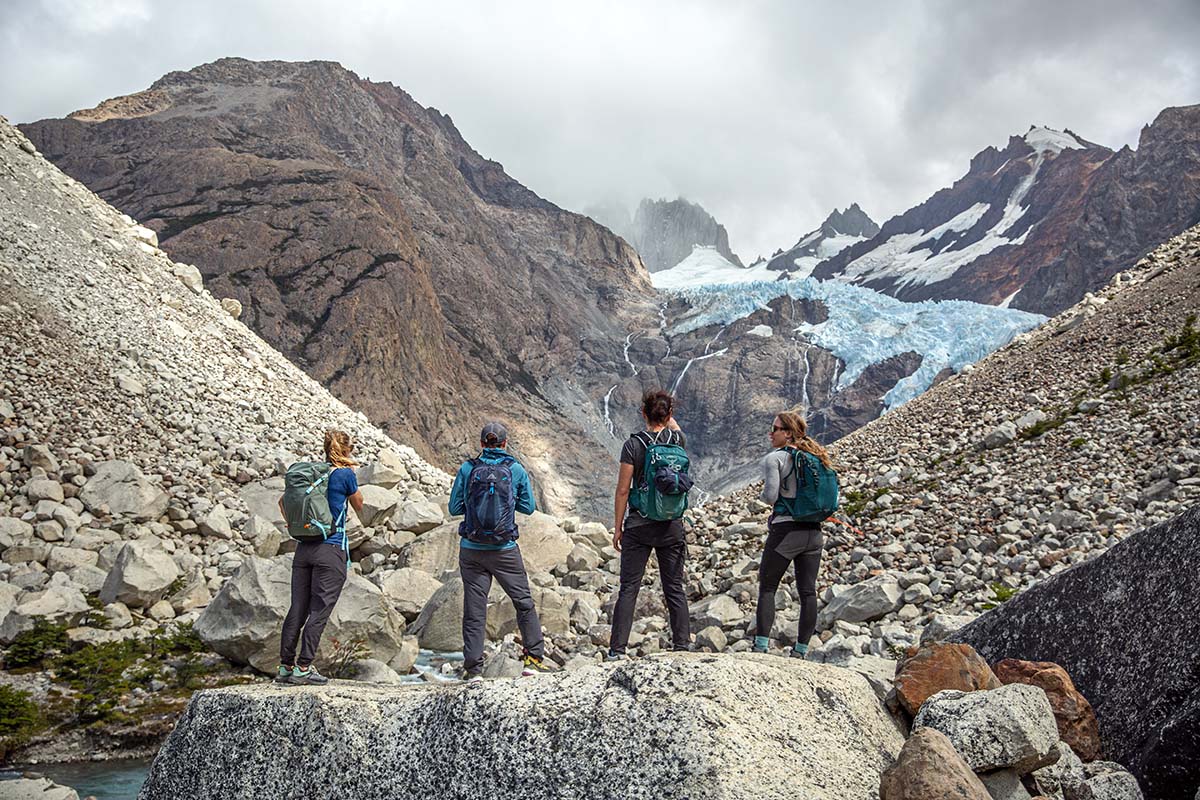 What We Like
A lightweight yet durable hiking shoe that's adept on rocky and off-camber terrain.
High-quality Gore-Tex waterproofing and gusseted tongue offer great moisture resistance.
A stable yet comfortable shoe with hiking shoe-like cushion alongside the features of an approach shoe (to-the-toe lacing, climbing zone on outsole, snug fit).
In my opinion, the MQM 3 is a better alternative to an approach shoe than a dedicated hiker.
 
What We Don't
Most hikers will find the MQM 3 too stiff for their needs; a more flexible, cushioned shoe will be a better fit for most terrain.
Those with wide or swelling-prone feet will want to size up.
Compromised breathability due to the waterproof design; with a waterproof low-top shoe, you have to be really careful not to let moisture enter in from the collar.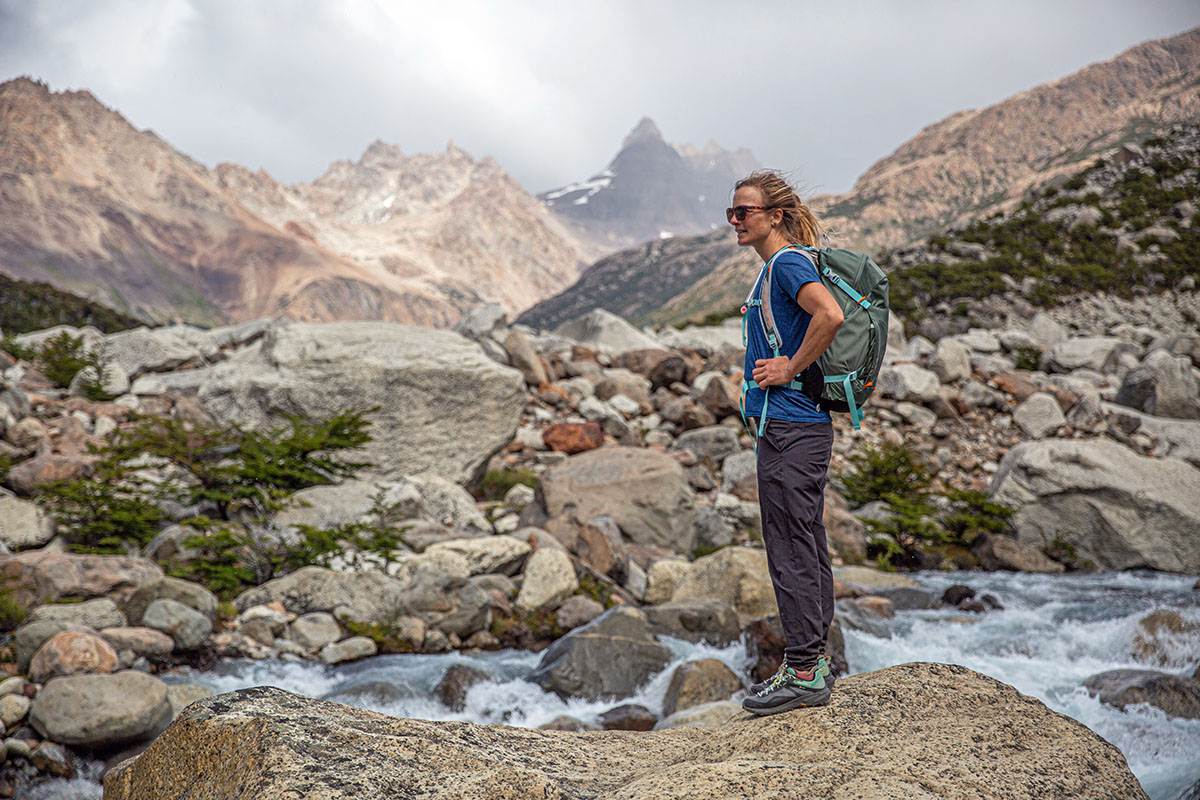 Comparison Table

The Competition
Within the category of fast-moving mountain footwear, La Sportiva has several approach shoe and mountain running options worth considering. Their Ultra Raptor II GTX is most similar to the MQM 3 Gore-Tex but, in my opinion, strikes a much better balance. The Ultra Raptor's Vibram FriXion XF outsole is much stickier than the TC5+ of the Merrell, and you get better all-around protection with burly TPU guards at the heel, toe, and along the sides. And with more flex and cushion underfoot and a wider toe box, the Ultra Raptor is a much more comfortable and agile option for long and fast days on the trail (or off). All these features combine to make the La Sportiva one of my favorite shoes for mountain missions that involve a little bit of everything, including running, hiking, and scrambling. The Ultra Raptor II GTX is a bit heavier at 1 pound 7.6 ounces for the pair and significantly pricier at $195, but for serious mountain athletes looking for approach shoe-like performance and trail runner-like speed and comfort, it's a very solid choice.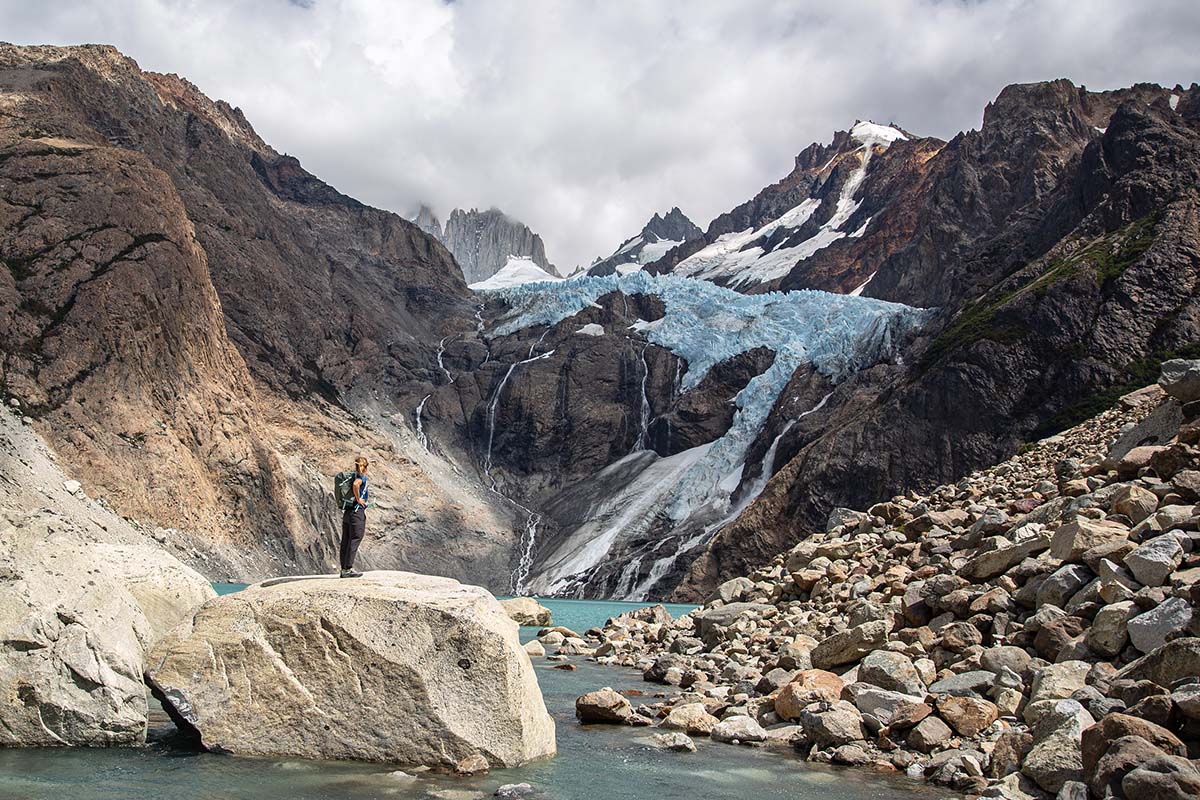 Packing similar intentions into a wildly different design is the Scarpa Rapid ($179). The Rapid starts with more of trail runner design and tacks on hybrid components from there, adding a sticky Vibram Megagrip outsole for improved traction, a TPU arch for stability, and some stiffness in the forefoot for precise edging. The shoe checks in at just 1 pound 1.6 ounces for the women's pair and, in my experience, feels notably lighter than the MQM 3 Gore-Tex due to its more minimalist upper and flexible outsole. It's worth noting that the Rapid isn't an incredibly durable option—I've put some holes in the upper after just a few outings—and offers a lot less protection than the Ultra Raptor mentioned above. But if you're a runner first, then a scrambler, and then a hiker, the Rapid is worth a closer look. And while the version listed here is not waterproof, Scarpa plans to release a Gore-Tex version this fall.
Similar to the MQM 3, the Ultra Raptor and Rapid are hybrid designs that land somewhere between categories. For a full-fledged approach shoe, the La Sportiva TX4 is one of our favorite options. The TX4 takes performance in mountainous terrain a step further, with a durable leather upper that seems to last forever, stiff and sticky Vibram Megagrip rubber, and dotted tread specifically designed for traction on rock. One particularly noteworthy feature of the TX4 is its roomy toe box, which manages to be accommodating for a wide range of feet without compromising on precision or stability. In sum, the TX4 offers better grip, durability, and fit for rock climbers or intrepid hikers who often find themselves on climbers' trails and cross-country terrain. On the other hand, it's a bit stiff and clunky for cruiser miles on easy trails, making it a tough choice for days that have it all—especially when you could be wearing a hybrid shoe like those mentioned above.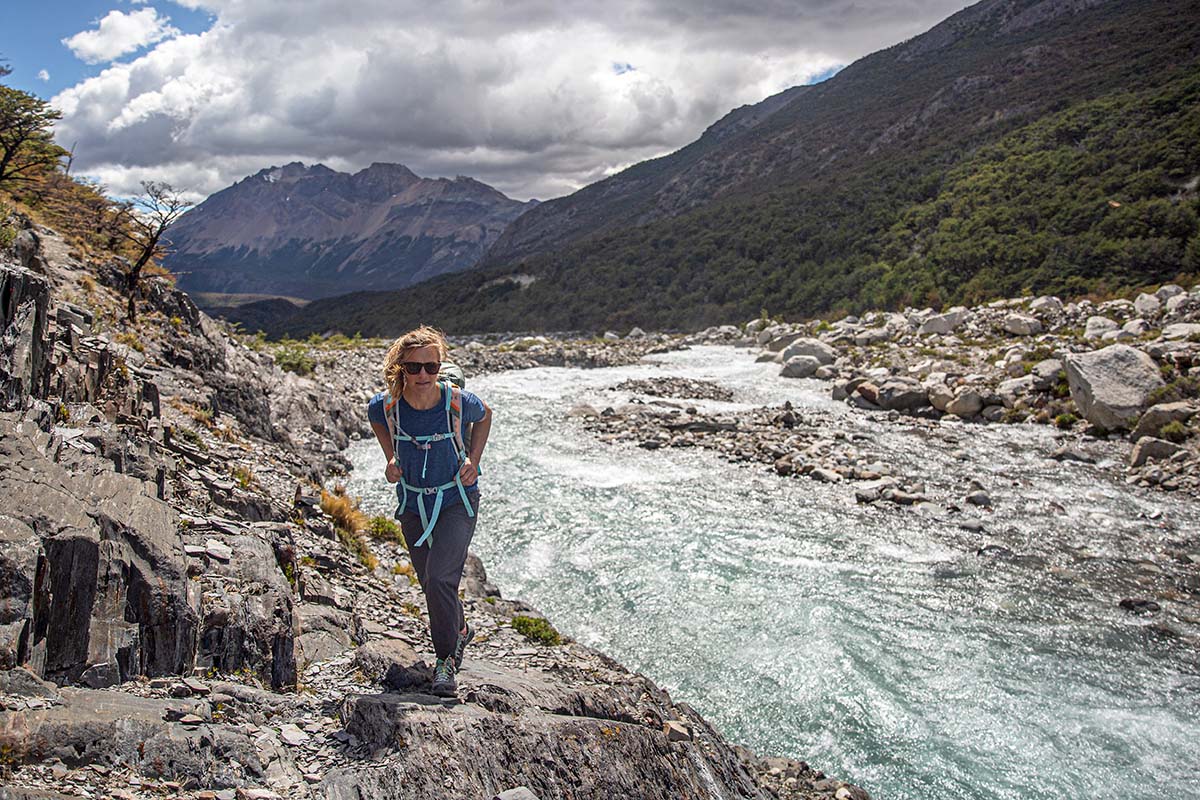 If your version of "moving quickly in the mountains" means sticking to the trail, the Merrell Moab Speed Low is an excellent shoe to consider. It's not offered in a waterproof version for women, but at just $130, the Moab Speed is a nice value for those looking for a sprightly, high-performance hiking shoe for summer use. With the Moab Speed, you get significantly more hiking comfort by way of a more flexible platform, increased cushioning, and a roomier toe box, and it's still decently light at 1 pound 6.6 ounces for the pair. Compared to the more versatile MQM 3, the Moab Speed offers decidedly less of a precise platform for climbing, and it's too clunky for sustained running, but it's nevertheless a great formula for most hikers (see our in-depth review here). Finally, we haven't yet had a chance to test the Vibram Ecostep Recycle outsole on the updated version (which contains 30% recycled materials) but appreciate that Merrell continues to explore sustainable solutions for their footwear lineup.
For those drawn to the MQM 3's feathery weight, the HOKA Speedgoat 5 is another strong hybrid offering. With the DNA of a trail runner and a strong street cred among hikers, the Speedgoat has earned legendary status for its versatility and trail performance. The shoe clocks in at just 1 pound 1 ounce for the women's pair and features a heavy dose of plush cushioning underfoot, giving you bounce and agility for long and fast days on the trail. But while the MQM excels on technical, off-camber terrain, the squirrely Speedgoat will give with each contour rather than providing a solid platform underfoot. That said, the HOKA does feature a sticky Vibram Megagrip outsole (similar to the Scarpa Rapid), so traction on rock is excellent. All told, the Speedgoat 5 has a very different skill set than the MQM 3, but it's nevertheless a solid offering for fast-and-light hikers.
If you're thinking about buying gear that we've reviewed on Switchback Travel, you can help support us in the process. Just click on any of the seller links above, and if you make a purchase, we receive a small percentage of the transaction. The cost of the product is the same to you but this helps us continue to test and write about outdoor gear. Thanks and we appreciate your support!
Depending on the seller, most products ship free in the United States on orders of $50 or more. International shipping availability and rates vary by seller. The pricing information on this page is updated hourly but we are not responsible for inaccuracies.
Read More From Switchback Travel