The budget end of the hiking shoe market has seen an uptick in options of late, and one of the best around is Adidas' Terrex AX4. At $100 for the non-waterproof shoe, the AX4 offers a lot: a reliable and surprisingly grippy Continental outsole, sufficient cushioning and support for long trail days, a secure lacing system, and clean-looking design. You miss out on a few items—most notably a sturdy toe cap—but we think it's overall a fantastic value for day hiking. Below we break down our experience with the AX4 while exploring the hiking mecca of El Chaltén, Argentina. And to see how it stacks up to the competition, see our article on the best hiking shoes.
 
---
Table of Contents
---

Performance
Comfort
Given their low price, I had modest expectations for the Adidas Terrex AX4 hiking shoes, but they've proven to be far from a cut-rate design. From a comfort perspective, I was initially concerned about the blunt toe and somewhat stiff initial feel of the shoe. But after wearing them for a couple days during travel and around town, they broke in nicely and have been a great match for long and challenging day hikes. Underfoot, it's not Hoka-thick or soft and plush, but the moderately firm foam offers decent cushioning and does a nice job isolating you from rocks and roots. And the lower-profile midsole and flexible build (it's just a little stiffer than a typical trail runner), makes it easy to rock hop and cover ground quickly. Even on a lengthy 15-mile day that included a fair amount of scrambling and traversing through boulder fields, I returned to town feeling surprisingly fresh.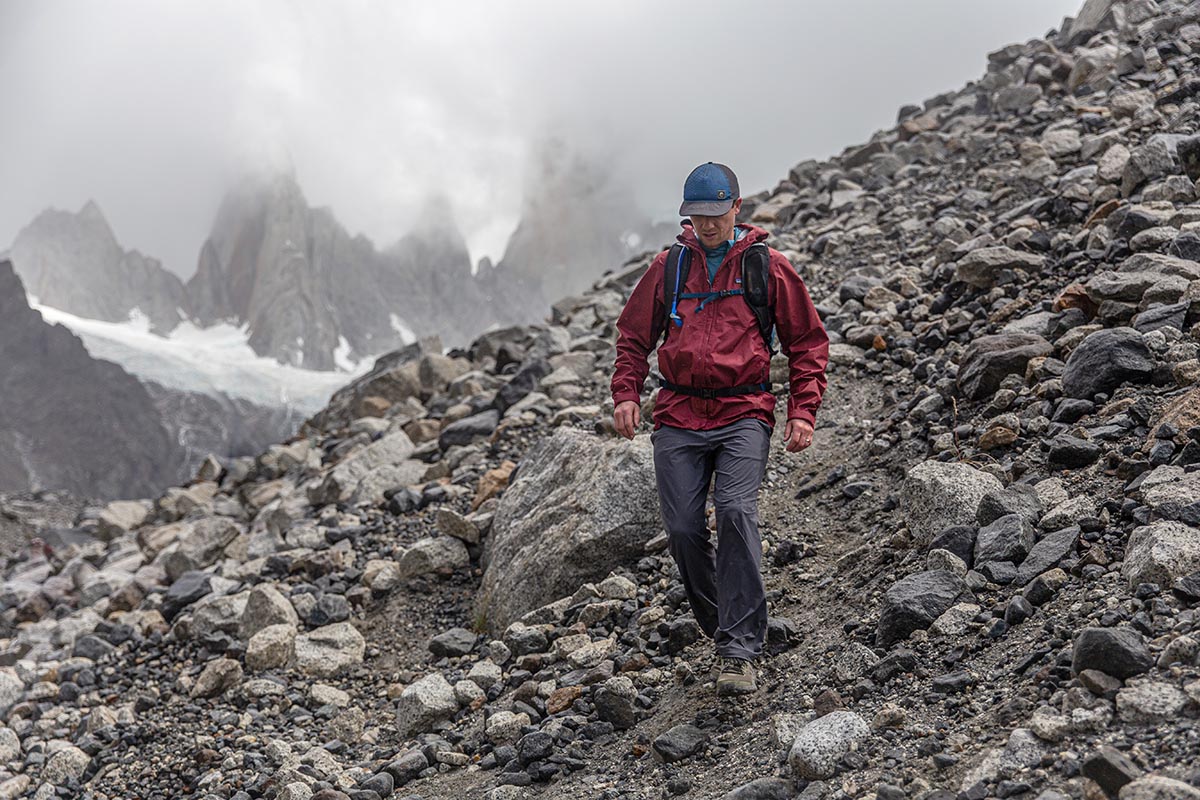 Other highlights of the design include a lacing system that provides a solid and reliable hold—the laces stay nicely in place and don't loosen as you tighten them up—and the cushioned heel, collar, and tongue that didn't create any pressure points or rubbing. There's a little evidence of cost-cutting in the insole, which is thin and lacks the cushioning and arch support of a higher-end (often Ortholite) design, but it is removable should you want to swap it out. Overall, the AX4 way exceeded expectations, offering a level of comfort I would normally associate with shoes costing $130 or more.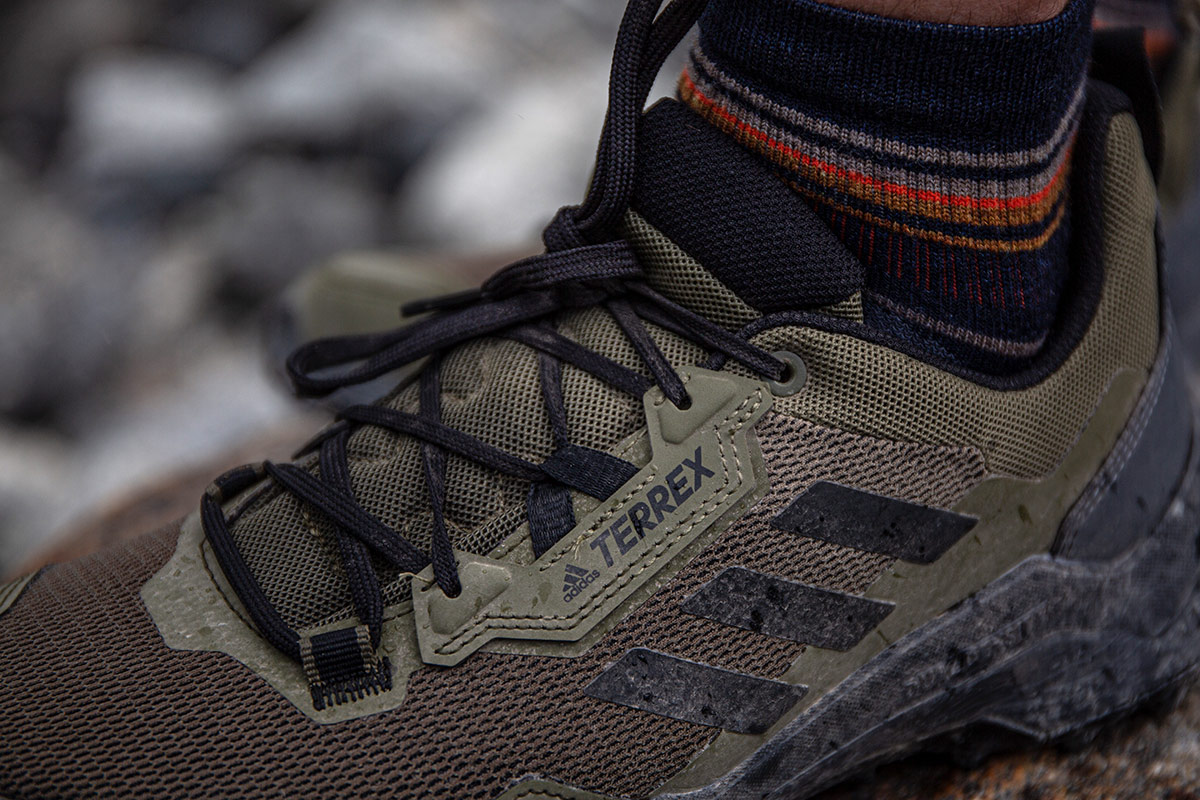 Weight
The Adidas Terrex AX4's sneaker-like feel is confirmed on my scales, where it weighs 1 pound 10.8 ounces for a pair of men's size 9. For a non-waterproof hiker, this puts it a little heavier than trail runners like the Hoka Speedgoat 5 (1 lb. 4.6 oz.) and Altra Lone Peak (1 lb. 6 oz.) but right in line with a competitor like the Salomon X Ultra 4 (1 lb. 9.4). And stacked up to the similarly priced Merrell Moab 3, the Adidas easily undercuts its relatively high 2-pound-1-ounce weight. In use, the weight was never a complaint for me, and it felt significantly nimbler than the aforementioned Moab low-top, which I recently finished testing.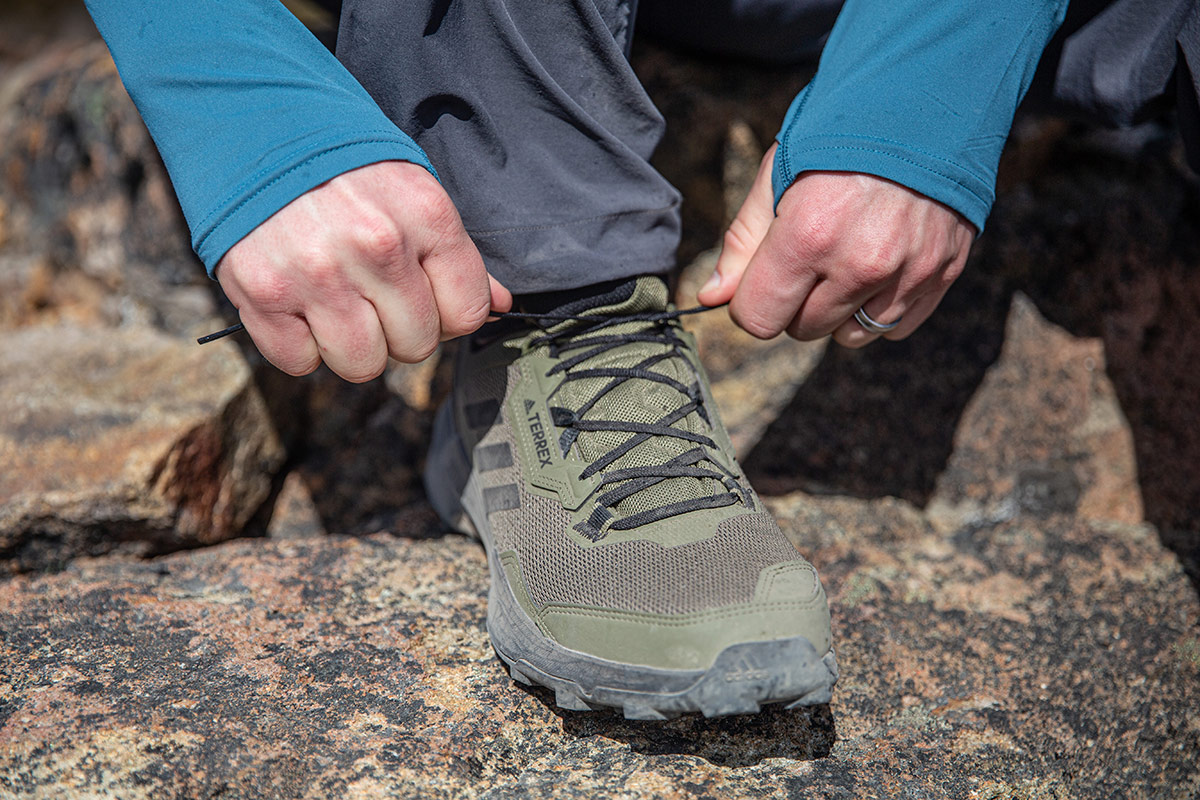 Traction
The vast majority of budget hiking footwear skimp on traction, but Adidas leaned into their partnership with Continental with the AX4 and included one of their well-respected outsole designs. I found the tacky rubber offers fantastic hold on rock and was super confidence inspiring as we traversed boulder fields. And the outsole design and 4-millimeter-tall lugs hit a great balance of bite in wet and soft conditions with enough surface area to grip on steep and challenging terrain. There's sufficient heel braking, too, which was a nice feature when breaking into a light jog in some downhill sections. As with comfort above, the traction was a really pleasant surprise, and only adds to the Adidas Terrex AX4's appeal as a quality day hiking option.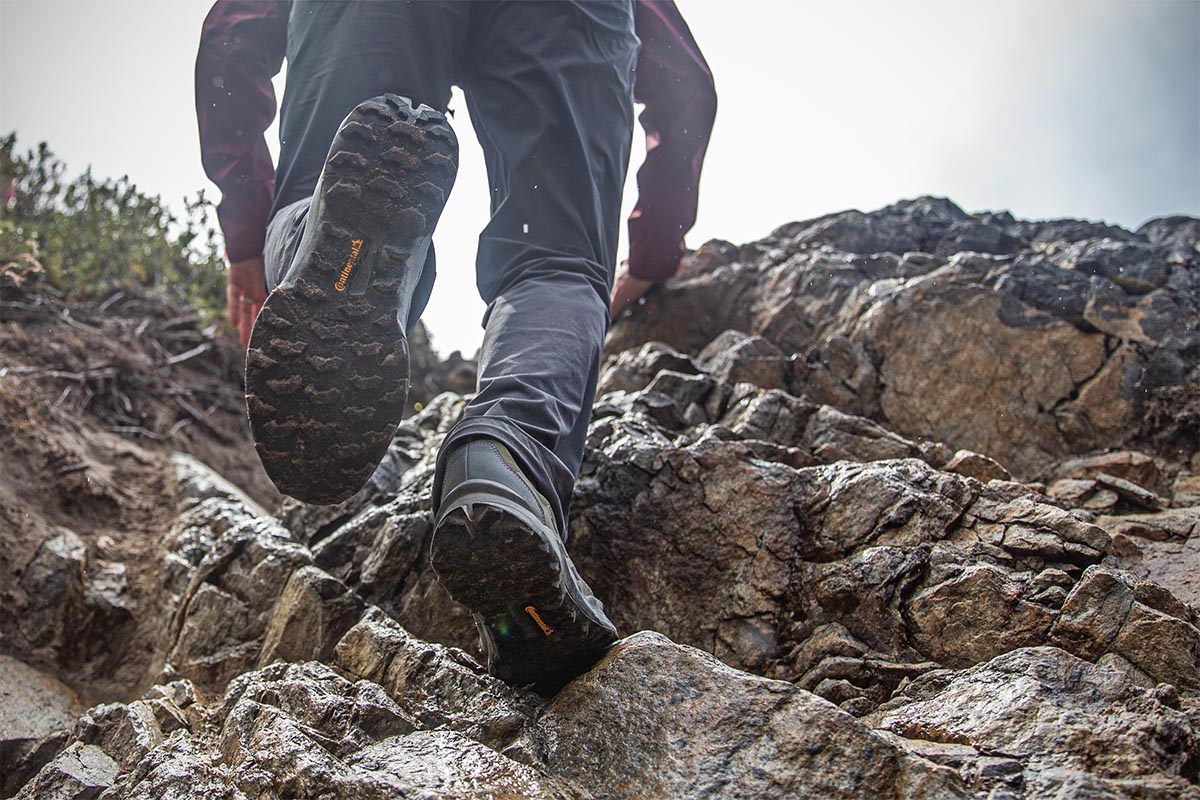 Stability and Support
Lightly reinforced with a midfoot shank and reinforced heel, the Adidas Terrex AX4 is a small step up in stiffness and stability from a trail running shoe. If you prefer a flexible design for hiking primarily on well-maintained trails—and with a daypack or light backpack—it should work well for you. On the other hand, if you're prone to ankle rolls, are going to be carrying a heavy pack over tricky terrain, or just prefer a little extra support, you may want to look elsewhere. Salomon's X Ultra 4 is a more traditional hiking shoe with a stiffer all-around build, although price jumps a fair amount to $140.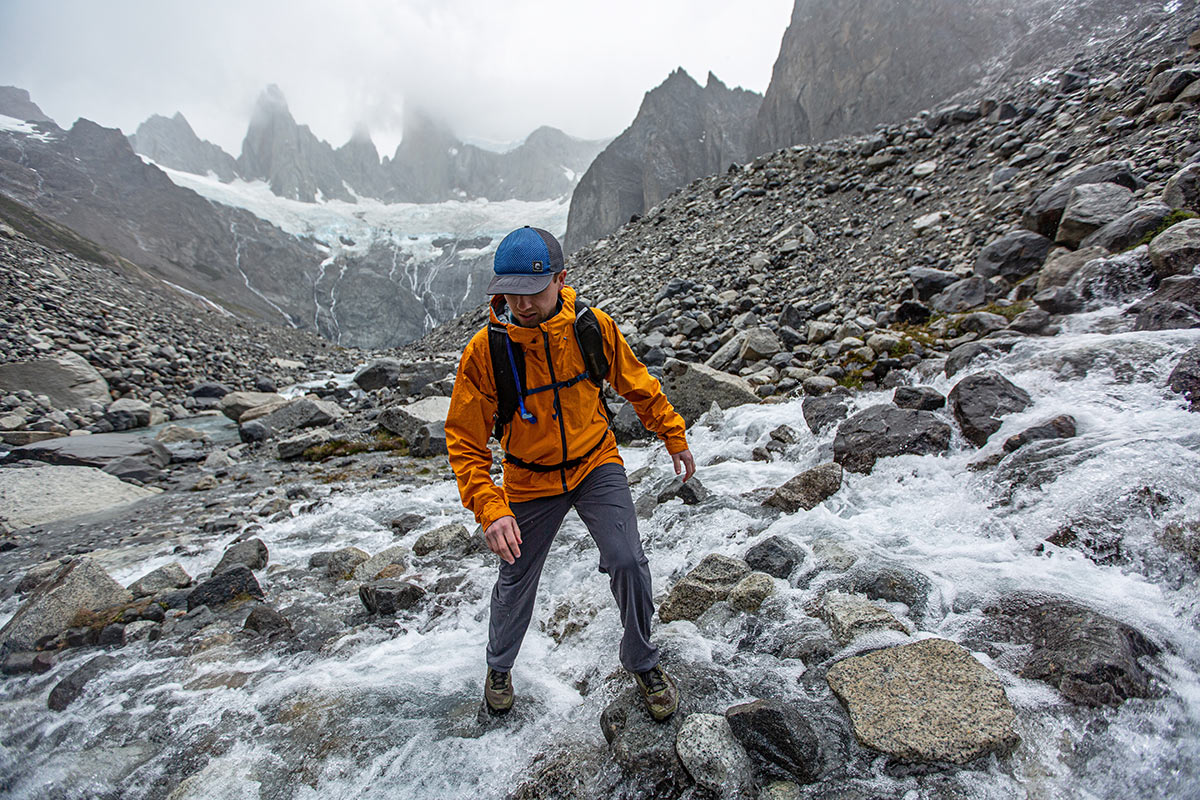 Breathability
Adidas offers the AX4 with a Gore-Tex liner for another $30, but I opted for the non-waterproof model for its superior breathability. And in mild conditions in El Chaltén—temperatures reached the low 60s—I had zero complaints with overheating. The shoe's upper features large sections of mesh, which encourage a fair amount of airflow, and that same mesh also dried out fairly quickly after I soaked the upper during a creek crossing. There are certainly alternatives out there that are even thinner and more mesh-heavy (examples include Hoka's Speedgoat or Salomon's Sense Ride trail runner) that will offer a step up in breathability and drying time, but I thought the AX4 was more than sufficient here.

Toe and Foot Protection
If I could change a single piece of the AX4, it would be to beef up its toe protection. You do get a small section of raised rubber right in the middle/front of the shoe, but the rest—and as I found, that included the part covering your big toe—is only a single piece of flexible synthetic. I accidentally caught a rock just-right (or wrong) on my big toe a couple times while wearing the shoe and wound up with some bruising. The protection around the rest of the foot is on par with many lightweight hiking shoes and trail runners—i.e., light but functional for most trail use—but the lack of a true toe cap strikes me as a rather glaring omission. If you frequently hike rocky trails, it's worth considering a more reinforced design.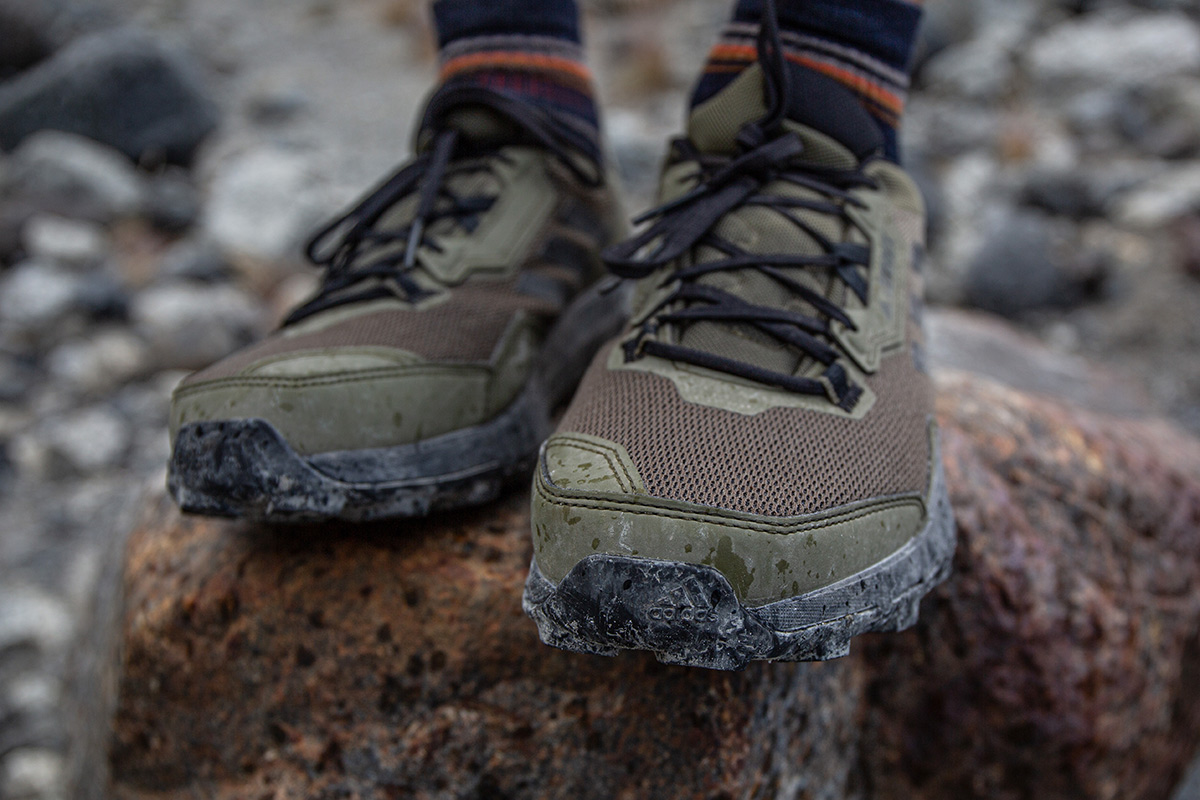 Build Quality and Durability
I've mentioned the cost of the AX4 throughout this review because it's important to evaluate it through that lens. A $100 shoe shouldn't be expected to match the build quality and all-around performance of a $150+ alternative, and that mostly holds true here. While there are plenty of highlights—including the excellent traction, cushioning, and all-around comfort—a closer inspection does reveal some shortcomings. Some long-term durability concerns include the sheer amount of exposed stitching along the upper and the thin and cheap insole. Additionally, the lining of the shoe and mesh upper feel a little plasticky when worn back-to-back with a plusher design, including Merrell's Moab 3. But circling back to price, these are completely expected compromises, and the shoe has thus far held up extremely well. If any notable issues arise over time, I'll update this review.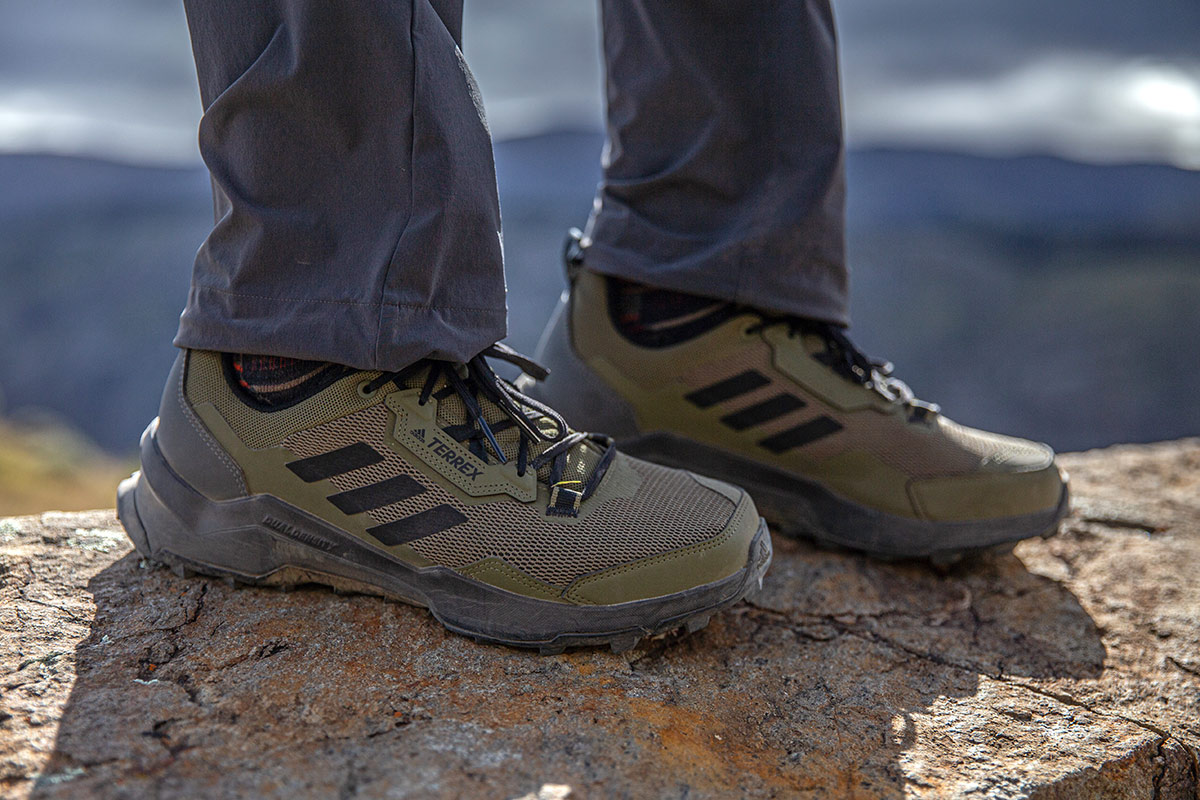 Fit and Sizing
Doing a quick online search of the Adidas Terrex AX4, you'll see a fair number of users reporting the shoe runs small, and I found that sentiment to be mostly true. I typically wear a size 9 and have a slightly narrow heel and average-width forefoot and wound up ordering my usual size. When I first tried the shoes on, the somewhat flat front of the shoe was a concern—I could feel it pressing against my big toe when hiking downhill—but the area packed out relatively quickly and I had no more comfort-related issues.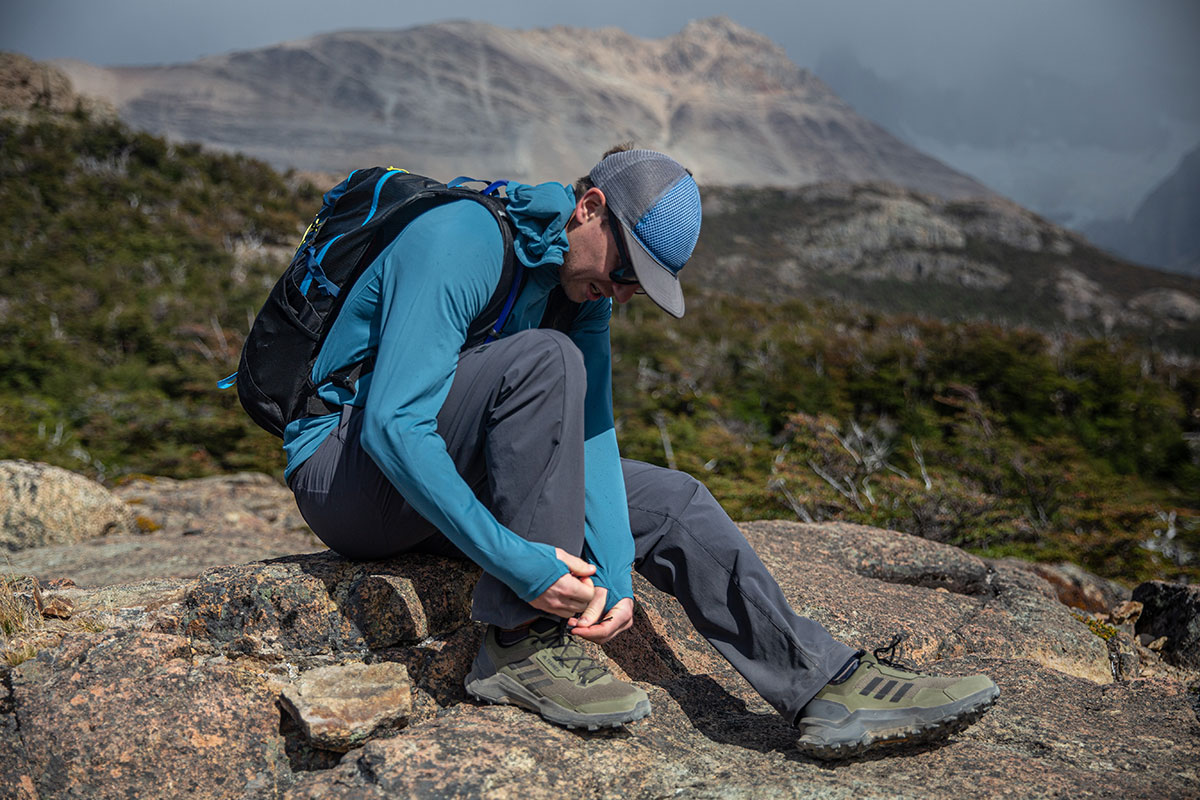 Cinched up, I didn't have any problems with my heel being loose or rubbing, and there was just enough length to avoid slamming my toes against the end during long descents. The toe box is a little on the narrow end but, again, I didn't experience discomfort. In the end, it strikes me as a shoe that will work for many day hikers, but it may be worth sizing up if you're between sizes, have high-volume feet, or planning to wear midweight or heavier hiking socks with the shoe.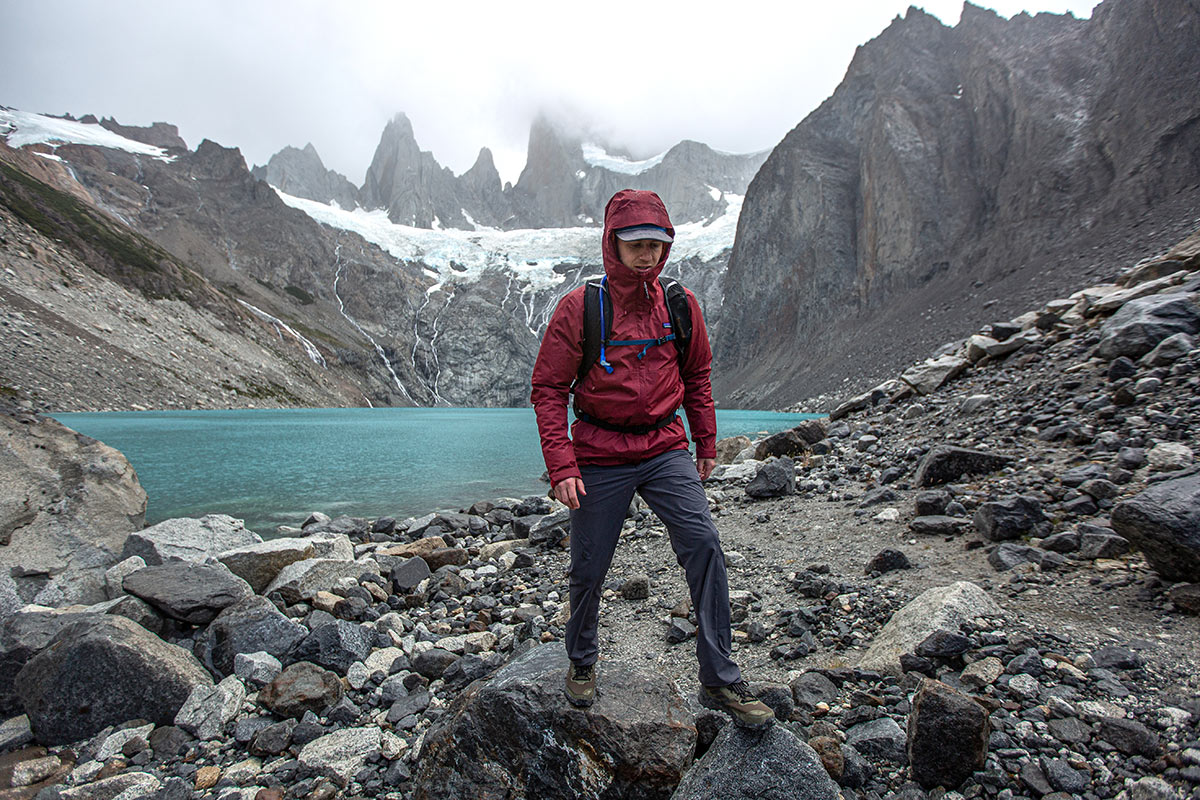 Sustainability
Like many footwear companies these days, Adidas is making a shift toward more sustainable production. The brand has pledged to replace virgin polyester with recycled polyester "wherever possible" by 2024—though that's a fairly vague goal—and to make sure nine out of 10 of their articles contain a sustainable material by 2025. The brand is also experimenting with circular product design in a small line available only to members of their adiclub. What does this all mean for the Terrex AX4 here? Mainly that the upper features at least 50% recycled content. It's not on par with competitors like Merrell's Moab 3—which features 100% recycled laces, webbing, and mesh lining—but it's a start, and we appreciate that.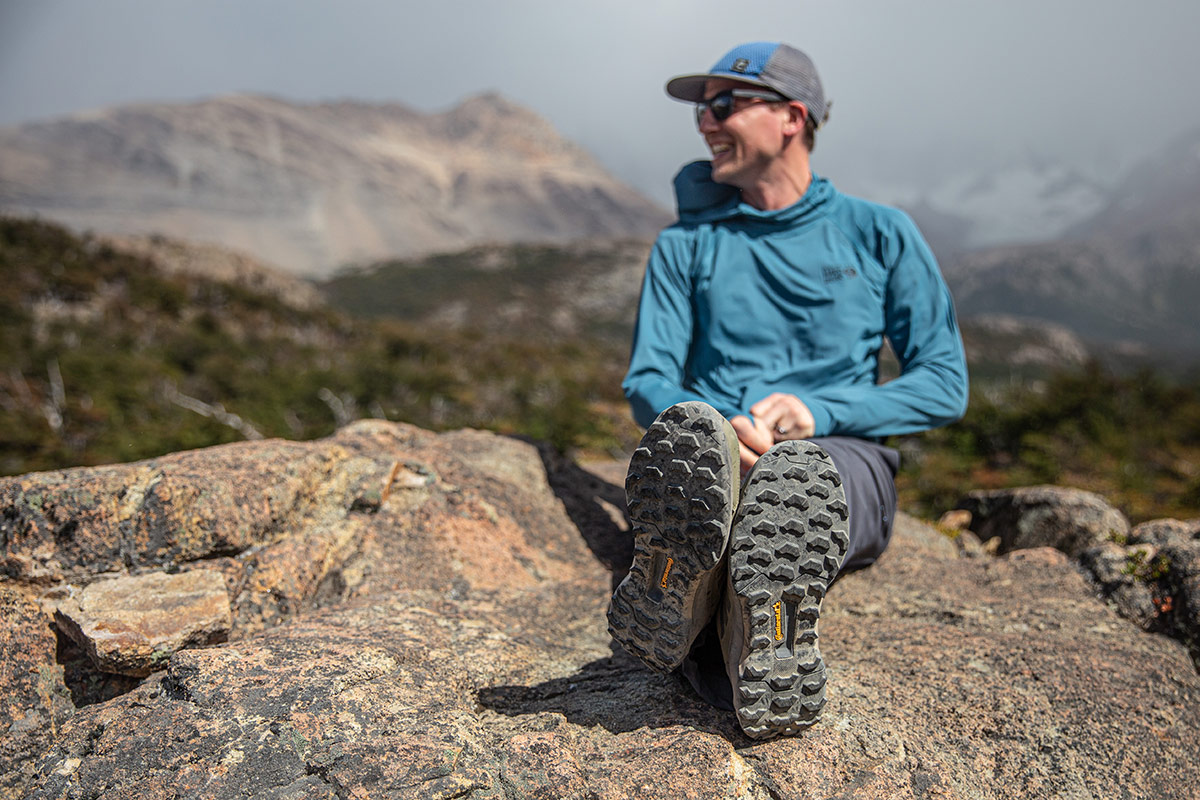 Other Versions of the Adidas Terrex AX4
Like many hiking footwear collections, the Adidas Terrex AX4 is offered in a range of styles. We tested the men's low-top non-waterproof AX4, and there's a women's Terrex AX4 available for the same price. Other than sizing and color options, they're identical. Additionally, there are Gore-Tex variations of the low-top for $130, plus an over-the-ankle boot for $140 (only available with a GTX liner). All versions of the AX4 share a similar look and tacky Continental outsole, but the boot's taller shape gives it a step up in support.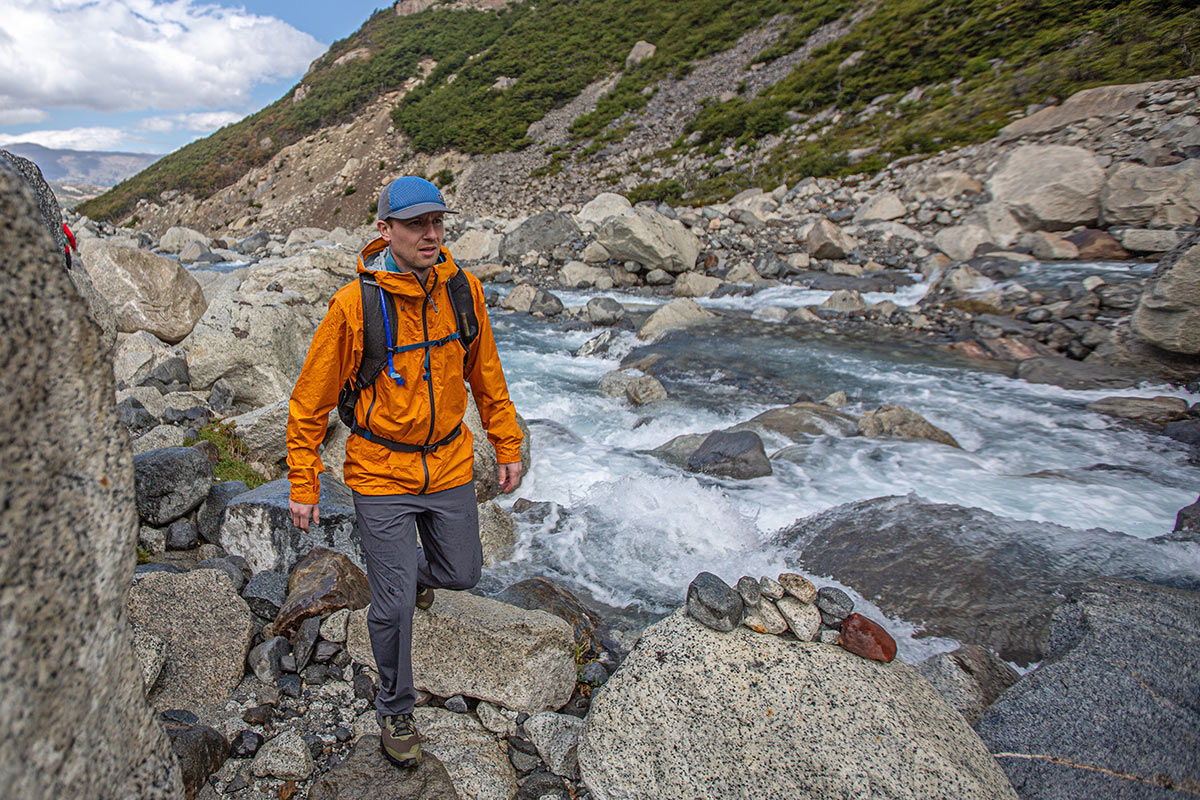 What We Like
The Terrex AX4 is surprisingly comfortable for the price, combining reasonable cushion, firmness, and flexibility with a reliable lacing system.
Tacky Continental rubber outsole is confidence-inspiring on both wet and dry rock, and 4-millimeter lugs bite well on wet and soft terrain.
Feels light and nimble on the trail, but with a step up in support compared to a trail runner.
Large sections of mesh allow for great airflow as well as drainage in soggy conditions.

What We Don't
Lack of a true toe cap makes the Terrex AX4 less protective than other lightweight hiking shoes.
The lower price comes with some durability concerns, including lots of exposed stitching on the upper and a thinner, cheaper insole.
Runs a bit small—and while it worked out for me personally, it might not be a good fit for people with higher volume feet or those who wear thick socks.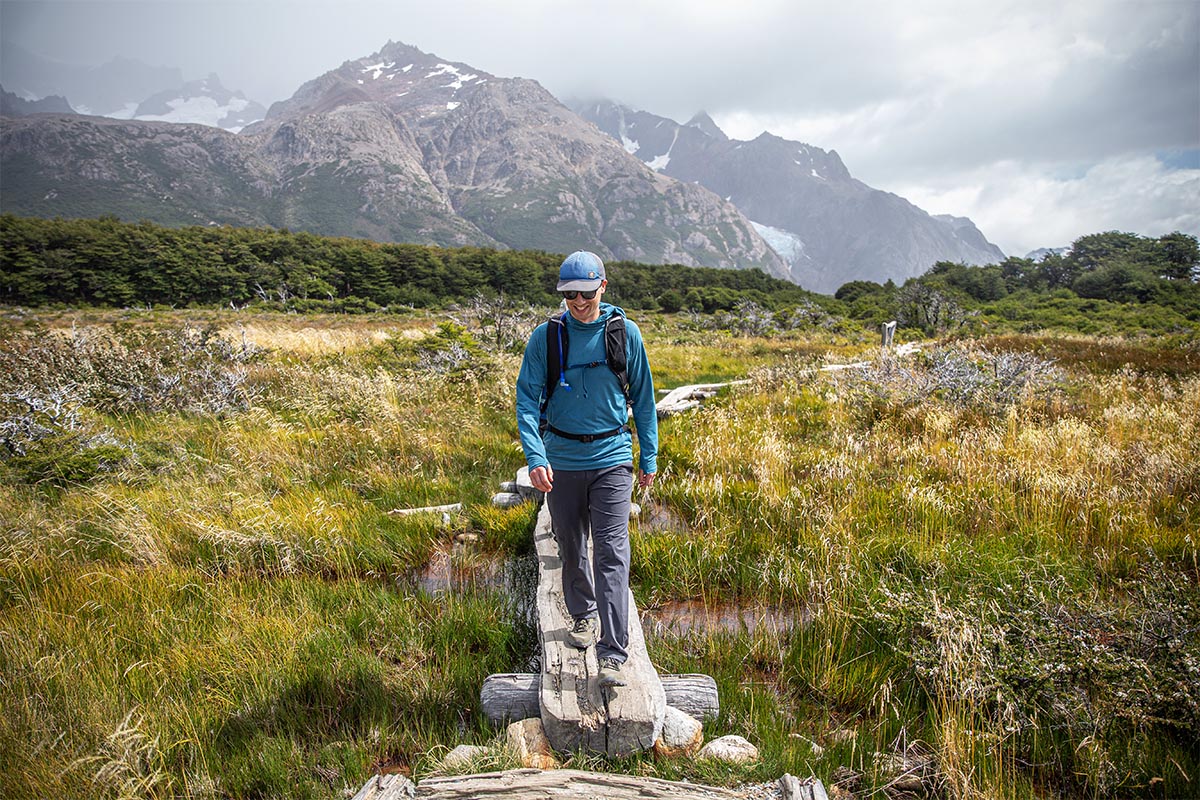 Comparison Table
| Shoe | Price | Type | Weight | Waterproof | Upper |
| --- | --- | --- | --- | --- | --- |
| Adidas Terrex AX4 | $100 | Hiking shoe | 1 lb. 10.2 oz. | No (WP available) | Mesh |
| Merrell Moab 3 | $110 | Hiking shoe | 2 lb. 1 oz. | No (WP available) | Leather / Mesh |
| Merrell MQM 3 | $120 | Hiking/approach shoe | 1 lb. 4 oz. | No (WP available) | Mesh / TPU |
| Salomon X Ultra 4 GTX | $150 | Hiking shoe | 1 lb. 11.2 oz. | Yes (Gore-Tex) | Synthetic / Textile |
| Adidas Terrex Swift R3 | $140 | Hiking shoe | 1 lb. 10.1 oz. | No (WP available) | Mesh |

The Competition
The Adidas Terrex AX4 is a surprisingly quality lightweight hiking shoe for the price, but there are lots of options to choose from these days, including perhaps the most classic budget offering: Merrell's Moab 3. For $10 more, the Moab 3 is softer and more cushioned, with a wider toe box and more toe protection. It's the less performance-oriented of the two, likely to appeal to casual hikers than the more aggressive design of the Adidas with its nimbler feel, lighter weight, and grippier outsole. Both shoes are solid values for what you get, and the choice will likely come down to fit and personal preferences on comfort versus weight.
A second alternative from Merrell is their performance-oriented MQM, recently updated to the "3." We tested the Merrell MQM 3 alongside the AX4 on our trip to Patagonia, and it was clear from the start that they have different intentions: Whereas the AX4 is pretty soft and flexible, the MQM (for "Moving Quickly in the Mountains") is stiffer and lighter. A smooth section at the front of the MQM's grippy Vibram outsole is great for scrambling on rock, and the shoe in general has a clear performance slant with the lacing stretching further toward the toes for a more secure fit. The AX4 is the superior day hiker with its more flexible build, but the MQM jumps out to us as a great value ($120 for the non-waterproof shoe) for a shoe that's capable off the trail, too.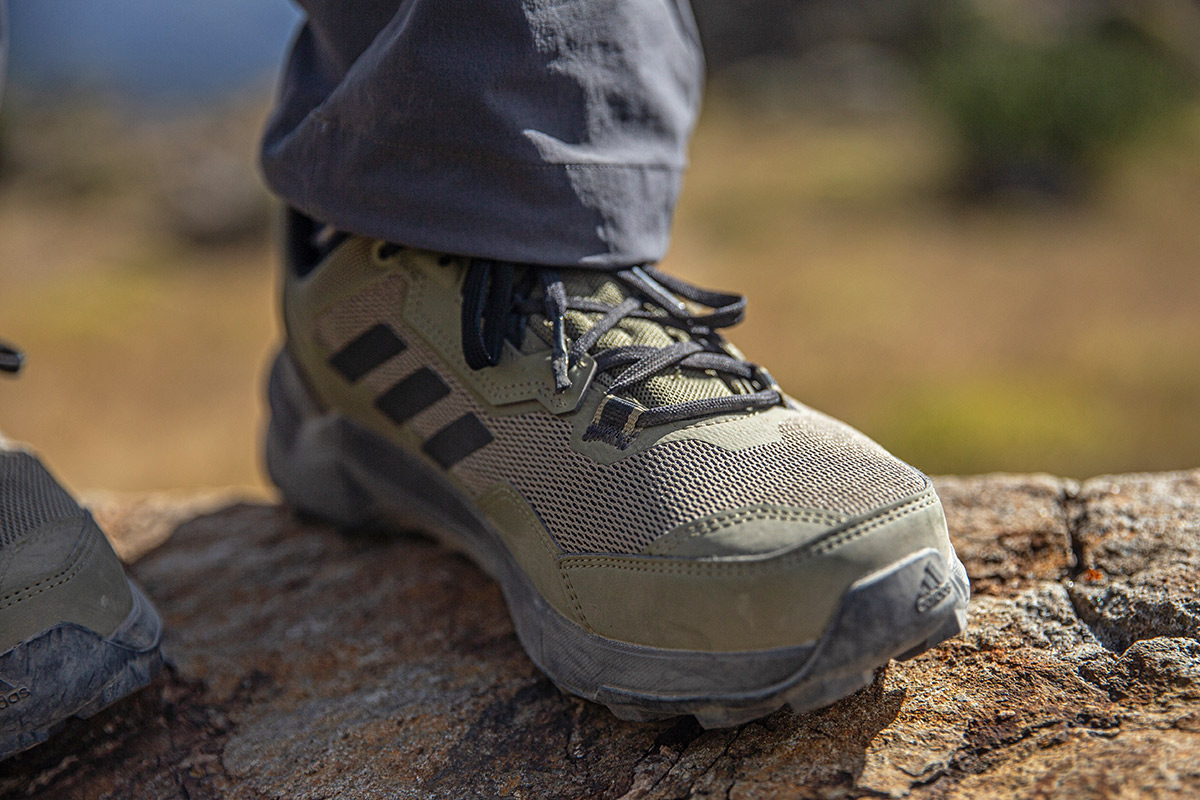 No discussion of lightweight hiking shoes would be complete without mentioning Salomon's X Ultra, a longstanding favorite among hikers and lightweight backpackers. The Gore-Tex version is our current pick for best overall hiking shoe, and the non-waterproof low-top model falls in line as a competitor to the AX4, but for $40 more. Comparing the two, the X Ultra is a little stiffer and more supportive for hauling an overnight pack, and its materials in general have a high-end look and feel. If you plan to log serious miles, and especially if it'll be over more challenging terrain, it may be worth upgrading to the X Ultra. But if you're looking to save and plan to primarily stick to summer day hikes, the Adidas is more than capable.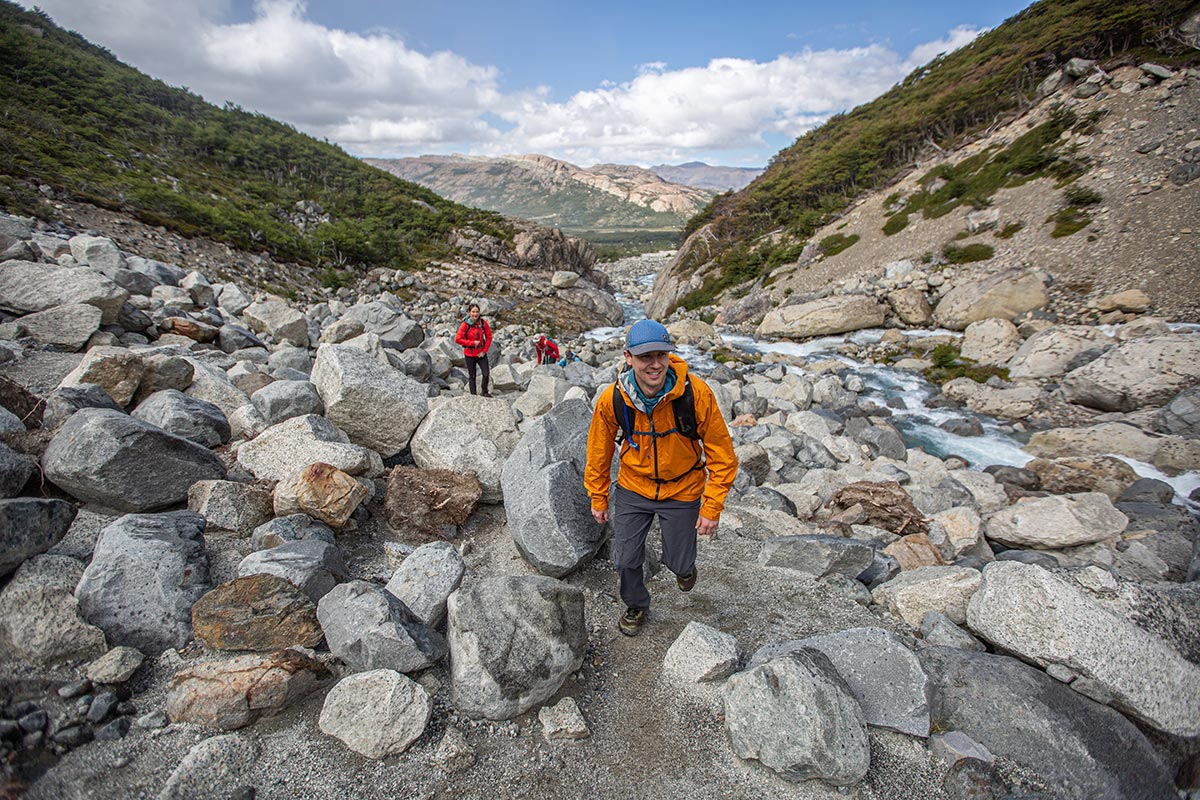 A final option comes from within Adidas' own hiking line: the Terrex Swift R3. For another $40, the Swift provides a step up in performance with a more stiff and supportive build—we've found it nearly resembles an approach shoe in feel—and more protection underfoot and around your toes for traveling over tricky terrain. For backpacking, we think it's worth spending up for the R3, and with its reinforced design it may stand up better to rough use in the long-term (for more, see our Swift R3 review). That said, the two shoes share a lot of the same ingredients, including the Continental outsole, so the AX4 is a great day hiking alternative for quite a bit less money.
If you're thinking about buying gear that we've reviewed on Switchback Travel, you can help support us in the process. Just click on any of the seller links above, and if you make a purchase, we receive a small percentage of the transaction. The cost of the product is the same to you but this helps us continue to test and write about outdoor gear. Thanks and we appreciate your support!
Depending on the seller, most products ship free in the United States on orders of $50 or more. International shipping availability and rates vary by seller. The pricing information on this page is updated hourly but we are not responsible for inaccuracies.
Read More From Switchback Travel