Merrell Moab 3
Price: $110
Weight: 1 lb. 14.7 oz. (men's size 9)
Waterproof: No (available)
What we like: Great value for a very comfortable and well-built hiking shoe.
What we don't: A little heavy and not as nimble as many modern alternatives.
See the Men's Merrell Moab 3  See the Women's Merrell Moab 3
With only three iterations in well over a decade on the market, Merrell has taken a slow and steady approach to updating their extremely popular Moab collection. The latest "3" was released in late spring 2022 and builds on its predecessor with a revamped insole, greater use of recycled materials, and modest updates to cushioning and traction. But Moab loyalists should take heart: After testing the low-top shoe, it's clear Merrell retained the line's signature comfort-first design. It's still not a good pairing for those who prefer a quick and light shoe, but if you prioritize cushioning and a smooth stride for day hikes and on-trail backpacking, the latest Moab is a great match. Below we outline our experience with the Moab 3. To see how it stacks up to the competition, see our article on the best hiking shoes.
 
---
Table of Contents
---

Performance
Comfort
With a reputation built around comfort, it's not a big surprise that Merrell didn't shake things up too much with the latest Moab 3 hiking shoe. Out of the box, the shoe had a very familiar feel: There's plush cushioning covering the whole foot, from the padded collar and tongue to the cushy midsole and moderately thick insole. It's worth noting here that Merrell made some small tweaks to the insole: Comparing it to my Moab 2, the new insole retains excellent arch support (for a stock design) but is slightly less sculpted in the heel and has a little more cushioning under the ball of the foot.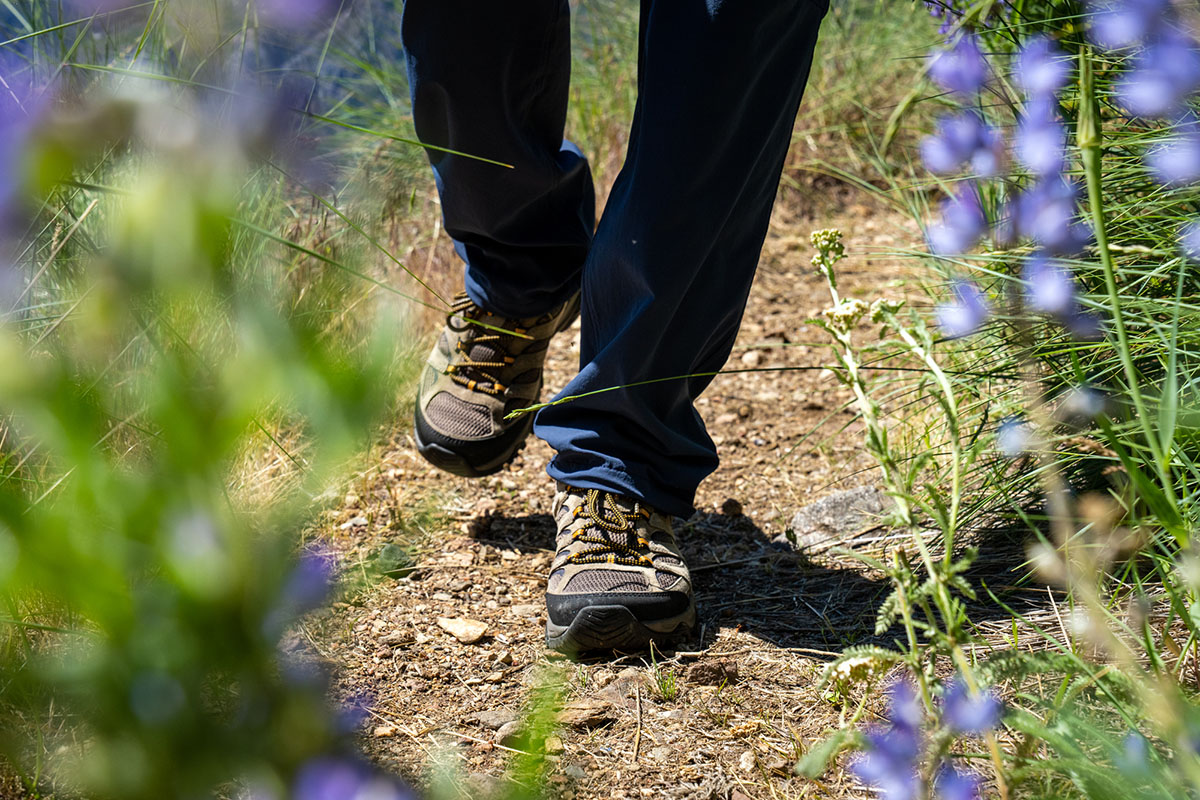 On the trail, these changes led to a familiar result: great all-day comfort. I wore the Moab 3 on everything from local day hikes with a light pack to hauling a 30+ pound load over a 15-mile day on a recent backpacking trip along Washington's Chelan Lakeshore Trail and had essentially zero comfort-related complaints. The thick cushioning provided plenty of isolation from rocky trails and extended miles, and there's sufficient flex in the forefoot to make it a smooth walker. The lacing system isn't anything special—the design appears identical to the prior model—but the simple cord-like laces and webbing loops were easy to adjust, didn't loosen during the day, and kept my foot locked in place (I didn't experience any heel slippage or hot spots). All told, if you put a premium on soft cushioning and comfort for day hikes and backpacking trips, I wholeheartedly recommend the Moab 3.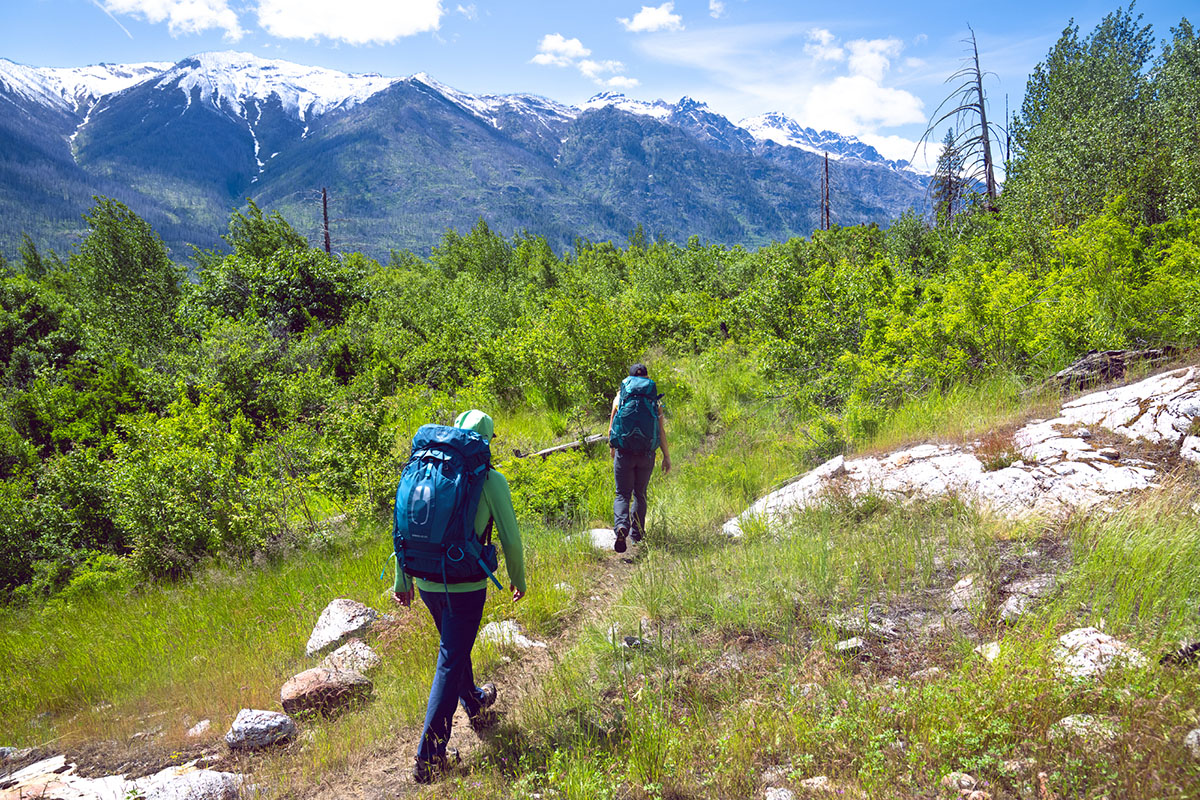 Weight
One of the prices you pay for all the Moab's plush padding is weight: At 1 pound 14.7 ounces for my non-waterproof pair in a size 9 (listed weight is 2 lbs. 1 oz.), the shoe falls decidedly on the heavier end of the hiking shoe spectrum. To be fair, KEEN's Targhee Vent (1 lb. 13.6 oz.) and Oboz's Sawtooth X Low (1 lb. 15.6 oz.) provide similar on-trail performance while checking in around the same weight, but none are particularly sprightly or agile-feeling shoes. And importantly, the Moab's heft didn't go unnoticed: The shoe felt clunkier and far less nimble than a modern, trail runner-inspired alternative like Salomon's similarly popular X Ultra 4 (1 lb. 9.4 oz. for the non-waterproof version). In the end, there's a reason that much of the market has shifted to these lighter, running-influenced designs, but many traditionalists will still find the Moab's excellent comfort worth the weight penalty.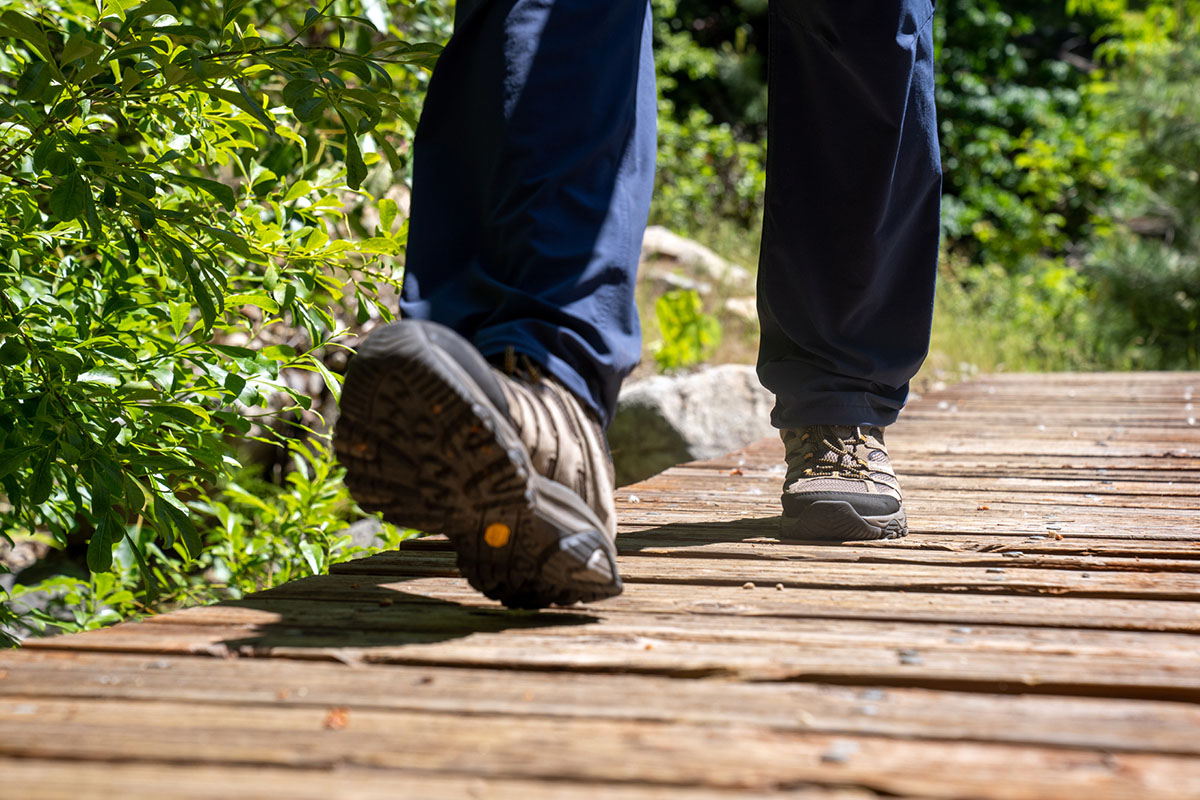 Traction
The Moab has never had standout traction, but Merrell did make some notable progress with the newer model. Specifically, they made a few tweaks to the outsole shape to give it more aggressive bite in dirt and mud, and there's also a retooled rubber compound. In use, I found the shoe still lacks the tacky and highly grippy feel of some of the top-rated hiking shoes on the market, including alternatives like Danner's Trail 2650 or HOKA's Speedgoat 5 that use Vibram's impressive Megagrip compound. But those alternatives cost significantly more ($170 and $155 respectively), and the Moab has proven to be trustworthy in most on-trail situations, including plenty of tricky, early-season creek crossings. As long as you set reasonable expectations and don't need a specialized design for rocky and technical approaches, the Moab will get the job done. And as a bonus, the relatively firm rubber compound should have a pretty long lifespan.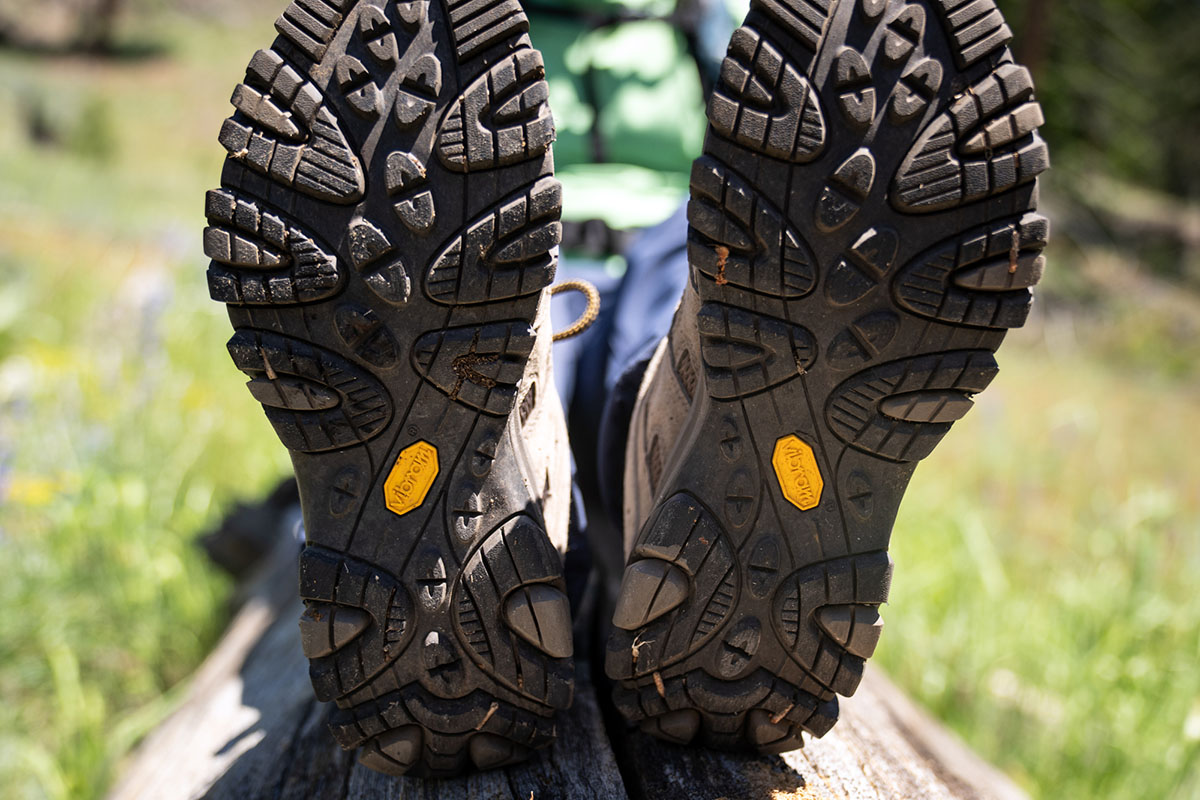 Stability and Support
The low-top Moab is intended for day hiking and light backpacking, and as such, it offers moderate levels of stability. The shoe has a fairly wide base, which gives it a planted feel, and a nylon shank built into the midsole provides some additional support. That said, it's still an under-the-ankle, mildly flexible design, so it's not something I'd recommend wearing when hauling a very hefty load—especially over technical and challenging terrain. But to be fair, I didn't have issues with ankle rolls or instability on our backpacking trip, even after pushing my pack weight to well over 30 pounds after loading up with water. And for those that prefer an over-the-ankle boot, I found the Moab 3 Mid offers a noticeable step up in stability. It's still a far cry from a burly, backpacking-specific model like Salomon's Quest 4, but the taller collar does give it more of a foot-hugging feel.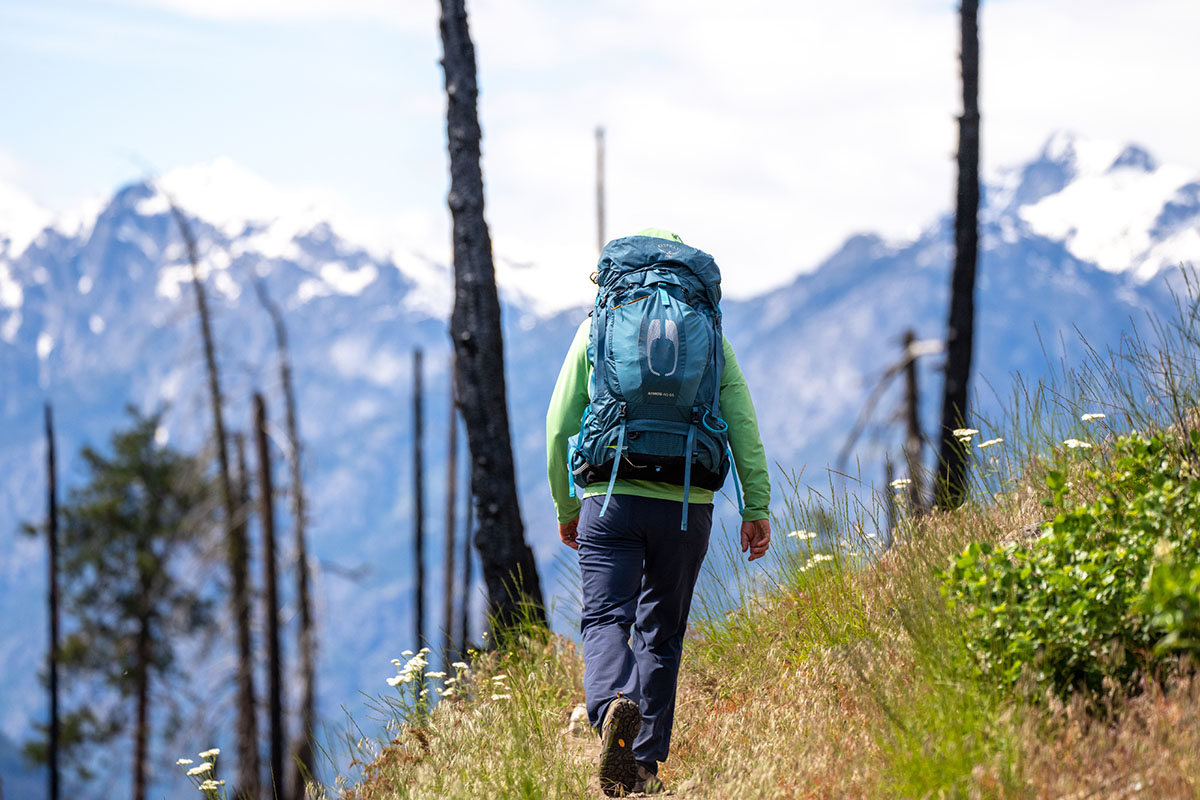 Breathability
We've been recommending the non-waterproof versions of the Moab for years for summer hikers or those that prioritize a breezy design (note: Past non-waterproof options had a "Ventilator" designation, but Merrell dropped that with the latest update). In a market full of waterproof-only options, they've been a nice change of pace for those that want to limit sweaty feet. As with the prior models, the latest Moab 3 incorporates large sections of mesh along the upper in between the strips of leather to help with airflow. In practice, this airy build pays nice dividends on especially hot days on the trail: I swapped between the waterproof and non-waterproof versions of the Moab during our backpacking trip, and the latter model unsurprisingly got the clear edge in breathability. And when I dunked my feet on a creek crossing, the shoe drained reasonably well and dried throughout the rest of the day as it was exposed to the sun.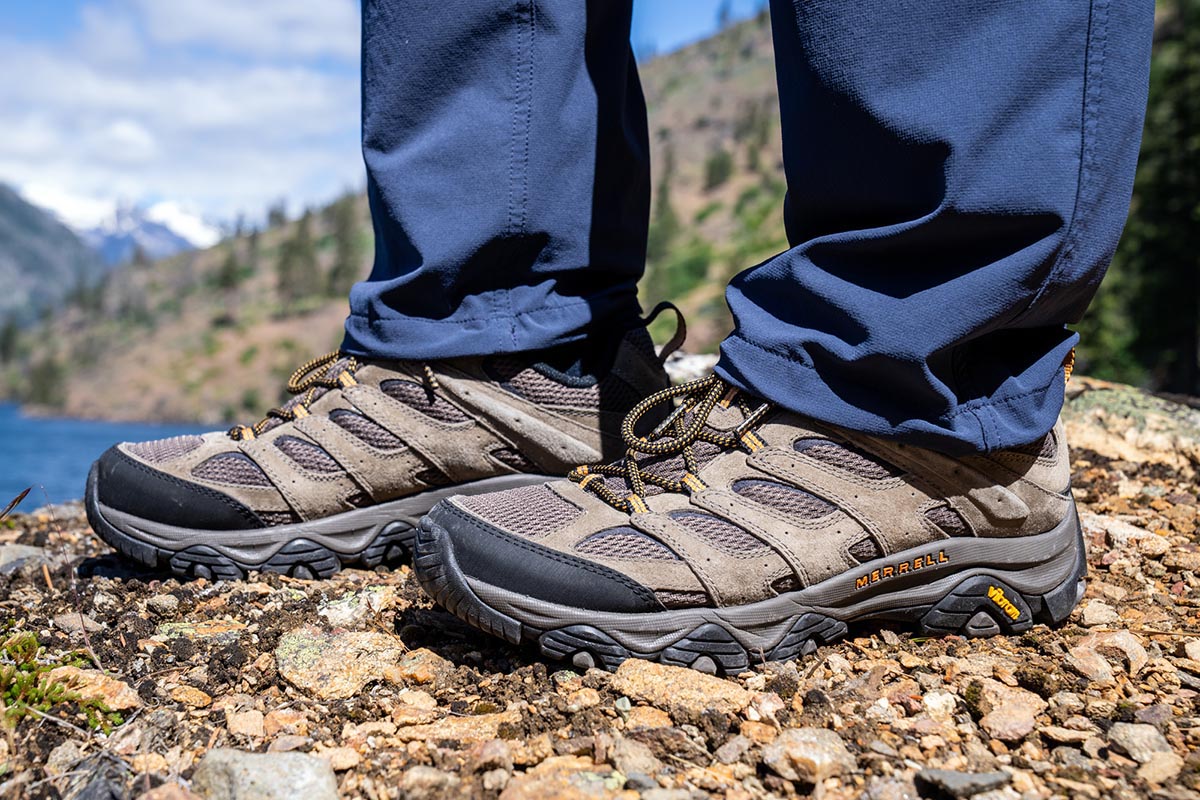 Waterproofing
For this test—and accompanying photos—I wore the non-waterproof Moab 3, but I have also had an opportunity to try out the waterproof variations. The standard Moab 3 is available with either the brand's in-house membrane (for $135) or an upgraded Gore-Tex membrane ($155). In my brief experience with both of the waterproof Moab 3s, I didn't experience any issues with leaking, even after dunking them in fast-moving water. That said, I noticed the mesh portion of the upper material did soak up a fair amount of moisture, which could become an issue in especially wet conditions (like hiking through wet grass). And as with all waterproof shoes, it's good to be aware of the depth of water during creek and river crossings, and that moisture can eventually make its way into the shoes if the conditions are particularly severe.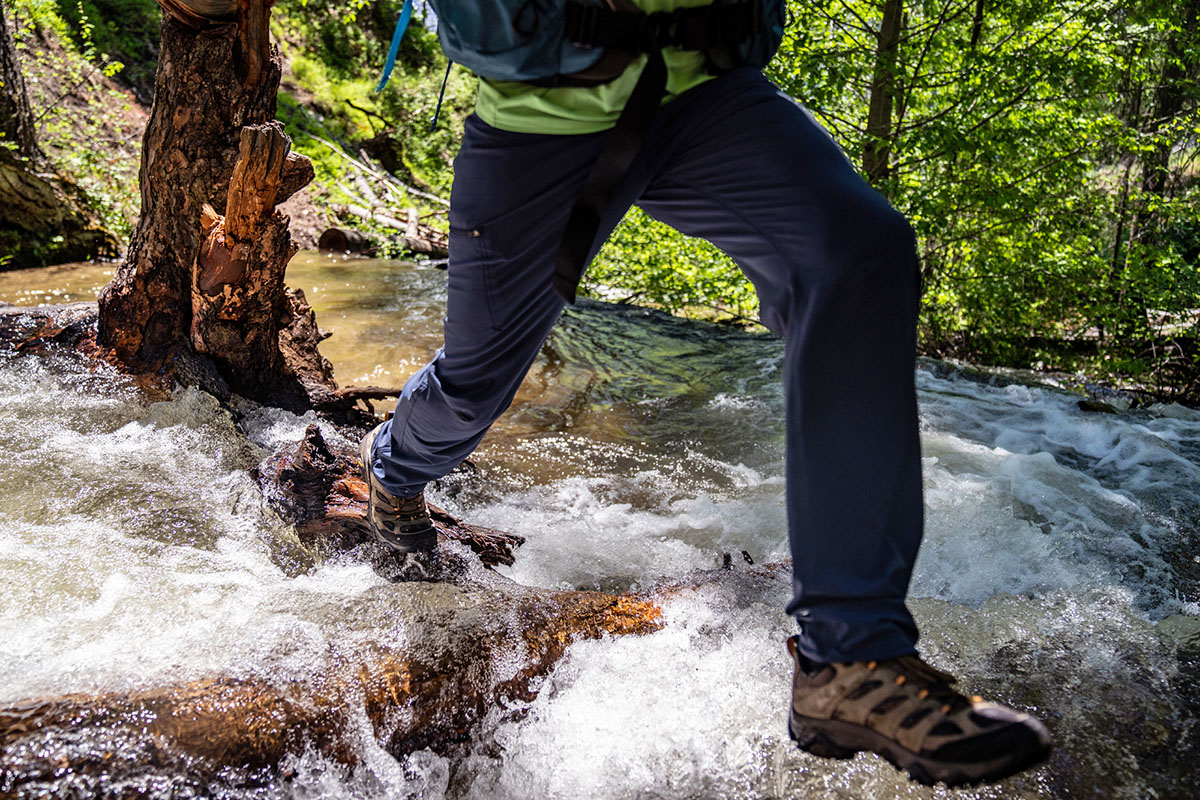 Toe and Foot Protection
One of the benefits in opting for a hiking shoe over a lightweight trail runner or standard sneaker is added foot protection. The Moab 3 boasts a raised rubber toe cap right at the front, which does a nice job taking the sting out of any direct hits to rocks, and reinforcements along the side of the toes also help isolate you from impacts. It's true you can get even more toe protection with a full rubber cap—like what you get with KEEN's Targhee collection—but the difference is relatively minor. And it's a similar story with the rest of the shoe: The Moab's thick cushioning used throughout the upper material, at the heel, and underfoot offer good all-around protection for most on-trail uses.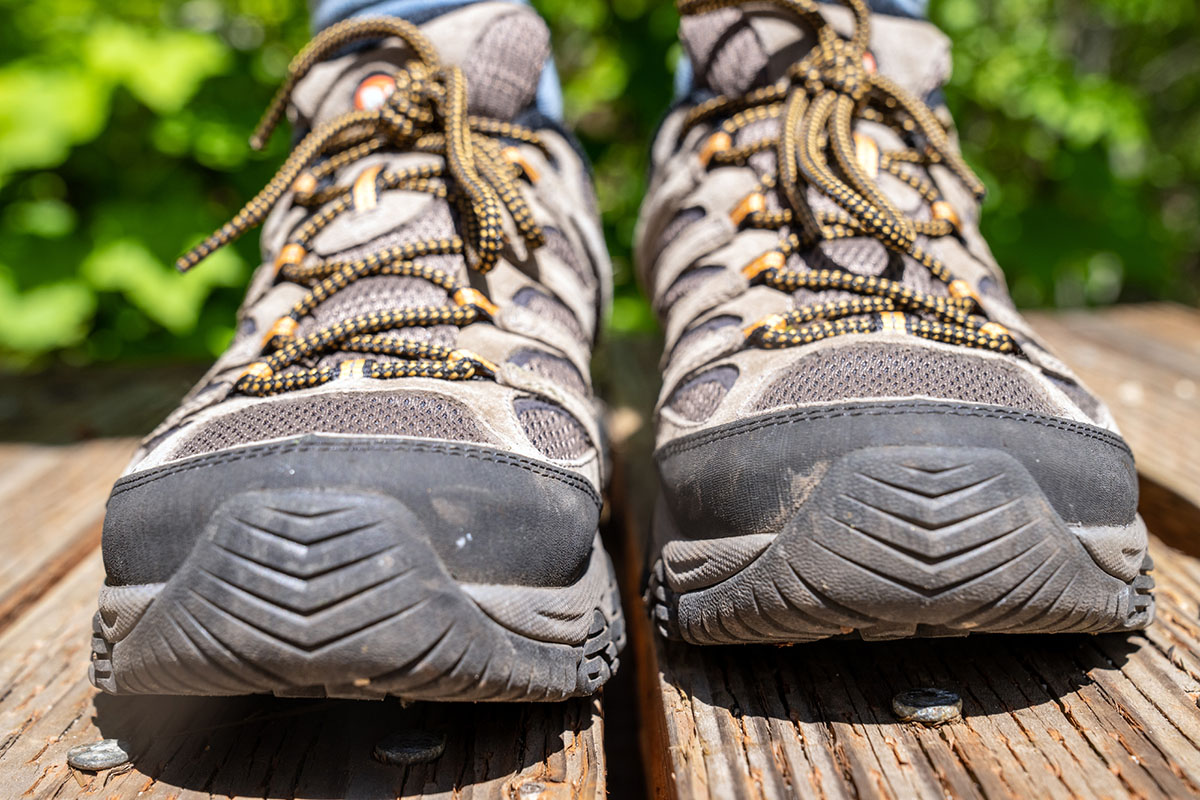 Build Quality and Durability
A hallmark of the Moab collection has been its impressive build quality for the price, and the latest third-generation model carries the torch. Considering this is a $110 hiking shoe, the pig suede leather and mesh upper have an impressively premium look and feel, and the soft cushioning throughout feels reminiscent of a pricier design. For reference, many of the Moab's direct competitors are more expensive, including the KEEN Targhee Vent ($155) and Oboz Sawtooth X ($135).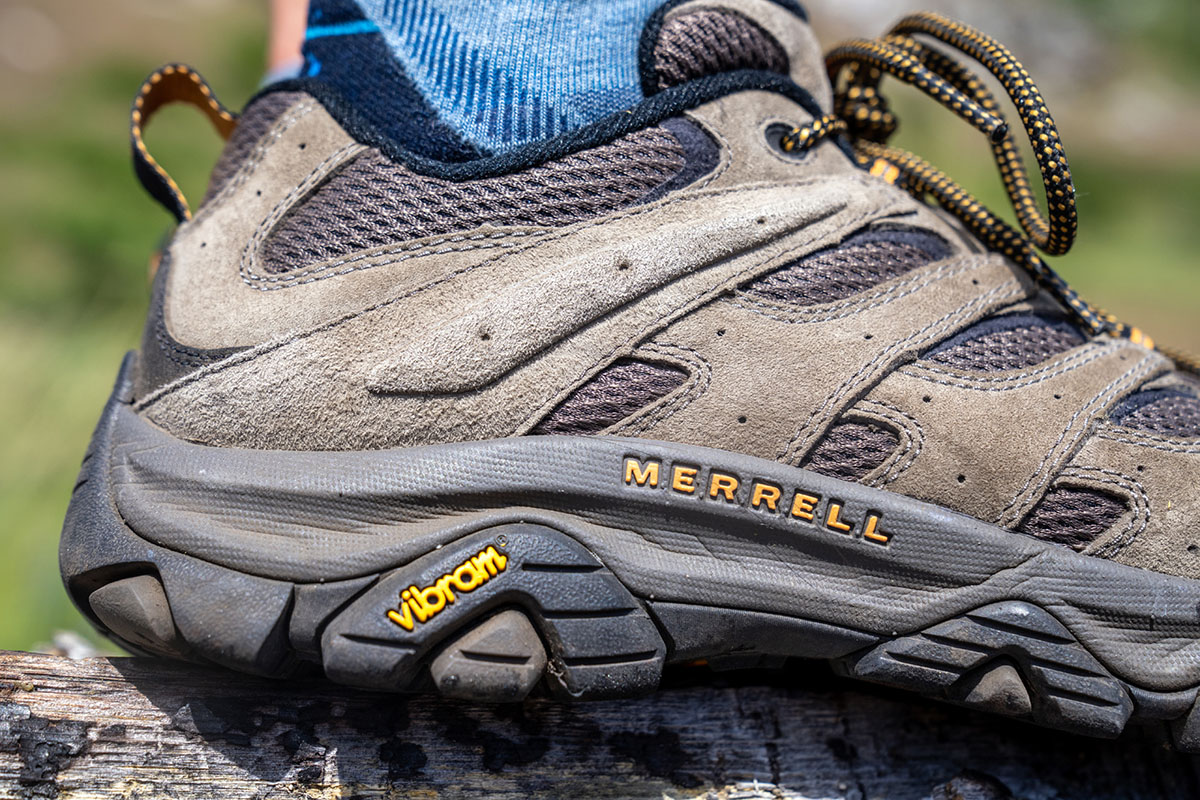 In terms of durability, all signs have been positive thus far. The upper is holding up well, and Merrell did a nice job strategically placing the sections of open-weave mesh to minimize issues with tearing or trail damage. The same goes for the lining along the interior and Vibram rubber outsole, both of which are in good shape with no issues to date. I'll report back here if anything changes as I continue to use the low-top shoe and boot variations of the Merrell Moab 3, but I expect they will all have a healthy lifespan.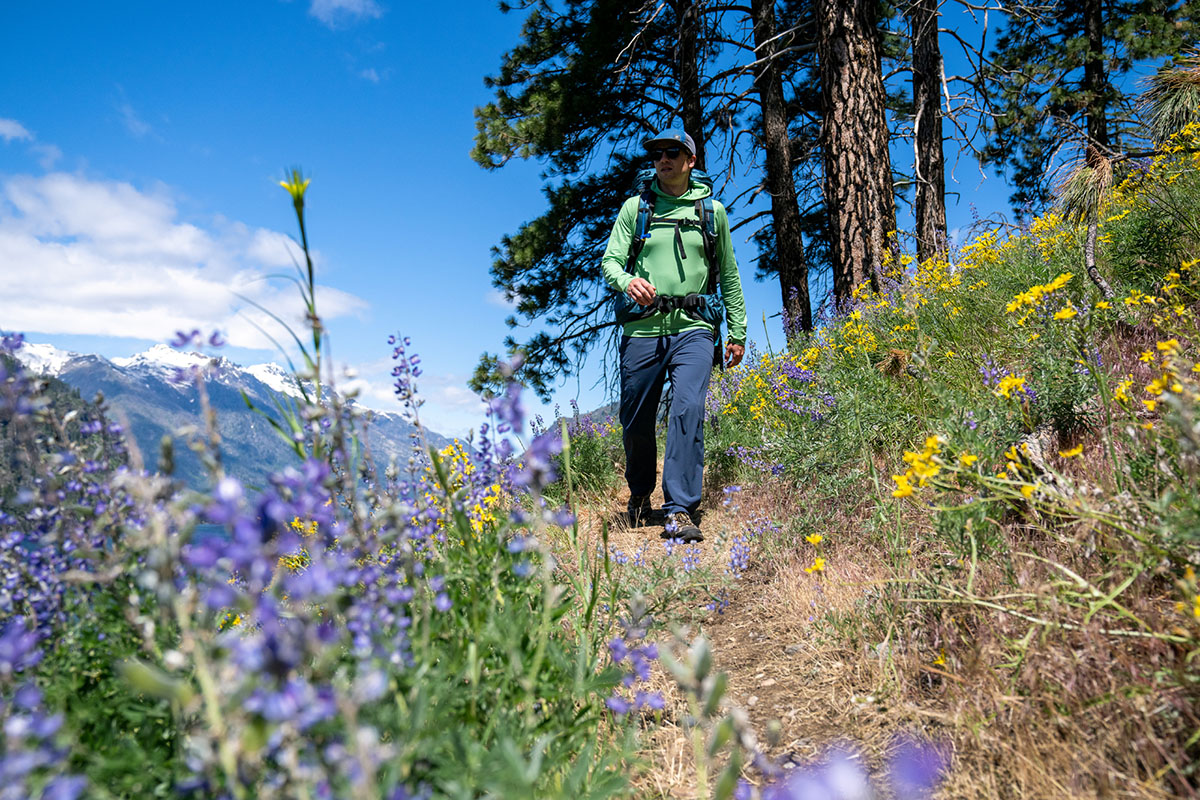 Fit and Sizing
I opted for my typical men's size 9 and found the Moab 3 had an excellent all-around fit. The length was perfect for me, and the secure lacing system meant I didn't deal with any hot spots or sliding around on extended climbs and descents. As I mentioned above, the heel cup is a little wider than my Moab 2 due to the new insole, but this didn't lead to any issues with heel slippage (for reference, I have slightly narrow heels and average-volume feet overall). And with a moderately roomy toe box, I found I had enough wiggle room without feeling sloppy. Those that have worn and loved the Moab over the years might be able to discern some small differences in size—in general, it felt ever-so-slightly wider throughout than my Moab 2 Ventilator—but it still strikes me as a fit that should make most hikers very happy. For those with higher-volume feet, Merrell also offers several variations (including the low-top shoe tested here) in dedicated wide-width options.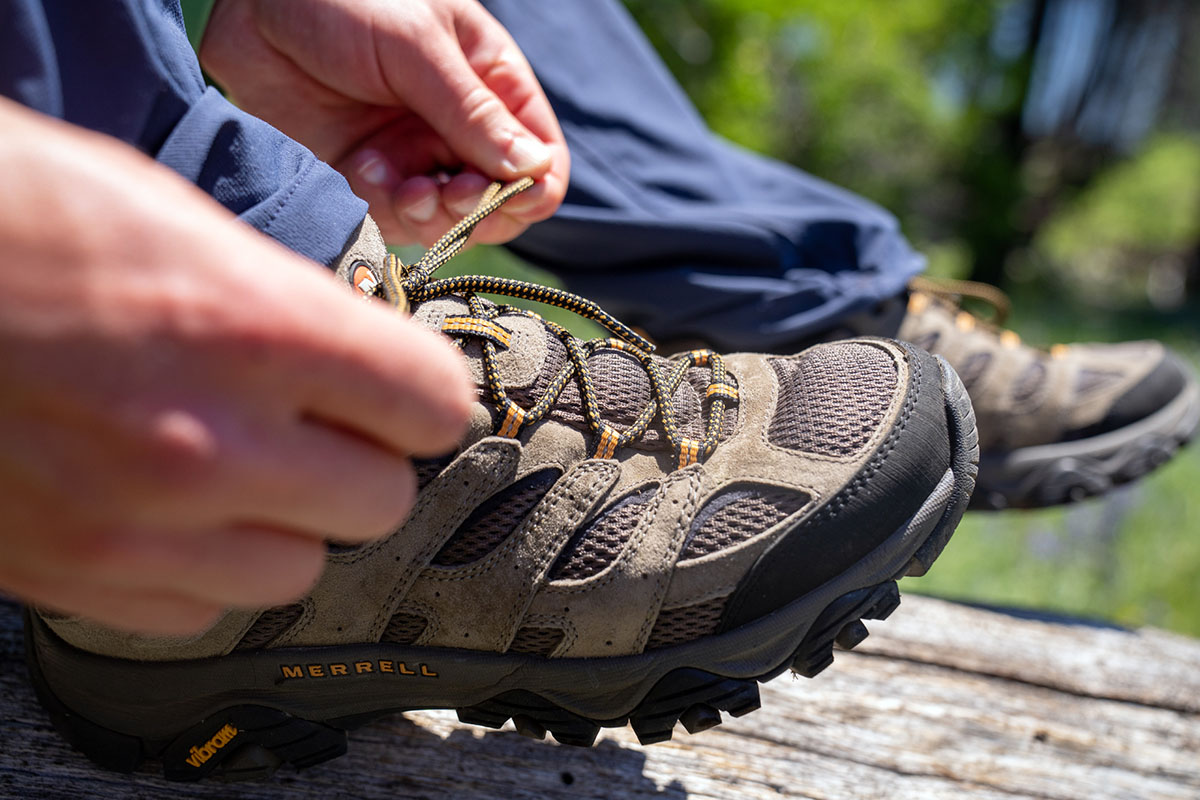 Sustainability
Many outdoor companies have begun incorporating more sustainable practices and materials into production over the past several years, and Merrell's latest Moab 3 is a nice reflection of the ongoing push. Specifically, the latest shoe's laces, webbing, and mesh lining are now all 100% recycled to help minimize waste. All told, it's a welcome upgrade that didn't impact the shoe's performance or price, which certainly adds to the all-around appeal.

Other Versions of the Merrell Moab 3
Given the popularity of Merrell's Moab collection, it's not too surprising that the latest Moab 3 comes in several variations depending on your preferences and objectives. In addition to the standard non-waterproof shoe tested here, the low-top offerings also comprise a waterproof variation with Merrell's in-house membrane for $135, as well as an upgraded version with Gore-Tex for $155. If you prefer the added stability of an over-the-ankle design, there are a number of boot options to consider, including the non-waterproof Moab 3 Mid ($120) and two waterproof variations ($145 with Merrell's membrane or $165 with Gore-Tex). All of the aforementioned designs are sold in both men's and women's options with varying colorways. Rounding out the collection are a few Prime versions with full-grain leather uppers for men (the women's counterpart is the Moab 3 Smooth Mid Gore-Tex), as well as lighter-weight synthetic Edge models.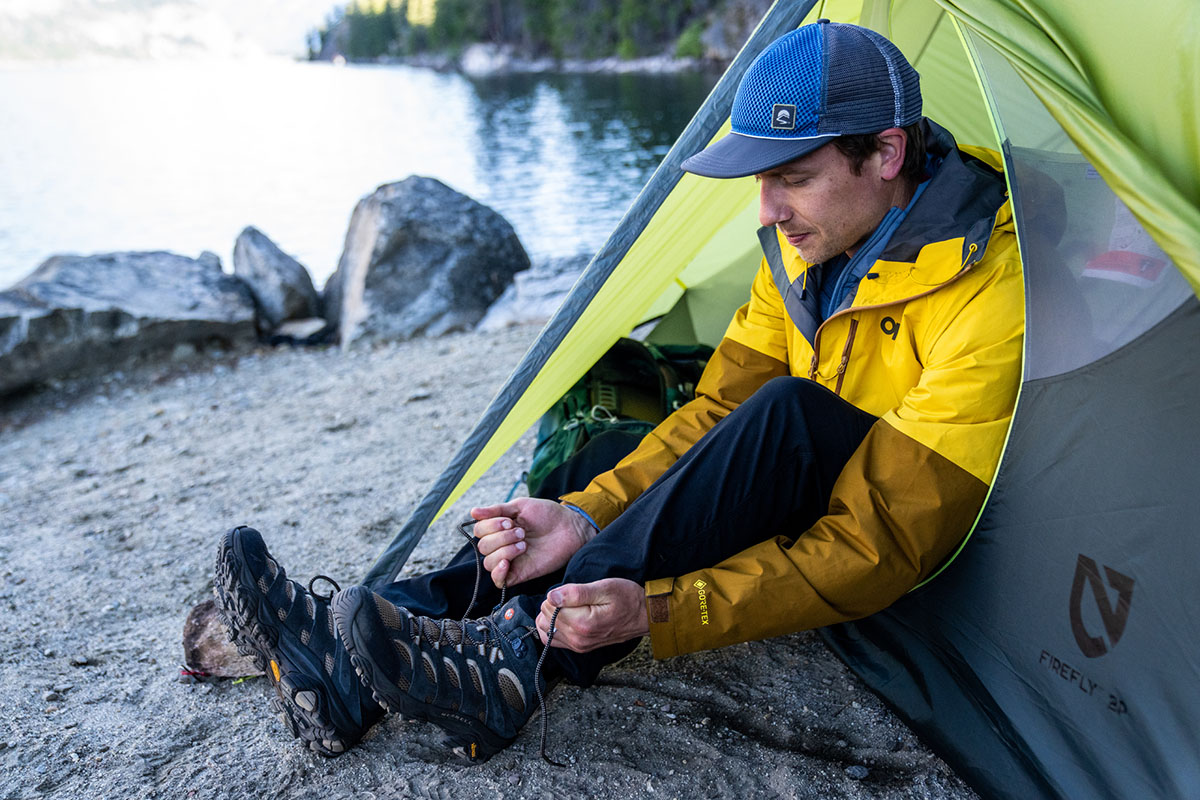 What We Like
All-day comfort is excellent: The Moab has plush padding throughout, provides great isolation from the trail, and offers a smooth ride with good flex at the forefoot.
Impressively well built for the price, including a premium suede and mesh upper and excellent cushioning that feel reminiscent of pricier designs.
Airy build with strategically placed open-weave mesh panels does a great job maximizing airflow on particularly hot days.
The fit should make most hikers happy: The lacing system is reliable and secure, and the heel and toe box are roomy enough to be comfortable without feeling sloppy.

What We Don't
Heavier than most hiking shoes and far less nimble than many modern trail runner-inspired designs.
Low collar and mildly flexible build aren't a great match for carrying a heavy pack over long distances.
Despite tweaking the outsole shape and incorporating a new rubber compound, the Moab 3 still lacks the bite needed for rocky and technical approaches (it's best for on-trail use).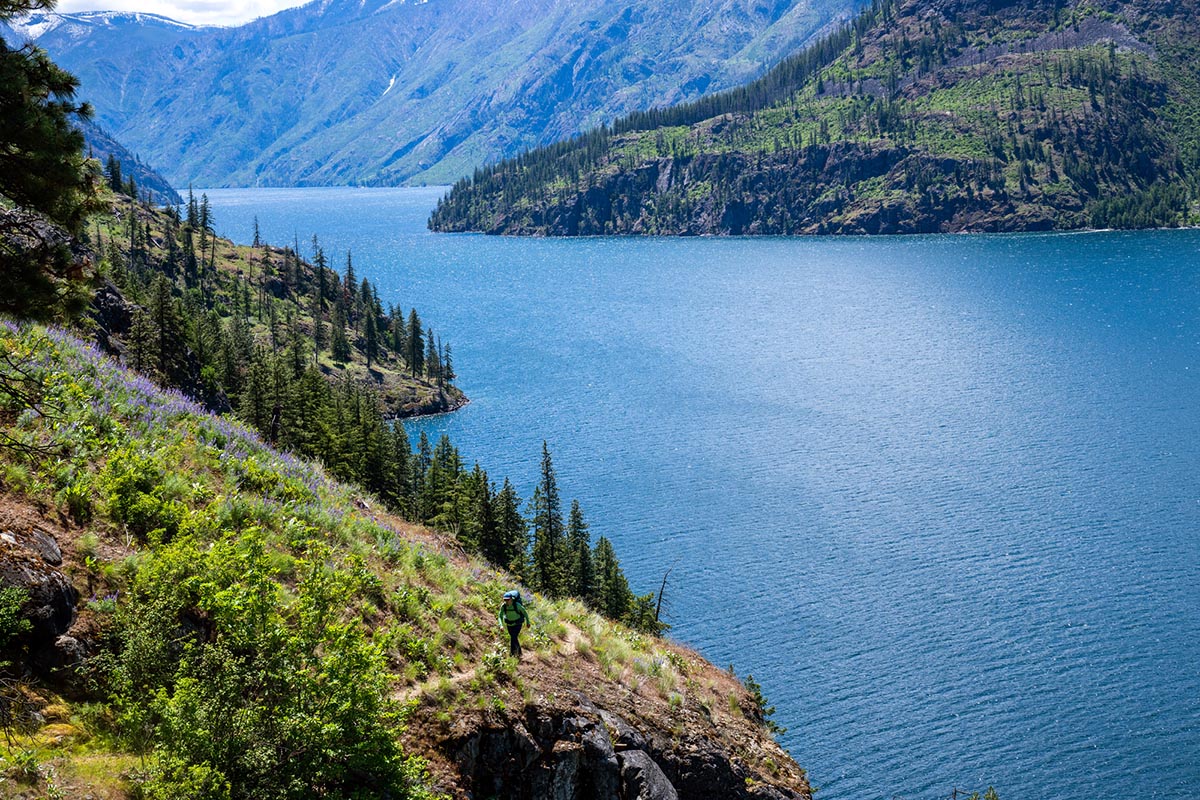 Comparison Table

The Competition
The lightweight and budget-friendly end of the hiking shoe market is teeming with options in 2022, but the latest Merrell Moab 3 retains its place as one of our favorites. One of the Moab's long-time competitors is KEEN's popular Targhee, and the non-waterproof "Vent" model shares a lot of what we love about the Moab 3. Namely, the Targhee has a solid and planted feel, is very comfortable out of the box, and is a good overall performer on the trail. It's also well built with a tough leather construction and nicely cushioned interior while checking in slightly lighter than the Moab at 1 pound 13.6 ounces for the pair. However, the Moab's mesh-heavy build translates to better breathability on particularly hot days, and the KEEN isn't nearly as good of a value at $155. No shoe is perfect, but the Moab will save you a considerable $45 while offering similar overall performance, which gives it the edge for us.
A second shoe that goes head-to-head with the Moab 3 is Oboz's Sawtooth X Low, which is a slightly more aggressive take on their flagship Sawtooth hiker. Like many of Oboz's designs, the Sawtooth X puts a premium on comfort with a molded O Fit insole and dual-density cushioning that's designed to maximize energy return while promoting a soft and cushy feel. You also get a surprisingly rigid structure and good trail isolation for a low-top design thanks to the nylon shank, stiff TPU heel counter, and thick outsole. However, one notable downside of the substantial build is that the Oboz has a clunkier and heavier feel compared with the Moab despite having a similar all-in weight of 1 pound 15.6 ounces. Tack on a $25 savings, and we think many hikers will be happier with the softer and more comfortable Moab.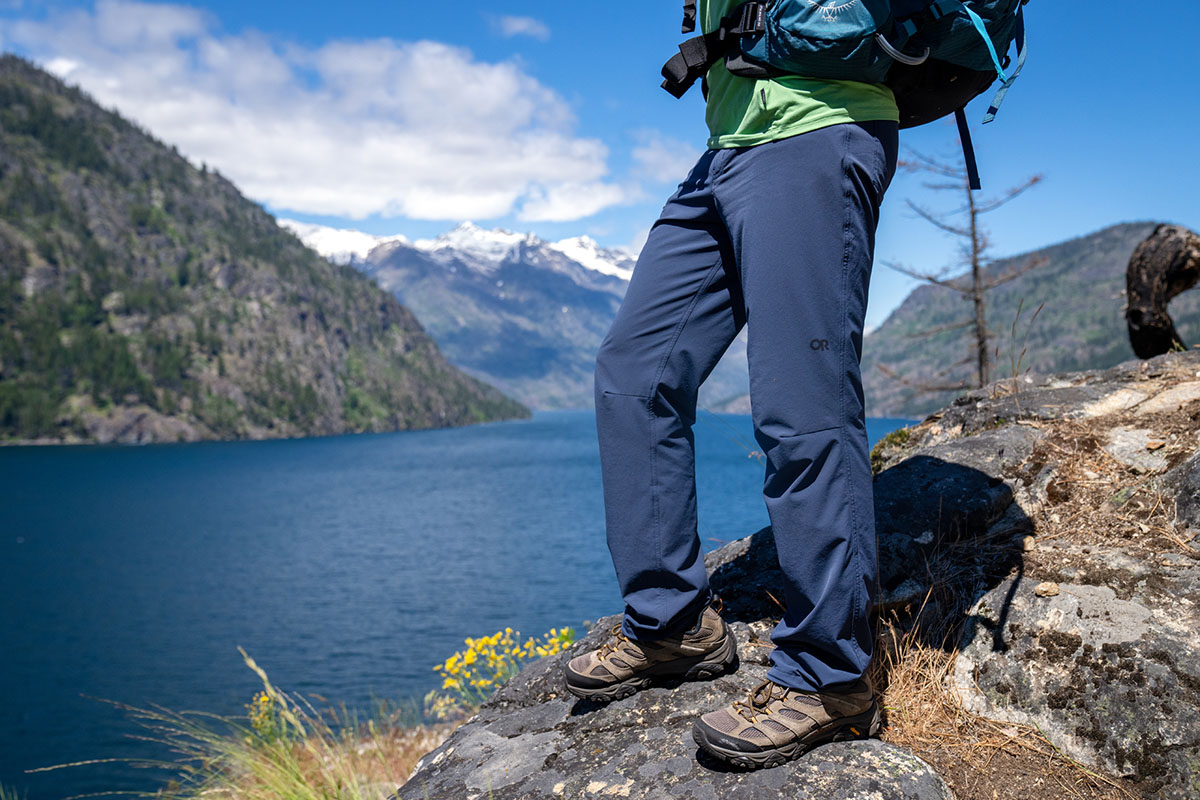 As we touched on above, the hiking shoe market has been shifting to lighter, trail runner-like designs in recent years, and Salomon's X Ultra 4 embodies that trend. In addition to a 7.6-ounce drop in weight (per pair), the X Ultra gets you a nimbler feel and a step up in traction while offering similar breathability and build quality. However, some users have found the raised collar around the front of the ankle to be a source of rubbing and discomfort. While we personally didn't experience this issue during testing, the Merrell still is far and away the more comfort-focused design with excellent cushioning for day hikes and light backpacking trips. If you're keen on covering serious ground quickly or tackling technical terrain, however, it's worth spending up for the lighter and nimbler Salomon.
A second Salomon option to consider is their newer OUTpulse. Right away, we'll note that the OUTpulse is only offered in a waterproof model with Gore-Tex, which drives the price up ($145) and detracts a little from overall breathability. But like the X Ultra, the OUTpulse stands out for its responsive and sprightly personality: It feels a lot like a trail running shoe but with a noticeable boost in support for day hiking and minimalist backpacking. It's also impressively light at 1 pound 8.8 ounces per pair and has a streamlined look that's far more modern than the traditional Moab. That said, the OUTpulse uses thin materials to shave weight and feels less robust than the Moab as a result, and those who like a solid and planted feel won't love the flexibility. All told, the OUTpulse is an intriguing option for fast-and-light hikers that don't require a lot of support from their shoes, but the Moab is the better option for most traditional day hikers and backpackers.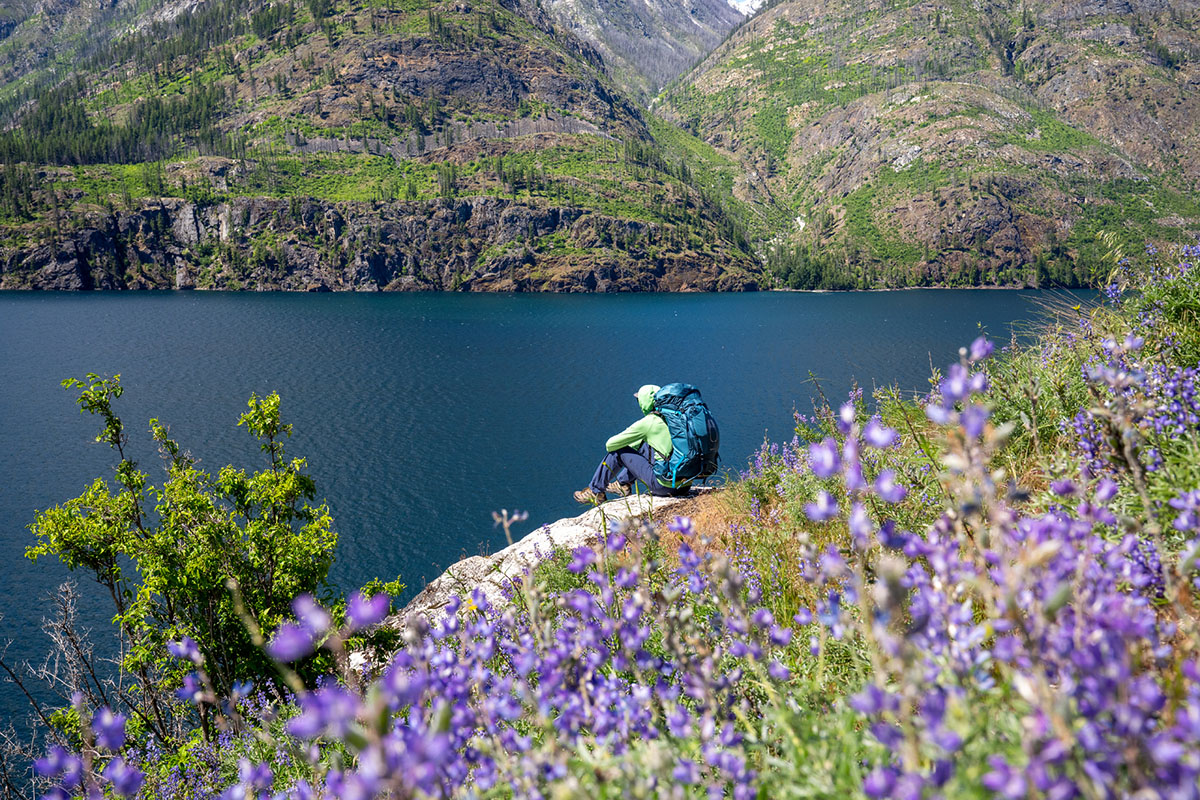 Last but not least is an in-house alternative to have on your radar: Merrell's own Moab Speed Low. However, despite sharing a similar name, the two Moabs have notably different intentions. While the Moab 3 is a classic hiking shoe with a clear emphasis on comfort and durability, the Speed is lighter (1 lb. 7 oz.) and nimbler but noticeably less protective. The synthetic build also is a step down in durability compared to the Moab 3's hardwearing suede construction. That said, the Moab Speed hits a sweet spot for many: It's lighter than most traditional hiking shoes (the Moab 3 included) but still more stable than most trail runners. We still prefer the Moab 3 for its better protection and breathability at $20 less, but the Speed is a viable and more modern alternative for those that want to go lighter.
If you're thinking about buying gear that we've reviewed on Switchback Travel, you can help support us in the process. Just click on any of the seller links above, and if you make a purchase, we receive a small percentage of the transaction. The cost of the product is the same to you but this helps us continue to test and write about outdoor gear. Thanks and we appreciate your support!
Depending on the seller, most products ship free in the United States on orders of $50 or more. International shipping availability and rates vary by seller. The pricing information on this page is updated hourly but we are not responsible for inaccuracies.
Read More From Switchback Travel