With more trails than stoplights, Kaua'i is a far cry from the bustle of Waikiki or romantic resort life of Maui's west coast. "The Garden Isle" is best known for its natural and untouched beauty, making it our favorite island for the adventurous and outdoor-minded traveler. Thus, it should come as no surprise that many members of the Switchback Travel team have spent time on Kaua'i, logging trail miles on the lush east side and the dramatic Nā Pali Coast, up to the rain-soaked Alaka'i Swamp and into the depths of Waimea Canyon. In fact, we've hiked every single trail on this list (how's that for boots on the ground!?), which range from popular tracks to lesser-known—but must-do—gems. Before you head out, make sure to scan the hiking logistics below the picks for important information regarding culture, weather, reservations, gear, and more.
 
Day Hikes by Region
Kōke'e and Waimea State Parks
Accessed from the west side towns of Waimea and Kekaha, Waimea and Kōke'e State Parks hold some of Kaua'i's most sought-after hiking trails. Heading up Route 550, you'll arrive at Waimea Canyon first, a dry and arid chasm (nicknamed "the Grand Canyon of the Pacific") spanning more than 10 miles long, 1 mile wide, and 3,000 feet deep and home to the Canyon (Waipo'o Falls) and Kukui trails listed below. As you continue along the highway, you'll enter Kōke'e State Park, a high, forested plateau that dramatically drops down toward the ocean to the north and west. Here, you'll find the Alaka'i Swamp Trail and the Nu'alolo to Awa'awapuhi Ridge route, among many other worthy lookouts and trails.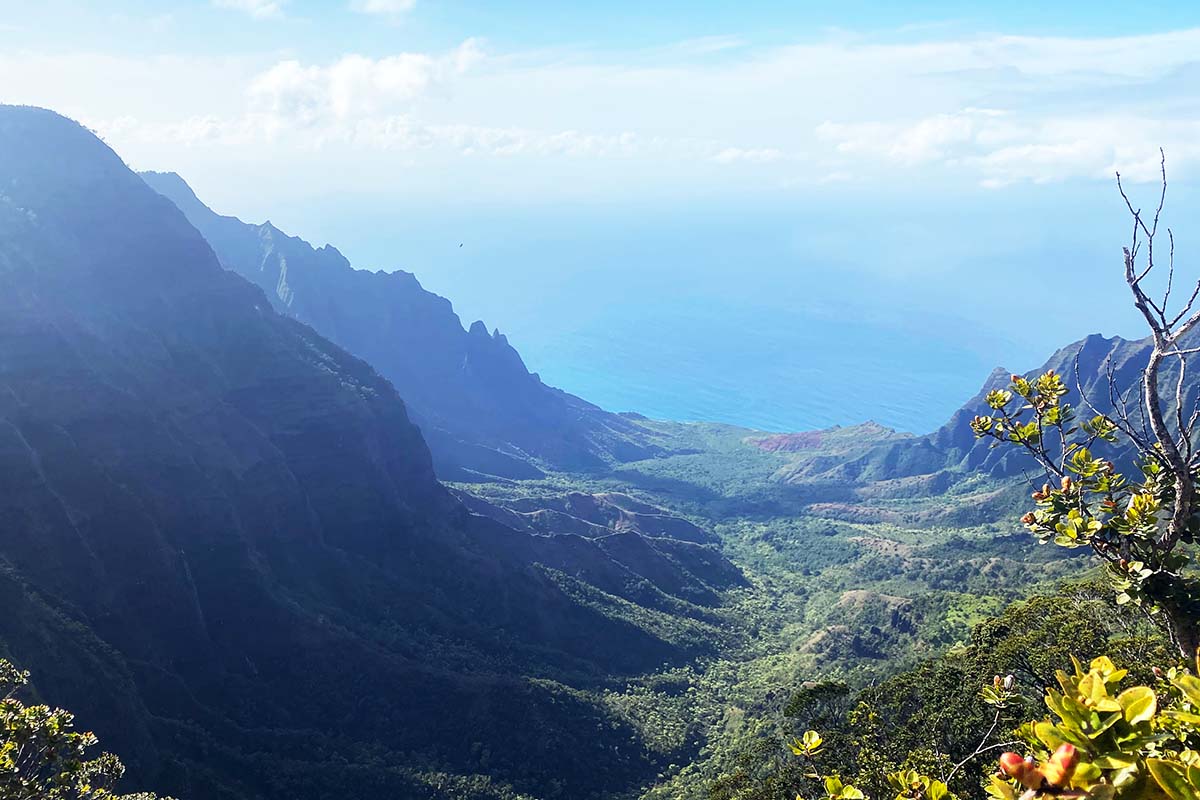 1. Kukui Trail
Distance: 4.5 miles round trip
Elevation gain: 2,200'
Difficulty: Difficult
Trailhead: Highway 550 (¾ mile after mile marker 8)
While many trails and vistas hug the rim and offer sweeping views of Waimea Canyon from above, the Kukui Trail is one of the best ways to experience its depths. Not only that, but it's the jumping-off point for a variety of other destinations within the canyon, including the trail into Waimea Town and various campsites along the Waimea River and Koai'e Stream (Wiliwili, Kalauhaulu, Hipalau, and Lonamea). Many of these locales are open to visitors during the day, but if you plan to stay the night, you'll need to reserve a permit on Kaua'i's Department of Land and Natural Resources website (for more info, see our "Reservations" section below).
To access the Kukui Trail, park on the side of Route 550, about ¾ mile after mile marker 8—the trailhead is marked by an informational sign on the right (no facilities). The trail descends quickly through exposed slopes (not recommended during the heat of the day) and into a forest, arriving at the Wiliwili shelter alongside the Waimea River in 2.2 miles. Idyllic pools and smooth rocks will delight swimmers and sunbathers, and hikers can head in either direction along the old road to continue to their destinations. With this kind of access to the canyon floor, you can get creative: on one of our favorite Kaua'i adventures, we stashed bikes at the Kukui trailhead, hiked from Waimea Town to Wiliwili and up to the canyon rim on the Kukui Trail, then biked down Route 550 at sunset.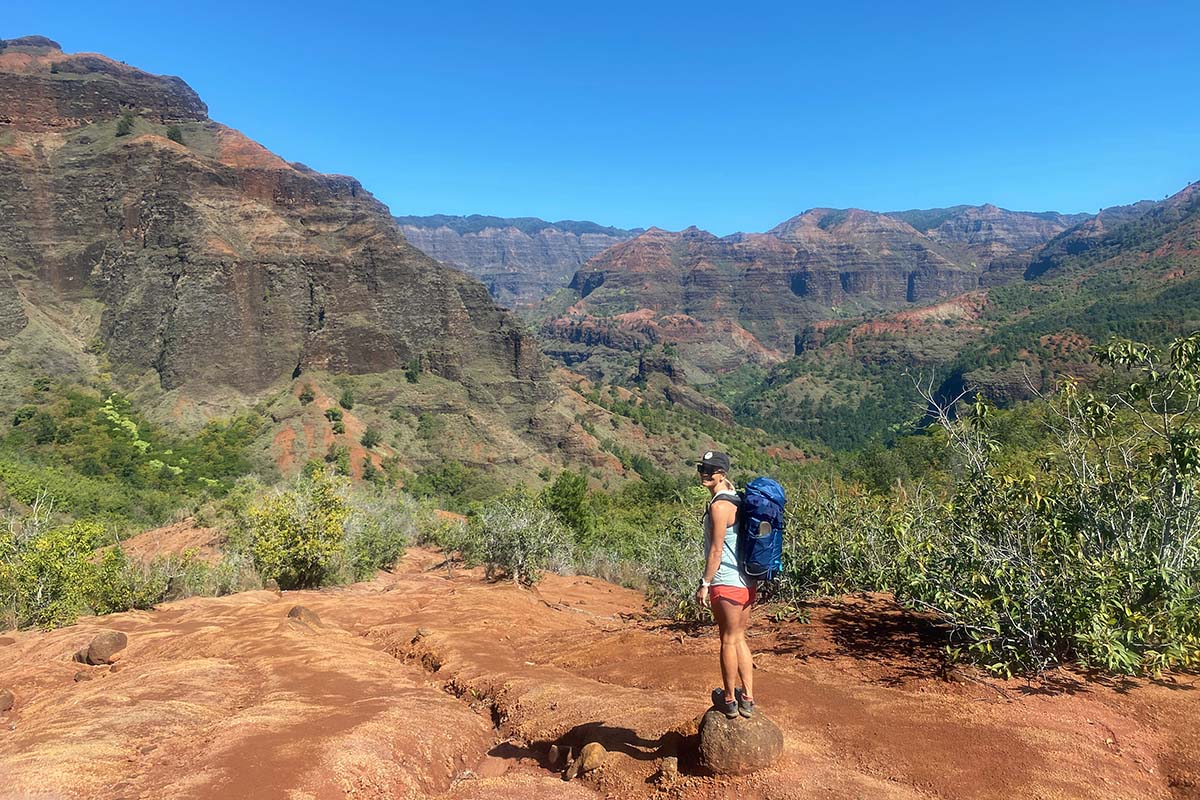 2. Canyon Trail to Waipo'o Falls
Distance: 3 miles round trip
Elevation gain: 1,200'
Difficulty: Moderate
Trailhead: Pu'u Hinahina Lookout
If you're driving along the rim of Waimea Canyon on a clear day, it's hard not to catch a glimpse of the stunning Waipo'o Falls cascading 800 feet down the steep, tiered cliffside. We love the view of Waipo'o Falls from afar (the Waimea Canyon and Pu'u Ka Pele Lookouts are great places to take a gander), but it's fun to get an up-close perspective too. The Canyon Trail offers passage to the top of the falls—and sweeping views of the canyon itself—in just a 3-mile round-trip journey. This trail can be accessed a number of ways, including from Halemanu Road and via the Kumuwela Trail (you can even make a loop out of it), but the easiest way to approach it is from the Pu'u Hinahina Lookout off Route 550, near the entrance of Kōke'e State Park.
Park at the Pu'u Hinahina Lookout (facilities available) and follow signs for the Canyon Trail. After about a half mile, you'll cross a dirt road (Halemanu Road), and continue right on the trail, where you'll soon begin to catch views of the colorful folds of Waimea Canyon. In about a mile, you'll arrive at an exposed section of red dirt, where multiple trails lead to the top of the falls. Depending on the season, there are a few pools here to cool off in before heading back up to the canyon rim—just be careful, as it's a rather exposed setting. You can also venture out on a short spur trail towards the top of the hill (the Cliff Trail), which will add less than a half mile onto your journey and reward you with more views of the canyon below.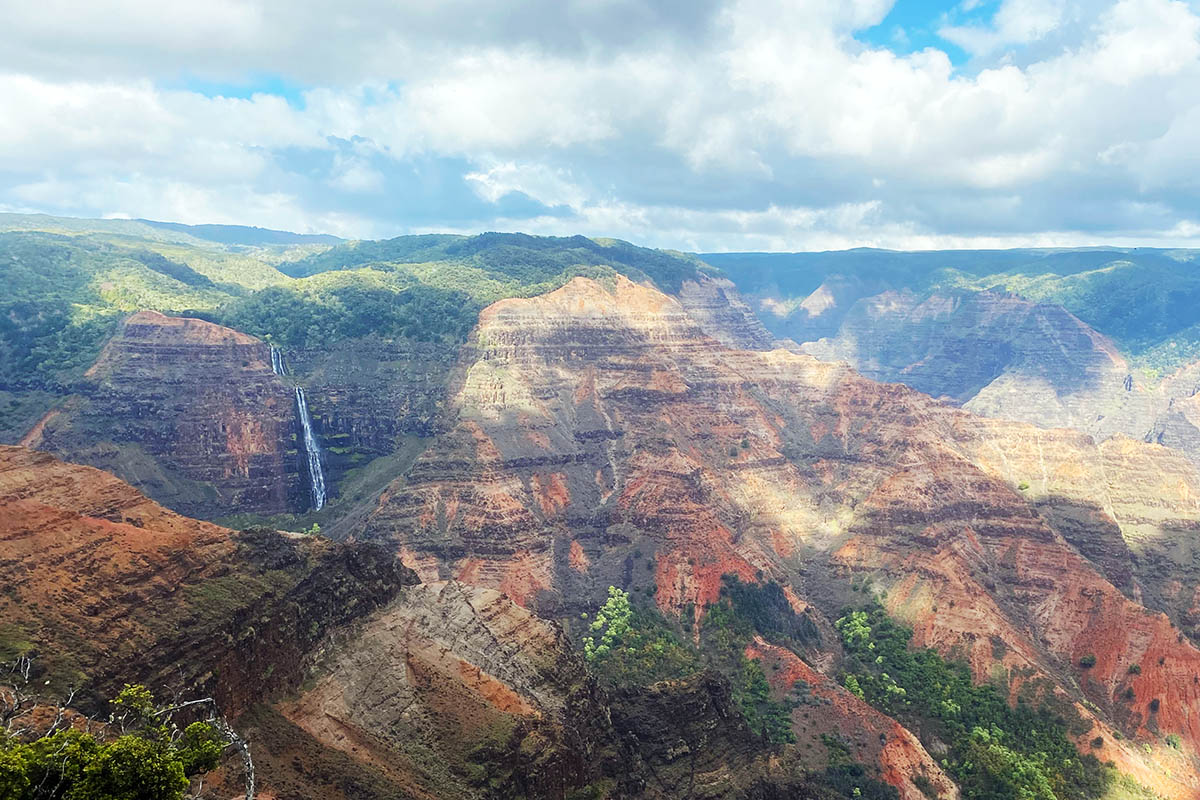 3. Nu'alolo to Awa'awapuhi Trail
Distance: 11.5 miles
Elevation gain: Roughly 2,500'
Difficulty: Difficult
Trailhead: Awa'awapuhi Trailhead
The Nu'alolo and Awa'awapuhi trails follow two adjacent ridgelines that eventually drop down to form the steep and forested spines of the Nā Pali Coast. The paths wind through the forest, losing elevation from their high points at Route 550 and narrowing as they reach their lower zeniths, where exposed vistas overlook the coastline and valleys to either side. These are truly spectacular viewpoints, so it's a good idea to time your visit for clear skies (otherwise you'll likely be stuck in a cloud). If you have to pick one, we recommend an out-and-back on the Nu'alolo trail, but a great full-value day connects both ridges.
To complete the loop, park at the Awa'awapuhi Trailhead (no facilities), walk down the highway 1.5 miles (as the road winds, make sure you stick to the side where oncoming traffic can see you), and start down the Nu'alolo Trail just after passing the campground on your right. After reaching the end of the trail (marked by a metal railing), backtrack less than a mile and find the Nu'alolo Canyon Trail on your left (trail markers are not great here, so we recommend keeping an eye on your GPS if possible). This trail winds through forest and tall grass (again, pay attention to GPS or look closely for trail markers), descending into the shallow valley and emerging onto Awa'awapuhi Ridge. Head left once you hit the Awa'awapuhi Trail, tag your second viewpoint, and climb back up through the forest to your vehicle. If you're feeling energetic, you can also venture out to Honopu Ridge (the next ridgeline over), although of the three trails, this is the least maintained. In other words, keep your map handy and consider wearing pants to protect your legs against sharp ferns.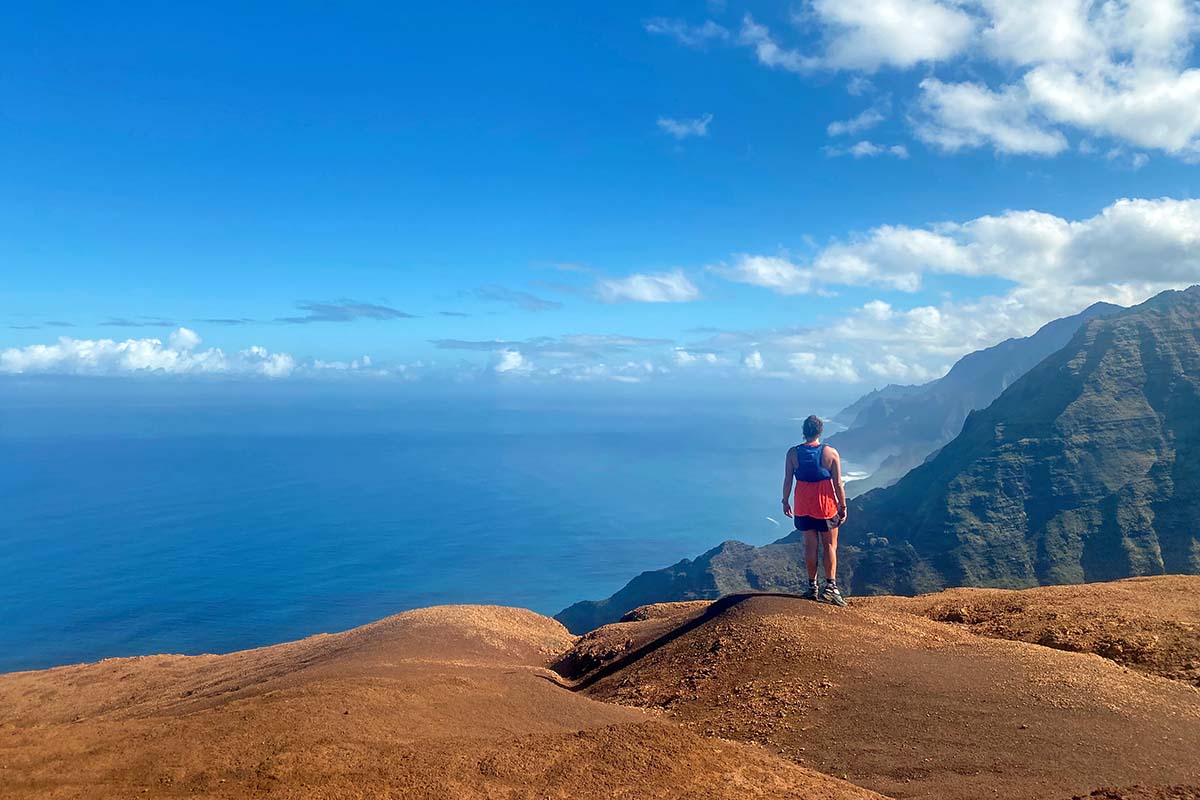 4. Pihea to Alaka'i Swamp
Distance: 7.8 miles round trip
Elevation gain: 1600' 
Difficulty: Moderate
Trailhead: Pu'u O Kila Lookout 
The trail to Alaka'i Swamp is one of most unique journeys on the island, transporting you from the arid west side, through a mile-high swamp, and to a cliffside overlooking the lush and verdant Wainiha and Hanalei valleys. This hike offers an incredible survey of the island's geography and is also a great introduction to Kaua'i's native flora and fauna, with high potential for rare bird sightings. A good portion of the trail is on boardwalk, keeping you elevated off the swamplands (even so, still be prepared for muddy feet) and simultaneously mitigating human impact on the fragile landscape. 
Technically speaking, the Alaka'i Swamp Trail starts a few miles down a 4x4 road near Sugi Grove Campground, but you can cut out the arduous drive and scope some views of the Nā Pali Coast by starting on the Pihea Trail (highly recommended). To access this trail, drive to the very end of Route 550 and park at the Pu'u O Kila Lookout. From here, walk a little less than 2 miles before reaching the junction for the Alaka'i Swamp Trail. Take a left here and descend more than 200 steps, cross a river, and ascend into the fabled Alaka'i Swamp. In just over 2 miles from the junction, you'll arrive at the spectacular Kilohana Lookout. Be prepared for wet weather (this is the world's highest rainforest swamp after all), but those who time their hike on a clear day will be rewarded with some of the best vistas on Kaua'i.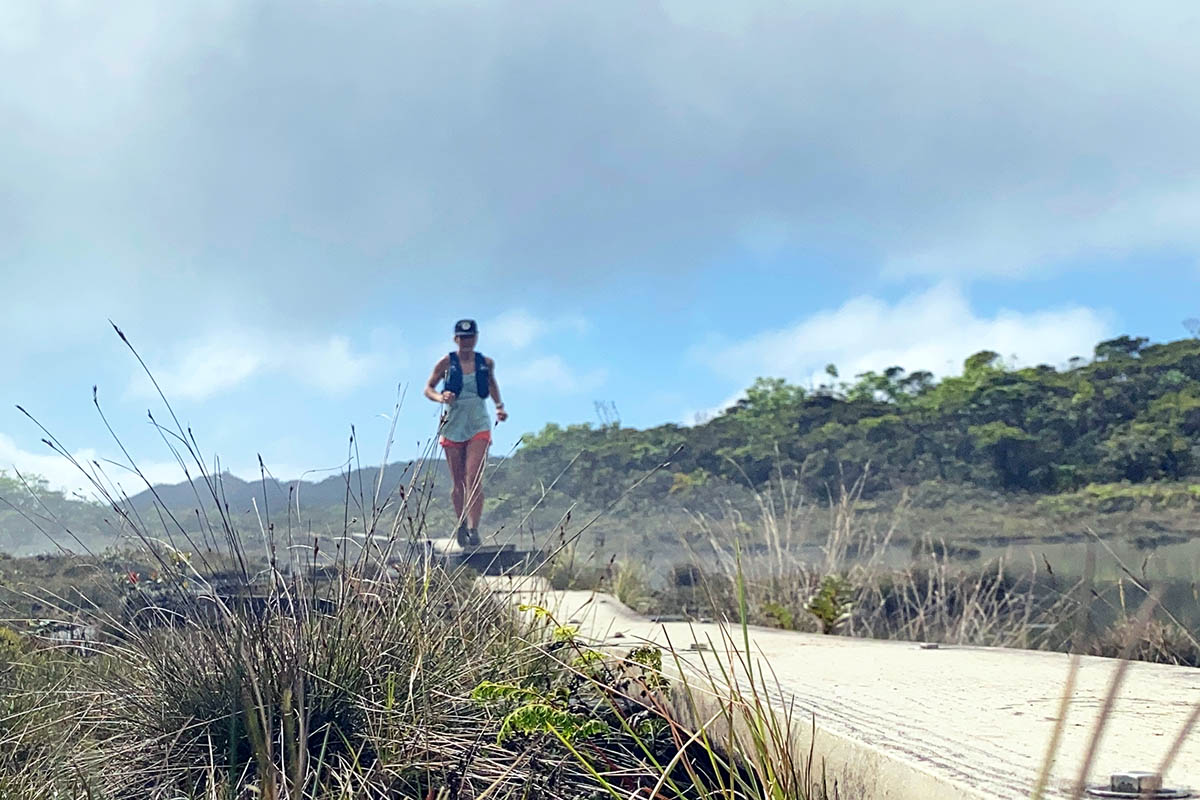 North Shore and Nā Pali Coast
If you're coming to Kaua'i with a pair of hiking shoes, chances are you won't leave before visiting the North Shore. Centered around the quaint surf town of Hanalei and with the resorts and condos of Princeville towering above the bay, the North Shore is a mecca for surfers, hippies, adventurers, celebrities, and sun-seeking vacationers alike. It's also the jumping-off point for the breathtaking Nā Pali ("the cliffs," in Hawaiian) Coast, which extends from Ke'e Beach (20 minutes past Hanalei) to Polihale on Kaua'i's west side, and is accessed on foot via the illustrious Kalalau Trail. There are a few other hikes in the area, but no matter where you go, be prepared for adventure: while the mountains of the North Shore might be mesmerizing to look at, their rain-soaked forests and steep hillsides are no joke for those exploring on foot.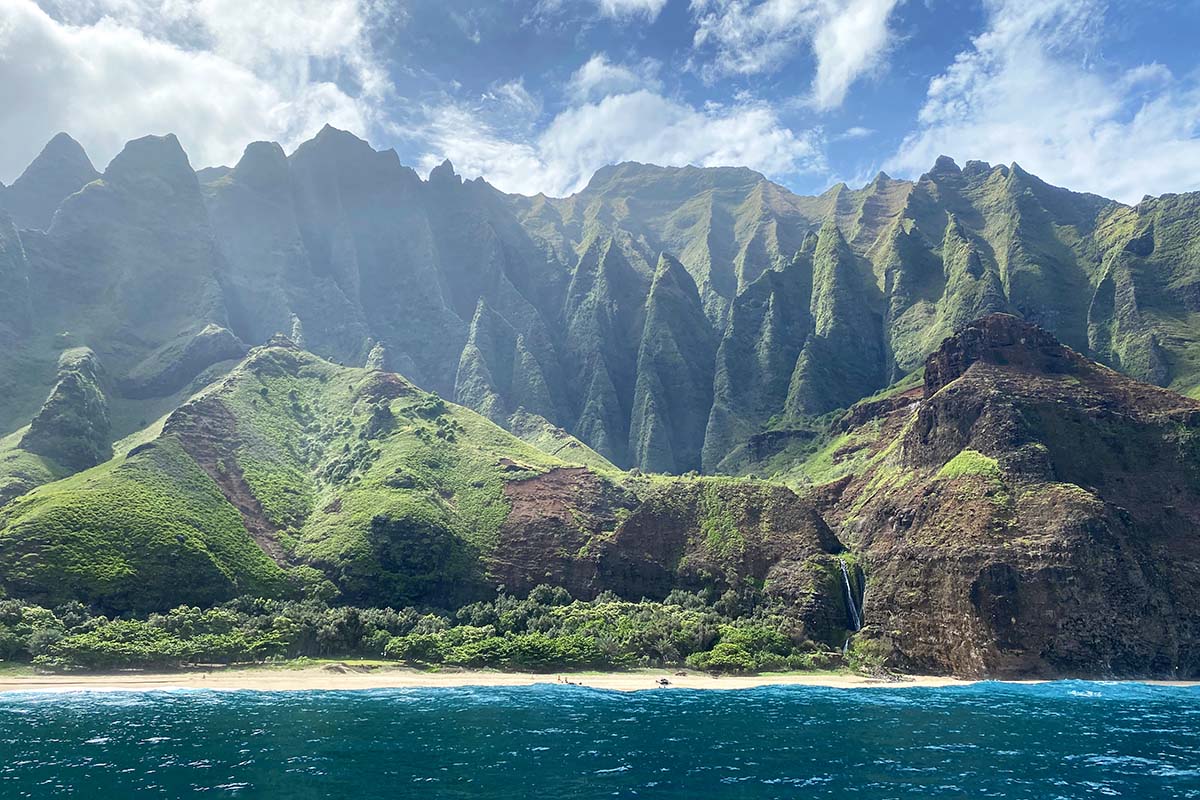 5. 'Okolehao Trail to Hihimanu Ridge
Distance: 6 miles round trip
Elevation gain: 2,700' 
Difficulty: Very difficult
Trailhead: 'Okolehao Hiking Trailhead
Climbing Hihimanu Ridge is one of the most adventurous outings Kaua'i has to offer and should be at the top of the list for experienced and intrepid hikers. Mere mortals can get their fix by sticking to the first section of the ridge, most often dubbed the 'Okolehao Trail (2.8 miles round trip and 870' of elevation gain). Starting at the trailhead off Ohiki Road, the trail winds through the forest before arriving on a gentle ridgeline around the half-mile mark, providing your first view of Hanalei Bay. A few more lookouts make great snack breaks or turnaround points for those looking for a shorter day, with vistas improving the higher you climb.
At the end of the 'Okolehao Trail, continue onward for a different sort of adventure, following the steepening ridgeline with the help of almost 30 fixed ropes. The trail can be brushy and difficult to follow in places, but a general rule is to stick to the knife-edge ridge and ascend for far longer than you think you should. There are a number of false summits, but you'll know when you've arrived—the end of the trail is a truly spectacular position on the top of Hihimanu (2,349'), including incredible 360-degree views of the steep forested walls and cascading waterfalls of Hanalei Valley and the Wai'oli amphitheater. This trail is not for the faint of heart (descending steep sections can be even more precarious than ascending) and is best done after a few days of dry weather, but it's a spectacular journey if you're up for the challenge.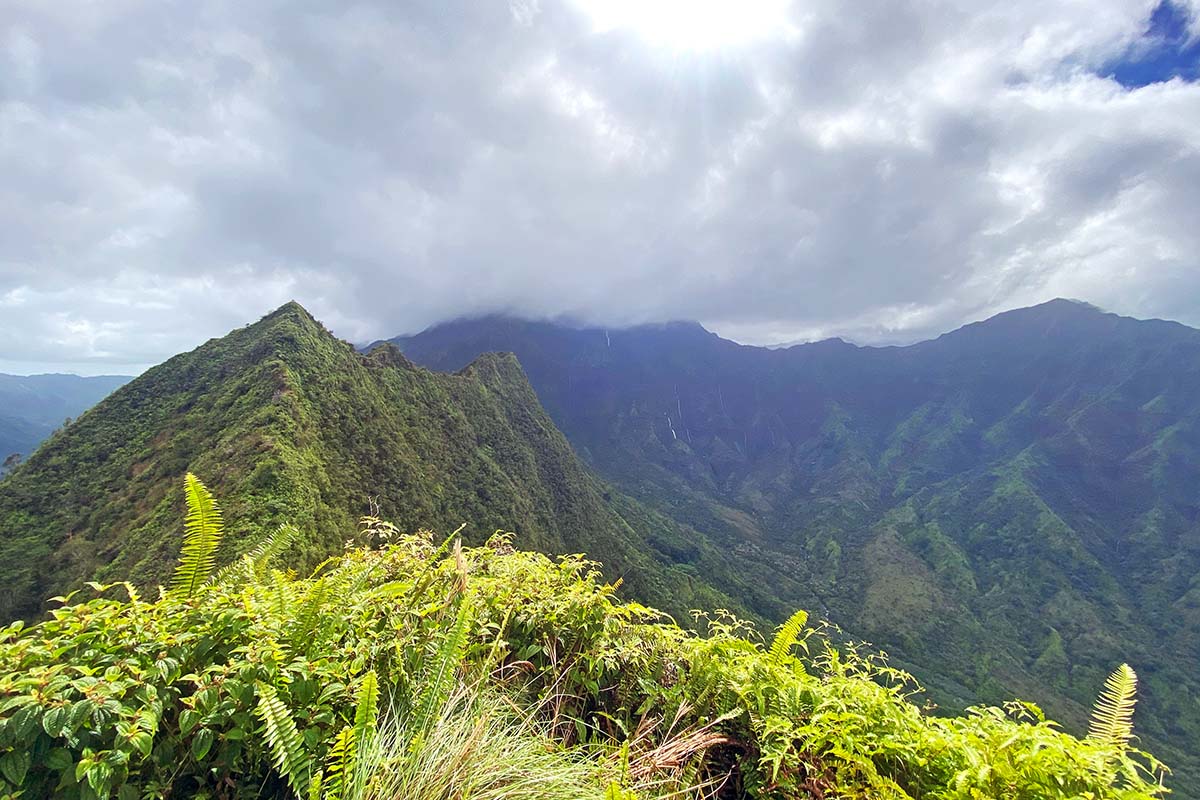 6. Hanakāpī'ai Beach and Falls
Distance: 9 miles round trip
Elevation gain: Roughly 2000' 
Difficulty: Moderate
Trailhead: Hā'ena State Park
If you're hoping to do some hiking on Kaua'i, chances are you've heard of the Kalalau Trail. A number of superlatives could be used to describe this route, including most breathtaking, most challenging, and most popular. But while the majority of hikers won't trek to Kalalau and back in a day (22 miles round trip; see below), hiking the first 2 miles of the Kalalau Trail to Hanakāpī'ai Beach is easily accessible. The views along the trail are second to none, including vistas of the Nā Pali coastline on your way out and glimpses into Ke'e Beach on your return trip. Once at Hanakāpī'ai Beach (not safe for swimming), it's highly recommended to head up valley an additional 2 miles to Hanakāpī'ai Falls. This trail takes you through bamboo forests and alongside an enchanting stream (swimming holes abound), climbing about 700 feet to the base of the falls (more swimming opportunities here). 
You don't need a permit to visit Hanakāpī'ai Beach or Falls, but unless you're a resident of Hawai'i, you will need a parking reservation and entry permit to get into Hā'ena State Park (the latter is required even if you hitchhike, take a shuttle, or walk in). These can be reserved up to 30 days in advance (but not the day of) and are very competitive, so it's a good idea to get yours ahead of time (for more on permits, see the "Reservations" section below). If you can snag a permit, the hike to Hanakāpī'ai Falls should be at the top of your list.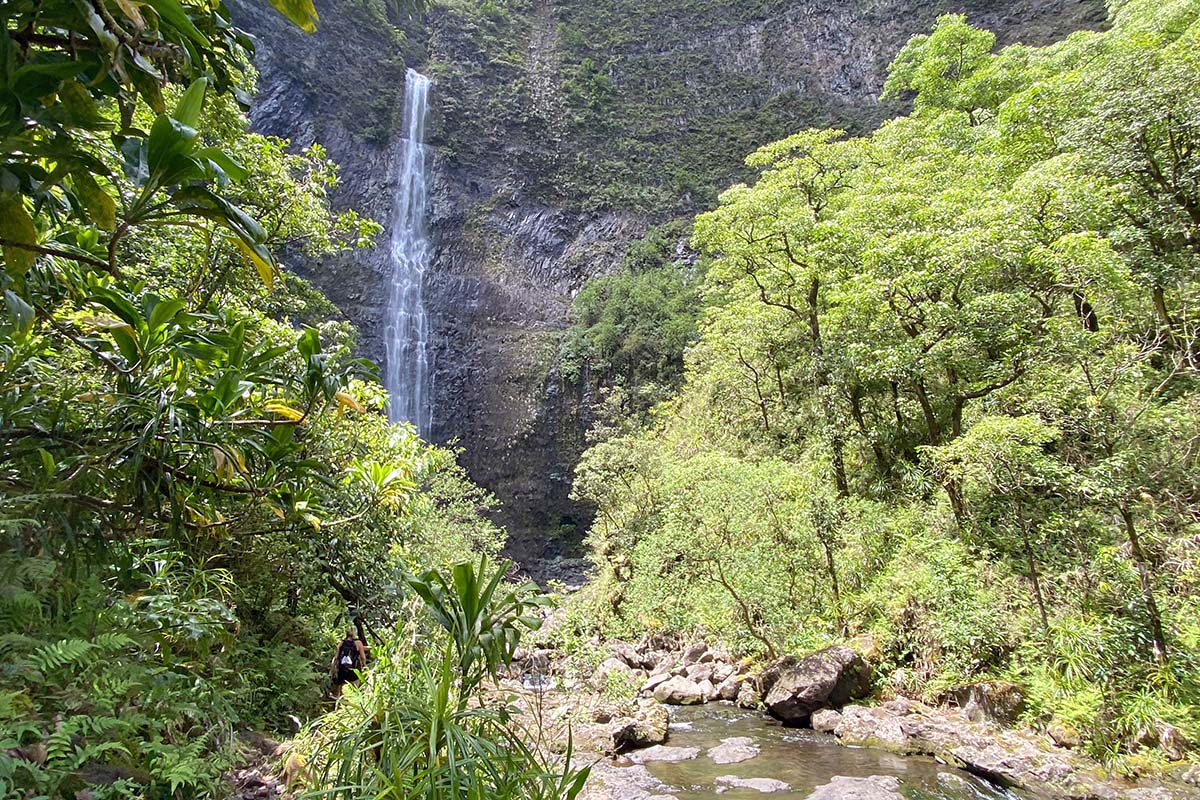 7. Kalalau Trail
Distance: 22 miles round trip
Elevation gain: Roughly 8000'
Difficulty: Difficult
Trailhead: Hā'ena State Park
Ah, the Kalalau Trail. Where do we even begin? Not only does this route pass through (and lead to) one of the most magical, otherworldly, and dramatic places on planet Earth, but it's also an important piece of history. Long before the trail to Kalalau became a hotbed for hikers, it connected the five valleys along the Nā Pali Coast, home to thousands of native Hawaiians before the arrival of western influence on the island. In fact, over 5,000 Hawaiians lived in the Kalalau Valley alone (a mind-blowing fact to have in mind upon your visit). Now, the Kalalau Trail is a well-established route traveled by dozens of hikers each day, connecting Hā'ena State Park to Kalalau Beach and Valley. 
Most hikers who travel past Hanakāpī'ai will be staying the night in Kalalau, but it is possible to do the trek as a long day (or better yet, a trail run). If this is your strategy, leave early, travel light, and don't leave Kalalau without sneaking in a side trip to the valley (an additional 4 miles and 1200' of gain), where enchanted swimming holes, secret gardens, and ancient stone terraces lie hidden underneath the lush forest cover. Before you attempt to tackle this route in a day, however, we do have a word of caution: these 22 miles are technical and fairly slow-going and can be far more challenging in wet conditions, so it's a good idea to plan your turnaround time in advance. And remember: once you venture past Hanakāpī'ai—even if you're a day hiker—you'll need to have a permit (more in our "Reservations" section below).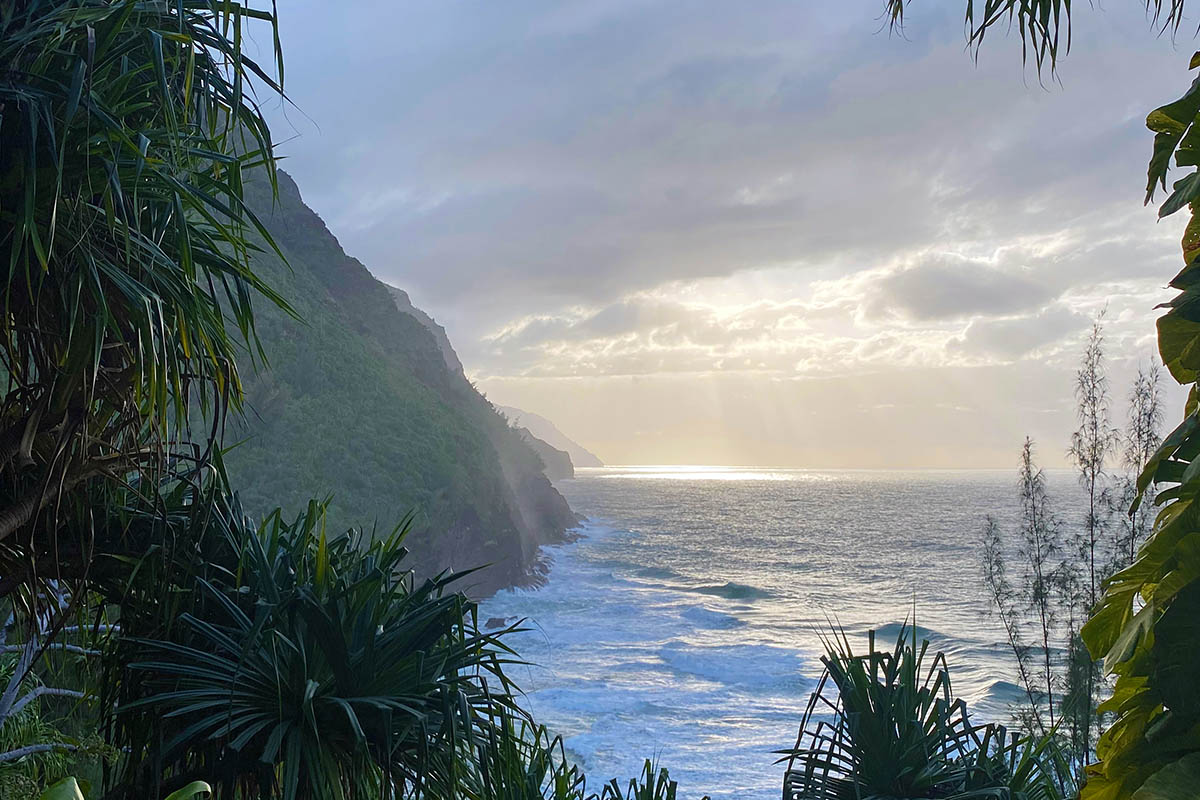 East Side and South Shore
Kaua'i's Nā Pali Coast and Waimea and Kōke'e State Parks get the lion's share of attention from hikers, but the island's east side is also home to a number of adventurous outings. One of the wetter regions of the island, this zone is typified by lush, rain-soaked forests and dramatic waterfalls, although you'll never feel very far from civilization (unlike other areas). Most of the routes here are clustered around the town of Kapa'a, which has a number of dining options and is accessible to visitors staying both in the north (Princeville and Hanalei) and the south (Po'ipu). We've also included one hike in this section that's more on the south side than east (the Maha'ulepu Heritage Trail), for lack of a better categorization.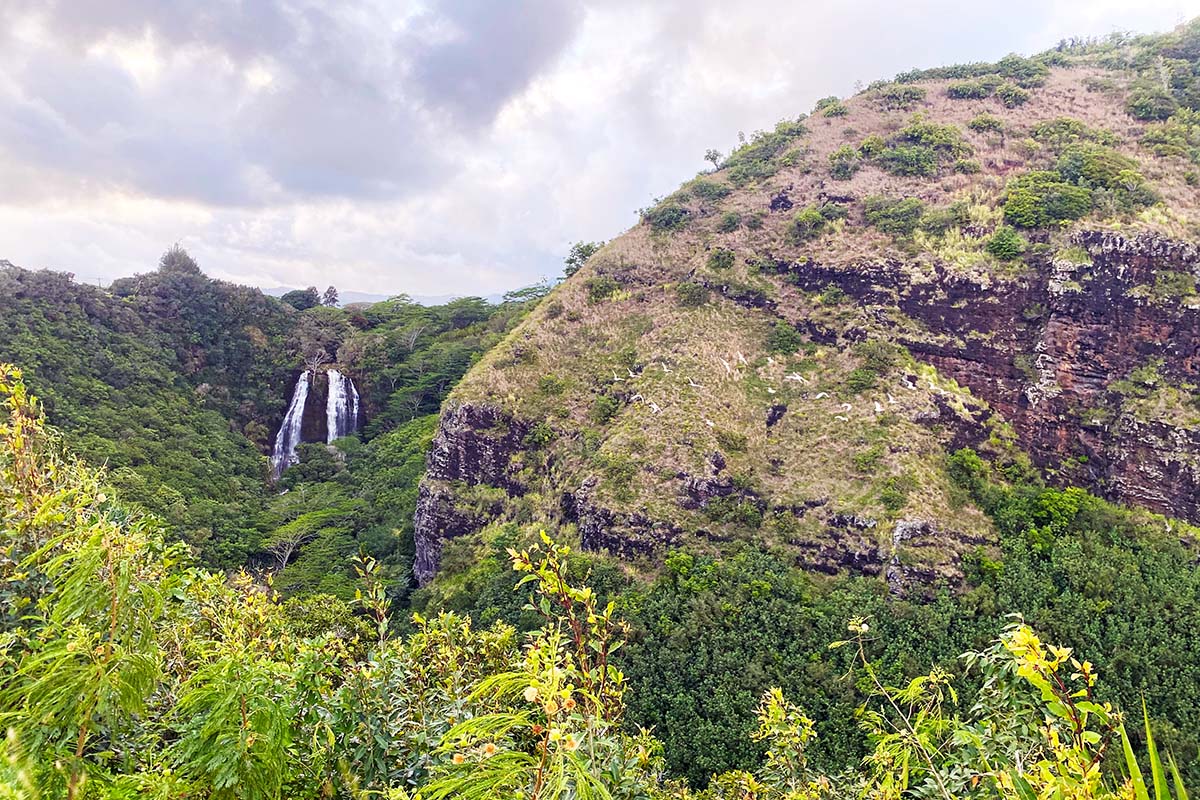 8. Nounou Mountain (Sleeping Giant)
Distance: 3 miles round trip
Elevation gain: 1300' 
Difficulty: Moderate 
Trailhead: Sleeping Giant TH (Haleilo Rd)
Located just inland from Kapa'a, Nounou Mountain (best known as Sleeping Giant thanks to the ridgeline's dozing profile) is one of the most accessible hikes on Kaua'i. It's certainly not the most spectacular option from a views or terrain standpoint (the bar is pretty high), but it nevertheless is a great starter trail for cautious or casual hikers and a nice option if you have a short weather window or few free hours. Only a mile and a half from the trailhead to the summit, the trail ascends quickly through a forest and soon gains an exposed ridge, giving you 360-degree views of the eastern coastline (nicknamed the Coconut Coast) and inland mountains to the west.
There are a few trailheads to choose from, and after trying each one, we'd recommend leaving from Haleilo Road (on Google Maps as "Nounou-East Trail") for the most enjoyable journey and best views. From the parking lot, the path climbs gradually, steepening just after the half-mile mark—here, make sure you take a hard right at the "stay on marked trail" sign, ascending a brief step of steep rock before continuing at a gentler grade. At a little over a mile, you'll reach a junction. Take a left and continue onto the summit (the giant's head). And if you're in a hurry, the west side trail from Lokelani Rd TH (Google Maps: "Sleeping Giant Trailhead") will put you on top in just over a mile.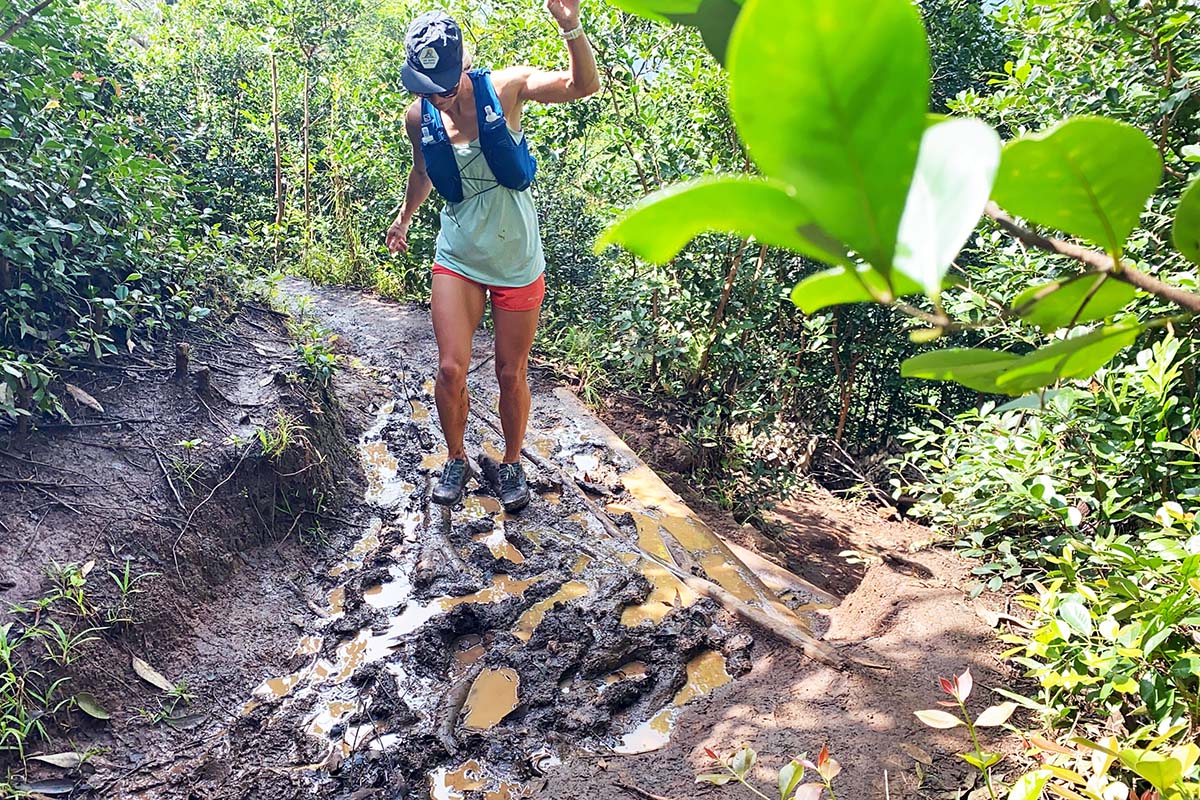 9. Kuilau Ridge Trail
Distance: 3.2 miles round trip
Elevation gain: 530'
Difficulty: Easy/moderate
Trailhead: Kuilau Ridge Trailhead
Kuilau Ridge might not offer a dramatic summit experience like the nearby Sleeping Giant, but it more than makes up for it with beautiful ridgeline views almost the entire way. Start at the Kuilau Ridge Trailhead (if the small lot is full, park down the road a few hundred feet at the Keahua Arboretum) and hike up a wide and gradually ascending path. At 1.2 miles (450' gain), you'll reach a picnic shelter and lookout—keep to the trail as it weaves right and drops down and left to gain the ridge once more. At 1.6 miles, a bridge and sign mark the end of the Kuilau Trail, but we recommend continuing along the meandering Moalepe Trail for at least another mile (if you go all the way to the Moalepe Trailhead and back, it's 8.3 miles). 
Although it lacks the glitz and glamor of other trails on the island, the Kuilau Ridge Trail is a truly memorable outing for those looking for an easier or shorter trek. Further, given its location just up the road from Opaeka'a Falls and a stunning overlook of the Wailua River, this is a good opportunity to combine activities for a full day of east side exploration. And if you want to tack on an afternoon waterfall dip, you can head over to Ho'opi'i Falls, which is a quick 25-minute drive away.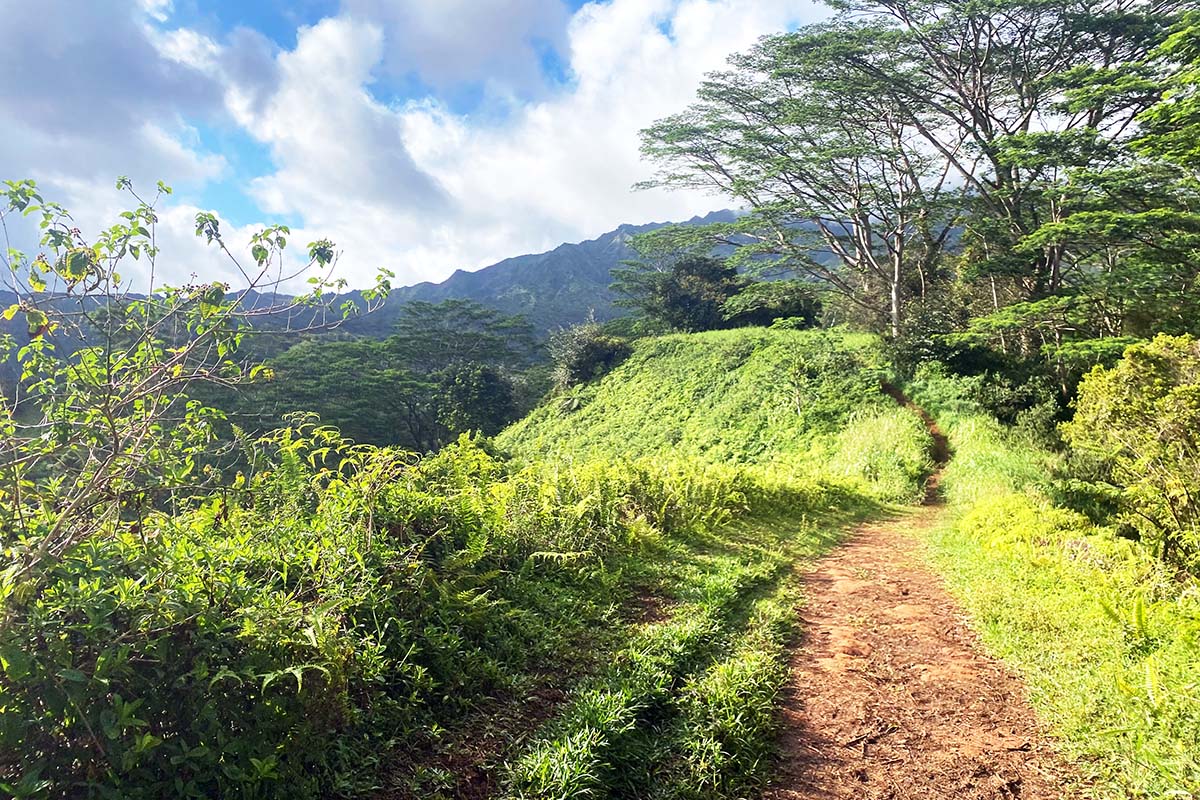 10. Makaleha Falls 
Distance: 2.6 miles round trip
Elevation gain: 800'
Difficulty: Very difficult
Trailhead: Makaleha Trailhead
If you've got an itch for adventure, Makaleha Falls will deliver in spades. The trail follows the Makaleha Stream, winding through bamboo and hau bush forests near its banks and criss-crossing the river multiple times. Staying right when the river forks (at about the 1-mile mark), the trail continues up an increasingly narrow canyon and ends at the base of a multi-tiered waterfall (the righthand fall you glimpse as you're driving to the trailhead). More than most hikes on Kaua'i, this jungle adventure leaves you feeling like you truly ventured into the middle of the island. 
A few words of caution: First, be prepared for wet feet and clothing, and plan accordingly (we wore lightweight trail runners, but tabis would be an even better choice). Second, your GPS map won't do you much good (just follow the river until you can't go any further), but with such thick vegetation, it's incredibly important to stay on the trail. If you reach a spot where you're unsure, stop, backtrack, and look closely for the path (pink flagging helped us sight the trail at each river crossing). Third, don't attempt this trail in heavy rains, and stop if you see the river begin to rise, as it could be raining farther inland even if it's dry down valley. And finally, expect the journey to take about 2 hours (if you can stay on the trail the whole way), and allow yourself even more time if you want to explore the other valley or stop at swimming holes along the way.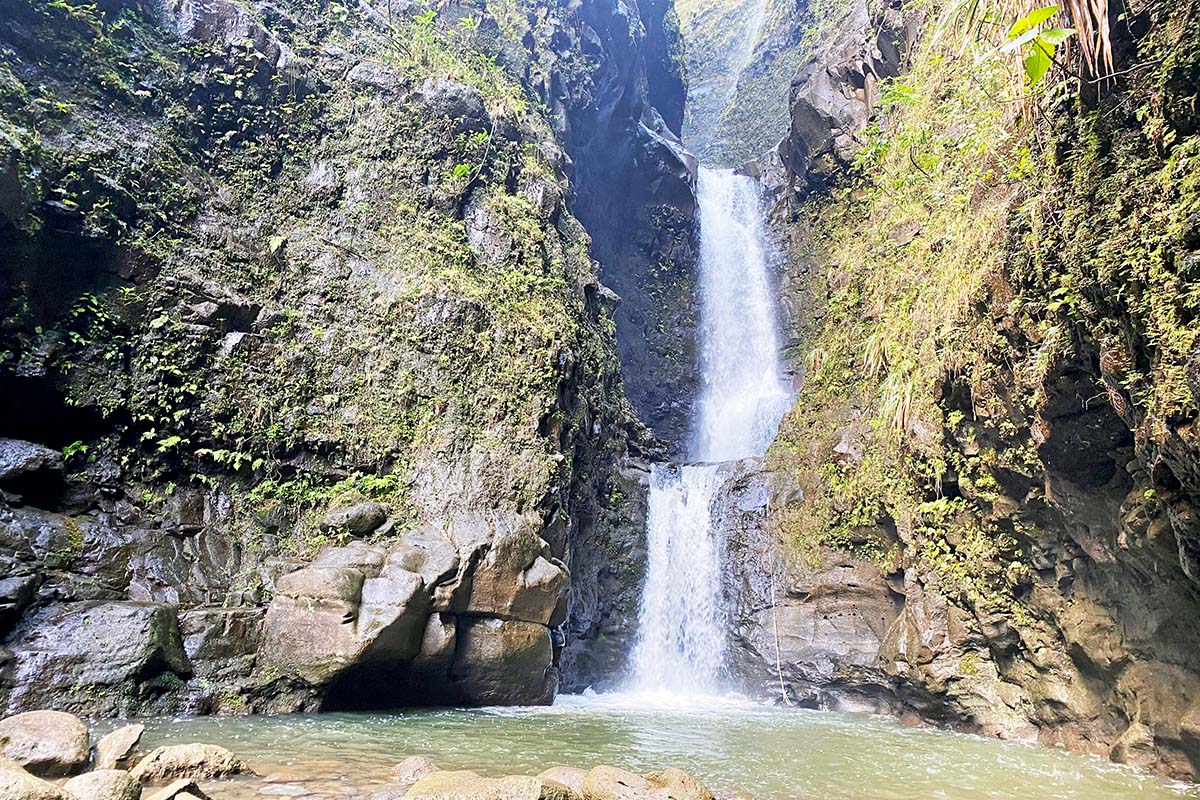 11. Blue Hole / Weeping Wall
Distance: 17 miles round trip
Elevation gain: 3,000'
Difficulty: Very difficult
Trailhead: Keahua Arboretum
If you have just one free day on Kaua'i and are up for a big adventure, the Blue Hole/Weeping Wall is our wholehearted recommendation. This trail takes you through the Jurassic Park gates (relics from the movie set) and to the literal center of the island, following the North Fork of the Wailua River until it dead-ends at the head of a canyon, where vegetated vertical walls replete with waterfalls drop 3,000 feet straight from the summit of Wai'ale'ale. The two main attractions are the Blue Hole (a beautiful waterfall with swimming hole) and Weeping Wall at the end of the valley, but it's truly the journey that makes this trip so special.
Our main pieces of advice: Start early and plan for a long day, wear tabis (see our "Footwear" section below), and do your best to stay on the trail rather than questing up the riverbed. And most importantly, don't go during or immediately after a storm, as flash floods are a real possibility here. At the time of publishing, the road to the trailhead is washed out, so you'll need to start at the Keahua Arboretum and walk for almost 5 miles on the road before reaching the Wailua River (mountain bikes are helpful). From there, it's about 2.5 miles of slow-going trail, river crossings, and rock-hopping to get to the Weeping Wall (the Blue Hole is roughly 2/3 of the way up). In terms of jungle adventures, it doesn't get much better.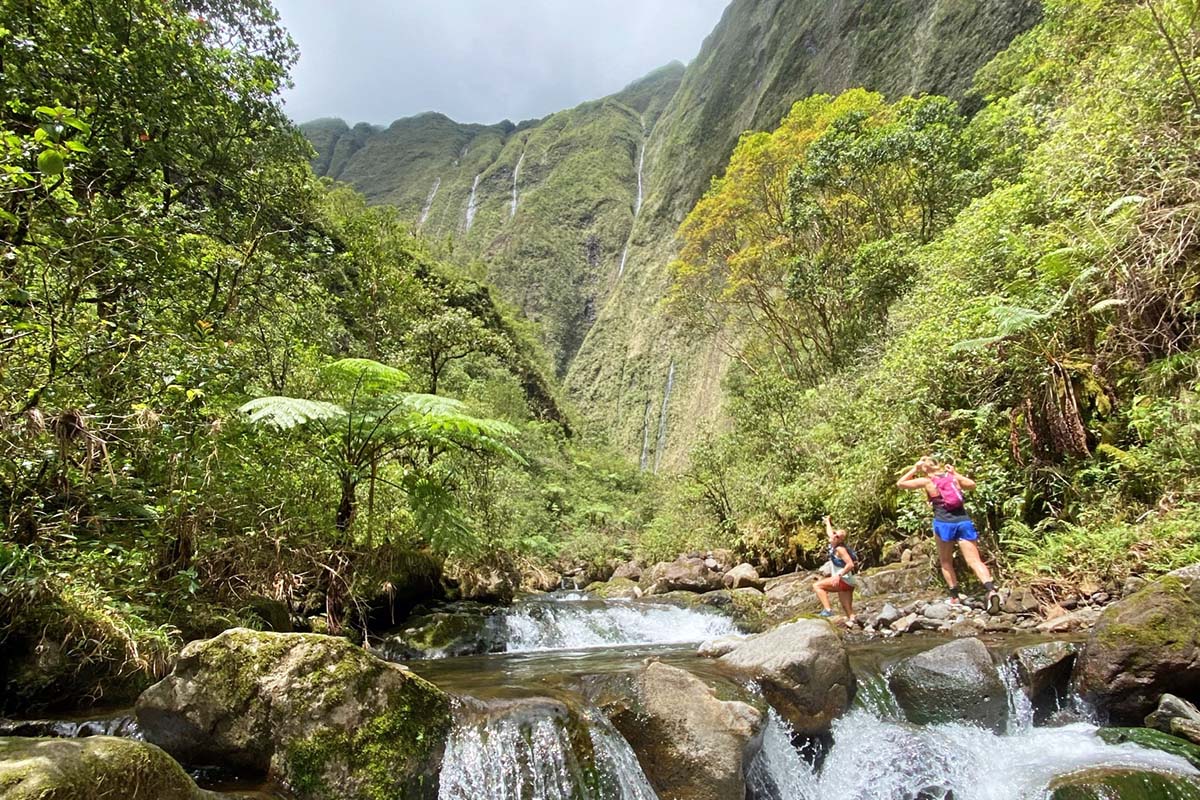 12. Maha'ulepu Heritage Trail
Distance: 3.7 miles round trip
Elevation gain: 320'
Difficulty: Easy/moderate
Trailhead: Shipwreck Beach
Most of the time, south-shore dwellers have to drive halfway around the island to access hiking trails (not to worry, Kaua'i is relatively small), but the Maha'ulepu Heritage Trail is right in their backyard. This easy-to-moderate trail leaves from the parking lot at Shipwreck Beach, following the coastline for almost 2 miles along exposed cliffside and the edge of a golf course before arriving at Maha'ulepu Beach. Right before dropping down to the beach, you can take a short, half-mile detour to visit the Makauwehi Cave, or extend your walk by meandering down the beach and around the point to Kawailoa Bay. The Maha'ulepu Heritage Trail might not be as wild or adventurous as many of the other routes here, but unlike most, it's easy to access and offers up-close views of the ocean (during the winter months, be on the lookout for humpback whales).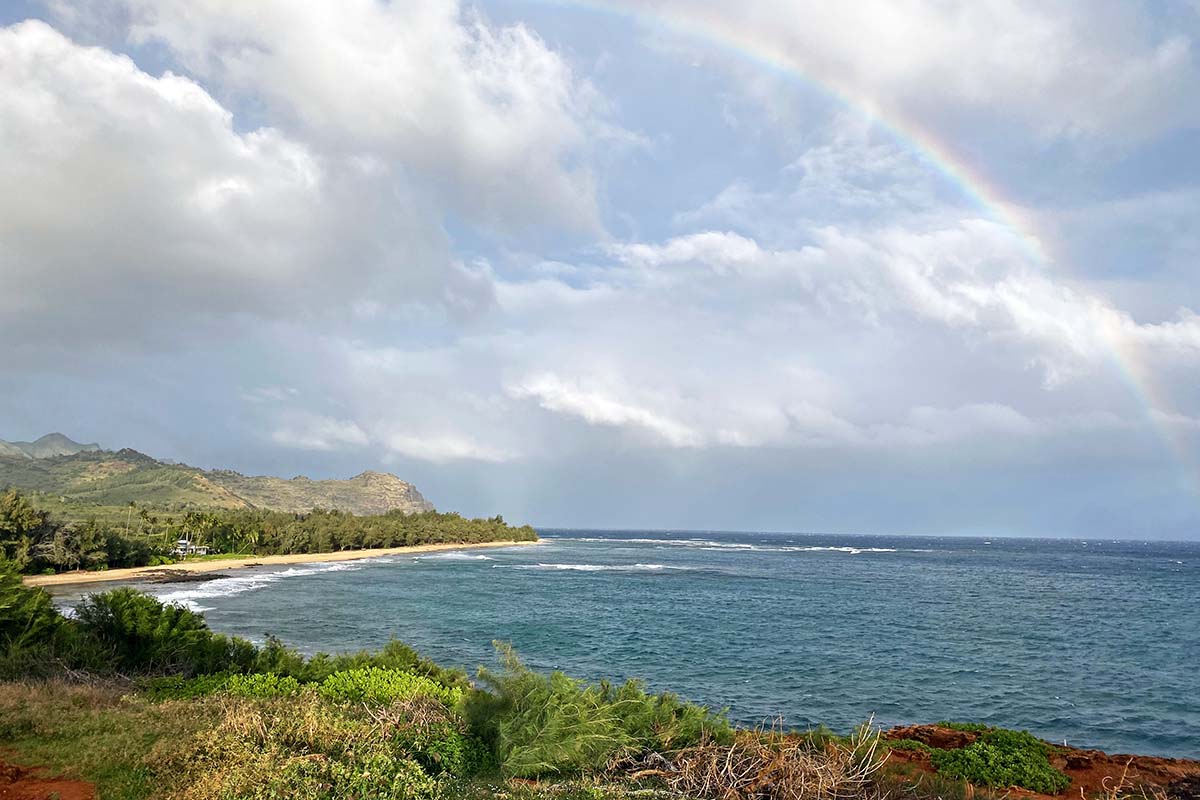 Kaua'i Hiking Logistics

Aloha 'Āina: Love of the Land
Despite being one of the 50 states, Hawai'i truly stands apart from the rest of the country. The islands are rich in culture and tradition, and central to the Hawaiian worldview is the concept of Aloha 'Āina, which can be loosely translated as "love of the land." The 'āina— the lush valleys, arid canyons, and clear blue waters—is what draws most visitors to Kaua'i, and it's also the spiritual and physical home for the local population. Of course, Hawaiians are no strangers to sharing their home with others, but we urge you to be a respectful guest. Just as you would practice Leave No Trace ethics in your local wilderness areas, be mindful of your impact as you travel around Kaua'i (and the rest of the Hawaiian islands). Listen to locals when they speak, seek to learn from them, and heed any warnings they might have regarding the island's natural hazards (more below). And finally, be sure to have the proper reservations and permits before entering an area, as these are essential to the protection of the 'āina.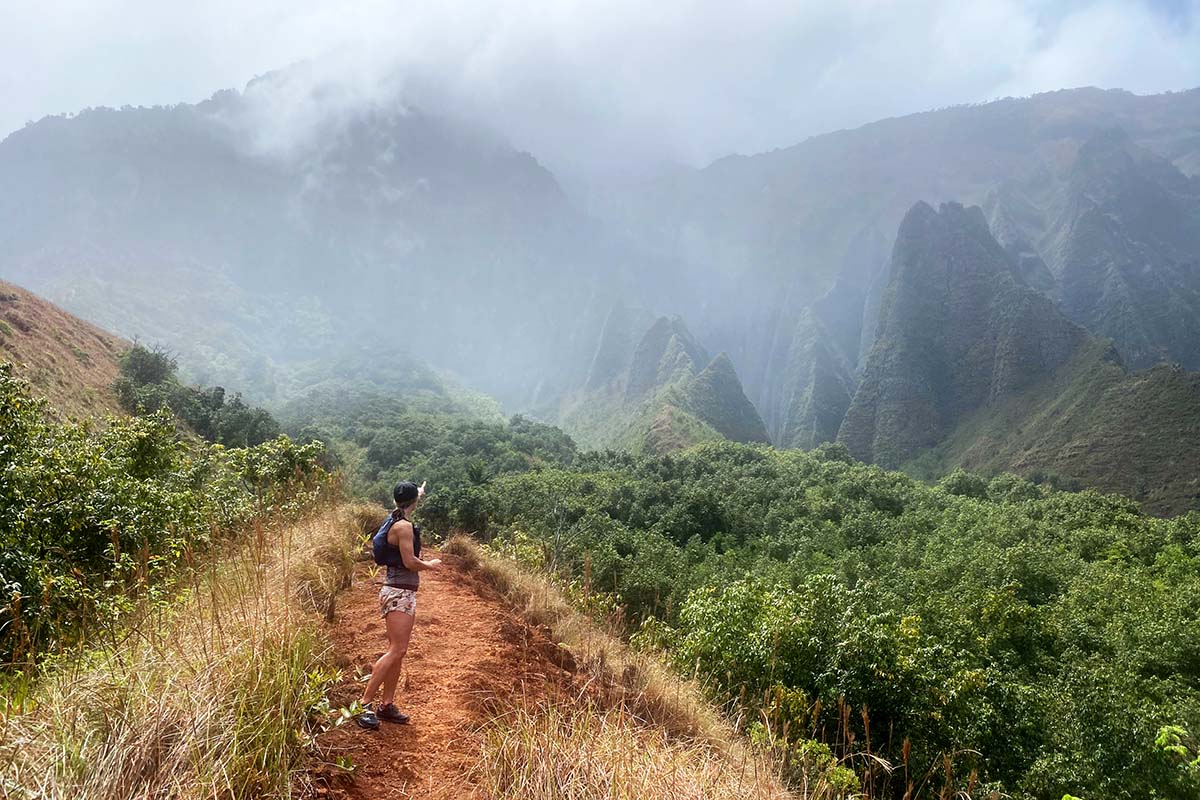 Weather: Seasons and Microclimates
Let's get one thing out of the way first: yes, Kaua'i is indeed one of the wettest places on earth. Its second-tallest point, Mount Waiʻaleʻale (5,148 ft.), averages about 450 inches of rain per year, and Waipā Garden (near Hanalei) claims the national record for the most rainfall in a 24-hour period (a whopping 49.69 in.). In short, you can expect to experience rain during your trip to Kaua'i. That said, you'll probably experience a good deal of sunshine as well, especially with the proper strategy. In planning your trip, the two main variables to pay attention to are seasonality and microclimates, which we'll break down here.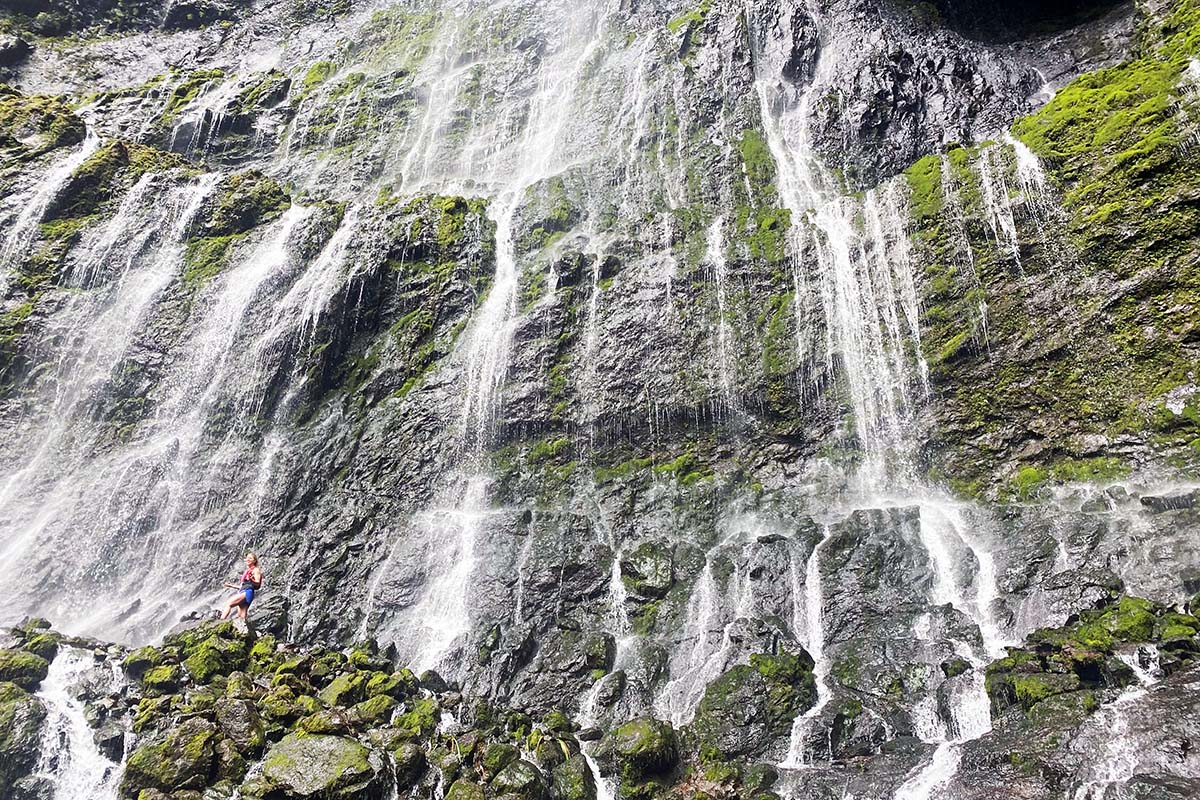 Kaua'i is undeniably tropical, but even the tropics experience winter. In Kaua'i, the winter months (November to March) are slightly cooler, with highs in the upper 70s compared to the mid 80s of the summer. They're also considerably rainier, including big storms that can initiate flash floods, turn trails to mud bogs, sock in the views, and shut down access. If you're hoping to hike in Kaua'i in the winter, you'll want to bring along a rain jacket and healthy dose of flexibility. On the flipside, winter can also be the most temperate and beautiful time to take to the trail, with waterfalls raging down the hillsides (these often dry out in the summer months) and rainbows aplenty. To increase your chances for dry weather, we recommend visiting between April and September (it will still rain, but predominantly at night).
The second, and perhaps more important, factor to consider is Kaua'i's many microclimates. In general, the island gets wetter the more you move inland (until you reach the tippy top of Wai'ale'ale). Cardinal directions give us a lot of guidance here too: Kaua'i's west side is its driest climate (Waimea and Kekaha), followed by the south shore (Po'ipu) and east side (Kapa'a). The lush north shore (Hanalei and Princeville) is considerably wetter, averaging roughly three to four times the amount of yearly precipitation as the more arid regions. Kōke'e and Waimea Canyon state parks, which will be of interest to many hikers, are accessed from the dry west side, but remember that you can expect more rain the farther inland you travel. You'll also want to consider elevation as you ascend, as temperatures can drop into the 30s and 40s overnight up high.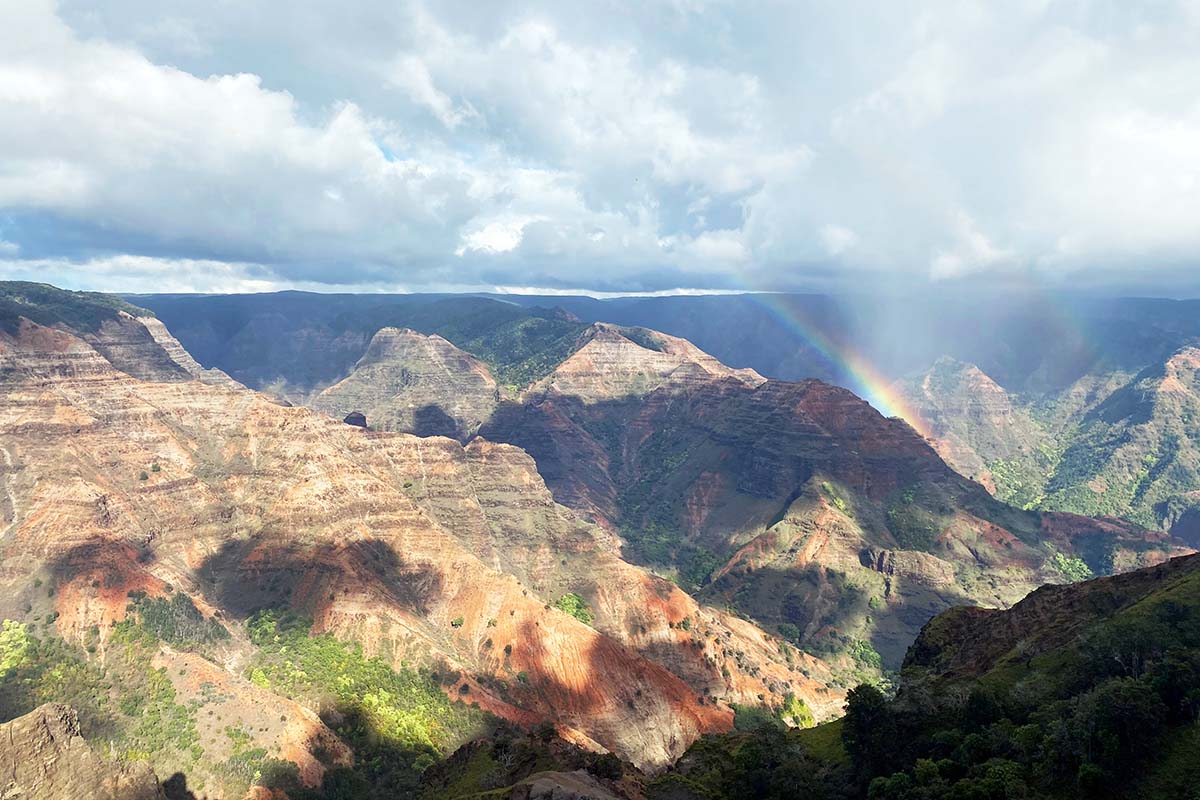 Reservations: Parking and Camping
We'll tackle reservations in two separate sections: the Kalalau Trail (below) and everywhere else. With the exception of the Kalalau Trail, all of the day hikes here can be done without a permit, and parking is free or available for a small fee in some state parks (paid at a kiosk via credit card). If you're headed out overnight in Kōke'e or Waimea Canyon, you'll need to obtain a permit. Overnight permits for all of Kaua'i's state parks are available through Hawai'i's Department of Land and Natural Resources (DLNR) website and cost $30/night (up to 10 people per reservation) for non-residents at the time of publishing. Many of these reservations are fairly competitive, so we recommend acquainting yourself with the booking window (currently 30 days in advance) and planning accordingly.
To hike along Kaua'i's Nā Pali Coast, you'll need to wade through a bit more red tape. First off, obtain a reservation to enter Hā'ena State Park, which can be done up to 30 days in advance and no later than the day before your journey. Each visitor will need a reservation, whether you're parking (only 100 spots are available) or walking/carpooling into the park. An entry permit to Hā'ena State Park is sufficient for those visiting Ke'e Beach or hiking to Hanakāpī'ai Beach and Falls, but if you're hoping to continue along the Kalalau Trail, you'll also need a camping reservation—regardless of whether or not you're spending the night. Reservations are $35/night per person for non-residents and can be made up to 30 days in advance via the DLNR website. Keep in mind that camping along the trail is only permitted at Hanakoa and Kalalau beaches, and reservations are limited to five consecutive nights.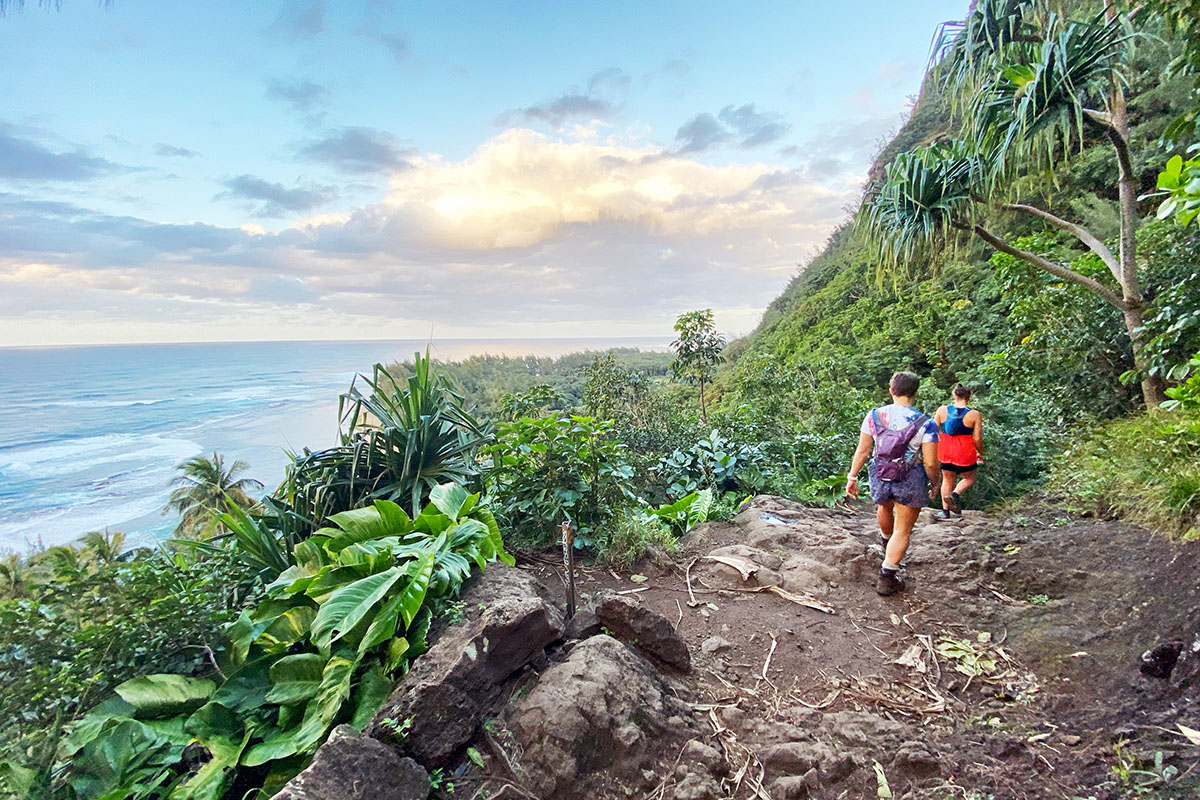 Hazards: Flash Floods, High Surf, and More
One of our surf mentors in Kaua'i likes to say there are three guidelines for being in the water: "safety, respect, and aloha, in that order." With safety at the helm, the same advice trio could be applied to the trail as well. You might assume that if you're experienced on the mainland—especially in harsh mountain environments—Hawai'i will be a walk in the park, but the foreign landscape is likely to catch you off-guard when you least expect it. Flash floods can come out of nowhere (there might be a torrential downpour in the center of the island while it's calm near the coast), causing rivers to swell and rage high above their banks. High surf has also been known to sneak up on hikers, especially at places like Hanakāpī'ai Beach. Finally, heavy rains (which are common) can cause landslides and make trails unnavigable in just a few minutes' time. In short, the impact that water can have on this tiny island is both significant and dramatic. It's always a good idea to research and ask around before you go, watch the weather forecast carefully, and be receptive to the warnings of both signs and locals.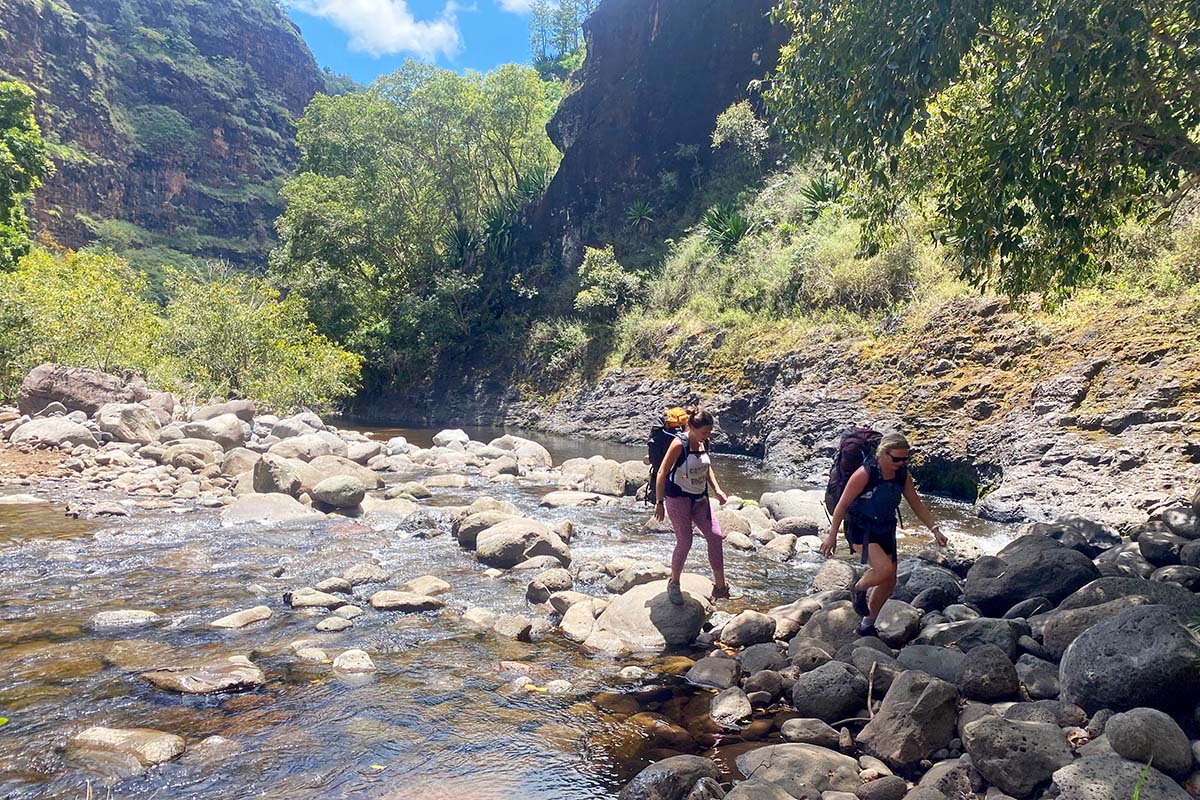 Difficulty
Even for the most seasoned hikers, Kaua'i's trails are no joke. Elevation gain is almost always a constant, and many paths cross very exposed positions (they don't call it "Crawler's Ledge" on the Kalalau Trail for nothing). Further, given the close proximity to one of the wettest places on earth, you're likely to find muddy conditions year-round. As a result, we've expanded our difficulty ranking to include four categories instead of three: easy, moderate, difficult, and—a Kaua'i special addition—very difficult. 
An easy trail is just a step up from a flat sidewalk, with a casual grade and wide path, great for families and more cautious hikers (the bike path in Kapa'a is the true definition of easy). One step up is a moderate trail, which will involve some steep, rooty, and rocky sections but is generally easy to follow and not too demanding in terms of elevation gain and loss (e.g., the Alaka'i Swamp Trail or the first two miles of the Kalalu Trail)—but you'll definitely want to have some stamina and a good pair of shoes (see our section on footwear below). Our difficult rating is applied to long loops with a lot of elevation gain and loss or trails with exposure and steep sections that require you to use both your hands and feet. These routes can be tackled by most experienced hikers, but we advise you to pack as light as you can, start early in the case of high-mileage days, and always maintain solid footing and three points of contact in hazardous sections. Last is our "very difficult" category, which we've added to accommodate routes like Hihimanu Ridge (which requires the use of almost 30 fixed lines) and the adventurous Blue Hole trail. These are serious undertakings akin to climbers' routes on the mainland, requiring skilled navigation, good fitness and stability on uneven terrain, and a healthy sense of adventure.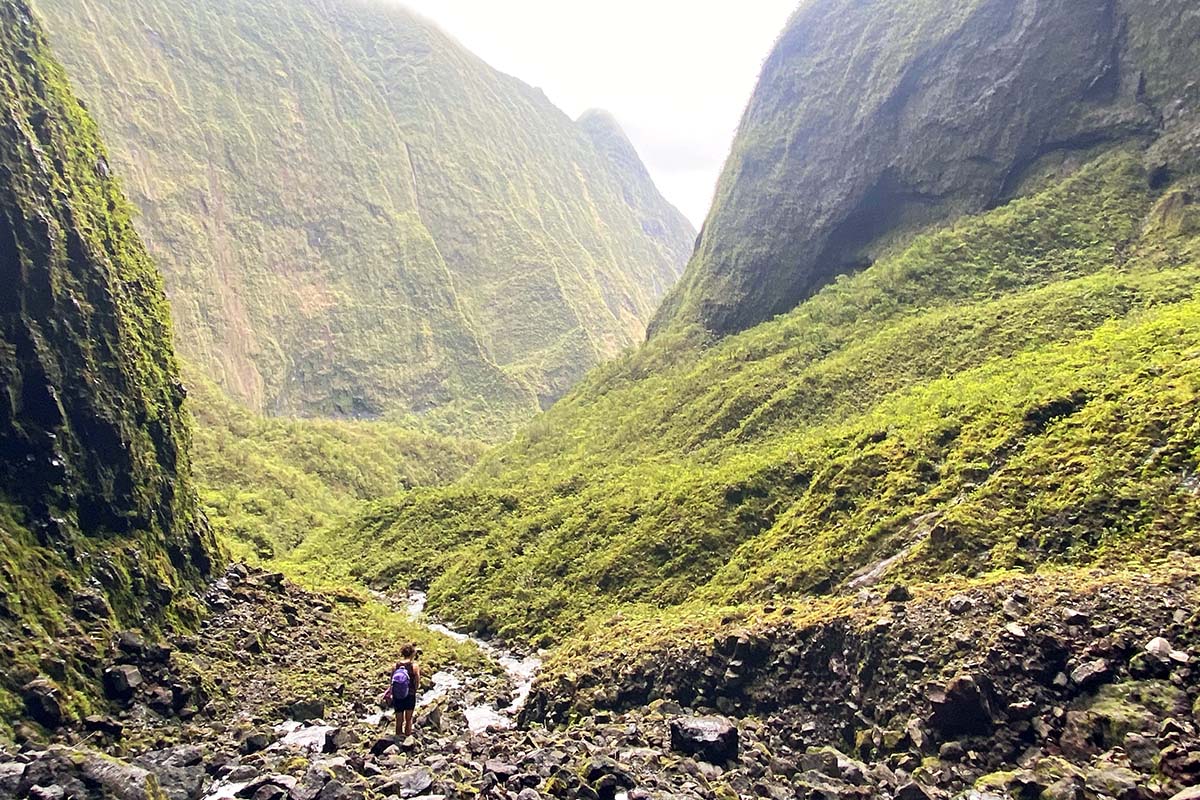 What to Wear
Despite being in the tropics, Kaua'i has a range of climates that can deliver everything from hot and sunny to 40 degrees and rainy. You'll want to come to the island prepared for the full gamut, and—just like anywhere else—layers will be your friend. Start your kit with shorts and a t-shirt or tank top, aiming for lightweight and breathable fabrics that don't provide any extra insulation (we wore merino once and it was too warm) and won't stick to your skin when they get wet. We like polyester or nylon blends best, but even cotton works on hot days. Although we've hiked every trail above in a pair of shorts, pants can be a good idea for colder days in the higher elevations or for protecting your legs against sharp plants on overgrown trails. Finally, a rain jacket is essential (we recommend a particularly breathable design like the Patagonia Torrentshell 3L or the lightweight Storm10), and if you're planning to take a long trail break or be out in the evening, a synthetic insulated jacket like the Arc'teryx Atom LT could come in handy (unless you're especially careful with your gear, Kaua'i is too wet and humid for a down jacket).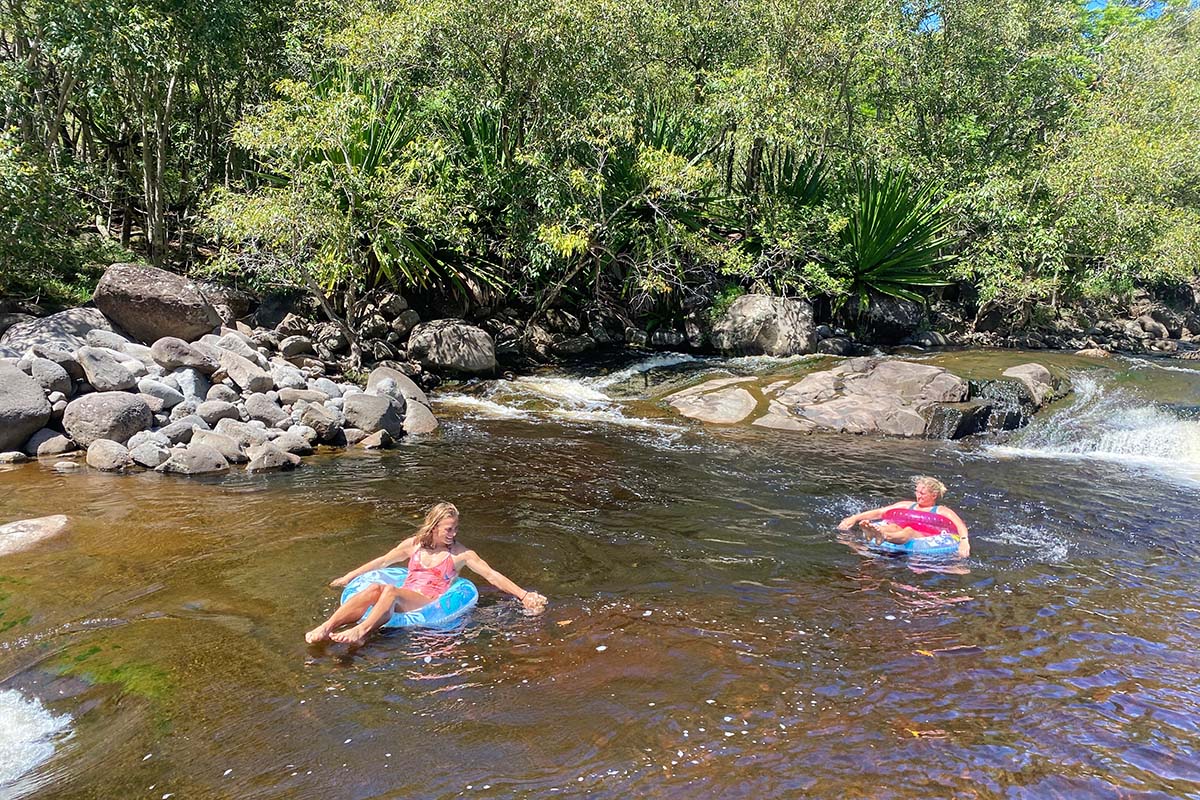 Footwear
Footwear is a whole separate topic and one we're very passionate about when it comes to hiking in Kaua'i. Due to the island's wet climate, muddy trails, and high potential for river crossings, expect your feet to get wet, regardless of your footwear. Accordingly, you'll want to prioritize a porous, quick-drying, and lightweight shoe that won't get bogged down by water. Further, most of the hikes are done in a day, meaning that you likely won't need or want the ankle-height coverage of a burly hiking boot. With these factors in mind, the style of footwear we recommend above all others is the trail running shoe, and particularly those with long and aggressive lugs built for rugged trails. In this category, three of our favorite options are the La Sportiva Bushido II, Salomon Speedcross, and Altra Lone Peak. You can also opt for a lightweight hiking shoe for a bit more protection and stability, but most of these models won't be as quick-drying or breathable as a true trail runner.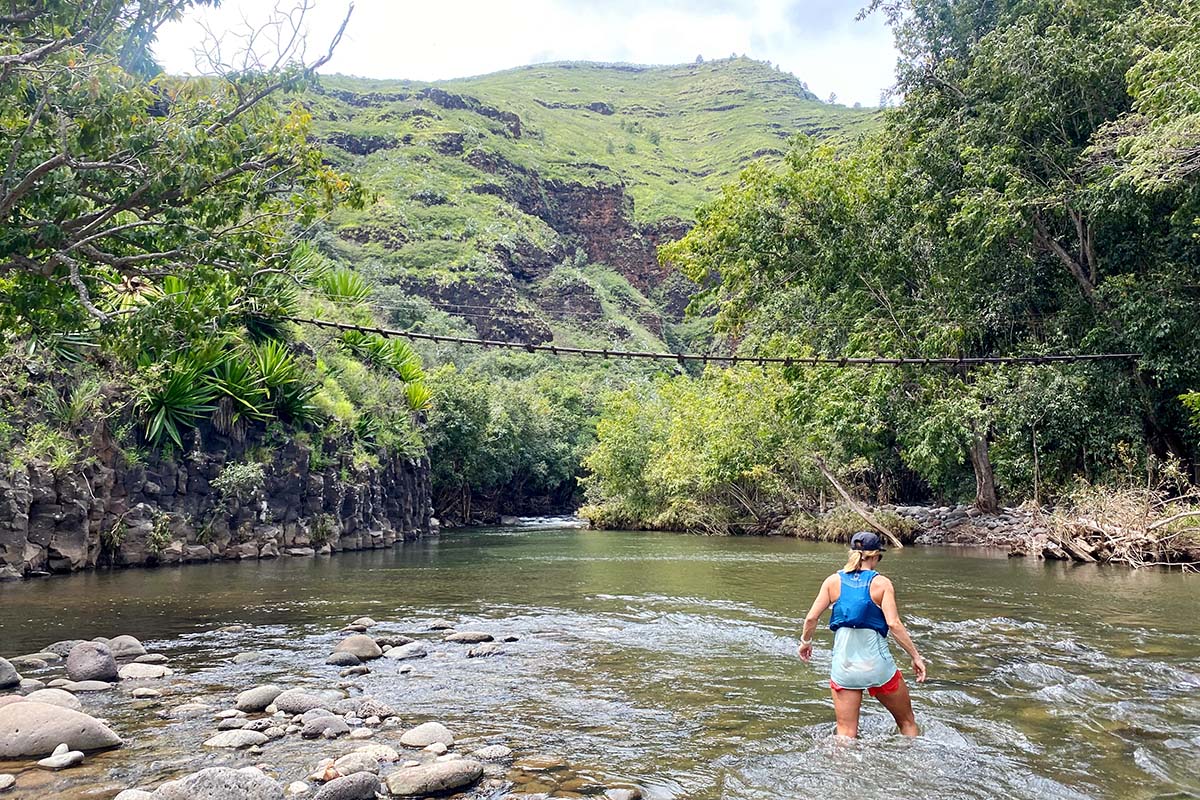 In addition to your shoes, you'll want to have a solid pair of hiking or running socks, and maybe a few if you suffer from blisters or have previous issues with trench foot. Even in warm climates, merino is our favorite material for socks (many will also contain a bit of nylon for added durability), and we recommend opting for lightweight models that are crew-height or lower—Darn Tough's Light Hiker No Show is one of our favorites. Many hikers will also want to tack on a pair of trail gaiters, which are great for keeping debris like mud, sand, and rocks out of your shoes. 
Finally, if you're taking on some of the hikes accessed from the island's east side (particularly outings like the Blue Hole/Weeping Wall and Makahela Falls), "tabi" boots are good to have on your radar. These felt-soled neoprene booties are a go-to for fishermen navigating slippery seaside rocks, and they've been adopted by hikers for their solid traction and trusty performance when wet. You won't want to be hiking miles of dry trail in tabis (if you're going to the Blue Hole, wear trail runners for the road miles and switch into tabis at the start of the trail), but they're almost indispensable when it comes to wet river walking. And the good news is that they're cheap ($30-40) and easy to find—just pop into any drug store or fishing shop on the island.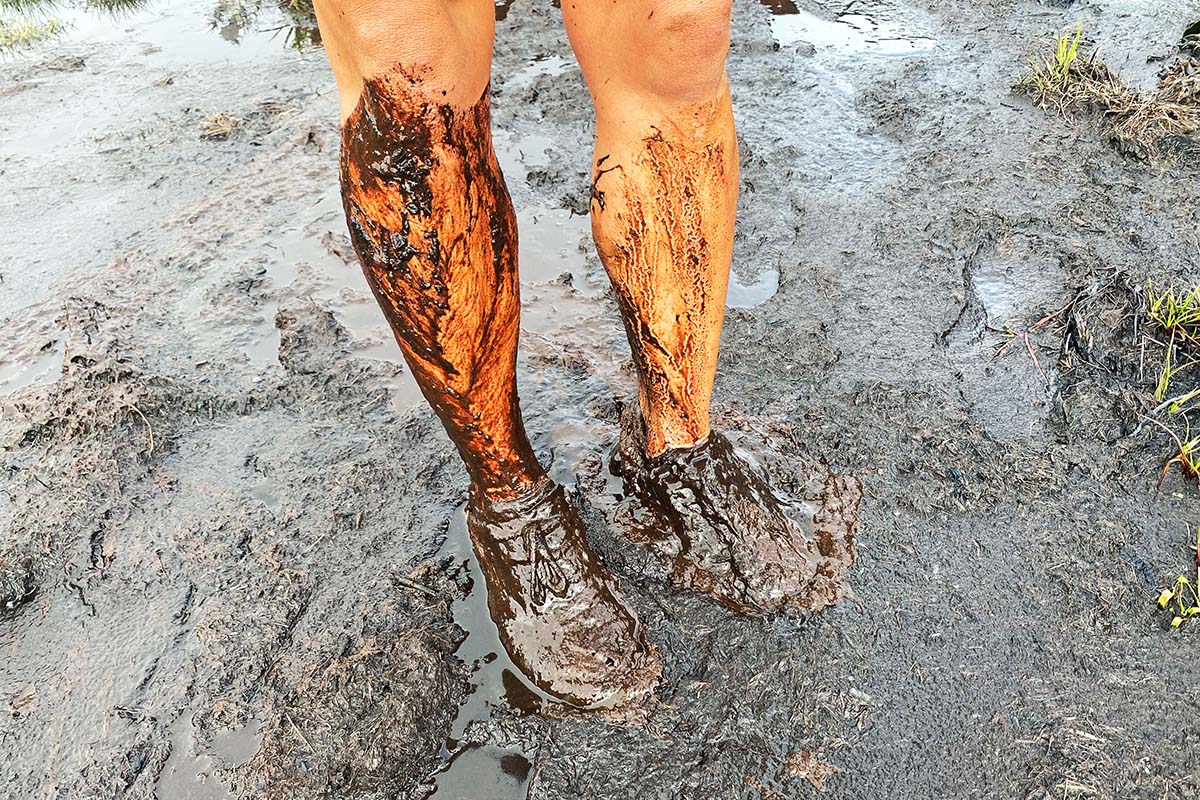 What to Bring
Along with technical layers and footwear, there are a few other items that are essential to day hiking on Kaua'i. First, you'll want a daypack to carry your supplies, which might hold anywhere from 15 to 35 liters and include features like an airy mesh backpanel, attachment for a hydration reservoir, and hipbelt pockets (Osprey's Talon/Tempest series is one of our top picks). Speaking of hydration, at least a liter of water-carrying capacity is essential, whether it's a simple water bottle (we still love the classic Nalgene), soft flask, or hydration reservoir. We also highly recommend bringing along a water filter (the Saywer Squeeze Mini did the trick for us), as most trails offer a number of opportunities to stop and hydrate—a 3-ounce filter can easily save you from carrying many pounds of water in your pack. And finally, many hikers will benefit from trekking poles, and we advise bringing the folding or telescoping variety so you can stash them in your pack and have use of your hands on particularly tricky sections of trail (our favorite model is the Black Diamond Distance FLZ).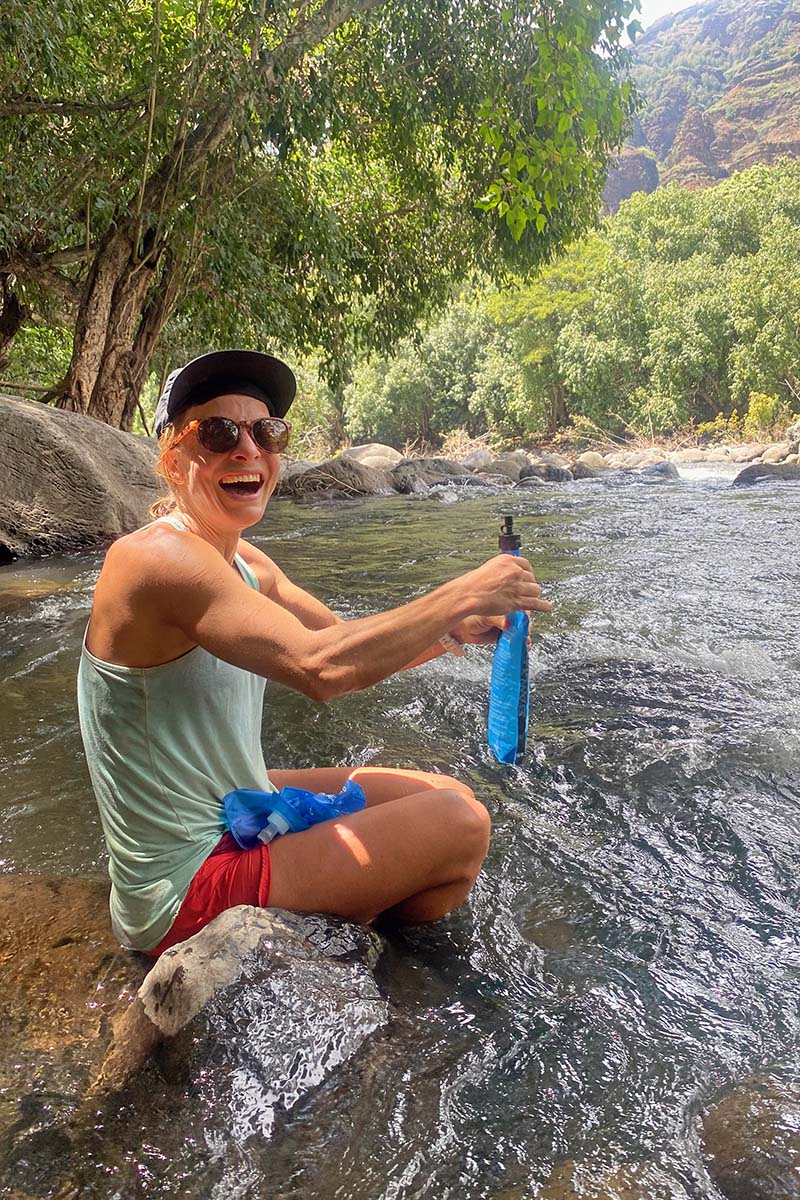 In terms of the smaller essentials, we've compiled a short list below to help you pack. Keep in mind that this is by no means exhaustive (check out our day hiking checklist for a more comprehensive but less tailored list). Most of these items can be found on the island, and we love supporting local businesses (Da Life in Lihue or Aloha Exchange in Kalaheo and Kilauea are great places to start), but it never hurts to come prepared.
Bug spray
Sunscreen
Chapstick (with SPF)
Body glide (chafing is common in humid conditions)
Sunglasses
Headlamp 
Sun hat
Extra socks
Swimsuit and pack towel
Dry bag for electronics
Satellite messenger like a Garmin inReach or SPOT (many trails do not have cell service)

Trail Running in Kaua'i
Depending on their home terrain, trail runners visiting Kaua'i might be in for a bit of a disappointment—the majority of the trails are more akin to mountain routes than your casual forest jaunt. Narrow paths, steep grades, overgrown brush, and an assortment of obstacles mean you might be doing a whole lot more walking than running. But if you're hellbent on keeping the tempo high (we get it) there are a few tips that should direct you towards the best routes. 
For one, you'll find mild grades and wide trails on the easy and moderate trails above, the majority of which are great for running. Second, it's a good idea to seek out decommissioned gravel roads—these were where we found the best stretches of running on the island (various roads into Koke'e and the road up Waimea Canyon were our favorites). And finally, go in with an open mind. Even if you have to walk some sections, you're still traveling light and covering a lot of ground, which can really expand where you're able to go in a day's time. To Kalalau and back? Into Lonamea for a morning slip and slide? Adventures on Kaua'i abound.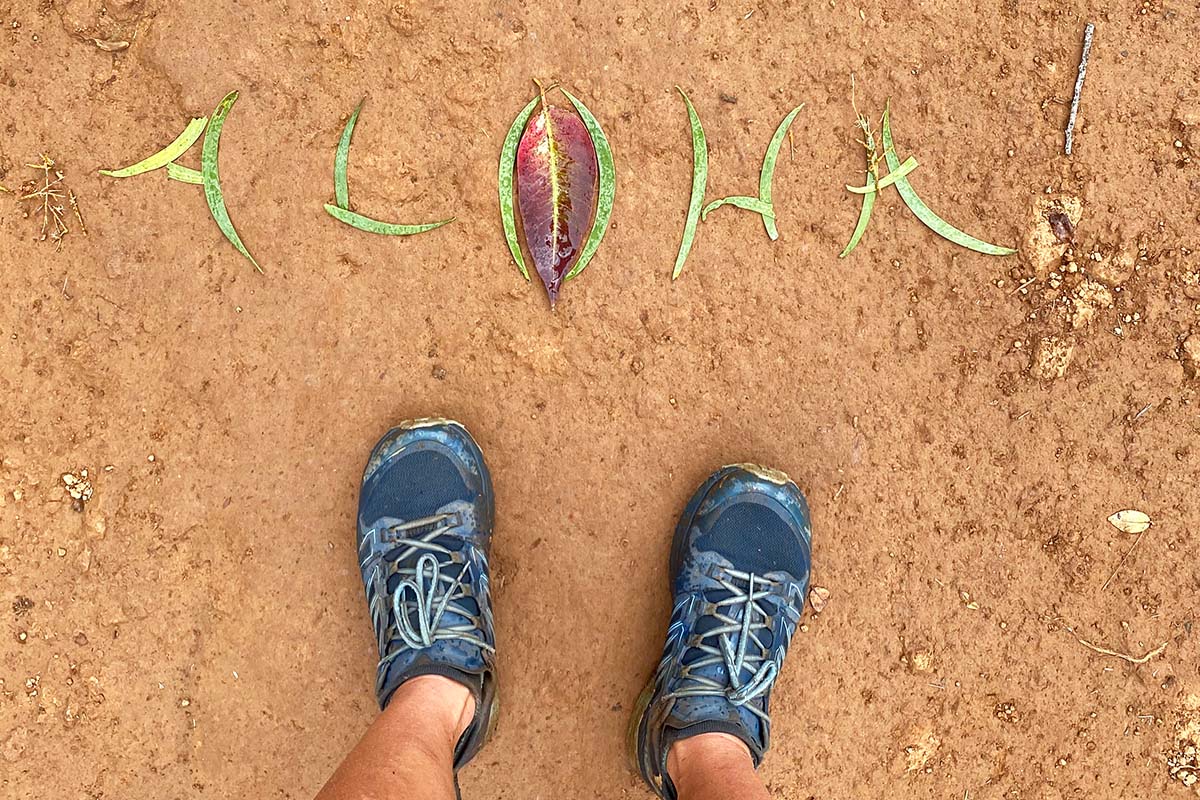 Read More From Switchback Travel