A day hike can be as simple as walking a well-maintained trail near your home, or as complex as a dawn-to-dusk journey through a remote wilderness. The items you bring may vary slightly depending on the difficulty and length of the hike, but no matter how you travel, it's always nice to be prepared. Below, we list the most important items for day hiking, including clothing items such as a rain jacket and hiking pants, essential equipment like a daypack and trekking poles, and extras and personal items. For more information on each category, many of the headings link to our detailed product articles. And for all our recommendations in one place, see our hiking gear reviews. 
Footwear and Clothing
Equipment
Extras and Personal Items

❒ Hiking shoes or trail runners

❒ Hiking socks

❒ Hiking pants or shorts

❒ Hiking shirt or baselayer

❒ Rain jacket/windbreaker

❒ Down or synthetic jacket

❒ Daypack

❒ Water bottle or hydration reservoir

❒ Headlamp

❒ Trekking poles

❒ Water treatment

❒ First aid kit

❒ Navigation

❒ Satellite messenger

❒ Food

 

❒ Sunglasses

❒ Hat

❒ Sunscreen

❒ Insect repellant

❒ Lip balm

❒ Toilet paper and trowel

❒ Bear spray

❒ Repair kit

❒ Multitool or Swiss Army Knife

❒ Camera

❒ Emergency blanket or bivy

❒ Lighter or waterproof matches 

❒ Whistle

❒ Winter traction devices and gaiters

Day Hiking Footwear and Clothing
Perhaps nothing is more essential to a day hiker than healthy, comfortable feet, and it's important to take care when selecting the right pair of shoes for the job. The current trend in hiking footwear—especially for day hiking—is toward lightweight models, including both hiking shoes and trail runners. Hiking shoes will provide the ideal amount of protection and support for day hiking, while more lightweight trail runners will shave weight and bulk so you can move more quickly and freely. A durable yet nimble shoe like the Salomon X Ultra 4 is our top pick for most day hikers looking for a great combination of toughness and support without too heavy of a feel. For hikers willing to forgo some frills in the name of traveling fast, the Altra Lone Peak and Hoka Speedgoat are both well-made trail runners that provide great traction and stability on a variety of terrain.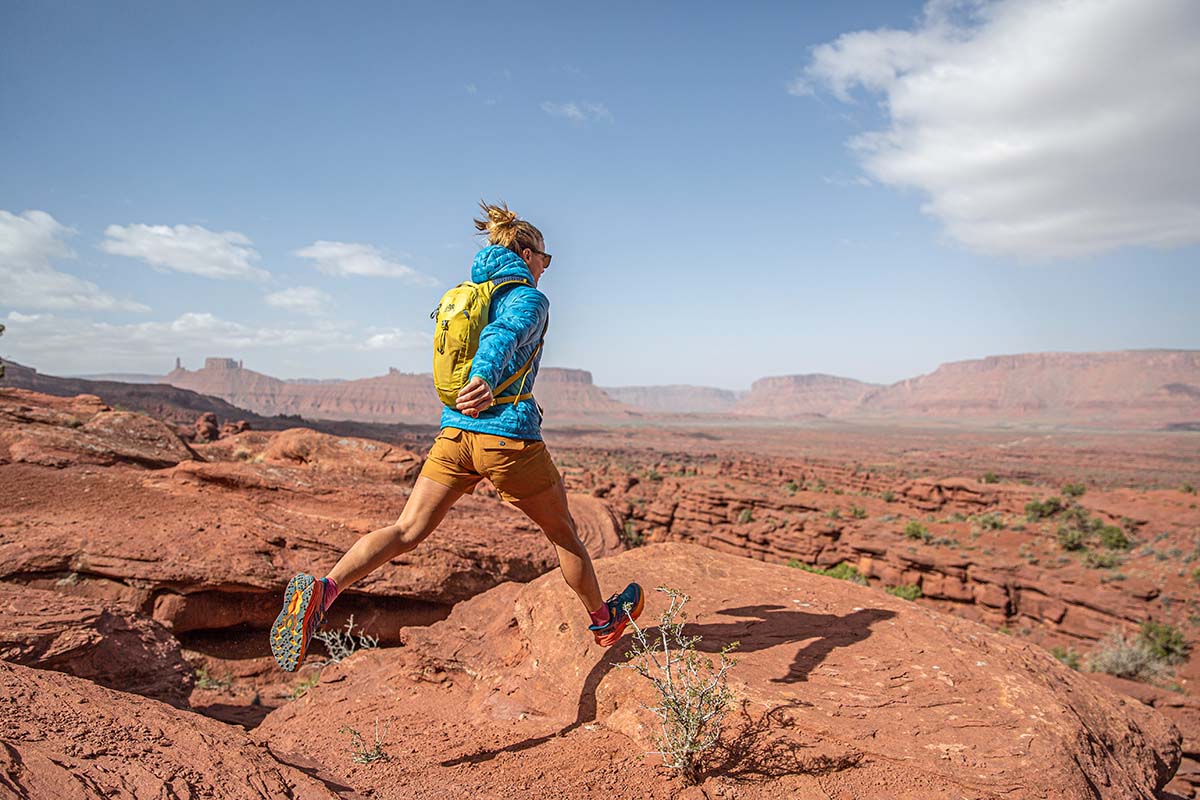 As we mentioned above, happy feet make for a happy hiker. Once you've settled on a pair of shoes or trail runners, it's important to look for a set of hiking-specific socks to complete your setup. We prefer wool socks to those made with cotton or synthetic materials: Wool has an incredible ability to regulate temperature, stays warm when wet, and dries much faster than cotton. Our favorite socks for keeping our feet happy are the Darn Tough Micro Crew Cushion, which also come with a lifetime warranty. In terms of height, most hikers prefer crew-cut socks for protection against low branches and debris, but quarter-height and no-show designs are lower-profile and cross over well for use with sneakers and trail runners.
We typically opt for hiking pants over shorts, as they provide more protection from abrasive trail-side plants or boulders or sun, and can be rolled up or down depending on conditions. In the end though, it all comes down to a matter of preference—if you want to hike in shorts on a hot and dry day, we don't blame you. But that said, the features of hiking pants are many: You get ample pockets and great freedom of movement, temperature regulating fabric, and even a protective durable water repellent finish. prAna's Stretch Zion II (and women's Halle II) are great lightweight and breathable pants that work in a variety of climates, and the Kuhl Renegade Convertible pants offer the bonus of being able to transform into shorts.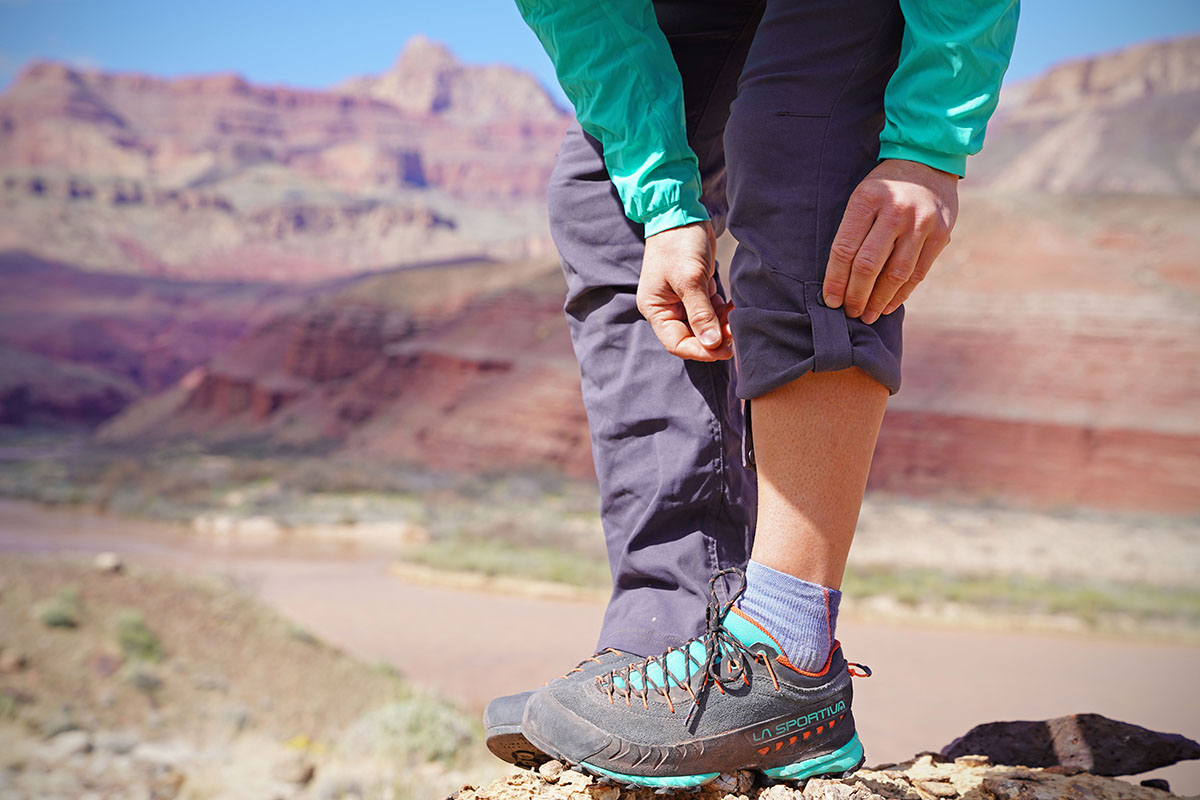 4. Hiking Shirt or Baselayer
For a wear-all-day hiking shirt, we recommend a short-sleeve t-shirt or lightweight long-sleeve baselayer made with synthetic fabric or merino wool. Collared button-up hiking shirts offer a great deal of ventilation and sun protection for hot days, while standard t-shirts are less restrictive and easier to layer over. Be sure to opt for fabrics like polyester and wool over cotton, as they wick away sweat, dry quickly, and stay warm even when wet. The Smartwool Merino 150 Baselayer top is a temperature regulating merino wool shirt that comes in both short-sleeve and long-sleeve varieties. 
 
For unexpected rainstorms or that classic all-day drizzle we're used to in the Pacific Northwest, a rain shell will keep you warm and dry all day on the trail. For hiking, it's important that your rain shell is breathable as well as waterproof, as you'll likely be wearing it while building up a sweat. For all-day rain, 3-layer designs like the Patagonia Torrentshell 3L offer the height of protection and breathability, while lightweight 2.5-layer designs like the Marmot PreCip Eco and REI Co-op Rainier will provide enough airflow and durability for most circumstances. And for those days when the forecast looks more windy than rainy, we're big fans of the lightweight protection that a windbreaker offers—and many, like the Black Diamond Alpine Start, offer impressive water resistance in a pinch.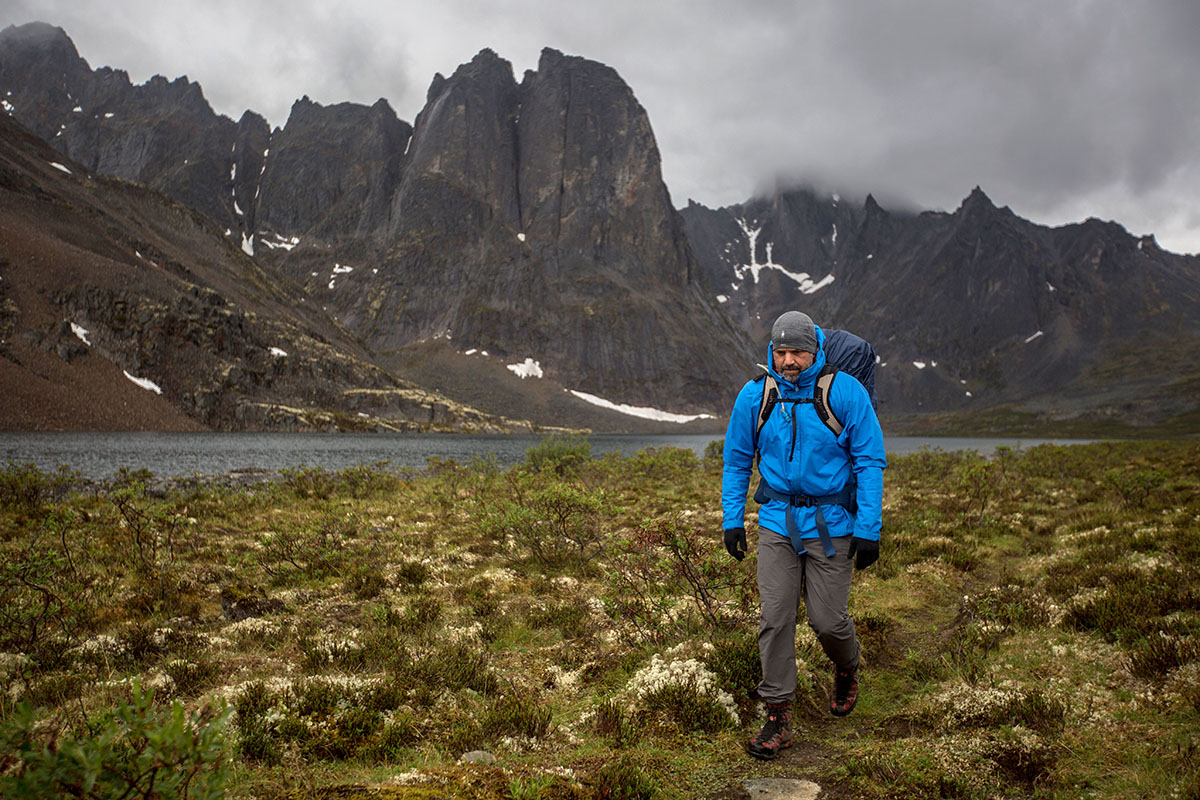 Whether you're walking through a canyon, ascending a mountain ridgeline, or just taking a break in the shade, you're likely to encounter a range of temperatures throughout your hike. It's a good idea to have an insulated layer stowed in your backpack so you can stay warm regardless of activity level or weather. Down packs into a tiny package, is feather-light, and provides a surprising amount of warmth, making it our favorite type of insulation for hiking. That said, some will prefer a synthetic jacket instead, which insulates even when wet and surpasses down in terms of breathability. Two of our favorite insulated jackets for hiking are the down-filled Mountain Hardwear Ghost Whisperer/2 and the synthetic Patagonia Nano-Air Hoody.
 
Day Hiking Equipment
You won't want to travel too far down the trail without a few supplies, and a small-capacity pack is your best bet for staying organized and comfortable. Your daypack should be large enough to hold food and water, a couple layers, a first aid kit and headlamp, and a few other items, while still remaining light enough to keep you nimble and unencumbered. A pack in the 20-liter range is perfect for most day hiking scenarios, while smaller and larger capacity options are useful depending on the season and your particular needs. Osprey's Talon 22 (or women's Tempest 20) is one of our top picks for its combination of durability, ventilation, and comfort at a competitive price. If you're looking for a pack with a few more technical features and better support for heavier loads, we recommend Osprey's Stratos 24.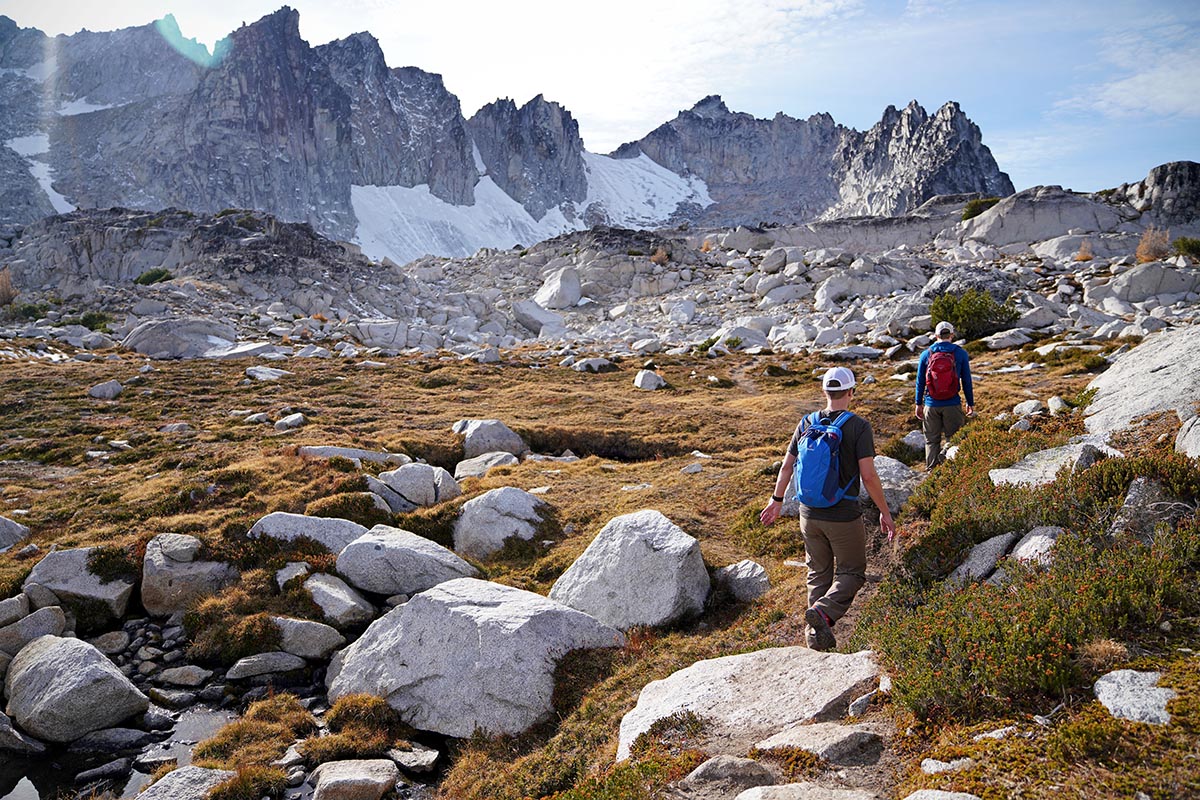 8. Water Bottle or Hydration Reservoir
We can't stress enough the importance of bringing a sufficient amount of water with you on the trail. Two liters is about the minimum we'd recommend for a full day's hike, and it's not uncommon to bring up to four liters in hot and dry climates. BPA-free Nalgene bottles are our favorite way to carry water into the backcountry, and they're much more affordable and lightweight than popular insulated designs. On the other hand, if you prefer to hydrate on-the-go, a water bladder with drinking hose is an essential piece of gear. We especially love MSR's 2-liter DromLite with hydration kit for its versatility and durability. And if water is available along the trail and you'd prefer to filter throughout the day, it's a good idea to bring along a water filter or purification tablets as well (see below).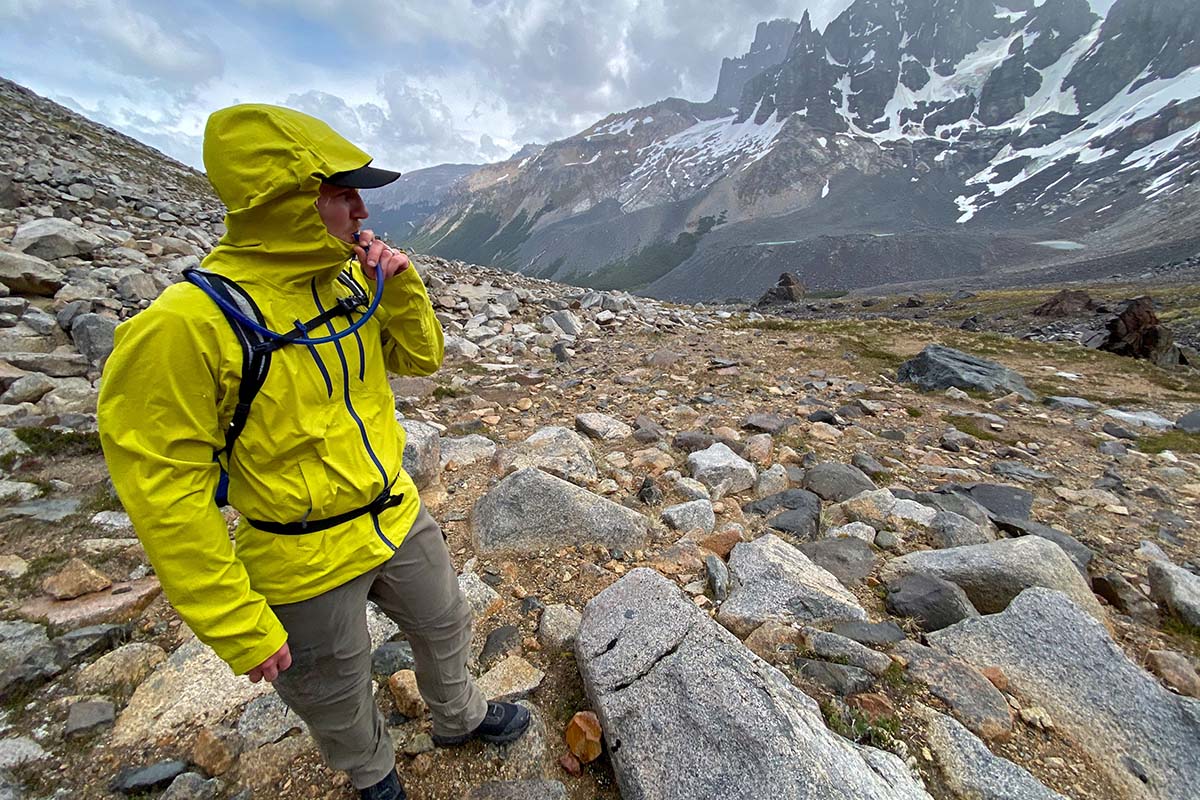 You might not be planning on a particularly long or involved hike, but life doesn't always go according to plan. If you do get lost, injured, or perhaps just distracted by watching the sunset, the ability to see at night is imperative. Headlamps are small, lightweight, and inexpensive, and there's little excuse not to bring one along. One of our favorite models, the Black Diamond Spot 400, is a reliable option that provides a powerful and long-lasting light for only $45. And the newest version is the best-executed yet, featuring a streamlined body and the option between three AAA batteries or BD's rechargeable 1500 lithium-ion battery (sold separately for $30). On the other hand, for another $25, you can get similar rechargeable convenience with the Petzl Actik Core, which comes with a rechargeable battery pack that can also be swapped out for AAA batteries.
Many folks would rank trekking poles up among the essential gear for day hiking, while others find no need to bring them along. In the end, they are truly a matter of personal preference. That said, we especially recommend trekking poles for hikers with chronic knee pain or those who lack confidence on tricky terrain. The Black Diamond Trail Ergo Cork poles are a sturdy, all-around choice with comfortable cork grips and trustworthy length adjusters for $140. If budget is a concern, REI Co-op's Trailbreak poles ($70) do without some of the bells and whistles (like the cork grips and more comfy hand straps) but still provide enough stability for most hikers on less technical terrain. And if fast and light is your goal, the Black Diamond Distance Carbon Z poles—popular with trail runners—are extremely lightweight and fold away so small you won't notice them on your pack.


11. First Aid Kit
Your day hiking first aid kit should be thought of as your "quick fix" kit—for a single day on the trail, it does not need to break the bank, or your back. Throw in some medical tape, gauze, and antibiotic ointment for stopping bleeds, moleskin for blisters and hot spots, Ibuprofen for pain management, and Benadryl in the case of an allergic reaction. A safety pin and pair of tweezers can also be helpful tools. You can easily put your own supplies together in a Ziploc, or opt for a convenient pre-built first aid kit such as the Adventure Medical Kit, which comes in a water resistant, zippered bag.
 
If you are planning an ambitious day on the trail, it's never a bad idea to bring along some kind of water filtration or purification. There are a number of ultra-lightweight solutions available, ranging from a classic pump-style filter to a straw filter or convenient chemical tablets.The LifeStraw Peak Squeeze is an excellent option for day hikes—just collect water in the included flask and squeeze it into your mouth. Further, we prefer to always store a few backup tabs of Aquamira in our pack just in case the need arises.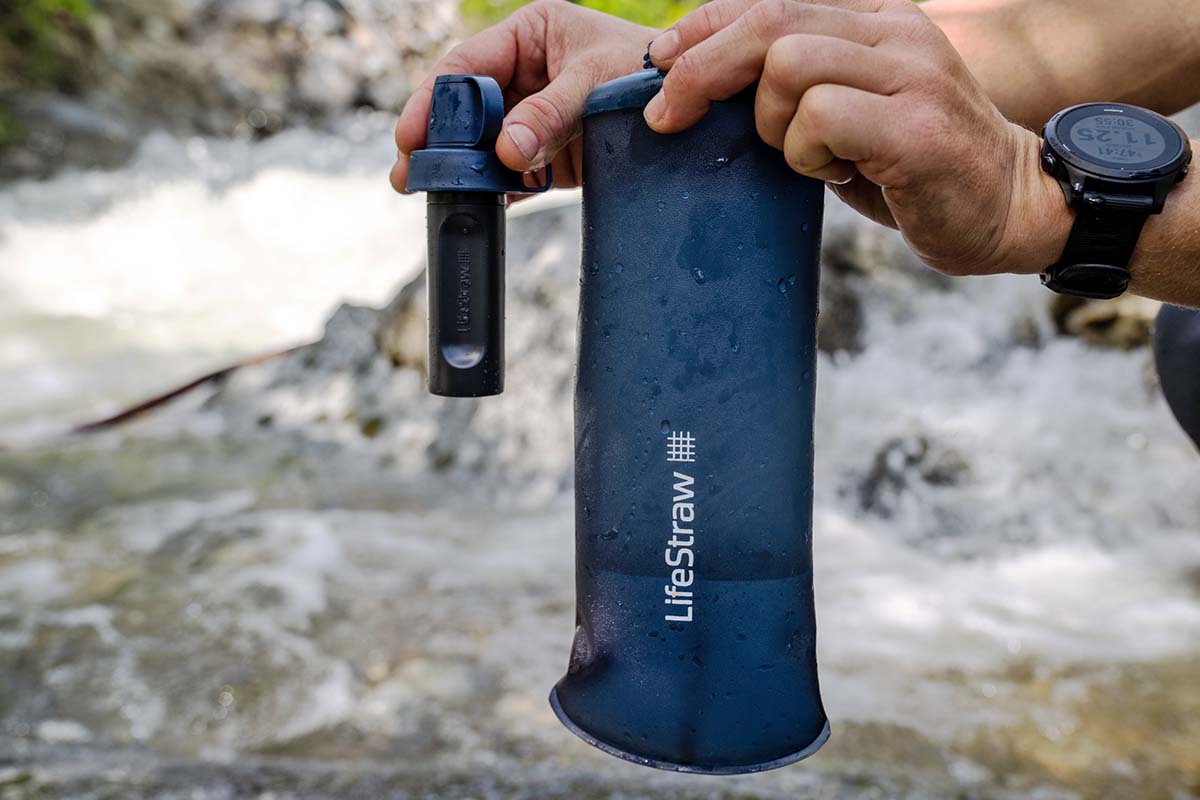 13. Navigation
Even if you're familiar with the area where you'll be hiking, it's a good idea to bring along some sort of navigational tool. A high-tech GPS device will cover all your bases, but it's a bit overkill for a day hiking application. In fact, a paper topographical map—especially when laminated or printed on waterproof paper—is the most sure form of navigational help, as it does not rely on battery power. That said, our favorite means of tracking location are GPS-powered navigational apps on our phone. Apps such as TopoMaps, Gaia, and Hiking Project can pinpoint your location at any given moment—even when cell phone service is non-existent—and even give details like hiking pace, elevation, and mileage.

14. Satellite Messenger
Part of the appeal of getting out for a day hike is certainly the opportunity to disconnect and leave behind the pings and notifications of daily life. But roaming out of cell service always comes with some risk, and a satellite messenger bridges the gap with the ability to send (and—usually—receive) messages in areas without a cell signal. The satellite messenger market covers a broad spectrum of options with an array of functions and prices, and our top pick is the Garmin inReach Mini2. For $400, it's a lightweight yet powerful device that connects to your smartphone for convenient communication. The downside, especially for those who only use it occasionally, is Garmin's service subscription price—the most basic plan requires a $34.95 annual program fee plus a $14.95 monthly fee. A more affordable option is the $250 Bivy Stick, which allows you to buy credits (one credit equals one transmission) and pay as you go.

15. Food
Along with water, it's essential to pack enough food for your hike (and even a little more). In general, we recommend eating between 300 and 400 calories per hour of hiking, depending on your body type and level of exertion. High-energy foods like nuts, bars, cheese, and dried fruit provide great nutrition and calories while keeping weight low. Some of our favorite energy bars are Kate's Real Food Bars, delicious high-calorie snacks made with quality ingredients in the small town of Victor, Idaho. Additionally, Snickers bars and sandwiches provide easy trail food solutions at a lower cost. 

Extras and Personal Items
Sunglasses
Hat
Sunscreen
Insect repellant
Lip balm
Toilet paper and trowel
Bear spray (depending on the area and season)
Simple repair kit (a bit of duct tape and paracord should be plenty)
Multitool or Swiss Army knife
Camera
Emergency blanket or bivy
Lighter or waterproof matches
Whistle for emergencies
Winter traction devices and gaiters (depending on conditions)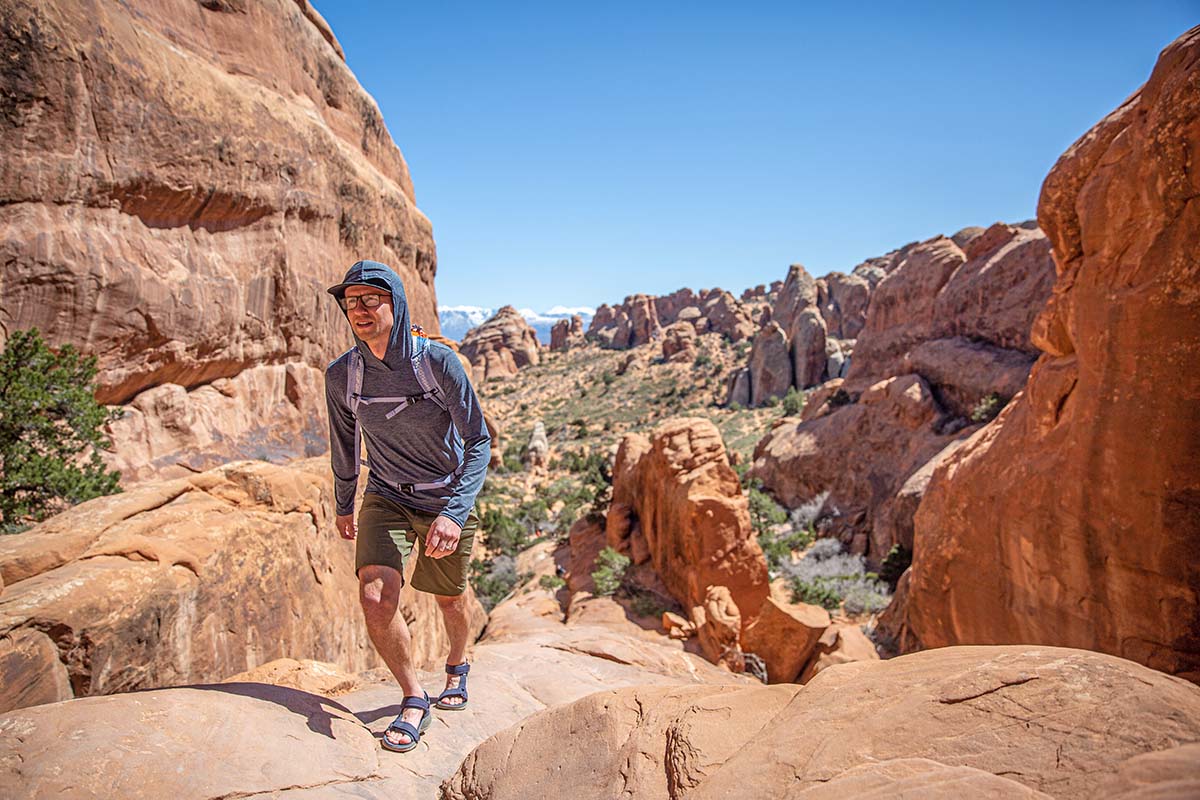 Where to Buy Hiking Gear
Although much of this gear can be found online, we first recommend visiting your local gear shop or consignment store. There's simply no substitute for looking at items up close, trying on clothing, backpacks, and footwear, and receiving personal advice from the experts. If you do choose to shop online, REI Co-op and Backcountry are two of the most reliable retailers when it comes to hiking gear. Both have impressive selections, provide free shipping on orders over $50, and offer generous return and exchange policies. And as a bonus, REI has over 175 brick-and-mortar stores across the country, so you can try on before you buy or pick up your order in store. Finally, for cheaper items and those who need gear quickly, it's hard to beat Amazon and the sheer volume of their inventory.
Back to Our Day Hiking Checklist  See Our Hiking Gear Reviews
 
Learn More About Outdoor Gear