The North Face Vectiv Fastpack Futurelight
Price: $149
Weight: 1 lb. 3.2 oz. (women's)
Waterproof: Yes (Futurelight)
What we like: Comfortable and quick-moving; outsole offers great all-around traction.
What we don't: Limited durability and minimal support on off-camber terrain.
See the Women's TNF Vectiv Fastpack  See the Men's TNF Vectiv Fastpack
Fast-paced day hikes call for sprightly footwear, and the Fastpack from The North Face is a prime example. Combining TNF's Vectiv plate and responsive midsole with a waterproof/breathable Futurelight upper and impressive SurfaceCTRL outsole, the Fastpack is comfortable and quick-moving without giving up much in terms of protection and grip. We tested the shoe on the trails of southern Patagonia and found it to be immediately likable and easy on our feet. Below we break down our experiences with The North Face's Vectiv Fastpack Futurelight. To see how it stacks up to the competition, see our article on the best women's hiking shoes and best hiking shoes.
 
---
Table of Contents
---
 
Performance
Comfort
The first time I donned The North Face's Vectiv Fastpack Futurelight, I wore the shoes on a 15-mile hike just outside the outdoor mecca of El Chaltén. While taking a brand-new hiking shoe on a committing route is never recommended, the Fastpack was immediately comfortable, and I experienced nothing in the way of pressure points or hot spots. The midsole offers a generous amount of cushion without being overkill (unlike max-cushioned runners, you still get a bit of ground feel), and soft padding around the collar hugs my ankle nicely while mitigating heel slip. My only small gripe is the fairly stiff heel, which resulted in some soreness toward the end of the day. But all told, the Fastpack offers much of the same comfort as a trail runner, which is high praise given its hiking shoe-like performance.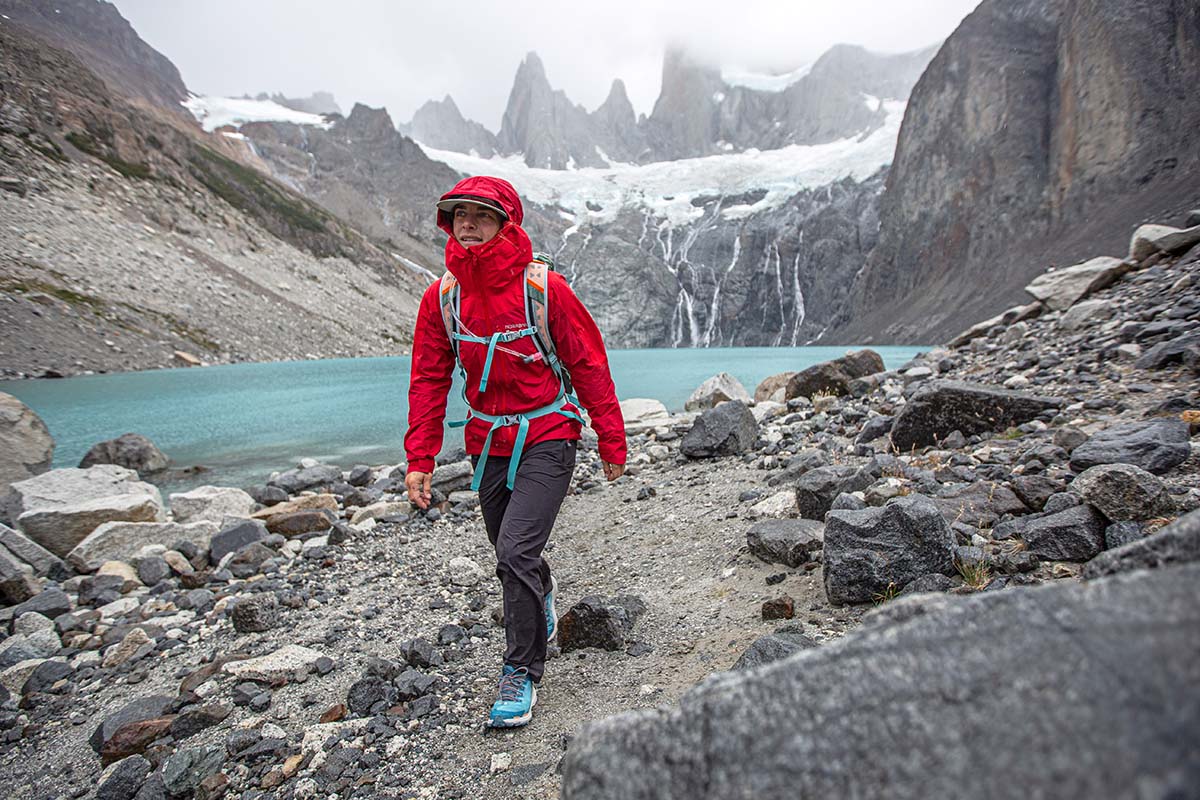 Weight
At just 1 pound 3.2 ounces for the women's pair, the Vectiv Fastpack is impressively lightweight given its credentials. In short, there are very few waterproof hiking shoes that check in at such a low weight. For example, the popular Salomon X Ultra 4 GTX tips the scales at 1 pound 6.1 ounces, while Adidas' Terrex Swift R3 is 1 pound 8 ounces. The primary tradeoffs to the Fastpack's nimble build are durability, protection, and stability—with a heavier shoe, you'll generally get a more robust upper, beefier rands and overlays, and increased stiffness underfoot. Again, with its low weight, the Fastpack offers more of the feel of a trail runner than a hiking shoe. But for speedy missions with a light load, most hikers will find it to be fully sufficient.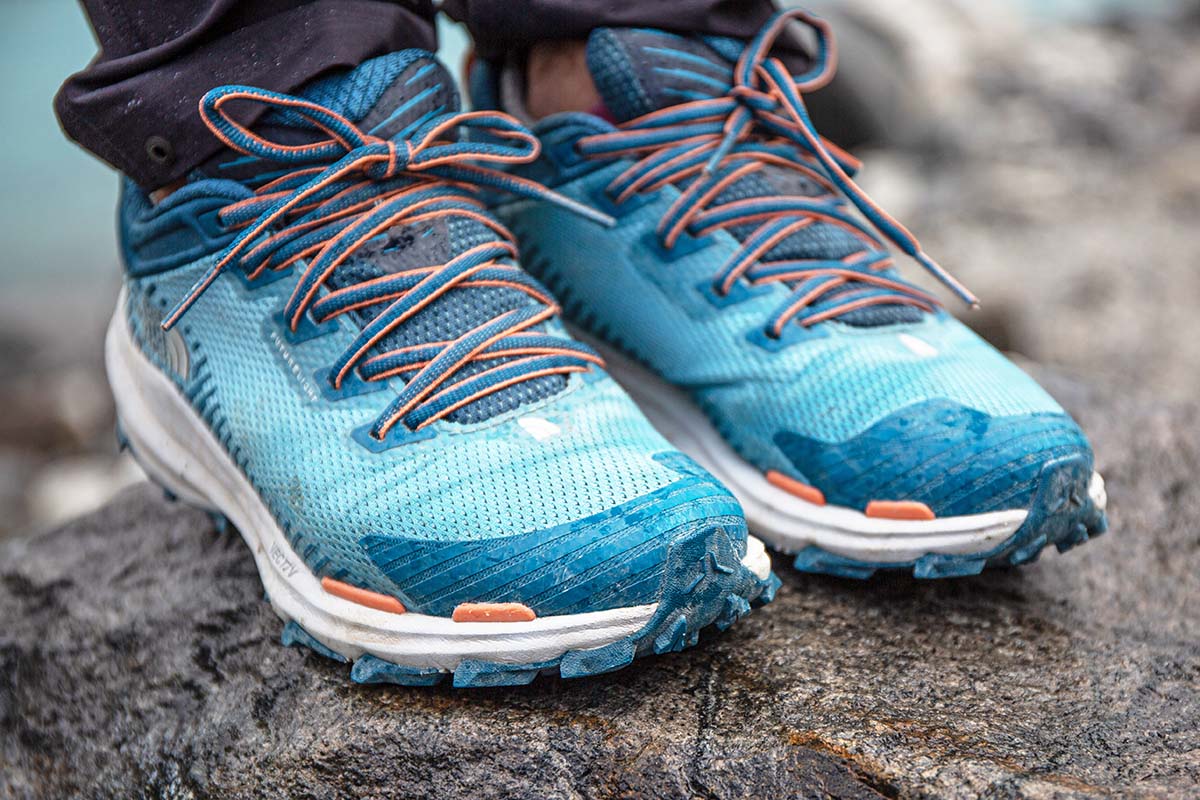 Traction
The soggy trails and wet boulder hopping around El Chaltén were prime conditions for testing the Fastpack's outsole, and the SurfaceCTRL rubber put on a true master class. As someone who is used to wearing sticky rubber (on climbing shoes, approach shoes, and mountain running shoes), I was surprised and impressed with the Fastpack's sole, which provided confidence-inspiring grip both on and off trail. The 4-millimeter lugs are clearly a decent compromise between traction on rock and soft ground, and the soft and cushioned midsole never seemed to take anything away from the outsole's performance. I even remarked to a friend that I'd consider using the shoes for the more involved climbing approaches in southern Patagonia thanks to their solid control on all manner of terrain.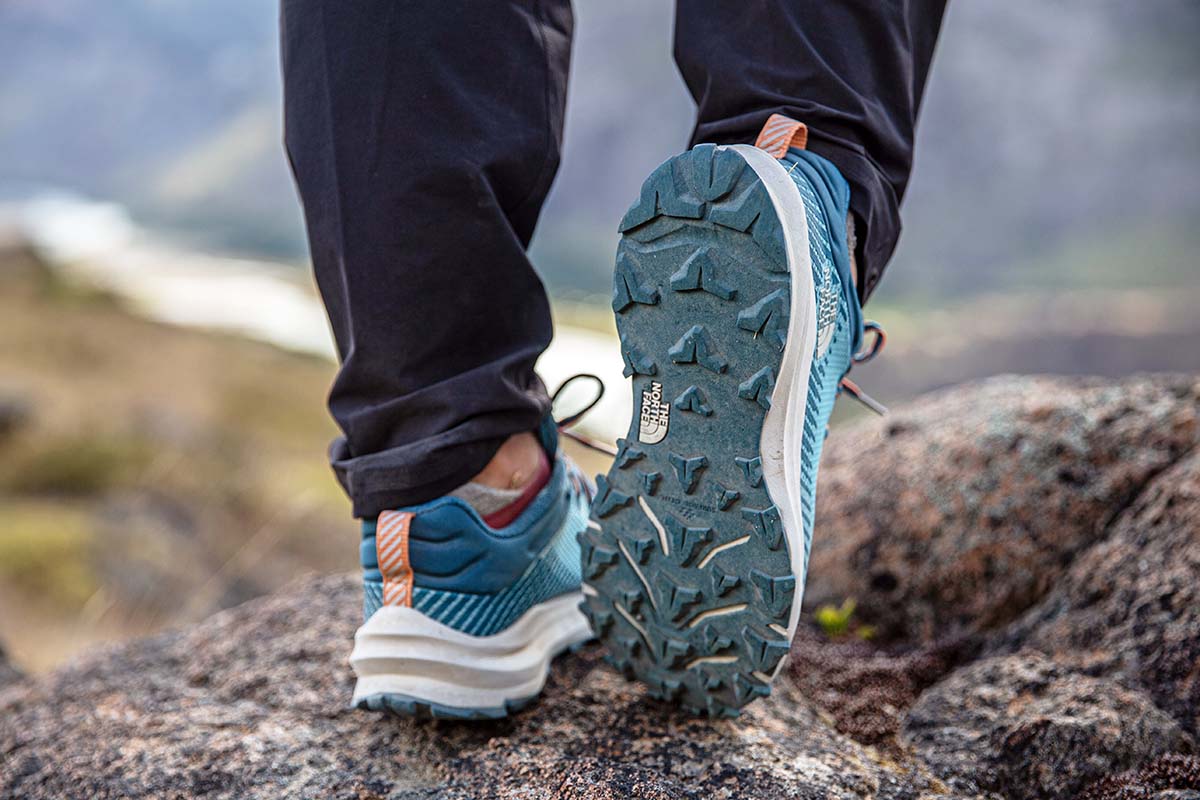 Stability and Support
With a generous amount of midsole cushioning and slightly rockered sole, the TNF Fastpack is far from the most stable hiking shoe I've worn. The feel is overall more springy than planted, and the "give" in the midsole detracts from the firm platform many might want on off-camber terrain. To illustrate this point, imagine crossing a talus field with a flexible road running shoe on one foot and a burly mountain boot on the other—the first foot will twist and turn with the terrain, while the other will serve as more of a bulldozer. Along this spectrum, the Fastpack lands just shy of center, certainly more stable than a road running shoe, but less capable than a standard hiking shoe or boot. That said, it's fully sufficient for what it's built for (fast-paced day trips with a light load), and the Vectiv 3D TPU plate under the forefoot and the decently rigid heel offer a significant boost in stability compared to a trail running shoe.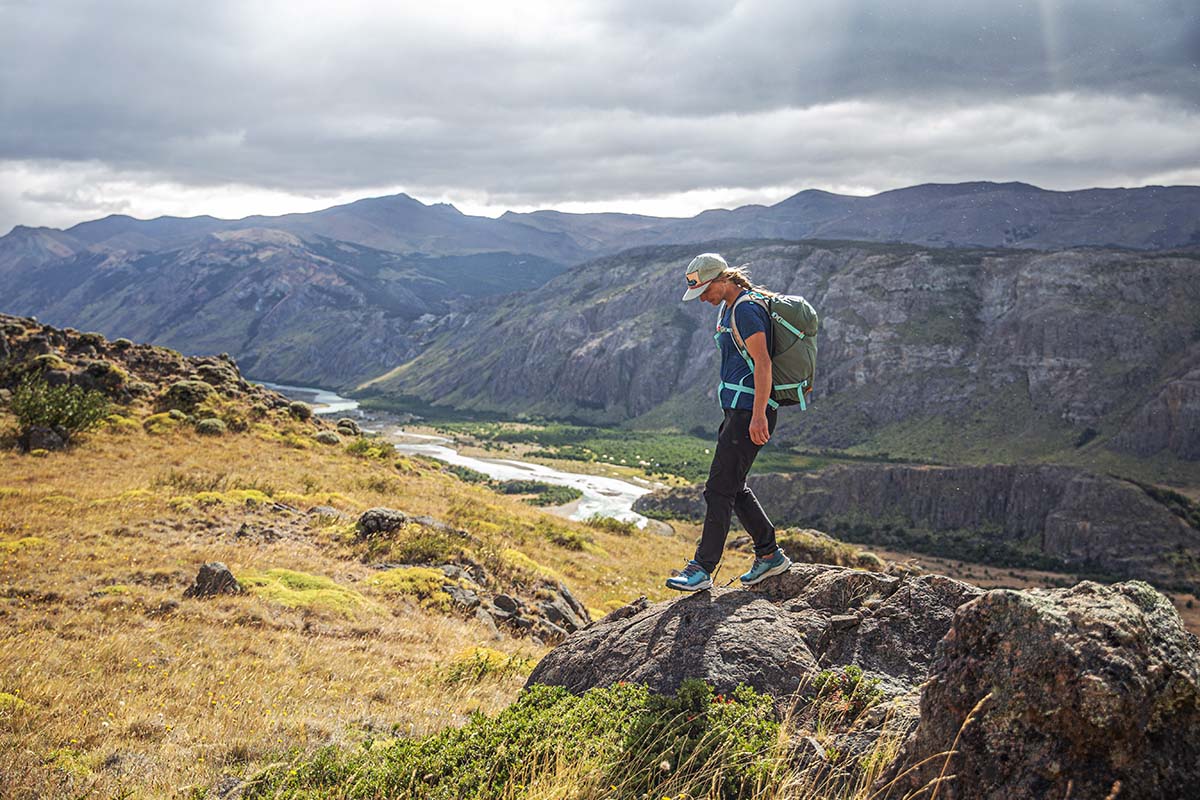 Waterproofing
The Vectiv Fastpack is built with TNF's in-house Futurelight waterproof/breathable membrane, which has received mixed reviews since its release a few years back. That said, after a thorough test in wet and rainy Patagonian conditions, I found the shoes to be impressively waterproof out of the box. And thanks to the gusseted tongue (which attaches just under the penultimate eyelet), the protection extends fairly far up the foot. Whether or not you want a waterproof shoe is up to personal preference and conditions—we really like them for areas with wet weather and frequent river crossings (like Patagonia)—and you only get one option with the Fastpack (it's not made in a non-waterproof version).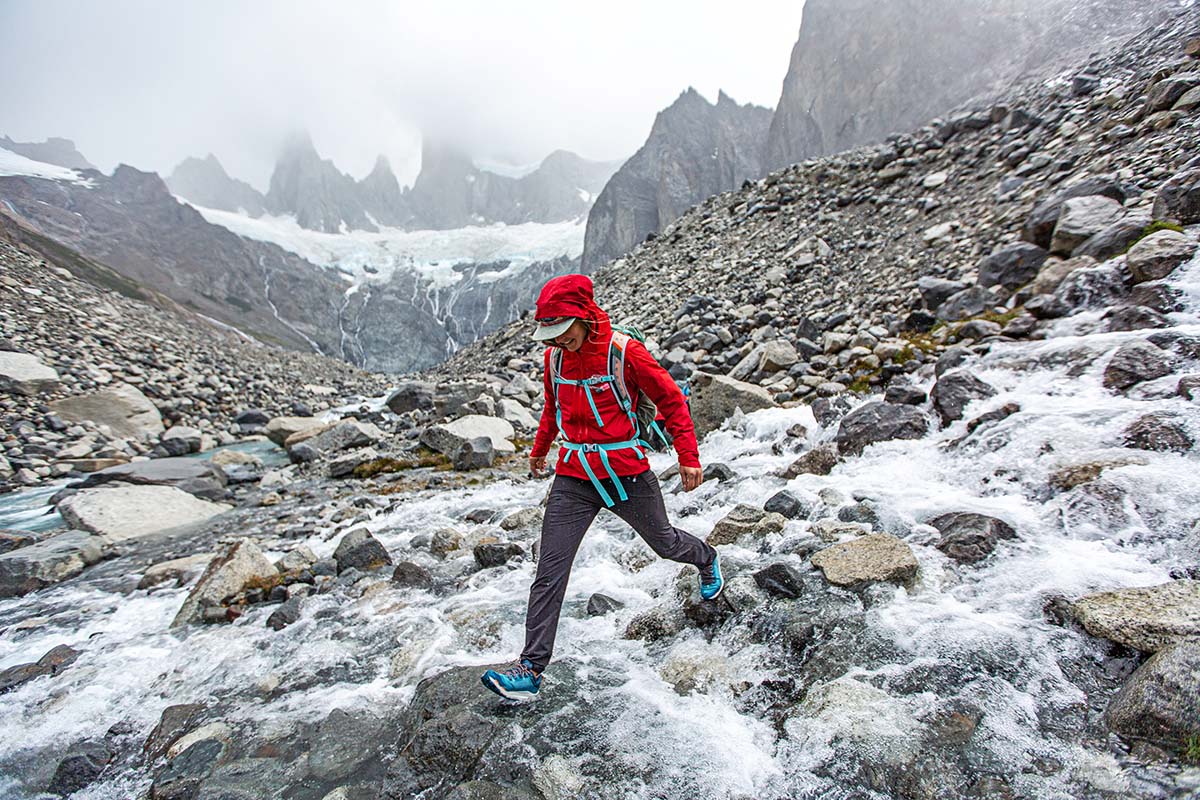 Breathability
Breathability is always a tradeoff with waterproof footwear, which is the primary reason we hesitate to recommend waterproof shoes unless absolutely necessary. But with their mesh upper and low-top build, the Fastpack shoes proved to be more breathable than most of the competition. I noticed no sweat buildup despite finishing our hike in warm conditions, and my feet were the ideal temperature throughout the day. However, after pulling off the shoes, I did remark on my hiking socks, which were much more pungent than usual. This is to be expected, although some shoe manufacturers have begun using odor-resistant materials to help to eliminate stink buildup.


Build Quality and Durability
With a predominantly mesh upper and soft, cushioned midsole, the Vectiv Fastpack Futurelight is not an incredibly durable shoe. The airy mesh is far more vulnerable to abrasion than a material like leather—after 15 miles, my Fastpacks had already suffered some abrasion near the collar—and the cushion will pack out over time compared to more rigid materials. Even a mesh shoe like the Arc'teryx Aerios FL 2 GTX provides a lot more longevity via its generous rubber rands along the upper, while the TNF's rand and toe cap are more reminiscent of a trail runner. Nevertheless, the Fastpack is a well-made shoe with a simple construction and few breakable parts (i.e., no rands to delaminate or plastic/metal eyelets to snap). For a more durable option from The North Face, check out their Vectiv Exploris, which features a leather upper and more protective lacing.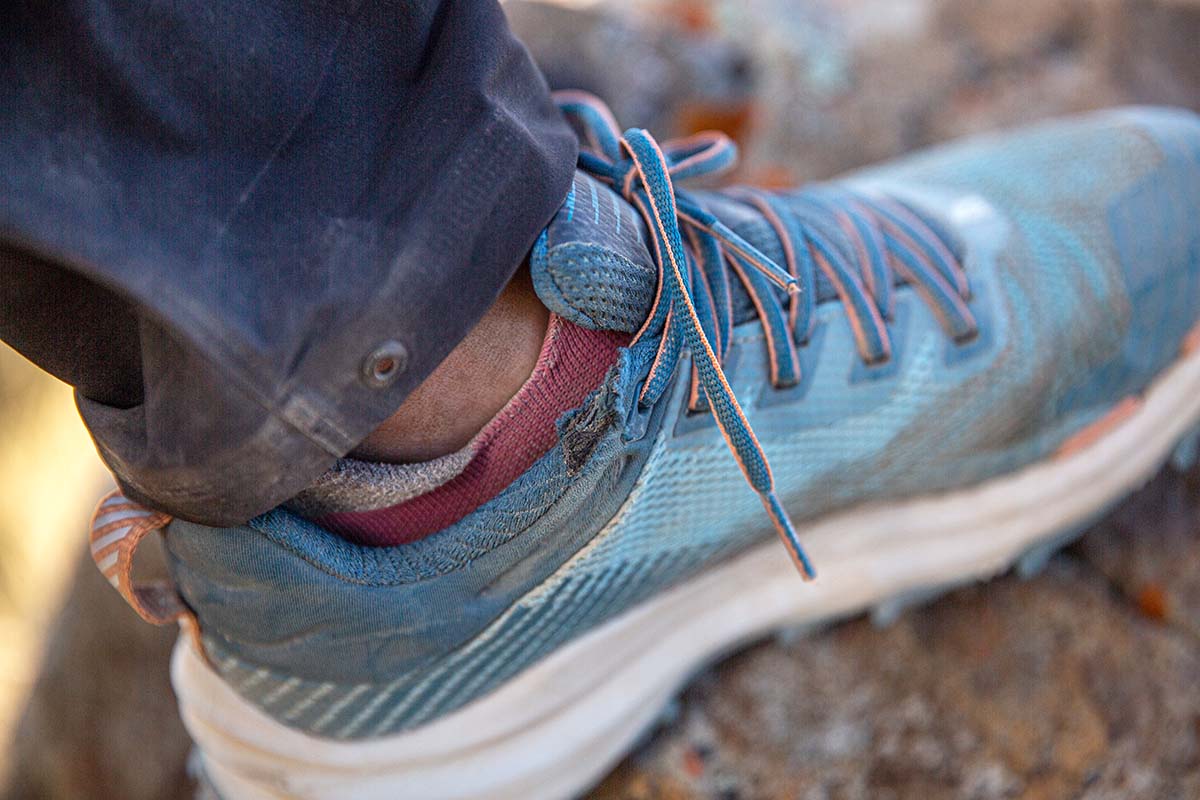 Fit and Sizing
To accommodate a range of feet, the Fastpack is offered in women's sizes 5 to 11 in both full and half sizes. I typically wear between a size 8.5 and 9 in women's footwear and opted for an 8.5 in the TNF Vectiv Fastpack Futurelight. In the end, I wish I had sized up to the 9, as the footbox isn't particularly wide or roomy, and I was testing the shoe with decently swollen feet after four days of climbing in the Chaltén Massif. If you're on the fence, have wide feet, or like to wear thick hiking socks, I recommend sizing up a half size.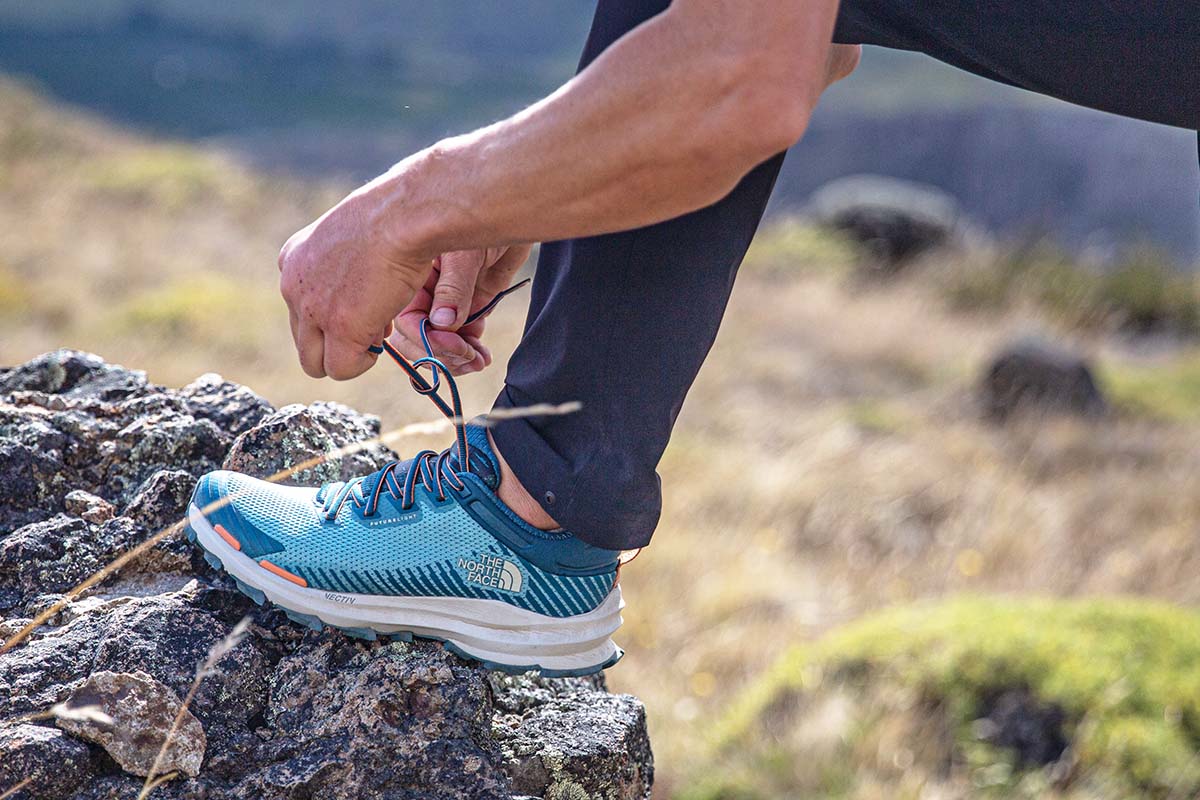 Other Versions of the TNF Fastpack
For this review, I tested the women's version of the Vectiv Fastpack Futurelight, and The North Face also makes the shoe in a men's model. The men's Vectiv Fastpack Futurelight features the same design and price ($149) but is slightly heavier at 1 pound 6.8 ounces and comes in five unique colorways and 14 sizes from 7 to 14. The North Face also offers the mid-height Vectiv Fastpack Mid Futurelight for both men and women ($165), which is only slightly heavier at 1 pound 5.3 ounces for the women's version (compared to the 1-lb.-3.2-oz. shoe). Finally, the Fastpack comes in an insulated winter boot ($195), which includes a leather upper, 200-gram Heatseeker Eco insulation, and features like a gaiter hook and snowshoe-strap knob.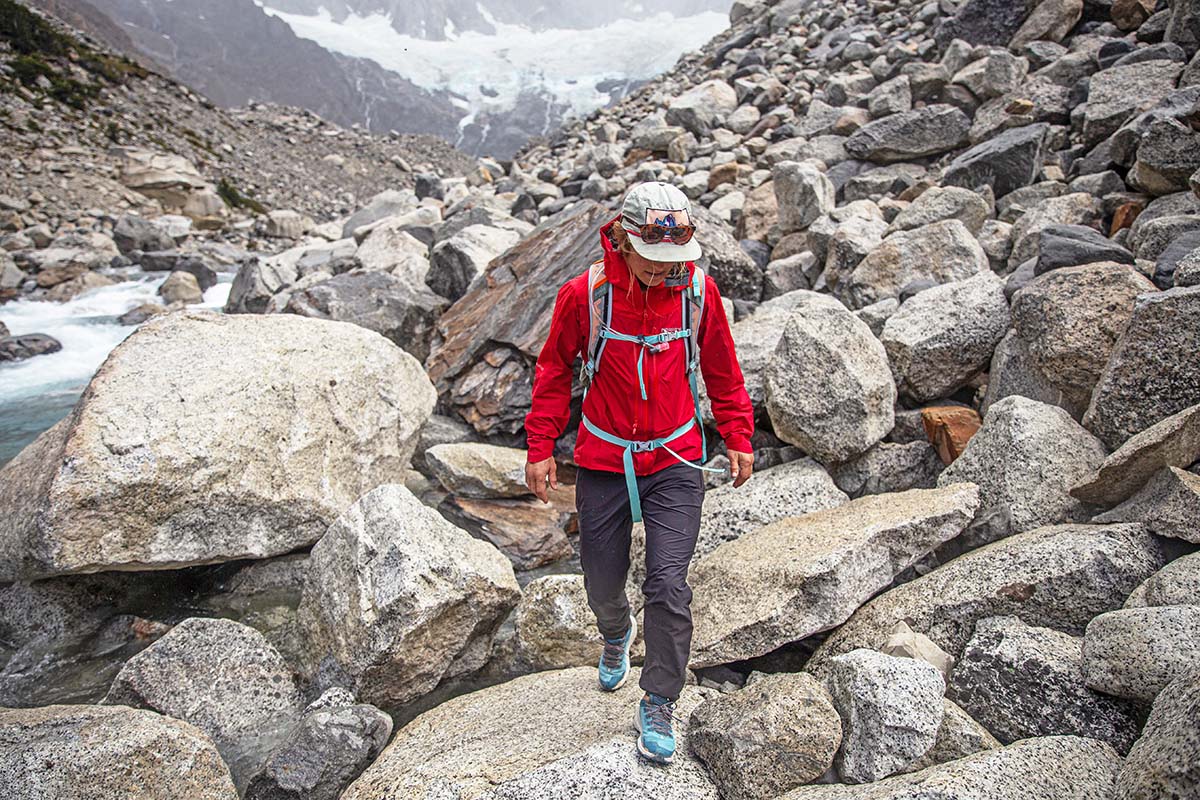 What We Like
Comfortable out of the box thanks to the soft cushioning, forgiving mesh upper, and padded collar.
Lightweight design and responsive, rockered midsole make it easy to log fast-paced trail miles.
SurfaceCTRL rubber offers confidence-inspiring grip on everything from wet boulders and logs to hard-packed mud.
 
What We Don't
The mesh upper and highly cushioned midsole aren't particularly durable and will degrade much faster than leather shoes or those with more protective overlays.
The rockered, cushioned midsole offers less stability than you'd get from a more traditional hiking shoe.
Due to the fairly narrow toe box, those with particularly wide feet might need to size up a half-size.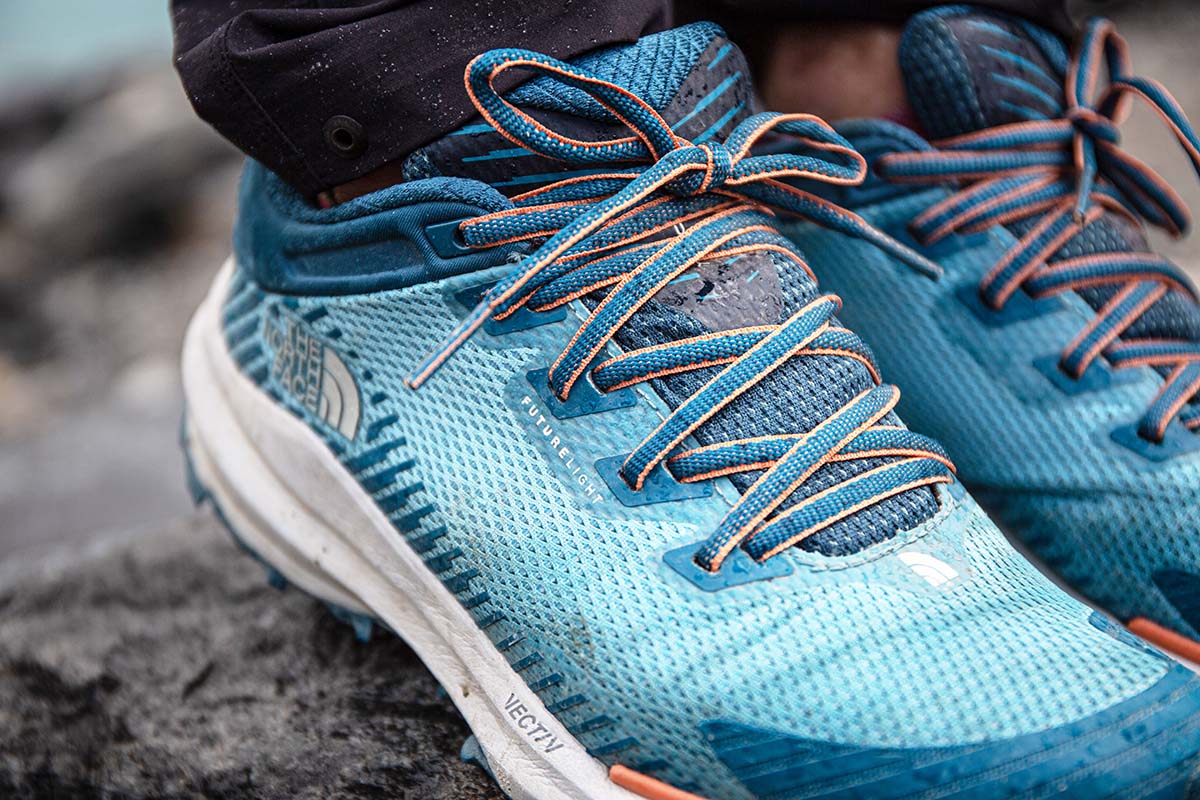 Comparison Table
The Competition
The North Face Vectiv Fastpack Futurelight is a capable and lightweight hiking shoe, but it's up against some stiff competition. One favorite (particularly among our female editors) is the Moab Speed Low from Merrell, a footwear company that specializes in trail-ready shoes and boots. For just $130, the non-waterproof Moab Speed Low offers a different take on the lightweight hiking shoe: A stiffer build and less cushioning translates to more stability on off-camber terrain but a little less overall comfort on high-mileage days. That said, many hikers will appreciate the Merrell's roomier toe box, which is more accommodating for wide or swollen feet, and the burlier upper with more TPU overlays provides a significant boost in durability. We think that the Moab Speed Low (which is also offered in a Gore-Tex version for $160) is a better overall choice for most recreational hikers, but those looking for more bounce and underfoot cushioning will prefer the TNF Fastpack.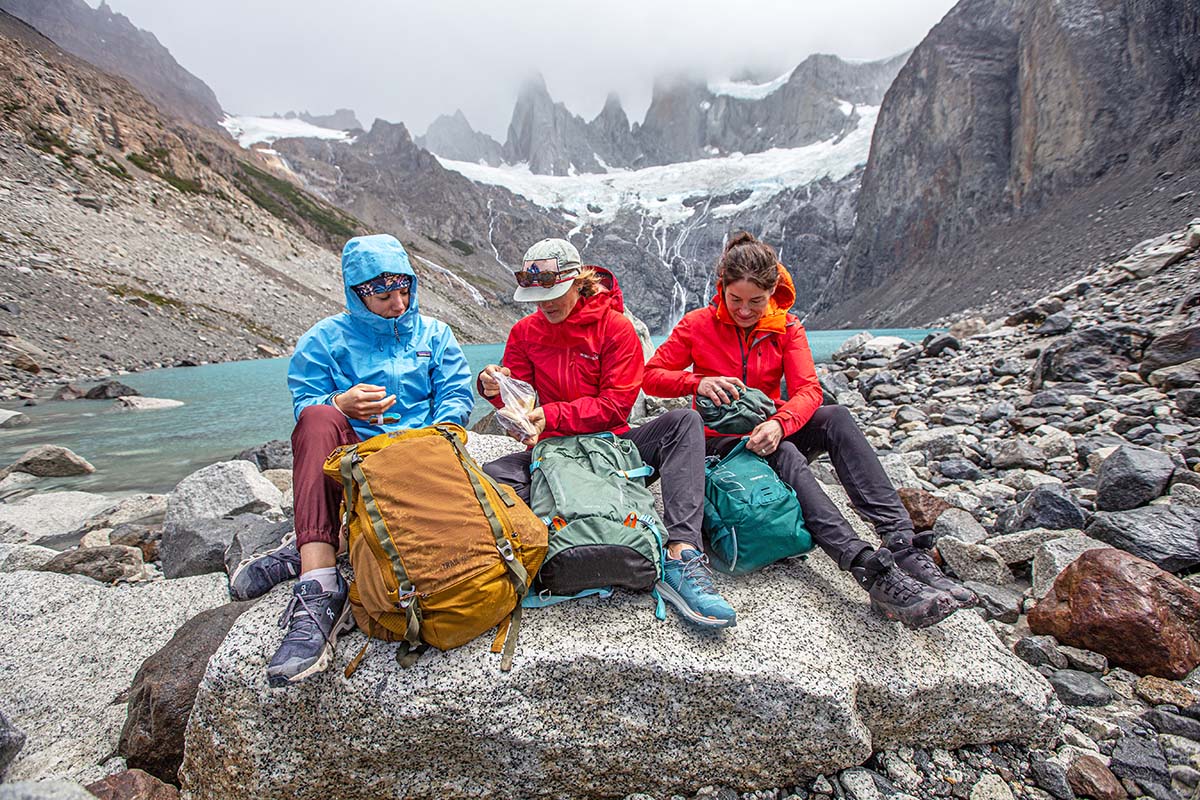 Second is the OUTpulse Gore-Tex Low, which is one of Salomon's most popular takes on the lightweight hiking shoe. The waterproof OUTpulse retails for $9 less than the Vectiv Fastpack Futurelight and tips the scales at 1 pound 5.2 ounces for the women's version, which is about 2 ounces more than the TNF. Like the Moab Speed above, the OUTpulse is a bit less cushioned than the Fastpack, which might detract from comfort on high-mileage days but translates to a bit more overall stability. Neither shoe is a showstopper in terms of durability, although the Salomon's burlier toe cap and rand might offer a slightly longer lifespan (in addition to a bit more protection). And finally—in our opinion—the OUTpulse is the more sleek and stylish design (better for those trail-to-town days), while the Fastpack's aesthetics are more run-of-the-mill. Those looking for a cushioned ride will want to stick with the TNF, but there's nevertheless a lot to like about the Salomon OUTpulse.
One of the most premium lightweight hiking shoes we've tested is the Arc'teryx Aerios FL 2 GTX, which outmatches the aforementioned shoes in terms of durability, protection, and support. At $180, the Aerios FL isn't cheap, but in our opinion, it hits the best balance of minimalism and performance. With a stiffer sole, it's farther toward the hiking shoe end of the spectrum than the Fastpack, but you still get a decent amount of cushioning for high-mileage days. Time after time, we've been impressed with Arc'teryx's burly mesh uppers, and the raised sidewalls add a lot of durability and protection on rocky and rooty trails. But it's not perfect: The Aerios' laces consistently come undone, and the fit is fairly narrow and won't work for all feet. But if the shoe fits, the Arc'teryx is a great match for those looking for lightweight yet fairly uncompromised low-tops for the trail.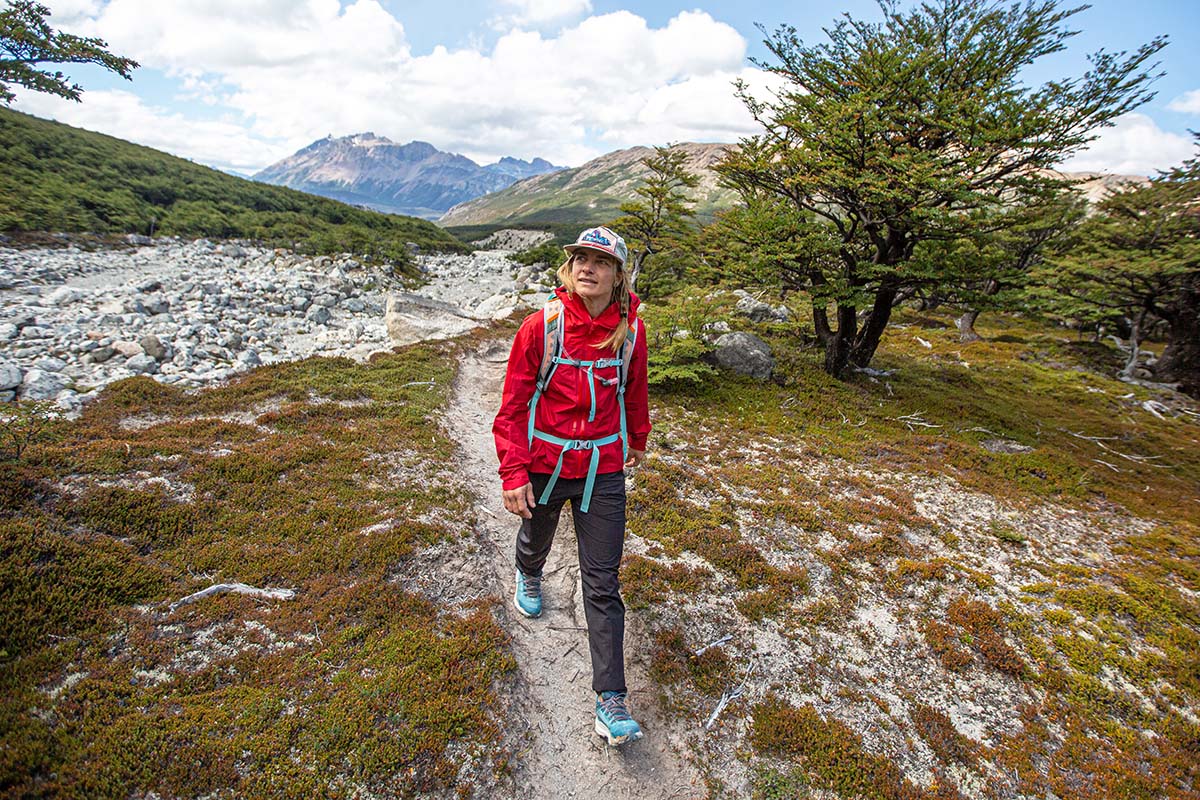 In a conversation about lightweight hiking footwear, we'd be remiss not to mention the HOKA Speedgoat 5. Designed as a trail running shoe, the Speedgoat has earned high marks among thru-hikers and fast-and-light enthusiasts for its capable design. The HOKA's traction is excellent on everything from rocks to soft terrain, and its plush underfoot cushioning and 1-pound-1-ounce build mean it's incredibly fast-paced. If you travel light and frequent easy trails, the Speedgoat is hard to beat. On the flip side, it can feel a bit tippy on technical terrain, doesn't offer much in the way of protection, and is no longer offered in a waterproof version (plus, it's pricey at $155). In the end, the Fastpack is the more well-rounded option for everything from quick day hikes to high-mileage overnights.
Last but not least is The North Face's own Vectiv Exploris 2 Futurelight, which is a beefed-up alternative to the Fastpack here. Clocking in at 1 pound 10.2 ounces, the Exploris 2 isn't particularly lightweight, but it makes up for it with a burly synthetic upper and a boost in underfoot tech. We tested the two shoes side by side, and the Exploris 2 felt bouncier, more rockered, and more cushioned—not everyone will love the max-cushioned experience, but (surprisingly) we were quick converts. What's more, its generous rands and heel and toe protection, burly lacing, and sock-like collar offer better isolation for your feet along with a longer lifespan. In the end, we'd reach for the Exploris for more demanding, mountainous terrain, but the lighter, nimbler, and more breathable Fastpack is the more suitable option for easy trails.
If you're thinking about buying gear that we've reviewed on Switchback Travel, you can help support us in the process. Just click on any of the seller links above, and if you make a purchase, we receive a small percentage of the transaction. The cost of the product is the same to you but this helps us continue to test and write about outdoor gear. Thanks and we appreciate your support!
Depending on the seller, most products ship free in the United States on orders of $50 or more. International shipping availability and rates vary by seller. The pricing information on this page is updated hourly but we are not responsible for inaccuracies.
Read More From Switchback Travel