Like many modern outdoor footwear brands, Salomon has targeted a lot of their recent focus at the lightweight end of the hiking boot market. The latest OUTpulse Mid GTX is a shining example, combining a feathery build with good overall comfort, traction, and protection for everything from short day hikes to lightweight backpacking objectives. As with many minimalist and trail runner-inspired options, the OUTpulse isn't the most supportive or durable boot, but it offers excellent responsiveness at a low weight and affordable price point. Below we break down our experiences with the women's OUTpulse Mid GTX. To see how it stacks up to the competition, see our articles on the best hiking boots and best women's hiking boots.
 
---
Table of Contents
---

Performance
Comfort
The first words that came to mind when hitting the trail with the Salomon OUTpulse Mid GTX were "athletic" and "nimble." The shoe has a very sprightly and agile feel to it, allowing me to move quickly on the trail with minimal effort. Salomon's new Fuze Surge midsole plays a big role here, providing good responsiveness and energy return on most terrain. Other comfort-related features include a SensiFit synthetic upper (shared with their women's-specific Vaya Mid GTX) that's flexible, snug-fitting, and comfortable even after long days of hiking; a curved midsole to maximize energy transfer; and a quality OrthoLite insole that provides good padding underfoot. Added up, the OUTpulse feels a lot like some of our favorite mid-height trail runners—including Altra's Lone Peak ALL-WTHR Mid and Topo Athletic's Trailventure—but with noticeably more support and stability.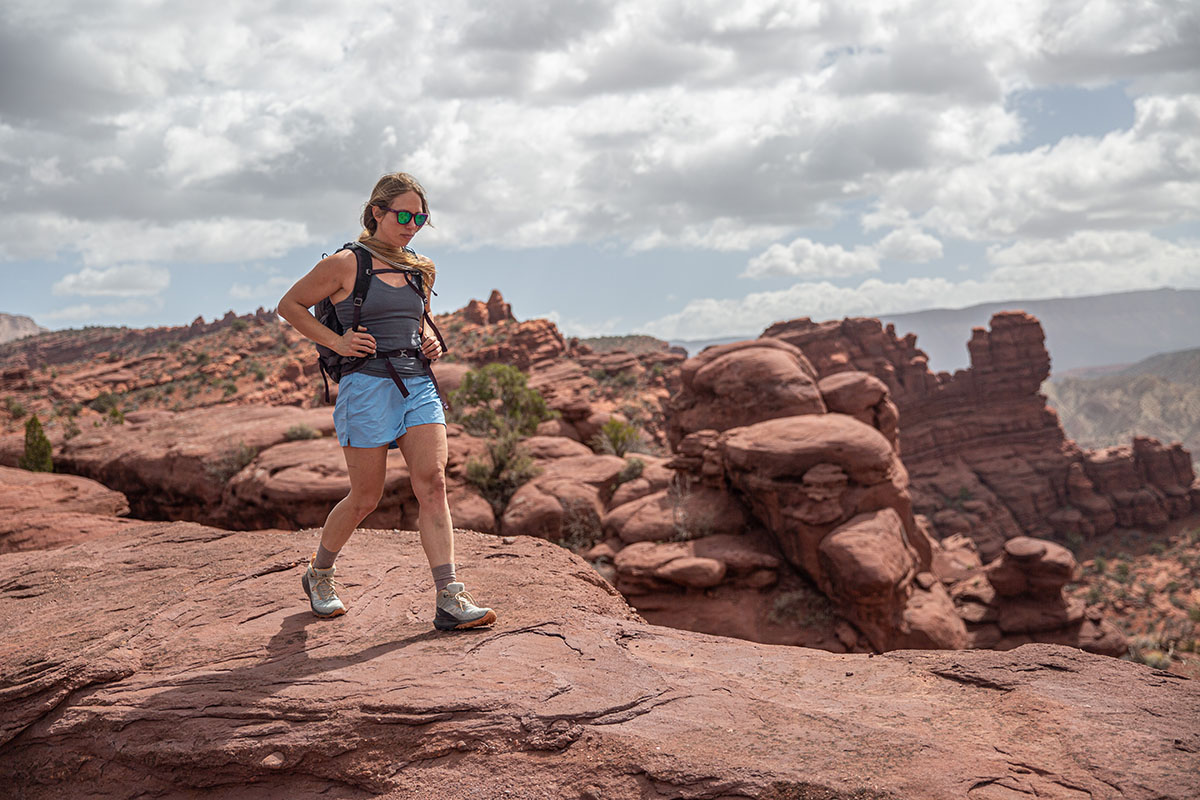 In use, the OUTpulse felt relatively soft and sneaker-like, although it was a little firmer and more supportive underfoot than the low-top version of Salomon's own OUTline that I recently tested. As a result, I imagine the OUTpulse would fare better when covering longer distances with a backpack—the OUTline's soft and lightweight design led to some foot soreness while backpacking in Patagonia with a fully loaded pack. That said, it still falls well short of burlier models like Salomon's own Quest 4 GTX or even their X Ultra series for these uses, with a noticeable drop in both stability and protection for navigating technical terrain or guarding against impacts from rocks and roots. To be fair, the OUTpulse is perfectly serviceable even for lengthy day hikes, but it wouldn't be my first choice for multi-day missions with a full pack.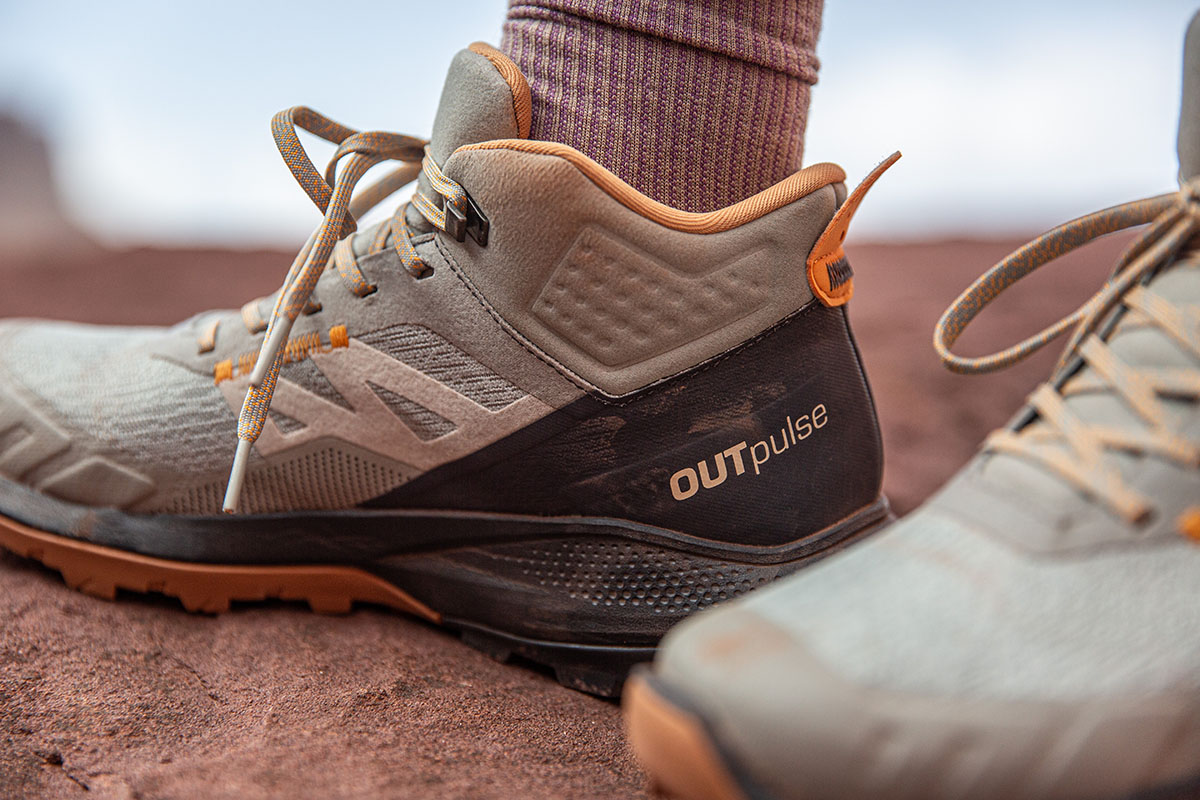 Weight
At 1 pound 7.1 ounces for my women's pair, the OUTpulse Mid GTX weighs considerably less than most of its hiking boot competition, even undercutting many popular mid-height trail runners. For reference, Salomon's similarly built Vaya Mid GTX checks in around the same weight at 1 pound 7.3 ounces, while their Cross Hike Mid GTX (1 lb. 8 oz.), X Ultra 4 Mid GTX (1 lb. 10.1 oz.), and OUTline Mid GTX (1 lb. 8.3 oz.) all come in slightly heavier. As I mentioned, even many trail running-inspired models like the Altra Lone Peak All-WTHR Mid (1 lb. 8 oz.) and Hoka One One Anacapa Mid GTX (1 lb. 12 oz.) outweigh the OUTpulse. And in use, the OUTpulse felt just as light as its weight suggests, allowing me to move quickly and fairly effortlessly over everything from well-maintained trails to slightly rocky and rooty terrain.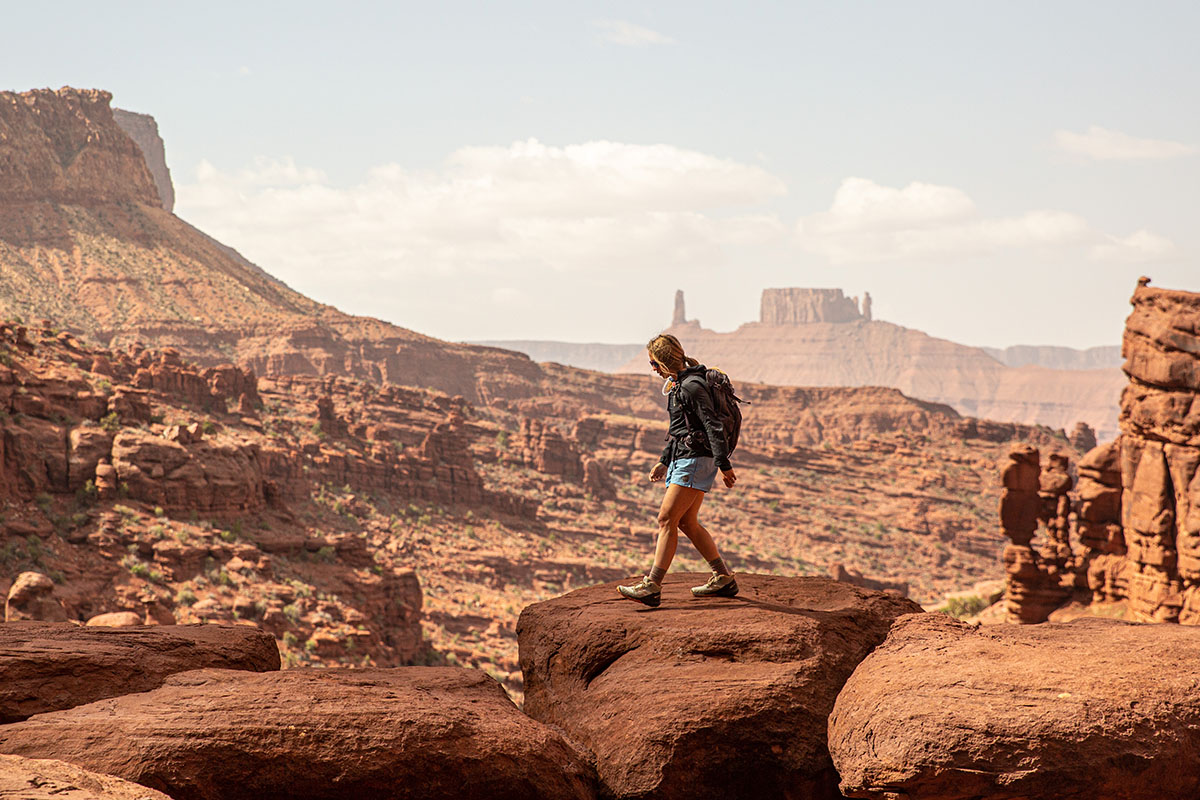 Traction
Like many of Salomon's boots and shoes that we've tested, the OUTpulse offers great all-around grip on most types of terrain. The All Terrain Contagrip rubber was an especially good match for the harder surfaces we experienced during testing in Utah and confidently bit into everything from packed dirt to smooth sandstone slabs. It's been a similar story back home in Colorado: The OUTpulse hasn't faltered on rock- and root-laden trails and has been grippy enough for short spurts of boulder-hopping while approaching climbs. Salomon doesn't provide a lug depth for the OUTpulse, but they look and feel very similar to those on my OUTline shoes, which I found to be very capable overall. Like the OUTline, I don't expect the OUTpulse to do well in thick and soft surfaces like mud due to the closer spacing between the lugs, but I'll report back after exposing the boots to those types of conditions.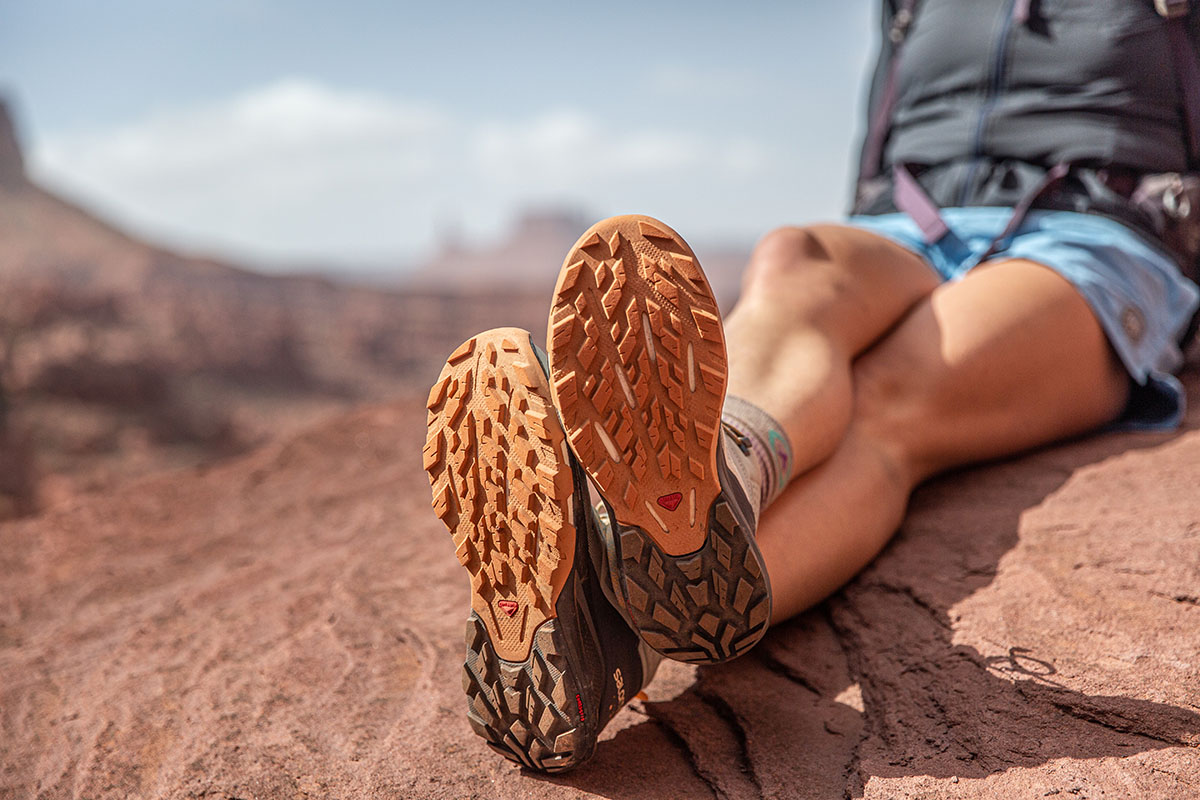 Stability and Support
Light and nimble designs often compromise on stability and support to keep weight to a minimum, and that's one of the clear downsides of the Salomon OUTpulse Mid GTX. Similar to my experiences with their Vaya Mid GTX, the OUTpulse offers decent ankle coverage, but the lacing system leads to a relatively sloppy and loose feel at the collar. In this case, Salomon included just one set of locking eyelets at the top (the Vaya has two), which makes it tough to get a secure fit and leaves a bit of unwanted room for my ankle to move around. This wasn't an issue while day hiking on well-maintained trails in Utah but became immediately apparent on more technical hikes in Colorado, where any minor mistake in foot placement led to a noticeably unstable feel (and a couple of minor ankle rolls). If you anticipate hiking over more rugged surfaces or prefer a locked-in feel, I'd recommend opting for a more stable and supportive design like the X Ultra 3 Mid GTX.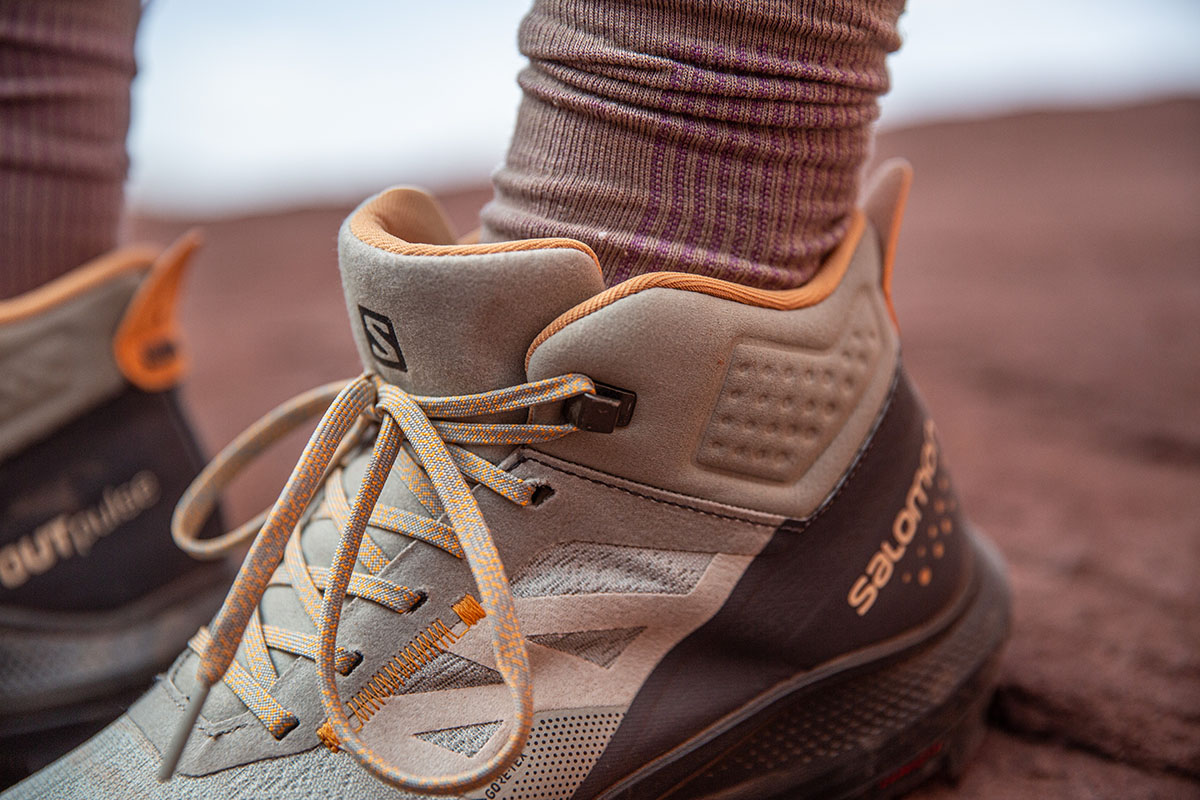 Waterproofing
We've tested a lot of boots with Gore-Tex waterproofing over the years, and they're consistently great performers when it comes to fending off moisture. The Salomon OUTpulse Mid GTX is no exception: While the Utah desert provided very few opportunities to test the boots' waterproofing capabilities, they have done very well in the wetter springtime conditions around Boulder, Colorado, effectively sealing out water while crossing creeks and easily shrugging off light afternoon rainstorms. As with any mid-height boot, however, you'll want to be careful not to submerge them in water that might come over the collar, as the Gore-Tex membrane will take a long time to dry (non-waterproof designs perform much better in this regard).

Breathability
Waterproof hiking boots typically trade some breathability for wet-weather protection, but I found the Salomon OUTpulse Mid GTX to be a pretty good breather in the desert heat. For reference, temperatures on our Utah trip reached into the mid 70s Fahrenheit but didn't lead to any sweatiness or swampiness in the boots. This is likely due to the thinner materials along the upper, including the knit-like material at the forefoot, although it's still a clear step down from mesh-heavy designs like Salomon's "Aero" variations of their X Ultra models. If you prefer the added breathability and quicker drying time of a non-waterproof design, Salomon does offer a low-cut OUTpulse without the Gore-Tex membrane, although there's no non-waterproof, mid-height model.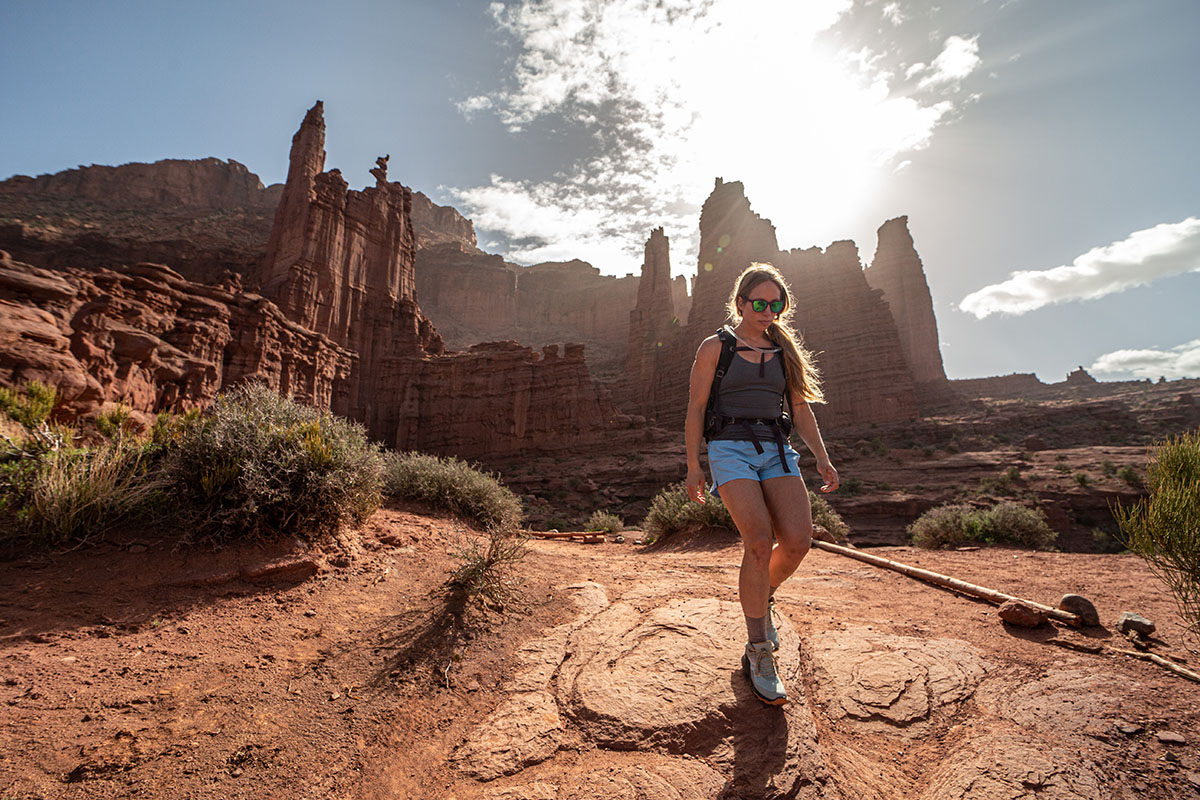 Toe and Ankle Protection
The OUTpulse isn't the most protective mid-height hiking boot on the market, but it offers enough coverage to soften the blow against direct hits to rocks and roots. We'll start with the downsides: The looser fit around the ankle makes it possible for trail debris to creep in, and the thick rubber toe cap doesn't extend over the top of the foot, providing a very limited amount of coverage in an area that comes into frequent contact with sharp objects. On the bright side, the boot's taller height has done a good job at keeping out pebbles and dirt, and being precise about foot placement has mitigated any potential issues with stubbed toes. But if you want something a little more confidence-inspiring for navigating rough terrain, I'd go with a thicker and more protective option like Salomon's X Ultra series. 

Build Quality and Durability
Given its lightweight and minimalist build, I don't expect the Salomon OUTpulse Mid GTX to last forever, but it's holding up reasonably well thus far. Two areas that I'm concerned about in particular are the knit-like material over the forefoot and connection point between the rubber toe cap and upper. The former is pretty thin and strikes me as prone to snags and abrasion over time, while the latter appears to be glued in place with noticeable gaps between the toe cap and the rest of the upper. While hiking in Utah, I was fully expecting the toe cap to start peeling back from the upper, but the adhesive hasn't failed yet.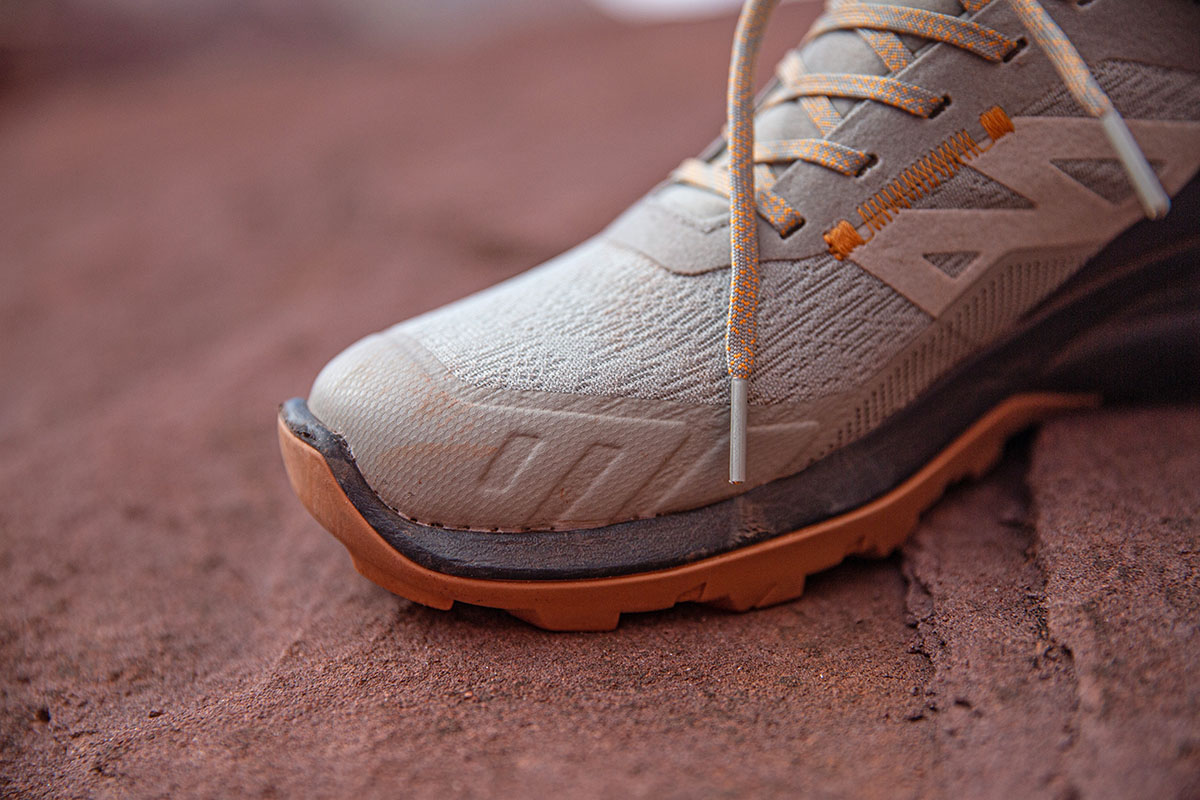 The rest of the shoe has a fairly plush and thin feel overall, from the soft suede-like material along the collar and tongue to the skinny pull tab at the heel. I've found that this has allowed dirt stains to accumulate easily in certain areas—including the top of the forefoot and around the ankles—but that's purely cosmetic and hasn't impacted the boots' performance (the darker colorways will also probably fare better than mine did). It's still too early to give a definitive report on long-term durability, but given these experiences, I imagine the OUTpulse will wear down more quickly than burlier designs like Salomon's X Ultra or Quest 4. But I haven't had any notable issues to date, and my pair looks almost like new after multiple hikes in Utah and Colorado (other than the aforementioned stains from ever-present desert dust).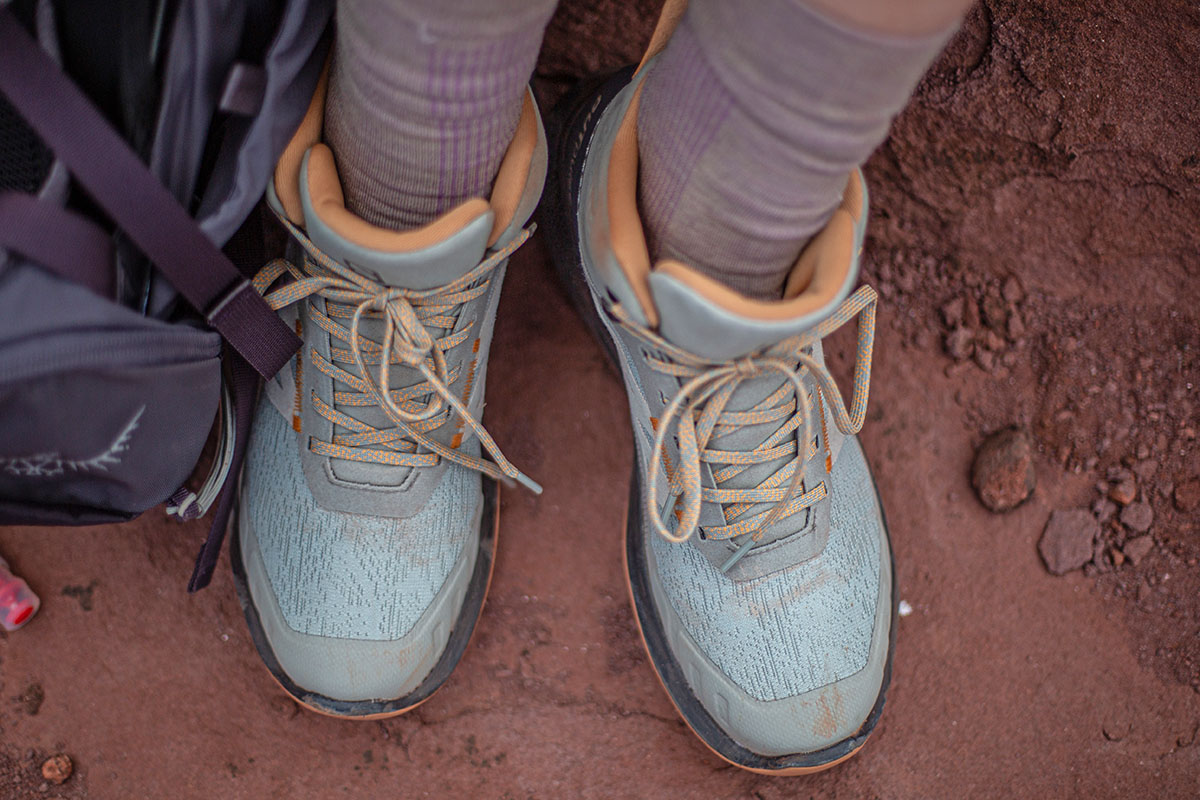 Fit and Sizing
I typically wear a women's 8.5 in hiking shoes, and that size in the Salomon OUTpulse Mid GTX was just about perfect for me. For reference, I have relatively average feet that aren't particularly wide or narrow, and the boot offered an accommodating but close-fitting shape that hugged my entire foot nicely. Both the toe box and heel cup are wide enough to be comfortable all day but snug enough to keep things in place when ascending or descending steep slopes. My only real fit-related complaint has to do with the lacing system, which (as I noted above) makes it hard to get a locked-in feel around the ankle due to the single locking eyelet and sloppy-feeling collar. A final and much smaller gripe is that the pull tab at the back of the boot is too short to be useful when pulling the boots on (I wish Salomon had included a standard loop here).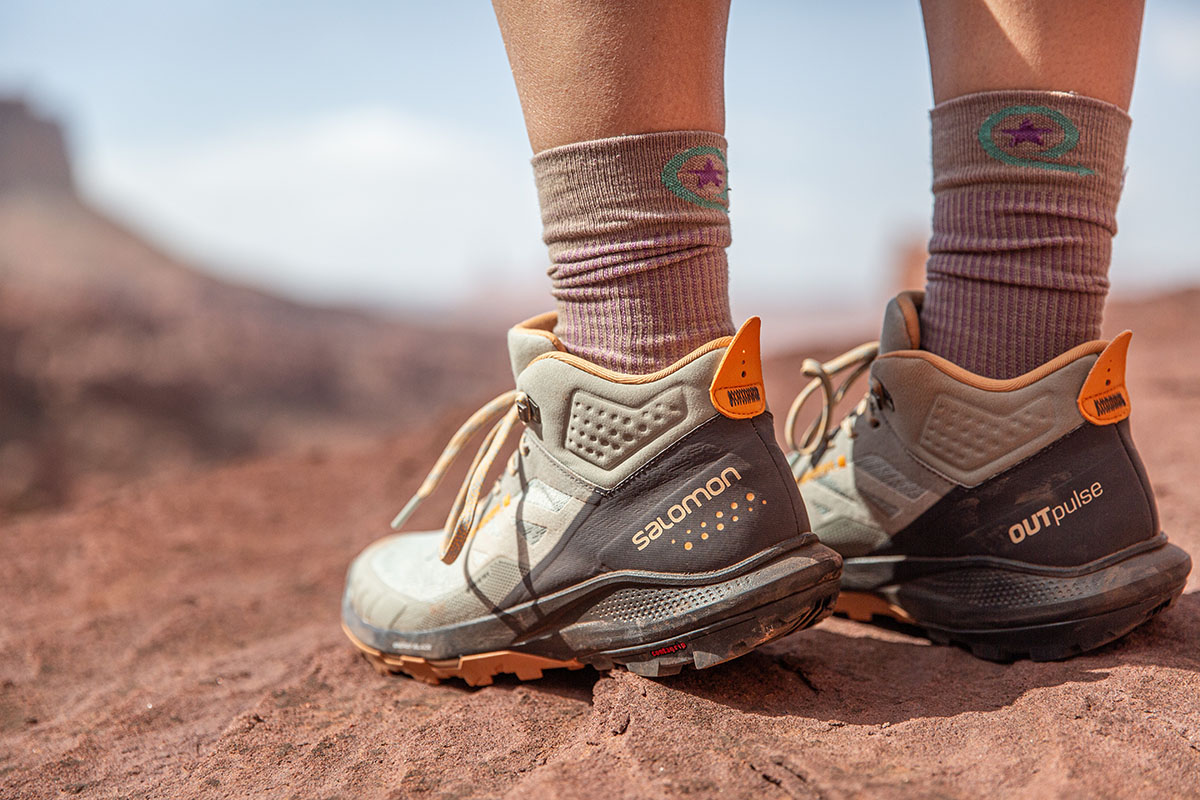 Other Versions of the Salomon OUTpulse
I brought the new women's OUTpulse Mid GTX to Utah for testing, and the collection also includes a dedicated men's model, as well as low-top variations both with and without waterproofing. Starting with the men's version, you get an identical feature set and overall construction but at a slightly heavier weight (1 lb. 10.8 oz.) and with different colorway options. If you don't need the ankle-height coverage of the mid-height model, the low-top OUTpulse GTX will save you $20 and around 2 ounces per pair (for the women's version). And for those who frequent especially warm and dry climates, the standard OUTpulse forgoes the Gore-Tex lining and checks in at just $120 and 1 pound 3.8 ounces for the women's pair. Salomon hasn't released a non-waterproof variation of the mid-height boot yet, but we hope to see one offered down the line.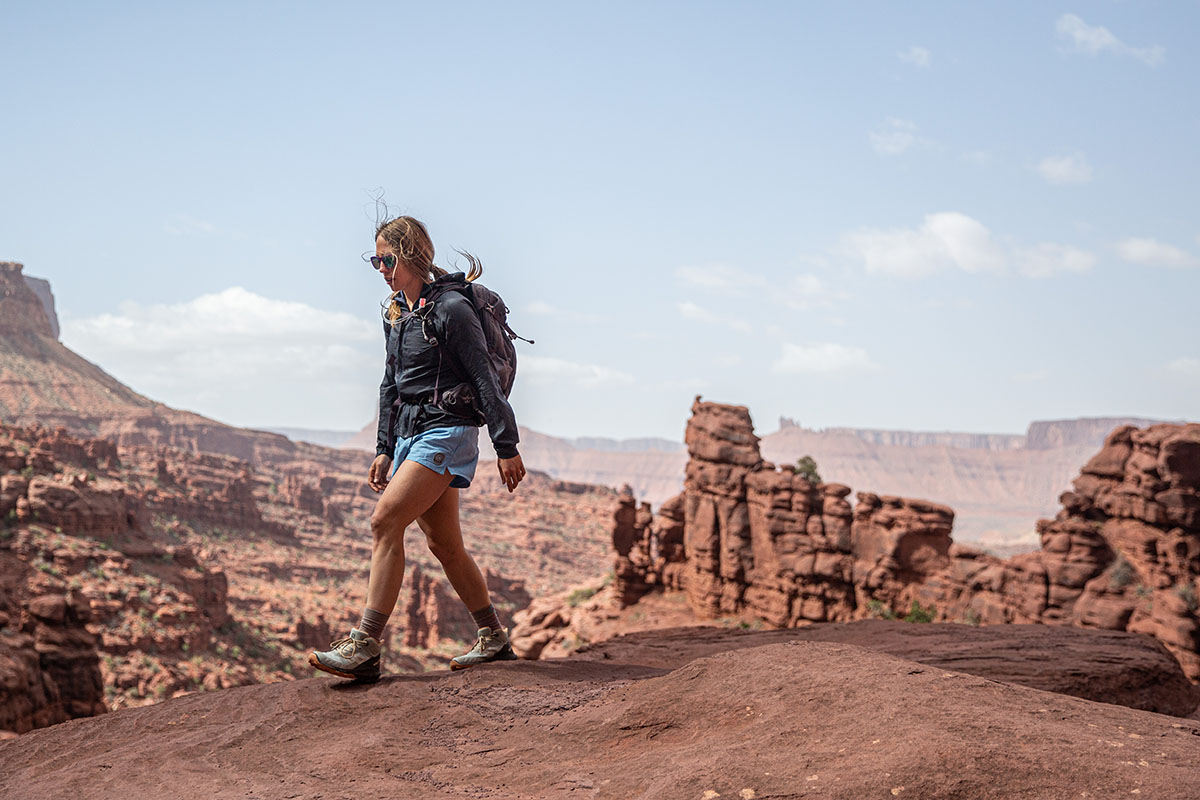 What We Like
With a highly responsive and sprightly personality, the OUTpulse feels a lot like a trail runner but with a noticeable boost in support and stability.
One of the lightest mid-height designs on the market at just 1 pound 7.1 ounces per pair.
A pretty good value at $160 considering the mid-height build and quality Gore-Tex waterproofing.
Like many of Salomon's more recent releases, the OUTpulse has a very modern and streamlined look that wears well around town.

What We Don't
Added room around the ankle led to a fairly sloppy and loose feel, and the single locking eyelet at the collar makes it hard to achieve a secure fit.
Thin, knit-like upper strikes me as a weak point in the design and prone to snags and abrasion over time.
There are noticeable gaps where the toe cap connects to the rest of the upper, leading to concerns about the adhesive failing and causing it to peel back.
Closer spacing between the lugs means they probably won't do well in thick and soft surfaces like mud, although I've been impressed by the grip thus far. 


Comparison Table
The Competition
The OUTpulse Mid GTX is an intriguing addition to the hiking boot market, combining an athletic, sneaker-like feel with the protection that many want in a mid-height design. But there's no shortage of competition in 2022, and Salomon's in-house lineup is a good place to start. Their women's-specific Vaya Mid GTX is the closest competitor to the OUTpulse, offering a similar mix of weight (1 lb. 7.3 oz.) and overall performance. Like the OUTpulse, the Vaya's SensiFlex synthetic upper offers a well-padded and foot-hugging feel, has a soft collar around the ankle for support and comfort, and uses the same All Terrain Contagrip rubber compound for good grip over a variety of surfaces. That said, the Vaya strikes us as a little better-built overall, including a stitch-free upper that's less prone to delamination and tears and a more generous toe cap that provides better protection and coverage. Tack on an identical $160 price point, and we consider the Vaya the more well-rounded design in this weight class.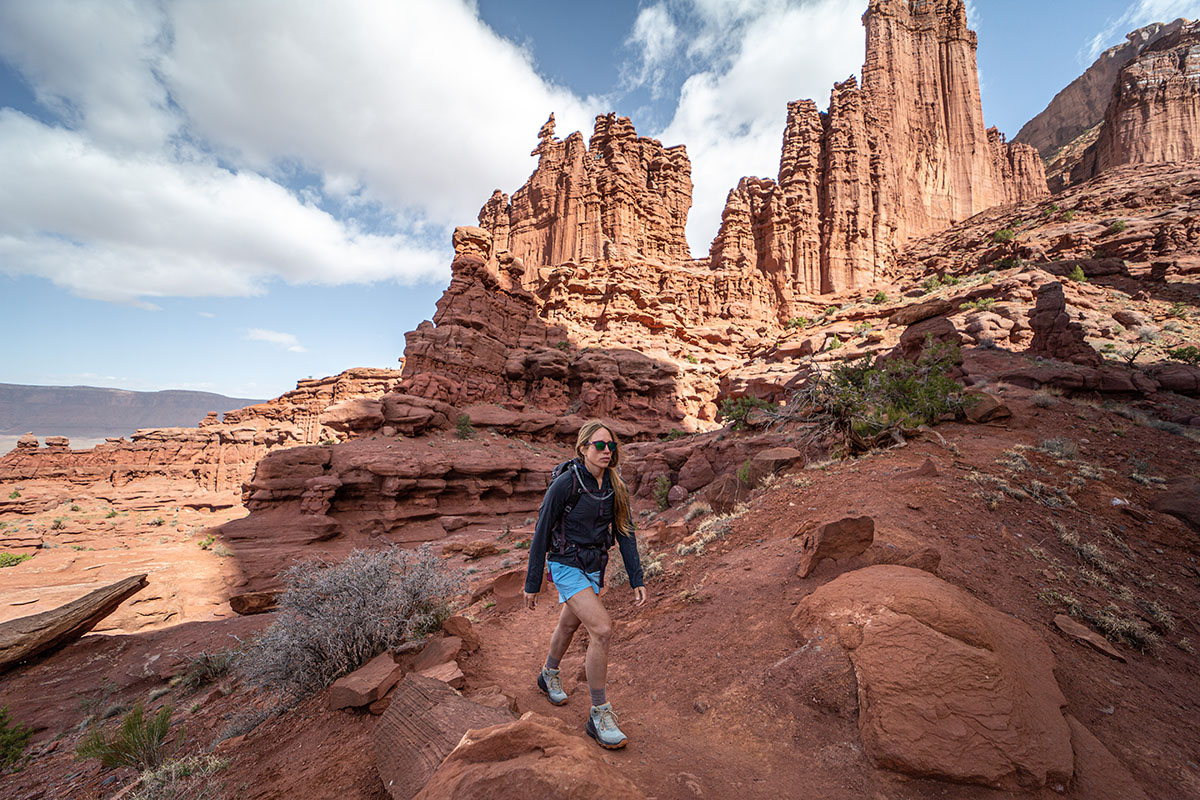 Next up is Salomon's OUTline Mid GTX. Stacked up against the OUTpulse, the OUTline is a little heavier at 1 pound 8.3 ounces per pair but retains impressive flexibility and grip for everything from long day hikes to light backpacking. In parsing out the differences, the OUTline costs $10 less and has a slimmer shape than the OUTpulse (it may be the better option for those with narrow feet). In testing the low-top variation, we also found the OUTline to be noticeably softer than the OUTpulse, which translated to good all-day comfort on easy trails but led to noticeably sore feet on harsher terrain with a full pack. The laces were also prone to coming untied, which only added to the sloppy and unsupportive feel. Finally, neither shoe strikes us as particularly durable with thin and abrasion-prone materials. But the OUTpulse wins out in weight and underfoot support, which gives it the edge for us.
A final in-house option to consider is Salomon's X Ultra 3 Mid GTX, which is our top-rated lightweight option this year. At 1 pound 13.6 ounces, it's considerably heavier than the OUTpulse and aforementioned Vaya and OUTline, but the weight penalty comes with notable performance benefits, including significantly better stability and protection. Durability is another advantage: The X Ultra's leather reinforcements and generous toe cap have a hardwearing and more confidence-inspiring feel, and our pair has held up very well to regular use and abuse. To be sure, the X Ultra 3 still falls short of taller and burlier options like Salomon's own Quest 4 for long-distance backpacking with a heavy pack, but day hikers will find the combination of weight and overall performance hard to beat.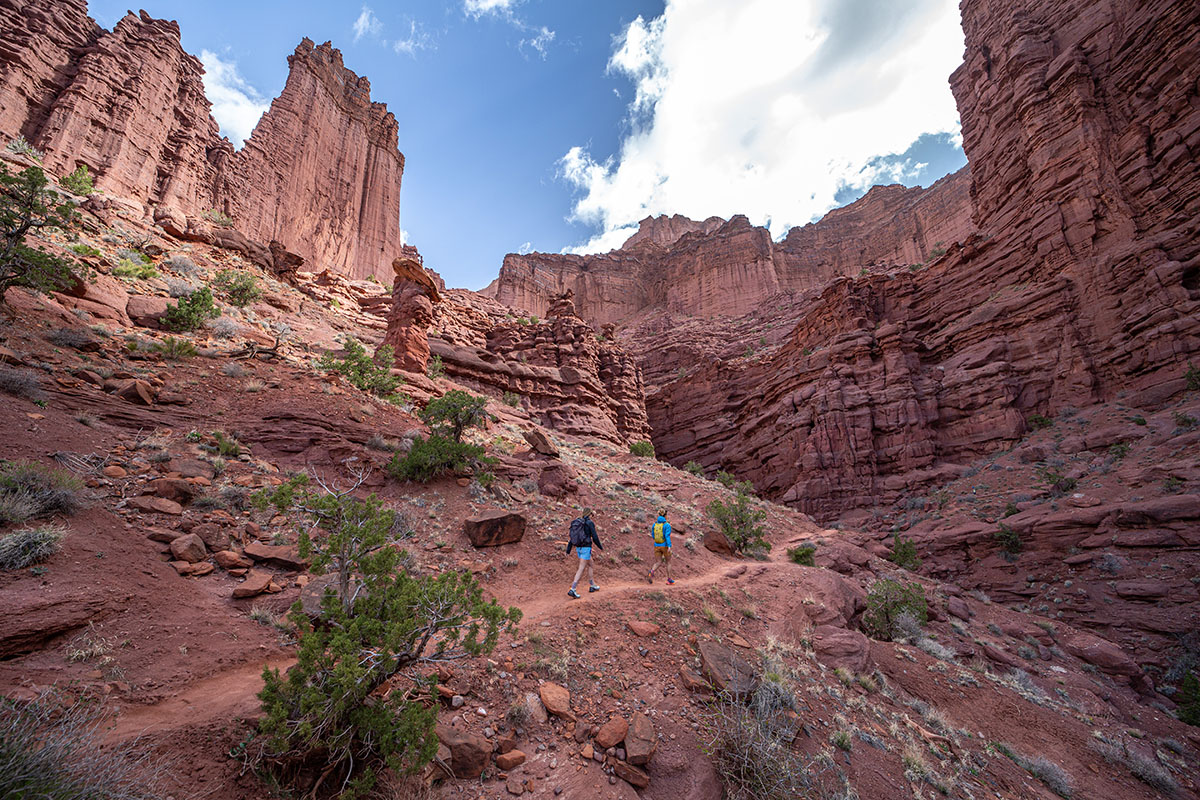 Outside of Salomon's collection, two other lightweight hiking boots to have on your radar are Hoka One One's Anacapa Mid GTX and Altra's Lone Peak ALL-WTHR Mid. Starting with the Anacapa, you get Hoka's well-loved springy midsole and comfort-first ethos in a more stable and supportive design than the OUTpulse. The Anacapa is a little heavier than the Salomon at 1 pound 12 ounces for the women's pair, but the boots offer a smooth ride, include durable nubuck leather with quality Gore-Tex waterproofing, and still have a very fast-moving and trail runner-like personality. Our only major gripe while testing the Anacapa was traction: The Vibram outsole does well on packed trails, but the large section of blown rubber at the middle makes it hard to trust on surfaces like smooth rocks. It's also $20 pricier than the Salomon at $180, although the bump in on-trail performance will be worth the added investment for most.
A final option to have on your radar is Altra's Lone Peak ALL-WTHR Mid, which is a beefed-up version of their legendary Lone Peak Trail runner. In short, the Lone Peak combines the ankle height of a hiking boot with the Lone Peak's signature wide toe box, generous cushioning, and zero-drop shape, which translates to excellent out-of-the-box comfort and decent protection and support for navigating tricky terrain with a pack. Like the OUTpulse, the Lone Peak is also very light at just 1 pound 8 ounces per pair with a quick and nimble feel to match. However, as with the OUTpulse, the Lone Peak can feel sloppy and hard to trust on more technical ground, and the thin and airy upper is more prone to tears and abrasion than thicker designs like the X Ultra above. In the end, given the similarities in weight and overall performance, a final decision will likely come down to preferences on fit, price, and trail feel: The Altra is wider than the OUTpulse, costs $10 more, and offers a closer connection to the ground thanks to the zero-drop design. 
If you're thinking about buying gear that we've reviewed on Switchback Travel, you can help support us in the process. Just click on any of the seller links above, and if you make a purchase, we receive a small percentage of the transaction. The cost of the product is the same to you but this helps us continue to test and write about outdoor gear. Thanks and we appreciate your support!
Depending on the seller, most products ship free in the United States on orders of $50 or more. International shipping availability and rates vary by seller. The pricing information on this page is updated hourly but we are not responsible for inaccuracies.
Learn More About Hiking Gear