Salomon Vaya Mid GTX
Price: $160
Weight: 1 lb. 7.3 oz.
Waterproof: Yes (Gore-Tex)
What we like: Light weight and quality materials at a reasonable price.
What we don't: Even laced tightly, the boot feels loose and relatively flimsy around the ankles.
See the Salomon Vaya Mid GTX
Salomon's hiking boot collection runs the gamut from light-and-fast designs for covering ground quickly to burly leather models for intensive, multi-day backpacking trips. The women's-specific Vaya Mid GTX falls squarely in the former category, with a scant 1-pound-7.3-ounce weight (per pair) and impressively nimble, sprightly feel on the trail. It's not the most supportive or confidence-inspiring option for navigating technical ground with a heavier pack, but the comfort, flexibility, and feathery feel are a great match for moving fast and efficiently over less aggressive terrain. Below we outline our experiences with the Vaya Mid GTX. To see how it stacks up to the competition, check out our article on the best women's hiking boots.
 
---
Table of Contents
---

Performance
Comfort
Upon trying it on for the first time, I was struck by the Salomon Vaya Mid GTX's well-padded and foot-hugging feel. And my experiences on the trail only confirmed those initial impressions: the SensiFlex synthetic upper is flexible and comfortable even after long days of hiking, the collar is soft and nicely cushioned, and the flat laces and lack of stitching along the upper mean there are no pressure points or areas of uncomfortable rubbing. I do wish the EVA midsole were a little thicker—I was able to feel sharp rocks during our fairly technical ascent of Colorado's Mount Sneffels, which was especially evident as my feet grew more and more tired throughout the day. But to be fair, there's plenty of squish for the easy to moderate terrain that the shoe is designed for.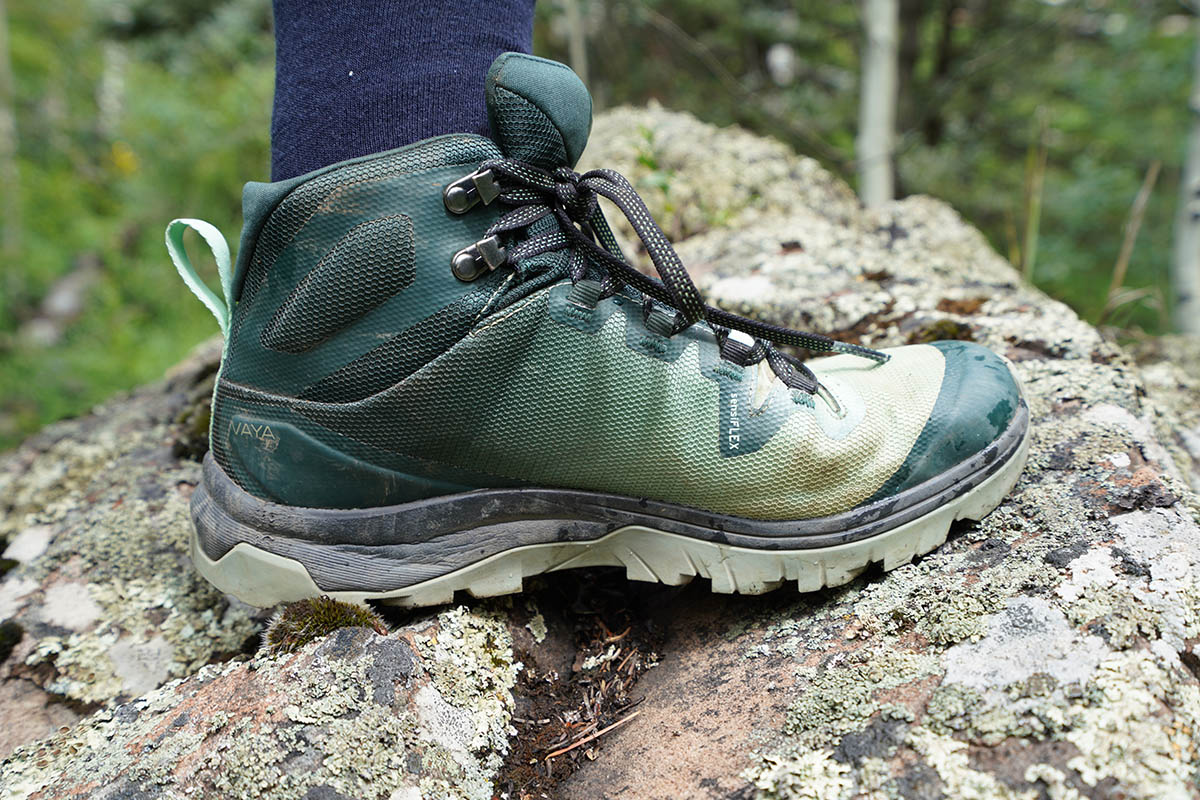 Weight
At 1 pound 7.3 ounces for my women's pair, the Vaya Mid GTX falls toward the lightweight end of the hiking boot spectrum. Within Salomon's own lineup, competitors including the Cross Hike Mid GTX (1 lb. 8 oz.), X Ultra 4 Mid GTX (1 lb. 11.2 oz). and OUTline Mid GTX (1 lb. 8.6 oz.) all come in slightly heavier. Even many trail running-inspired models like Altra's Lone Peak All-WTHR Mid (1 lb. 8 oz.) and Hoka One One's Anacapa Mid GTX (1 lb. 12 oz.) outweigh the Vaya. And in practice, the Vaya feels as light as its weight suggests: the first time I took them of the box, I was struck by how feathery the boots felt in hand, and they've never been cumbersome or anything less than sprightly on the trail.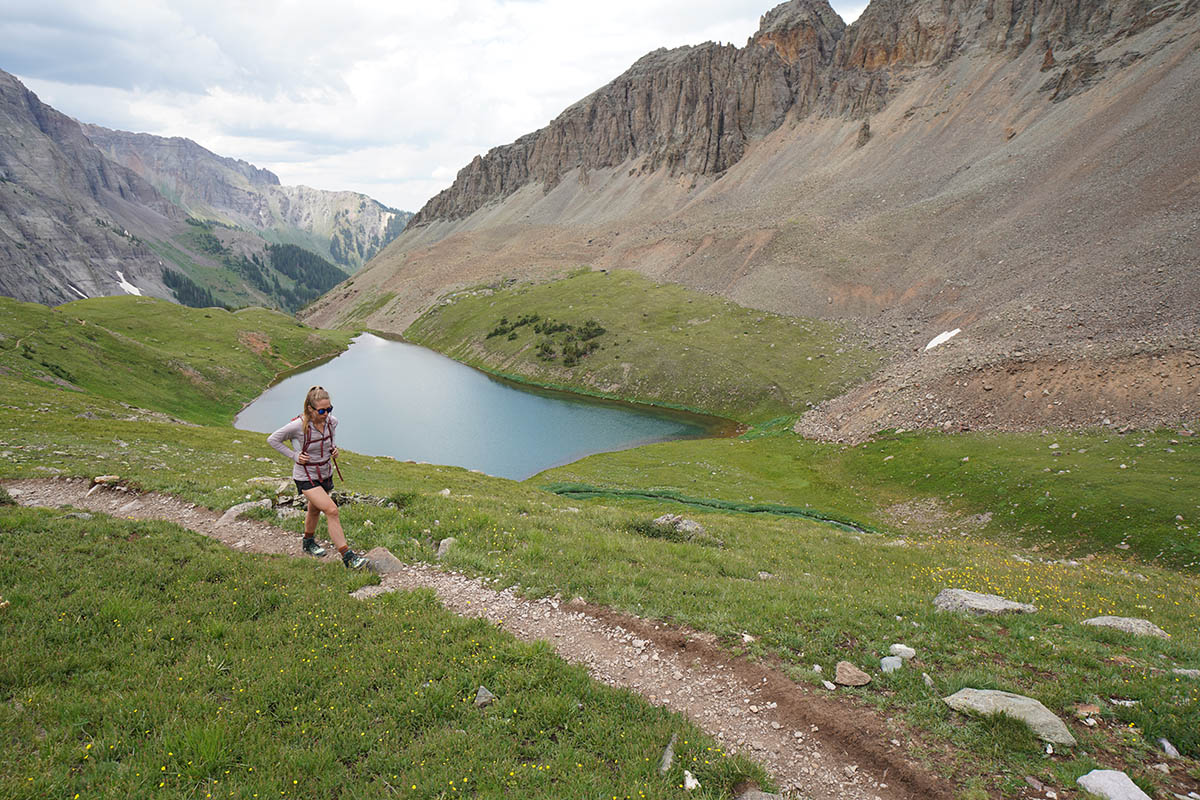 Traction
The Vaya Mid isn't the grippiest option on especially technical ground, but it will get the job done on most day hikes and light backpacking trips. The good news is that the Contagrip MD rubber is long-lasting (it's Salomon's most durable compound) and confidence-inspiring over a variety of surfaces, including smooth slabs, dirt, and other dry, packed terrain. That said, the shoes were noticeably squirrely during our descent of Mount Sneffels, particularly on sections covered in small, loose rocks (one editor accurately referred to it as "kitty litter"). Granted, we were moving quickly and carrying packs, but the shoes slipped and faltered frequently enough to give me pause and make me more deliberate with each step. And on our hike out, I also noticed some slippage while rock hopping during creek crossings and navigating over slimy logs. This is where tackier, more aggressive lugs would come in handy—like what you get with Salomon's X Ultra 4 Mid GTX—but again, for most terrain, the Vaya Mid is perfectly serviceable.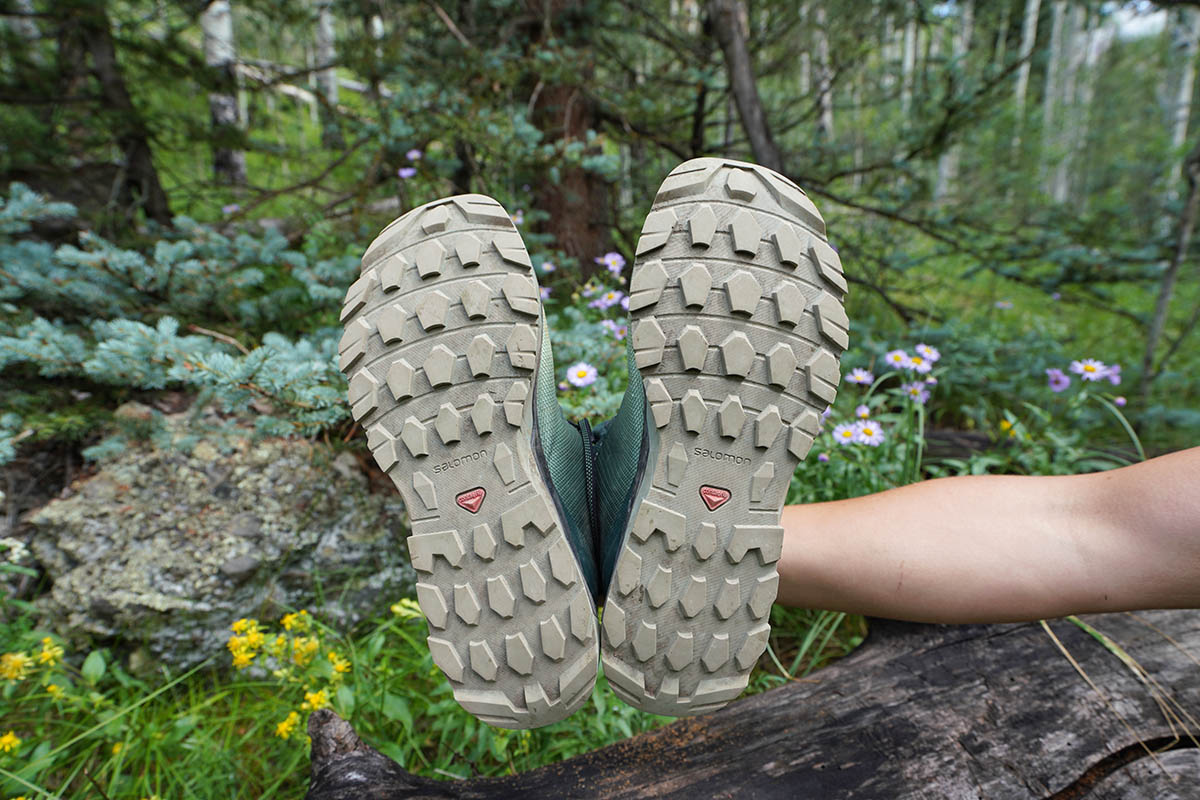 Stability and Support
Light and nimble designs often sacrifice some stability and support in the name of shaving weight, and the Salomon Vaya Mid GTX is no exception. Ankle coverage is good overall—the collar sits just above the ankle and doesn't dip down at the back like the X Ultra—but the lacing system gives the boot a relatively flimsy and loose feel at the top. Despite the two sets of locking eyelets near the collar, I wasn't able to get a secure, snug fit and always had a bit of unwanted room for my ankle to move around. This wasn't an issue while day hiking over easier ground, but it was very apparent while ascending and descending Mount Sneffels, where the route was fairly challenging and required precise foot placement on talus and other loose terrain. If you anticipate hiking over more rugged surfaces or prioritize a locked-in feel, I'd recommend stepping up to the X Ultra or an even sturdier option like the Quest 4.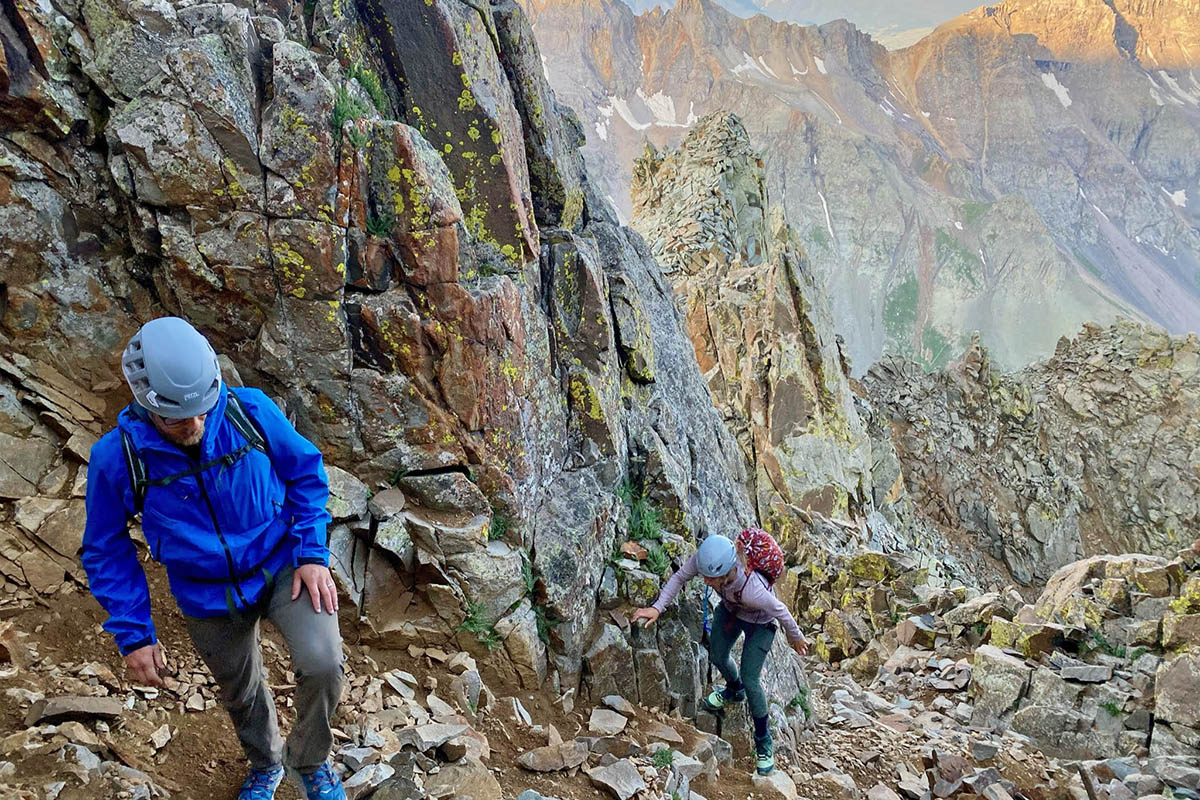 Waterproofing
Gore-Tex is the gold standard among waterproofing technologies, and the Vaya has predictably performed very well in the wet. Our backpacking trip in the San Juans involved numerous water crossings, one of which I used as a testing opportunity for the boot by submerging it to just below the top of the collar. The result: no water made its way inside to my socks. And it's worth noting that compared to other Gore-Tex-equipped models I've worn, the Vaya dried out relatively quickly after that soaking, which is likely due to the thinner synthetic upper. By contrast, leather designs like Salomon's own Quest 4 tend to grow heavier with moisture and take much longer to dry.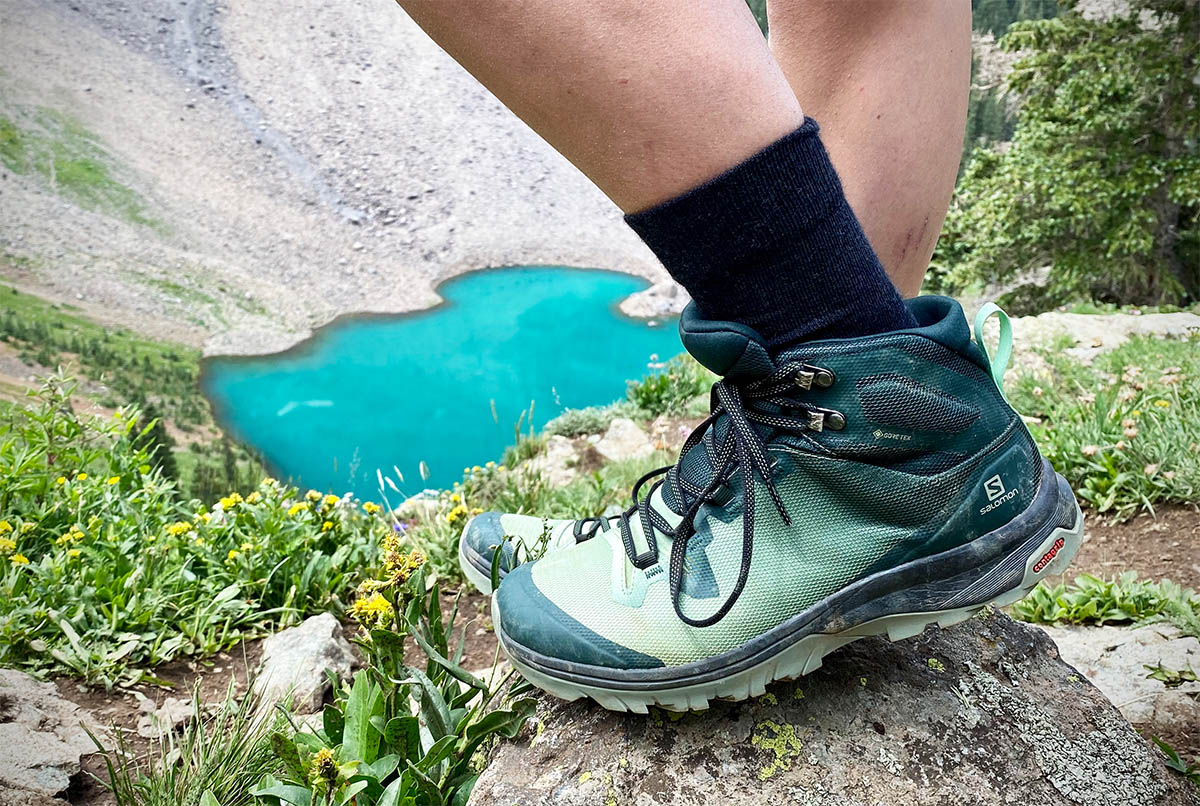 Breathability
The downside to the Vaya's waterproof construction is a slight drop in breathability. To be clear, the boot is a good overall breather considering its design, but my feet grew a little warm and sweaty in the 70-degree temperatures we experienced in Colorado. It was nothing major—my lightweight hiking socks were still relatively dry at the end of each day—but I did notice the clamminess during the mid-day heat. On the flipside, the Gore-Tex membrane should provide a nice dose of added insulation in colder temperatures. And if you prefer the added breathability of a non-waterproof design, Salomon offers a low-cut Vaya without the Gore-Tex membrane, although there's no non-waterproof, mid-height model.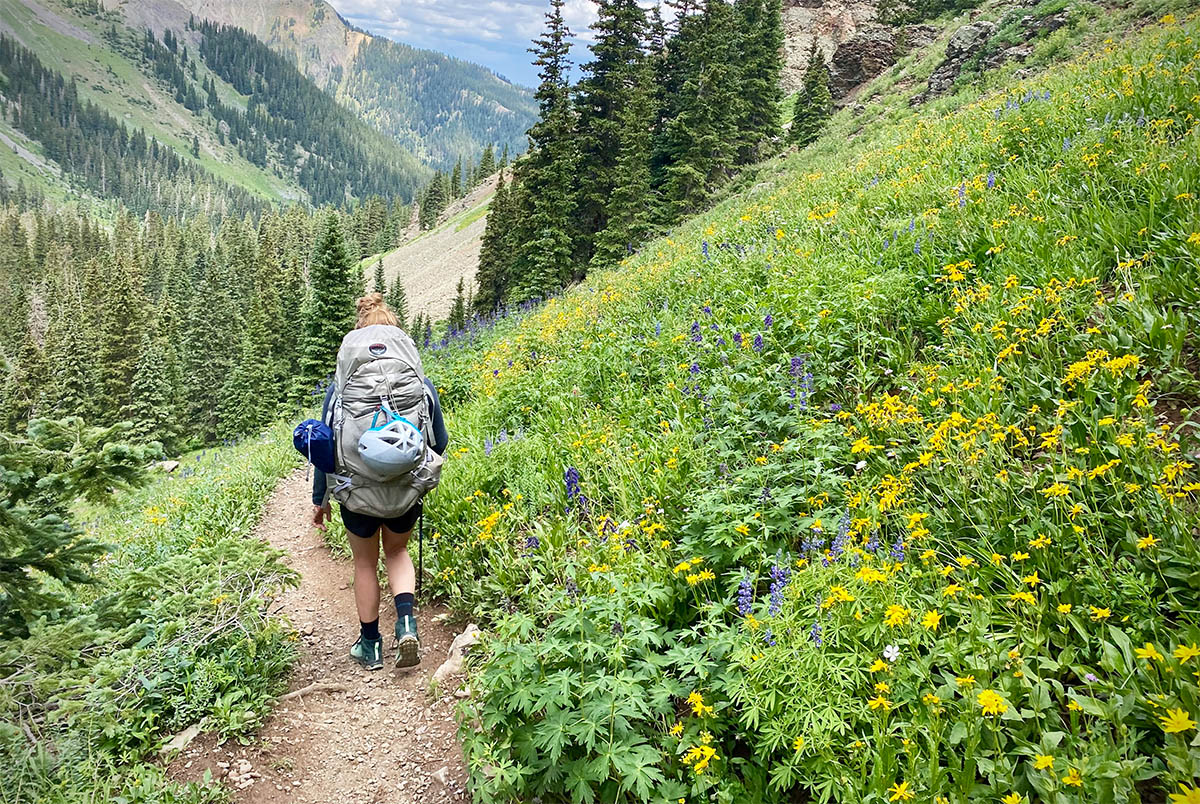 Toe and Ankle Protection
The Vaya is far from the most protective mid-height hiking boot on the market, but it provides a decent amount of coverage and assurance against harsh impacts on the trail. As I touched on above, I found it difficult to get a snug fit at the ankle, which results in a bit of room at the top of the boot where trail debris like pebbles and dirt can creep in. That said, this hasn't proven to be too big of an issue given the boot's taller height, and the rest of the design is solid overall: the toe cap effectively takes the sting out of direct hits from rocks or roots, and there's enough padding to protect when sliding through tighter spaces (such as between rocks).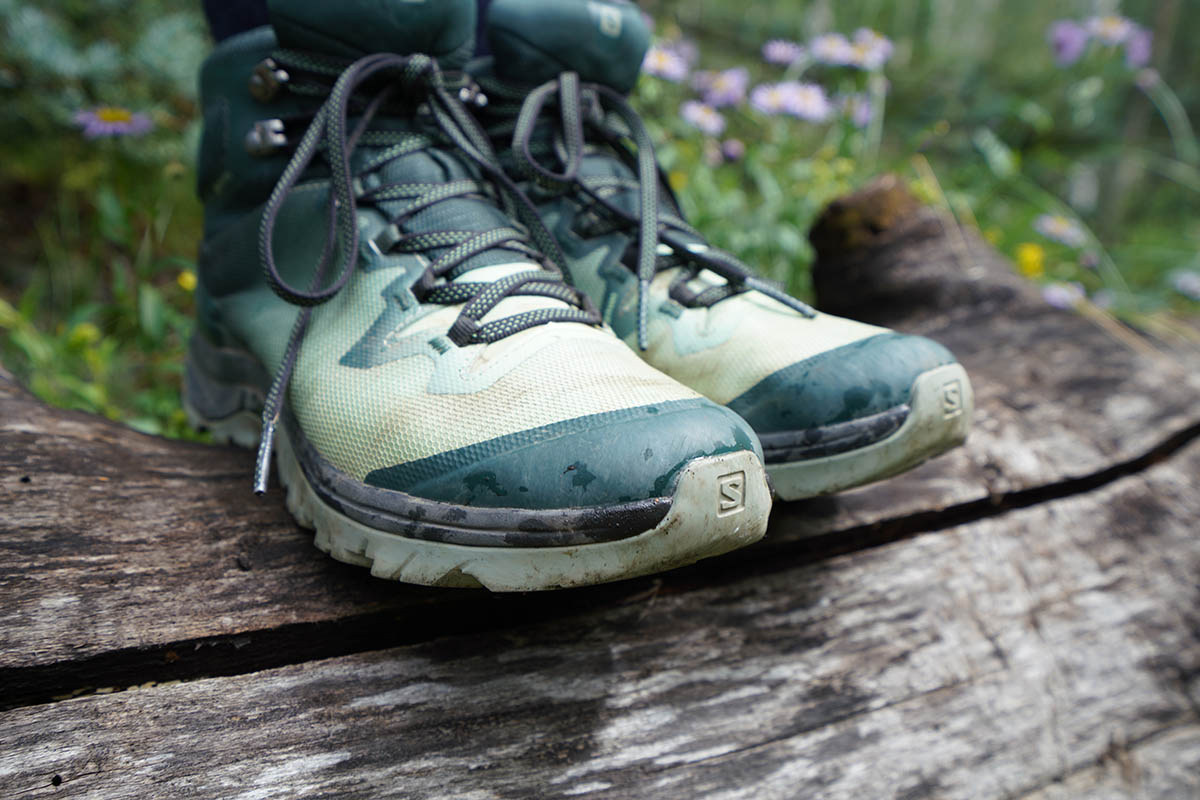 Build Quality and Durability
Salomon makes some of the highest-quality hiking boots and shoes on the market, and the Vaya Mid GTX is yet another solid and well-built design. Everything from the Contagrip outsole to the synthetic upper have held up well throughout testing with no signs of wear or deterioration to date. The thinner upper does strike me as a potential point of weakness over time compared to burlier and thicker leather designs, but boot's light and nimble feel is worth that tradeoff, in my opinion. And not everyone will like the decidedly athletic look with faded, two-tone colorways—it's not the most stylish option for transitioning from the trail to around town—but that's purely a matter of personal preference. I'll need more trail time to make a definitive statement about long-term durability, but I expect most hikers will be able to get a reasonably long life out of the boots provided they stick to the easier terrain that the Vaya designed for.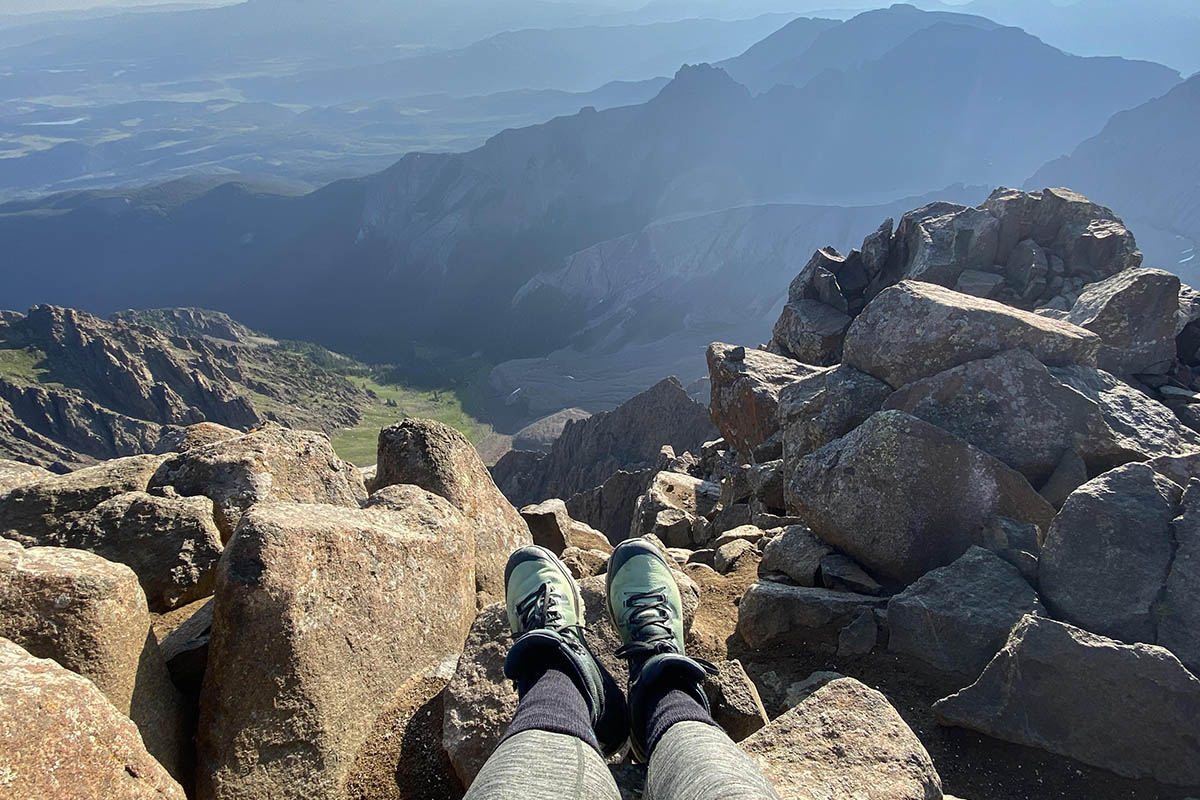 Fit and Sizing
I typically wear a women's 8.5 in Salomon footwear, and that size in the Vaya proved to be a pretty ideal match. Apart from the aforementioned looseness at the ankle, the rest of the boot hugs my foot nicely with no areas that are overly tight or roomy. It's just about perfect lengthwise too: I've experienced very minimal heel slippage on climbs thanks to the snug heel, and I'm able to cinch down the lower laces effectively around my forefoot to prevent unwanted movement. There is a bit of added space in the toe box that was noticeable when I first tried on the boots, but I've found it's just enough to account for natural foot swelling after long days on the trail.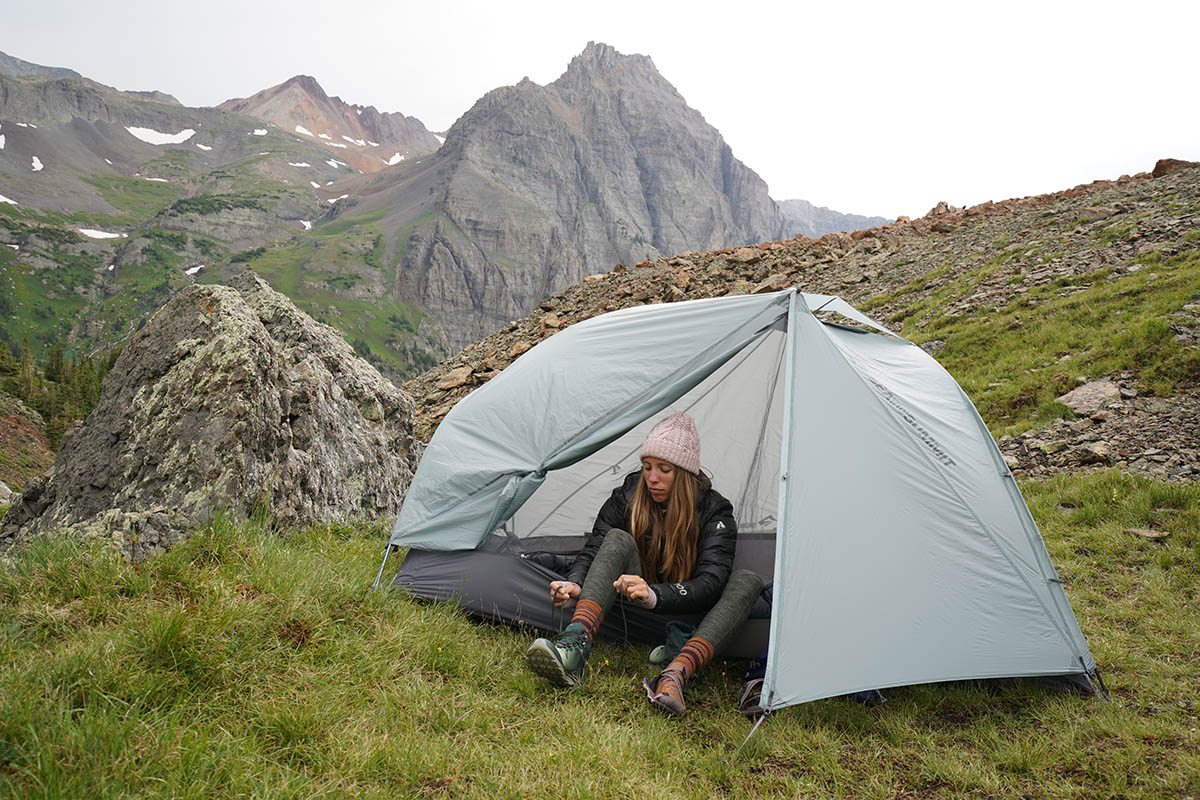 Other Versions of the Salomon Vaya
In addition to the Vaya Mid GTX tested here, Salomon also offers low-top variations both with and without waterproofing, as well as two insulated options for winter use. If you don't need the added ankle coverage of the mid-height model, the Vaya GTX will save you $20 and around 4 ounces in weight per pair (it checks in at 1 lb. 3.8 oz.). The non-GTX low-top Vaya is even cheaper at $120 and lighter at 1 pound 2 ounces. Rounding out the collection, the Vaya Blaze ($140) comes equipped with 200-gram Thinsulate insulation, a faux fur lining, and ClimaSalomon waterproofing for cold-weather hiking, while the Vaya Powder ($160) is a more casual winter option for uses like shoveling the driveway and comes with a boost in warmth (400g Thinsulate).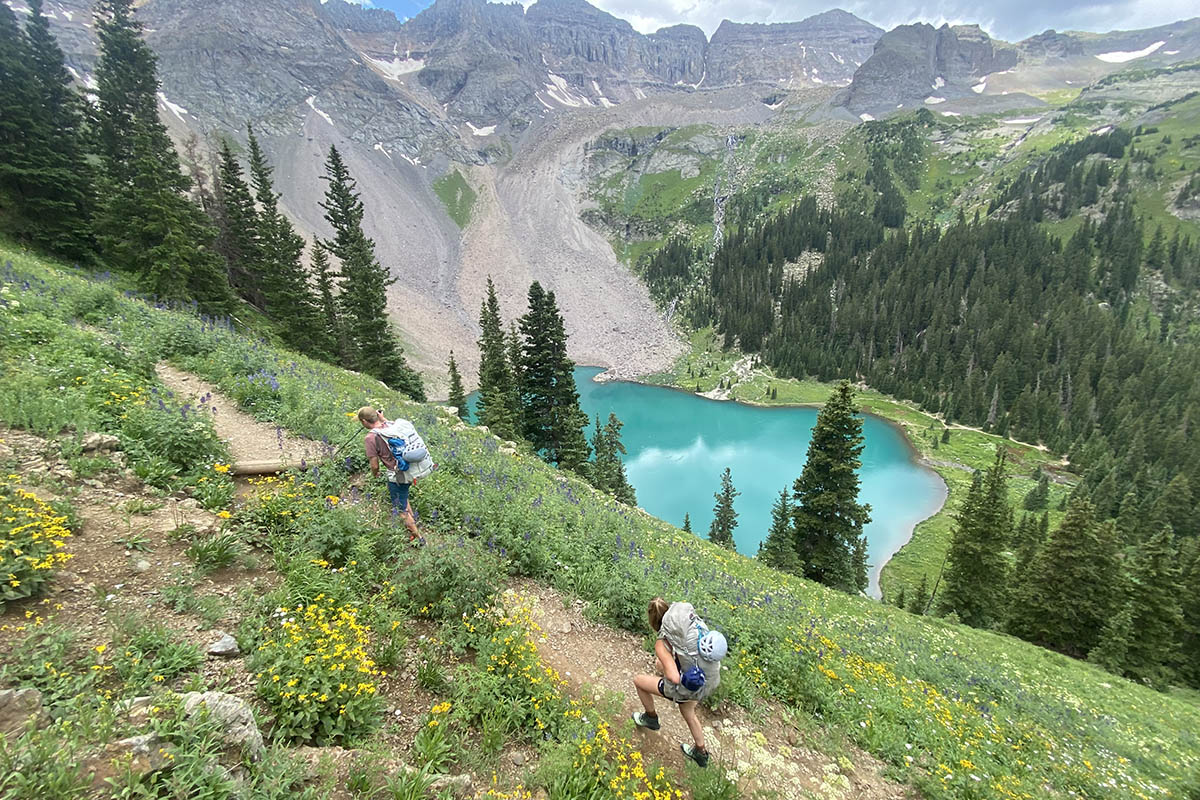 What We Like
Excellent out-of-the-box comfort: the Vaya has a well-padded and foot-hugging feel with a flexible upper, soft collar, and flat laces that mitigate potential pressure points.
Exceptionally light at just 1 pound 7.3 ounces per pair and very nimble and agile on the trail.
Compared to other Gore-Tex-equipped boots, the Vaya dries out relatively quickly after a soaking thanks to the thinner synthetic upper. 
Great all-around fit with an accommodating shape, snug heel, and a bit of added room in the toe box to account for natural foot swelling.

What We Don't
Not a standout in stability or support: despite lacing the boots tightly, I experienced added room around the ankles, which led to a fairly sloppy and loose feel.
EVA midsole is on the thinner side and led to some foot fatigue after hiking over sharp rocks all day.
Grip falls short on loose dirt and rocks and when covering wet ground.
Not everyone will like the athletic looks and multi-toned colorways.

Comparison Table

The Competition
The Vaya Mid GTX stands out in the hiking boot market for its combination of low weight and quality materials at a reasonable price point. In terms of alternatives, some of the Vaya's closest competitors come from within Salomon's own lineup. The first is their Cross Hike Mid GTX, which costs $10 more at $170 and weighs about the same at 1 pound 8 ounces. You also get Salomon's single-pull Quicklace system, which makes on-trial adjustments quick and easy but isn't as customizable as the Vaya's standard lacing design (the Vaya also has one more set of eyelets). Finally, the Cross Hike has a slightly taller stack height, which translates to a step down in trail feel but a boost in cushioning and all-day comfort. However, the clincher for us is durability: in testing the Cross Hike, the upper on one of our boots started to separate after just a couple outings. Given this experience, we consider the Vaya the better-built option.
Next up is Salomon's venerable X Ultra 4 Mid GTX. Right off the bat, we'll note that the X Ultra outperforms the Vaya in most categories: it's more stable and offers better all-around support, sports deeper lugs that grip better across a variety of terrain, is noticeably well-built and durable with a leather/textile upper, and provides solid ankle and toe protection. The X Ultra is a few ounces heavier than the Vaya at 1 pound 11.2 ounces per pair (for the women's version), but you still get a light, nimble, and sprightly feel underfoot. All told, for only $5 more than the Vaya, the X Ultra is an excellent value and one of the most well-rounded hiking boots on the market.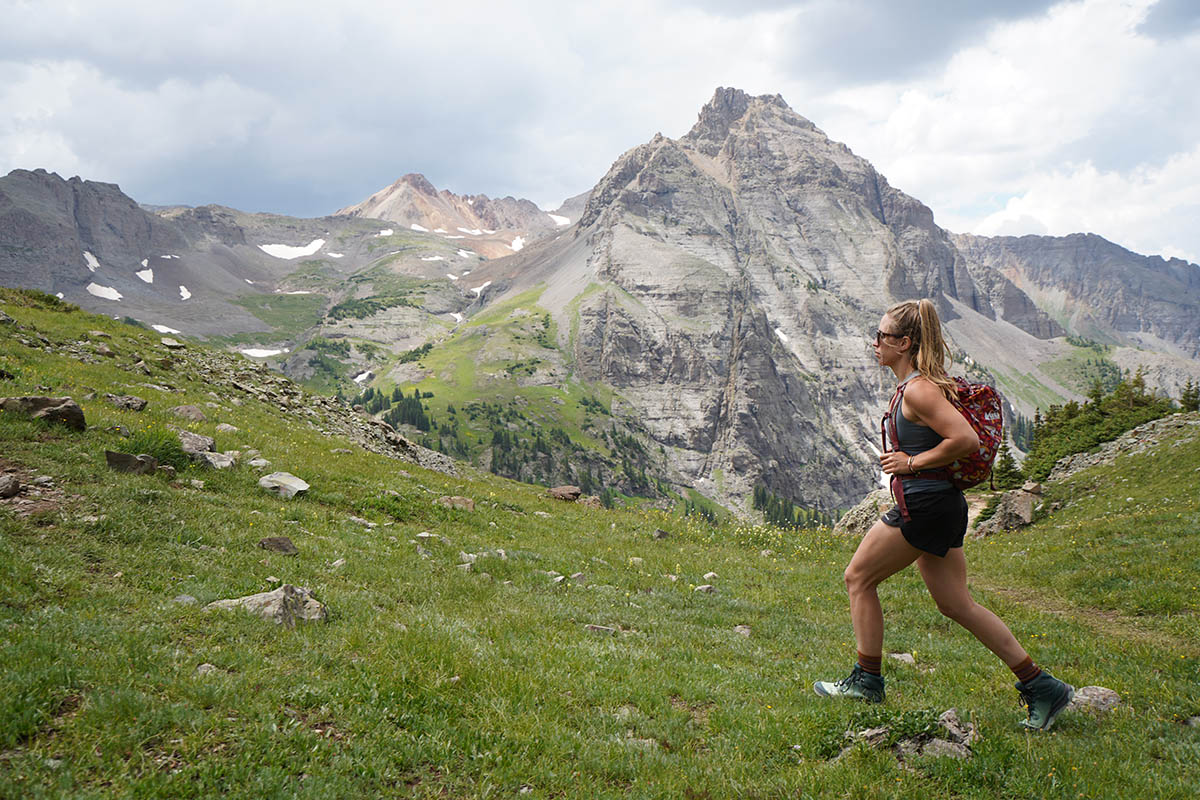 Moving outside of Salomon's lineup, running brand Hoka One One recently released an impressively capable mid-height boot: the Anacapa Mid GTX. We tested the Anacapa on the same trip as the Vaya and found it to be a solid fast-and-light performer. Like many of Hoka's designs, it feels great on the trail with ample cushioning and a rockered sole, has an excellent all-around fit, and boasts good overall protection, durability, and support considering its design and intentions. It's a little heavier than the Vaya at 1 pound 12 ounces per pair and $10 pricier at $170, but many hikers will find the added comfort and more secure lacing design worth those tradeoffs (ourselves included). 
Vasque makes an intriguing lightweight option in their Breeze LT Mid GTX. For $20 more than the Vaya, the Breeze is exceptionally light at just 1 pound 6 ounces per pair (the lightest option here) but retains quality Gore-Tex waterproofing and a Vibram Megagrip outsole. Like the Salomon, the Breeze also sports a decidedly modern and athletic build. The biggest drawback is that Vasque seemed to compromise a little too much durability in the name of shaving weight. In particular, we experienced delamination at the instep just two days into testing (for more, see our in-depth Breeze LT Mid GTX review). For just over an ounce more, we'd stick with the Salomon for its more hardwearing design.
Last but not least is Altra's Lone Peak All-WTHR Mid, which is a mid-height variation of their popular Lone Peak trail running shoe. Despite sharing fast-and-light intentions, the two shoes have different personalities: the Altra is more cushioned and features a zero-drop shape (for reference, the Vaya has a 9mm heel-to-toe drop). The Lone Peak also has a wider toe box to boost long-distance comfort, but this does make the boot feel less precise and confidence-inspiring over challenging terrain. In the end, the Vaya strikes us as the slightly more capable design for day hiking and light backpacking, but the Altra has its place for those who want to move fast over easy terrain with minimal weight on their backs.
If you're thinking about buying gear that we've reviewed on Switchback Travel, you can help support us in the process. Just click on any of the seller links above, and if you make a purchase, we receive a small percentage of the transaction. The cost of the product is the same to you but this helps us continue to test and write about outdoor gear. Thanks and we appreciate your support!
Depending on the seller, most products ship free in the United States on orders of $50 or more. International shipping availability and rates vary by seller. The pricing information on this page is updated hourly but we are not responsible for inaccuracies.
Read More From Switchback Travel